Fire up the grill with our 50 Best Grill Recipes! Many of these BBQ ideas are fast and easy enough for weeknight dinners, many are vegetarian, vegan or vegan-adaptable. (Be sure to go to the post directly to see how to adapt them!) We especially love grilled veggies and grilled salads- scroll down.
Whether you're looking for grilled chicken recipes, grilled vegetables, burgers, vegan & vegetarian grill recipes, grilled salad recipes (perfect for summer dinners), or grilled flank steak or lamb recipes, you'll find plenty of fun grilling inspiration here! Scroll to the bottom for our favorite grilling resources, tips and gifts- or jump to the recipe card for our favorite All-Purpose Dry Rub Recipe!
And now… Our Top bbq recipes!
---
Dinner-Worthy, Grilled Salad Recipes!
Grilled Salmon Salad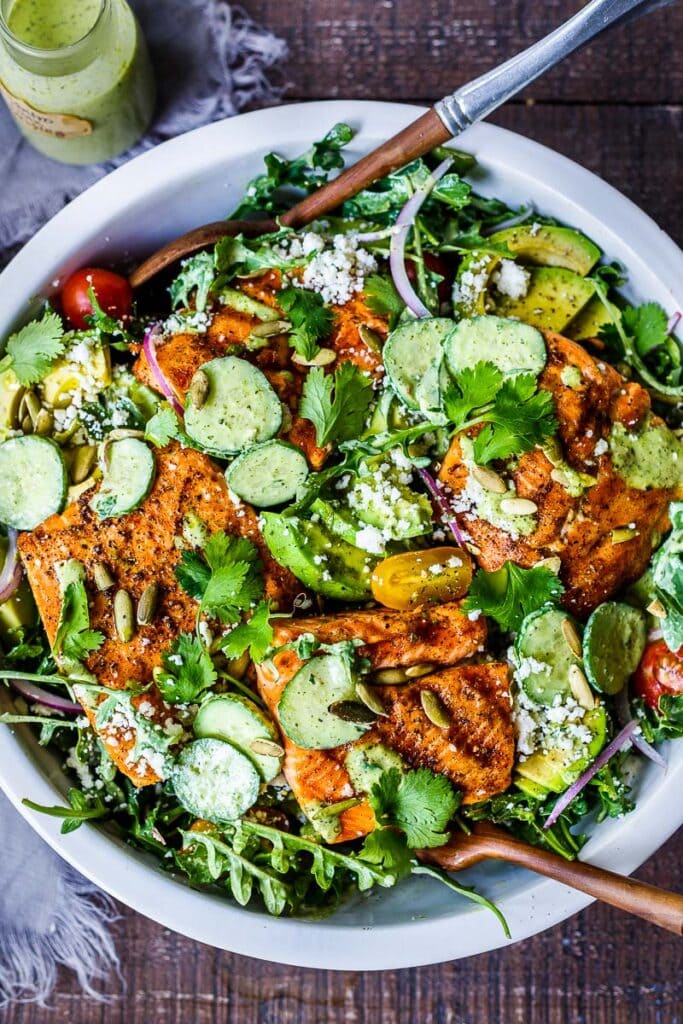 This Grilled Salmon Salad with Creamy Cilantro Lime Dressing is perfect for summer barbecues and outdoor gatherings. Chock full of fresh organic produce, not only is this entree salad healthy and easy to make, it's bursting with delicious summertime flavor! Keto and Low-carb.
Grilled Salmon Salad | 60-sec Video
Grilled Romaine Salad with Maitake Mushrooms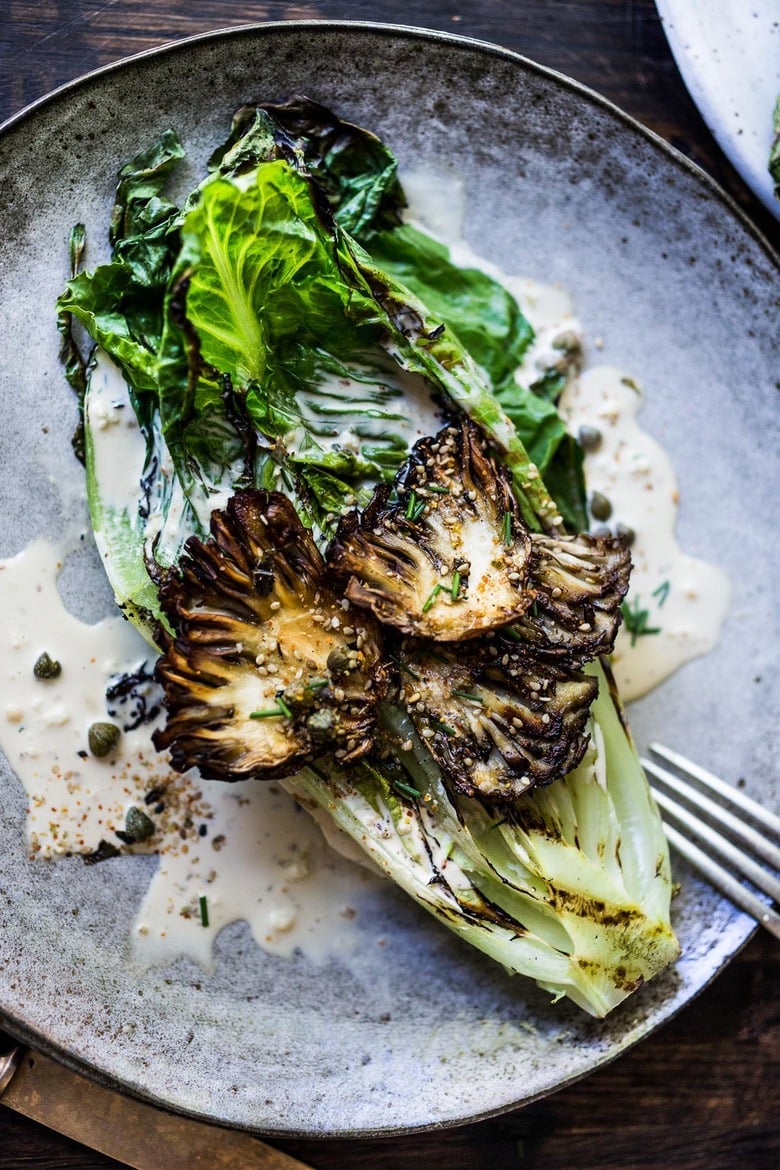 Grilled Romaine with Maitake Mushrooms with Furikake Caesar Dressing -a Japanese-Inspired Caesar salad that comes together in 20 minutes! Keto and yummy.
Grilled Nicoise Salad- always tasty!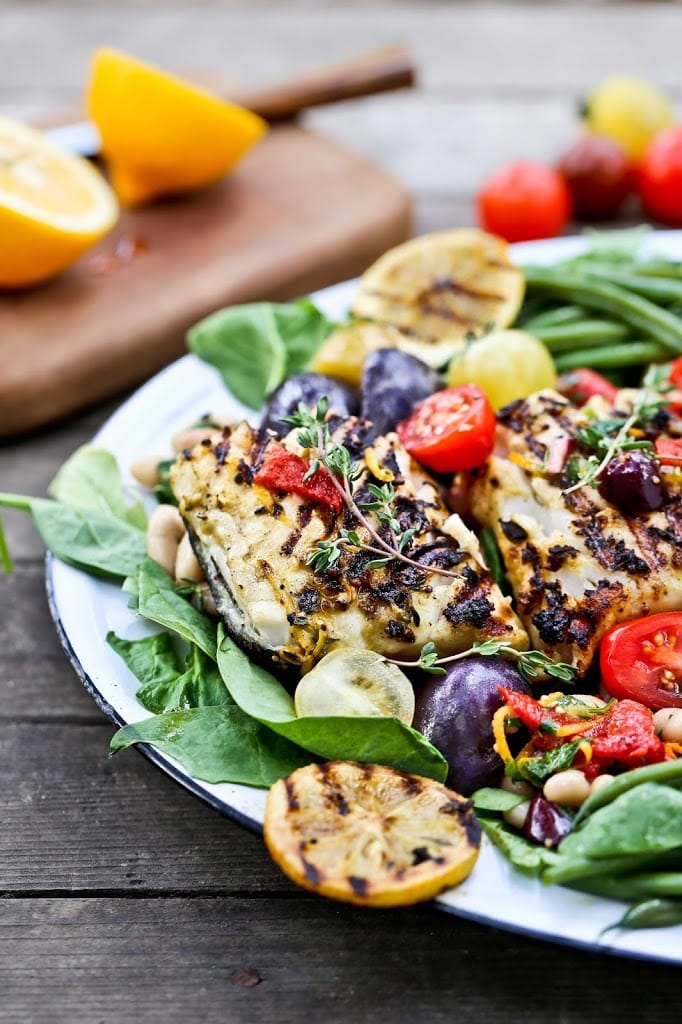 French-Style Grilled Nicoise Salad w/ grilled salmon, tuna or white fish, baby potatoes, olives, marinated white beans and peppers, french beans & a delicious Nicoise Salad Dressing. Gluten-free and Healthy!
Grilled Greek Salad with Halloumi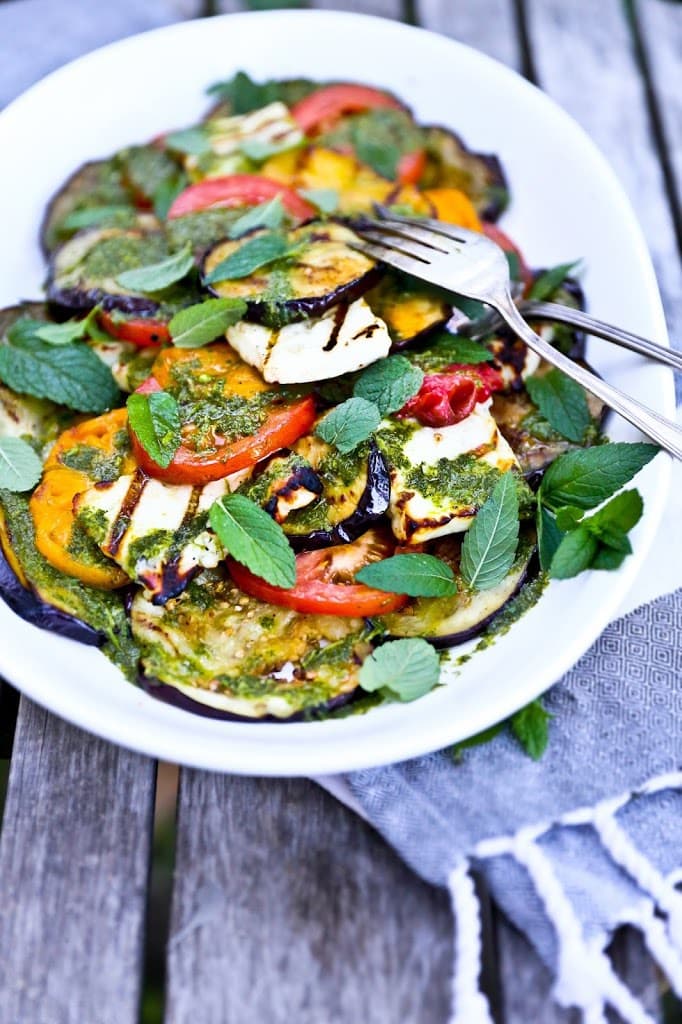 Grilled Halloumi, Eggplant and Tomato Salad with Mint Dressing – a delicious side or main course salad! If you've never tried grilling greek-style halloumi cheese- here's the perfect opportunity! It stays incredibly firm on the grill. I promise. 🙂 So easy, so tasty!
Grilled Chipotle Chicken Salad with Arugula, Quinoa and Corn.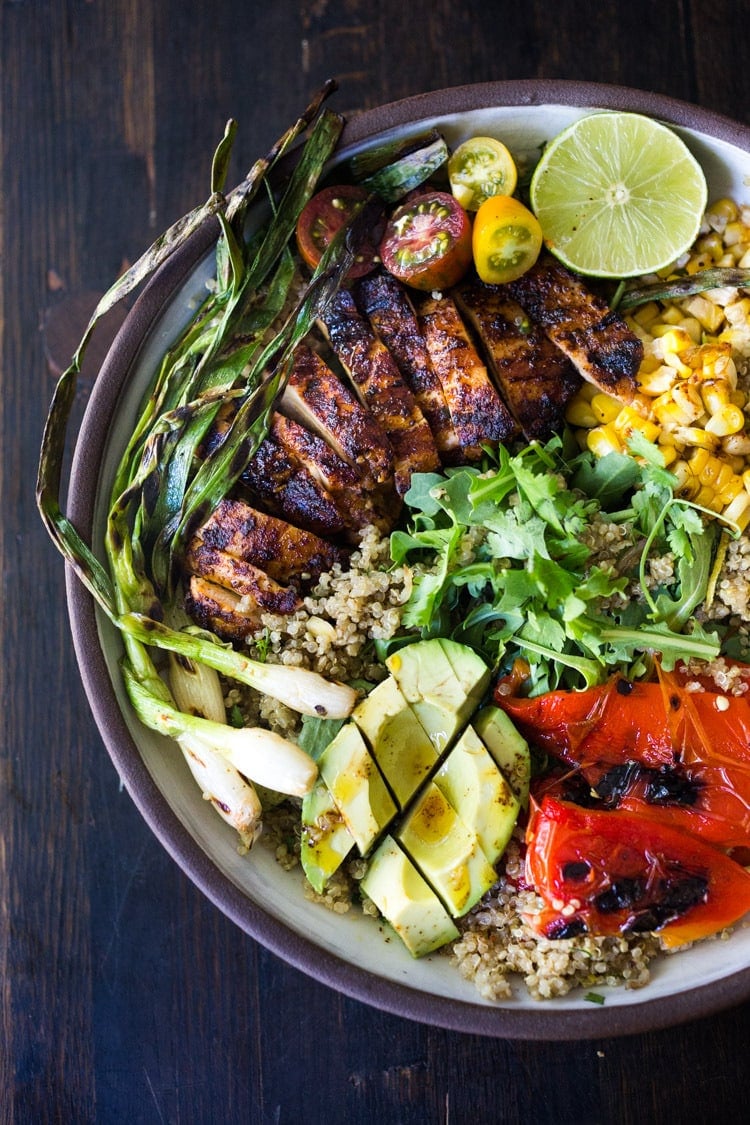 Chipotle Grilled Chicken Salad with Grilled Corn, Peppers and Arugula, over a bed of optional quinoa with grilled scallions, avocado and a simple Chipotle Lime Dressing. Sub MEXICAN TOFU for the Chicken for a vegan version!
Grilled Salmon Salad with Avocado Salsa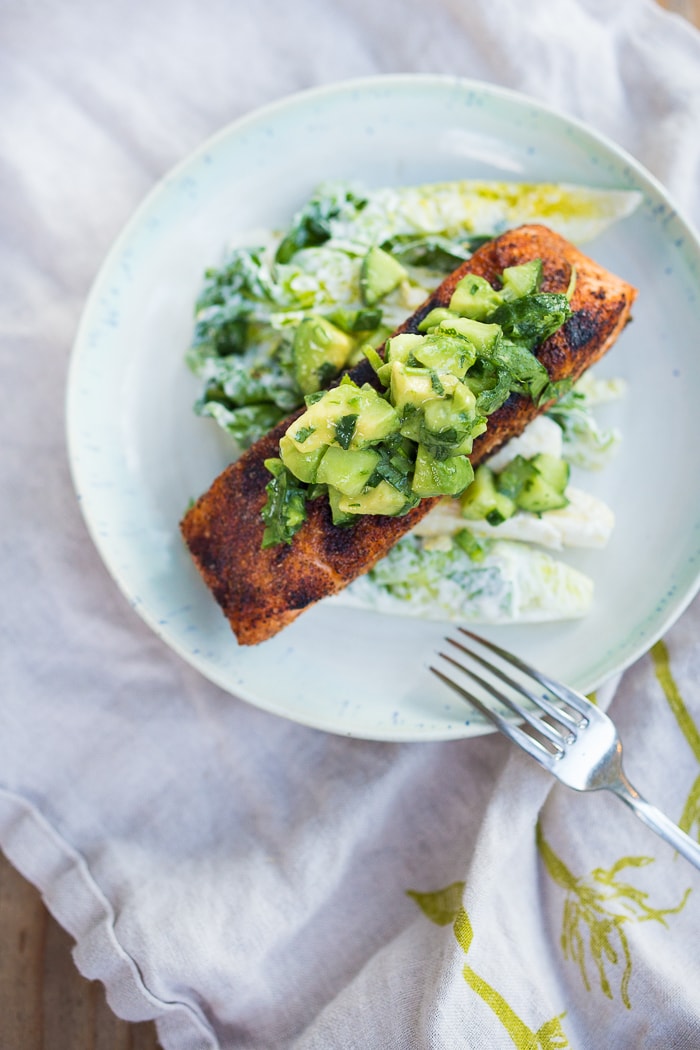 Grilled Salmon Salad with Avocado Cucumber Salsa served over greens with a tangy Cilantro Lime Dressing …can be made in 20 minutes. A delicious, healthy low-carb meal.
Grilled Tuscan Grilled Salad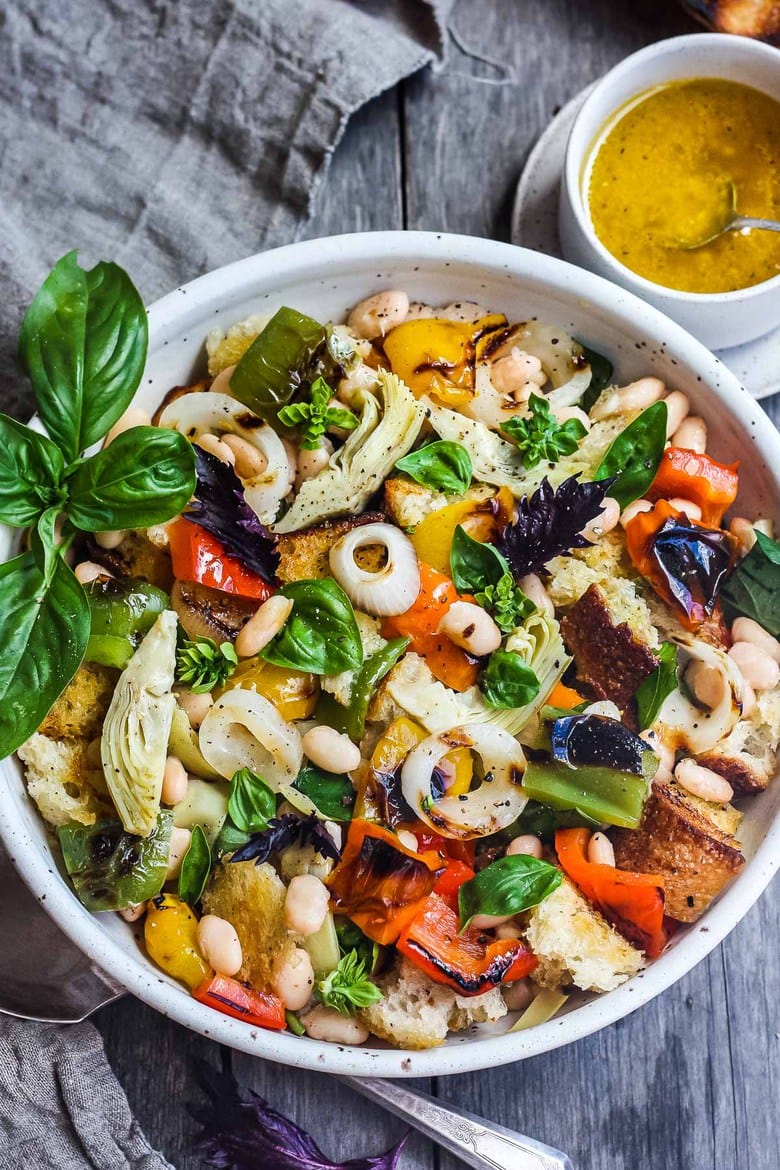 Delicious Grilled Tuscan Bread Salad with colorful re peppers, artichoke hearts and white beans tossed in a flavorful white balsamic dressing. Make it on the barbecue for an easy outdoor summer meal with your favorite grilled protein! Vegan!
Burger in a Bowl- keto and low carb.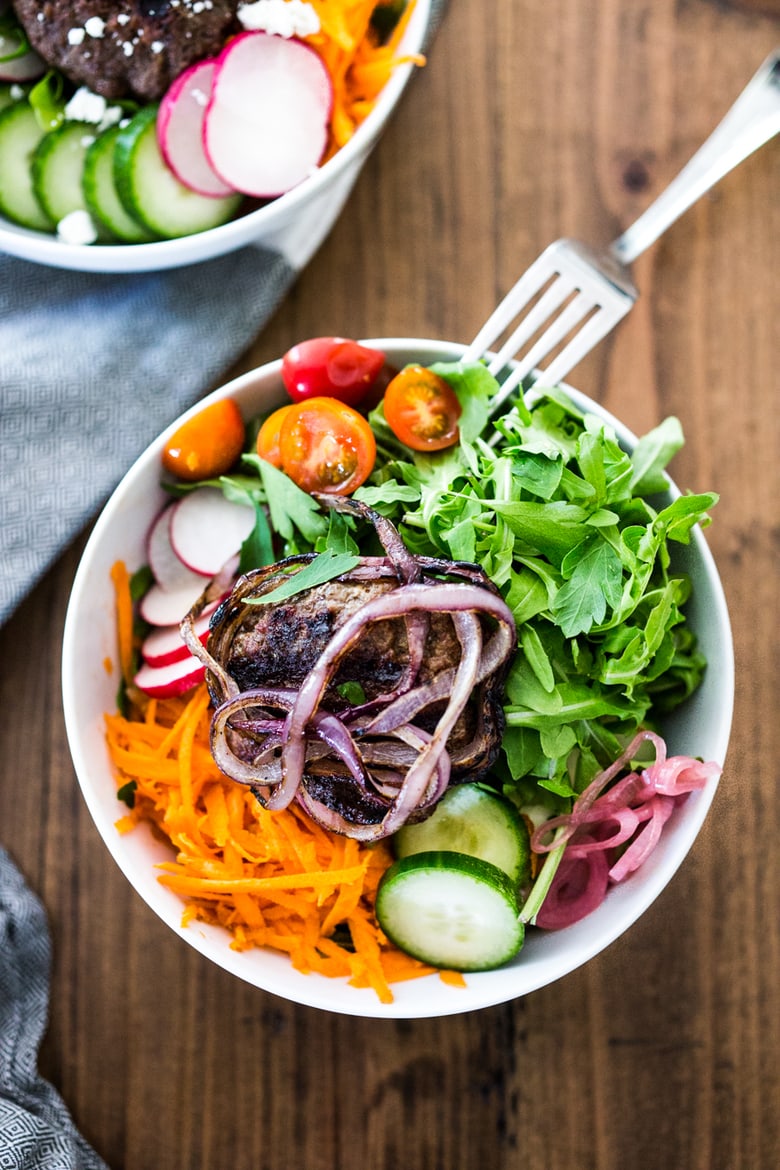 BURGER IN A BOWL!– Grill your favorite burger (veggie burger, beef, lamb, ground turkey or chicken) and serve it over a bed of healthy greens and veggies – a fast, low-carb way to serve up our favorite summertime meal!
Grilled Romaine Salad with lots of goodies!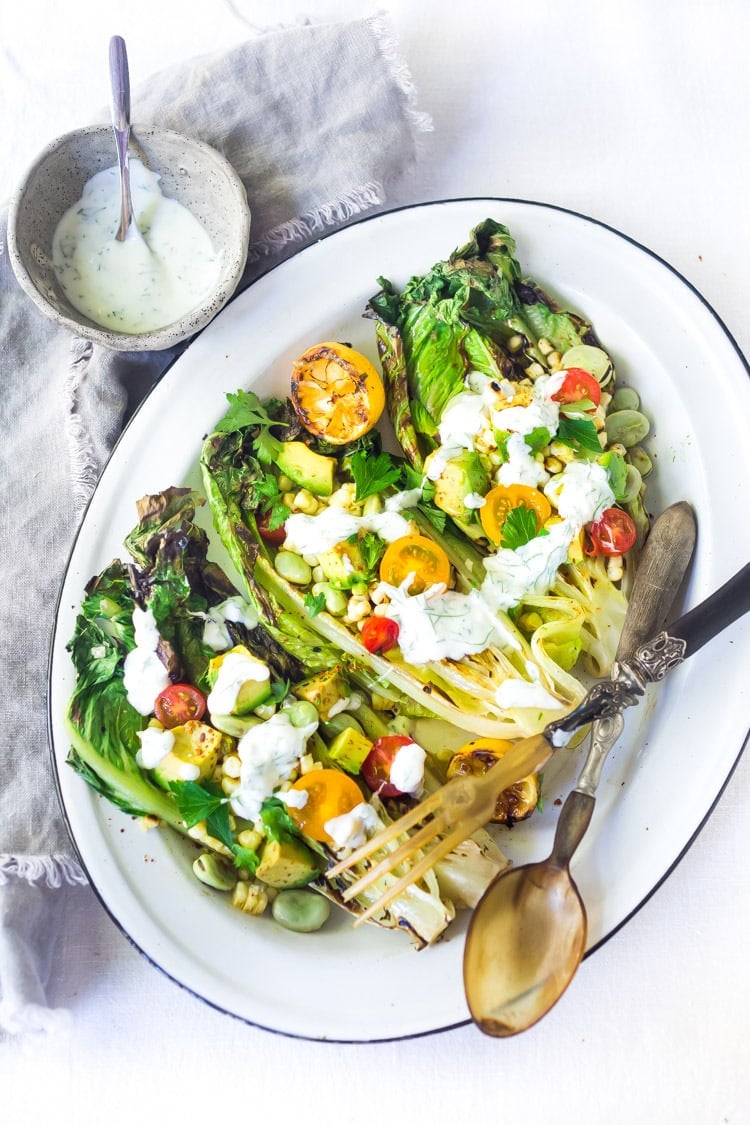 Grilled Romaine Salad with Corn and Avocado – a light and refreshing meal. Keep it vegan or add grilled shrimp for added protein. Either way, it's sure to be your new favorite salad. Don't have access to fresh Fava beans? No worries, sub edamame!
---
Grilled Chicken Recipes!
Perfect Grilled Chicken (With the Best Chicken marinade)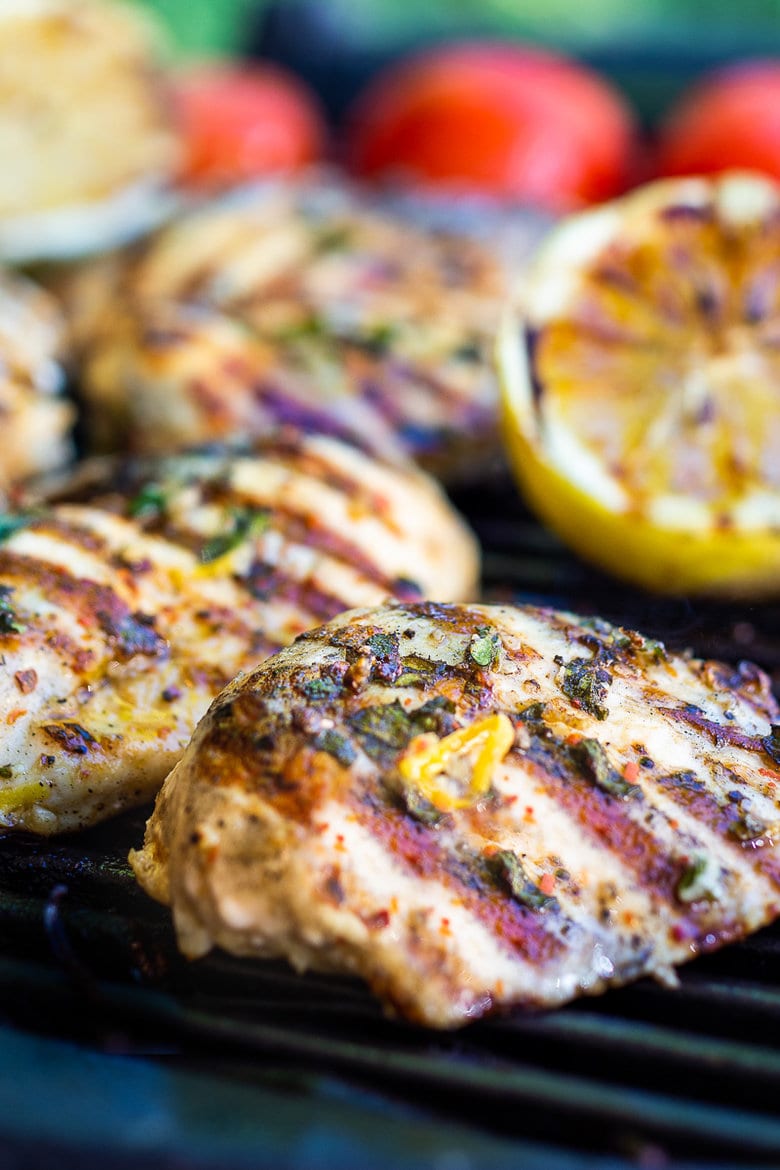 How to make the Best Grilled Chicken– with the most flavorful chicken marinade- turns out perfect and juicy every single time! A simple, easy recipe that can be made ahead for mid-week meals, or fast enough for weeknight dinners! We love this over Classic Caesar Salad, Classic Greek Salad, or with this Grilled Romaine Salad!
Grilled Peruvian Chicken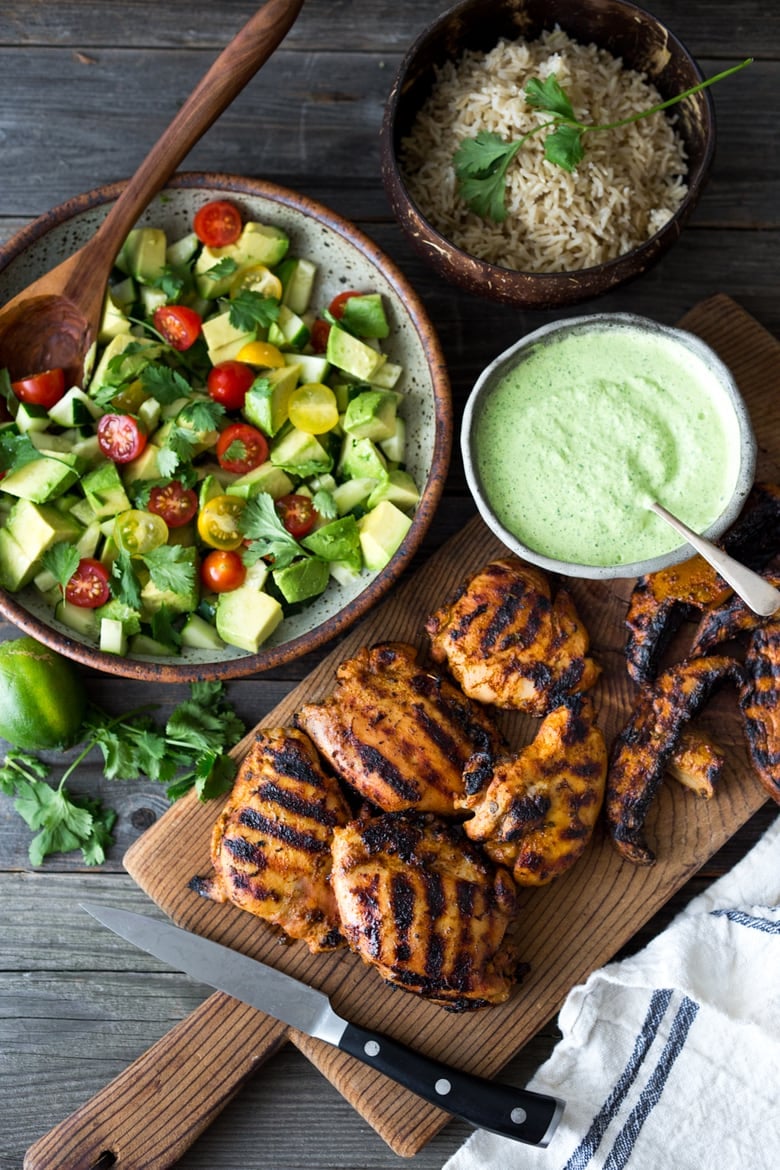 This Grilled Peruvian Chicken (or Portobellos) with Peruvian Green Sauce and Avocado Tomato Salad – is perfect for summer grilling. It is full of amazing South American flavors, that everyone will love! Vegan-Adaptable and GF!
Grilled Chicken Shawarma (skewers or whole pieces)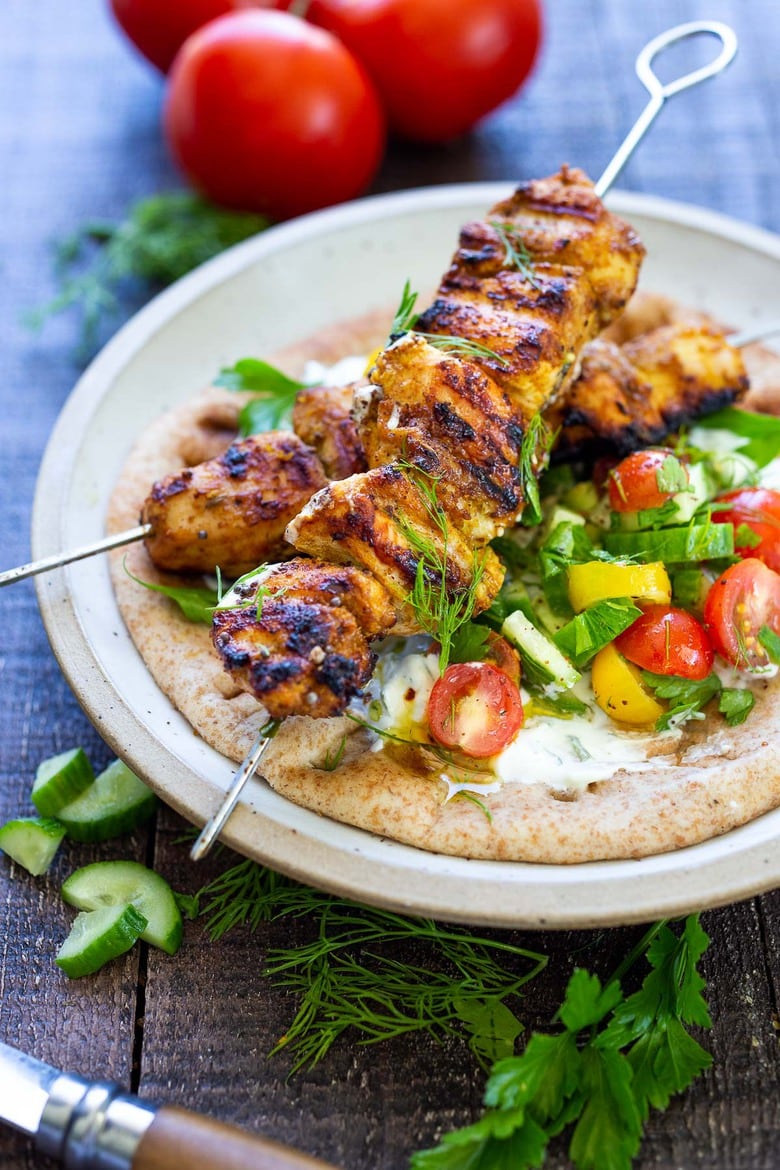 Japanese Farm-Style Teriyaki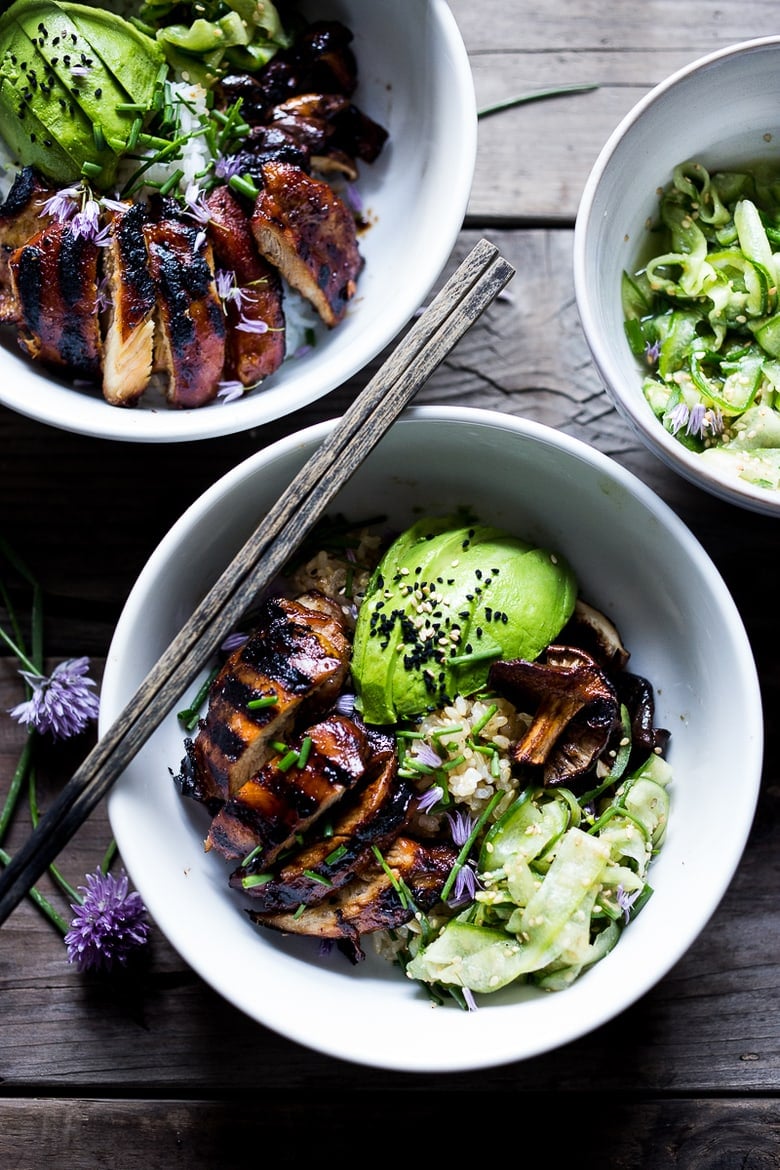 Grilled Japanese "Farm-Style" Teriyaki – this can be made with grilled chicken breasts or thighs, or grilled portobellos (or both for mixed households) with shiitake mushrooms, avocado, sweet brown rice, and a refreshing cucumber ribbon salad. Vegan adaptable!
Grilled Lemongrass Chicken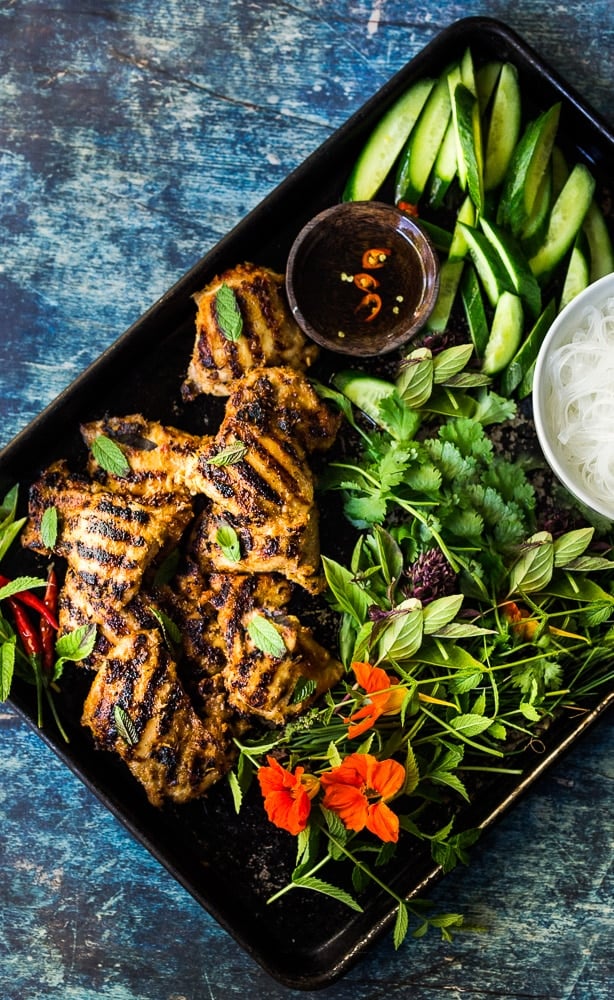 One of my personal favorites…Grilled Lemongrass Chicken with Vietnamese flavors including a secret ingredient! Use this in Vietnamese Rice Noodle bowls (Bun Ga Nuong) or on its own over rice. One of our most popular catering recipes.
Grilled Chipotle Chicken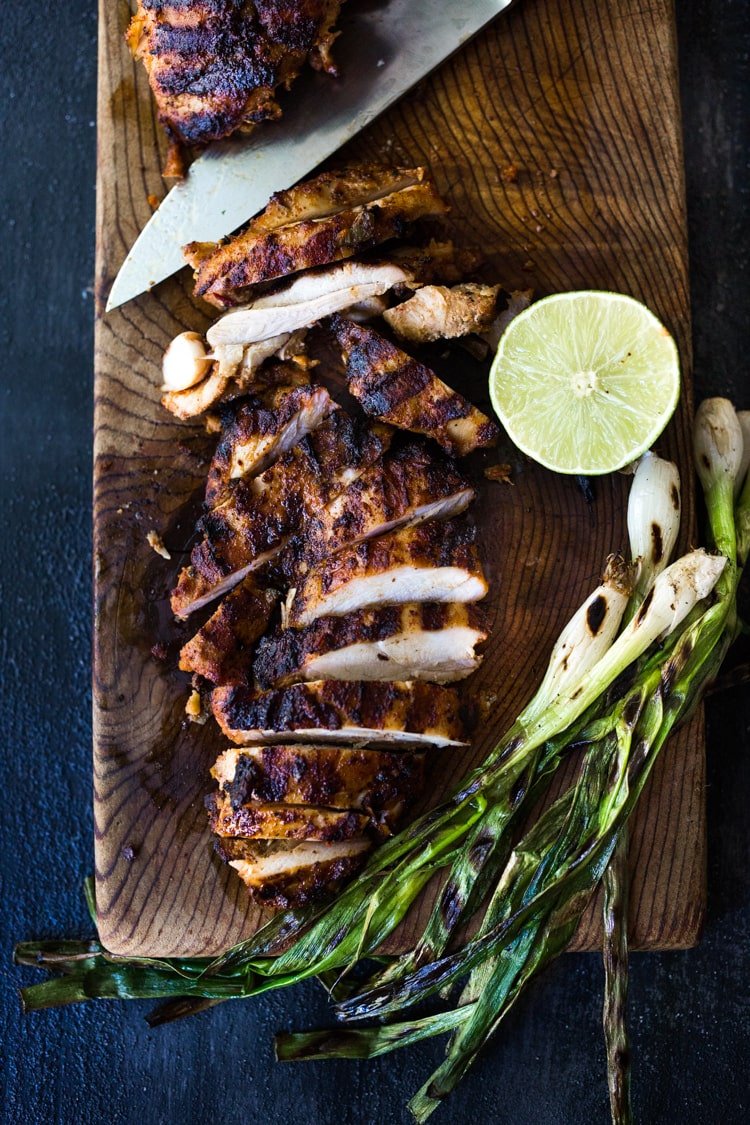 Smoky, spicy and delicious, this Mexican Grilled Chipotle Chicken is bathed in the most flavorful marinade. Grill the chipotle chicken ahead and reheat on busy weeknights, or store it in the flavorful chipotle marinade, then fire up the grill after work. Feel free to use chicken breasts, or chicken thighs. Use in healthy bowls, salads, tacos, or pasta. So EASY and oh so tasty!
More Tasty Grilled Chicken Recipes from Around the World!
Grilled Vegetables
Grilled Broccolini with Burrata
Grilled Broccolini with burrata, hazelnuts and basil oil– a tasty summer side dish perfect for outdoor dinners and gatherings.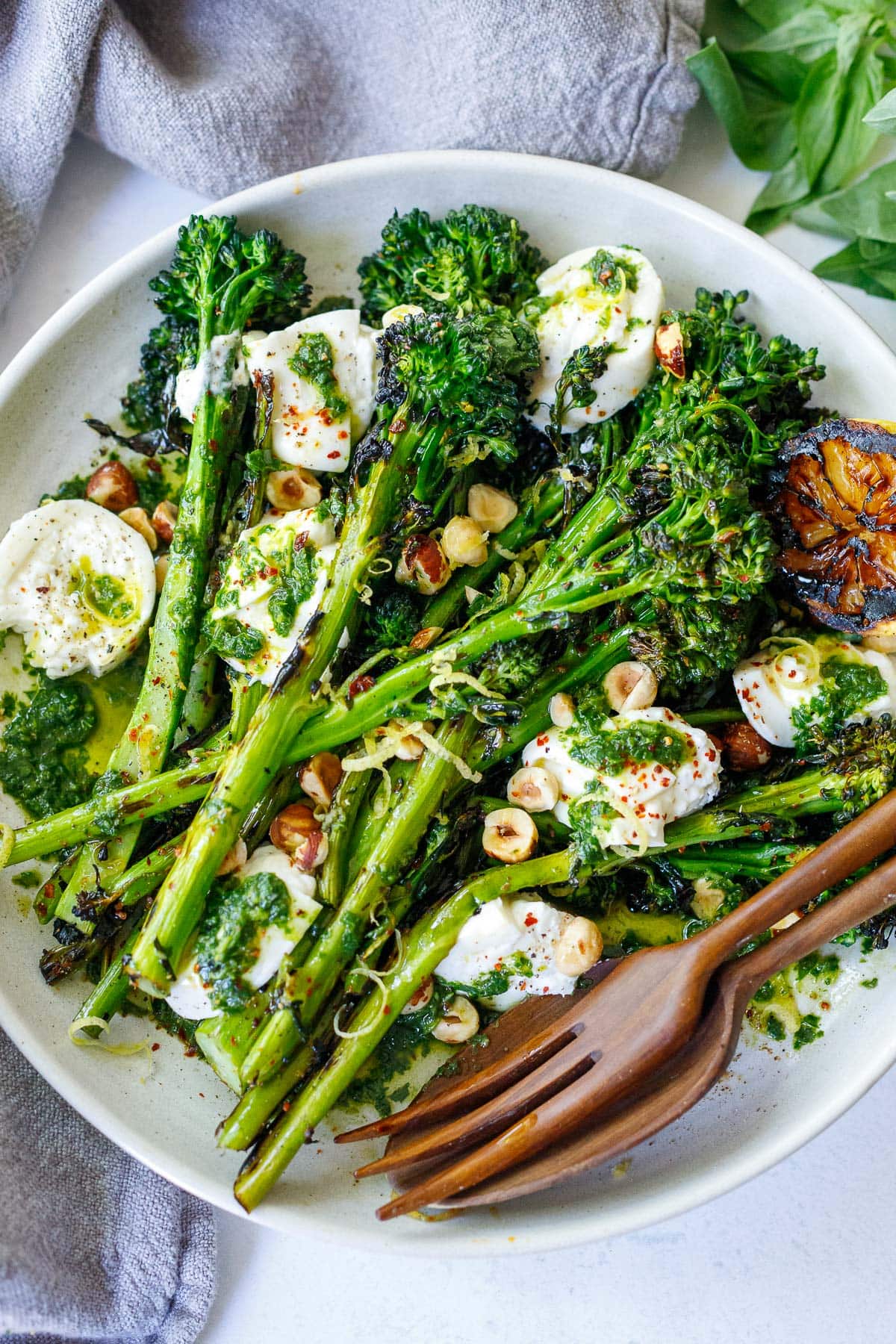 Grilled potatoes With Dill Sauce
Grilled potatoes are delicious, easy, and healthy. Their creamy interior and crispy exterior will have you coming back for more! Serve them up with creamy Dill Sauce!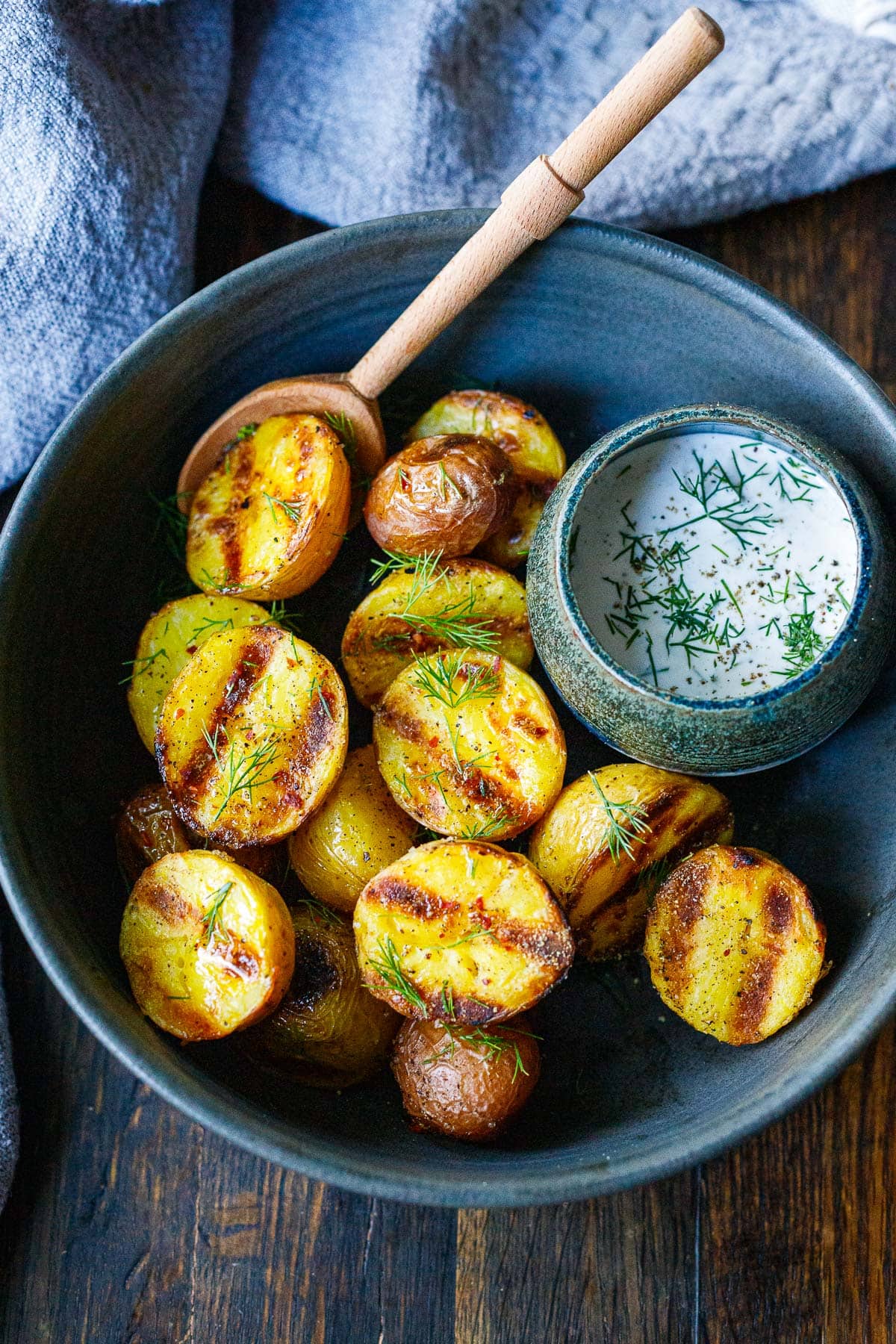 Grilled Tomatoes
Savory grilled tomatoes with garlic and oregano, olive oil and balsamic vinegar. A delicious, healthy, summery side dish in 20 minutes! Vegan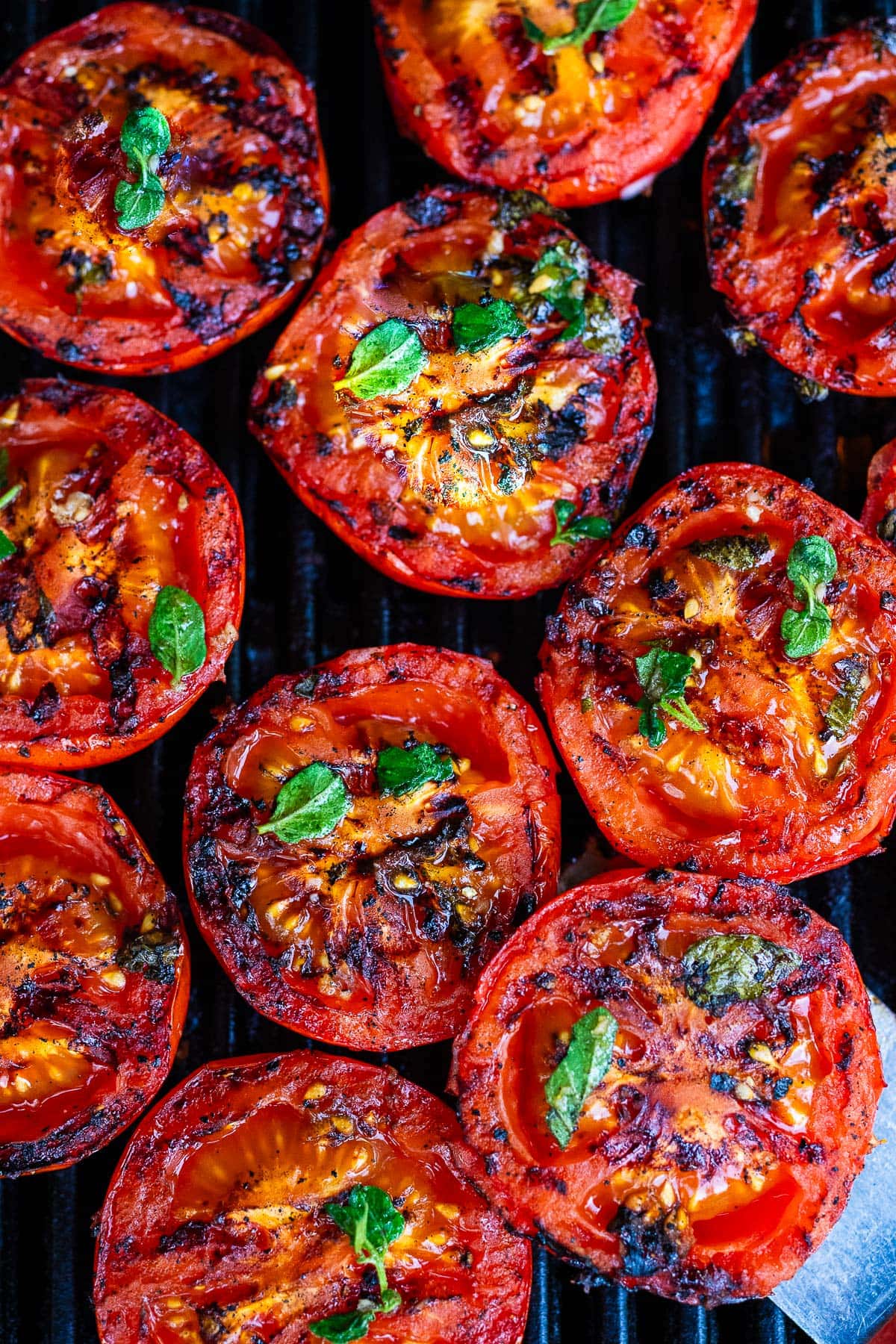 Grilled Bok Choy!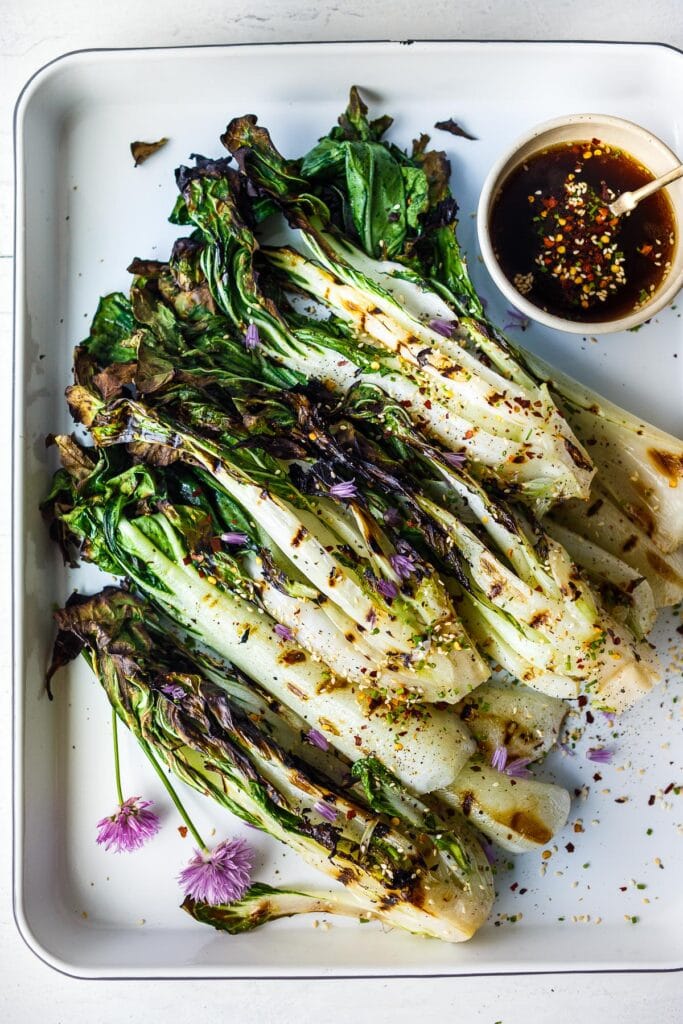 Succulent Grilled Bok Choy with flavorful Ponzu Sauce is tender and juicy with toasty savory flavor. An easy side dish that is delicious and healthy!
Grilled Baba Ganoush!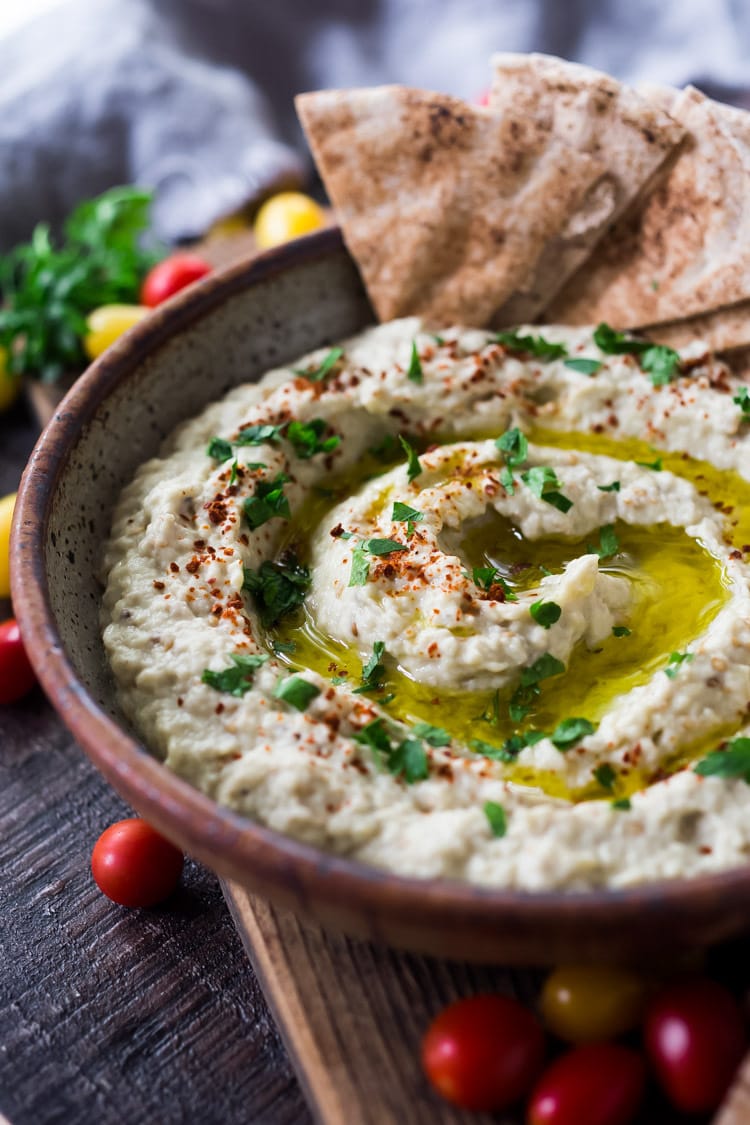 Simple, flavorful, Authentic Baba Ganoush recipe made with smoky grilled eggplant, tahini, garlic and lemon. A healthy, delicious Middle Eastern Eggplant Dip that is full of complexity and depth. Gluten-free, low-carb, vegan.
Grilled Asparagus!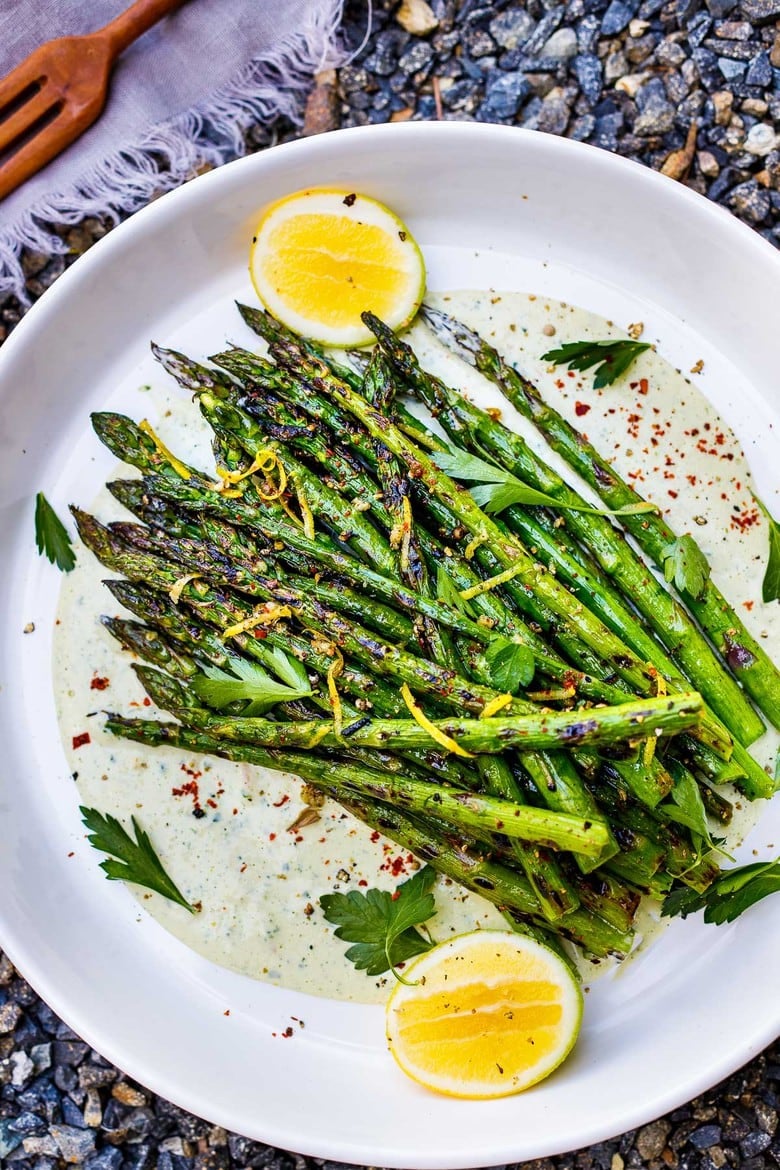 How to make The Best Grilled Asparagus– one of the easiest, fastest and tastiest ways to cook asparagus in under 15 minutes! A delicious healthy vegan side dish, everyone will love.
Grilled Summer Veggies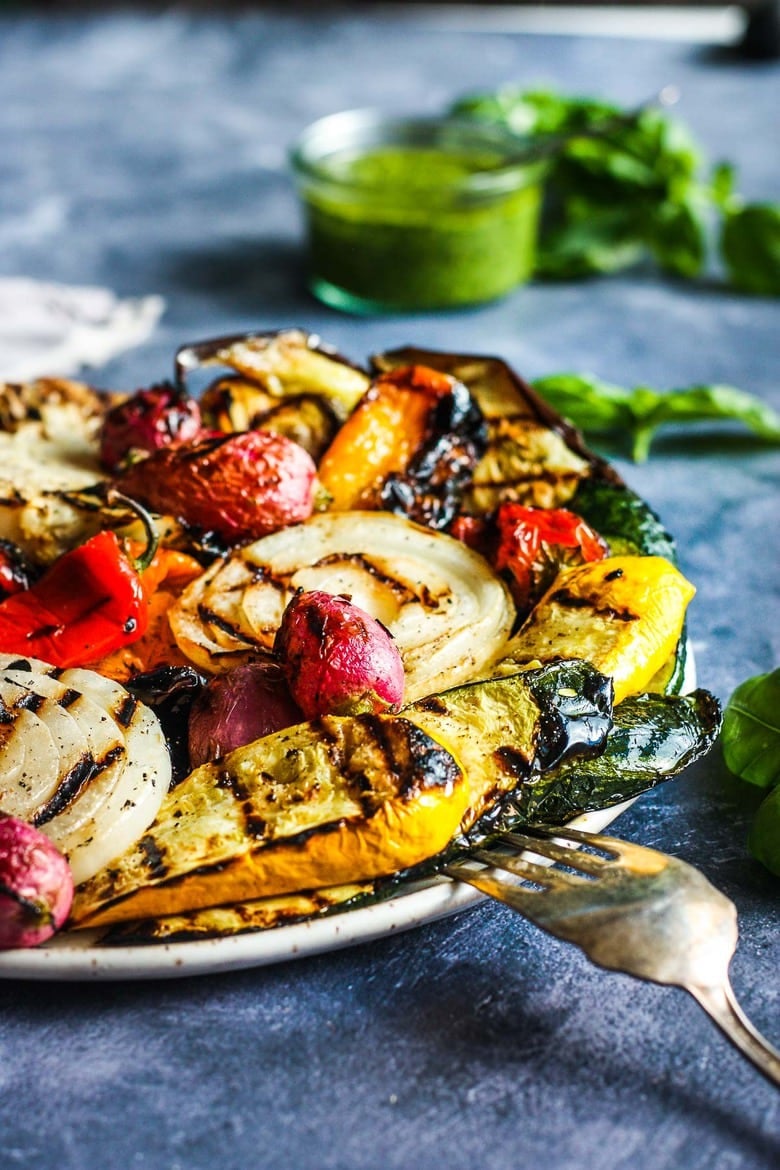 Grilled Veggies are the quintessential summer side dish. Here is a simple basic method for grilling veggies on the BBQ. Smoky and carmelized they are delicious as is or ready for most any sauce and protein paring.
Grilled Beets!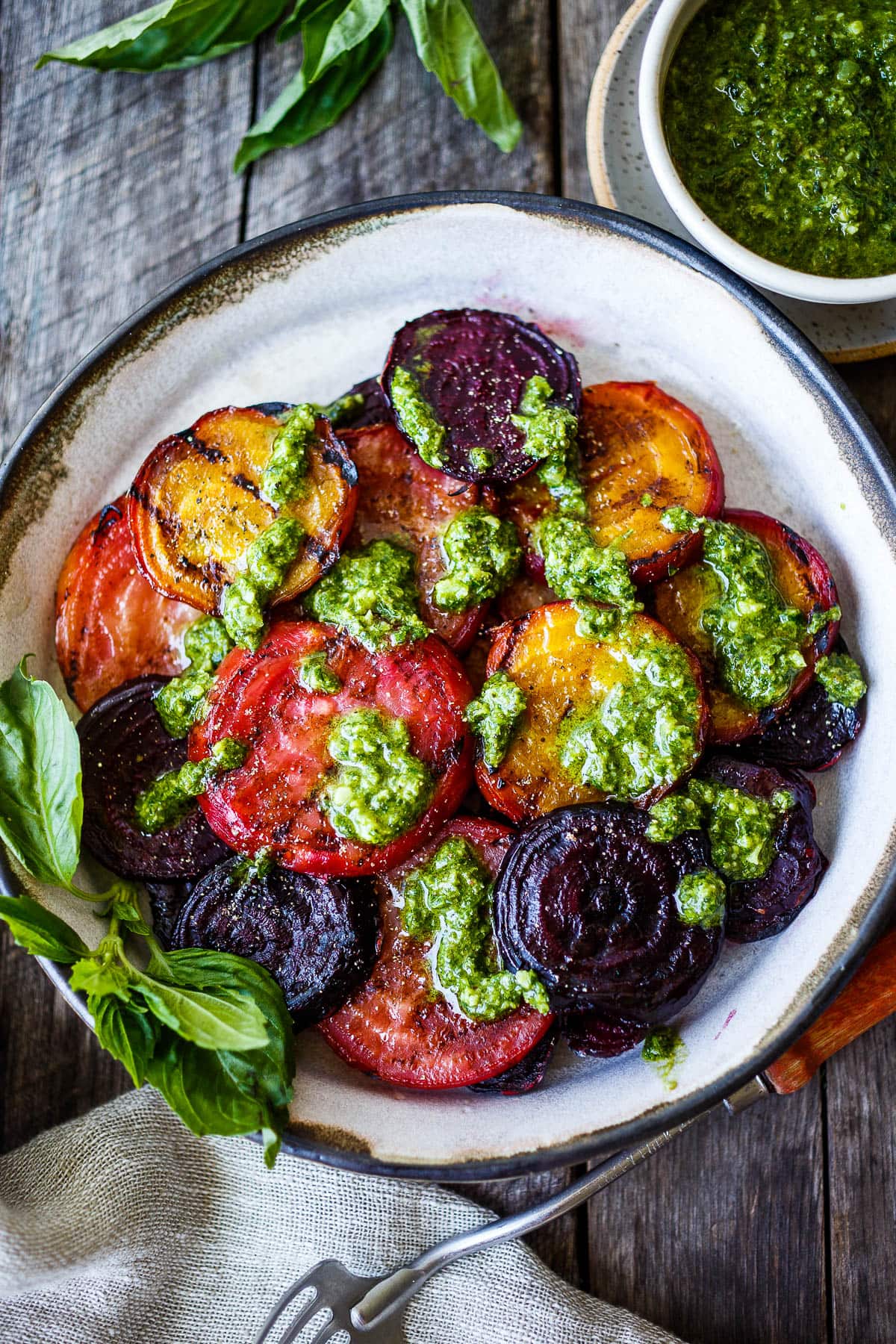 These Grilled Beets are perfectly tender with a rich caramelized flavor. Top with pesto for over-the-top deliciousness. Perfect as a side dish, or add to salads, toasts and bowls.
Grilled Fava Beans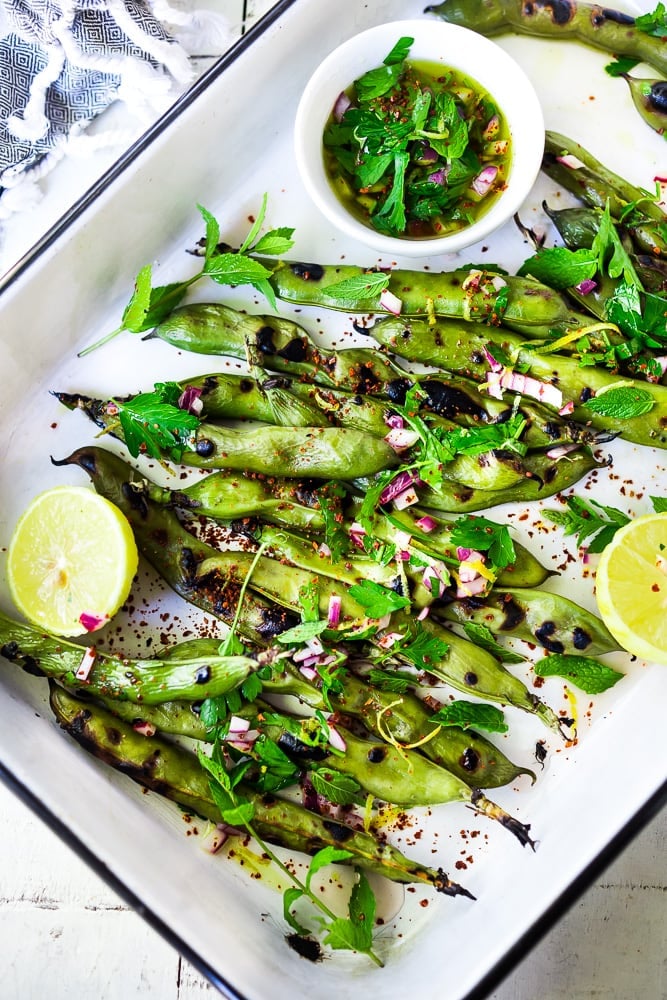 Grilled Fava Beans- with Mint, Lemon & Sumac, a simple, easy way to prepare fresh fava beans on the grill with Middle Eastern flavors. Young Fava beans work best here- eat them like edamame! Delicious!
Grilled Indian Masala Street Corn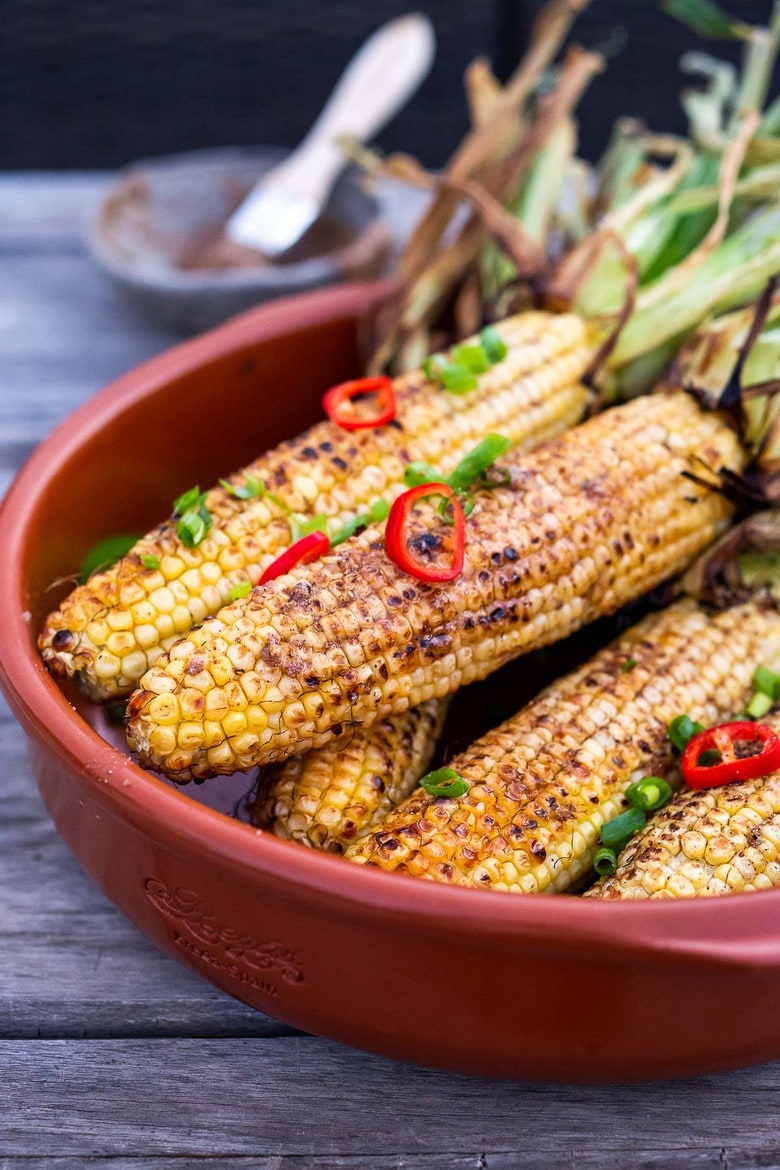 This Masala Street Corn hails from India and is grilled and seasoned with ghee and garam masala spice! A simple easy summer grilling recipe to add to your next Indian feast!
More Grilled Veggies!
---
Grilled Vegetarian & Vegan Recipes!
Grilled Eggplant with Greek Tomato Chickpea Relish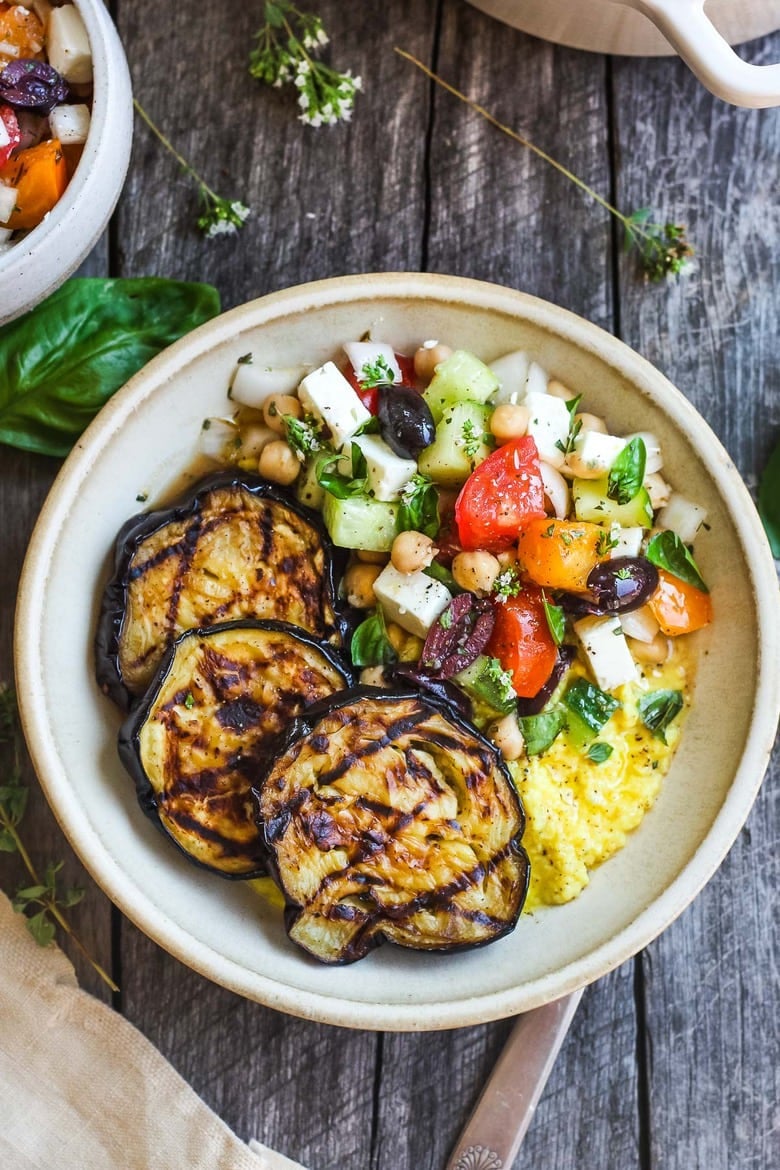 Perfectly tender smoky Grilled Eggplant with fresh Greek relish and creamy polenta. An easy and healthy meatless dinner. Vegan adaptable and gluten-free.
Grilled Veggie Kabobs (Tofu or Tempeh) and Harissa Yogurt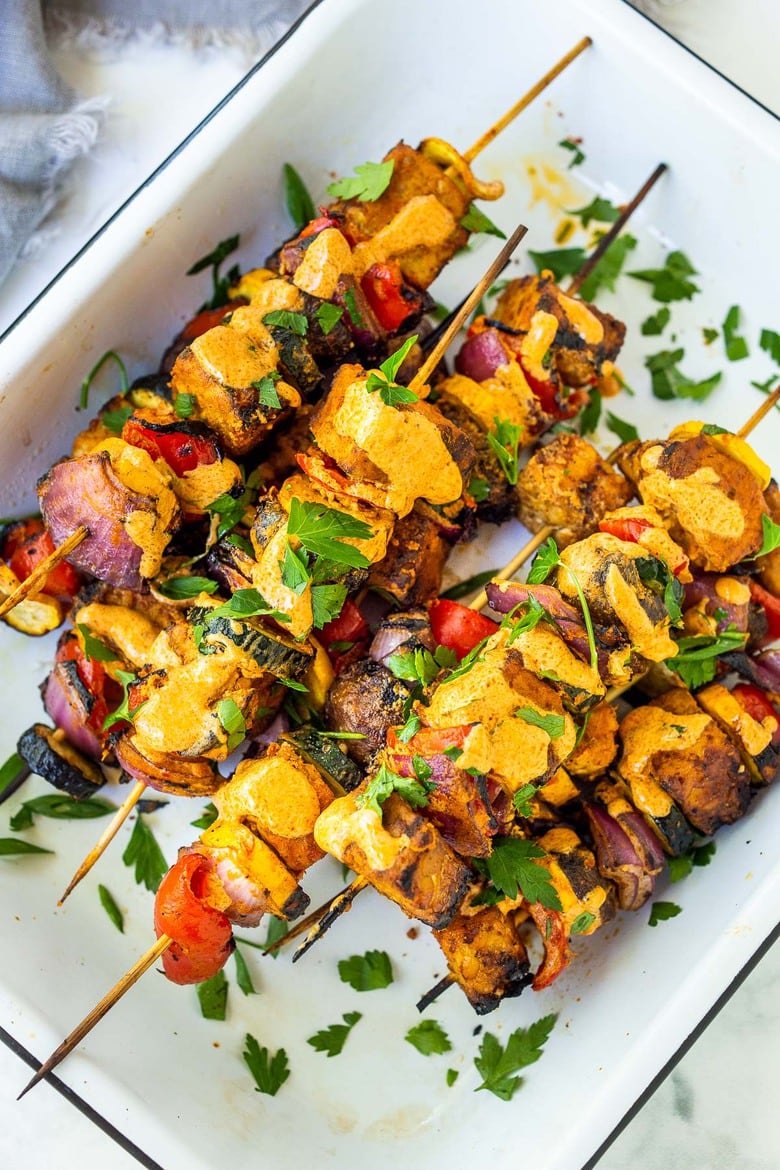 Grilled Veggie Kabobs and Harissa Yogurt – are made with your choice of protein (tempeh, tofu,or chicken) and succhini, red peppers, and onions. A delicious summer meal that packs a big punch of flavor! Perfect for summer bbqs and gatherings! Vegan-adaptable.
Grilled Eggplant with Freekah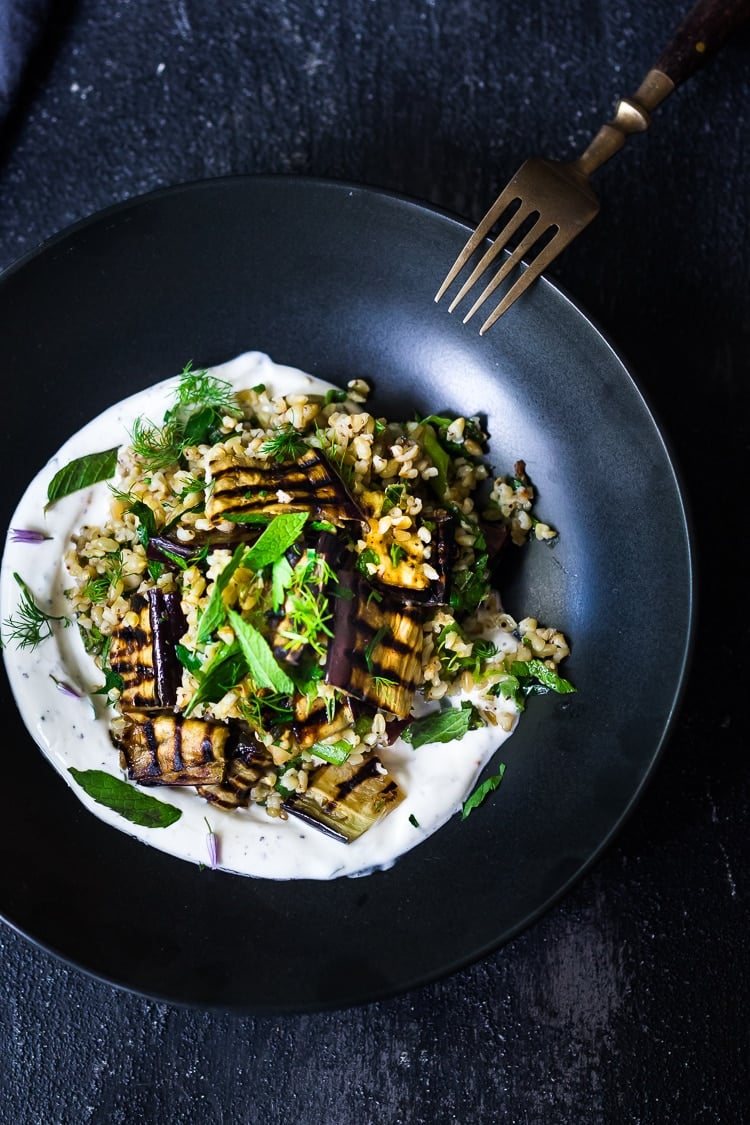 Grilled Eggplant Salad with Freekeh, fresh herbs, and a tangy yogurt dressing. A delicious grilled Middle Eastern salad that can be made ahead. Freekeh has a wonderful smoky quality that is worth seeking out and trying! So delicious!
Summer Pasta Salad with Grilled Zucchini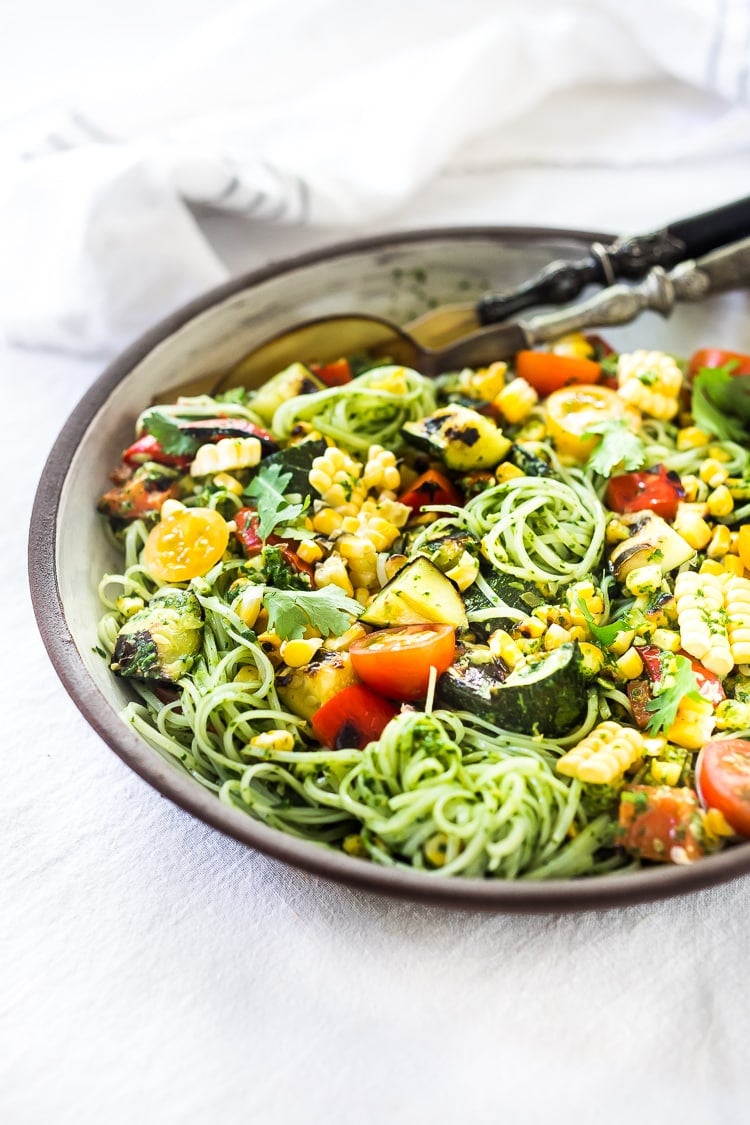 Summer Pasta Salad w/ Grilled Zucchini, Corn and Cilantro Pesto is made with gluten-free rice noodles and loaded up with healthy summer veggies, then tossed in the most flavorful Cilantro Pesto…. deliciously addicting! Vegan and Gluten-free!
This flavorful Thai Grilled Eggplant Salad is simple, light, and refreshing with a tangy, umami dressing made from fresh lime juice and fish sauce. Healthy and tasty, this Thai Salad comes together in 35 minutes! (Vegan-adaptable) Serve it with jasmine rice and make it a meal.
Grillable Sprouted Lentil Burgers with Beet Slaw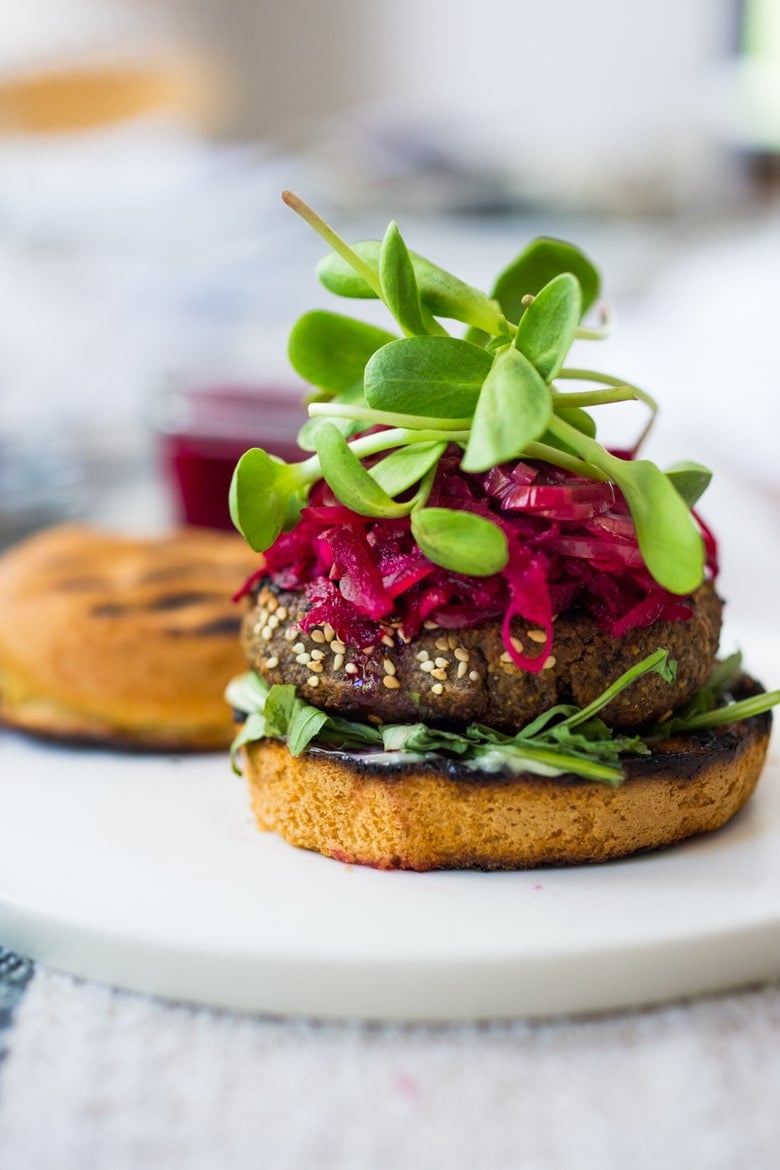 These flavorful vegan lentil burgers will not only totally hold their shape on the grill…they are full of amazing flavor and nutrients! Vegan! GF.
Drool-worthy Grilled Fish and Seafood Recipes
Grilled Whole Fish -Branzino!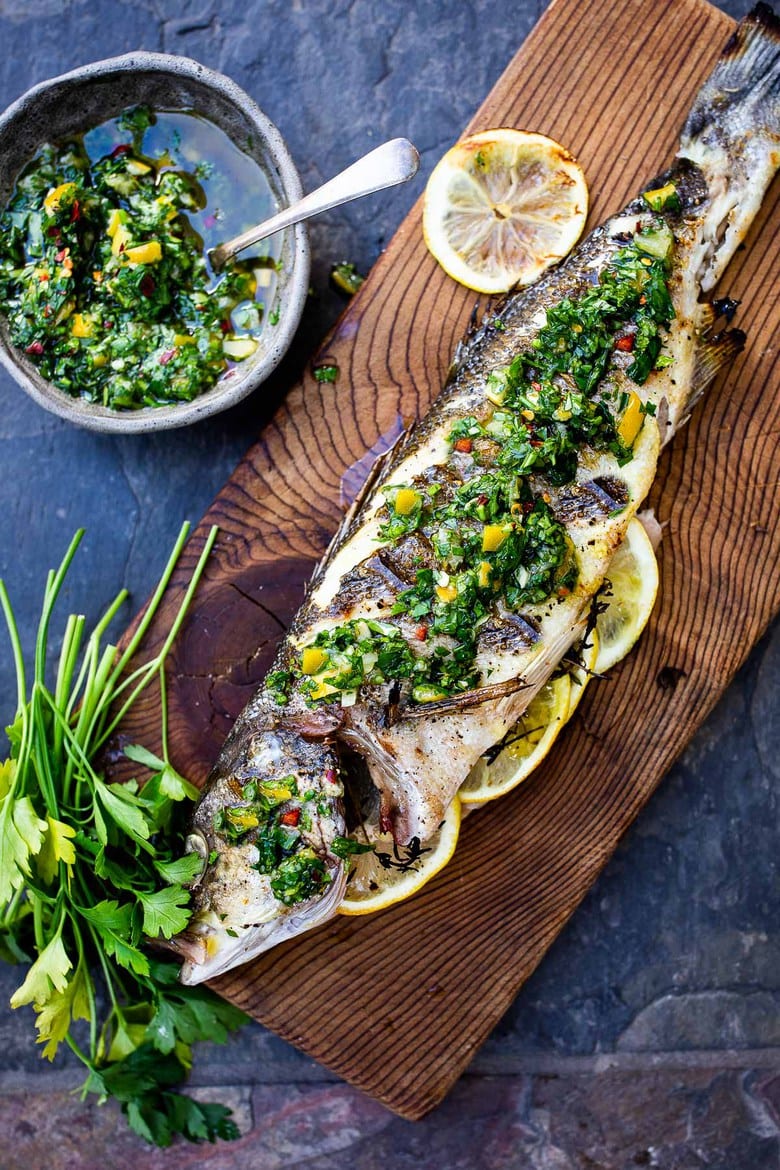 Grilled whole Branzino topped with the most flavorful Preserved Lemon Gremolata, (Zesty Herb Sauce) in about 30 minutes flat! A simple easy, healthy Mediterranean dinner!
Grilled Scallops with Charred Tomato Vinaigrette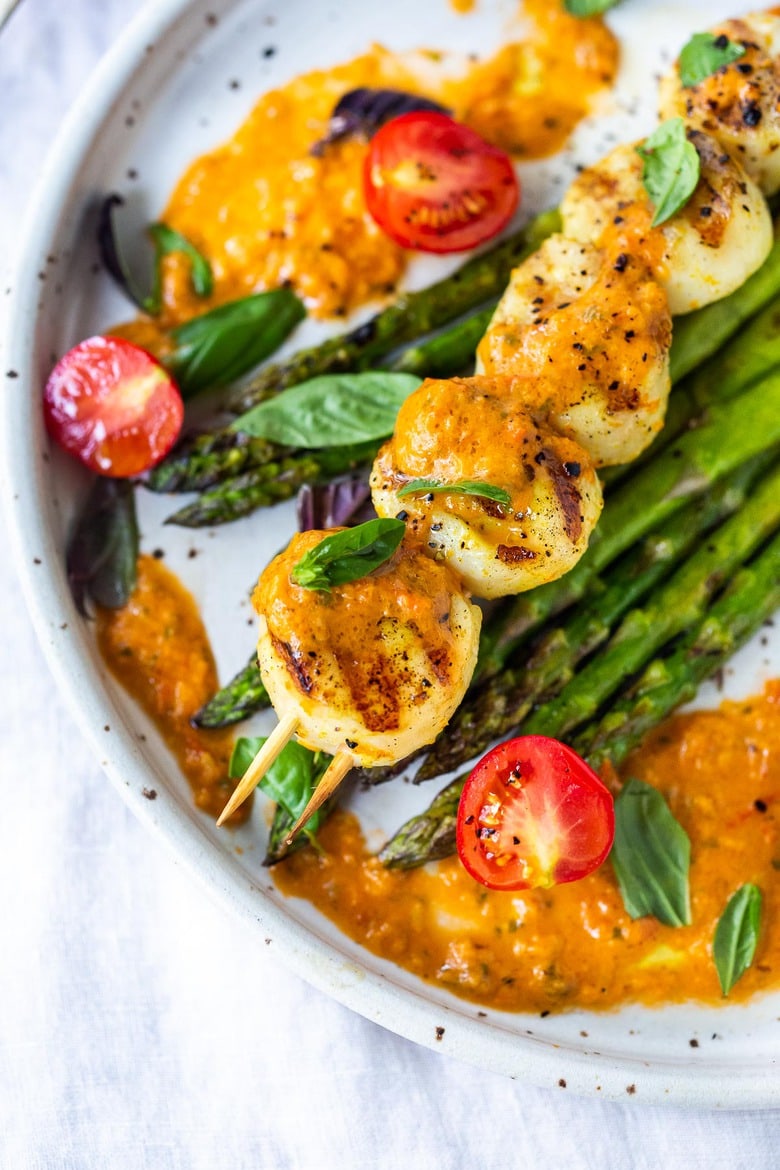 Grilled Scallops, marinated with olive oil, orange zest, coriander, salt and pepper, topped with Charred Tomato Vinaigrette. A delicious summer dinner that is fast, easy, light, refreshing and elegant!
Kerala-Style Grilled Fish
Here's a simple yet super flavorful recipe for Kerala-Style Fish, made with a flavorful paste that is either grilled or roasted in the oven. Curry leaves and Tamarind give this Indian Recipe its unique flavor. Serve this with Indian Lemon Rice.
Grilled Salmon Souvlaki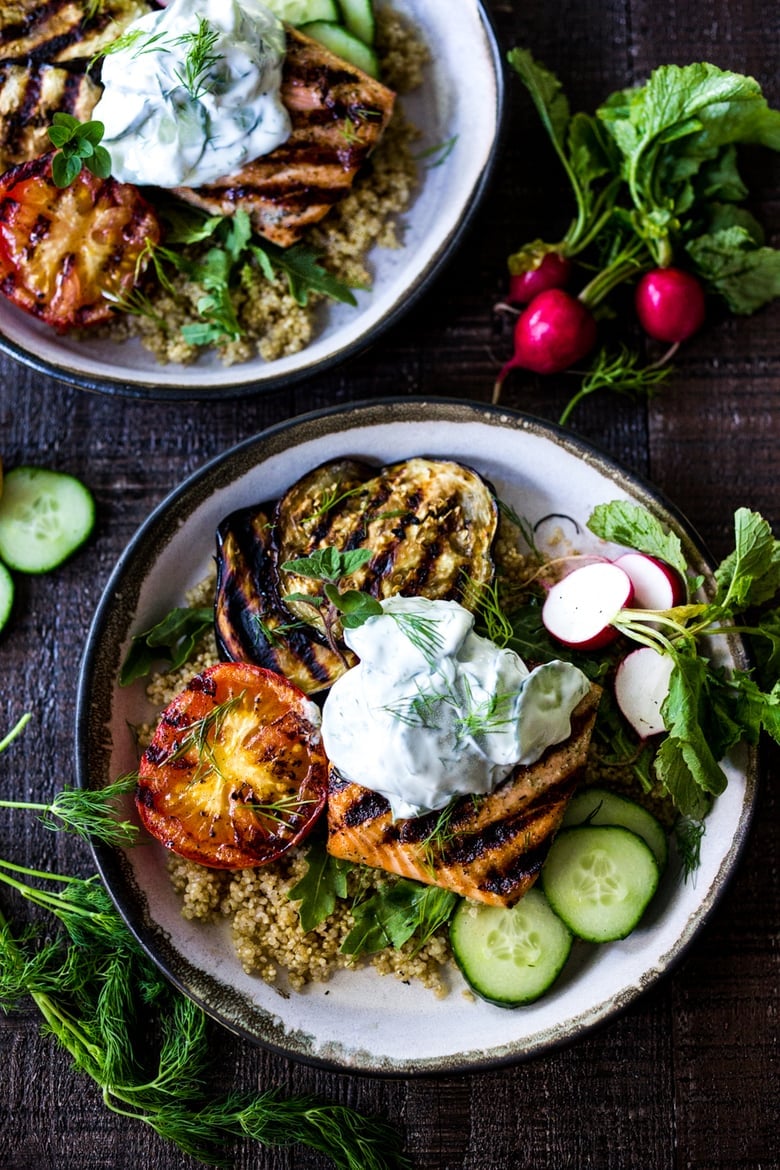 Simple and healthy Grilled Salmon Tzatziki Bowls– a fast and easy weeknight dinner loaded up with yummy grilled veggies, quinoa, tzatziki and grilled salmon! This one is a keeper! Vegans can leave the salmon off and double up on Eggplant!
Grilled Chipotle Fish Tacos with Peach Salsa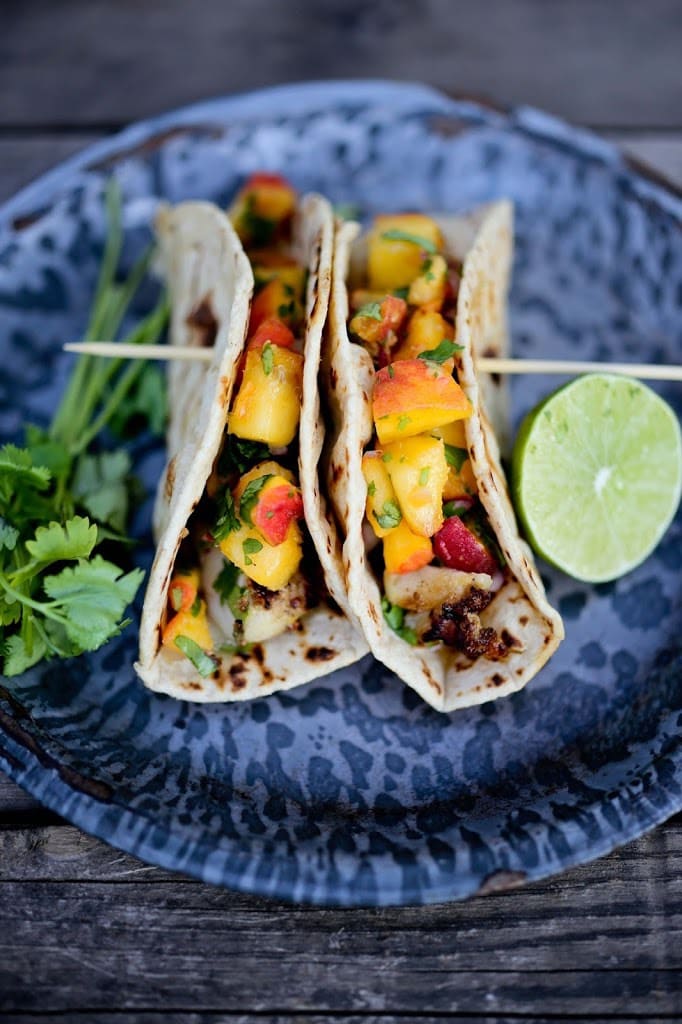 Grilled Chipotle Fish Tacos with Fresh Peach Salsa – spicy, smoky, light and healthy, full of delicious summertime flavor!
Grilled Whole Salmon with Pickled Huckleberry Relish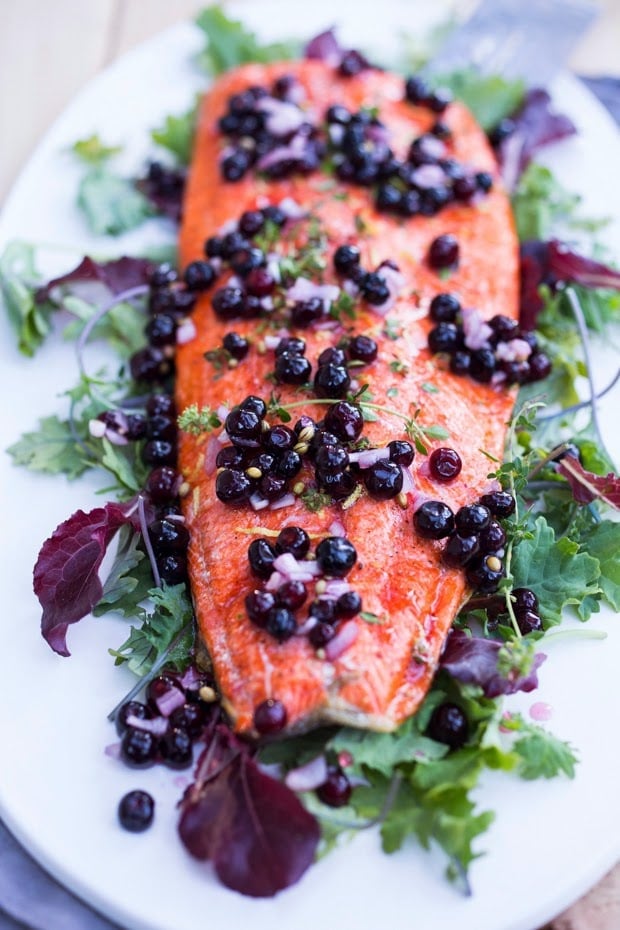 Grilled Salmon with Pickled Huckleberry Relish- Hands down one of my favorite salmon recipes ever. The first time I made this Grilled Huckleberry Salmon, Brian wittily called it –a bear's dream. Wild salmon is grilled until the skin becomes crispy. Then it's served with a flavorful & quick, Pickled Huckleberry -Shallot Relish. One of our most raved about recipes in catering. 😉
Our Favorite Fish Tacos with Cilantro Cabbage Slaw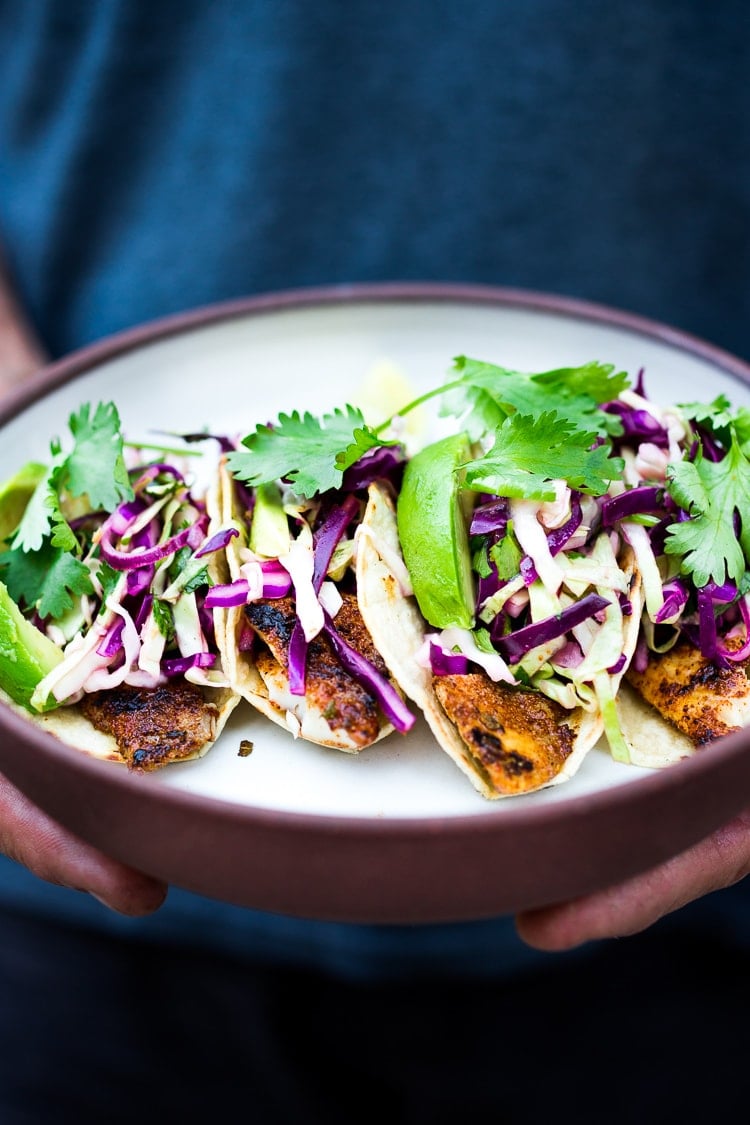 These are on repeat weekly here. Quick and EASY Grilled Fish Tacos with Cilantro Lime Cabbage Slaw. Fast and delicious! Healthy too! Vegan adaptable ( make with grilled, spice-rubbed tofu) and GF!
Caribbean Shrimp Tacos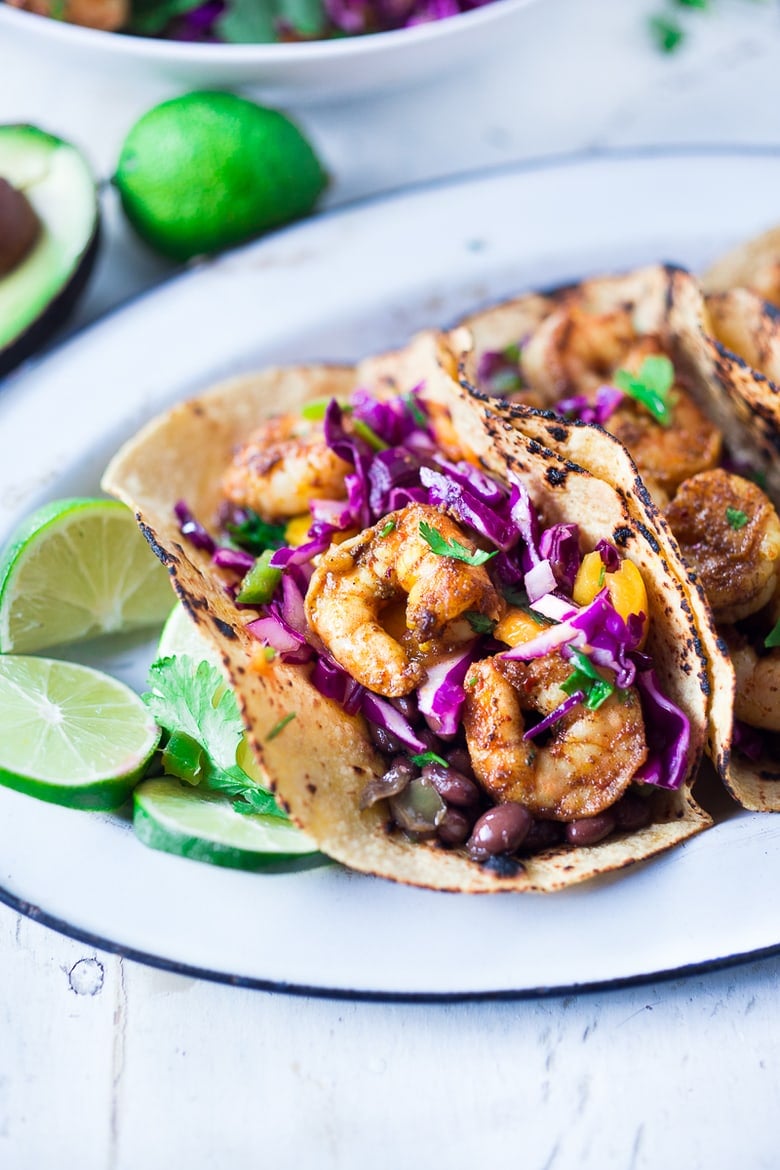 Grilled Caribbean Shrimp Tacos with Fresh Mango Cabbage Slaw and Cuban Black beans. A winner.
---
Grilled Bread and Grilled Pizza!
Grilled & Stuffed Naan Bread- THE BEST!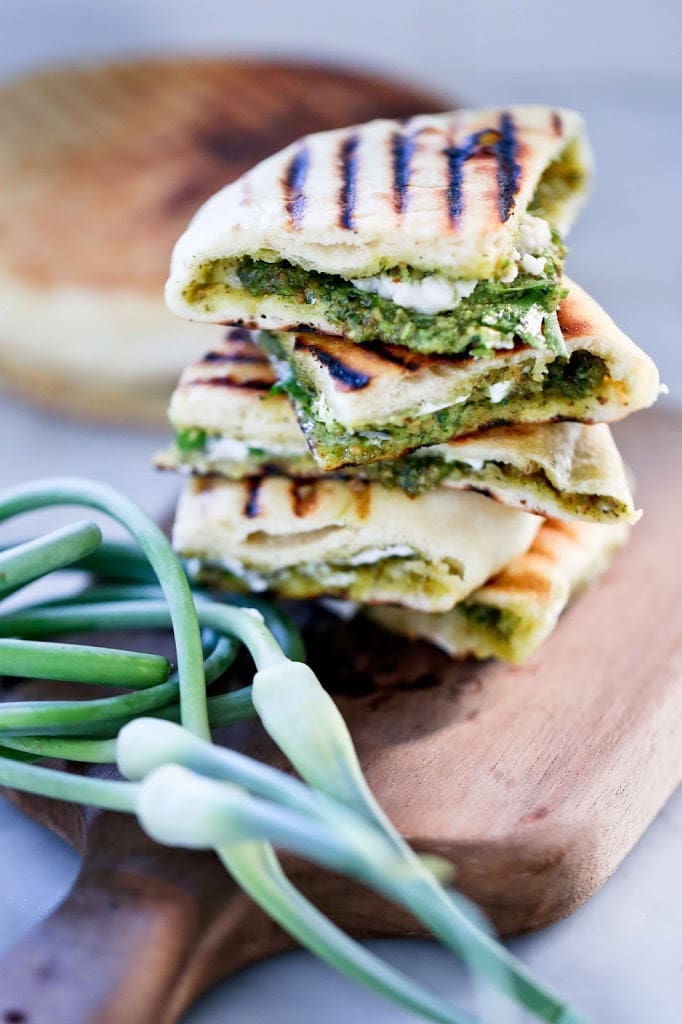 Grilled Indian Naan Bread stuffed with flavorful Garlic Scape Chutney and Melty Cheese. Utterly decadent and divine! Perfect for spring!
Grilled Fig Pizza with Caramelized onions and Gorgonzola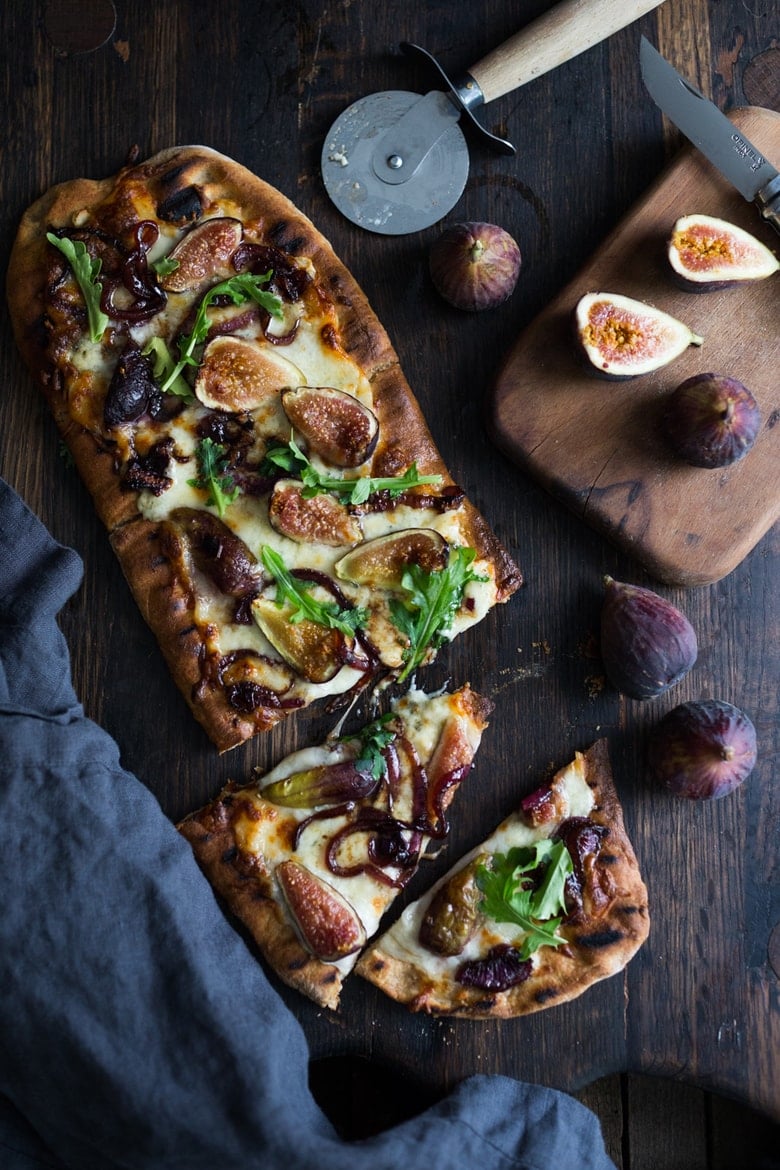 In this Grilled Pizza recipe, thin pizza crust is grilled for extra flavor – either directly on a grill or on a grill-pan on the stove. It's surprisingly easy and quick! Once both sides are grilled, the crust is topped with cheese- gorgonzola and mozzarella, fresh figs, caramelized balsamic onions and either placed back on the grill (on a pan) or in the oven to finish.
---
Grilled Burgers & Sandwiches for Every Diet!
Grilled Portobello Burgers (VEGAN)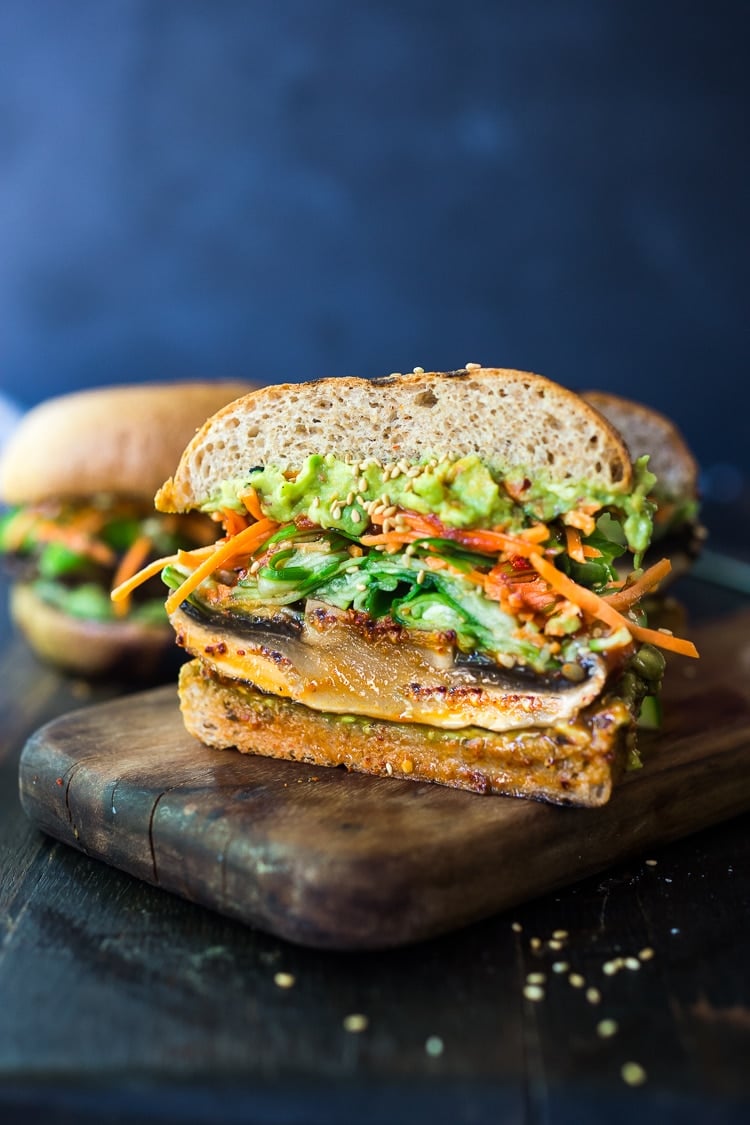 Grilled Spicy Miso Portobello Mushroom Burgers are full of delicious umami flavor! They are slathered with Asian-style Guacamole, topped with a cool cucumber ribbon salad and crunchy carrot slaw. Healthy, delicious and really satisfying. AND totally vegan!
Chimichurri Poblano Turkey Burger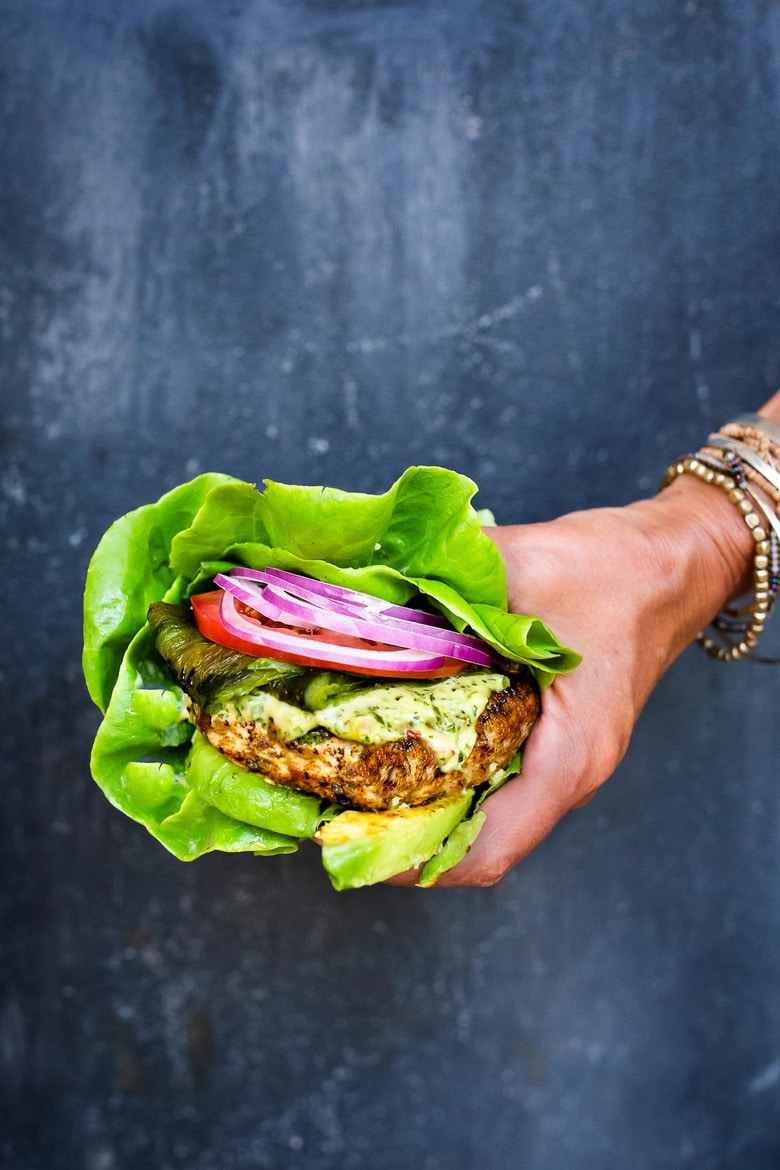 Going Keto? This juicy, flavorful Turkey Burger Recipe with jalapeño, cilantro, lime zest, scallions, roasted poblano peppers and Chimichurri Mayo can be served on a bun or in a lettuce wrap!
Bison Burgers with Smoky Mayo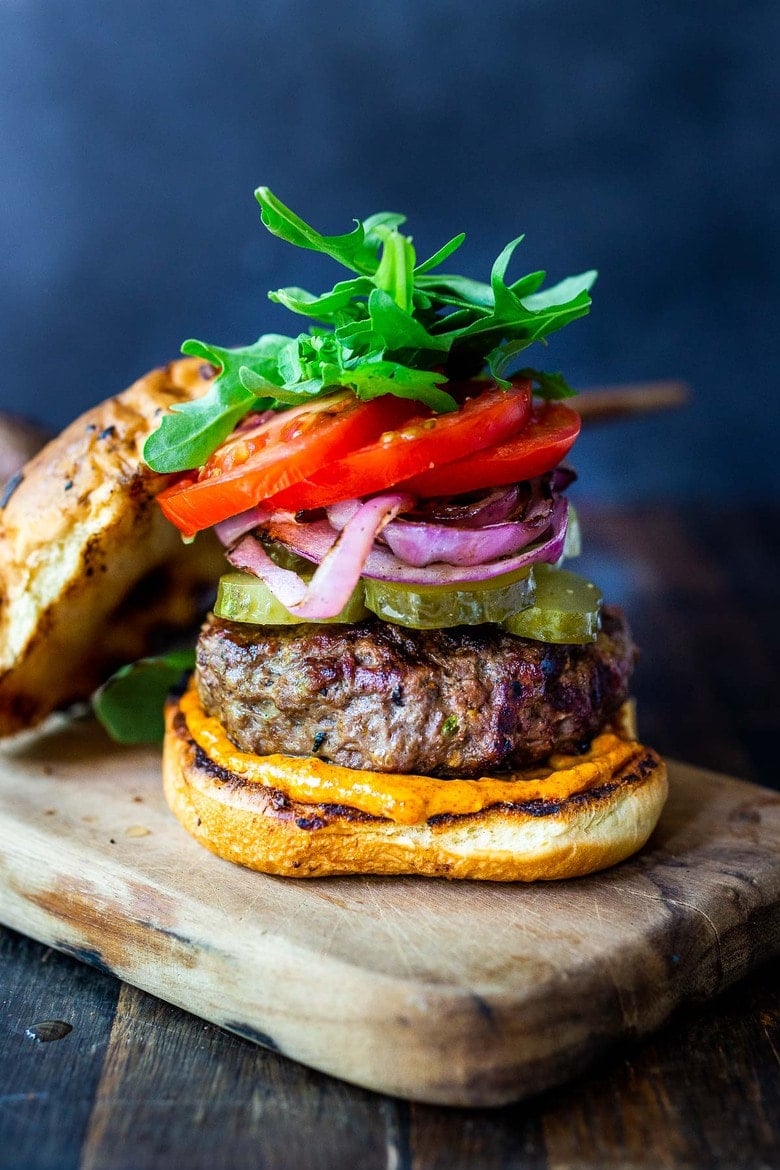 How to make the most delicious Grilled Bison Burger- a healthy alternative to beef because they are lower in fat and calories, and full of minerals and micronutrients. A lighter, leaner burger, that tastes amazing!
Thai Turkey Burgers with Asian Slaw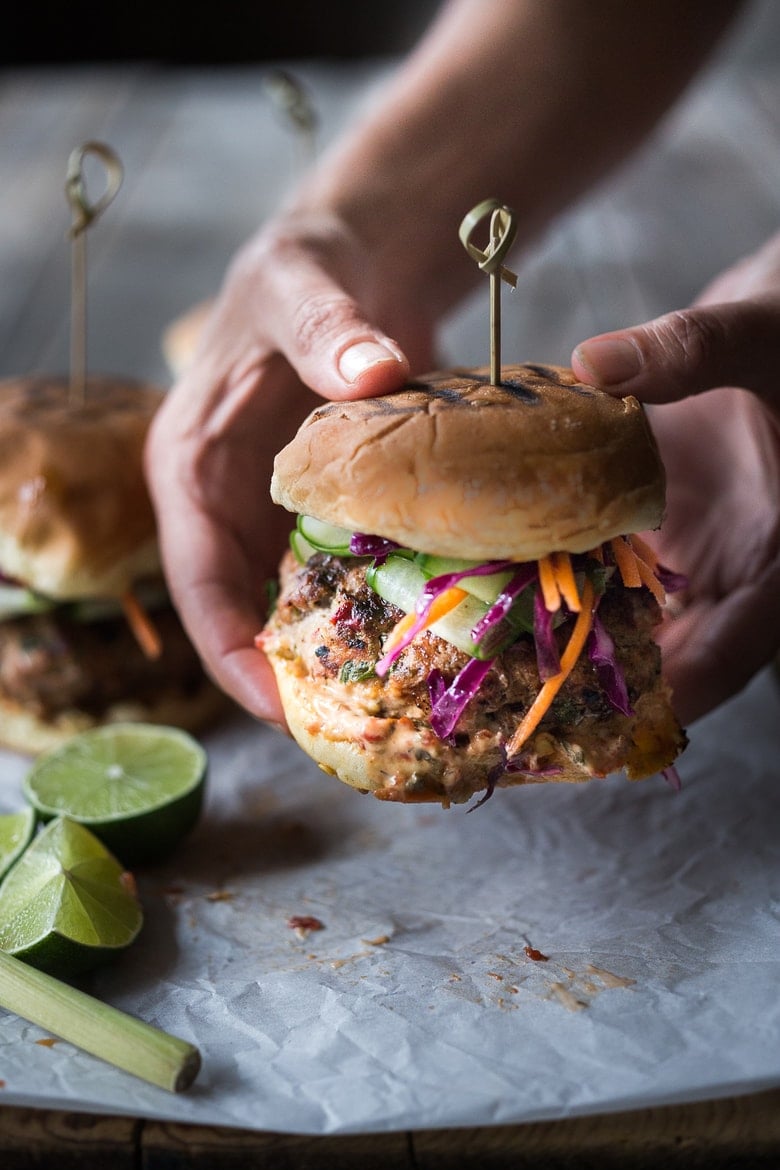 Grilled Thai Turkey Burgers with Asian Slaw, Cucumber Ribbons & Spicy Chili Aioli. Light, healthy, oh sooooooo delicious! Easy to make.
More Burger Recipes:
Juicy & Flavorful Grilled Beef, Lamb & Pork Recipes
Grilled Carne Asada Tacos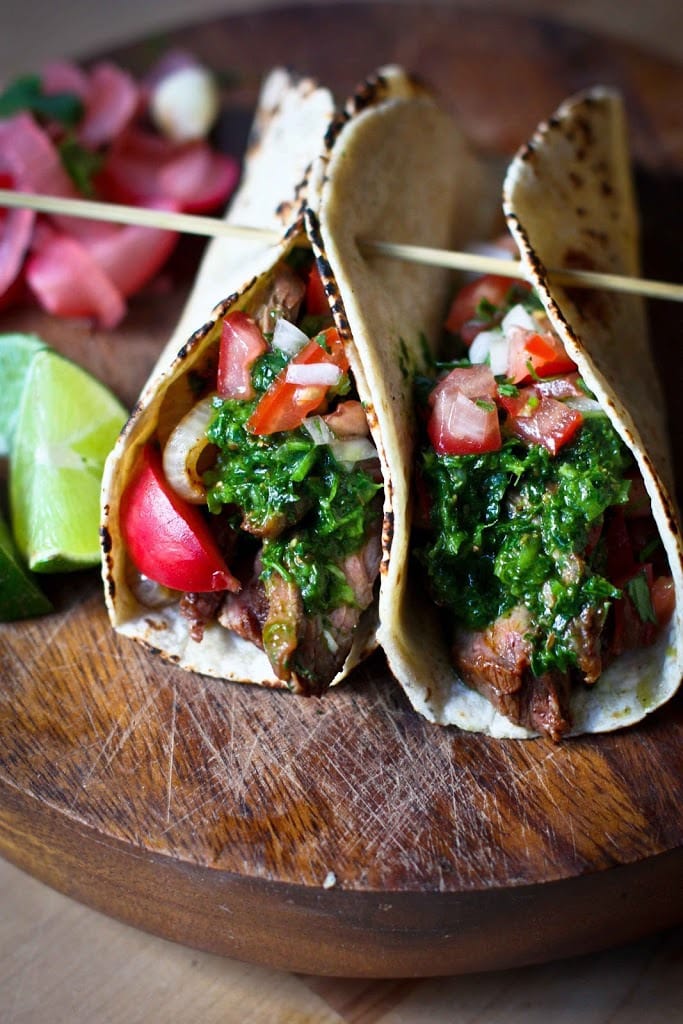 Grilled Carne Asada Tacos with Chimichurri Sauce – a delicious, epic meal bursting with flavor. One of the most popular recipes on the blog to date! Vegan adaptable!
Grilled Lamb Chops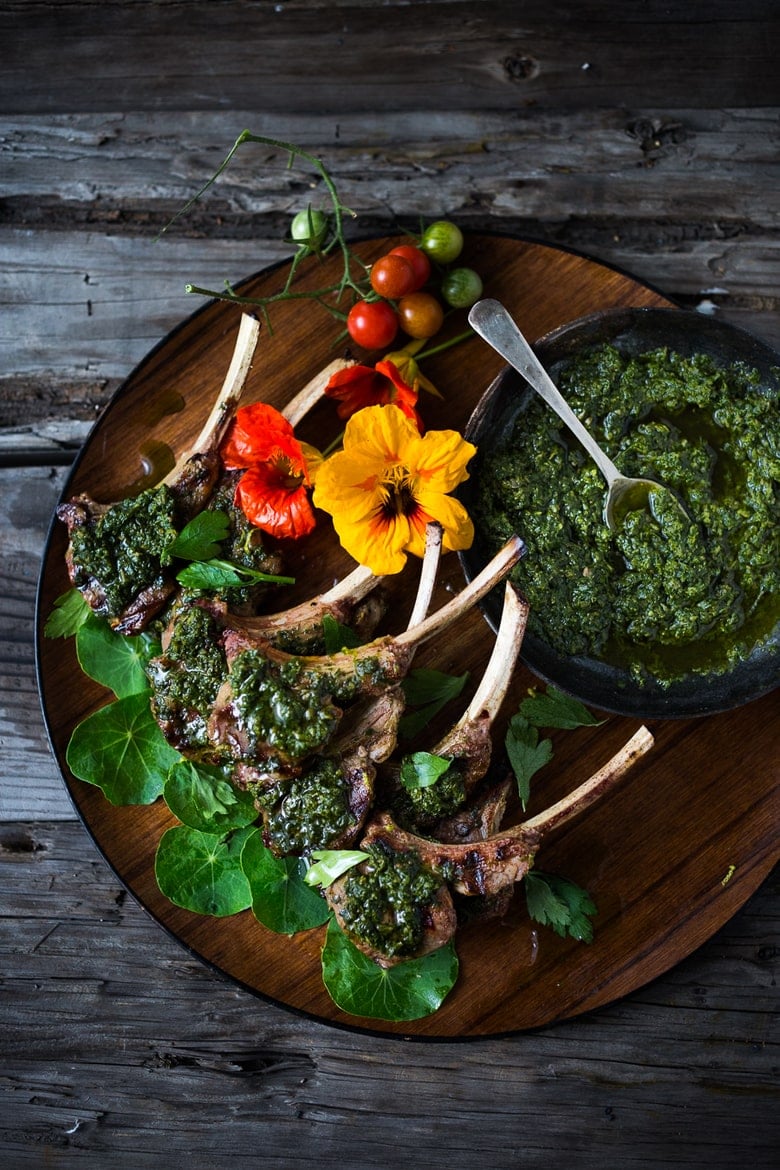 Grilled Lamb "Lolly Pops"with Salsa Verde. These grilled lamb chops are topped with the most flavorful Italian Herb Caper Sauce, called Salsa Verde. Serve them as a light meal with a salad, or as a quick, easy appetizer. Fast, flavorful and oh so delicious!
Grilled Flank Steak
Grilled Flank Steak with Grilled Corn & Radish Salad comes together quickly and easily. Fresh sweet corn, lightly grilled, then cut off the cob, drizzled with lime juice and tossed with radishes, red onion and parsley complement the flavors of the grilled beef, which is rubbed with smoked paprika, cumin and salt.
Grilled Chilean Beef Skewers with Chimichurri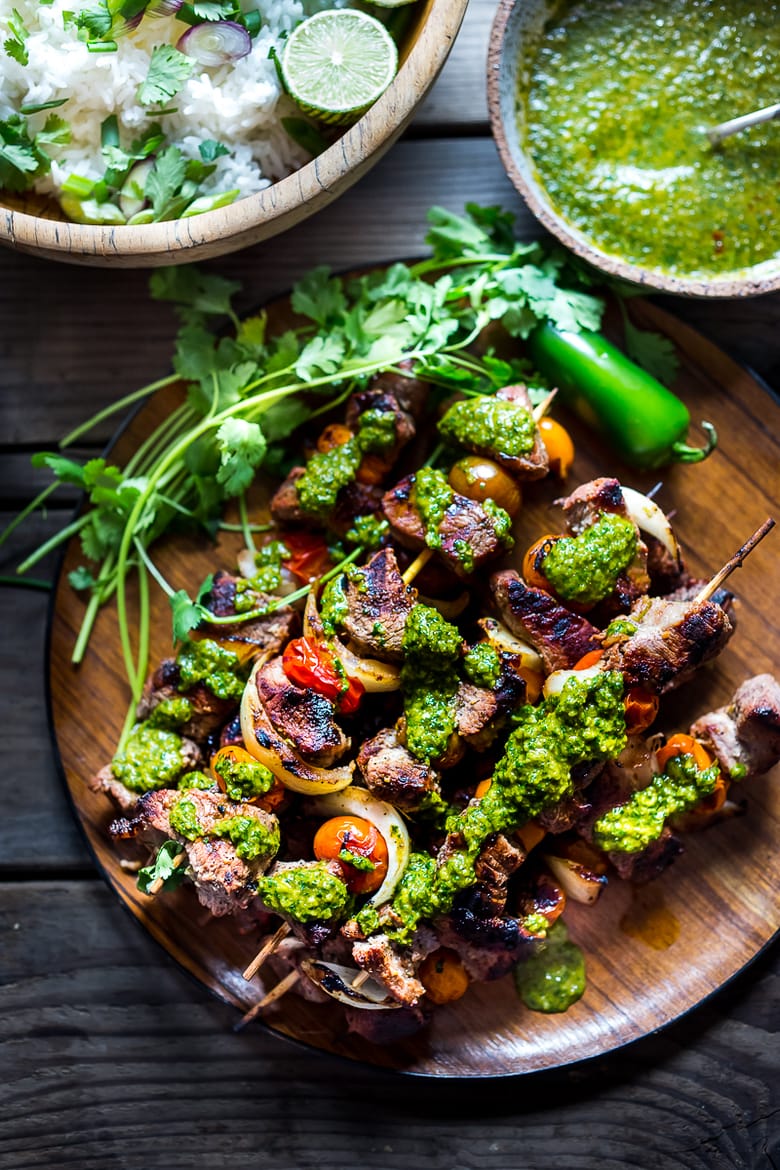 Grilled Chilean Beef Skewers with Smoky Chimichurri Sauce and Cilantro Rice. An easy flavorful weeknight meal. Substitute cremini mushrooms and veggies for the beef and for a delicious vegan alternative. Paleo, GF and vegan adaptable!
Grilled Lamb Kebabs with Herb Salad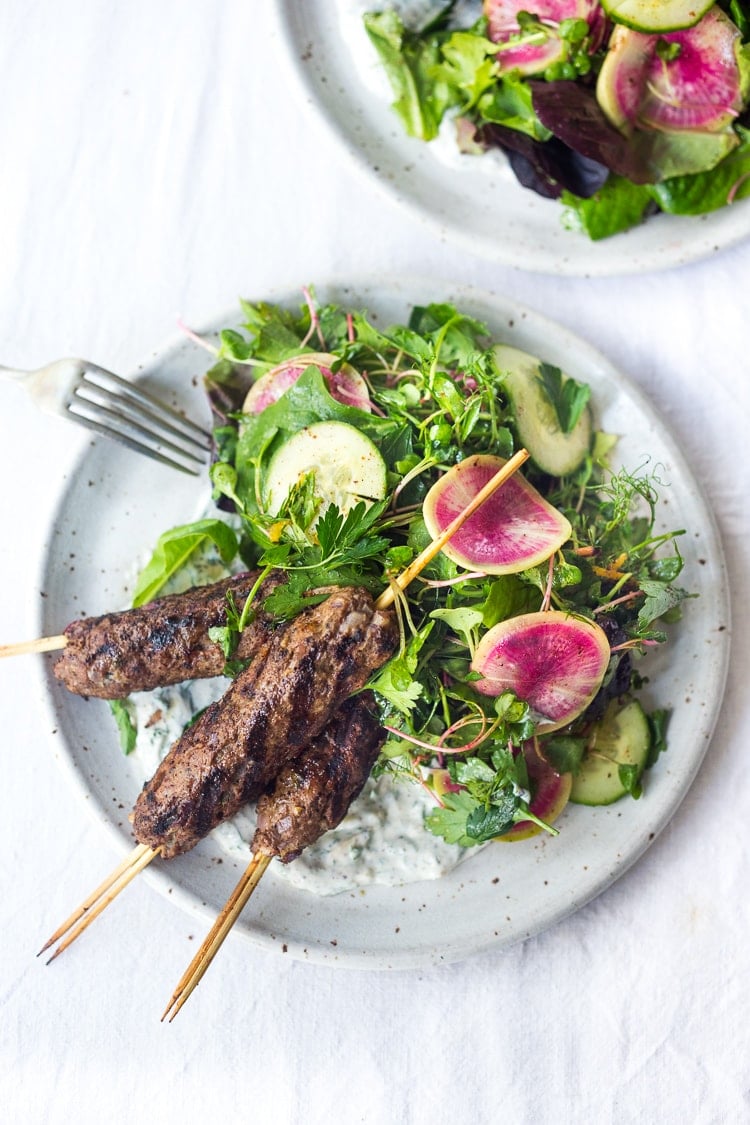 This Grilled Lamb Kebab Recipe is delicious, paleo-friendly recipe bursting with amazing Middle Eastern flavors. You can also make these with ground turkey! Seriously good.
More grilled meat recipes:
Our Favorite Barbecue Sauce!
This homemade barbecue sauce recipe is easy to make, in just 25 minutes! It's deep and smoky, tangy, sweet with a little bit of heat. Vegan, gluten-free adaptable!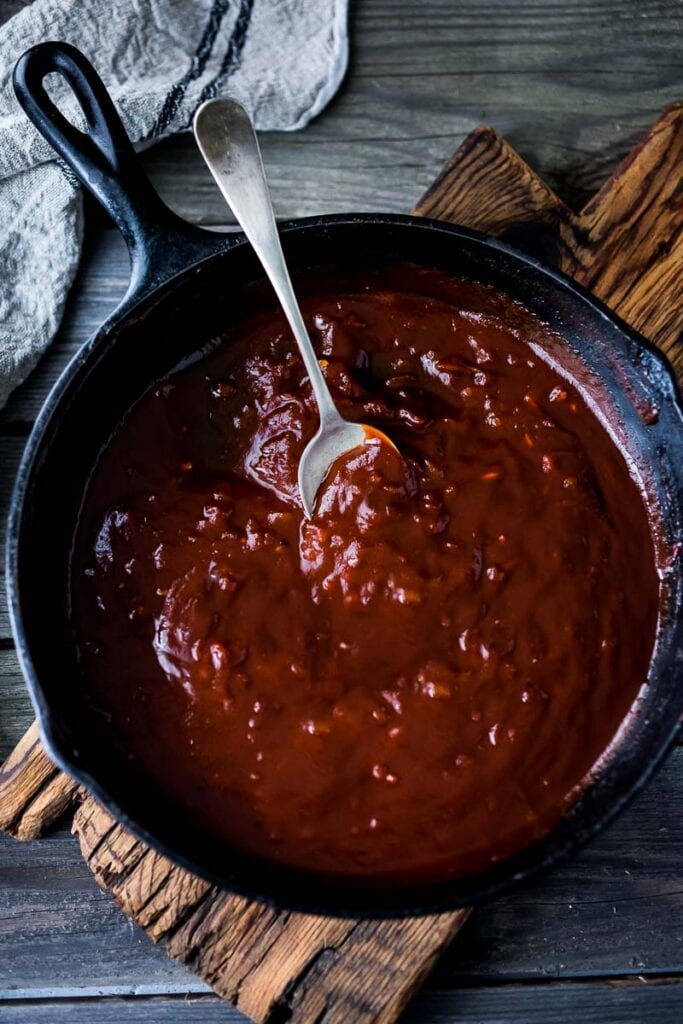 Grilling FAQS
What is the best thing to cook on a grill?
Grilling vegetables on the grill brings out their flavor- asparagus, potatoes, bell peppers, eggplant and tomatoes. If you eat meat, salmon and chicken are delicious grilled!
What are fun things to cook on the grill?
Skewers are fun! Make sure to soak them first. I also love grilling fruit- slices of pineapple, watermelon, and halved peaches. Grilling romaine lettuce is also a fun unique option!
What is the difference between grilling and barbecue?
Grilling is when you cook over a hot flame, generally quick and fast. Barbecuing is when you cook low and slow for a l long period of time.
Grilling Tips, Resources & Gifts.
For weeknight dinners, I often use this outdoor grill. It is small (so it heats up faster), portable, quick, efficient, and perfect for 2-4 people. Many have been skeptical but end up telling me how much they love it. Just sayin'. 😘
A charcoal grill is great on the weekends, and during the winter, I'll use a cast-iron grill pan, on my stovetop.
This GRILL BASKET is great for grilling smaller veggies. Spray olive oil makes greasing the grill faster & easier. Metal tongs and a metal spatula are easier for my hands to hold (vs great big grilling sets that are hard to wash). A wooden, grooved-edge, Cutting Board (to catch any juices) is also handy. I also like the look of this Grilling Apron.
A good source of wild salmon, organic, free-range meat (chicken and grass-fed meats with no antibiotics) is Butcher Box! You can customize your box and the delivery timing – use this link Butcher Box for a free, sign-up gift – yes, an affiliate link.
Have a lovely weekend friends. Enjoy it!!!
xo
Print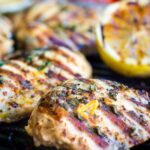 50+ Best BBQ Ideas!
Prep Time:

5

Total Time:

15

Yield:

⅓ cup

1

x

Category:

Spice Blend

Method:

stirred

Cuisine:

American

Diet:

Vegan
---
Description
Our Top 50 bbq recipes for summer. Here's our favorite All-Purpose Dry Rub to use on grilled tri-tip, grilled Flank steak, grilled chicken recipes, grilled salmon, grilled Tofu Steaks, or Portobello steaks!
---
All-Purpose Dry Rub
1

tablespoon coarse salt

1

tablespoon granulated garlic

1

teaspoon fresh cracked black pepper

1 teaspoon

brown sugar

1 teaspoon

dried thyme

1 teaspoon

smoked paprika

1 teaspoon

sweet paprika (or chili powder)

1 teaspoon

cumin

1/4

teaspoon cayenne pepper (optional)

1/4

teaspoon ground cloves (or allspice)

1/4

teaspoon cinnamon
---
Instructions
Mix all ingredients in a small bowl. Store in an air-tight container.
---
Notes
For an excellent Beef Rub: Add 2 tablespoons ground coffee, increase salt by ½ tablespoon
Nutrition
Serving Size:

1 teaspoon

Calories:

12

Sugar:

1 g

Sodium:

932.4 mg

Fat:

0.1 g

Saturated Fat:

0 g

Carbohydrates:

2.8 g

Fiber:

0.5 g

Protein:

0.4 g

Cholesterol:

0 mg
Keywords: grill recipes, best recipes for grilling, grilling recipes, rub recipe, beef rub, chicken rub, bbq rub, all purpose rub, dry rub, beef rib rub,