These Grilled Steak Tacos with Cilantro Chimichurri Sauce are hands-down, my favorite tacos – perfect for outdoor gatherings and barbecues. Vegan Adaptable… see recipe notes!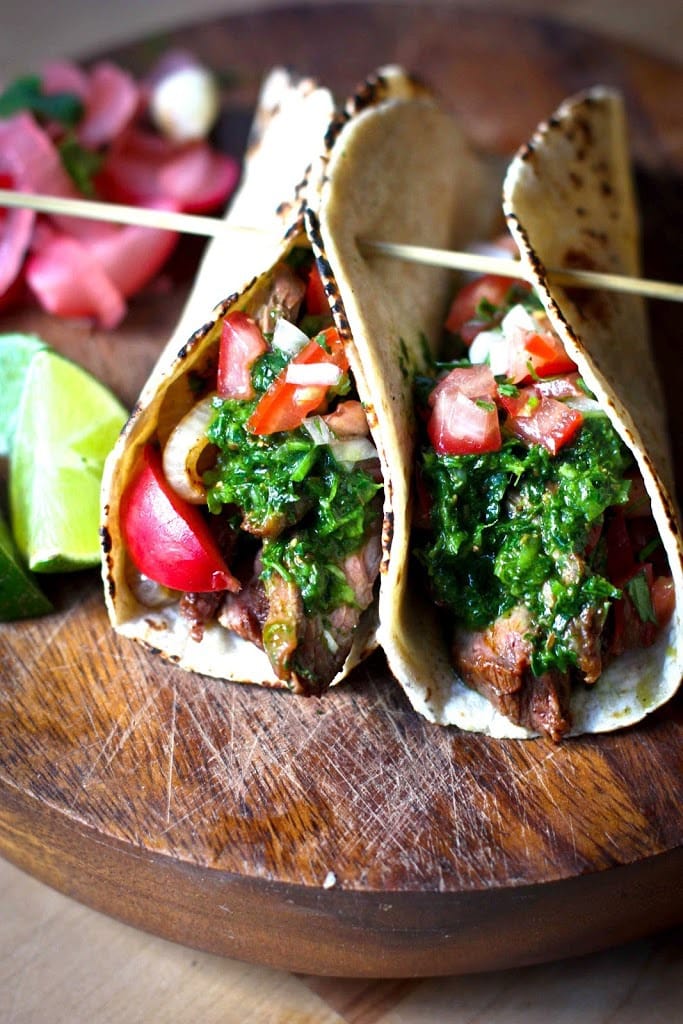 Your task is not to seek for love, but merely to seek and find all the barriers within yourself that you have built against it. ― Rumi
My personal obsession when visiting Mexico is always the same – to find the best taco! After a day or two of serious reconnaissance work, it becomes clear which taco stands are the busiest, have the longest lines and draw the most locals… and that is where I camp out.
There, tacos cost less than a dollar, tortillas and hot sauces are made from scratch, ingredients are locally grown and ripened on the tree and vine – and this is why they taste so good.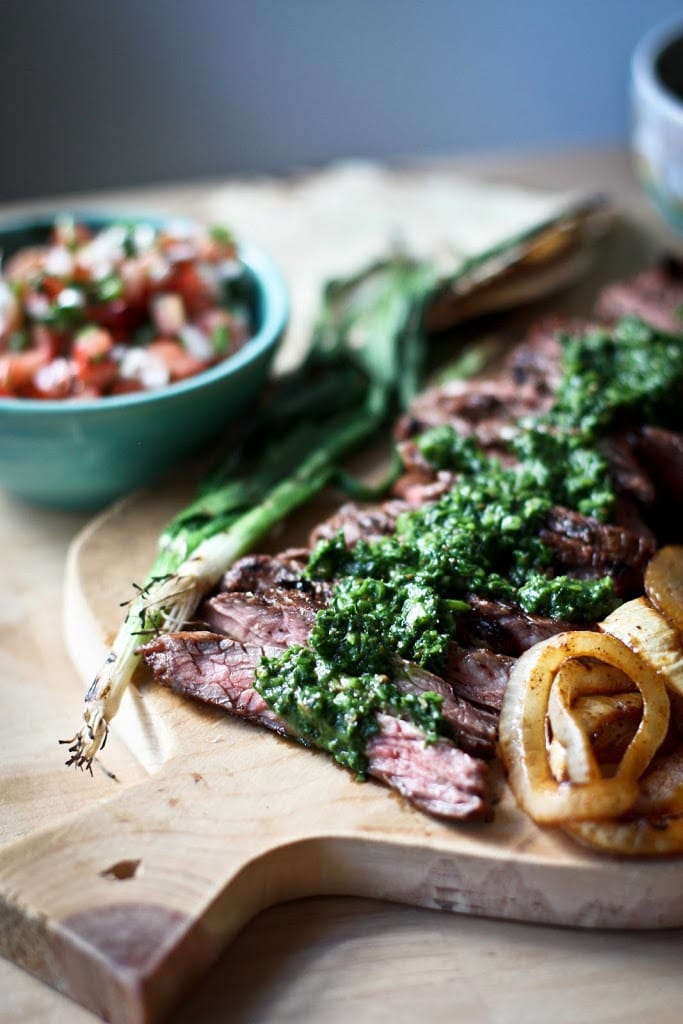 One of the best things about growing up in Southern California, was its proximity to Mexico. Being able to drive over the border or hop on a quick flight gave us the opportunity to visit many different areas and experience regional Mexican cuisine.
I have many fond memories of being in Mexico. Living in the north, I am drawn to its warmth. Not only do I speak of temperature, which is paramount in the middle of February, but also of the warmth of its people.
When you visit places, you feel the energy of a place, and its people. In Mexico, I have always felt safe. I have been touched by the gentle and kind nature of people I meet there. There is a generosity of spirit, even among those who have very little. And this is what draws me there time and time again. This, and of course the quest for the perfect taco.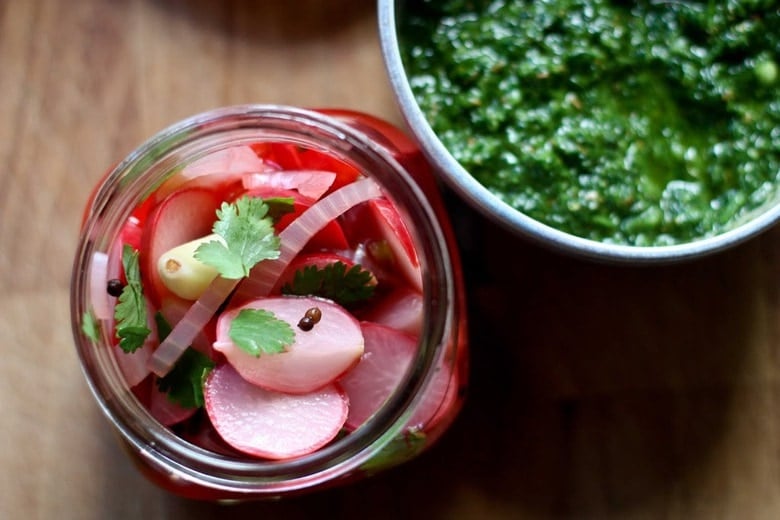 Although, this is not a traditional Mexican taco, it comes very close to the perfect taco for me. The Cilantro
Chimichurri Sauce
gives this dish an amazing burst of flavor. And I use it on everything from grilled vegetables, to fish, chicken and tofu. But it's particularly good with grilled beef, and it's a perfect summer condiment.
Flank steak is marinated and grilled.
Several sides are made: Cilantro Lime Chimichurri, Quick pickles (radish, onion, carrot or whatever you like) or make
Pickled Red Onions
, and simple Pico de Gallo Salsa. Served with grilled onions or scallions, freshly grilled tortillas, crumbled cotija, lime wedges and Tapatio, the tacos are flavorful and delicious.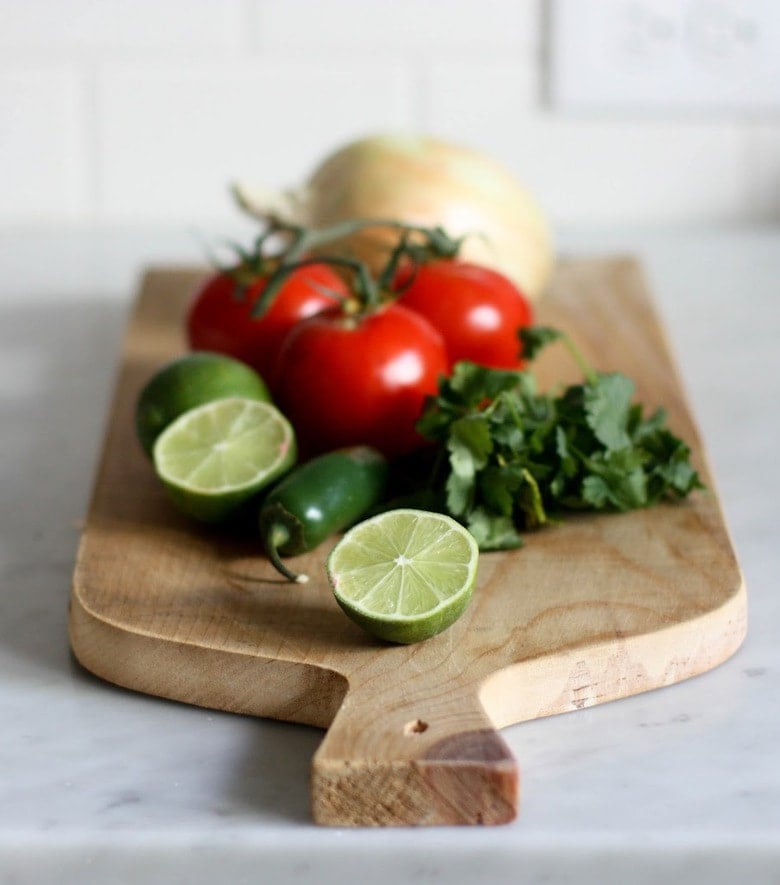 Lightly
grill
them or toast them over a gas-flamed stovetop, until they just begin to bubble. Keep them warm by stacking them and wrapping with a clean
kitchen towel
.
When working with tomatoes and limes, bring them to room temperature before using. You will extract more juice from citrus when at room temperature. Roll it on the counter firmly with your palm before slicing. Tomatoes at room temperature tend to be more flavorful. In fact, I rarely refrigerate a tomato.
When grilling beef, bring meat to room temp before grilling. Preheat your
grill
to med-high. A little charring is good. Remember to let meat rest 10 minutes before cutting across the grain.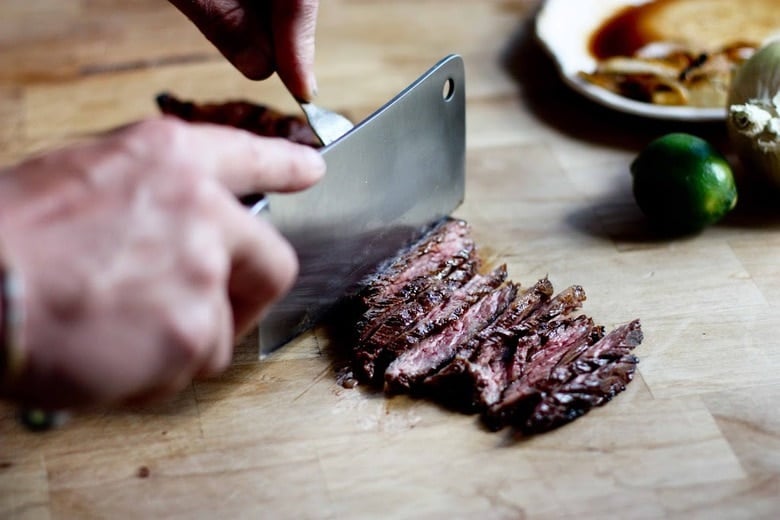 Slice steak across the grain, into thin bite-size strips and lay on a big cutting board, topped with a generous amount of the Chimichurri sauce. Place salsas, quick pickles, limes, crumbled cojita cheese, and grilled onions all around it.
When working with cilantro and Italian parsley, remember that their stems are actually flavorful. You can use the top tender stems without having to pick thru each one for its leaves. It saves time and actually adds flavor. I literally take the whole top of the bunch of cilantro in my hand and twist it off. The stems that come off with the tops are tender, and I use them in the chimichurri and in salsa. And the same with parsley.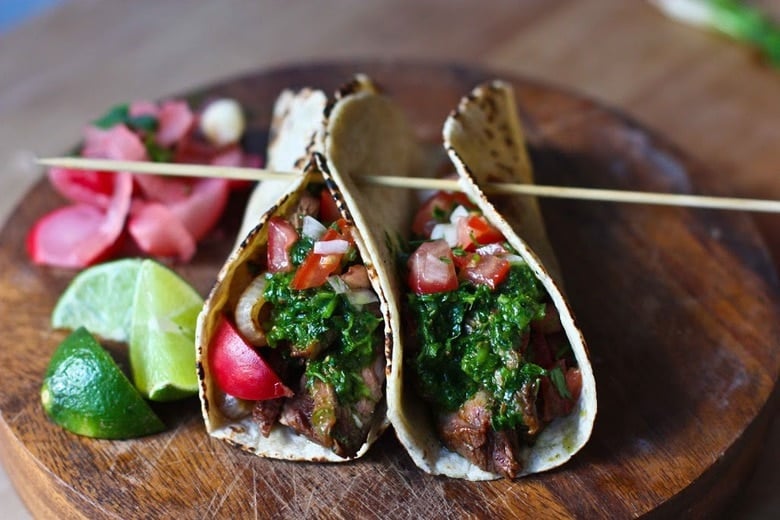 Brian and I make tacos together. I marinate the beef and make all the sides. He is in charge of the grilling. It is fast and easy work with two people, and we can have most of it complete in 40 minutes, sometimes 30 if the meat is pre-marinated.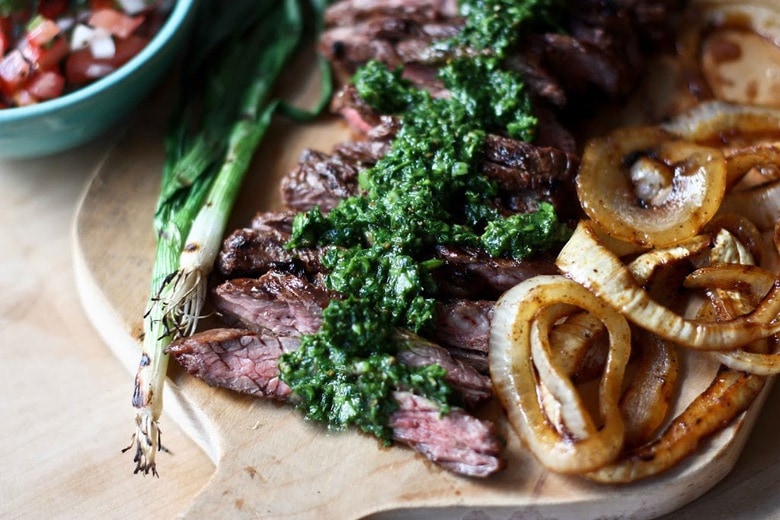 It's a great meal to serve when having guests over. An even simpler marinade for the beef is to just coat in soy sauce and the juice of one lime, for 15 minutes. In a pinch, I will sometimes do this.
A quick substitution for vegans and vegetarians is Mexican Spice Rubbed Tofu ( see recipe notes).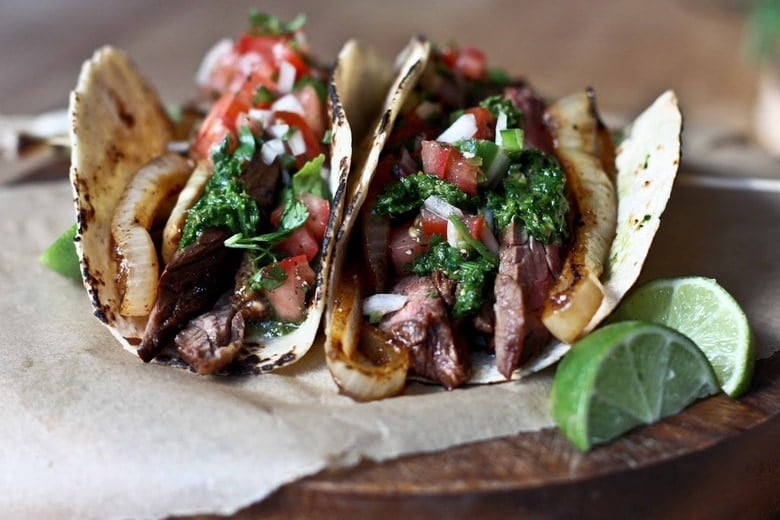 If you would like to put on a more elaborate spread, some other additions could include sliced
avocado
, guacamole, crumbled queso fresco or cotija cheese, or a fresh tomatillo salsa. Serving everything on an extra-large
cutting board
, letting people make their own taco, is a fun way to serve a group of people.
What sides to serve with Steak Tacos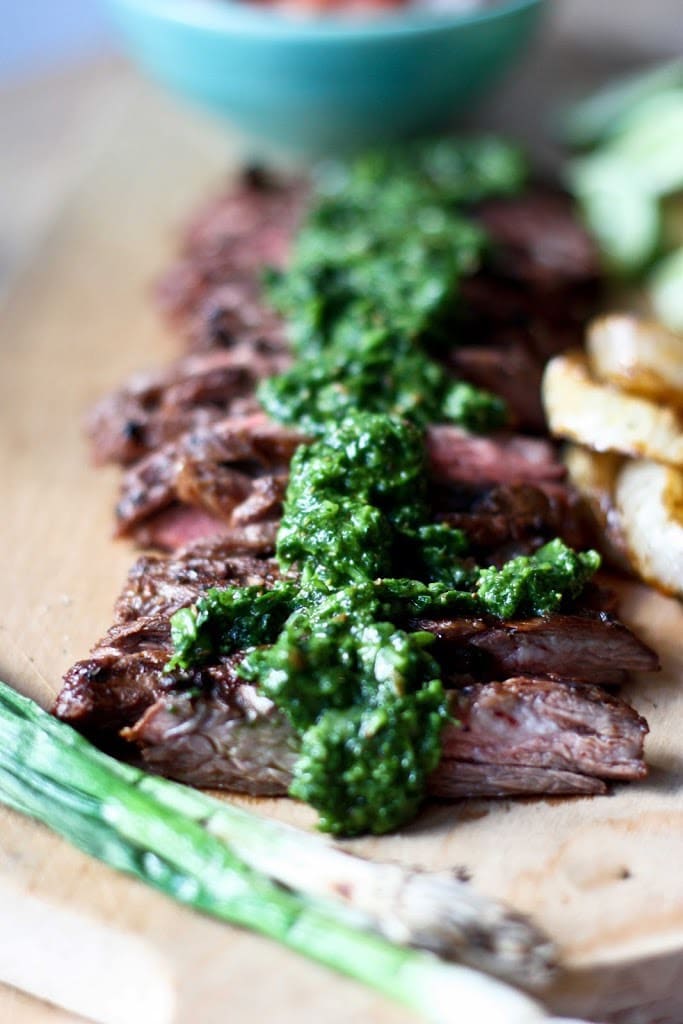 Hope you enjoy these grilled steak tacos with
chimichurri sauce
! Please let us know how you like them in the comments below!
Print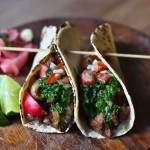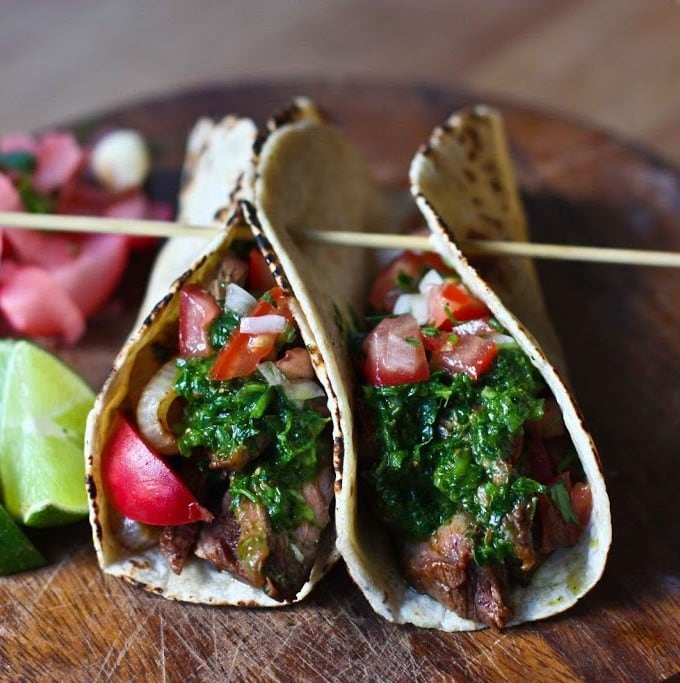 Grilled Steak Tacos with Cilantro Chimichurri Sauce
Prep Time:

60 mins

Cook Time:

20 mins

Total Time:

1 hour 20 mins

Yield:

6-8

Category:

Main, beef

Method:

grilled

Cuisine:

Mexican
---
Description
Grilled Steak Tacos with Cilantro Chimichurri Sauce….flavorful and delicious, perfect for outdoor gatherings and barbecues.
---
2

lbs Flank Steak (or pounded skirt steak, organic grass-fed is best)

1

sliced sweet onion for grilling (optional)
Marinade:
Cilantro Chimichurri Sauce:
1

bunch Cilantro or about 1 cup packed (stems OK)

1

bunch Italian Parsley- about 1 cup packed (thin stems OK)

1/4 cup

fresh lime juice (

1

–

2

limes)

1/2 cup

olive oil

¼ cup

chopped onion

2

garlic cloves

2 teaspoons

ground cumin

2 teaspoons

ground coriander

3/4 teaspoon

kosher salt

1/2

of one jalapeño pepper
Simple Pico De Gallo:
4

vine-ripe tomatoes, chopped

1/2

medium red onion, chopped

2

green onions, white and green parts, sliced

1

Serrano chili, minced

1

handful fresh cilantro leaves, chopped

3

garlic cloves, minced

1 1/2

limes, juiced

1/4 cup

extra-virgin olive oil

1 teaspoon

kosher salt
Quick Pickles: ( or sub Pickled Red Onions) 
2 cups

mix of sliced radishes, onion, or carrots, cauliflower, or whatever you like

1 cup

vinegar

1 cup

water

1/2 teaspoon

kosher salt

2 Tablespoon

sugar

1 teaspoon

whole peppercorns or whole coriander seed
A few sprigs of cilantro
Tortillas: 10-12- homemade tortillas are nice! Or, Corn and Flour blend are my favorite!
Garnish Ideas:
---
Instructions
Steak Instructions: In a large bowl, mix together ingredients for the marinade. Place steak and onions in the bowl and toss with marinade. Let sit at room temp for at least 30 minutes, turning occasionally. (Or marinate for up to 3 hours in the fridge, bringing to room temp before grilling.) Pre-heat grill and grill meat. Grill steak on med-high heat to the desired doneness. A little char is good. Let rest 10 minutes, then thinly slice the meat across the grain.
Chimichurri Instructions: In a food processor, place jalapeno, garlic, onion, and pulse several times until chopped. Add cilantro (stems are fine) and Italian parsley (again, thin stems are fine), pulse again. Add oil, lime juice, cumin, coriander, and salt. Pulse until combined. Set aside in small serving bowl.
Salsa: Finely dice tomato, onion, jalapeño and cilantro. Season with salt, pepper and lime. Sometimes I'll add diced avocado and a couple splashes of Tapatio hot sauce. Place all in a bowl, mix and let sit for 15 min to 1 hour (makes 2 Cups)
Quick Pickles: In a small sauce pan, combine water, vinegar, sugar, salt and peppercorns or coriander seeds. Add your choice of sliced radishes, slivered onions, thin sliced carrots or what ever else you like. Bring to a boil. Remove and place in freezer for 10-15 minutes (or refrigerate until cold). Remove and place in a serving bowl or jar. Top with a little fresh cilantro.
Tortillas – lightly grill, until soft and pliable (or grill directly on a gas burner. flipping and turning for 30 seconds) wrap up in a towel, to prevent drying.
Serve everything together, along with any additional garnishes.
---
Notes
Vegan Option: Seared Mexican Rubbed Tofu: Use your favorite taco seasoning, or make your own using this spice rub recipe. Cut tofu into strips, coat with spice rub and sear all sides in a hot skillet with a little oil. I will often start with coating and searing one piece of tofu first,and test for salt.
---
Keywords: steak tacos, grilled beef tacos, chimichurri sauce, chimichurri steak tacos, cilantro chimichurri sauce, grilled steak tacos,
SaveSave
SaveSave
SaveSave