This Feel Better Chicken Soup with Lemon and Ginger will warm you to your bones! Brothy and flavorful, this highly-adaptable recipe is the perfect base for your own creations. Use whatever grain or starch you prefer- noodles, rice quinoa, beans- or keep it keto and low-carb! It can also be made in an Instant Pot or Slow cooker!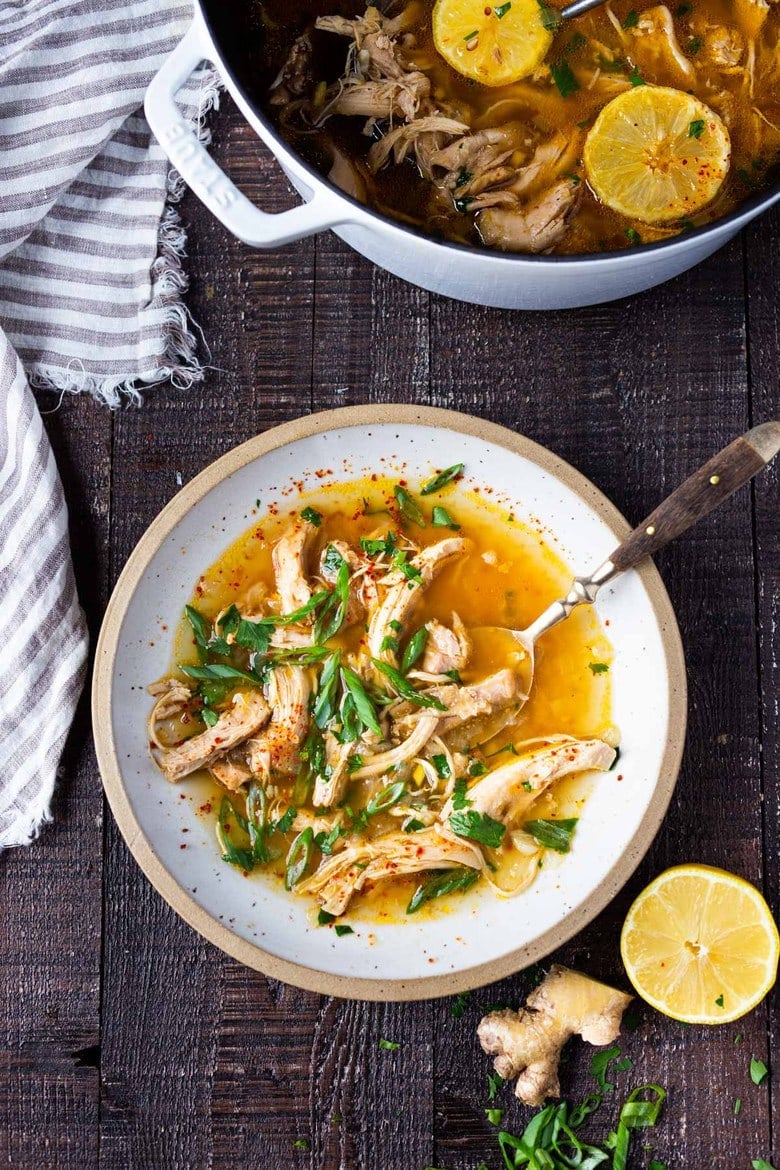 Hi friends, I wanted to share a recipe we've been making for years around here, especially when feeling under the weather. Feel Better Chicken Soup! I like to make a batch and keep it in jars in the fridge, or even freeze it for times when I don't feel like cooking.
The brothy chicken soup is super lemony and gingery, very soothing for stuffy heads and sore throats. The best part is once you have the basic soup made, you can take it in all sorts of directions, using what you have on hand.
Sometimes I'll add leftover pasta from the pantry, like orecchiette, orzo or even spaghetti. Sometimes I'll add a can of white beans or frozen wontons. Other times I'll add leftover rice or rice noodles. And sometimes I'll toss in some baby spinach and drizzle it with sesame oil and sprinkle with scallions and call it good. And it is! Sooooooo good!
You can make this on the stovetop in about 35 minutes, or in an instant pot or even in a slow cooker. It is a very simple easy recipe.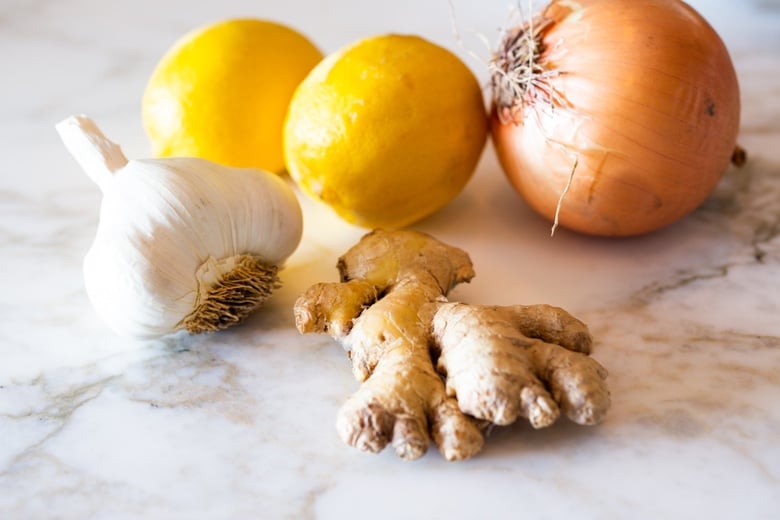 Feel Better Chicken Soup starts with sauteing onion, garlic and ginger until tender and fragrant and golden. I like to add a lot of garlic, feel free to cut back if you want.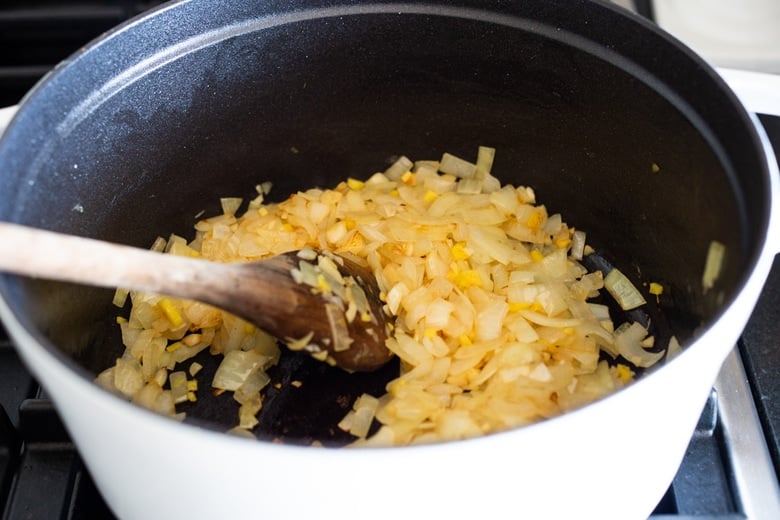 Add the chicken stock (or broth) and whole chicken thighs (or breasts). Bring to a simmer and cover, cooking until the thighs are cooked through, about 20 minutes.
If adding rice or quinoa, you could add directly to the pot of simmering broth, adding about 1/2 cup. Same with canned beans.
I prefer to keep my rice or noodles separate, to prevent the soup from getting cloudy, but do as you like.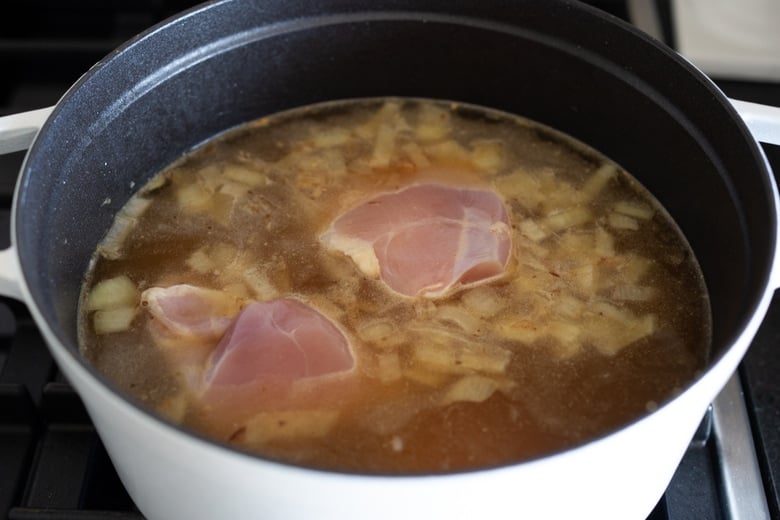 Use two forks and pull apart the chicken. Taste and adjust the broth. Squeeze with lemon taste.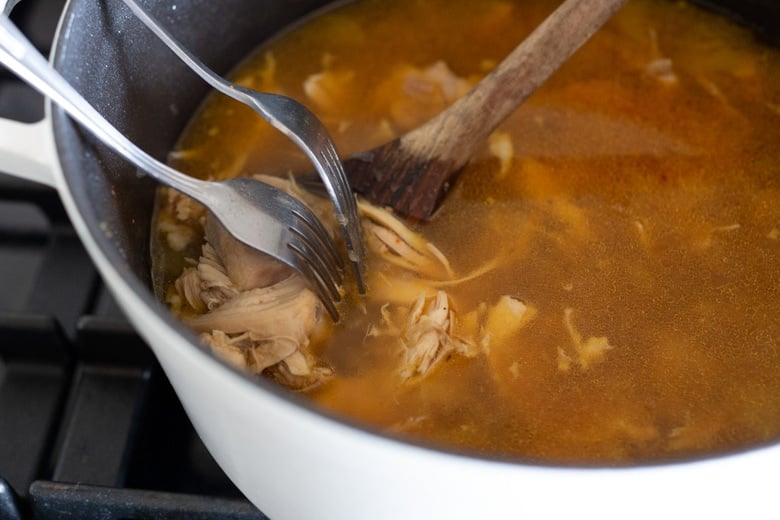 Add chili flakes if you want, a drizzle of sesame oil is nice, some scallions or fresh herbs, then serve it up!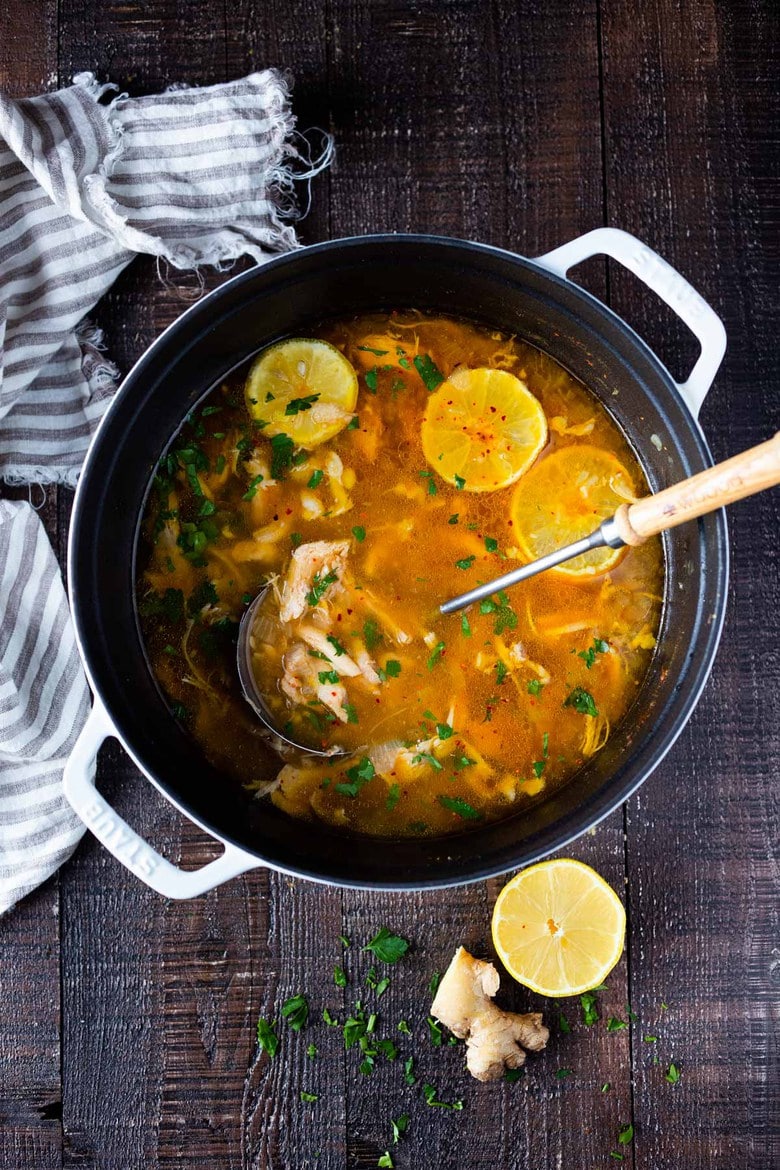 You could ladle it over a mound of rice noodles, then finish with sesame oil, sesame seeds, scallions and cilantro like you see here. I added some oyster mushrooms to the broth as well.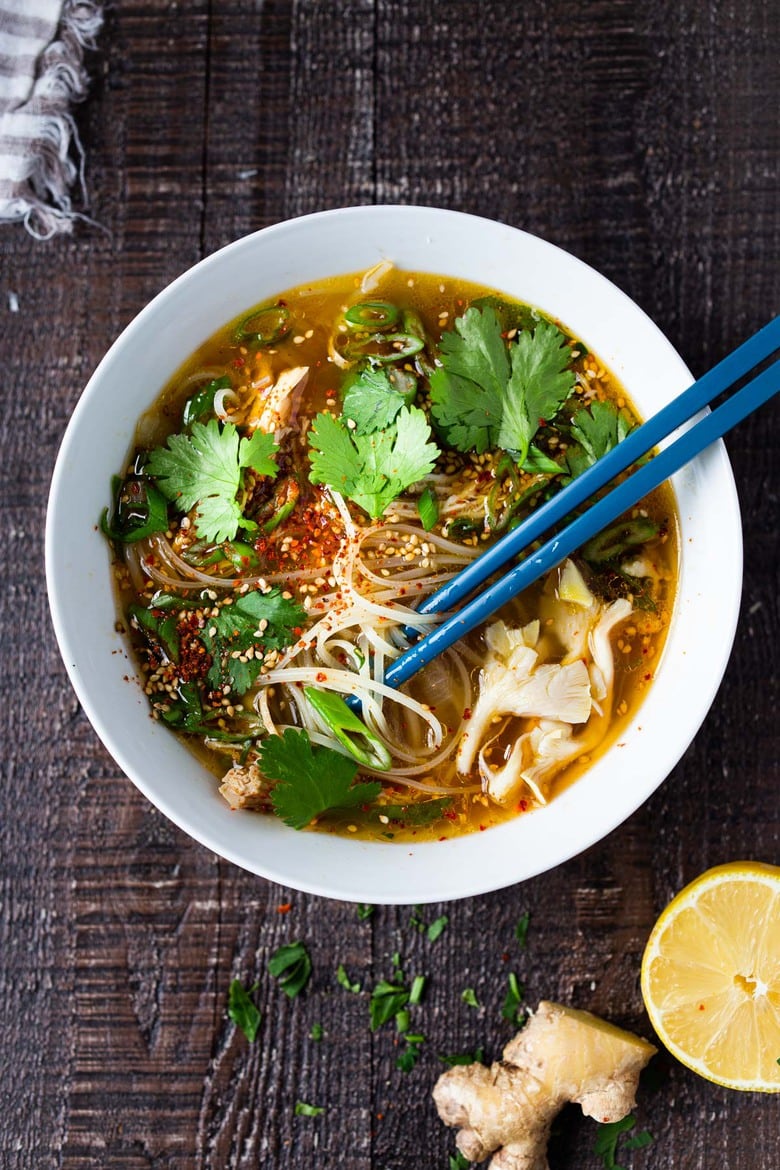 Or you could add some cooked or leftover rice or quinoa. Here I had a batch of our Everyday Quinoa in the fridge and just laded the soup over it- super tasty!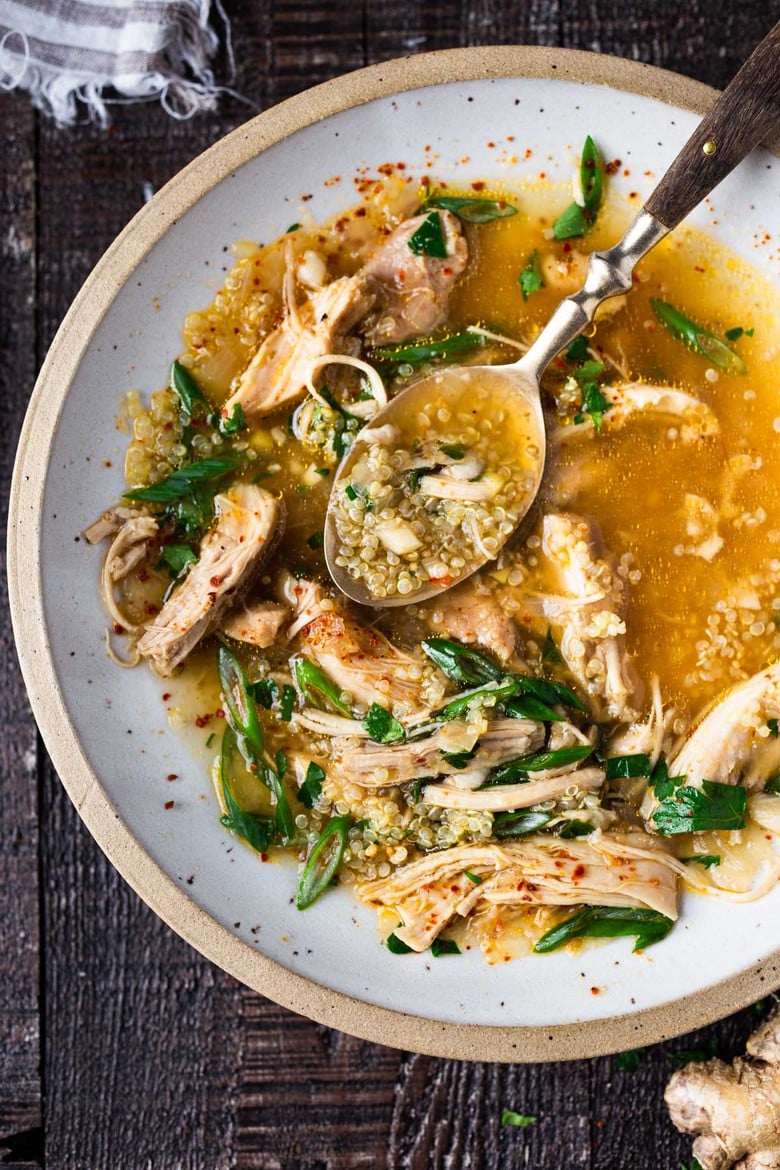 You could add white beans or cooked pasta.
Or if going low-carb- leave all the starch and grains out keep it simple and keto-friendly. Cauliflower rice would also work well here too!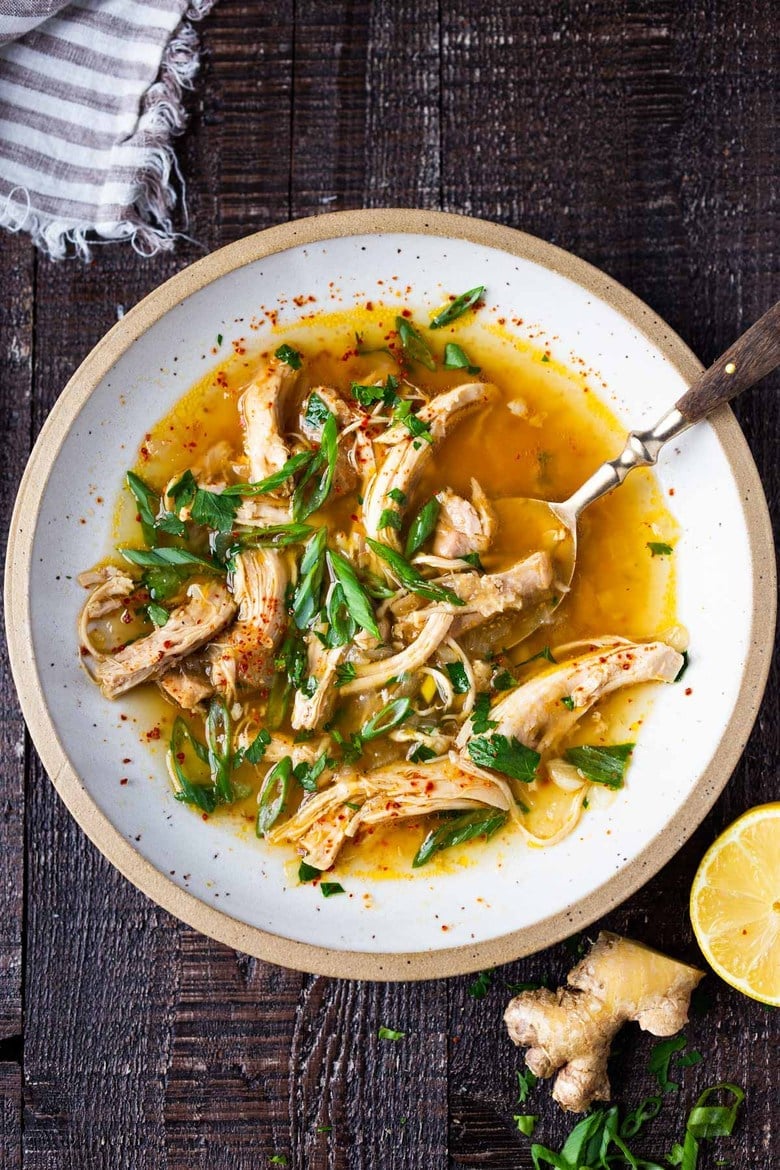 Whichever direction you choose to take this Feel Better Chicken Soup, I know you will be happy with the flavorful base. I'm excited to see where you take this! Please share your variations in the comments below.
Stay well, friends.
xoxo
Sylvia
Print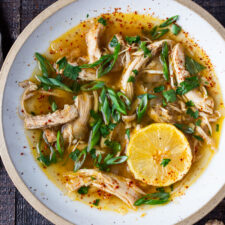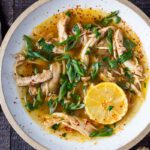 Feel Better Chicken Soup
Author:

Sylvia Fountaine

Prep Time:

10

Cook Time:

25

Total Time:

35 minutes

Yield:

6

Category:

Soup, Gluten-free

Method:

Stove top, instant pot

Cuisine:

Asian

Diet:

Gluten Free
---
Description
Feel Better Chicken Soup with lemon and ginger. A delicious and EASY low-carb, keto soup that you can make in an Instant Pot, Stove top or in a slow cooker. Simple and healthy! Add rice, quinoa, noodles or beans! (Inspired by Bon Appetit)
---
Ingredients
1

–

2

tablespoons olive oil

one

large onion, diced (or sub

2

fat shallots, or

two

leeks)

2 tablespoons

fresh ginger, chopped

4

–

8

garlic cloves, rough chopped (I like 8)

4 cups

chicken broth or stock

2 cups

water

1 teaspoon

salt

2

bay leaves

1/4 teaspoon

white pepper (or use regular)

1 1/2

lbs chicken thighs, boneless, skinless ( or use breasts- if very large, cut in half)
——–
lemon juice to taste
pinch chili flakes
scallions, cilantro or Italian parsley
drizzle of toasted sesame oil (optional, tasty)
Optional: 2-3 cups of cooked grain or starch of your choice like… Quinoa, rice or soba noodles, pasta, rice,  1 can whitebeans.
---
Instructions
STOVE TOP INSTRUCTIONS:
Heat oil in a big pot or dutch oven over medium heat. Add onion, garlic and ginger and saute until fragrant, about 3-4 minutes. Lower heat to med- low and continue sauteeing until golden, 3-4 more minutes.
Add the chicken stock, water, salt, white pepper, bay leaves and skinless chicken. Bring to a boil. Cover, and lower heat so it's gently simmering, covered for 20 mintues. If using breasts, check at 15.
Test a piece of chicken for doneness by pulling meat apart with two forks. It should come apart easily and look opaque. If done, shred the rest of the chicken, then return to the pot and simmer gently for 5 more minutes.
Squeeze with lemon, taste and adjust broth. You can add more salt of needed, or if too salty for your taste, water down with a little water. I prefer ours salty, lemony and unctuous, especially if adding a starch (like rice, noodles or beans) which will temper the salt quite a bit. Up to you. If the soup tastes bland, it needs salt.
Ladle it over cooked rice or noodles or just on it's own.
Garnish with scallions or cilantro (or both) a drizzle of sesame oil if you like and chili flakes (or chili paste or sriracha).
---
Notes
Soup will keep 4 days in the fridge, or freeze.
Feel free to add 1/2 cup rice or quinoa to simmering soup. Or add a can of whitebeans. You can also add pasta ( about 4 ounces) but I prefer to cook pasta and rice noodles separate and ladel the soup overtop cooked noodles. Up to you. Feel free to toss in veggies, kale, spinach, etc.
Instant Pot: Set Instant pot to "saute" function and heat the oil. Add onion, garlic and ginger and saute 3-4 minutes until fragrant. Add broth, water, salt, pepper, bay, white pepper and chicken thighs, give a stir. Pressure cook on high for 12 minutes. (If using breasts, pressure cook 8-10 minutes depending on size). Manually release. Shred chicken with two forks. Season with lemon juice. Taste, adust salt. Follow the rest of the instuctions above.
For a slow cooker version, cook as stated above then cover and cook on low for 6-7 hours, or on High for 3 to 4 hours.
Keywords: chicken soup, unique chicken soup, keto chicken soup, lemon ginger chicken soup, best chicken soup recipe, feel better chicken soup