To me, there is nothing more soul-warming than a Bowl of Brothy Soup on cold winter nights- especially when feeling under the weather. So very healing! Not only are these broth-based soups comforting and nourishing, they are also very healing and hydrating to the body. Many vegan options!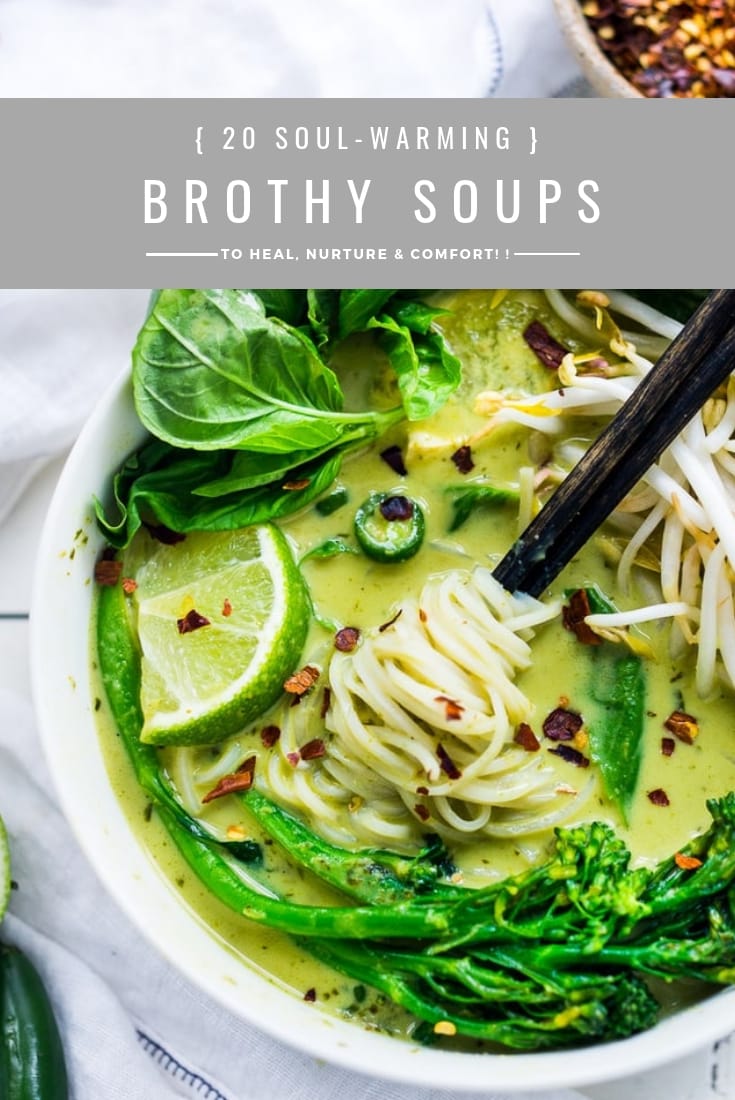 Here are our  20 Best Broth-Based Soup Recipes to nourish, comfort and heal. Many contain powerful immune-boosting ingredients like garlic, onion, ginger, turmeric, herbs, and citrus, with a good selection of vegan and keto options (be sure to click to the recipe notes for adaptations). Many are made with chicken broth or vegetable Broth.
I hope these broth-based soups help bring you a little warmth, comfort and healing this fall and winter season! Please let me know your favorites in the comments below!
---
Feel Better Chicken Soup with Lemon and Ginger will warm you to your bones! The deeply flavorful chicken broth is the perfect base for your own creations- add noodles, rice, pasta,  quinoa, or even beans. Or keep it keto and low-carb! Can also be made in an Instant Pot or Slow cooker!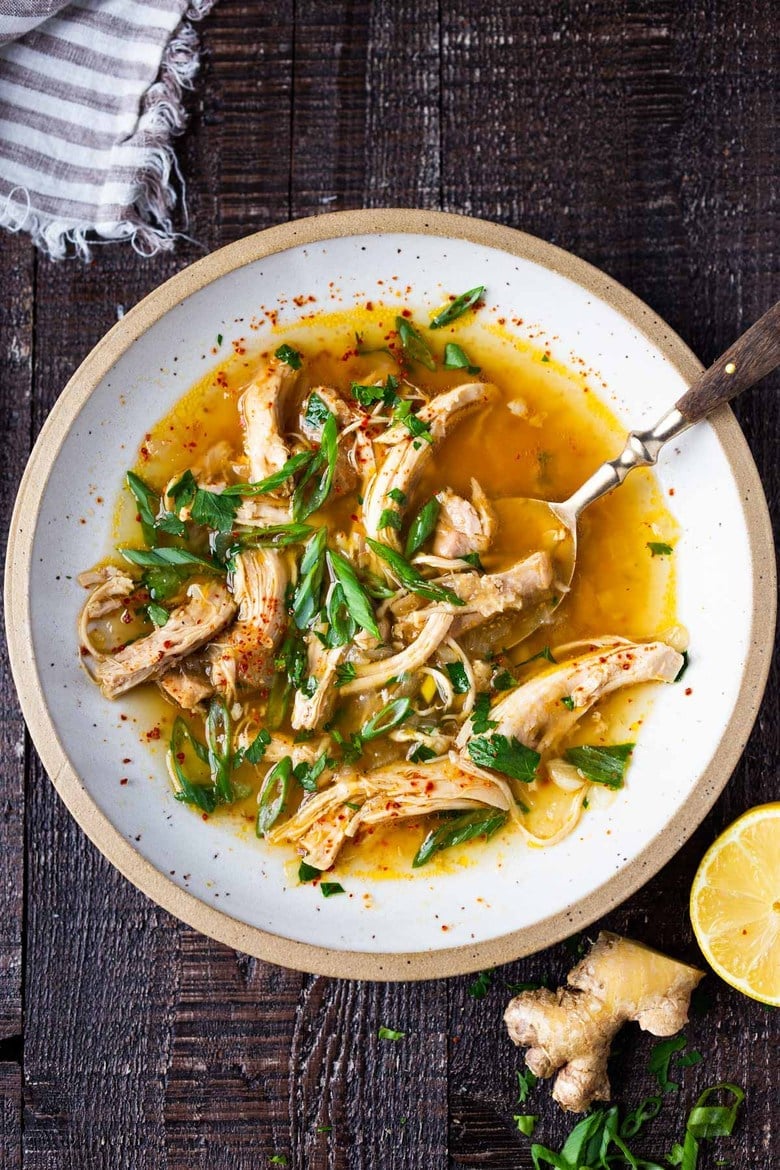 Feel Better Chicken Soup | 60-sec video 
---
Vegan Ramen with Miso Shiitake Broth- an easy healthy ramen with mushrooms, tofu, Bok Choy and scallions. Plus a simple tip to making this "creamy".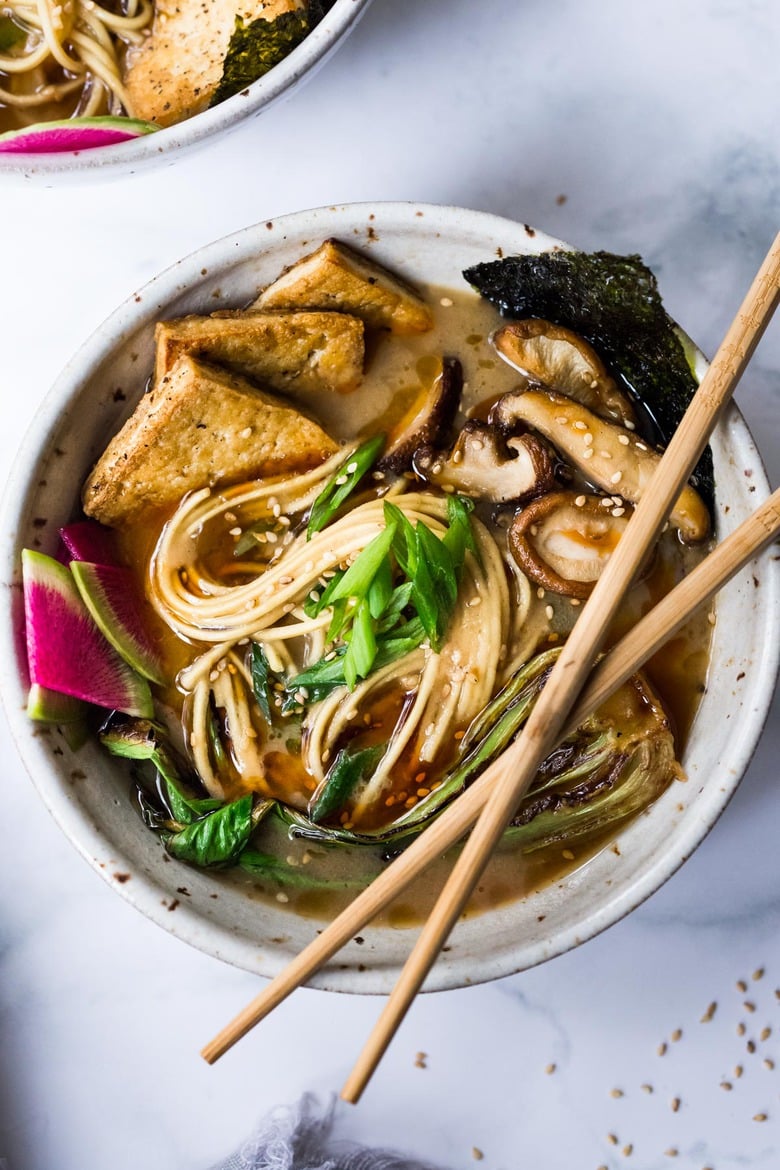 This Make Life Simple, Lentil Soup can be made on the stove-top or in an Instant Pot.  Vegan, gluten-free and infused with Middle Eastern Spices, this brothy version is great for dunking toasted pita.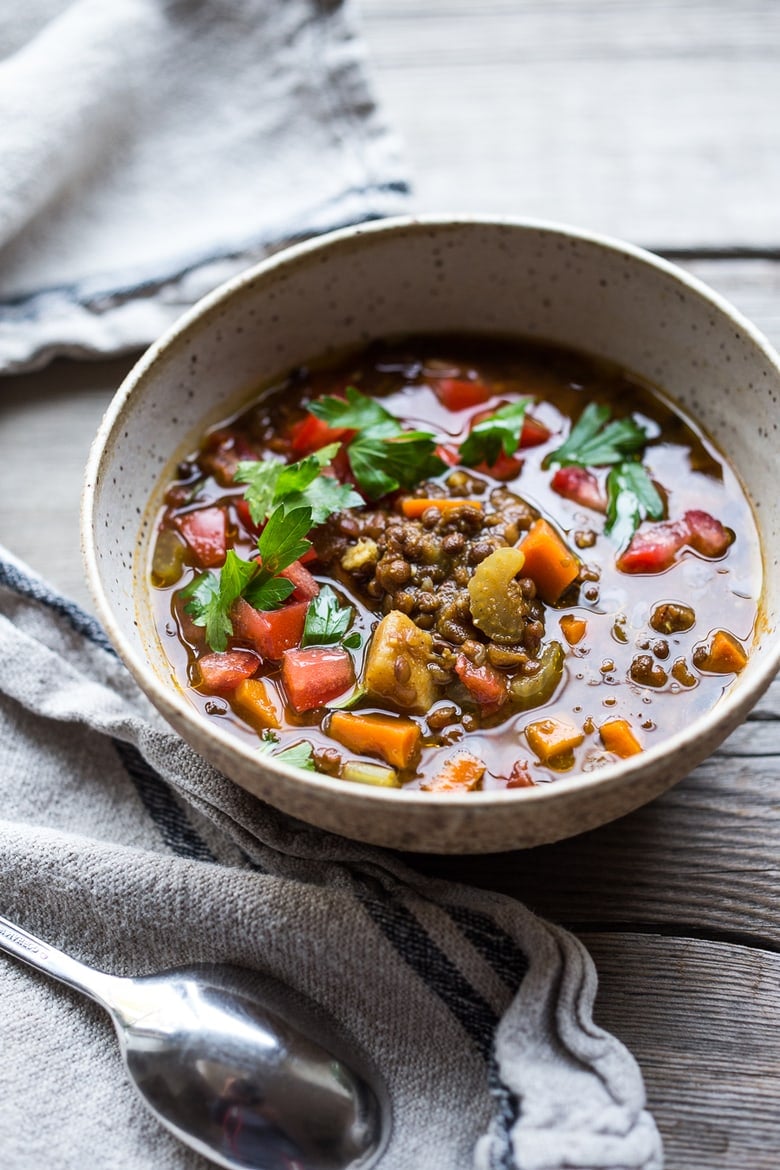 15 Minute Wonton Soup with Lemon Ginger Broth-loaded up with healthy vibrant greens – a fast and easy weeknight dinner!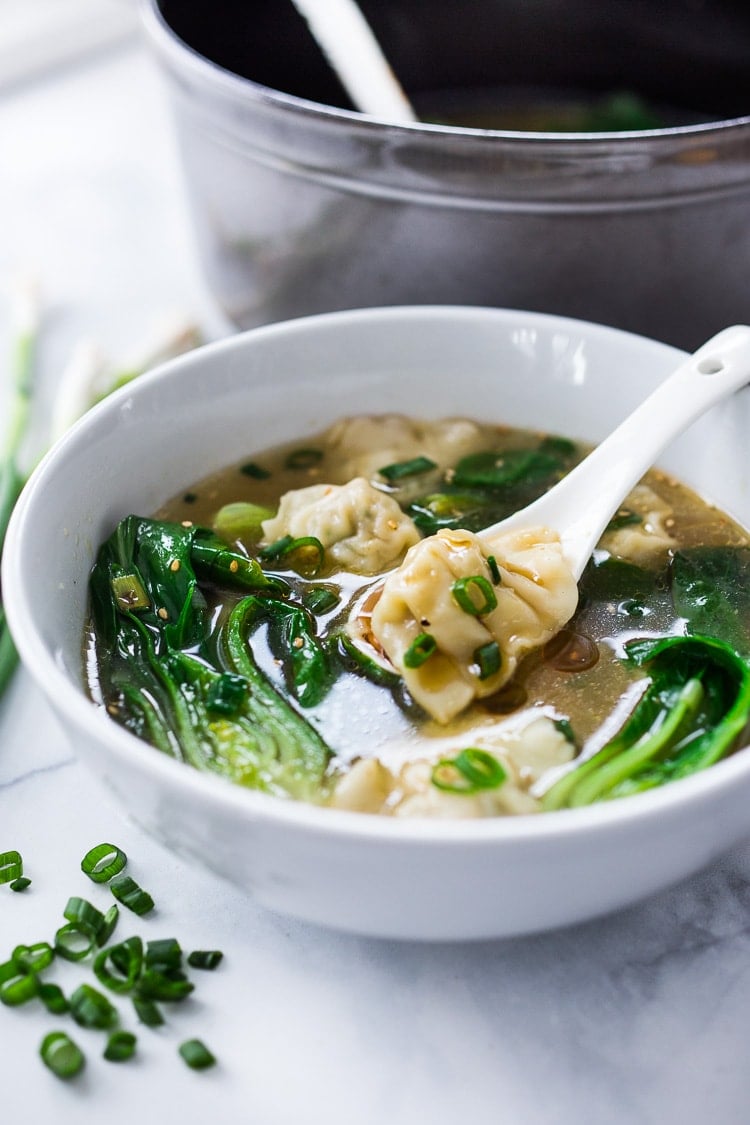 A richly spiced Moroccan-inspired soup, full of flavor, nutrients and soul-warming color.  Saffron, dried apricots and preserved lemon give this brothy Chicken Lentil Soup its depth. Easy to throw together, perfect for weeknight dinners.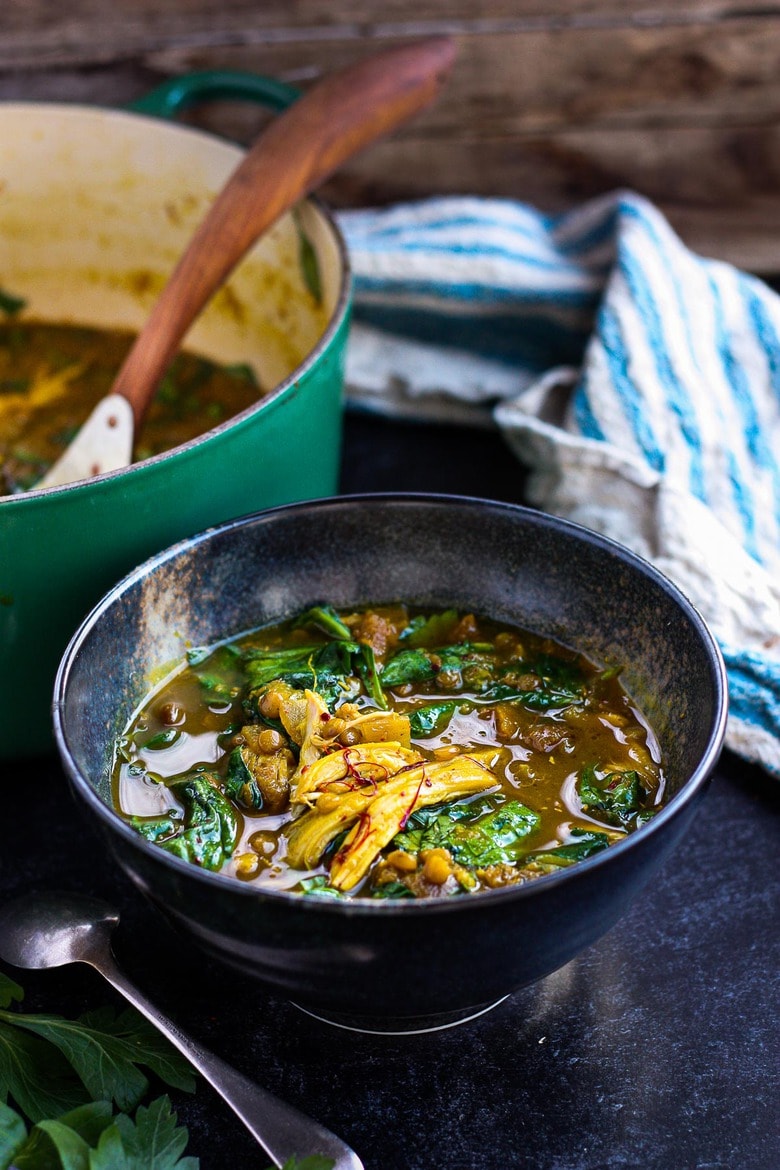 Farmers Market Vegetable Soup- a simple healthy vegetable soup that is easy to make and loaded with healthy nutrients- a great way to use up all those farmers market veggies- carrots, cauliflower, green beans, bell pepper, corn, zucchini, or potatoes. Great for Sunday meal prep! Can be made in an Instant Pot!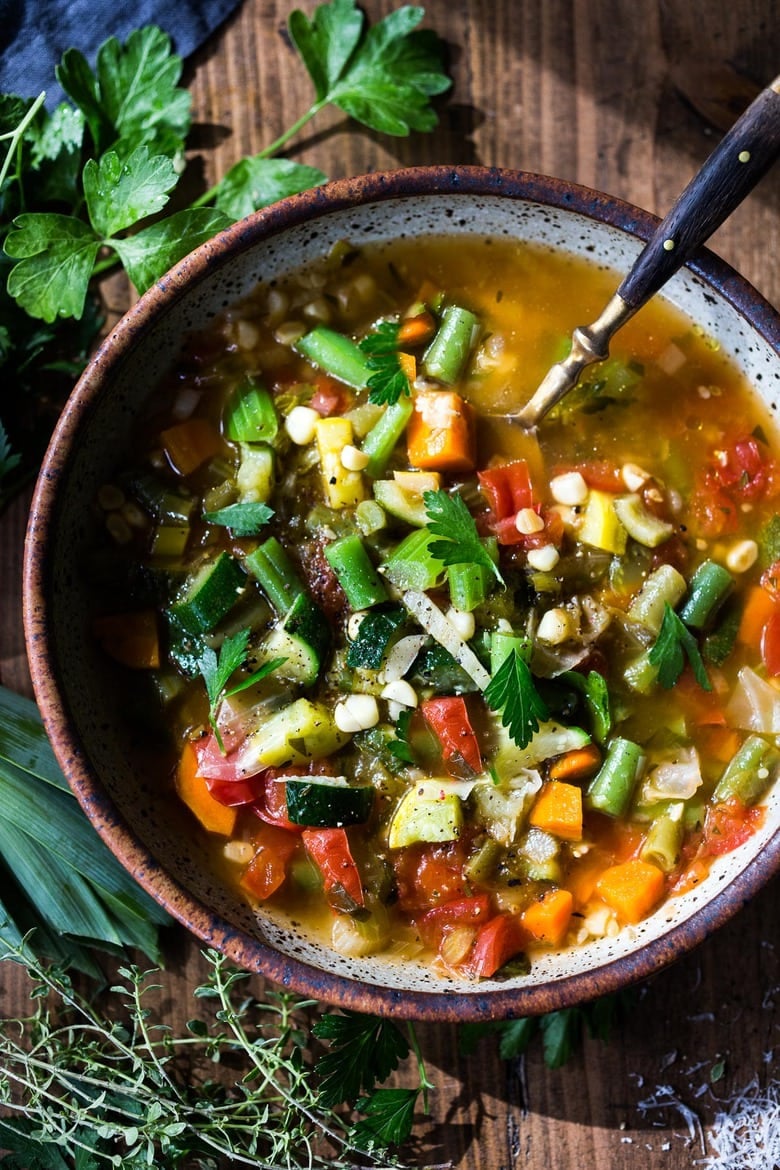 An authentic recipe for Thai Coconut Soup that can be made in an instant pot or on the stove-top.  This rich, coconut broth-based soup is infused with fragrant kefir lime leaves, and is gluten-free and vegan adaptable!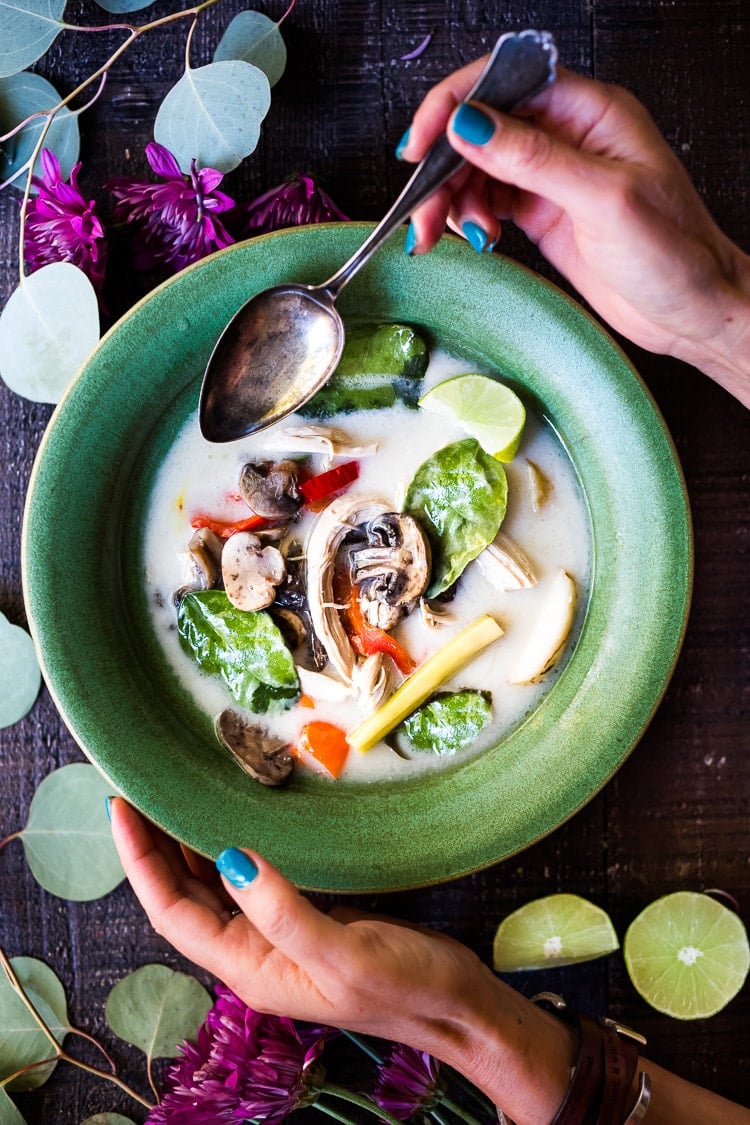 Brothy Tortellini soup with Spinach, Basil & White beans– a mouthwatering vegetarian soup that can be made in 25 minutes!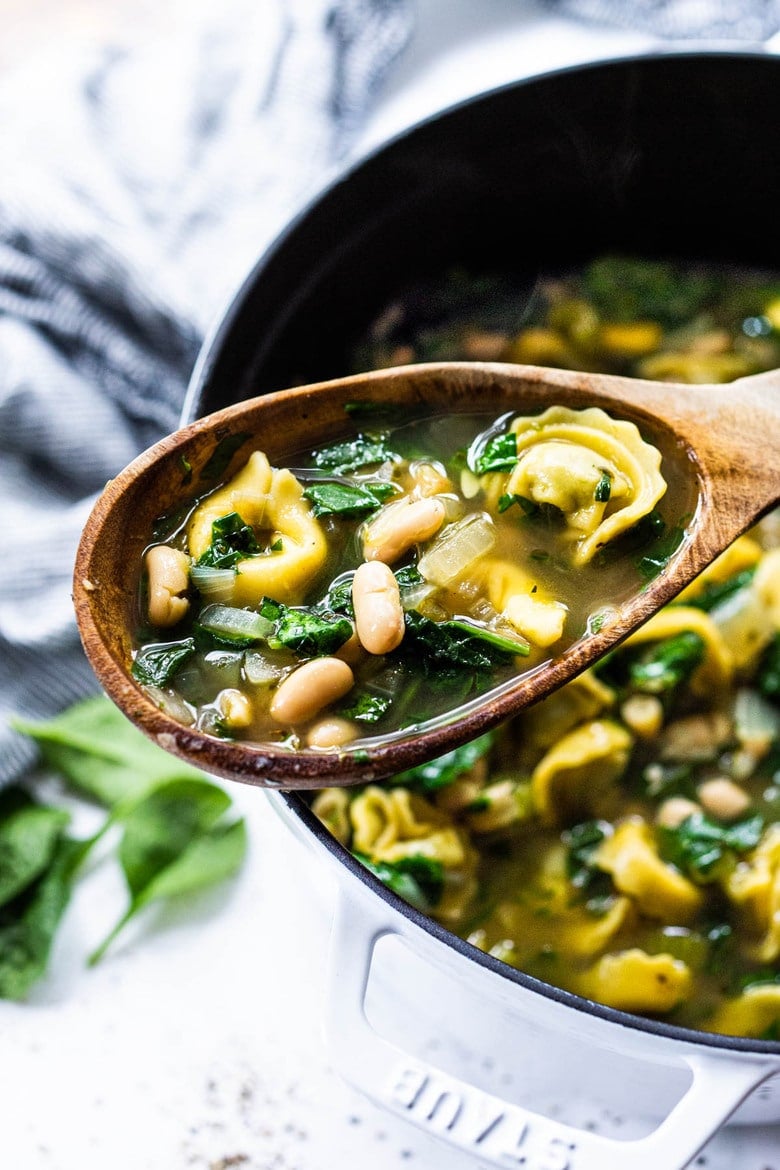 Spicy Miso Ramen with your choice of Roasted Chili Salmon or Tofu, with bok choy, mushrooms and scallions. Vegan and Paleo adaptable- swap out zucchini noodles or kelp noodles to keep carbs low. If you cook one thing this week, let it be this!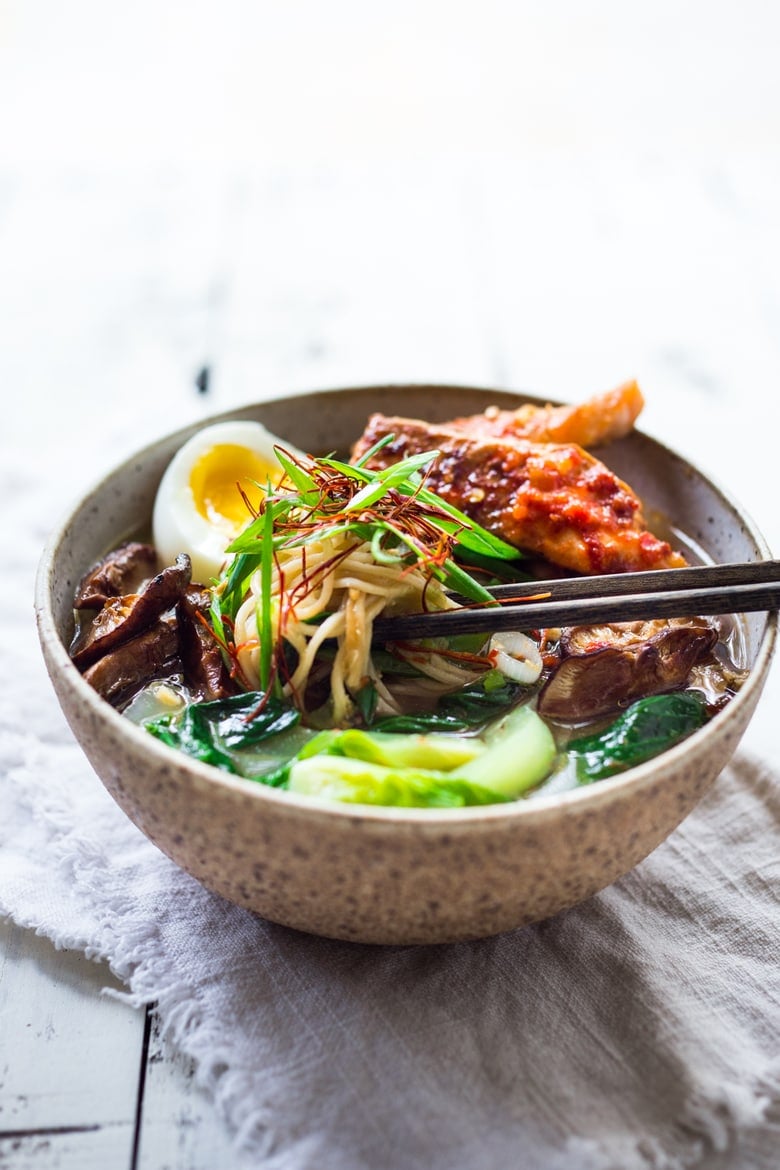 Brothy Leek, Lamb and Cabbage Soup with White beans– a delicious and healthy, soul-warming soup that can be made in an Instant Pot!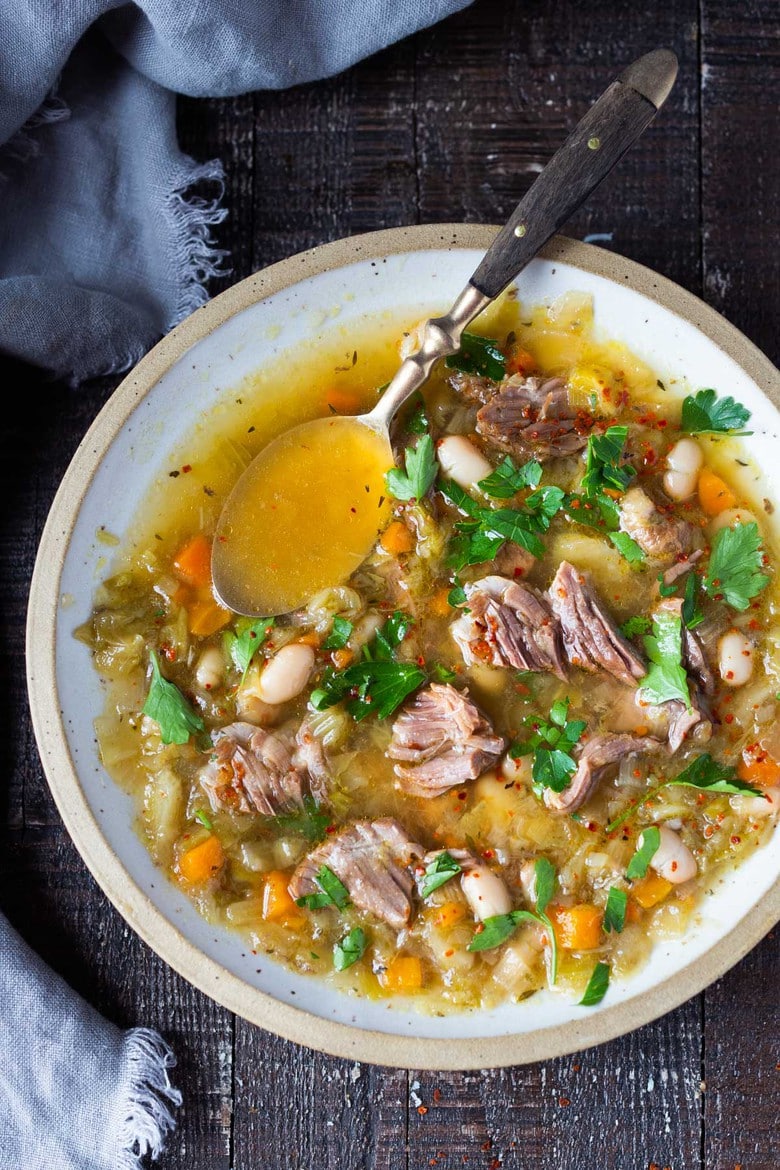 Lemony Chickpea Soup with Fennel & Sumac with flavorful Zhoug. A healthy vegan soup, bursting with Middle Eastern flavor!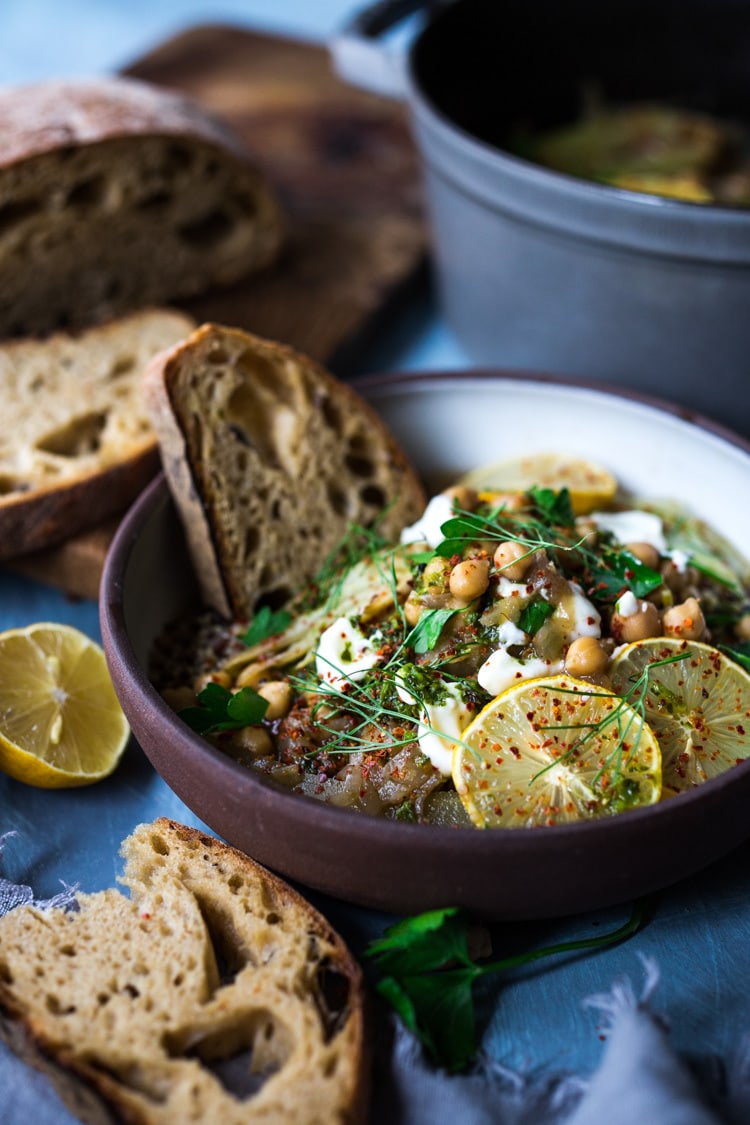 A fast and easy recipe recipe for Hot and Sour Cabbage Soup with ginger, scallions and your choice of ground meat (or sub plant-based ground meat). Vegan-Adaptable.
Instant Pot Rosemary Chicken and White Bean Soup, made with chicken broth, dried white beans and fresh herbs – a hearty, and incredibly delicious soup that is fast, convenient and affordable!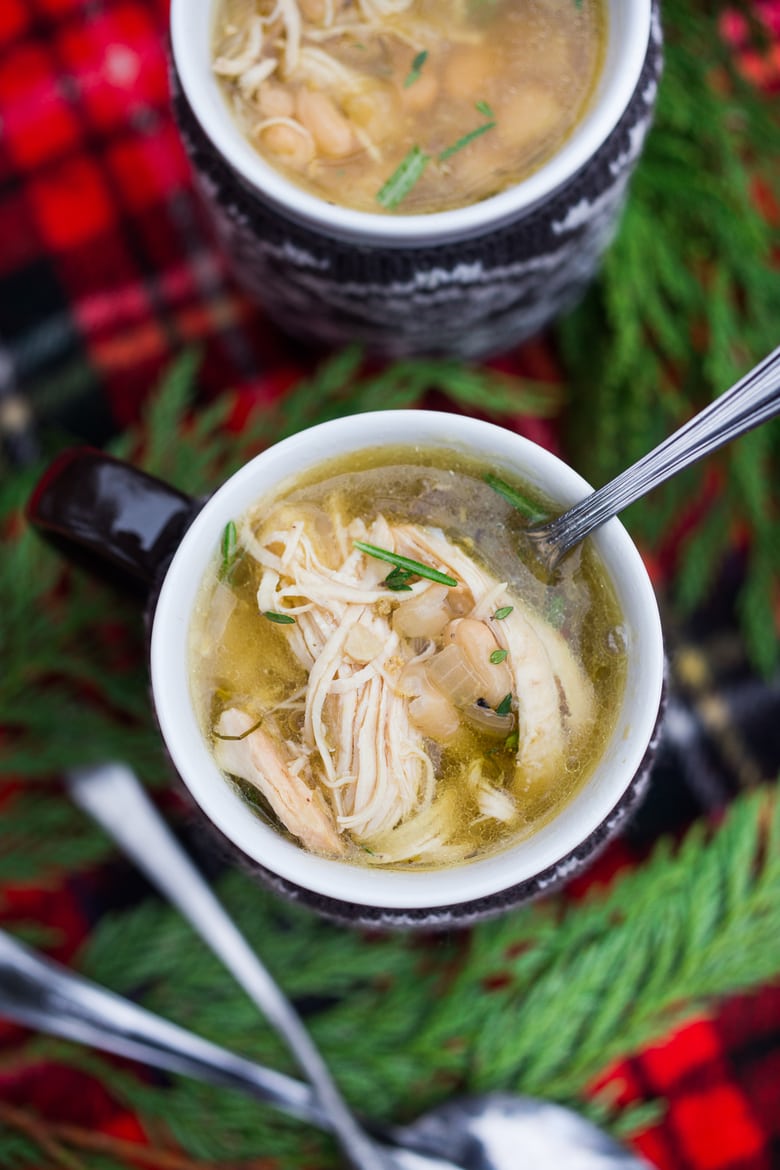 This Peruvian Minestrone Soup is made with a fragrant basil-infused beef bone broth. Deliciously addicting, this authentic Peruvian recipe is from my Peruvian friend, Sara! Gluten-free adaptable!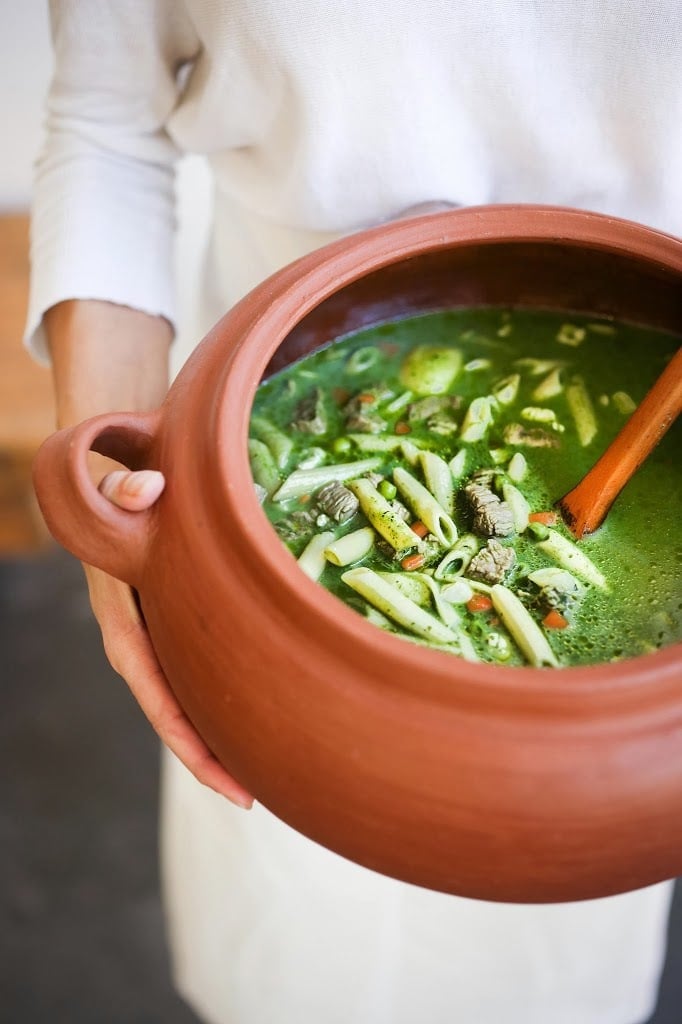 a light, healthy and brothy soup with vegetables, rice and artichoke hearts with only 15 minutes of hands-on time! A quick and easy dinner recipe! Keto friendly!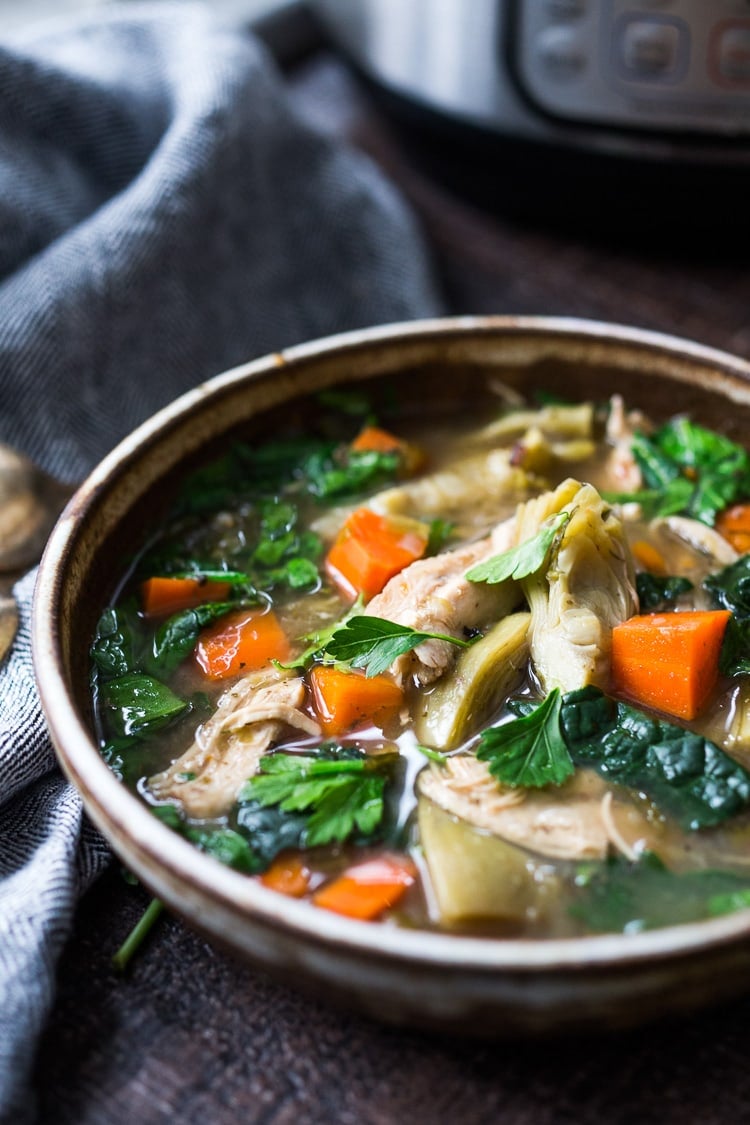 A simple easy recipe for Kimchi Soup- this version is vegan, made with shiitake mushrooms, silken tofu and kale. Serve over rice or noodles! Delicious Korean flavor!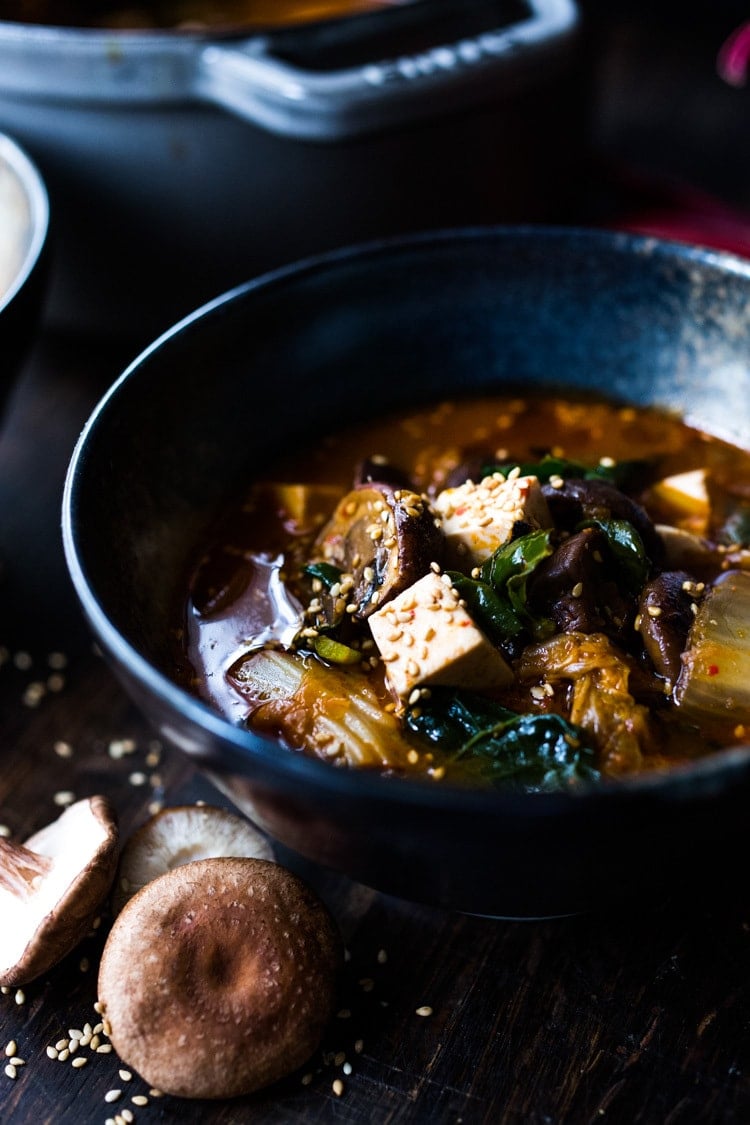 A steaming bowl of Thai Chicken Noodle Soup infused with lemongrass and ginger.  A healthy, low fat, broth-based soup that is full of amazing Thai flavors!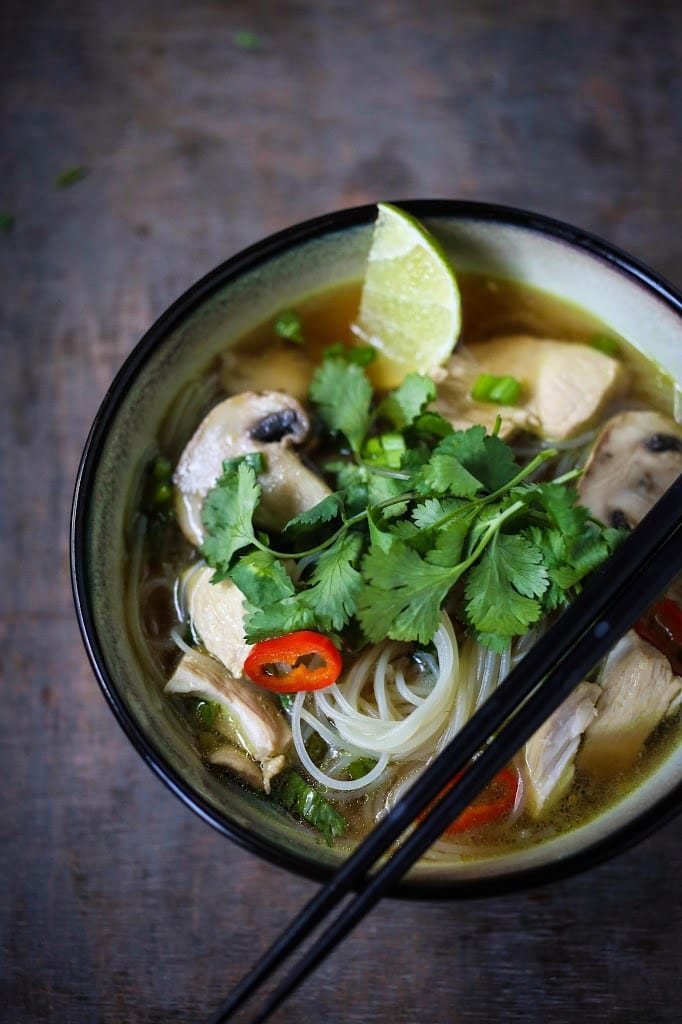 Lemony Chicken Orzo Soup with Dill- a simple easy recipe that can be made with leftover chicken. Healthy, tangy and bright!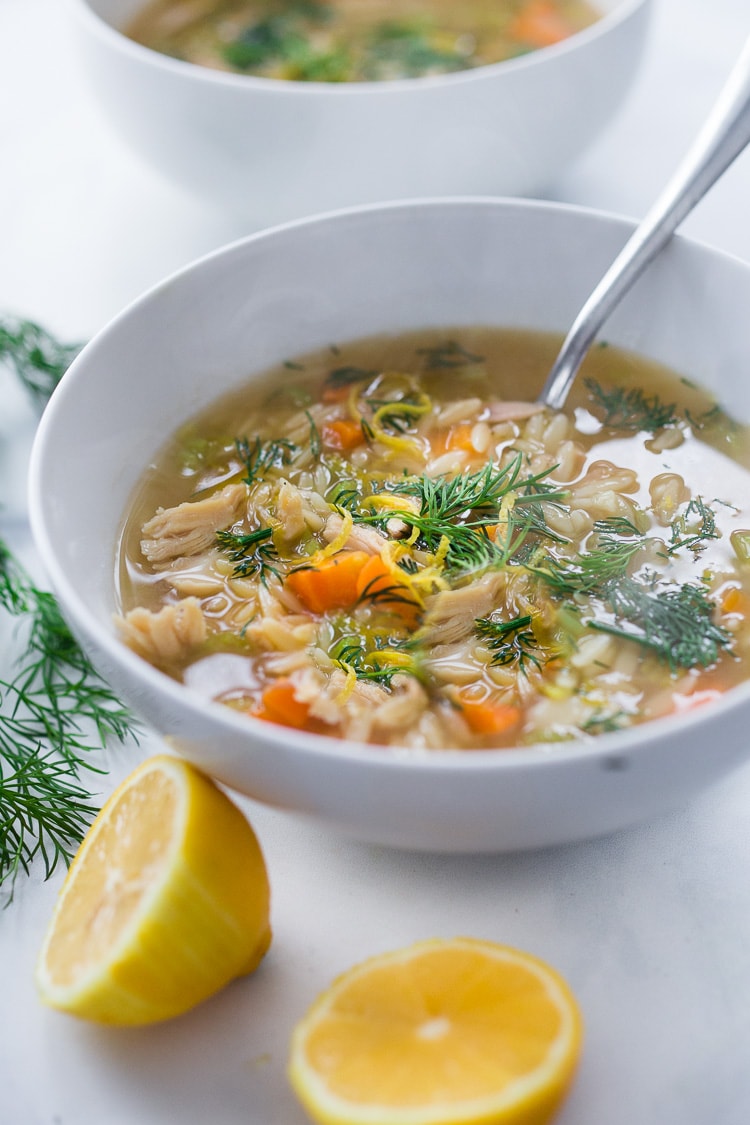 Flavorful, EASY Mexican Noodle Soup with your choice of chicken or chickpeas, cilantro, avocado and lime. A simple, one-pot meal, that can be made in under 30 minutes! Vegan and GF adaptable! Delicious and Healthy!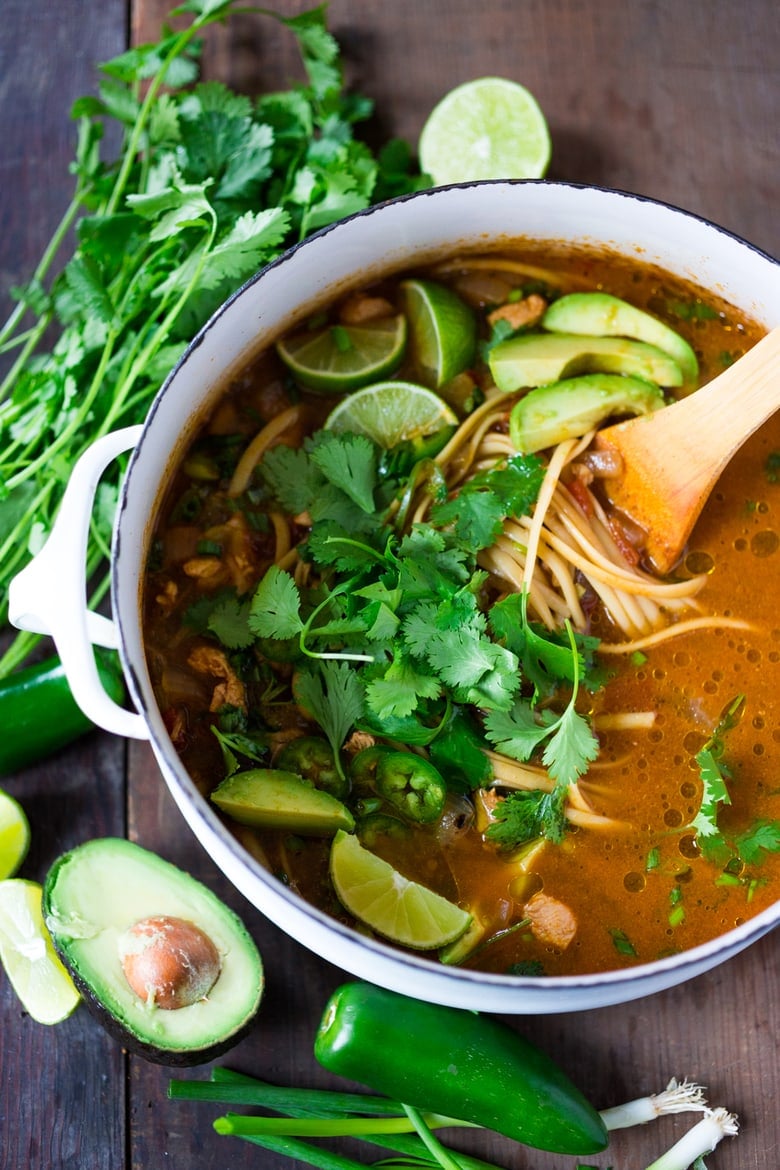 This Paleo Chicken Wonton Soup is made without the wonton wrappers, keeping it gluten-free, grain-free, low-carb and also SUPER FAST to make, since you are not having to wrap all the wontons. Simply drop the chicken meatballs into the simmering, flavorful broth-based soup! Tasty and Easy!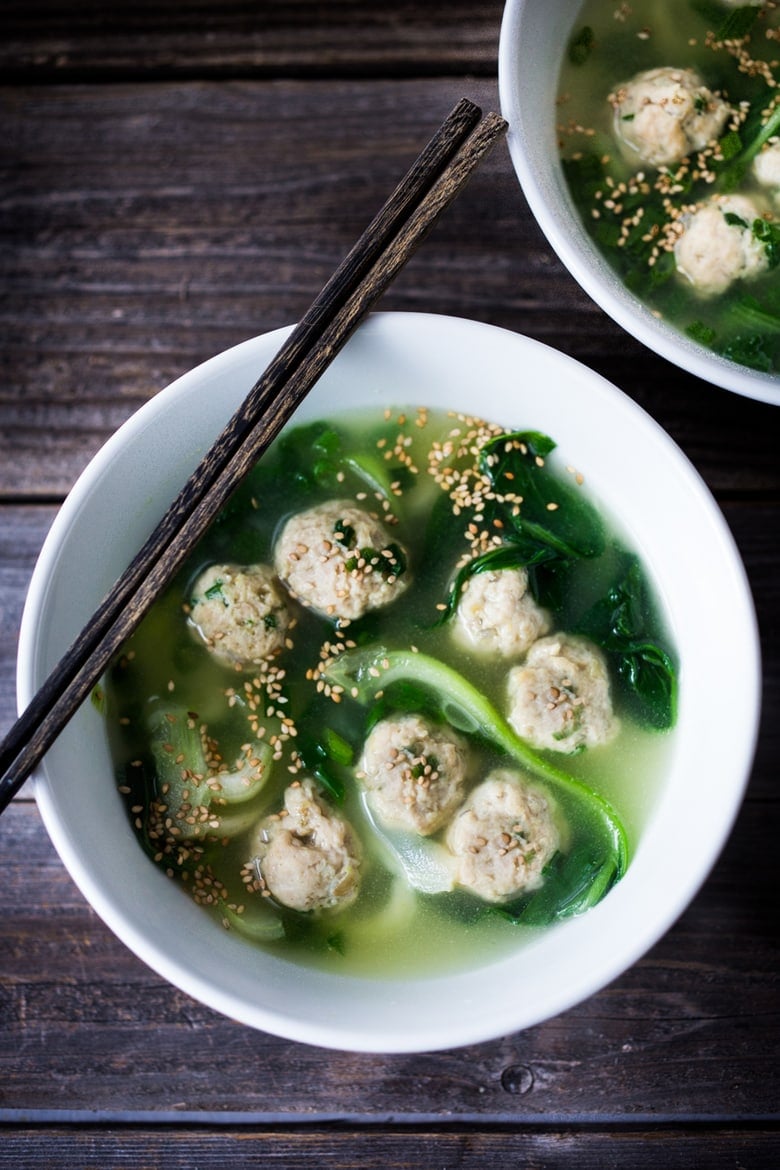 Mmmmmmmm Laksa Soup!  A flavorful, Malaysian-style curry broth – the flavorful base for rice noodles and your choice of chicken or shrimp. Serve with fresh bean sprouts, cilantro, lime and cilantro. Spicy, flavorful and one of my personal favorites!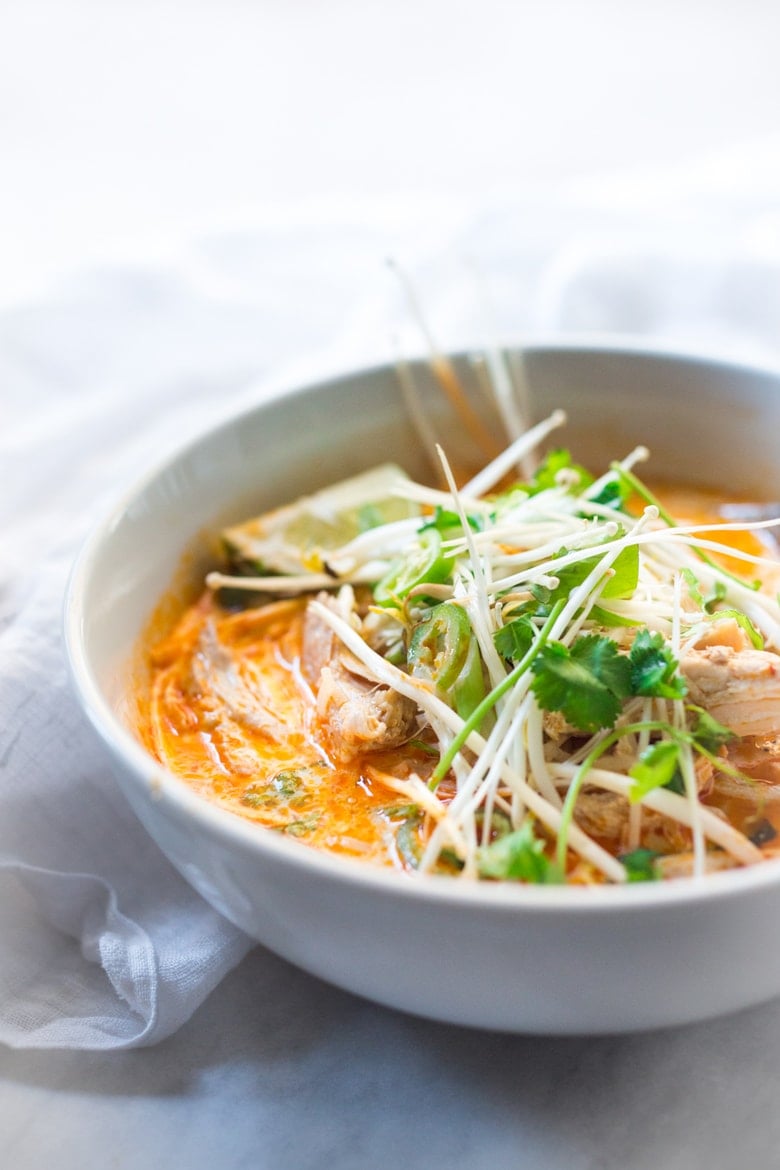 A simple delicious recipe for Chicken Pozole with hominy in a flavorful chili-infused broth that can be made in an Instant Pot or on the stovetop. A healthy, delicious, Mexican-inspired brothy soup recipe that can be made in 30 minutes! Gluten-free!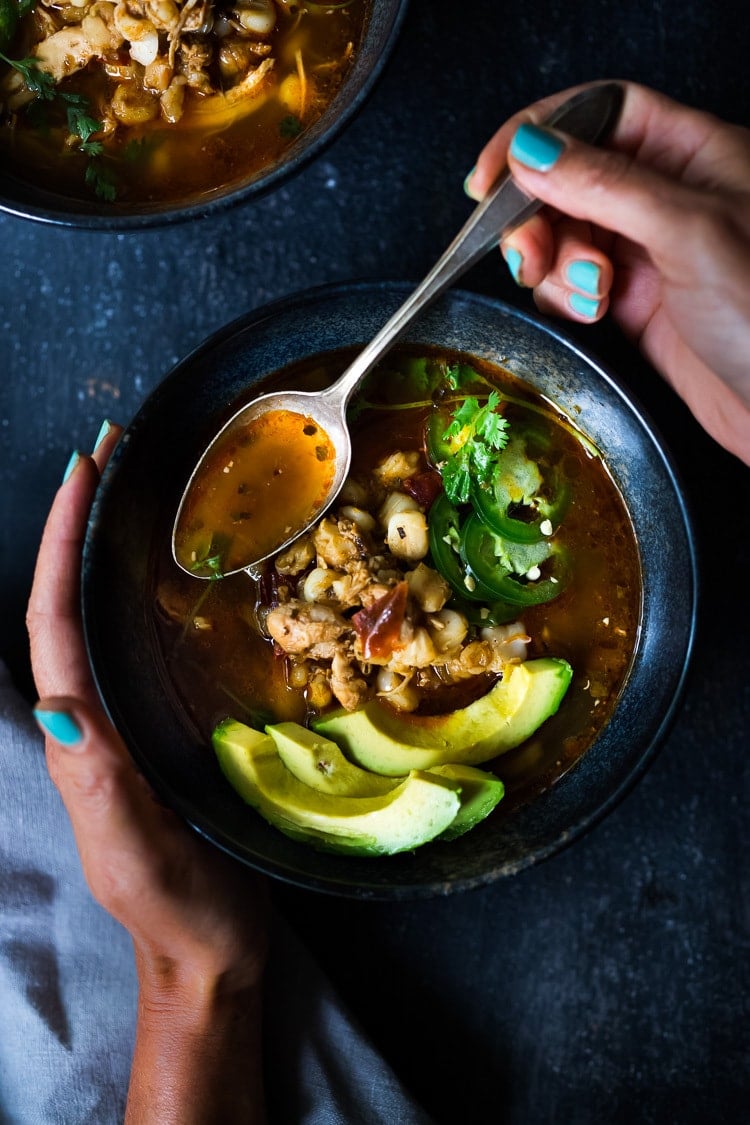 A delicious recipe for Peruvian Fish Stew with fragrant Cilantro Broth, with potatoes and carrots. A healthy, delicious broth-based soup that is flavorful and easy… and can be made in 35 minutes!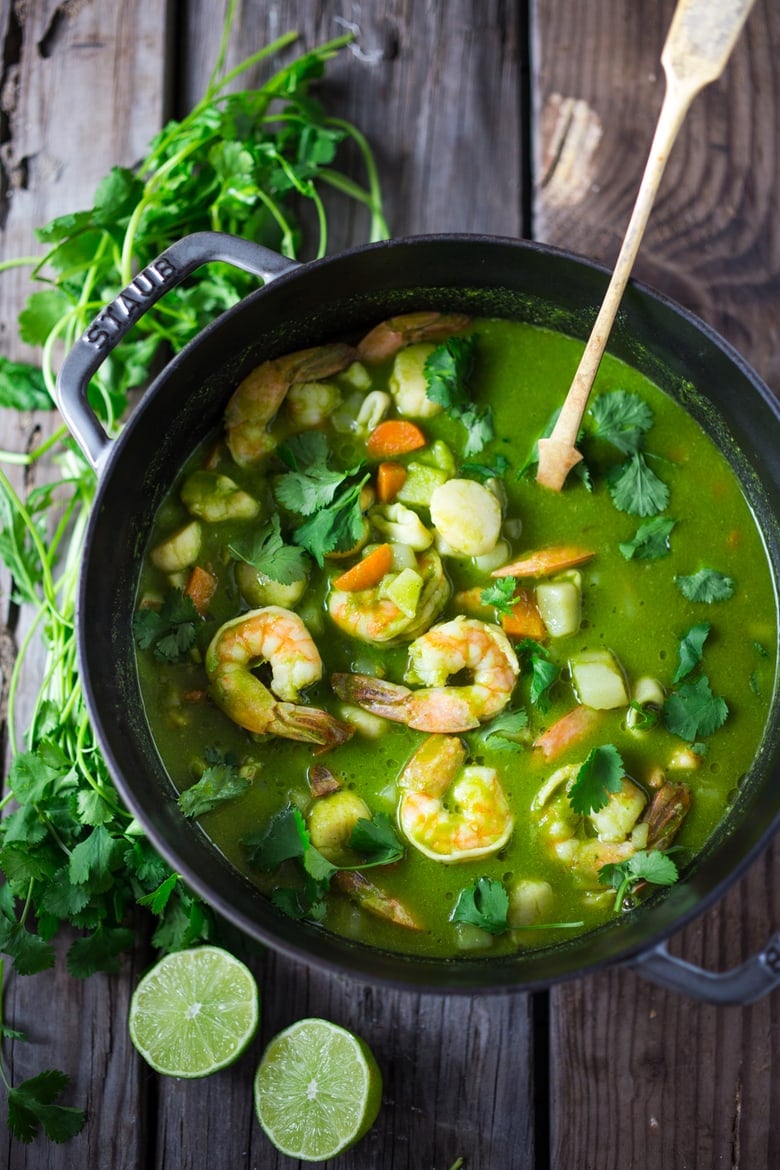 Vietnamese Hot and Sour Soup with Tofu, Tamarind and Tomato (aka Canh Chua)- flavorful, broth-based soup that is warming and healing- this version is vegan and gluten-free!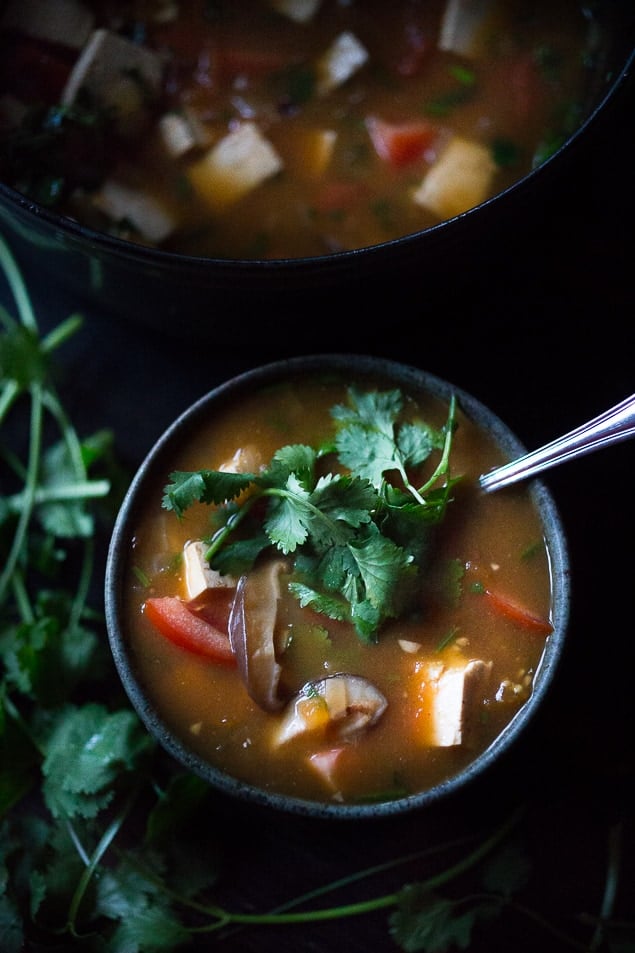 How to make Sinigang! This Filipino Sour Soup is made with salmon (or tofu) ,veggies and the most flavorful umami tamarind broth.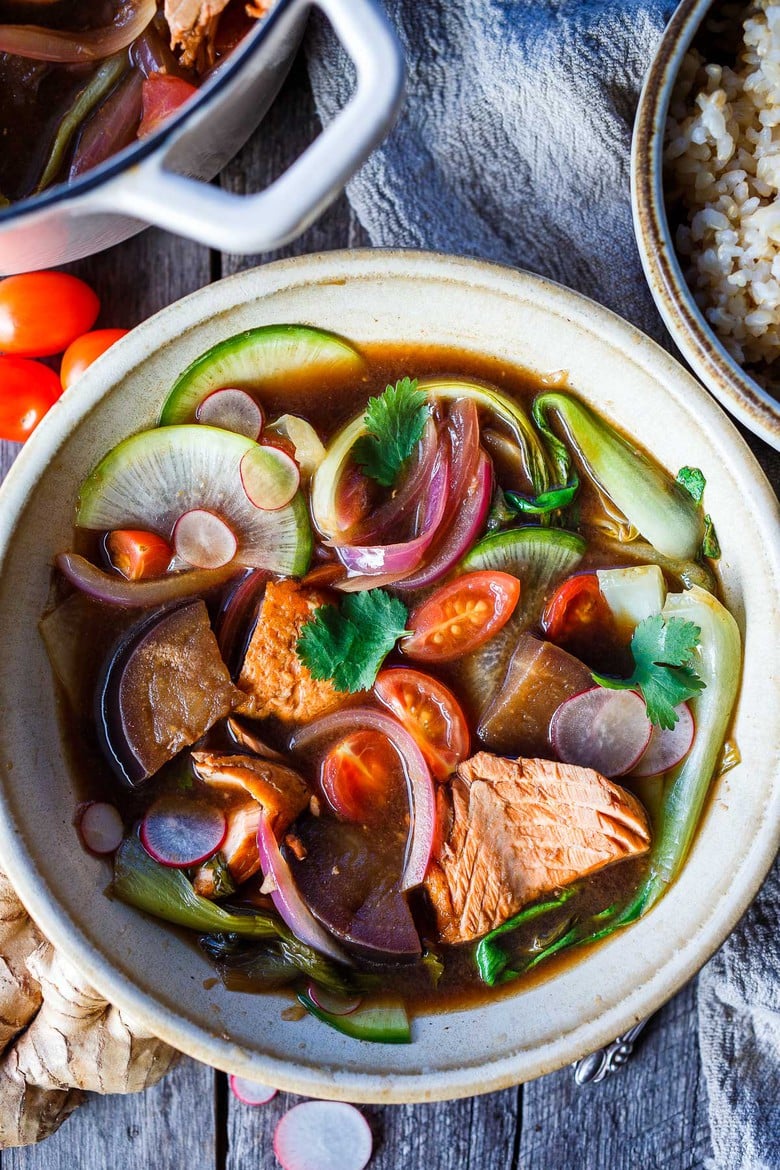 Sesame Soba Noodle Soup with Shiitake mushrooms, snow peas and tofu. A hearty delicious miso-based broth full of healthy veggies and nutrients. Vegan and GF adaptable!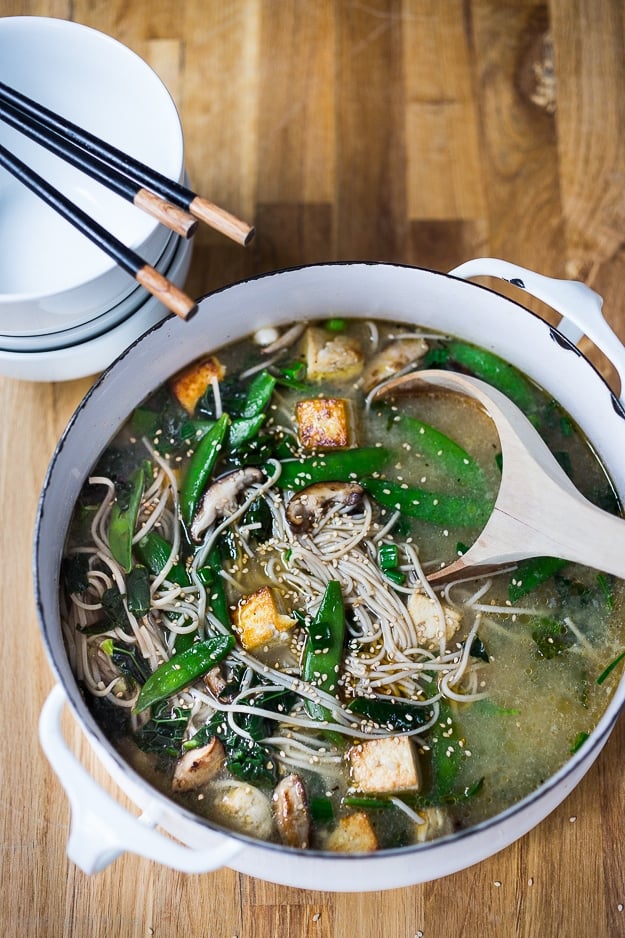 Instant Pot Chicken Tortilla Soup – made from scratch, in a fraction of the time! Delicious and healthy, loaded with chicken and veggies, this Mexican style broth-based soup will warm you to your bones!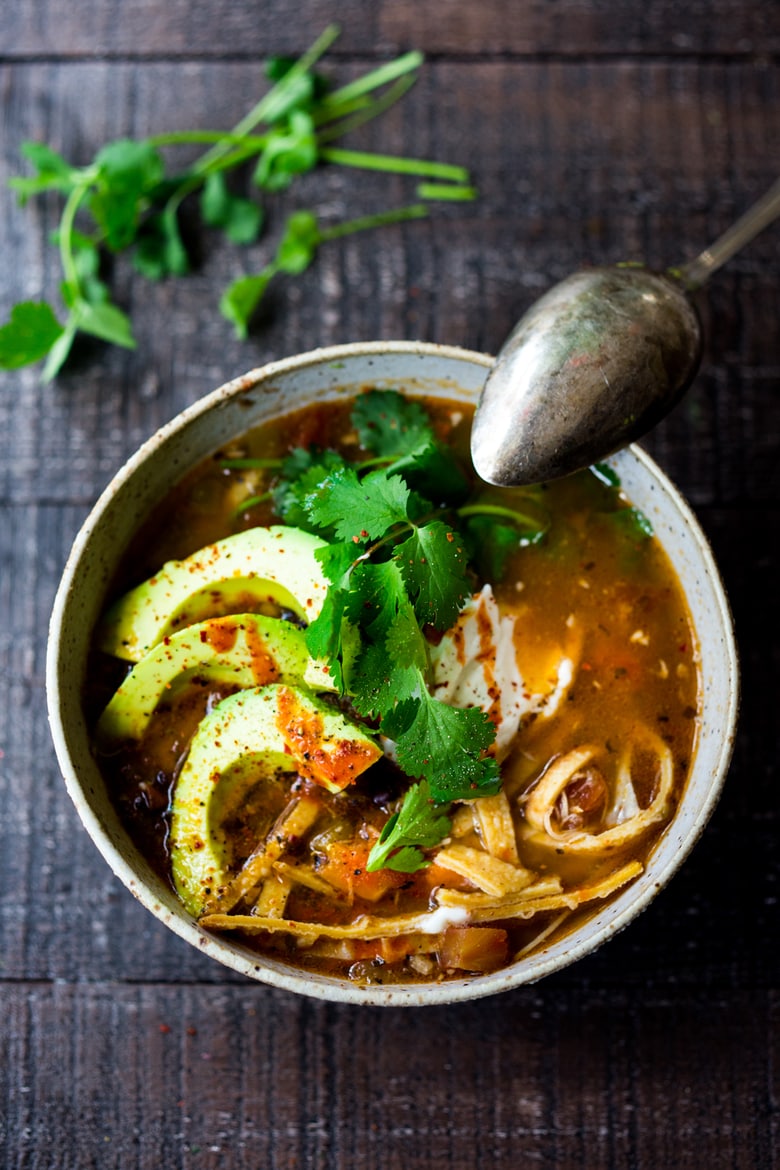 Poached Cod in Lemongrass Coconut Broth over Baby Spinach …a fragrant, low-carb, low-calorie, broth-based soup can be made in under 30 minutes.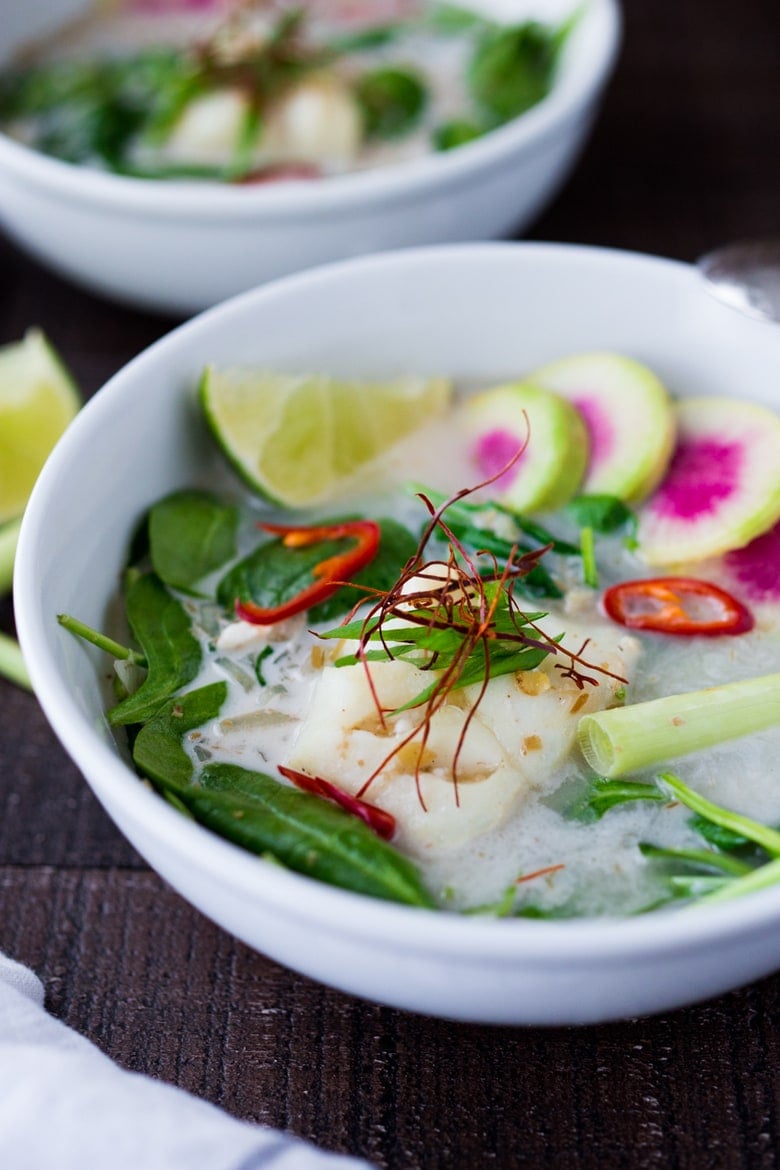 Vegan Smoky Tomato Broth- a healing detoxing pot of soup- with beans, vegan "meatballs", spinach, pasta. This broth based soup is nutritious, adaptable and cleansing. Vegan, Gluten-Free.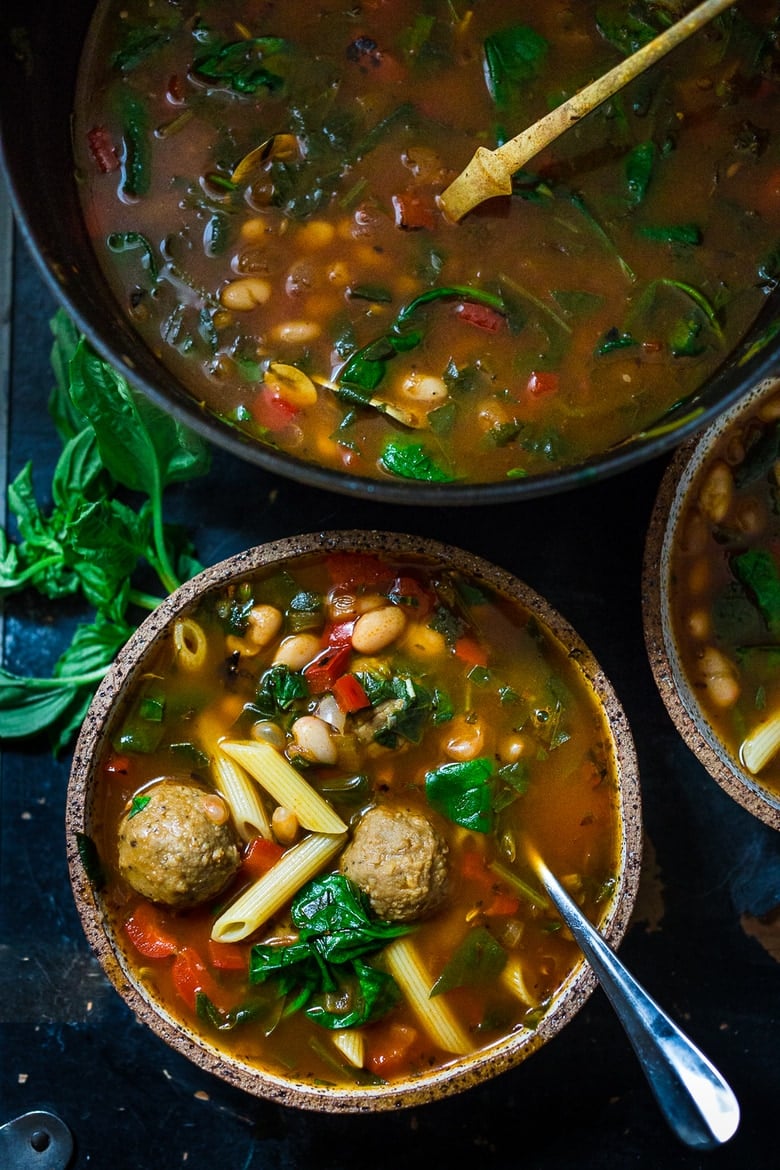 ( Italian Fish Stew) –A simple authentic Cioppino Recipe that is easy to make and full of flavor. Fresh fish and seafood  are bathed in a light and fragrant tomato, fennel and white wine broth. Serve with crusty bread to mop up all the juices. Paleo friendly!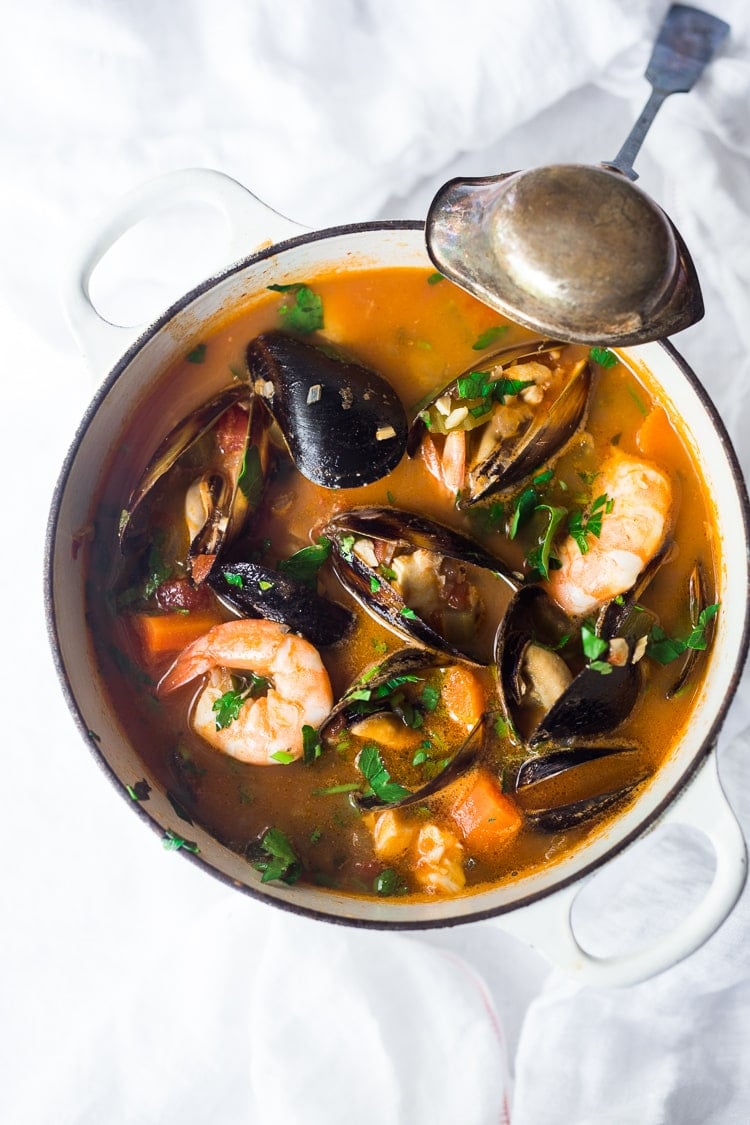 This glowing bowl of Thai Green Curry Noodle Soup is infused with lemongrass, chilis, galangal and basil. Vibrant broccolini and tofu (or chicken) simmer gently in the broth before it's ladled over rice noodles, then topped with crunchy bean sprouts, scallions, basil and lime wedges. This simple, bone-warming soup is a feast for the senses!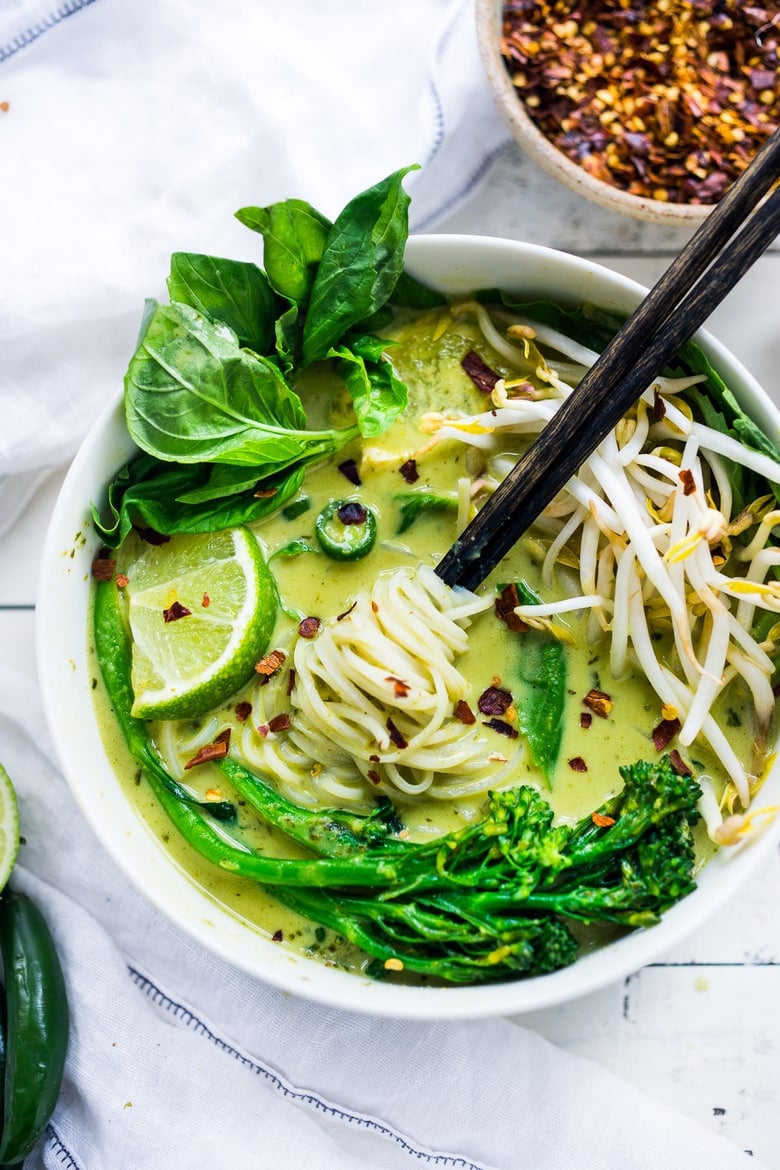 Detox Lentil and Beet Broth Soup …packed full of antioxidants, this vegan broth-based soup aids the liver in detoxing and cleansing our bodies. Vegan, GF.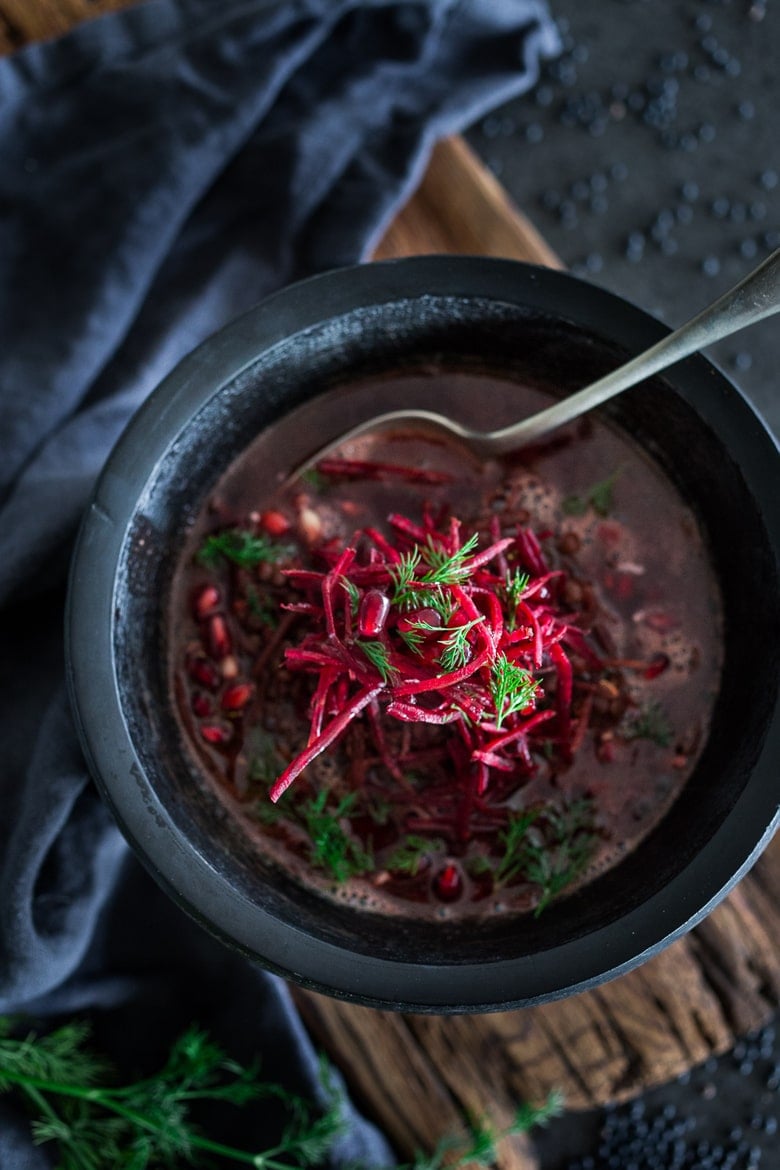 Lightning Speed Photon Soup- a cross between Vietnamese Pho and Wonton soup that can be made in 15 minutes flat! This broth-based soup is nourishing, healthy and warming.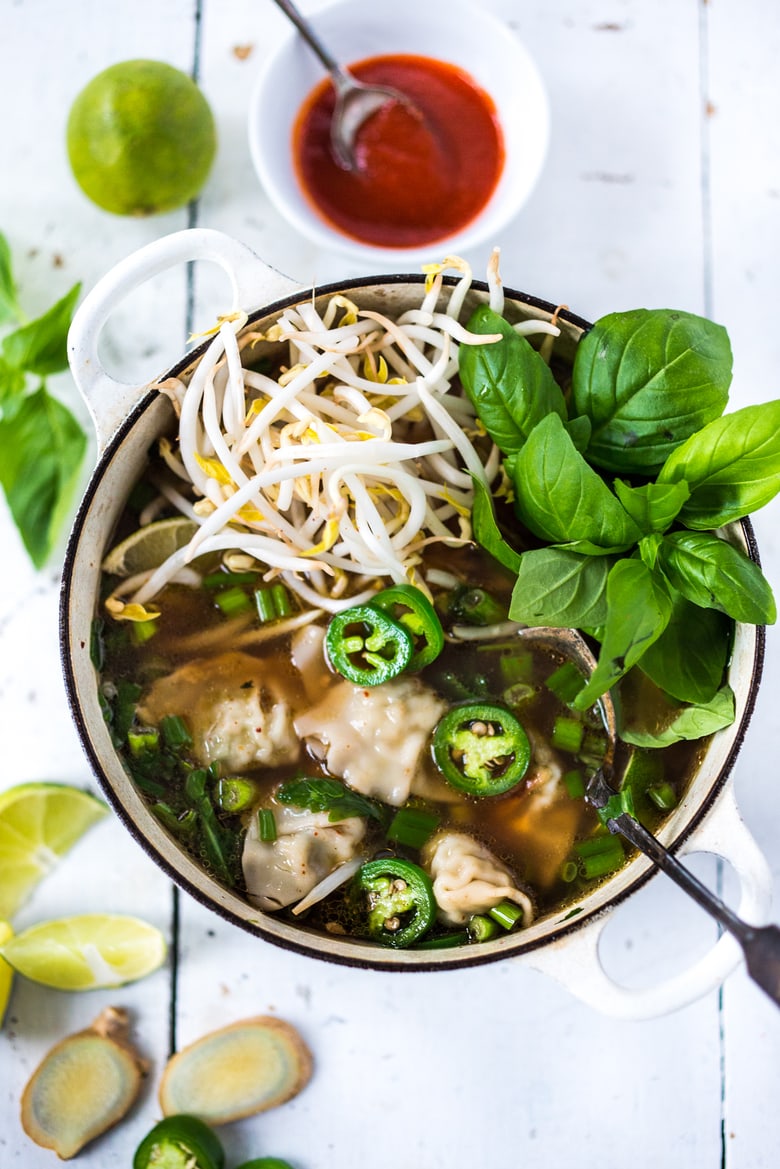 An unbelievably delicious recipe for brothy Chicken, Kale and Chickpea Soup topped with toasty Rosemary Croutons, healing and comforting!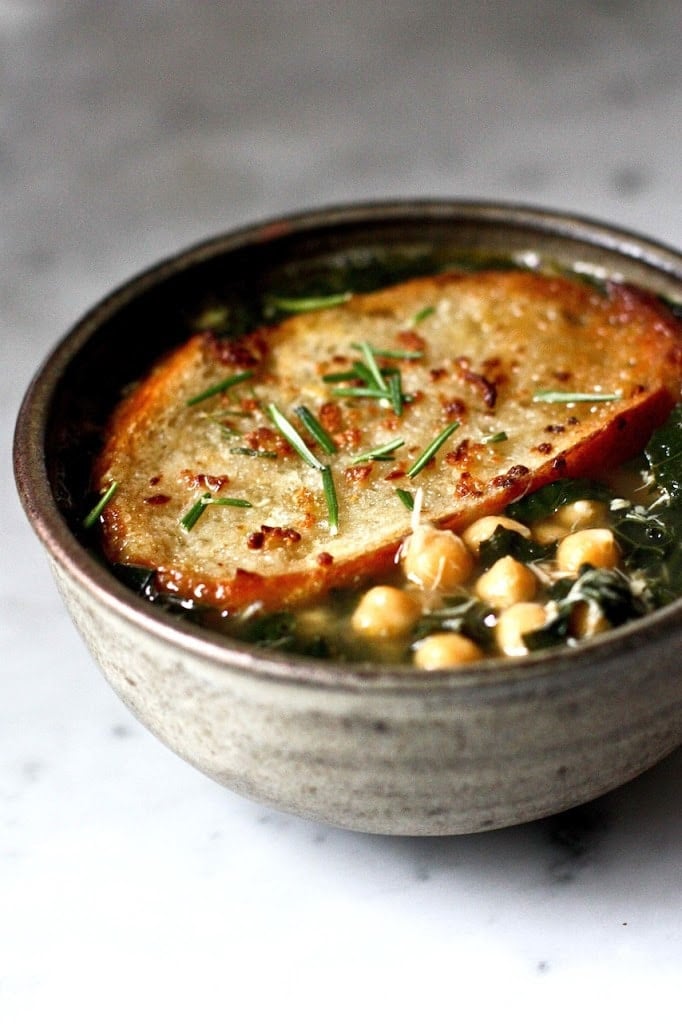 This Paleo, Arabic Meatball Soup with Spinach, Mint and Lime – has the most delicious broth ever! Make with this with ground turkey, lamb, beef or chicken. (Lamb is especially nice.)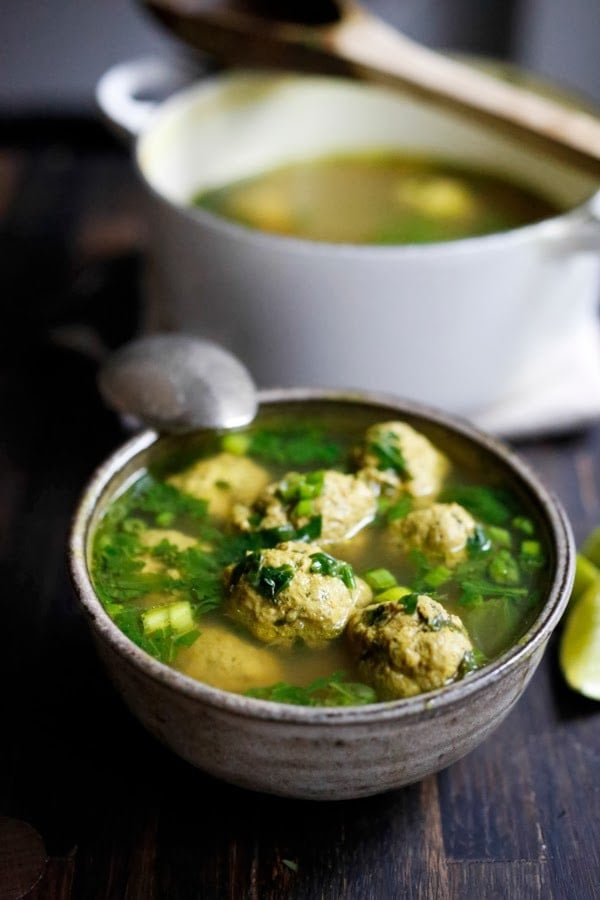 And lastly, the most popular recipe on the blog to date -Turmeric Broth Detox Soup! A fragrant, healing broth-based soup infused with fresh turmeric, that can be used as a "base" for your favorite additions.  | Vegan and Gluten-free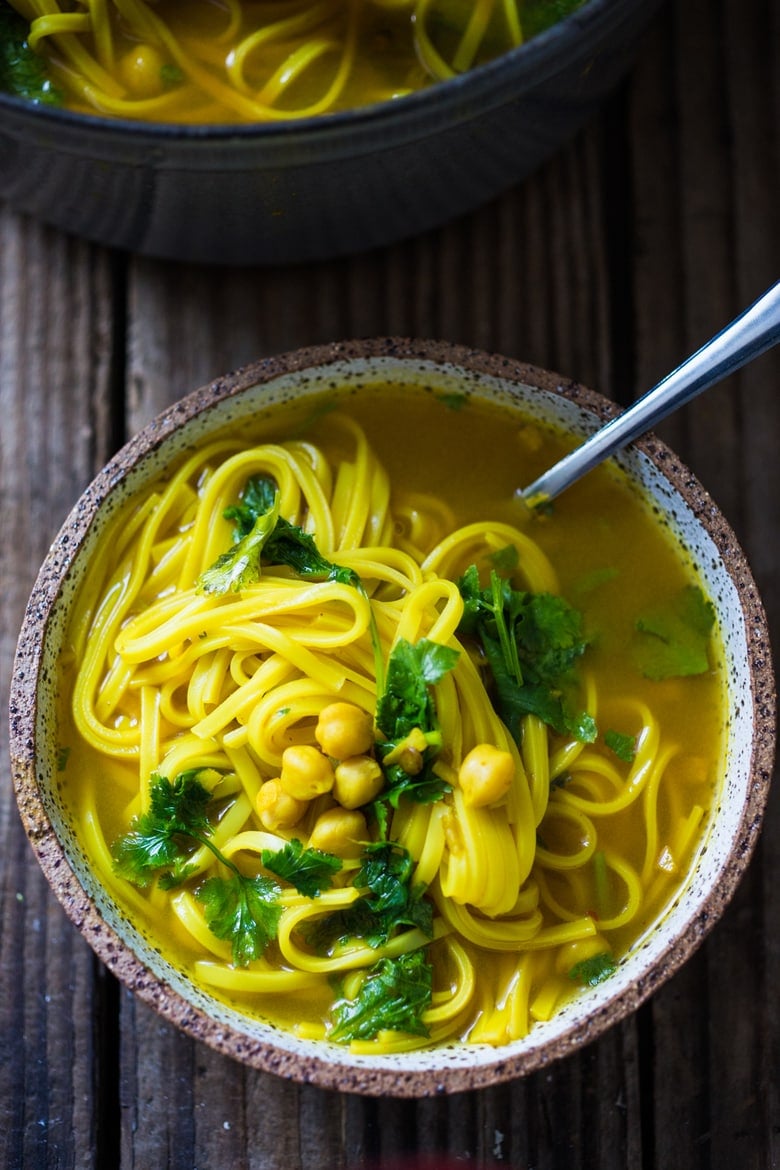 Hope these cozy Broth Based Soups bring you comfort and healing. If you have a favorite please let me know below,  and make sure to share! It is always appreciated!
Thanks… and feel better friends!
xo
Print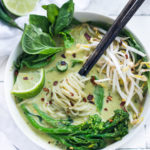 Comforting Broth-Based Soup Recipes
Author:

Sylvia Fountaine

Prep Time:

20

Cook Time:

20

Total Time:

40 minutes

Yield:

4-6

Category:

Soups

Method:

Stove

Cuisine:

American
---
Description
20 Cold Weather, Broth Based Soup Recipes to nourish and comfort. Many are vegan, gluten-free, keto and paleo.
---
---
Instructions
Pick a few soups to try out this week!
---
Keywords: broth based soups, Keto soups, Keto soup recipes, bone broth soups, healthy soup recipes, brothy soups, broth based soups, healthy broth based soups, bone broth soups, bone broth recipes, bone broth, chicken bone broth, beef bone broth