A simple easy recipe for Kimchi Soup with Shiitake Mushrooms, Silken Tofu and Kale that is vegan and gluten-free adaptable. This very untraditional version of the Korean classic is meatless, yet spicy and flavorful! Serve it over noodles or rice with a drizzle of toasted sesame oil. (See notes)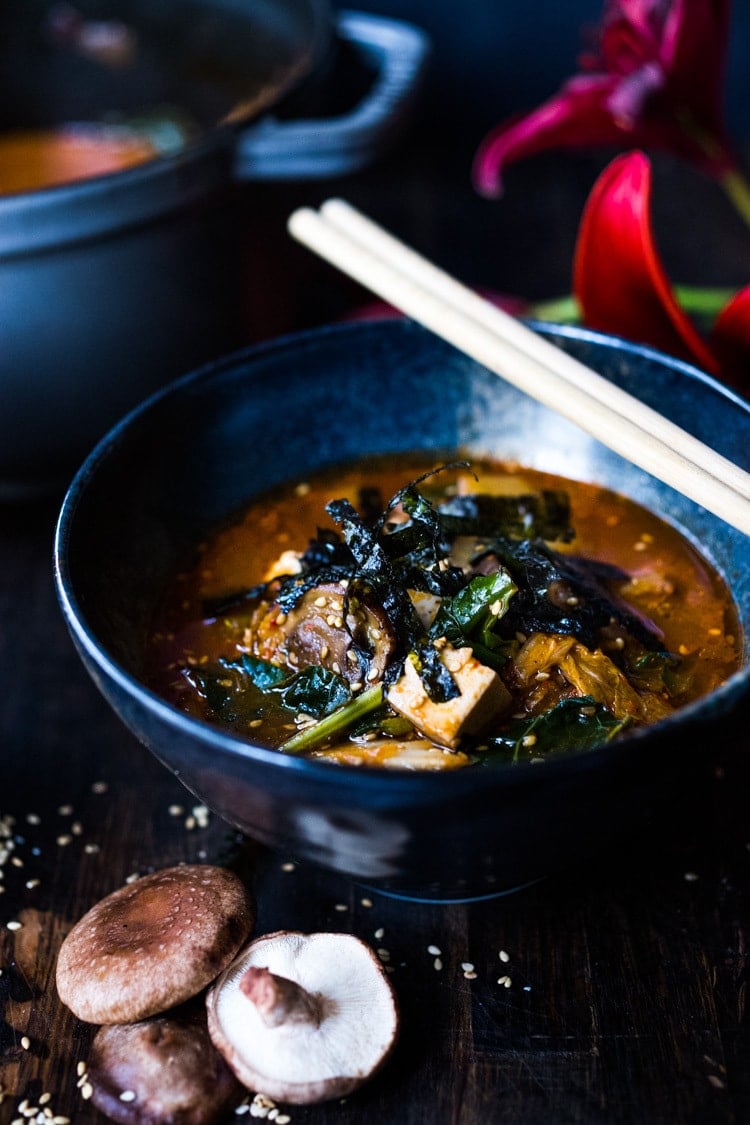 I was never addicted to one thing, I was addicted to filling a void within myself with other things other than my own love. ~Yung Pueblo
Let's just start with, if you don't like kimchi, you probably won't like Kimchi Soup. 😉 If you don't like mushrooms, you won't like this Kimchi Soup either. And if you don't like tofu, don't even think about it! In my guestimations, I probably just talked 90 percent of you out of making Kimchi Soup but to those still considering it, know that is spicy hot, slightly sour (in a good way) and absolutely not to be made without the toasted sesame oil. To the 3 of you still reading, I'm so excited for you to try this!!! I think it is delicious! 😉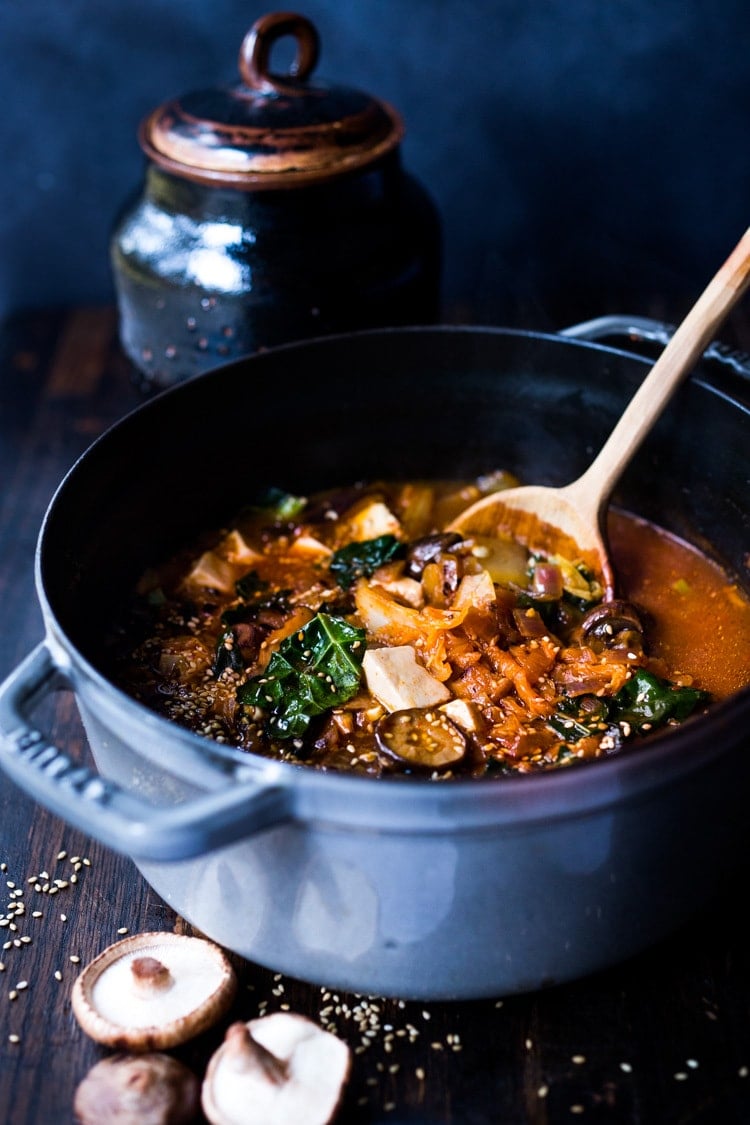 It's a simple tasty recipe, that can be made in about 30 minutes. I love Kimchi Soup poured over a bowl of rice noodles or brown rice, but feel free to serve it just on its own.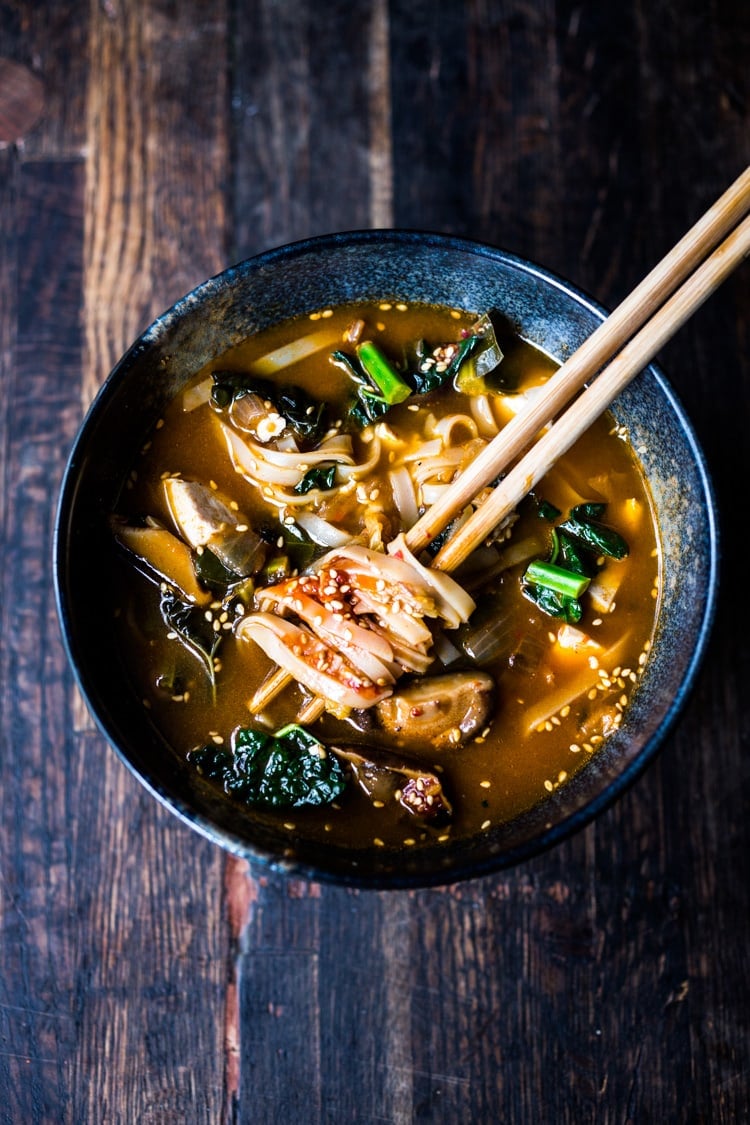 It's good soup for frigid days, or when you have a cold and want something to warm you to the core.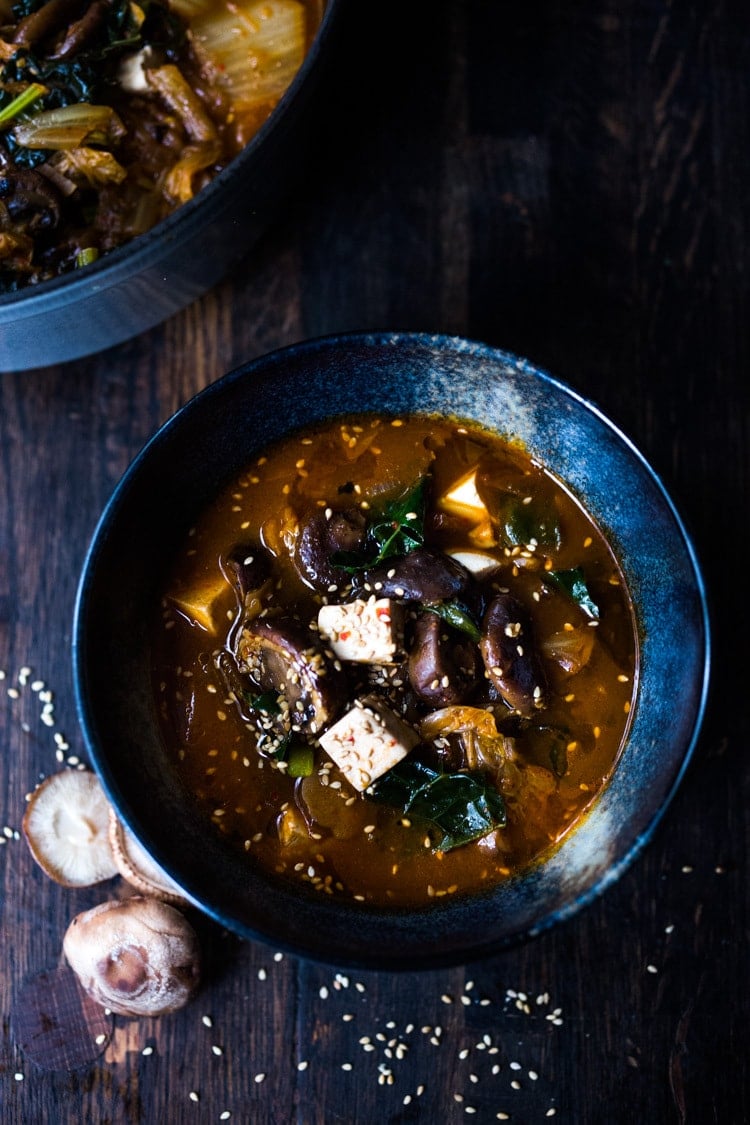 Like the description says, this version of Kimchi Soup is not traditional. Most include some form of pork, typically pork belly. So if your Korean grandmother made this for you as a kid, and you're looking for that unctuousness from the pork belly – this is not your kimchi soup.
But it does have amazing flavor! The secret to Kimchi Soup is getting the broth to have enough depth and richness to balance out the spicy heat and sour flavors. Once you get the balance right, it's tasty!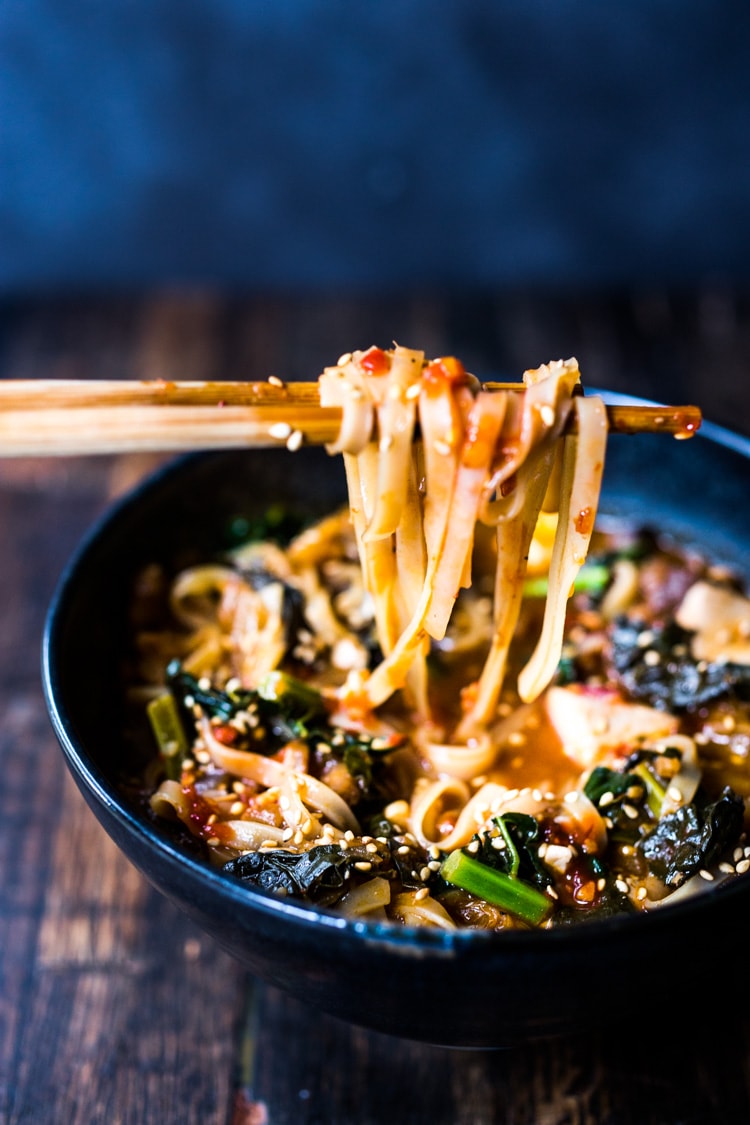 And this version is healthy, vegan and low in calories! The addition of fresh kale bumps up the nutrition factor significantly.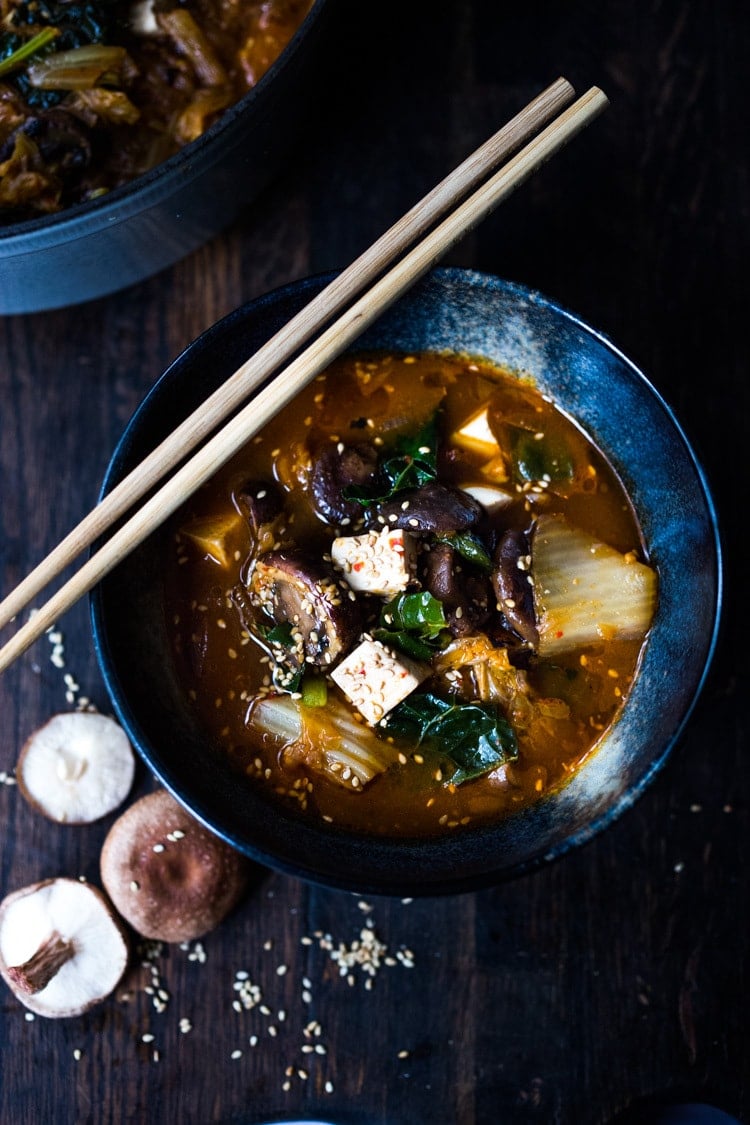 Let me know what you think below!
Have a great weekend. xoxo
More Kimchi Recipe you may like:
Print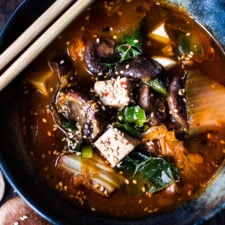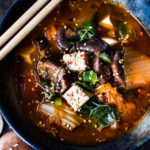 Kimchi Soup with Mushrooms, Silken Tofu and Kale
Author:

Sylvia Fountaine

Prep Time:

15

Cook Time:

20

Total Time:

35 minutes

Yield:

4

Category:

soup, vegan,

Method:

stove-top

Cuisine:

Korean
---
Description
A non-traditional version of Kimchi Soup with Shiitake Mushrooms, Silken Tofu and Kale that is vegan and gluten-free adaptable. Spicy, hot and sour, serve over rice, noodles or on its own, with a drizzle of sesame oil. (See notes.)
---
2 tablespoons

olive oil

1

onion, diced (a red

one

is nice)

8 ounces

shiitake mushrooms, de-stemmed, cut into bite-sized pieces ( or sub cremeni)

4

–

6

fat garlic cloves, rough chopped

1 tablespoon

ginger, paste or finely minced

2 cups

kimchi, drained, chopped

5 cups

water or broth

1 tablespoon

miso paste (or soy sauce, or GF liquid aminos)

½ teaspoon

salt

1 tablespoon

apple cider vinegar (or lemon)

1 tablespoon

chili paste ( sambal oelek)

2 teaspoons

honey ( or sugar or alt sweetener)

1

 12 ounce package silken tofu, cut into small, ½-inch  cubes

1

–

2

large handfuls chopped kale
generous drizzle toasted sesame oil – imperative!
garnishes : nori or toasted seaweed cut into strips, sesame seeds, scallions, watercress
Serve over noodles or rice if you like – see notes.
---
Instructions
In a dutch oven, on the stove, heat oil over medium heat and saute onion 4-5 minutes, stirring, then add mushrooms and cook until tender, about 5 more minutes, seasoning them with a pinch of salt. Add garlic and ginger and continue cooking and stirring 2-3 minutes until the garlic is fragrant.
Add the chopped kimchi, water and miso paste.
Bring to a simmer and stir until the miso dissolves. Add salt, vinegar, honey, chili paste, stirring until combined and simmering. Add tofu gently, then kale and gently bring to a simmer again, stirring, being careful not to break up the delicate tofu. I like to use a wood spoon for this- no sharp edges. 😉 Let this simmer for 5 minutes.
Serve in bowls and for extra heartiness, you could serve over rice, or rice noodles.
Drizzle with a little toasted sesame oil ( 1-2 tablespoons) which adds a delicious earthiness and richness. To me, this really makes the soup, so if you don't have it, don't make it.
Sprinkle with sesame seeds and nori seaweed strips. ( cut thin strips with scissors)
The nori strips add a ton of flavor too.
---
Notes
Do not make this without the toasted sesame oil!
Every kimchi tastes slightly different. Make sure the kimchi tastes good to you, to start with. Some kimchi is spicier than others. Some kimchi is more sour than others. Some kimchi has fish sauce in it -which is not vegan- but will help with depth of flavor. Taste the soup as you season it. You may need less vinegar, more salt, for example. You may need to add another splash of soy sauce for depth. For my batch, the honey really helped balance things out, and the sesame oil, made all the difference.
I cooked my rice noodles right in the kimchi soup pot. If you do this, make sure to not use too much!  Four ounces of dry rice noodles is probably plenty. They will swell, a whole lot!!! You can also cook them separately and pour soup over top, especially is saving the soup for lunches or other meals.
Keywords: kimchi soup, kimchi recipes, how to use kimchi, kimchi recipe ideas, recipes with kimchi, vegan kimchi soup, easy kimchi soup, quick kimchi soup, kimchi soup recipe, easy kimchi soup recipe, kimchi ramen recipe, kimchi soup with noodles, kimchi soup with tofu