Vegan Bibimbap (aka Seoul Bowl) with Gochujang-baked Tempeh, steamed veggies, kimchi and pickled cucumber- a healthy vegan version of Bibimbap!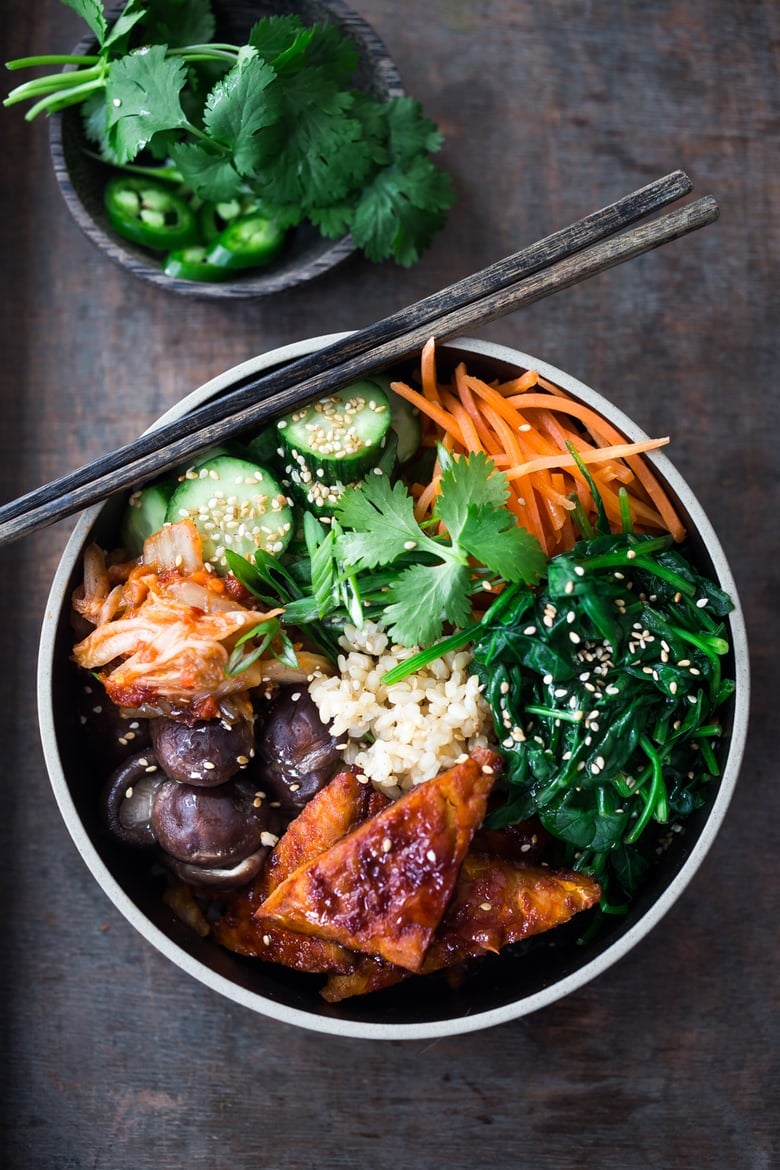 And I say to my heart: rave on.
~Mary Oliver~
This Korean inspired "Seoul Bowl"  (a vegan version of Bibimbap) is loaded up with healthy veggies and packed full of flavor!  Roasted Tempeh is the protein featured today, but feel free to swap it out for tofu, meat or even just a simple poached egg.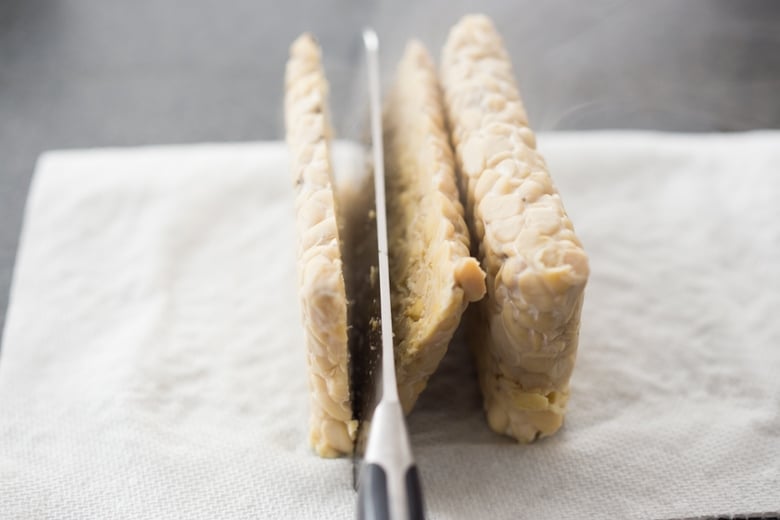 I'm not sure about you, but I've had some terrible tempeh experiences in my life, but this version was so good it even passed the husband test!
what is tempeh ?
Tempeh is a vegan "patty" made from fermented soybeans and or grains.  It is very high in protein and calcium and low in fat – with a very textured, nutty flavor. It's very firm and doesn't easily crumble like tofu. Many vegetarian and vegan recipes use tempeh as a meat substitute, which holds up well.
Tempeh can be found in the refrigerated section of most health food stores and in the natural foods aisle of well-stocked grocery stores.
how to cook tempeh?
Since it is a low-fat and high-protein food, many vegans choose to include tempeh in their diet on a regular basis.
TIP: Remember to always simmer tempeh for 8-10 minutes in seasoned water to soften and help lessen its bitterness. It really makes a difference! Once simmered, season it or marinate it as you wish. It is like tofu, in that it's a nice canvas for other flavors. So Flavor it up!!!
The secret to making tempeh taste good:
Simmer Tempeh in water, or seasoned water,  to remove the  bitterness, and to also open up its "pores" for the flavorful marinade to soak in.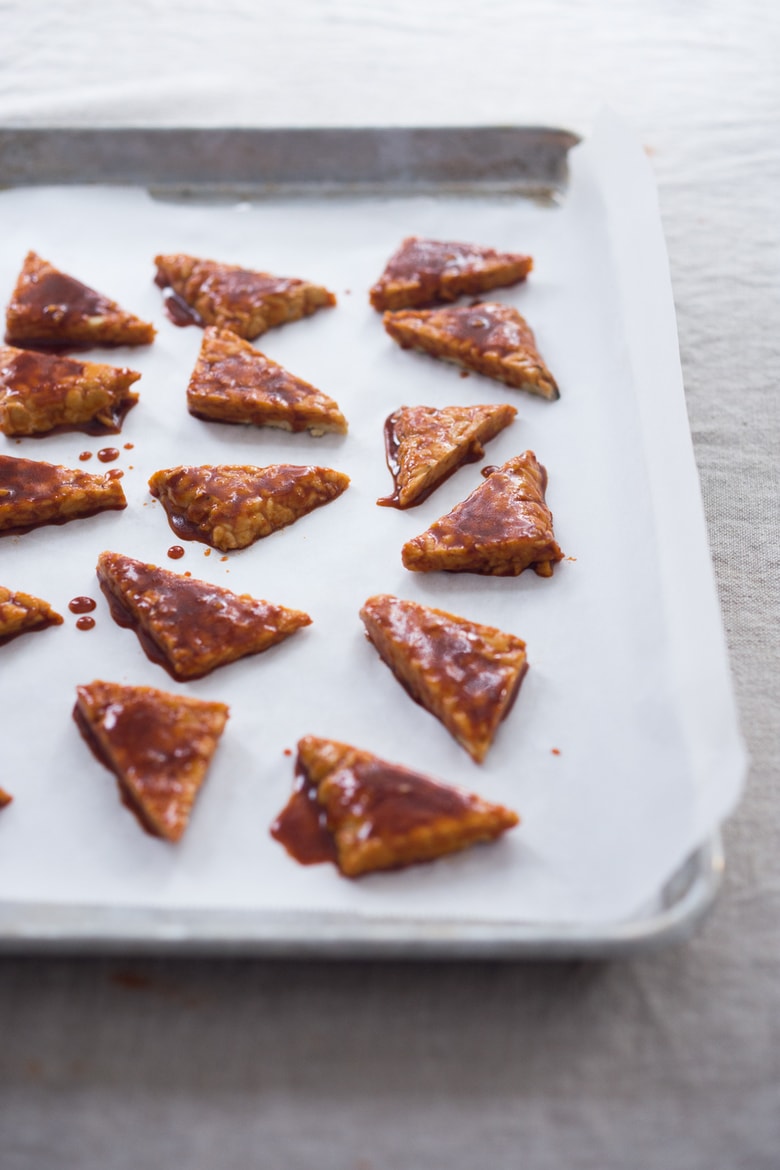 Here I've sliced it thinly and lathered with a Korean Style Chili Paste.
Into the oven it goes to bake. It will get nice and crispy.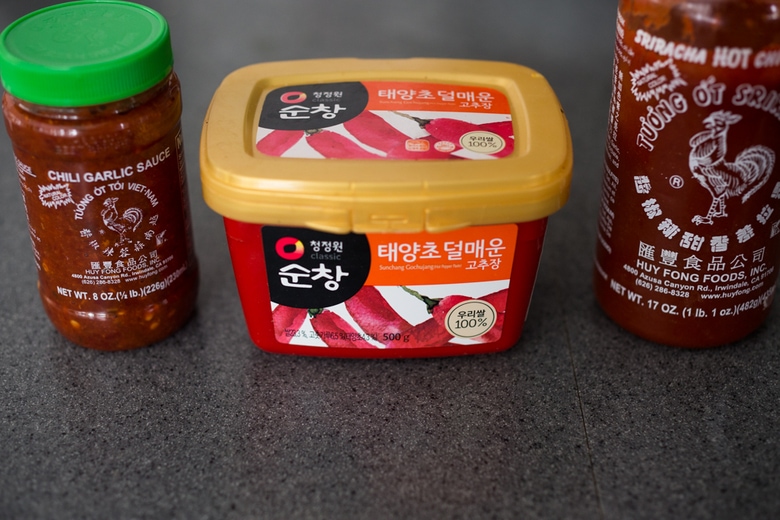 I wanted to introduce you to this Korean Style Chili Paste called Gochujang. Now, keep in mind, it is not imperative that you use this in the recipe (feel free to use Chili Garlic Sauce or Sriracha)  but for those of you who have it on hand, or want more of an authentic tasting bowl, it's a fun condiment to use and have on hand.
The primary difference in flavor is the Gochujang is fermented, so its flavor has this really unique depth that comes from this fermentation process. To me, it tastes slightly of miso. Deep and earthy and umami flavored.
This is what is used when making traditional Kimchi.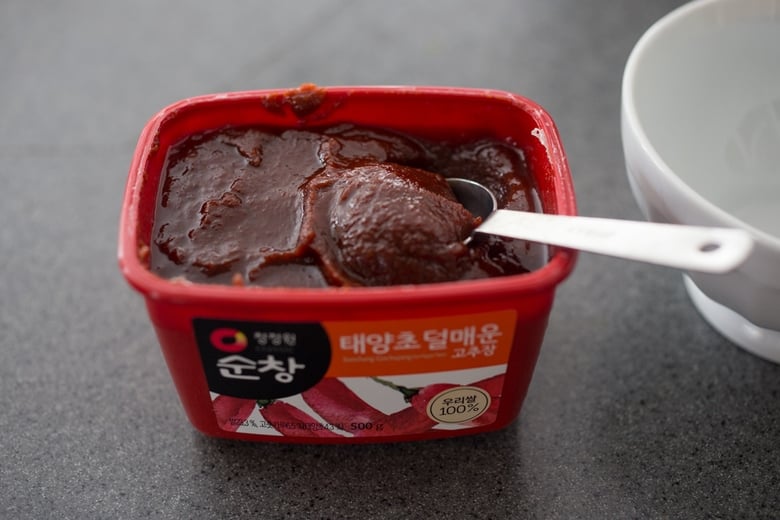 So anyways, there you have it.
Whisk up the flavorful marinade, then coat all sides of the tempeh.
ALSO FYI -Do you see this little whisk? You can get them at most grocery stores ( in the baking section) very inexpensively, and they come in super handy when whisking tiny little bowls of marinades or dressings.
One of my favorite little gadgets.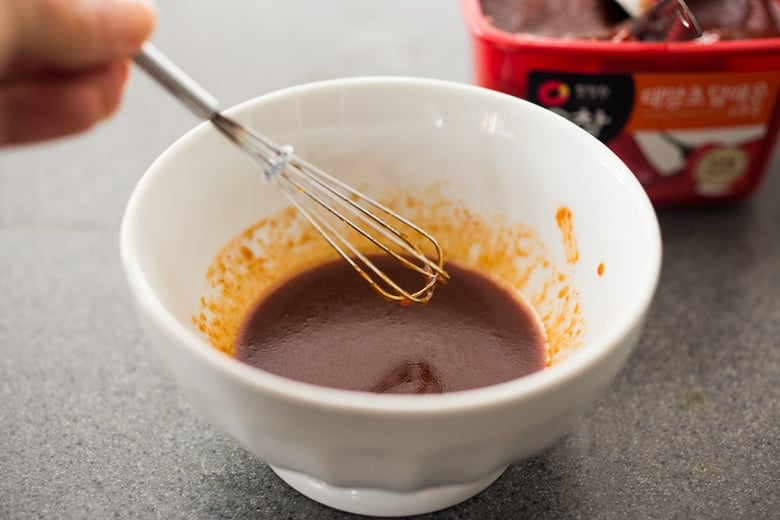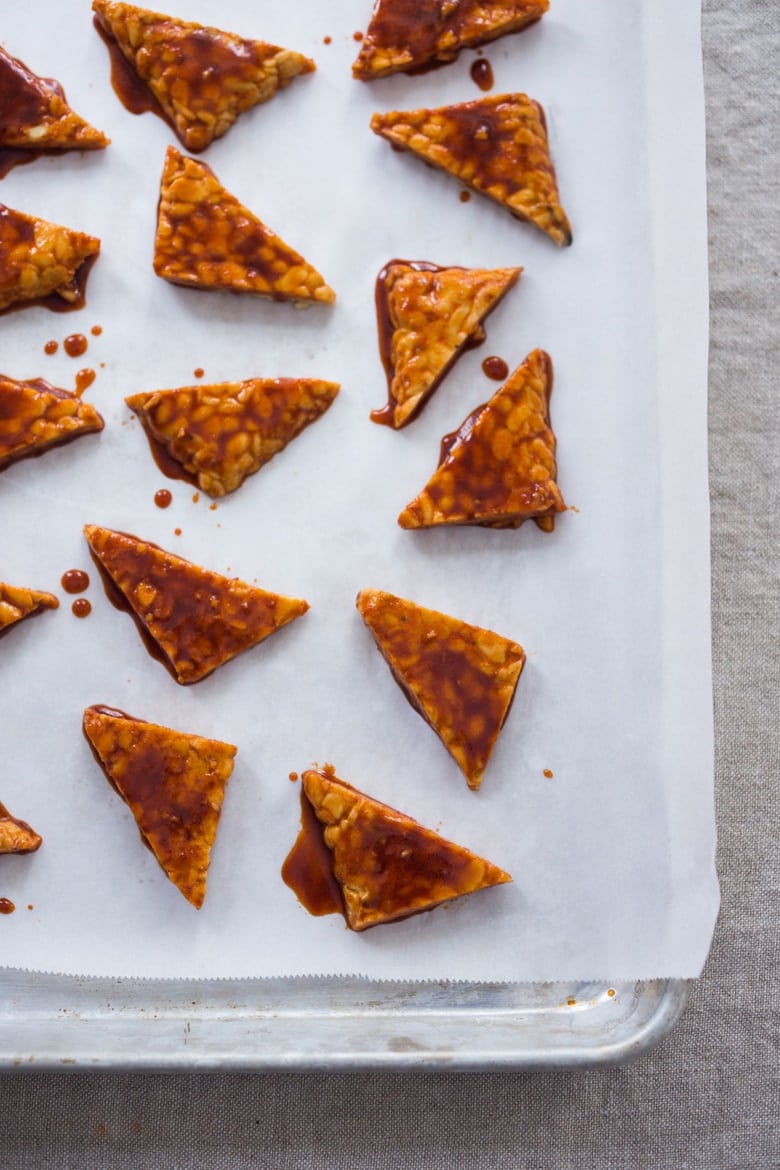 Bake the tempeh in the marinade until crispy, and while it's baking, get the rest of the ingredients ready:
Brown Rice, steamed spinach, steamed carrots, steamed mushrooms, cucumber salad and kimchi.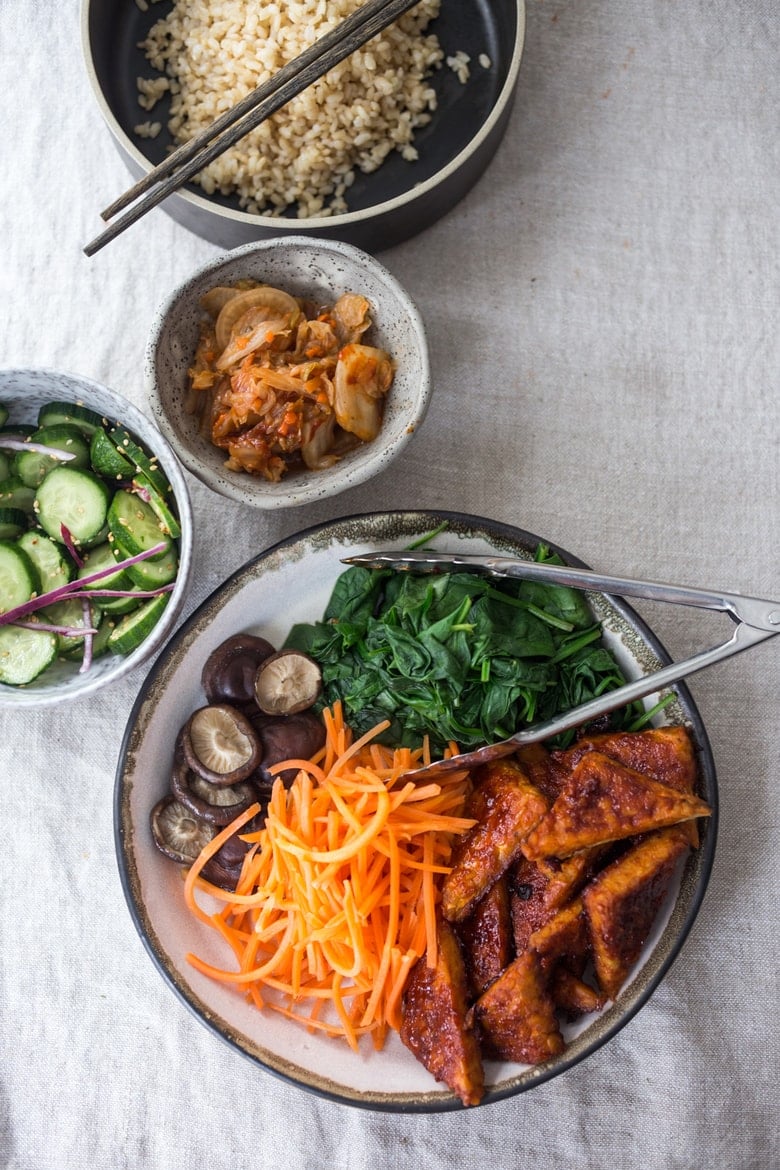 Once the rice and tempeh are finished, assemble the bowls.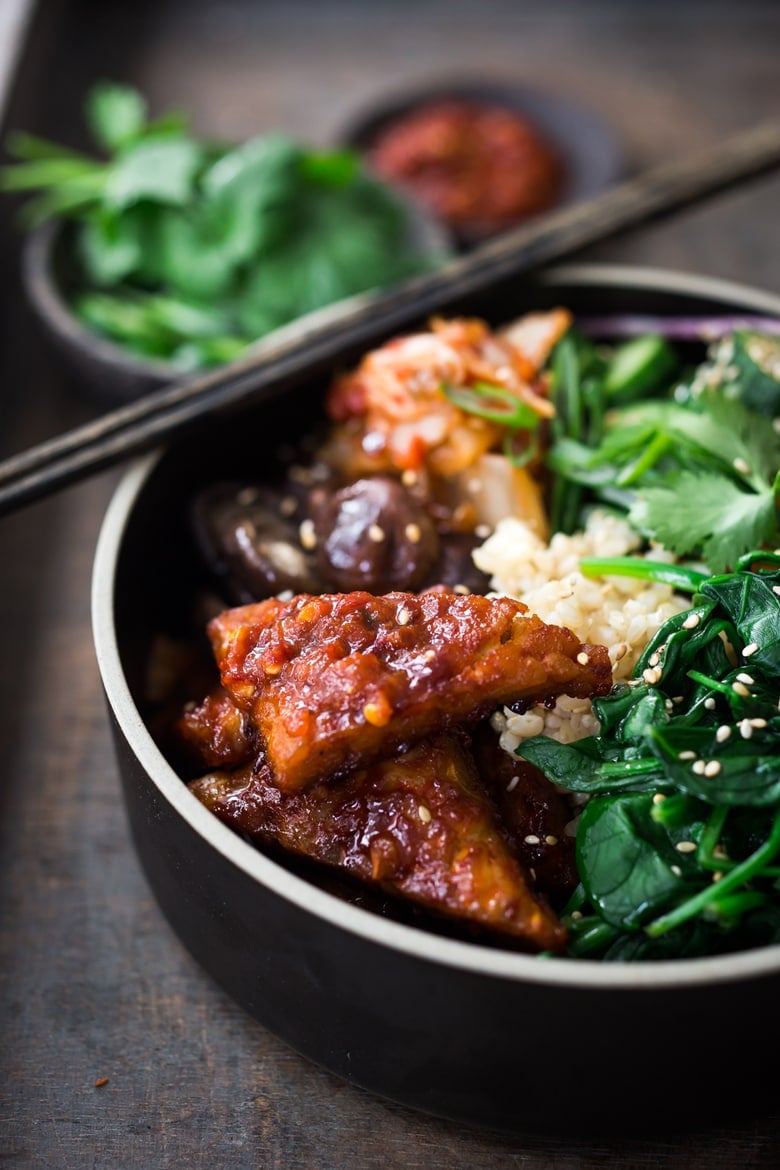 Divide the rice among bowls and surround with the tempeh, steamed veggies, cucumber salad, kimchi and fresh herbs.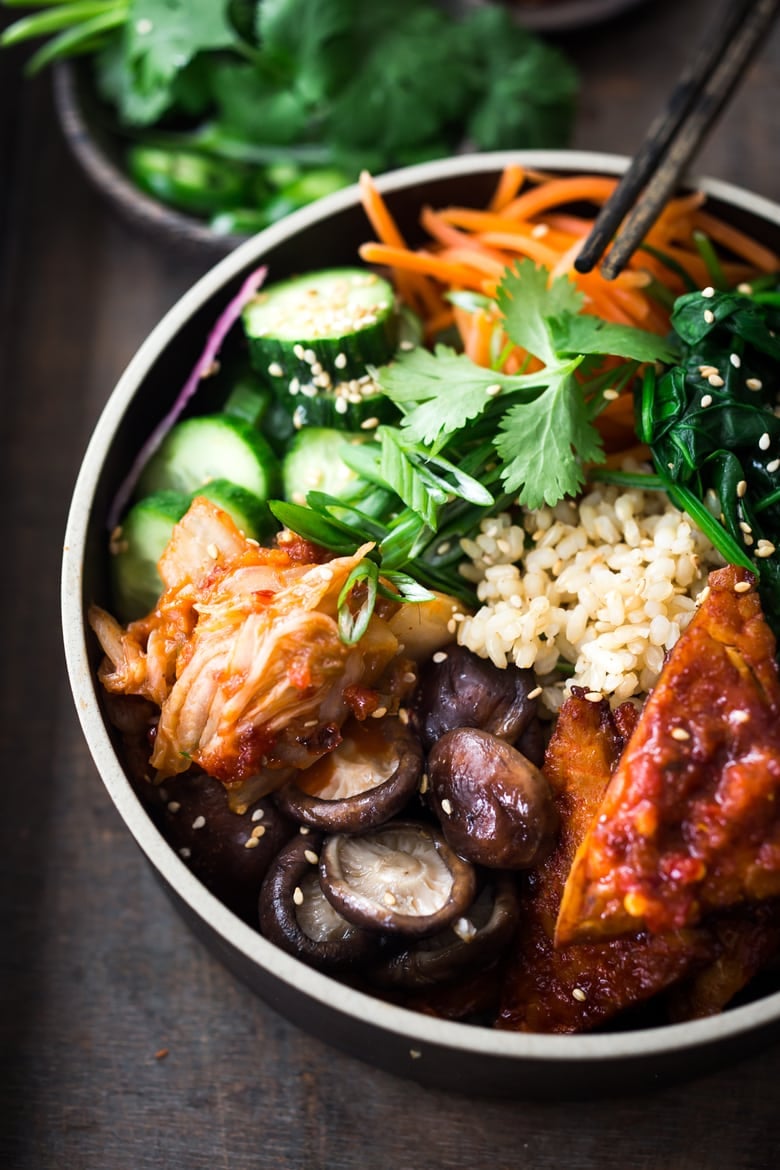 Sprinkle with sesame seeds and  serve with chop sticks.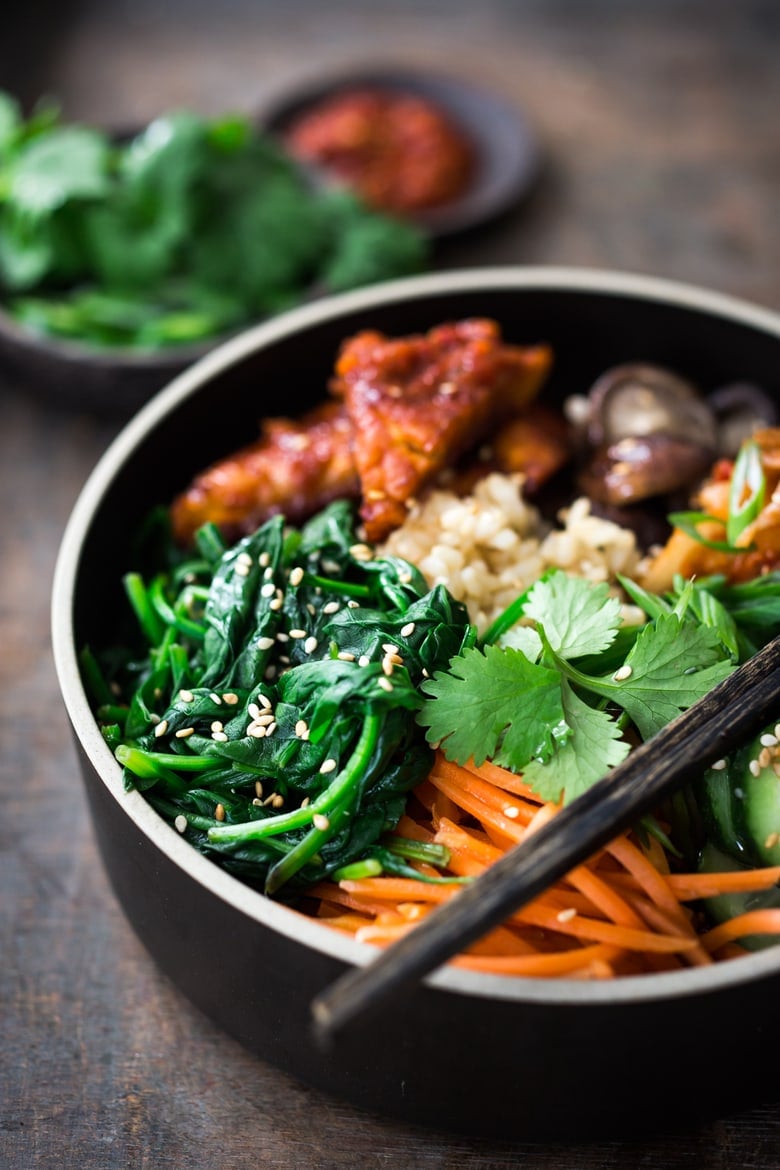 If you are new to tempeh, this is a great way to infuse flavor into it. Give it a try this week!
For more tempeh recipes give these at try!
Tempeh Reuben Sandwich with Smoked Mozzarella and Turmeric Kraut!
Korean – Style, Seoul Bowl with Tempeh 
Have a great week. If you enjoyed this, please rate it below!
Print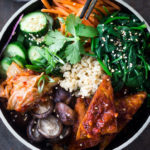 Vegan Bibimbap
Author:

Sylvia Fountaine

Prep Time:

25

Cook Time:

20

Total Time:

45 minutes

Yield:

3

1

x

Category:

Vegan Main

Method:

Bowl

Cuisine:

Korean
---
Description
---
2

cups

cooked rice- short grain brown is my preference

1

batch Korean Baked Tempeh ( meat-eaters see notes)

1

cup

steamed, grated or match stick carrots ( or keep fresh)

2

handfuls steamed spinach (or keep fresh)

2

ounces

steamed shiitake mushrooms

1

turkish cucumber, cut into thin disks
generous pinch salt and splash rice wine vinegar

1/8

cup

thinly sliced red onion (optional)

1/2

cup

fresh kimchi
Garnishes – scallions, cilantro, chili paste, sesame seeds, soft boiled eggs
Korean Baked Tempeh:
8 ounce package tempeh
Tempeh Marinade:
Seoul Sauce: ( The Dressing)
---
Instructions
Preheat oven to 400F
Set rice to cook and start the tempeh. Simmer the block of tempeh in a medium pot, with 2 inches of boiling water for 6-8 minutes to remove bitterness.
Whisk marinade ingredients together in a small bowl, and at the same time whisk Seoul Sauce ingredients together in another separate small bowl.
Remove tempeh from water carefully and pat dry.Cut in half, then cut in half to make thin pieces. See photos. Cut into squares, then triangles or strips. Dip each piece in the marinade and place on a parchment– lined sheet-pan, spooning any remaining marinade over top, and bake for 20 minutes, or until crispy.
While the tempeh bakes, prep your veggies and garnishes.
Soft boil your eggs if using.
Cut the cucumber, place in a small bowl and season with generous pinch salt, a splash of rice vinegar, optional red onion and sesame seeds.
In a medium sauce pan, bring ½-1 inch of water to a simmer. Add the carrots and gently steam, just until wilted, about 2 minutes. Using a slotted spoon remove, and place on a large plate. To the same simmering water, add the spinach, steam just until lightly wilted ( 1-2 minutes) remove, drain,  place on the same plate next to the carrots. Remove and discard the shiitake stems and place the mushroom caps in the same simmering water, turning to steam both sides. Add little more water if you need to. Once tender, about 4 minutes later, place them on the plate next to the carrots and spinach.
Prep any garnishes you plan to use- cut scallions, tear cilantro leaves, and gather the kimchi, sesame seeds and hot chili paste – getting the bowls ready to assemble.
Once the rice and tempeh are done, assemble the bowls.
Divide the rice and tempeh into 2 extra hearty bowls or 3 medium bowls. Surround with the wilted veggies, cucumbers, kimchi, optional egg, fresh herbs and sprinkle with sesame seeds.
Spoon the flavorful Seoul Sauce over top.
Eat with chop sticks and enjoy!
---
Notes
If you don't want to use tempeh, free free to sub tofu, salmon or chicken using the same marinade. You may need to adjust the cooking time.  If you have a beef lover amongst you, Traders Joe's Bulgogi Beef is a nice option, especially when grilled. You can cook both tempeh and meat ( like chicken for example) on the same sheet pan, in separate corners for more options if you have vegans and meat eaters in the same house. Very adaptable!
Nutrition
Serving Size:

3 bowls without the egg.

Calories:

456

Sugar:

19.5 g

Sodium:

1066.8 mg

Fat:

13.7 g

Saturated Fat:

2.3 g

Carbohydrates:

65.3 g

Fiber:

9.6 g

Protein:

19.8 g

Cholesterol:

0 mg
Keywords: vegan bibimbap, how to cook tempeh, Korean recipes, vegan bowl, korean bibimbap, buddha bowls, vegan bowls, korean bibimbap vegan