A simple, 7-day, vegan, plant-based, Clean-Eating Guide with recipes to help nourish and energize the body,
rev up the metabolism and shed unwanted weight.  Yours free when you subscribe to the blog!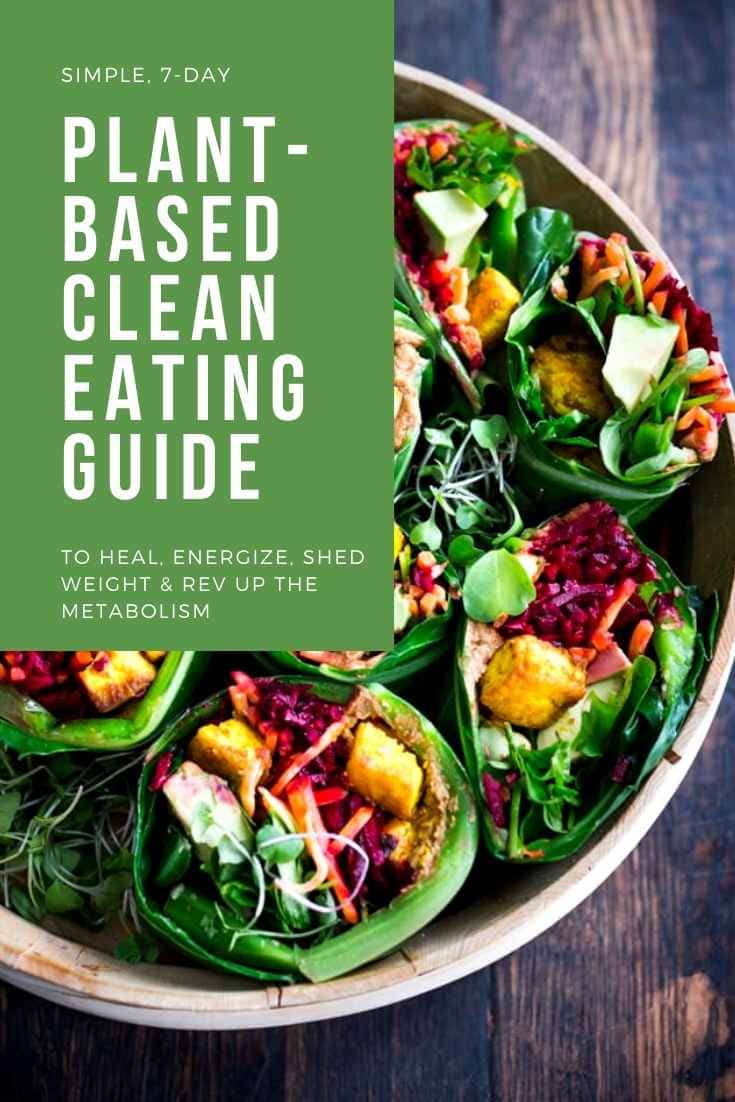 Whether you are just looking for a week of "clean-eating" to give your body a break – or are considering making the switch to a fully plant-based vegan diet, here is a Free Guide (when you subscribe) to help you on your journey. Not only does the guide contain helpful tips and tricks to make the transition easier- it contains delicious Vegan Recipes that will keep you feeling vibrant and satisfied!
A little back story: For several years, I have watched my own metabolism slow down and my weight slowly creep up. Growing up, I was naturally slim and it wasn't really until my forties that I noticed weight gain that was harder to shed.
When I was younger, losing a few pounds used to be fairly easy. Not anymore! Although I never considered myself to be overweight, I gained pounds around my middle that made me feel sluggish and unhealthy that I couldn't seem to lose.
But several years ago I tried something different. I actually started listening to my body. Even though the latest trend was to eat often, cut out grains and eat lots of protein and fat, my body actually felt better and more energized when I consumed fresh fruits and veggies, whole grains & beans, minimized meat, dairy and sugar- and stopped snacking.
In the beginning, I just started paying attention to when I was eating and why. I noticed that much of the time I ate when I was not actually hungry.  I did a lot of mindless eating… eating whatever was sitting on the counter as I walked past regardless if I was hungry.
Being a caterer, there was always food in front of me, which inevitably ended up in my mouth!  I noticed how much I used food as a distraction when feeling anxious, bored, or in need of comfort – and realized I was asking way too much of food – and that no amount could make what I was feeling go away. I had to turn inward and face it. This was the first step. 
I also started paying attention to my body – acknowledging what foods left me feeling tired, achy or sluggish and what foods left me feeling energized and alive. And this is different for each of us.
For me, cutting back on rich meat/ dairy/ white sugar/ white flour/and all processed foods for a period of time allowed my body a break, letting it "catch up" with its inner cleaning.  Eating more plant-based meals, with lots of healthy fruits and veggies, whole grains, plant-based proteins, helped my body to do what it naturally does… balance and heal itself.
Research shows that the plant-based diet lowers cholesterol,  lowers inflammation, lowers blood pressure, reduces cancer risk, lowers heart disease and is the least taxing diet on the environment.  Not to mention the animals!  There is even research out there that states that eating vegan for a 3 month period can actually affect our DNA!  Studies by Dean Ornish and others show how a plant-based diet affects the length of our telomeres,  and ultimately slow the aging process.  Don't take my word for it, please do your own research and see for yourself.
And while we take this "break" our bodies become better able to absorb all the good clean nutrients we are putting into them. And I find that in the process, I start to actually crave these clean foods because I feel better, sleep better and have way more energy.
So this is what I try to do every few months: For 7 days, I'll cut out meat and dairy, white sugar, white flour, and processed foods –  I make all my meals from scratch. This is KEY. (Now, of course, you can transition into the plant-based vegan diet full time. It need not be a cleanse, but rather a lifestyle change if you so choose.)
In general, I stop snacking and eating all the time- allowing my body time to digest before eating again, adopting a 16/8 fasting schedule (eating meals within an 8 hour period, allowing body to rest for 16 hours.) This feels so good, and with in 2-3 days my energy levels increase.
And yes, occasionally I  splurge because I really don't believe in depriving one's self of all life's pleasures.  For example, in the past I really loved ice-cream. But I realized I made a habit of it, eating it every night after dinner. Did I really need to eat it every single night?!  I decided I would eat it, only when I really really wanted it, which ended up being far less than I thought. (And I switched to vegan ice cream!)  I changed the habit of eating it. And I changed the habit of constantly snacking when I wasn't hungry- substituting this tea, or this apple cider vinegar drink called a switchel!
Slowly but surely, I lost weight for the first time in years. At first, I didn't actually notice the weight loss, it was that slow. But I felt more energy during the day and slept better at night. After several months, I weighed myself and was astounded.  My cholesterol also went down (which is important to me personally, because both of my parents had heart bypass surgery). I'm not promising miracles here, but I think if you give it a try, you may be pleasantly surprised- like I was.
In the free, 7 DAY Clean Eating Guide I lay out a list of things to begin your journey. Please don't feel like you have to do ALL these things in the first week (unless you really want to jumpstart your body).  I've found that lasting success comes from gradually and gently incorporating these changes into your lifestyle so they become a more lasting habit. This is key.
Weight will come off a little more slowly, but this is a good thing, and this way it will most likely last. So go ahead and start with just one or two things this week. Then next week add another, and then another the following week so it's not so overwhelming or dramatic. This is not intended to be a "diet", but rather a lifestyle change for increased energy, vibrancy and gradual weight loss, with a "jumpstart" option if you are so inclined.
For the record, I am not a dietitian and I can't say that this vegan Clean-Eating Guide is right for everyone. Please don't take my word for it, do your own research, listen to your body and make sure this is a good fit for you. We are all so different, and I don't believe in "one size fits all".  But this is what has worked for me- and I just wanted to share it! (By the way, the guide is totally FREE, just for subscribing to the blog. )
I'm not here to try to convince you to become vegan, and I don't moralize my food choices. Just help present options. We all know what we need to do to feel our best. My husband follows the KETO diet- and for him, it works great. It's very popular now and I get it… but for some reason, it just doesn't work the same for me. There are many paths to feeling our best. Find your own!
My hope is to inspire and motivate you to take some steps toward feeling more alive and energized. And to take responsibility for your health.  We only get one body while we are here… let's show it some love!
Here are a few of my favorite resources that have inspired the Clean-Eating Guide.
Subscribe to the blog and get my free 7-DAY CLEAN -EATING GUIDE and make some simple changes starting today! Once you sign up you'll receive the list of things you can start implementing into your daily routine, along with some simple delicious recipes!
Print
VEGAN CLEAN-EATING GUIDE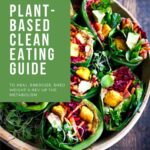 A simple, 7-DAY plant-based Clean-Eating Guide with Vegan Recipes!  Heal your body, increase your energy, rev up your metabolism and shed weight!  Free!
Author: Sylvia Fountaine
Prep Time:

30

Cook Time:

30

Total Time:

1 hour

Yield:

4

Category:

Vegan

Method:

Stovetop

Cuisine:

Northwest
Ingredients
fruits
vegetables
whole grains
plant-based proteins and fat
Instructions
Take a look at the clean eating guide.
Clean out your fridge.
Pick out a few vegan recipes, make a shopping list and prep a few things ahead for the week.
The key is keeping things simple, using what you have on hand -and incorporating fresh produce.
Make everything from scratch! It won't be hard or complicated.
You can do this. 🙂
Keywords: plant based diet, plant based, vegan recipes, vegan dinners, vegan lifestyle, how to go vegan, how to be vegan, vegetable diet, clean eating diet, clean eating guide