How to Grow Microgreens! Here's a simple, step-by-step guide on how to grow your favorite microgreens (like broccoli sprouts) indoors to add to Buddha Bowls, salads, sandwiches, wraps or smoothies. Not only are they packed full of nutrients, but they are also guaranteed to bring a little joy. Includes a Video.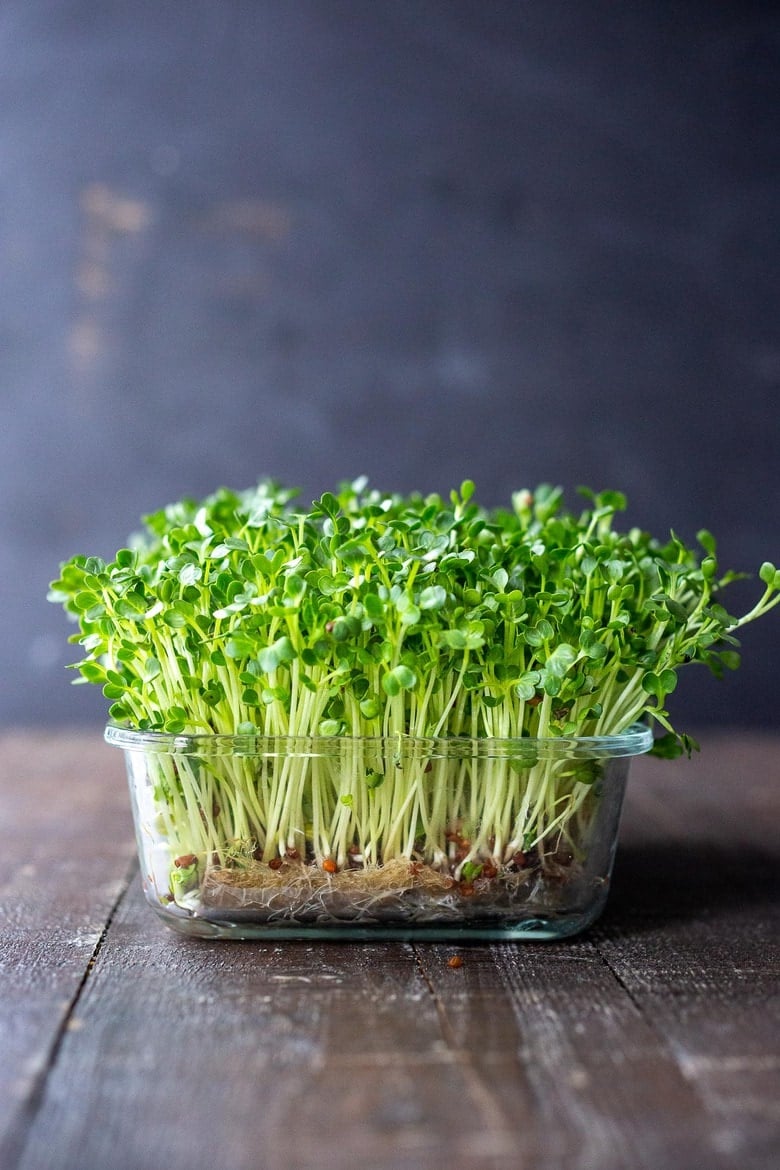 Your heart is full of fertile seeds, waiting to sprout. ~Morihei Ueshiba
It is hard not to smile when you see your first batch of happy microgreens reach up to sun, especially in the midst of winter. We all crave sunlight; nothing is more magical than watching these little guys turn their faces to the sun. Such a simple thing, but it never fails to lift my spirits.
Microgreens are packed with tremendous nutrients- so much more than their full-grown counterparts. I once read somewhere that eating "living" foods adds years to our life while eating "dead" foods removes years from our life. Broccoli sprouts, in particular, have more sulforaphane than any other veggie.
I always think of this when eating them. They are about as living as you can get! Plus, they are just so cute. Right? They make everything better. Add them to things you already make – salads, wraps, sandwiches, buddha bowls. Top off your soups or entrees with them, and add to juices and smoothies. Not only are they highly nutritious- they are very flavorful!
How to grow broccoli Sprouts | Video
10 Health Benefits of Broccoli Sprouts
Cancer-Fighting  Many microgreens, especially broccoli, contain high levels of sulforaphane which research shows inhibit the growth of cancer cells.
Prevents chronic disease.  Microgreens have many health-promoting micronutrients to help stave off major diseases.
High in Minerals.  Microgreens have larger quantities of minerals than their vegetable counterpart.
40 times more nutrients than their mature plant counterpart.
Helps with weight management
Microgreens are considered a prebiotic which feeds good bacteria in the gut.
Possibly lowers blood pressure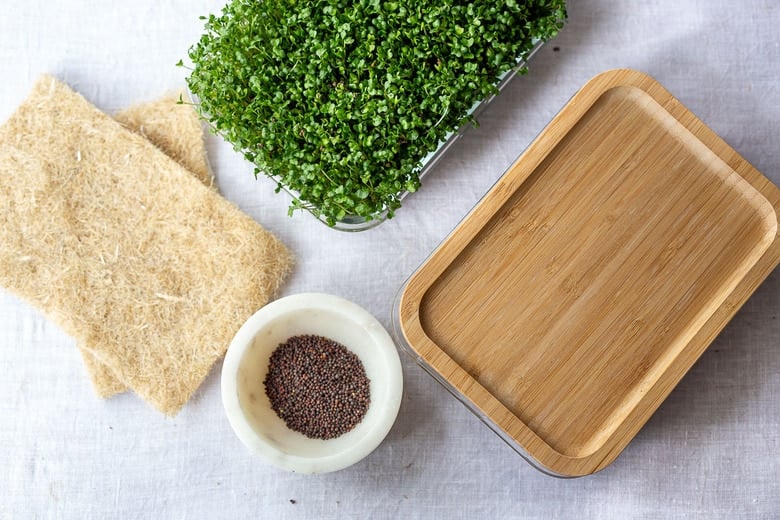 What you need to grow Microgreens at home: 
Glass or ceramic container with a lid
grow mat or pad (hemp, coconut, jute or natural fiber)
sprouting seeds (see list below)
water
a window
***Here is a handy Microgreens Kit we sell at our Shop!
Do you need lots of light to grow Microgreens? 
No. Microgreens can grow indoors in the dead of winter, even in low light conditions, if placed near a window. Colder climates require a longer growing period (2 weeks) where warmer climates can produce microgreens in 5-7 days.
What is the difference between Microgreens and Sprouts? 
In essence, sprouts and microgreens are the same seed, but at different stages of development. Microgreens are "mature" sprouts, which have been allowed to grow a little longer to the stage where they have visible leaves. Because of their tiny leaves, microgreens have much more flavor and possibly more nutrients than baby sprouts. Because you can keep them alive up until you cut them, they last much longer than sprouts.
Sprouts can grow in a jar with just water, where microgreens need a base- either a growing pad or soil.
Both microgreens and sprouts can be grown indoors.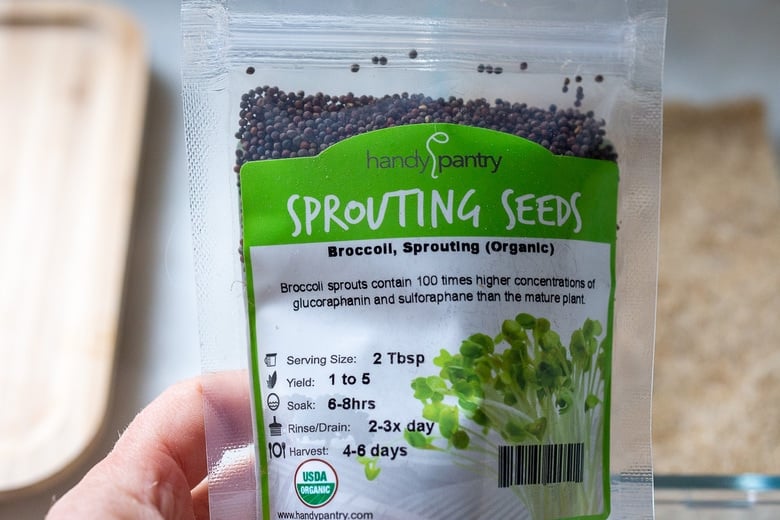 What are the healthiest Microgreens? 
Broccoli sprouts are one of the most nutrient-dense microgreens you can grow. They are full of glucoraphanin and sulforaphane which are known to prevent cancer. They are highest in minerals and vitamins, so I usually grow these along with another flavor.
 Microgreen Seeds (that can grow on a mat)
Broccoli seeds
kale seeds
peas
arugula
radish or spicy radish
amaranth
chia
mustard
beet
buckwheat
chard
cabbage
cilantro
fenugreek
basil – opal basil is pretty
*Sunflower sprouts require soil for germination.
How to grow microgreens (in a nutshell)
Soak seeds 6-8 hours, or according to package directions.
Soak the growing mat with water, and place in a container or baking dish.
Spread out the seeds.

Cover

and place near a window until the seeds sprout.
Remove lid, and let grow until vibrant leaves appear.
Water daily.
How to Grow Broccoli Sprouts (Step-by-Step)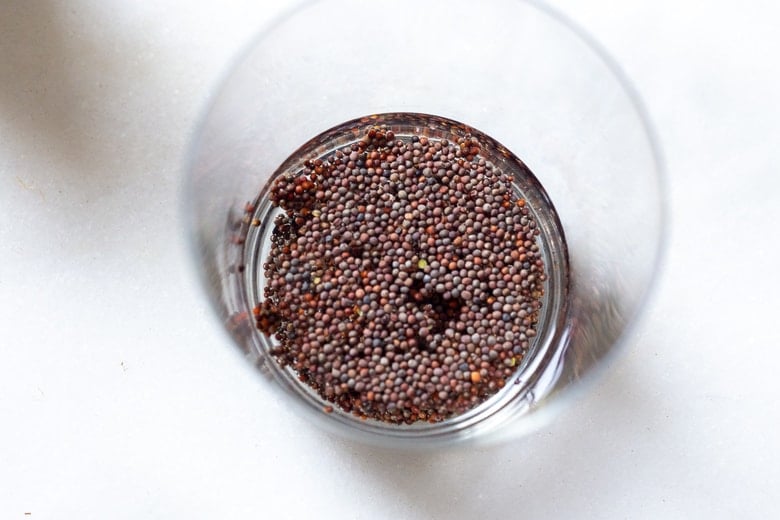 Soak and drain the seeds.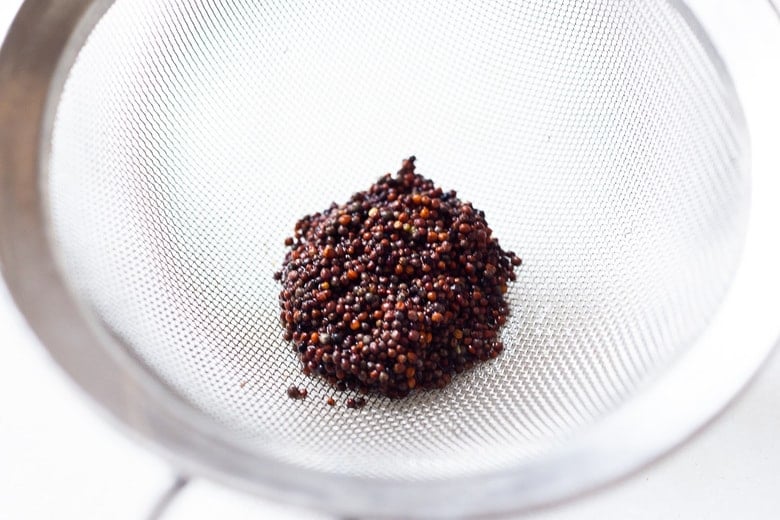 Step 2: Here I'm using a 5″ x 7″ inch glass container with a lid. Prepare a growing mat.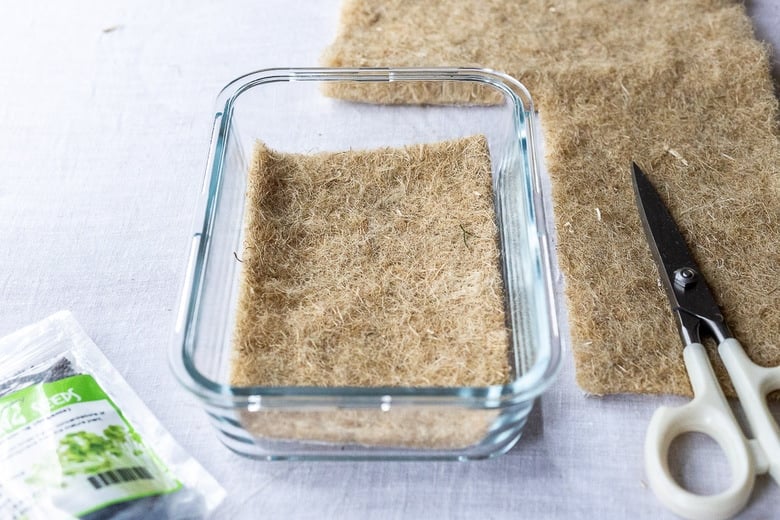 Soak the growing mat well. Here I'm using a natural jute mat. You can find these on Amazon or here at our shop.
You'll need a new mat for each batch you grow, because the roots tend to really hold on, but they are relatively inexpensive.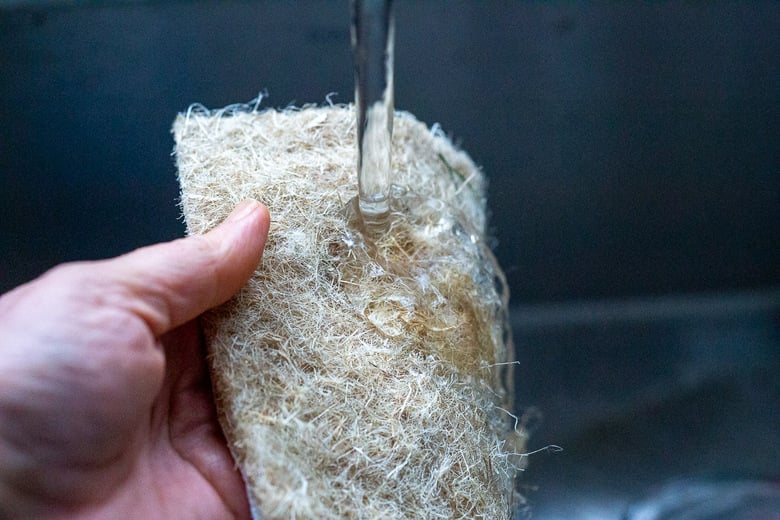 Place the drenched growing mat in the container.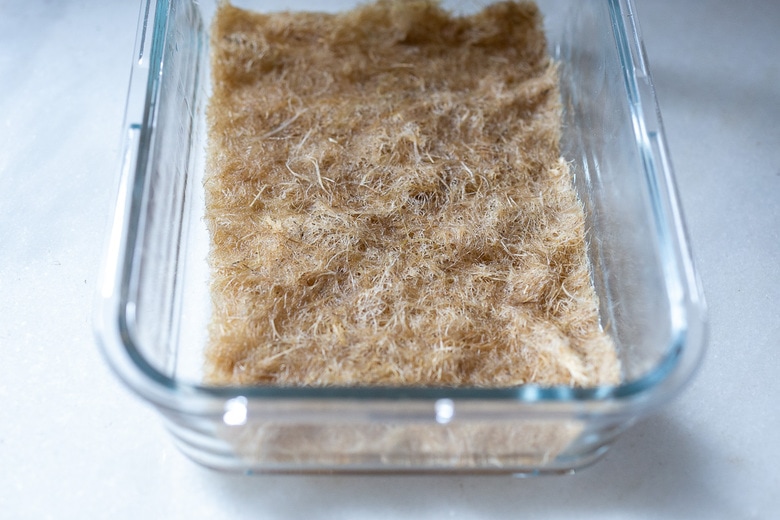 Step 3: Spread out the seeds as evenly as possible.  I use 2 tablespoons seeds for a 5×7 inch area. If your seeds seem dry, spray with water. You don't want them standing in water, just very wet.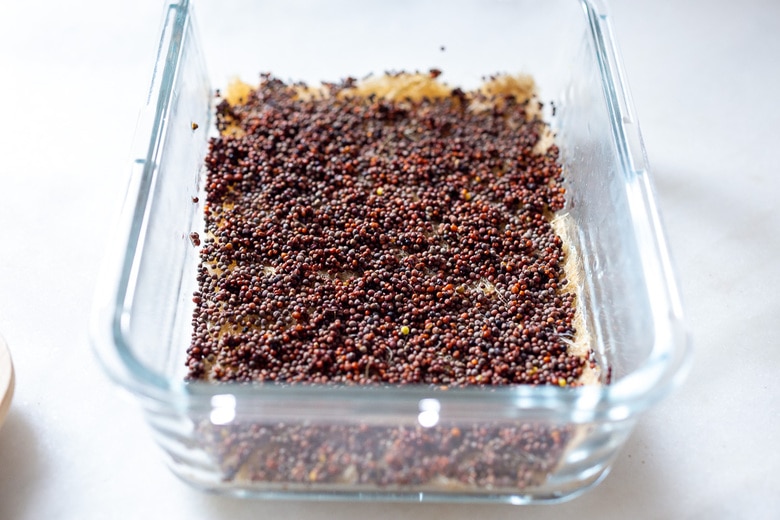 Step 4: Cover and place by a window until they sprout. This may take up to 5 days in cold climates or 1-2 days in warm climates. Soaking them does help them sprout faster.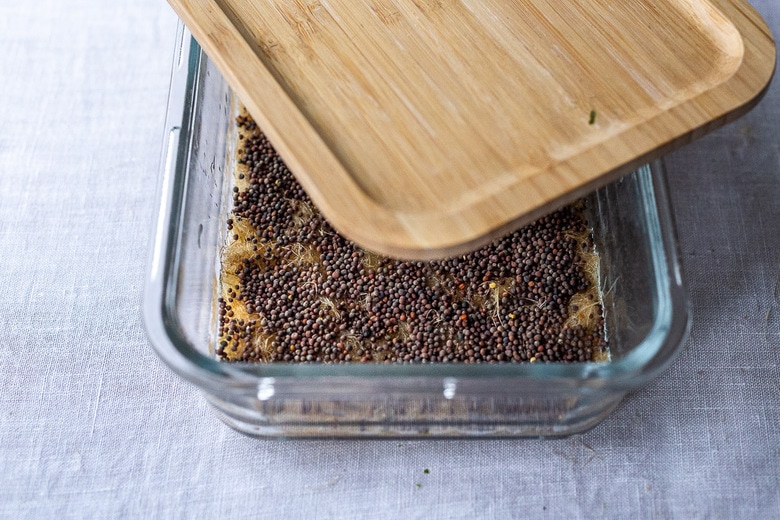 This was after day 2. A couple of little sprouts.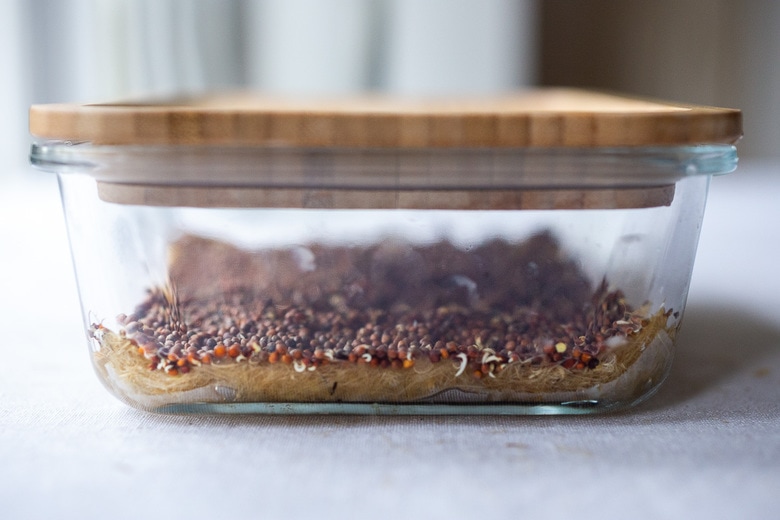 This was after day 5.
When most of the seeds look sprouted, remove the lid. Water daily so the growing mat stays nice and moist.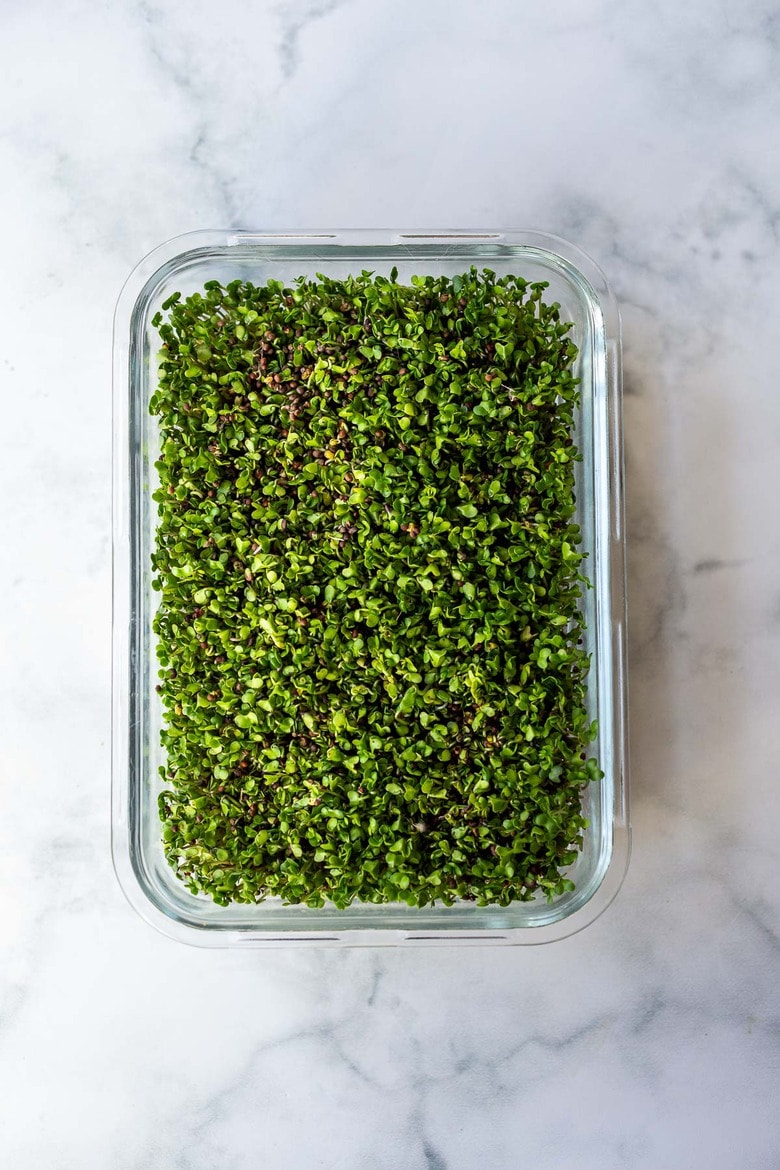 This photo above is day 10.
Step 5: Continue watering daily. After the sprouts take root, you can water generously and then pour out the extra water, the sprouts will adhere to the mat.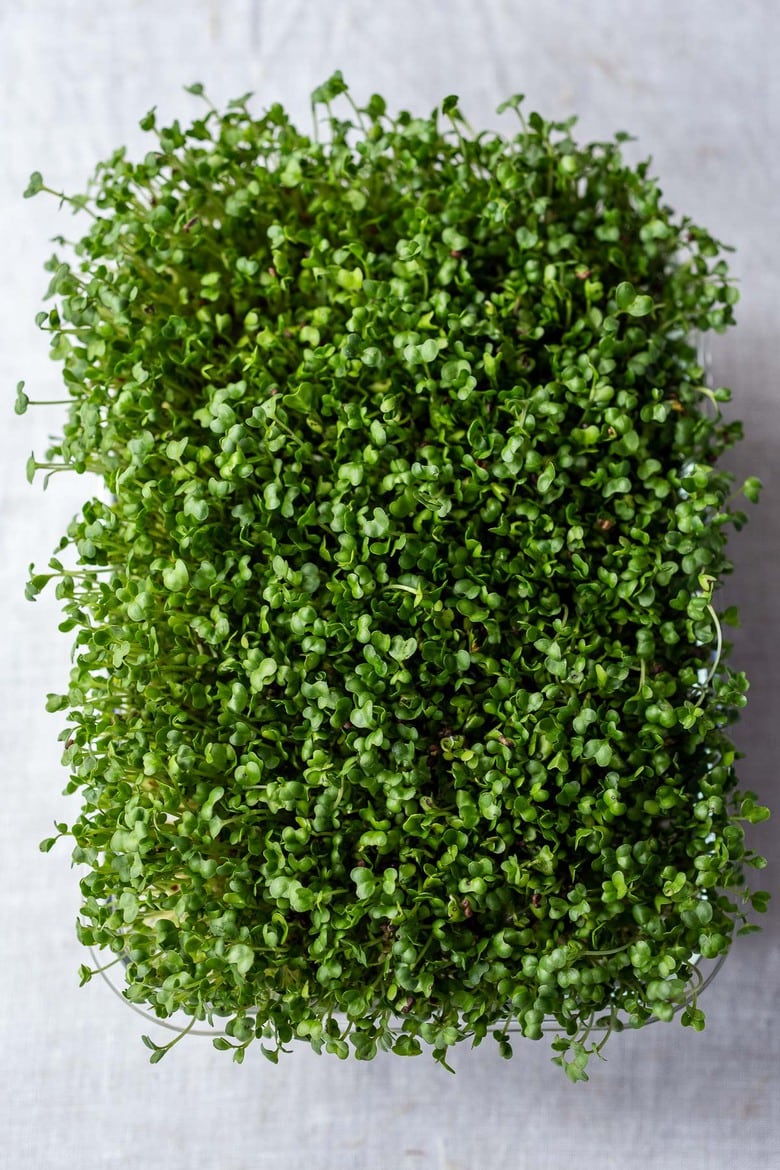 This is day 14. Wait to use the microgreens until they peek over the container by at least an inch.
Cut what you need for that meal, letting the rest continue growing. I like to have two batches growing…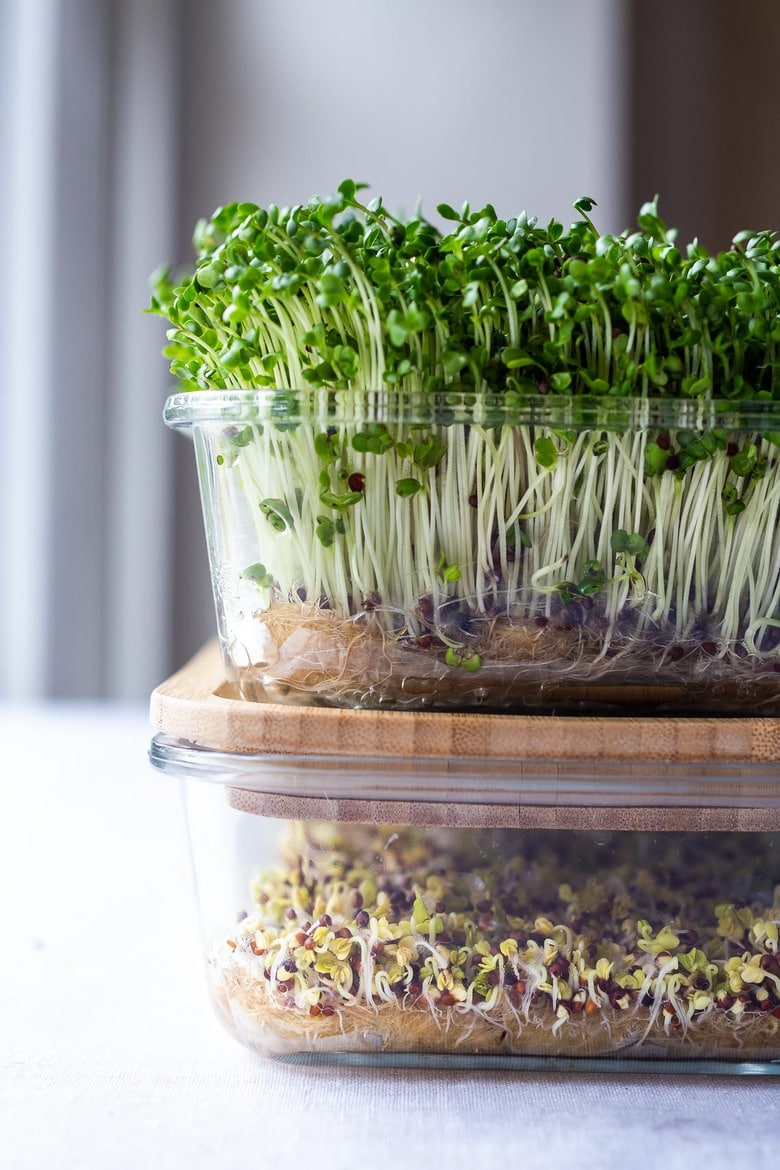 Microgreen Recipes!
Growing microgreens is truly very simple and easy! Such a joyful thing to do in winter when we all could use a little pick-me-up. Here is our  Microgreens Kit we sell at our Shop!
Give them a try and enjoy all the flavor and health benefits they bring.
xoxo
Print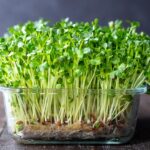 How to Grow Microgreens
Prep Time:

15 mins

Cook Time:

14 days

Total Time:

14 days

Yield:

5

"x7" flat container.

1

x

Category:

how to, projects, diy,

Method:

grow,

Cuisine:

vegan

Diet:

Vegan
---
Description
How to grow microgreens indoors in 1-2 weeks, using no special equipment. Enjoy the tremendous health benefits of consuming microgreens daily- adding to meals you are already making. Plus 10 Health Benefits.
---
2 tablespoons

sprouting seeds- broccoli seeds, radish, kale, chard, arugula, cilantro, chia, buckwheat, etc.

5

" x 7″ inch container with lid (or use plastic wrap or beeswax wrap)
water
window
( Here is a handy Microgreens Kit we sell at our Shop! )
---
Instructions
Soak seeds according to directions on the package (6-8 hours). This will hasten sprouting time. Drain. (Alternatively, if you choose, you can skip soaking and spray the seeds with water using a spray bottle, once they are on the mat. This is what I typically do.)
Soak the growing mat (you want this quite wet) and place it in the container.
Spread out the seeds as evenly as possible- sometimes giving the container a little shake will help.
Cover tightly and place near a window. If you don't have a lid, use plastic wrap or bees wrap, to keep the moisture in. (If it is freezing outside, place it a foot away or so). Inspect daily.
When most of the seeds have sprouted- this may take up to 5 days-remove the lid. (You may notice some white webbing- this is OK). Keep by the window and water daily.  As the sprouts get rooted in the mat, you could drench the pad with water, then pour off the extra water.
Let the sprouts grown into tall microgreens, with little leaves, 7-10 more days, watering daily.
To use, cut off what you need at the base, with scissors, leaving the rest to grow. Sprouts keep best if they are growing!  If you absolutely must store them, place them in a sealed zip lock back with damp paper towels in the fridge. They will keep 5-7 days.
---
Notes
Refer to the package for soaking instructions as each seed is different.
---
Nutrition
Serving Size:

½ cup

Calories:

10
Keywords: how to grow Microgreens, benefits of Microgreens, how to grow sprouts, how to grow Microgreens indoors, diy Microgreens,