Here are our 40 of most popular Vegan Salads that are satisfying and filling, full of fresh vibrant produce, plant-based protein, and of course, delicious flavors! The best part? All can be made ahead, perfect for midweek lunches during the week or great for potlucks and gatherings.
I love knowing something healthy is on hand that I can pull out of the fridge when short on time.  Having a healthy vegan salad on-the-ready helps me stay on track with my health goals, steering me away from all-too-easy snacks. For convenience, I try to make a couple of healthy meals ahead (like a soup and salad) for the week- and find I make healthier food choices this way. Give it a try and see!
Pick out a few vegan salads to try this week for Sunday meal prep, and see how excited and energized you will feel during the week! Let me know your favorites in the comments below!
---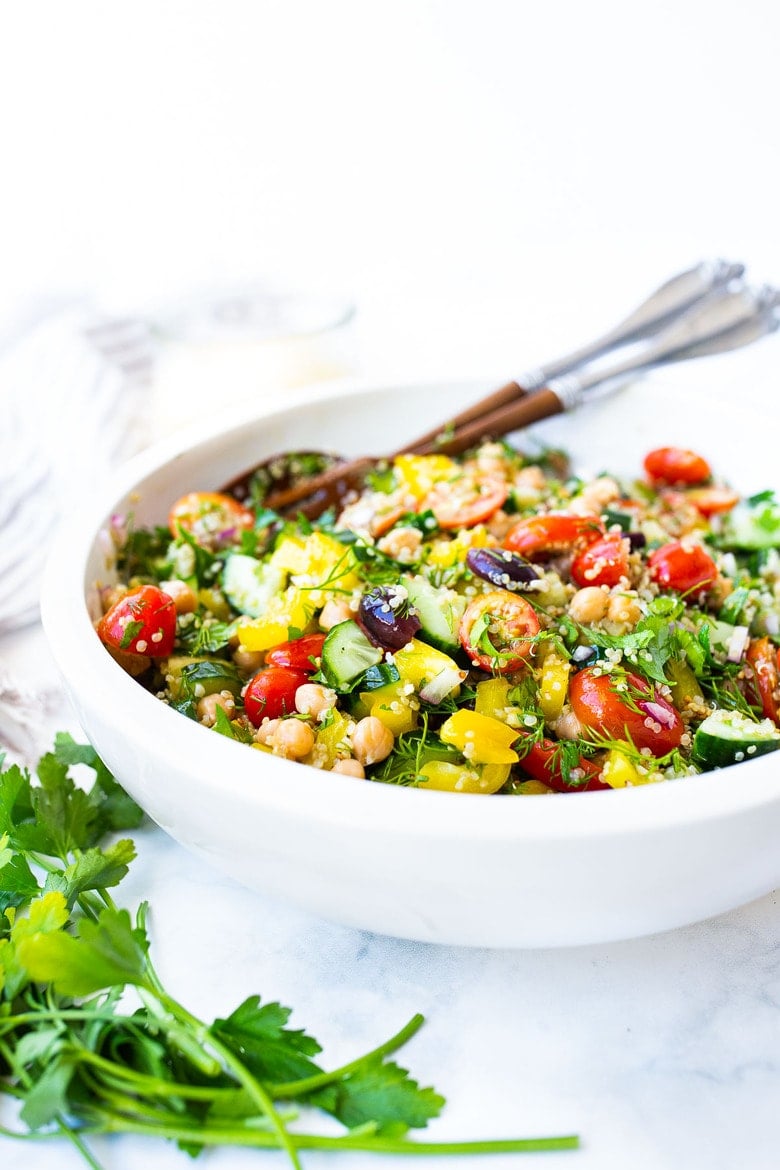 Lemony Quinoa Chickpea Salad with cucumber, tomato, dill, parsley and flavorful Preserved Lemon Dressing. No preserved lemons? No worries! See recipe notes for substitution!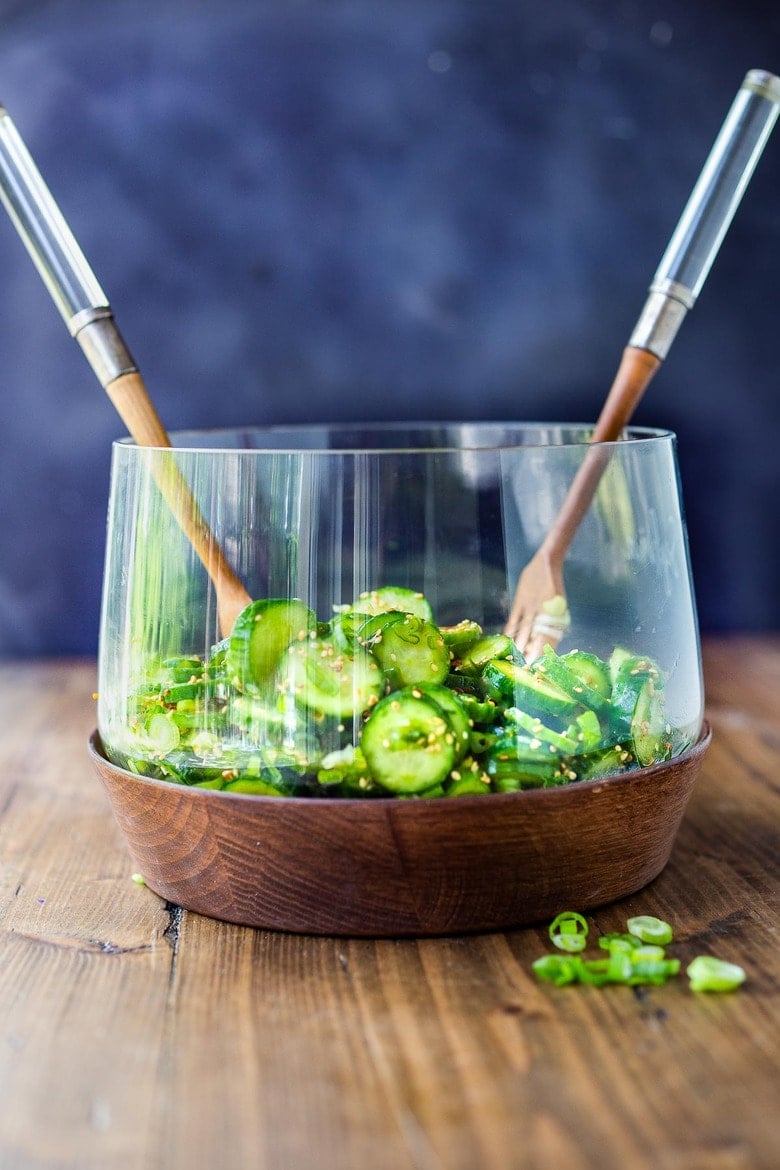 Asian Cucumber Salad is made with rice vinegar, sesame, ginger, garlic, and soy- it iscool and refreshing and pairs well with many things. It's vegan and gluten-free and is a nice addition to meals and bowls you are already making!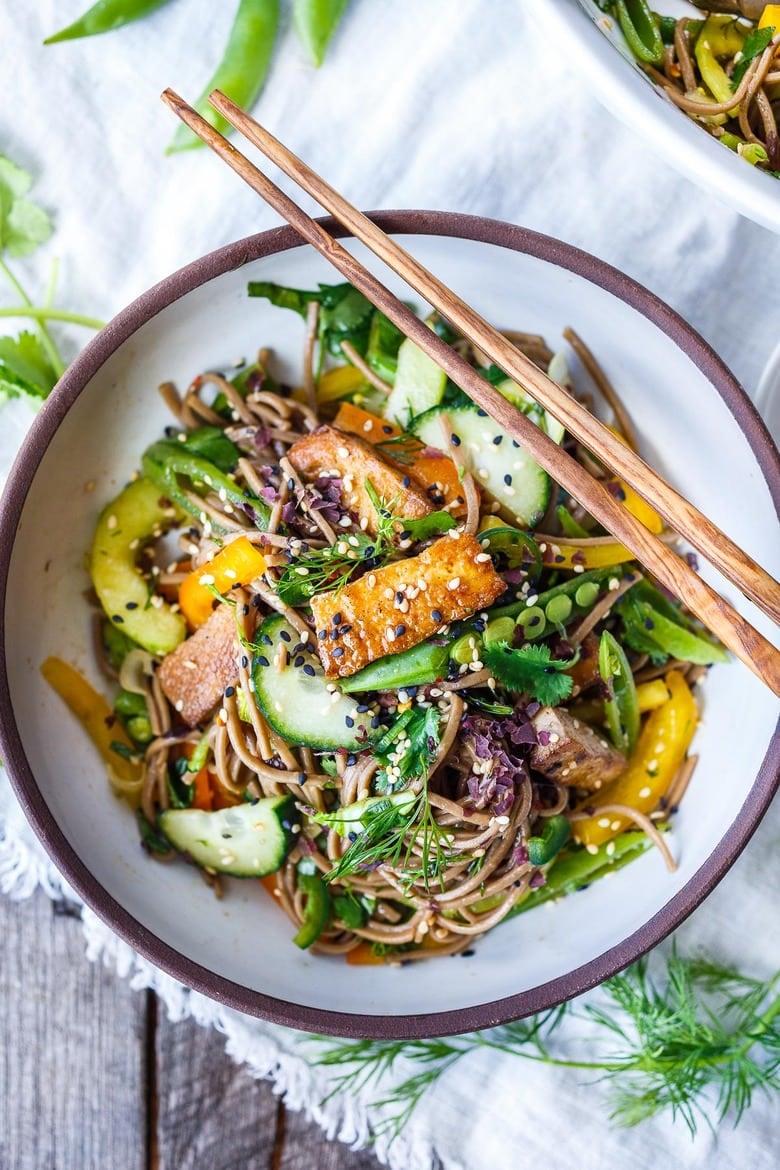 A simple recipe for Soba Noodle Salad, loaded with veggies, that is adaptable and vegan!  Top with savory baked tofu, smoked salmon, or grilled chicken for an extra protein boost.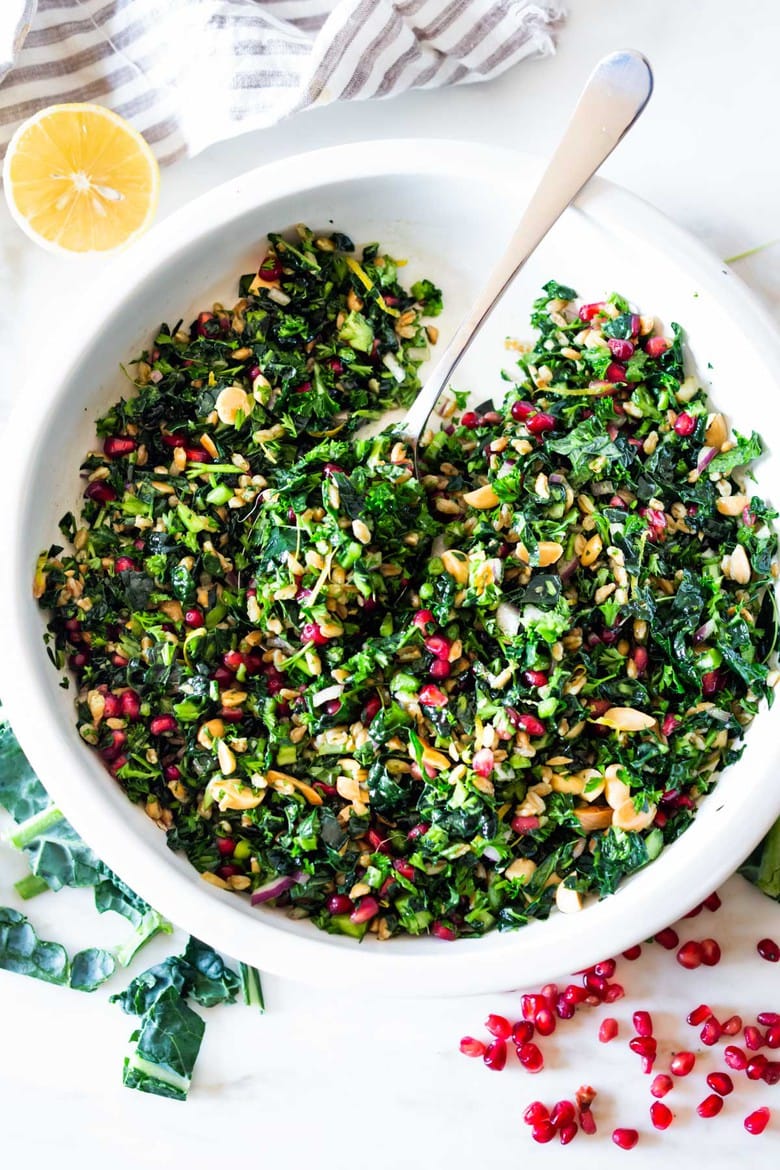 Kale Farro Salad with Almonds and Pomegranate Seeds. Think of this like a Winter Tabbouleh- lemony light and flavorful, this easy Middle Eastern-inspired salad can be made ahead, perfect for mid-week lunches.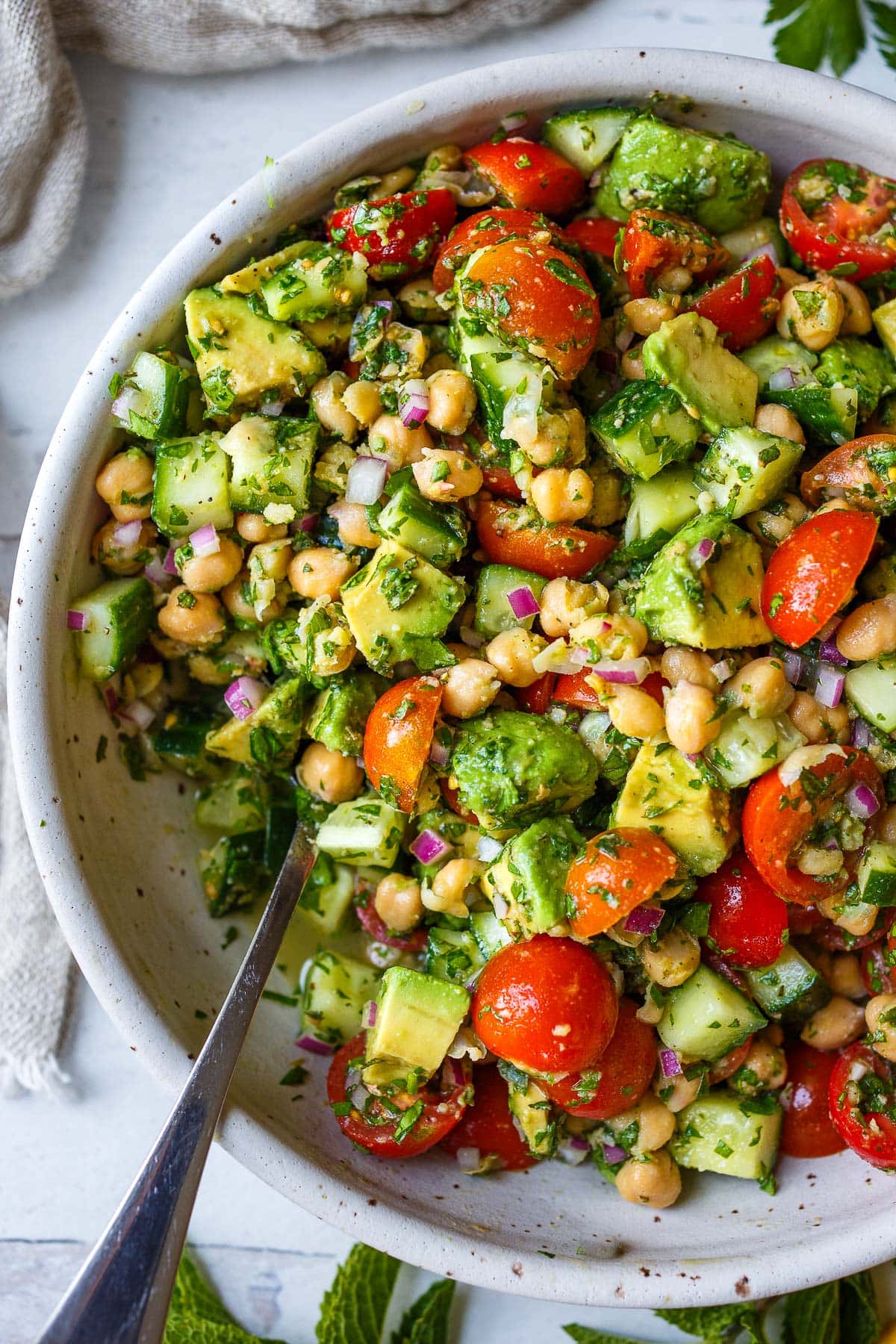 This Chickpea Salad is quick, easy and full of fresh flavors and crunchy texture. Made in one bowl with a simple lemon olive oil dressing, everything comes together in about 20 minutes!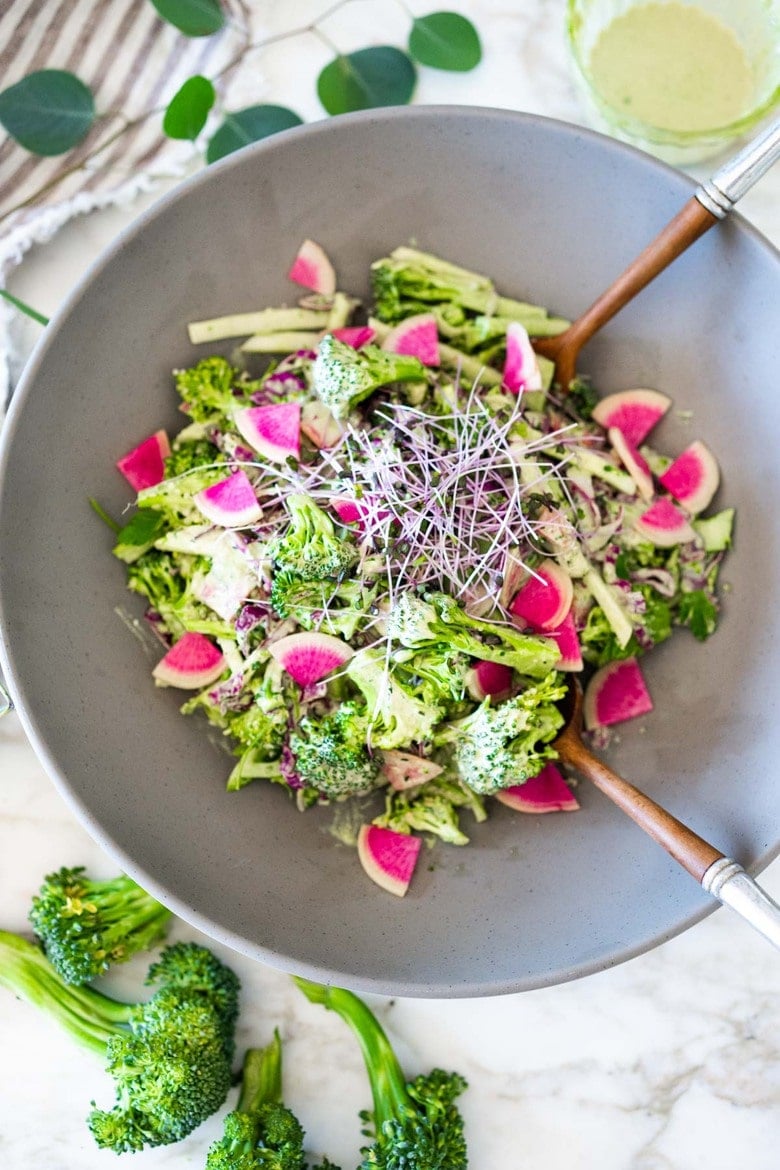 This Creamy Vegan Broccoli Salad is so good, you won't even realize it is vegan! Tossed in a Creamy Hemp Dressing– it is easy, healthy and full of flavor! Vegan and Keto!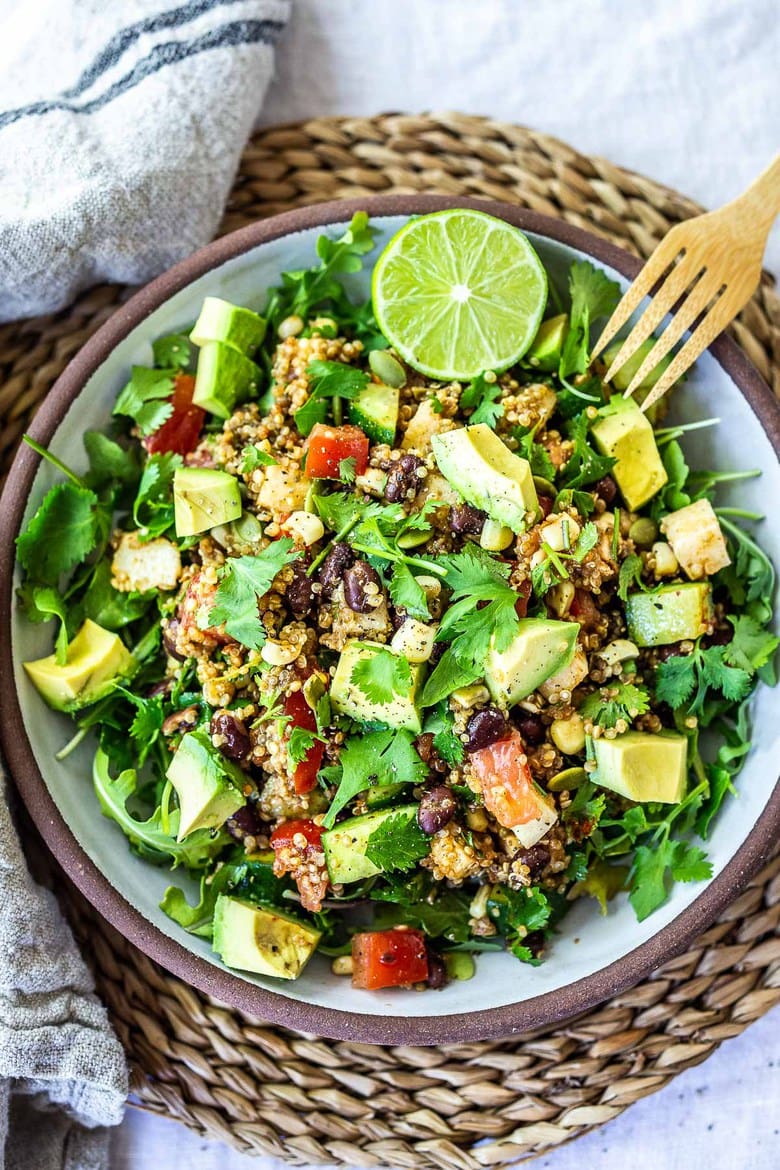 This Southwest Black Bean Quinoa Salad is quick and easy to put together and full of fresh Southwest flavors- perfect for casual summer gatherings, potlucks and bbqs. Vegan and Gluten-Free!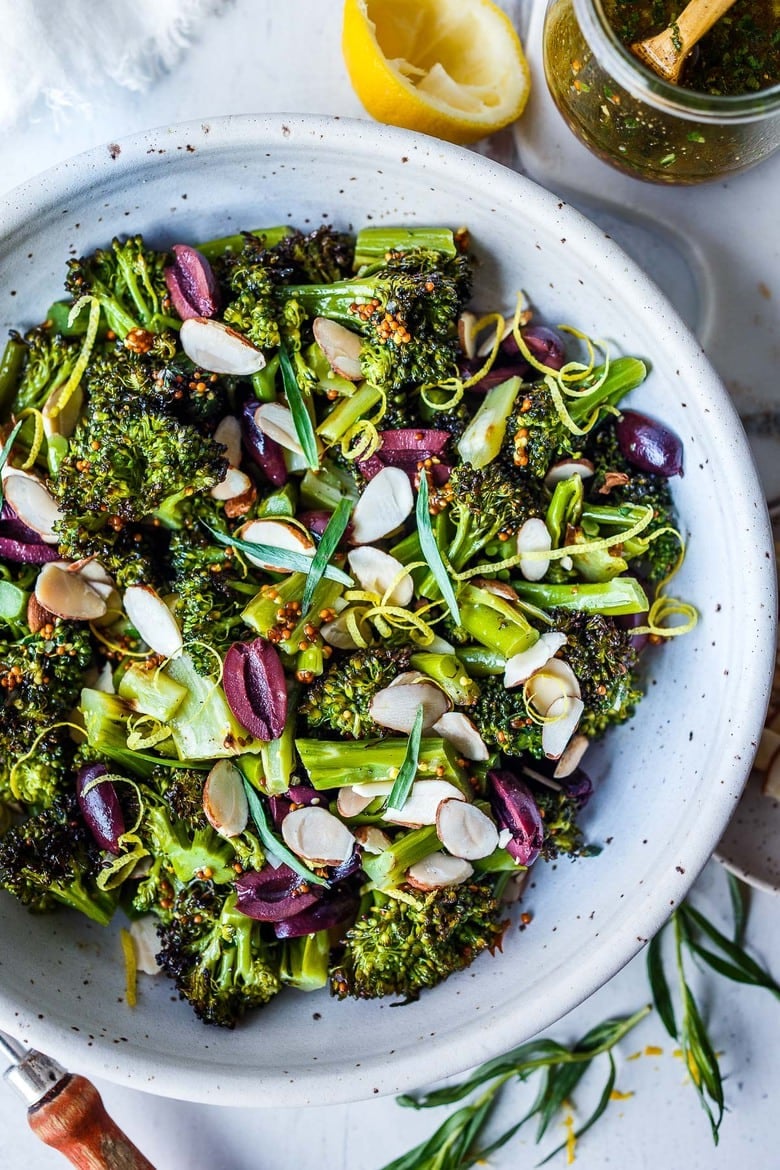 Easy Roasted Broccoli Salad with toasted almonds, kalamata olives, and lemon zest, drizzled with delicious Mustard Seed Maple Dressing.  Amazingly simple, yet filled with so much vibrant flavor.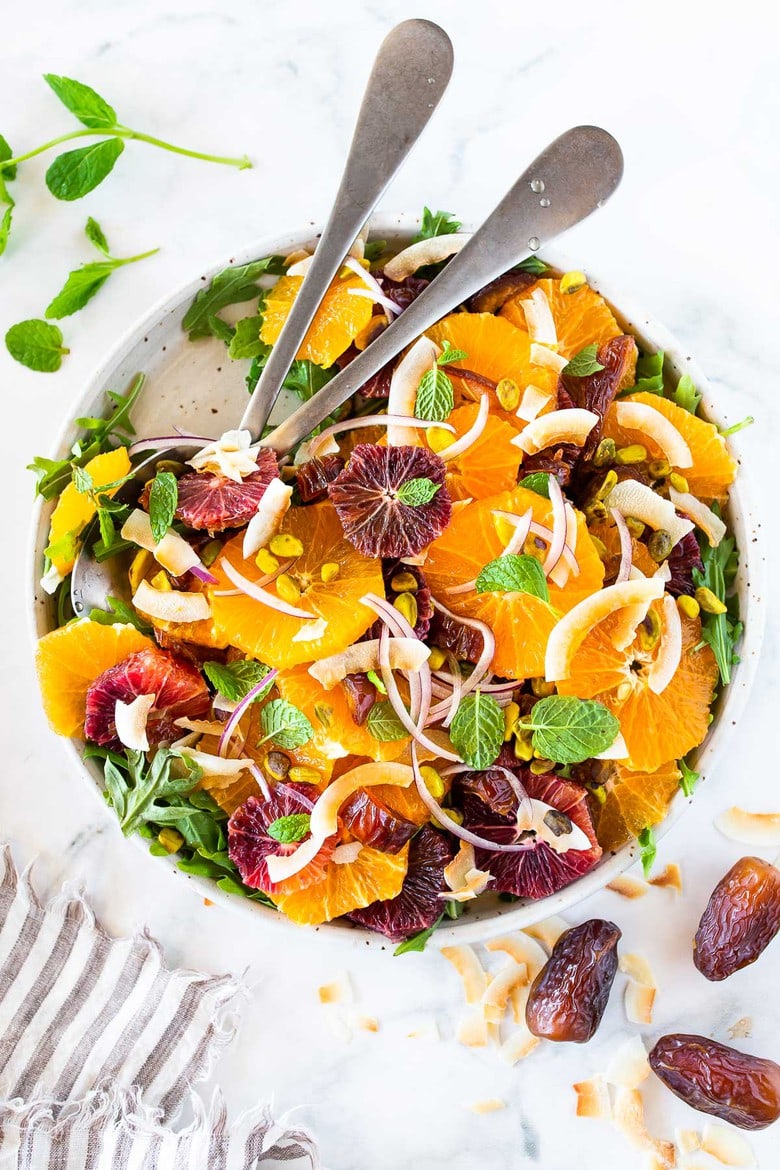 This Citrus Salad with dates, arugula, mint, pistachios, and toasted coconut is dressed in the most flavorful Citrus Shallot Vinaigrette. It's deliciously juicy and vegan!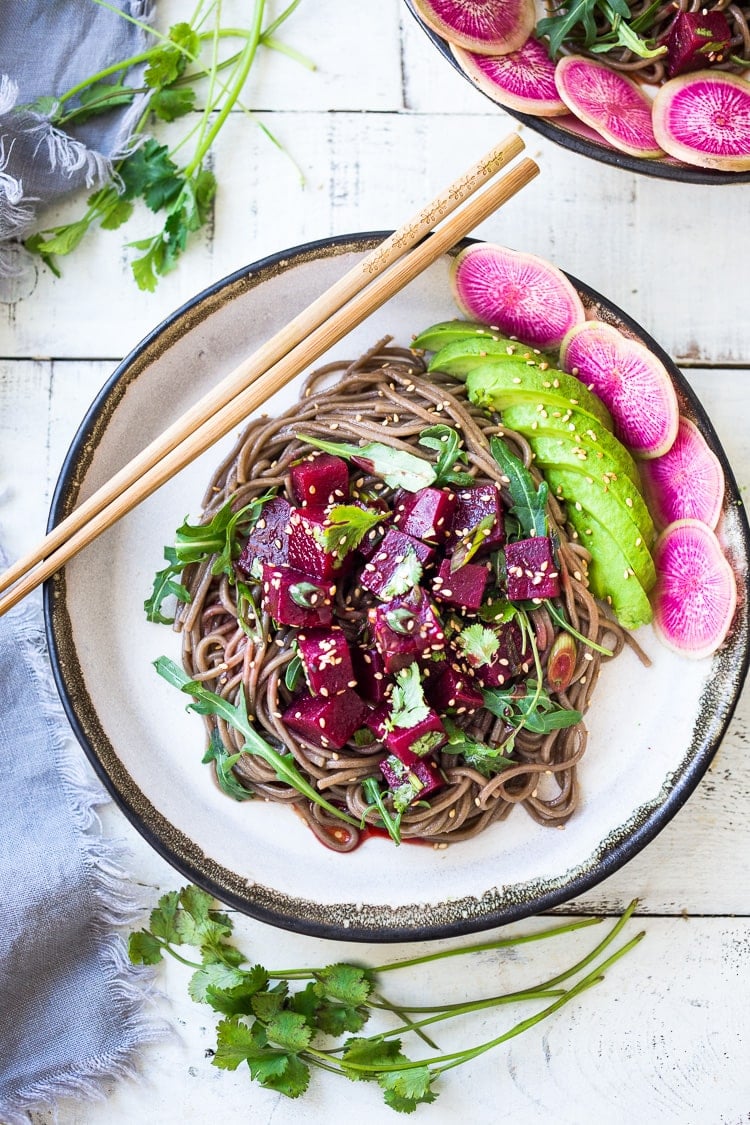 Beet Poke– a vegan twist on Hawaiian-style poke made with steamed beets instead of fish, this delicious beet salad can be made ahead and served over rice, greens or noodles for midweek meals!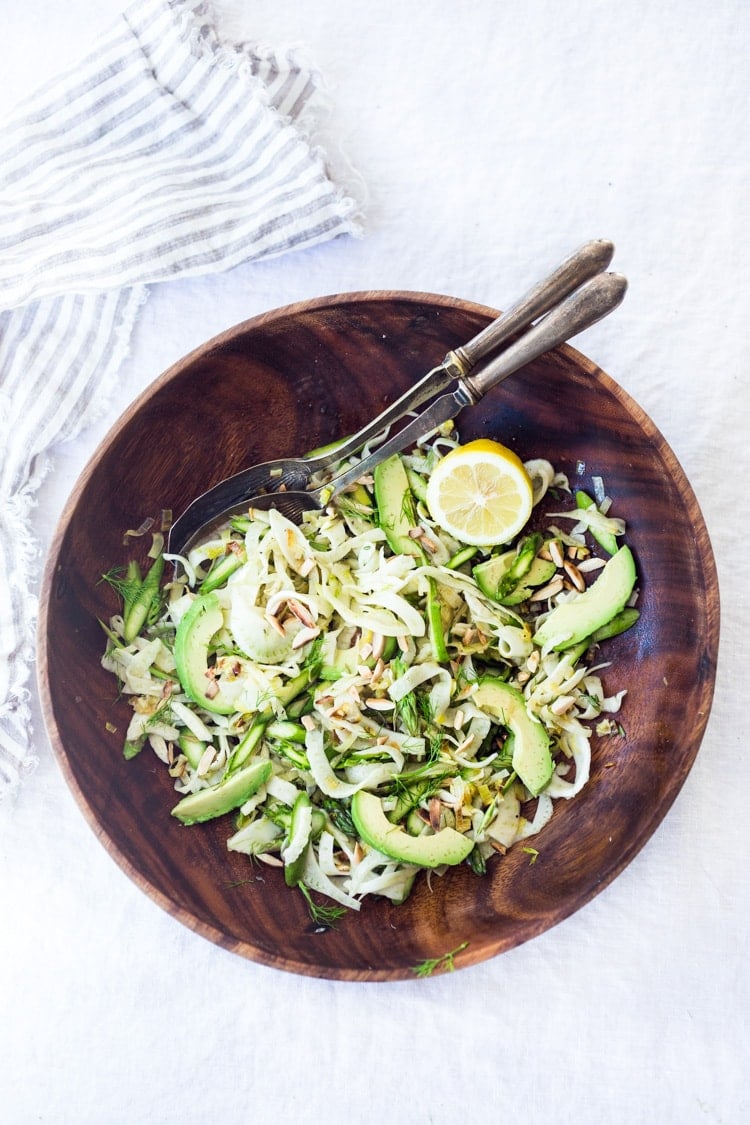 Fennel Asparagus Salad with Almonds, Avocado and Lemony Leek Dressing. This spring-inspired vegan salad can be made ahead, a perfect side to fish, chicken or tofu!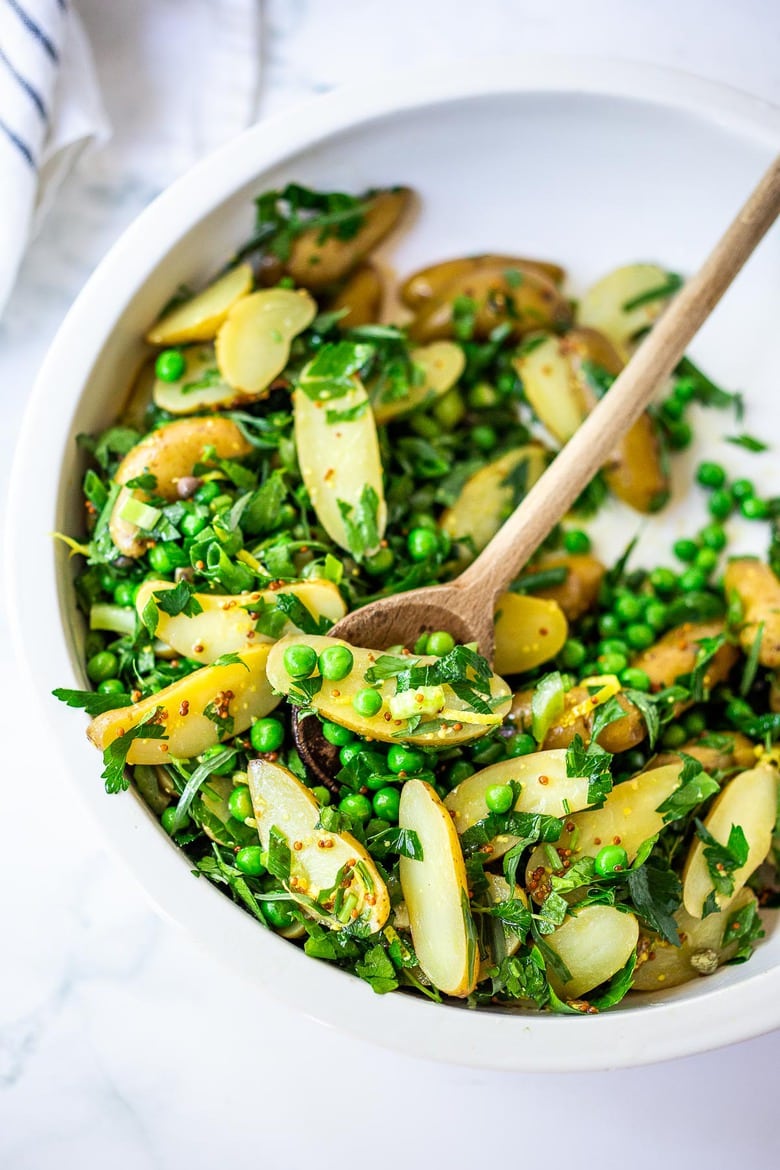 Potato Pea Salad with an herby Tarragon dressing. This zesty, potato salad is loaded snappy spring peas, fresh herbs, and so much flavor!  A delicious, healthy, vegan salad featuring new potatoes and fresh English peas that can be made ahead.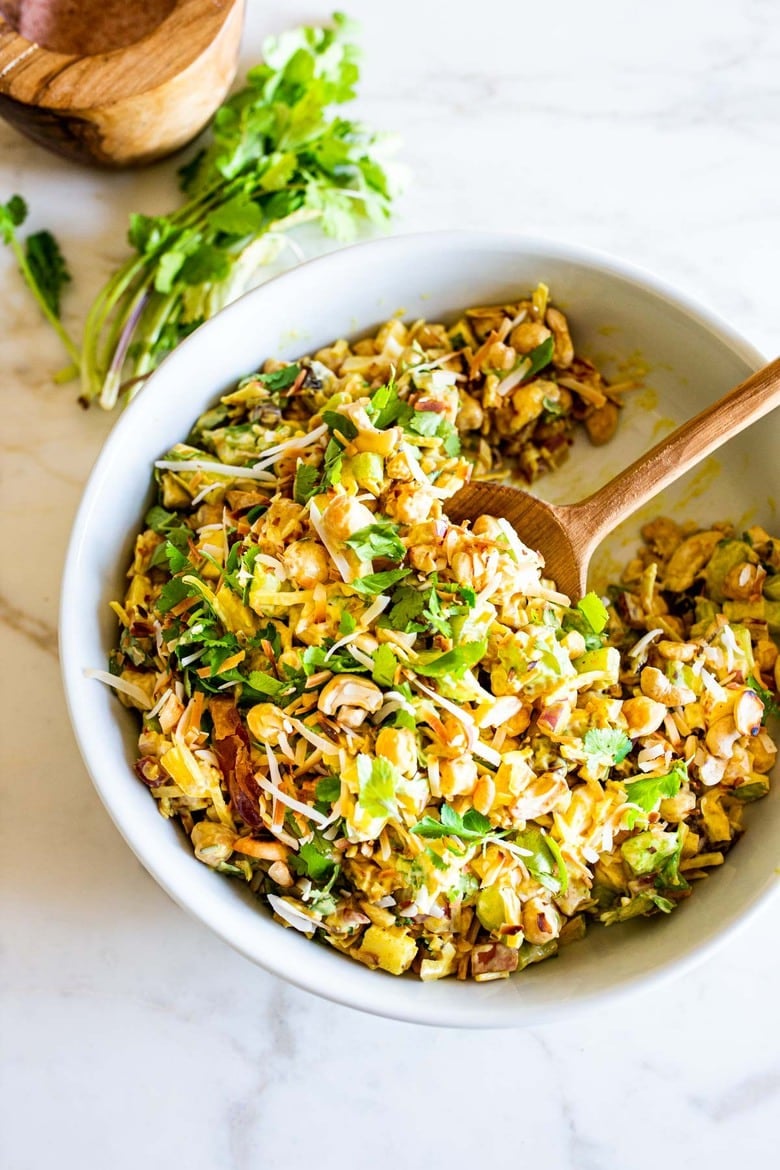 A simple vegan recipe for Curry Chickpea Salad, that can be made ahead or turned into a wrap with spinach and sprouts. A healthy vegan lunch idea!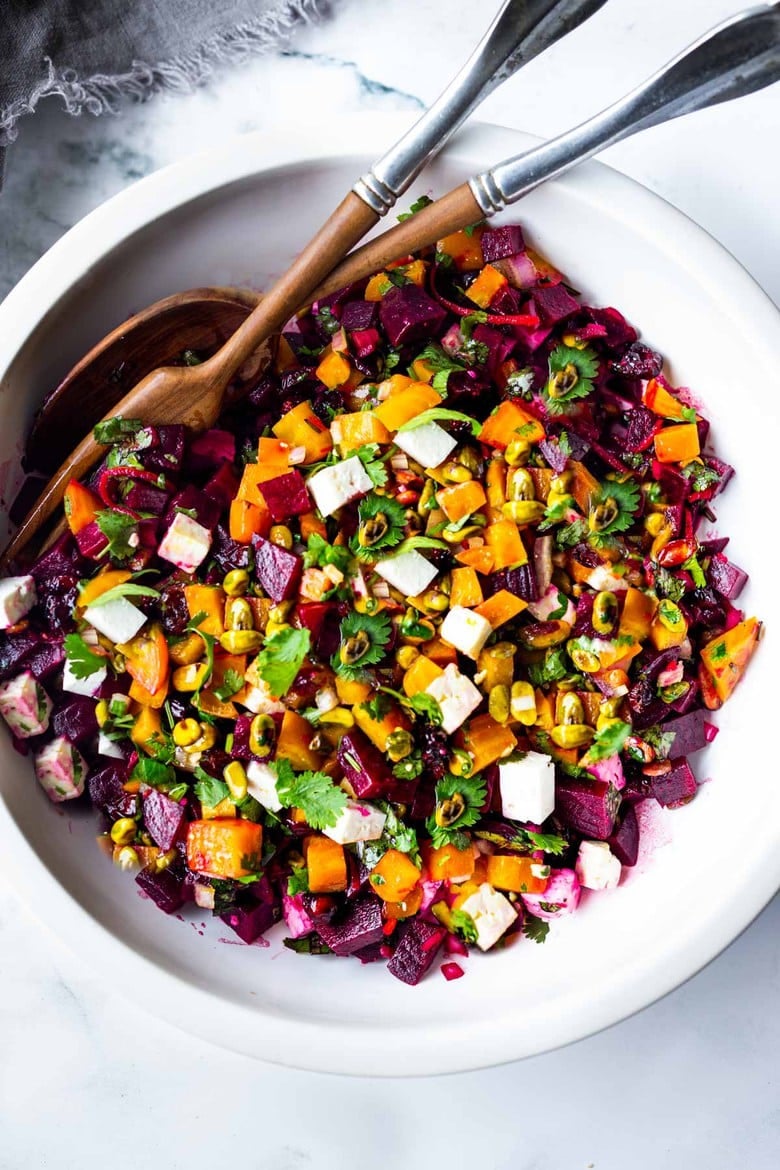 A stunning, Beet Salad with Pistachios, cilantro, orange  and optional feta, in a simple citrus vinaigrette. Can be made ahead and keeps for 3 days in the fridge.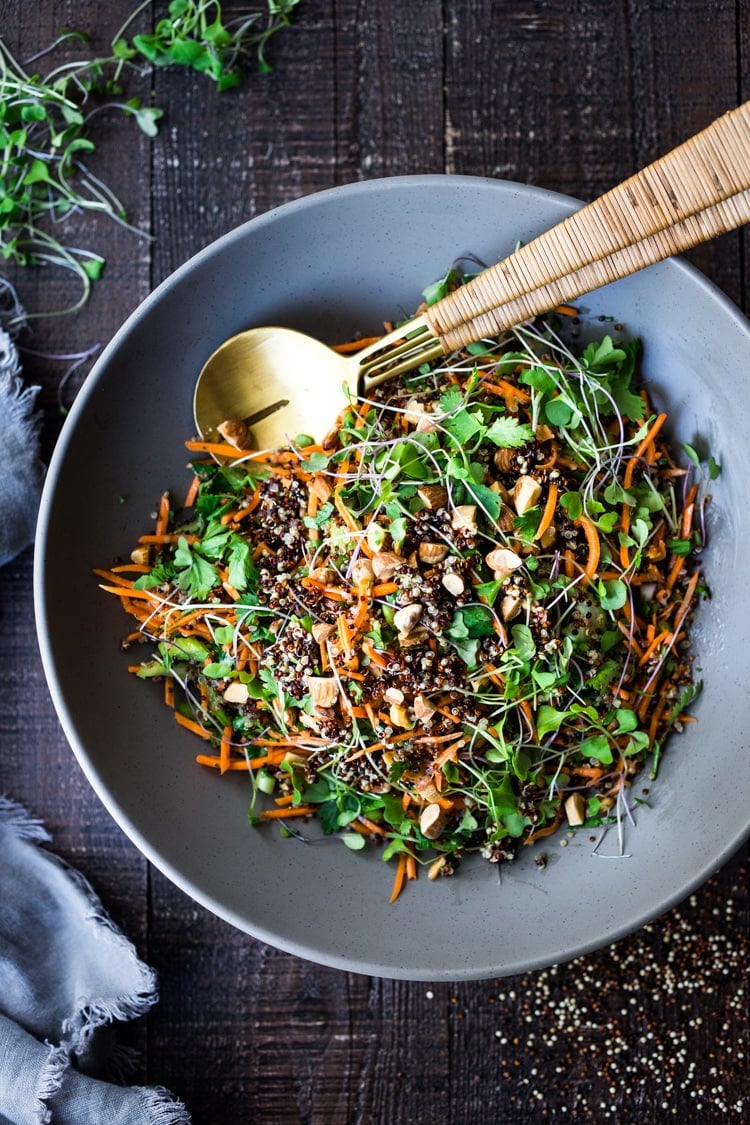 Carrot Quinoa Salad with Almonds and Raw Apple Cider Vinaigrette- a delicious, energizing crunchy, refreshing vegan salad that can be made ahead – perfect for midweek lunches.  Full of healthy probiotics in the dressing!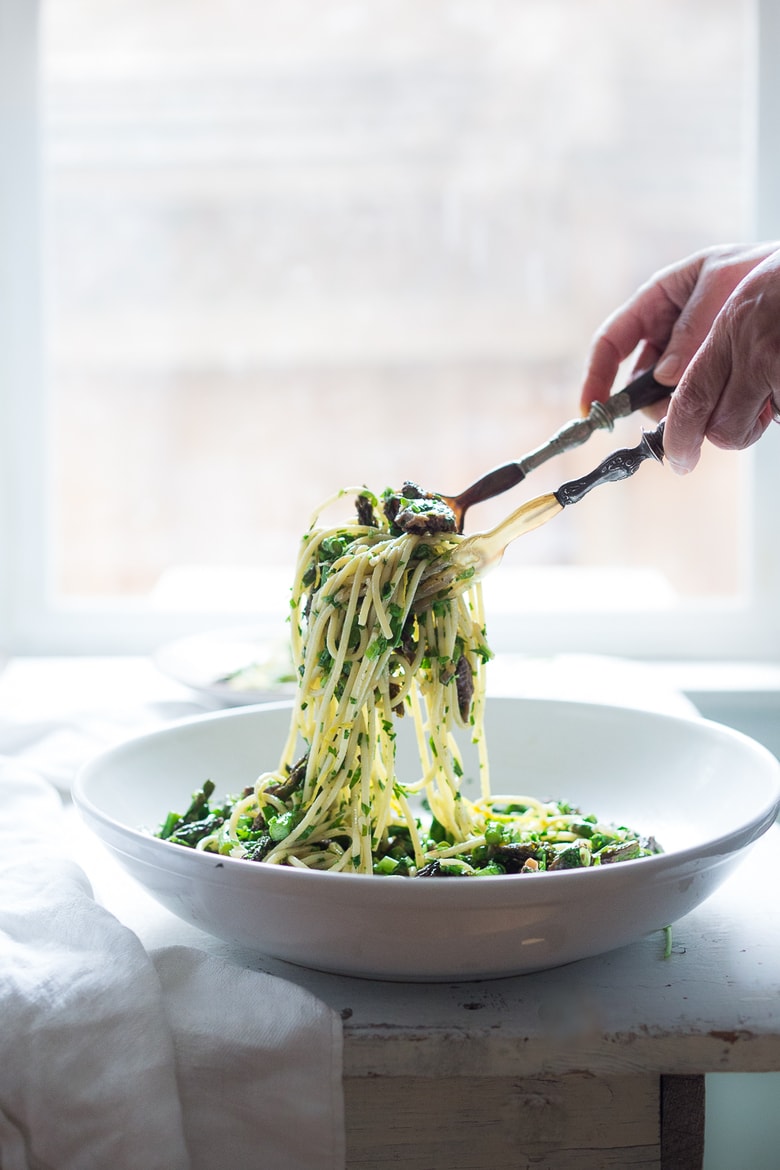 Spring Pasta Salad with Asparagus and Morels ( or sub other mushrooms!) tossed in a flavorful zesty Lemon Parsley Dressing.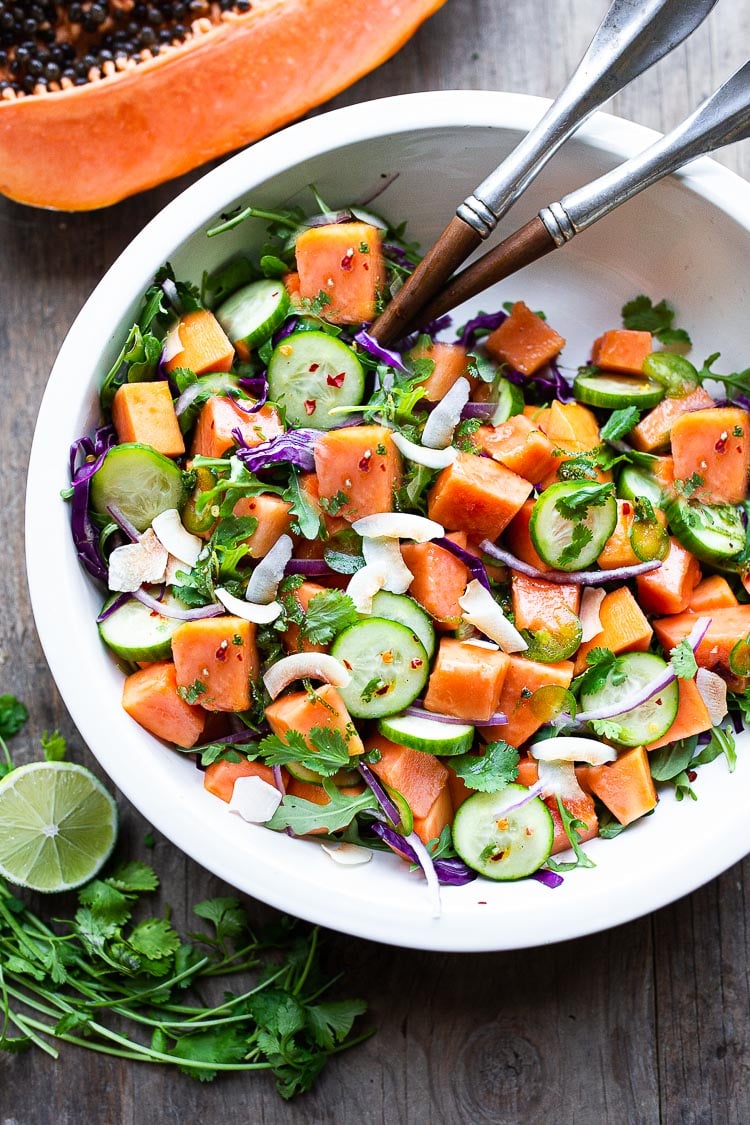 A simple Mexican-inspired Papaya Salad using ripe papaya with cucumber, red onions, jalapeño over greens with a Cilantro Lime Dressing. Vegan and GF.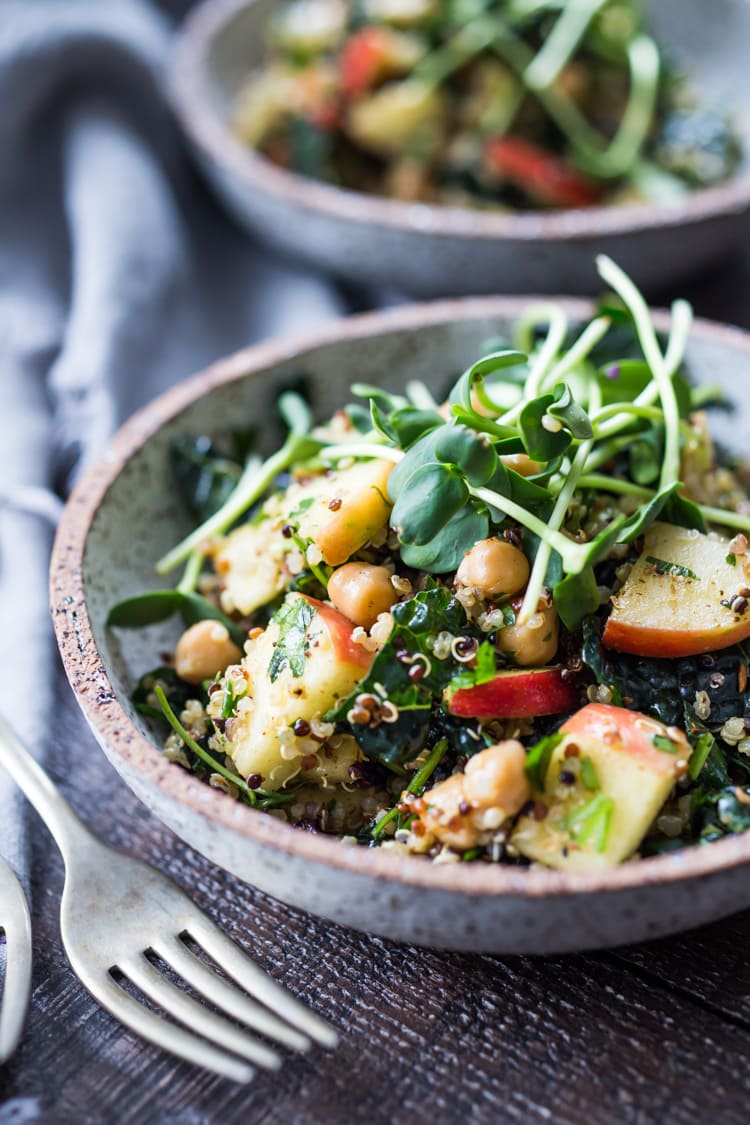 Winter Happiness Salad! Kale & Quinoa Salad with Apples, Chickpeas and Currants! A hearty vegan salad that can be made ahead- perfect for potlucks, gatherings or midweek lunches!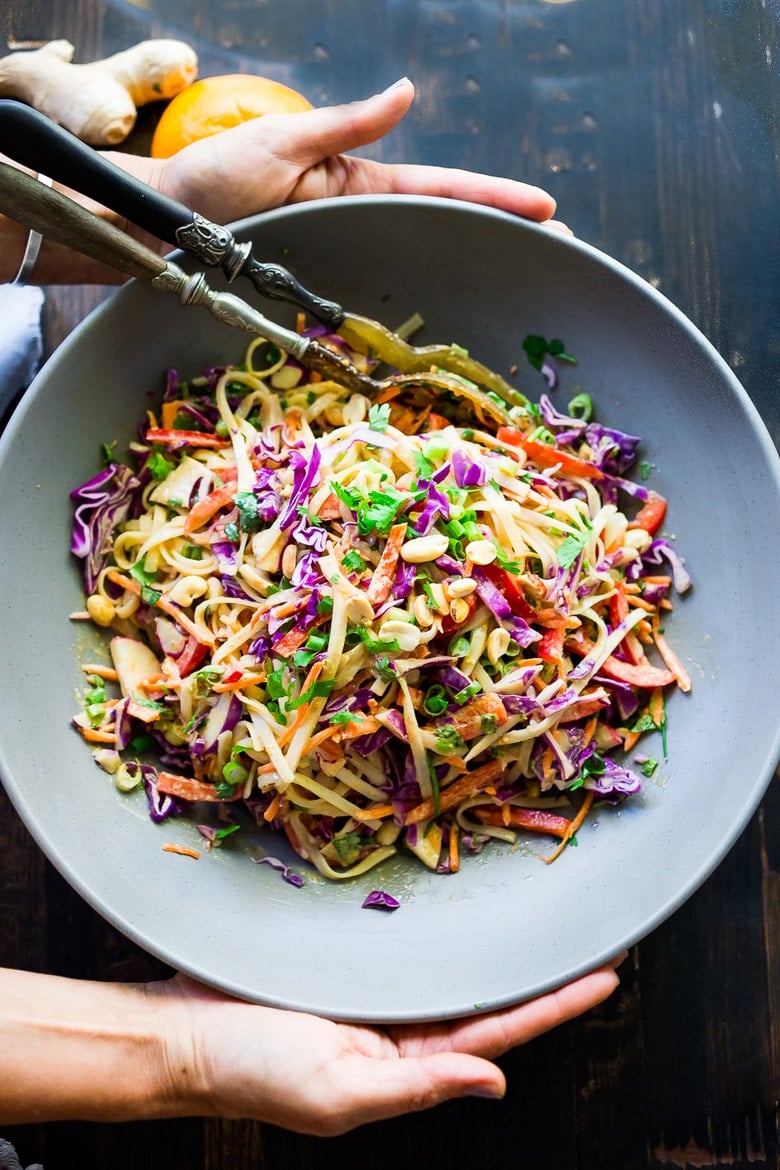 Thai Noodle Salad with Peanut Sauce– loaded up with healthy veggies ( cabbage, carrots and bell peppers) and the BEST peanut sauce ever! Vegan & Gluten-Free, this delicious make-ahead salad is one of my all-time favorites!!!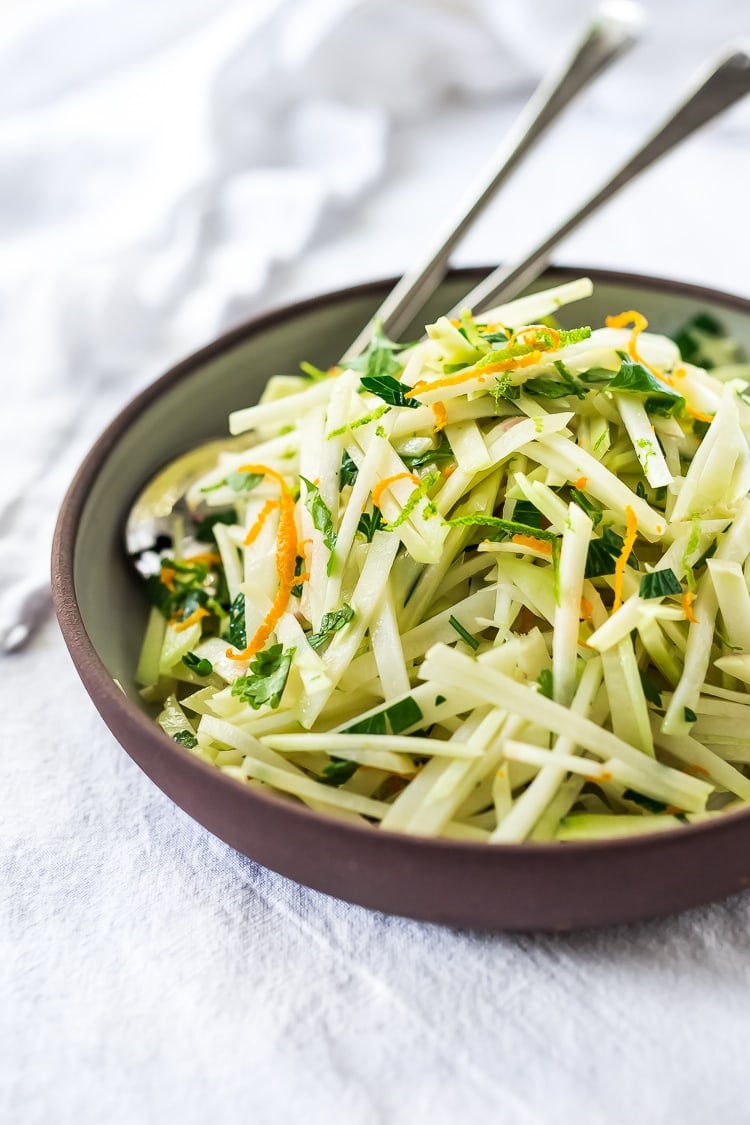 Crunchy and refreshing Kohlrabi Slaw with cilantro, jalapeño and lime! Make it ahead and serve it in tacos, buddha bowls or as a simple flavorful side. Vegan and Gluten-free.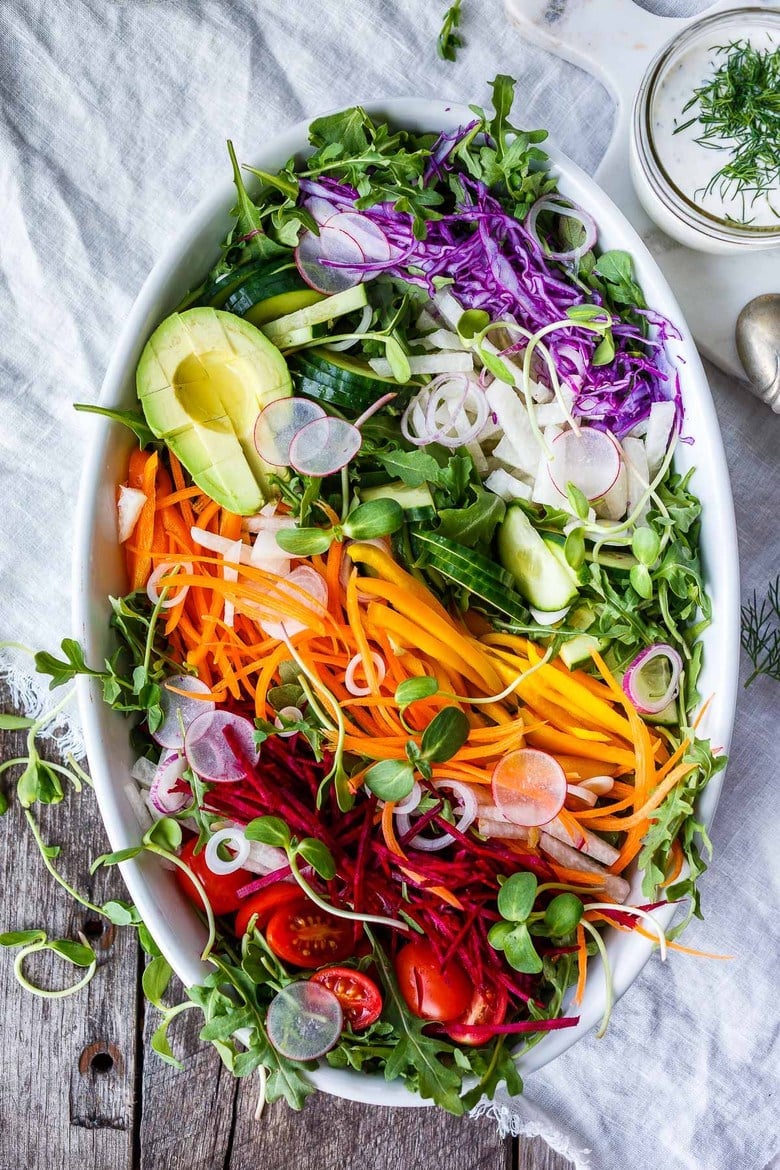 This beautiful Rainbow Salad is full of healthy seasonal veggies and can be made ahead and brought to potlucks and gatherings. Vegan adaptable!  Serve it with Creamy Vegan Herby Hemp Dressing or Dilly Ranch Dressing.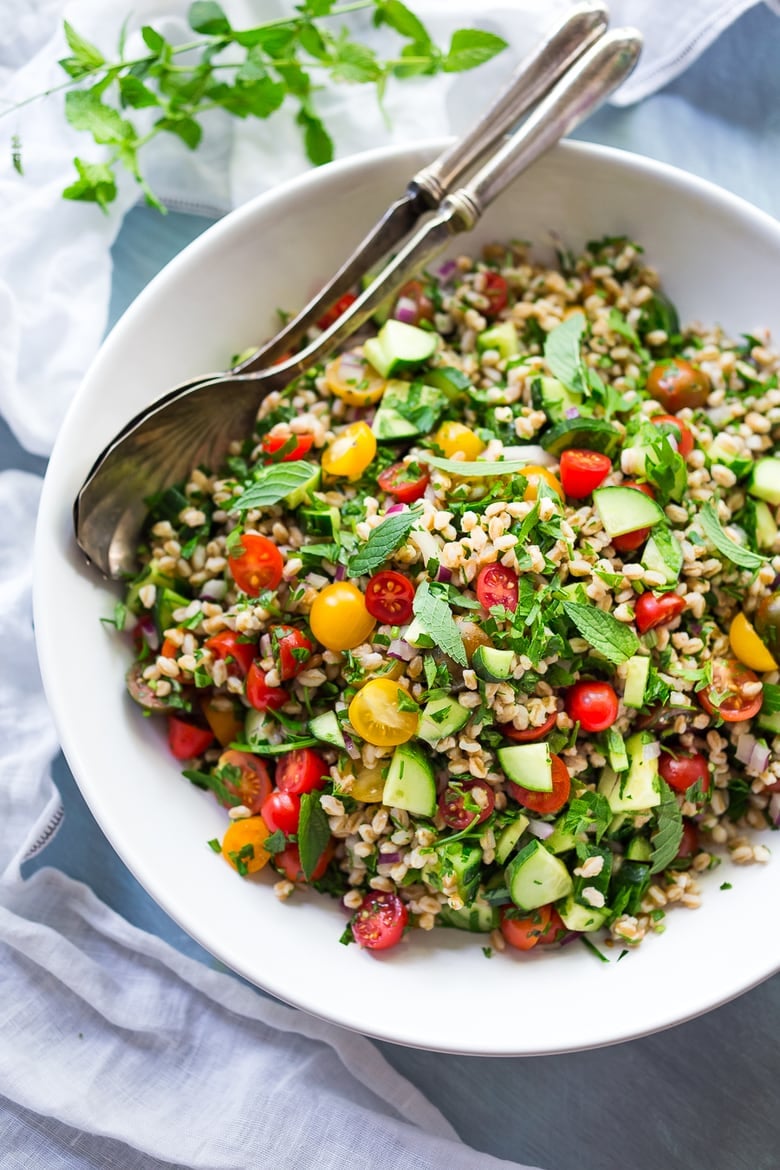 Farro Tabbouleh Salad with vine-ripened summer tomatoes, cucumbers and fresh herbs, is dressed in a simple lemon dressing – a celebration of summer!  Hearty, filling and vegan!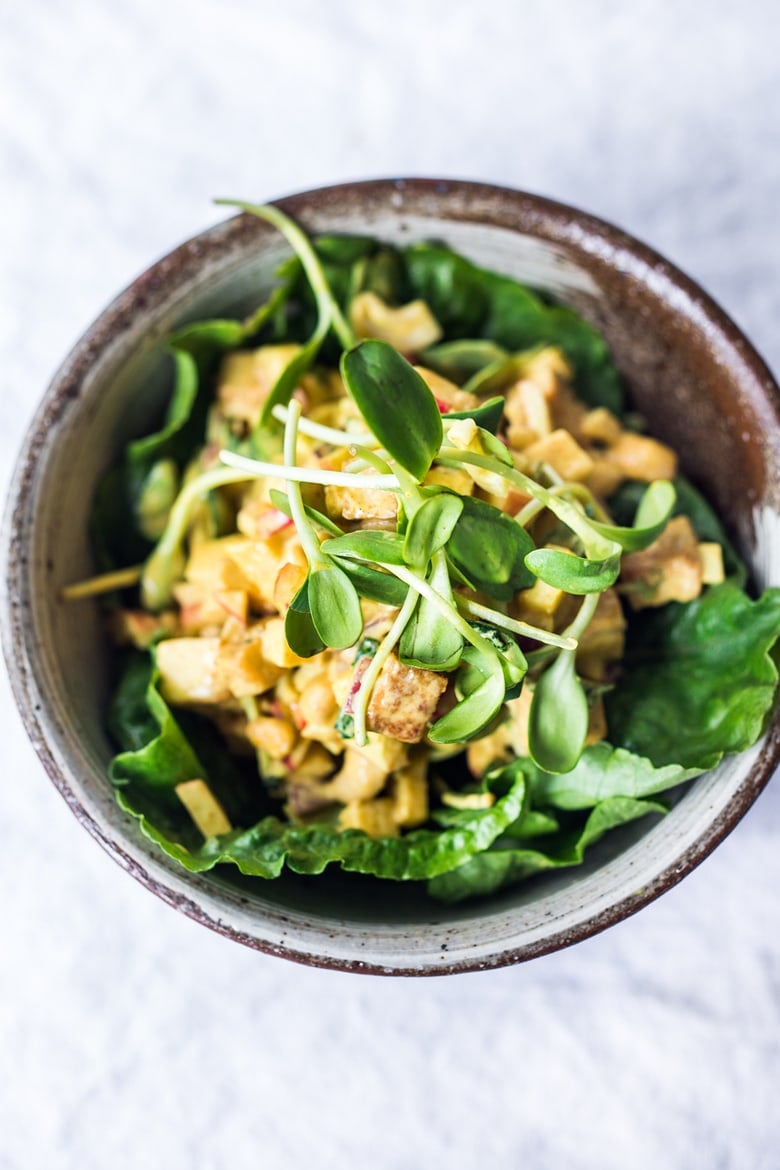 This Vegan Curry Tofu Salad has so much flavor, even my meat-loving husband craves it! Turn it into a hearty wrap, stuff into an avocado or serve it over a bowl of baby spinach. Flavorful and healthy! Full of protein!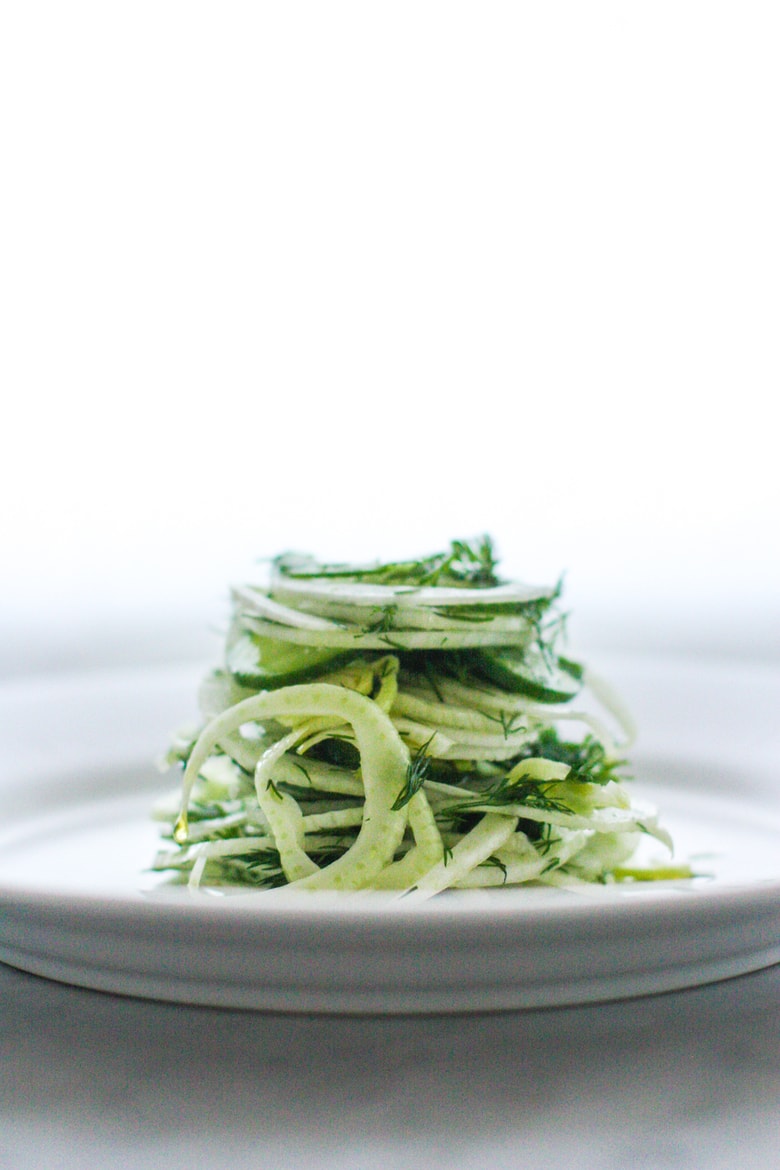 Fennel Salad with Cucumber and Dill – crunchy, flavorful and refreshing this delicious vegan salad can be made ahead!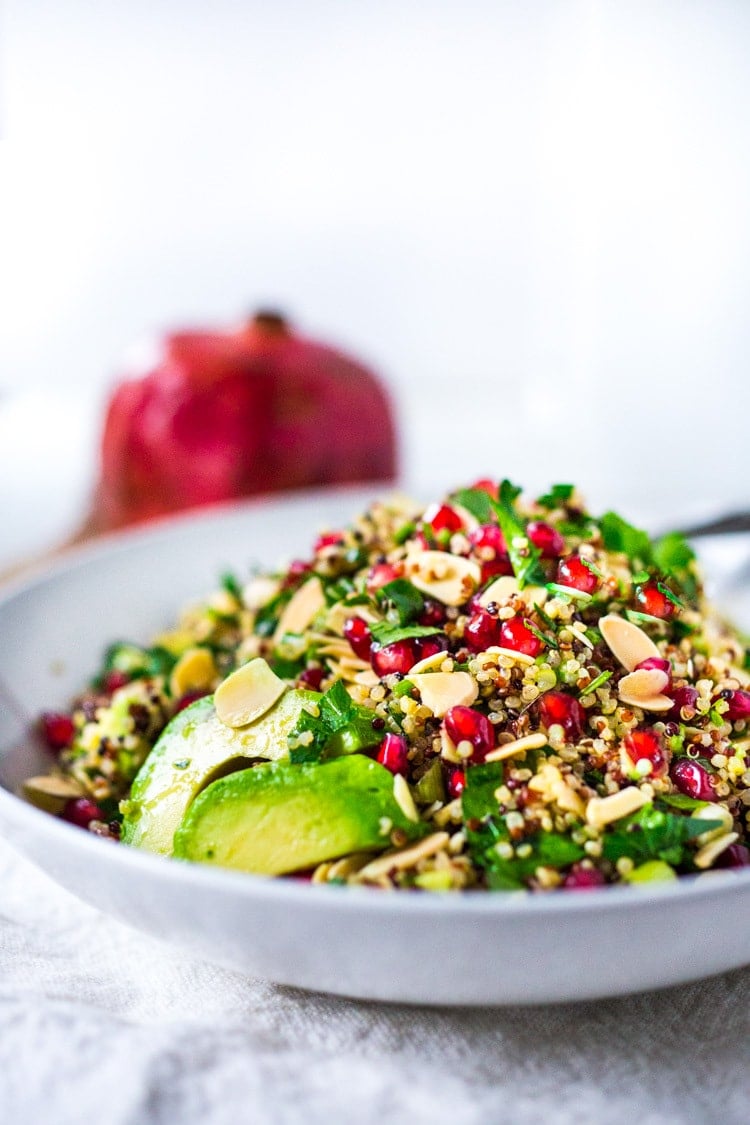 Quinoa Almond Crunch Salad – with  Pomegranate Seeds, avocado, parsley, and toasted Almonds-healthy vegan gluten-free, perfect for the holiday table, or any time of year when pomegranates are in season!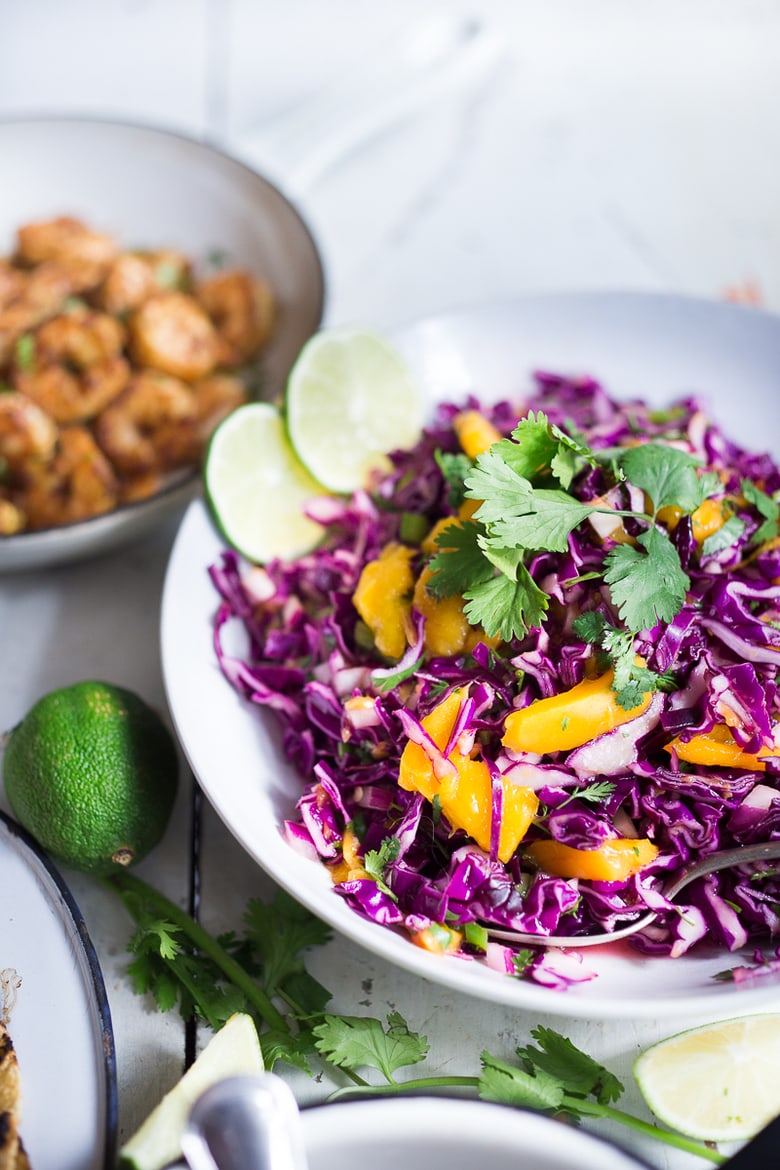 Cabbage Mango Slaw this refreshing, healthy, detoxing recipe is low in fat, vegan and gluten-free. Makes a delicious summer side… perfect in Tacos or Buddha Bowls! Light and flavorful!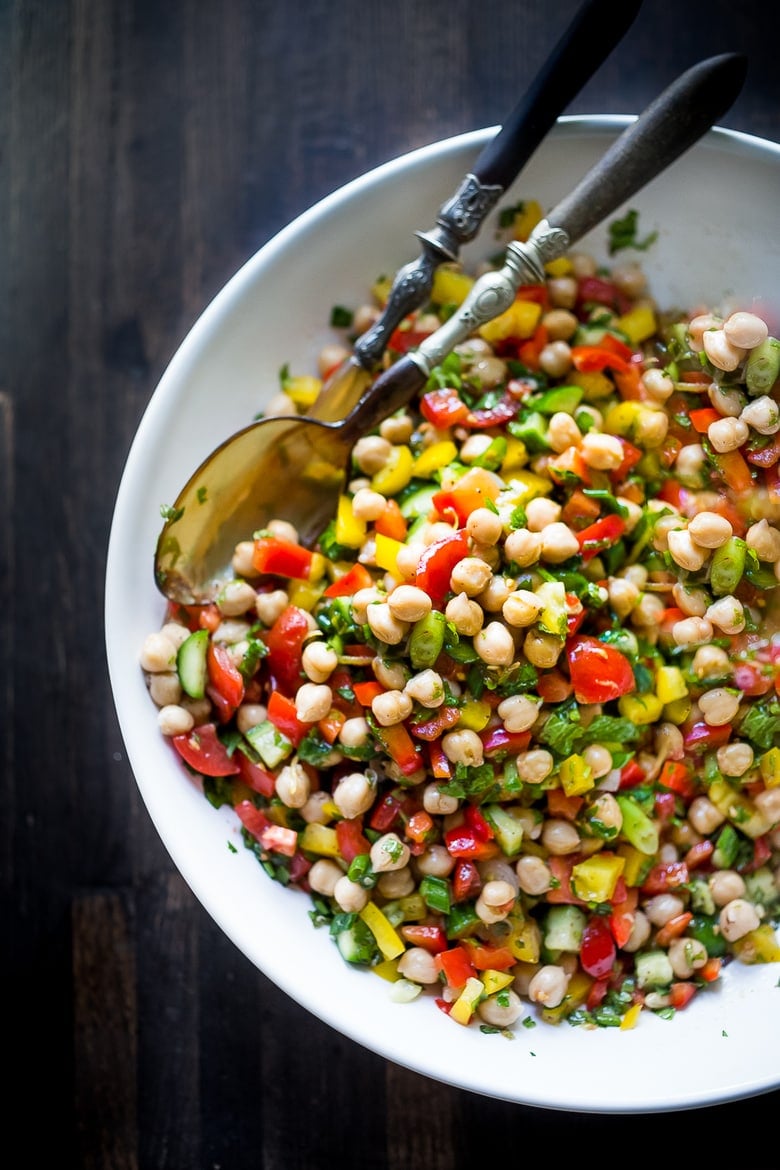 This Middle Eastern Balela Salad with chickpeas, herbs & lots of crunchy veggies- is full of healthy plant protein. Great on its own, or served over greens, stuffed in a pita or wrapped up in a warm tortilla with  Everyday Tahini Sauce! A simple make-ahead salad, perfect for lunches on the go! this is also delicious turned into an Energy Bowl, served over Everyday Quinoa!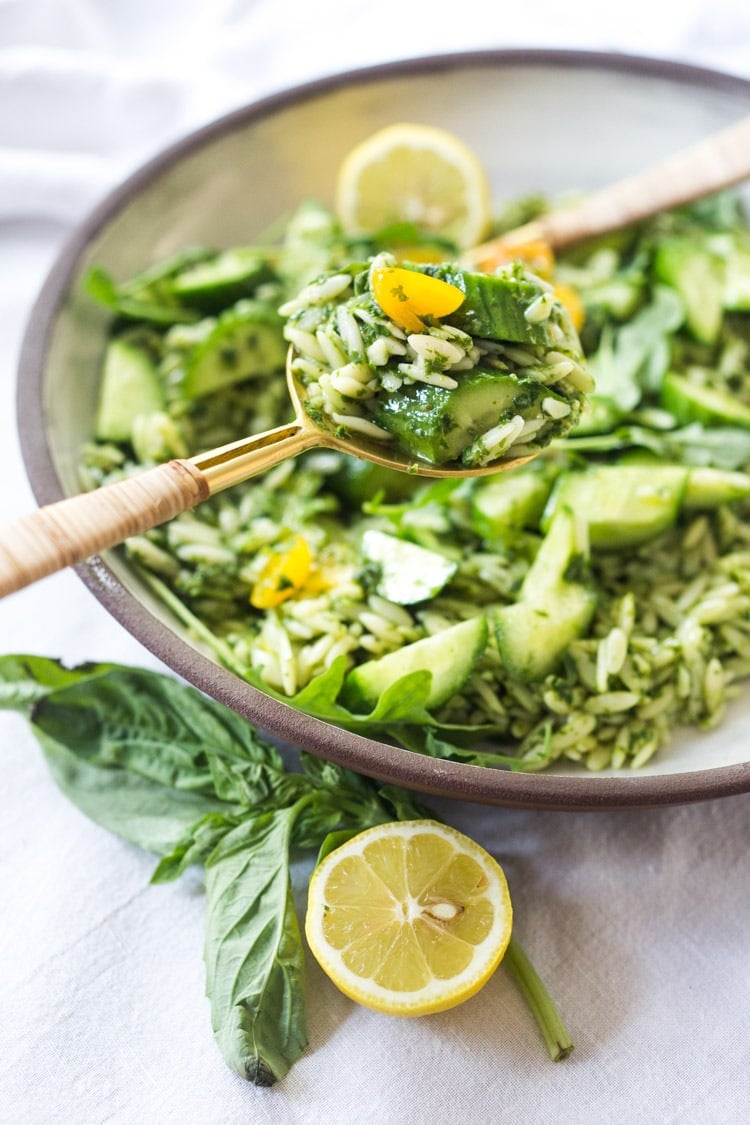 I'm super in love with this zesty bright, Lemon Basil Orzo Salad with cucumbers, tomatoes and arugula. A healthy, vegan pasta salad that can be made ahead for midweek lunches or potlucks. For extra protein, add chickpeas.  Keep it vegan or add feta!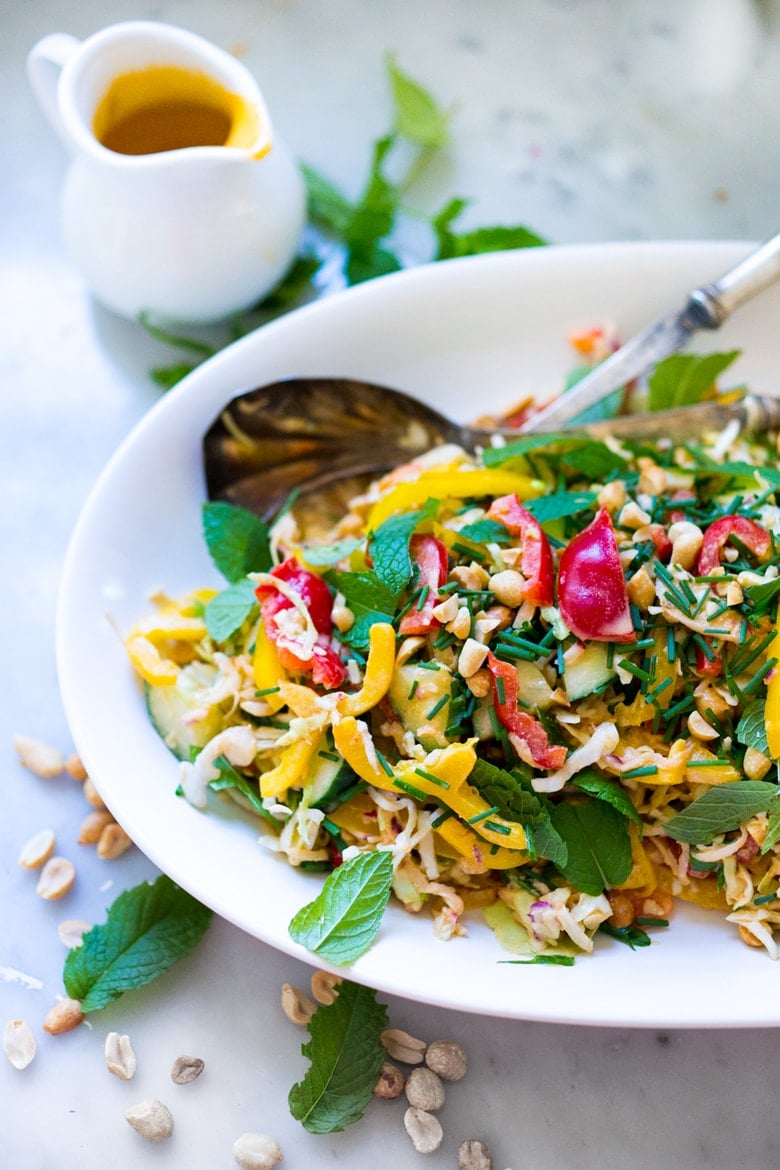 This Thai Crunch Salad  is made with only veggies – no noodles! Shredded cabbage, carrots, peppers, onions and herbs tossed in light Ginger Peanut Dressing!  A low-carb, gluten-free and totally vegan meal! Bump up the protein, with this Baked Sesame Ginger Tofu! So tasty!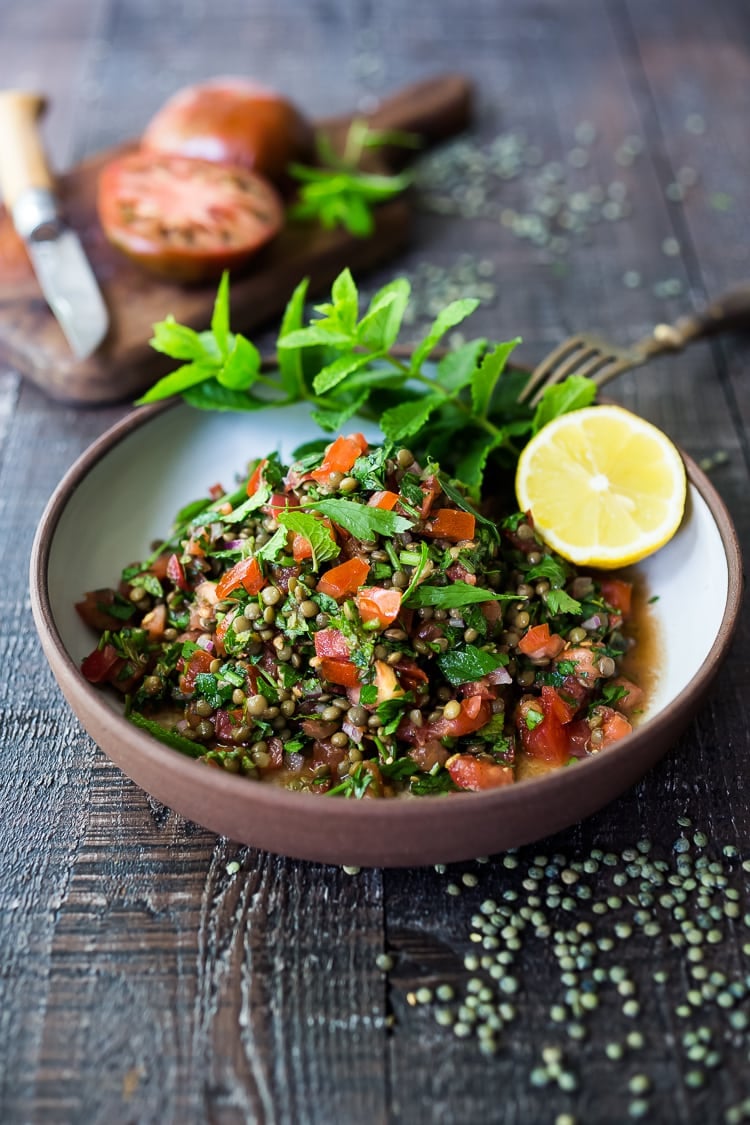 This Simple Lentil Tabouli Salad is my personal go-to salad during the week. I love the unique Middle Eastern spices added to this salad! And filling lentils are so energizing! Paired with summer tomatoes, lemon, mint and parsley and the unique combination of spices, this keeps for days, and is perfect for midweek lunches or potlucks! Vegan and Gluten-Free.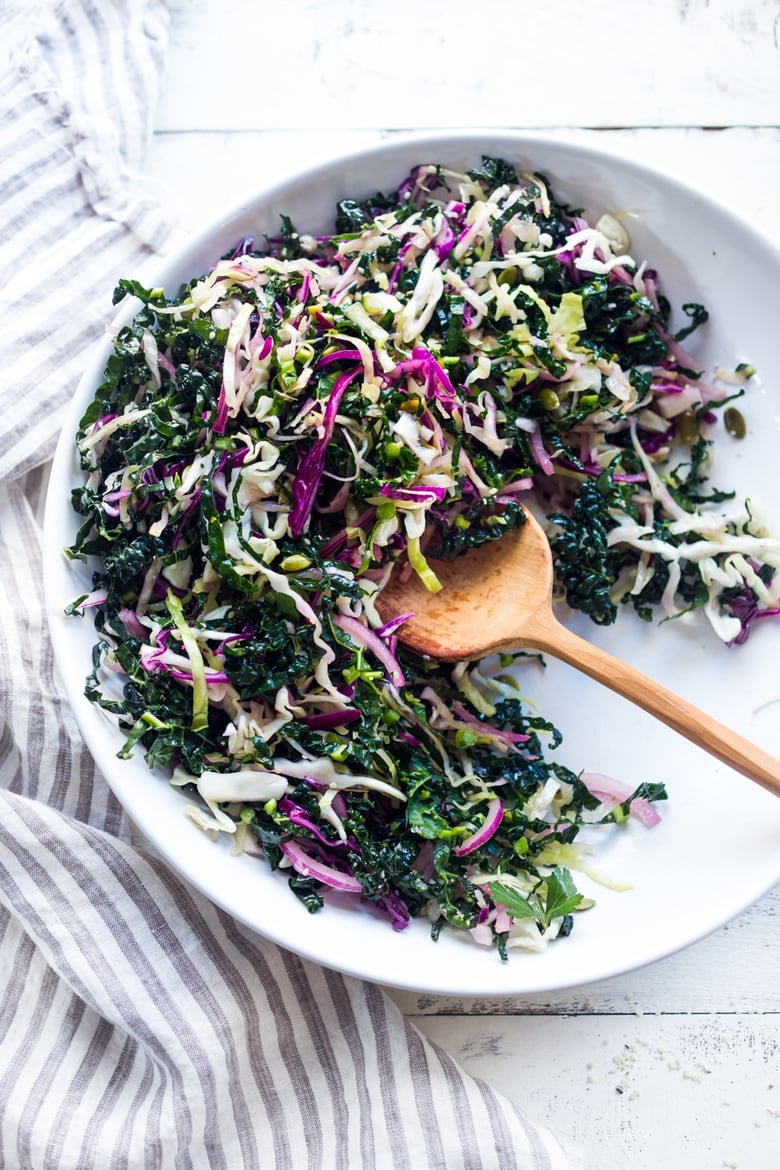 Everyday Kale Salad  with simple Lemon Dressing can be made ahead, then used DAILY to top off tacos, wraps, buddha bowls, burgers, and even pizza during the week! Vegan and Gluten-Free, this amazing kale slaw keeps for up to five days in the fridge.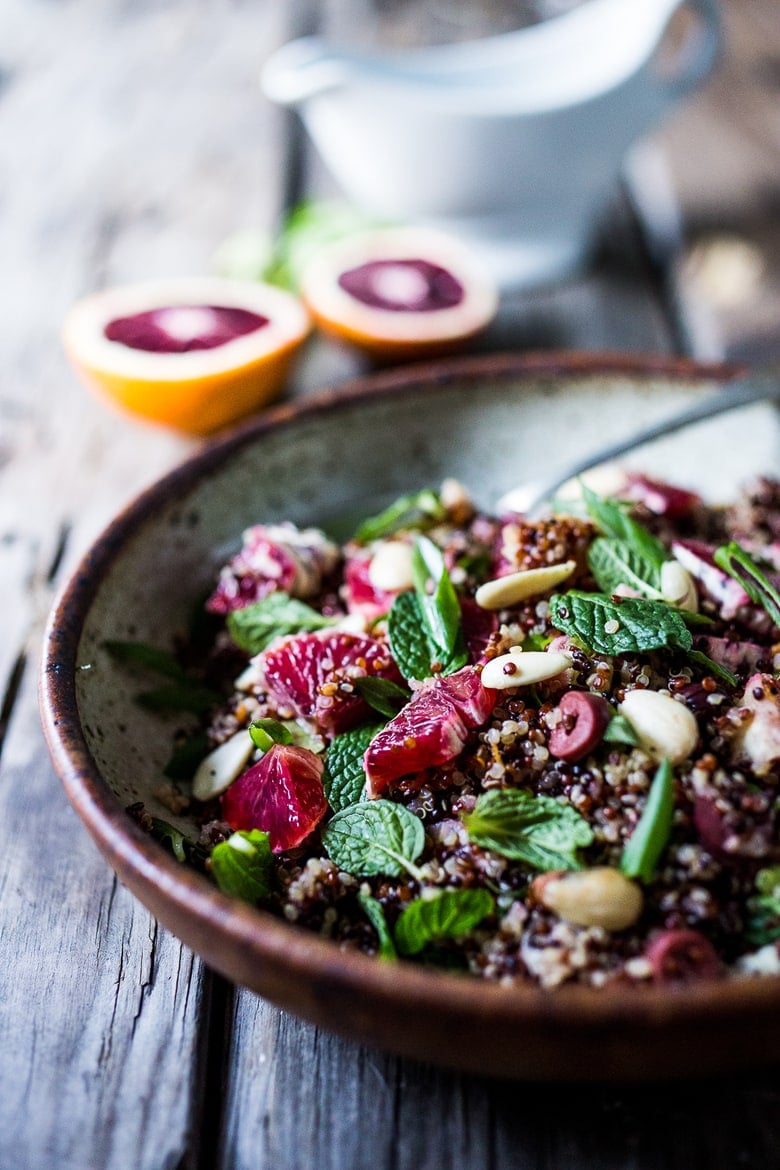 A delicious vegan Moroccan Salad with blood oranges, quinoa, almonds, olives, mint and a tangy, bright blood orange dressing. Perfect for the holiday table, this salad is festive and healthy!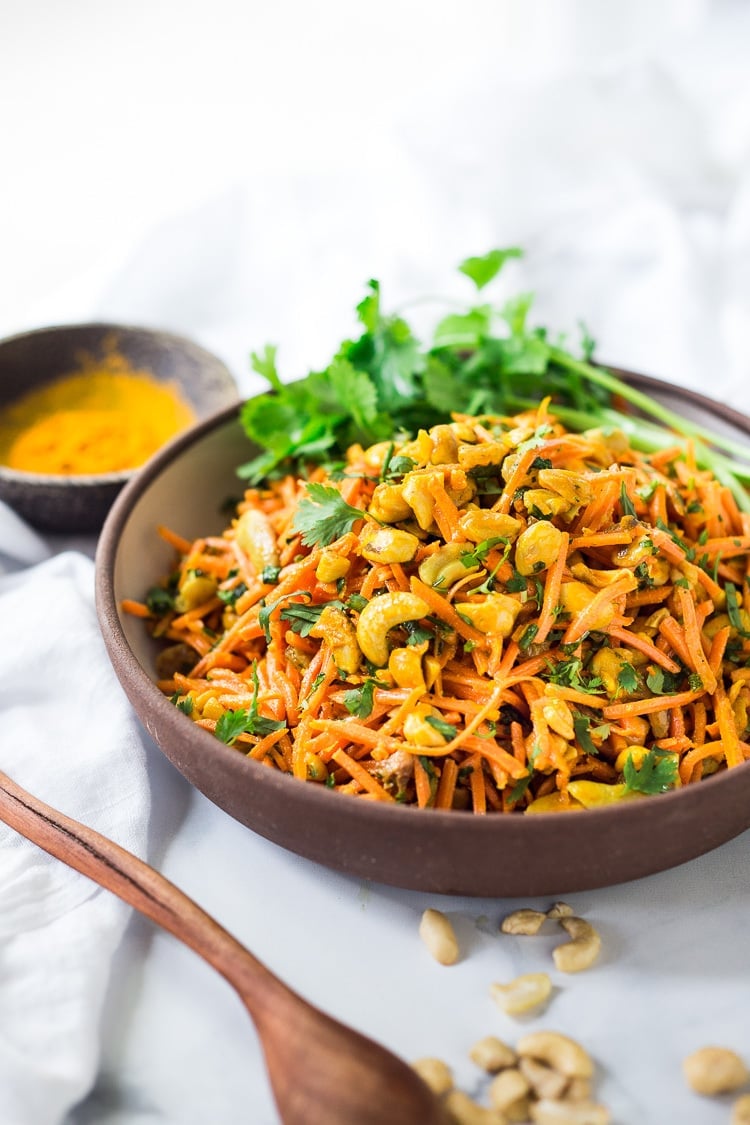 Bombay Carrot Salad with cashews and raisins, tossed in a fragrant Indian Curry dressing. Healthy and vegan this carrot salad recipe is so EASY to make, and can be made-ahead.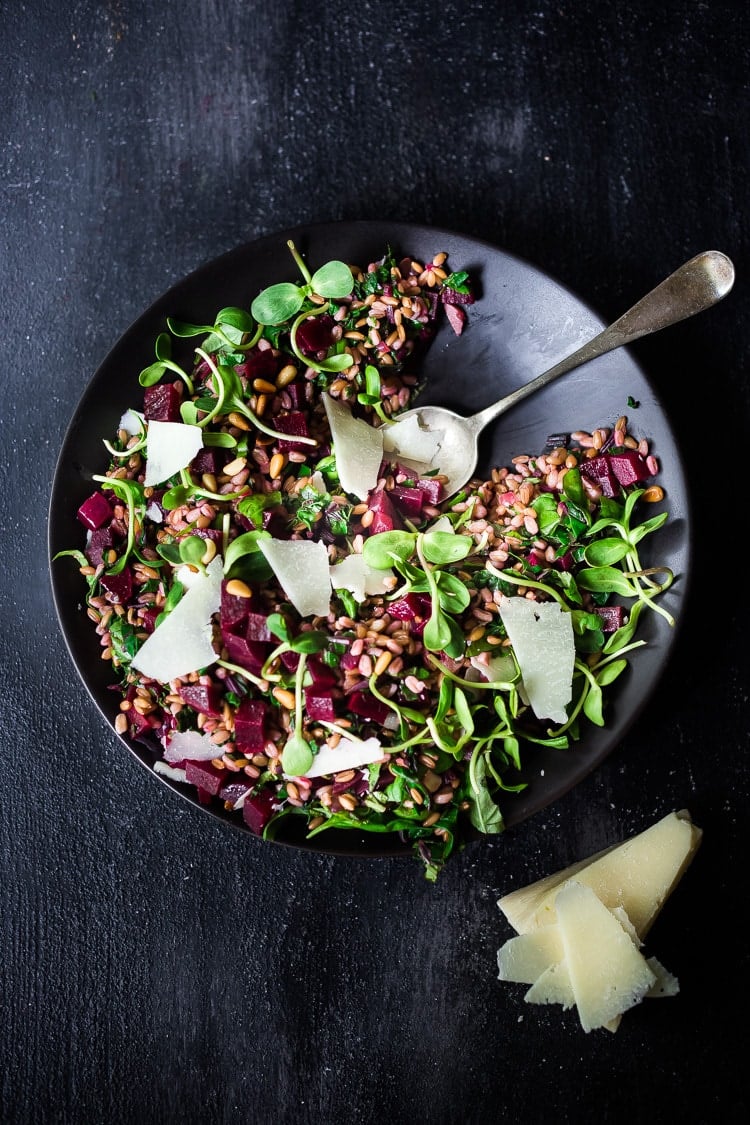 Beet and Farro Salad – A simple fall-inspired recipe for Farro Salad with Beets and their tops!  This healthy, vegan-adaptable salad ( leave off the cheese) can be made ahead for midweek meals and can be served warm or chilled.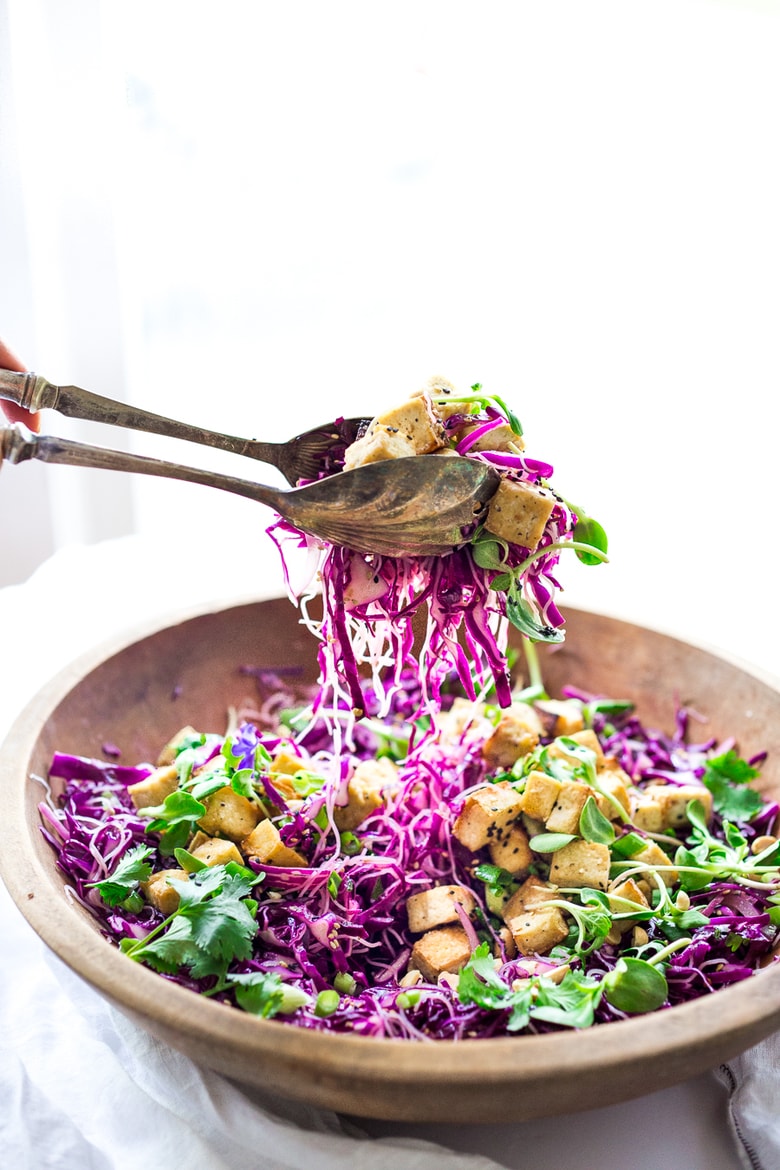 Sesame Cabbage Slaw with Rice Noodles  –This salad is eighty percent cabbage and twenty percent rice noodles! To up the protein, I'll add Crispy Tofu.  Crunchy, flavorful and healthy, this is one of my favorite summer salads, not only because it tastes delicious, but because it can be made ahead and keeps well over several days – perfect for meals on the go or weekday lunches.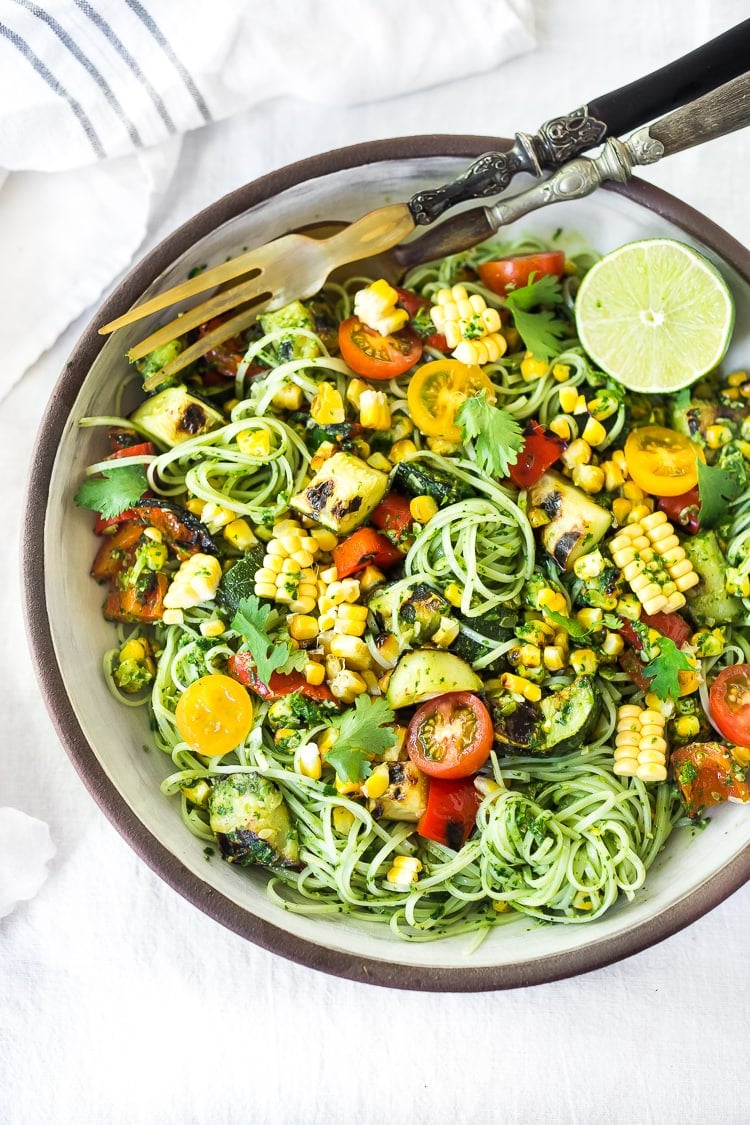 Summer Pasta Salad w/ Grilled Zucchini, Corn and Cilantro Pesto is made with gluten-free rice noodles and loaded up with healthy summer veggies like zucchini, corn and peppers, then tossed in the most flavorful Cilantro Pesto ( nut-free!) Deliciously addicting! Vegan and Gluten-free!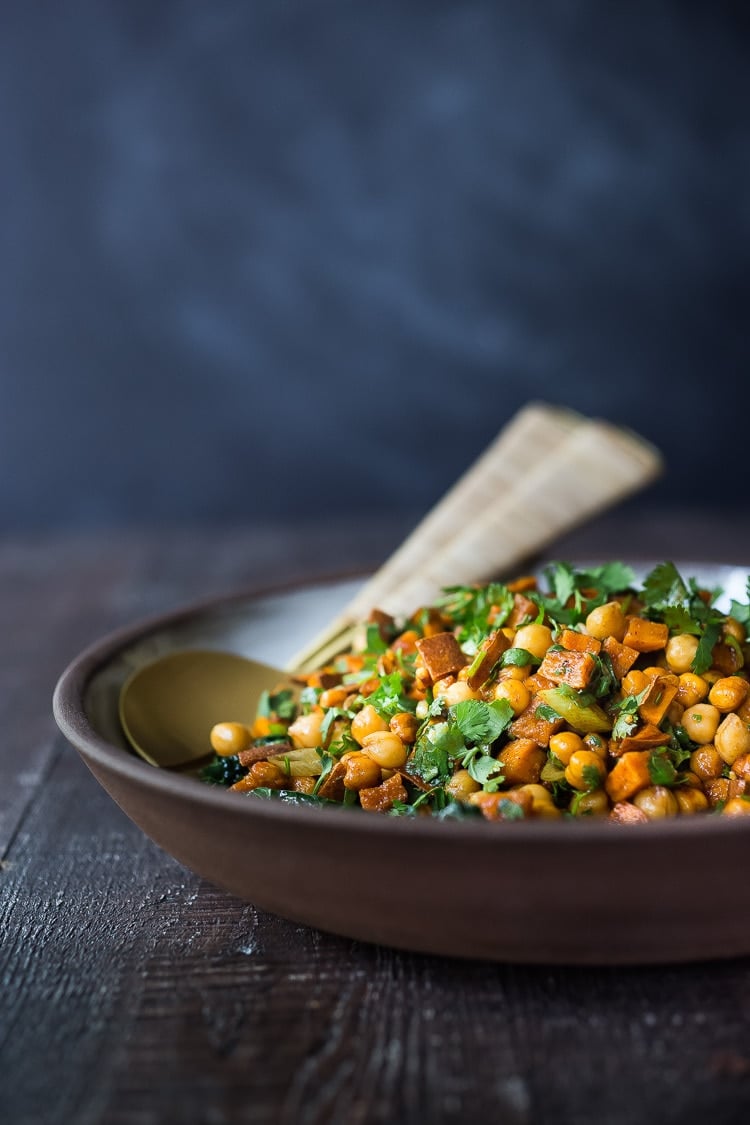 Roasted Moroccan Sweet Potato Salad is bursting with flavor! Healthy, vegan and gluten-free, it is EASY to make! Can be made ahead – perfect for midweek lunches or fall gatherings.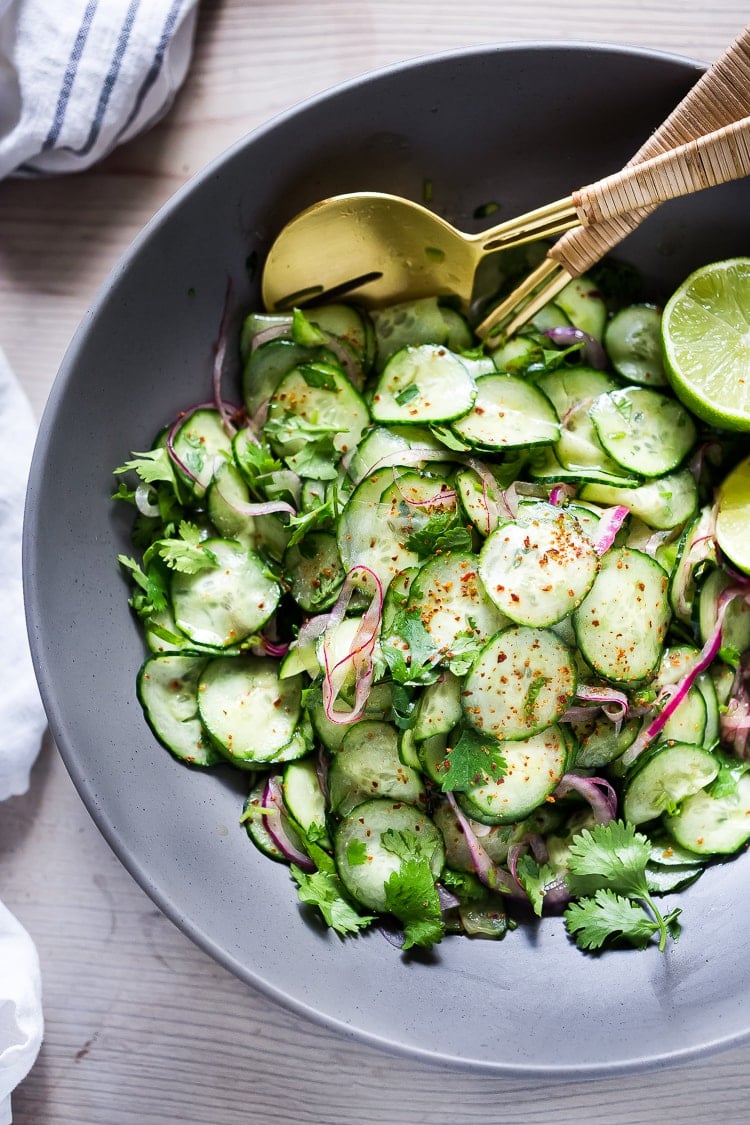 It may not look like a meal, but this Cucumber Salad with Chili and Lime pairs well with so many things!   Cool and refreshing, serve it over a bowl of Everyday Quinoa, for an energizing lunch! Great for Sunday meal prep – make a big batch and tuck it into tacos or buddha bowls. Or bring it to a potluck for a healthy side dish. A delicious, seasonal companion to just about everything!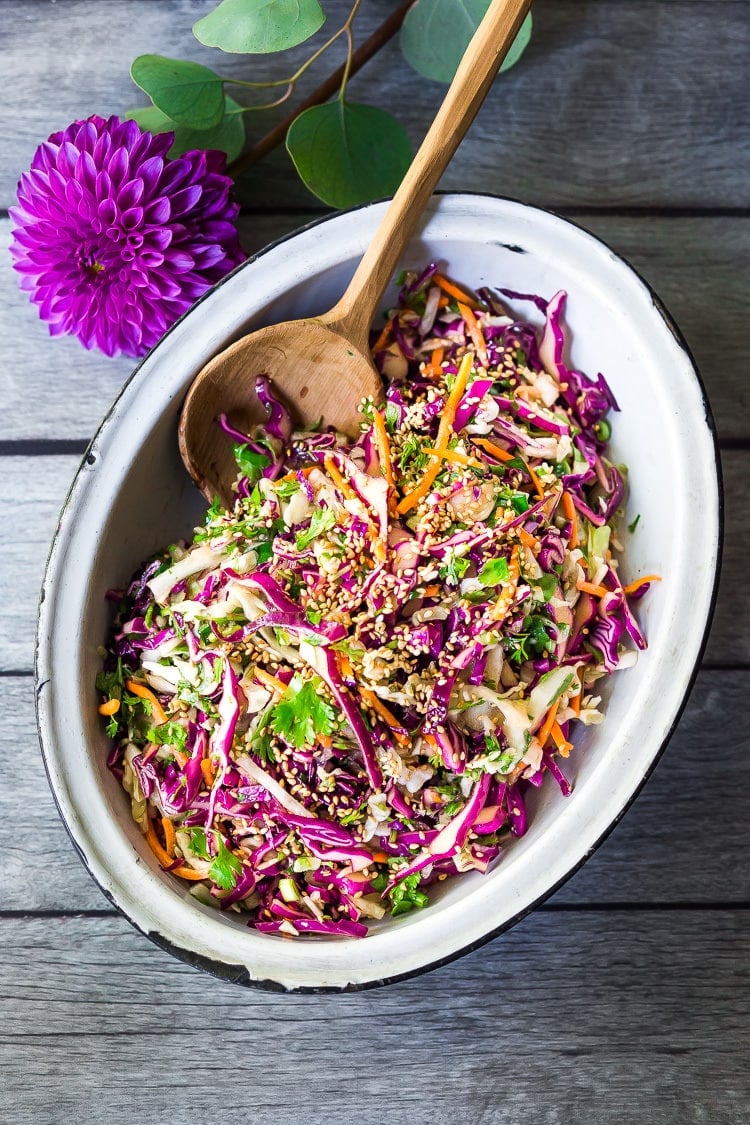 Easy Crunchy Asian Slaw – a simple vegan slaw with the BEST SLAW DRESSING EVER that can be made ahead! Serve this alongside fish, tofu, or chicken or stuffed into tacos, topped onto burgers, or added to buddha bowls. A great way to add more veggies into your everyday meals.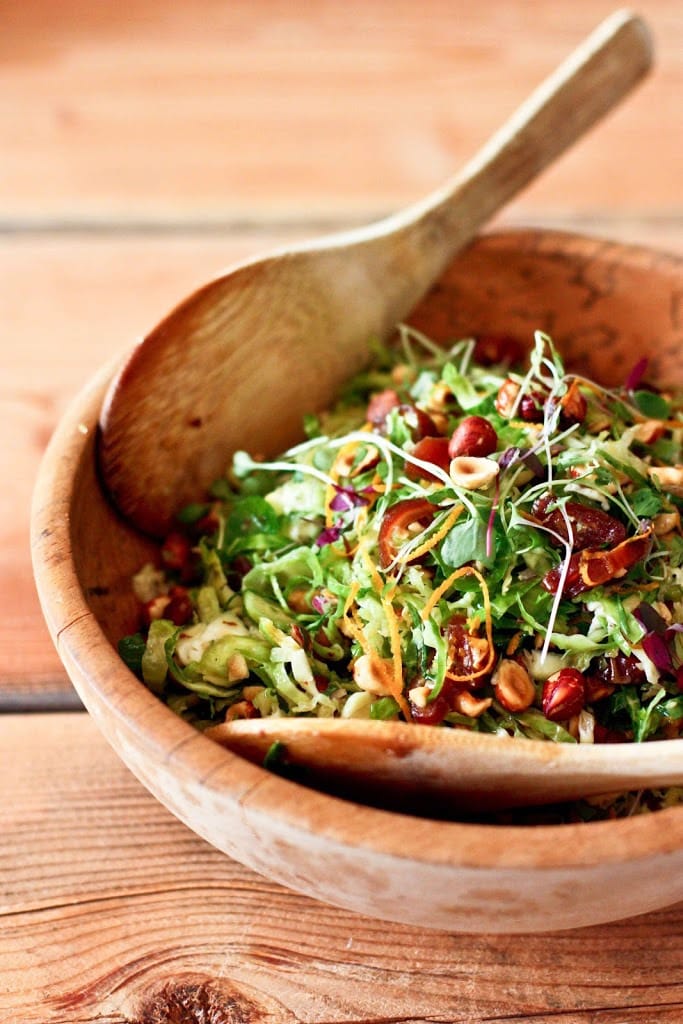 Brussel Sprout Salad with Hazelnuts and Dates! This easy healthy vegan salad has a delicious combination of flavors and can be made ahead!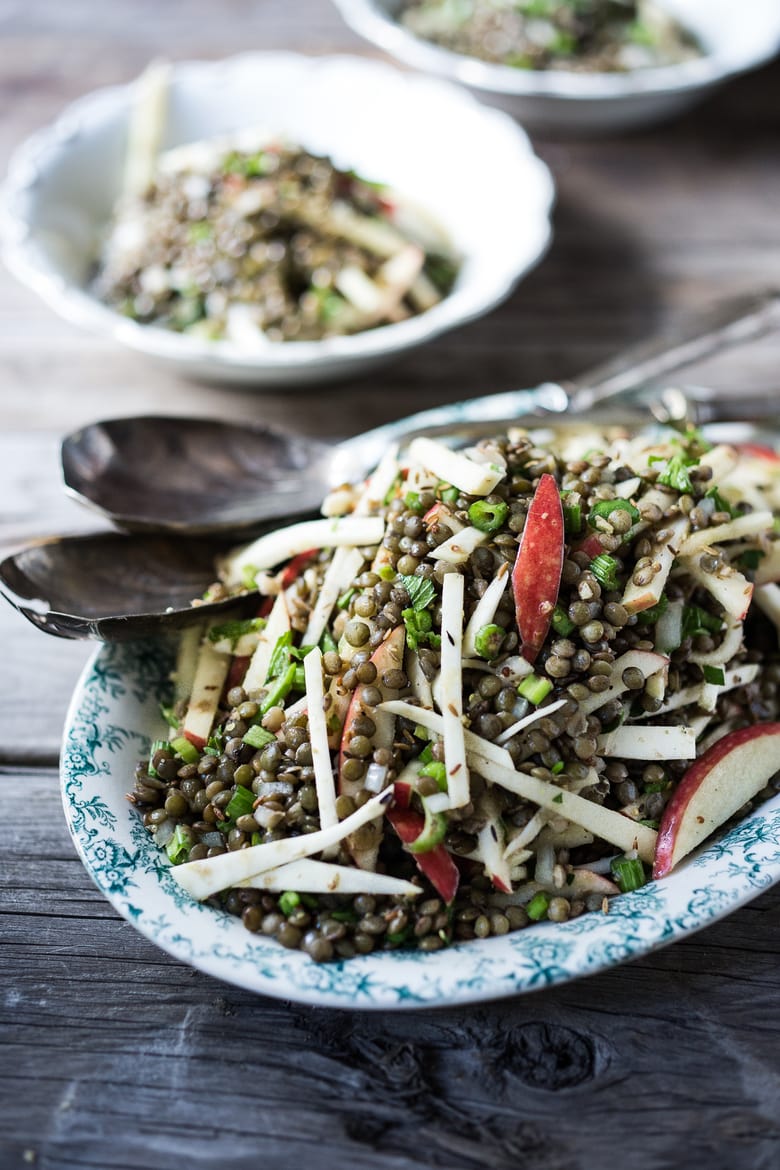 Celery Root, Apple and Lentil Salad with Cumin Seed Dressing. A delicious healthy vegan salad that can be made ahead, perfect for fall!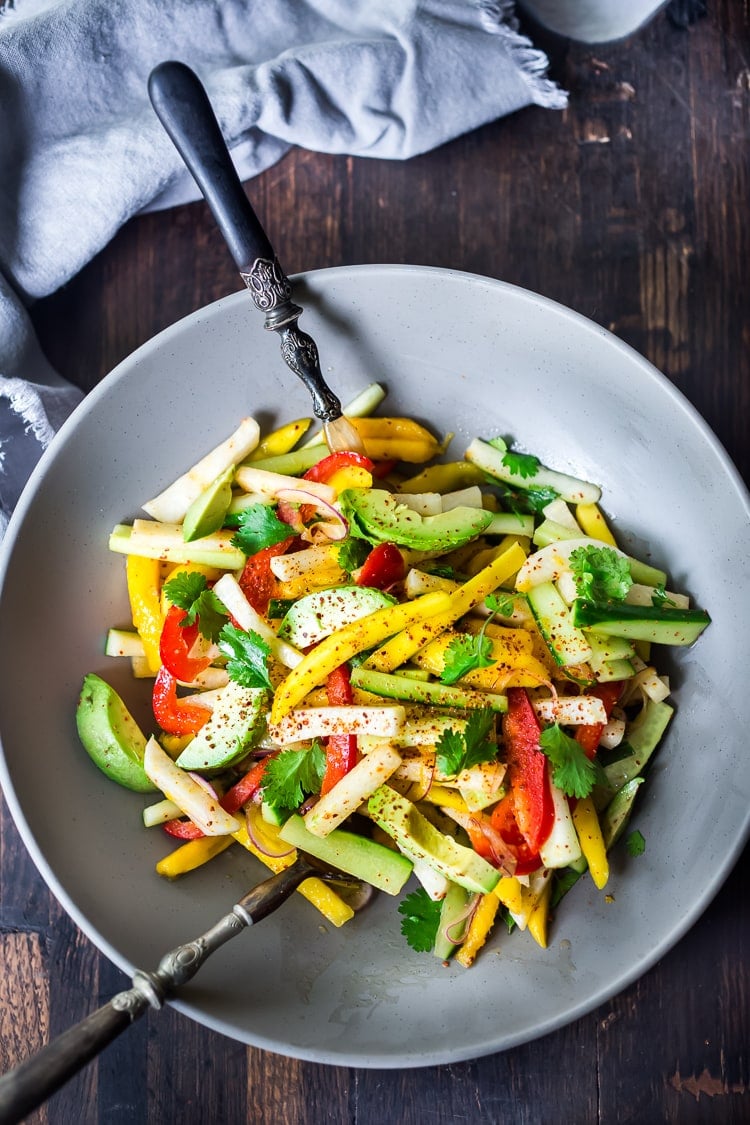 Jicama Salad with Mango, Cucumber, Avocado, Lime and Aleppo Chile Flakes – this crunchy , tropical salad is so refreshing and can be turned into a lunch but serving with seasoned black beans or quinoa.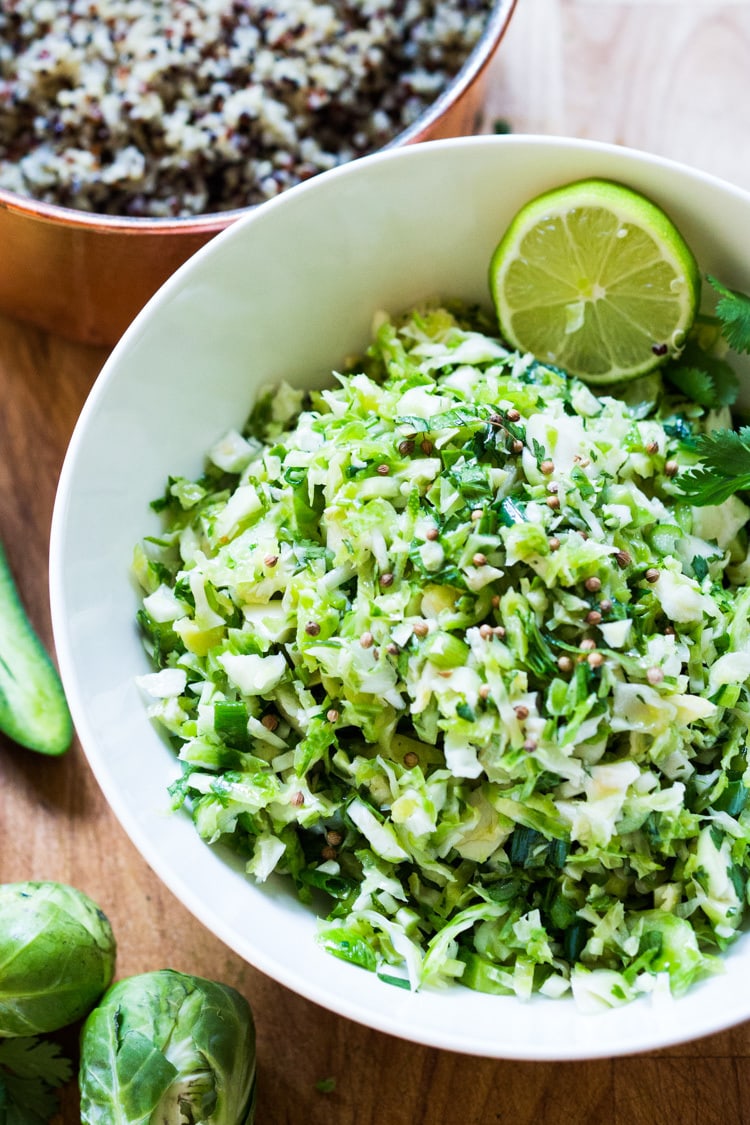 Vegan Mexican Brussel Sprout Slaw  with jalapeño, lime and cilantro! Serve as a "taco slaw",  a side salad for grill mains or meats, or over buddha bowls. This salad can be made ahead!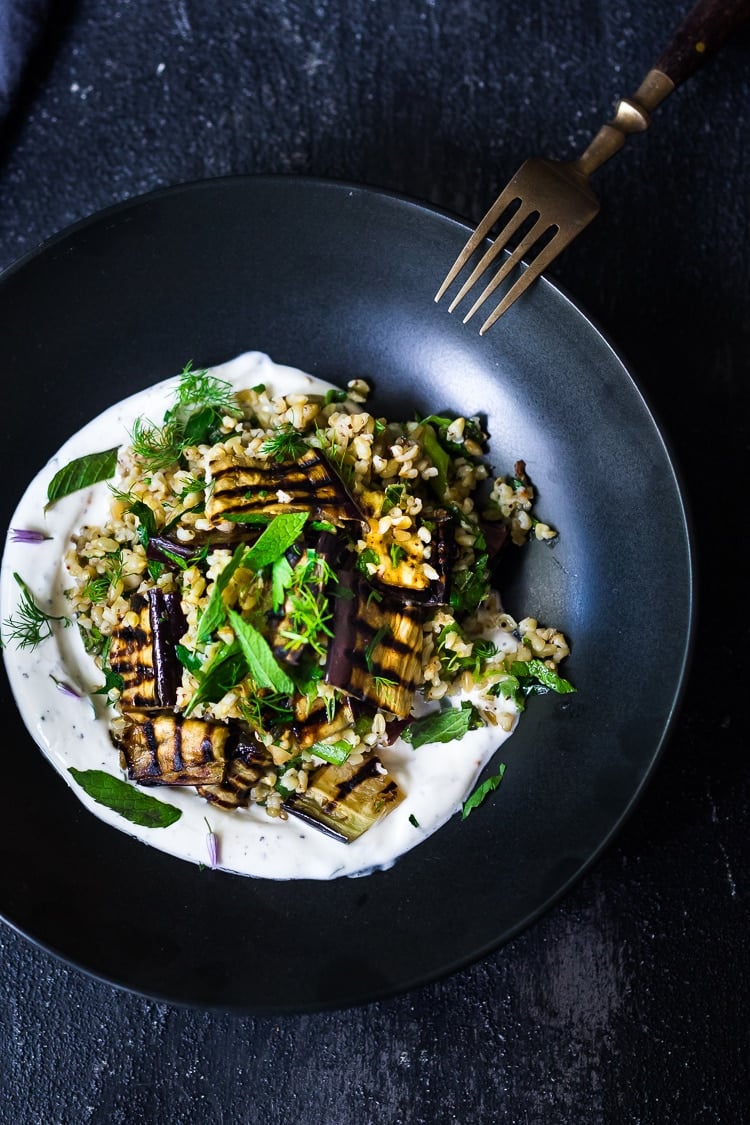 Grilled Eggplant Salad with Freekeh. Loaded up with fresh herbs and served over a tangy yogurt (or vegan yogurt) dressing, this healthy salad is full of Middle Eastern flavor. Vegan adaptable!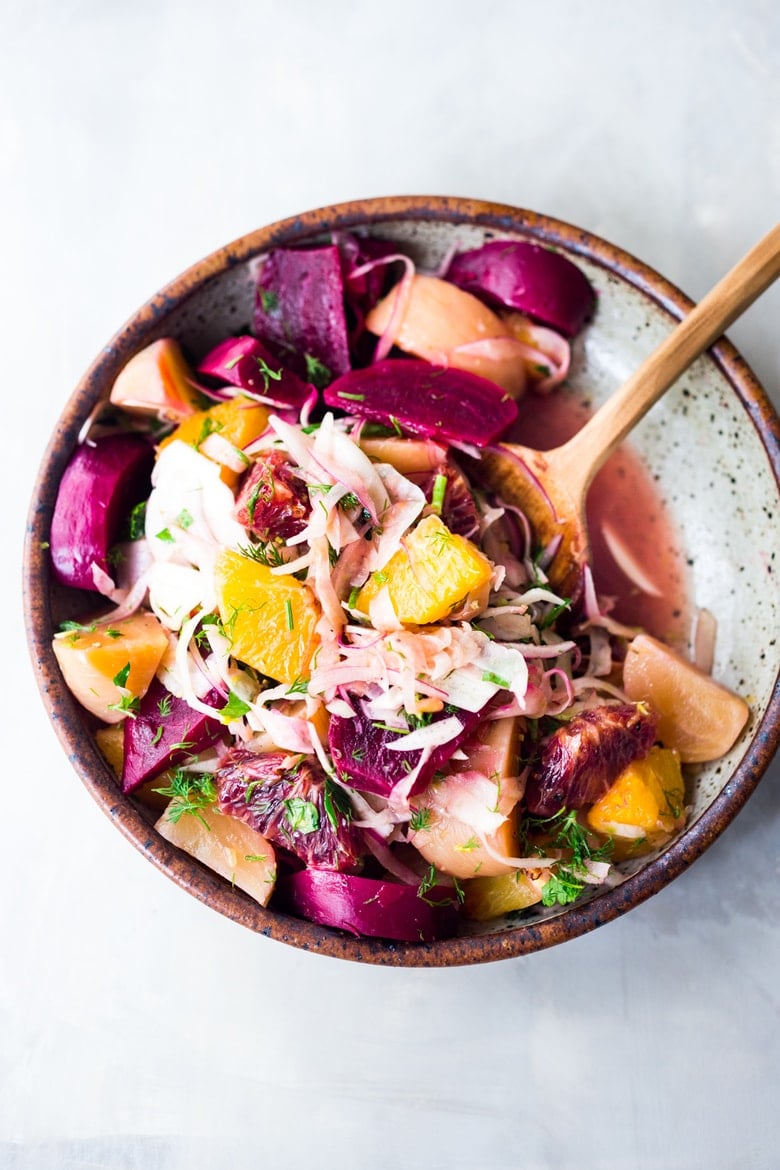 Beet and Fennel Salad  an energizing make-ahead salad that can be served over grain bowls or greens for mid-week lunches. Vegan and Gluten free!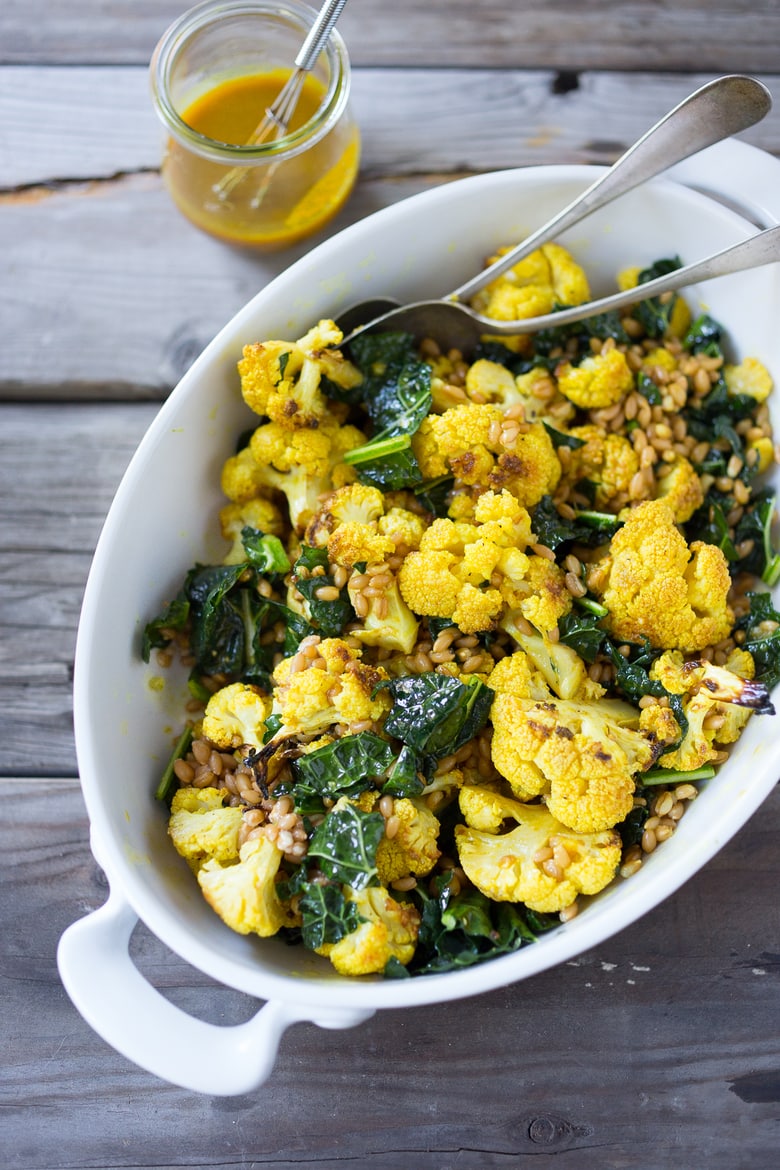 Roasted Cauliflower Salad with kale and farro and a fragrant Turmeric  Dressing. A simple vegan salad that can be made ahead- perfect for fall gatherings or midweek lunches!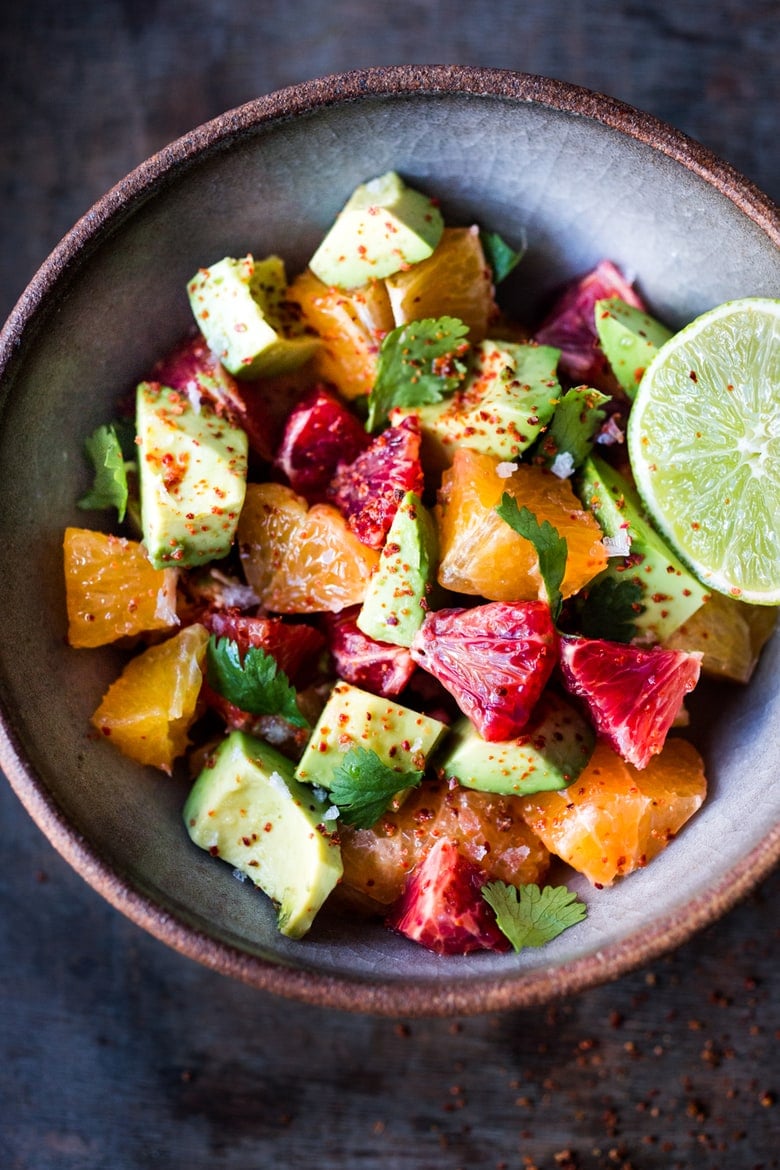 A simple delicious recipe for  Orange and Avocado Salad with Lime juice, chili flakes and cilantro. Make this vegan salad ahead, but leave out the avocado until right before serving. Flavorful, healthy and full of nutrients.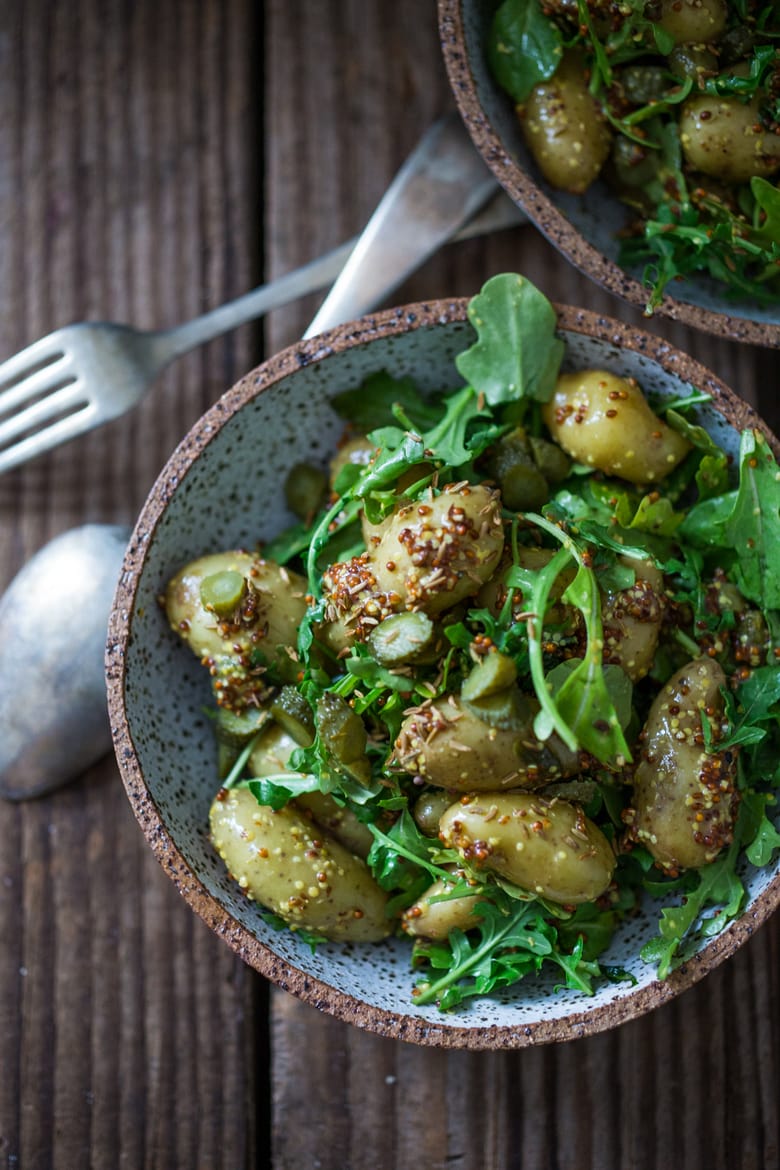 Vegan Potato Salad with Mustard Seed Dressing  (No Mayo!) A simple, healthy recipe, great for mid-week lunches over a bed of greens, or make it ahead for potlucks and gatherings.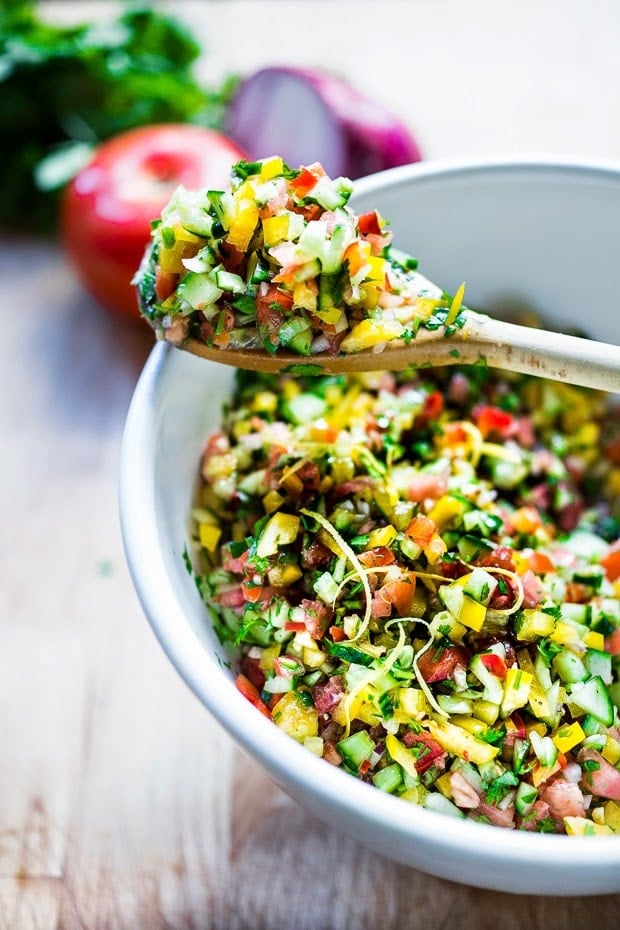 An oldie but goodie!  Israeli Salad, made with finely chopped summer vegetables, fresh herbs, lemon and olive oil.  This grain-free salad can be served over greens, piled into a warm tortilla with Every Day Tahini Sauce, or served over a bowl of Everyday Quinoa!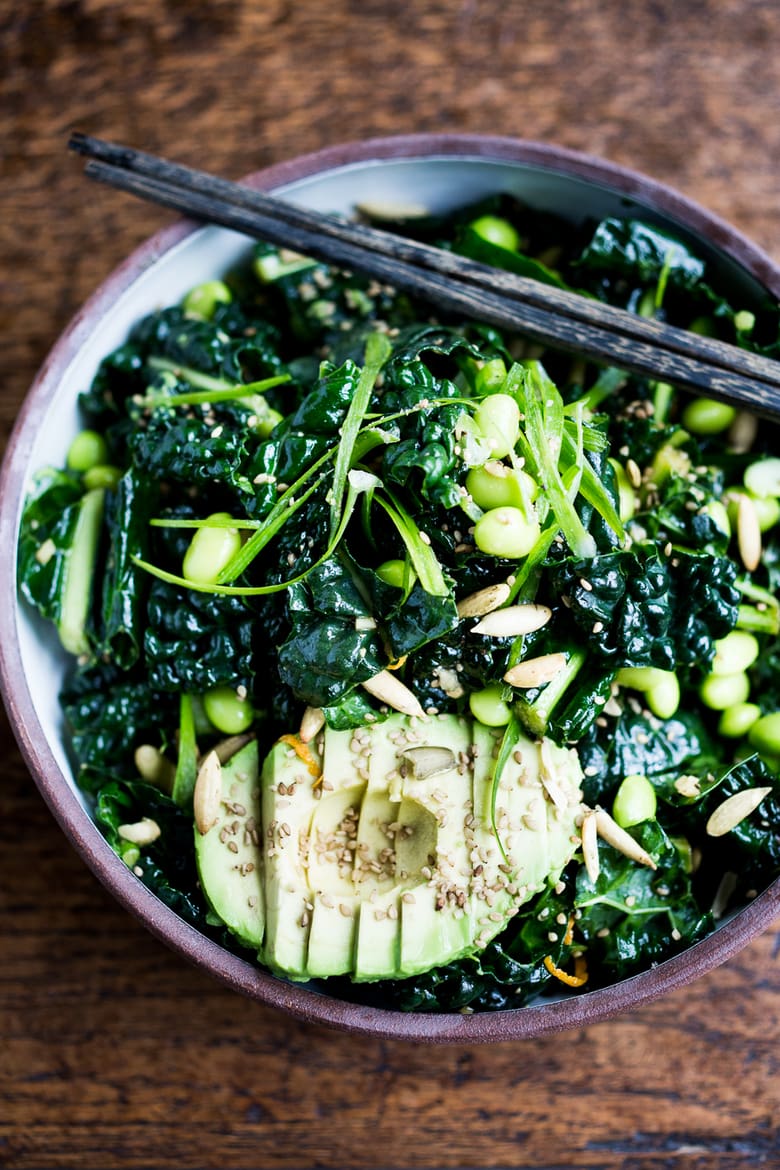 This Emerald Kale Salad   w/ Sesame Ginger Dressing, avocado, edamame, scallions, pumpkin seeds and orange zest is a delight for the palate! Make this ahead for mid-week lunches, adding the avocado the day of. Vegan and yummy!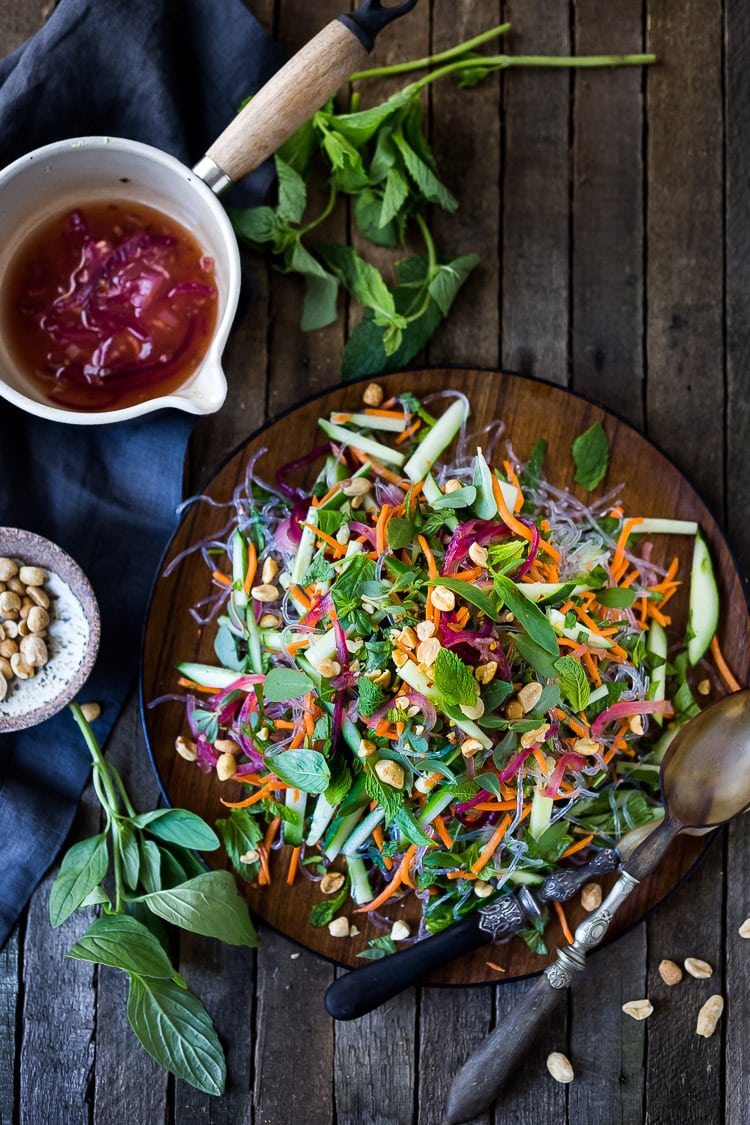 I love the flavors of the Vietnamese Vermicelli Salad! Loaded up with fresh veggies and herbs, this make-ahead, vegan salad is bursting with so much flavor!!! Healthy, delicious and light, make this with rice noodles, or try kelp noodles!
---
Enjoy and let me know your favorites in the comments below.
Have a joyful week friends.
xoxo
s.
Print
40 Make-Ahead Vegan Salads
Author:

Sylvia Fountaine

Prep Time:

20

Total Time:

30

Yield:

6

1

x

Category:

salad, vegan salad

Method:

Tossed

Cuisine:

American

Diet:

Vegan
---
Description
40 Make-Ahead VEGAN Salads- perfect for Sunday meal prep and midweek lunches or potlucks and gatherings: Chickpea Salad
---
1

1/2

cups

or 1

can

chickpeas, drained and rinsed

2

cups

cucumber, chopped in 1/2 inch chunks

1 1/2

cups

cherry tomatoes, sliced in half

1/4

cup

red onion, diced

1/2

cup

parsley, chopped

1/4

cup

fresh mint, chopped

1

avocado (see notes)

1/4

cup

lemon juice

1/4

cup

olive oil

3/4 teaspoon

salt

1/2 teaspoon

pepper
---
Instructions
In a bowl add chickpeas, cucumber, tomatoes, red onion, parsley, mint. Cut the avocado into chunks (do this after everything else is prepped to prevent it from turning brown).
Pour lemon juice and olive oil over the top. Add salt and pepper. Mix and serve.
---
Nutrition
Serving Size:

1 cup

Calories:

216

Sugar:

2.3 g

Sodium:

279 mg

Fat:

16.6 g

Saturated Fat:

2.3 g

Carbohydrates:

15.9 g

Fiber:

6.2 g

Protein:

4.5 g

Cholesterol:

0 mg
Keywords: vegan salads, vegan salad recipes, healthy salads, make-ahead salads, make ahead salad recipes, salads vegan, best vegan salad