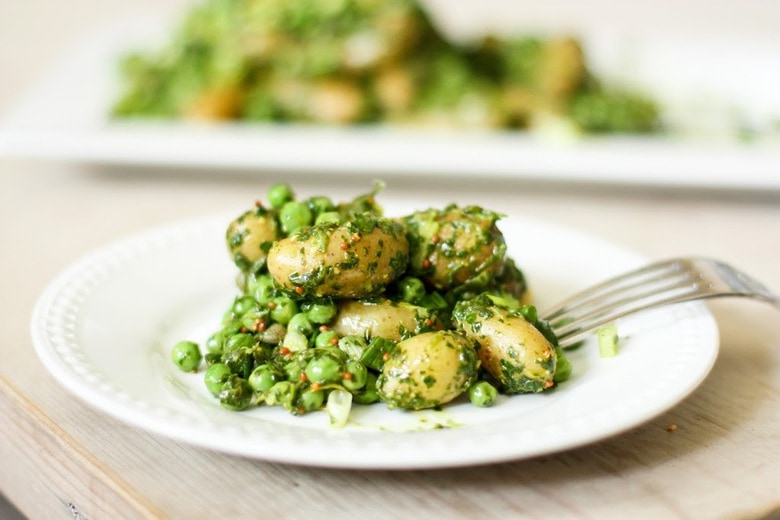 In the spring, at the end of the day, you should smell like dirt. –Margaret Atwood
I hesitate to even think this, let alone write it for fear of jinxing it. The sun has been out now for five days in a row. The ground has unfrozen. It almost feels warm outside. Could it be true? Could it really, truly, finally… be spring?
I am clearing out my garden beds. Underneath all the pine needles and soggy leaves, the warm fragrant smell of rich dirt is intoxicating. I'm not sure if it's because of all the mud pies I ate as a child, but to me there is something so amazing about the smell of fresh dirt. Why does dirt smell so good?
The surprising thing, after doing a bit of research, is that smell isn't actually coming from the dirt itself. Microbiologists have traced the pleasant aroma to a bacteria called Streptomyces coelicolor which produces a chemical called
geosmin
which is what actually gives dirt its fragrant "earthy" smell. Humans and animals are really sensitive to this smell and some believe, programmed to be attracted to it, because it indicates that there is water nearby. In desserts, camels and other animals can find water or an oasis, because they can smell the scent of the soil. It is a symbiotic relationship. We are lead to water by the smell of dirt, and the bacteria is proliferated by attaching to the bottom of our feet and spreading to other areas where they can multiply and thrive. Another perfect example of nature's relationships…. of mutual benefit.
A friend of mine, Jill, started a garden blog,
Diary of a Garden,
which will document each stage of her garden this year. Her latest topic, compost, was cleverly posted, "Come on, you know you want to get dirty". Yes, apparently I do want to get dirty. After reading it, I practically dove into the dirt.
And all her little starts will inspire to go seed shopping and start planting. I am still trying to figure out what to plant. What are you planting this year?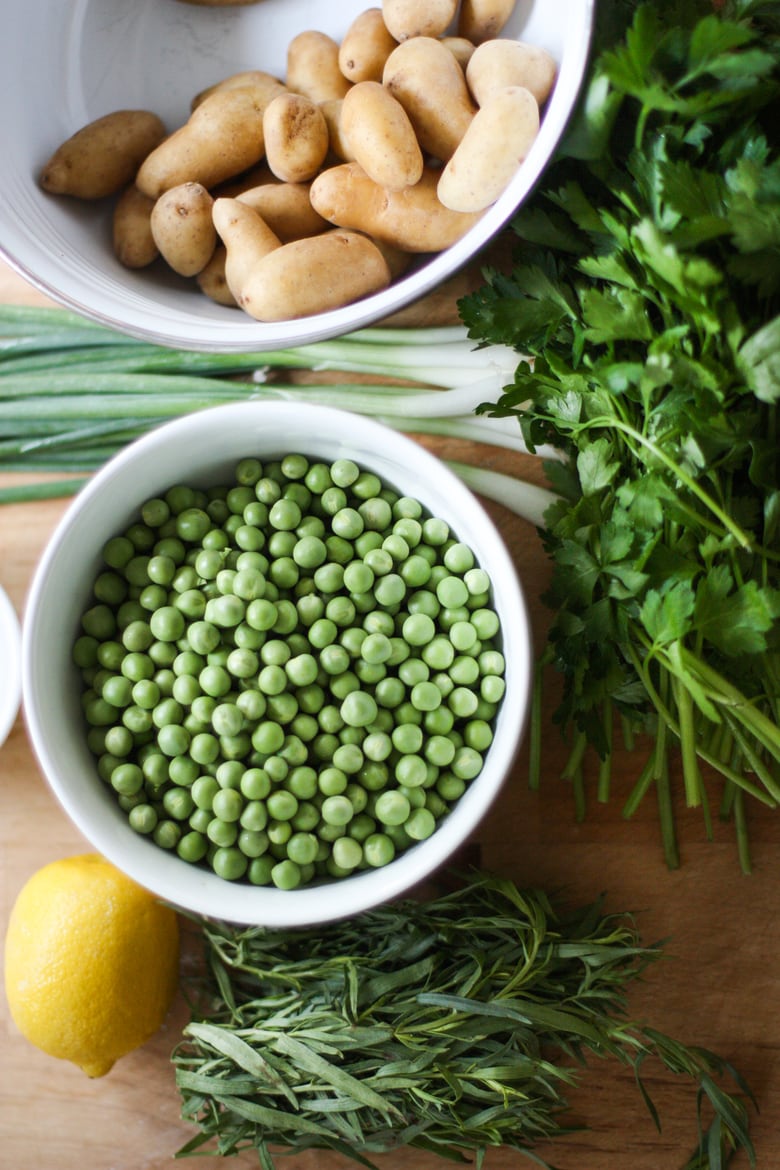 Fingerling Potatoes with fresh peas, fresh tarragon and
mustard seeds
~
This can be served warm as a side dish and would pair well with fish, chicken or lamb, or serve chilled and as a hearty spring salad.
We actually just ate this warm, as our dinner, and it was perfectly filling.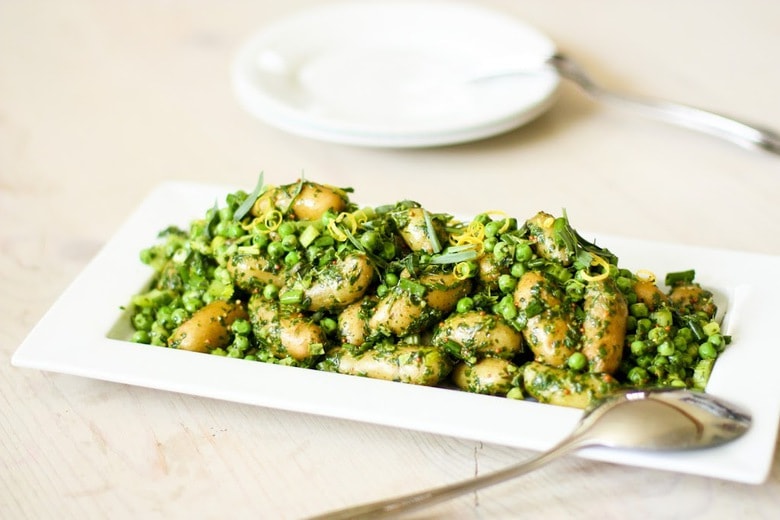 Any small new potato can substitute for the fingerlings.
New potatoes are not an actual type of potato, but rather, a stage in their growth. Think of them as young potatoes. Or spring potatoes. They are pulled out of the ground early, and t
heir skin is still tender and thin, unlike older,
fully grown thicker skinned mature potatoes. Because they are uprooted early, they haven't had the time
to convert their sugar into starch, making them taste sweeter.
Because they have less starch, their texture is different, more waxy and crisp, and for this reason, they lend themselves to being boiled or steamed, and hold their shape well. Oh, to be young again. My Finnish aunt, whose father was a potato farmer, once described herself as a wrinkly old potato. And while I don't see her that way
at all,
somehow description was so endearing, with her strong finnish accent, I haven't forgotten it.
Fresh Tarragon is what gives this dish the goodness. It is so often overlooked in the world of herbs, but its taste is so distinct and interesting. With its a slight anise flavor, people often write it off because they think it tastes "like licorice". Can I tell you how tired I am of hearing that? It does not. It's so much more that that. It has subtle nuances that are impossible to describe, giving food a nice fresh dose of originality. Give it a chance, and you will fall in love with it.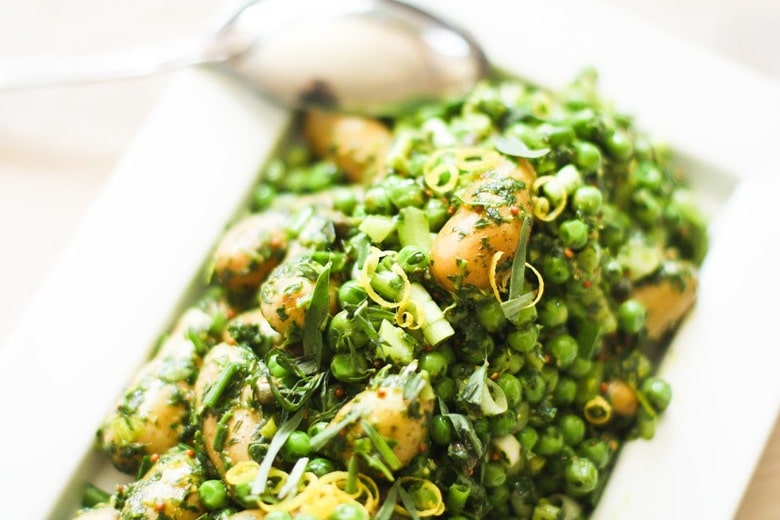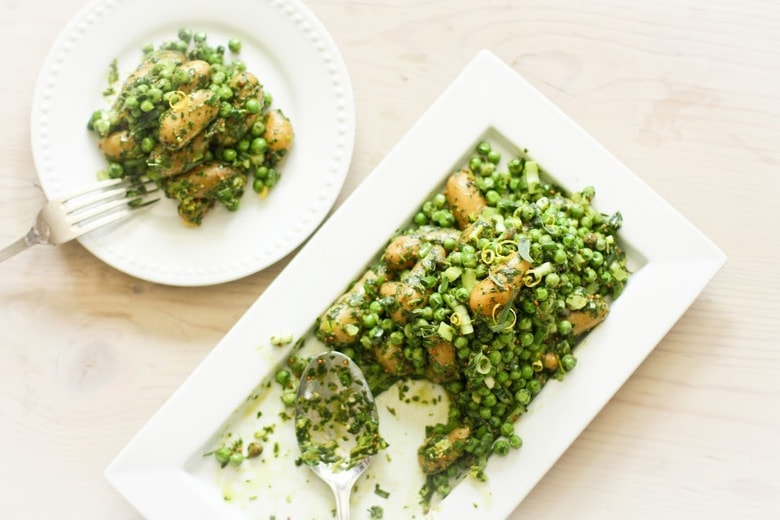 Thanks for reading! For more Feasting at Home …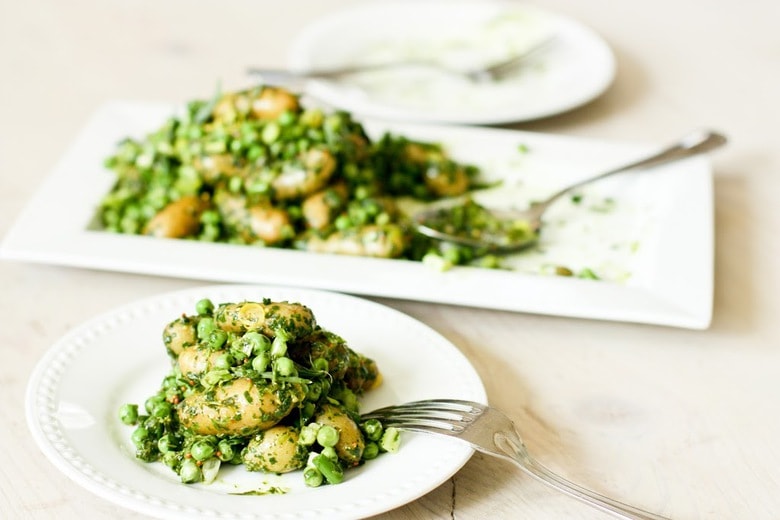 Print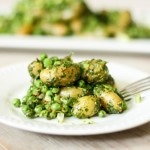 Spring peas and fingerling potatoes w/ tarragon and mustard seed
Author:

Sylvia Fountaine

Prep Time:

10

Cook Time:

20

Total Time:

30 minutes

Yield:

4

Category:

salad

Cuisine:

northwest
---
Description
A spring inspired salad with Spring peas, fingerling potatoes and a tarragon and mustard seed dressing- serve warm as a side, or chilled as a salad.
---
1

lb fingerling potatoes ( or new potato)

2 cups

fresh peas

1

C packed Italian parsley

1/4

C packed tarragon leaves

1

garlic clove

1/3

C olive oil

1/8

c lemon juice

1/2 tsp

salt

1

T capers

5

scallions

1/2

C chopped celery
lemon zest
---
Instructions
In
medium pot
, blanch potatoes 20 min or until fork tender, in salted water. ( I use enough water to cover potatoes by 1 inch, and add a hearty 1 T of
salt
)
In a
food processor
, pulse parsley, tarragon, garlic until finely chopped. Add oil,  
salt
and lemon juice. Pulse a few more times and set aside.
Drain potatoes and peas and place both in one large bowl.
Fold in parsley tarragon mixture and taste for
salt
, adding a pinch more if necessary. Pepper to taste. Garnish with tarragon leaves and lemon zest. Serve as a warm side dish with fish or chicken or meat, or serve chilled as a salad.
---

SaveSave
SaveSave
SaveSave