This Grilled Potato Salad is made with a black garlic dressing. A fun, flavorful side dish, perfect for you next BBQ, served alongside your favorite grilled mains.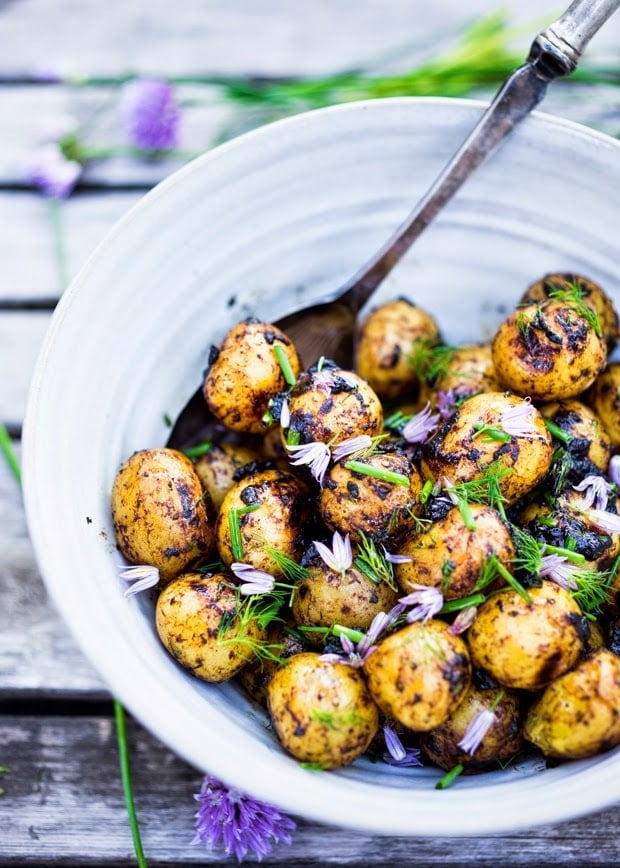 Instructions for living a life. Pay attention. Be astonished. Tell about it. ~Mary Oliver ~
If you are looking for a different way to treat potatoes this summer, why not try grilling them! This recipe for grilled potato salad, is a fun twist on the classic, with a dressing made from black garlic. No mayo invoked here! The black garlic gives the lightly charred potatoes a unique flavor – earthy and subtly sweet. Pair this with crispy skinned grilled salmon, and a dollop of dilled sour cream, and it's a match made in heaven.
Grilled Potato Salad Recipe Ingredients
Baby potatoes- and small thin skinned potatoes will work. Make sure to use tender skinned new potatoes, the smallest ones you can find. New potatoes are freshly harvested young potatoes. With paper-thin skins and lots of moisture inside, and they tend to be sweeter than older potatoes and are excellent in potato salads.
Black Garlic ( See below) or sub roasted garlic cloves.
Extra virgin Olive oil
Vinegar- rice wine vinegar
Kosher Salt and Black Pepper
Fresh herbs: Andy of the following- chives, fresh dill, cilantro, Italian parsley or tarragon.
What is Black Garlic?
Black garlic is whole garlic cloves that have been fermented. The fermentation process results in a unique flavor profile for the garlic, characterized by a deep, complex, and sweet taste. Black garlic has a mellow, earthy flavor with hints of molasses and balsamic vinegar. It is often used as an ingredient in various dishes to add depth and richness to the flavors. Despite its dark color, black garlic is perfectly safe to eat and has gained popularity in recent years for its culinary versatility and health benefits.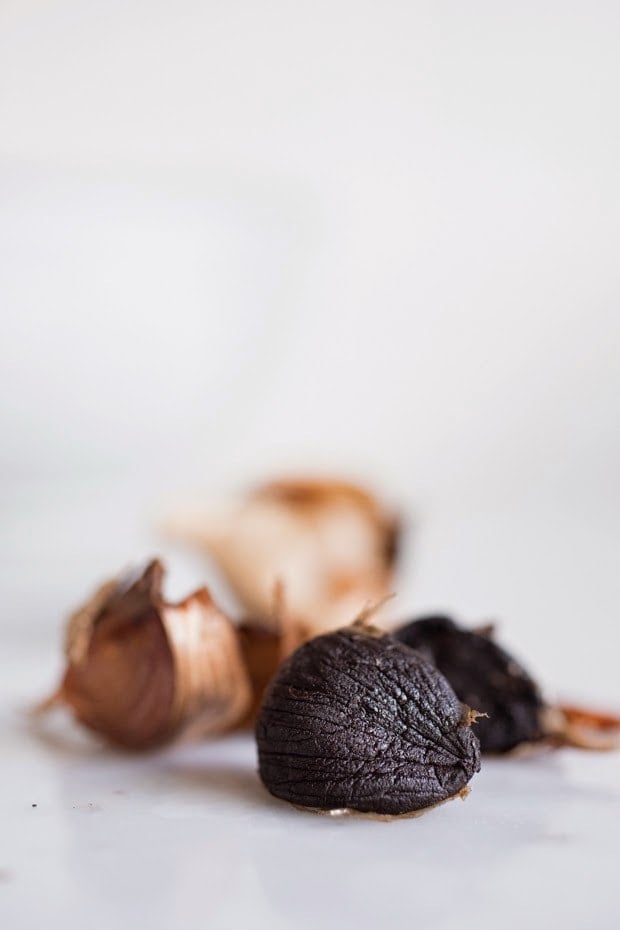 Grilled Potato Salad Instructions
Step one: Make the Black Garlic Dressing. Whisk dressing ingredients together in a small bowl.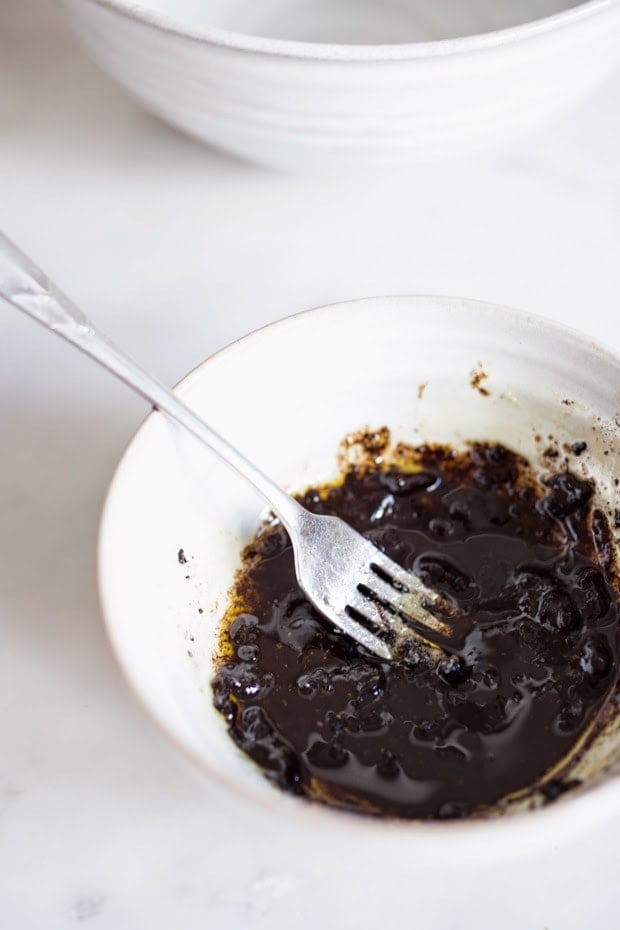 Step 2: Boil the potatoes in salted water in a pot on the stove until fork-tender.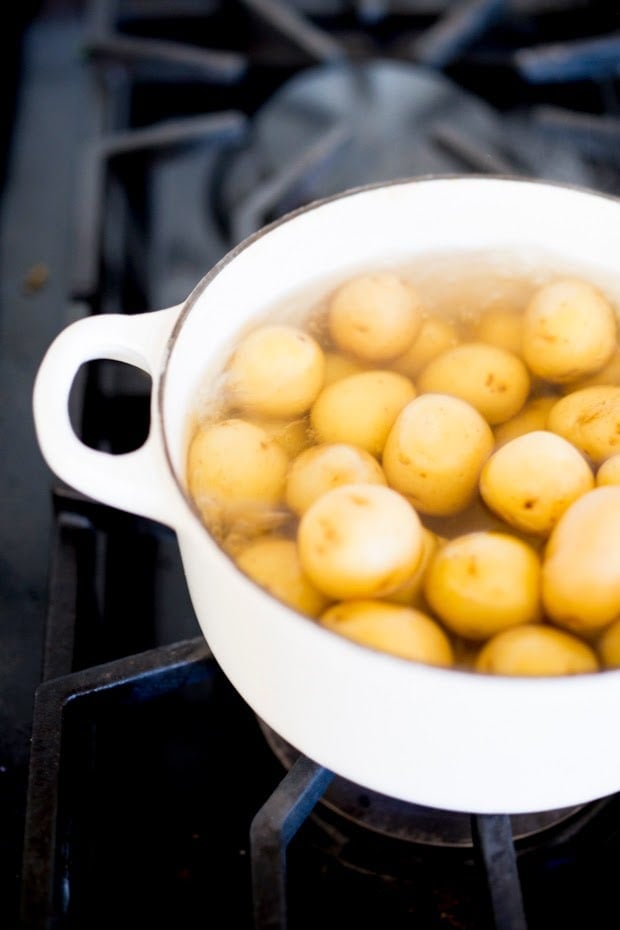 Step 3: Drain the potatoes once tender.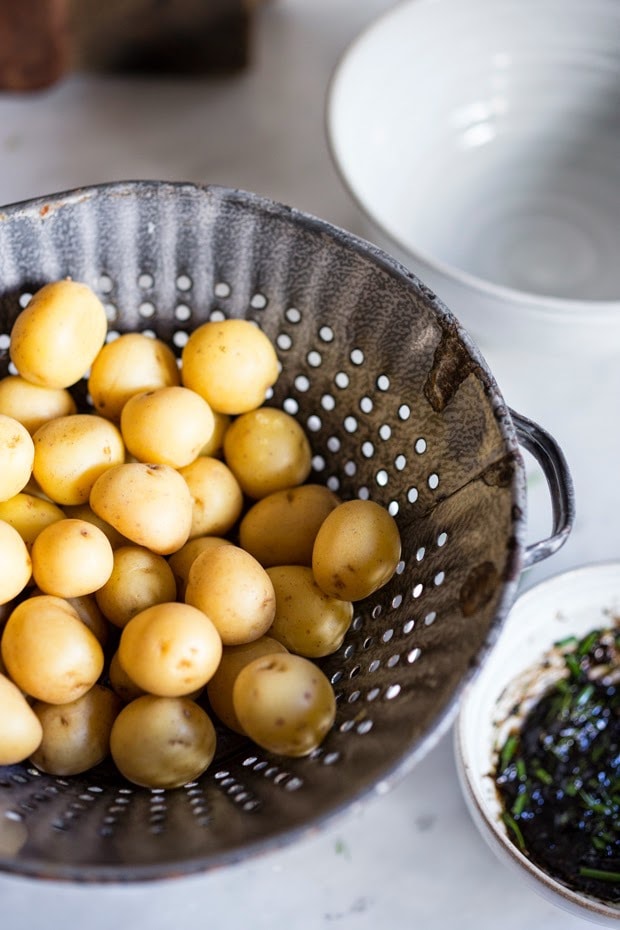 Step 4: Toss the blanched potatoes with just a little of the black garlic vinaigrette, just enough to coat.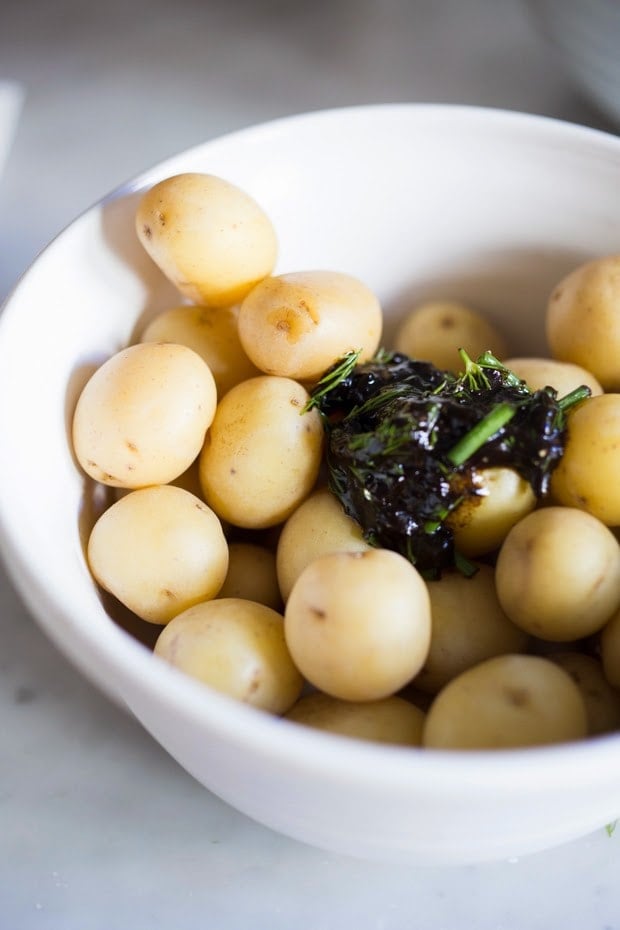 Step 5: Grill! Then grill them, over medium-high heat turning to give a little char on most sides. You can also use a grill pan on the stove!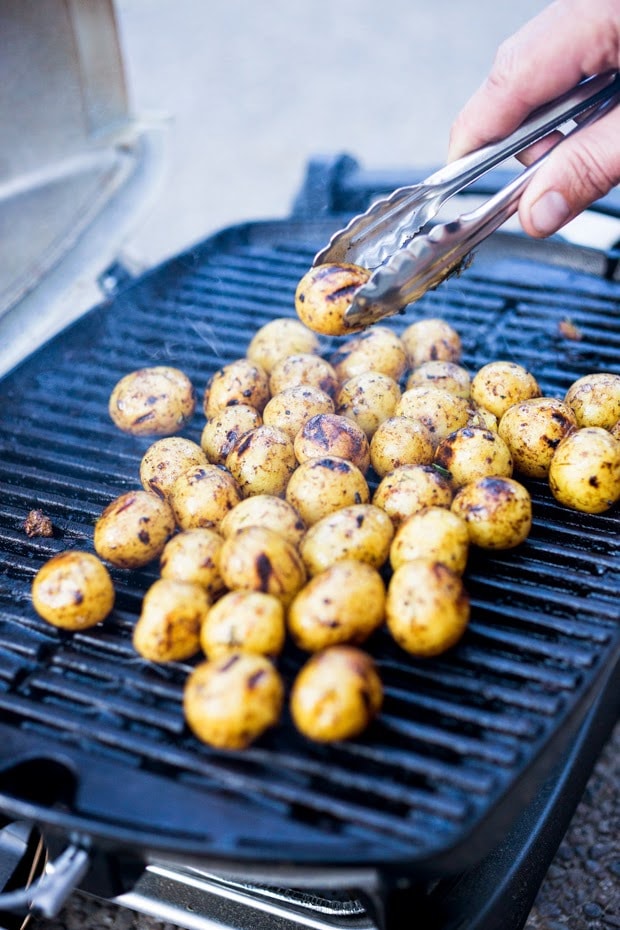 Step 5: Once they are nice and charred, place in large bowl and toss with a little more Black Garlic Dressing.
Sprinkle with fresh herbs- here we used chives, chive blossoms and dill. Serve it warm, or at room temp, or chill for later!
The potato salad will keep up to 4 days in the fridge.
Health benefits of Black Garlic
Black garlic offers numerous health benefits due to its unique composition and fermentation process. Here are some of the potential health benefits associated with black garlic: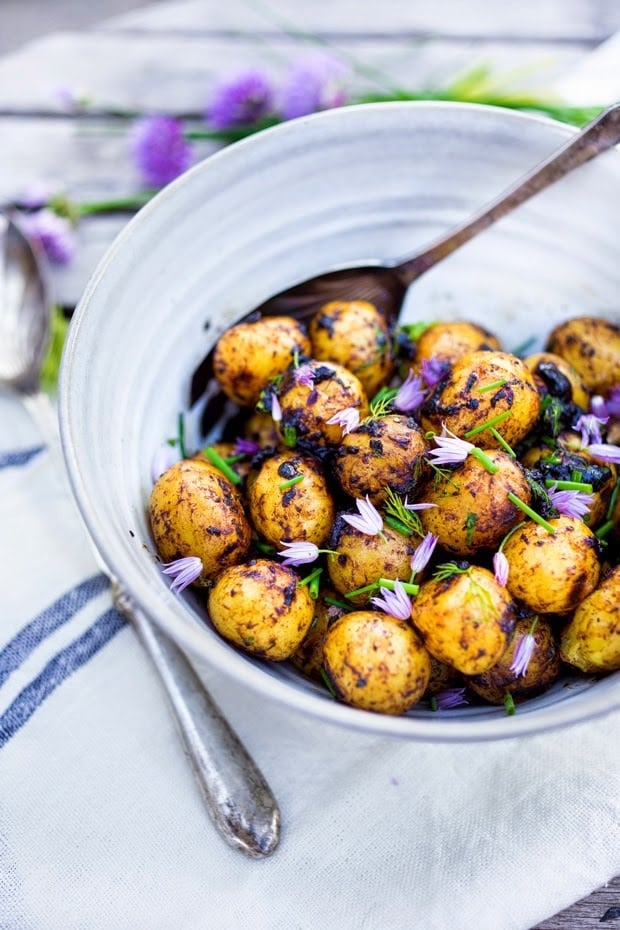 FAQS
Q: Can I make this potato salad ahead of time?
A: Yes, you can make this grilled potato salad ahead of time. You can grill the potatoes and prepare the vinaigrette in advance. Once they have cooled down, you can store them separately in the refrigerator. When you're ready to serve, simply toss the potatoes with the vinaigrette and garnish with fresh herbs.
Q: Can I use regular garlic instead of black garlic?
A: Black garlic is highly recommended for this recipe as it adds a unique flavor profile to the dish. However, if you don't have black garlic on hand, you can substitute it with roasted garlic. Keep in mind that the flavor will be different, so adjust the amount according to your preference.
Q: Can I use a different type of potato?
A: While this recipe calls for new potatoes, you can certainly use other types of potatoes- any with thin skins. Just keep in mind that different potatoes have slightly different textures and flavors, so the end result may vary slightly.
Q: Can I grill the potatoes in the oven instead?
A: Yes, if you don't have access to a grill, you can still achieve similar results by using a grill pan on the stove.
Q: Can I serve this potato salad warm or cold?
A: Yes, you can serve this grilled potato salad warm or chilled. If you prefer a warm potato salad, serve it immediately after grilling. If you prefer it chilled, let it cool down to room temperature, then refrigerate for at least 1 hour before serving. The flavors will continue to develop and meld together as it chills.
more recipes you will love!
Keep it vegan or serve it will a dollop of Dill Sauce!
Happy grilling friends!
xoxo
Print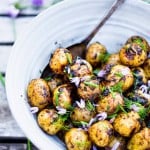 Grilled Potato Salad Black Garlic Dressing
Prep Time:

20 mins

Cook Time:

20 mins

Total Time:

35 mins

Yield:

4

1

x

Category:

Side dish , salad, vegan

Method:

grilled

Cuisine:

American

Diet:

Vegan
---
Description
Grilled potato salad with black garlic dressing – a lightened up potato salad perfect for outdoor gatherings. For extra richness, serve with a Dill Sauce on the side. ( see notes)
---
1 1/2

lbs

baby potatoes- small, thin skinned potatoes work best- red potatoes, baby gold potatoes, fingerlings.

4

cloves black garlic (or sub roasted garlic)

4 tablespoons

olive oil

1/4 teaspoon

salt, more to taste

1/4 teaspoon

black pepper

1 tablespoon

rice wine vinegar

1 teaspoon

dijon mustard

1 tablespoon

fresh herbs: chives, dill, flat leaf parsley, etc.

2

–

3

T fresh dill, cilantro, Italian parsley or tarragon.
Optional Dill Cream:
1

cup

sour cream

2

T fresh dill

2

T lemon juice

1

T finely chopped onion or shallot
pinch salt, pepper, sugar
---
Instructions
Blanch potatoes in salted boiling water, until fork tender, about 10-20 minutes, depending on size.
Mash black garlic with a fork with salt and olive oil  until it becomes a chunky paste. Add the remaining oil, vinegar, dijon and black pepper and whisk into a dressing.
Preheat the grill to med- high, and grease it.
Strain the tender potatoes, and toss with 1 tablespoon of the dressing just enough to lightly coat.
Grill the potatoes until nicely charred on all sides.
Place in a bowl toss with the rest of the dressing and taste, adjust salt and pepper to taste. If too, vinegary, add a little sugar or honey and stir this in.
Sprinkle with fresh herbs and serve warm, room temp or chilled.
---
Notes
Optional: Serve with Dill Cream on the side. To make dill cream;  whisk one cup sour cream with a little lemon zest, squeeze of ½ a lemon, 2-3 T fresh dill, 1 T chopped shallot, salt and pepper to taste, and pinch of sugar.
Salad will keep up to 4 days in the fridge.
Nutrition
Serving Size:

1 cup

Calories:

163

Sugar:

1.3 g

Sodium:

137.6 mg

Fat:

9.5 g

Saturated Fat:

1.4 g

Carbohydrates:

18.6 g

Fiber:

2.8 g

Protein:

2.1 g

Cholesterol:

0 mg
Keywords: grilled potato salad, potato salad, vegan potato salad, black garlic dressing