You're looking at one of my all-time favorite things to eat in the entire world. Ceviche! Fresh fish cured with lime juice, tossed with cilantro, cucumber, tomato, and optional avocado. What could be more healthy or more delicious?
Here I'll show you how easy it is to make Ceviche along with a few different ways to present it for large gatherings like we do when catering.
The easy ceviche recipe is surprisingly very fast and simple to whip up and makes for a tasty, fun appetizer for parties and gatherings. Plus it's low-carb, gluten-free and low-fat – all great things to consider when serving a crowd. I also love this served over greens or tucked into a tortilla for a light and healthy meal.
How to make Ceviche!| 30 Second-Video
What is ceviche?
Ceviche is fresh raw fish marinated or "cooked" in lime juice, most often with onion, tomatoes, cilantro and salt.
It hails from the coastal regions of Central and South America, popular from Mexico down to Peru and beyond. There are many versions, and depending on where you are, it will take on the local flavors.
Two ingredients, fresh fish and lime juice, seem to be the common denominator among the different regions. This recipe is basic and simple, and once you master it, play around with adding other ingredients.
Is Ceviche Safe to Eat?
Ceviche, if made with fresh fish is absolutely safe to eat. Think sushi! The lime juice cooks the ceviche on the outer edges and the longer it marinates the longer it "cooks"
How do you know if the fish is fresh enough to eat raw? It won't smell fishy. It will smell clean and fresh with have a subtly sweet flavor.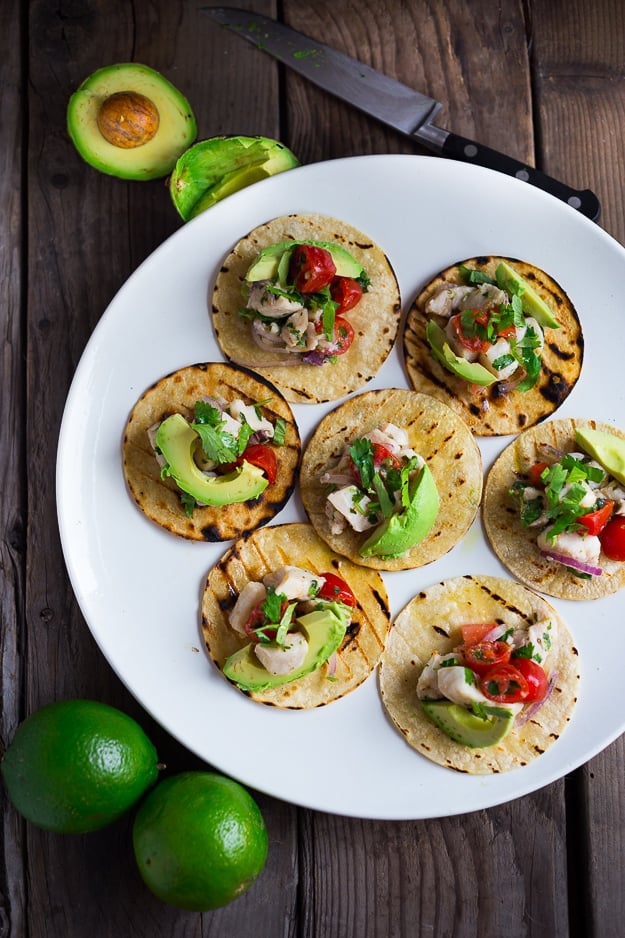 How long should Ceviche be marinated?
Marination time can be anywhere from 30 minutes to 2 hours depending on the size of the pieces. I'd say 45-60 minutes for 3/4 inch pieces is a good rule of thumb.
Remember when using a good quality, fresh, wild fish, it is not imperative that the fish is cooked all the way through, a little rawness is actually really quite good! Think sushi!
I personally like it when the fish looks opaque on the outside, "cooked" from the lime juice on the outsides but has a bit of rawness in the middle. This is usually about 45 minutes of marinating. If you prefer it cooked through more, you can marinate for 2 hours or more! Longer marinating will tend to make the fish chewier. See what you like best. There is no "right way". If it tastes too raw for your own tastes, just marinate it longer.
Type of Fish to use in Ceviche:
Most any FRESH Firm fish will work well in ceviche.
sea bass
red snapper
Corvina
dorado
escolar
mahi-mahi
tilapia
shrimp
How to serve Ceviche:
There are so many ways to serve ceviche! In our catering business, we often made:
mini ceviche tostadas
ceviche tacos
ceviche lettuce cups
ceviche stuffed avocado
over a bed of dressed greens
in a tall shot glass or appetizer cup, with a mini fork
Served in a coconut.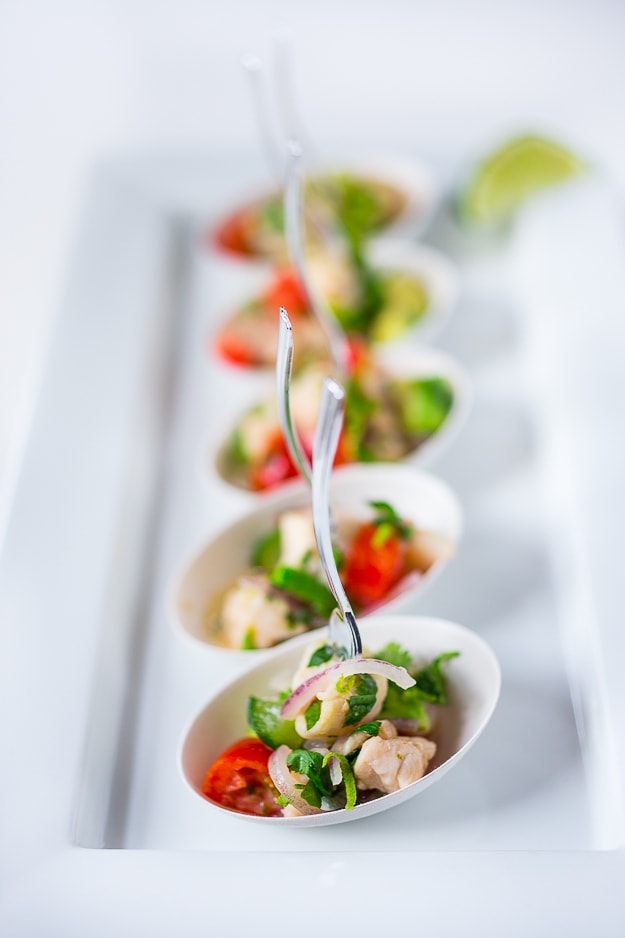 Or, if you are feeling fancy, plate it up as a salad course … with this dreamy creamy
Avocado Sauce
!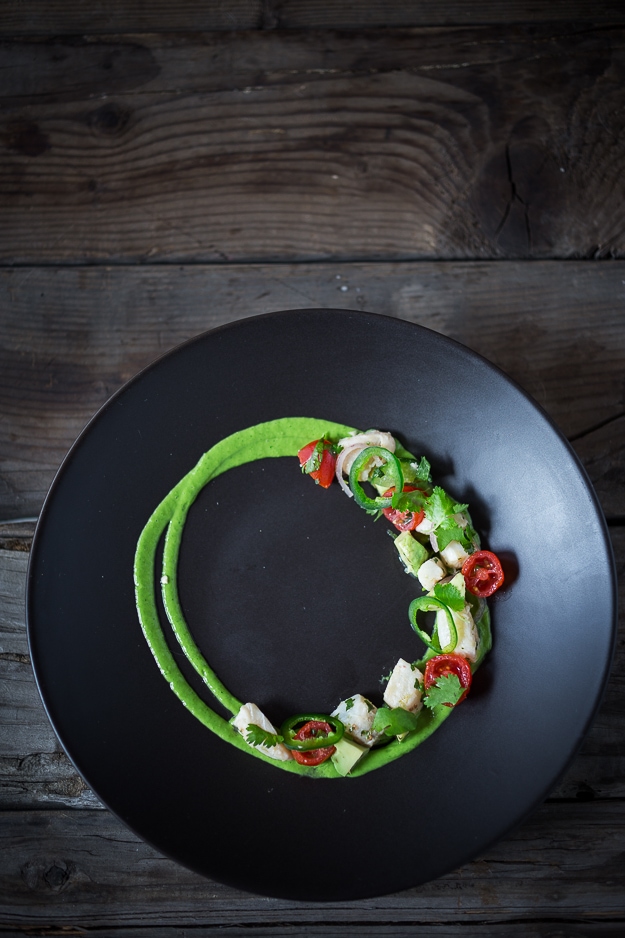 Have fun and let yourself be creative and play with this. There are lots of ways to plate ceviche!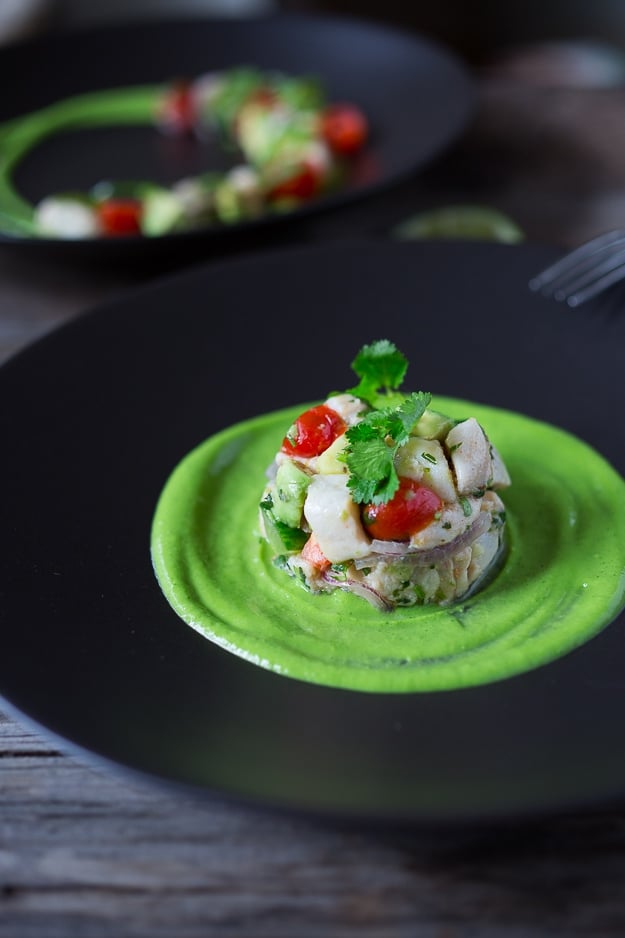 And if you are feeling extravagant, perhaps for a special dinner or anniversary, serve it up in a fresh coconut…so beautiful!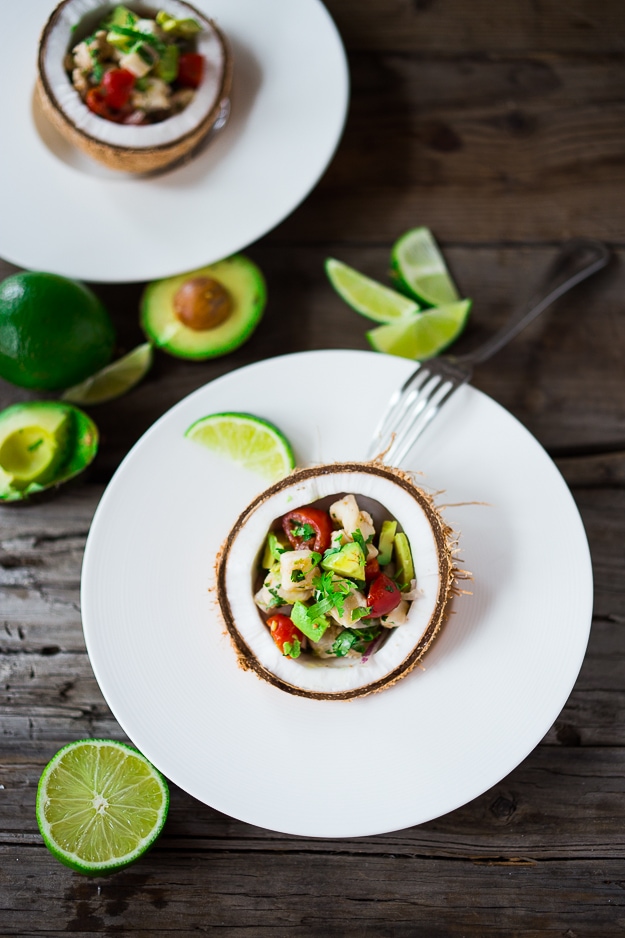 You are looking at my dream meal friends. 😉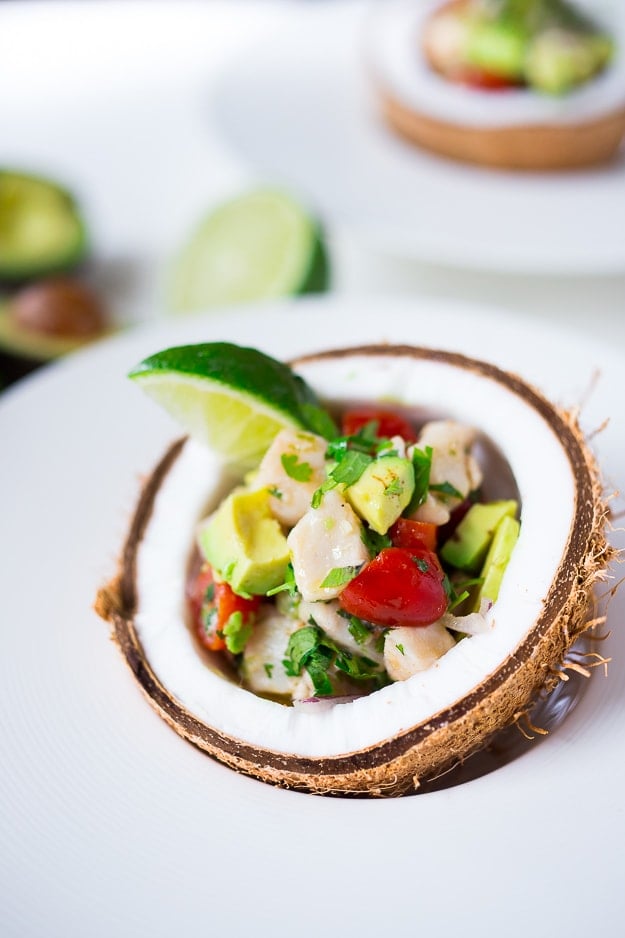 Or simply serve Ceviche in a shallow serving bowl with good tortilla chips like we do at home when we're not catering. Simple, easy, refreshing….. and ohhhhhh so delicious!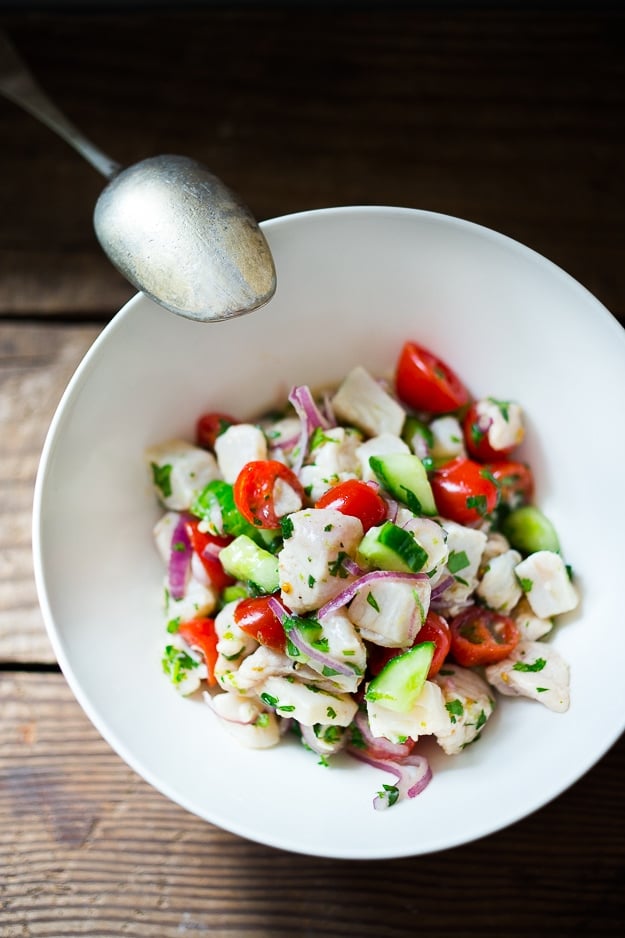 Ceviche is best made fresh, the day of serving- but I do save the leftovers for the next day. The fish will continue to cook in the lime juice, so the texture will change but the flavors are still great. I've been known to eat Ceviche two days after making – if kept in a cold refrigerator.
Give it a whirl and let us know how you like it!
And just a heads up….if you like this ceviche, you will love this PERUVIAN CEVICHE RECIPE and these delicious POKE BOWLS!!!
More recipes you might like:
Print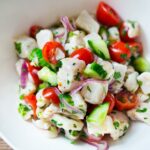 Ceviche!
Prep Time:

25 mins

Cook Time:

30

Total Time:

55 minutes

Yield:

6

Category:

appetizer, salad, main, fish

Method:

marinated

Cuisine:

mexican
---
Description
A simple delicious Ceviche recipe with fresh fish, cucumber, tomatoes chilies, lime, cilantro, and optional avocado.
---
½

a red onion, very thinly sliced

1

pound fresh fish- sea bass, red snapper, corvina, dorado, escolar, mahi-mahi, tilapia, or hamachi – diced into

1/2

inch cubes.

2

–

3

garlic cloves very finely minced ( use a garlic press)

1

–

1 ½

teaspoon kosher salt, start with 1, add more to taste

¼ teaspoon

black pepper

¼

–

½

 cup fresh cilantro chopped

1

fresh serrano or jalapeño chili pepper seeded and very finely chopped. Start conservatively, more to taste.

¾ cup

fresh lime juice (

4

–

6

limes) freshly squeezed ( try to use ripe limes)

1 cup

grape or cherry tomatoes, cut in half  ( or

1 cup

diced tomatoes)

1 cup

diced cucumber

1 tablespoon

olive oil (optional)

1

semi-firm Avocado, diced, as garnish, optional
---
---
Notes
To Serve: Serve ceviche in a big bowl with chips on the side,  or as mini tostadas (on a round chip or homemade) or make ceviche tacos or ceviche lettuce cups.
Serve ceviche in small appetizer cups or shot glasses with a mini fork.
To make crispy mini tostadas: lightlyspray mini corn tortillas ( 3 inch tortillas) with olive oil and season generoulsy with salt. Bake in a 300 F oven on a sheet pan until crisp (not chewy, but crisp like a cracker)  about 25 -30 minutes, turning halfway through.  Let cool completely.
Or plate it up with a little Avocado Sauce as a salad course.
Optional Avocado sauce:
⅔ cup  Avocado
⅓ cup cilantro
2/3 cup water- plus more as needed
1 T olive oil
½ teaspoon kosher salt
1 tsp coriander
⅛ C lime juice
2 garlic cloves
cracked pepper
To make Avocado Sauce, blend all ingredients in a blender until smooth, adding a bit more water if needed to get the blades going.
Keywords: ceviche recipe, easy ceviche recipe, how to serve ceviche, best ceviche recipe, how to make ceviche, how long to marinate ceviche, what king of fish ceviche,