Browse my most popular Mexican Recipes to create your own Mexican Feast! Whether you are celebrating Cinco De Mayo, or having a simple gathering at home, these authentic, flavorful recipes are fun to make, and include many vegan and Gluten-Free options! Pick out a few for your next gathering or potluck! Scroll down to see my TIPS!
---
Here is a list of my all-time favorite Mexican Recipes to help you in your menu planning.  Some are quite popular on the blog, some are a little more obscure, but I wanted to give you an interesting mix of flavors. For the whole the list of Mexican-inspired recipes on the blog (and wow, there are a LOT !) visit the Mexican Recipes Page.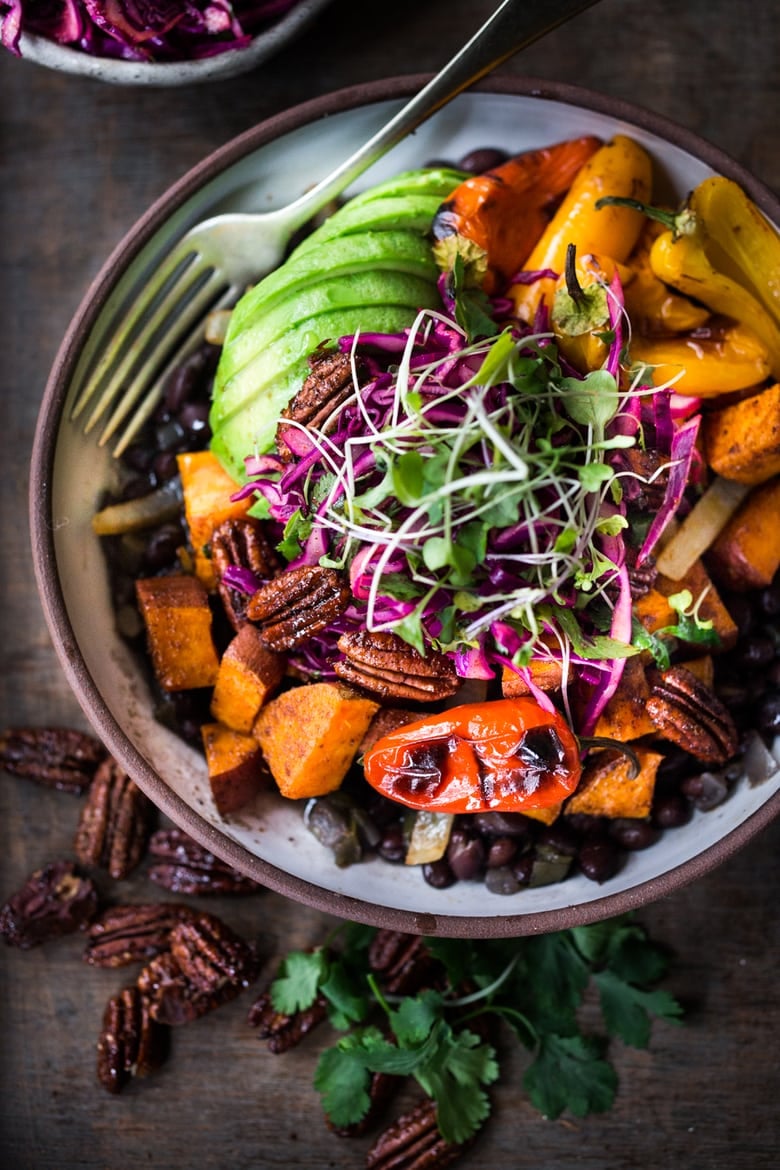 Vegan Oaxacan Bowl with roasted chipotle sweet potatoes and roasted peppers over a bed of warm seasoned black beans. It's topped with crunchy cabbage slaw, avocado and my favorite thing ever, toasted Chipotle Maple Pecans. Vegan and grain-free, hands down, this bowl is my new favorite Mexican recipe!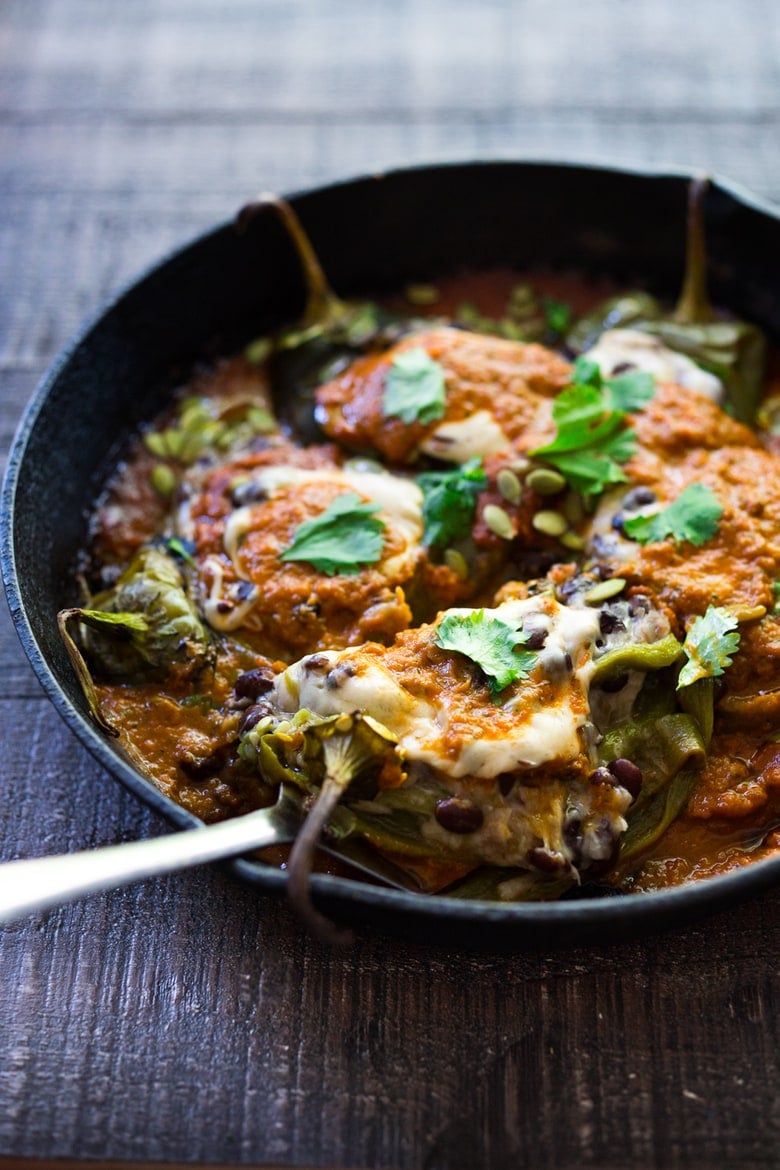 A vegan-adaptable, Roasted Chile Rellenos Recipe – lightened-up with the addition of black beans … and the chilies are roasted instead of fried! Delicious and healthy! If you haven't made this yet- put it on the list of Mexican recipes to try now! So flavorful!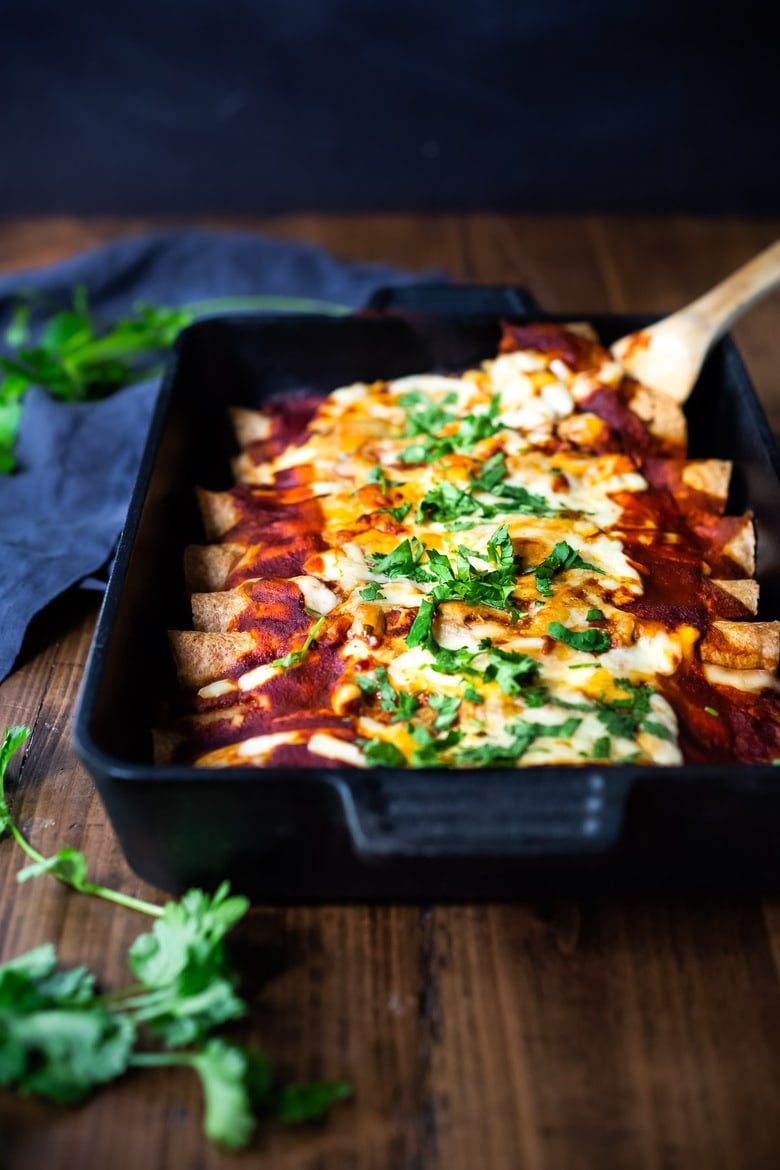 Farmers Market Vegetarian Enchiladas– with black beans and your choice of veggies (like red bell pepper, zucchini and corn)and Homemade 5 Minute Enchilada Sauce! Easy, Healthy and full of delicious Mexican Flavor!Vegan and Gluten-free adaptable!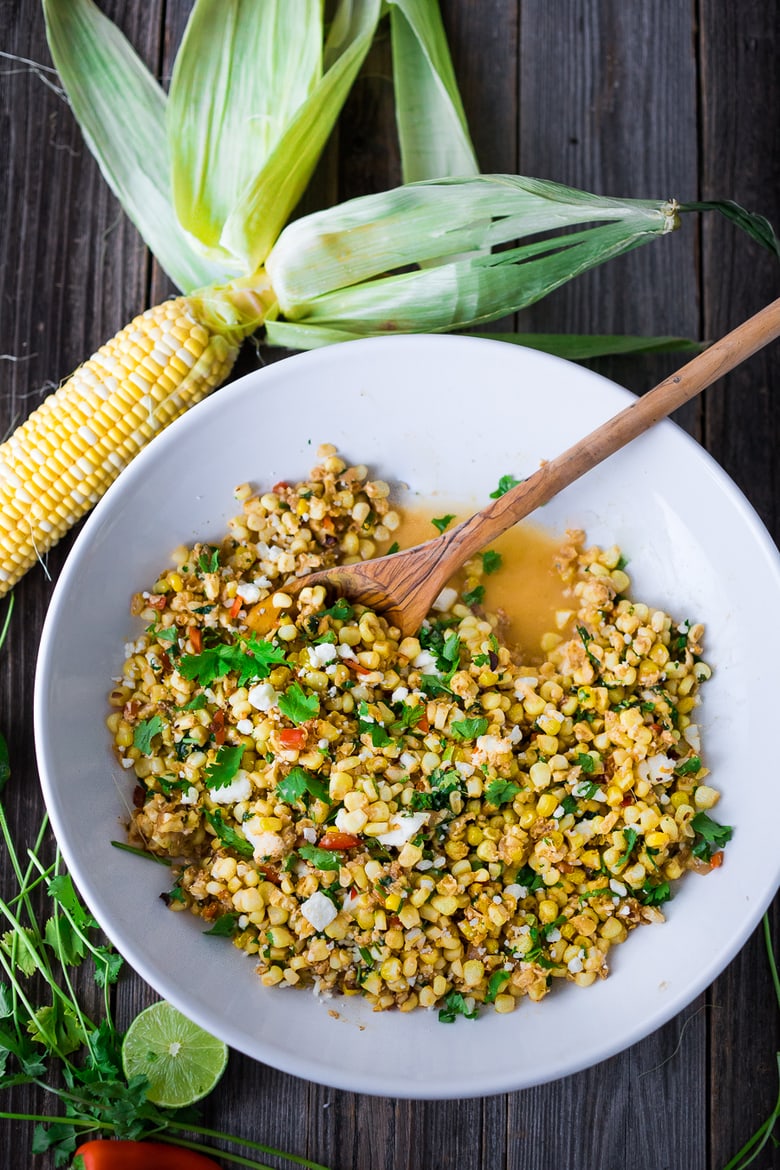 Mexican Street Corn ( Aka, Elotes!) with chilies, cilantro and lime. This lighter version can be grilled or sautéed and can easily be made vegan! Use fresh corn right off the cobb, or in a pinch frozen "roasted" corn for the best flavor!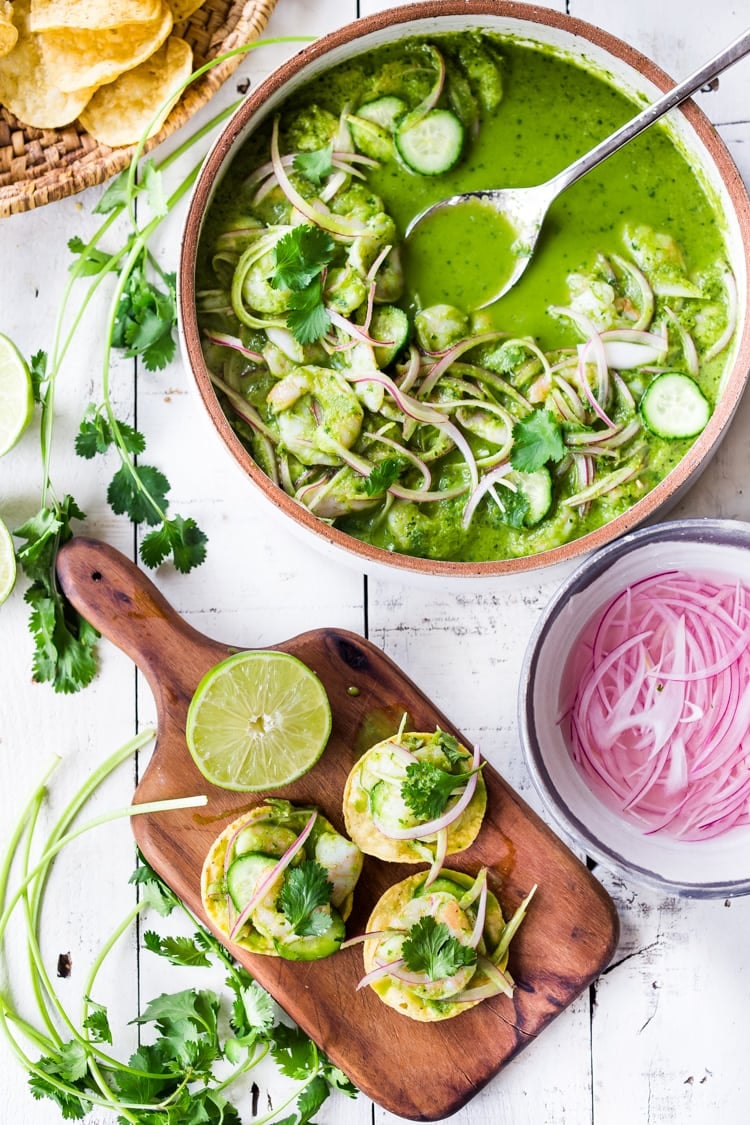 An authentic Mexican recipe for Aguachile with Shrimp! Similar to ceviche, shrimp is sliced in half, and cooked in a mixture of lime juice, chiles and cilantro. Flavorful, simple and sooooo delicious!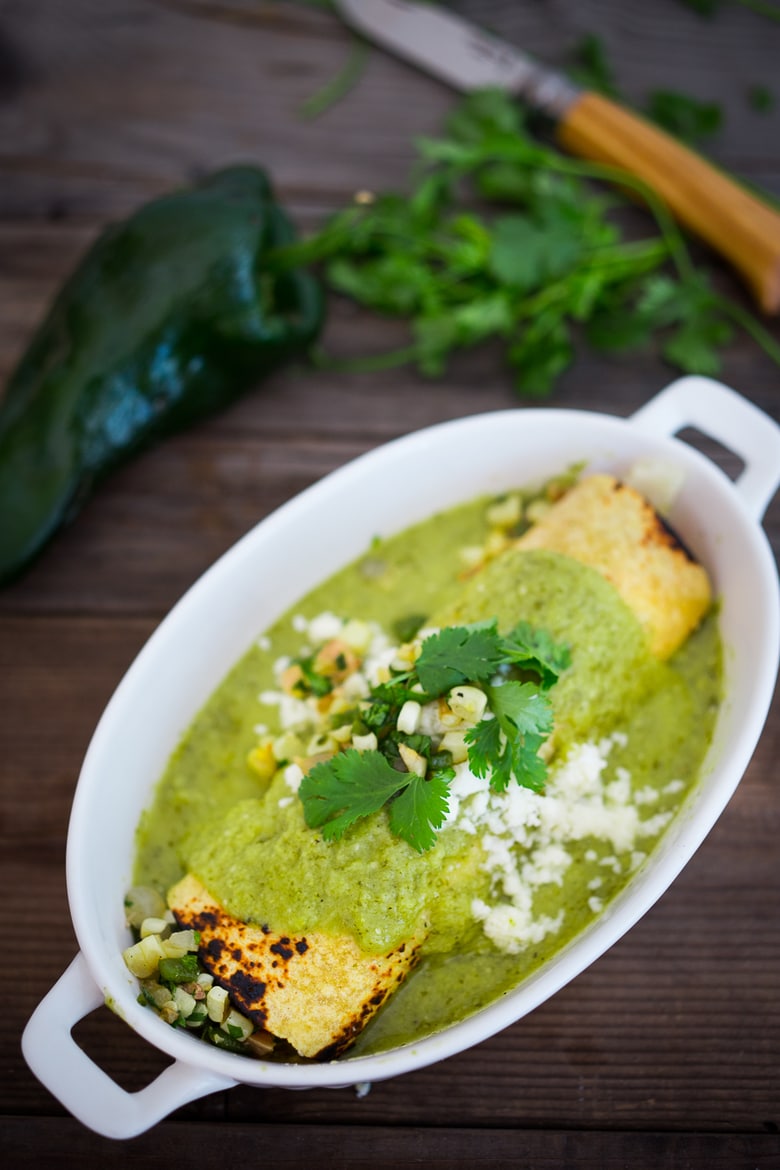 Corn and Poblano Enchiladas Verde with flavorful Roasted Poblano Sauce. A simple healthy and adaptable, Mexican-inspired dinner recipe that is easy and flavorful! Make this with simple baked chicken or black beans!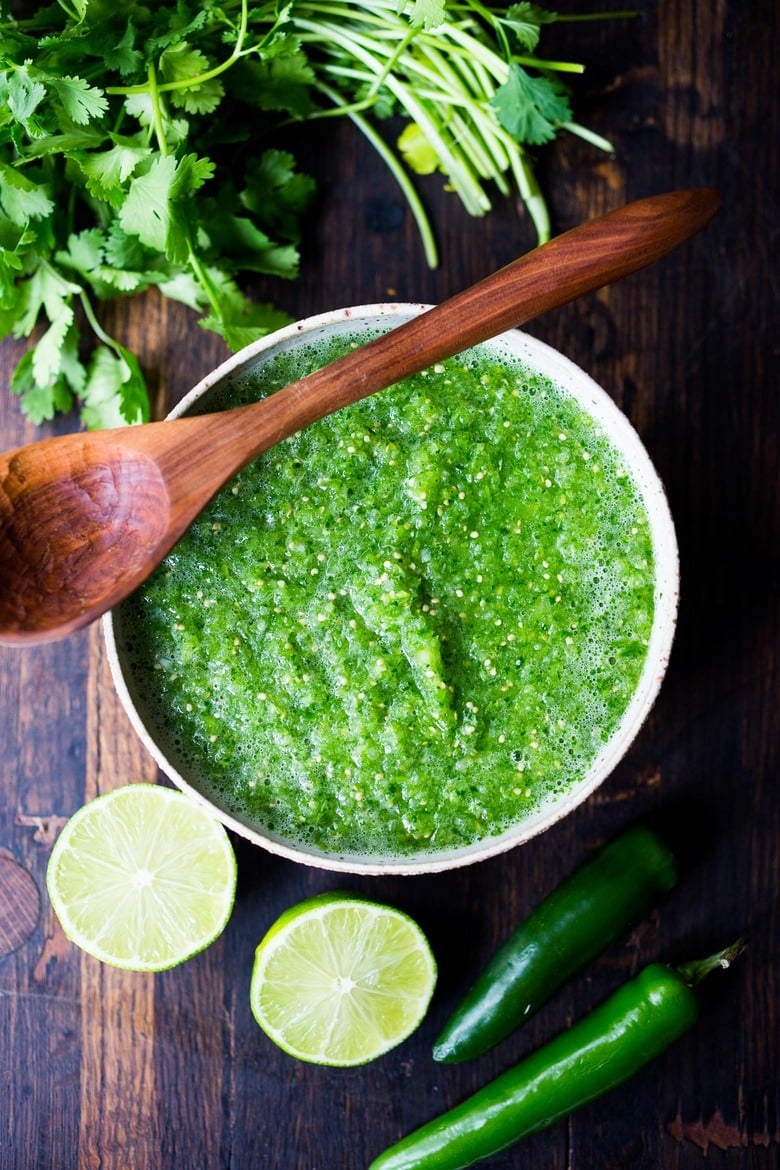 Add an element for freshness to your Mexican Feast with this Fresh Tomatillo Salsa Recipe! (aka Salsa Verde) A FRESH vibrant recipe for Tomatillo Salsa using *uncooked* tomatillos, resulting in the most amazing flavors. Serve this with chips, Baja Tacos, quesadillas or as a sauce for enchiladas!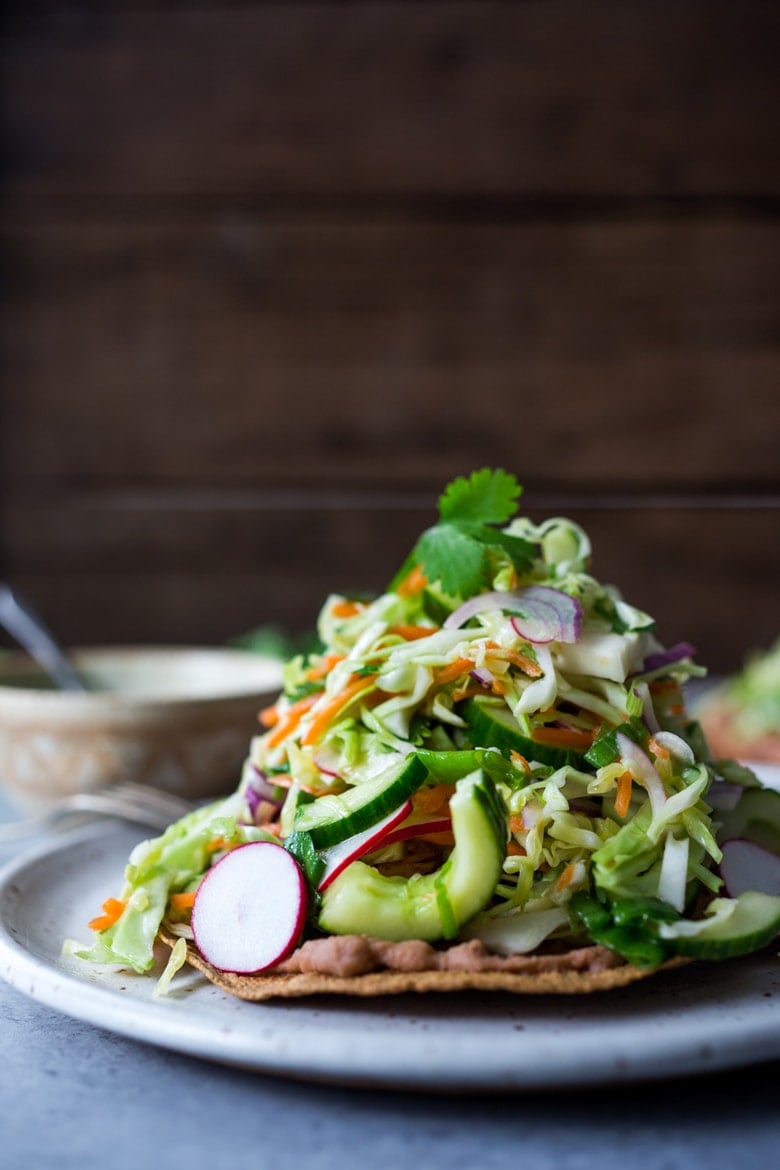 Introducing….Tlayludas!!! Originating from Oaxaca, Tlayludas are kinda like Mexican Pizza. This lightened-up VEGAN version is loaded up with healthy veggies…. one of my all-time favorites…..super tasty! I could eat this every day. Feel free to "beef these up" with chorizo and Mexican string cheese fora more authentic vibe.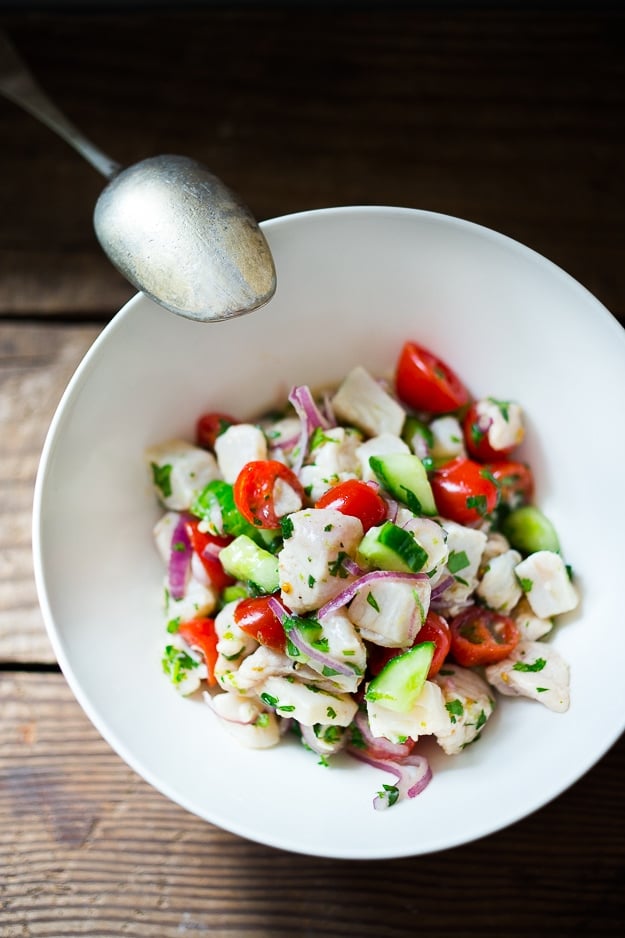 What Mexican Feast would be complete without Ceviche? Here's a simple and easy  Ceviche Recipe– delicious and light, serve it up with chips or spoon it lettuce cups or even in an avocado!  This authentic Mexican recipe is made with everyday ingredients! You will love it!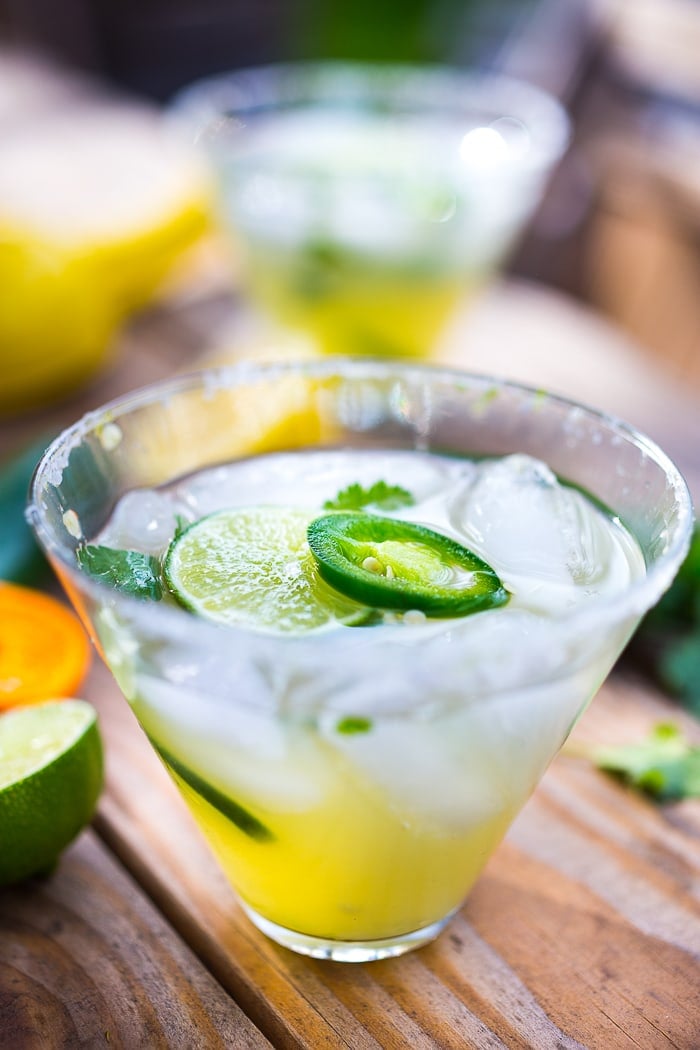 A refreshing "healthier" ( if that is possible!) recipe for Mezcal Margaritas– with fresh limes, jalapeno, cilantro and a hint of maple syrup…smoky, spicy and oh so refreshing! Designed for the "grown-up" palate. If you like Scotch, you'll love this.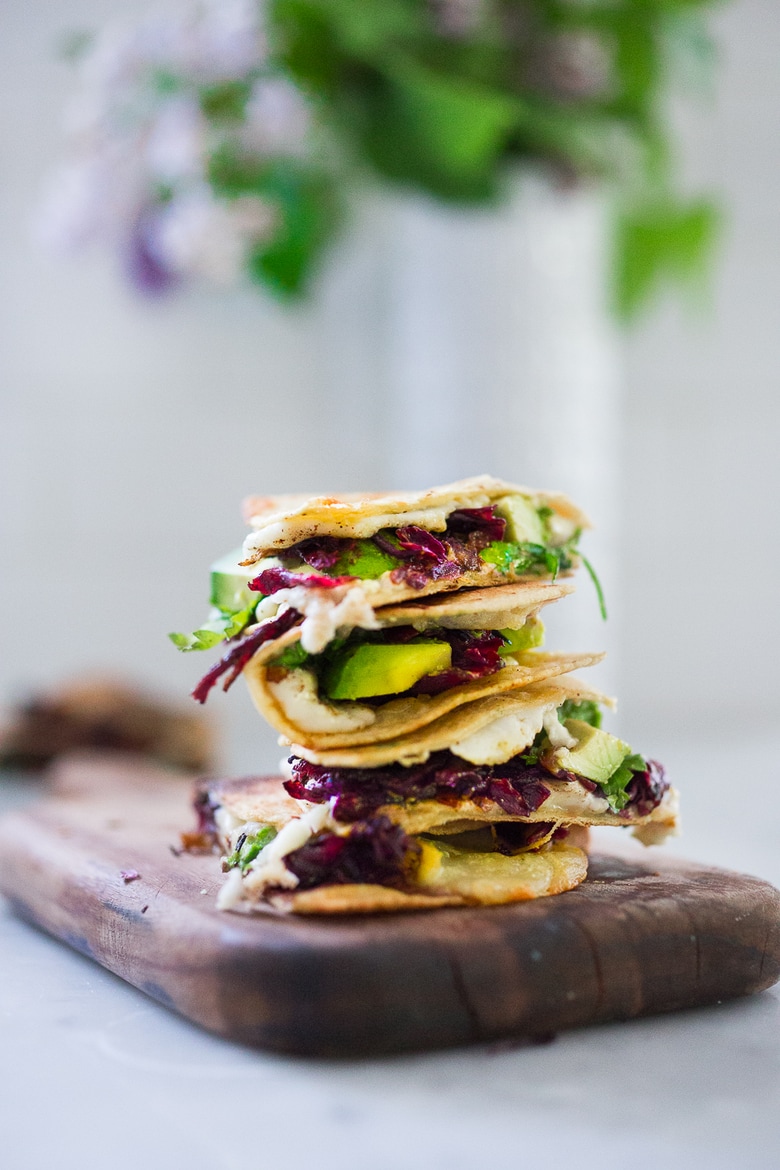 The only quesadilla recipe on the blog – vegetarian and really surprising and unique!  Hibiscus Flower Quesadillas– so "meaty" and delicious! The dried hibiscus flowers are rehydrated, then sautéed with onion and garlic and end up having such great texture and flavor! Got this authentic Mexican recipe while down in Sayulita, Mexico a few years back…..and it's one of my favorites! Vegetarian and yummy. Purchase dried hibiscus flowers in the bulk section of your grocery store!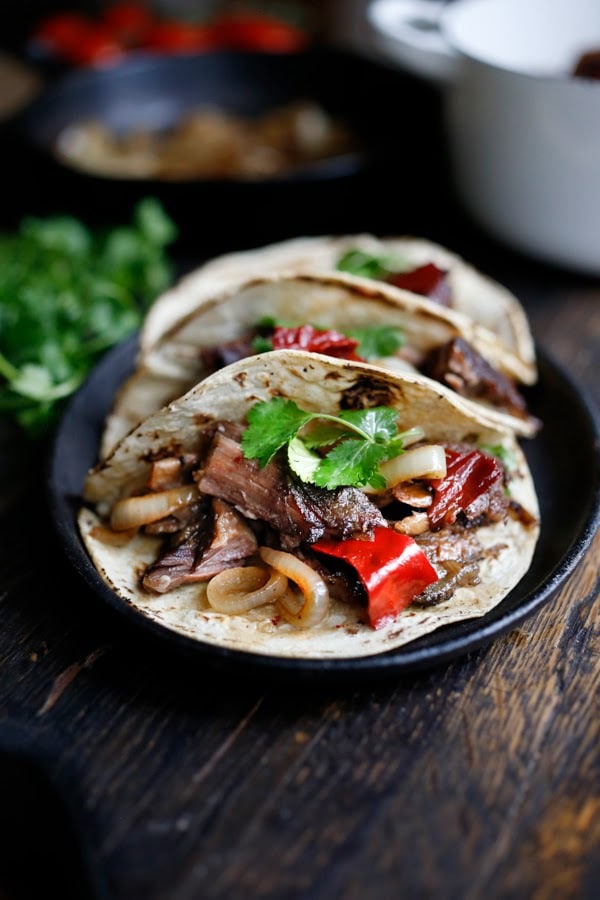 Tender, falling off the bone,  Mexican Short Rib Tacos, cooked low and slow in the oven with dried Mexican chilies, beef stock and stout. Ridiculously good.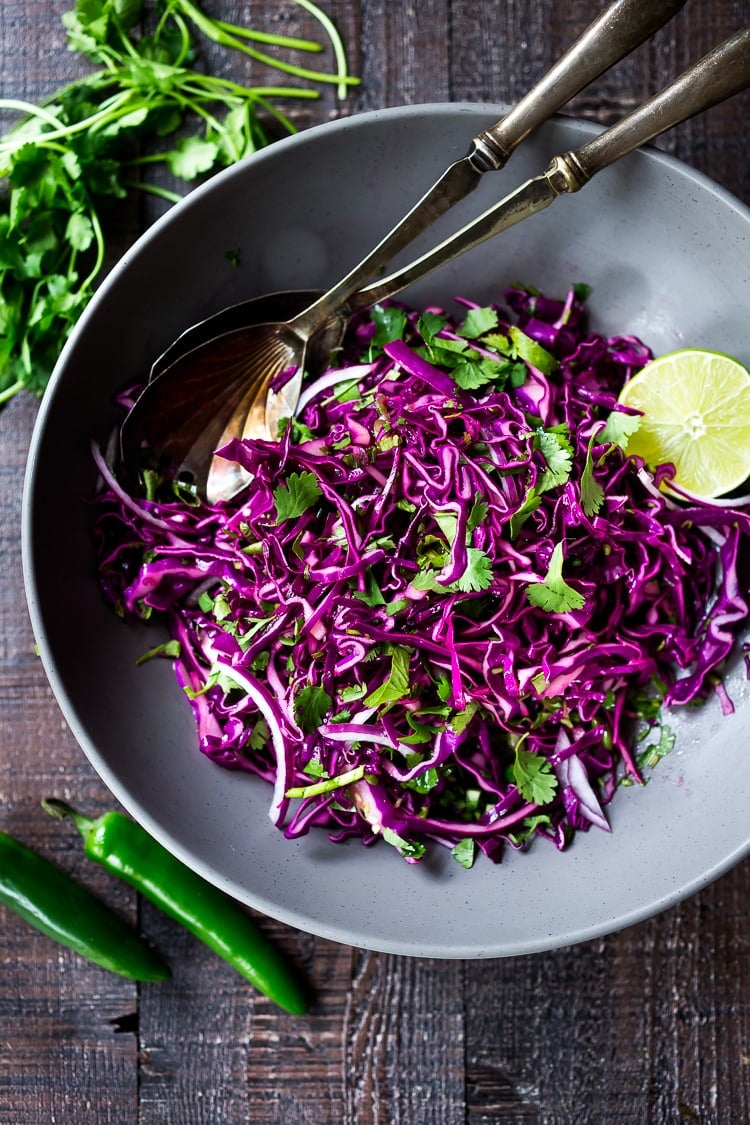 Mexican Slaw with jalapeño and lime– perfect for fish tacos or a vegan side to your Mexican Feast. Fast and easy and Vegan!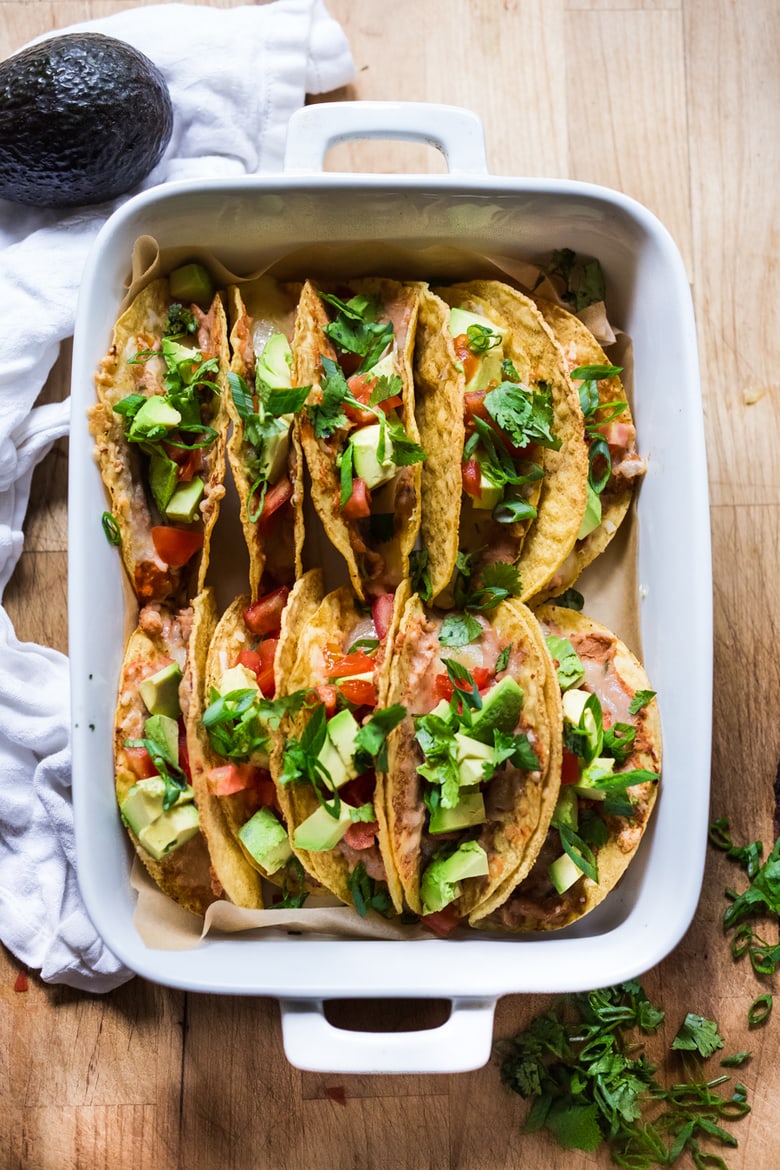 Easy Baked Tacos – Kid friendly and just 15 minutes of prep before going into the oven to bake. Keep them vegetarian with refried beans or add baked chicken or healthy chorizo. This is perhaps more suited for busy weeknights!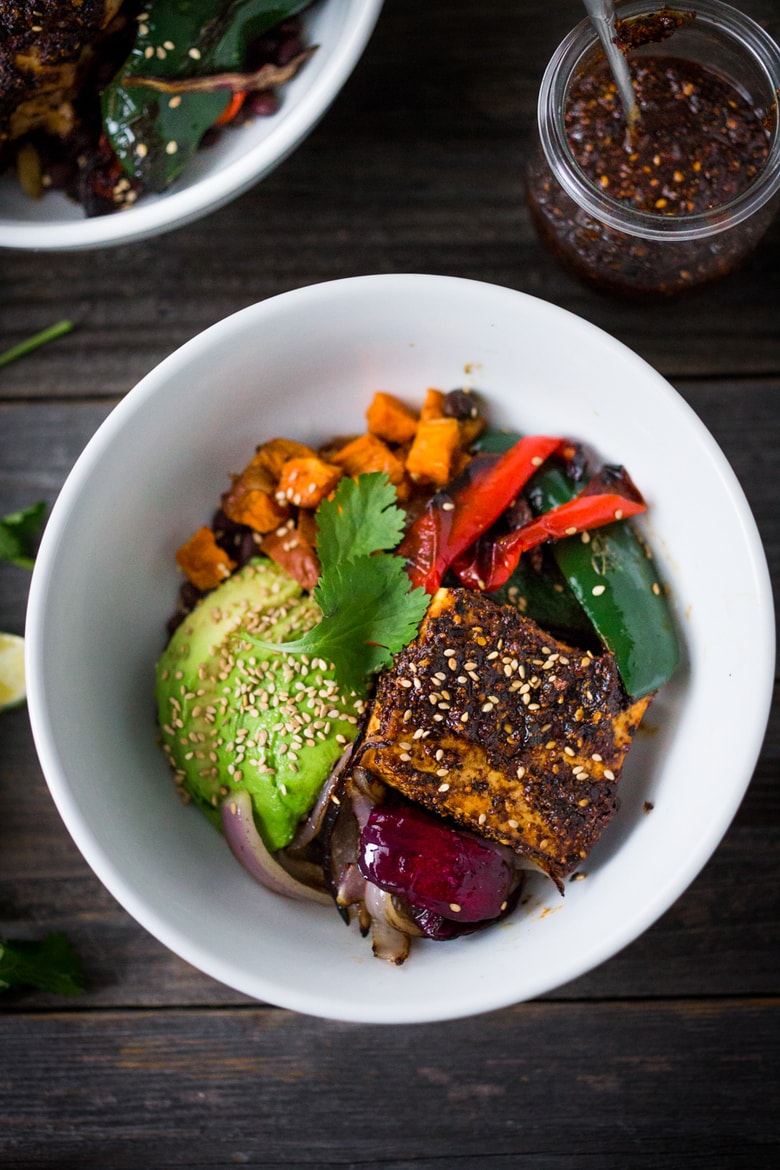 Salsa Macha Bowl– a sheet-pan dinner made with Tofu or Chicken (or both), with roasted yams and peppers, avocado and the most flavorful "Salsa Macha" Sauce, an incredibly delicious Mexican marinade made with dried chilies you will fall in love with!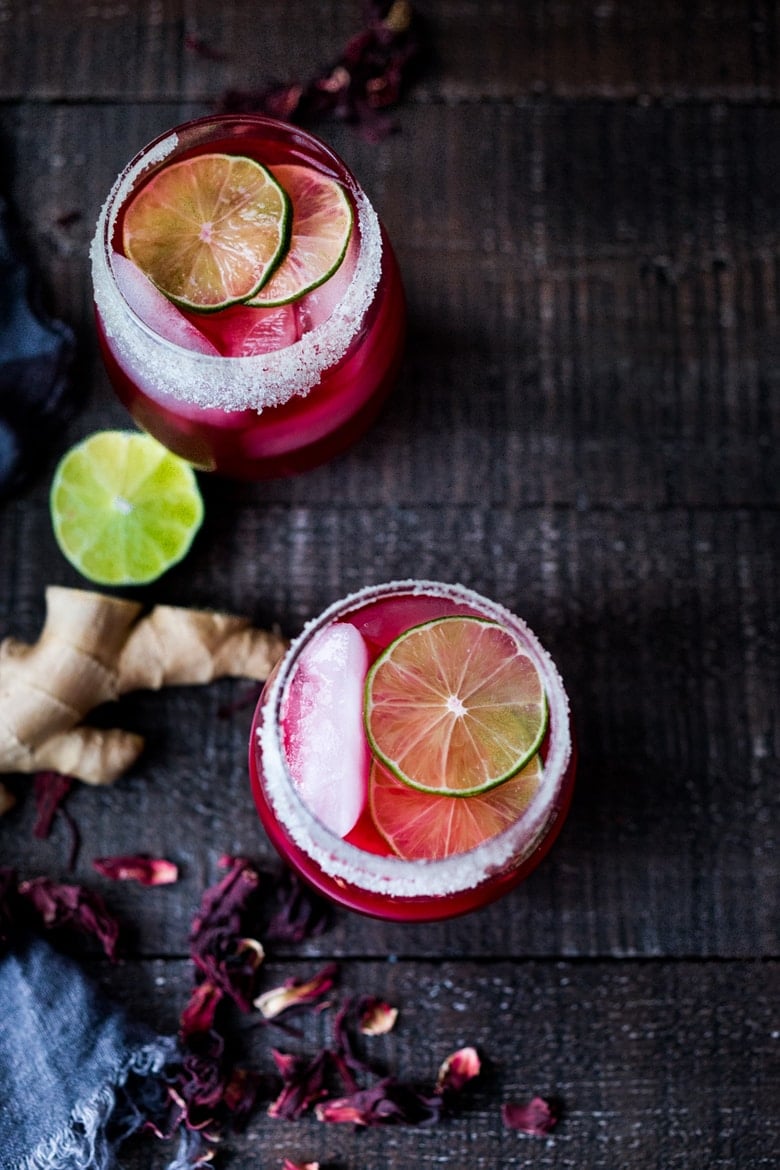 Hibiscus Margaritas – infused with ginger and a whisper of clove.  Beautiful, delicious and refreshing! Perfect for your Mexican Feast.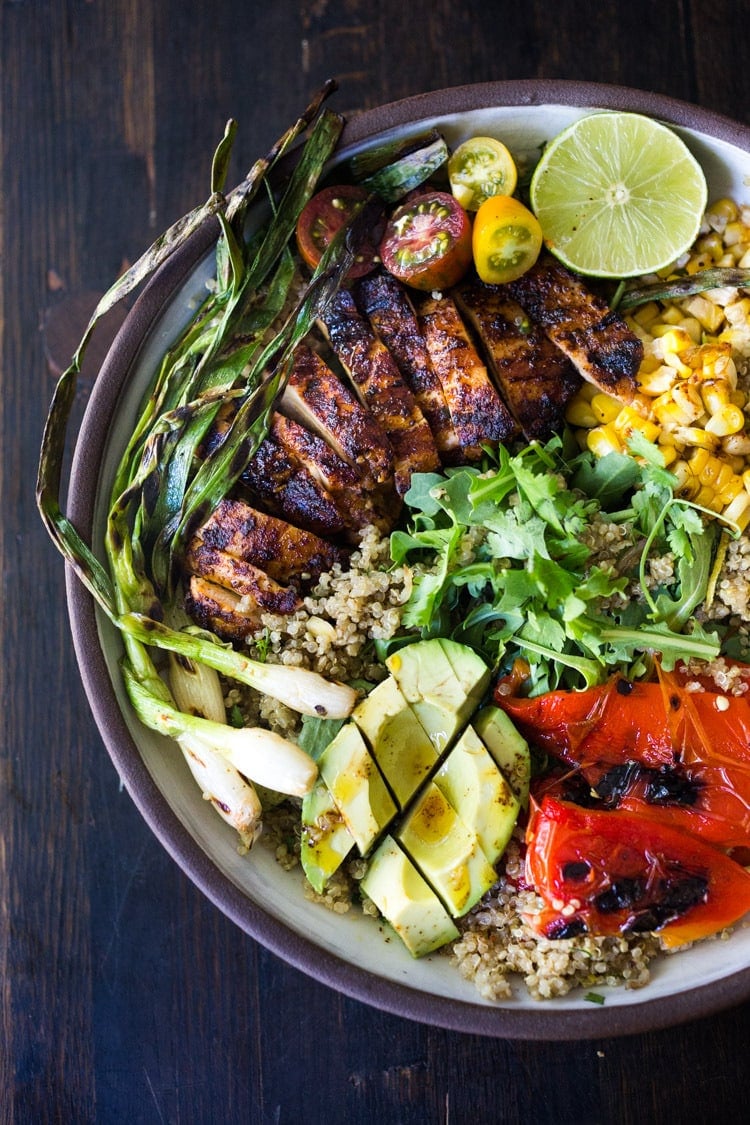 Healthy, Easy, Chipotle Grilled Chicken Salad with Grilled Corn, Peppers and Arugula, over a bed of optional quinoa with grilled scallions, avocado and a simple Chipotle Lime Dressing.  Sub MEXICAN BAKED TOFU for the Chicken for a vegan version!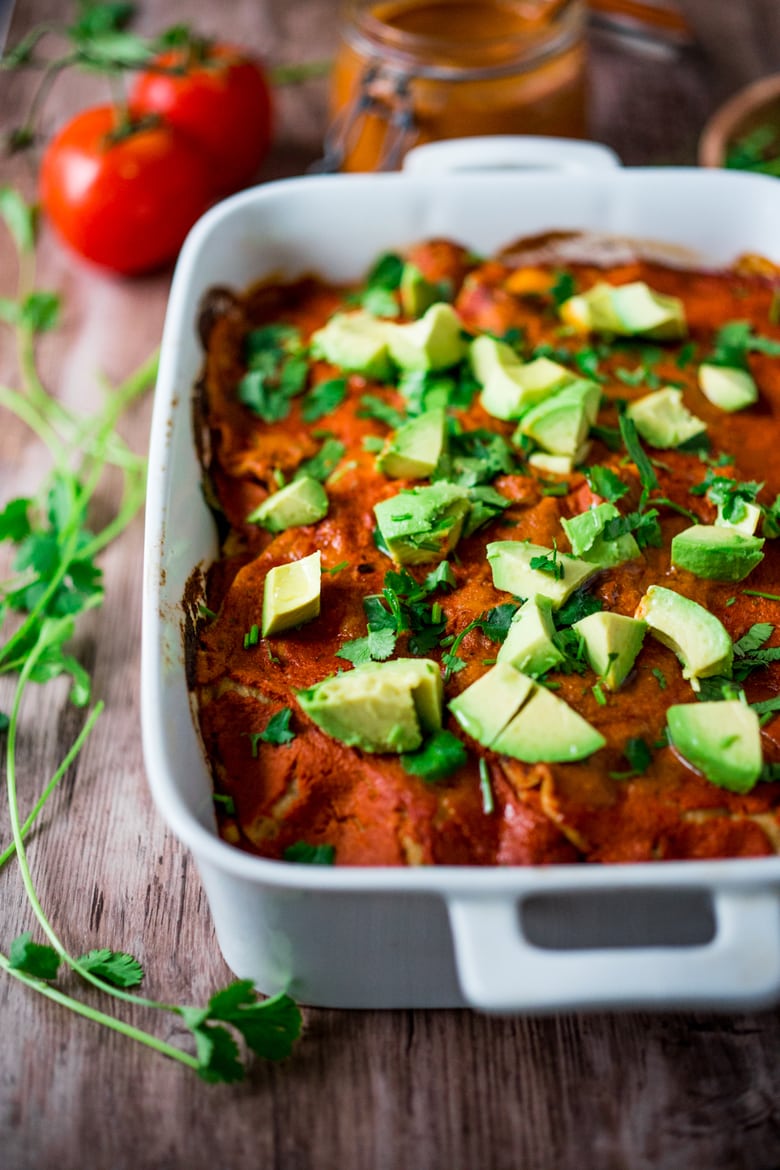 Enchilada Pie with sweet potatoes and black beans- and optional 5 minute Enchilada Sauce.! A fast and healthy version of enchiladas made with layered tortillas instead of rolled-  very time saving! Keep it vegetarian or add chicken!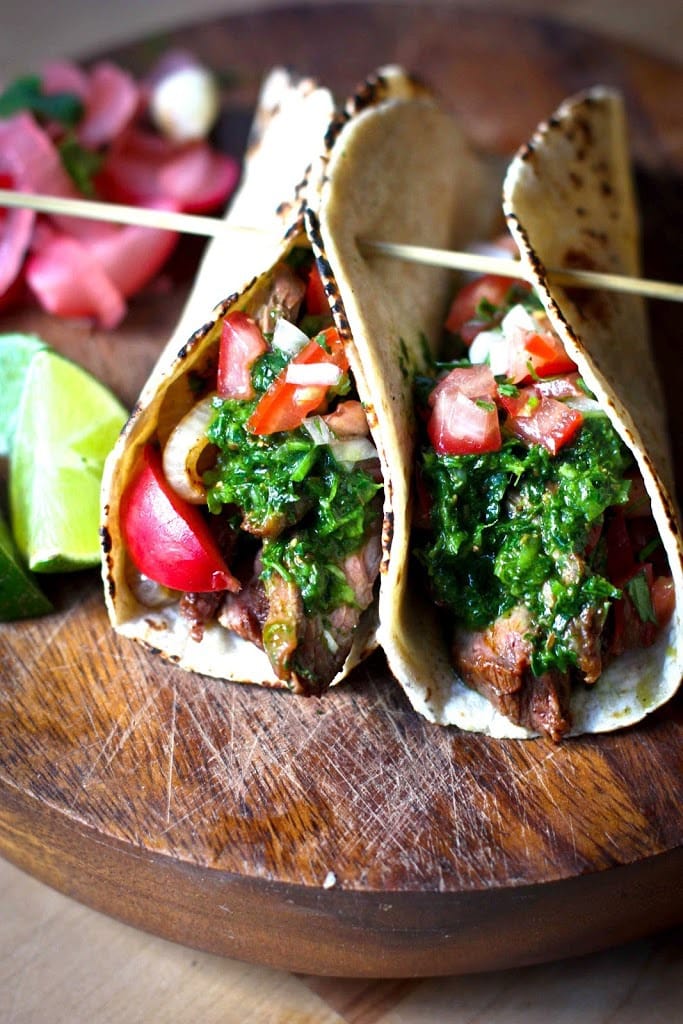 One of the most popular recipes on the blog to date…. Grilled Steak Tacos with Cilantro Chimichurri Sauce plus authentic Pico de Gallo and Pickled onions! Perfect for entertaining and outdoor gatherings. Fire up the grill!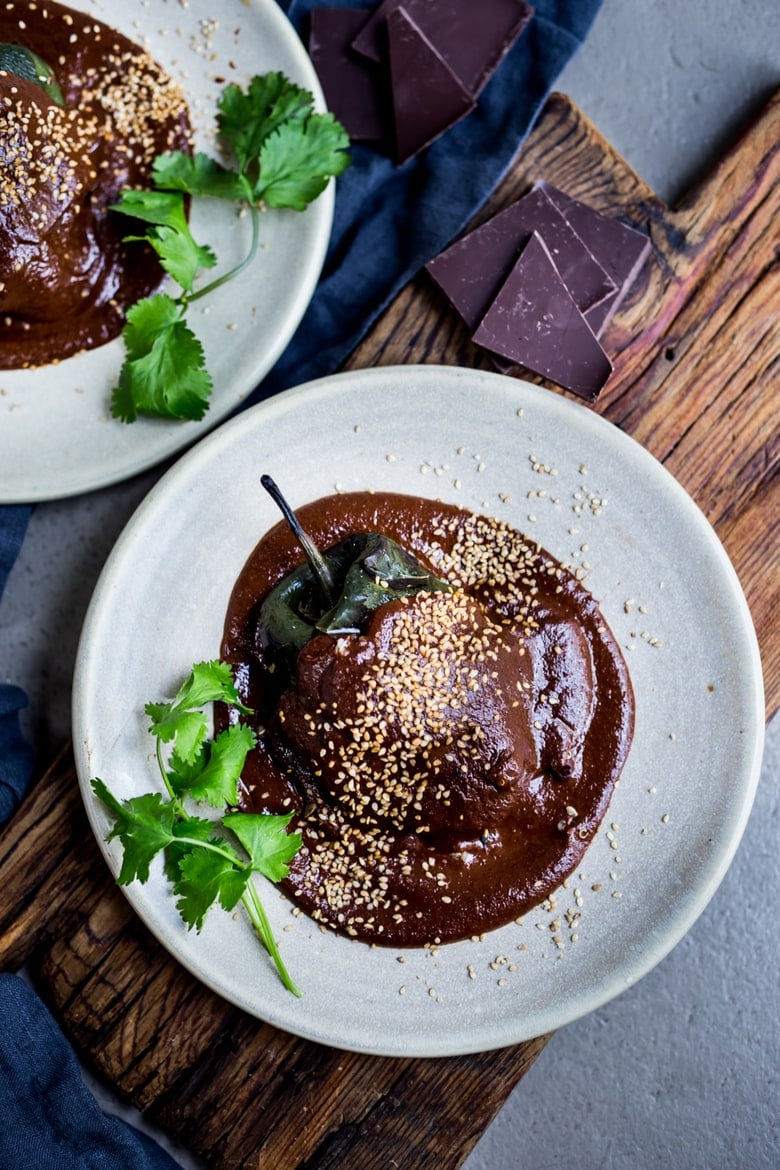 This Mole Sauce is ridiculously good. A Stuffed Poblano Chili with Mole Negro Sauce – vegetarian yet decadent-  filled with black beans, quinoa, and optional goat cheese– topped with a deep, dark and complex Mole Sauce. A delcious Mexican recipe- perfect for your gathering.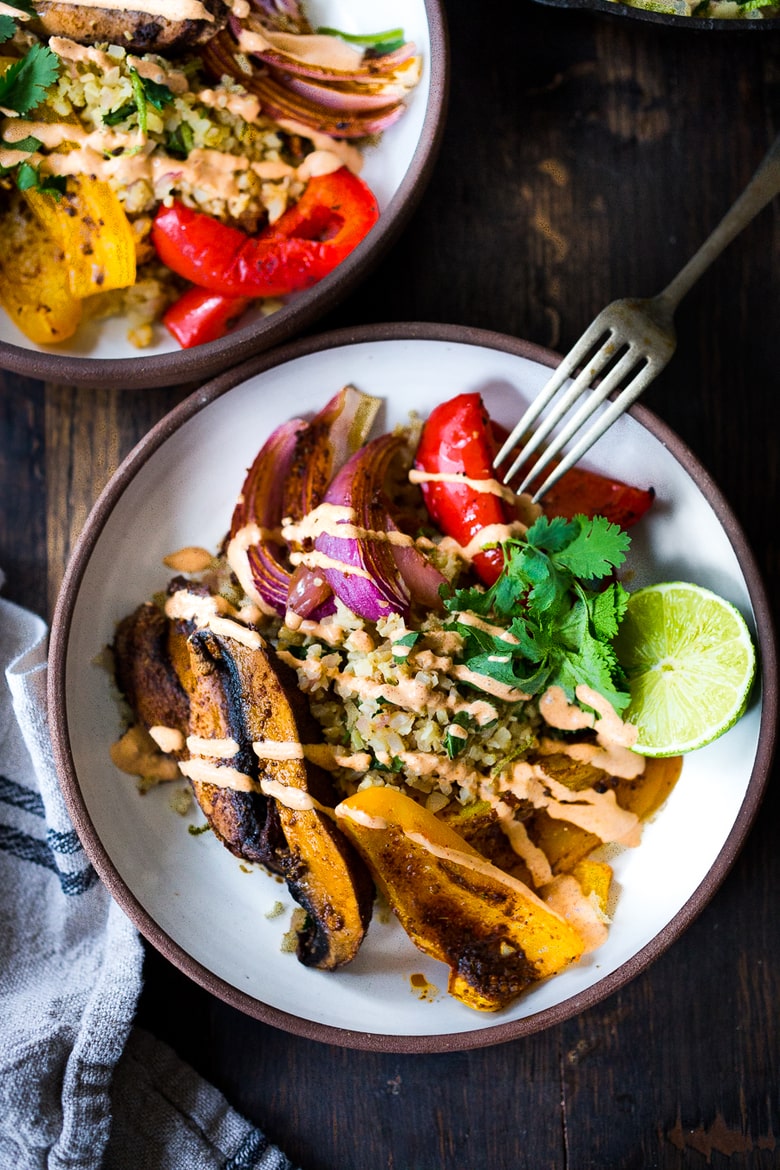 Sheet Pan Veggie Fajita Bowl with Cilantro Cauliflower Rice– a filling, low calorie meal that is vegan & gluten-free and only takes 15 minutes of hands-on time! Keep it vegan or add baked chicken.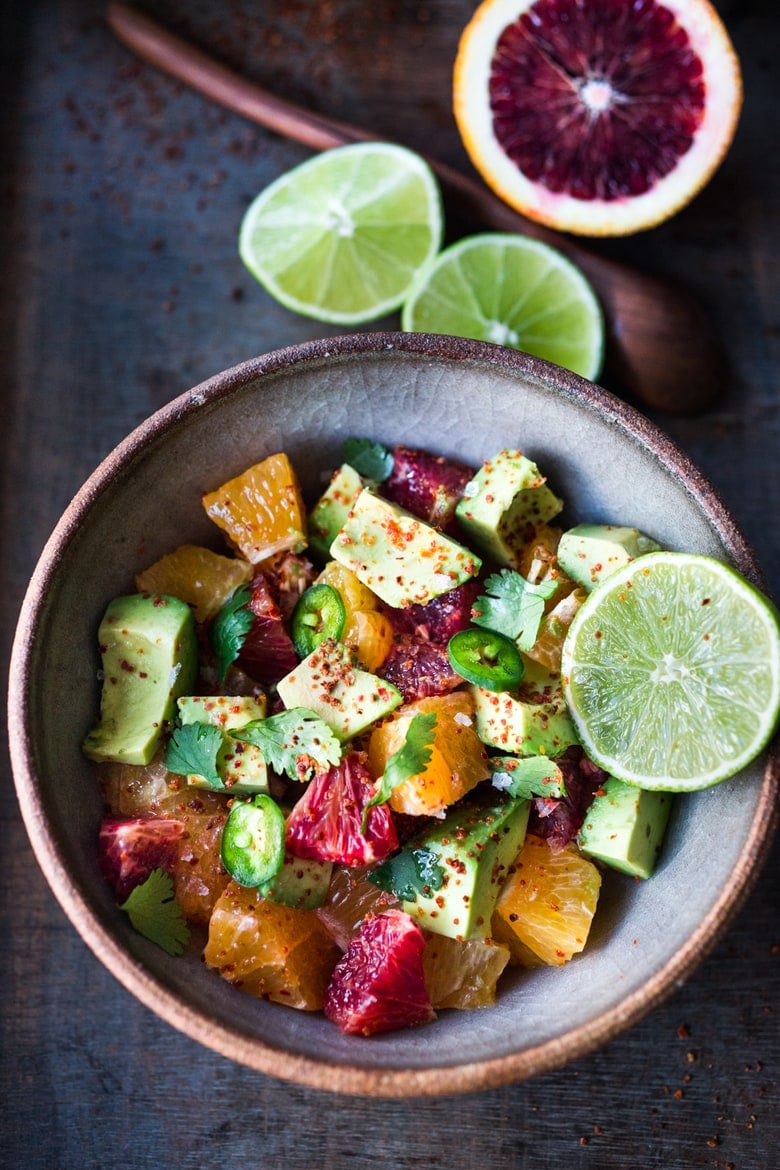 Light and refreshing   Orange and Avocado Salad with jalapeño, lime juice, Aleppo chili flakes and cilantro. So simple, so beautiful!!! Use blood oranges when in season!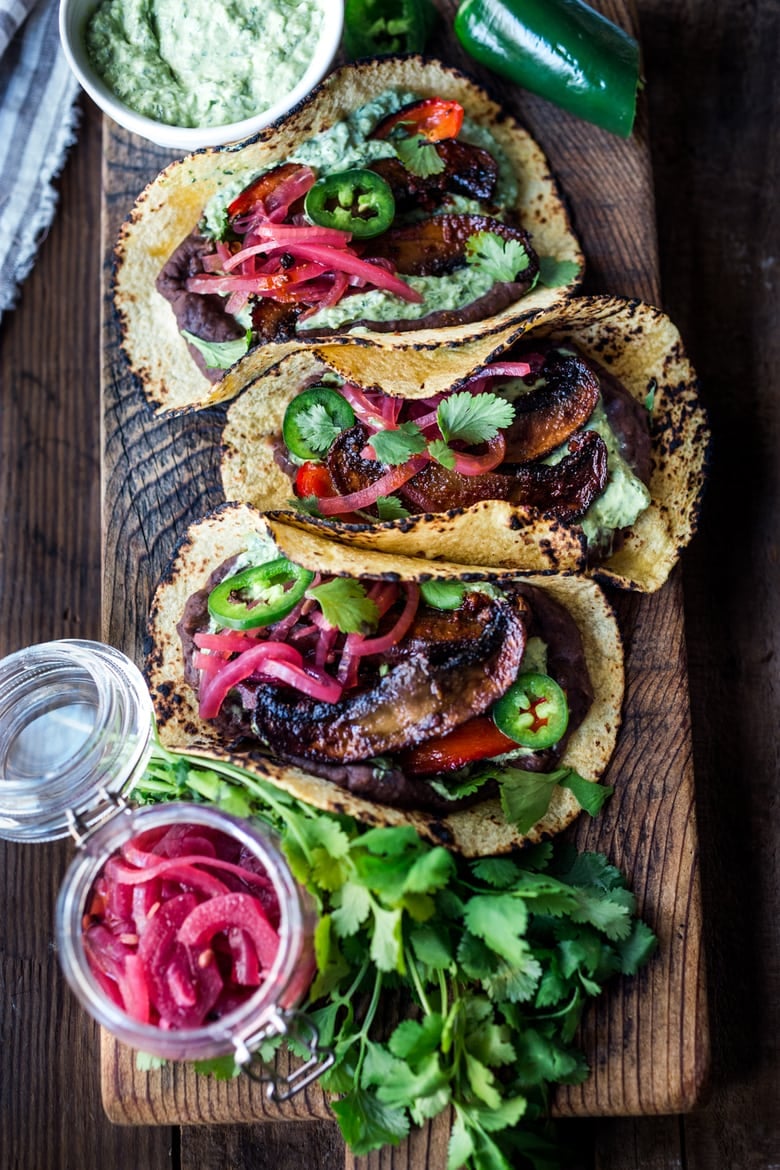 Sheet-Pan, Chipotle Portobello Tacos – smoky, spicy and "meaty"  – these VEGAN tacos are sure to satisfy even the most diehard meat-lovers!  Make them in 30 minutes!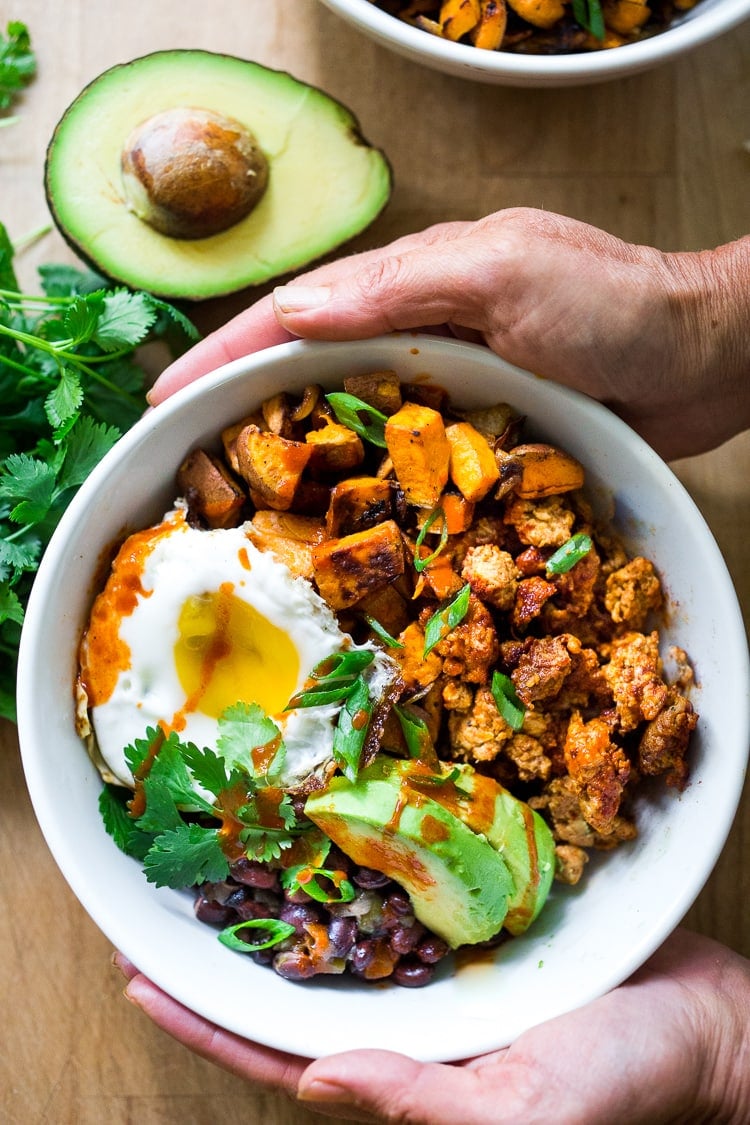 Healthy Yummy Mexican Breakfast Bowls with sweet potatoes, black beans, home-made turkey chorizo ( optional or use soy chorizo) avocado, cilantro and an egg. YUM!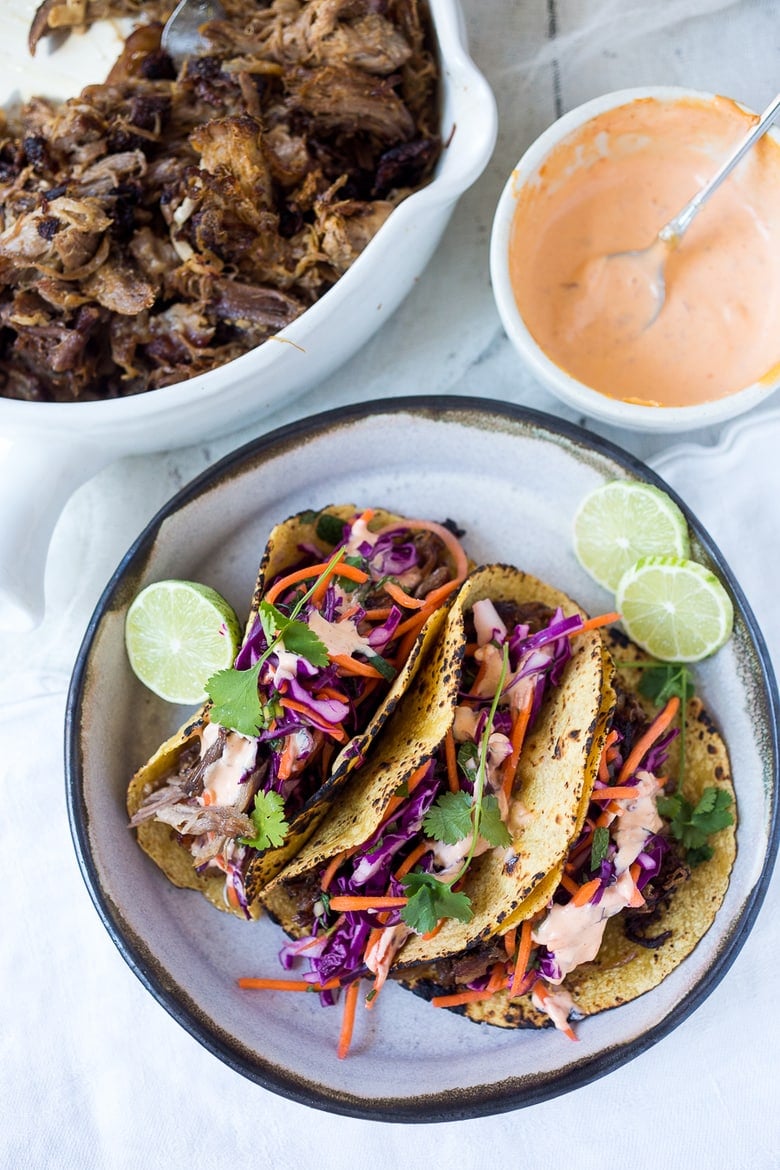 Incredibly tender and flavorful, slow-roasted  Five Spice Pulled Pork Tacos with Asian Slaw and Spicy Aioli – this can be made in a dutch oven or slow cooker. Super flavorful.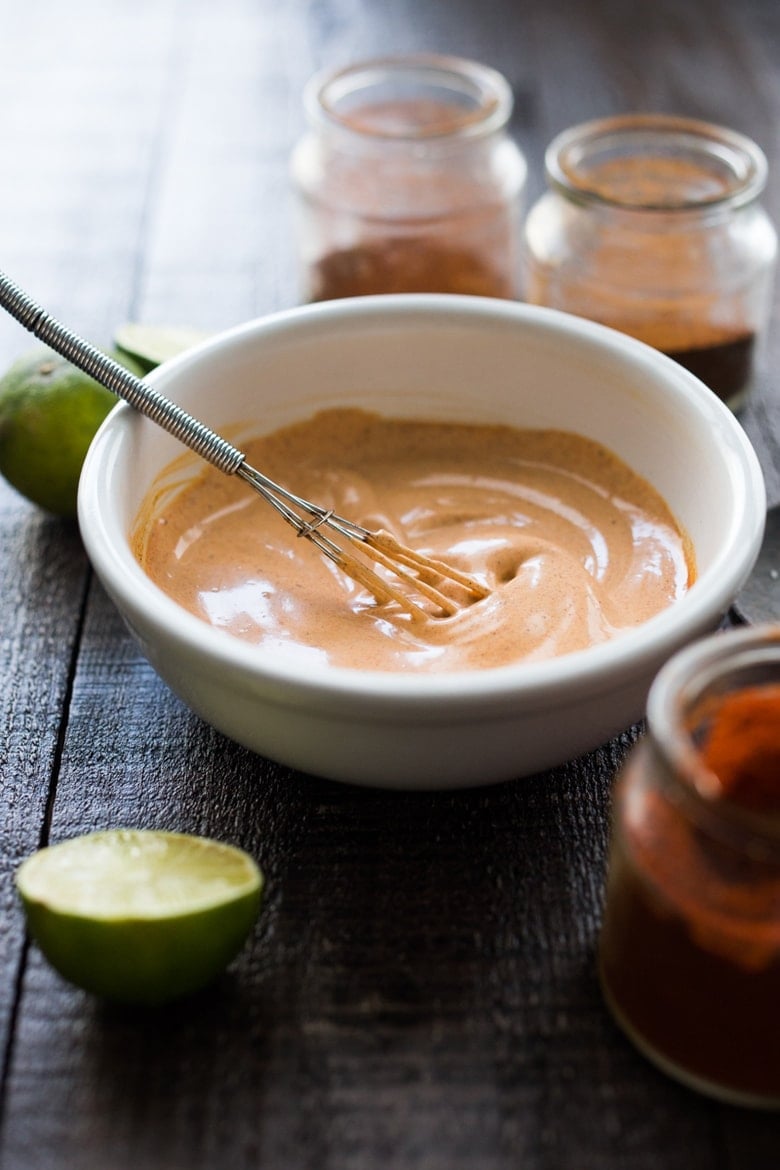 Vegan adaptable Chipotle Mayo– (aka Mexican Secret Sauce!!!)  A simple, 5-minute sauce that will elevate what you are already making, and add a burst of flavor to most any meal. Vegan adaptable and GF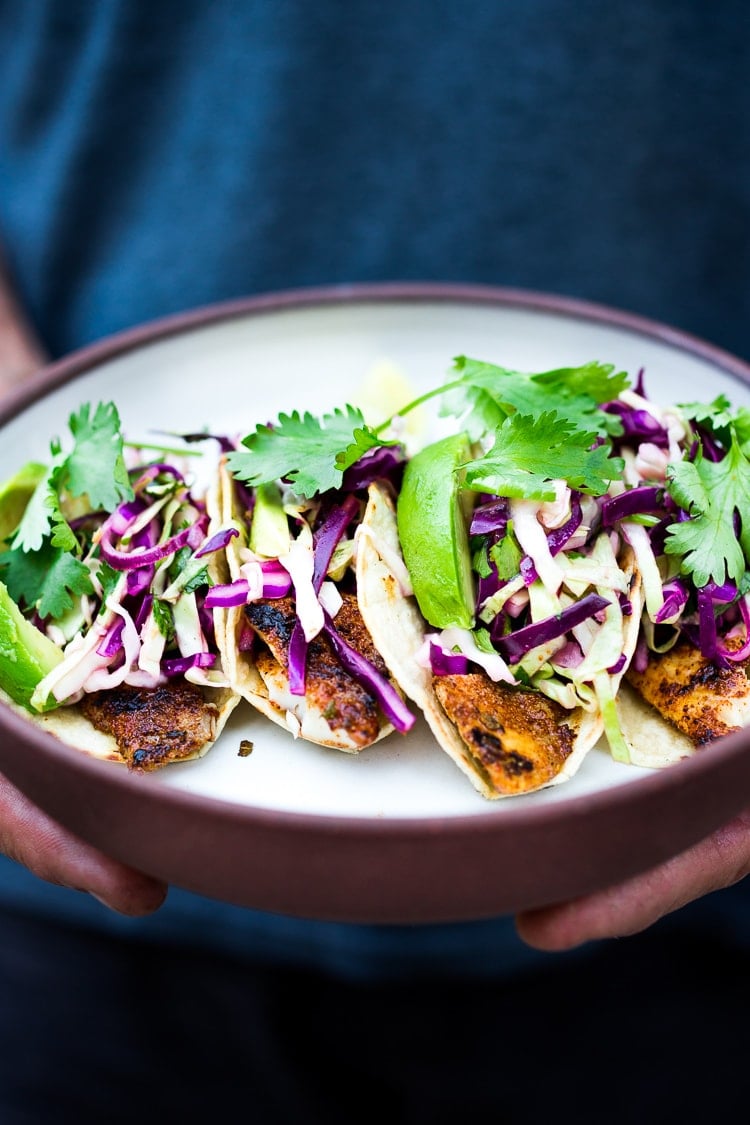 Quick & easy Fish (or Tofu) Tacos topped with Cilantro Lime Cabbage Slaw that can be made using a grill, stovetop or oven! Vegan & gluten-free adaptable! A fast and healthy dinner that comes together in under 30 minutes.
Happy weekend friends…Salud!
xoxo
For many more healthy, Mexican inspired meals make sure to check out our Mexican Recipes Page ! 
How to create a Mexican Feast!
Tips:
Keep it simple and only pick out a few things!  You don't want to be so exhausted with cooking that you don't enjoy the party!
Make whatever you can, ahead! 
Enlist friends to make or bring some of the sides.
Remember to add flavorful condiments and sauces ( most can be made ahead).
Plan to be done cooking one hour before your party and make yourself a drink. Take a breath and relax.
An old catering/ restaurant trick: If your legs are tired from all the standing, cooking and cleaning, lay on the floor on your back, with legs up the wall for 10 minutes before the party. It will totally revive you! 
One of the easiest things to make is a Taco Bar! Many things can be prepped ahead. Grill meat or fish the day of. Guests can make tacos or bowls that they can assemble themselves. Sometimes I'll even ask my friends to each bring one item! Fun and easy.
You can do this! xoxo