How to cook fluffy, perfectly cooked, Basmati Rice, just like they do in India! Finished with an optional "tempering oil" this rice is nothing short of delicious! Fast, easy and vegan-adaptable. Video!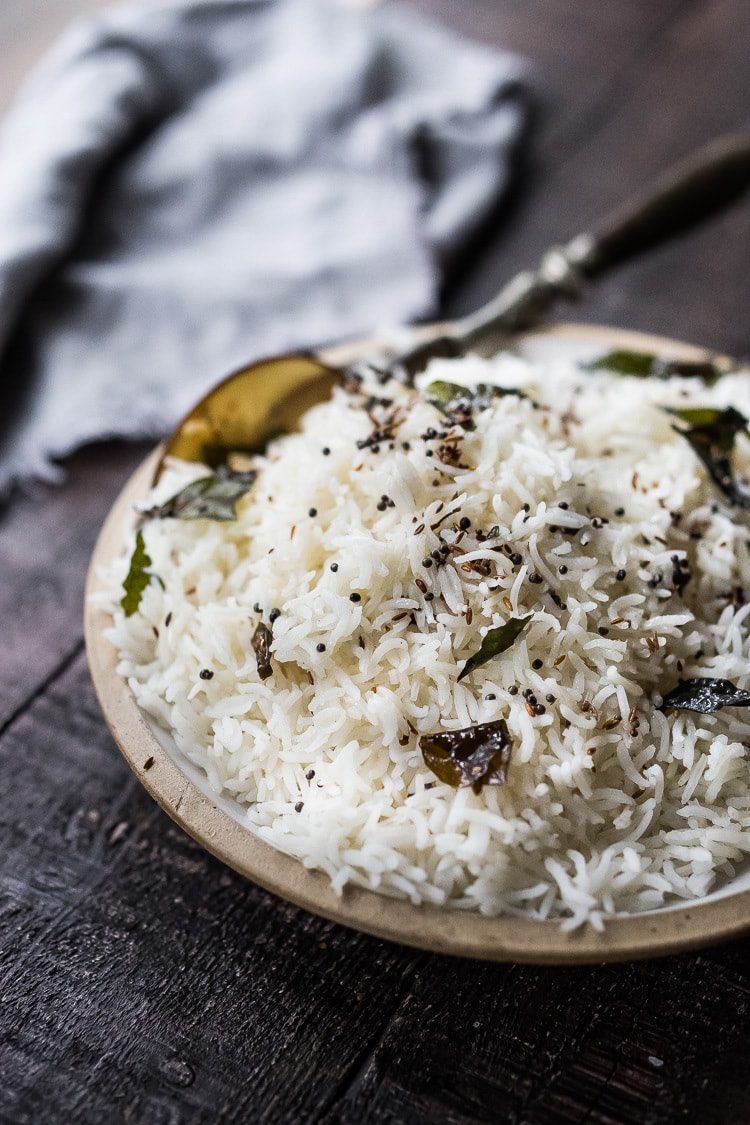 While in India, one simple thing I fell in love with was the basmati rice. So light, so fluffy and so full of flavor! I couldn't believe that something so basic as cooking rice, had escaped me for so long!
Why I love this Basmati Rice Recipe
While staying in a little village outside of Jaipur, I discovered the secret of cooking the fluffiest basmati rice from our cook at a beautiful homestay.
He showed us that boiling the rice in salted water like you would pasta, then draining it, allowed most of the starch to be removed from the rice and this was the secret to fluffy rice. 
This simple technique is also faster and easier, the rice cooks faster, and no measuring required!
 Perfect Basmati Rice | 60-sec video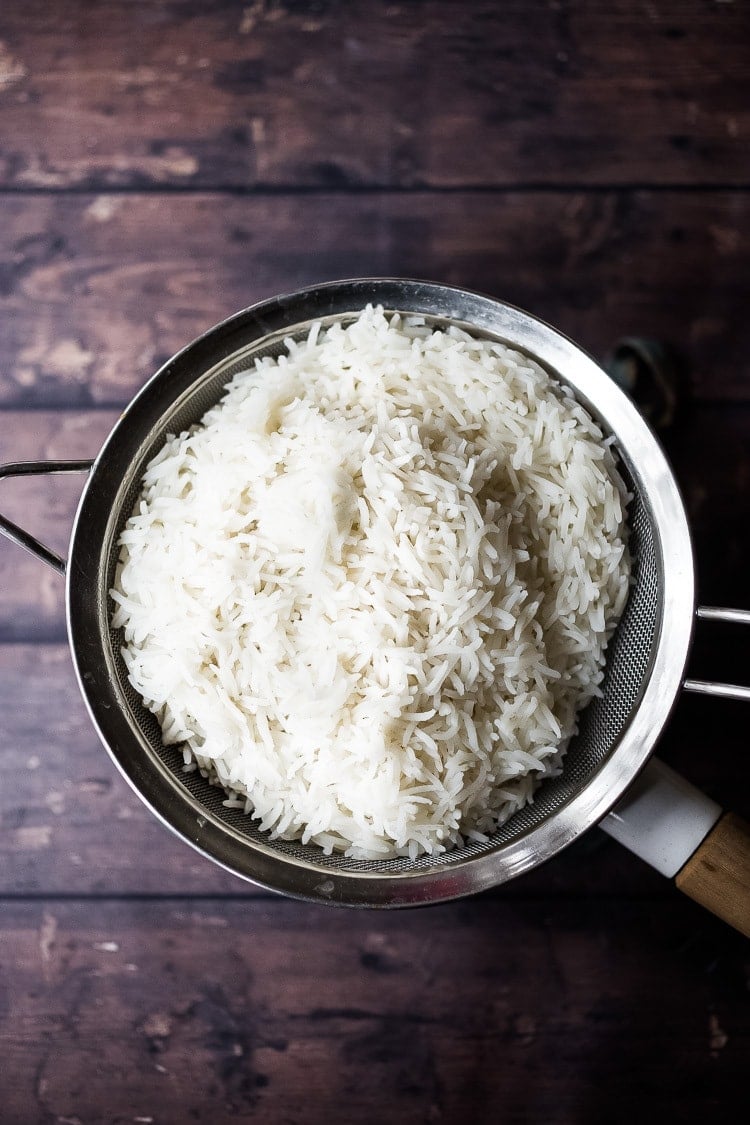 Ingredients in Basmati Rice
Basmati rice- white or brown
Water
Optional: Tempering Oil
How to make the BEST Basmati Rice
Wash the rice- rinsing quickly in running water. You'll need a cup of rice.
Bring 6 cups of water to a boil, add salt, and cook the rice, like you would pasta, no need to cover the pot, turning the heat down to a gentle simmer.
Drain the rice.
Let the rice sit in the strainer for 5 minutes, then fluff!
Top with the optional Tempering Oil
Get ready for perfect basmati rice, perfect every time.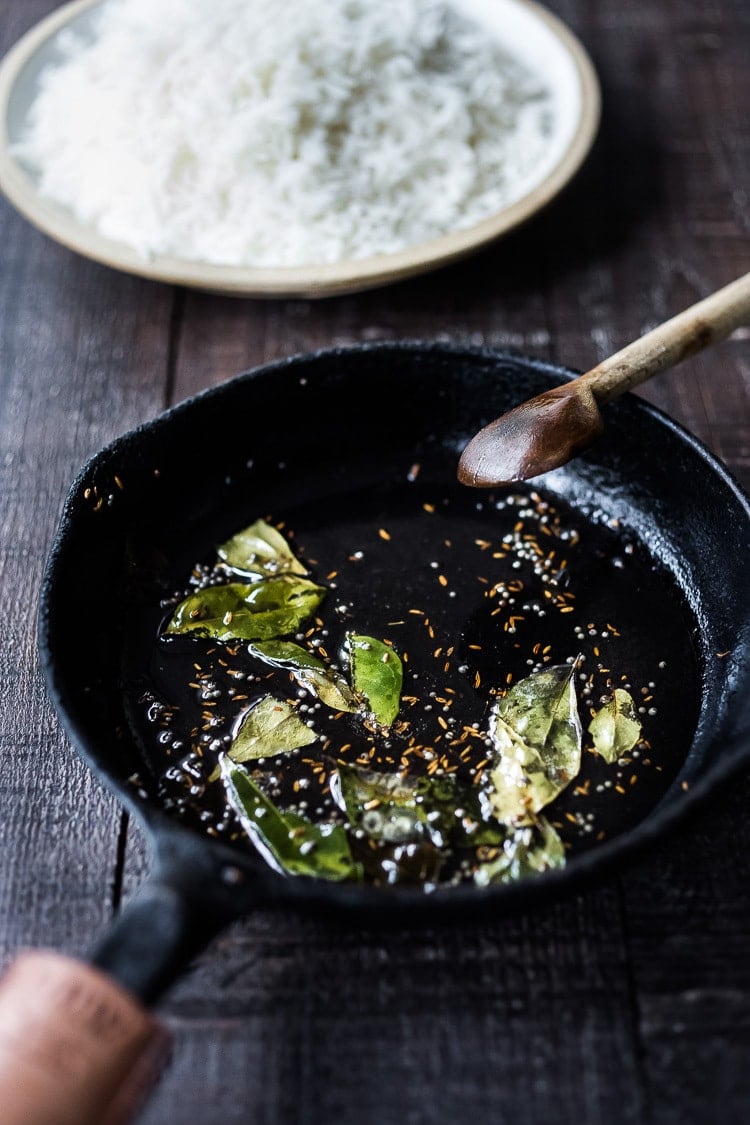 What is Tempering oil?
Tempering oil, called Tadka, is made by sizzling whole spices in ghee, to unlock and enhance their flavor and fragrance. It can be used in the initial stages of cooking to build flavor in Indian dishes,  or used to finish a dish, spooning it overtop adding a beautiful aroma.
The types of spices will vary, depending on the region in India. The spices may also be medicinal. For example, black mustard seeds are often added to dal- to help with the digestion of legumes.
How to make Tempering Oil
Heat ghee (or coconut oil but ghee really does have better flavor) over medium-high heat, and toss in cumin seeds, mustard seeds and optional curry leaves (or bay leaves), toasting all about 30 seconds or until the seeds begin to pop.
Remove from heat.
Spoon the flavorful tempering oil over the fluffy basmati rice and serve immediately.  Inhale the beautiful aroma!
NOTE: The curry leaves will elevate this– and I encourage you to seek them out. Often they can be found at Asian markets and when I find them either fresh or frozen, I make a point of buying extra and freezing, so to always have them on hand.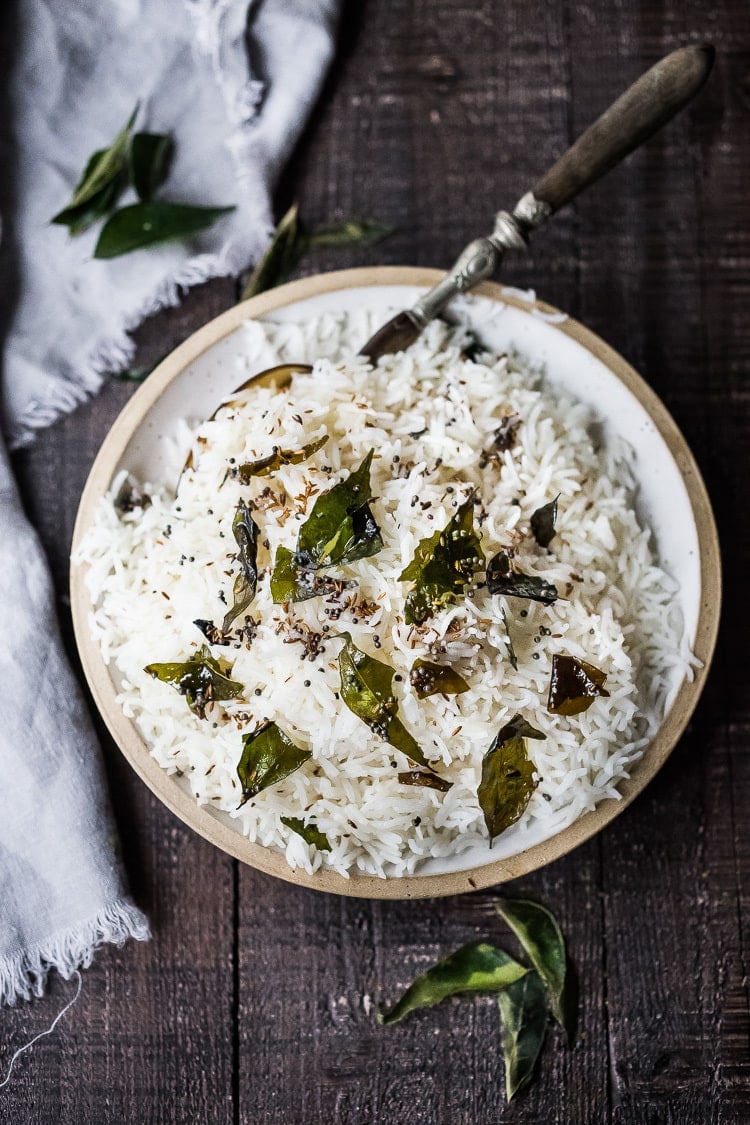 FAQ
What is Basmati Rice?
Basmati rice is long-grained rice that grows in the foothills of the Himalayas in India and Pakistan. It has a nutty floral flavor.   Tradionally, Basmati rice is white, but recently, more brown rice varieties are being brought to grocery stores.
Is Basmati Rice healthier than white rice?
Both white and brown basmati rice are nutritious -but brown basmati rice contains more fiber, minerals and vitamins and is lower on the glycemic index.
But for some people, white rice, even though it is considered more "processed"  is easier to digest, because the hull, bran and germ are removed ( and some people are sensitive to these). So it really just depends, if you digest brown rice without any problem, then brown rice may be "healthier" for you.
Should I rinse basmati rice?
Giving basmati rice a quick rinse is always a good idea to remove any impurities- but no need to rinse until water runs clear. Cooking it this way, and draining the water will also remove impurities.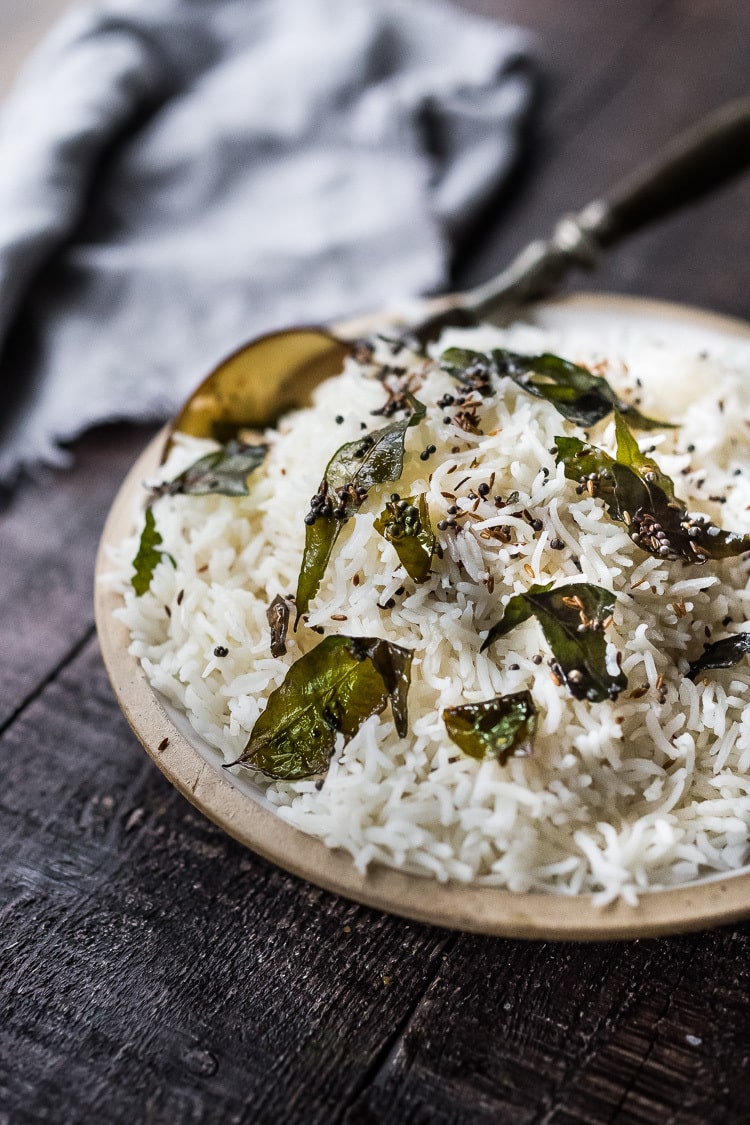 More Recipes you may like: 
Hope you are having a beautiful week!
xoxo
Print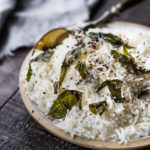 Perfect Basmati Rice
Prep Time:

5 mins

Cook Time:

20 mins

Total Time:

25 minutes

Yield:

4 cups

1

x

Category:

side dish, grain, rice

Method:

stovetop

Cuisine:

Indian

Diet:

Vegetarian
---
Description
How to cook fluffy, perfectly cooked Basmati Rice, just like they do in India! Finished with an optional- tempering oil this rice is nothing short of delicious! Fast, easy and vegan-adaptable.
---
7

–

8

cups

water

1/2 teaspoon

salt

1

cup

basmati rice, rinsed.
Indian Tempering Oil:
Middle Eastern Version:
---
Instructions
Bring water and salt to a boil.
Add rice and simmer gently at a low boil, uncovered over medium heat until rice is just perfectly tender- check at 8-10 minutes, and continue cooking if need be. Keep in mind brown rice will take longer.
Drain, and let stand over a strainer for 5 minutes.
Feel free to place it back in the pot and cover until ready to serve. 
Optional Indian Tempering oil: Heat ghee over medium heat. Add seeds, salt and leaves, and saute until seeds begin to crackle- about 30-60 seconds. Turn heat off.
Place rice in a serving dish and spoon tempering oil over top.
Serve immediately!
---
Notes
Leftovers keep 4-5 days in the fridge (or freeze) and can be reheated.
To make Middle Eastern Version, heat oil in a skillet over medium heat, add the smashed garlic clove and swirl until fragrant, add cumin and coriander seeds and a couple bay leaves. Pour the tempered oil over the rice ( discarding garlic)  and garnish with some torn parsley leaves and an optional light sprinkling of sumac or lemon zest.
The rice is best, made right before serving. Sometimes I'll have the pot of salted boiling water all ready to go, as well as the tempering oil. Then all I have to do is boil the rice right before dinner time.
If doubling the recipe, you probably only need 10-12 cups water.
Nutrition
Serving Size:

¾ cup ( including the ghee tempering oil)

Calories:

150

Sugar:

0 g

Sodium:

111.6 mg

Fat:

4.8 g

Saturated Fat:

2.6 g

Carbohydrates:

24.2 g

Fiber:

1.1 g

Protein:

2.5 g

Cholesterol:

10.2 mg
Keywords: basmati rice recipe, perfect basmati rice, best basmati rice, how to cook basmati rice, perfectly cooked basmati rice, how to make rice fluffy, basmati rice recipes, indian basmati rice, hindu basmati rice,