Why we ALL should be eating Forbidden Black Rice! Plus 3 healthy ways to cook black rice: Stovetop, Instant Pot & Pilaf! A healthy, vegan, gluten-free side dish full of powerful health benefits: Black rice the most nutritious rice you can get- the highest protein, the lowest carbs, and the lowest calories compared to other rice!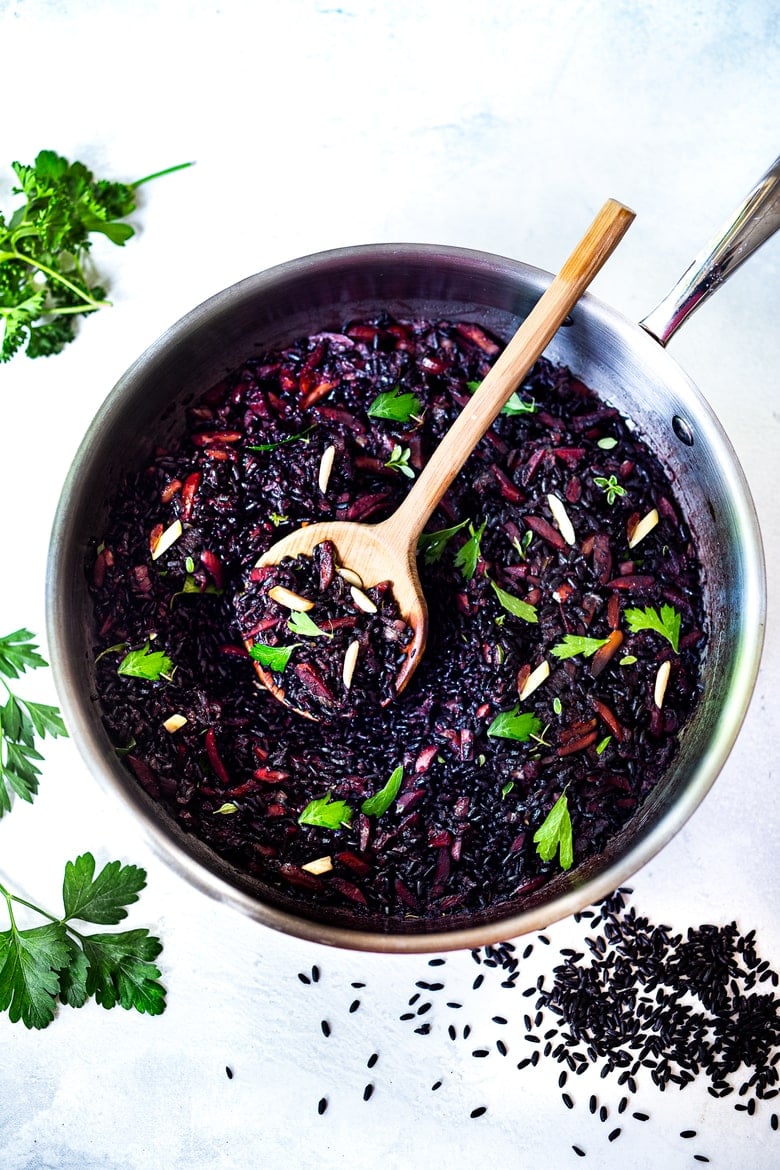 Forbidden Black Rice is slowly gaining in popularity here in the states and I wanted to share why and give you three easy ways to cook this nutritional powerhouse.  If you are curious about what Forbidden Black Rice tastes like, to me it has a nutty, earthy flavor from the bran (outer husk) and a very subtle, slightly sweet interior. In a nutshell, it tastes delicious!
A little history…
Why is it called Forbidden Black Rice?
It is believed that in Ancient China, black rice, was discovered as being  "superior" to other types of rice due to its rich health benefits and powerful medicinal properties. It is said that a handful of noble Chinese men, saw an opportunity in this and scoured the country and took every grain of black rice and withheld it from the public, controlling its production, severely limiting the quantities and selling it strickly to royalty, creating a huge demand. The common people were forbidden from growing or eating it, earning its very popular label – forbidden black rice.
Nutritional Values of 1 cup cooked Black Rice compared to white and brown rice:
White rice – 236 calories | 45 g carbs | 3 grams protein |
Brown rice – 222 calories | 45 g carbs | 4.5 g protein |
Black rice – 200 calories | 34 g  carbs| 6 grams protein |
In a nutshell, forbidden black rice is lower in calories, higher in protein and lower in carbs.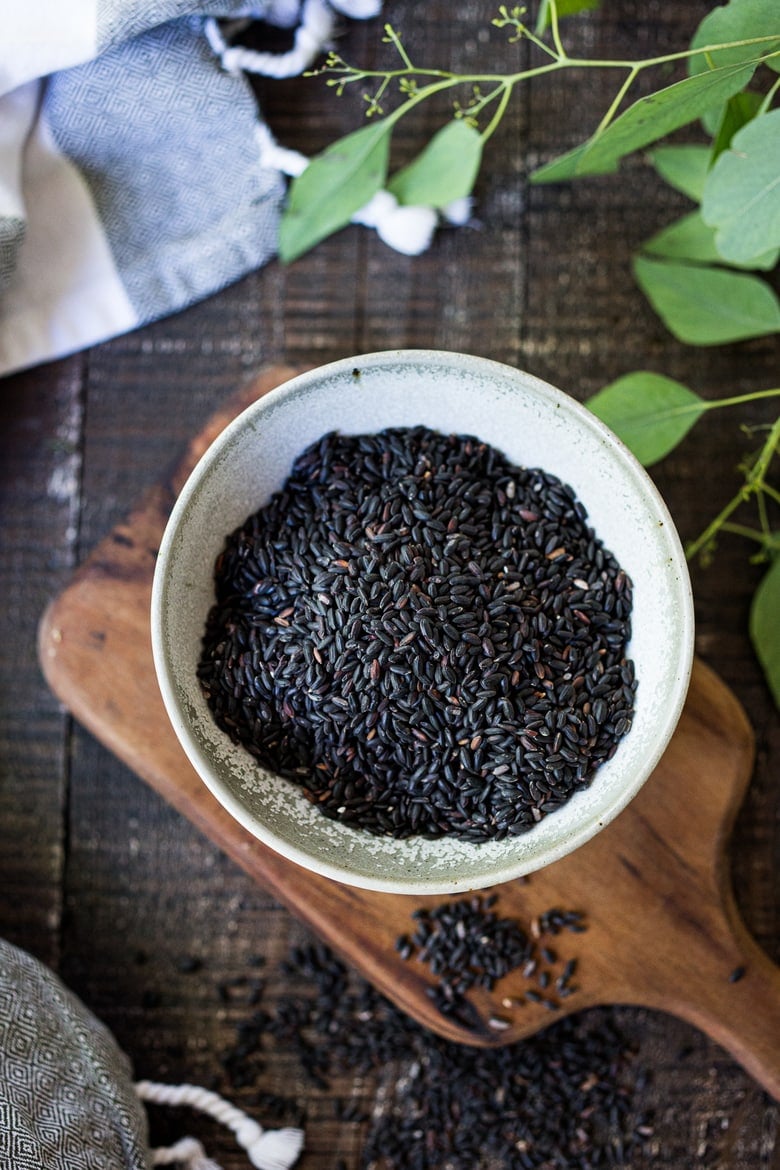 Most compelling Health Benefits of Forbidden Black Rice:
Powerful Antioxidant: Some studies show even more powerful than blueberries! The deep black or purple color of black rice's outer layer – the bran and hull- contains a powerful antioxidant called anthocyanin. The level of anthocyanin contained in black rice is higher than any other grain, including brown rice, red rice, red quinoa, or other colored whole grain varieties.
Lowers Cholesterol: Studies show that the phytochemicals found in black rice reduce the LDL cholesterol (aka bad cholesterol) which is a common contributor to cardiovascular diseases, and also lowers overall cholesterol.
Fights Cancer: A study conducted in China found that an anthocyanin-rich extract of black rice suppressed tumor growth and spread of breast cancer cells in mice. More studies are in the works.
Anti-inflammatory: A study in Korea found that black rice helped reduce edema and skin allergies- an indicator of the potential of black rice in treating diseases that are associated with chronic inflammation.
Promotes Healthy Loss and Management: lower in calories, lower in carbohydrates, and higher in protein and fiber than white or brown rice, black rice is a lower calorie powerhouse.
Promotes Healthy Brain Function: A study conducted in Bulgaria found anthocyanins to improve learning and memory functioning with current studies underway on Alzheimer's prevention.
How to cook Black Rice:
Stovetop method: Cook like pasta in ample salted water, drain and fluff.  (20 minutes!)
Instantpot: Cook with equal parts water, one to one, 18 mins on high. Naturally, release for 10 minutes. (38 mins total)
Pilaf: Simmer gently in veggie or stock with aromatics, covered -1 cup rice to 2 1/2 cups stock.  (45 minutes)
STOVETOP: the easiest and fastest way!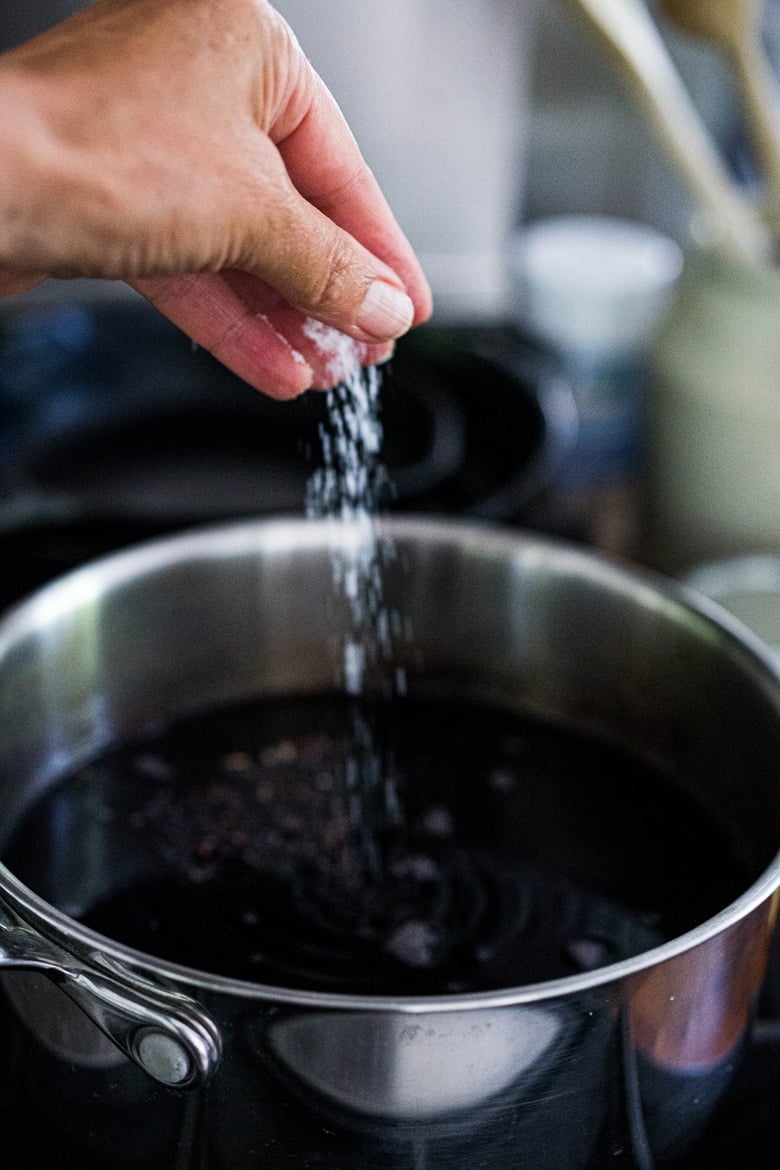 Cook like you would pasta in ample salted water, no need to measure! Simmer until tender about 20- 25 minutes. Drain and fluff.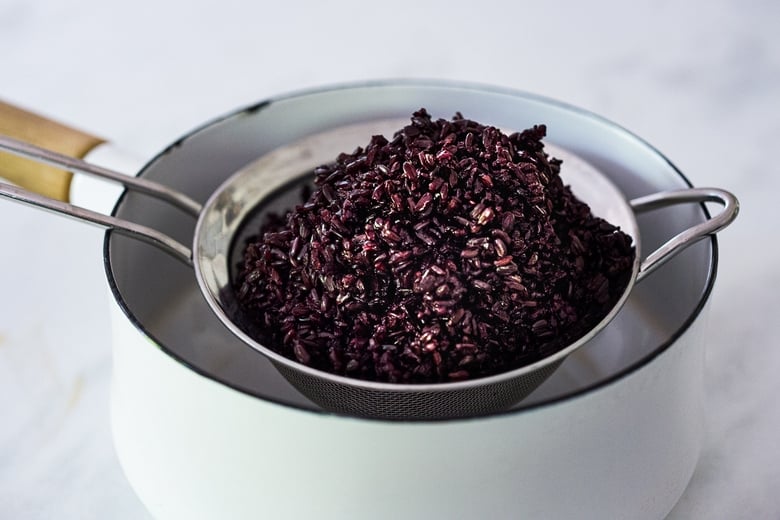 Cook in an Instant Pot! 
Cook with equal parts water, one to one, 18 mins on high. Naturally, release for 10 minutes. (38 mins total)
5 mins of hands-on time.
Feel free to increase quantity using the same times.
Make Black Rice Pilaf!
Saute onion or shallot, add aromatics and stock, cover and simmer gently for 25-30 minutes until liquid is absorbed.
Tastiest, but more steps.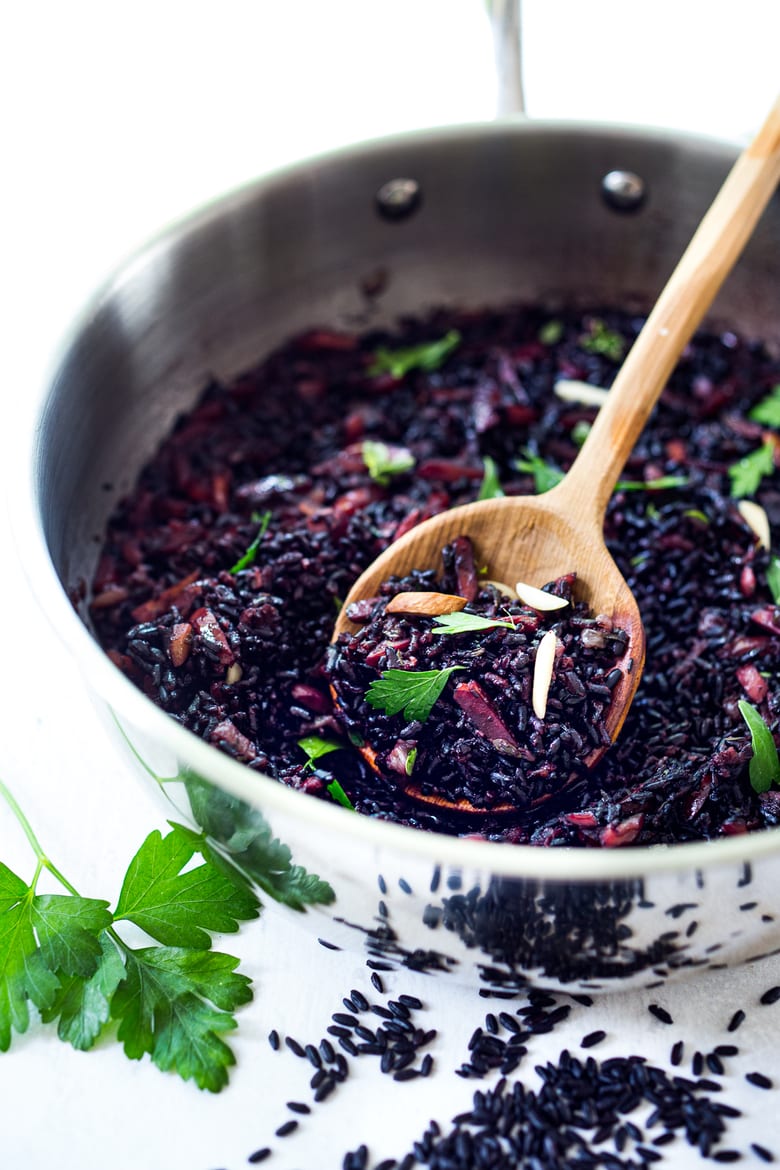 RELATED: Vegan Side Dishes for Fall! 
Print
Forbidden Black Rice Recipes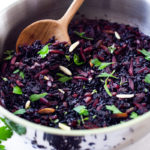 3 healthy ways to cook forbidden black rice– stovetop, Instant Pot & Pilaf! A healthy vegan gluten-free side dish full of powerful health benefits. The most nutritious rice you can find!
Author: Sylvia Fountaine
Prep Time:

15

Cook Time:

20

Total Time:

35 minutes

Category:

side, vegan side dish, vegan side

Method:

stovetop, instant pot, pilaf

Cuisine:

Northwest
Scale
Ingredients
Stovetop:
1 cup

forbidden black rice

6 cups

water
generous pinch salt
Black Rice Pilaf:
2 tablespoons

olive oil ( or butter)

1

shallot – chopped

1 1/2 cups

forbidden black rice

1 Tablespoon

fresh thyme ( or

1 teaspoon

dry)

2

 1/2 cups

plus 1 tablespoon

 broth or stock ( veggie or chicken)

1 teaspoon

granulated garlic powder

1

bay leaf
pinch salt and pepper

1/3 cup

slivered almonds ( save

2 tablespoons

for garnish)
Garnish: 1-2 tablespoons Italian parsley
Instructions
Stove Top Method: Bring water and rice to a boil, let simmer uncovered until tender about 20-25 mintues. Drain and fluff. Season!
Instant Pot: Place equal parts water and black rice in the instant pot. Add a pinch of salt. Set pressure to 18 minutes on high. Let naturally release for at least 10 minutes.
Black Rice Pilaf: heat oil in a 10-inch skillet over medium heat and add the shallots, stirring until golden and fragrant, about 4 -5 minutes. Add rice and thyme and saute 3-4 minutes. Add stock, garlic, bay leaf, salt and pepper and 1/2 the almonds. Bring to a simmer, stirring. Cover, turn heat to low and cook 25-30 minutes or until all the liquid has evaporated and rice is tender. Garnish with remaining almonds and parsley.
Notes
The stovetop method is fastest.
The instant pot is the least hands-on time.
The Pilaf has the Most flavor!
Nutrition
Serving Size:

1 cup

Calories:

200

Carbohydrates:

34 grams

Protein:

6 grams
Keywords: how to cook black rice, forbidden black rice, black rice recipes, black rice health benefits, low carb rice, forbidden black rice recipes