This collection of Thanksgiving side dishes highlights the best of fall produce. Full of flavor and healing nutrients our bodies crave -these are perfect for your Thanksgiving menu, the holiday table, fall gatherings or weeknight dinners. Whether you are looking for vegetable side dishes, vegan side dishes, vegetarian side dishes, beautiful holiday salads or baked goods for the Thanksgiving table- there is something for the whole family to love on Turkey Day! Need more Thanksgiving inspiration? Check out our favorite Thanksgiving Dinner Menu Ideas! ✨
---
Vegetable Side Dishes
These vegetable side dishes feature healthy fall veggies front and center! Most of these easy side dishes are vegan or vegan-adaptable.
Wild Rice Pilaf
This Wild Rice Pilaf recipe is hearty, textural, and savory. Nutty wild rice is paired with mushrooms, pecans, leeks, Brussels sprouts, and craisins. A lovely, colorful side dish that is vegan and gluten-free.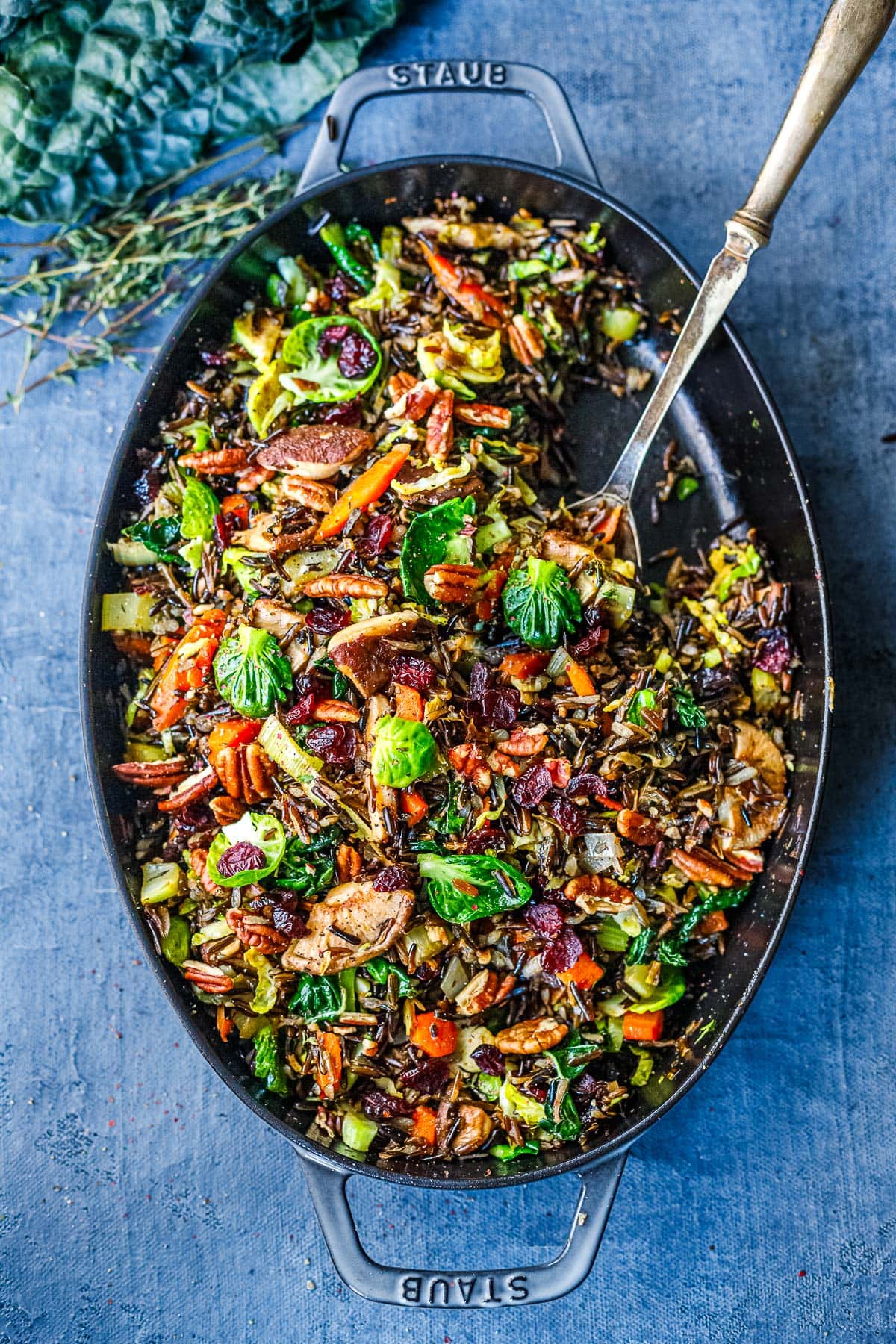 Blistered Green Beans
Green Beans with Toasted Walnut Vinaigrette and herbs, a simple, delicious vegan side dish that will enhance almost any meal.  Vegan and Gluten-free.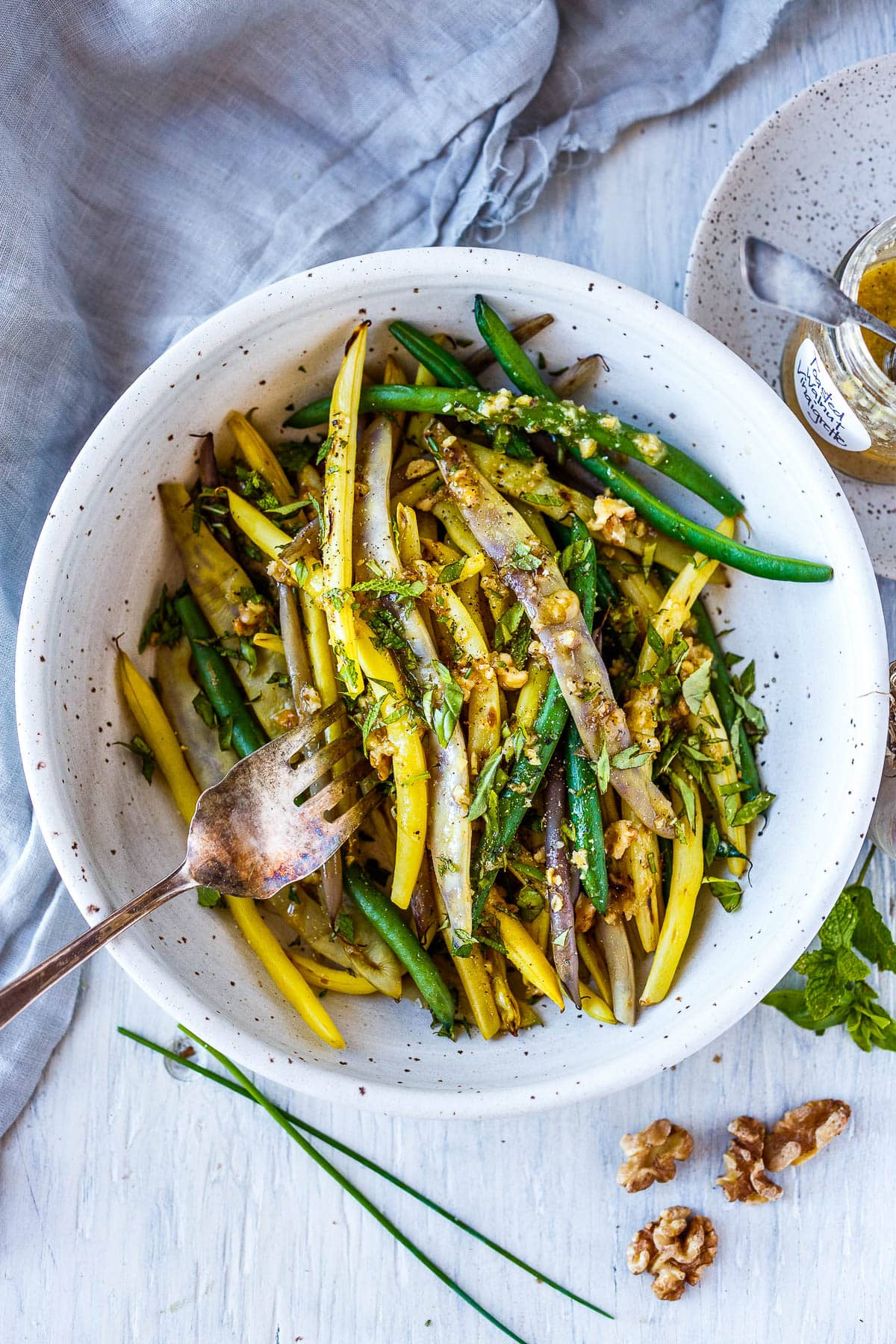 Glazed Carrots
This simple Glazed Carrots recipe is a delightful addition to any meal, tender and succulent with just the right balance of sweet and tangy. Make it with honey or maple syrup. Special enough for the holiday table and easy enough for weeknight dinners. Vegan-adaptable.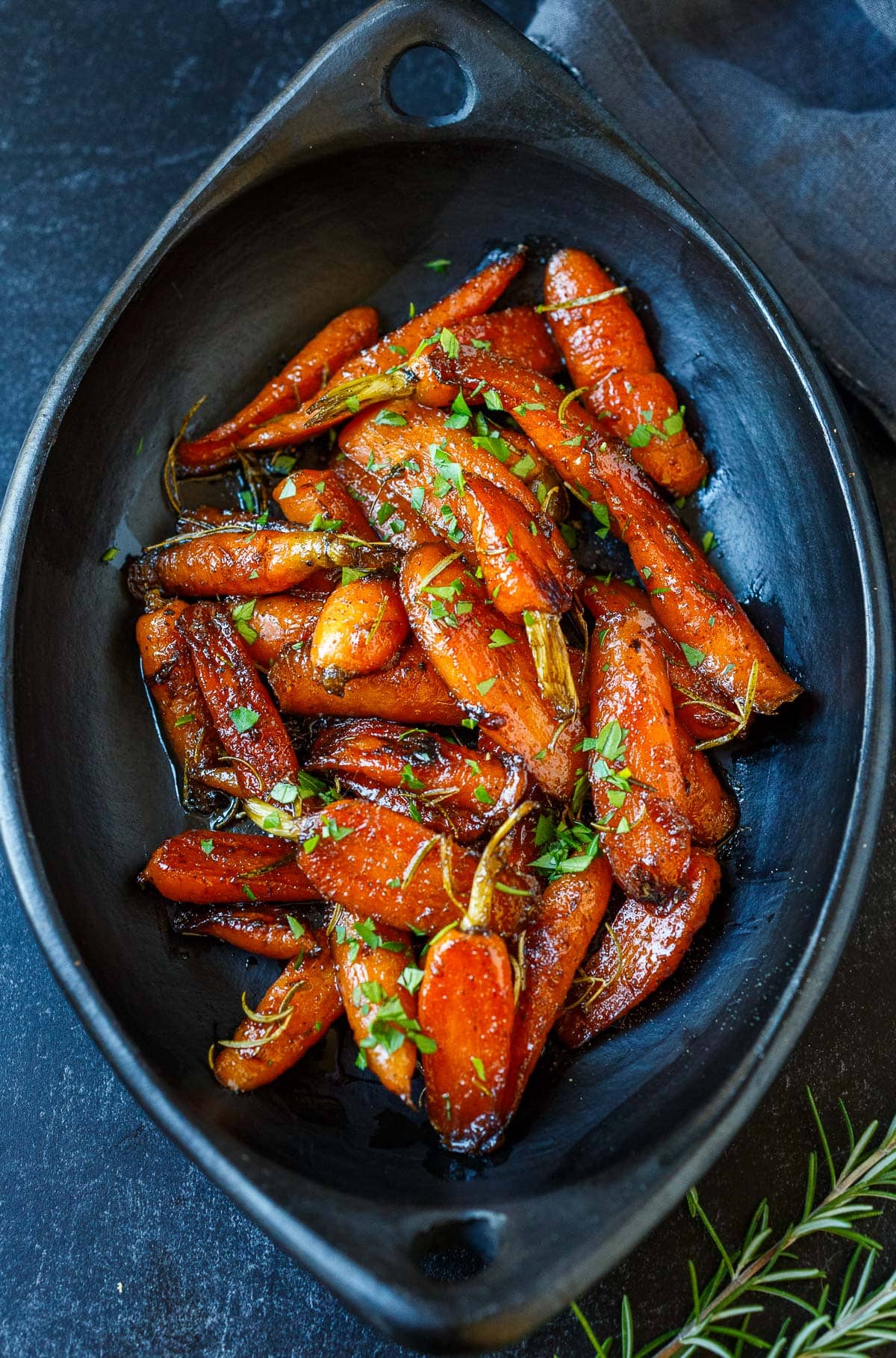 Sauteed Mushrooms
These simple Sautéed Mushrooms can transform even the humblest of meals into a feast! Quick, easy and full of nutrients, a delicious healthy side dish that pairs with many things!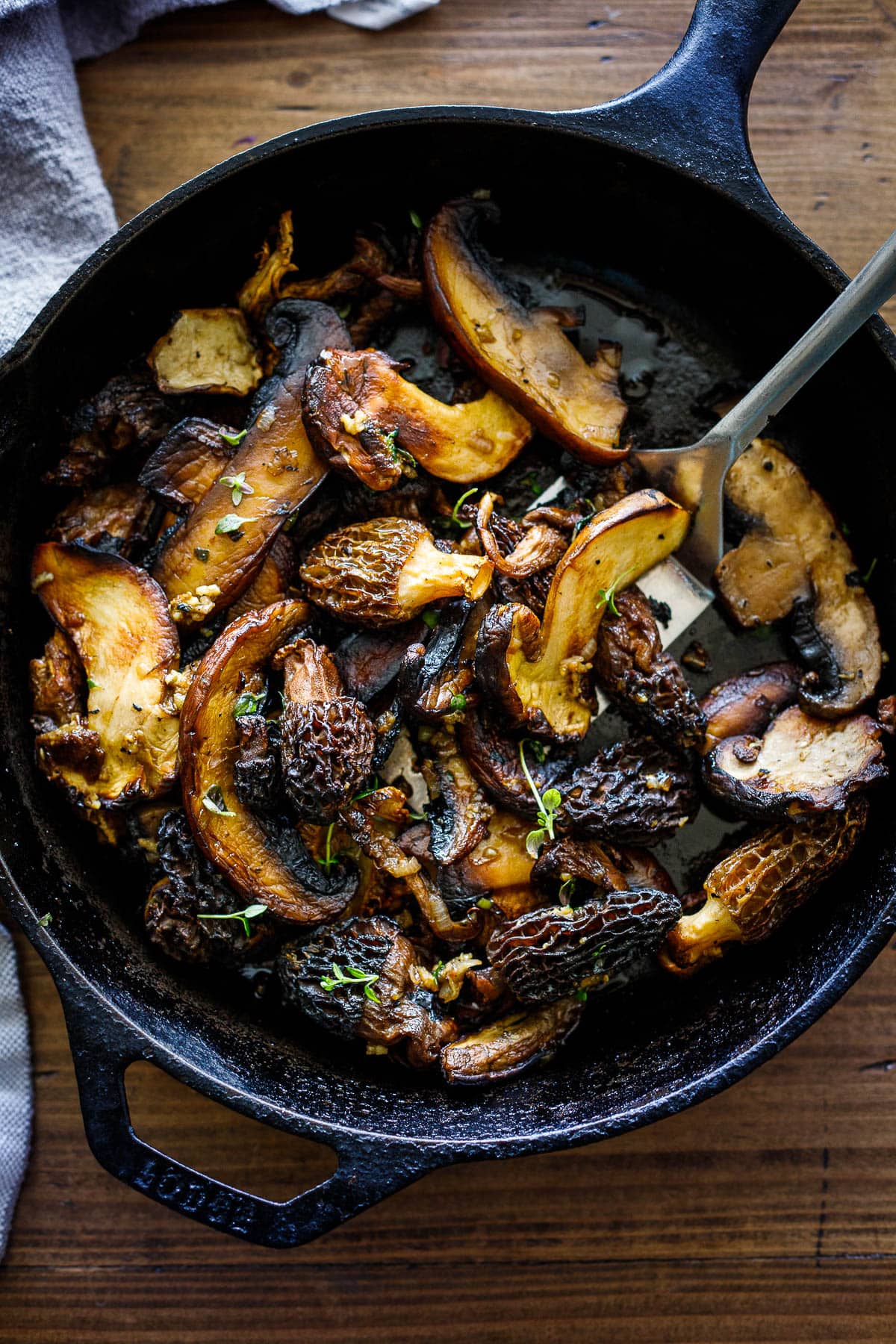 Roasted Kuri Squash
Tender and delicious Roasted Red Kuri Squash baked with an ancho chili powder -maple rub.  A perfect fall and winter side dish.  Easy to make with very little hands-on time. Vegan and Gluten-free. Feel free to sub acorn squash!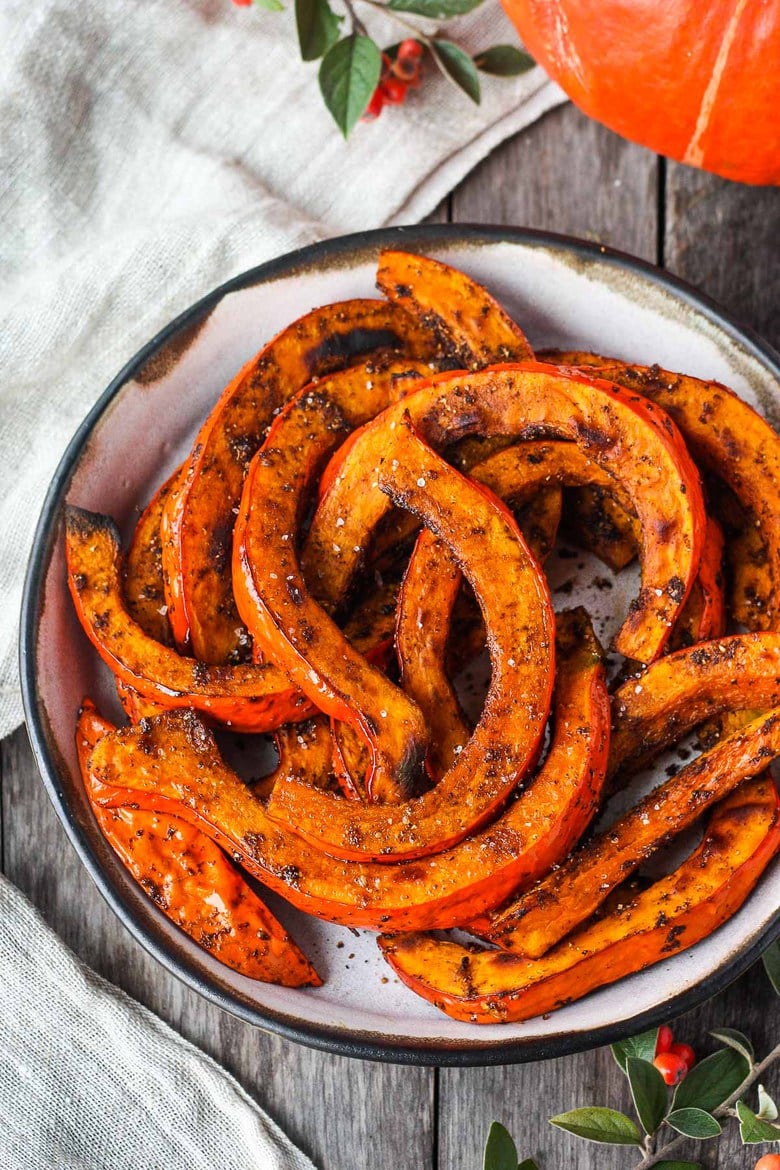 Green Beans Almondine
This Green Beans Almondine recipe is so simple yet full of incredible flavor! Toasty almonds, crispy garlic, lemon zest, shallots, and chili pepper flakes bring it up a notch!  One of our favorite Thanksgiving classics! Vegan.
Roasted Brussel Sprouts
A simple recipe for Roasted Brussels Sprouts with garlic and balsamic- tender, caramelized and full of toasty deep flavor.  An easy vegan side dish ready in 30 minutes!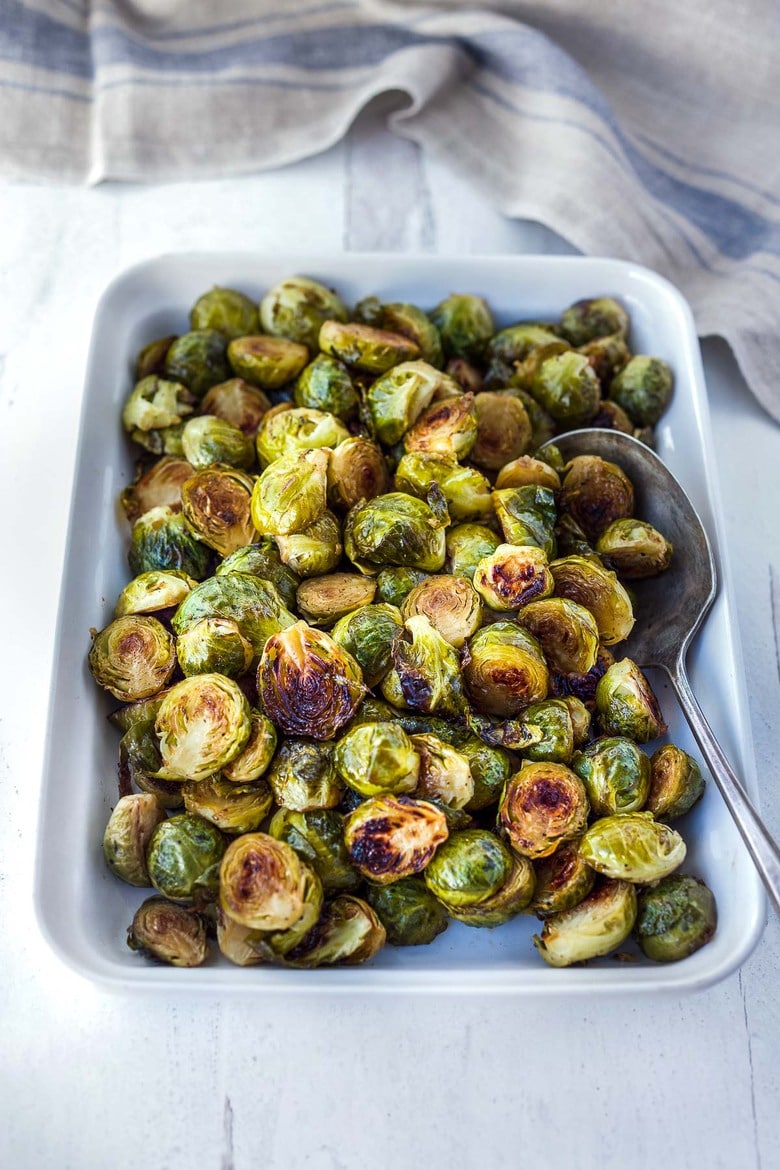 Sauteed Turnips
Pan Seared Turnips with Miso Glaze  A simple and addicting appetizer or side dish.  Vegan and GF.
Roasted Delicata Squash
This Roasted Delicata Squash with shallots and hazelnuts is the perfect healthy Side Dish -elegant, flavorful and unique, it's beautiful too. Vegan!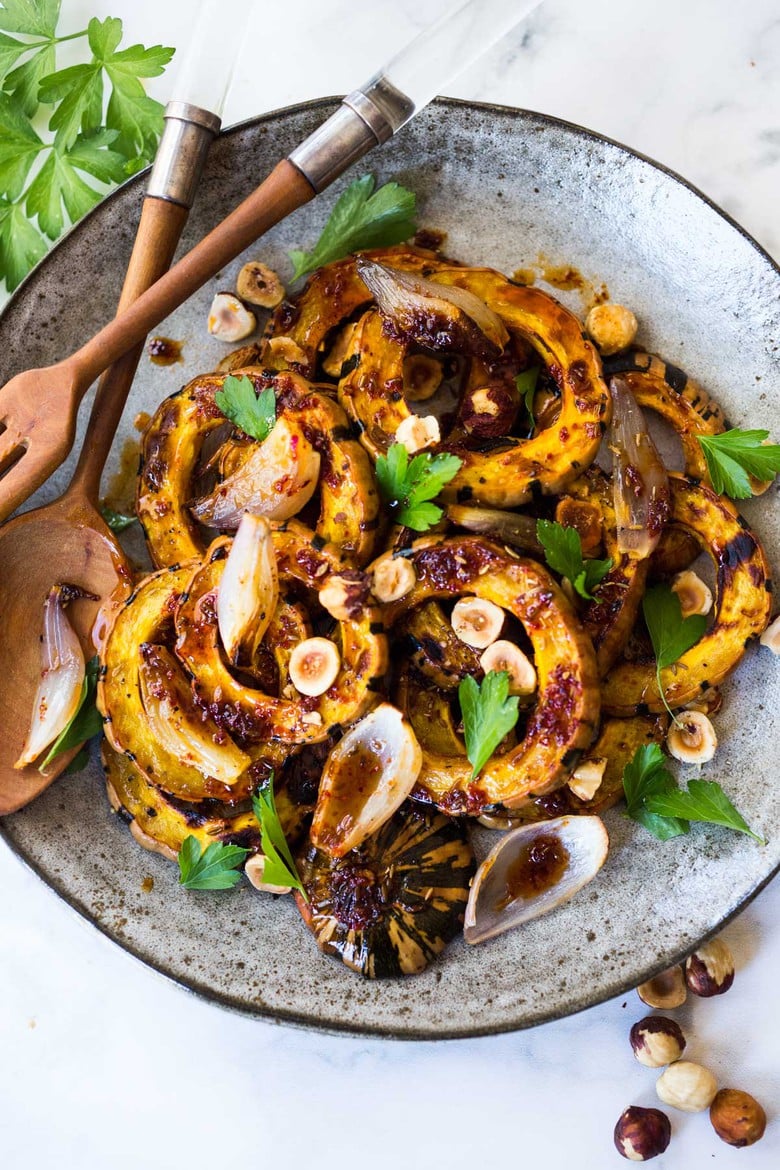 Steamed Broccoli 
This 15-minute broccoli with Garlic, Lemon Zest and Chili flakesis our "go-to" broccoli recipe -simple, yet full of amazing flavor! Vegan, healthy can be made in 15 minutes!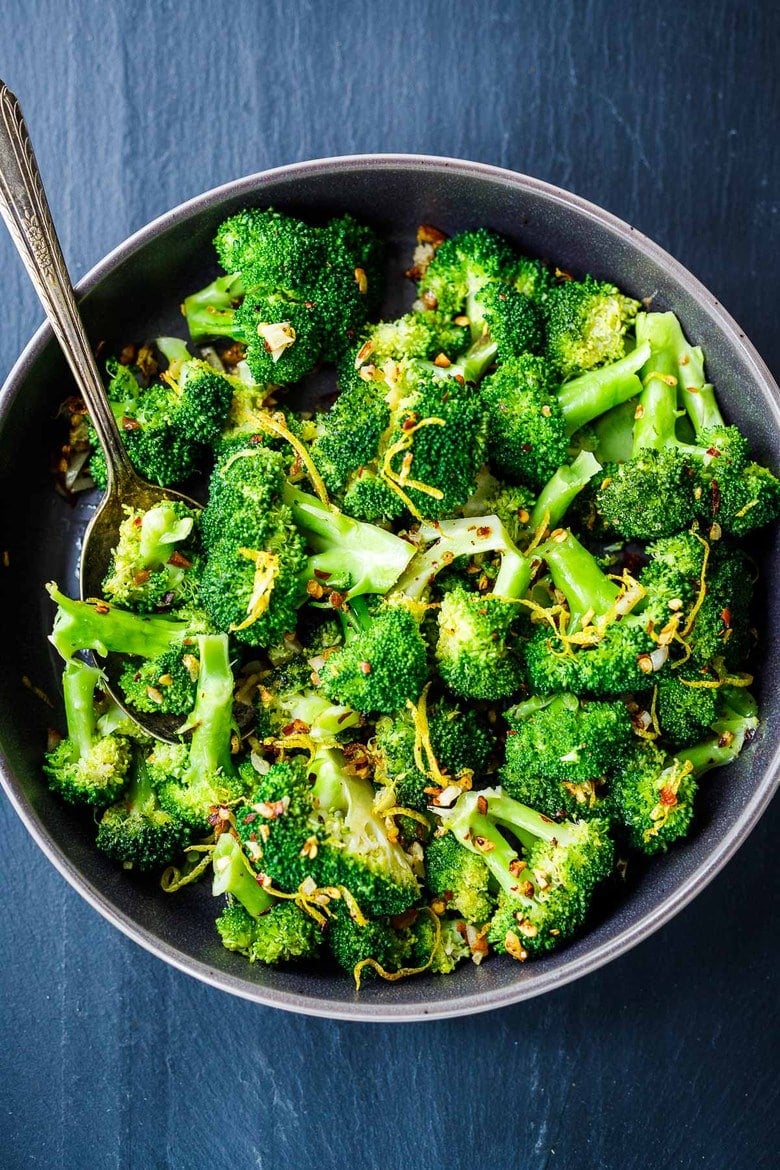 Simple Sauteed Greens
Simple Sautéed Greens with garlic, shallots and lemon should be on every Thanksgiving Table! It is probably the most used recipe in our household– this healthy side dish recipe is quick and easy, vegan, low carb and packed full of healthy nutrients!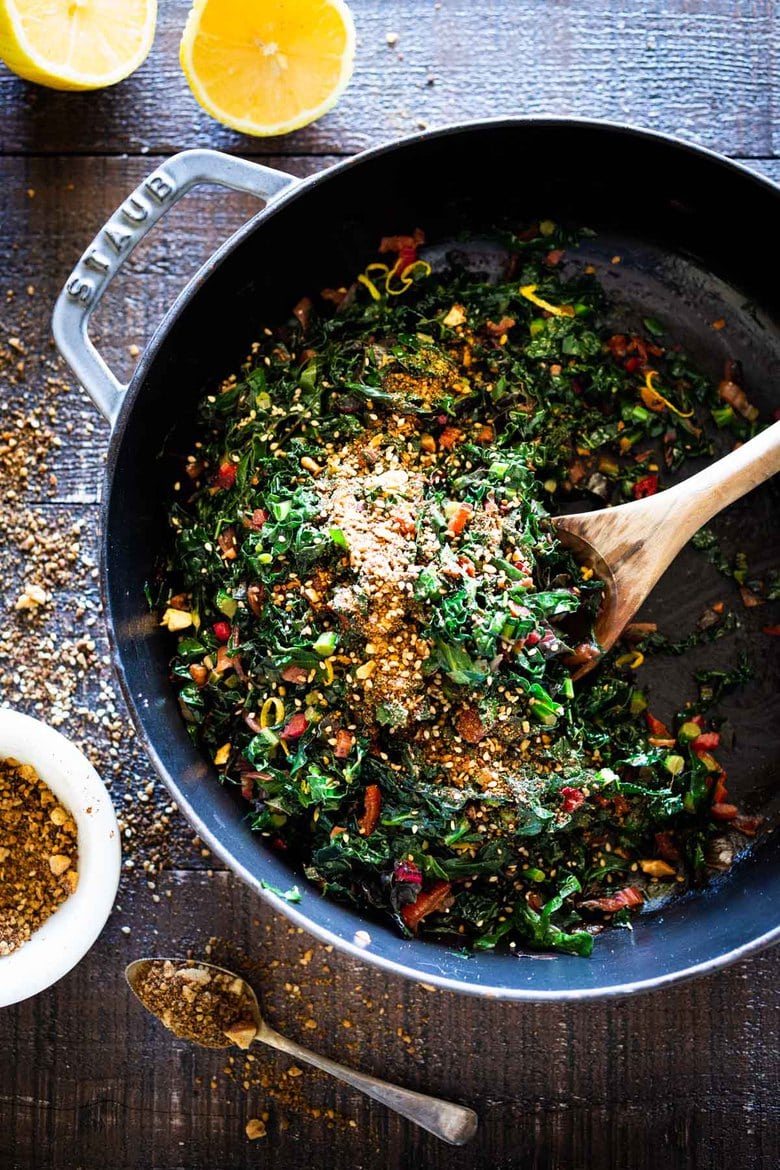 Hazelnut Green Beans
These Hazelnut Green beans with lemon zest and truffle oil – are a beautiful addition to your Thanksgiving table. Lemony and bright, with earthy notes of toasted Hazelnuts, the truffle oil elevates!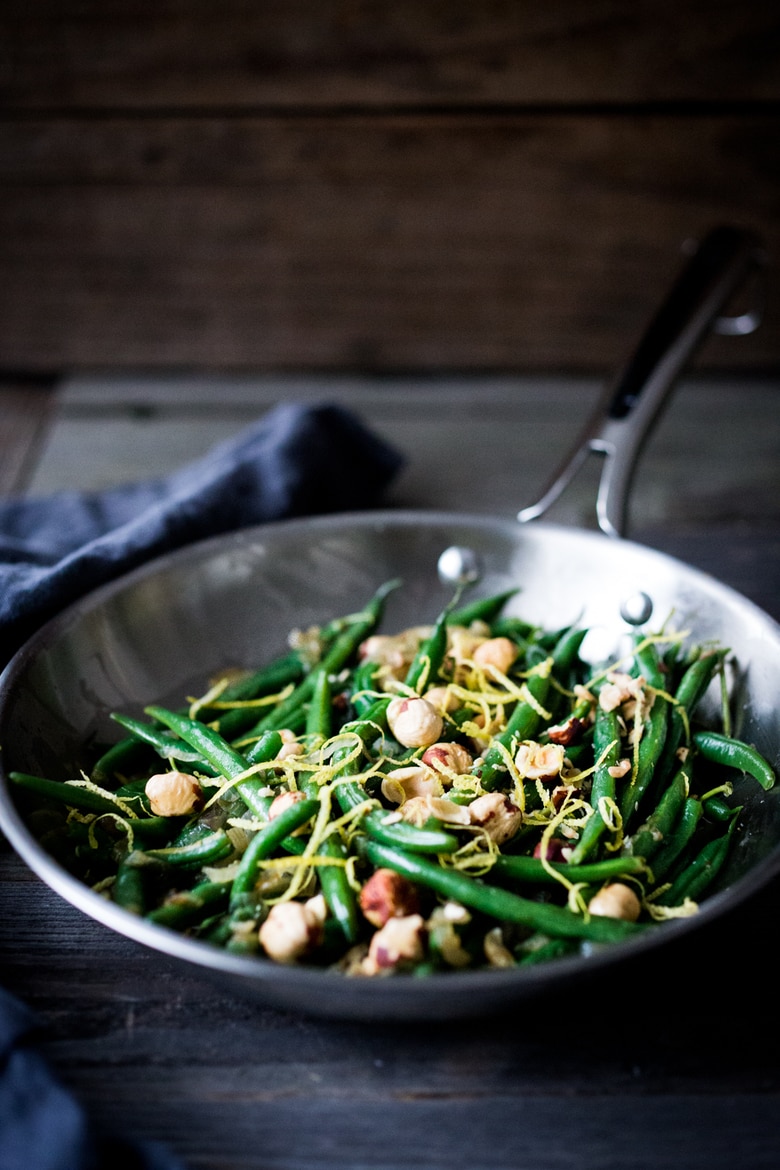 Roasted Yams
Let's skip the marshmallows! This recipe for Maple Roasted Yams with Pecans  is simple to make, and full of delicious flavor! Lighter than sweet potato casserole, it's still hearty and satisfying. Perfect for the Thanksgiving table.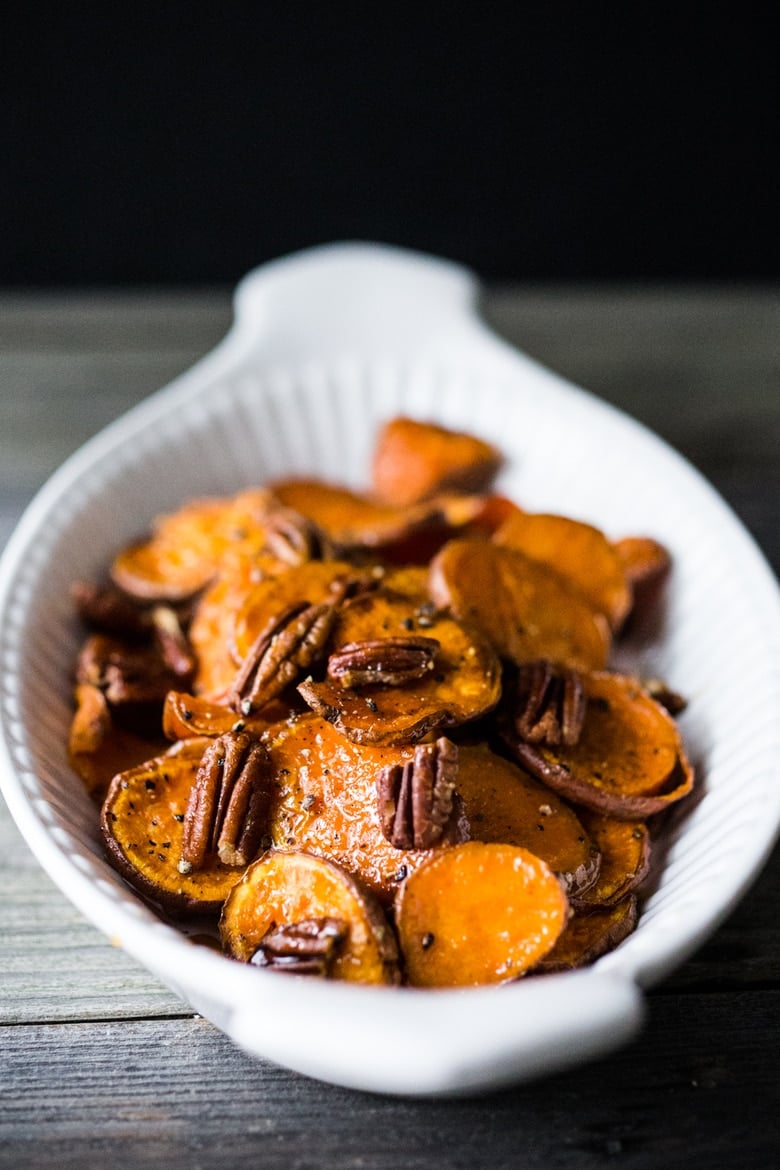 Coconut Creamed Spinach
Coconut Creamed Spinach – Rich and luscious Coconut Creamed Spinach has a silky melt-in-your-mouth texture. Simple to put together and makes an easy delicious side dish.  Vegan and Gluten-Free!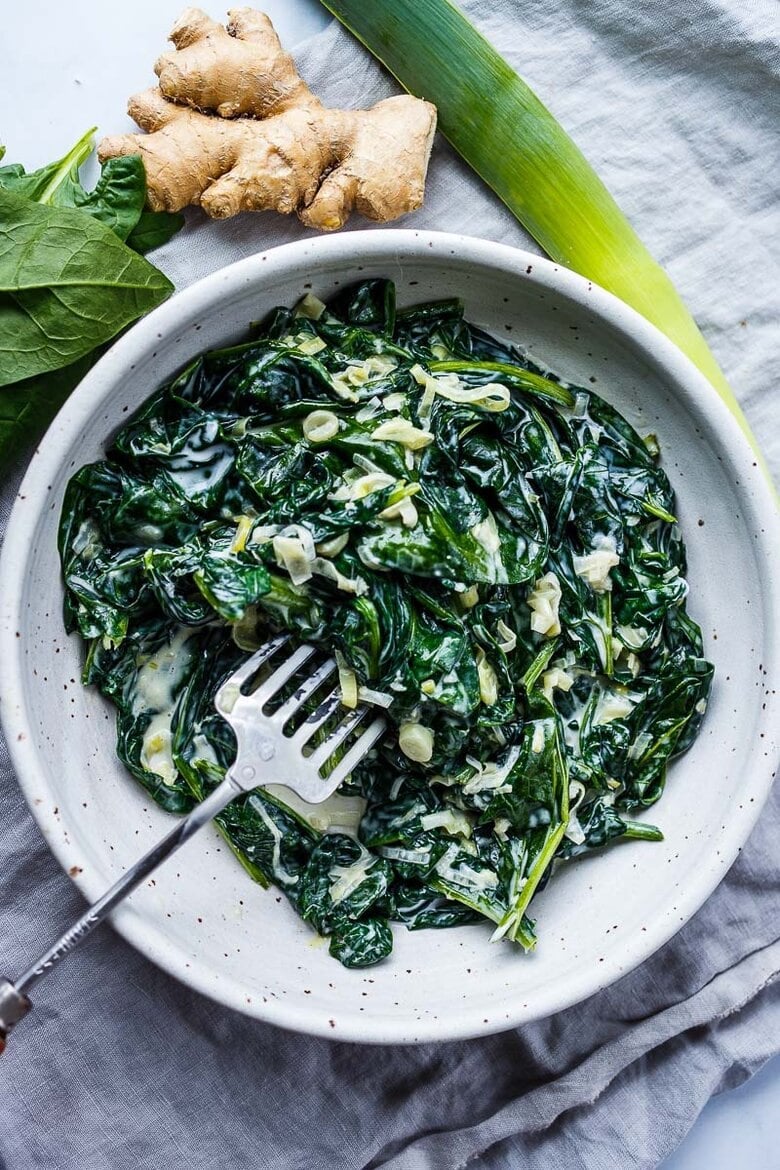 Roasted Parsnips
Roasted Parsnips with Romesco Sauce, a flavorful vegan side dish that is perfect for Sunday suppers or the holiday table!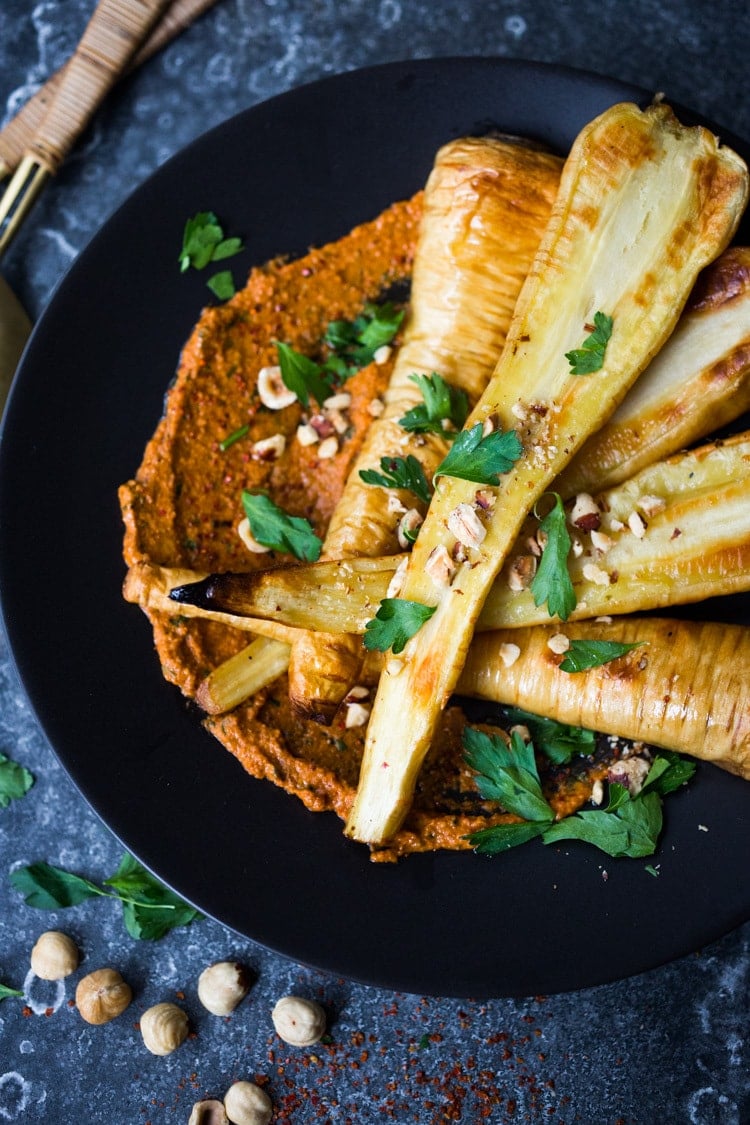 Braised Lentils
This recipe for Simple Braised French Lentils is nourishing and comforting and a delicious healthy vegan side dish, that will pair well with your thanksgiving offerings.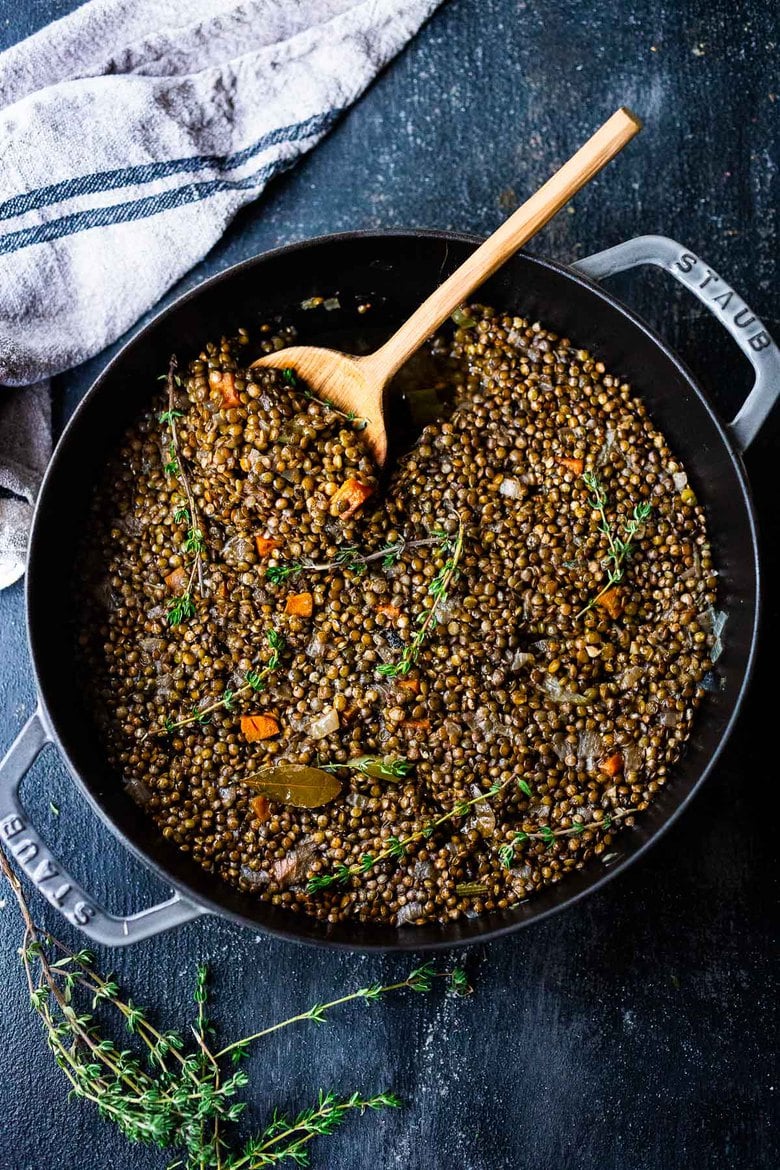 Simple Roasted Vegetables
Simple Roasted Veggies – a  healthy side dish that comes out perfect every time. Use any veggies you like!  Add sweet onions or red onions and a splash of balsamic vinegar if you like. Easy, healthy, delicious! Vegan and Gluten-free.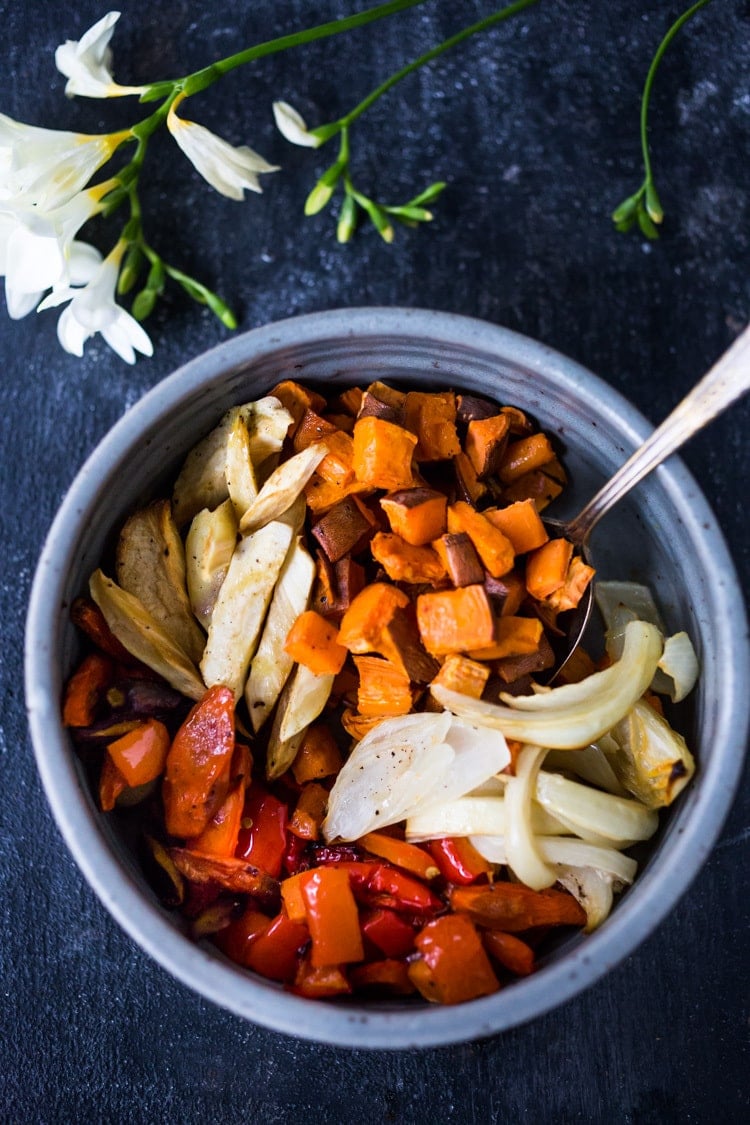 Melting Slow Roasted Cabbage
Melting Slow Braised Cabbage – cooked low and slow in the oven until meltingly tender, then topped with Gremolata. This vegan side dish is totally delectable, almost hearty enough to serve as a main over creamy mashed potatoes. A beautiful vegan side dish, deserving of your Thanksgiving dinner.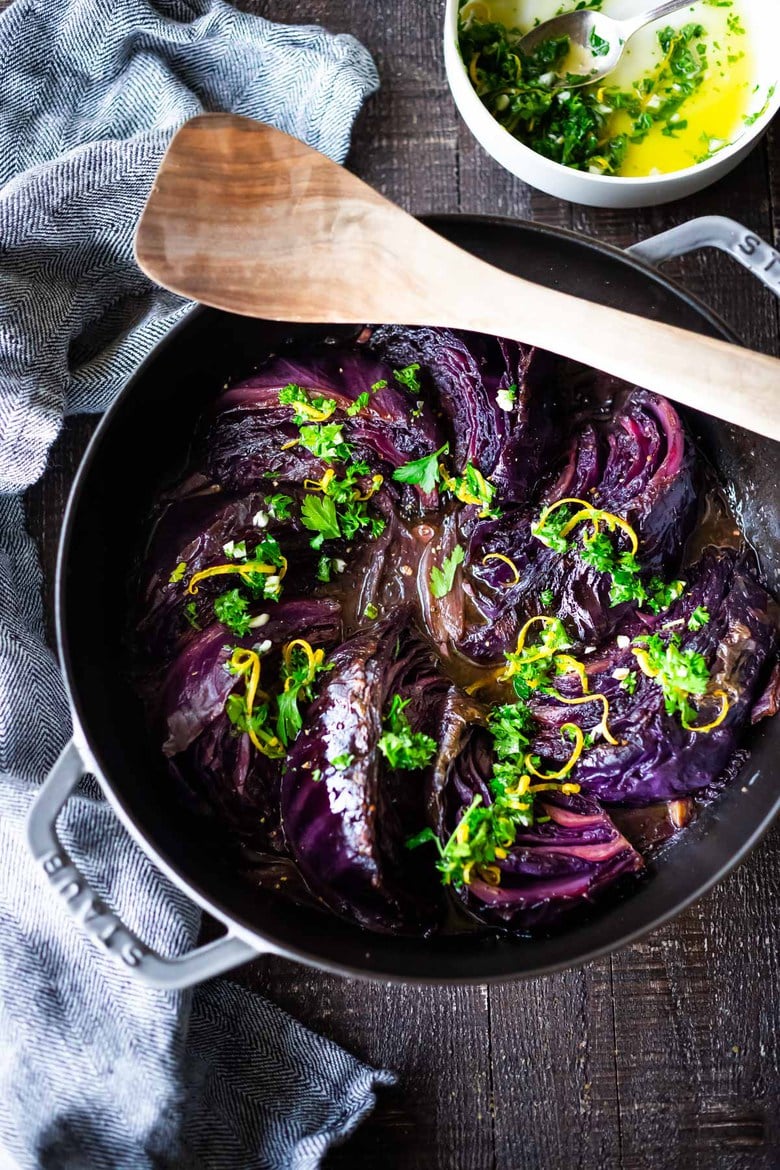 Roasted Moroccan Carrots with Citrus a tasty, flavorful vegetable side dish that would be delicious on your thanksgiving tables.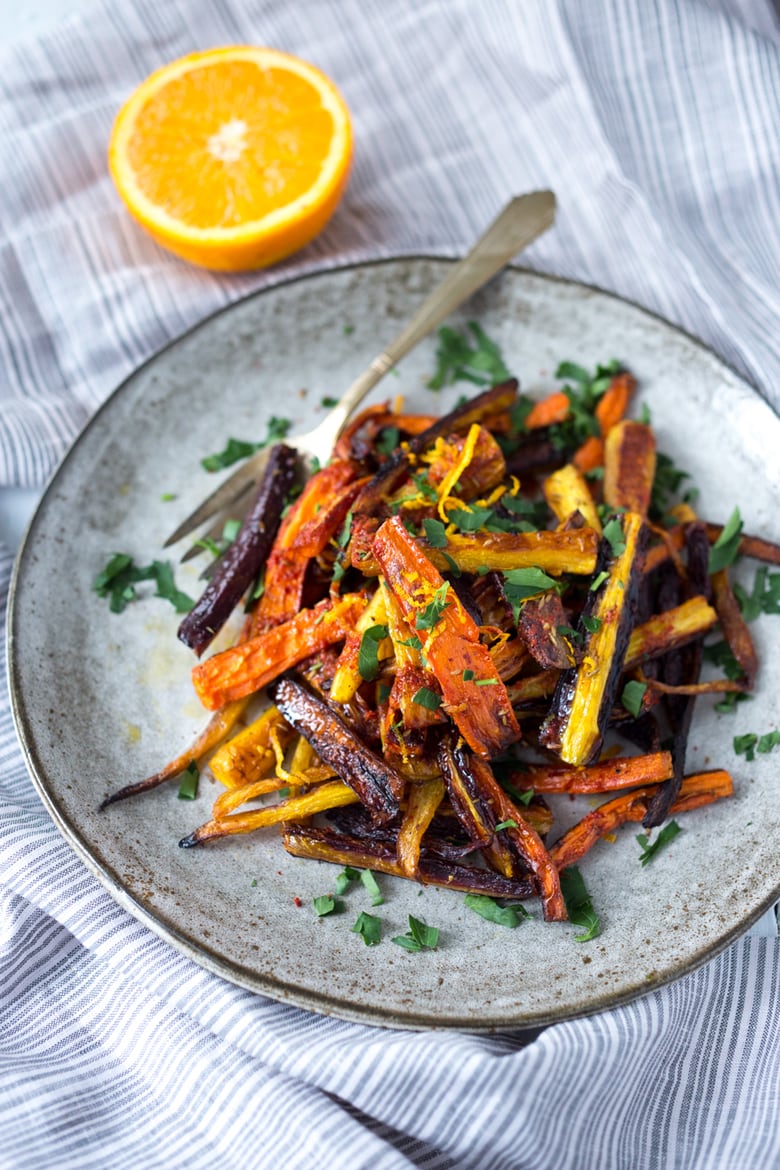 Moroccan Roasted Beets with Pomegranate Seeds – a festive Thanksgiving side dish!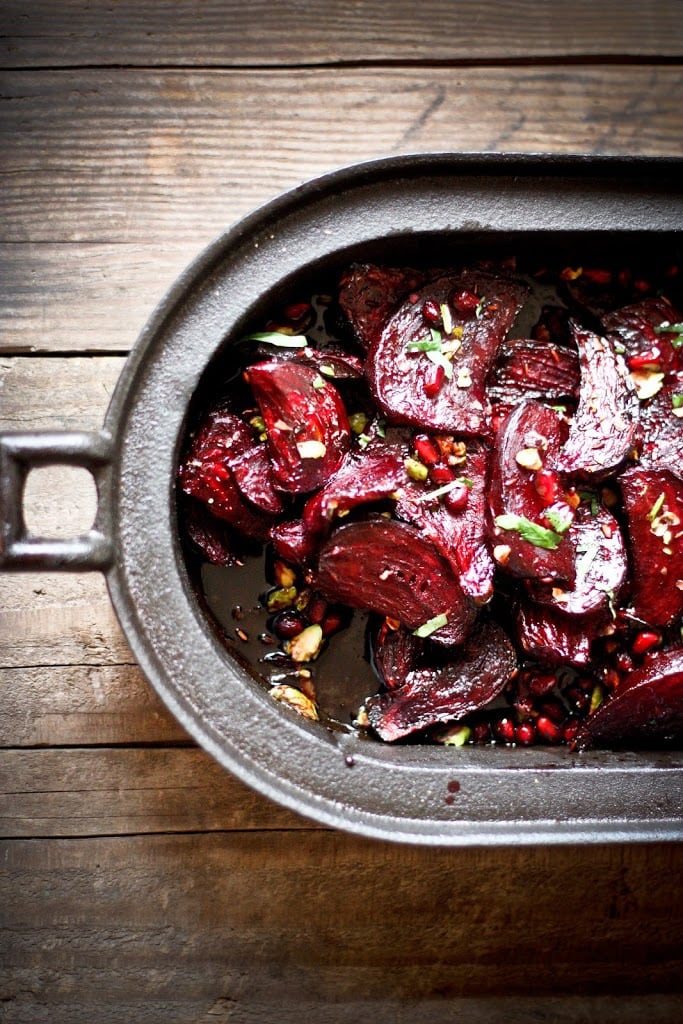 Hasselback Potatoes
Rosemary Garlic Hasselback Potatoes are a departure from traditional potatoes, but are so much fun! A nice addition to your holiday table.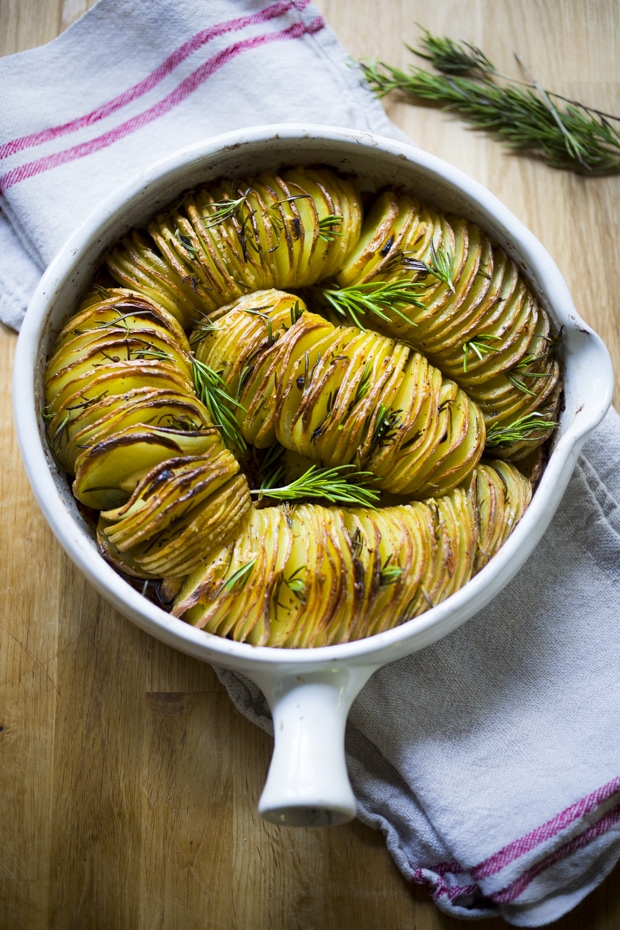 Roasted Butternut Squash
 Miso Roasted Butternut Squash- a savory Thanksgiving side dish full of umami flavor.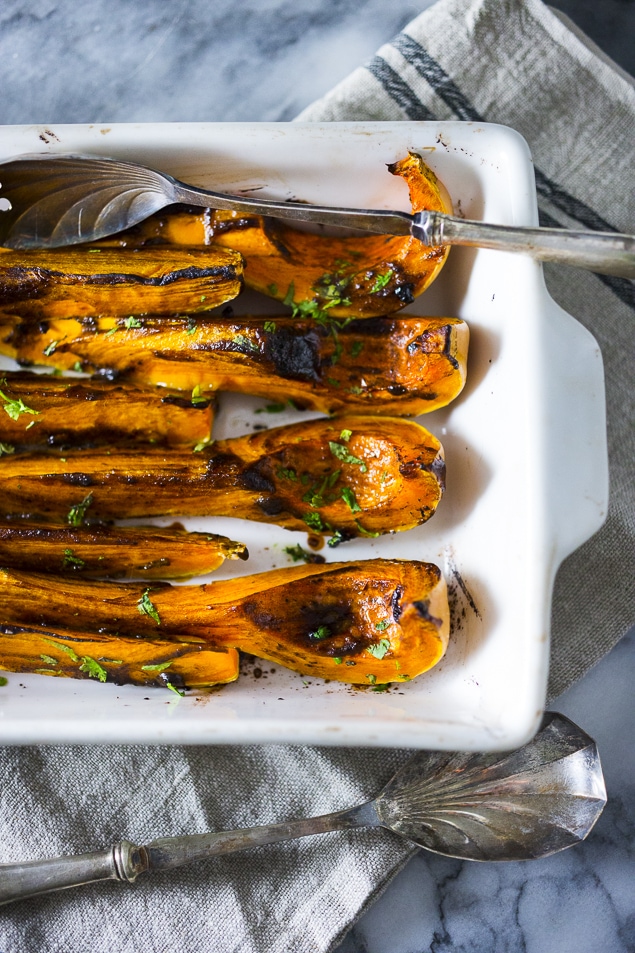 Cranberry Sauce
Orange Maple Cranberry Sauce with fresh apple is a bright and healthy addition to your holiday feast!  Easy, fast, and can be made ahead.   Maple-sweetened, and free of refined sugar, vegan and gluten-free
Green Bean Casserole
This healthy Green Bean Casserole is made with fresh green beans, oven-baked crispy shallots, and a creamy mushroom sauce that is VEGAN! Easy, healthy and delicious, worthy of the holiday table.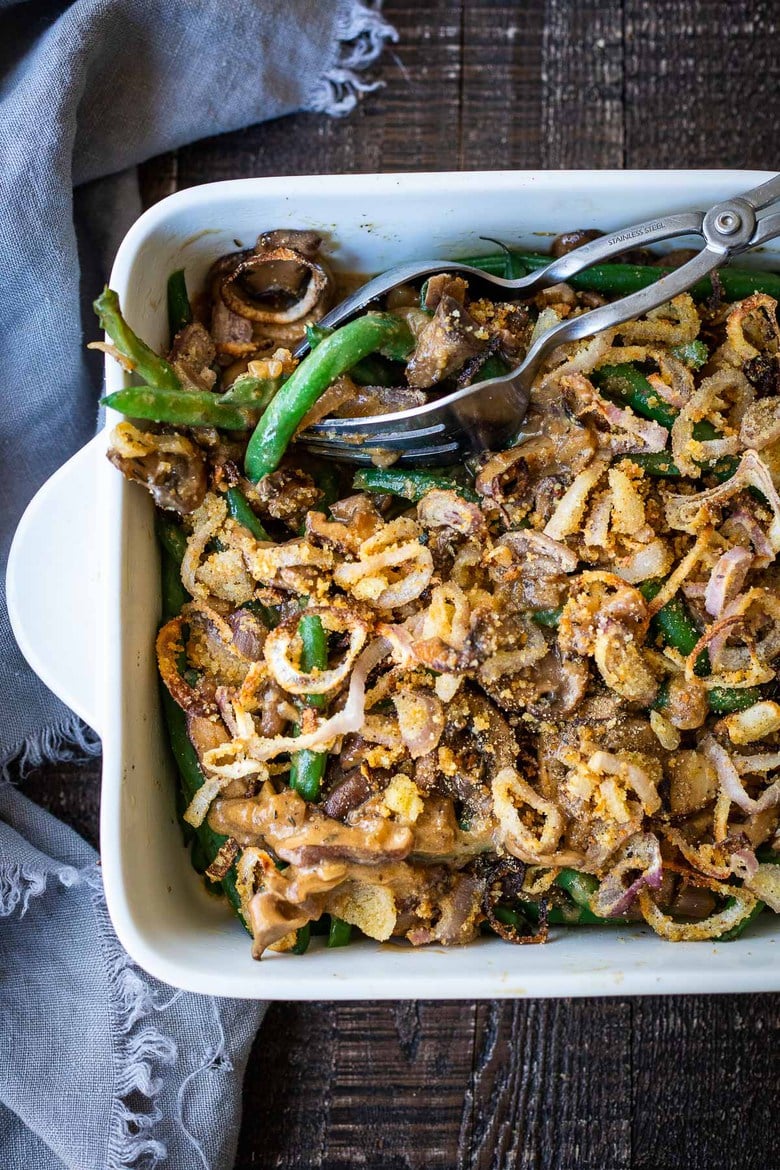 Cozy Vegetarian Side Dishes
These vegetarian side dishes are cozy and hearty and full of fall flavors- perfect for special gatherings and the holiday table.
Cornbread Stuffing
Cornbread Stuffing with Cranberries and Pecans and Toasted Pecans is richly flavored and so delicious!  The perfect addition to your holiday table.  This recipe can easily be made a day ahead of baking.  Vegetarian and Gluten-Free adaptable.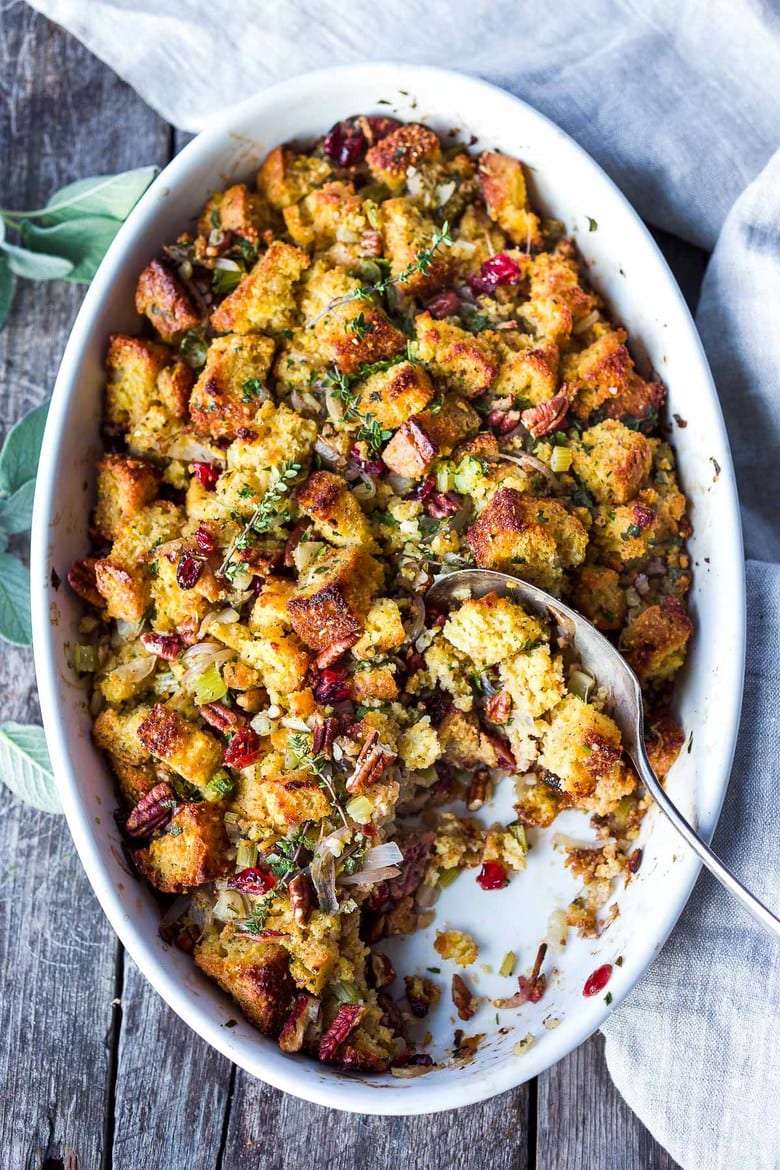 Scalloped Potatoes
These easy Scalloped Potatoes are made with simple ingredients and just 25 minutes of hands-on time, before baking in the oven. Tender and creamy with a golden crispy top, they are perfect for weeknights or the holiday table.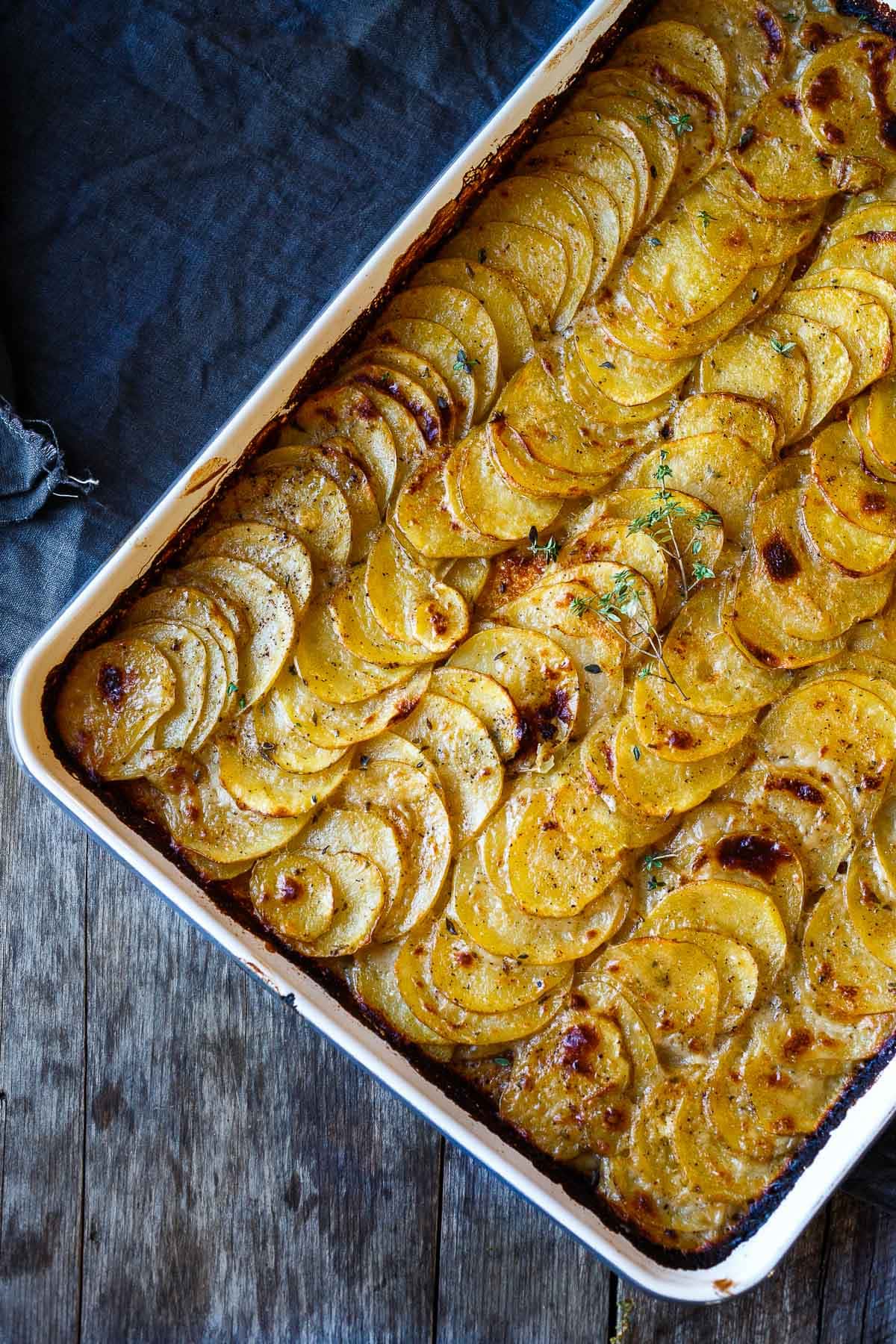 Butternut Squash Gratin
Butternut Squash Gratin with Leeks, Sage and Walnuts – a delicious Thanksgiving side dish, highlighting the best of fall flavors, worthy of your holiday table.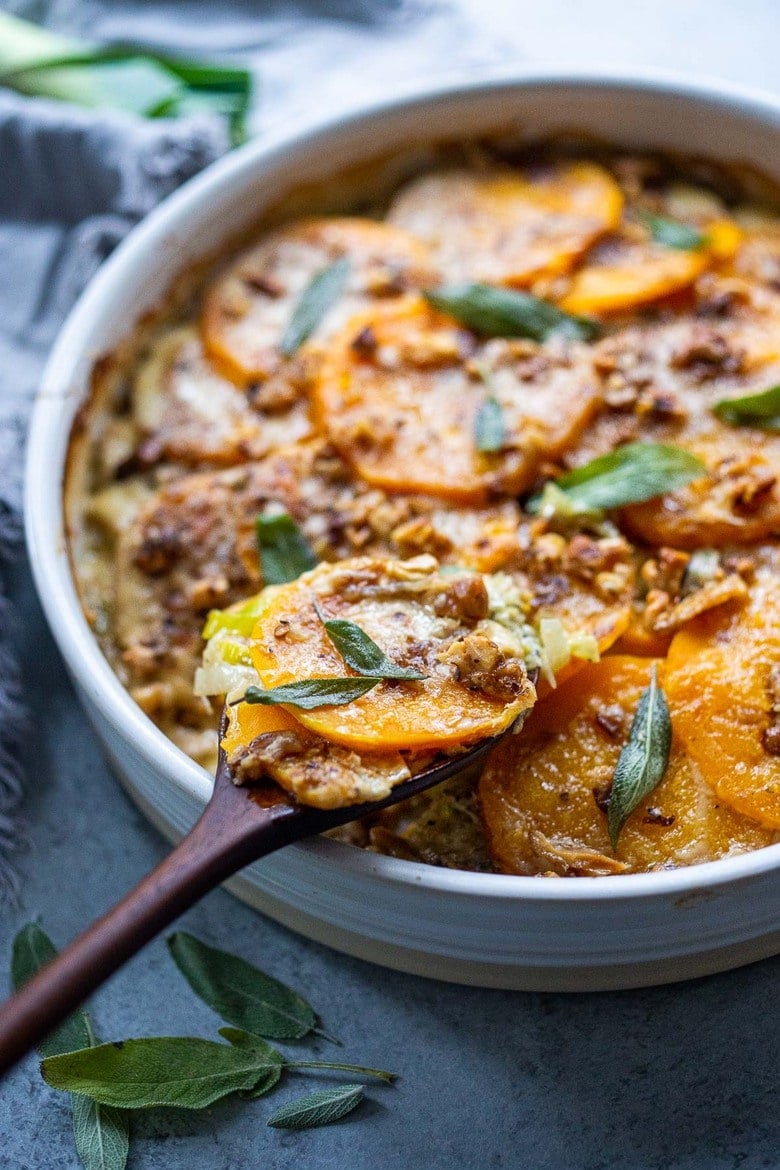 Mushroom Stuffing
Wild Mushroom Stuffing with fennel and leeks –  a tasty vegetarian Thanksgiving Side Dish that is full of depth and flavor flavors.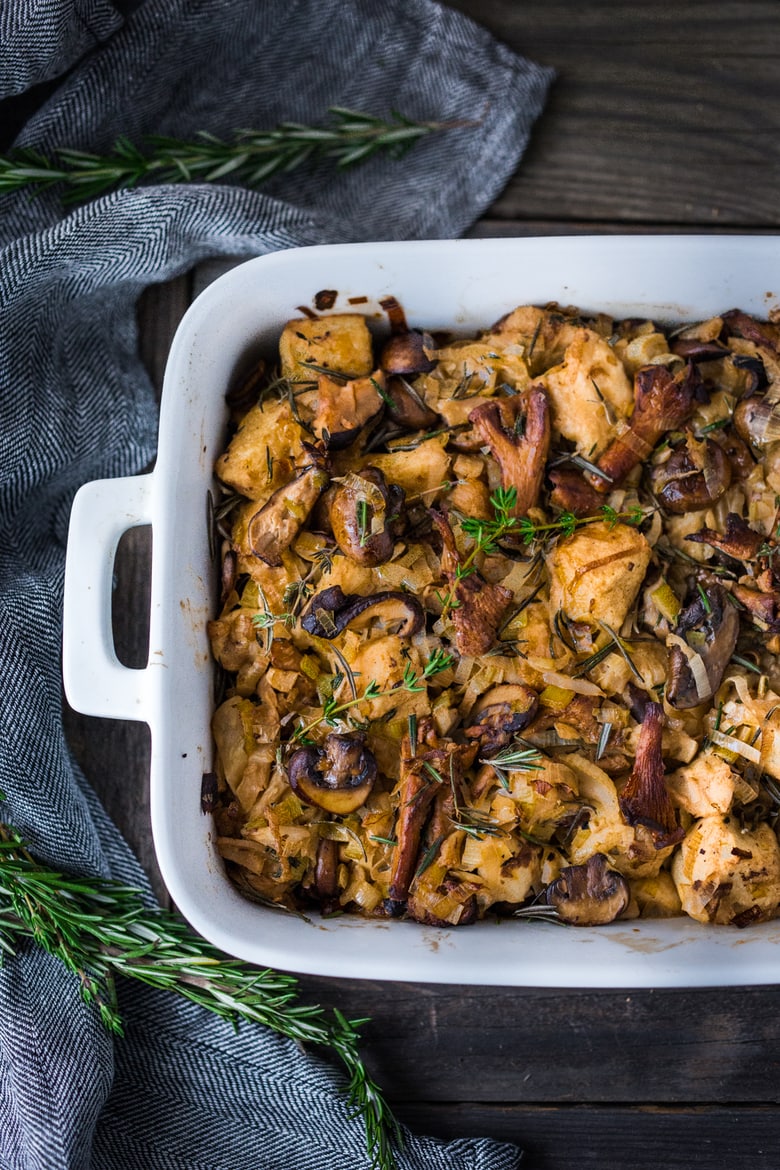 Mashed Sweet Potatoes
Mashed Sweet Potatoes  – a cozy Thanksgiving side dish that can be made in under 30 minutes. Sweet potatoes are full of so many nutrients! One of my favorite recipes because it goes so well with so many things!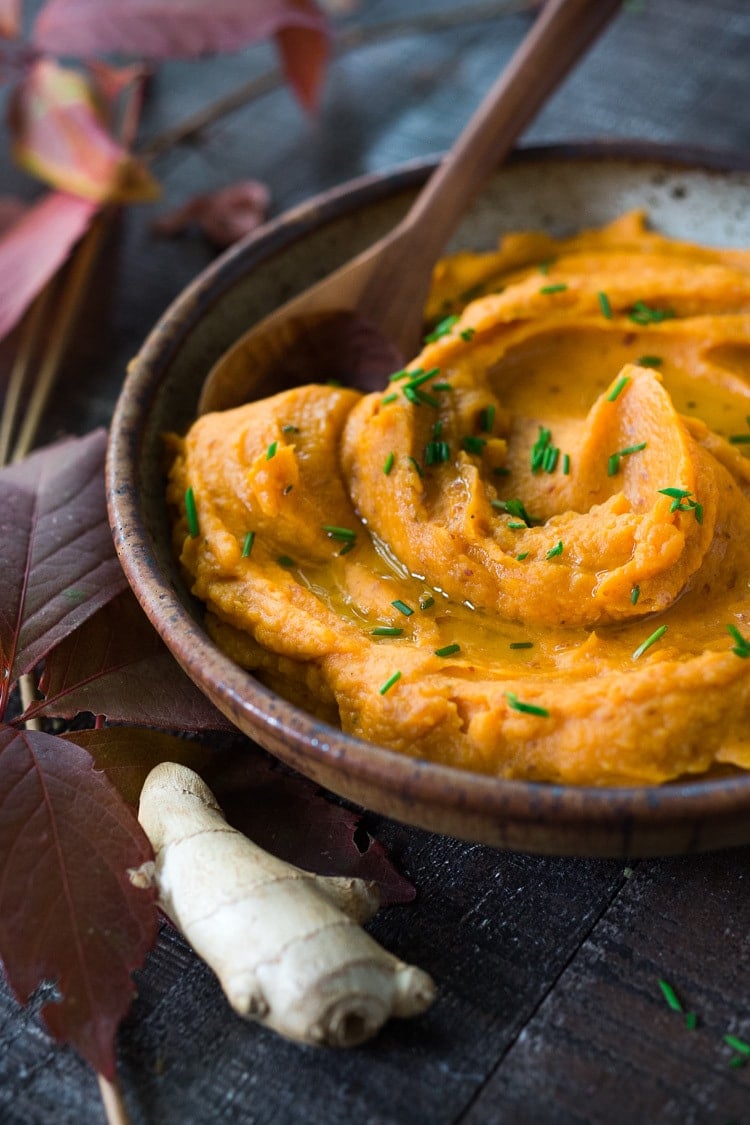 Savory Leek Bread Pudding
Savory Leek Bread Pudding with Gruyere and Thyme – a delicious, decadent Thanksgiving side dish, perfect for the holiday table.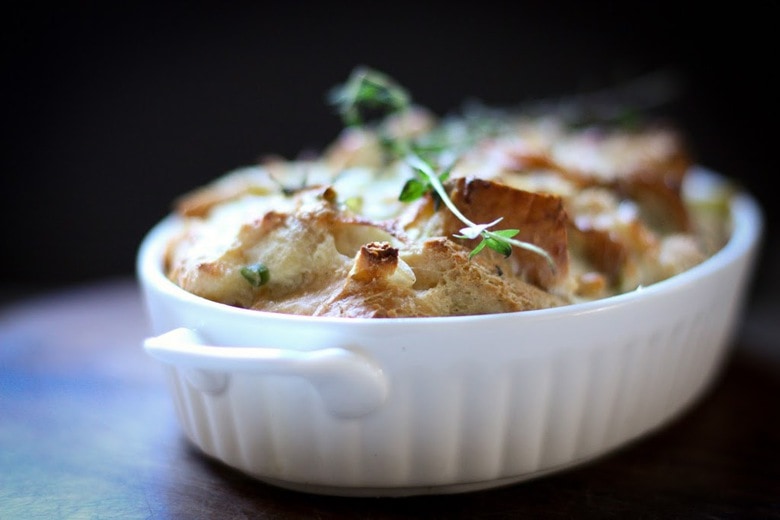 Parsnip Gratin
 Parsnip Gratin with Gruyère and Thyme One of my personal favorites, this Parsnip Gratin sings of fall. It's delicious and luxurious, the perfect Thanksgiving Side dish!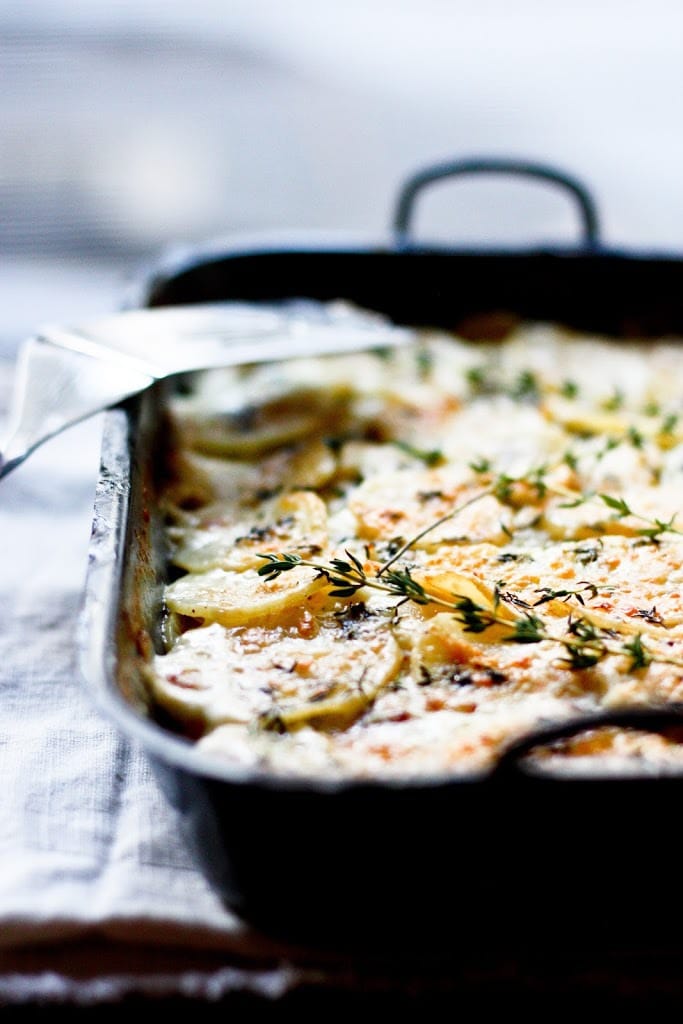 Roasted Garlic Mashed Potatoes
Roasted Garlic Mashed Potatoes  Our favorite Mashed potatoes with a whisper of horseradish- a flavorful, lightened-up version of mashed potatoes that is vegan adaptable- with an optional horseradish kick, perfect for Thanksgiving.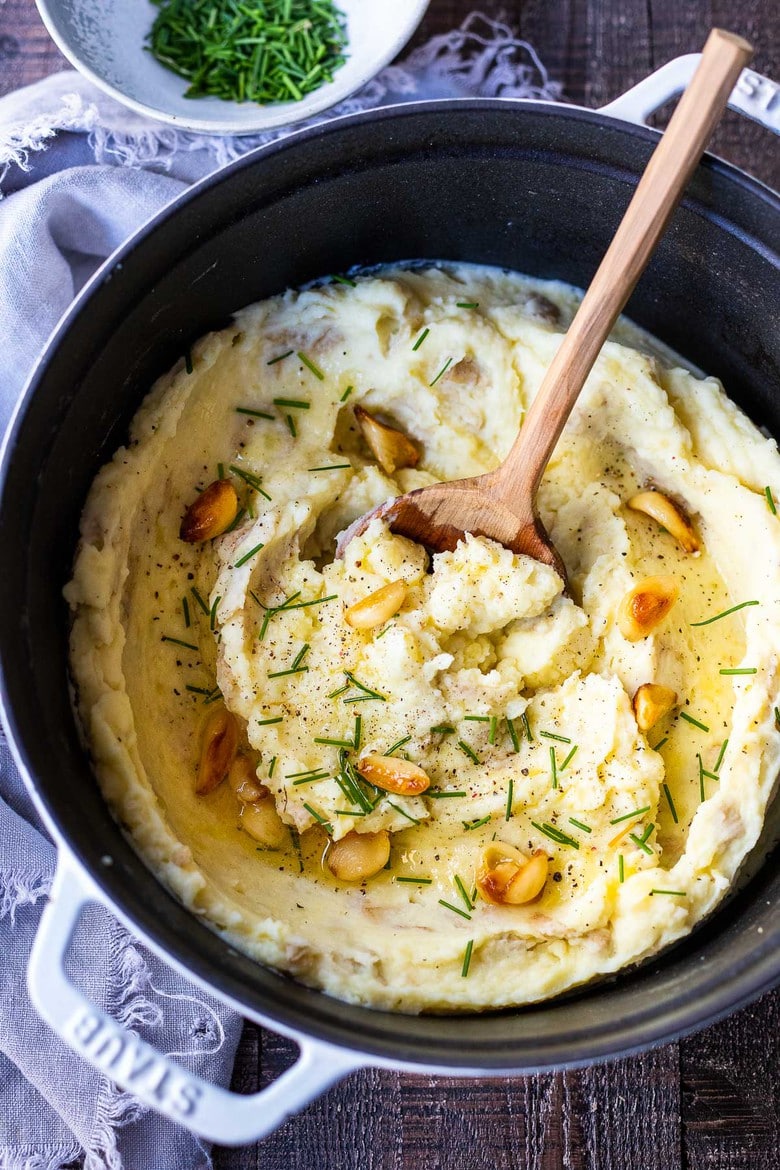 Mushroom Gravy
An easy recipe for Mushroom Gravy that is vegetarian (vegan-adaptable) healthy and full of depth and flavor.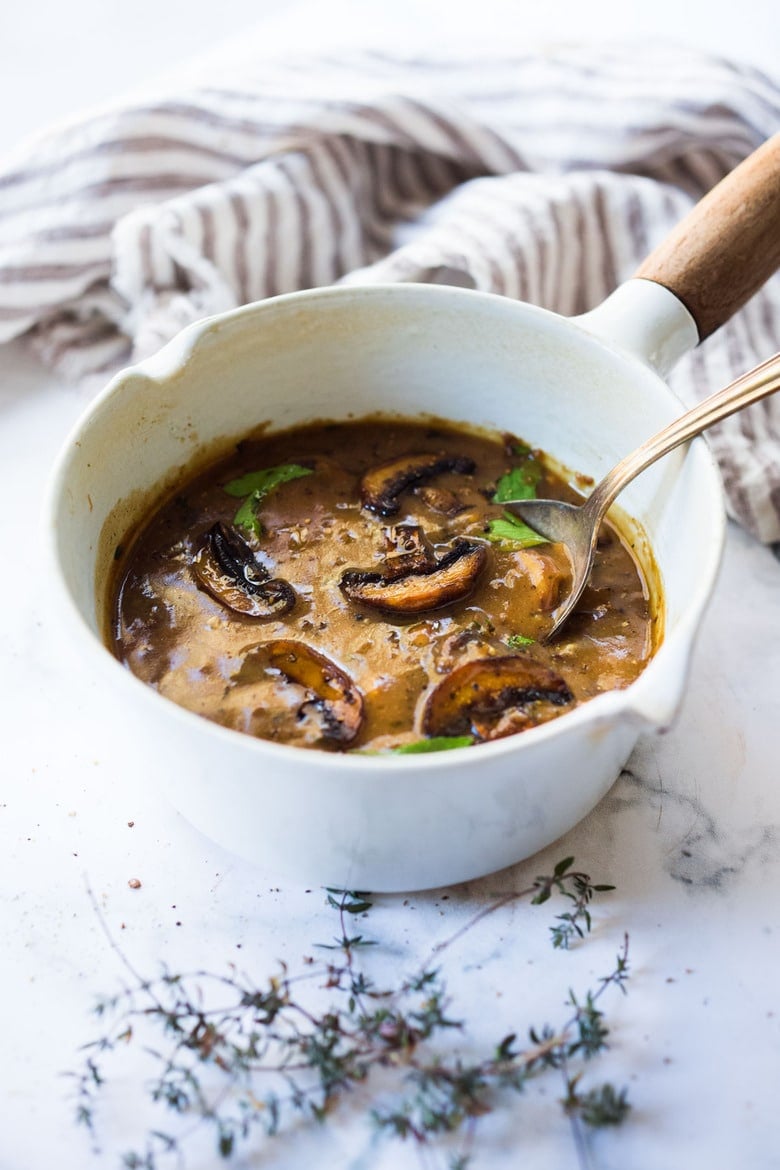 Cauliflower Gratin
 Cauliflower Gratin with Garlic and Sage a cozy, rich comforting side dish featuring our favorite fall veggie- cauliflower! Keep it vegetarian!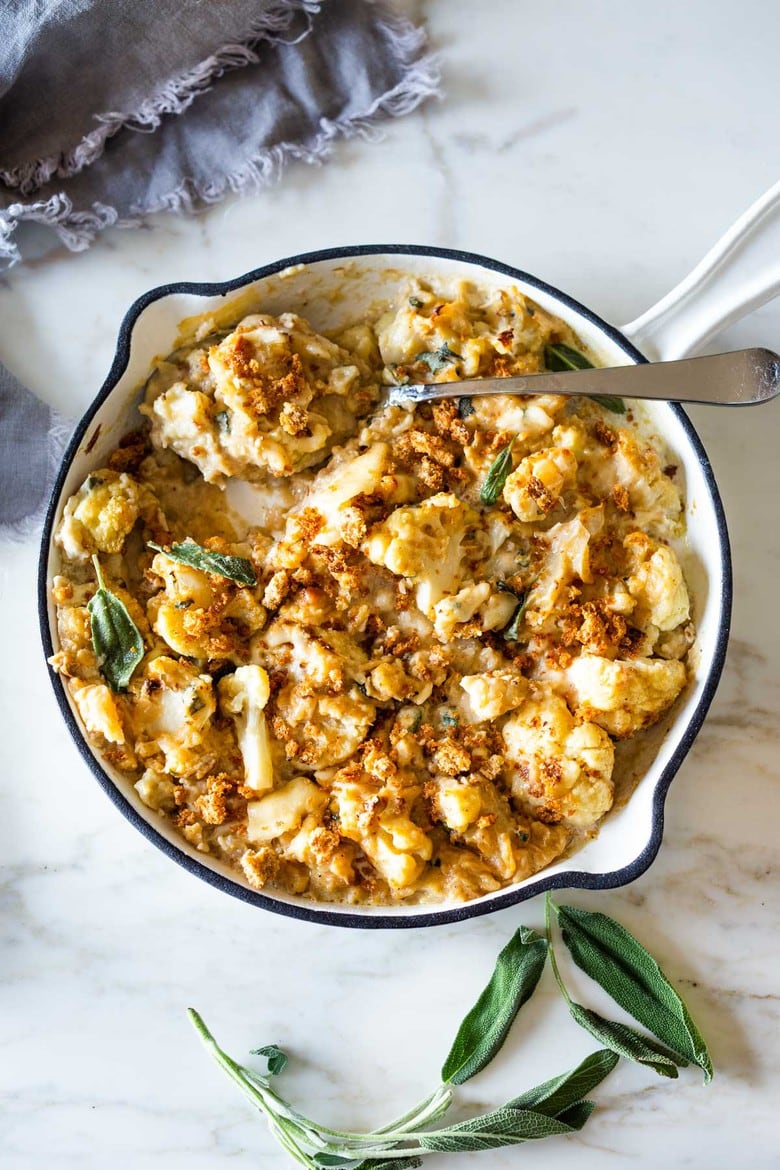 Mashed Cauliflower
Mashed Cauliflower with Brown Butter & Roasted Garlic- a keto version of mashed potatoes, this Creamy Mashed cauliflower is divine.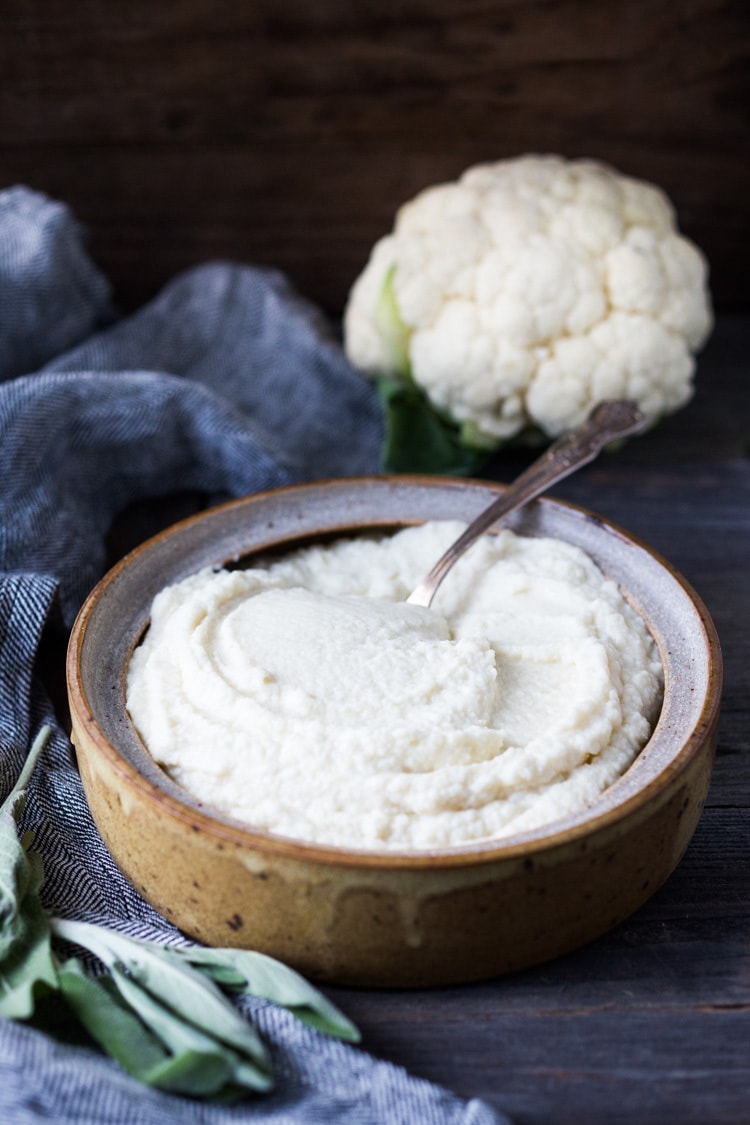 Truffle Mushroom Mac and Cheese
This earthy, decadent Truffle Mushroom Mac and Cheese is a mushroom lover's dream. It's easier than you think and can be made ahead- perfect for holidays and gatherings.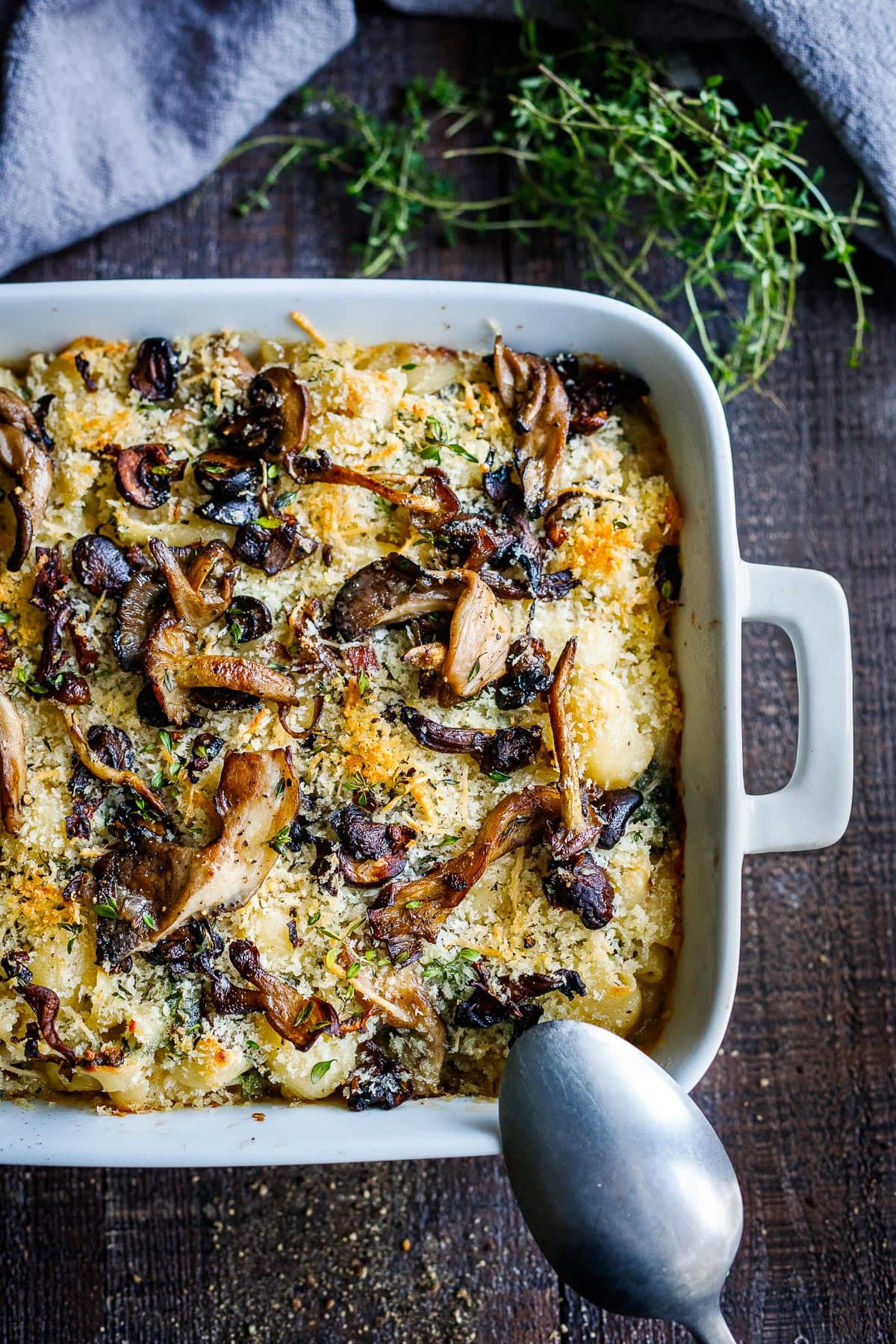 Instant Pot Mashed Potatoes
The easiest recipe for Instant Pot Mashed Potatoes – creamy fluffy and light, these can be made in just 20 minutes! Vegan adaptable!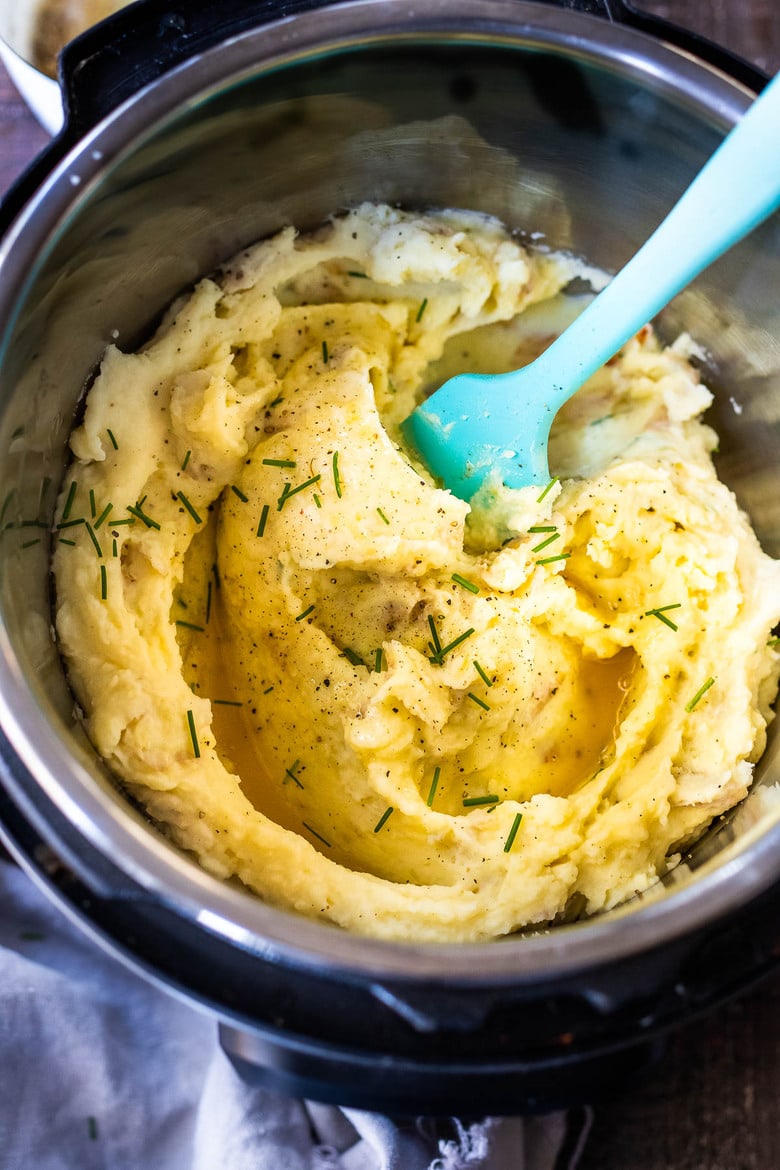 Breads and Rolls
Popovers
How to make the best Popovers from scratch that are light and airy on the inside and golden and crispy on the outside. An easy recipe that requires only 15 minutes of hands-on time!

Butternut Squash Rolls
Golden Butternut Squash Dinner Rolls are flecked with rosemary and completely irresistible. Roasted squash cooked into the roll ensures that they are soft and full of flavor with just a hint of sweetness.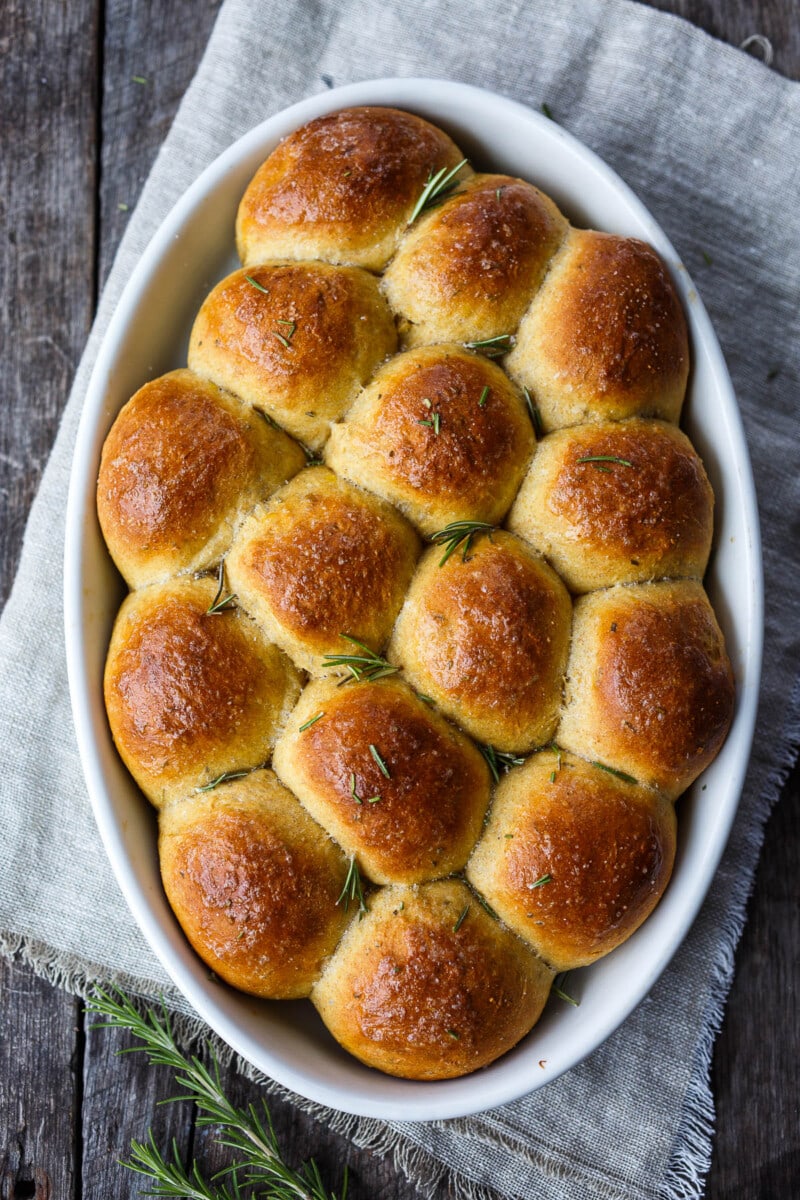 Leek Bread
A simple delicious recipe for Savory Leek Bread , a delicious addition to your holiday spread.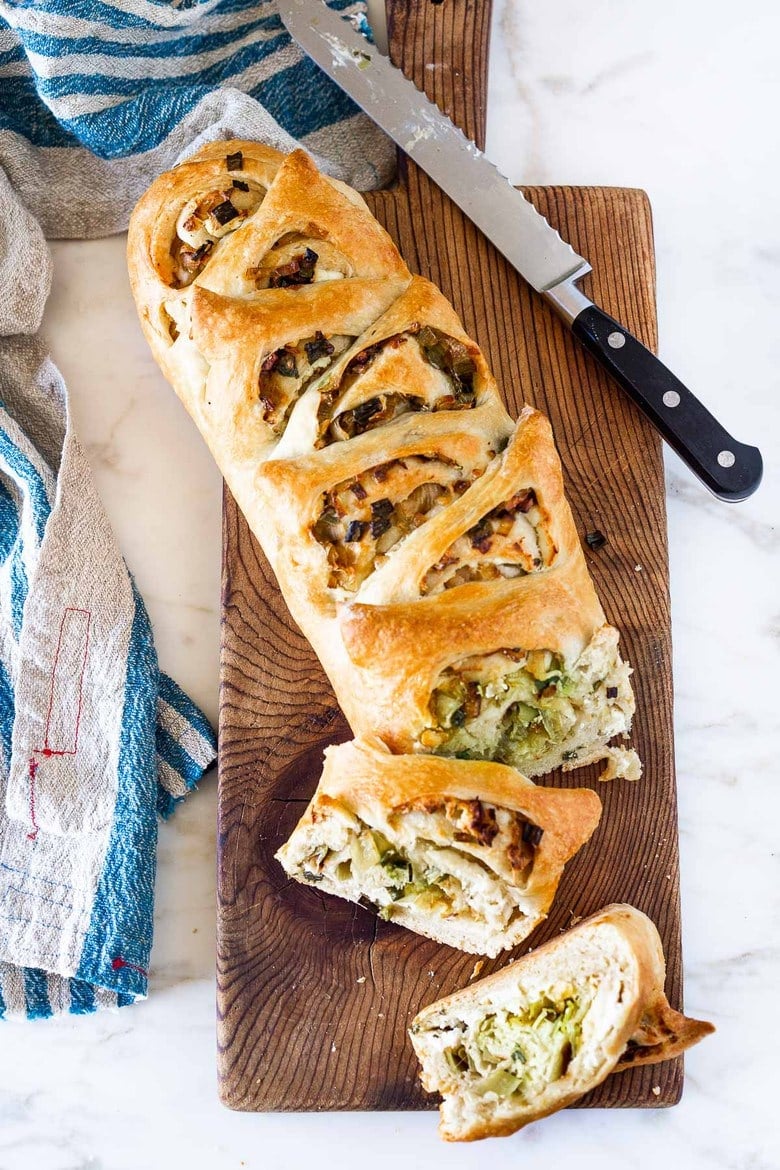 Savory Sourdough Biscuits
An easy recipe for Sourdough Biscuits with scallions using leftover sourdough starter (or discard). This buttery biscuit can be made in 45 minutes!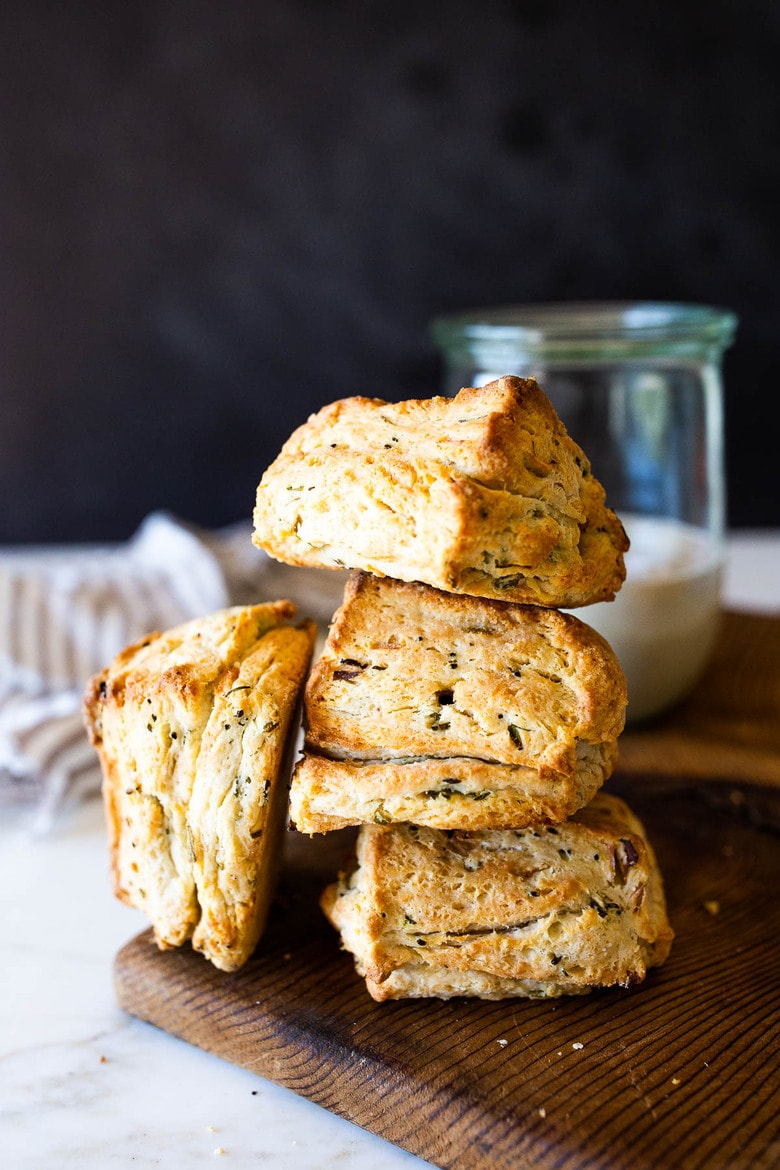 Savory Scones
Savory Cheddar Scones with caramelized onions and caraway seeds, made with optional rye flour. Very easy and delicious with soups and stews!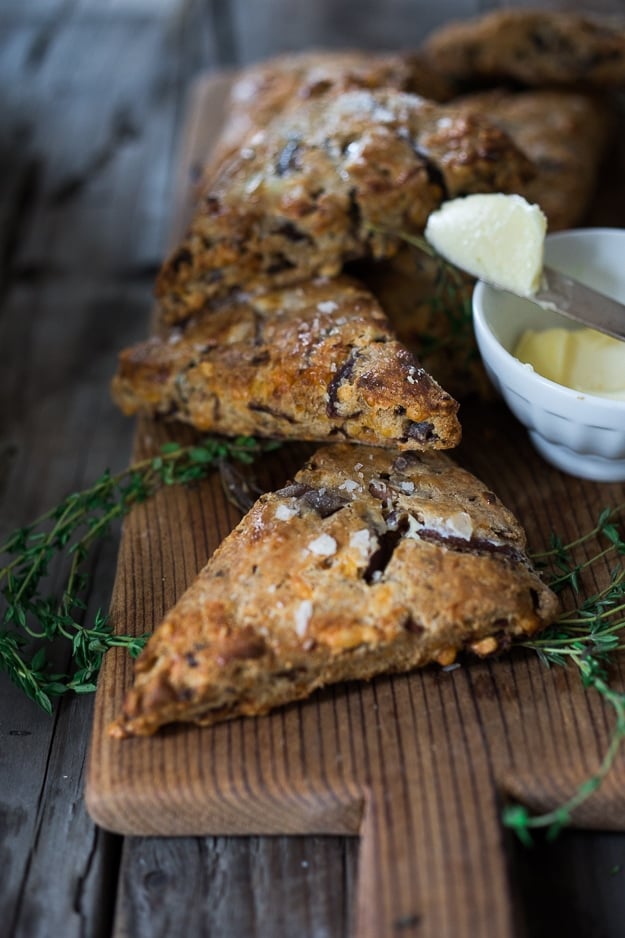 Festive Thanksgiving Salads
Pear Salad with Vanilla Fig Dressing
This Pear and Gorgonzola Salad with Vanilla Fig Dressing is the perfect side for a fall gathering or the Thanksgiving table. Juicy ripe pears, arugula, spiced nuts, pomegranate seeds, dried currants and gorgonzola are all tossed in a flavorful Vanilla Fig Dressing to create the most delicious balance of flavors.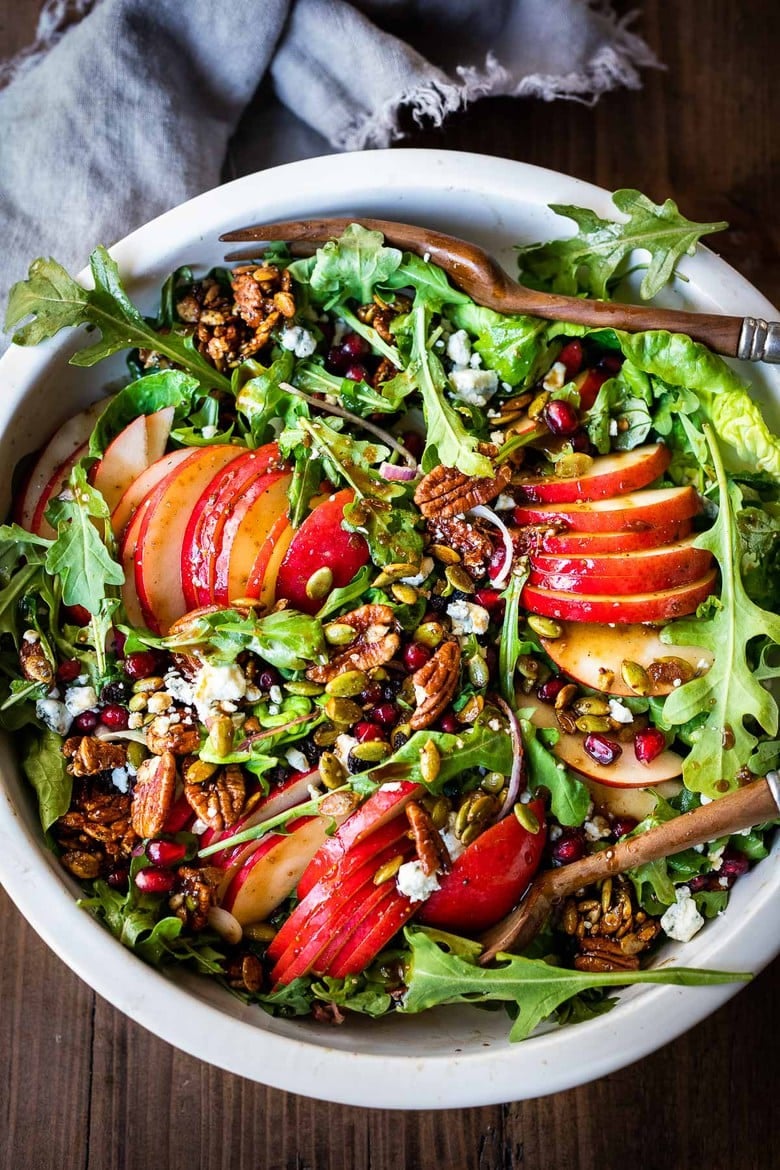 Winter Happiness Salad
Winter Happiness Salad! This Kale & Quinoa Salad with Apples, Chickpeas and Currants is perfect for fall- hearty vegan side or salad that can be made ahead- perfect for potlucks, gatherings or midweek lunches!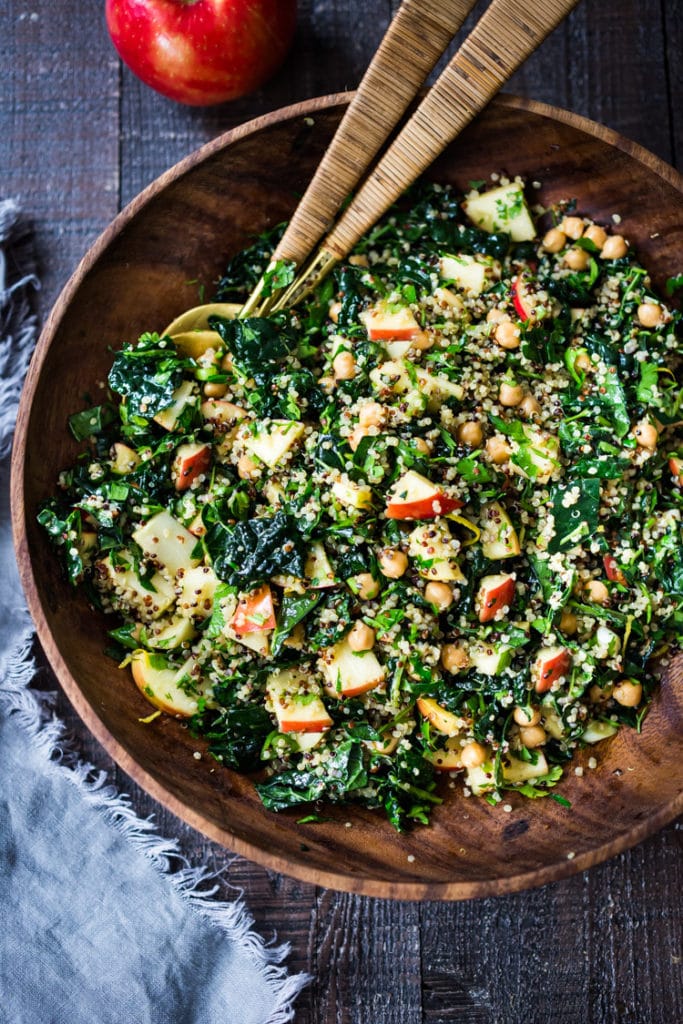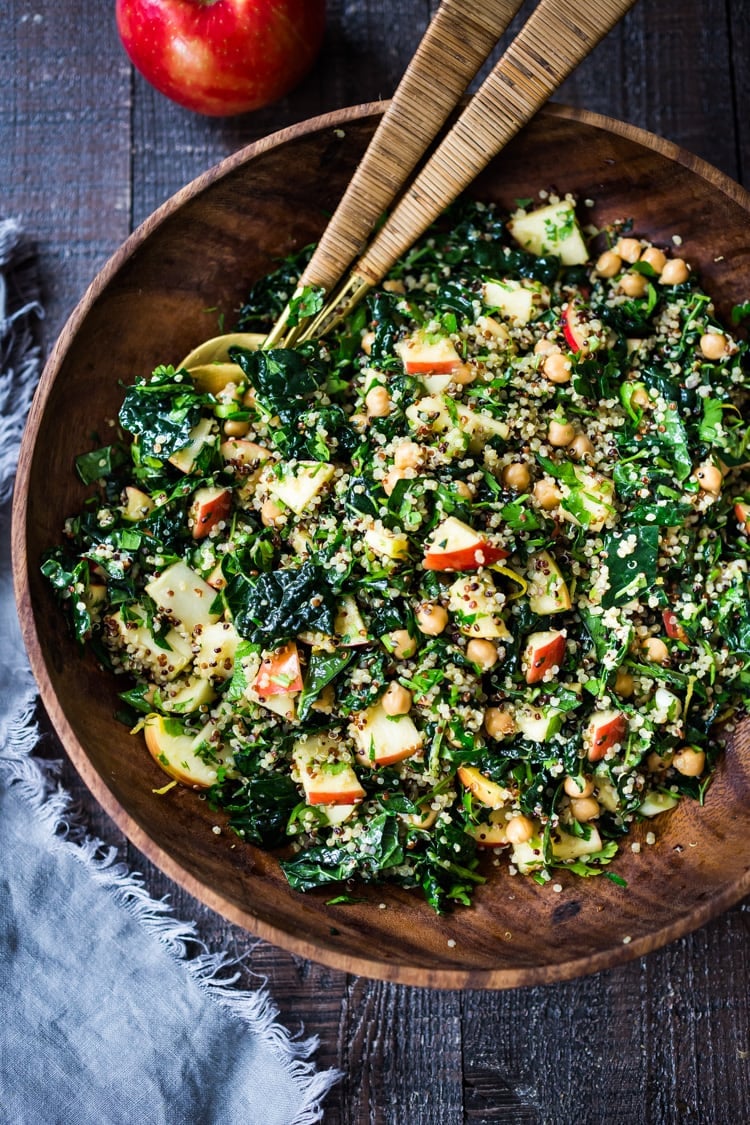 Roasted Broccoli Salad
Easy Roasted Broccoli Salad with toasted almonds, kalamata olives, and lemon zest, drizzled with delicious Mustard Seed Maple Dressing.  Amazingly simple, yet filled with so much vibrant flavor.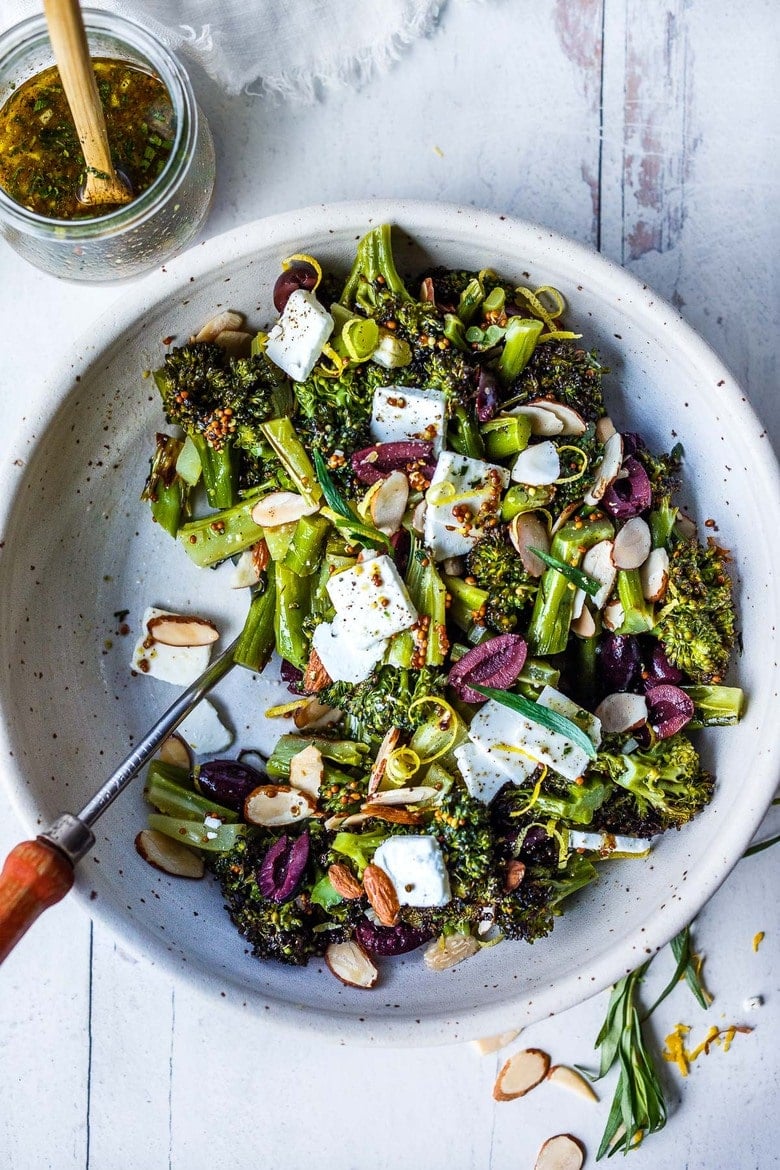 Roasted Pumpkin Salad
This delicious Roasted Pumpkin Salad with Kale, Apples and Wild Rice is topped with Maple-glazed Pecans, dried cranberries, and a scrumptious, healthy, Allspice Vinaigrette. A tasty vegan side, perfect for the Thanksgiving table.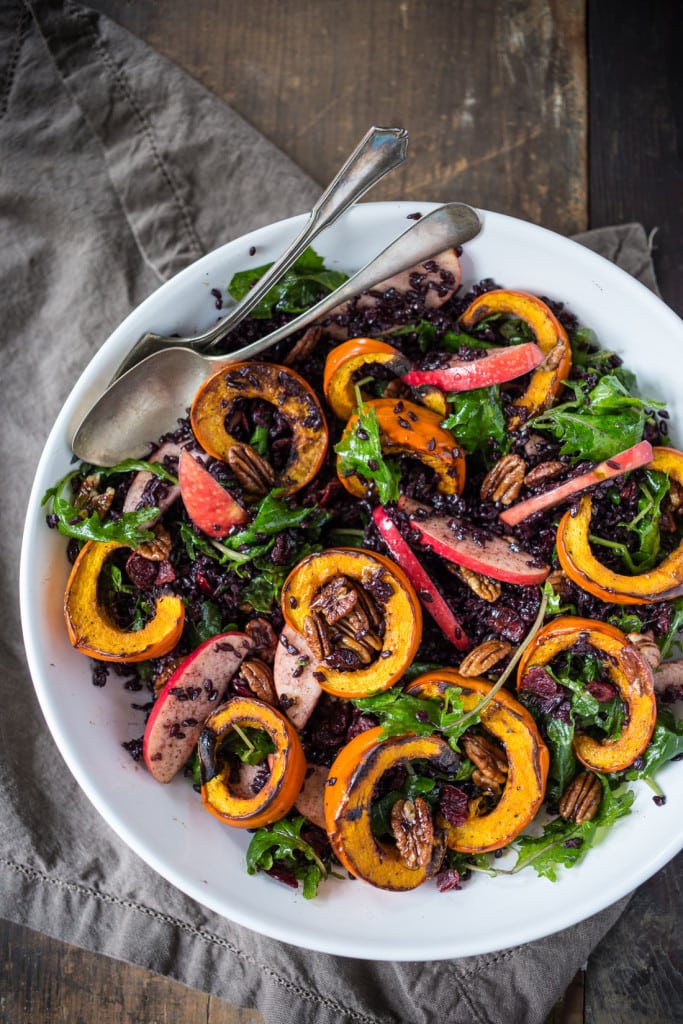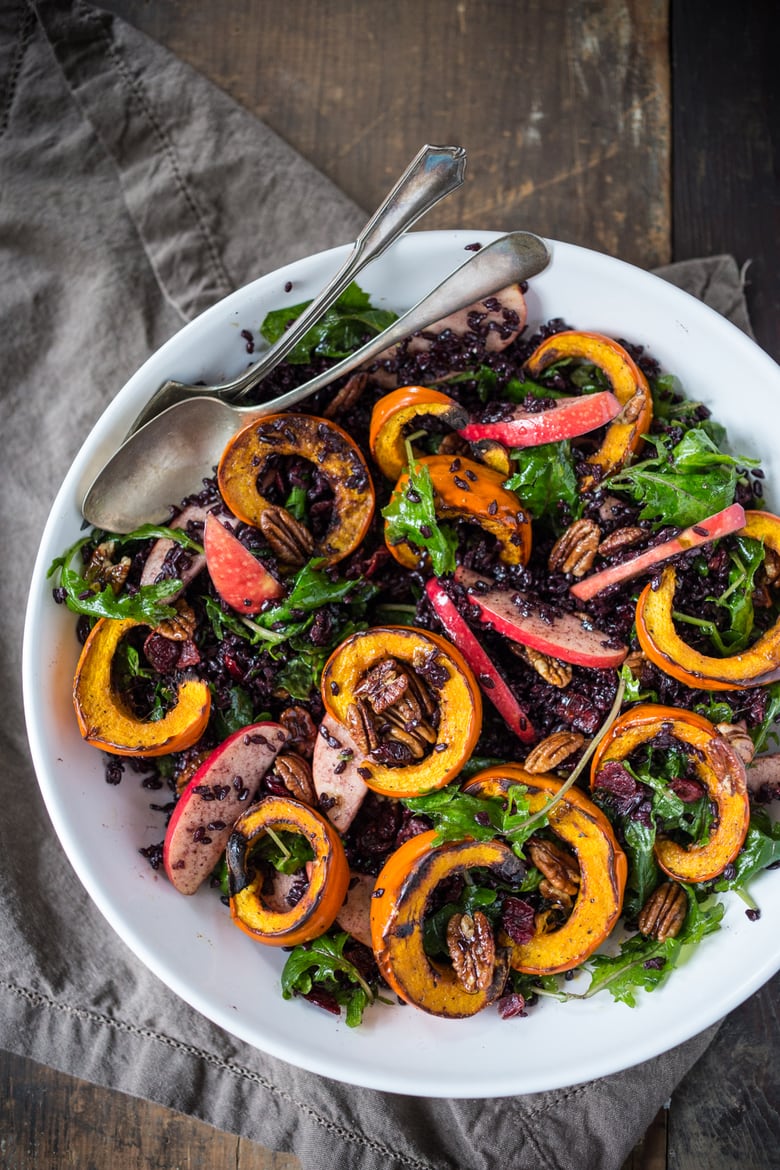 Radicchio Salad
A simple, festive Radicchio Salad with Asian pears, walnuts, basil, shaved pecorino and pomegranate seeds in a simple vinaigrette dressing. Make ahead and toss before serving.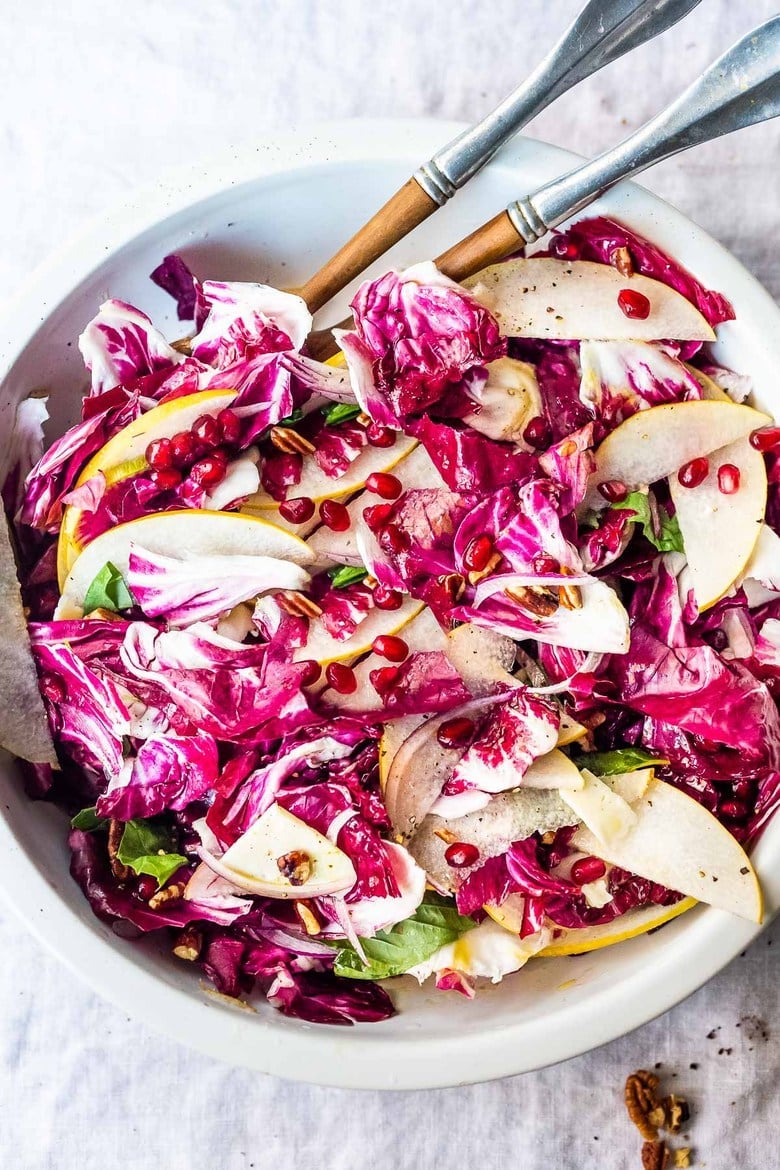 Fig and Arugula Salad
Here's one of our all-time favorite fall salads- Fig and Arugula Salad with Goat Cheese, Pecans and Basil tossed in a simple Balsamic Vinaigrette.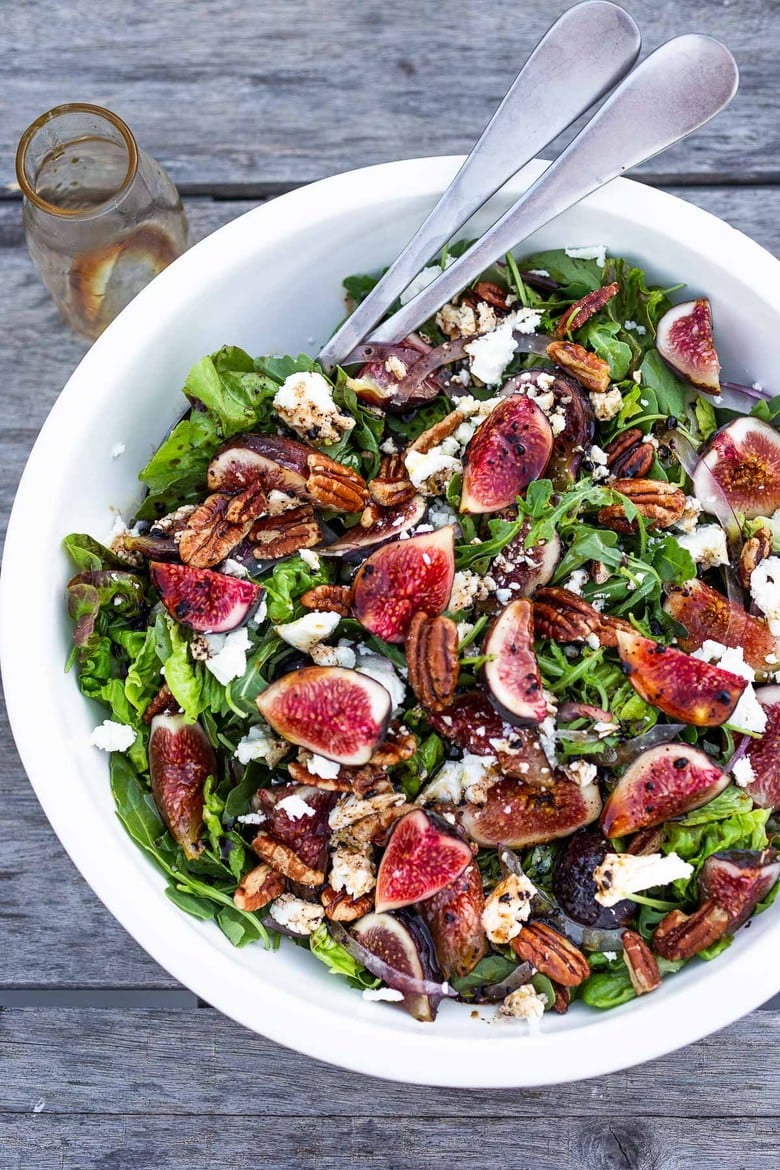 Roasted Vegetable Salad
A Roasted Fall Vegetable Salad with roasted Delicata squash, parsnips, sweet potatoes dressed with a delicious Maple Curry Vinaigrette on a bed of shredded kale and Brussels sprouts. Vegan and GF.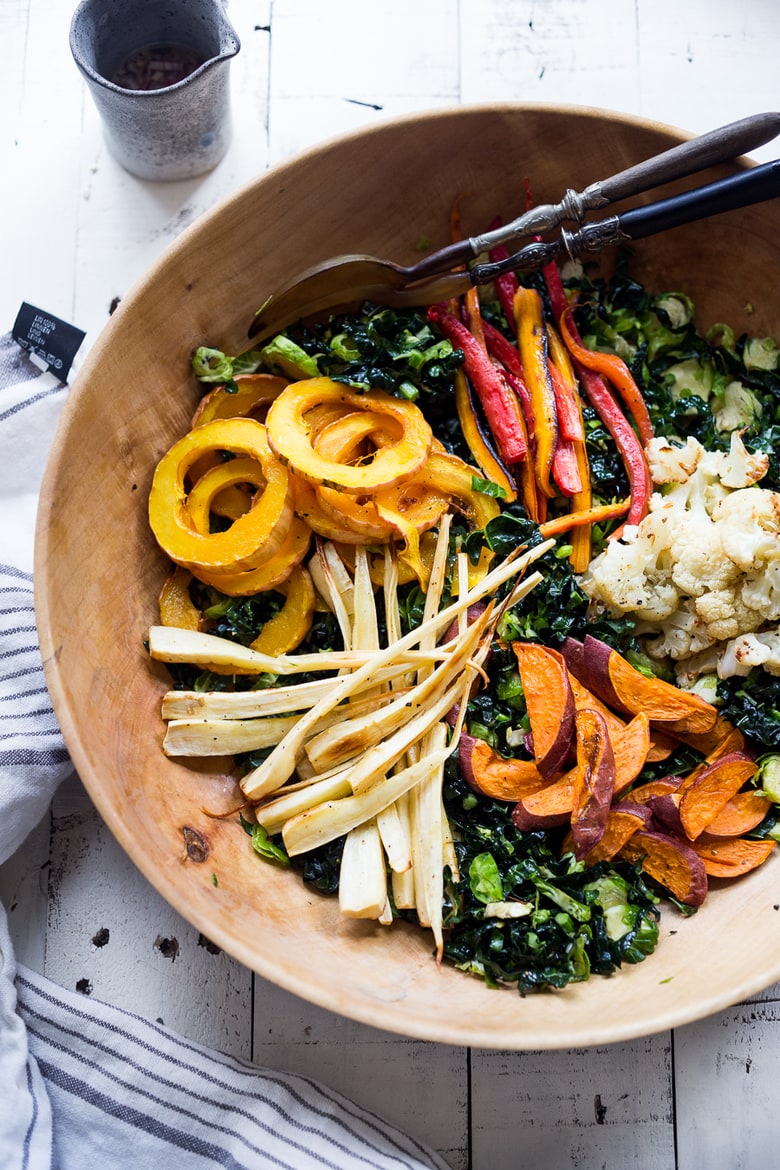 Holiday Crunch Salad
Holiday Crunch Salad with Quinoa, Pomegranate Seeds, avocado, parsley and toasted Almonds…a healthy vegan gluten -free salad to your holiday table!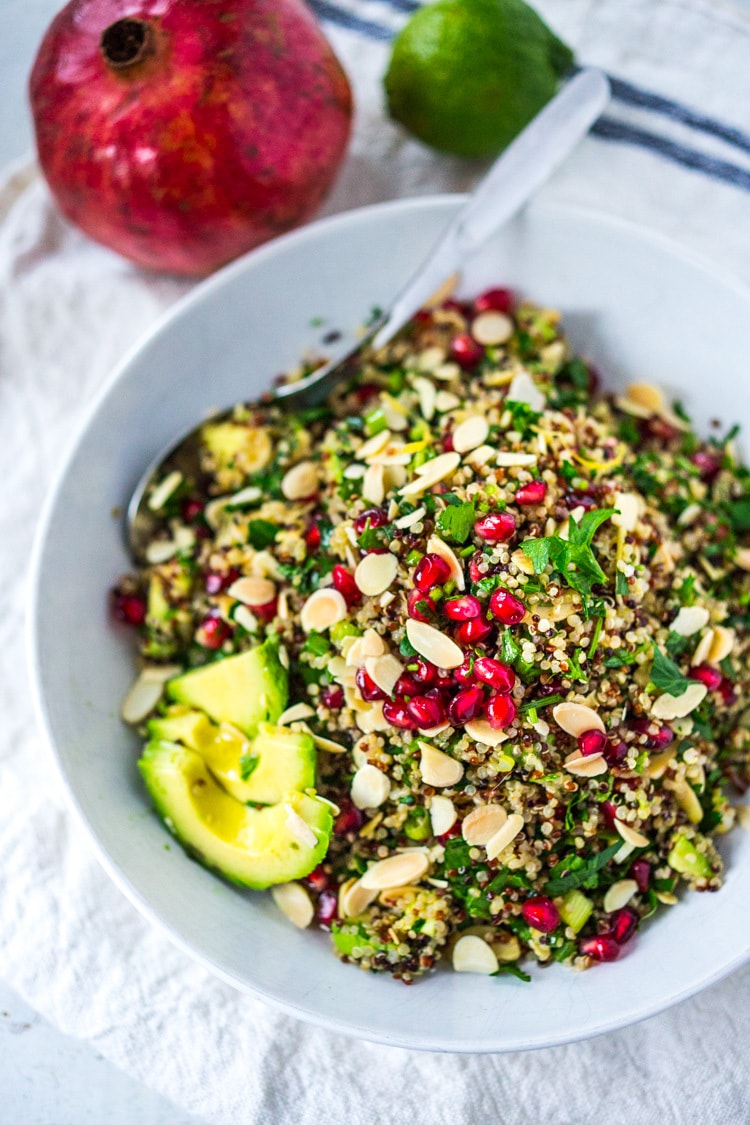 Brussels Sprout Salad
Brussel Sprout Salad with Hazelnuts and Dates This easy healthy vegan salad has a delicious combination of flavors and can be made ahead! Substitute dried cranberries for the dates for the Thanksgiving table!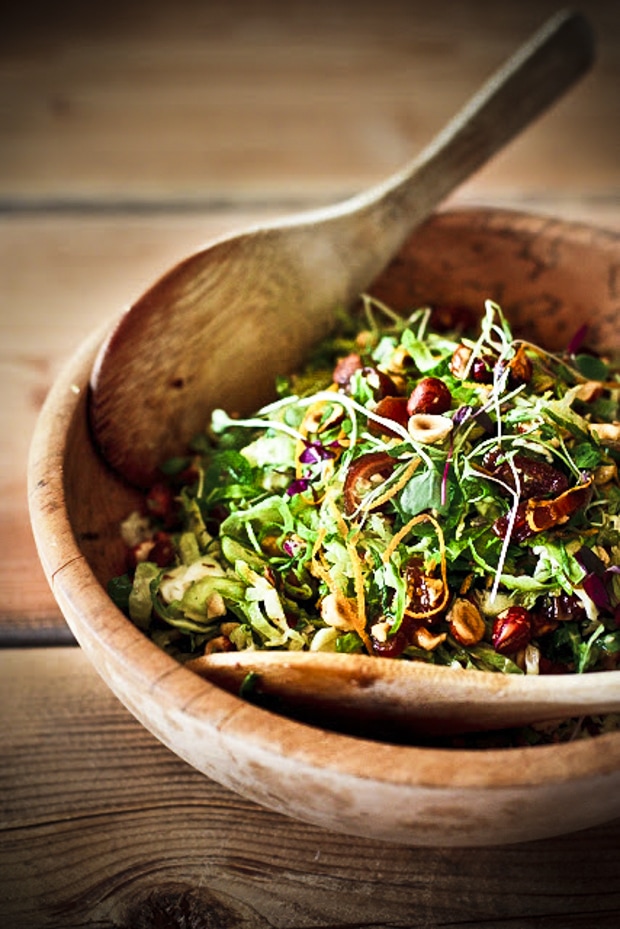 Persimmon Salad
A bright and cheery Persimmon Salad with shaved fennel, pomegranate, butter lettuce and tasty citrus vinaigrette.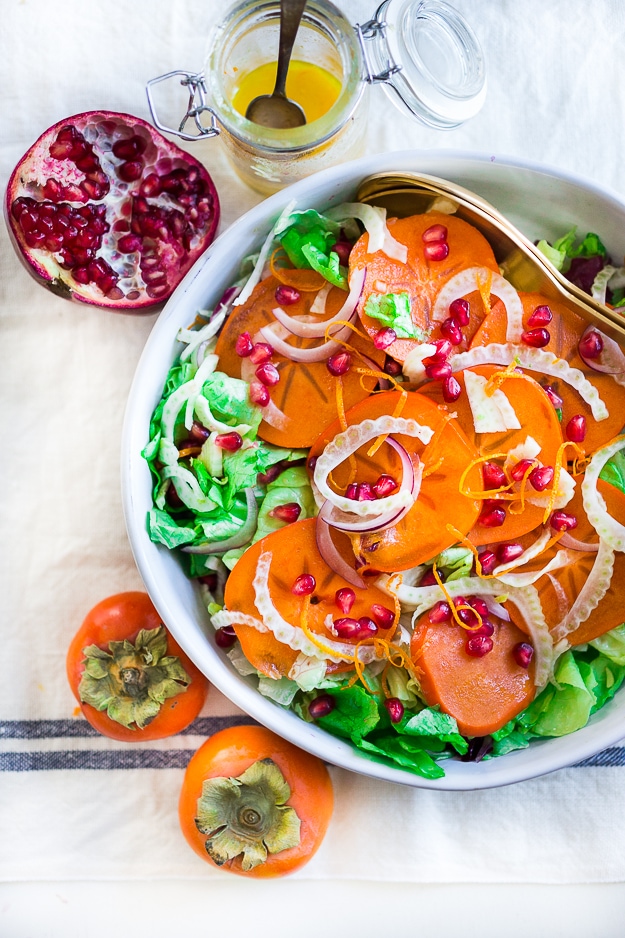 Hope you enjoy these tasty Thanksgiving recipes. Let us know your favorites in the comments below.
xoxo
Print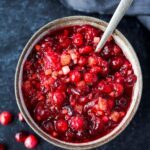 Thanksgiving Side Dishes: Cranberry Sauce
Prep Time:

20

Cook Time:

10

Total Time:

30 minutes

Yield:

3 cups

1

x

Category:

side dishes

Method:

stovetop

Cuisine:

american

Diet:

Vegan
---
Description
Here are our favorite holiday side dishes- vegan side dishes, vegetarian side dishes, fall salads and beautiful baked goods for the holiday table. Cranberry Sauce:
---
4

cups

cranberries, washed

3/4

cup

maple syrup

1

orange, zested, then peeled and cut very small avoiding big parts of the membrane

1

small apple, diced
pinch of salt
---
Instructions
In a pot, cook cranberries, maple syrup and a pinch of salt over medium heat, until lightly simmering and cranberries begin to pop, about 8 minutes.  It is okay if cranberries are in different stages of breaking down.  Some will be popped, some will still be whole.
Remove cranberries from heat.  Add diced apples, orange zest and chopped orange.  Mix to combine.  It will thicken as it cools.
Refrigerate until serving.  This will keep 3 days in the fridge.
---
Notes
This will keep 3 days in the fridge.
Nutrition
Serving Size:

3 tablespoons

Calories:

57

Sugar:

11.4 g

Sodium:

12.1 mg

Fat:

0.1 g

Saturated Fat:

0 g

Carbohydrates:

14.8 g

Fiber:

1.2 g

Protein:

0.2 g

Cholesterol:

0 mg
Keywords: vegetarian side dishes, veggie side, veggie side dish, thanksgiving side dishes, thanksgiving sides, best cranberry sauce, thanksgiving appetizers, thanksgiving salads, thanksgiving desserts
SaveSave
SaveSave
SaveSave
SaveSaveSaveSave
SaveSave
SaveSave