This Truffle Mac and Cheese is a once-a-year show stopper- perfect for special occasions and holiday gatherings, shared around the table.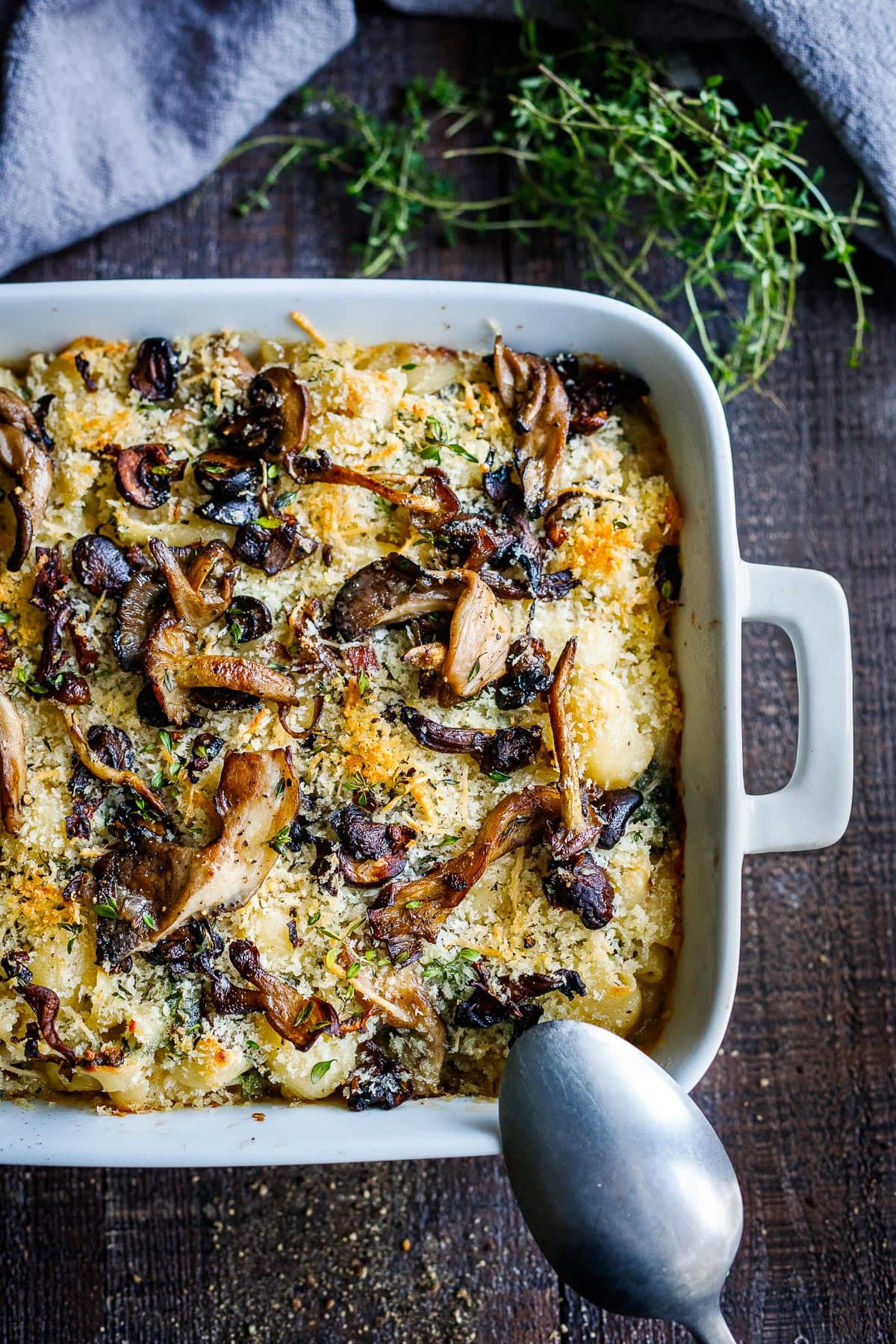 As vastness envelops you, the body vanishes, thoughts forget to come. In this moment, you are the nature of the great sky.

Lorin Roche- the Radiance Sutras
Earthy decadent Truffle Mac and Cheese is a mushroom lover's dream. It's easier than you think and can be made ahead- perfect for holidays and gatherings.
This version features mushrooms and truffle oil and if you are a truffle lover like us, you can add it in several places, creating layers of amazing truffle flavor.
Another catering recipe, that we repeatedly made- especially popular on holidays like Christmas, New Year's Eve, and Valentine's Day.
What you'll need: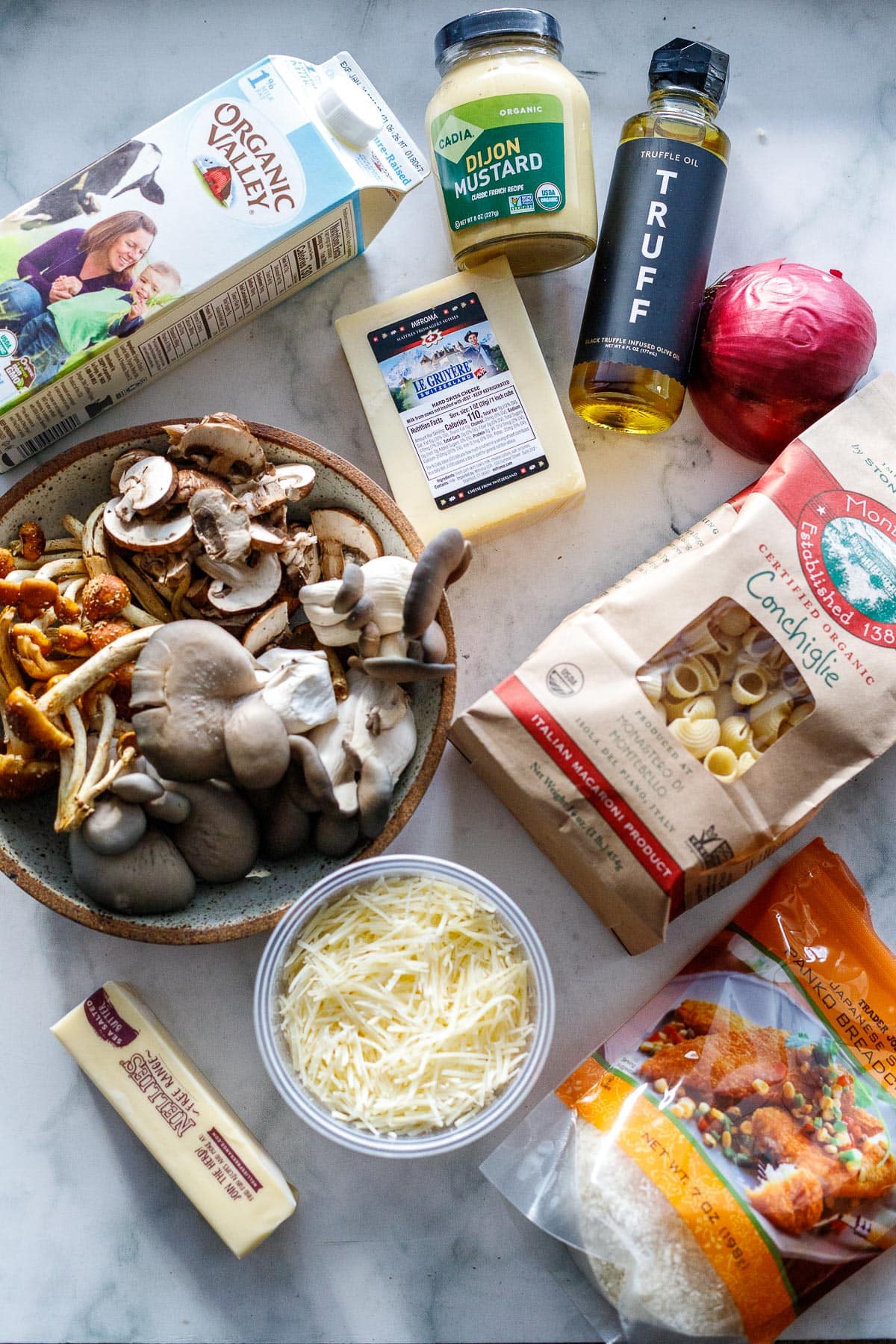 Ingredient Notes
Fresh Mushrooms– use wild or tame mushrooms, most any will work here- chanterelle, shiitake, oyster, maitake, cremini, morel, porcini.
Cheese: We use two kinds of cheese for extra complexity. Gruyere (or sub white cheddar) and Pecorino romano ( or sub parmesan).
Truffle Oil– Try to use a good brand of truffle oil, with real truffles (not synthetic). Read the label. A base of olive oil is just fine. Either sue white truffle oil or black truffle oil both will work well here- although I prefer white.
Dijon Mustard – gives a little kick and prevents this from tasting stodgy. Or use mustard powder.
Pasta– any good quality, small-shelled pasta or elbow pasta will work. Cook to al dente!
Panko– for a light crispy top, use panko bread crumbs versus regular bread crumbs. You can also make your own. (Dry bread cubes in the oven, and pulse in a food processor. )
For detailed ingredients, go to the recipe card.
How to Make Truffle Mac and Cheese
Step one: Saute the mushrooms, shallot and thyme and set aside.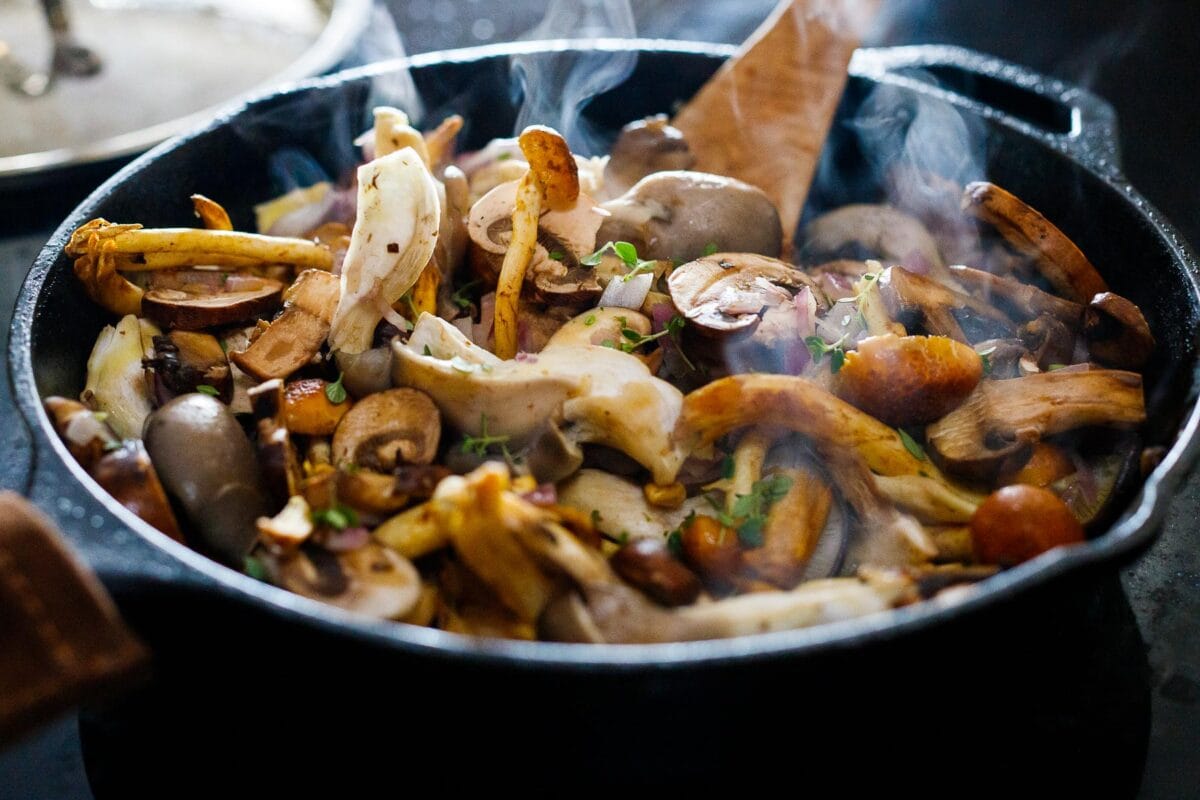 Step two: Make the Truffle Cream Sauce. Start by browning the butter to give the finished dish a beautiful earthy, nutty aroma and flavor.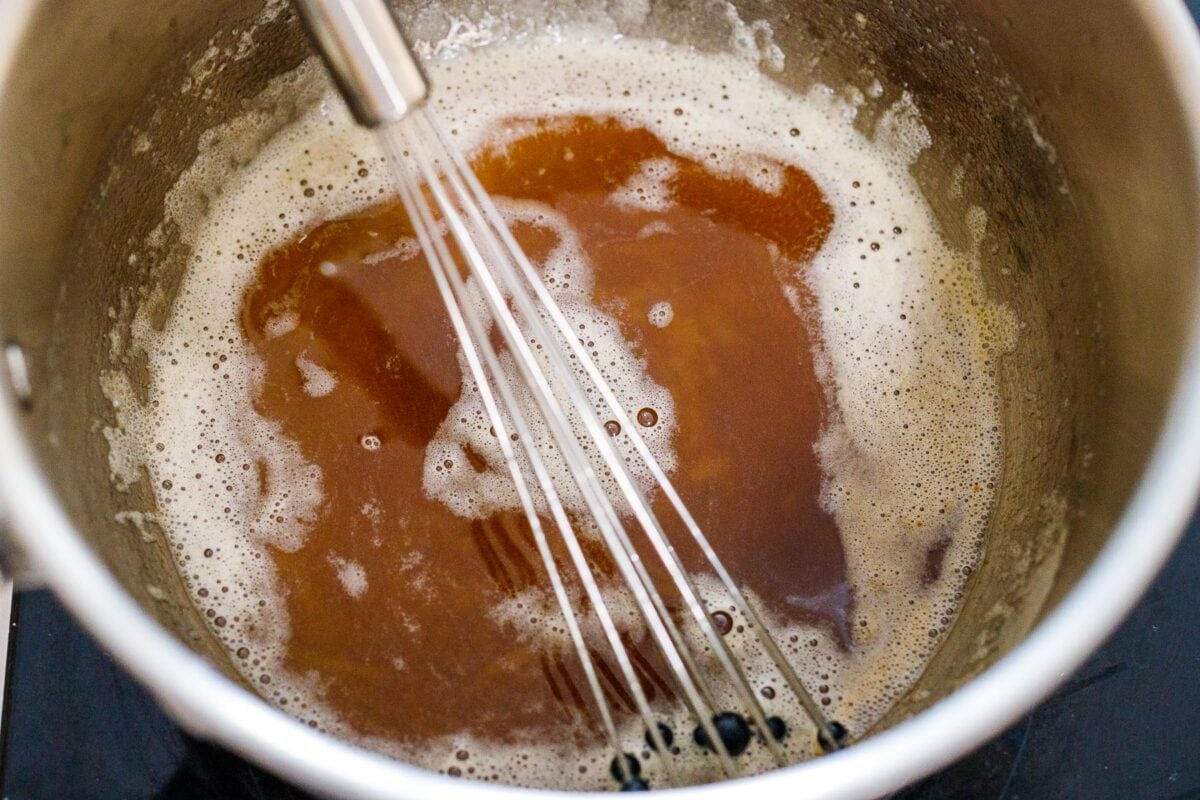 Step three: Add flour and whisk for 1-2 minutes, letting the flour cook a bit.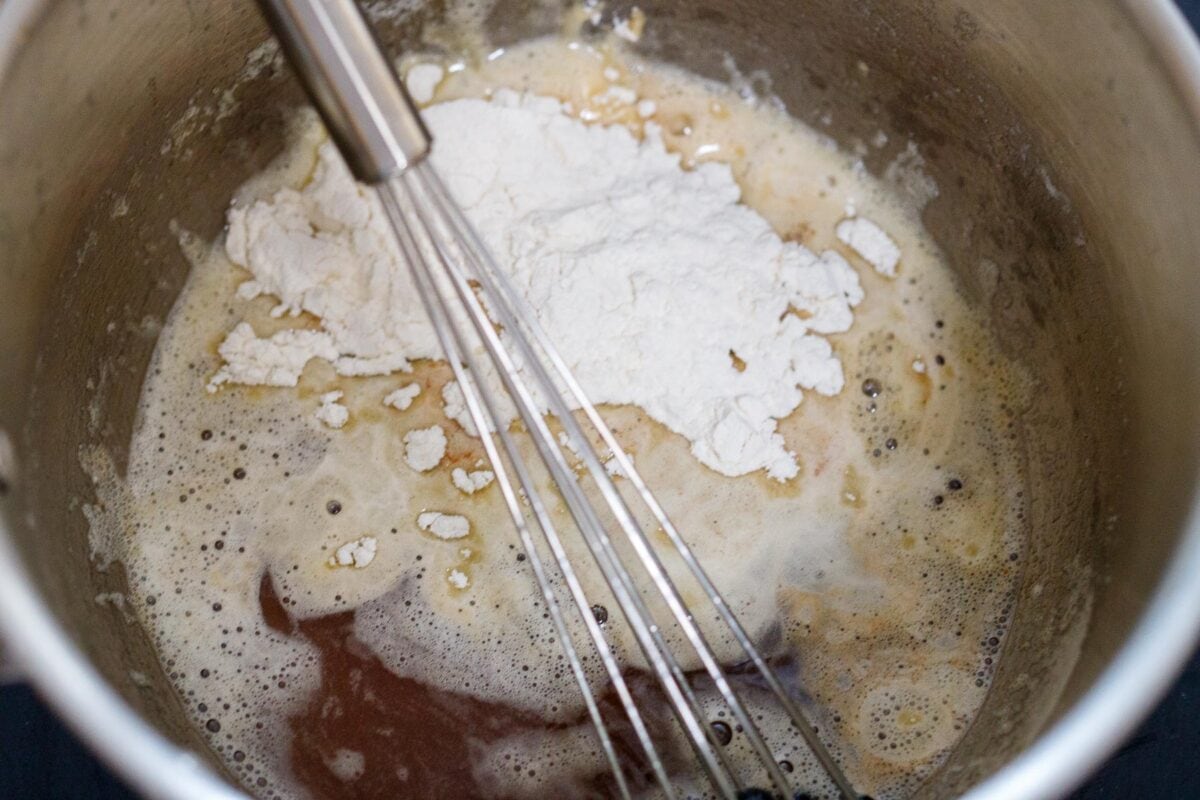 Step four: Pour in one cup of milk or cream, whisk and heat until thickened. Add the remaining cream and milk a cup at a time, and let it thicken as you go. Don't walk away here.
Step Five: Once the Truffle Cream sauce has thickened and is hot, whisk in the grated cheese, and stir until completely combined and smooth. See the recipe notes for creating the smoothest sauce. Turn heat off.
Step Six: Whisk in the truffle oil thyme and seasonings to the smooth sauce. Salt to taste.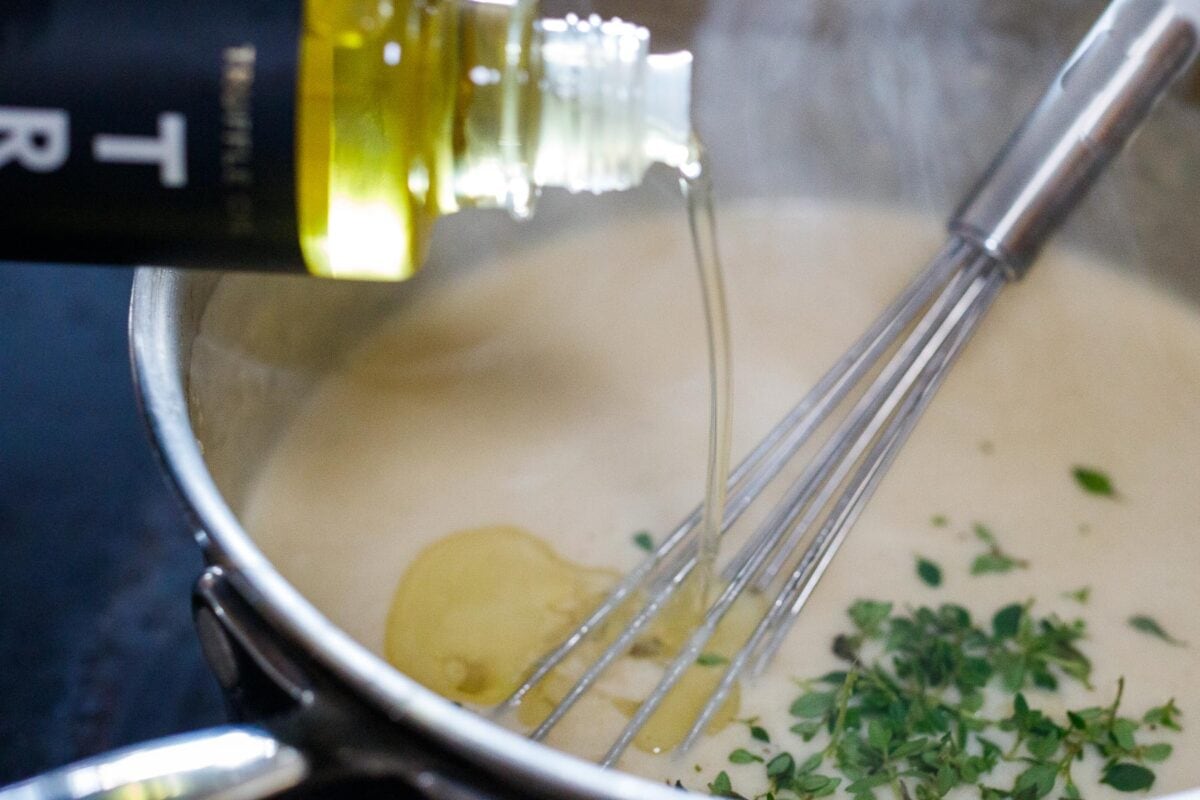 Whisk in the truffle oil thyme and seasonings. Salt to taste.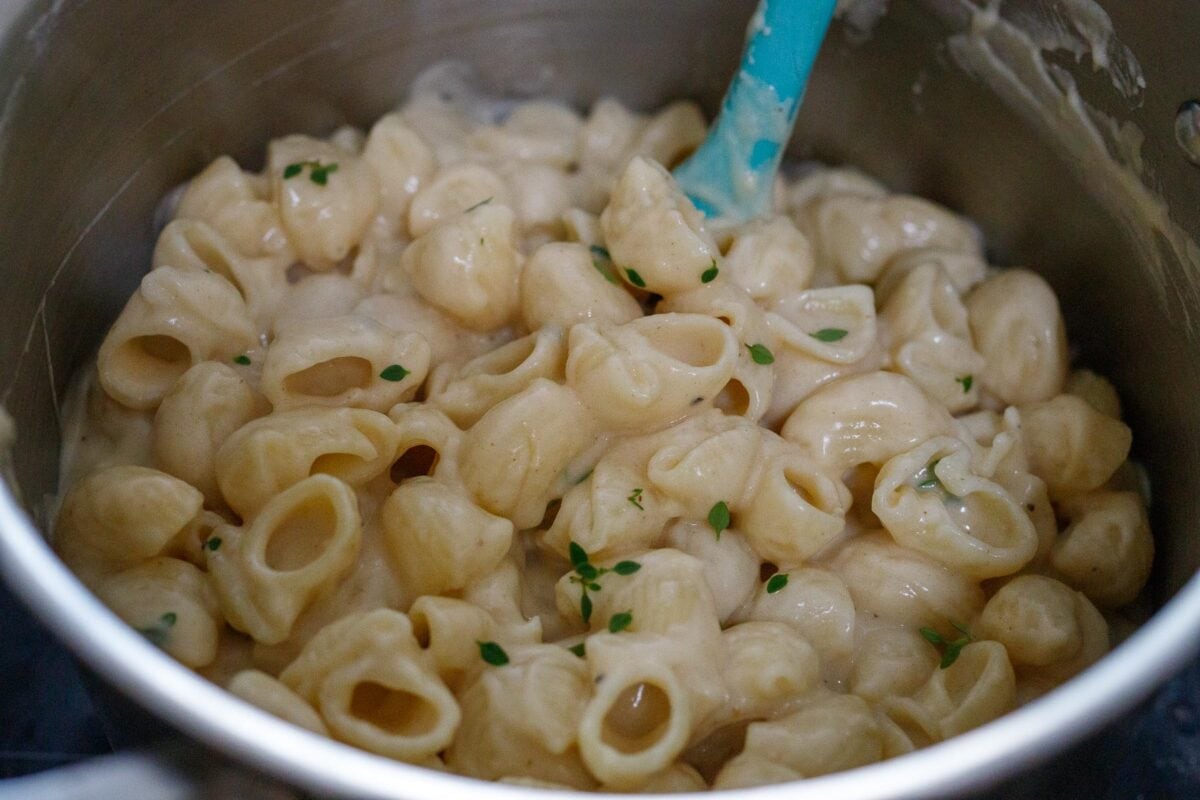 Step Seven: Drain the pasta, place it back in the same pot, and pour in the Tuffle Cream sauce. Taste again and adjust salt.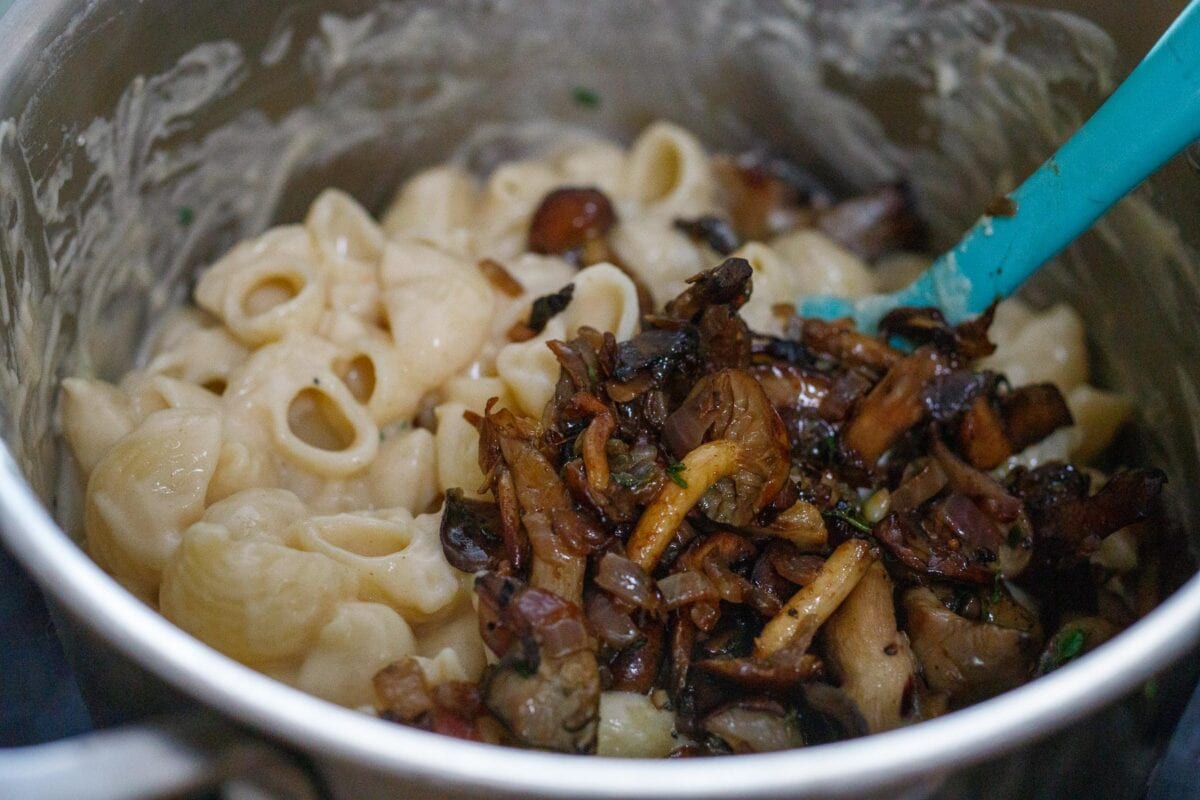 Step Eight: Add half of the sauteed mushrooms and if you like, a couple of handfuls of chopped spinach (this always makes me feel better).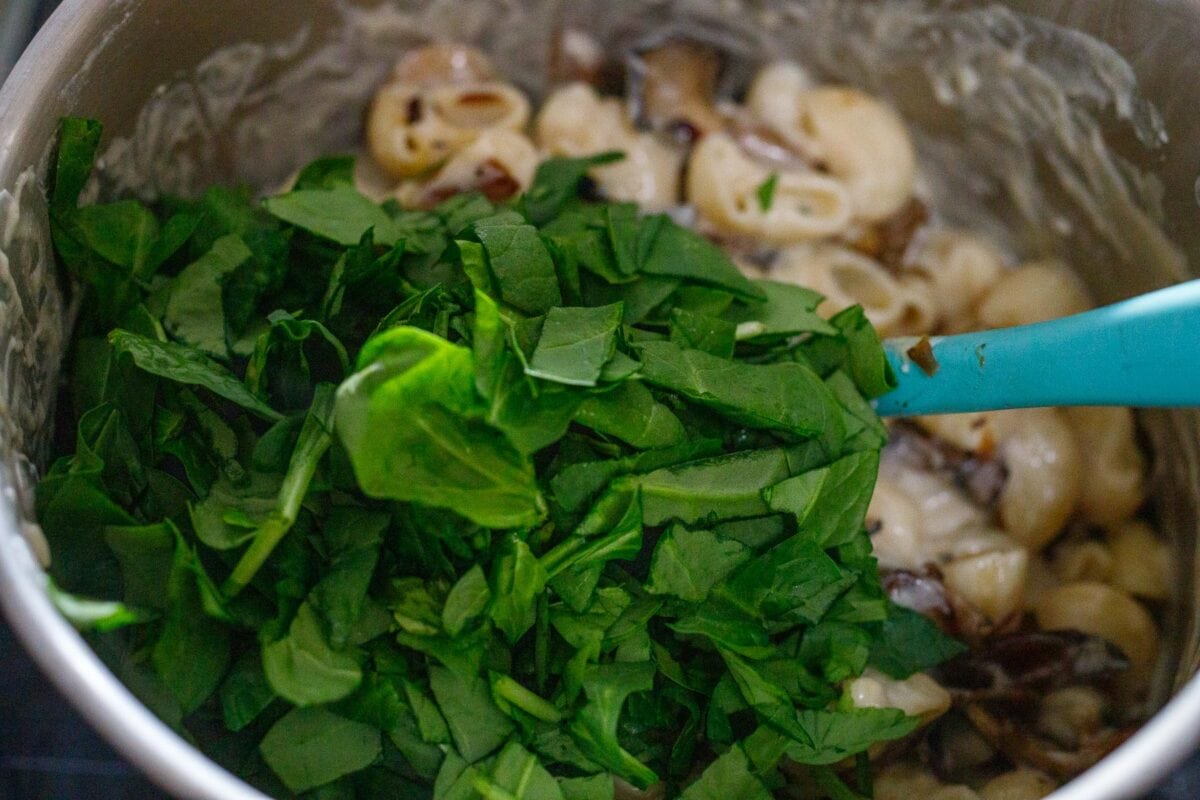 Step Nine: Place it in a buttered 9×13 inch casserole dish (a tall one), and top with a mixture of panko and pecorino with another splash of truffle oil (or olive oil).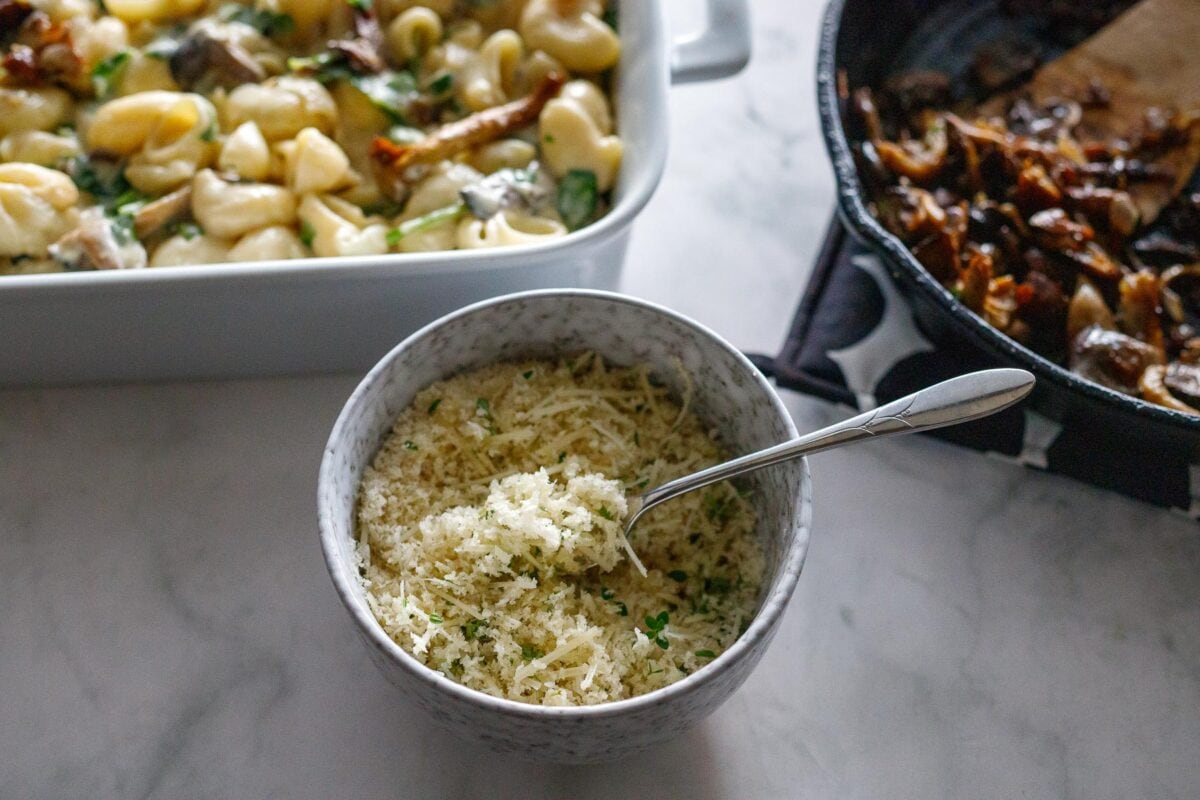 Step Ten: Bake uncovered at 375F for 15 minutes, then scatter with the remaining mushrooms and continue baking until golden and bubbly (another 10-15 minutes)
Expert Tip
When purchasing pre-shredded cheese they often contain anti-caking agents which can make the sauce grainy. Always read the label. I usually purchase a block of cheese and pulse in my food processor.
Cook the pasta until al dente- this way it will soak up some of the flavorful sauce.
If you like extra saucy and creamy Mac and Cheese, reduce the pasta to 14 ounces ( versus the whole 16 ounces).
What to serve with Truffle Mac and Cheese
Keep the sides and salads, light and lean to balance out the rich flavors of the Mac and cheese.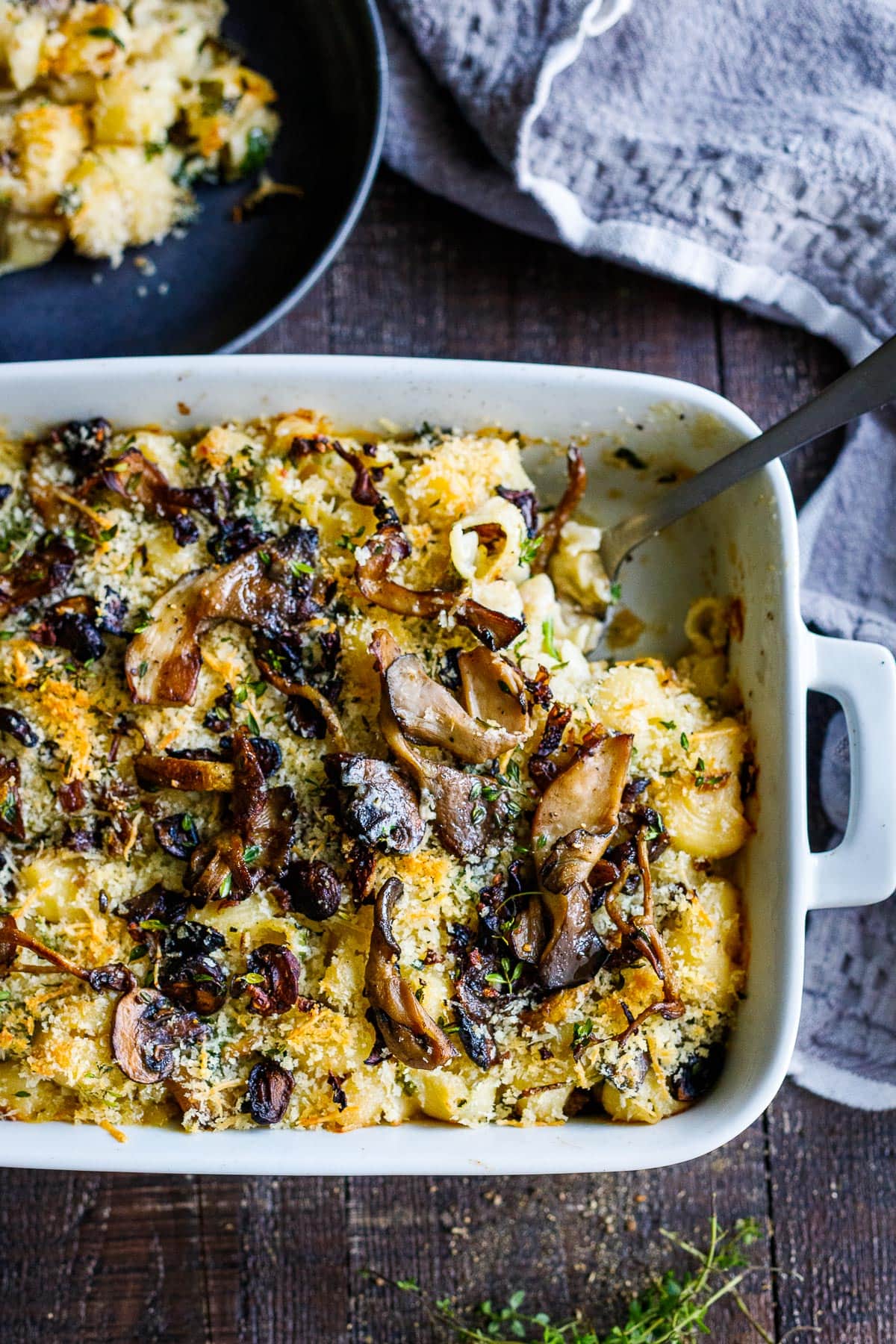 Enjoy the aroma wafting out of the oven. Heavenly!
Recipe FaQs
Can Truffle Mac and Cheese be made ahead?
Yes, make it ahead, assemble and refrigerate for up to 3 days. Let it come to room temp for one hour before baking. Baking time may increase just a bit, so be prepared.
Can this be made Vegan?
Absolutely! I haven't tried- but yes, almost anything can be made vegan. What I would do is sub vegan butter (don't brown it) or use olive oil, use a rich and creamy vegan milk or cream and flavorful vegan cheese. For extra depth, add a teaspoon of mushroom powder, nutritional yeast or miso paste to the sauce. Gruyere and pecorino are deep and salty, so you may need to add more salt too.
Can this be made Gluten-free?
Again, I haven't tried this but yes. Use Gluten free pasta and gluten-free flour blend and gluten-free panko ( or skip this).
Can I add protein?
Yes, this is really good with leftover rotisserie chicken, shredded.
Can this be frozen?
Of course! Freeze it either before you bake it or after you bake it. I would personally freeze it before baking – to keep it creamier. Completely thaw, then let it come to room temp before baking.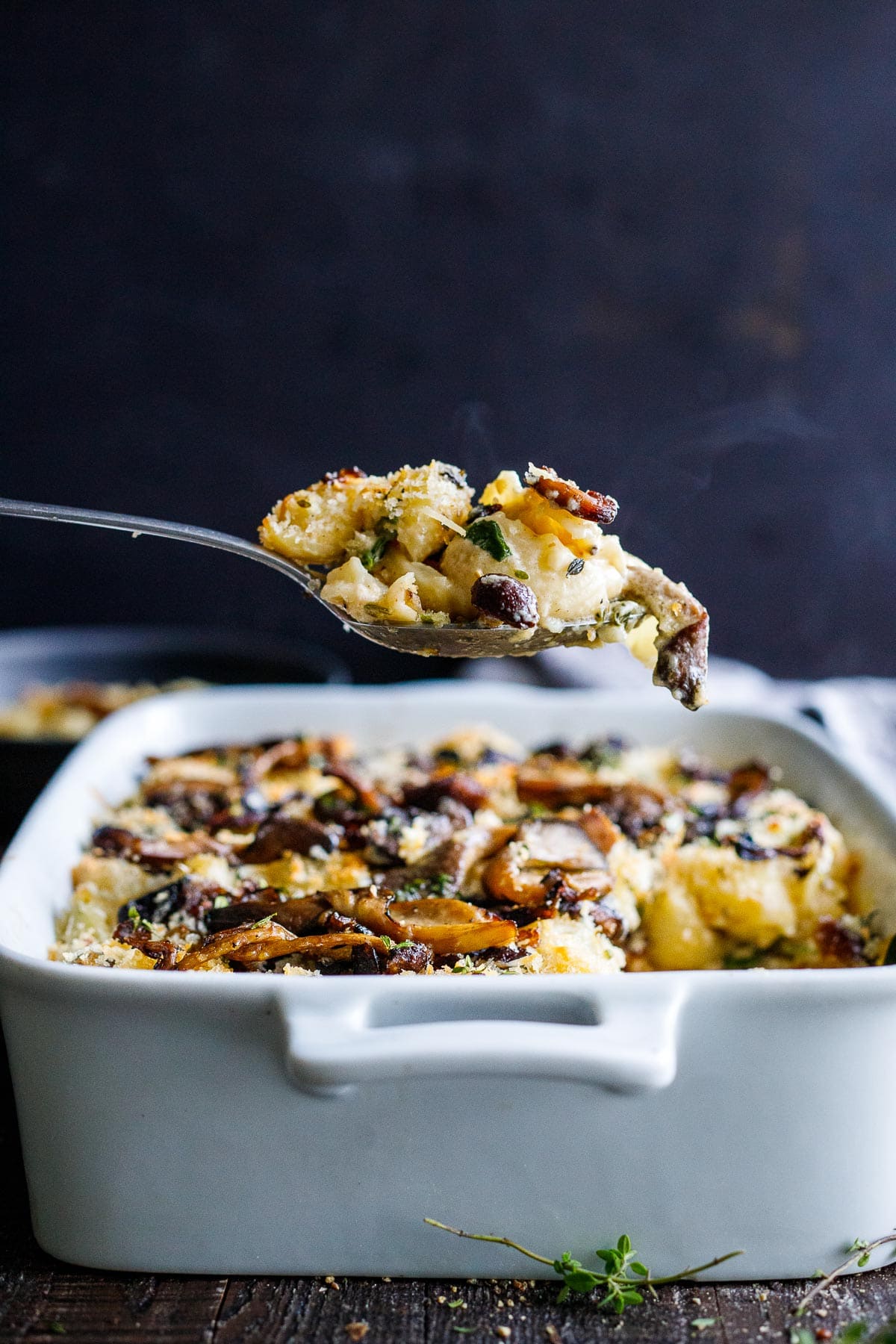 On the homefront:
It's a snowy white morning here with a thick blanket of snow over the ground that muffles all sounds. It's peaceful. Brian and Lumi are still sleeping and I have a few moments to be still before the hustle and bustle of the next few days. Wherever this finds you, may you feel the peace in your heart that is always available, even in the midst of chaos.
Back in our catering days, I would see if I could connect with this still place in the middle of an intense wedding or a big party. At first, as you can imagine, it felt impossible. Comical even.
But after a few conscious tries, I realized it was possible. That if I took a breath, right in the middle of the mayhem, there was the same peaceful stillness, right in the center of my heart, that I feel right now, just looking at our at the snowy trees.
I found that regardless of environment, stillness, presence, or peacefulness, is possible anywhere. Even with family, sometimes the hardest place of all. 😘
Wishing you a peaceful, joy-filled Christmas. ❤️
PS: Please rate the recipe ⭐️ and share your adaptions in the comments below!
More recipes you may like
Print
Truffle Mac and Cheese
Prep Time:

30

Cook Time:

30

Total Time:

1 hour

Yield:

8

1

x

Category:

pasta, baked

Method:

baked

Cuisine:

American

Diet:

Vegetarian
---
Description
This earthy decadent Truffle Mac and Cheese is a mushroom lover's dream. It's easier than you think and can be made ahead- perfect for holidays and gatherings.
---
16

ounces

pasta- small shell or elbow (see notes)
Sauteed Mushrooms
12

–

16

ounces

mushrooms- cremini, shiitake, oyster, chanterelle, porcini, maitake, sliced or torn.

1/2

an onion, diced

2 tablespoons

olive oil

3

tablespoons fresh thyme (divided) or sub 1 tablespoon dry thyme
Truffle Cheese Sauce
1/4

cup

butter (or sub-olive oil)

1/3

cup

flour

4

cups

whole milk (or sub 1/2 and 1/2 and water, or soy milk)

8

ounces

gruyere- or white cheddar ( or a mix, about 3 cups shredded) please see notes.

1/4

cup

pecorino cheese

1 teaspoon

salt

1/2 teaspoon

pepper

1 teaspoon

dijon mustard ( or sub-yellow mustard powder)
pinch nutmeg
Truffle oil to taste 1-3 tablespoons
Crispy Topping
Optional: 2 handfuls chopped spinach
---
Instructions
Preheat oven to 375F.
Cook pasta: Bring a large pot of salted water to boil and cook pasta according to the directions on the package. Cook to al dente. Drain and rinse in cold water, and place this back in the same pot, and coat with a little olive oil to prevent sticking.
Saute Mushrooms: Simultaneously, saute the mushrooms and onions in an extra-large skillet with olive oil, over medium heat, stirring occasionally. Season them with salt and pepper and add 1 tablespoon of fresh thyme (or 1 teaspoon dry).
Crispy Topping: In a small bowl, mix the panko with ¼ cup pecorino cheese, and olive oil (or use more truffle oil) and remaining thyme.
Make the creamy truffle cheese sauce (You can do this also at the same time if you feel confident). Heat butter over medium heat and let it get golden (like brown butter) lower heat if need be. Once it smells deliciously nutty, whisk in the flour and cook for one minute. Add 1 cup of milk, and whisk over medium heat until it thickens noticeably. Whisk in remaining milk, and continue to heat, whisking often to almost a simmer,stirring so the bottom doesn't burn. Once hot, lower heat to low- stir in the gruyere cheese, pecorino, salt, pepper, dijon and 1 tablespoon fresh thyme ( or 1 teaspoon dry). Whisk until the cheese is completely incorporated and you have a smooth, creamy sauce. Turn off the heat and stir in truffle oil to taste. As all are different, start conservatively adding more as you like. Adjust salt– you want this to taste rich and slightly salty as the pasta will soak much of this up.
Combine: Pour the creamy Truffle Cheese Sauce over the drained pasta in the pot. Stir in 2/3rds of the sauteed mushrooms (saving some for the top). Stir in a handful or two of chopped spinach if you like-somehow this always makes me feel better- up to you. 😉
Taste. Adjust salt, pepper and truffle oil.
Assemble: Pour into a buttered 9 x13-inch baking dish. Sprinkle with the panko mixture.
Bake uncovered in a 375F oven for 15 minutes, add remaining mushrooms to the top, and continue baking until bubbly and golden, another 10-15 minutes.
---
Notes
If you like extra creamy Mac and cheese, reduce the pasta down to 12-14 ounces (versus the full pound).
Pre-grated cheese often contains anti-caking agents which can make the bechamel sauce grainy. I grated the gruyere in my food processor and the pecorino in the picture was freshly grated by our local market.
If making this vegan– to add more depth to the truffle cream sauce, consider adding miso paste, nutritional yeast or mushroom powder.
Nutrition
Serving Size:

1 cup

Calories:

577

Sugar:

9.5 g

Sodium:

628.5 mg

Fat:

27.1 g

Saturated Fat:

13.2 g

Carbohydrates:

59.7 g

Fiber:

2.9 g

Protein:

24 g

Cholesterol:

64.2 mg
Keywords: Truffle Mac and Cheese, Best Truffle Mac and cheese recipe, Truffle Mac and cheese with mushrooms, Creamy Mushroom Mac and Cheese, Truffle Mac and cheese Ina