This incredible Pad Thai is made with simple ingredients and can be made in 30 minutes! Make it with chicken, shrimp or tofu and veggies! Vegan-adaptable, with a video.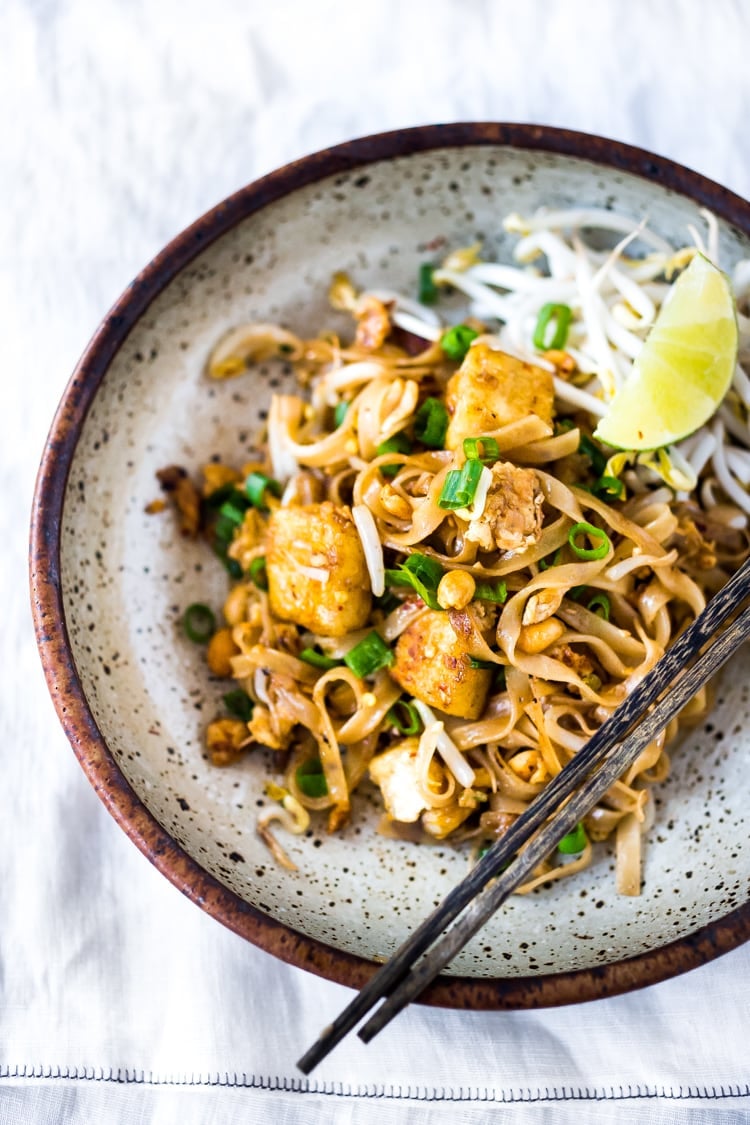 Pad Thai is a popular stir-fried rice noodle dish from Thailand made with chicken, shrimp or tofu, scrambled eggs, crushed peanuts, bean sprouts and lime.
Here's my easy recipe for Pad Thai made with simple, accessible ingredients that can be made in 30 minutes. Use chicken breast, shrimp, or crispy tofu and feel free to add fresh veggies!
How to make Pad Thai | 60- sec Video
Believe me when I tell you I've had a LOT of Pad Thai in my life here and all throughout Thailand. What makes this recipe so good is the Pad Thai Sauce! It is flavorful and balanced and not overly sweet like many versions you'll find in the States. It is as close as it to comes to the authentic Pad Thai without having to take a trip to the Asian market.
---
Why this recipe works!
Best flavor balance! The Pad Thai sauce is not too sweet, it's just right.
It's adaptable! ( it can be made with chicken, shrimp, tofu and /or veggies!)
Quick and Easy– this Pad Thai can be made in 30 minutes.
Simple Ingredients. These accessible ingredients can be found in most grocery stores.
So yes, I may be biased but I think this tastes pretty darn amazing! Seriously! But don't take my word for it….give it a try yourself and see what you think.
Pad Thai Ingredient Notes
Rice Noodles: Pad Thai is typically made with rice noodles, about 1/4 inch in width (also called rice stick). Some rice noodles break apart too easily, I have the best luck with this Thai Kitchen Rice Noodles brand.
Fish Sauce: Fish Sauce can vary in degrees of saltiness from brand to brand. I like this Red Boat Fish sauce, or Thai Kitchen Fish Sauce (found at most grocery stores) best for this recipe. (*Vegans can sub our vegan fish sauce and soy sauce.)
Sweetener: use brown sugar or honey to add sweetness. In Thailand, it is traditional to use palm sugar. Note: Do not be tempted to cut back on the sugar, the Pad Thai will be too sour.
Sour: Authentic Pad Thai is made with tamarind paste and lime juice to give it the sour component, but Rice Wine Vinegar works too. See recipe notes for using tamarind.
Protein: Add chicken, shrimp or crispy Tofu
Shallot: Adding a shallot really elevates Pad Thai.
Garnishes: Sliced green onion, crushed roasted peanuts, fresh bean sprouts and lime wedges and if available, Thai basil, all elevate!
---
How to Make Pad Thai (in 5 Easy Steps)
Soak the rice noodles in hot water until al dente.
Whisk together Pad Thai Sauce in a bowl.
Whisk the eggs in a bowl.
Prep and cook the protein.
Stir-fry the Pad Thai all together!
Step-by-Step Instructions
Step 1: Soak the rice noodles. Pour boiling water over the rice noodles let them soak until they are soft and pliable (about 5 minutes) but not overly soft; drain.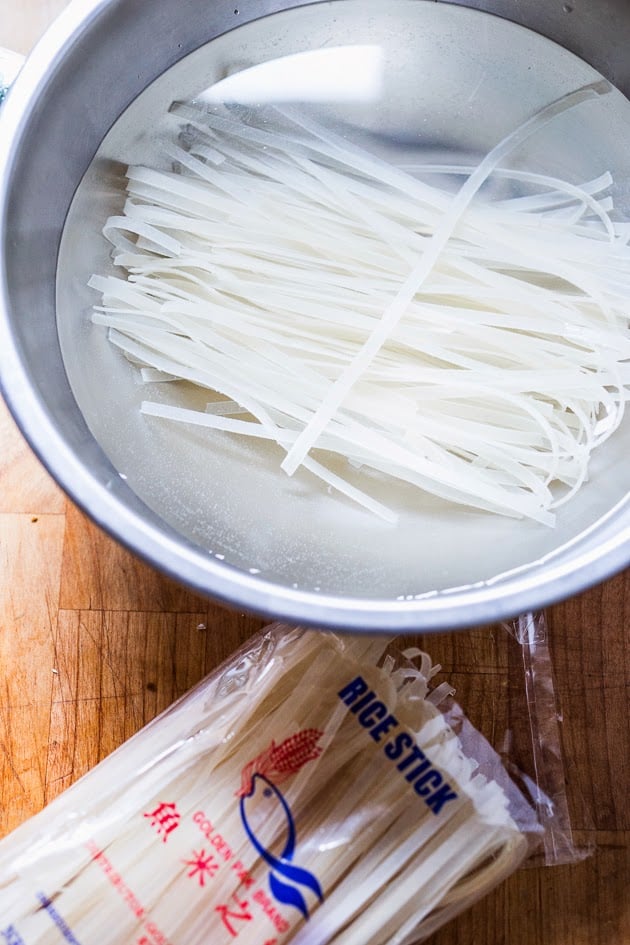 Step 2: Pad Thai Sauce. Whisk the pad thai sauce ingredients together in a small bowl- keeping in mind, there is a delicate balance between salty, sour and sweet, and when you find it, totally elevates the dish!
Fish sauce ( or vegan fish sauce) and soy sauce add the salty component.
Brown Sugar or honey add sweetness. (In Thailand it is traditional to use palm sugar.)
Rice Vinegar or tamarind paste and lime juice, add the sour component. Note: White vinegar will make this too acidic.
Step 3: Prep the Protein & Veggies. Chop the shallot and garlic and set aside.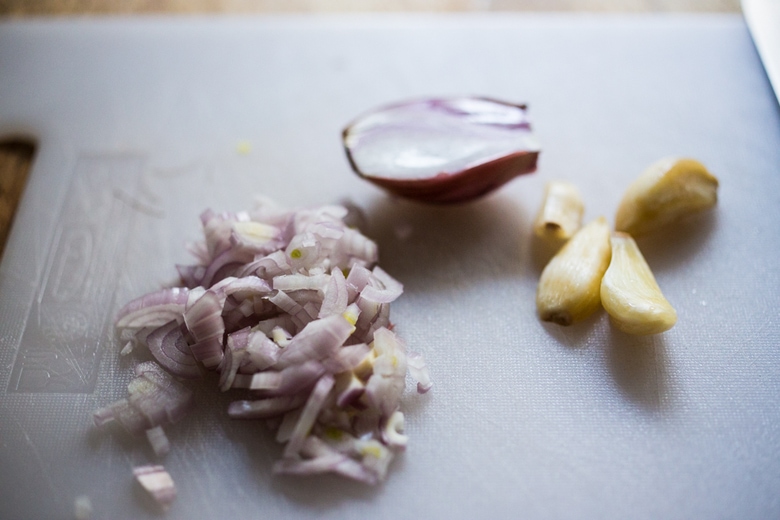 If using chicken, for the fastest cooking, make sure to thinly slice- perfect when using a wok!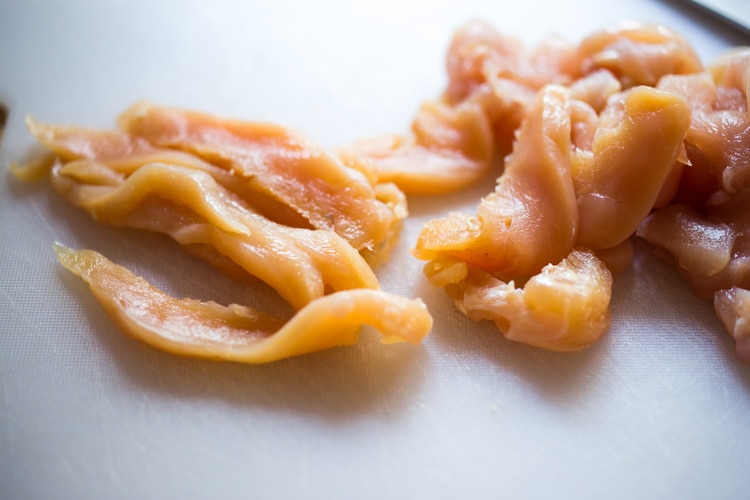 You can also poach the chicken in water, for a low-oil version, or sear it in the wok.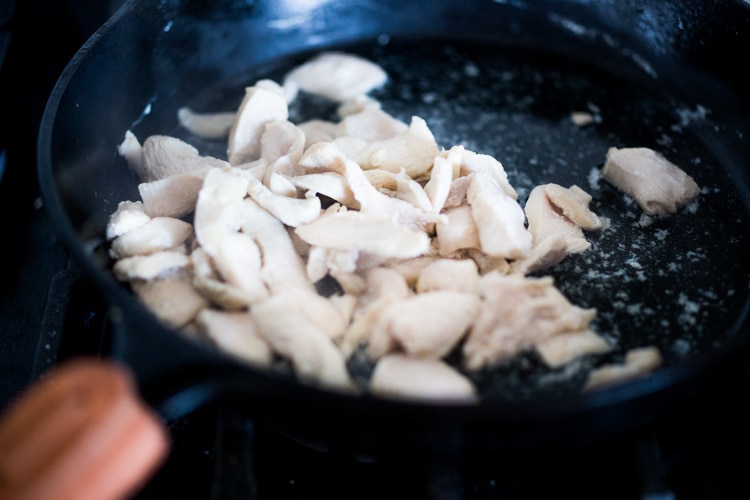 If making this with crispy tofu or shrimp, stir fry it ahead in the wok and set aside, along with any veggies you want to add.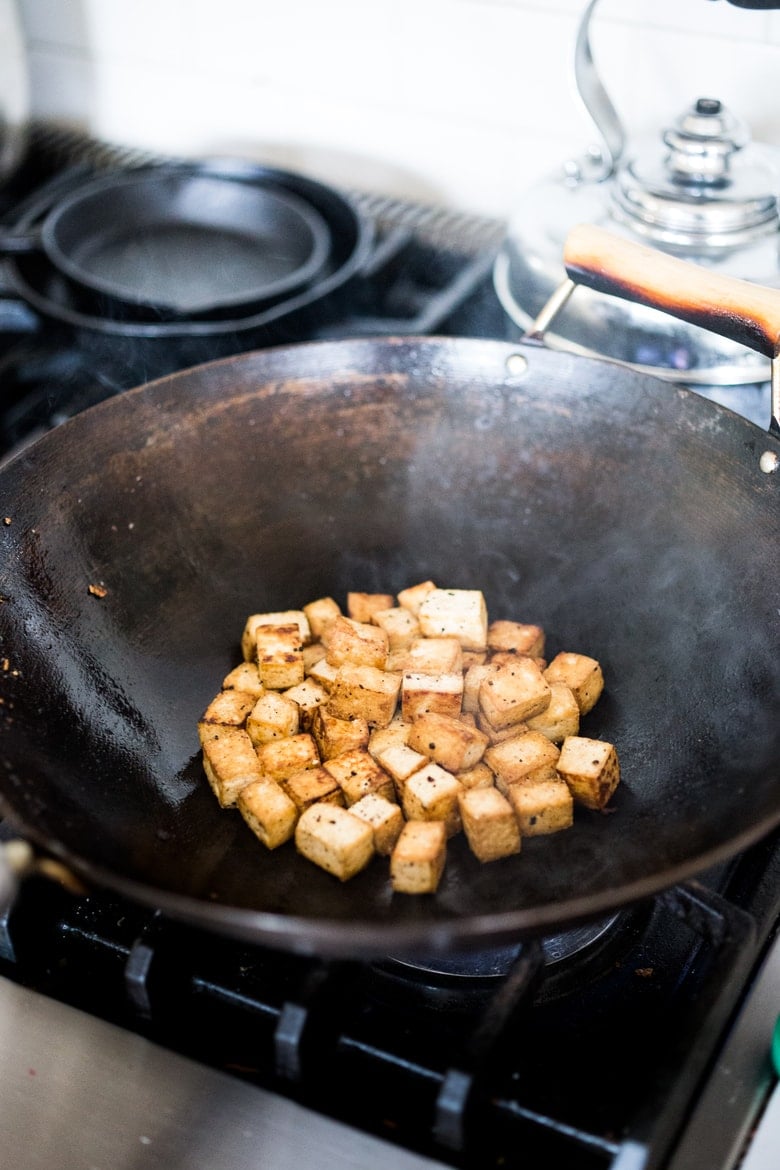 Step 4: Whisk the eggs. Whisk the eggs with a generous pinch of salt and set aside.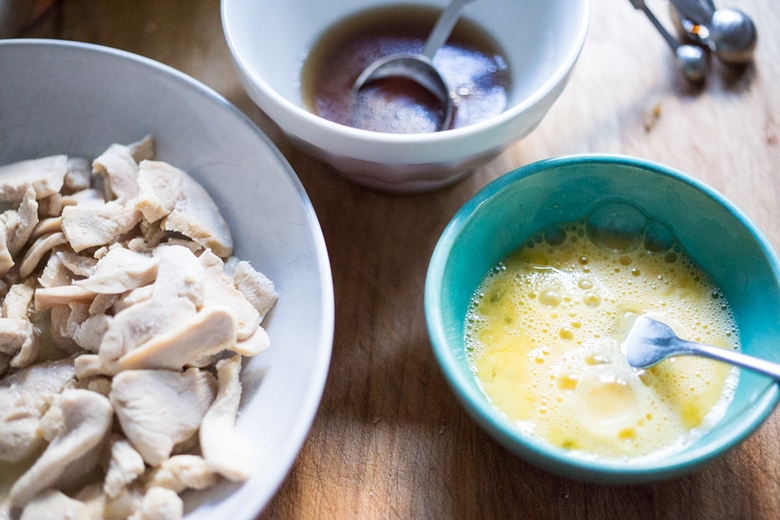 Step 5: Stir-Fry and combine! Once your ingredients are prepped and ready, place everything near the stove. The stir fry itself will take under 10-15 minutes.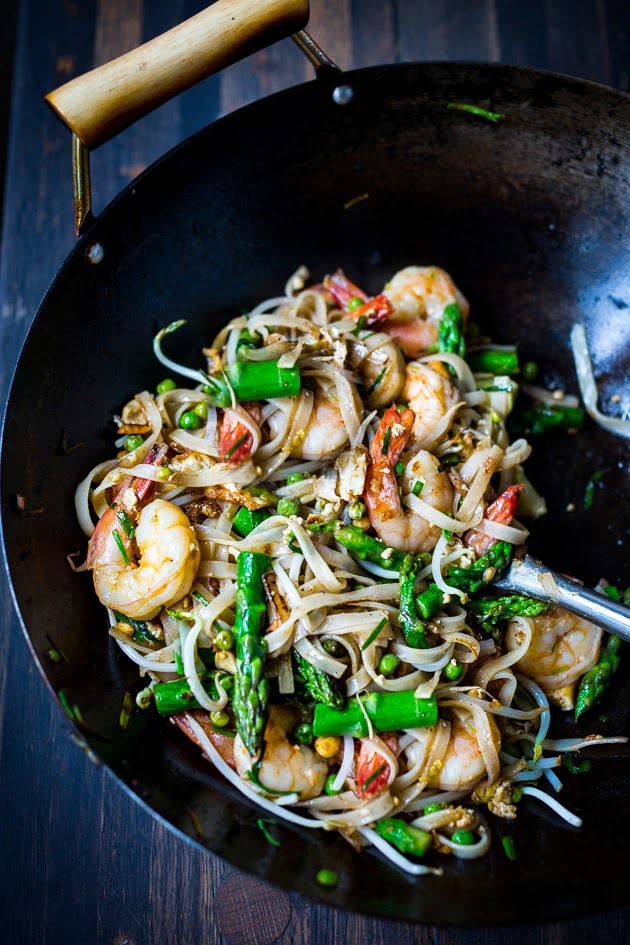 Serve with fresh bean sprouts, lime wedges and crushed toasted peanuts.
EXPERT TIPS
Read the whole recipe through before you give it a go.
Prep everything first, then place it near the stove. Cooking goes very fast here!
Cut chicken very thinly to cut down on cooking time. Remember to cut across the grain. So here I've cut it into ⅛ -¼ thin strips about two inches long.
To lower calories, poach the chicken in a little salted water, until cooked through which just takes a couple of minutes. Then set it aside.
Use shallot. Shallot adds so much flavor here- much more so than onion.
Pad Thai Don't's
Please, do not add ketchup or peanut butter. This is not "real" Pad Thai. 🙂
Do not use white vinegar instead of rice vinegar. White vinegar is way more acidic! It will be overly sour.
Don't skip the sugar– you will lose the balance of the dish. You will end up with fishy, overly sour, salty Pad Thai that tastes terrible. TRUST ME.
Don't try to make too big a batch. You want the noodles to get slightly crispy in the pan, and the sugars to caramelize, giving them that incredible smoky flavor- this is difficult to achieve if making more than two servings.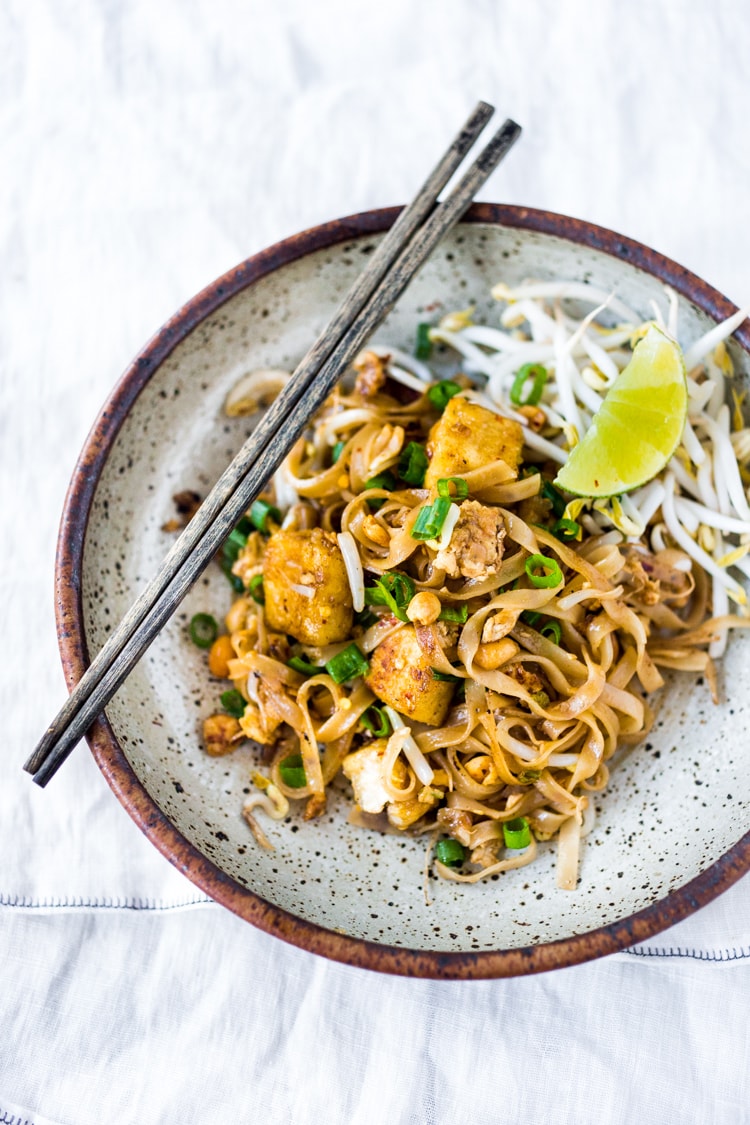 recipe Faqs
Can Pad Thai be made vegan?
Yes, Pad Thai can easily be made vegan. Use vegan fish sauce and crispy tofu as the protein, and leave out the eggs.
What is the secret to the best Pad Thai?
The secret to the best Pad Thai is not overcooking the rice noodles, using a very hot wok, cooking in smaller batches so rice noodles can caramelize, and having the perfect balance of flavors- not too sweet, not too sour, and not too salty.
Which oil is best for Pad Thai?
Peanut oil adds the best flavor, while coconut oil has a high smoke point. Both work well here.
What veggies can you add to Pad Thai?
Any quick-cooking vegetables that can be cooked in a wok can be added to Pad Thai- asparagus, green beans, matchstick carrots, bell pepper and bok choy to name a few. Feel free to add steamed broccoli too!
What if my Pad Thai is too salty?
Try adding a little more brown sugar to balance it.
What if my Pad Thai is too sour?

Add a little more brown sugar to balance it. White vinegar will do this- so always use rice wine vinegar, tamarind water or lime, which are all less acidic.
What if my Pad Thai is too sweet?
Add more acid ( rice vinegar, tamarind water or lime juice) to balance it.
What to serve with Pad Thai!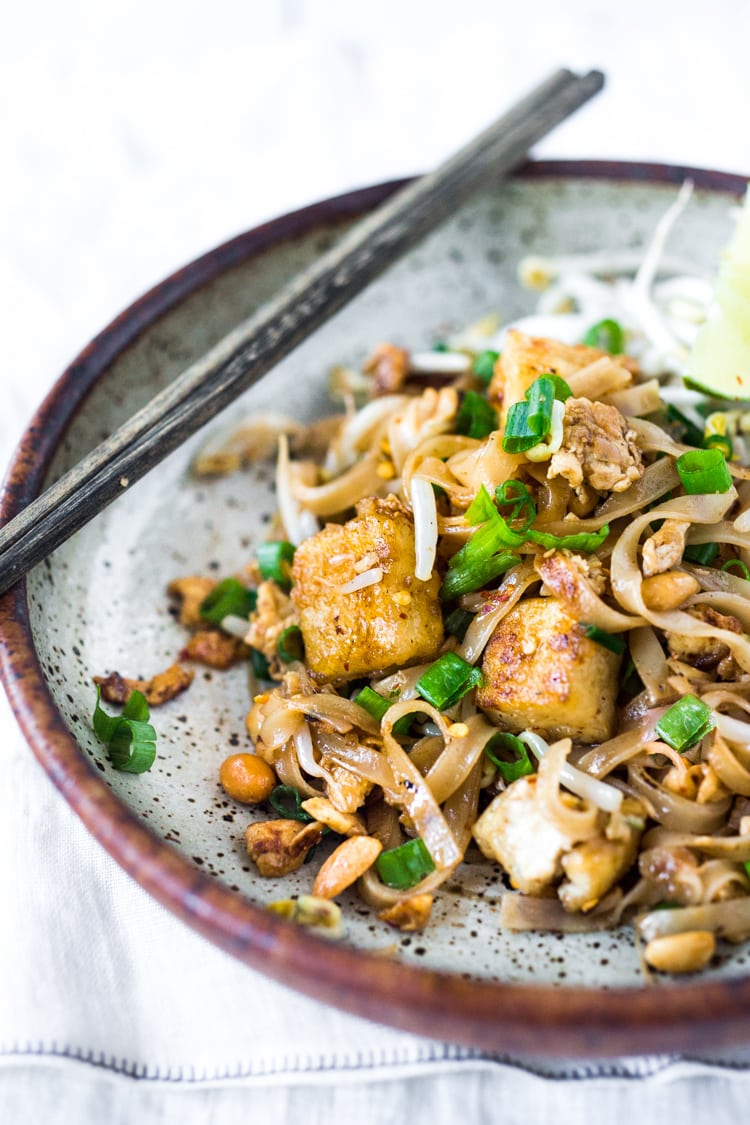 I hope that after you make this, you'll think this is the best Pad Thai recipe you've ever had too! 😉 Haha! Let me know in the comments below! 🙂
Happy weekend.
xoxoxo
PS. It is my hope that through cooking, we not only learn new ingredients and techniques but also learn more about the culture and people from which the food we make originates. Cooking can be a way of celebrating all our unique and beautiful differences. I'd like to believe expanding our repertoire in the kitchen can also expand our hearts.
MORE Thai Recipes To Try!
Print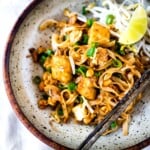 Pad Thai
Prep Time:

15 mins

Cook Time:

15 mins

Total Time:

30 minutes

Yield:

2

1

x

Category:

Main

Method:

stir-fried

Cuisine:

Thai

Diet:

Vegetarian
---
Description
An easy, 30-minute recipe for Pad Thai made with rice noodles, your choice of chicken, shrimp or tofu, scrambled eggs, and an incredible "not too sweet" Pad Thai Sauce.
---
4

ounces

dry pad thai noodles (rice noodles)

3 tablespoons

oil, divided (coconut, avocado, peanut oil)

8

ounces

firm tofu, chicken breast or peeled prawns
salt and pepper to taste

1

large shallot, finely diced (much better than onion here)

4

garlic cloves, roughly chopped

1 teaspoon

ginger, chopped (optional)

2

eggs, whisked with a fork with a generous 3-finger pinch salt ( if vegan, leave it out)

1

lime
Pad Thai Sauce:
3 tablespoons

fish sauce (see notes- or use vegan fish sauce)

3 tablespoons

brown sugar (or coconut sugar, palm sugar, or regular sugar) see notes

3 tablespoons

of rice wine vinegar (or tamarind water– see notes) do not sub white vinegar, it will be too sour.

1

–

2

teaspoons soy sauce (or GF liquid aminos like Braggs)
Garnish:
lime wedges, fresh bean sprouts, chili flakes, chopped scallions, roasted peanuts, Thai basil
---
Instructions
Soak the rice noodles. Place rice noodles in a shallow pan and cover with boiling water for 4-7 minutes or until just al dente, then drain, rinse with cold water to stop cooking. They don't have to be totally soft, just bendy and pliable.
Whisk the two eggs in a bowl with a fork and add a generous, 3-finger pinch of salt. Set aside.
Make the Pad Tahi Sauce: whisk fish sauce, rice vinegar, brown sugar and soy sauce. (see notes) in a small bowl. Set aside.
Prep the protein. Chicken: slice chicken into very thin strips and season with salt and pepper. Crispy Tofu: Blot tofu with paper towels pressing down firmly. Cut tofu into ¾ inch cubes, sprinkle with salt and pepper, and for extra crispy, dredge in a little corn starch. Shrimp: Peel and season with salt and pepper.
Cook the protein: Heat 1 tablespoon oil in a large saucepan or wok, over medium-high heat. Sear the seasoned chicken, shrimp or tofu until cooked through.

Set aside

,
Stir Fry: Gather your chopped shallots and garlic, whisked eggs, cooked noodles, cooked protein and Pad Thai Sauce around the stove. Heat a little more oil in the wok over medium heat, add shallot-garlic-ginger and stir fry 2-3 minutes. Scoot the shallot mixture to the side, add more oil, and pour in the eggs. Scramble and break them apart into little bits, and move them to the side. Add more oil, and the noodles, stirfry 2-3 minutes until noodles are soft and pliable and even a little crispy.
Pour in the Pad Thai Sauce (turn hood on) stir everything together and cook 1-2 minute, then add the cooked protein and stirfry for a few more minutes. Just as you start to smell the sugar carmelizing, you are there! Squeeze with a little lime juice. Turn off heat.
Taste. Adjust salt, lime, heat and sweetness to your liking; add salt, or soy sauce for more depth if you like, a squeeze of lime juice, chili flakes, or a pinch of sugar to taste.
Toss in 1/2 the bean sprouts and roasted peanuts (or serve on the side) and sprinkle with chili flakes and scallions. Give one more toss and serve immediately. Divide among two plates.
Garnish with more bean sprouts, fresh scallions, cilantro or basil, chili flakes, lime wedges and roasted crushed peanuts. Or make this Peanut Chili Crunch!
---
Notes
Fish Sauce: If you are not accustomed to fish sauce, or are using a brand you haven't tried before (some are fishier than others) feel free to go lighter on the fish sauce- like 2 tablespoons. It is an acquired taste. If going with less, replace it with soy sauce.
Poach the chicken. An easy way to cut back on the oil in the recipe is to poach the thinly sliced chicken breast in a little salted water, or broth for a few minutes, until cooked through. Drain and set aside. The thinner you slice the chicken the faster it will cook.
Tamarind: If using tamarind paste (instead of rice vinegar) make tamarind "water" by mixing 1 -2 teaspoons tamarind paste with 2 1/2 tablespoons hot water. Or use 1-2 teaspoons of tamarind "concentrate" with 2 1/2 tablespoons water. Use this in place of the vinegar. This is more traditional but I realize not everyone has access to tamarind. Tamarind is extremely sour so if unfamiliar, go light. You can always add more.
Nutrition
Serving Size:

1 ½ cups

Calories:

409

Sugar:

14.3 g

Sodium:

1134 mg

Fat:

14.2 g

Saturated Fat:

2.1 g

Carbohydrates:

47.4 g

Fiber:

1.1 g

Protein:

20.5 g

Cholesterol:

165.4 mg
Keywords: Pad Thai, easy pad thai, pad thai recipe best pad thai, pad thai recipe, best pad Thai recipe, vegan pad Thai pad, easy pad thai, authentic pad thai, chicken pad thai, pad thai recipe with tofu, vegan pad thai recipe, vegetarian pad thai recipe