Need some quick and easy meals? Here are 50 Easy Dinner Ideas the whole family will love! Fast and simple to make with very little hands-on time, these are full of delicious flavor!
Most of these Dinner Recipes can be made in under 30 minutes (or otherwise have very little hands-on time before going into the oven to bake), allowing you more time to get everything done on busy weeknights. Whether it's a sheet pan dinner, a one-pan meal or a hearty soup, that can double as lunch the next day, you'll find inspiration here.  And guess what?  Your kids will love these easy meals too!  Kid-friendly, these quick dinner ideas are just the ticket when things get busy.
easy Dinners Recipes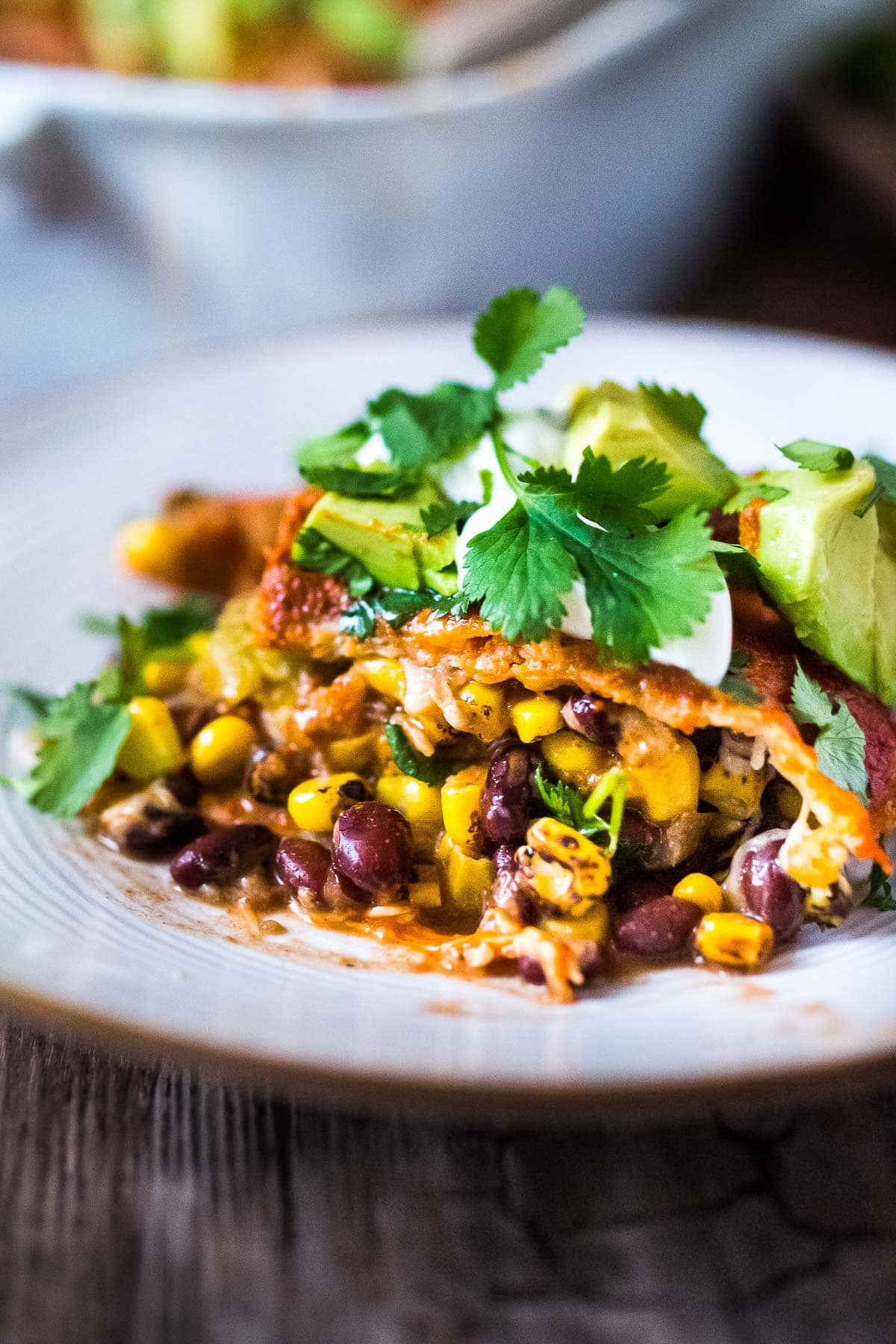 Enchilada Pie
An easy Enchilada Casserole with layered tortillas, roasted corn, cheese, black beans and our 5-minute blender enchilada sauce. Keep it vegetarian or add chicken! An easy dinner idea that takes very little hands-on time!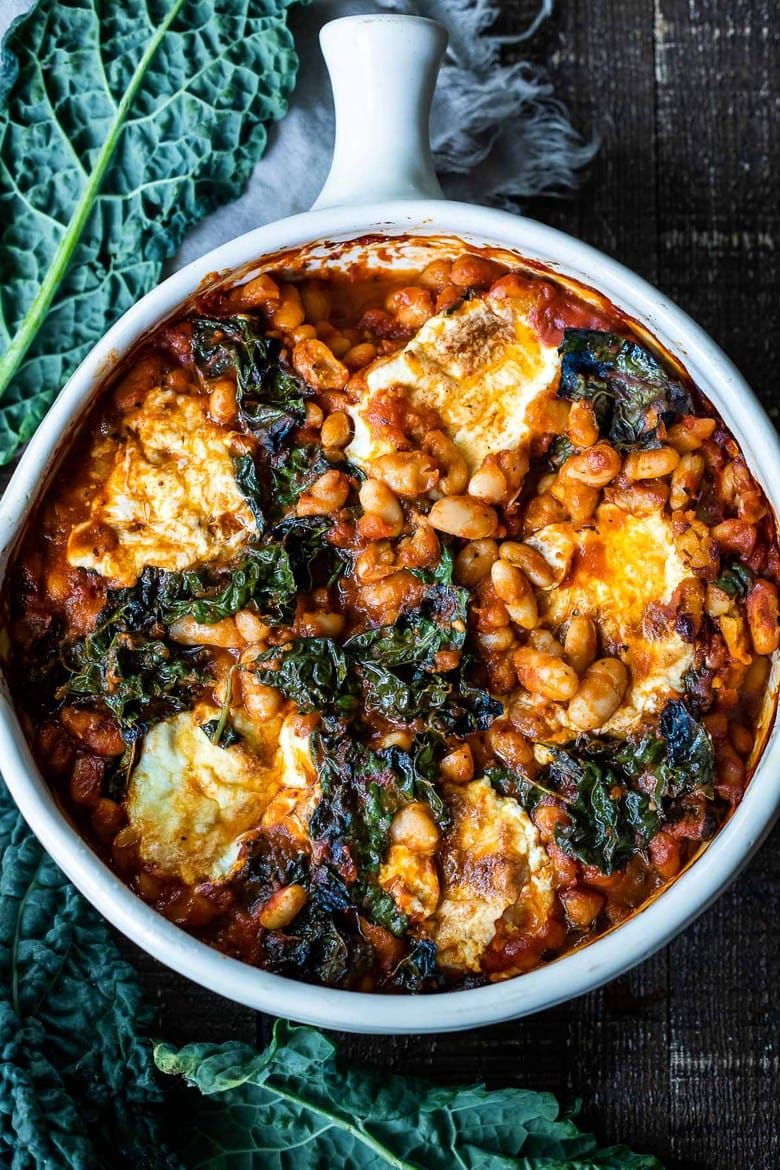 Italian Baked Beans
A quick, easy dinner recipe this Italian Baked Beans, made with cannellini beans, kale, and your favorite homemade (or store-bought) Marinara sauce-just 10 minutes of hands-on time before baking in the oven until golden and bubbling. A delicious and easy vegetarian meal.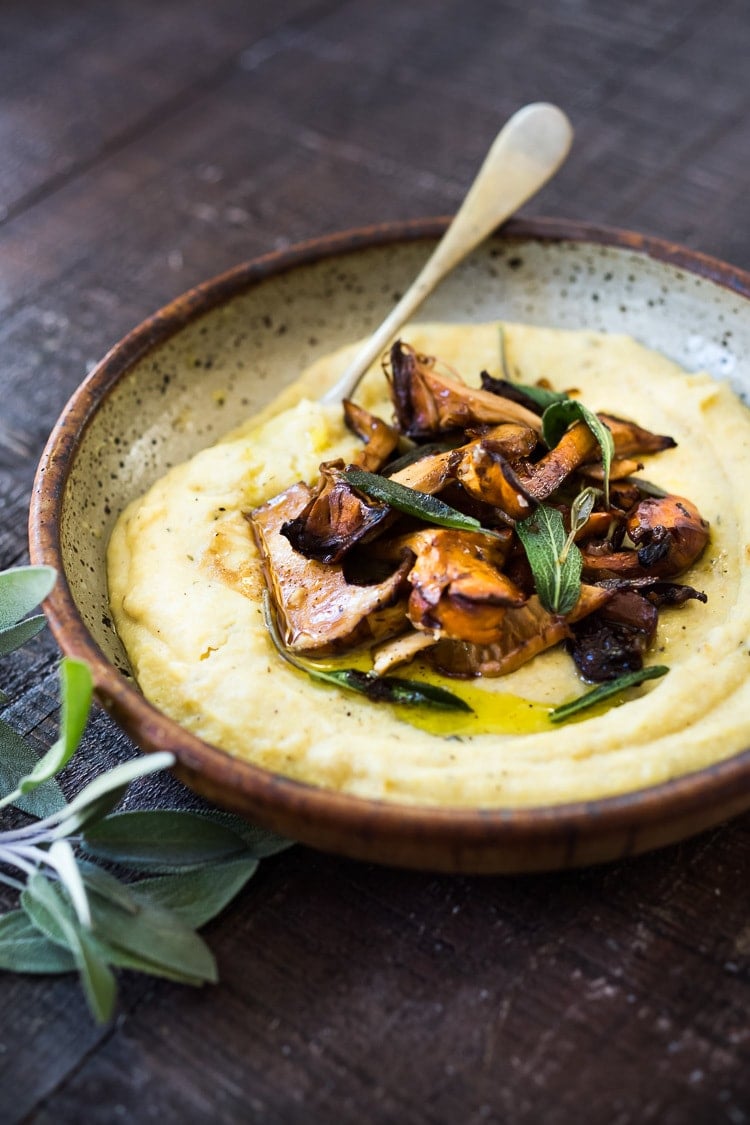 Creamy Polenta with mushrooms!
Wondering what to make for dinner? This Creamy Polenta with Wild Mushrooms, garlic, and sage is a life saver! A simple, easy meal that can be made in under 30 minutes.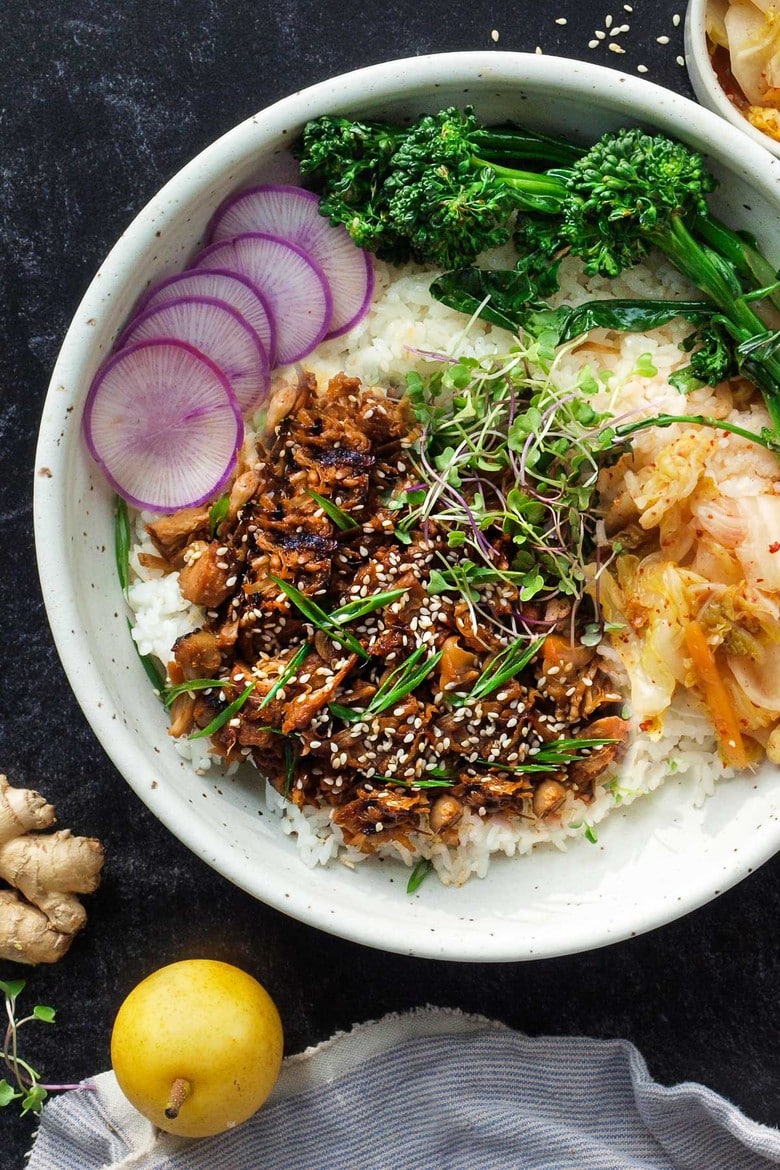 Vegan Bulgogi Bowls
This quick easy dinner does not lack in flavor! Korean Vegan Jackfruit Bulgogi and the most flavorful sauce. Create a vegan Bulgogi Bowl with rice, veggies and kimchi! So tasty!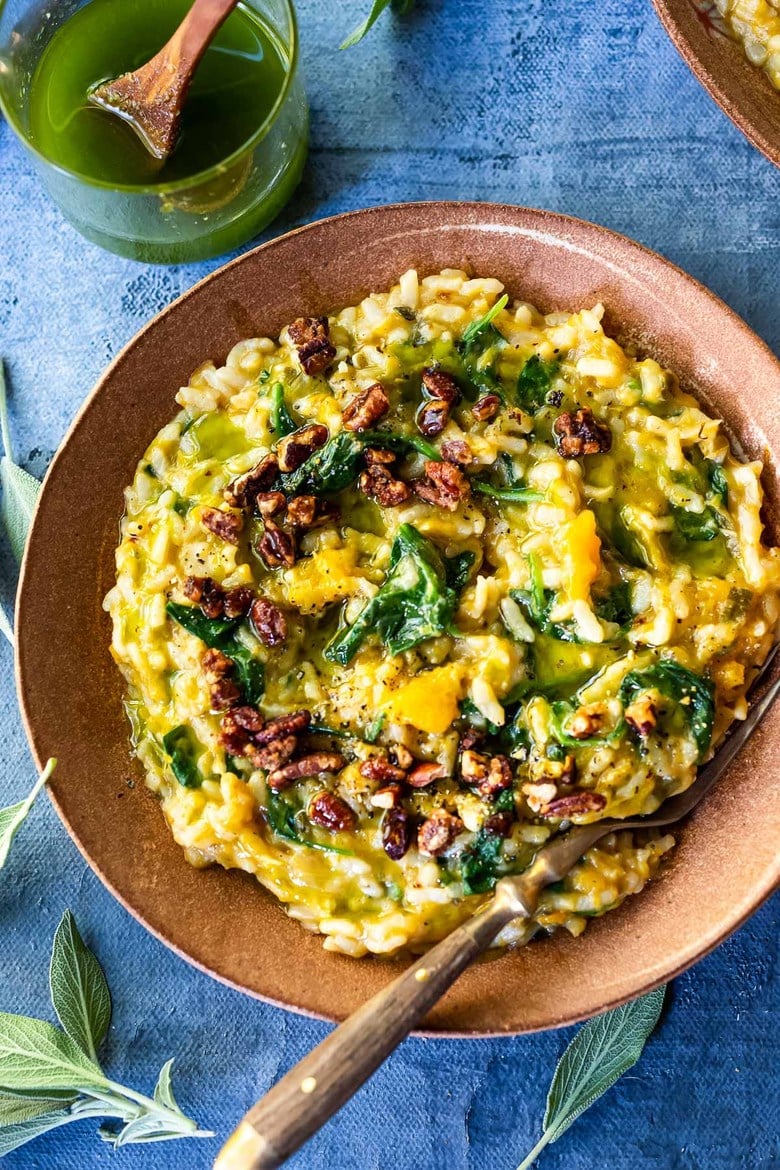 This is one of the easiest dinner recipes on the blog! Cozy up with a comforting bowl of Butternut Risotto with Leeks and Spinach made with very little fuss, in your Instant Pot pressure cooker. Vegan-adaptable and Gluten-free.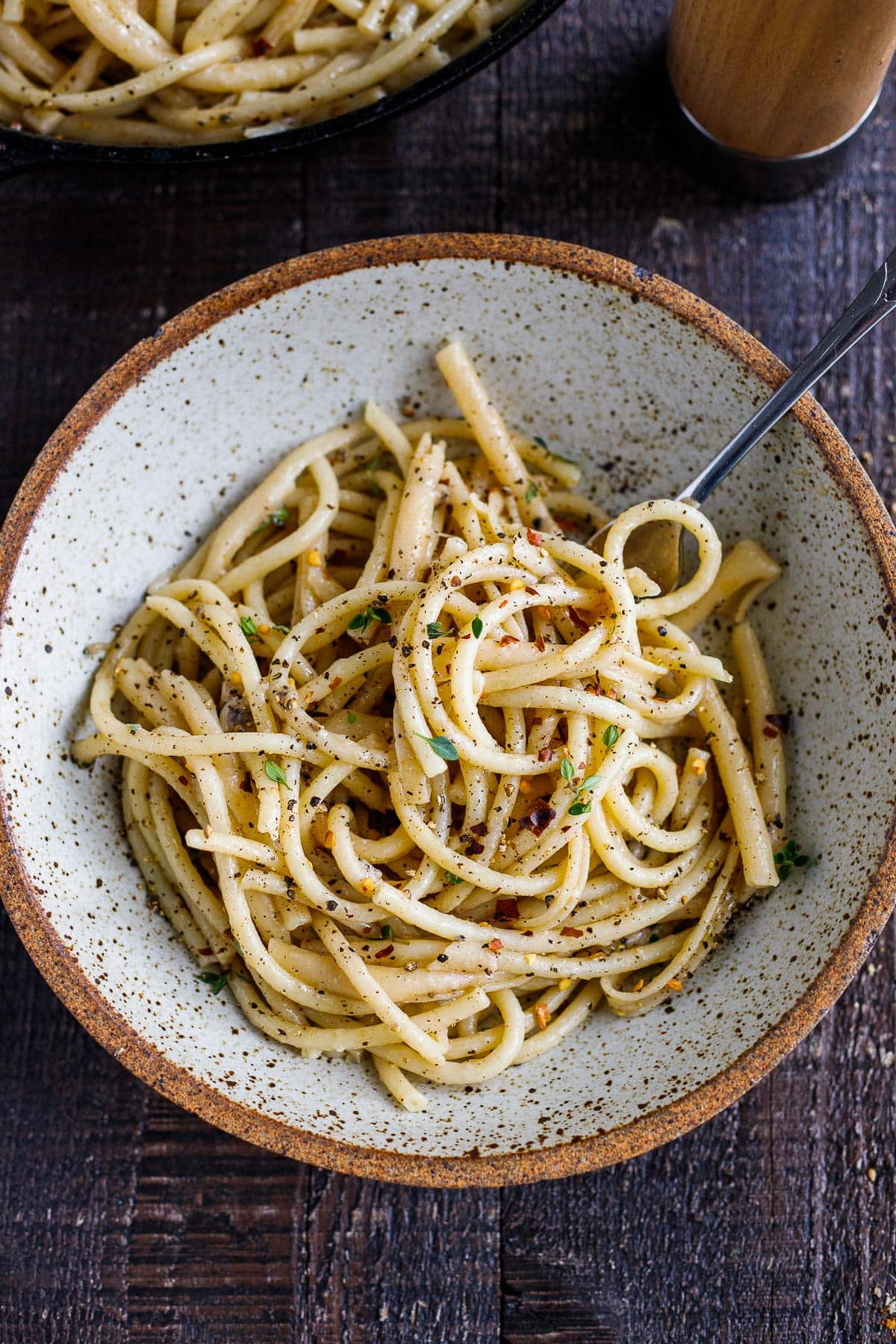 This easy meal is a "go-to" around here! Cacio e Pepe is a fast, flavorful four-ingredient pasta recipe that can be topped with your favorite seasonal veggie (or protein!). We love it loaded up with broccoli (cooked right in the pasta water!). A quick dinner that can be made in under 30 minutes!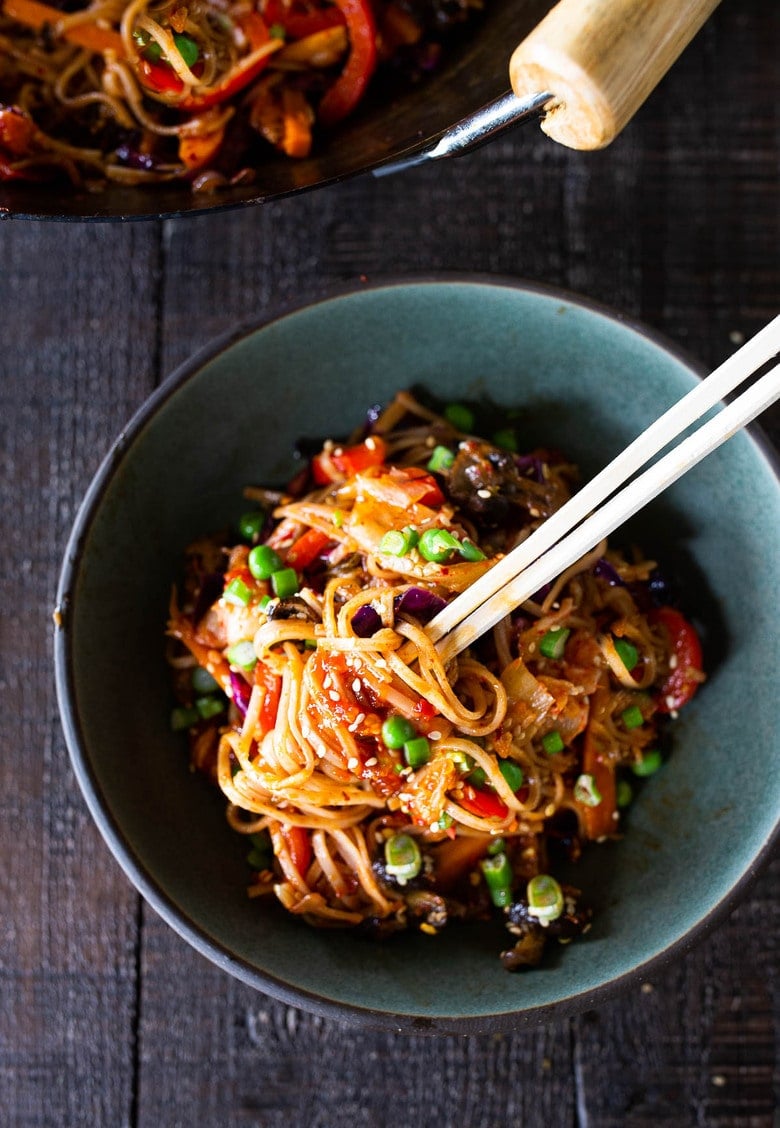 Need dinner in a hurry? Here's a super tasty recipe for Veggie Kimchi Noodles, stir-fried with lots of healthy veggies you probably have on hand. Keep it vegan or add an egg, chicken or shrimp! Crispy tofu is also a delicious option here! A fast and easy dinner recipe!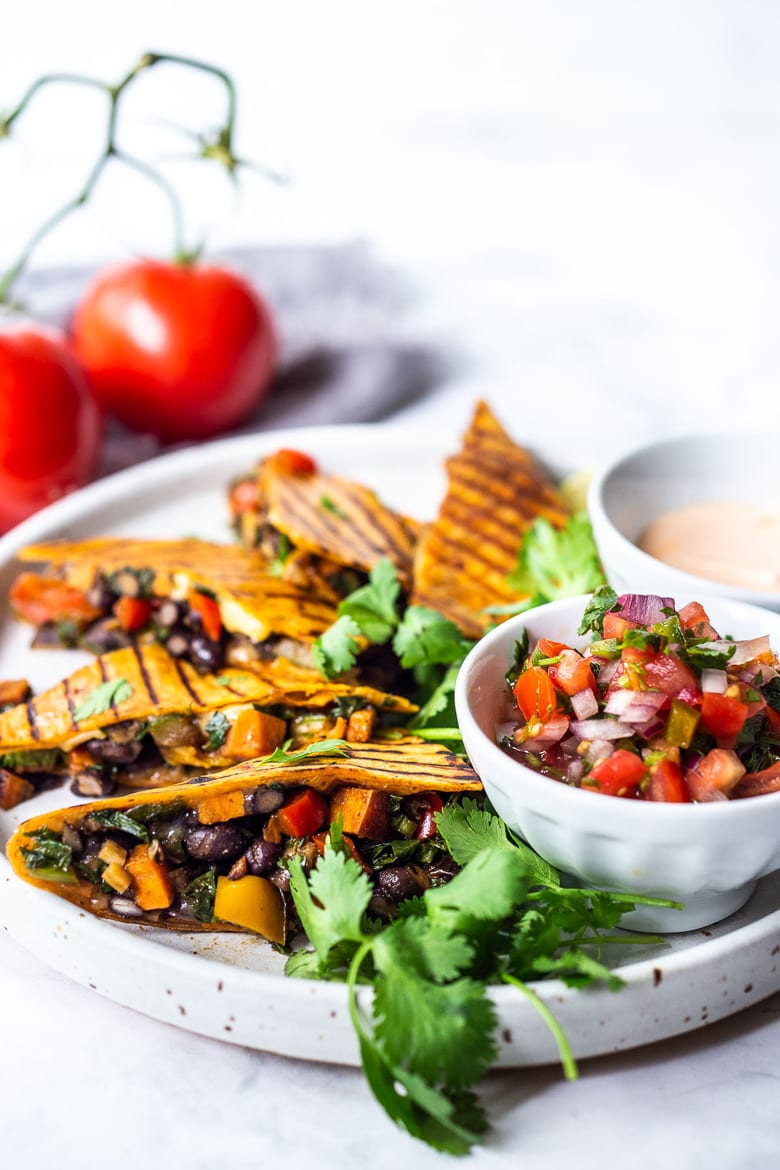 Short on time?  Veggie Quesadillas to the rescue! Made with black beans and veggies like bell peppers, zucchini, sweet potato, greens, and melty cheese (optional) seasoned with Mexican spices. A healthy meal, fast! Vegan-adaptable and Gluten-free adaptable!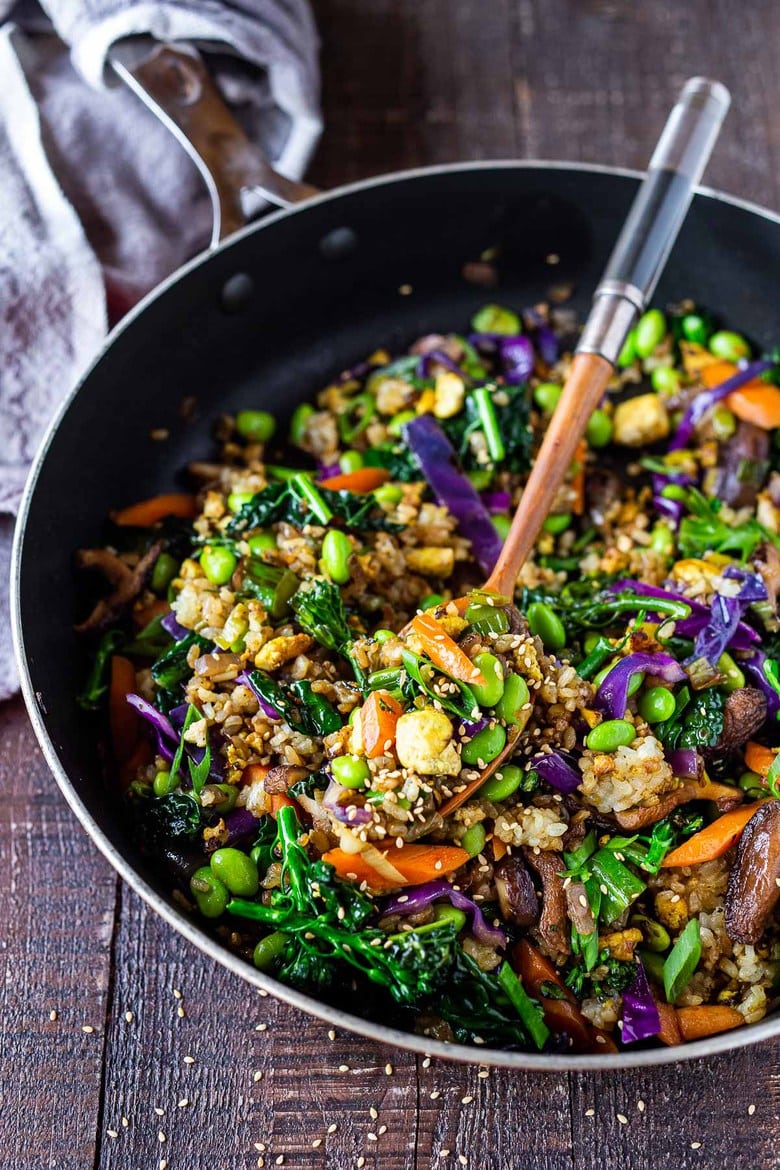 Veggie Fried Rice is a quick easy dinner! Leftover rice is turned into a healthy dinner in no time flat! Made healthy with seasonal veggies and edamame, this Vegetable Fried Rice is  highly adaptable recipe that can be made vegan, vegetarian or add chicken or shrimp- perfect for busy weeknight meals.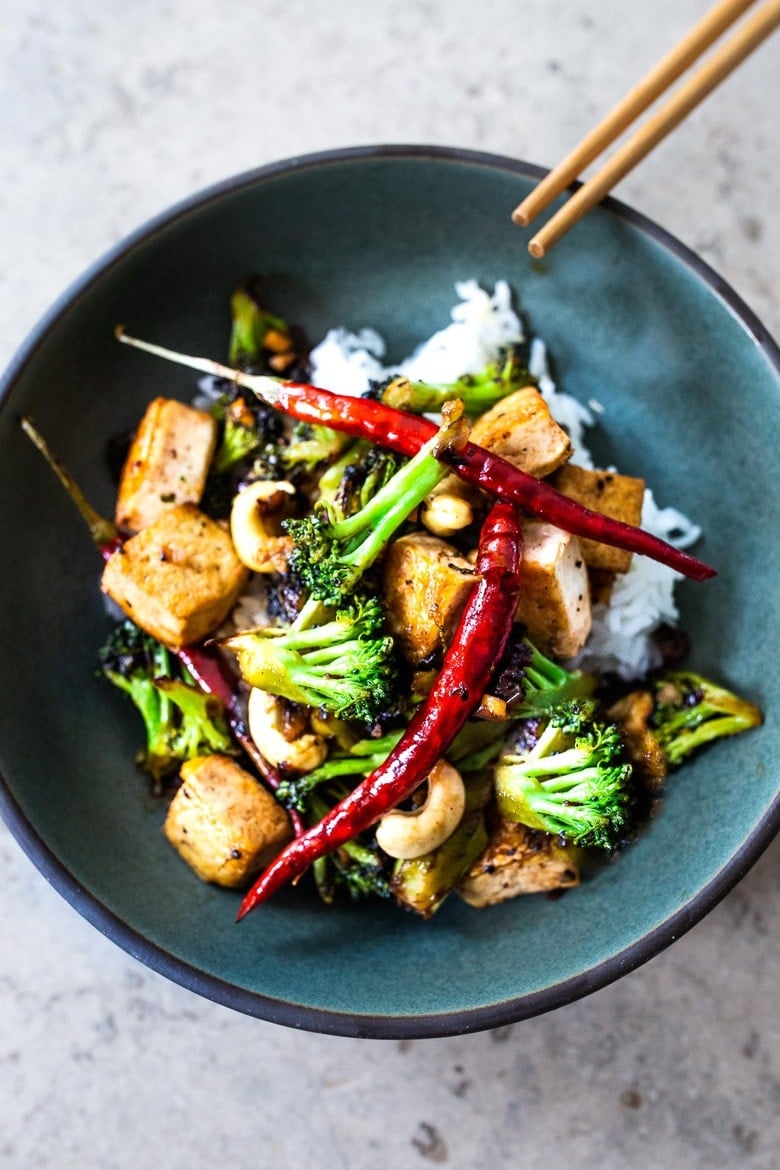 Need a quick healthy dinner?  Stir fry to the rescue! This flavorful Broccoli Stir fry can be kept vegan with Tofu (or substitute shrimp, chicken or beef). A fast and easy dinner idea that can be on the table in under 30 minutes. Healthy and nourishing!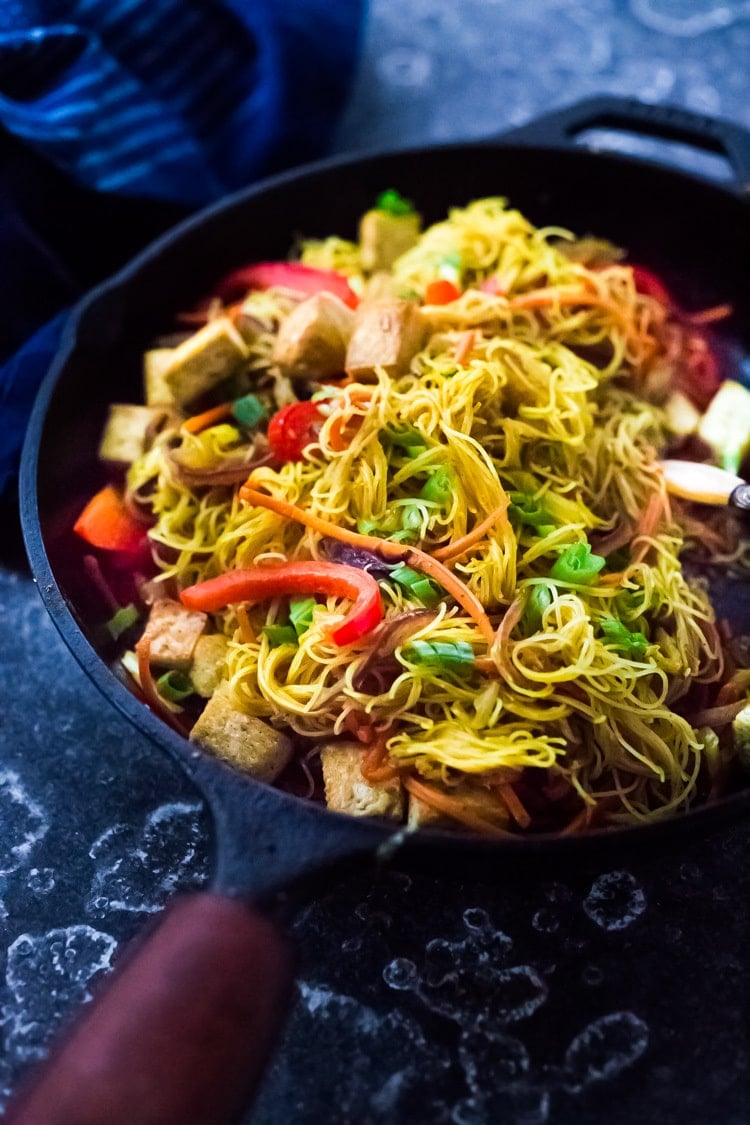 This dinner recipe is one of our favorites. Stir-fried rice noodles with curry, tofu and vegetables—a Chinese take-out menu classic – easy recipe, vegetarian and full of authentic flavor!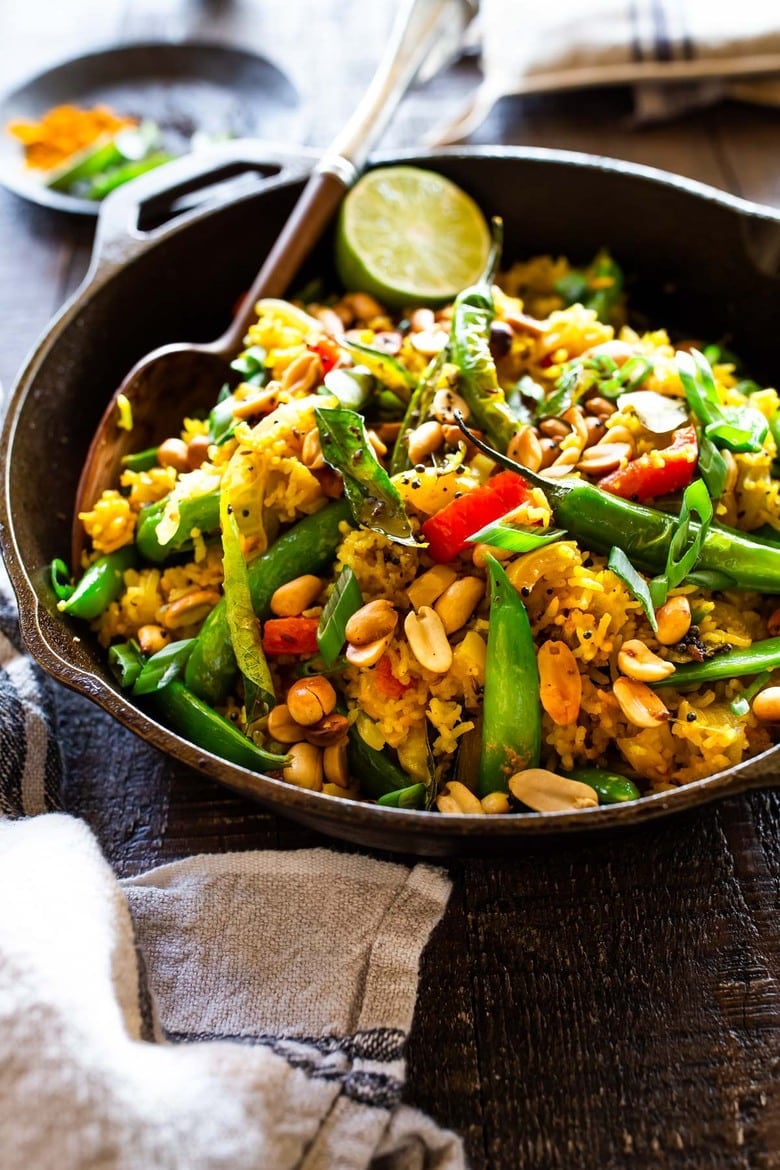 Full of healthy veggies and this dinner recipe can be made in under 30 minutes. Vegetarian, Gluten-free and Vegan adaptable, it is a fast and easy weeknight meal- great for using up leftover rice and veggies in the fridge.
Easy one-Pan Dinners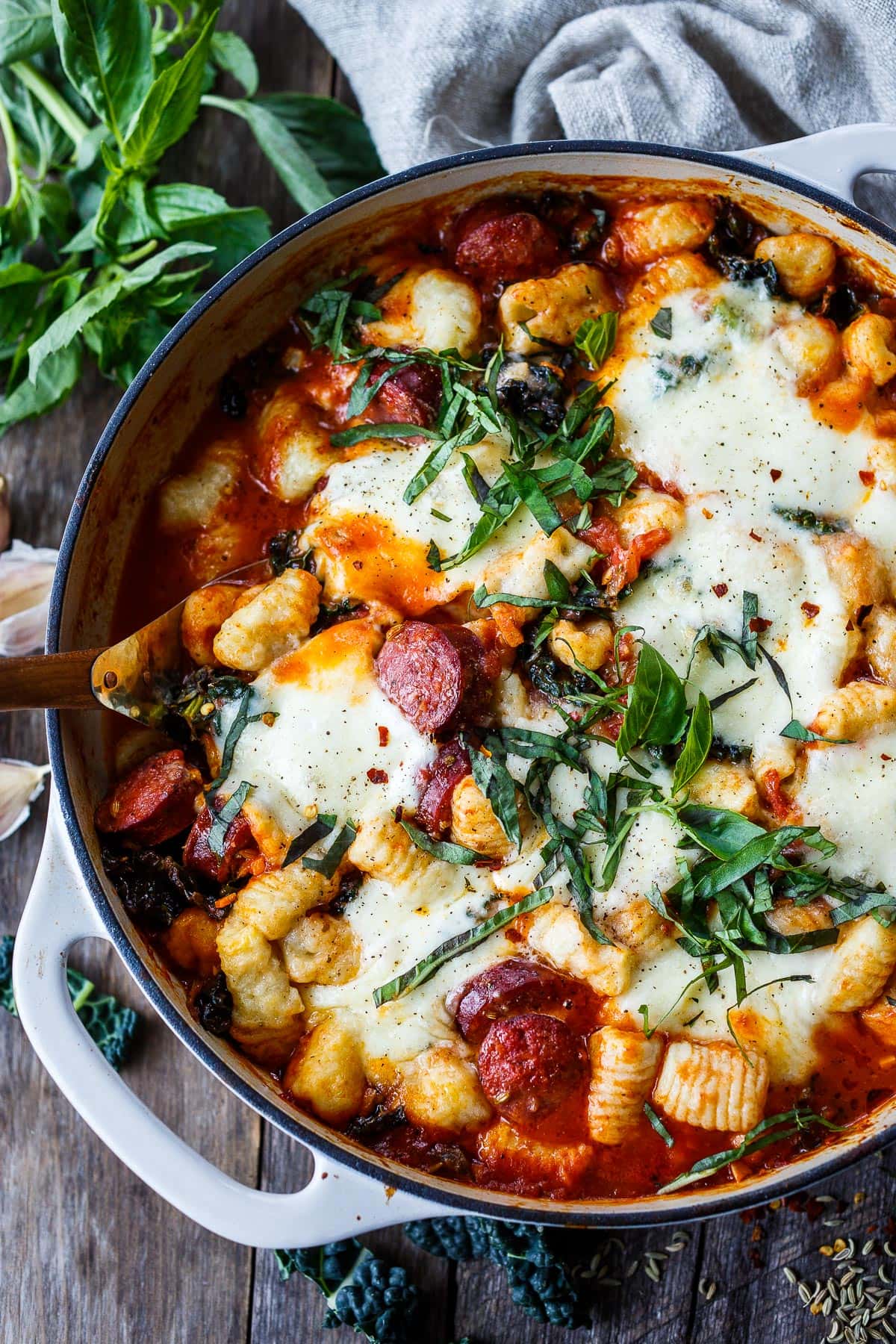 Baked Gnocchi with tomato sauce, kale, Italian sausage and melty mozzarella cheese – a delicious, easy one-pan dinner that can be made in 30 minutes.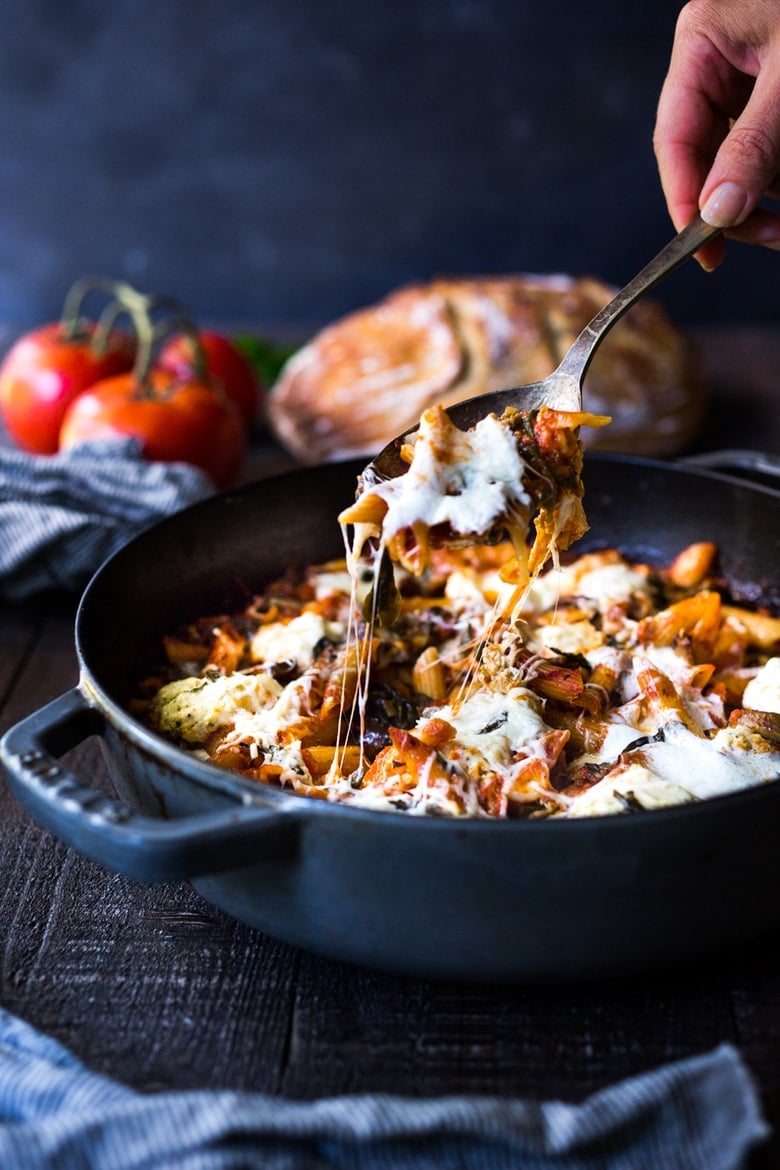 This can be made in one pan and requires no pre-boiling of pasta. 15 minutes of hands-on time before baking! Perfect for weeknight dinners! Vegan-adaptable!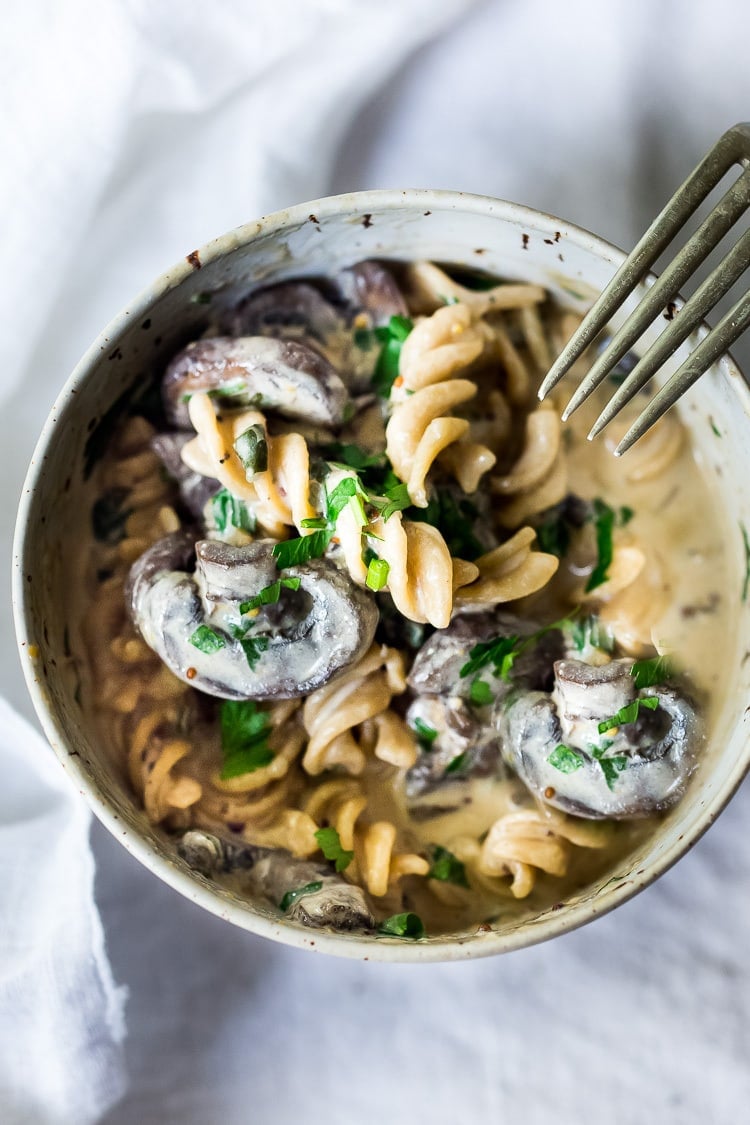 Instant Pot Mushroom Stroganoff – a simple, easy vegetarian weeknight dinner that is creamy, hearty and full of delicious depth and flavor!  Vegan Adaptable!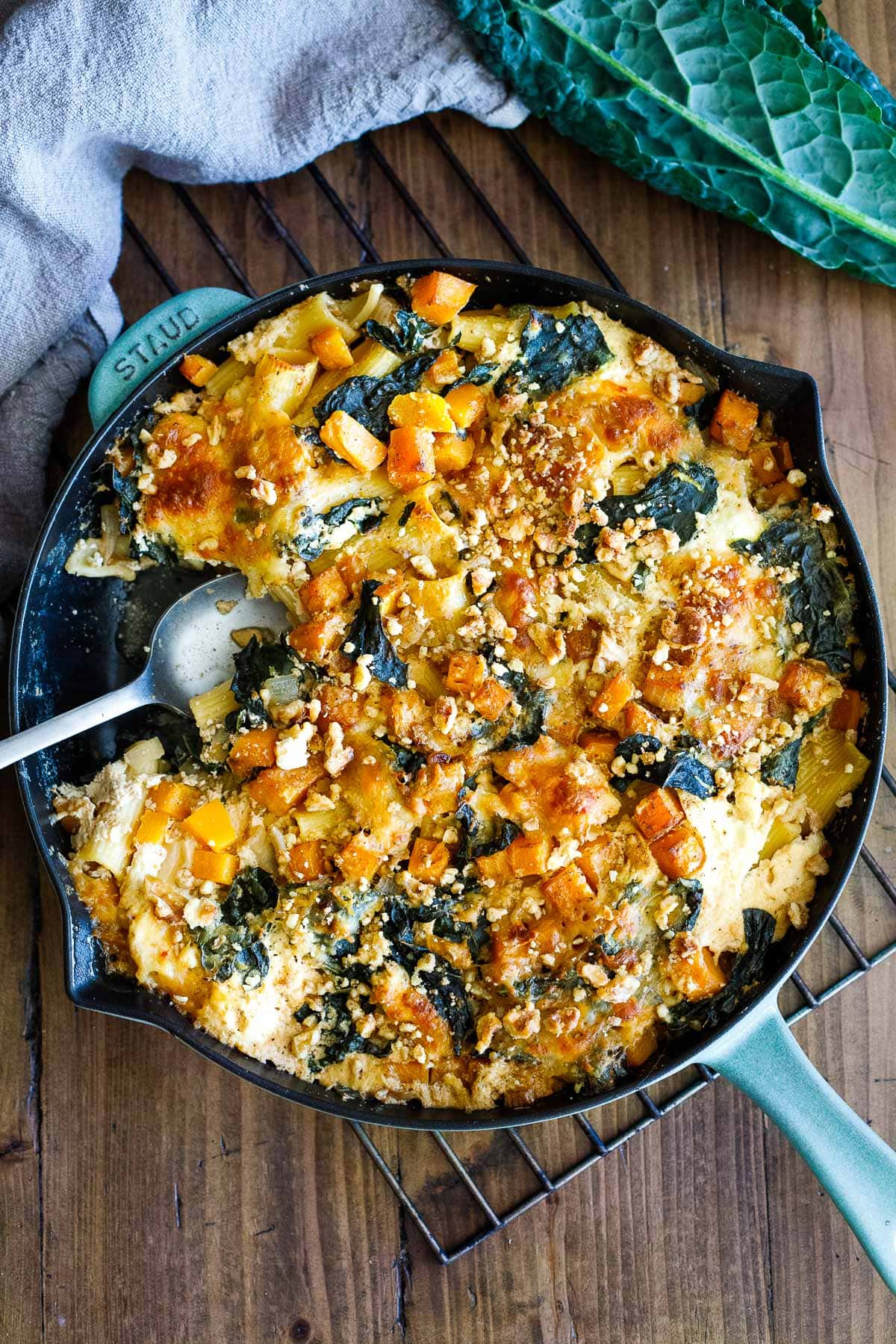 This No-Boil, Baked Rigatoni with Butternut Squash, Kale, Sage and Pecans can be made in one pan, with 30 minutes of hands-on time before baking in the oven. A cozy vegetarian dinner, perfect for fall.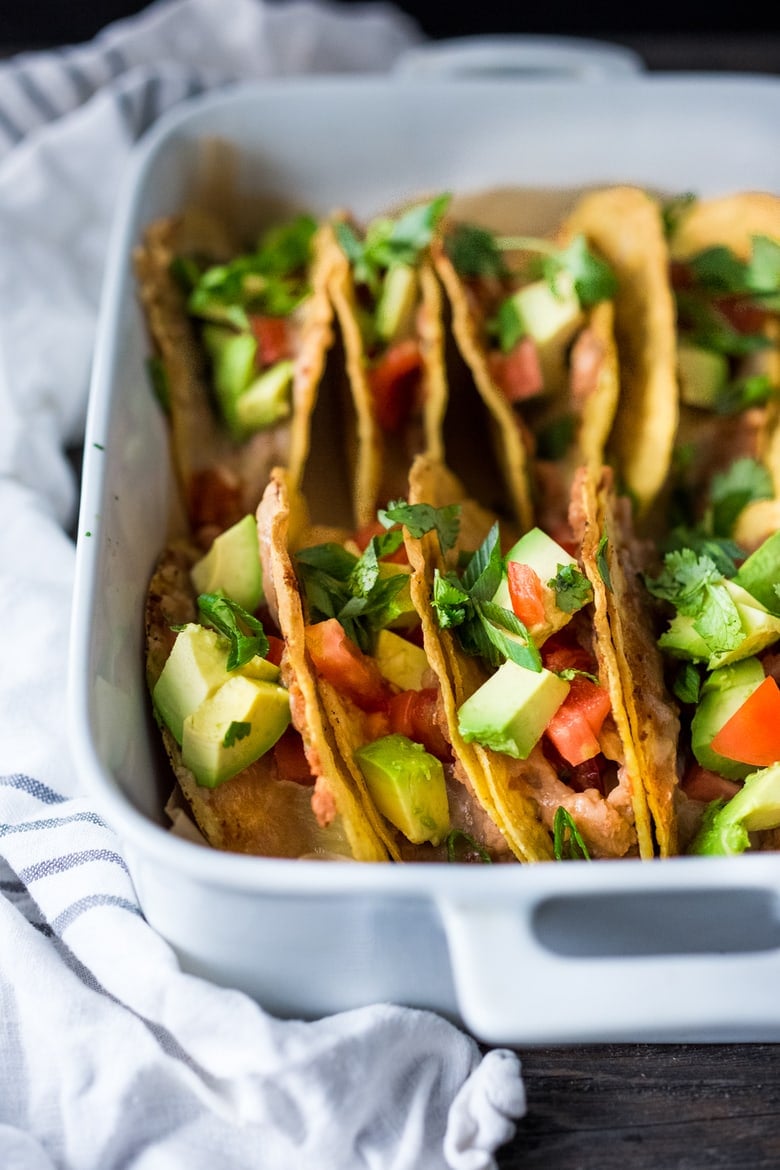 Kid-approved, these are for those of you who have hungry mouths to feed and need to get something on the table ASAP. Not only are they simple and quick to put together, but they are also really adaptable. Keep them vegetarian and affordable by using organic refried beans as the protein, or if so inclined, add left-over rotisserie chicken, or browned, seasoned ground beef. But I will say that even my meat-loving husband loves these, prefers them, with the refried beans! 
Fast and Easy Soups and Stews!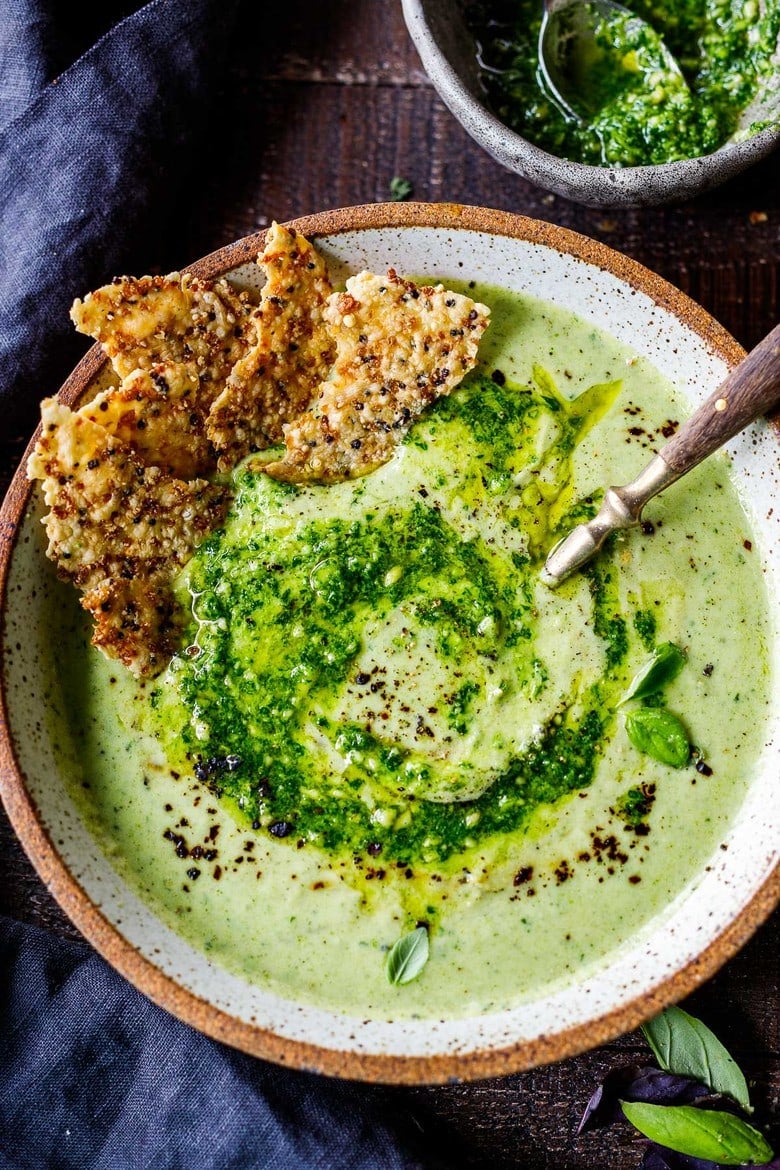 This Creamy Broccoli Soup with Pesto is deeply nourishing, full of flavor, and made with simple ingredients in under 35 minutes. Gluten-free & Vegan-adaptable!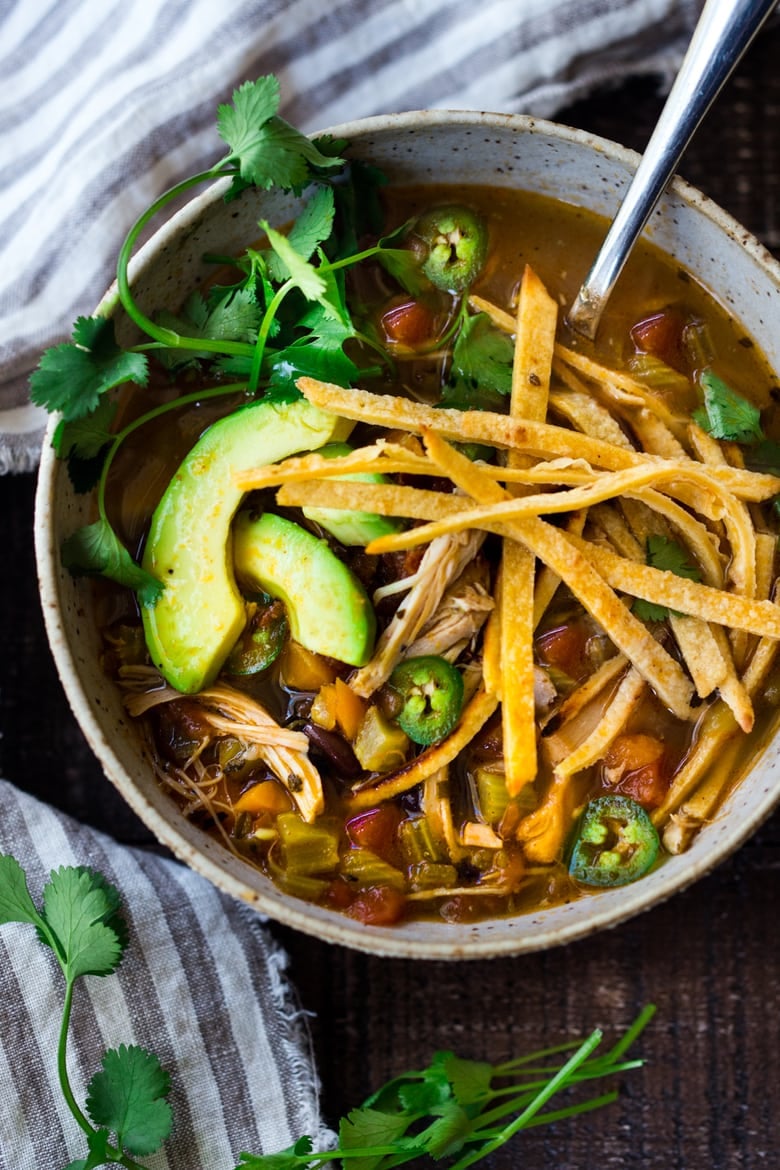 Loaded up with healthy veggies- just 20 minutes of pressure cooking time and dinner is done! A fast and easy dinner idea the whole family will love! You can also make this on the stove-top!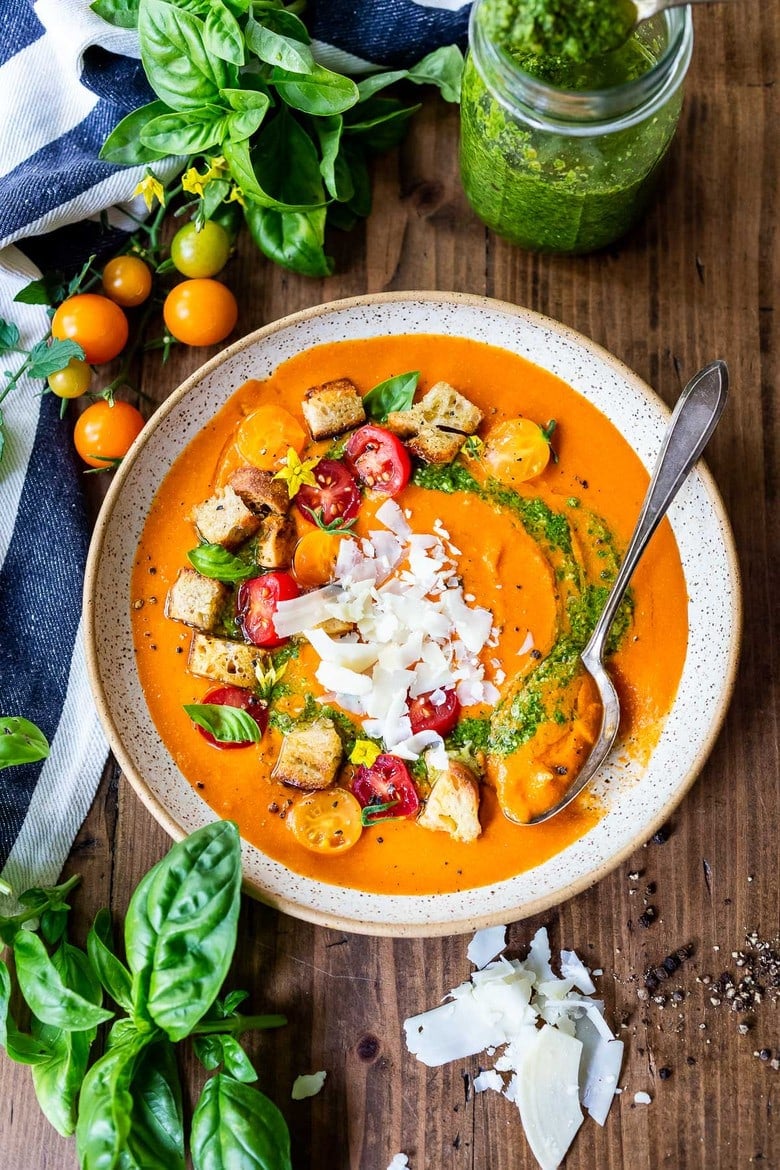 Simple Homemade Tomato Soup made with fresh or canned tomatoes, made in under 30 minutes. Creamy, easy and Vegan-adaptable, a delicious and nourishing dinner idea perfect for busy nights!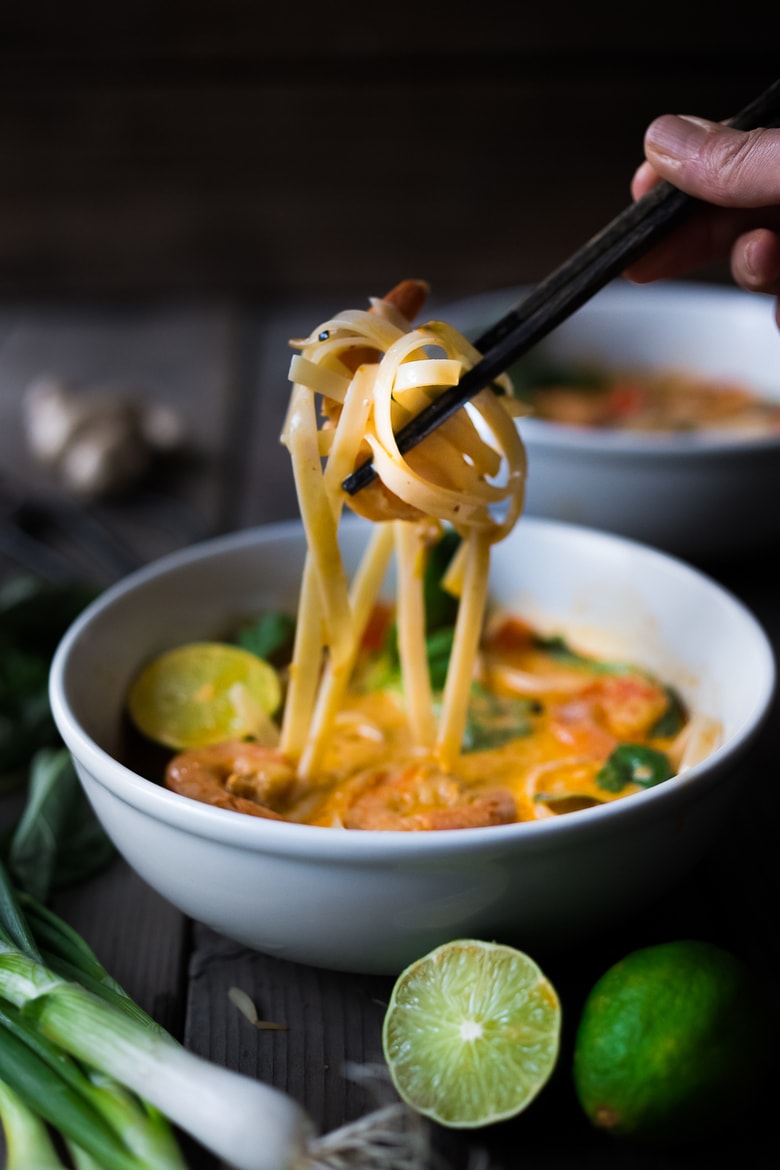 Make this flavorful Northern Thai Stew in just 15 minutes with tofu and veggies, or sub chicken or shrimp.  Flavorful, yet not too spicy – kids love this recipe too! Super easy and satisfying! Vegan adaptable and GF! A fast and healthy Weeknight Dinner!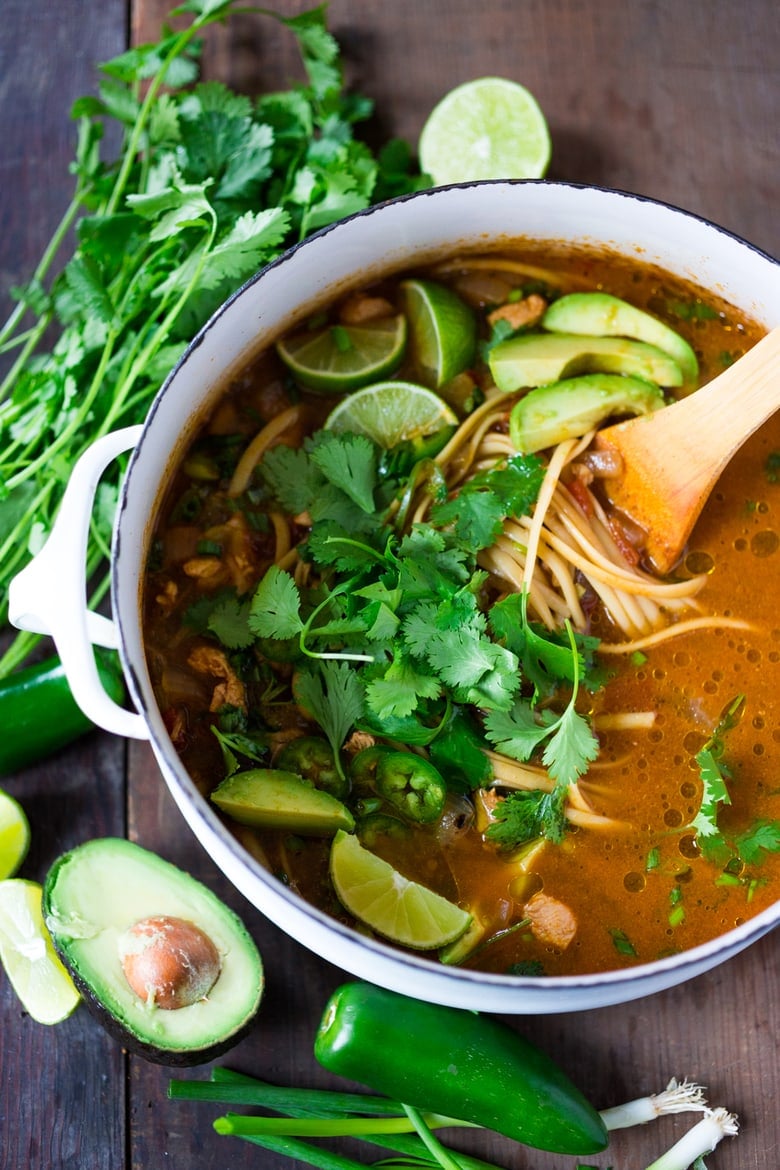 One of my all-time favorite soups- very adaptable! Make it with chicken or keep it vegan with chickpeas ( my favorite! ). Easy and quick to make, full of flavor… this is a weeknight dinner the whole family will love this. I promise!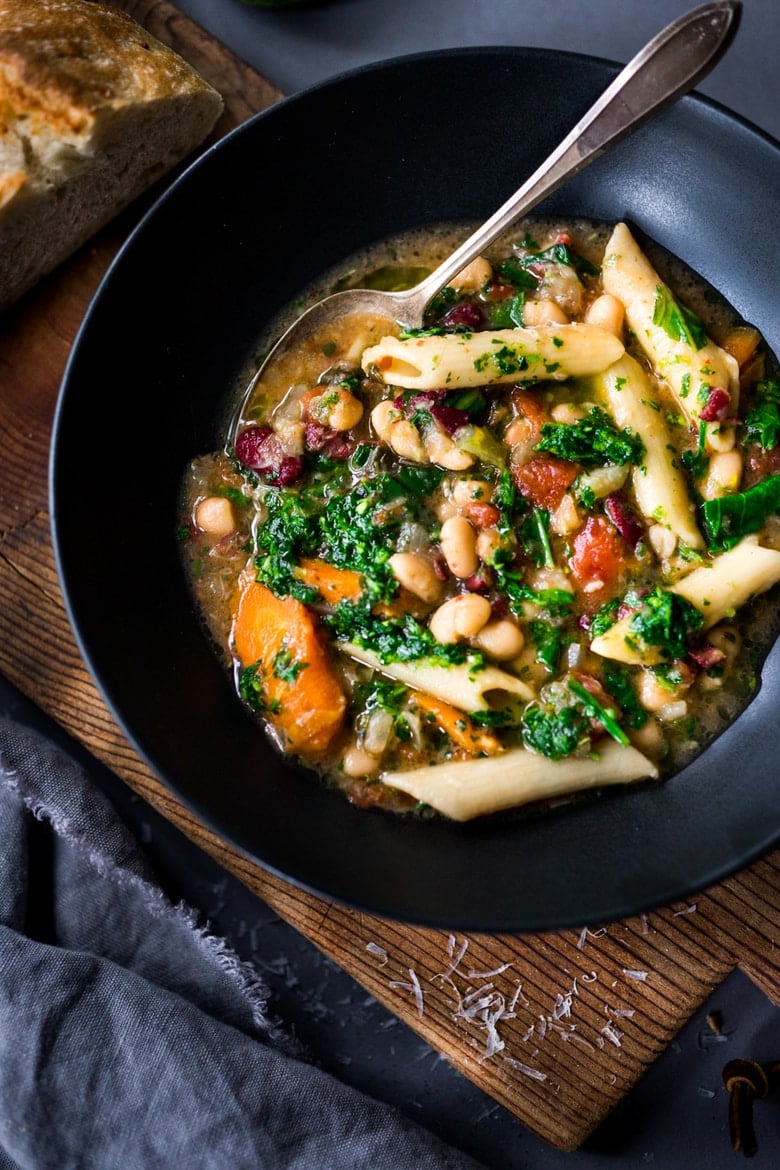 Full of healthy veggies and vegan and gluten-free adaptable! Cooks on your stovetop or in an instant pot! A healthy, vegan weeknight dinner the whole family will love!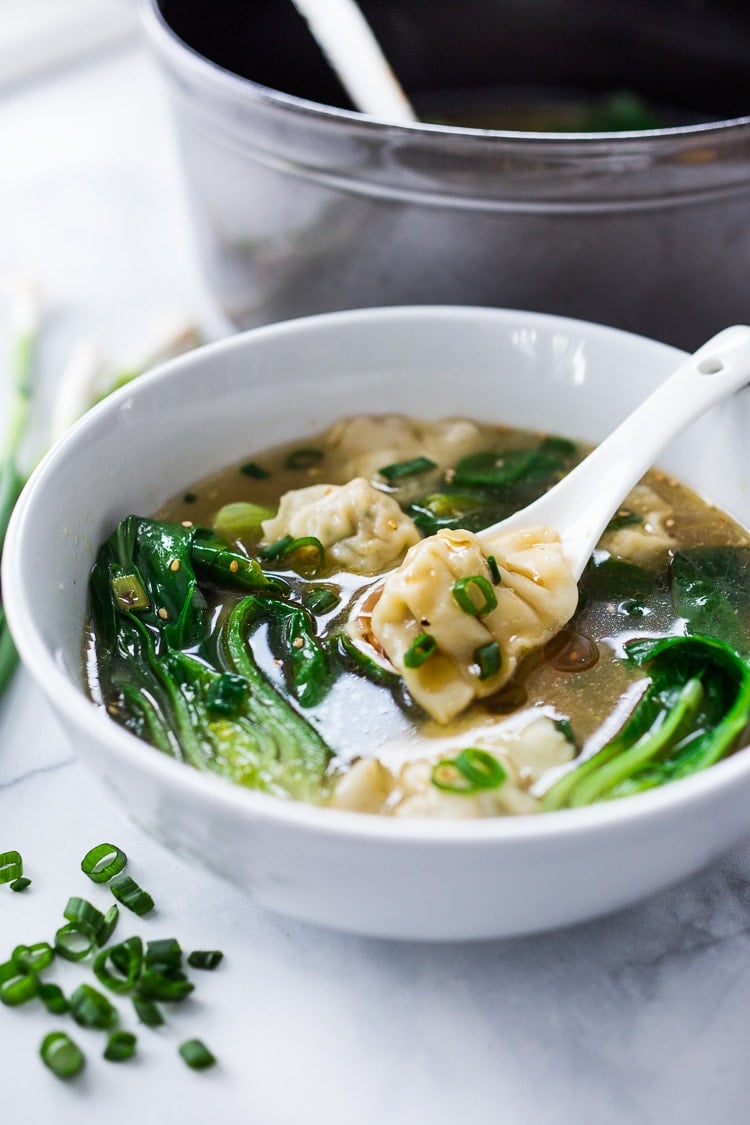 Loaded up with your favorite wontons and lots of healthy greens – this fast and easy dinner recipe is something the whole family will love. Keep wontons in the freezer for dinner "emergencies" – then you always have something on hand!
Quick and Easy Fish and Seafood Recipes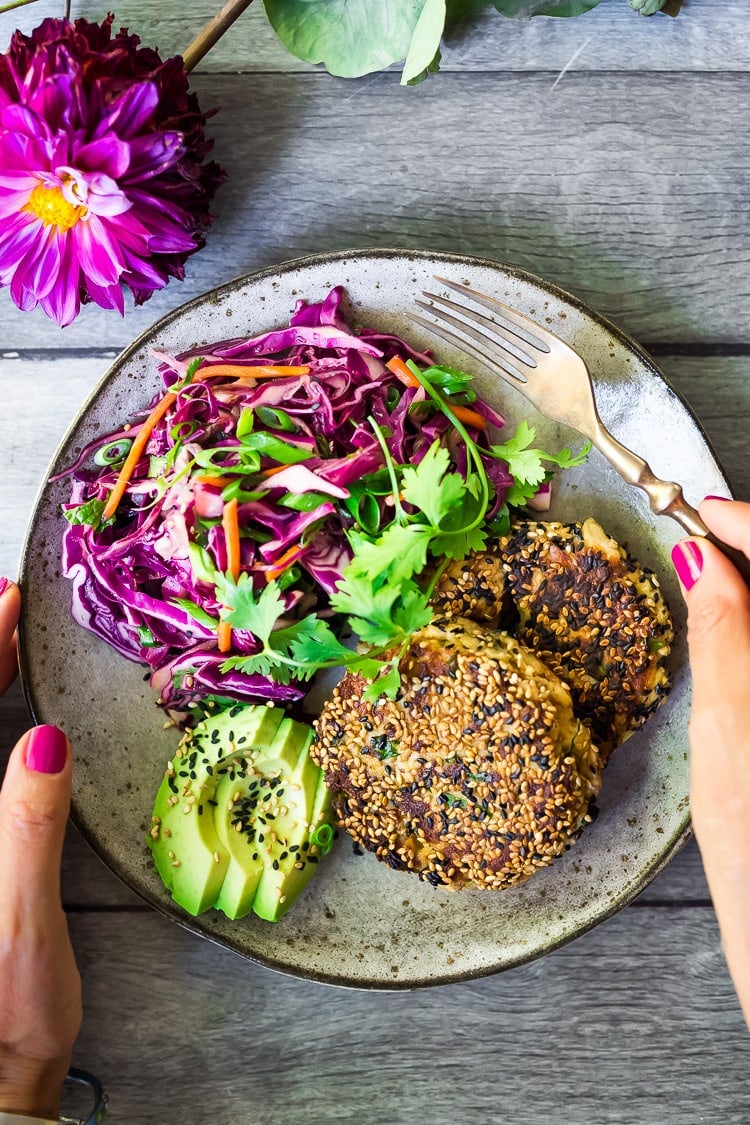 A simple pantry recipe made with canned salmon, that can be whipped up in 20 minutes, perfect for midweek meals! Serve with a side of  Crunchy Asian Slaw!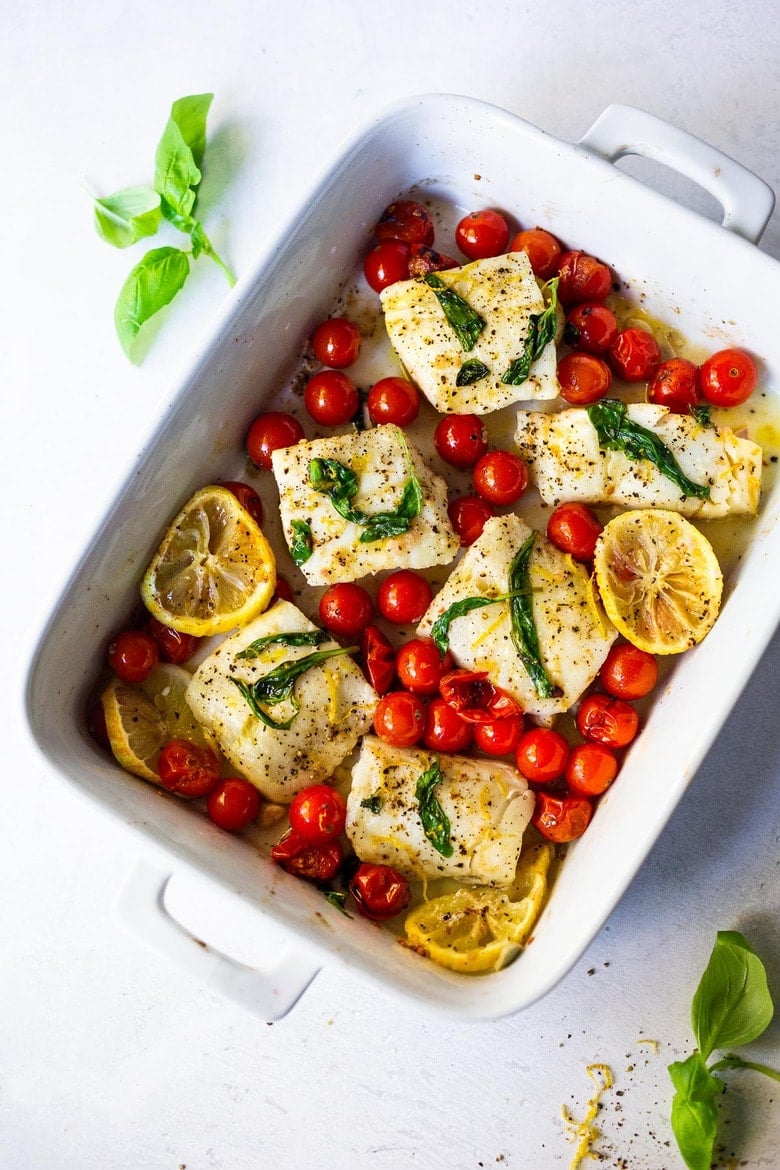 A simple meal with Tomatoes, Basil, Garlic Lemon- a fast and easy weeknight dinner that is healthy and delicious!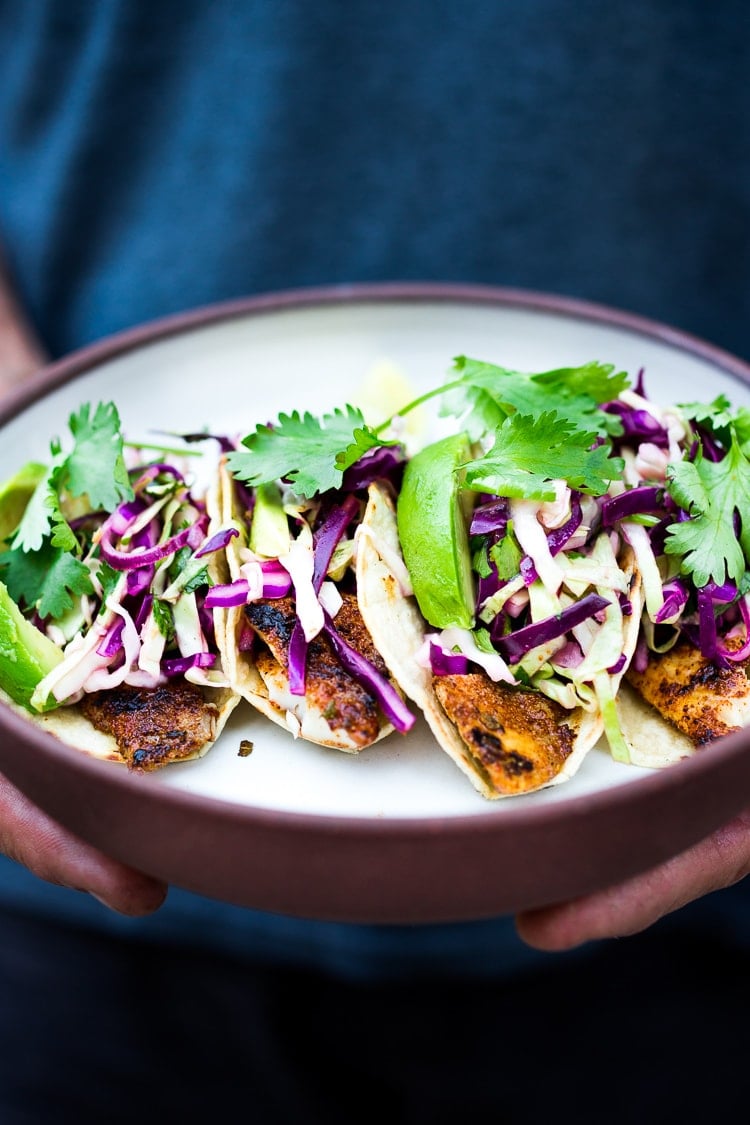 Our "go-to" healthy weeknight dinner that be made in 30 minutes flat. These can be grilled or roasted and feel free to sub tofu for a vegan option!
The easiest Chicken Dinners!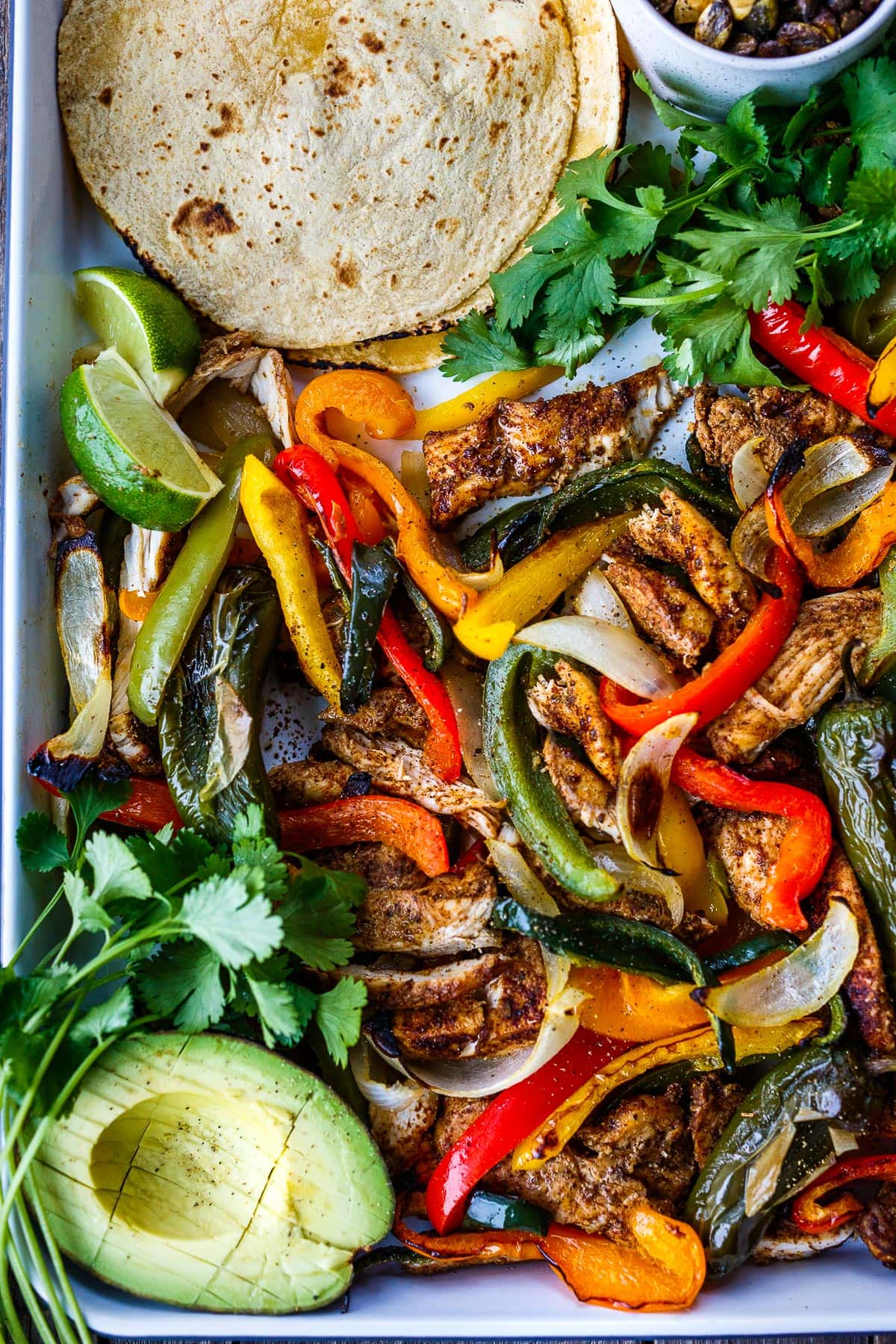 Chicken Fajitas!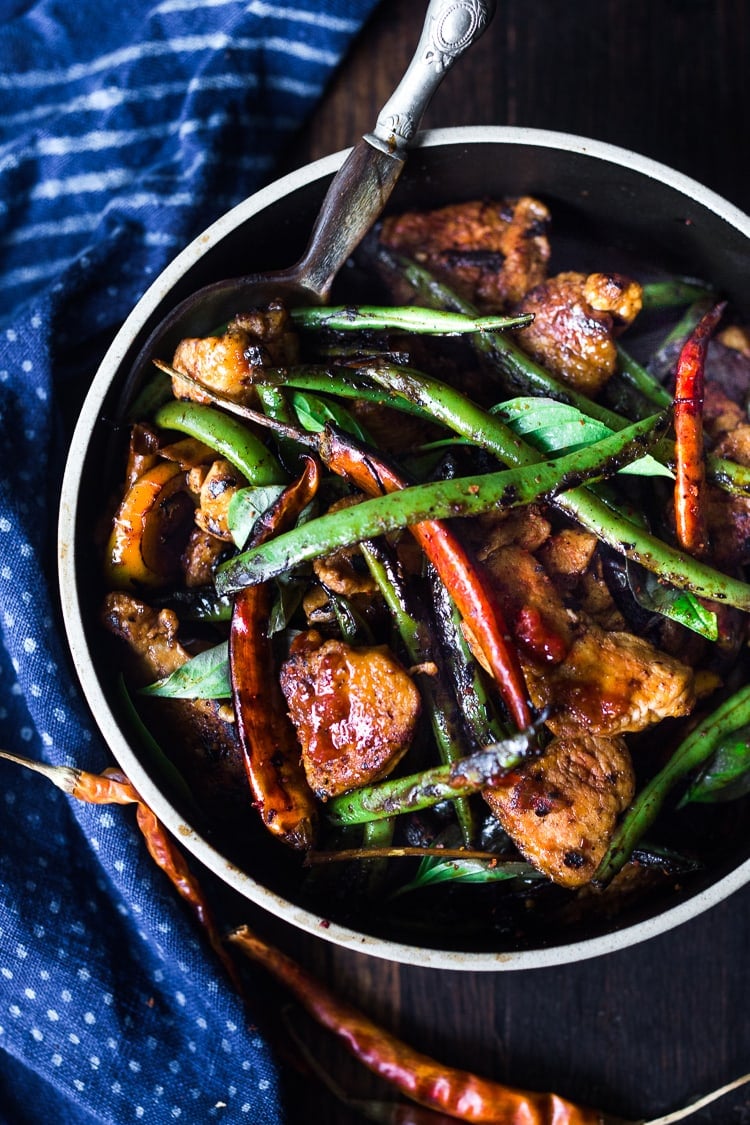 A fast and full-flavored, Burmese-style stir-fry that can be made in 20 minutes flat! Vegan and Gluten-free adaptable, this tasty weeknight dinner is low in carbs.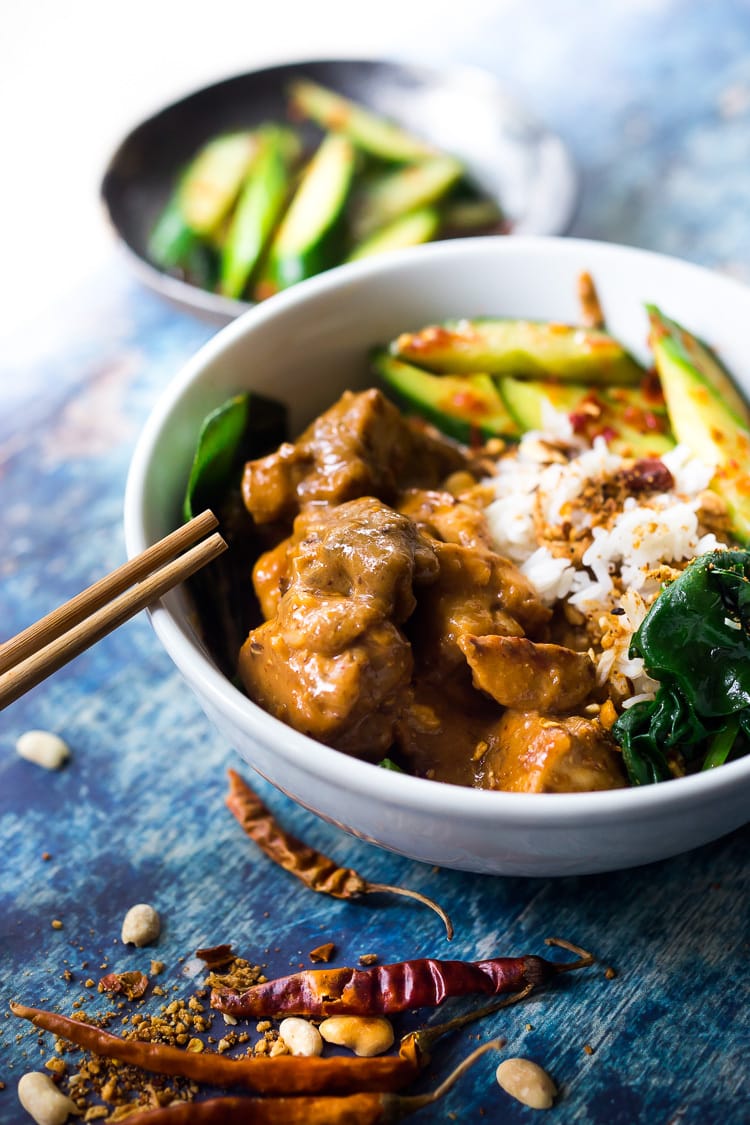 This can be made in a pressure cooker or on the stovetop!  A simple, delicious one-pot meal that can be made in 25 minutes! Paleo and GF adaptable, this delicious weeknight dinner can be prepped ahead, or cooked ahead for the busy work week!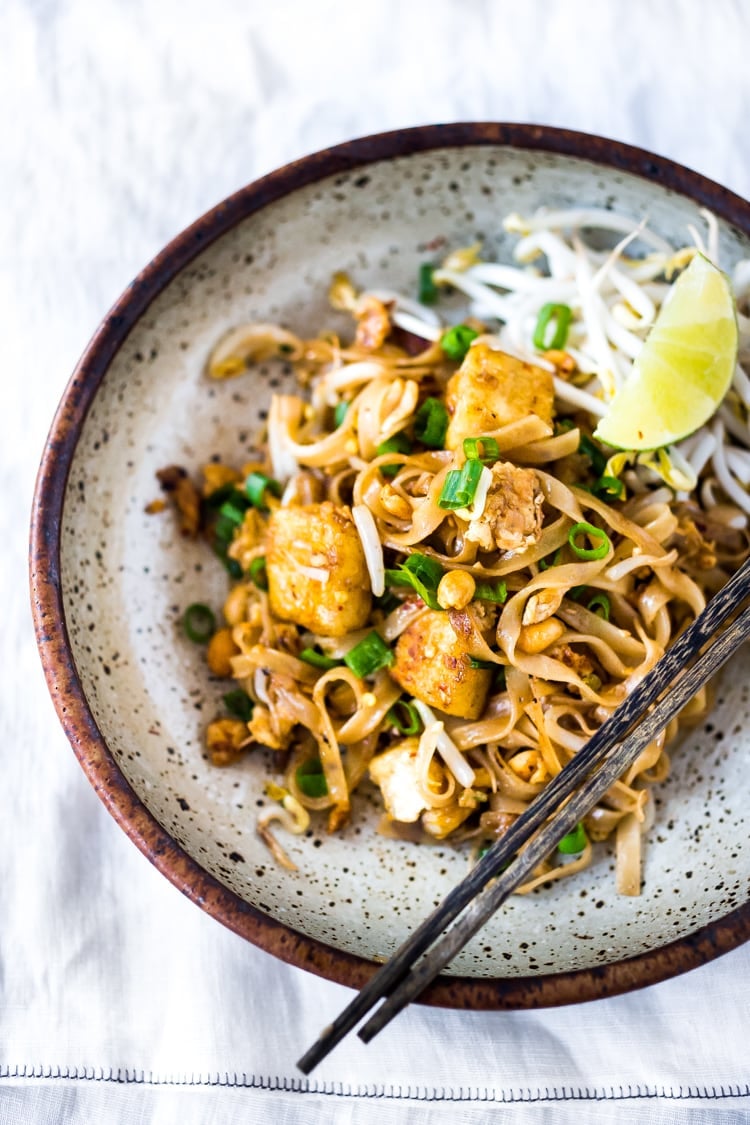 This adaptable Pad Thai can be made with tofu, chicken or shrimp. No hard-to-find ingredients, this recipe is stripped down to the basics. Once you have the ingredients gathered, this tasty weeknight dinner cooks in under 15 minutes!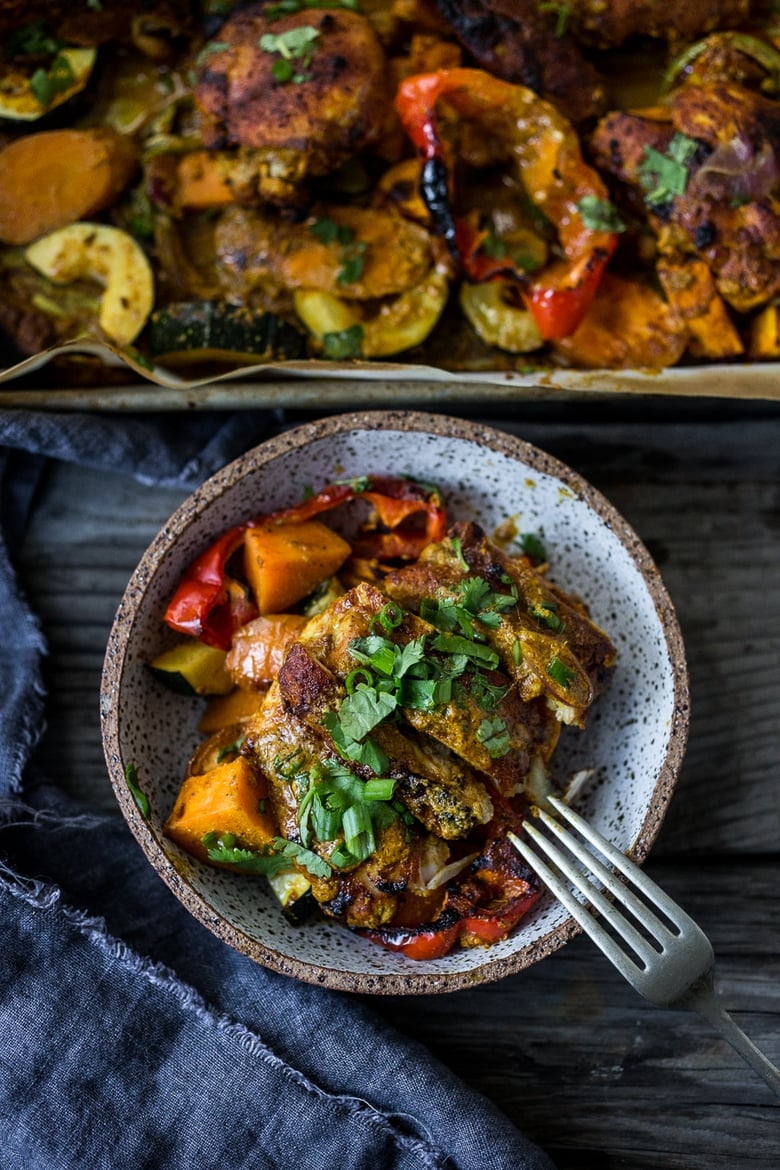 Make this with chicken, fish or tofu (or some of each for mixed households) and load it up with healthy veggies. Just 15-20 minutes of hands-on time. So easy and full of soul-satisfying Indian flavors, this weeknight dinner is perfect for all.
Hope you enjoy these Healthy Easy Dinner ideas…please leave your favorites in the comments below!
xoxo
Print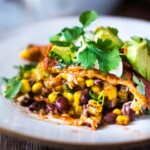 50 Easy Dinner Recipes!
Prep Time:

10

Cook Time:

30

Total Time:

40 minutes

Yield:

8

1

x

Category:

easy dinner

Method:

stovetop

Cuisine:

American
---
Description
50 EASY Dinner Ideas! Fast to make with simple ingredients, enjoy these delicious meals- perfect for busy weeknights. (Enchilada Casserole)
---
12

-ounce bottle of enchilada sauce (or make my 5-minute enchilada sauce)

12

x 6-inch corn or flour tortillas

2

–

3

cups

grated Mexican-style cheese (or try a vegan cheese)

4

-ounce can green chilies, (optional)
Garnish: chopped cilantro, diced avocado, sour cream, hot sauce
Casserole Filling:
2 tablespoons

olive oil

1/2

an onion, diced ( see notes)

4

cloves garlic, rough chopped (see notes)

1

large yam or sweet potato, diced into 1/2 inch cubes (optional, or sub

1

large bell pepper, or zucchini)

12

–

16

ounce bag frozen corn (regular or fire-roasted ) – or sub fresh corn.
15-ounce can black beans, drained( like Trader Joe's Cuban Style Black Beans) Or substitute with 2 cups cooked chicken, browned seasoned ground turkey, or beef.

2 teaspoons

cumin

2 teaspoons

chili powder

1 teaspoon

kosher salt
---
Instructions
Preheat oven to 400 F
Make the filling: Saute onion, garlic and sweet potatoes in the olive oil over medium heat, until tender, about 10-12 minutes, covering ½ way through, allowing potatoes to steam and get tender. Add corn and black beans, cumin, chili powder and salt and saute until warmed through.
Assemble: In a greased 9 x13 inch baking dish, spread out ½ cup of enchilada sauce, to lightly coat the bottom. Spread out 4 tortillas on top of the sauce.  Spread out ½ of the filling over the tortillas. Scatter half of the canned green chilies (if using), and 1 cup of the grated cheese.  Drizzle with a ½ cup enchilada sauce. Top with 4 more tortillas, add the remaining filling, green chilies, 1 cup cheese and top with 4 more tortillas. Lather the top with the remaining enchilada sauce and any additional cheese if you like a cheesy top.
BAKE Cover tightly with foil(use parchment to prevent foil from touching the casserole) and bake for 30 minutes. Uncover, and bake 10 more minutes.
Garnish with diced avocado, cilantro and sour cream. The sour cream really adds a nice creaminess.
---
Notes
If really short on time, you can sub granulated onion and/or garlic powder for the fresh onion and garlic. Add about a teaspoon each to the veggie filling.
In winter, I love adding the diced sweet potato for extra richness, but in the warmer months I'll opt for zucchini and/or bell pepper.  Feel free to load the filling up with seasonal veggies- tasting and adjusting salt and seasoning accordingly. Or add a protein like cooked ground meat or chicken.
Nutrition
Serving Size:

-Vegetarian with Sweet Potato

Calories:

436

Sugar:

5.6 g

Sodium:

1396.4 mg

Fat:

20.7 g

Saturated Fat:

8 g

Carbohydrates:

51.1 g

Fiber:

10 g

Protein:

16.2 g

Cholesterol:

35 mg
Keywords: easy dinner ideas, healthy dinner ideas, quick and easy dinners, healthy dinner recipes, easy dinner recipes, dinner recipes,
SaveSave
SaveSave