Here is a collection of 40 Best PASTA RECIPES loaded up with fresh, healthy veggies! All are vegetarian, and many are vegan (or vegan-adaptable). Scroll down to the recipe card for a refresher on "How to cook Pasta"!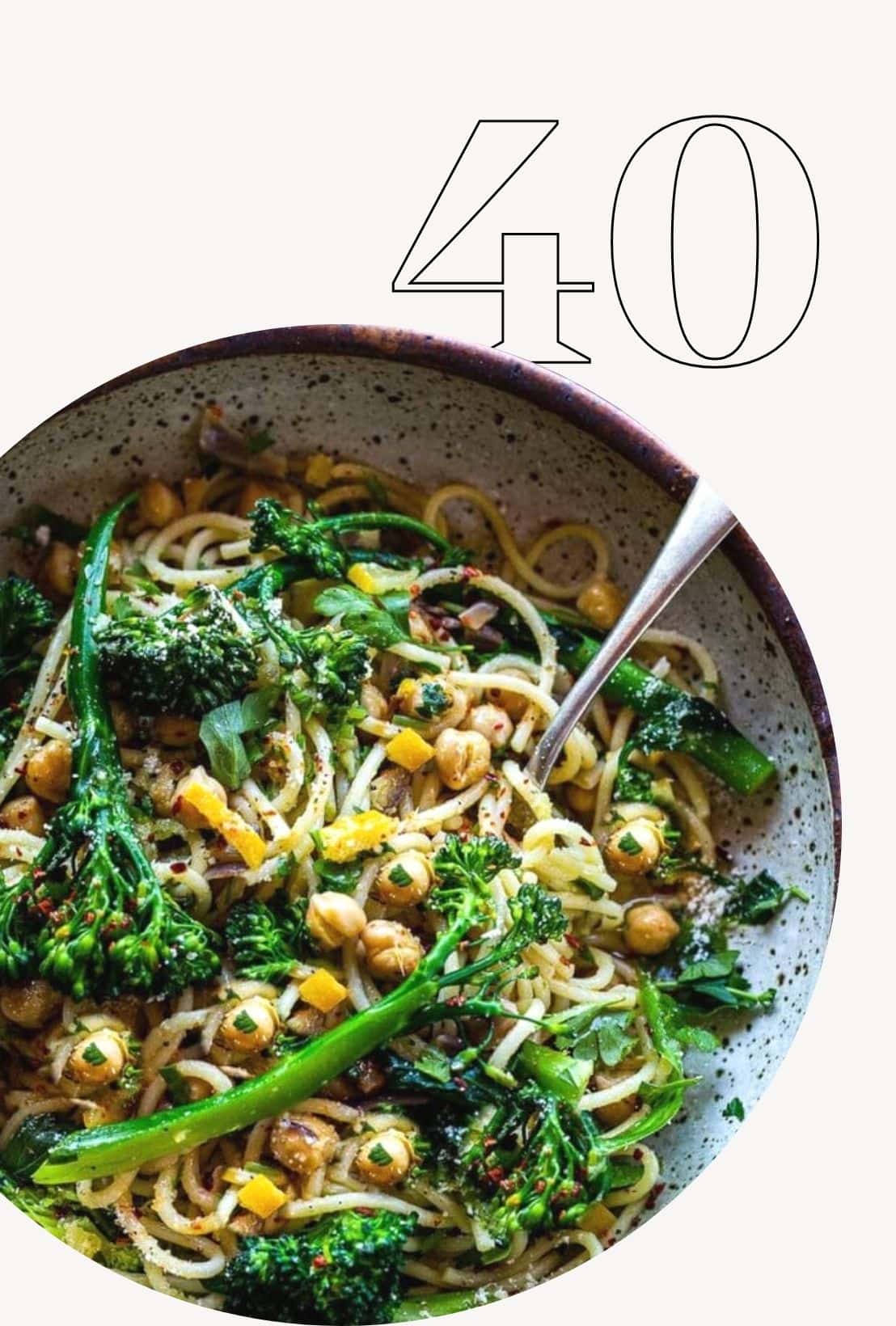 Whether you are looking for summer pasta recipes, easy pasta recipes, vegan pasta recipes, pasta salad recipes, or hearty pasta dishes, we have you covered!
If you've been a subscriber to the blog, you'll probably already know this little trick we do here. Most of the pasta recipes you'll find are veggie-rich, vegetarian or vegan and contain more veggies by weight and volume than actual pasta!  
And here's why: Vibrant seasonal veggies contain so many healthy nutrients, much more than pasta, and yet pasta, bless its delicious heart, becomes the perfect carrier for these beauties. A little pasta goes a long way!
In a nutshell: More veggies and less pasta!  
Our 40 Best PASTA RECIPES!
---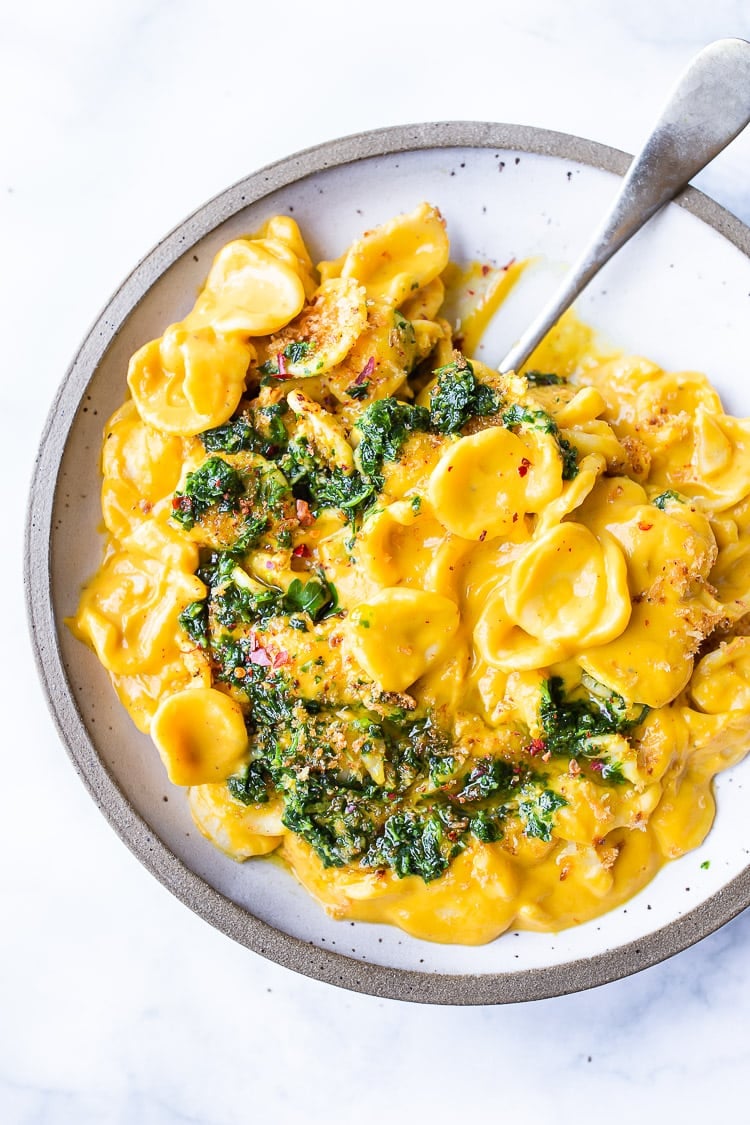 A simple delicious vegan pasta recipe for Orecchiette Pasta with Creamy Carrot Miso Sauce, topped with a Carrot Top Gremolata (optional) and Toasted Bread Crumbs. Flavorful and healthy!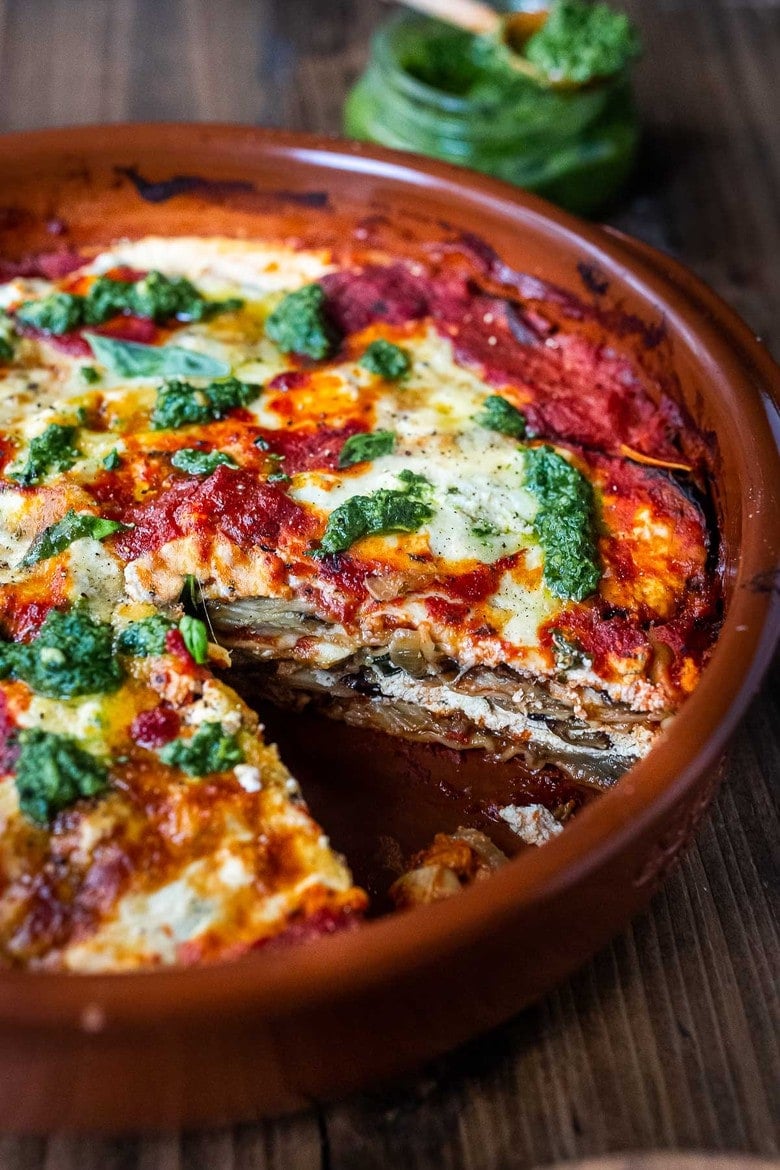 Made with extra eggplant, no-boil noodles and topped with Arugula Pesto. A delicious, healthy vegetarian dinner recipe that is comforting and nourishing. Vegan-adaptable!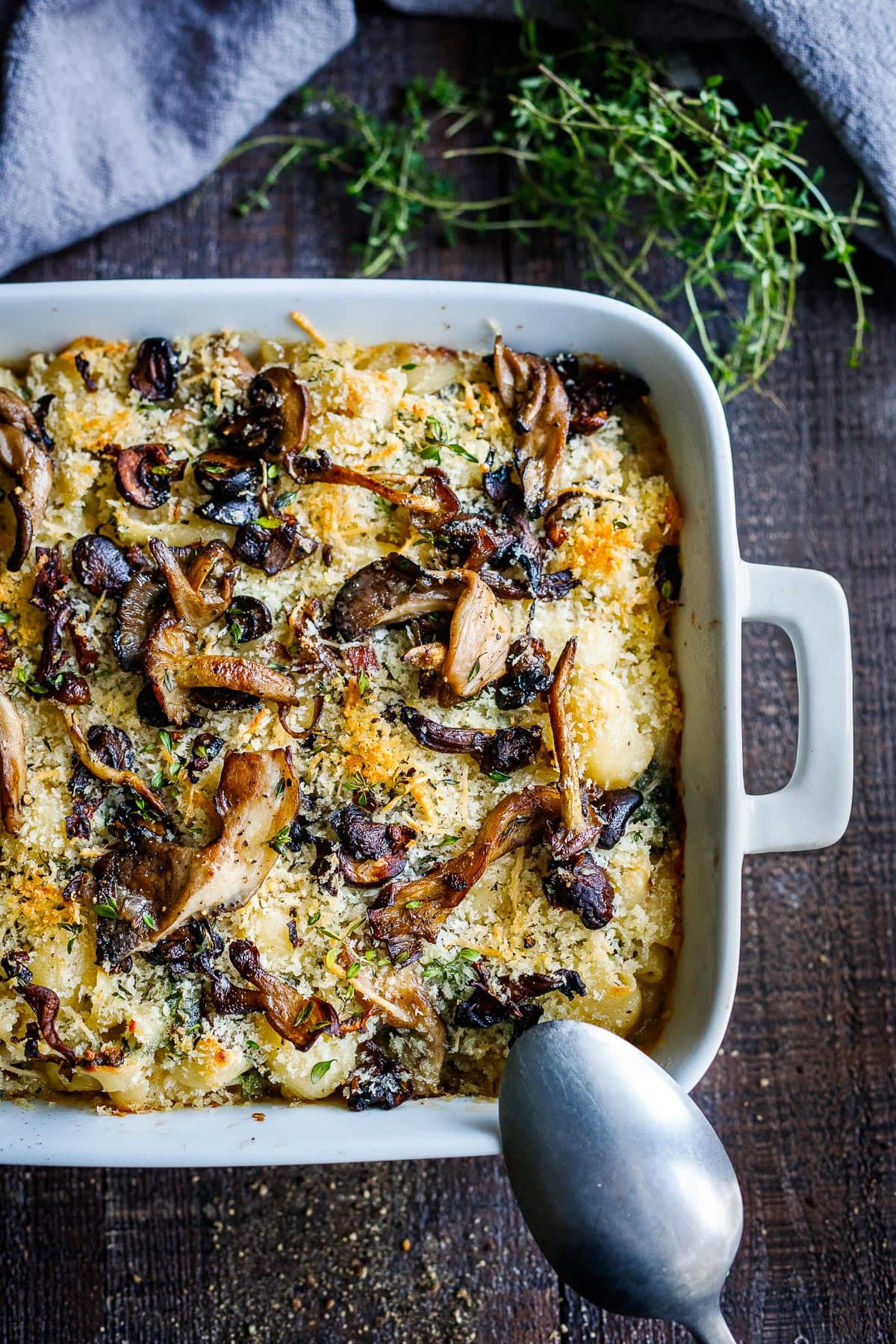 This earthy decadent Truffle Mac and Cheese is a mushroom lover's dream. It's easier than you think and can be made ahead- perfect for holidays and gatherings.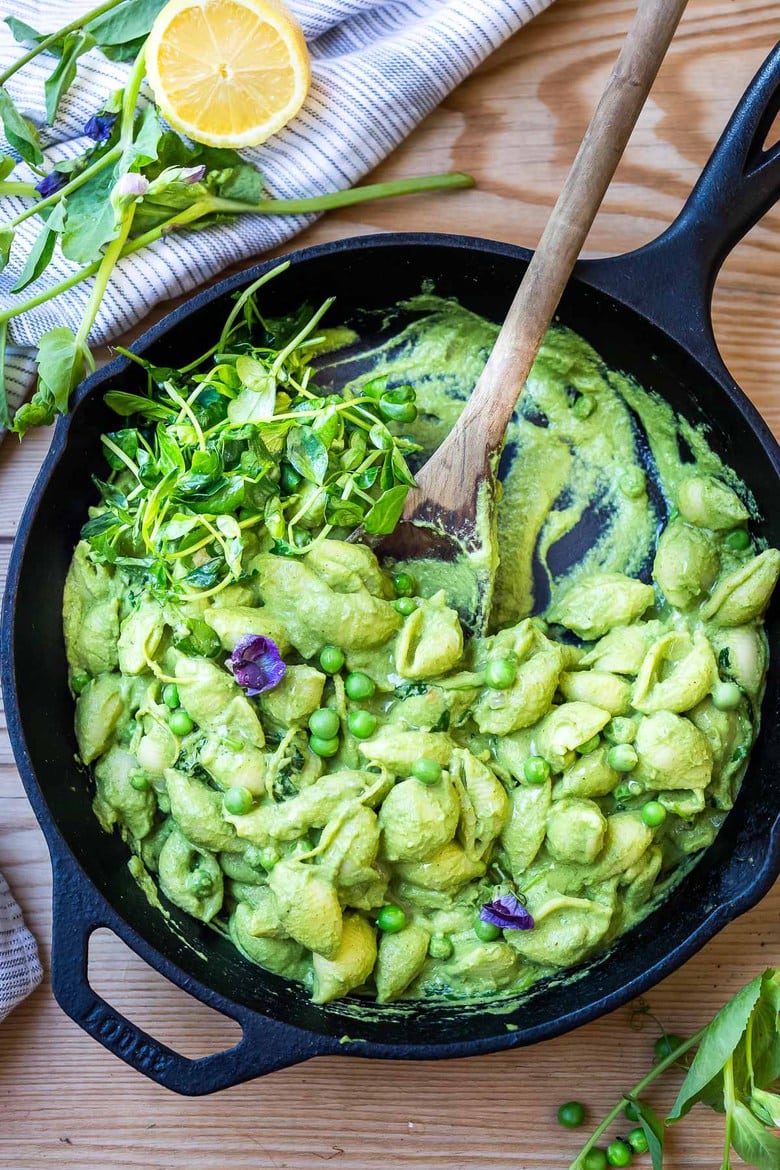 The vegan pasta is made with a creamy, luscious pea sauce. A fast and easy 30-minute vegan dinner recipe you'll fall in love with!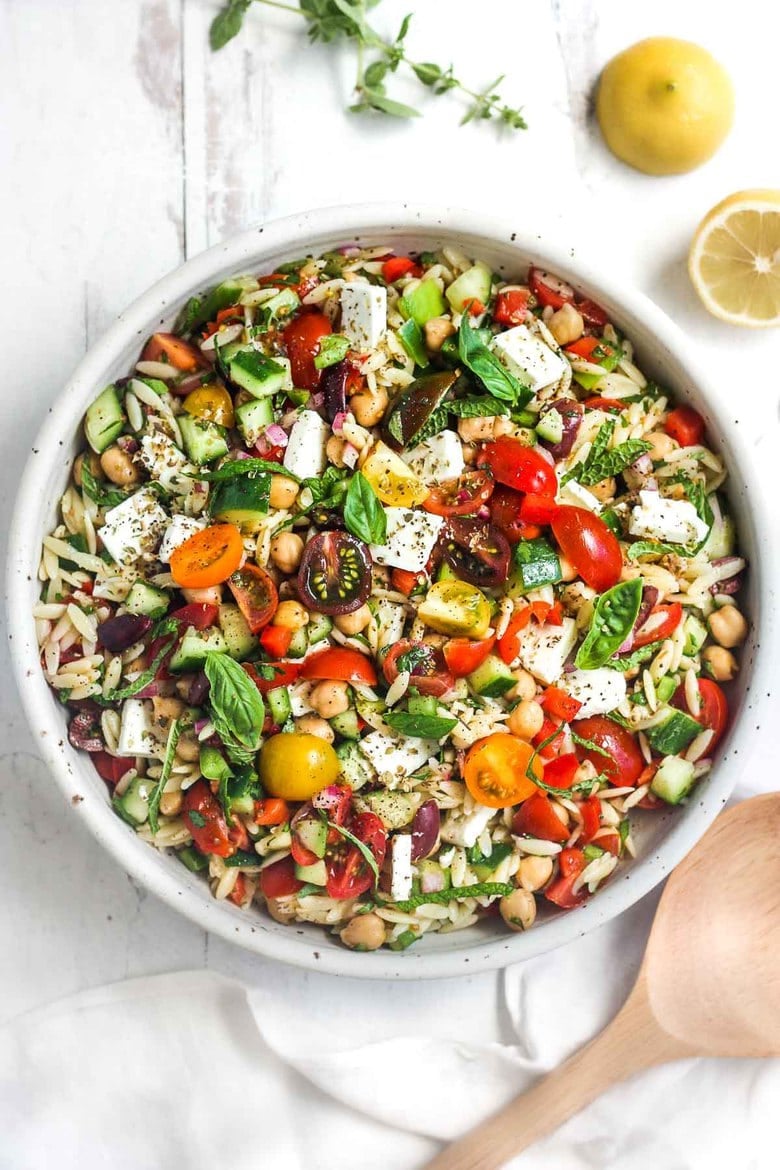 This healthy Greek Pasta Salad is the perfect make-ahead pasta salad for summertime picnics, bbqs, potlucks and easy dinners.  A hearty ratio of fresh veggies combined with tender orzo pasta, chickpeas tossed in the tastiest Greek salad dressing.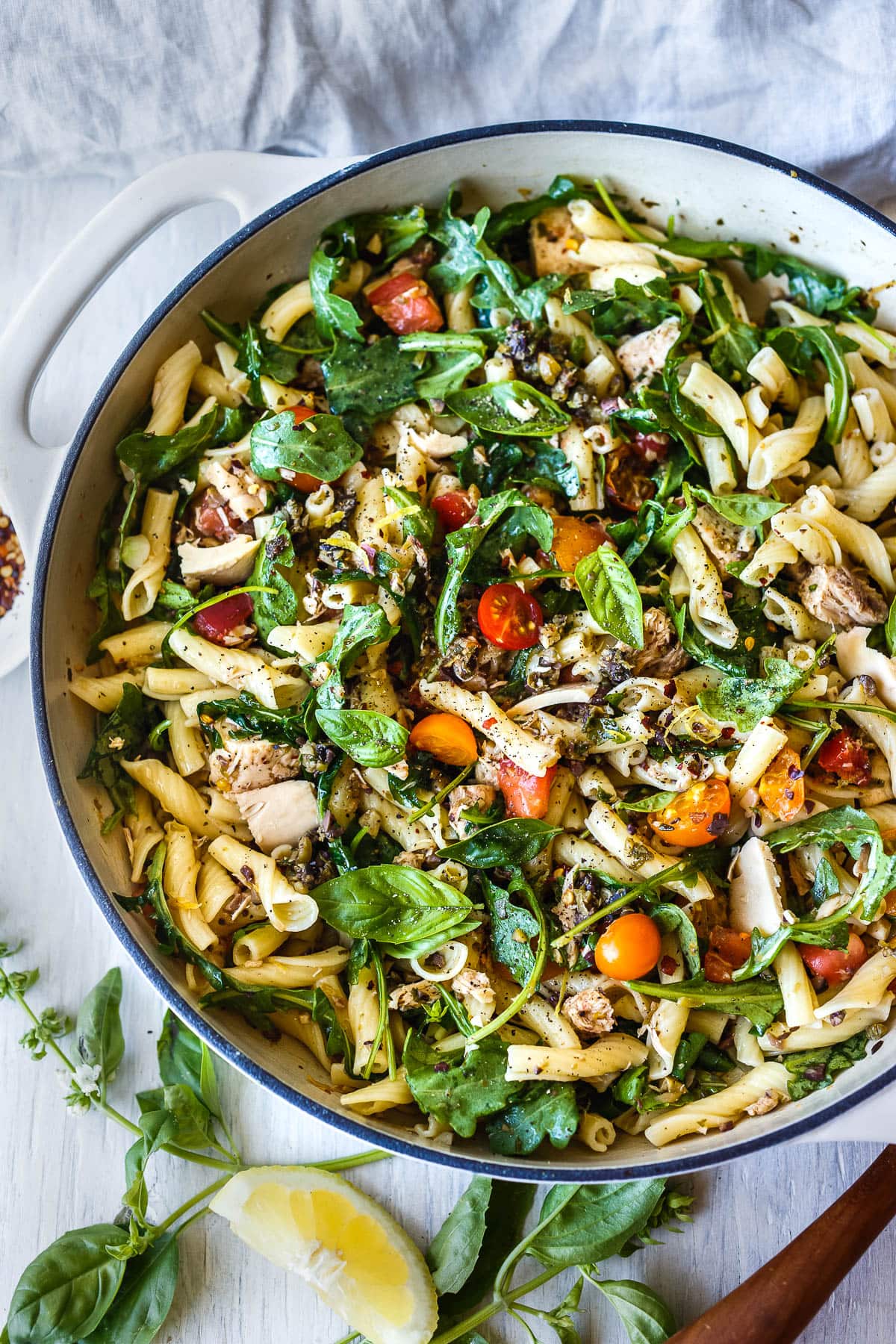 Tuna Pasta with Olive Tapenade & Fresh Tomatoes is a super fast, fresh pasta dish that is full of bright clean and savory flavors.  An easy meal ready in 30 minutes!  Healthy, quick and delicious!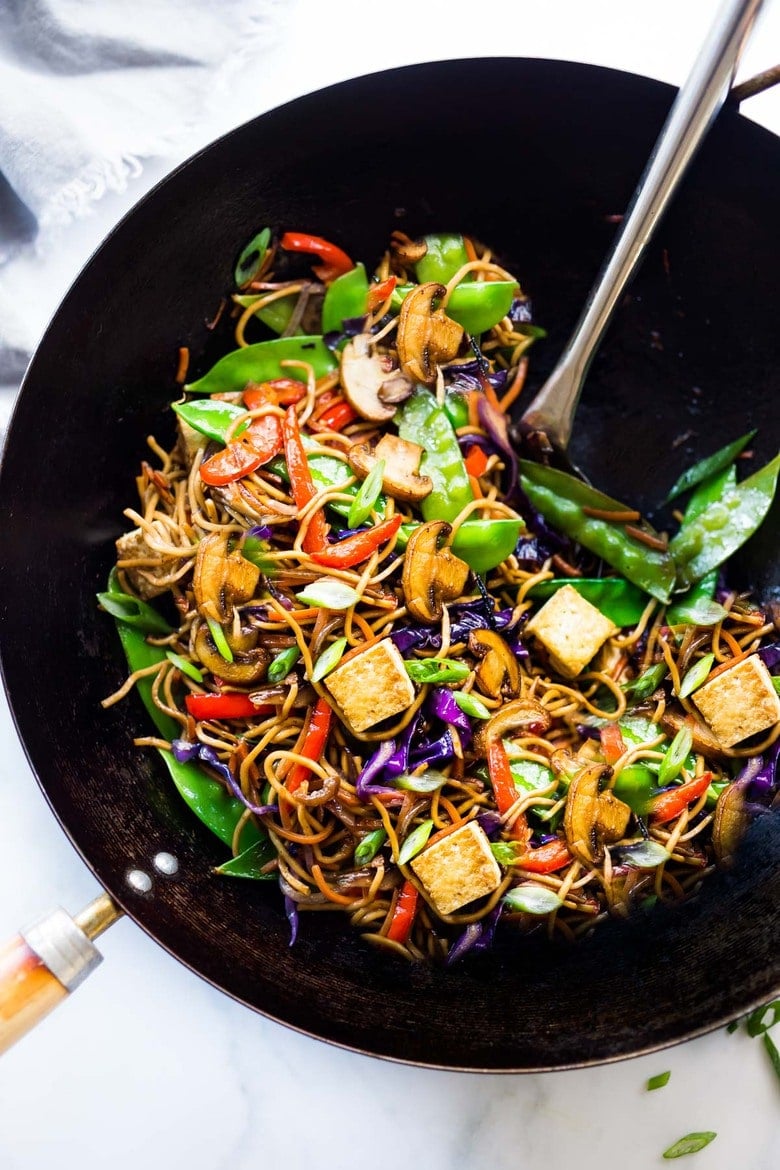 On the table in under 20 minutes! Loaded up with healthy veggies, this VEGAN dinner recipe is fast and easy, perfect for busy weeknights!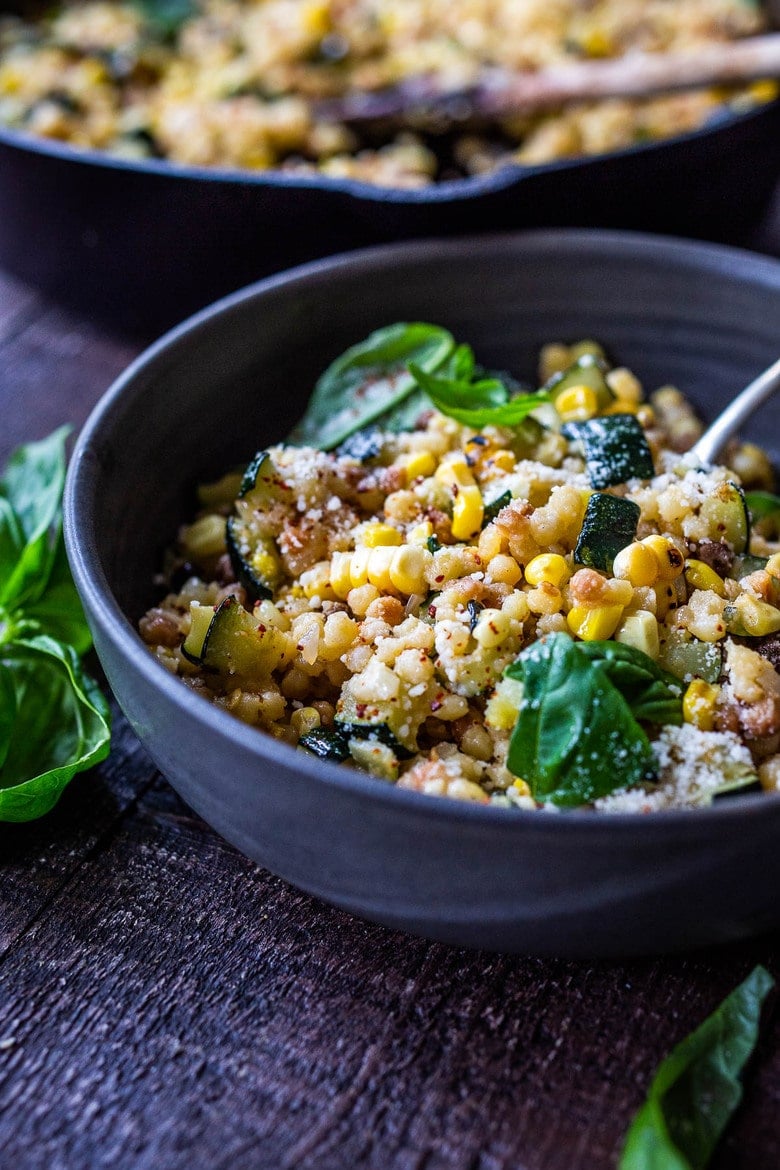 Fregola with Corn, Zucchini and Basil, sprinkled with pecorino. A fast and easy Italian-inspired meal that comes together in 30 minutes. Make this vegan with vegan parmesan!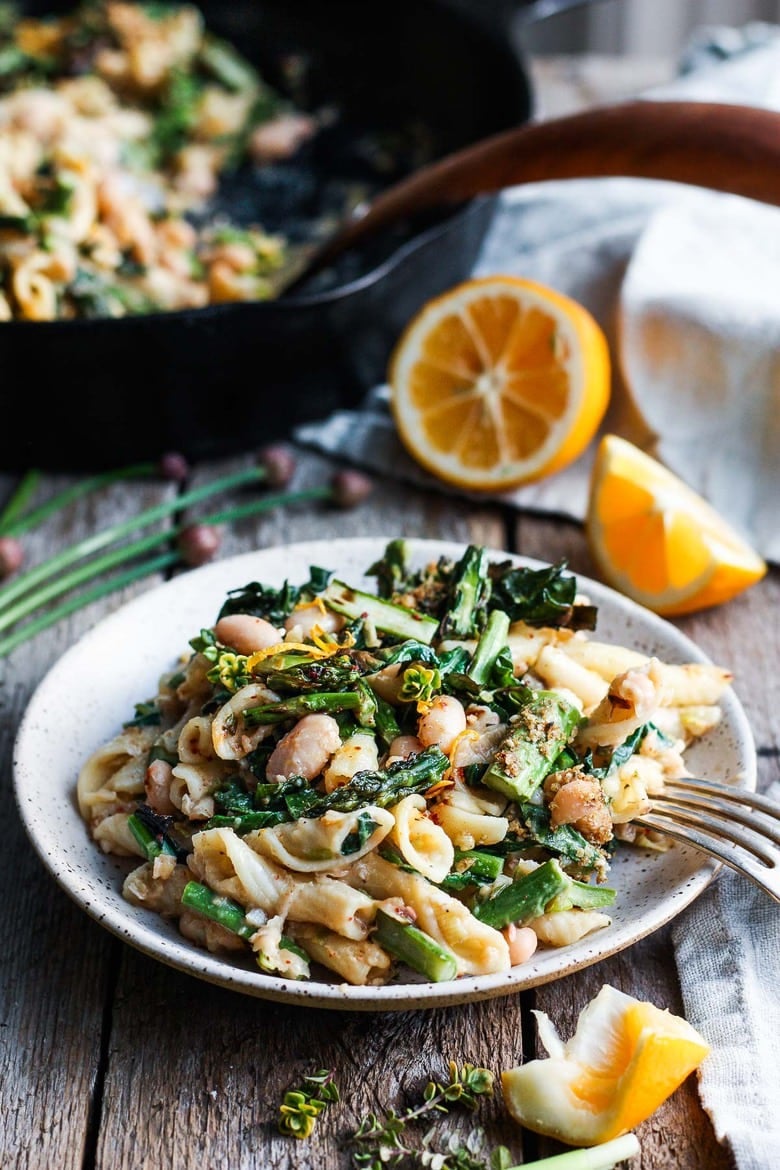 Made with a creamy Cannellini Bean Leek Sauce.  This healthy, spring, vegan pasta recipe comes together in less than 30 minutes!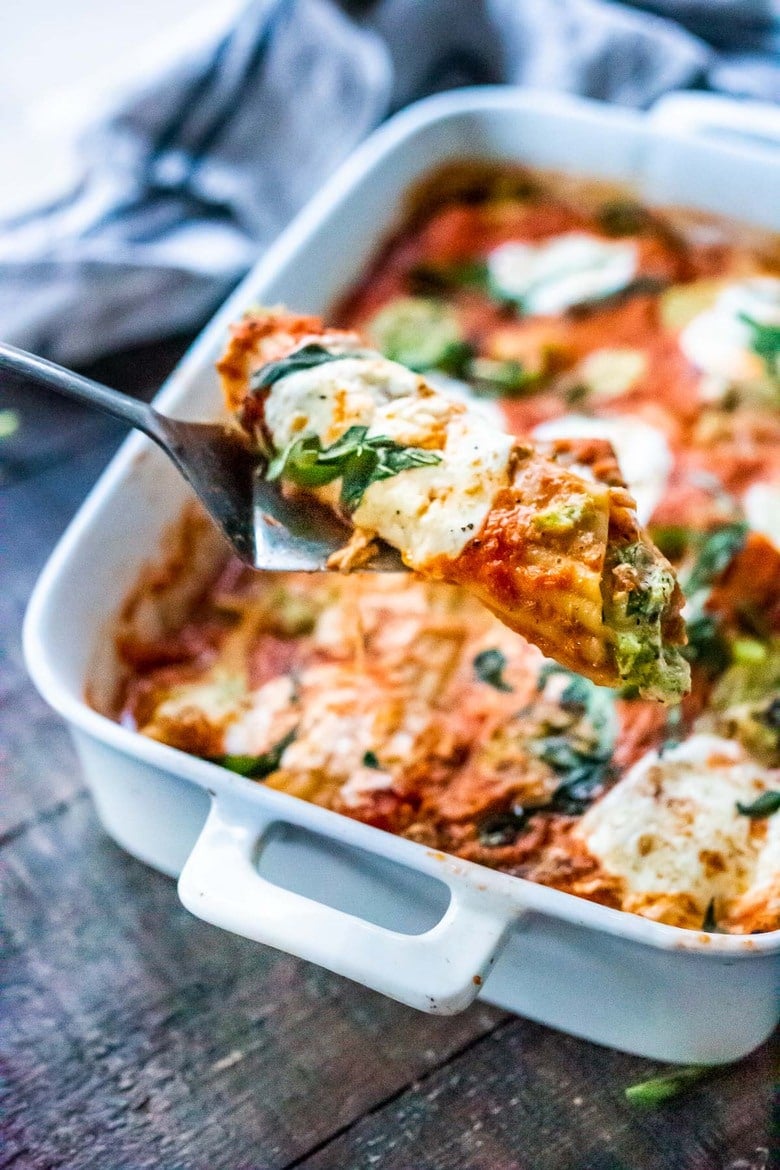 A cozy homemade vegetarian meal that can be made ahead! Perfect for weeknight dinners or the holiday table this baked pasta dish is loaded up with healthy broccoli, and made with "no boil" pasta.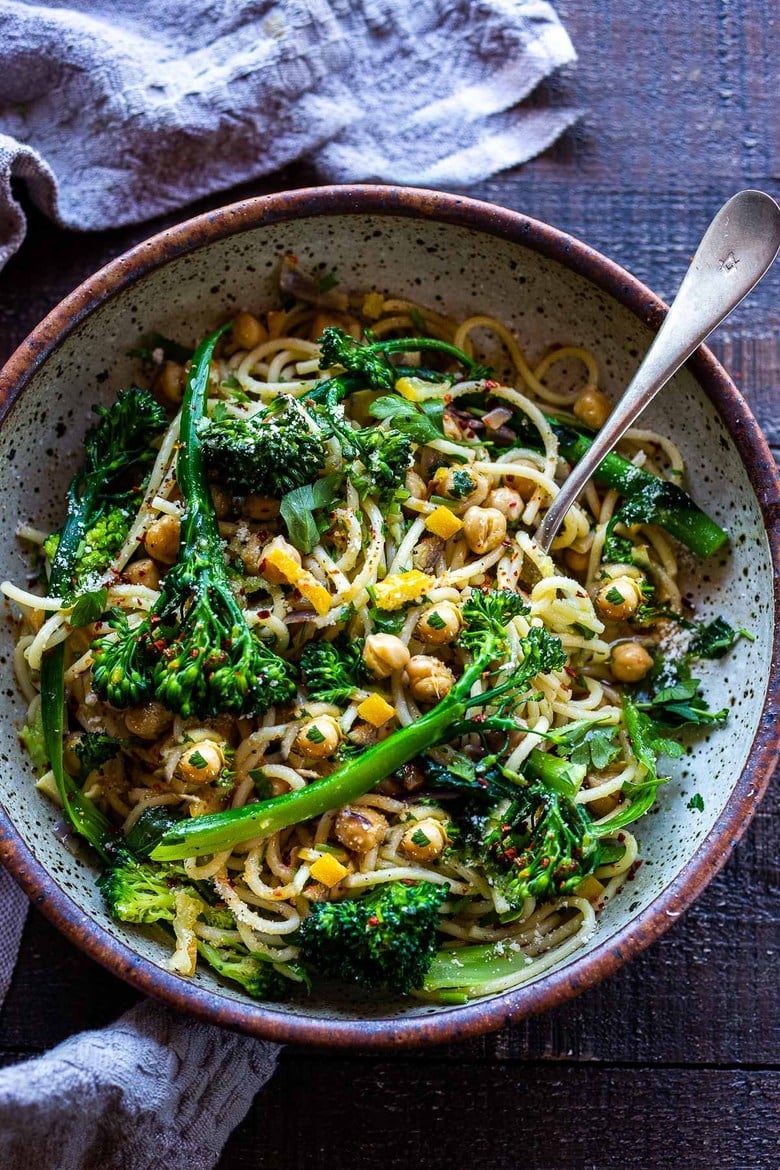 This simple Pasta with Broccolini, Preserved Lemon and Chickpeas is punchy and bright and comes together quickly and easily – on the table in under 30 minutes!  A tasty, healthy weeknight dinner!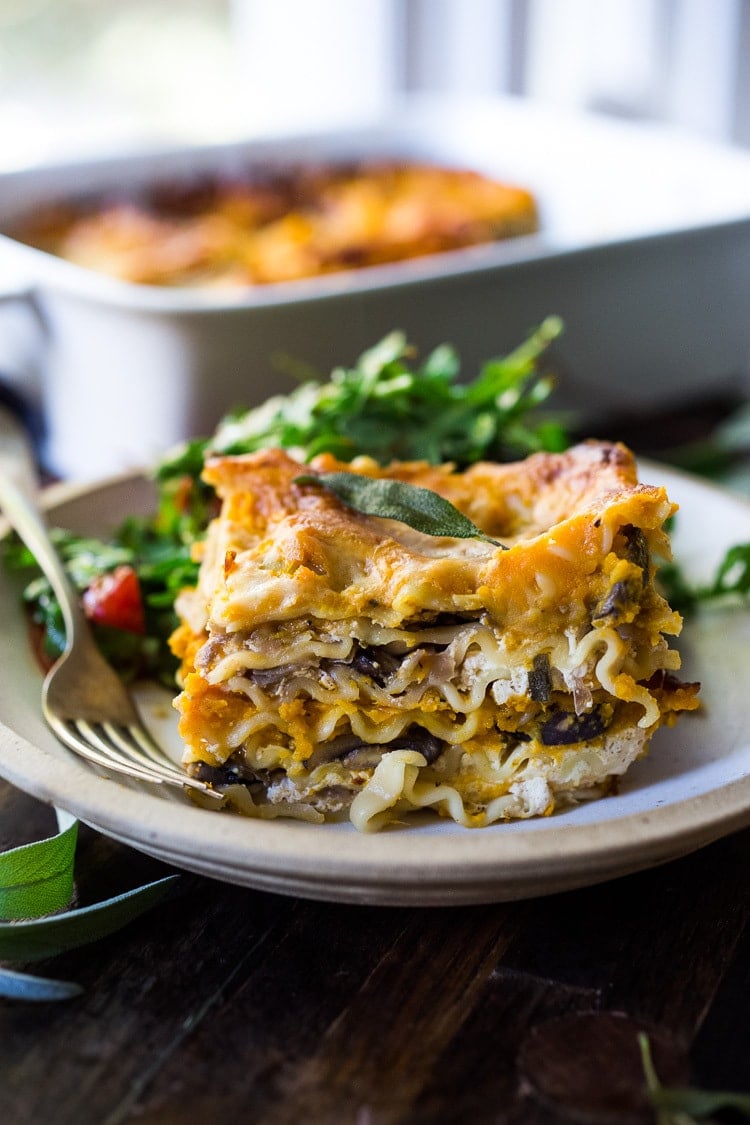 Butternut Lasagna with Wild Mushrooms and Sage– a delicious vegetarian or vegan main dish, filled with healthy veggies-perfect for the holiday table or Sunday supper. Can be made ahead! A crowd pleaser!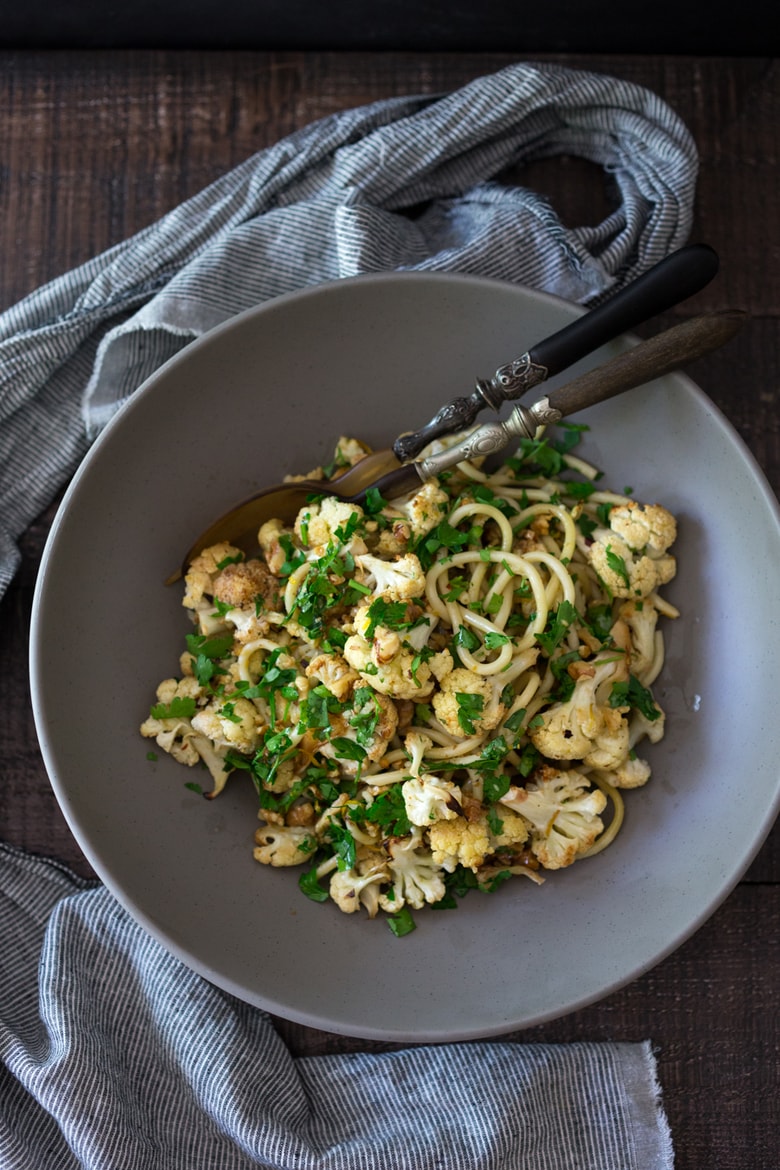 Made with Toasted Walnuts, Garlic, Parsley and Lemon! This vegan pasta is one of my pasta dinners!  It's hearty without leaving you feeling heavy. So much goodness happening here! Trust me!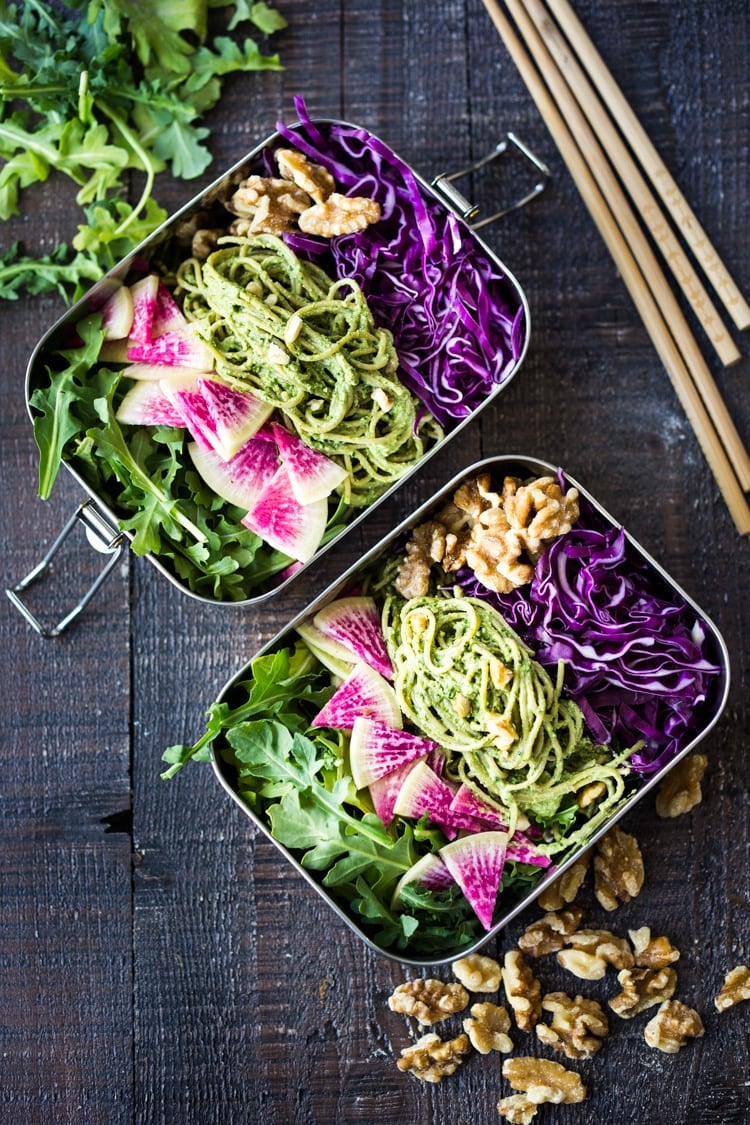 These soba noodles are tossed in the most flavorful "Superfood" Walnut Pesto and then loaded up with fresh crunchy veggies. A fresh and healthy pasta salad recipe that is perfect for lunch or dinner.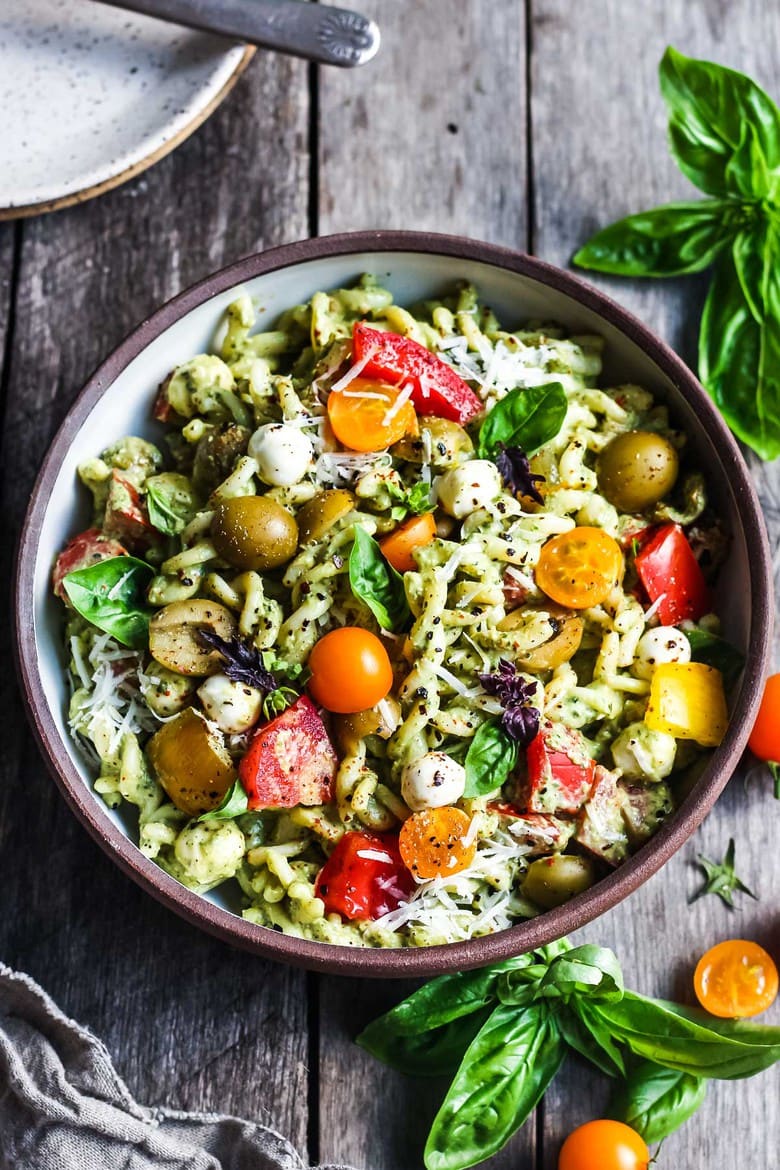 This summery Pasta Salad is the perfect make ahead salad.  Pasta is tossed with cherry tomatoes, baby mozzarella, olives & fresh basil  in a Creamy Pesto Dressing. Vegan, gluten-free adaptable!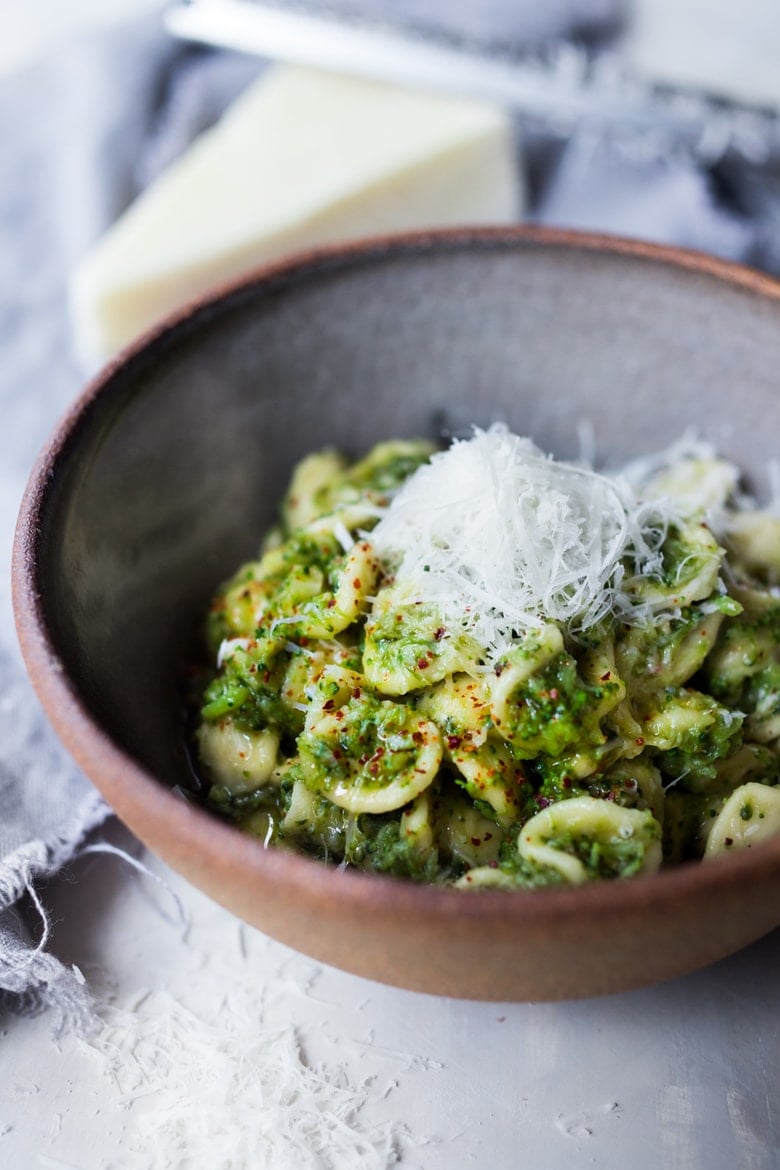 A simple, humble vegetarian pasta recipe loaded up with so much broccoli it literally melts down into a sauce. Originally from Tuscany, this hearty dinner satisfies. One of the most popular pasta recipes on the blog!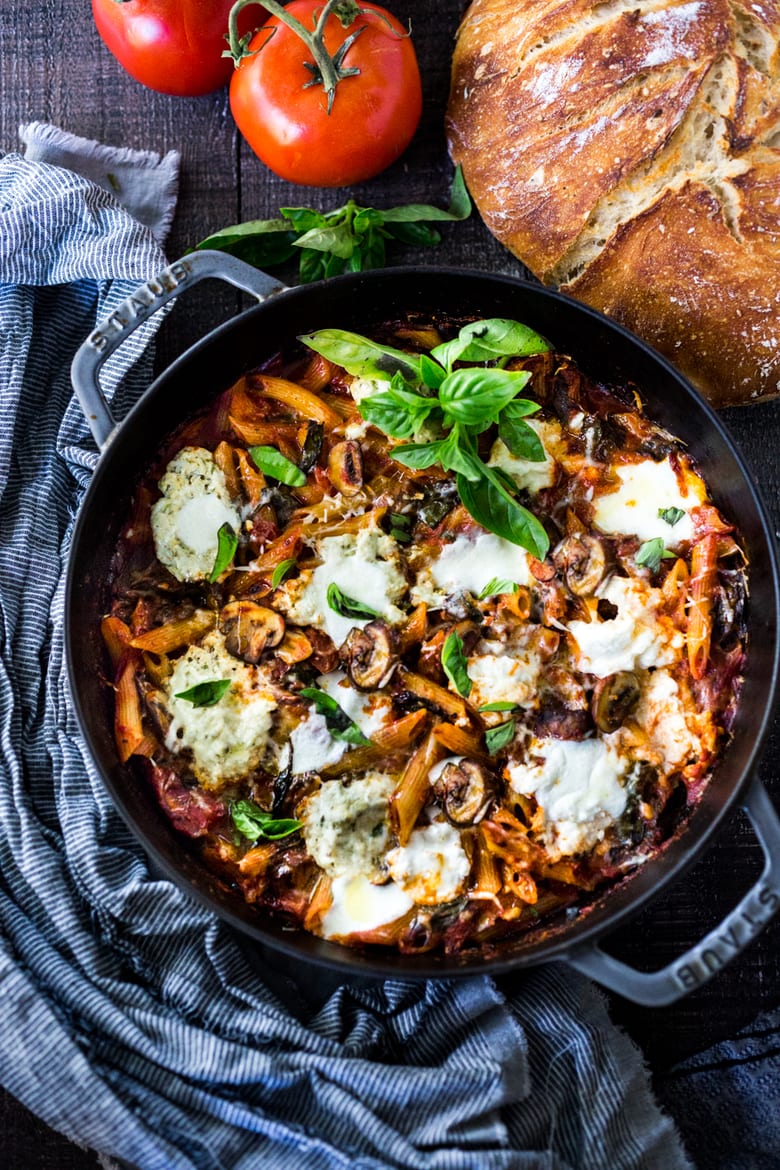 A simple, flavorful no-boil Mushroom Baked Ziti with Spinach and Ricotta (or sub tofu ricotta) that can be made in one pan and requires no pre-boiling of pasta. Perfect for weeknight dinners!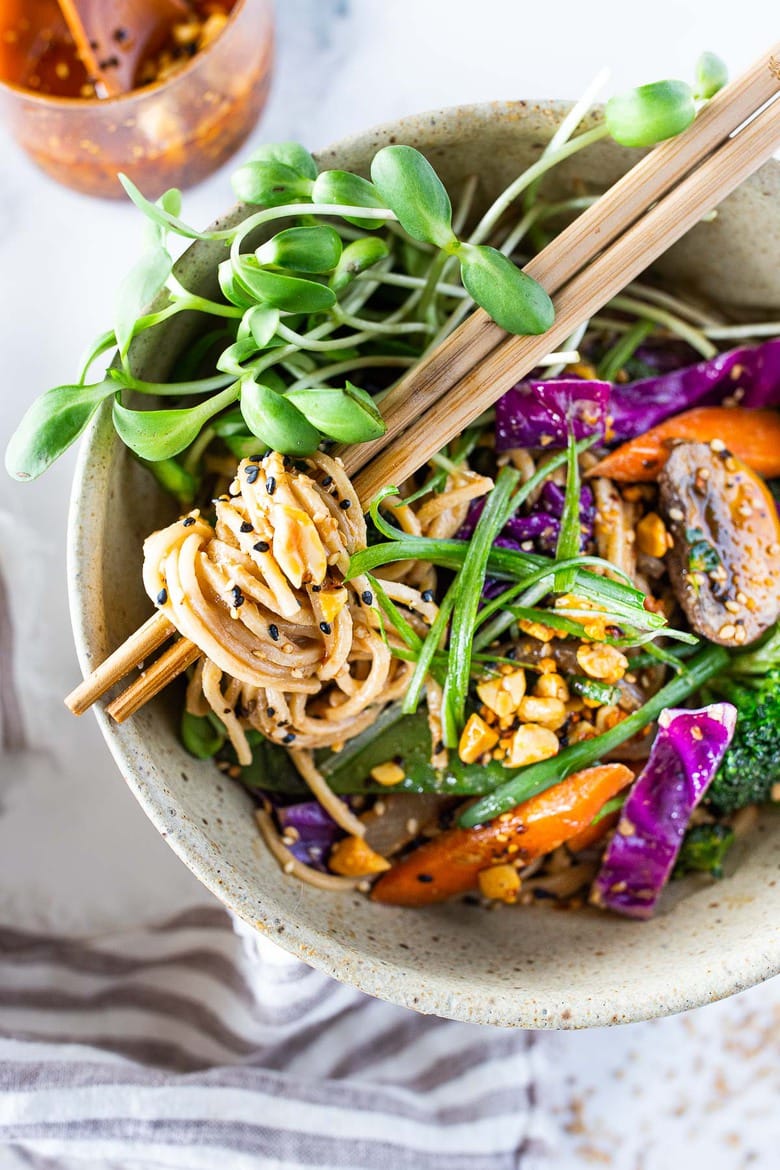 Flavorful Chinese Sesame Noodles, loaded up with healthy veggies and tossed in the most delicious, creamy, vegan Sesame Sauce! Make this vegan pasta in 20 minutes flat! Keep it vegan or add chicken- up to you!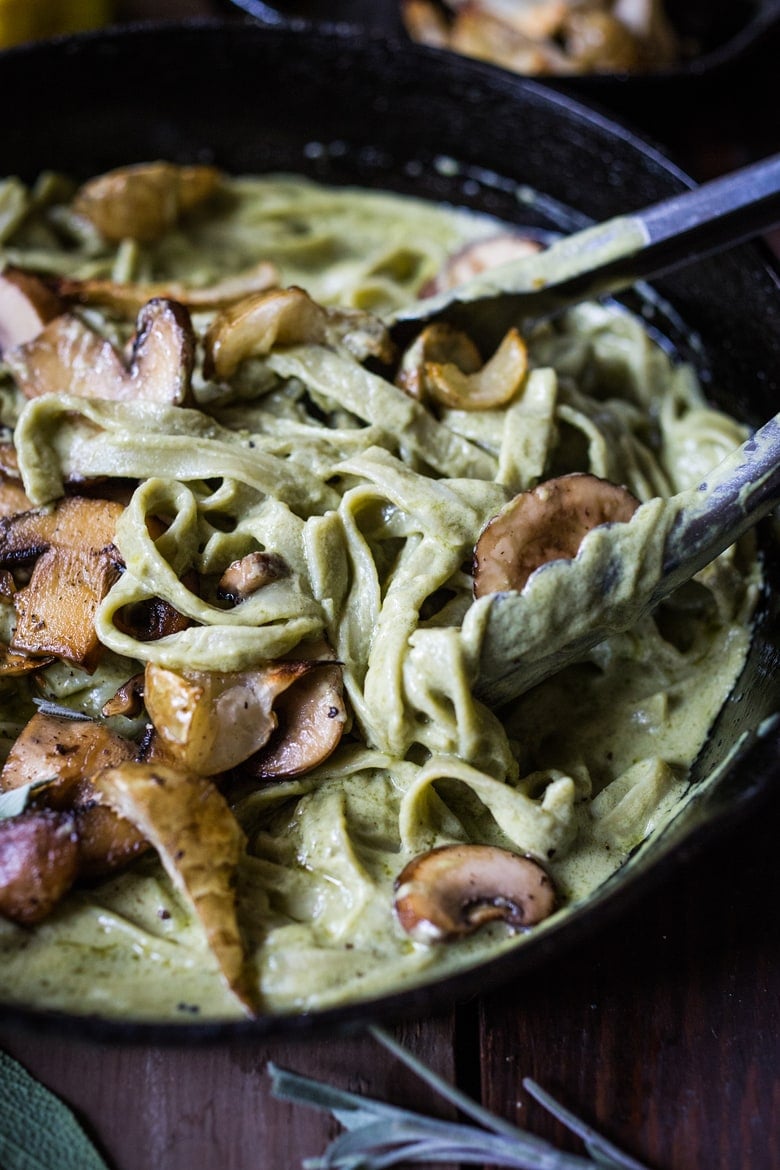 This vegan mushroom pasta is one of my favorites! Made with roasted sunchokes and a creamy vegan artichoke heart sauce (use canned or frozen artichoke hearts) that can be made in 30 minutes! Delicious, healthy, nut-free, and totally vegan.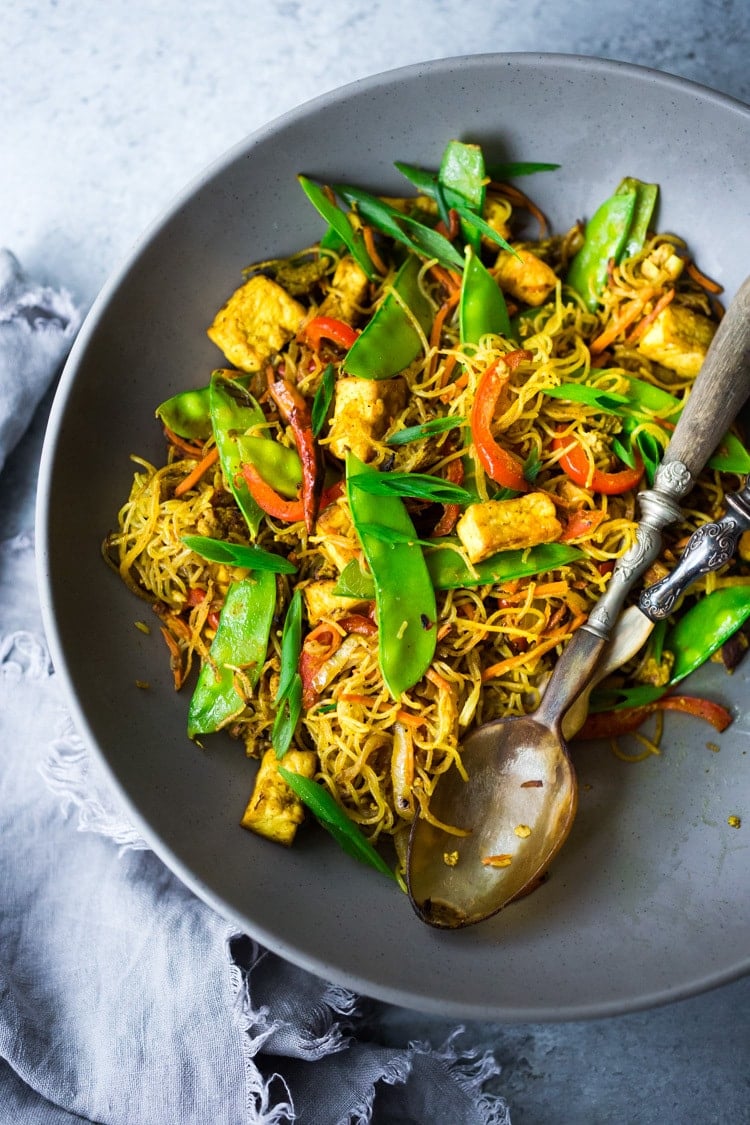 Stir-fried rice noodles with curry, tofu, and vegetables—a Chinese take out menu classic – easy recipe, vegetarian and full of authentic flavor!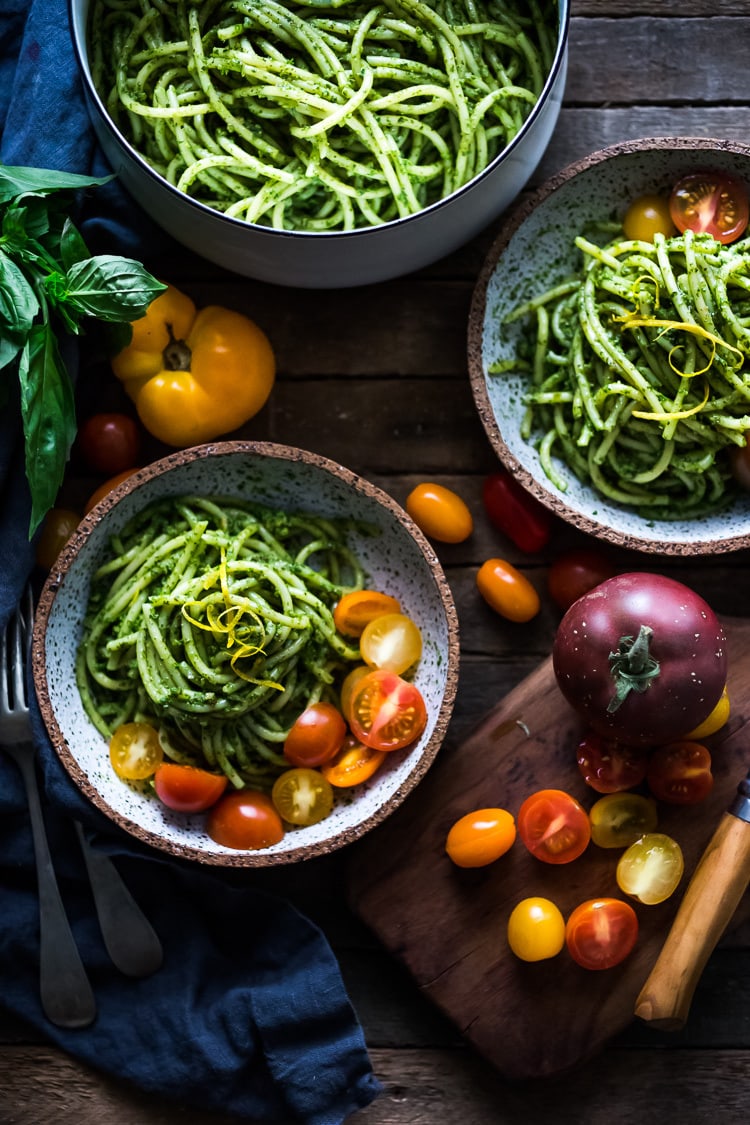 This summer pasta recipe can be made in under 30 minutes.  A delicious vegan pasta recipe that has a secret ingredient to boost its flavor!  Make this when tomatoes are in season!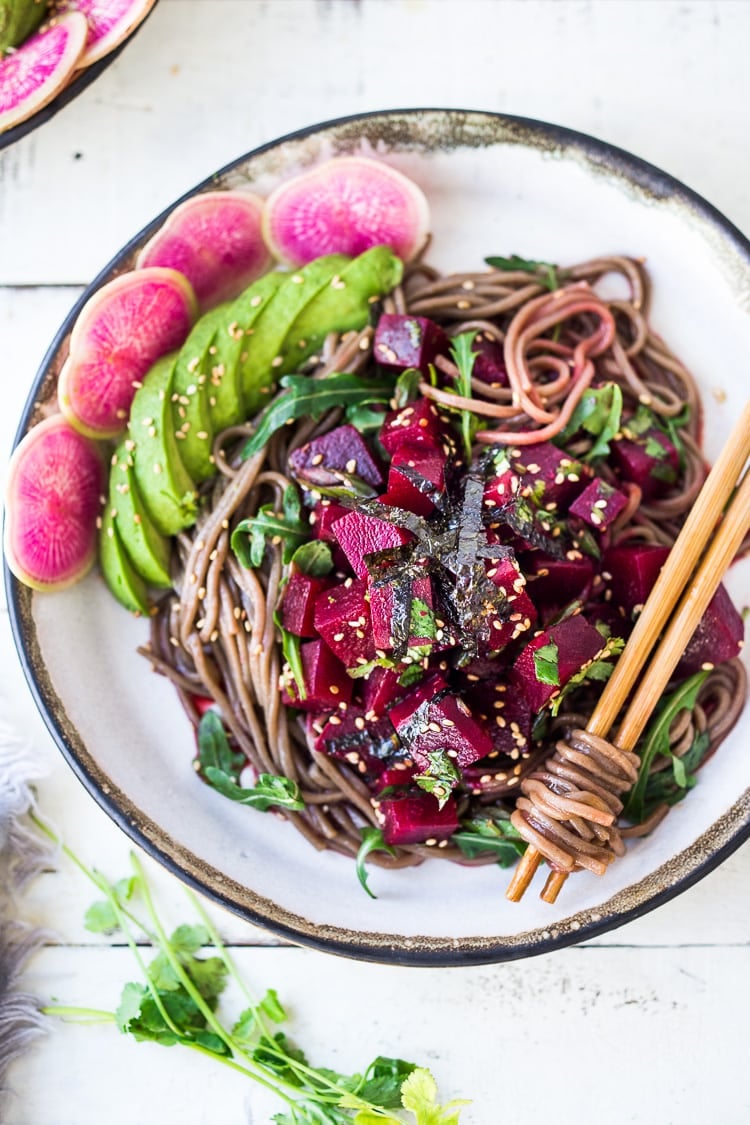 A delicious vegan make-ahead salad that can be served over greens, rice or in this case soba noodles!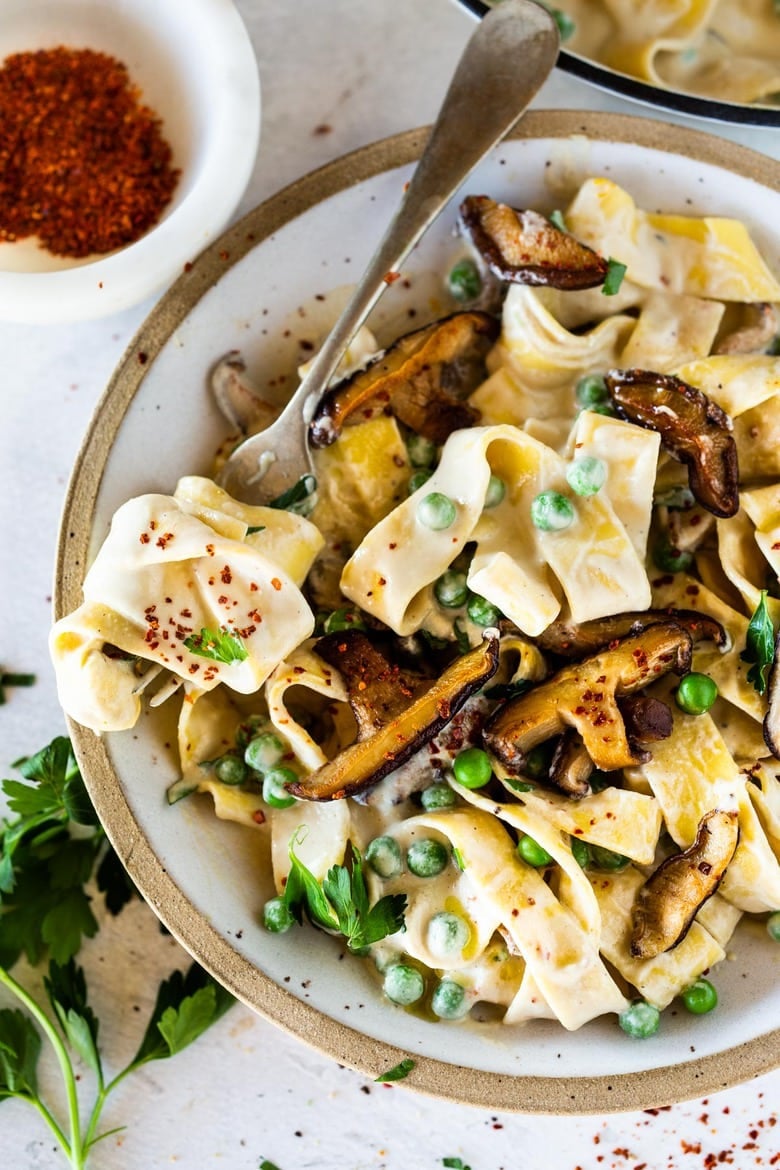 Another vegan pasta recipe, perfect for date night! Tossed in a delicious cashew (or hemp) cream, with sauteed mushrooms, Meyer lemon zest and a secret ingredient that gives this extra complexity and depth. Can be made in under 30 minutes!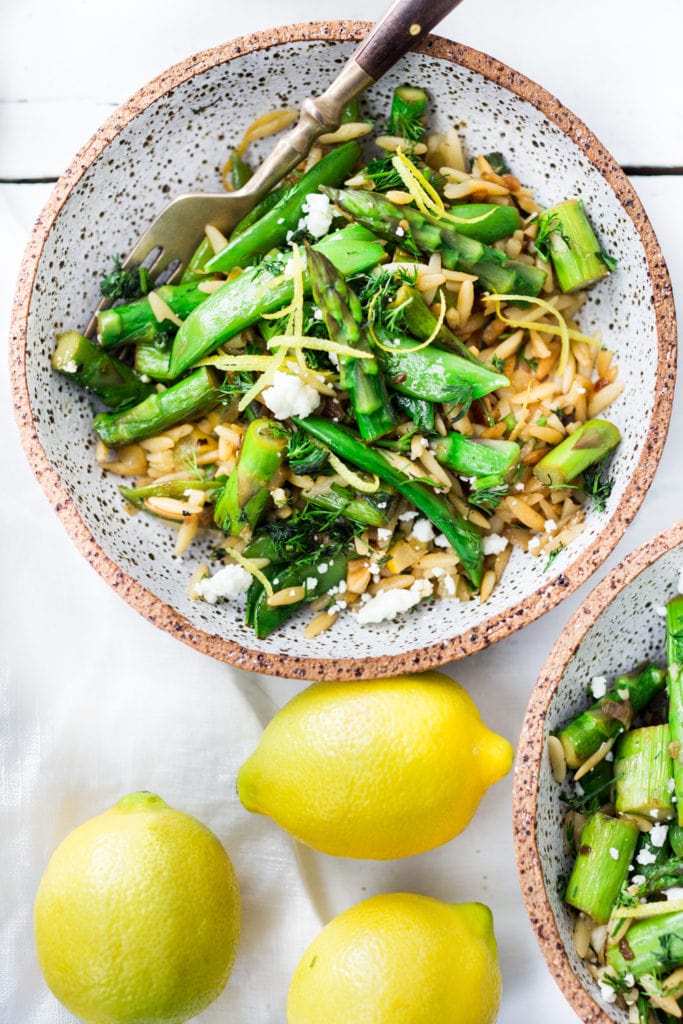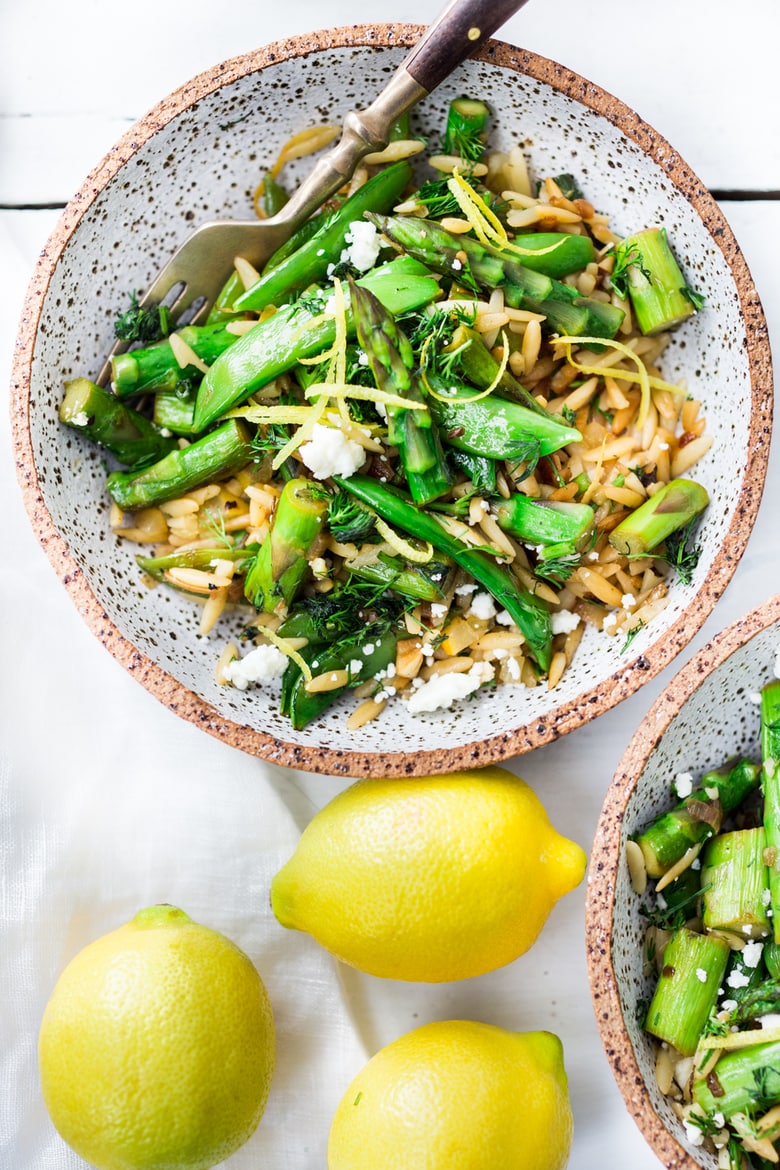 This lemony Orzo Pasta with Asparagus can be served warm as a quick flavorful entree or chilled as a side salad. Keep it vegan or add feta!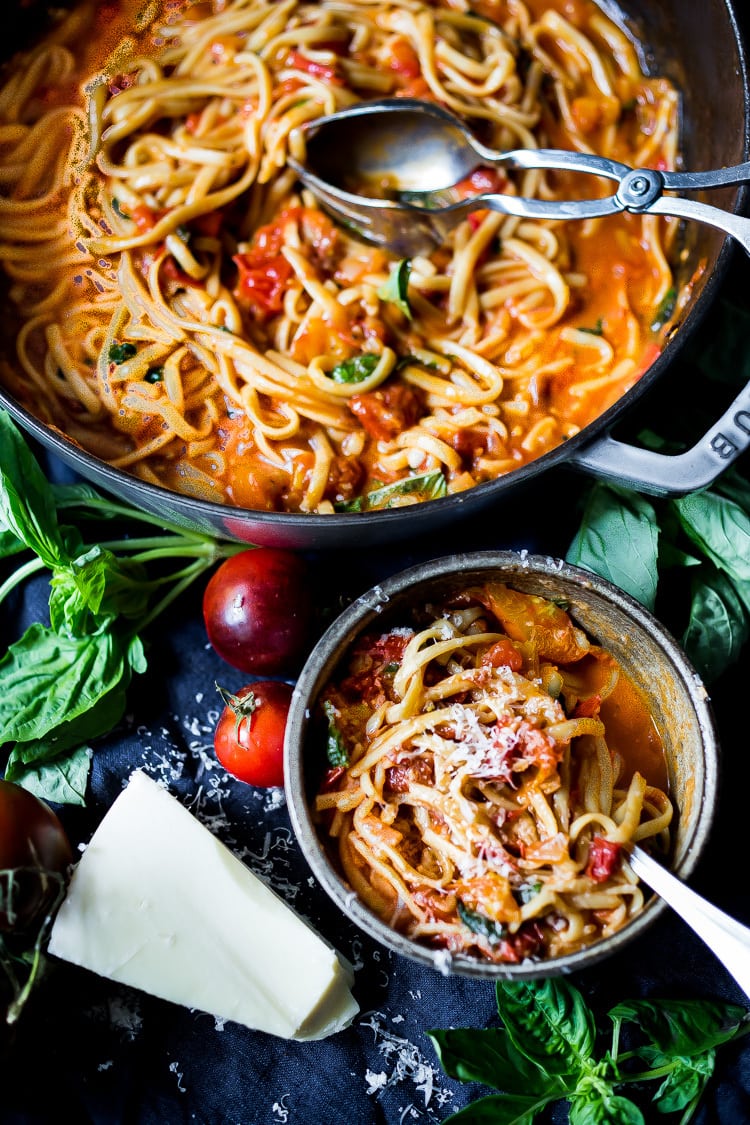 This simple summer pasta recipe is one of my favorites when tomatoes are ripe and juicy and fresh!  Spaghetti with Fresh Tomato Sauce and Basil – a quick, healthy weeknight dinner that features fresh summer tomatoes that can be made in 20 mins flat! Add cheese or keep it totally vegan!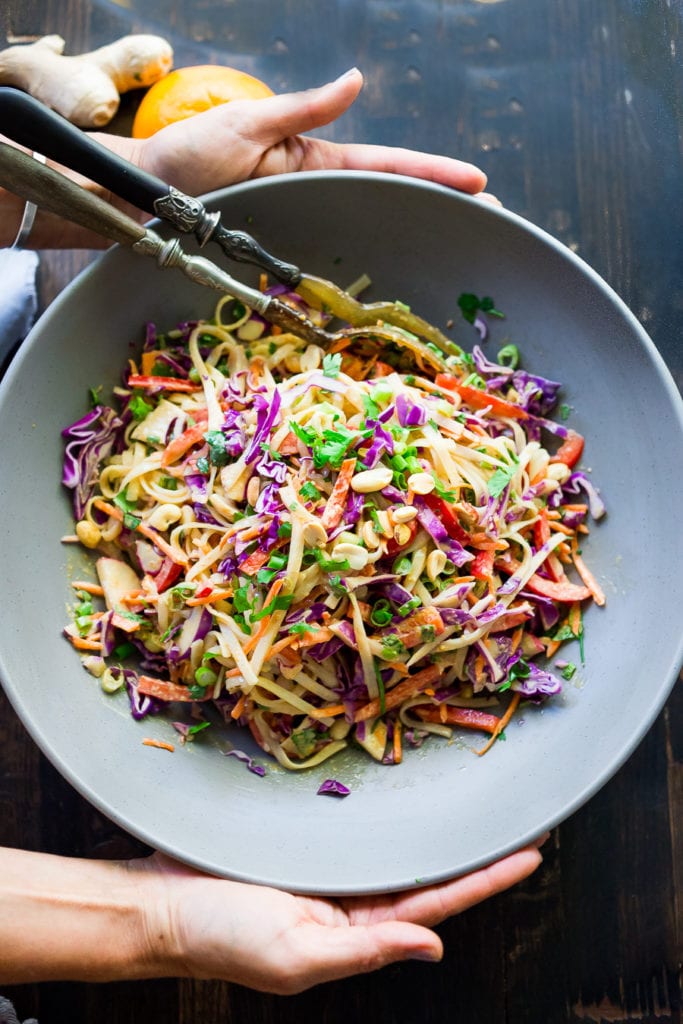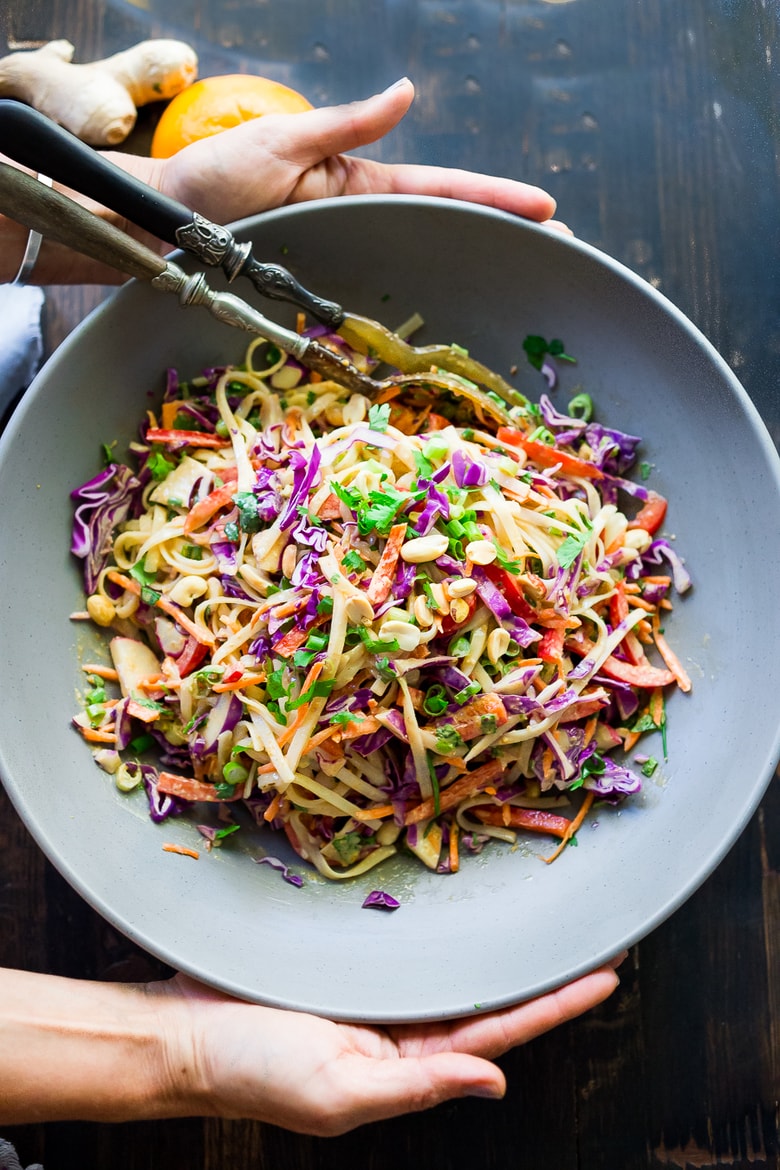 A vegan pasta recipe loaded up with healthy veggies like cabbage carrots, bell pepper, scallions and tossed in the most flavorful peanut sauce eeeeeeeeeever! You'll want to lick your plate, it's that good!   Vegan & Gluten-Free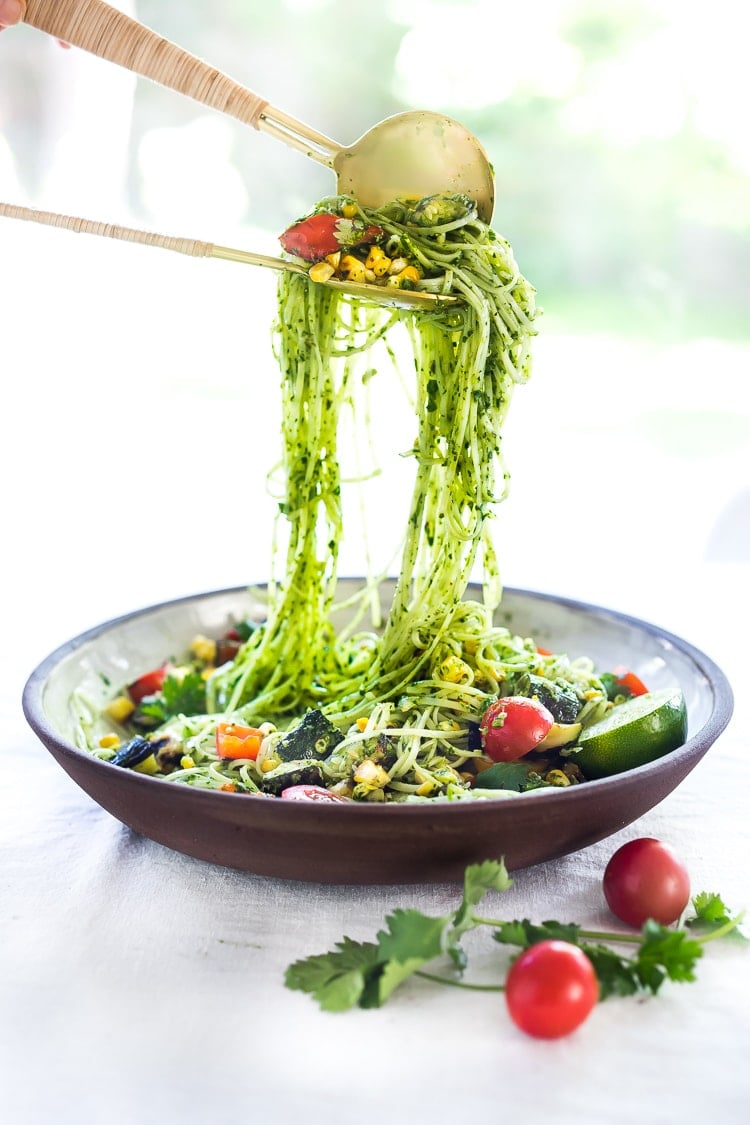 This summer pasta salad recipe is made with gluten-free rice noodles and loaded up with healthy summer veggies, then tossed in the most flavorful Cilantro Pesto…. deliciously addicting! Vegan and Gluten-free!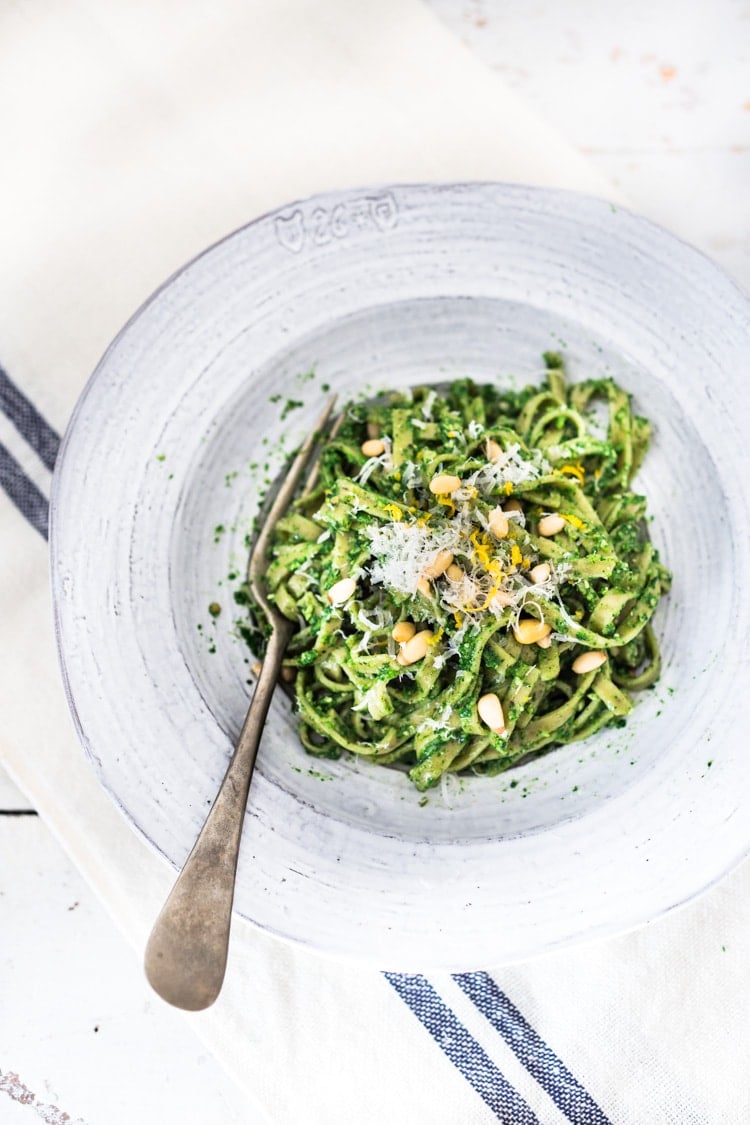 Made with toasted pine nuts and lemon zest. This pasta is tossed in iron-rich nettle pesto. Full of so many nutrients and so delicious!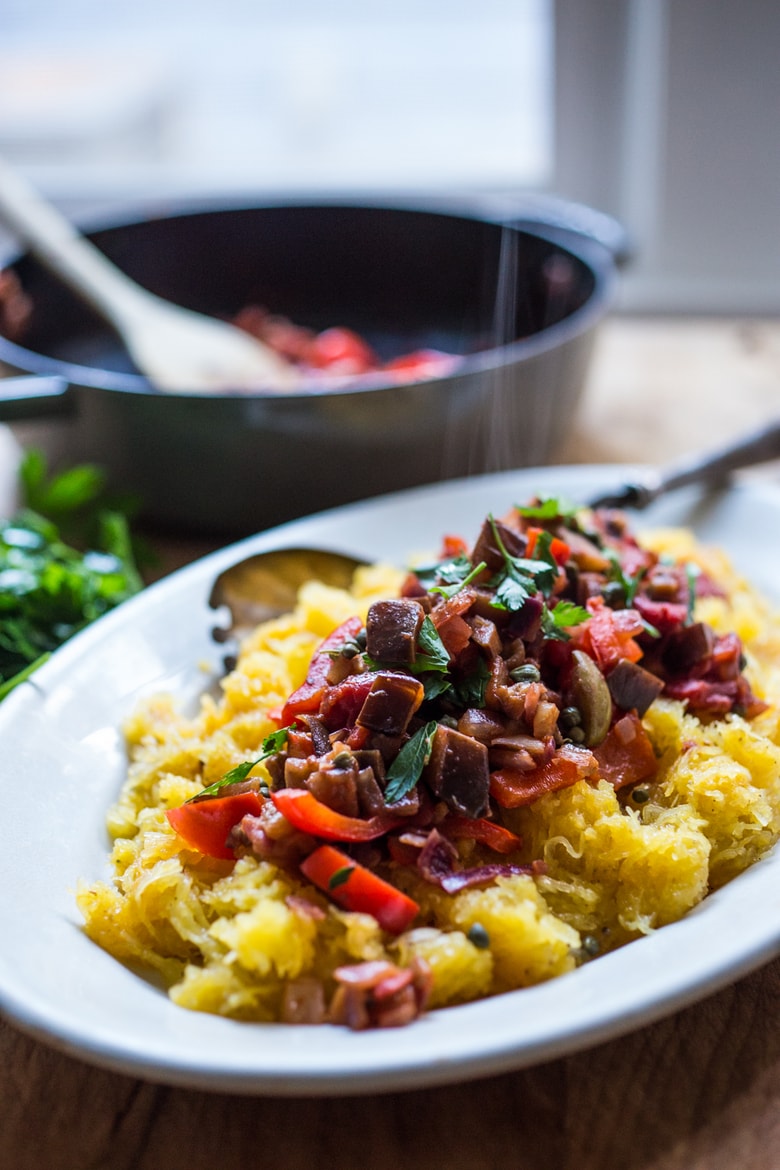 A rich, robust vegetarian meal that is low in carbs, keto and gluten-free! Easy and simple.  The spaghetti squash is the "pasta" here!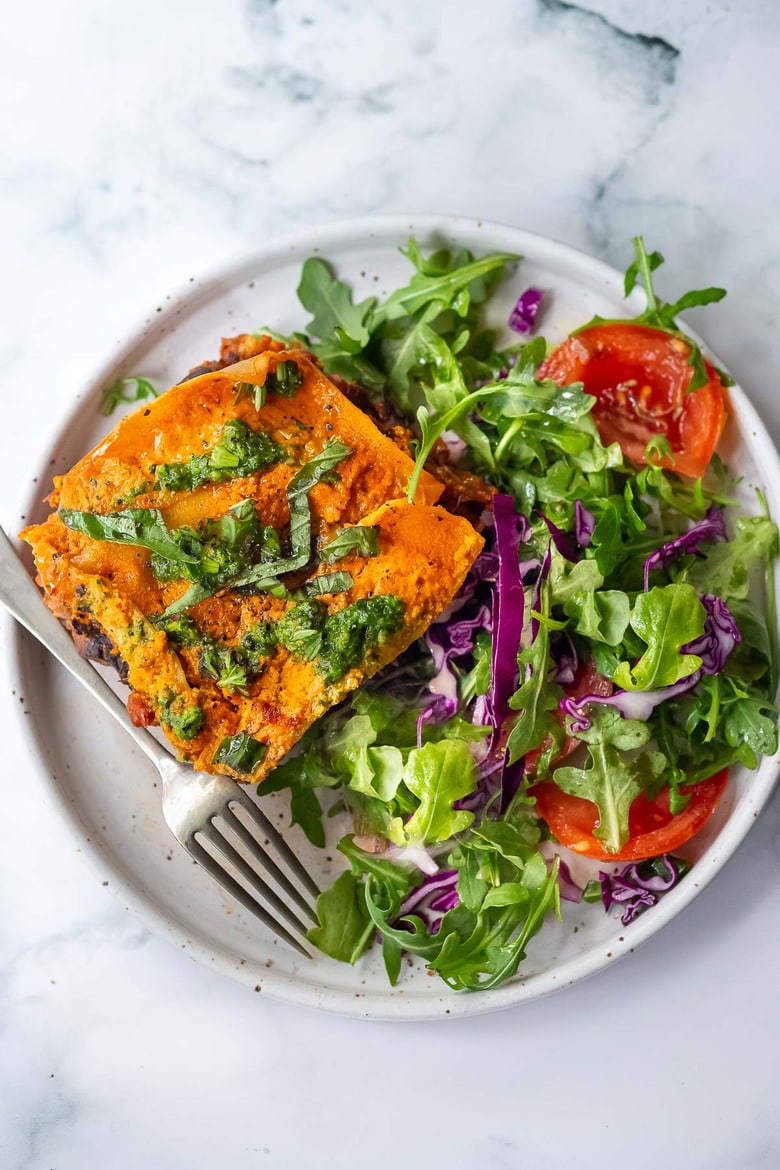 This vegan lasagna is so good! Made with a robust mushroom-spinach bolognese sauce, fresh basil, vegan ricotta and no-boil lasagna noodles, topped off with a creamy marinara sauce, drizzled with Arugula Basil Pesto. Vegan comfort food at its best!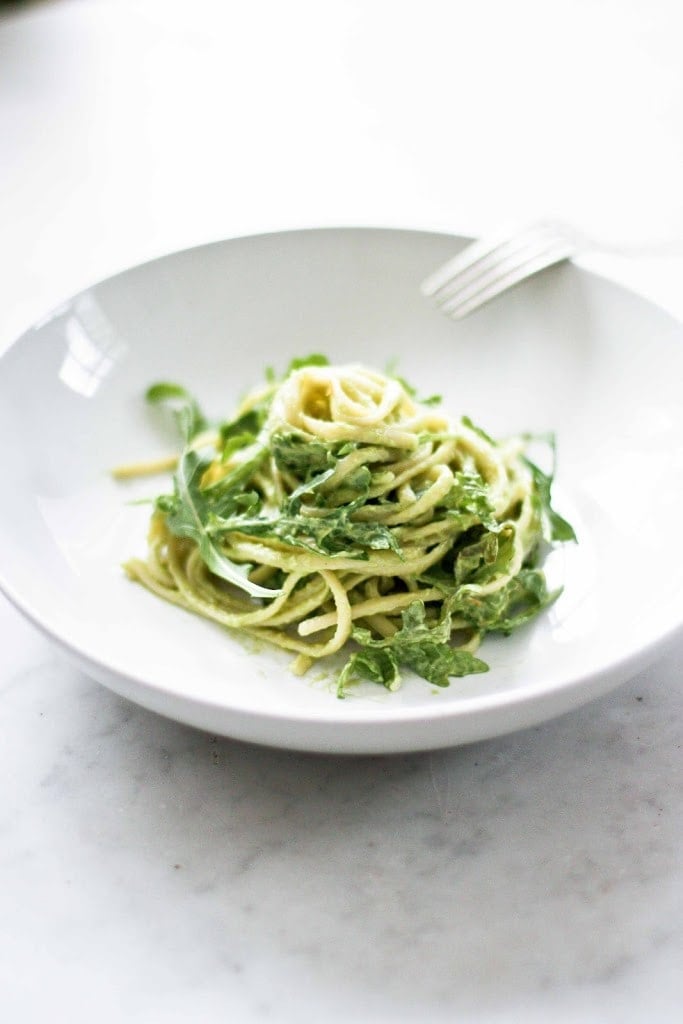 Creamy (VEGAN) Avocado Linguine with Meyer Lemon and Arugula- a simple, fast healthy vegan pasta recipe!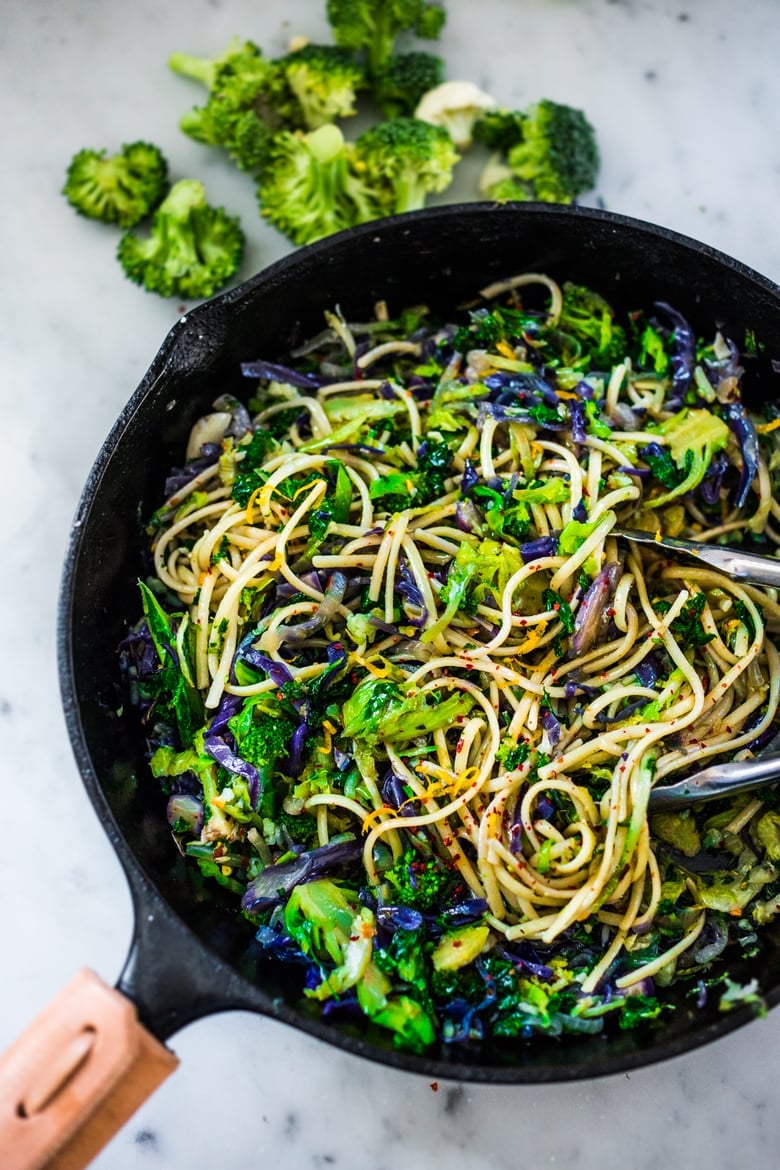 A simple vegan pasta recipe loaded with shredded cruciferous vegetables like brussel sprouts, broccoli and cauliflower with garlic, lemon zest and chili flakes. Trader Joe's carries a packaged "Cruciferous Mix" that is already shredded, making this dinner even more easy and fast!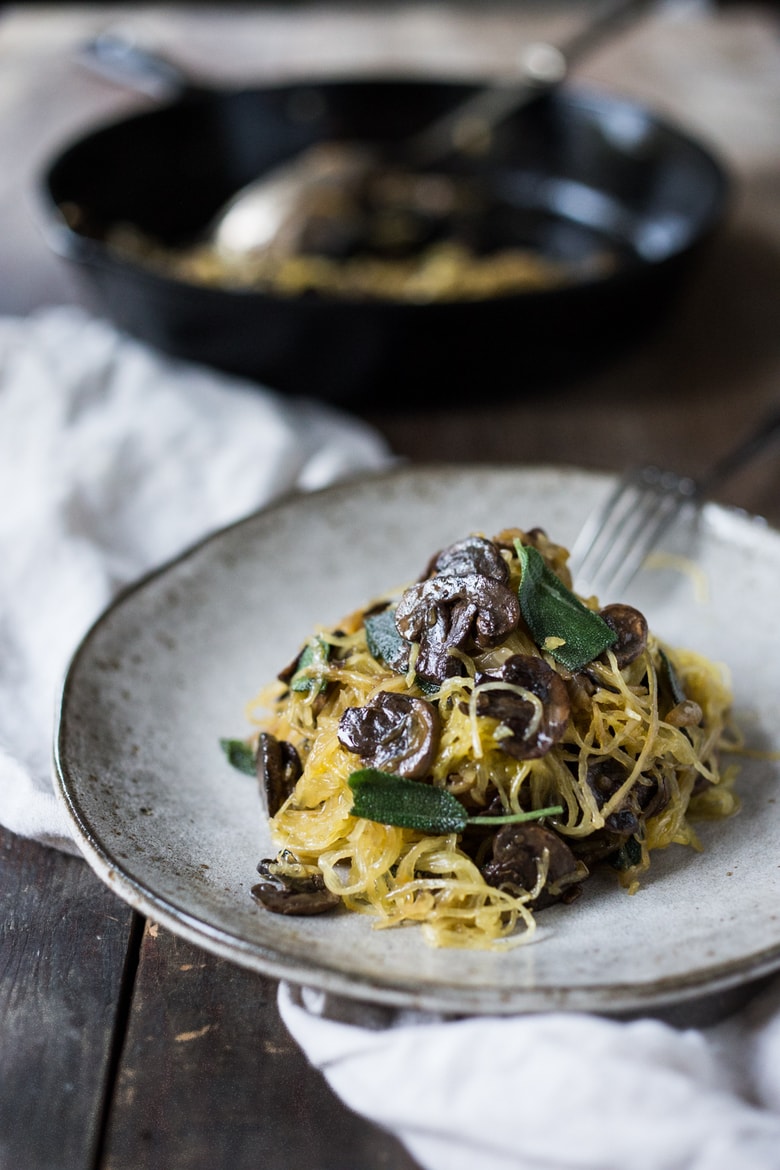 A flavorful and healthy low-carb meal that feels like a comforting pasta dish! Perfect for fall! Keep it vegan or add grated Romano cheese!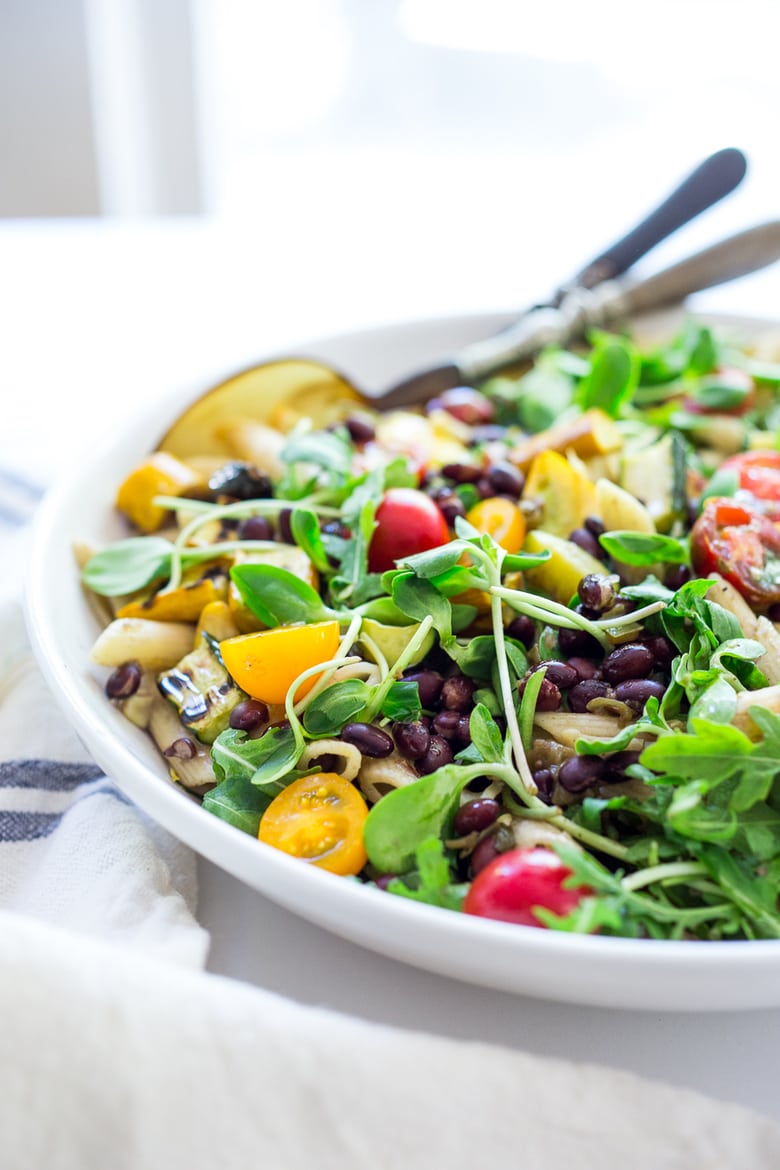 A vegan pasta recipe with zucchini, corn, black beans, and cherry tomatoes! Keep it vegan or add feta cheese. Serve this warm for dinner and save the rest for weekday lunches!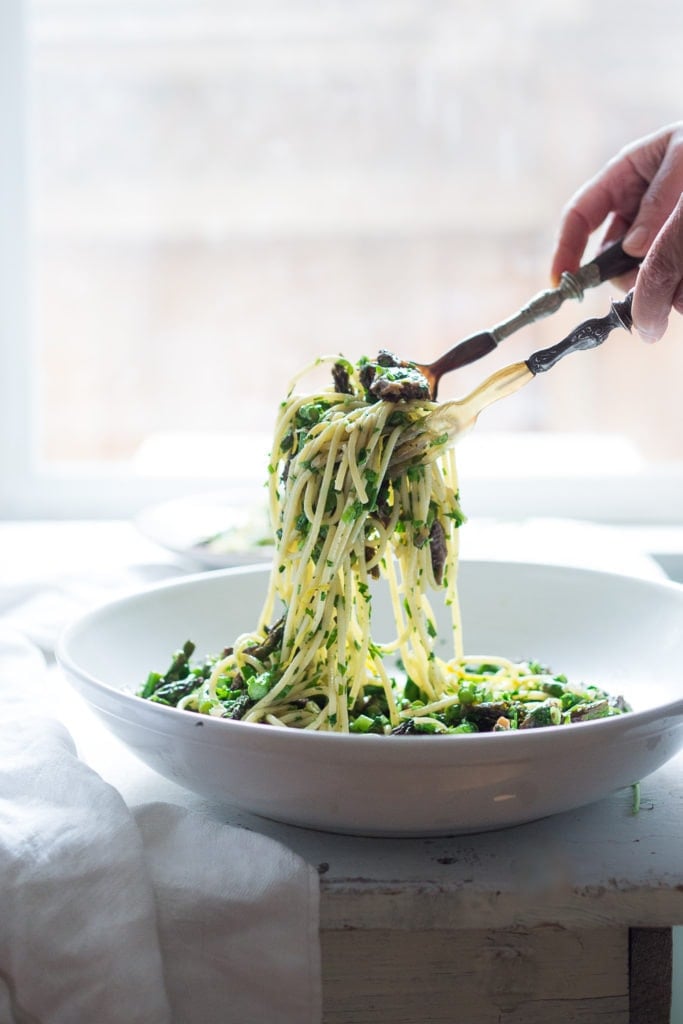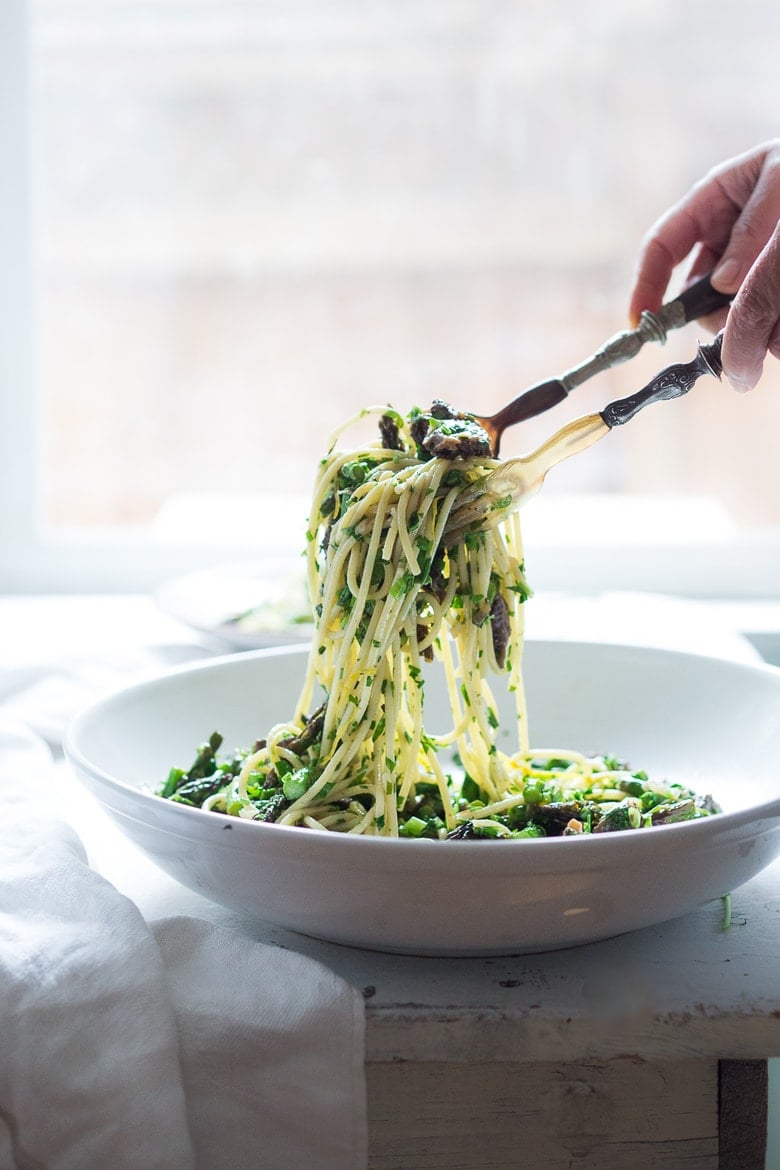 This vegan Pasta Salad with Asparagus and Mushrooms is light and zesty with a bright Lemony- Parsley Dressing. A great make-ahead salad, perfect for potlucks or midweek lunches.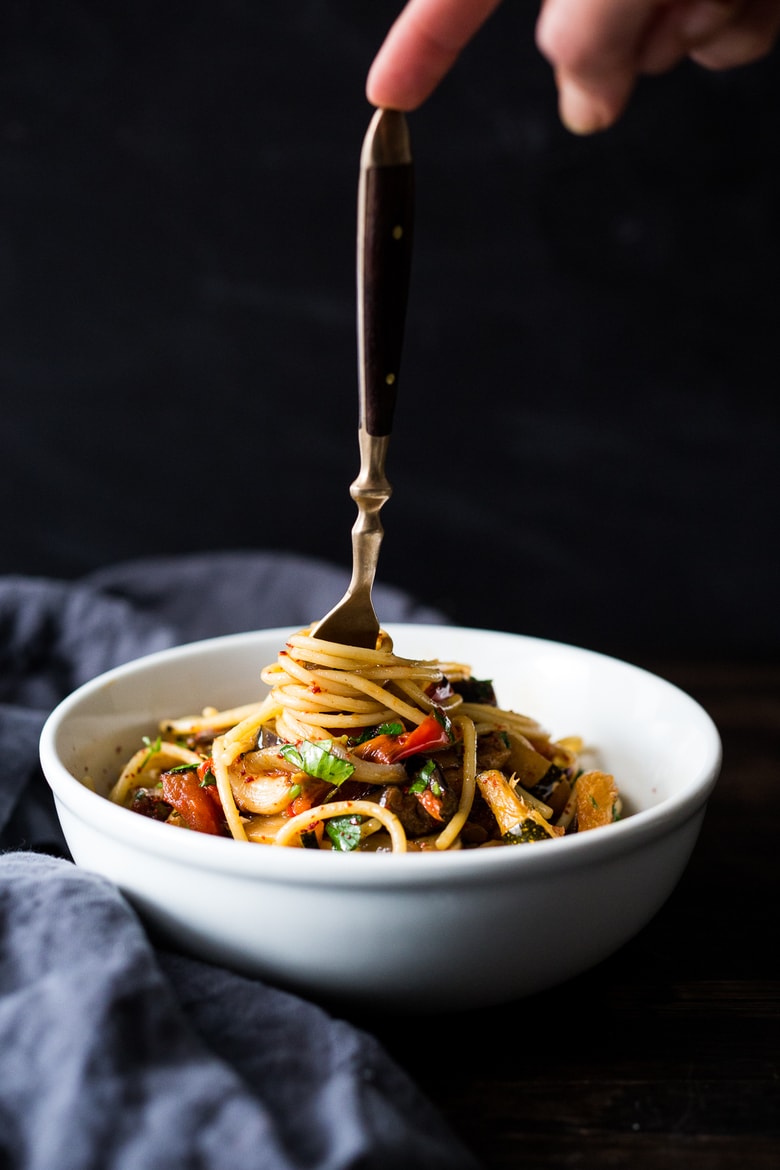 This vegan pasta is tossed with oven-roasted -Ratatouille – full of end-of-summer veggies like eggplant, zucchini, and peppers. Comforting, delicious and totally vegan!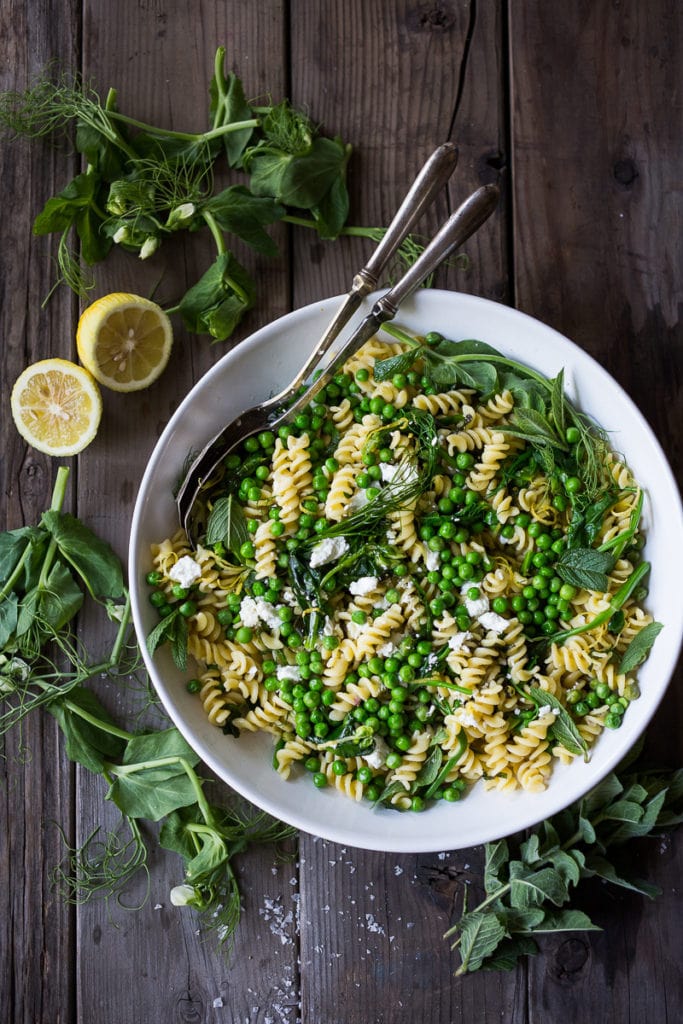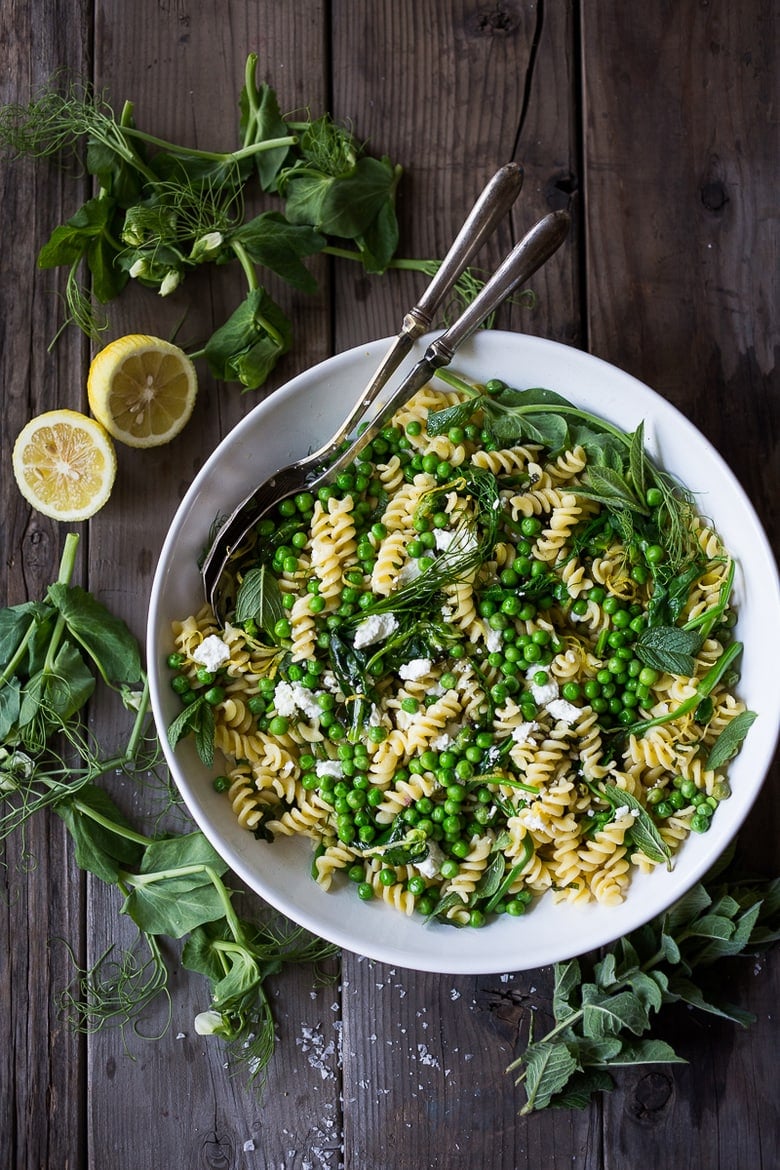 A delicious vegetarian pasta recipe for Spring Pea Pasta with truffle oil, lemon, and mint. Flavorful and simple to make, this can be served warm or chilled – perfect for gatherings or midweek lunches. Keep it vegan or add crumbled goat cheese. I've used chickpea pasta in the photo. 😉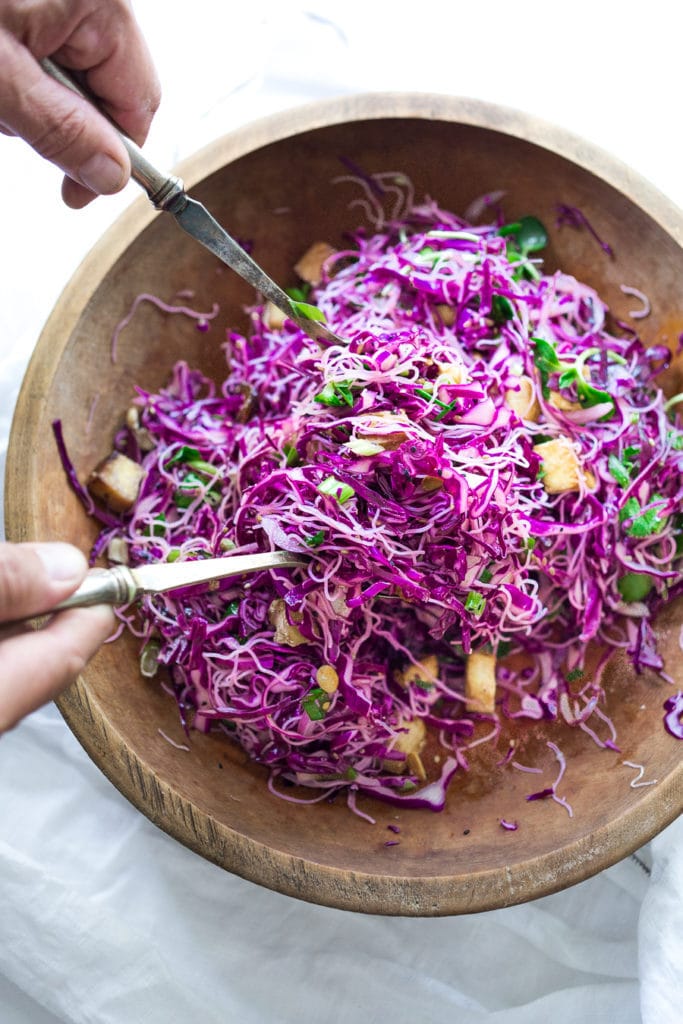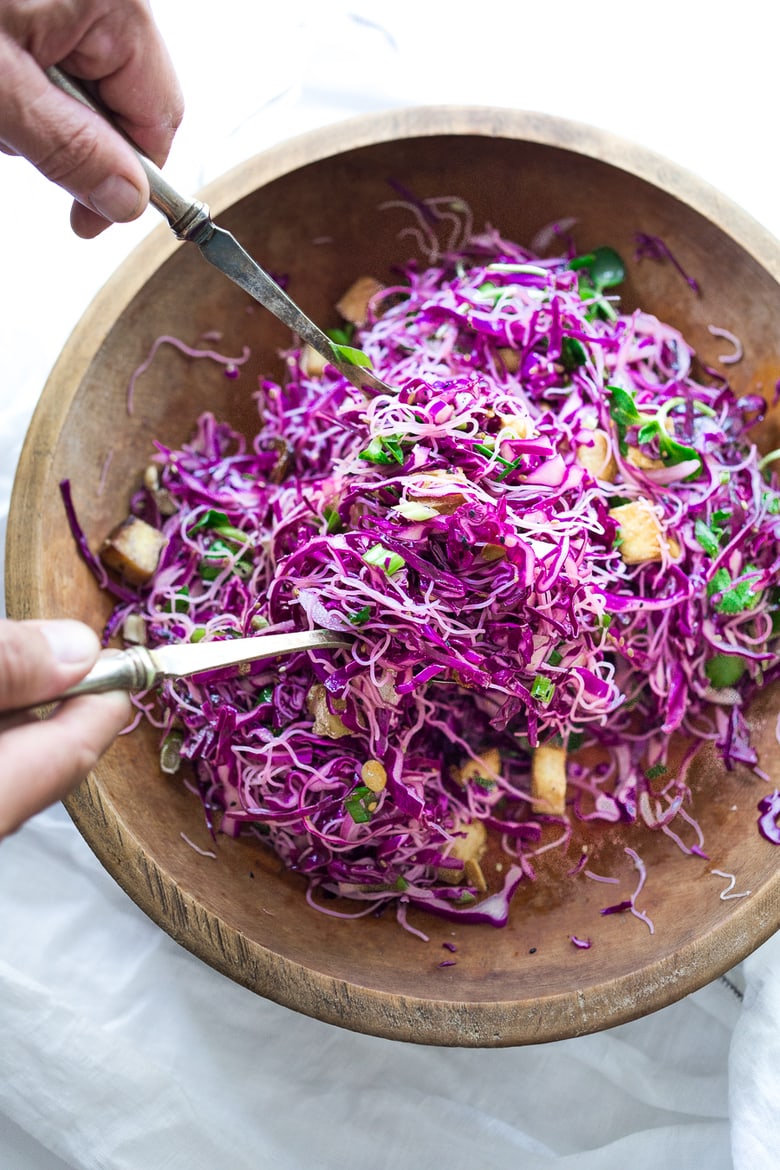 This vegan pasta recipe is made with mostly cabbage and only a small portion of vermicelli rice noodles. The Asian style dressing is so tasty! Top the salad off with scallions, cilantro and crunchy roasted peanuts. Add Sesame Tofu or chicken if you like. Vegan, Gluten-free!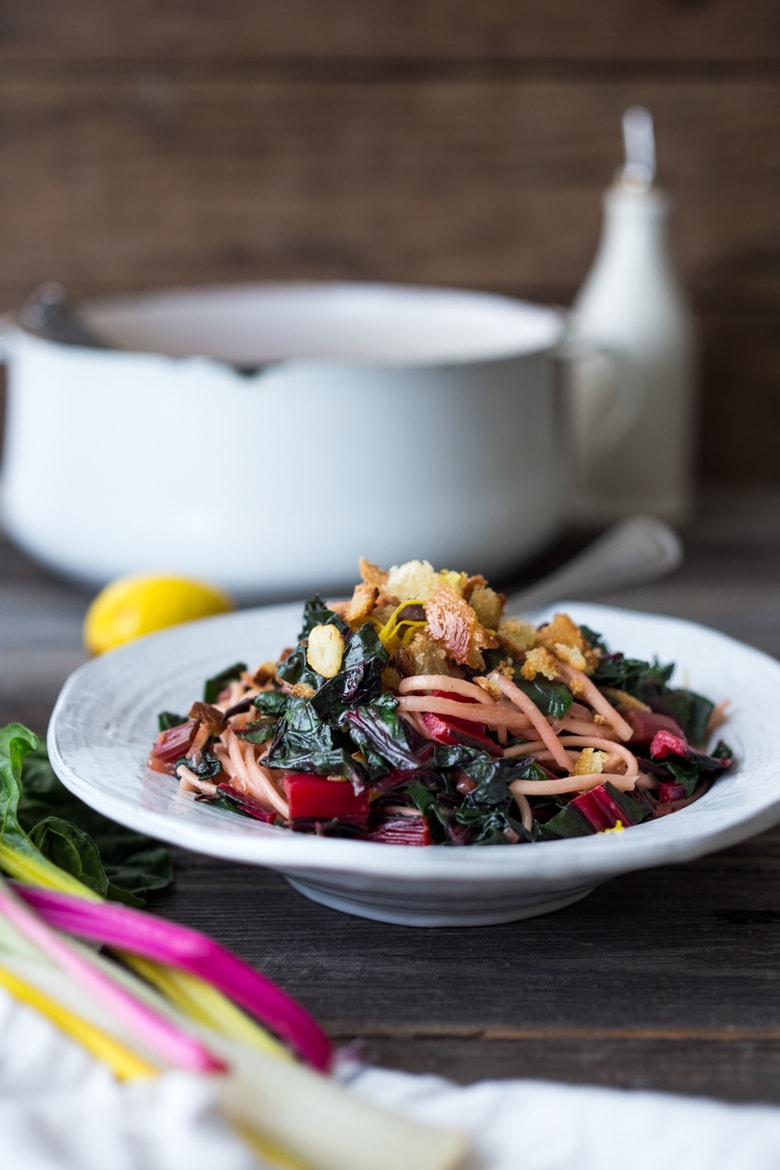 This pasta dish is loaded up with fresh chard and lots of garlic. Lemon gives it a delicious brightness. A quick, light and healthy, vegan pasta recipe that can be made in 20 minutes!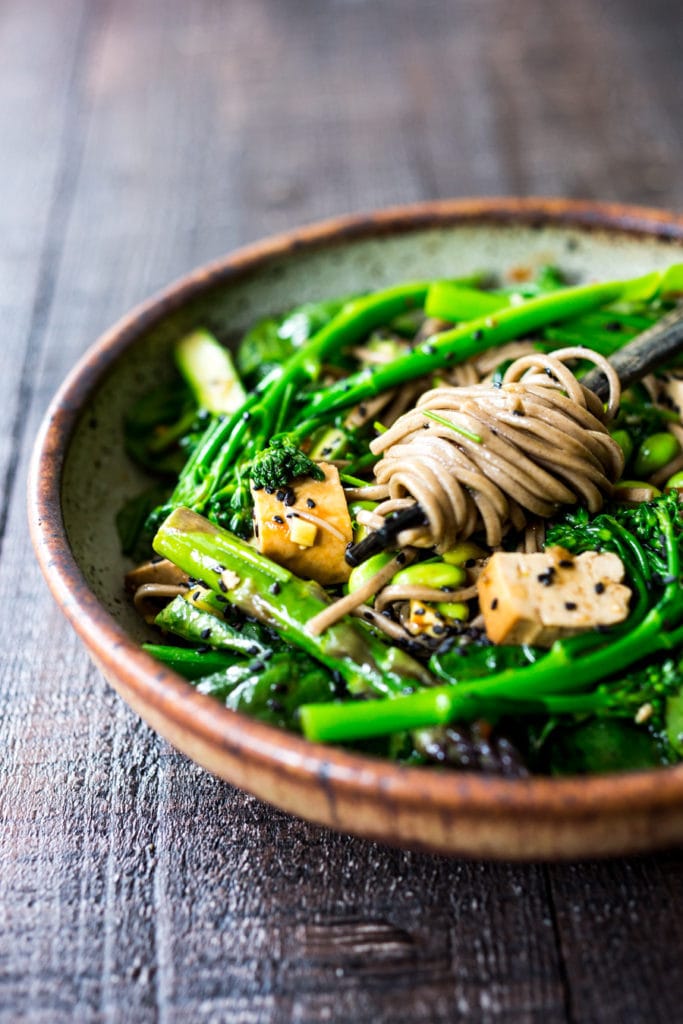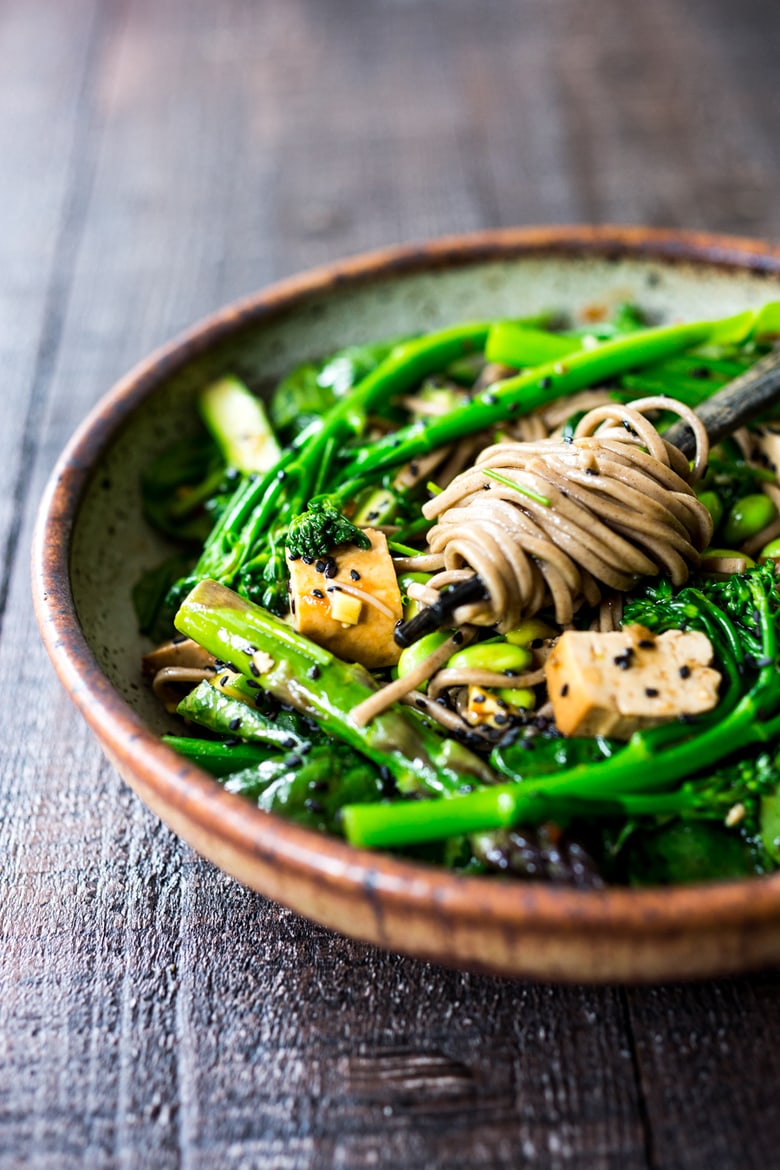 This vegan pasta recipe called  Jade Noodles– is made with Asian soba noodles and loaded up with seasonal healthy veggies like broccolini, asparagus, edamame, then tossed in a flavorful sesame dressing. Save it warm or chilled.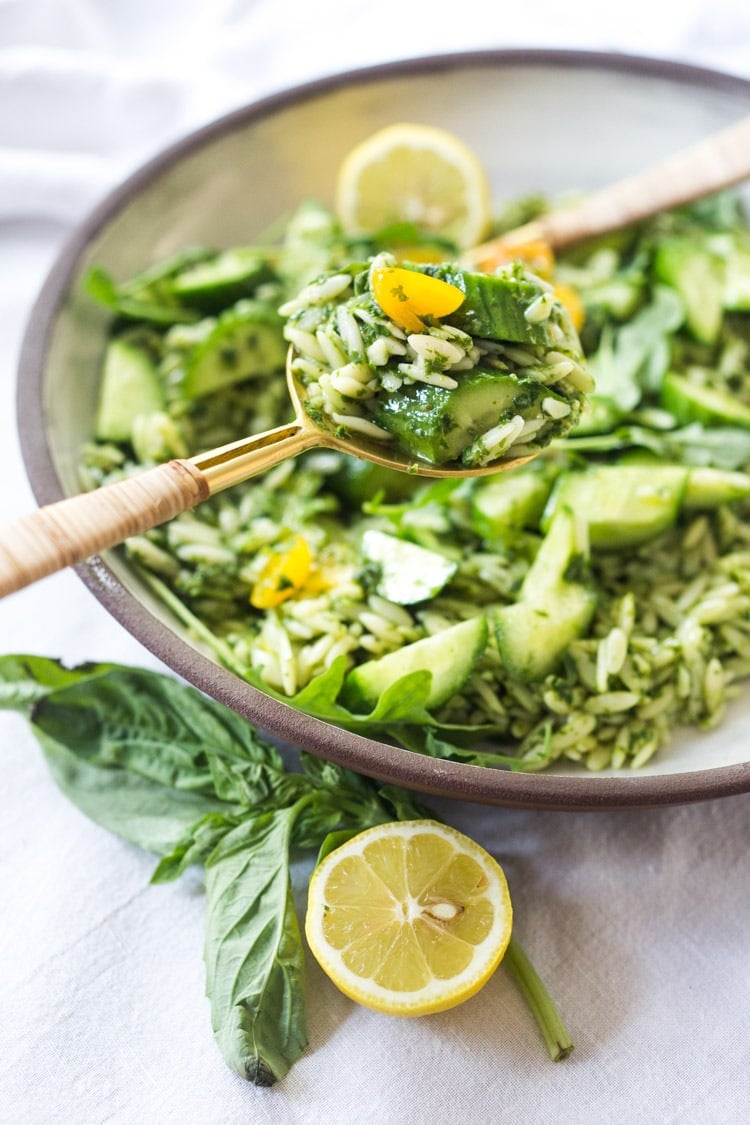 Made with orzo pasta, cucumbers, tomatoes and arugula- a healthy, vegan orzo pasta salad recipe that can be made ahead for midweek lunches or potlucks. Keep it vegan or add feta!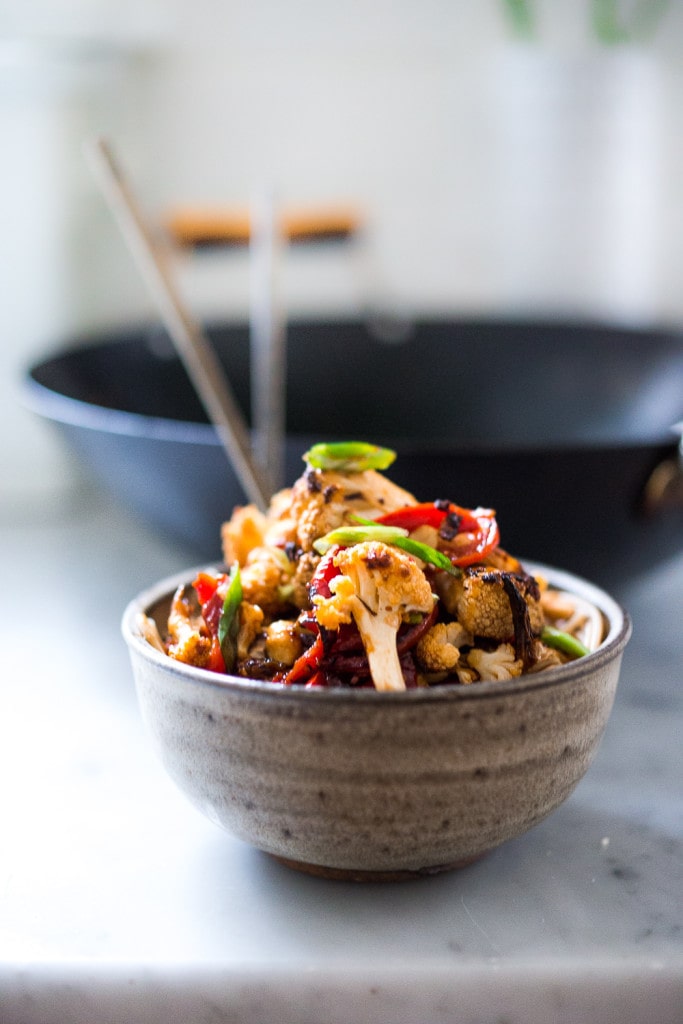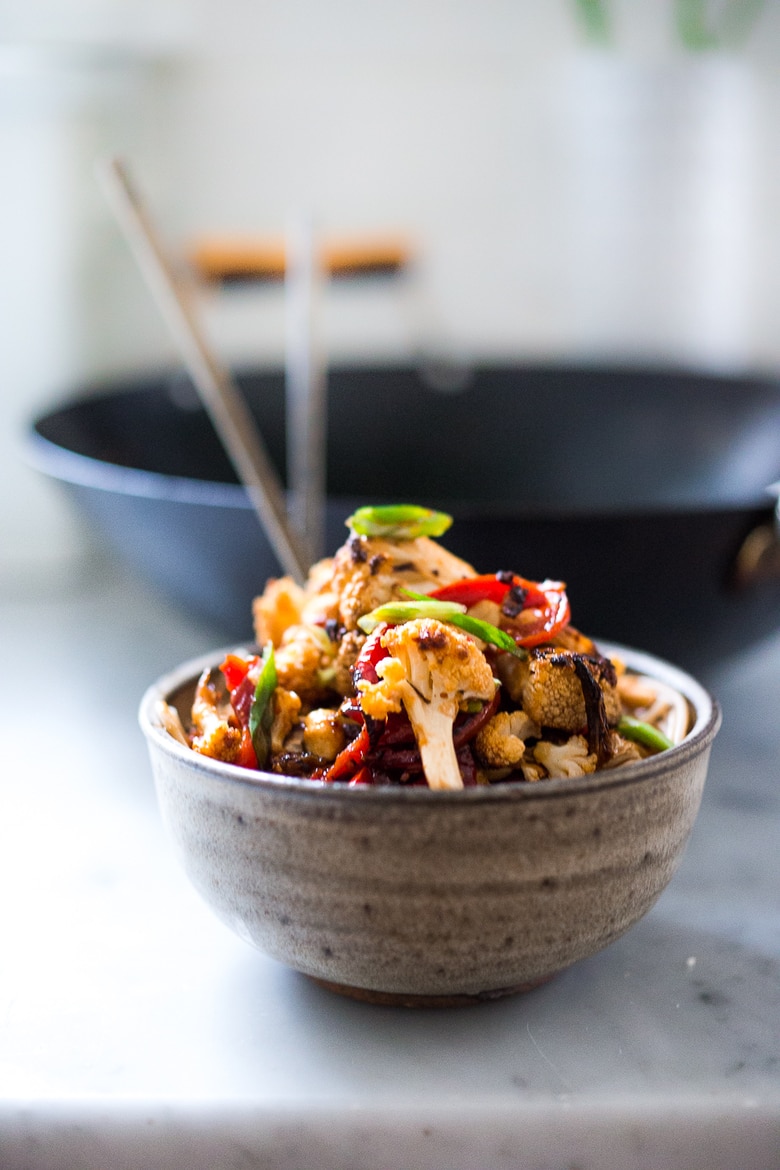 And lastly, one of my personal favorites, Kung Pao Noodles with cauliflower- made in a wok with a very flavorful Kung Pao Sauce –  a feast for the senses! We learned this recipe in China – authentic and delicious!
Pick a few of these Healthy Vegetarian Pasta Recipes  (with MORE veggies than pasta!) this week and give them a whirl.  Let me know what you think in the comments below!
Happy week friends!!!
xo
Print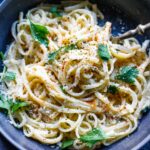 40 Best Pasta Recipes!
Prep Time:

5

Cook Time:

20

Total Time:

25 minutes

Yield:

4

1

x

Category:

pasta, vegetarian

Method:

stovetop

Cuisine:

American

Diet:

Vegan
---
Description
40 Best Pasta Recipes that are all veggie-loaded. Easy, healthy and delicious, these pasta dishes are vegetarian, vegan or vegan-adaptable: How to Cook Pasta.
---
---
Instructions
Place water and salt in a medium pot and bring to boil over high heat. Add optional olive oil ( to prevent sticking)
Add the dry pasta and give a stir. Bring to boil, lower heat so the pot is gently simmering, uncovered.
Cook until the pasta is soft but still has a little bite to it. Depending on the pasta this time will vary so always check package instructions.
Drain, always saving a cup of hot pasta water.
Use right away, or see notes for storing.
---
Notes
If storing for later, rinse the pasta in cold water until cooled. Drain. Toss generously with olive oil and place in a shallow open container in the fridge. Cover it only after it is completely cold. The idea here is to cool pasta as quickly as possible to prevent unwanted bacteria from growing.
Nutrition
Serving Size:
Calories:

395

Sugar:

1.5 g

Sodium:

1766.5 mg

Fat:

0.9 g

Saturated Fat:

0.2 g

Carbohydrates:

42.3 g

Fiber:

1.8 g

Protein:

7.4 g

Cholesterol:

0 mg
Keywords: pasta recipes, best pasta recipes, how to cook pasta, vegetarian pasta recipes, vegan pasta recipes, healthy pasta recipes, best vegetarian pasta