We've rounded up a collection of our most highly-rated, healthy pasta recipes your whole family will love! Cacio de Pepe, homemade gnocchi, cozy lasagna, fresh spaghetti, baked ziti, and our favorite lentil bolognese, just to name a few.  Most of the pasta ideas you'll find here are easy to make, with fresh healthy ingredients, primarily vegetables- a little trick we do to make these pasta dishes a little more nutrient-dense!  Save your favorites to your recipe box. 
And Now… our Best PASTA Ideas!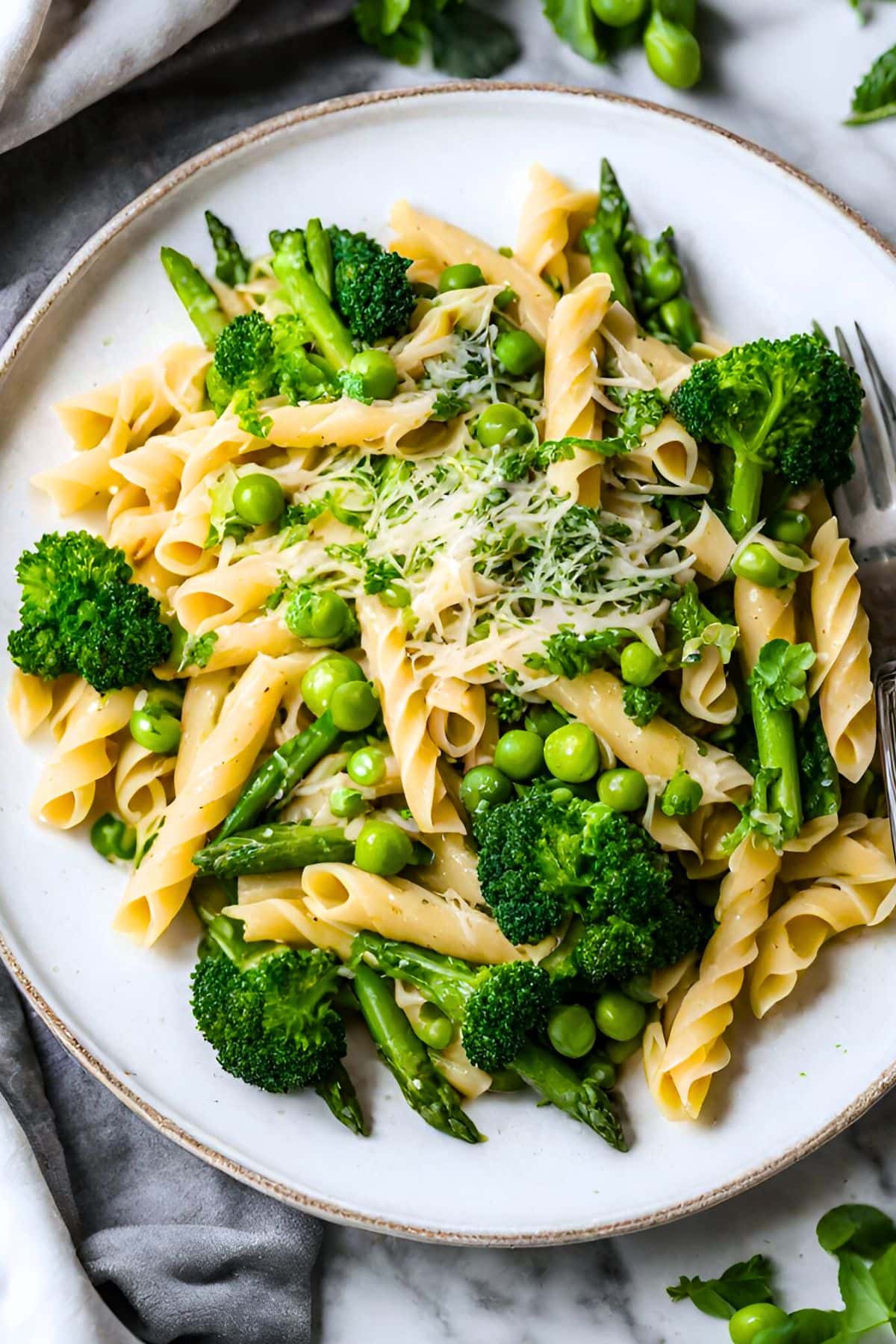 Easy Broccoli Pasta
Our "go-to" weeknight pasta recipe is this Broccoli Pasta with lemon and pecorino. Throw in any stray veggies you like! It's fast, it's easy, yet incredibly delicious, perfect for busy nights. Scroll down to the recipe card below!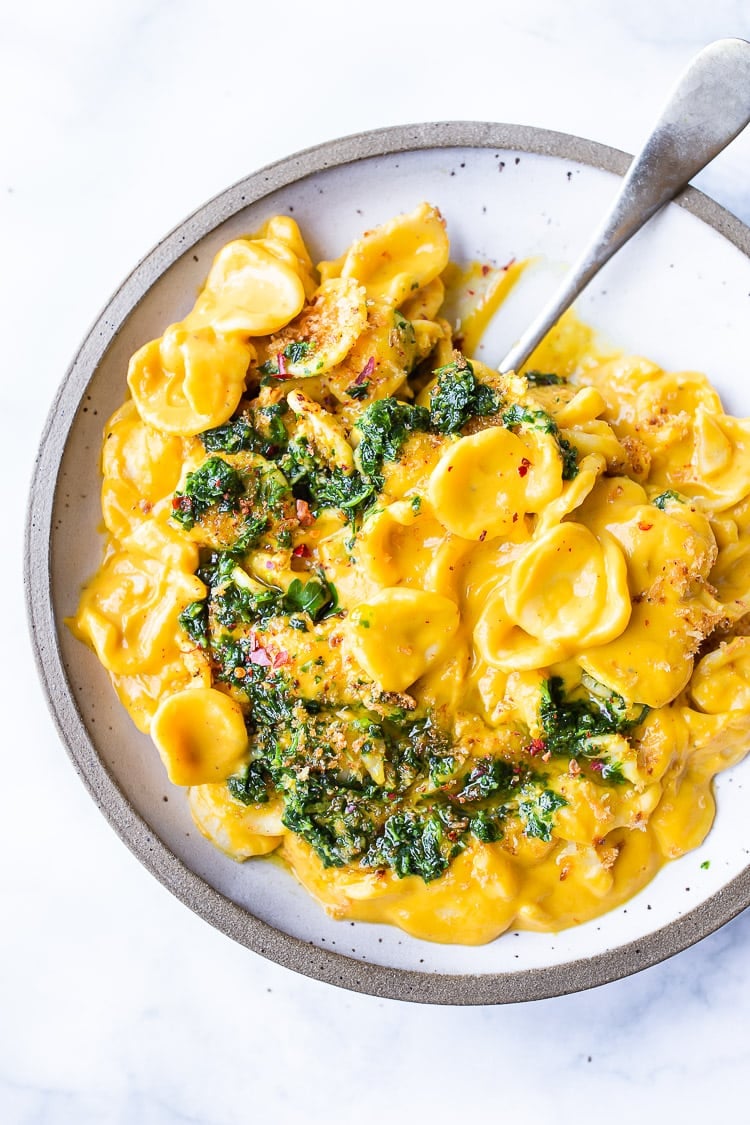 This vegan pasta recipe Orecchiette Pasta with Creamy Carrot Miso Sauce, is ultra-rich and creamy and topped with a Carrot Top Gremolata (optional) and toasted bread crumbs. It tastes like the best macaroni and cheese ever! Flavorful and healthy!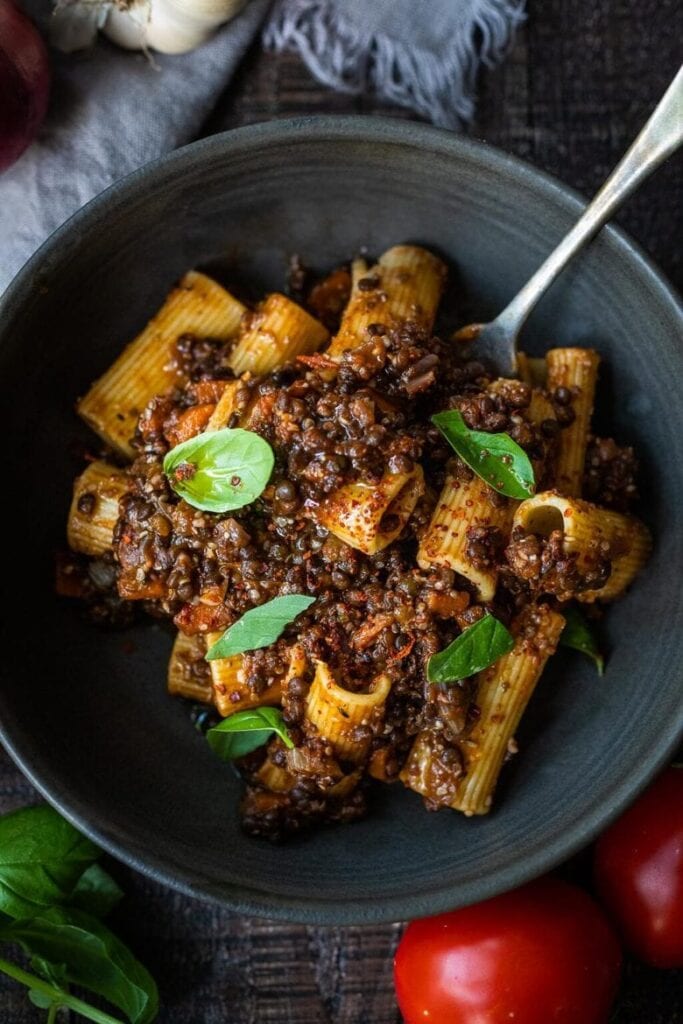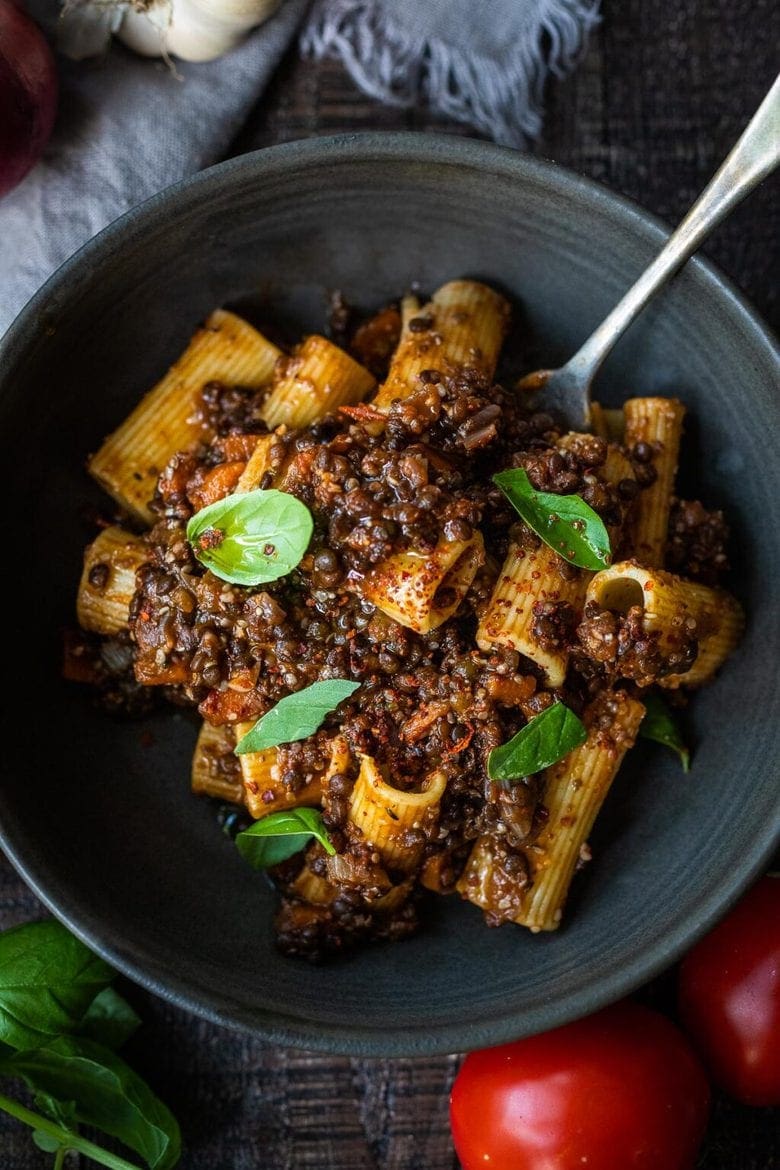 This vegan Lentil Bolognese is so hearty and cozy- you won't miss the meat! We use walnuts and lentils to give this its meaty flavor! It's one of the most "favorited" pasta recipes on the blog and we know your whole family will love it! Give it a go. Keep it vegan or top with parmesan cheese, up to you! We also have our Turkey Bolognese!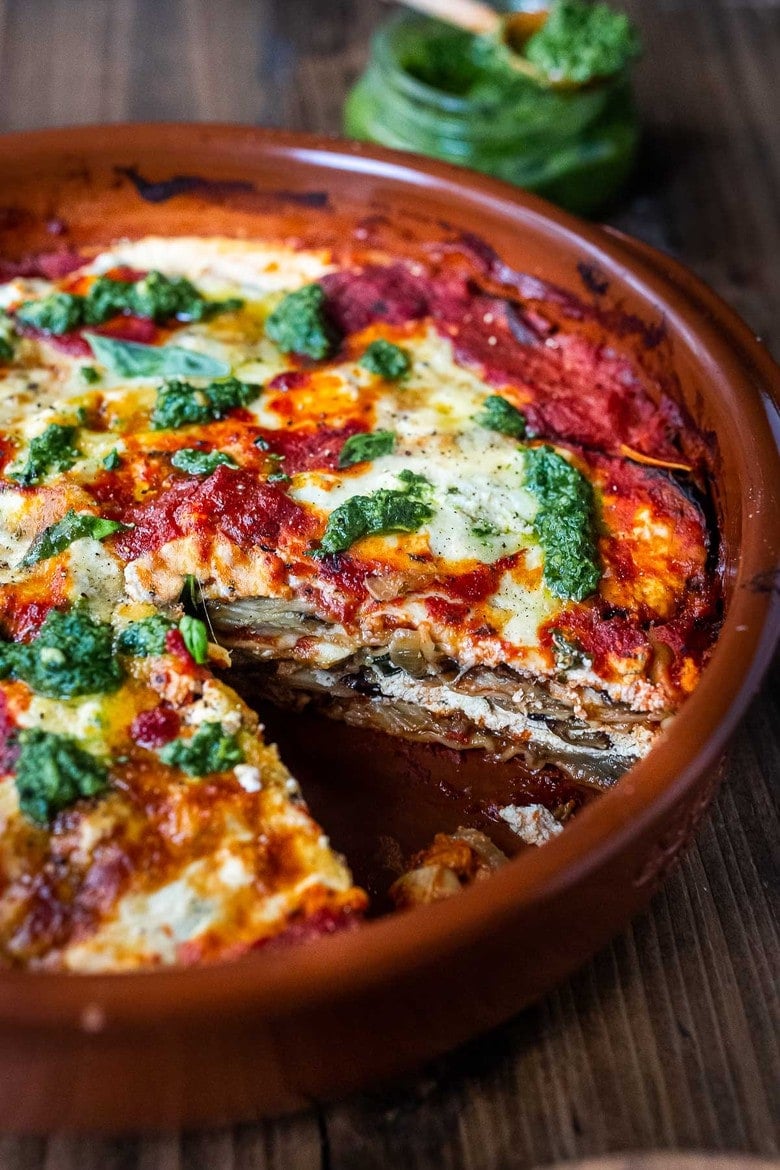 Made with extra eggplant, no-boil noodles, and topped with arugula pesto, this eggplant lasagna is a healthy cozy vegetarian dinner that is oh-so comforting and nourishing. Vegan-adaptable!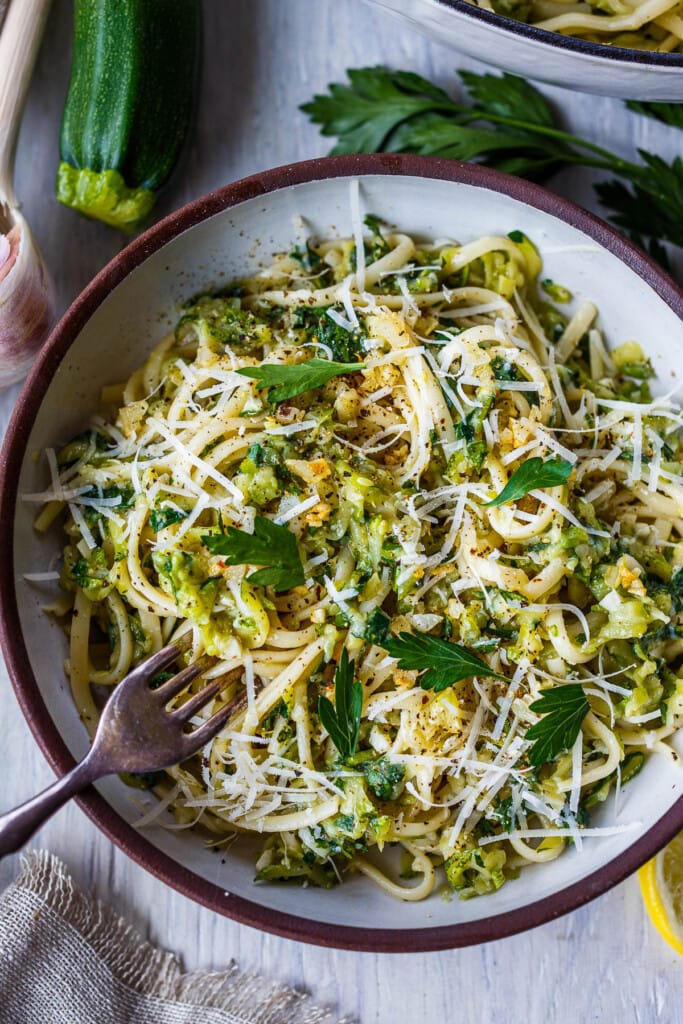 Here's a quick and delicious recipe for Zucchini Pasta. Grated zucchini melts into a flavorful succulent sauce, perfect for cradling linguini or your favorite pasta! Enhanced with lemon, black pepper and garlic, you'll have dinner on the table in 30 minutes! Vegan and gluten-free adaptable.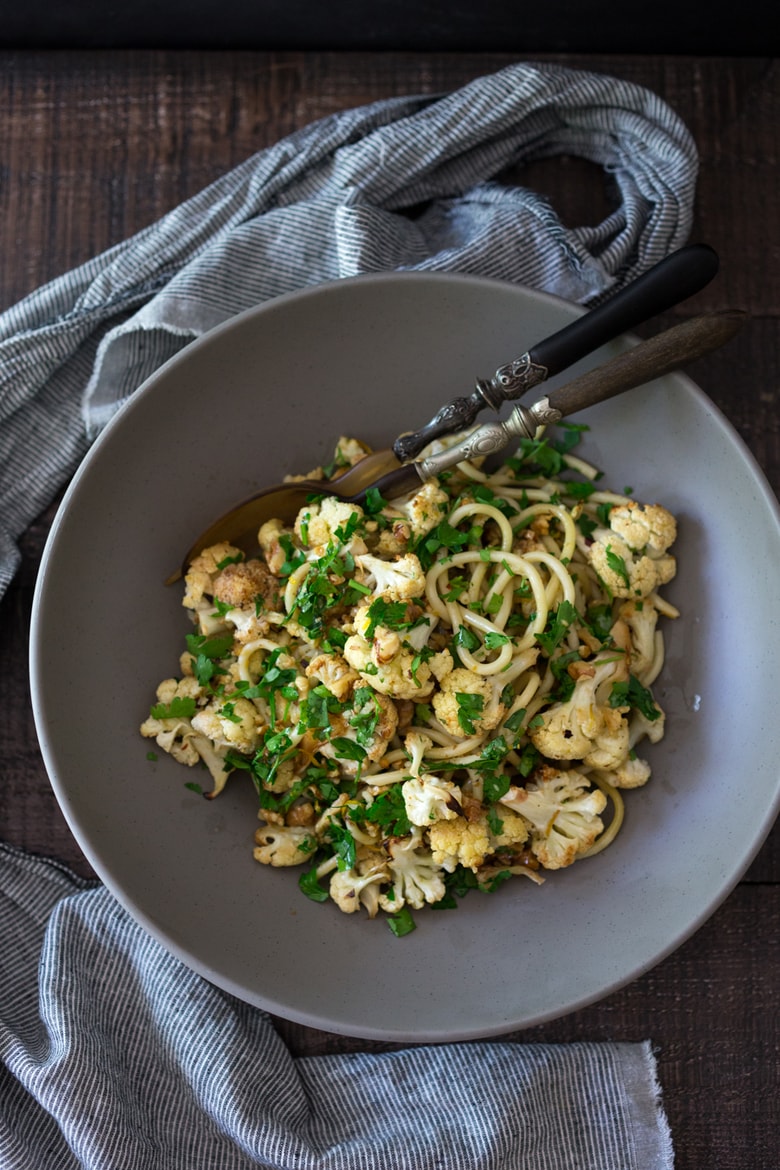 One of my favorite pasta recipes, this Cauliflower pasta has so much flavor and great texture! It's hearty without leaving you feeling heavy. So much goodness happening here! Trust me!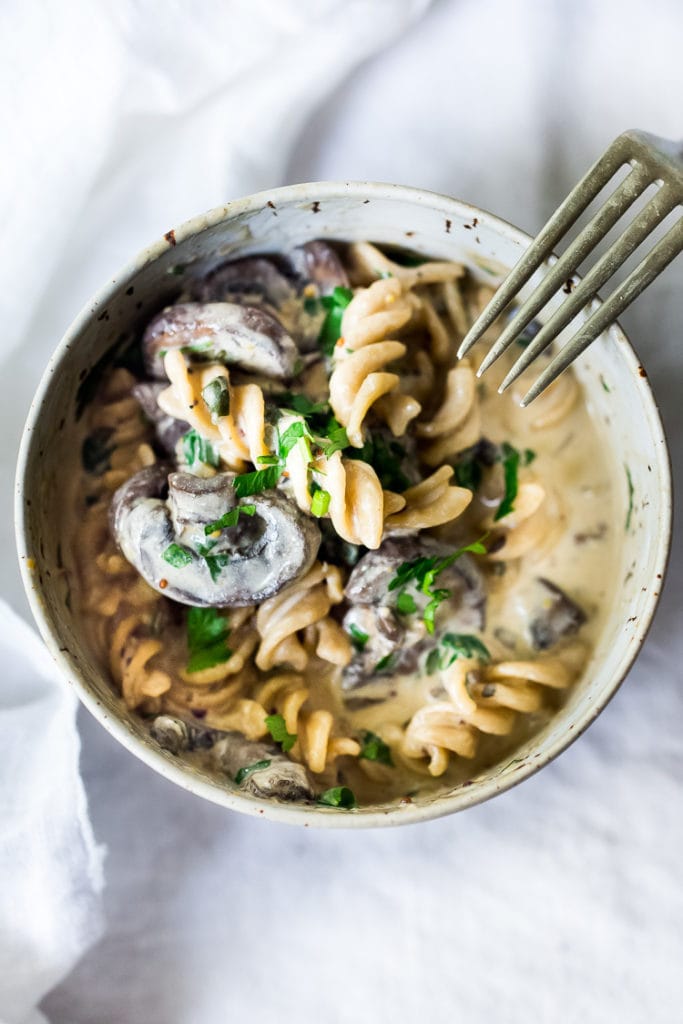 This creamy Mushroom Stroganoff is full of delicious depth and flavor! Make it in an instant pot or on the stovetop! Either way, you'll love it! Vegetarian.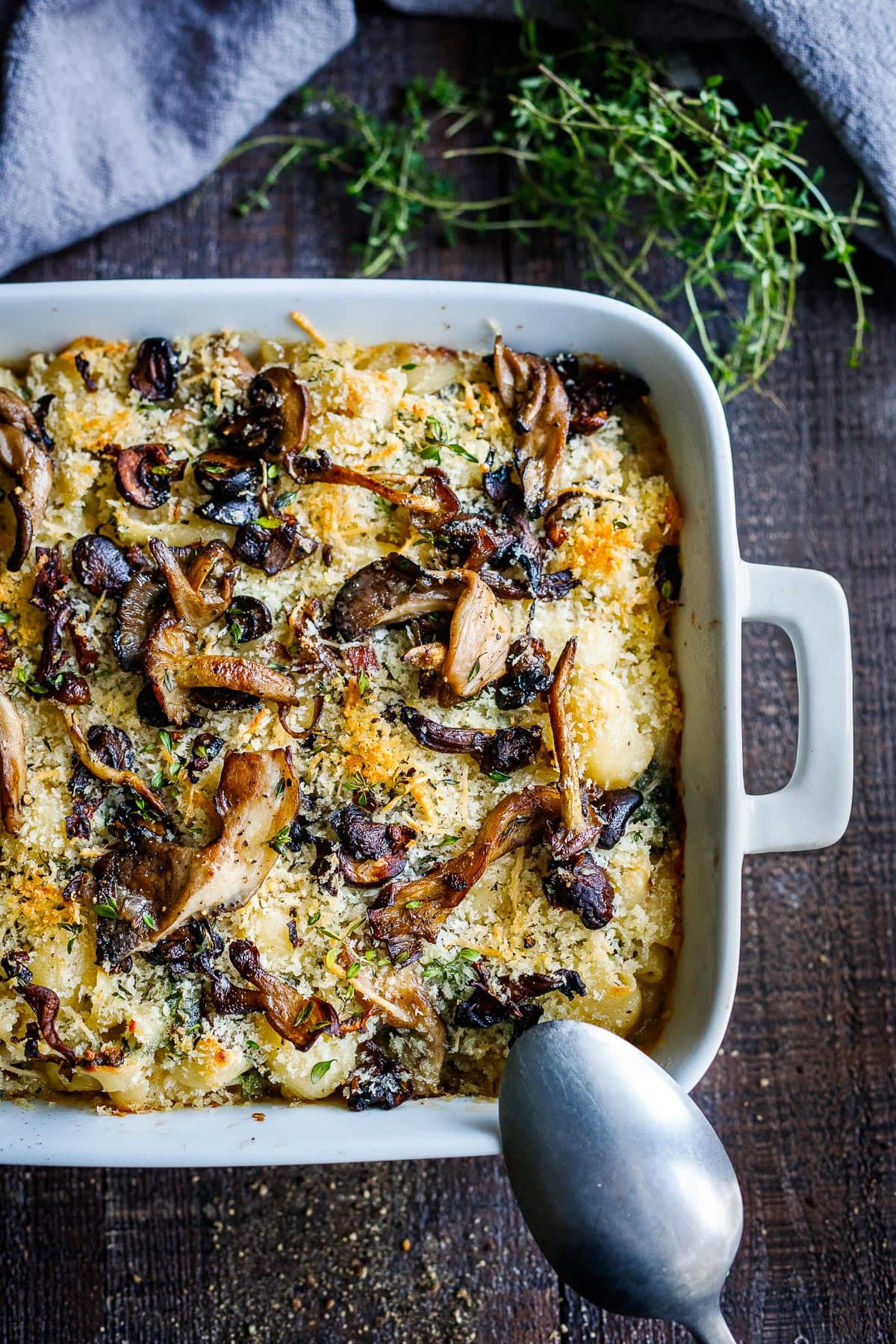 This earthy, decadent Truffle Mac and Cheese is loaded up with seasonal mushrooms and a hint of truffle oil – a mushroom lover's dream! It's easier than you think and can be made ahead- perfect for holidays and special gatherings.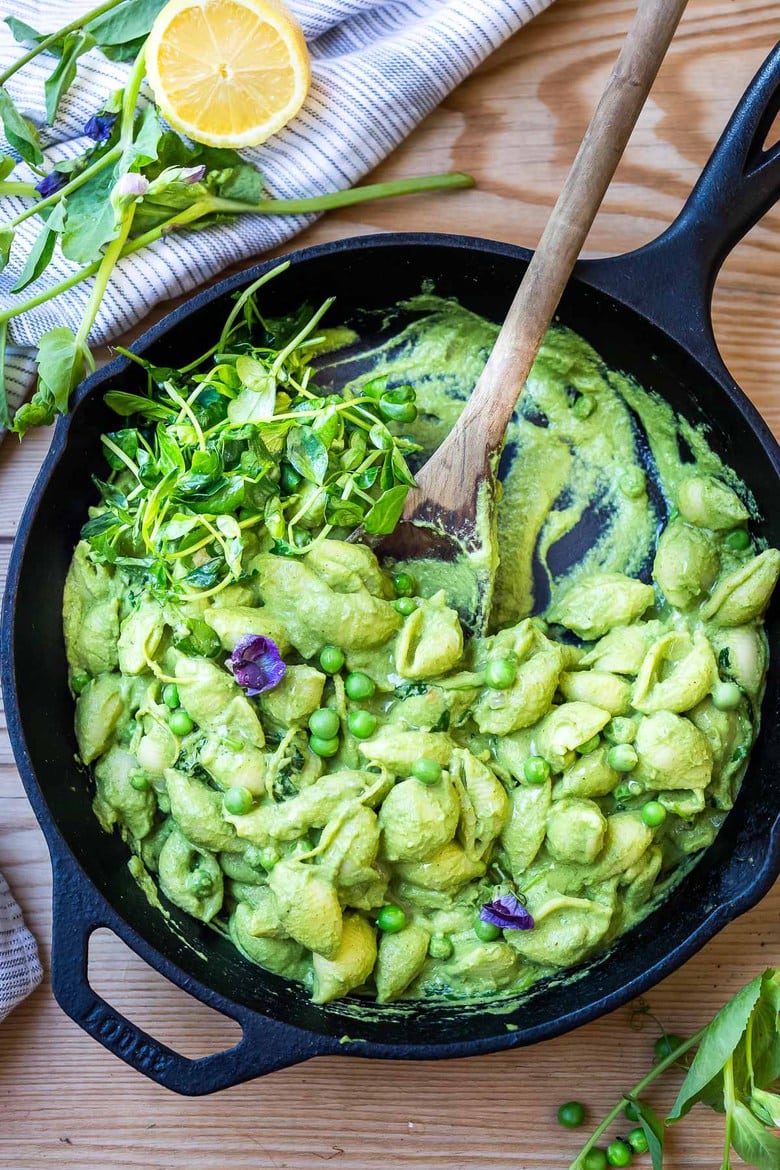 This vegan pasta recipe is made with a creamy, luscious pea sauce. Fresh or frozen peas are blended up into the silkiest most flavorful sauce! A fast and easy 30-minute vegan dinner recipe you'll fall in love with!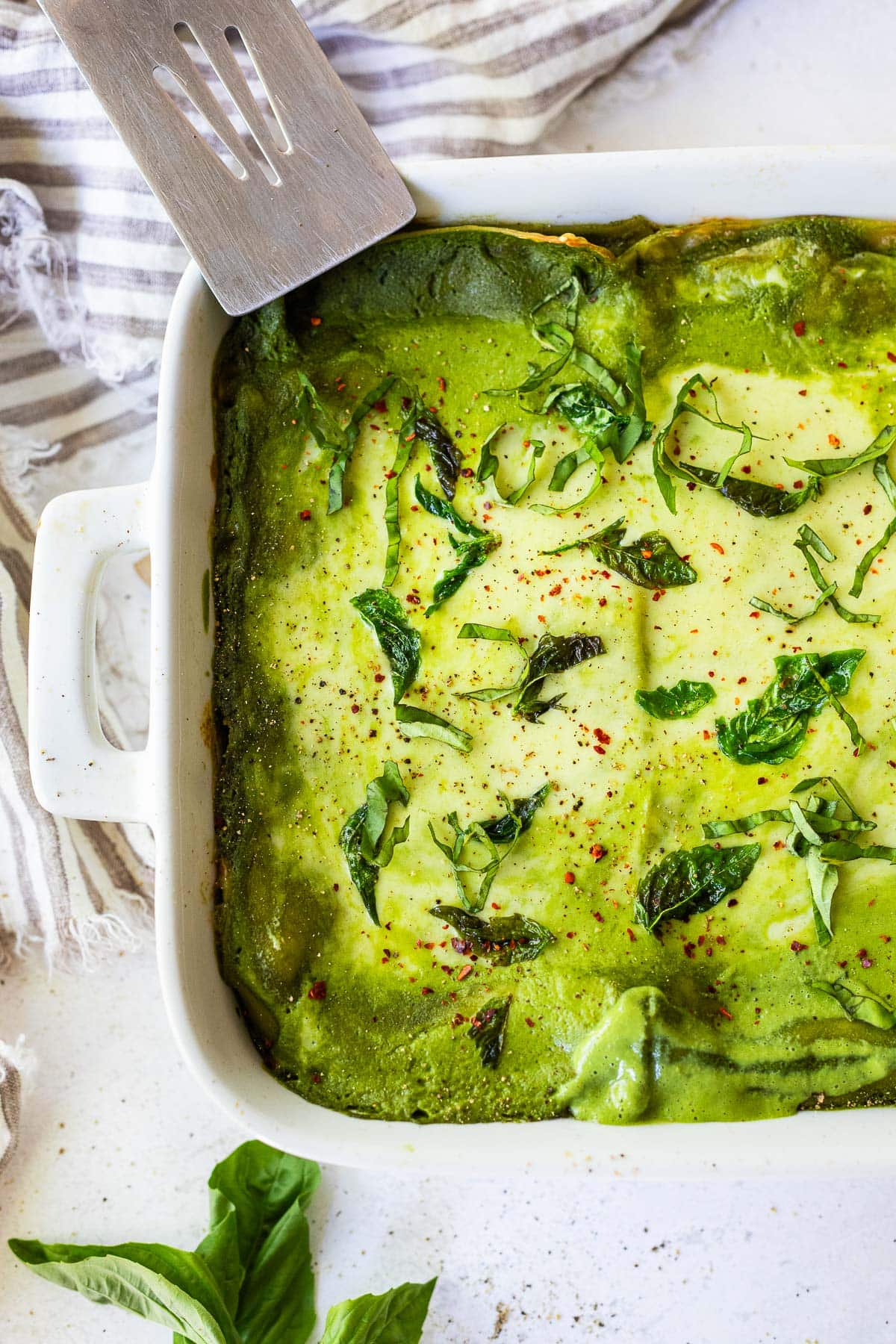 A delicious recipe for Spinach Lasagna filled with savory spinach and your choice of veggies layered with a luscious Basil Spinach Sauce. Keep it vegetarian, or add chicken.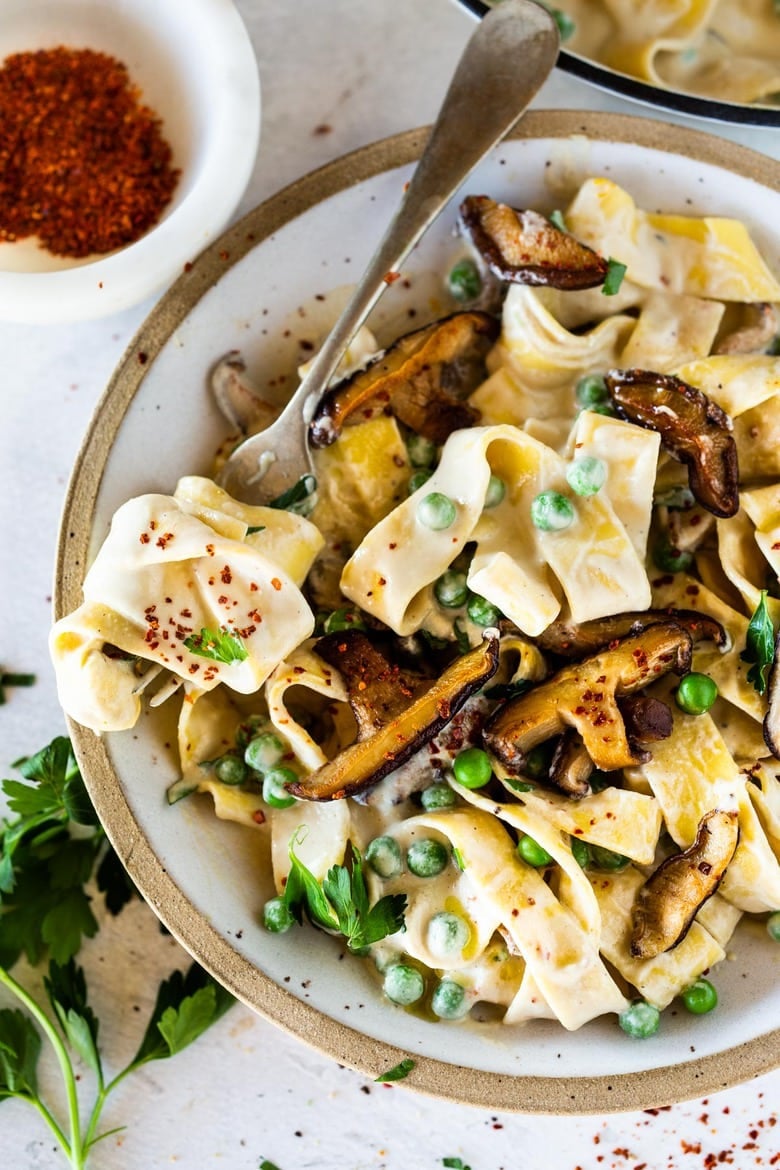 This pasta idea is heavenly! The alfredo sauce is made with cashews for the silkiest creamiest consistency. We've amped up the flavor too! Use whatever pasta you like, add whatever veggies you like- heck you could even add chicken or shrimp to this! You won't miss the cream or butter, I promise!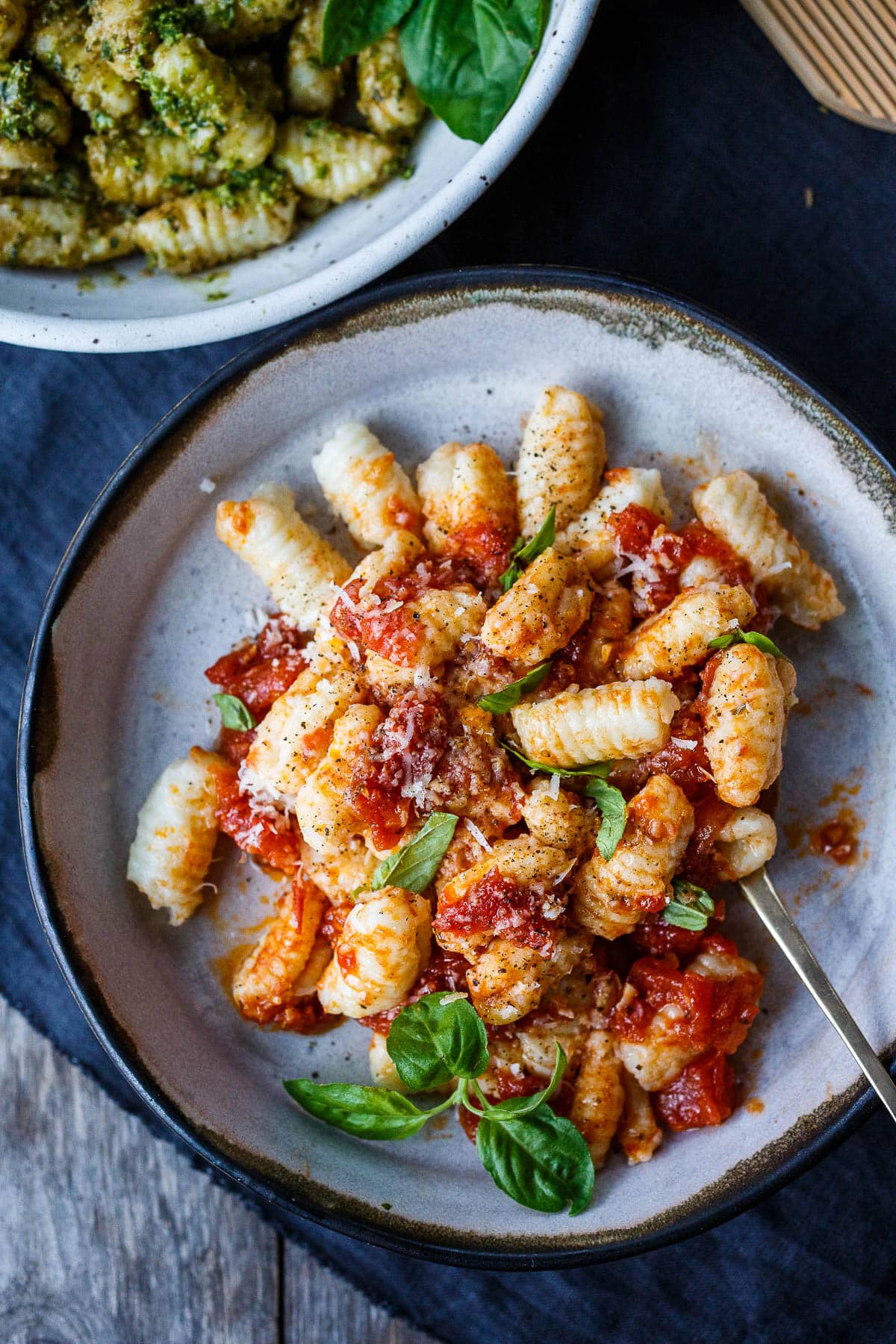 Homemade gnocchi! Just four simple ingredients result in the dreamiest little dumplings. These little pillows of joy are easy to make and much more delicious than store-bought. From baked and sautéed to boiled, you'll find so many ways to use them! Simply toss in your favorite marinara sauce and you are good to go!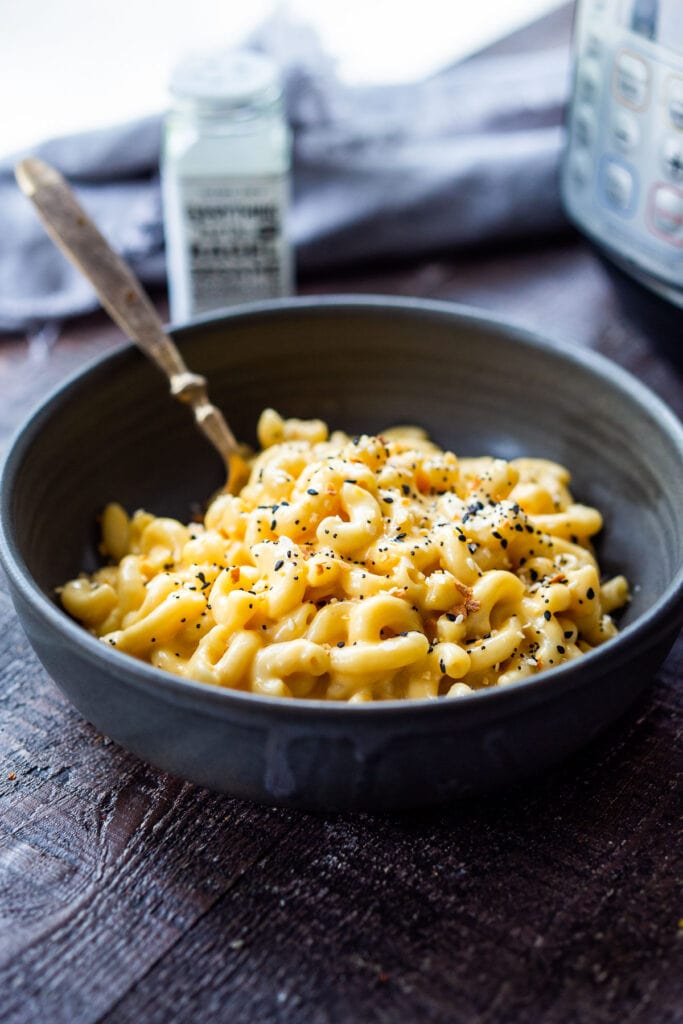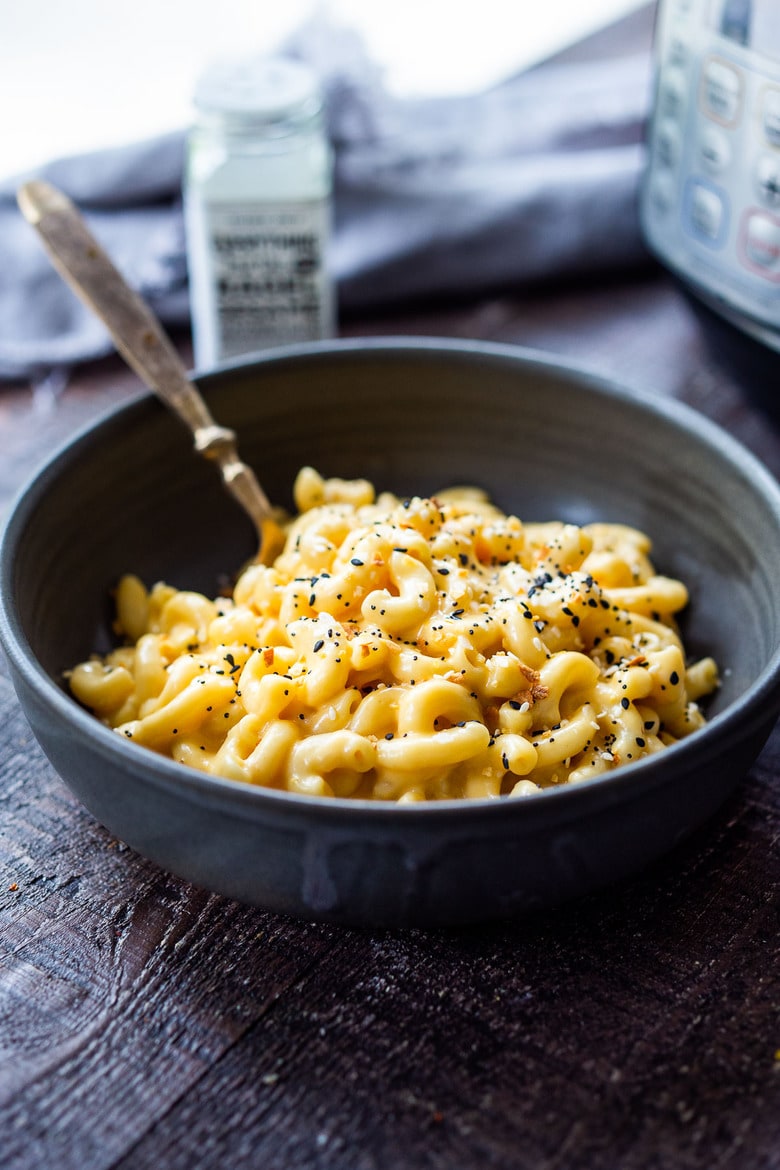 This Instant Pot Mac and Cheese is creamy, delicious and crazy good, and honestly, Homemade mac and cheese doesn't get any better or than this! Fast and easy, using your instant pot makes more room on your stovetop! We also have our Vegan Mac and Cheese!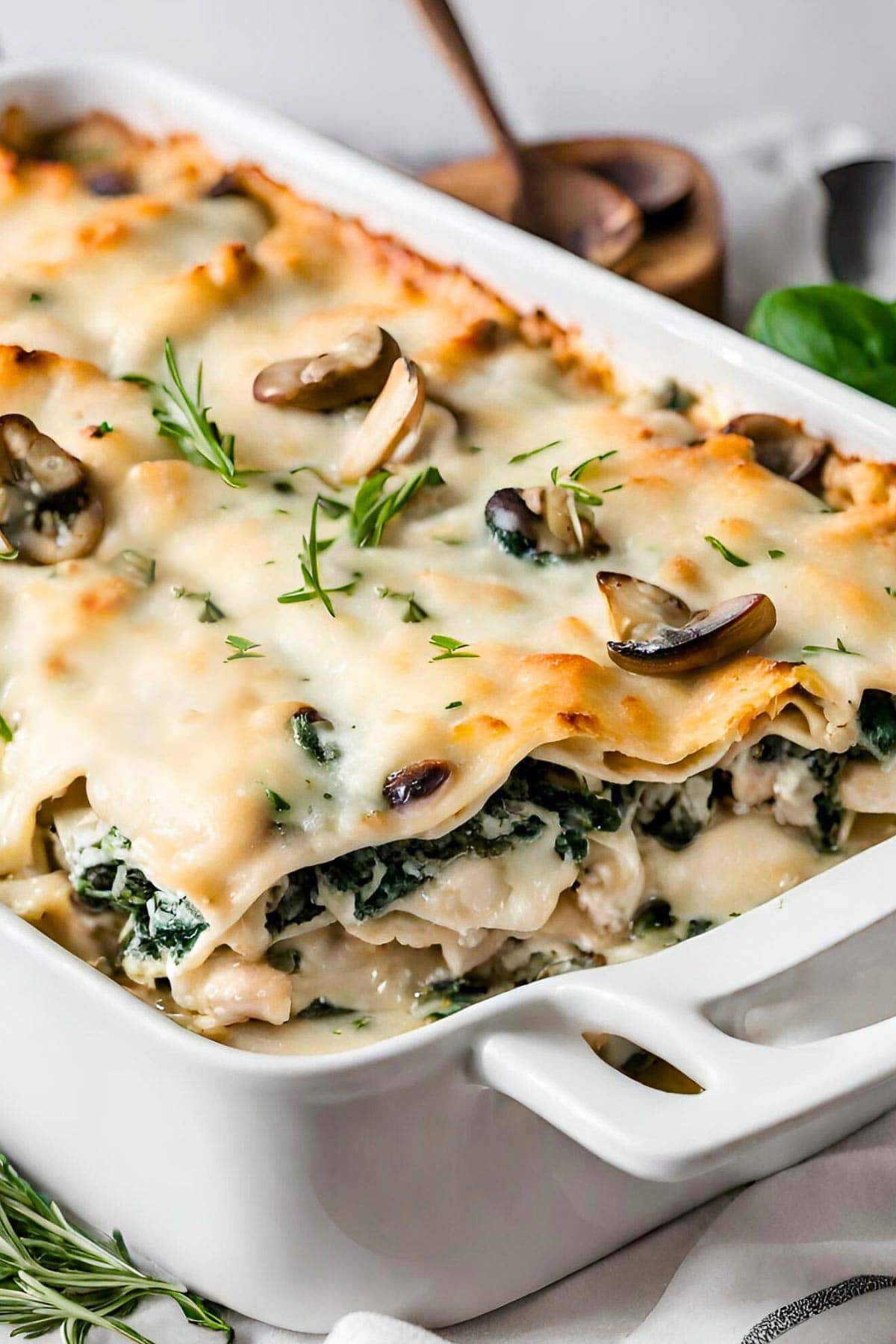 This creamy chicken lasagna is cozy and comforting, perfect for chilly nights. It's made with chicken, mushrooms, spinach and rosemary in a creamy bechamel sauce. It can easily be made vegetarian– just leave out the chicken and double the mushrooms!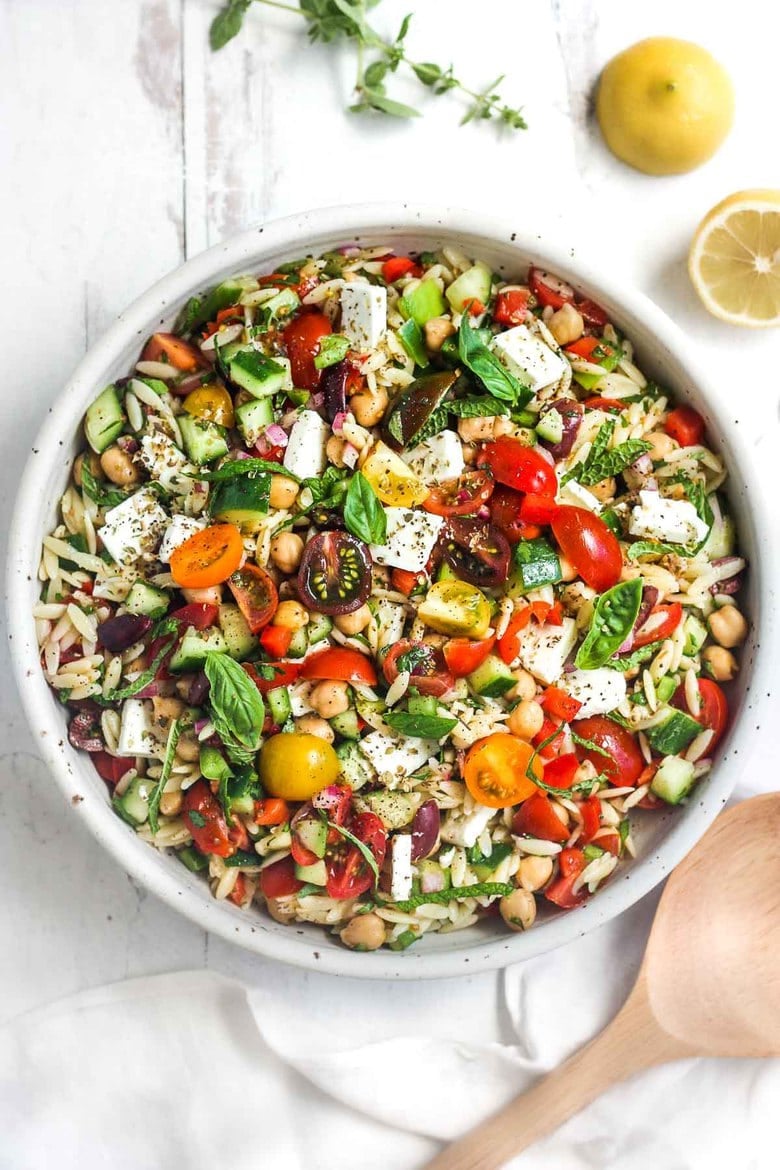 This healthy Greek Pasta Salad is the perfect make-ahead pasta salad for summertime picnics, bbqs, potlucks and easy dinners. A hearty ratio of fresh veggies combined with tender orzo pasta, and chickpeas tossed in the tastiest lemon Greek salad dressing.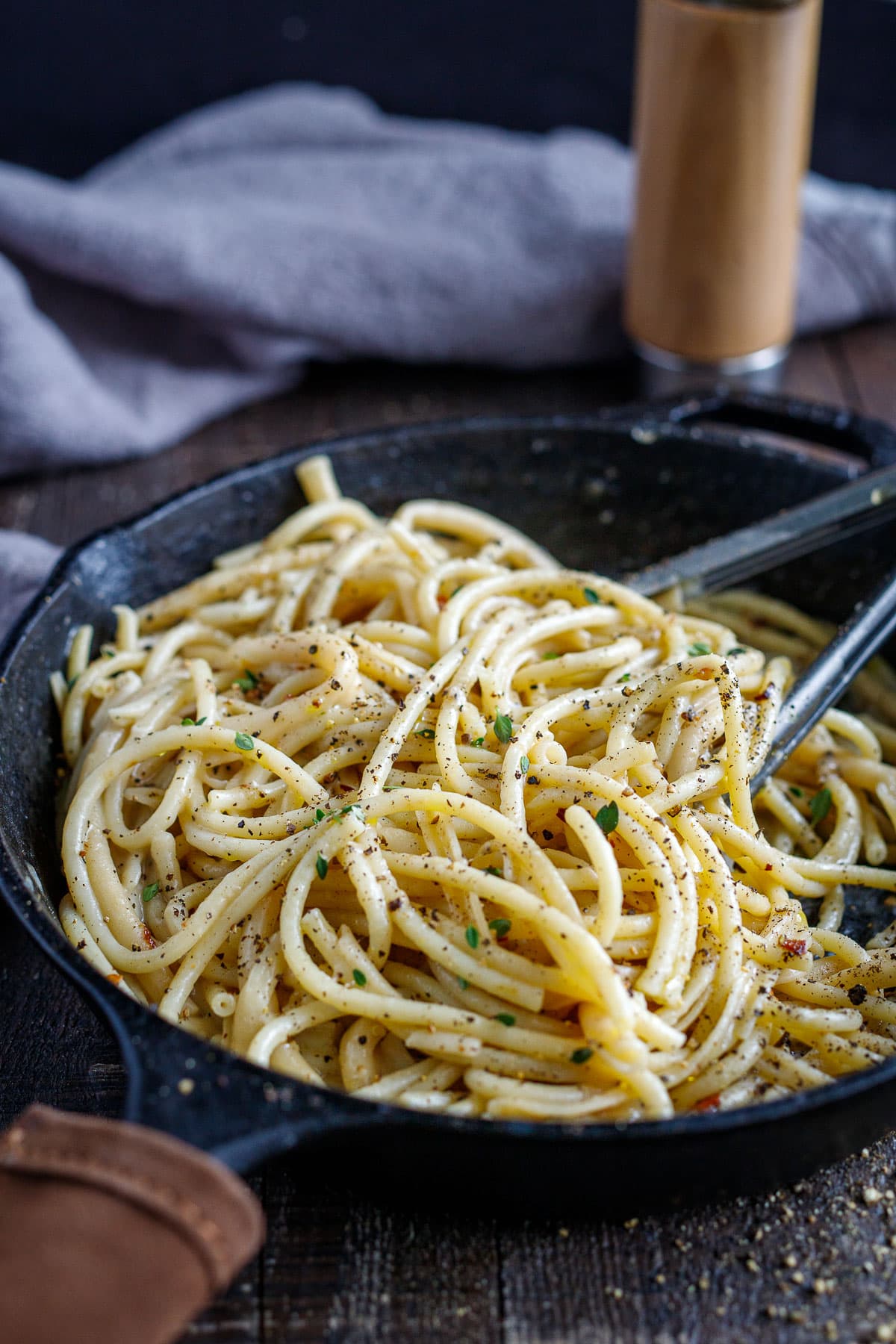 It's one of the easiest, tastiest pasta recipes on the blog! Cacio e Pepe has 5 simple ingredients: pasta, salt, pepper, extra virgin olive oil and pecorino cheese. We love topping Cacio e Pepe with veggies- sauteed mushrooms, roasted broccoli, cherry tomatoes or whatever is in the fridge. Use it as a base for your own creations!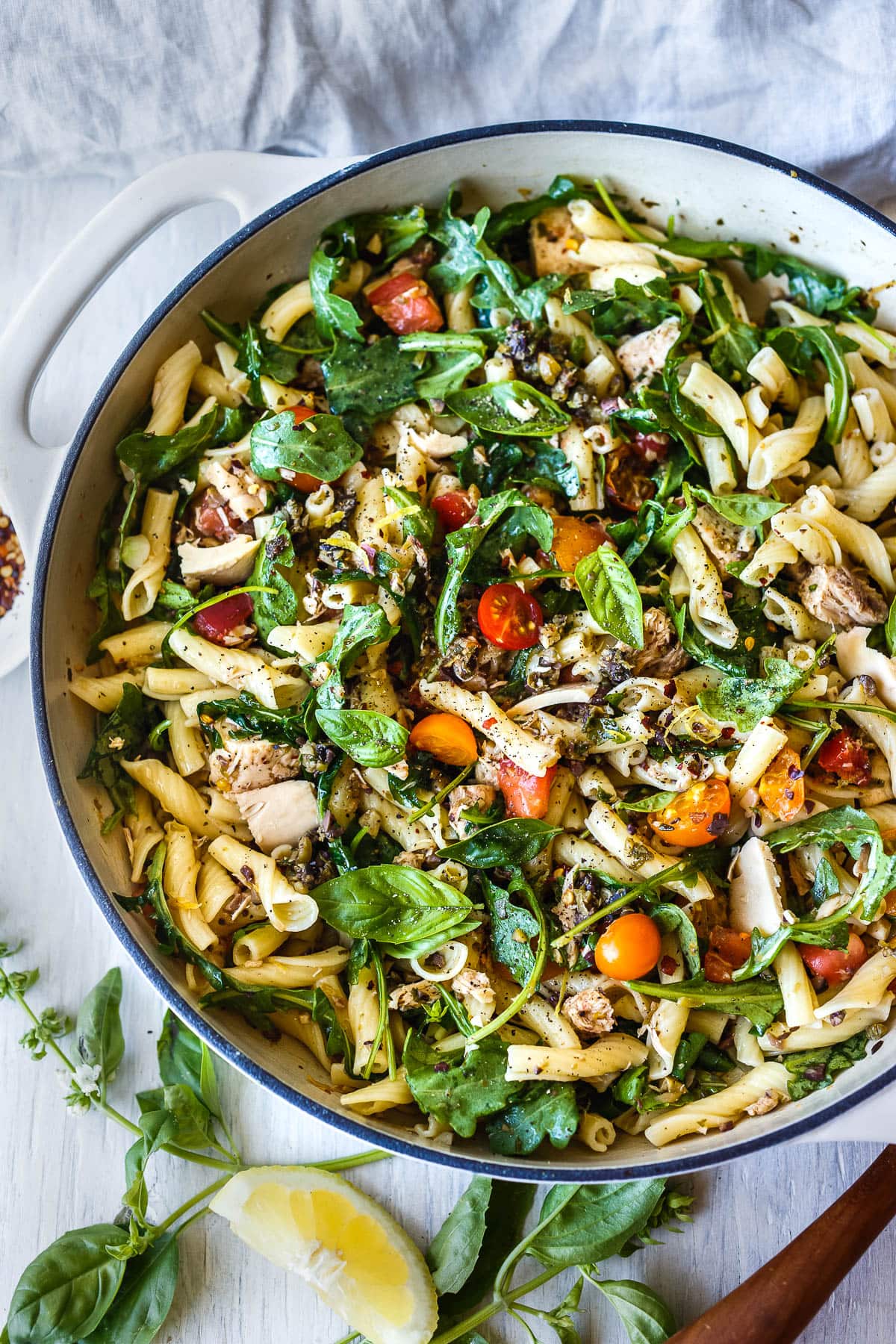 This Tuna Pasta with Olive Tapenade & Fresh Tomatoes is a super fast, fresh pasta dish that is full of bright, clean and savory flavors. An easy meal ready in 30 minutes! Healthy, quick and delicious!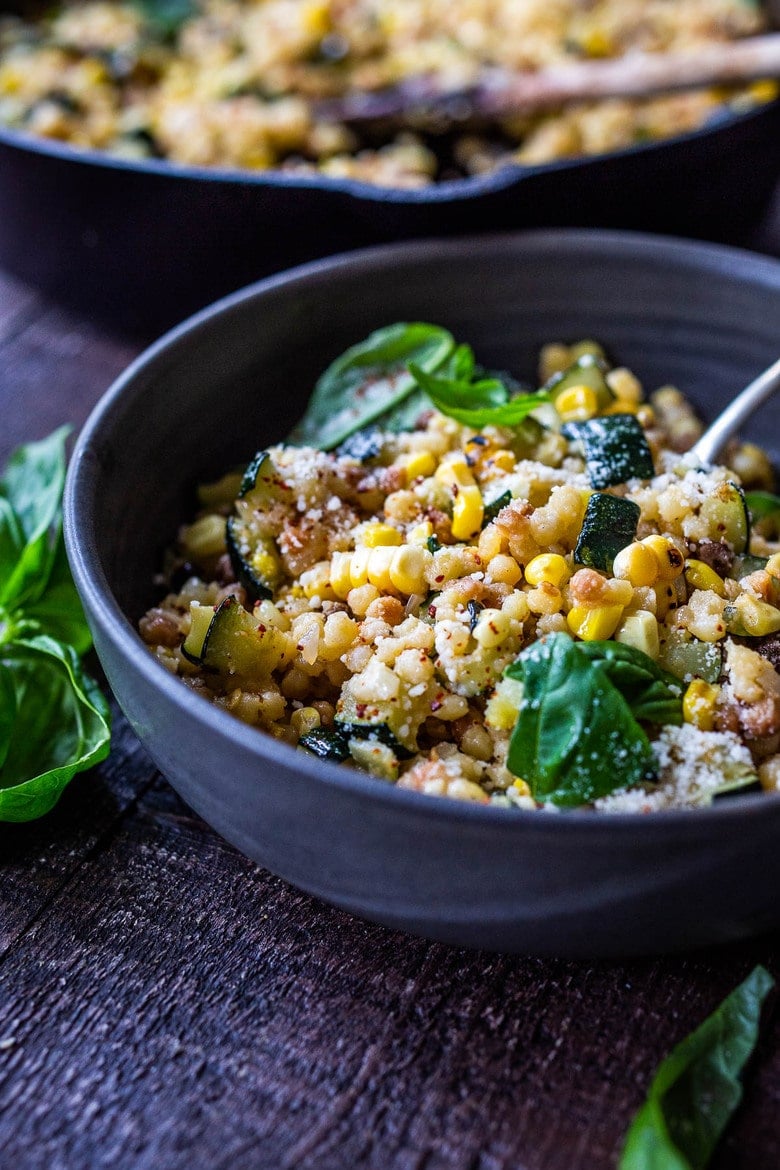 Fregola with Corn, Zucchini and Basil, sprinkled with pecorino. A fast and easy Italian-inspired meal that comes together in 30 minutes. Make this vegan with vegan parmesan! Substitute orzo pasta if you can't find fregola!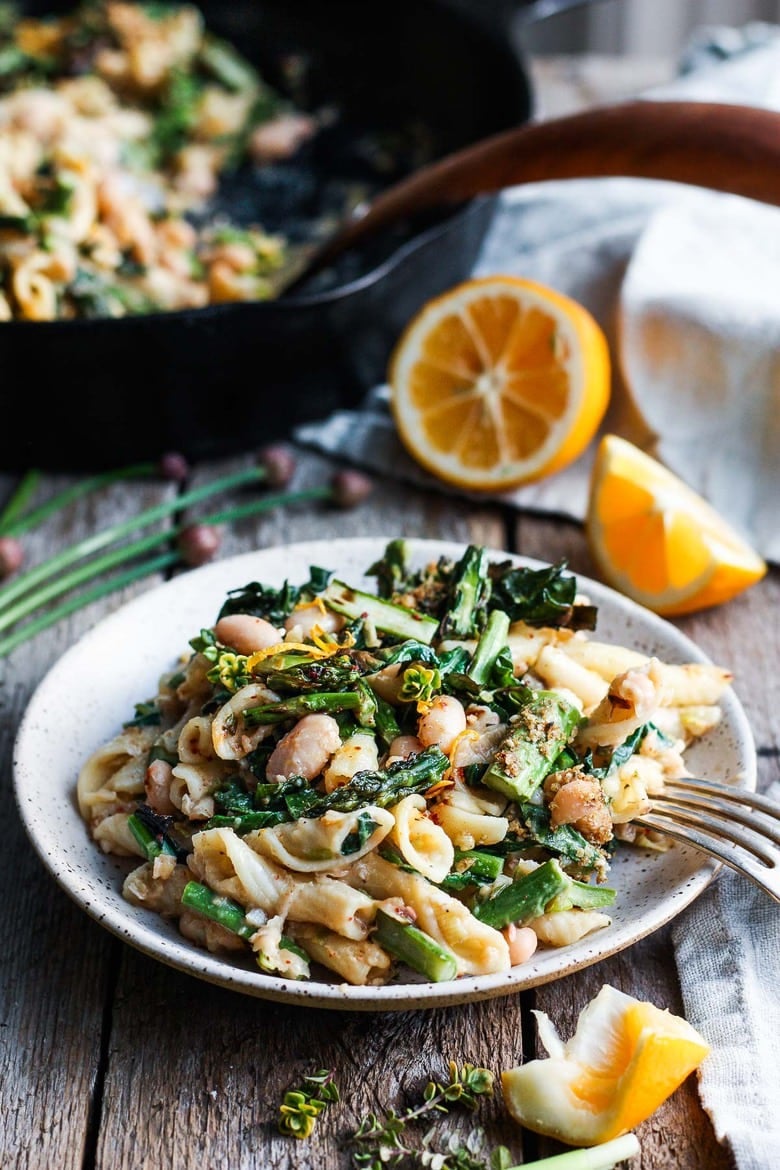 This asparagus pasta is much more than it seems! It's made with tender asparagus, charred kale, and a creamy Cannellini Bean Leek Sauce- giving the dish so much depth and flavor! This healthy, vegan asparagus pasta recipe comes together in less than 30 minutes!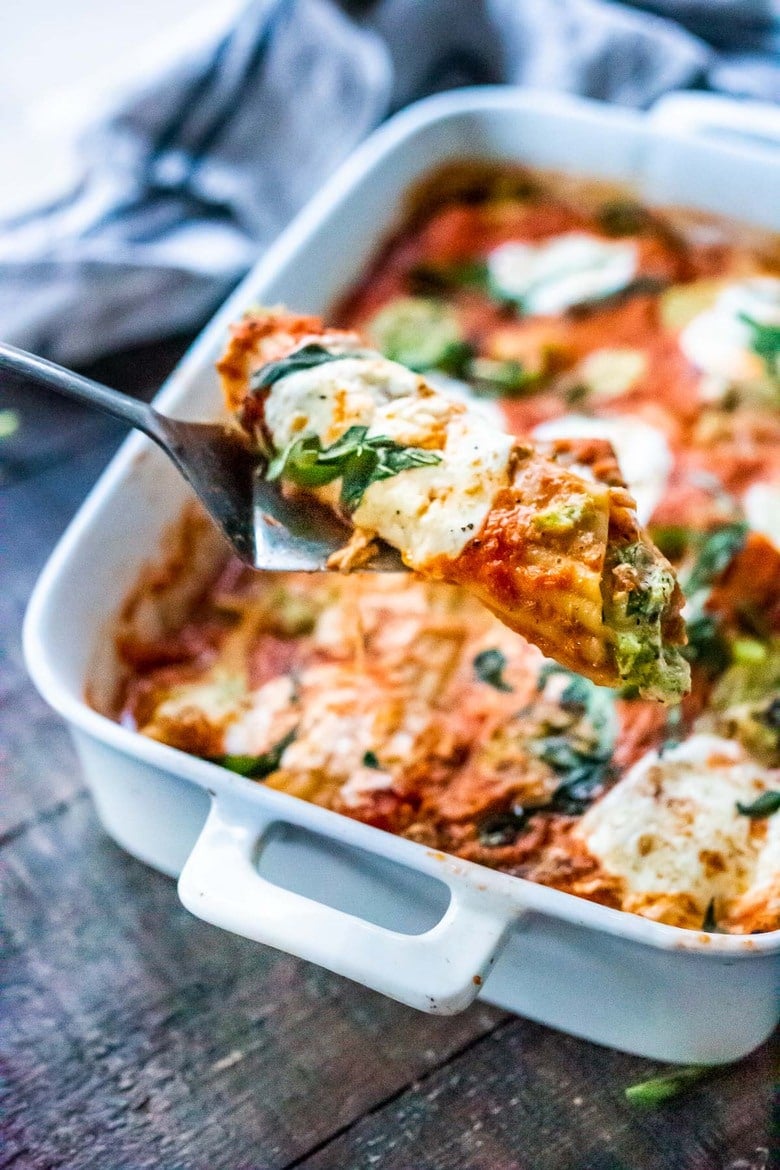 A cozy homemade vegetarian meal that can be made ahead! Perfect for weeknight dinners or the holiday table, this baked pasta dish is loaded up with healthy broccoli and made with "no boil" pasta for no fuss! You can even turn it into lasagna- with the same great taste!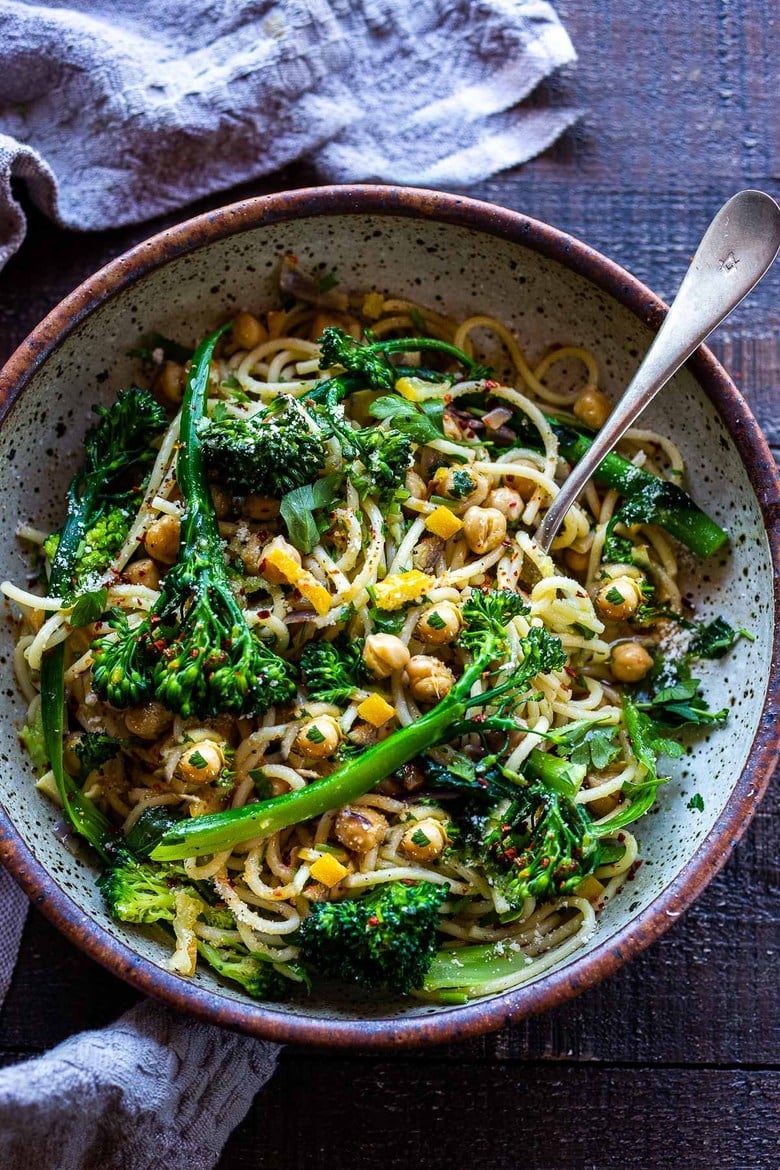 This simple Pasta with Broccolini, Preserved Lemon and Chickpeas is punchy and bright and full of amazing flavor and texture! Lemon juice and preserved lemon give a delicious brightness to the dish!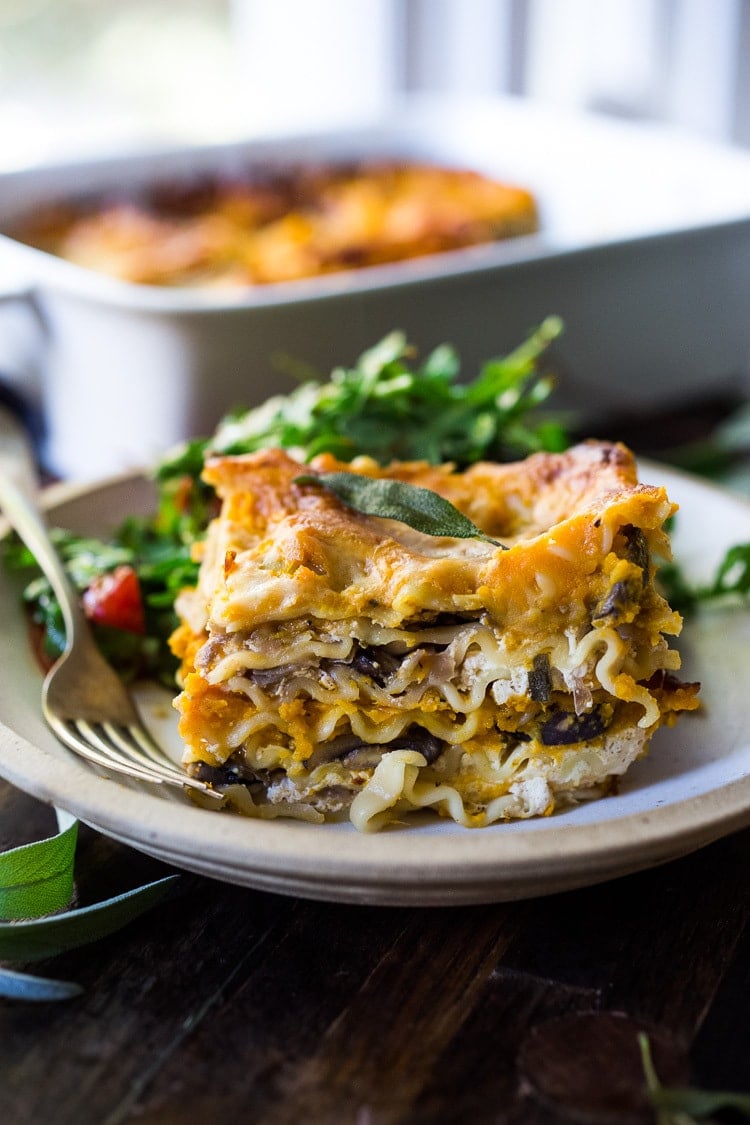 Butternut Squash Lasagna with Wild Mushrooms and Sage– a delicious vegetarian or vegan main dish, filled with healthy fall veggies. It's perfect for the holiday table or special gatherings.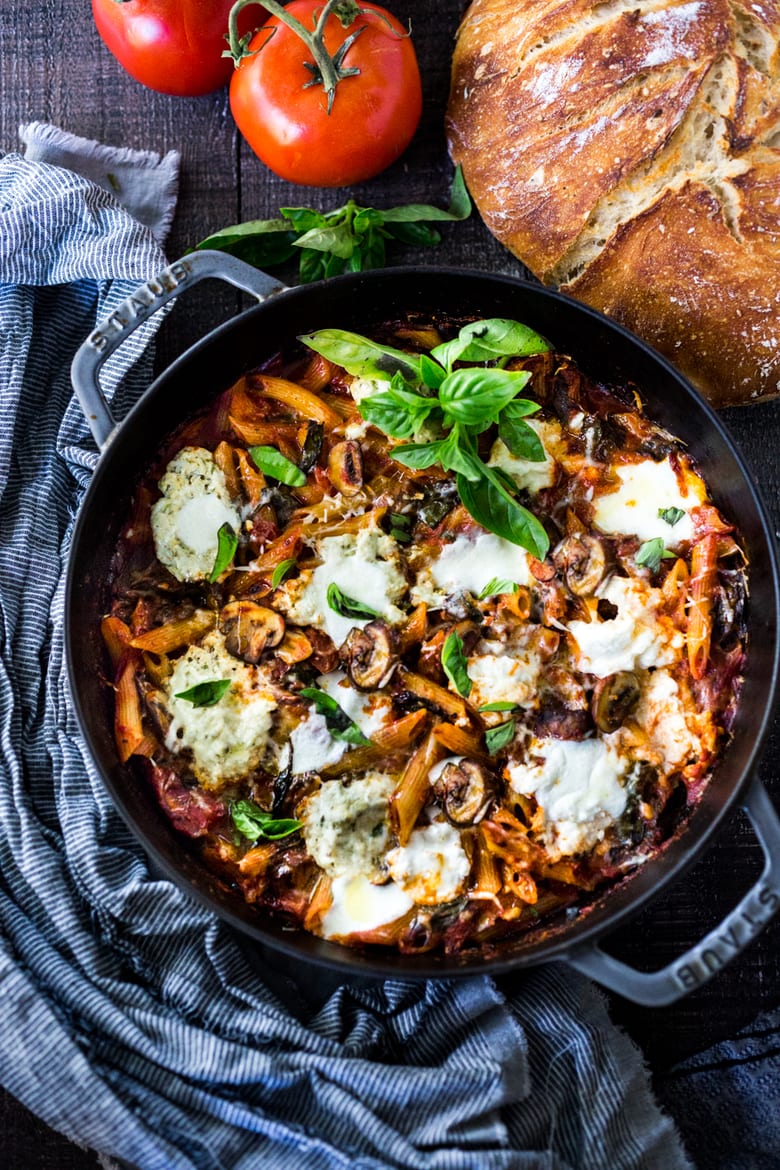 A simple, flavorful, no-boil pasta recipe, Baked Ziti with mushrooms, spinach and ricotta (or sub tofu ricotta) that can be made in one pan and requires no pre-boiling of pasta. Perfect for busy weeknight dinners! Use penne pasta, ziti, or whatever you have!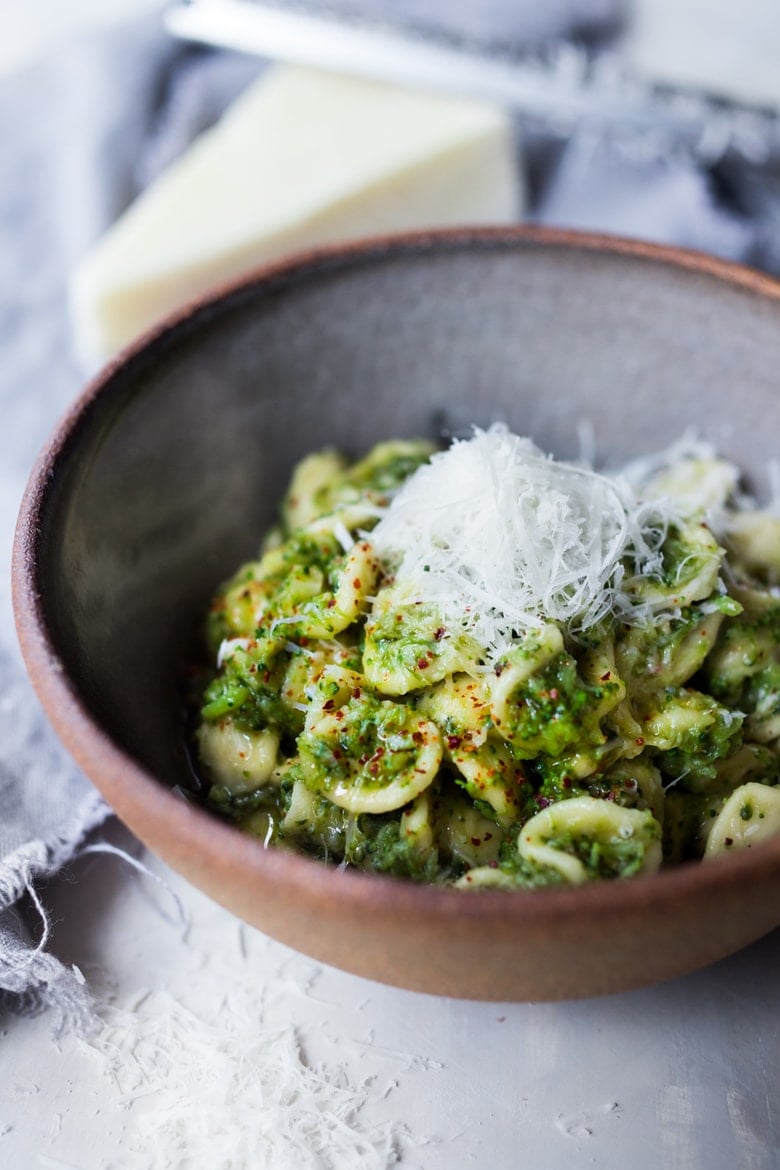 One of the most popular pasta recipes on the blog, this Orecchiette Pasta with Broccoli Sauce is loaded up with so much broccoli it literally melts down into a sauce. Originally from Tuscany, this hearty dinner is rich and satisfying.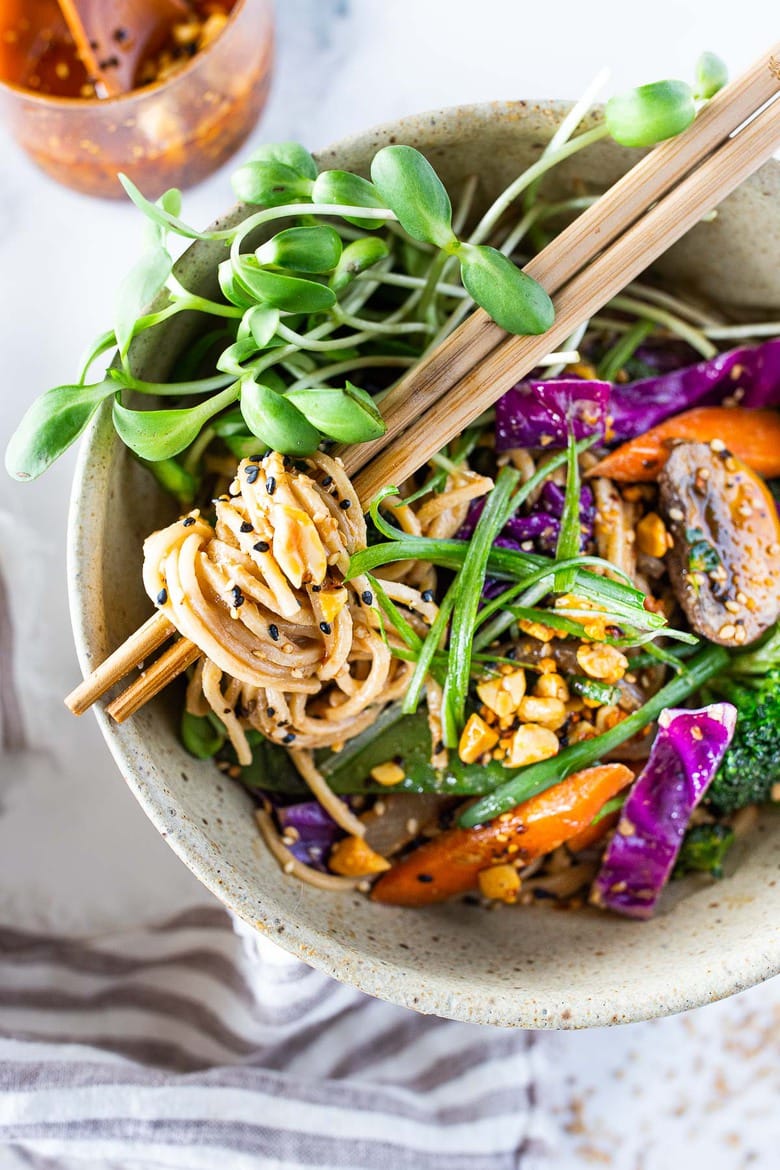 Flavorful Chinese Sesame Noodles, loaded up with healthy veggies and tossed in the most delicious, creamy, vegan Sesame Sauce! Make this pasta recipe in just 20 minutes flat! Keep it vegan or add chicken- up to you!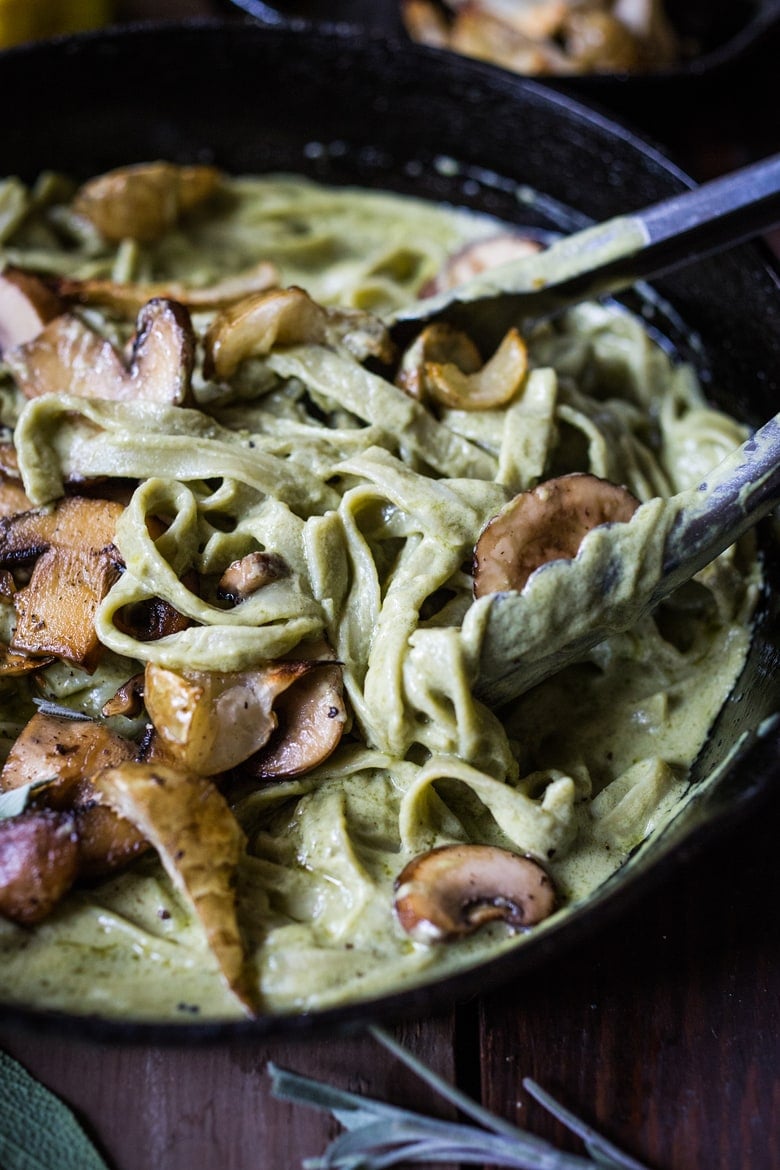 This pasta recipe is one of my favorites! Made with a creamy vegan artichoke heart sauce (use canned or frozen artichoke hearts) and mushrooms that can be made in 30 minutes! Delicious, healthy, nut-free, and totally vegan.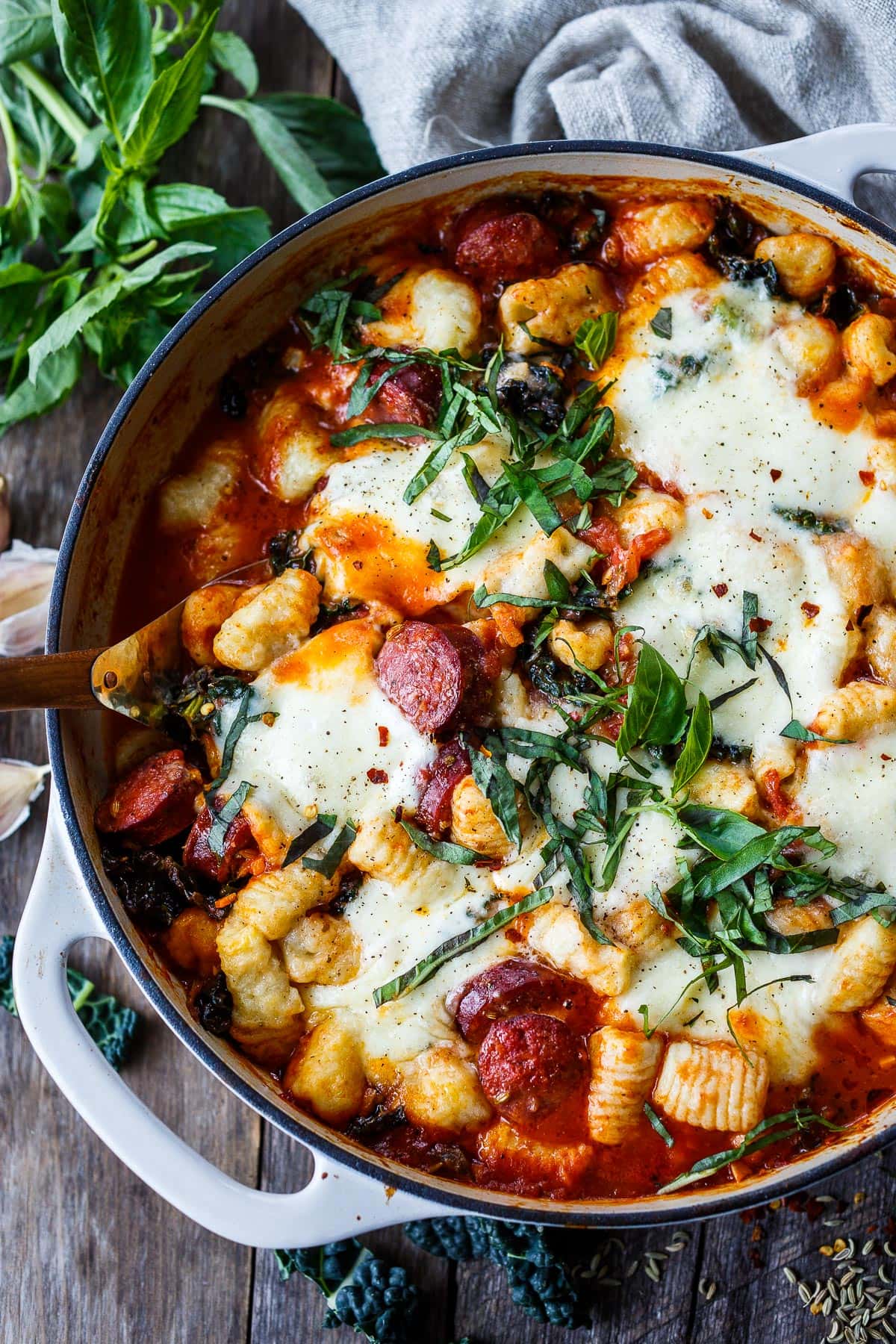 This Baked Gnocchi with tomato sauce, kale, Italian sausage (or vegan sausage) and melty mozzarella cheese is a cozy delicious one-pan meal that can be made in 30 minutes. Pure comfort food!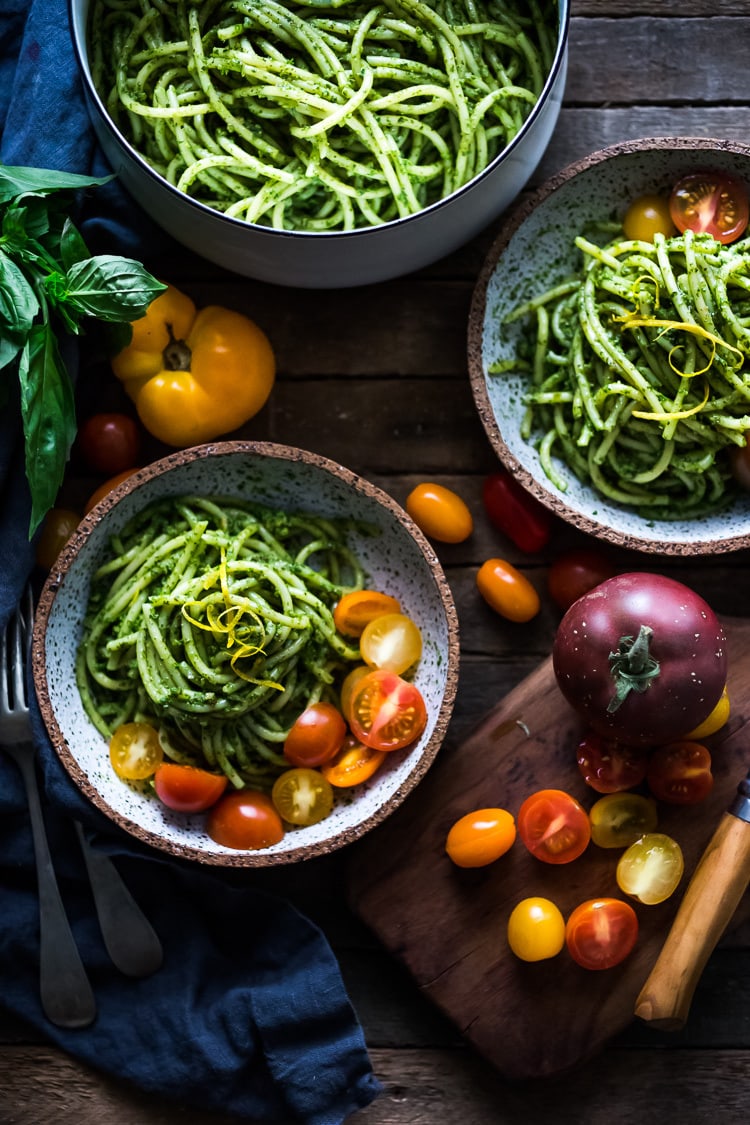 Hearty bucatini pasta is tossed in the most flavorful arugula-almond pesto (we use smoked almonds for the BEST flavor!) and topped with fresh summer tomatoes. Simple yet a total flavor bomb!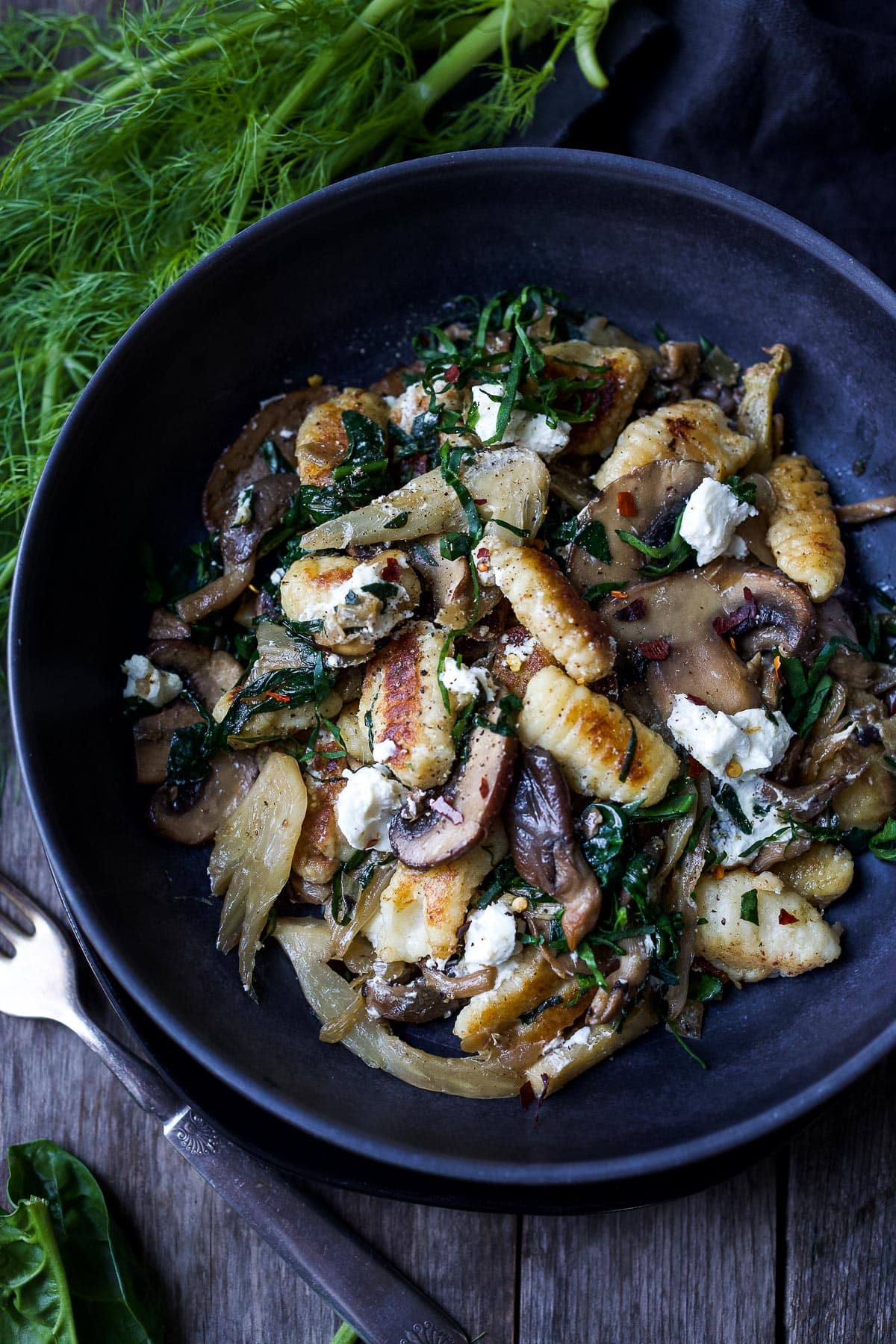 This gnocchi recipe is made with sautéed mushrooms and fennel, wilted spinach and pan-seared gnocchi, a quick easy vegetarian dinner! Use store-bought gnocchi or make your own!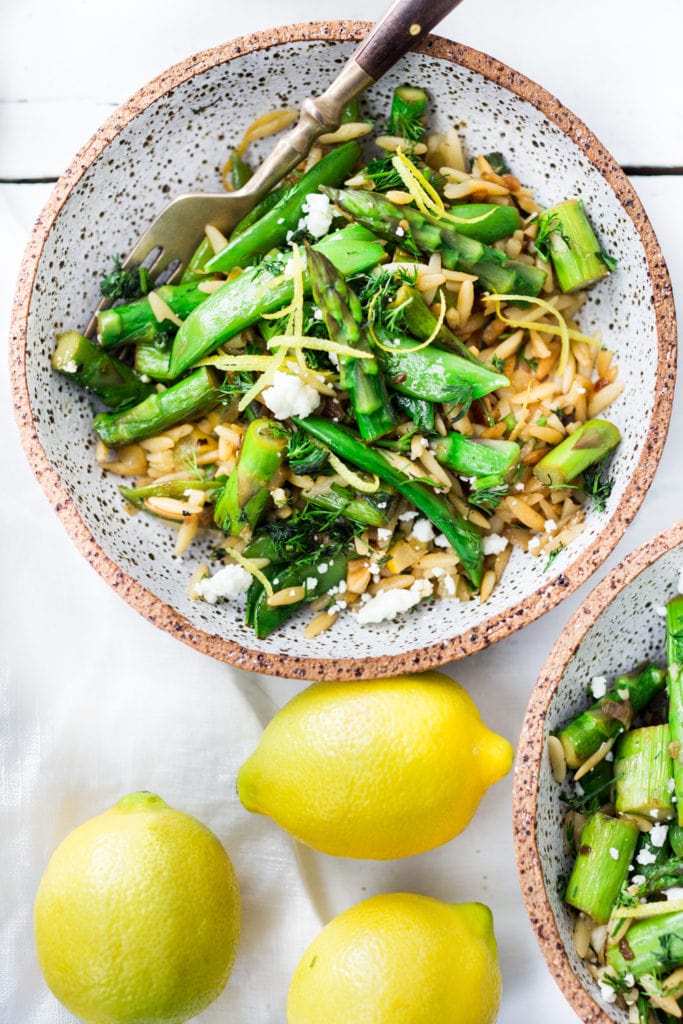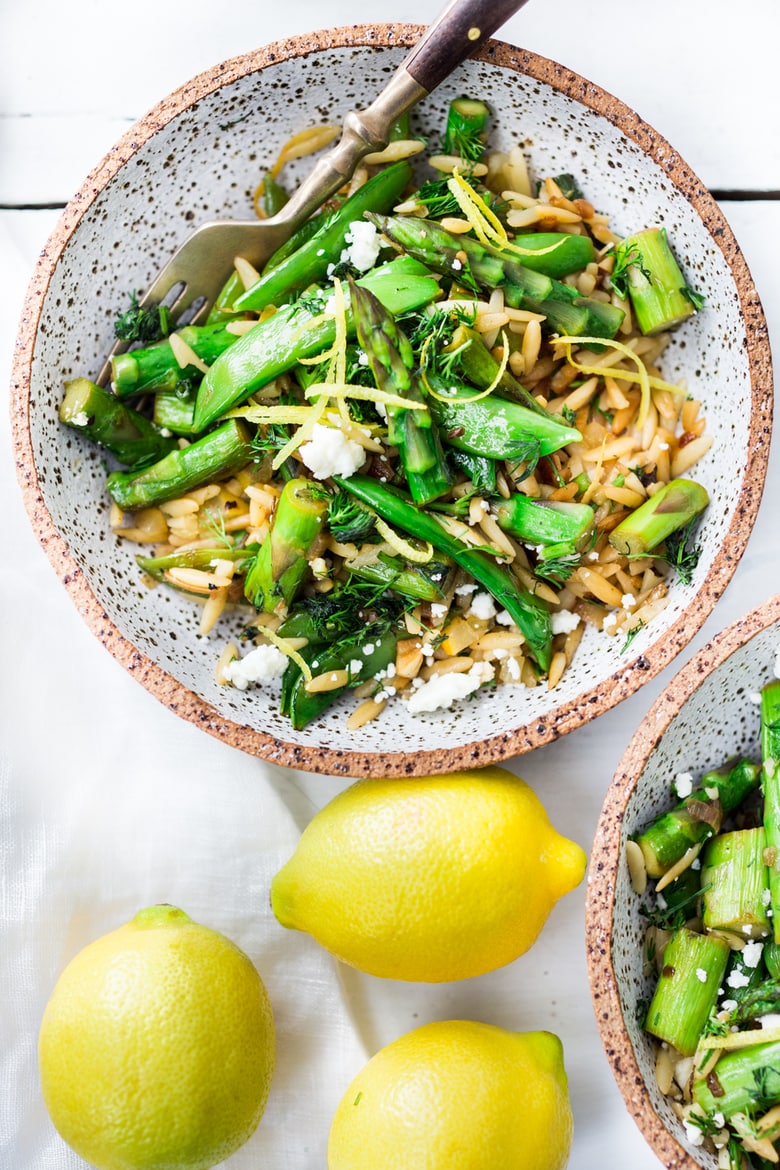 A light, vibrant pasta dish, perfect for spring or summer! Orzo Pasta with Asparagus can be served warm as a quick flavorful entree or chilled as a side salad. Keep it vegan or add feta!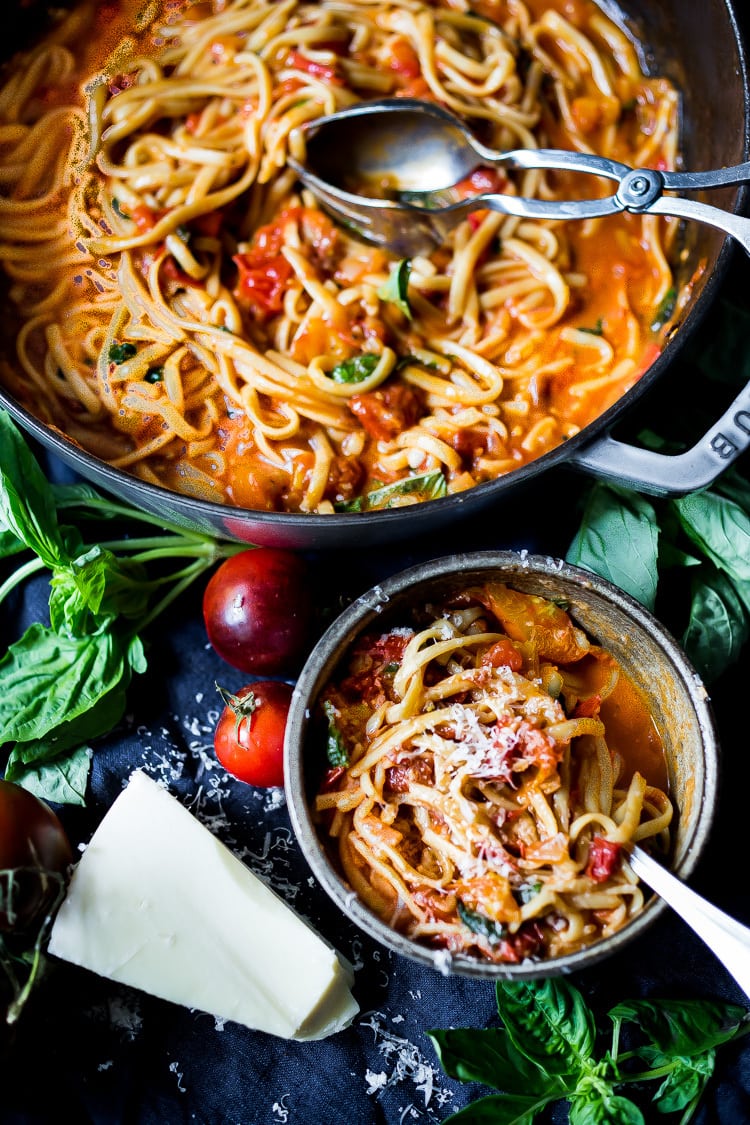 This scratch-made spaghetti with tomato sauce couldn't be easier, or any more delicious! It is one of my favorite pasta recipes ever- especially when tomatoes are ripe and juicy and in season. Add parmesan or keep it vegen with a drizzle of olive oil.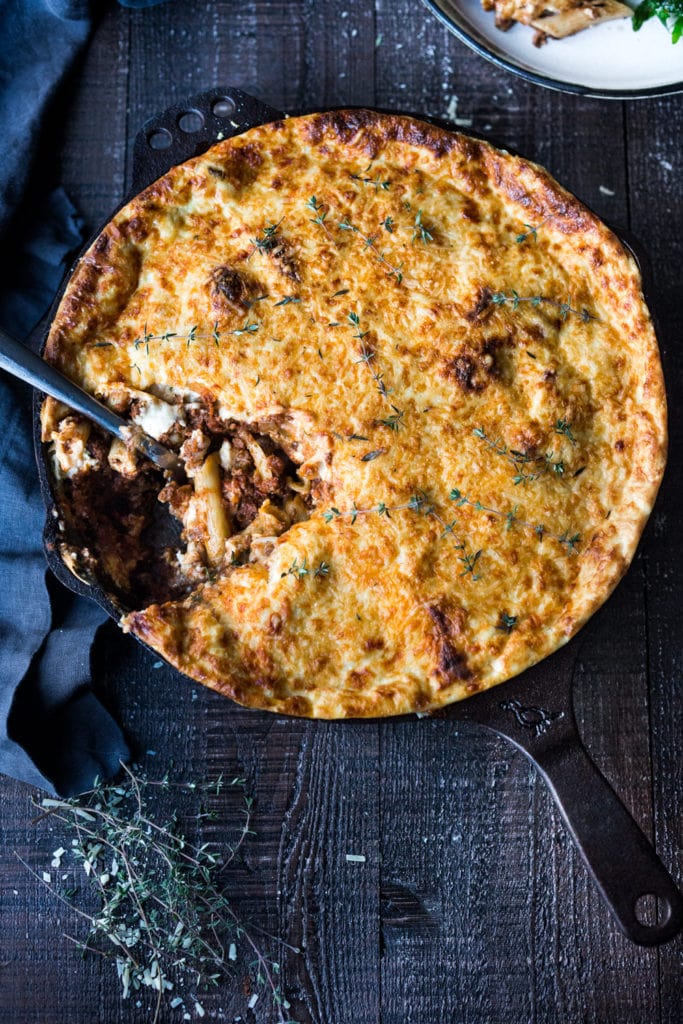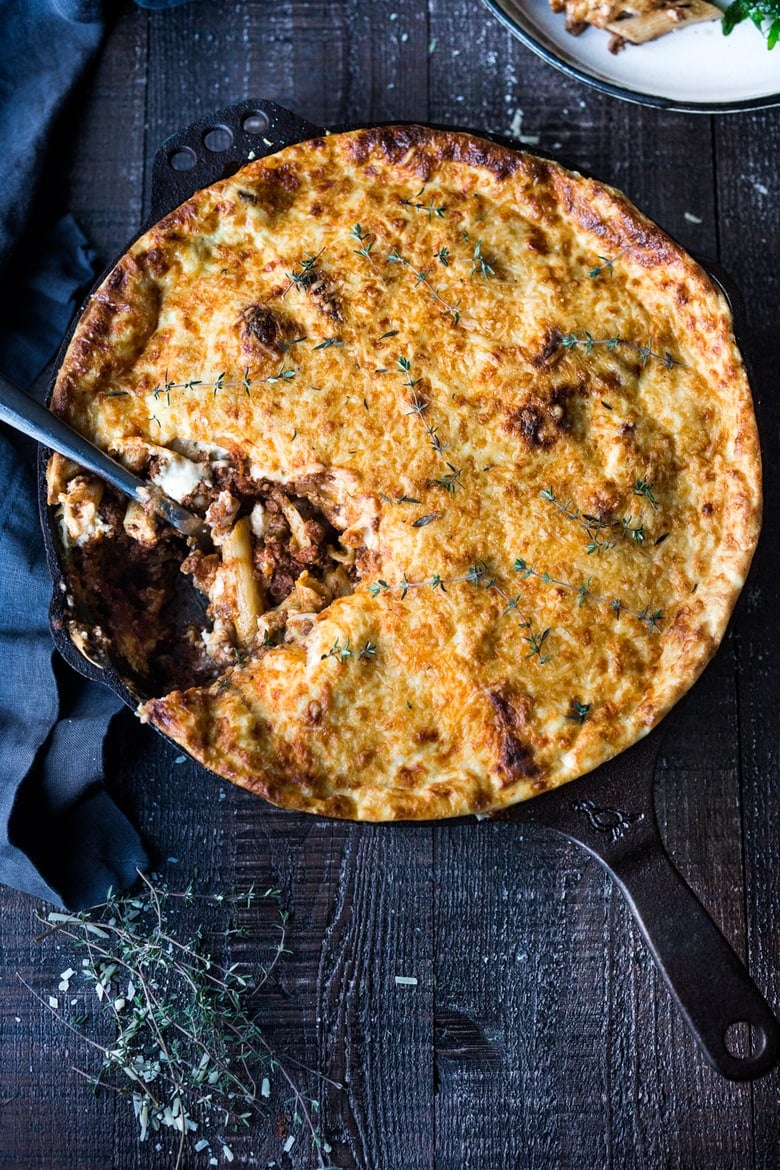 Pastitsio is a rich and robust baked pasta dish hailing from Greece made with a bolognese sauce made of ground lamb (or beef) infused with heavenly Greek spices and flavors. Perfect for entertaining!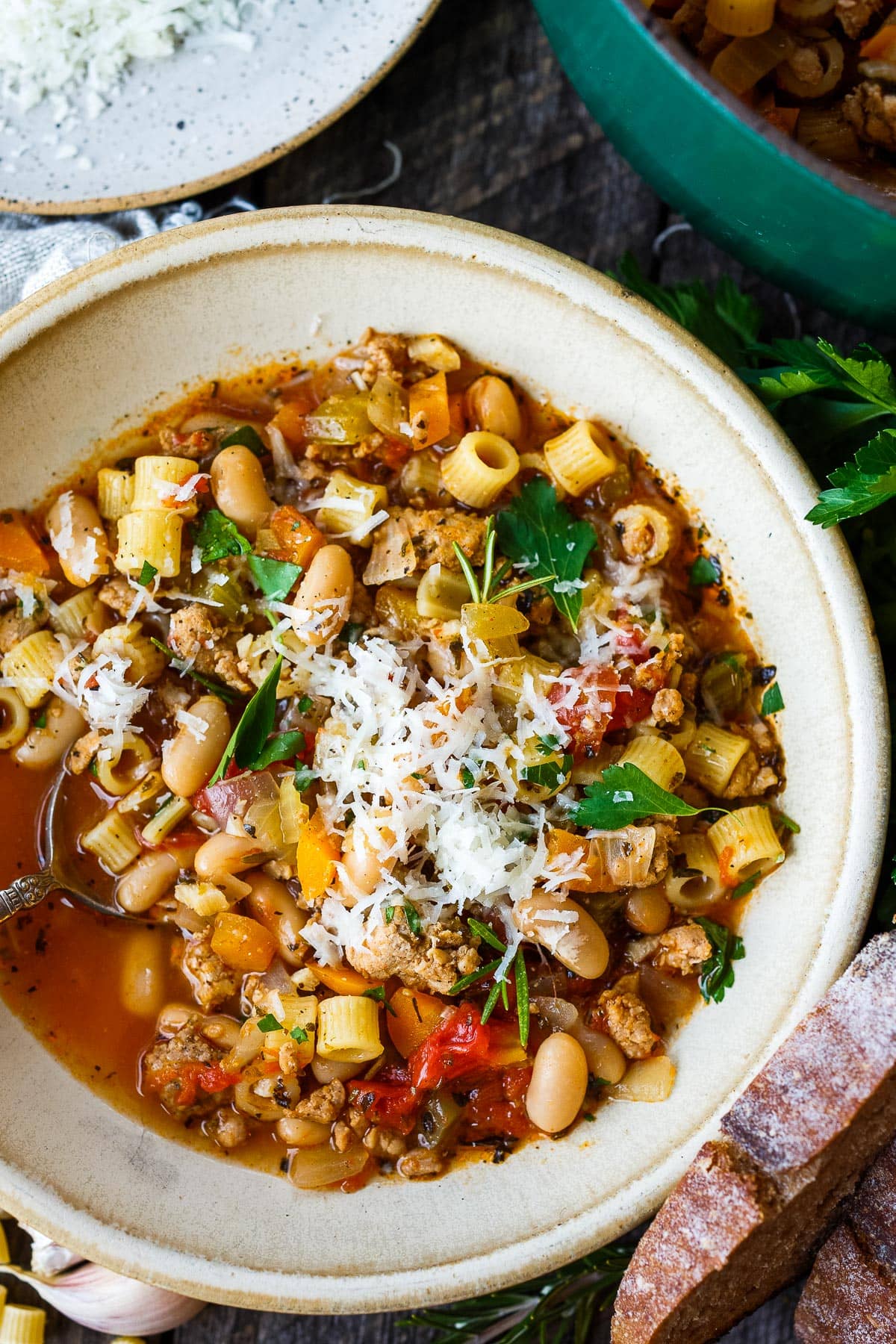 A hearty and adaptable recipe for Pasta Fagioli, a traditional Italian soup stocked with beans, meat and pasta in a flavorful herby tomato broth. A perfect one-pot meal!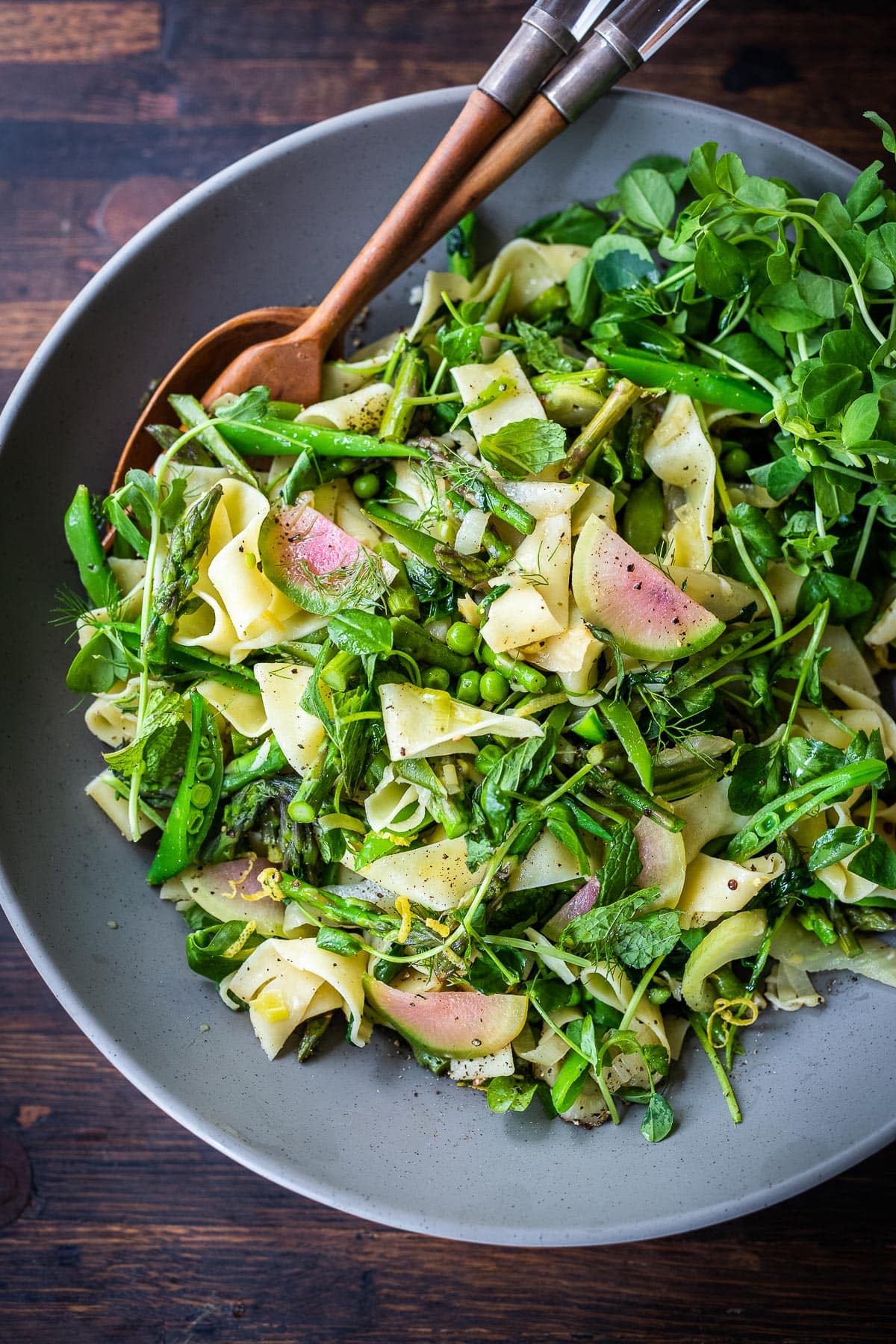 This spring pasta dish is light, bright and lovely- made with your choice of pasta and spring veggies ( asparagus, peas, broccoli, green beans, snow peas, etc.) and lemon zest, and topped with with spring herbs- dill, parsley, mint or tarragon.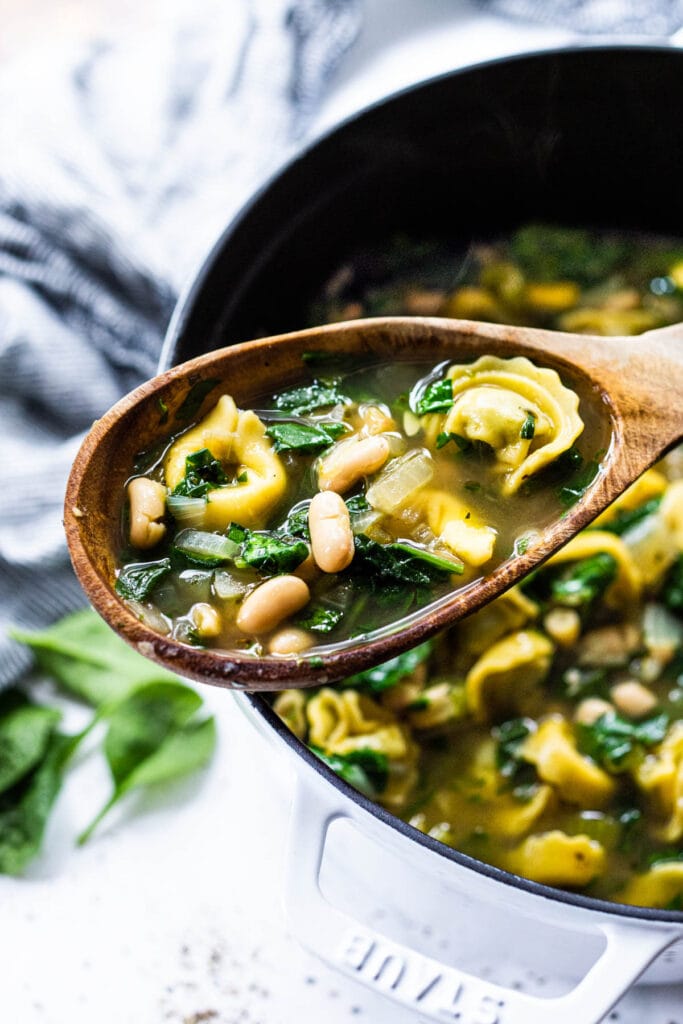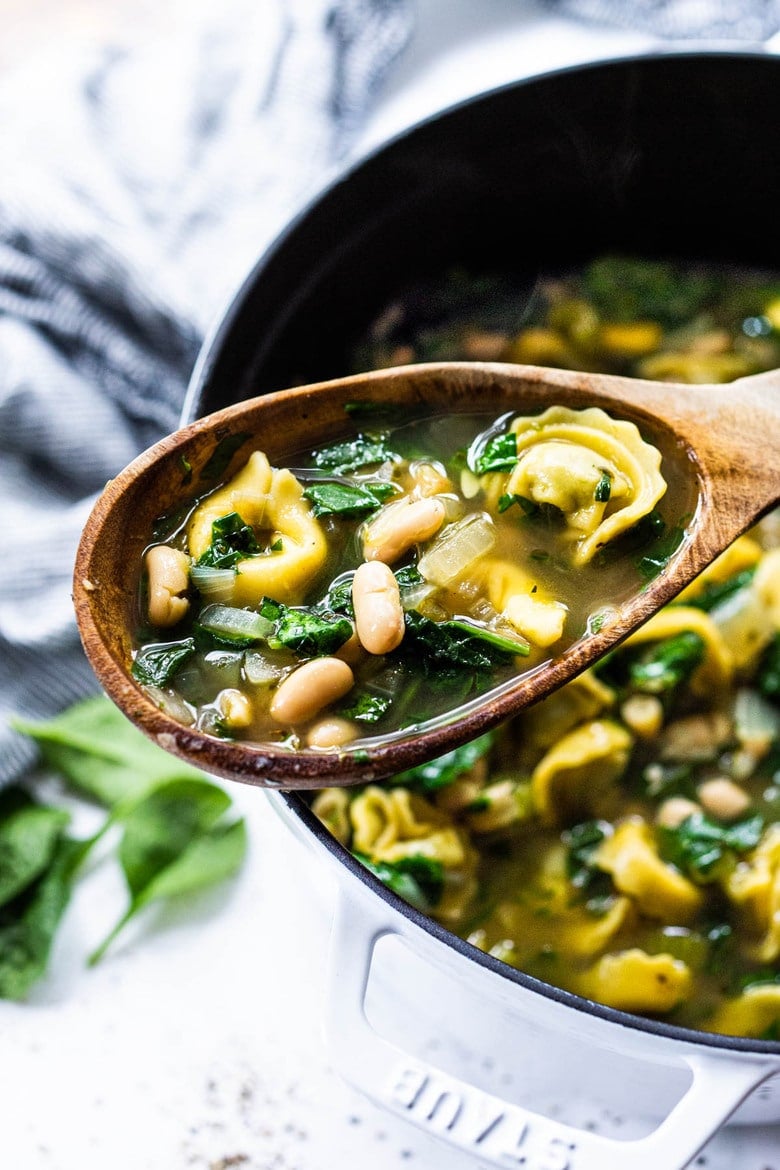 Tortellini Soup
This Tortellini soup is made with spinach, basil and white beans, a mouthwatering vegetarian one-pot meal that can be made in 25 minutes!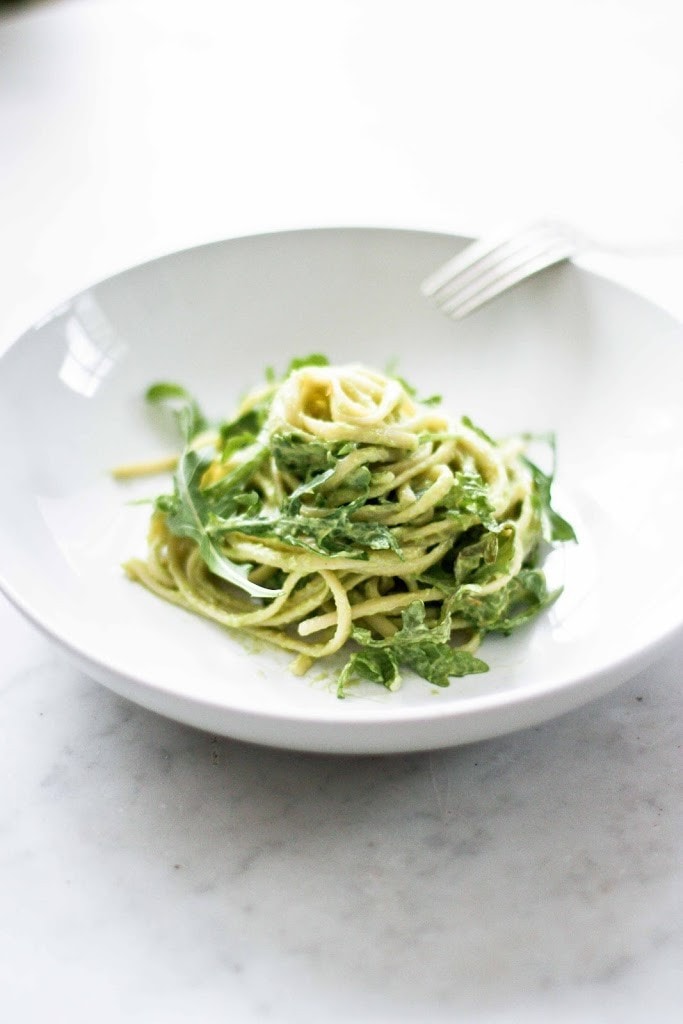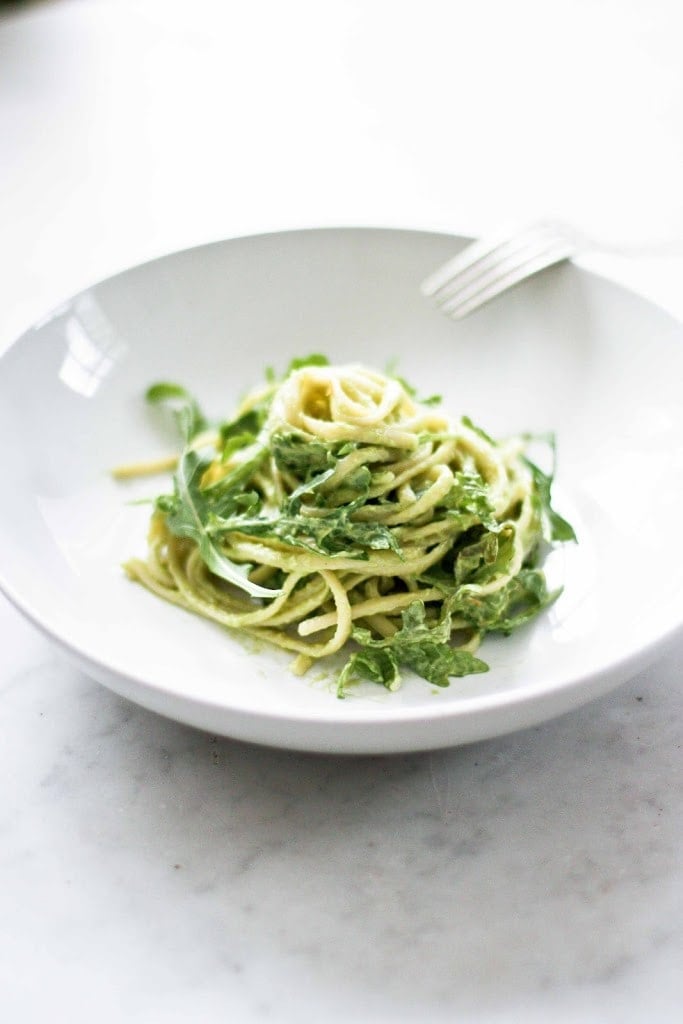 This Creamy Linguini is made with the most flavorful Meyer lemon and avocado sauce, then tossed with arugula! A tasty vegan lunch or light main.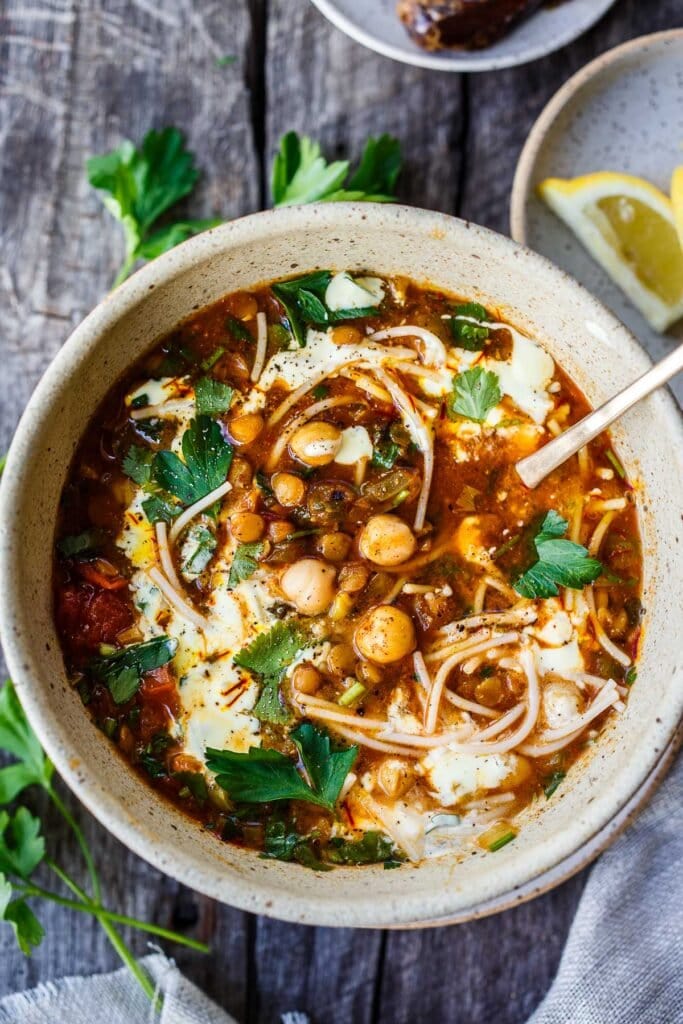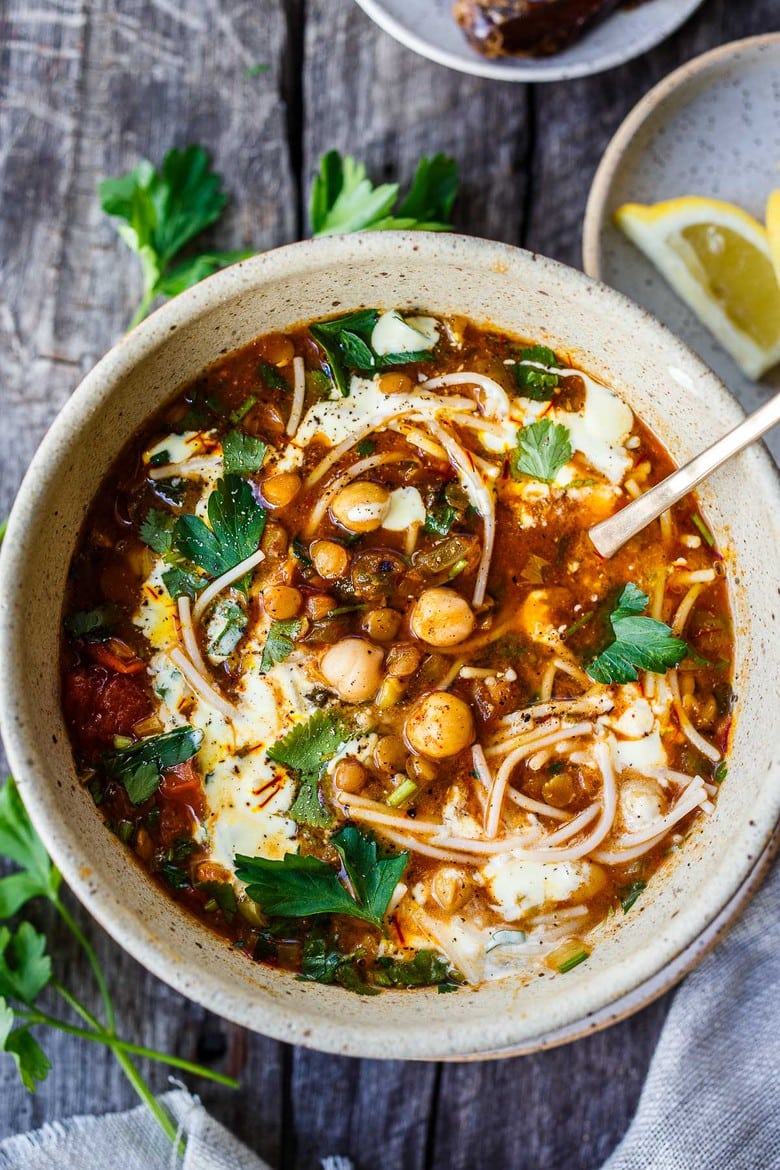 A delicious recipe for Harira-a Moroccan Lentil, Chickpea and Pasta Soup, full of protein and nutrients infused with warming Moroccan spices. Vegan.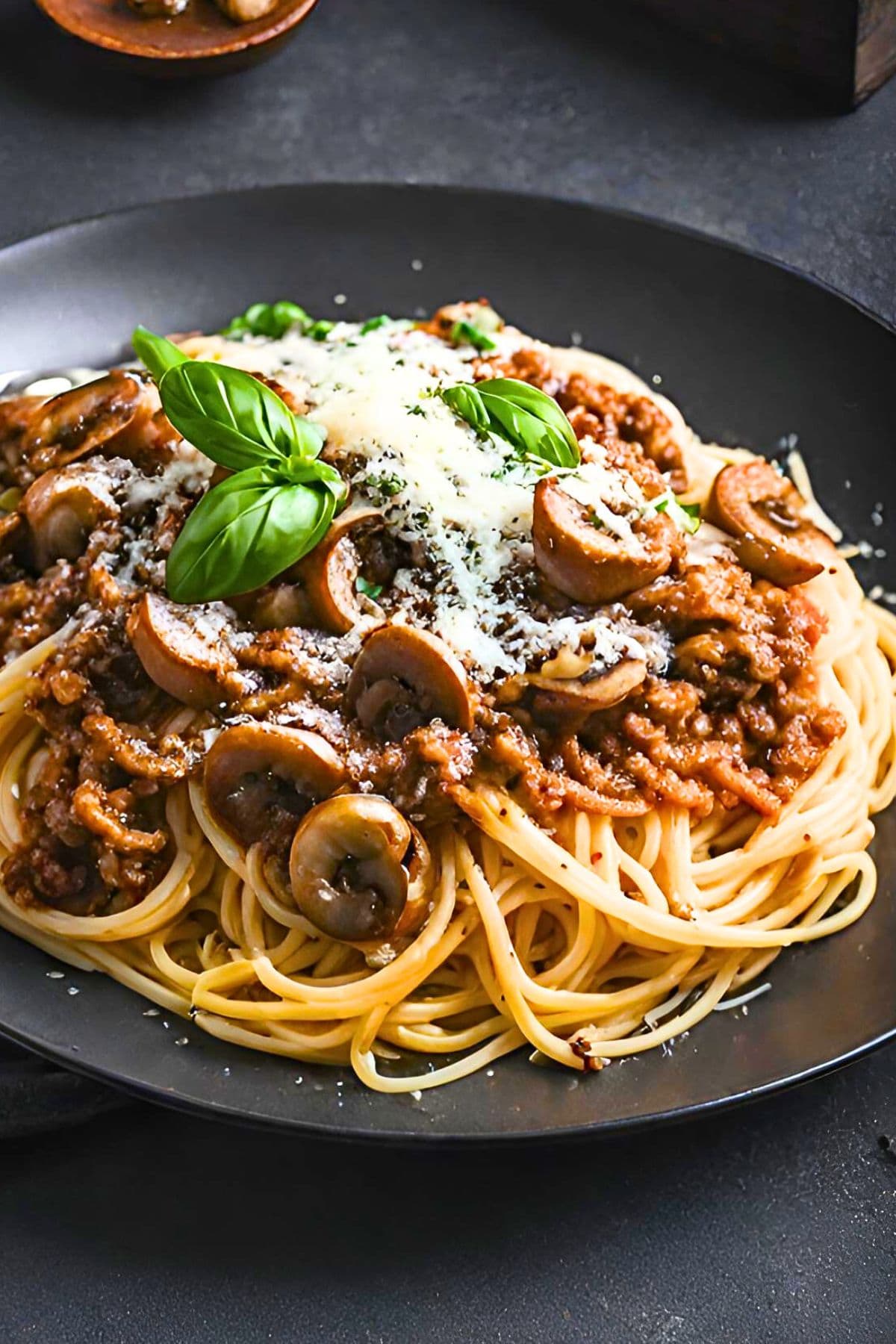 This Slow Cooker Bolognese is made lighter with ground turkey and mushrooms for a little extra depth- a simple easy meal with lots of umami flavor.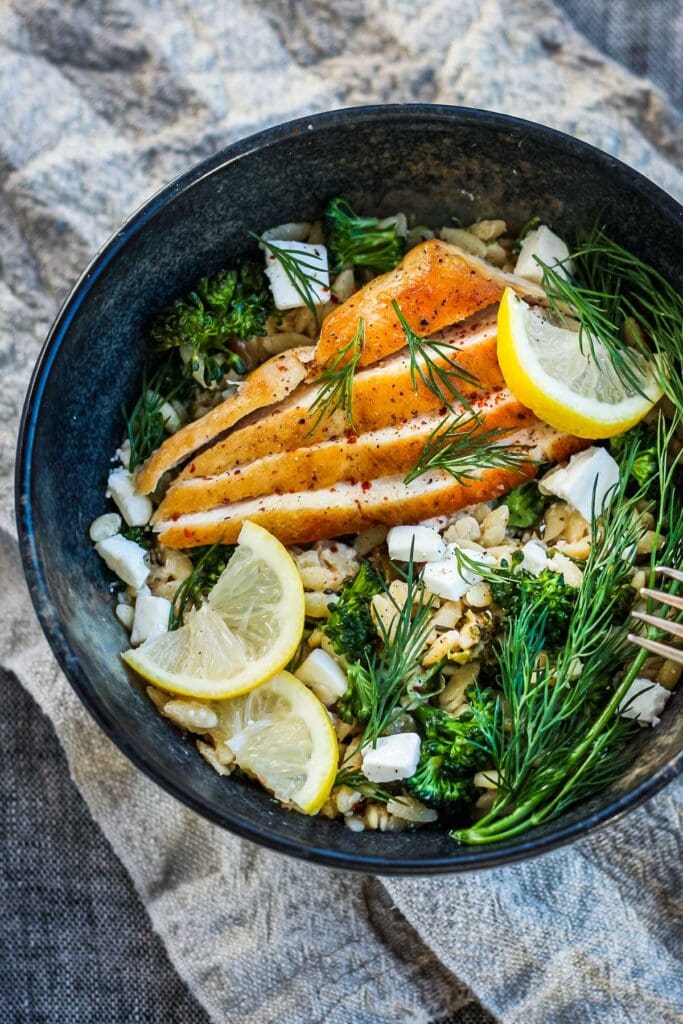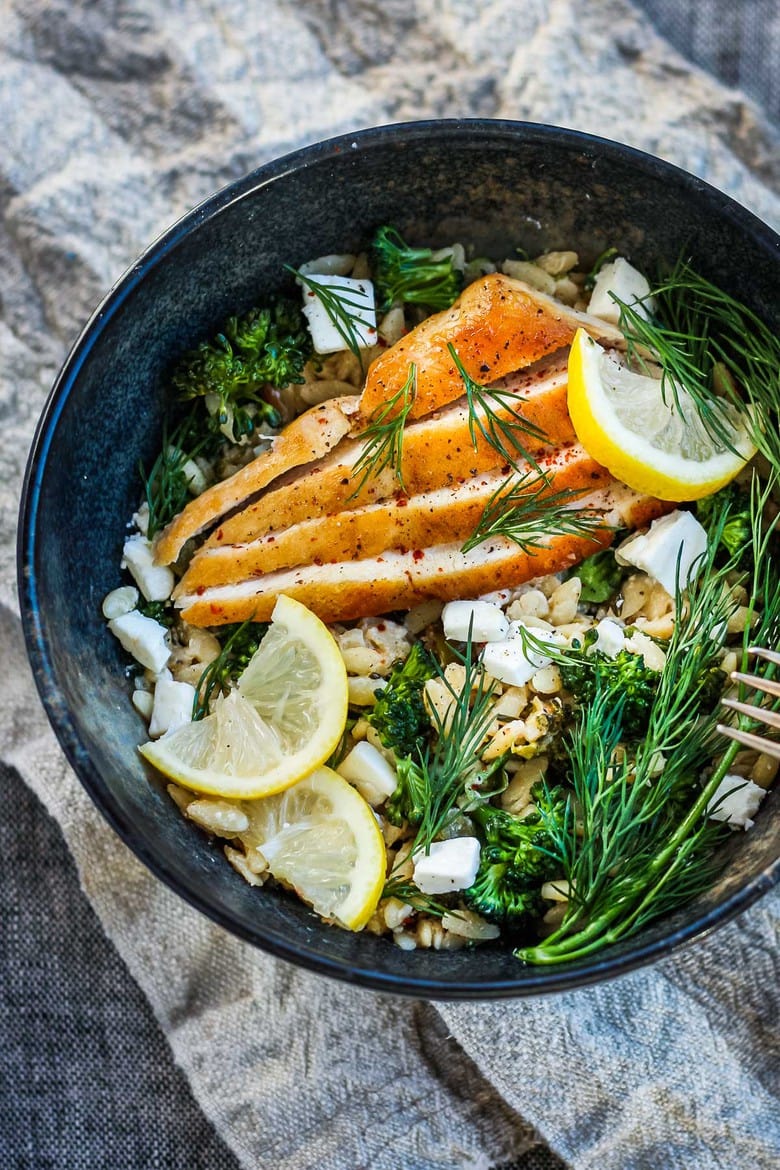 This healthy, easy, Broccoli Chicken Orzo Bake with lemon feta and dill is made in one pan and baked! It's comforting, loaded with broccoli and super simple to make!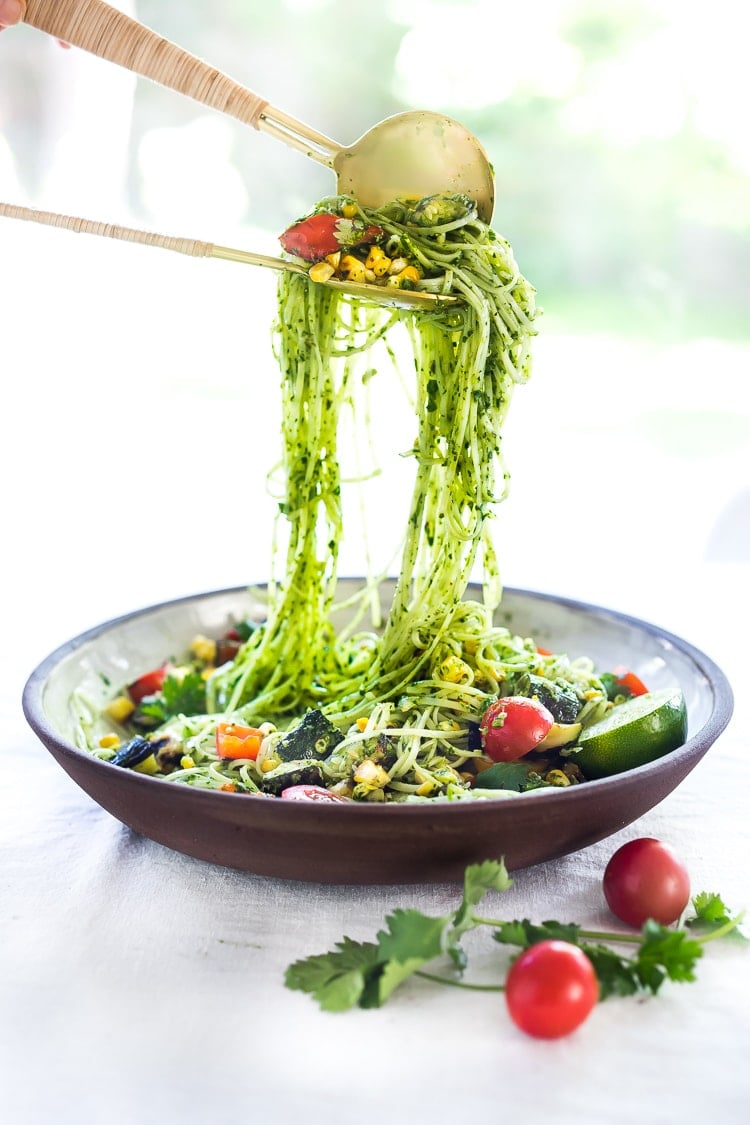 This summer pasta salad recipe is made with gluten-free rice noodles and loaded up with healthy summer veggies, then tossed in the most flavorful Cilantro Pesto…. deliciously addicting! Vegan and Gluten-free!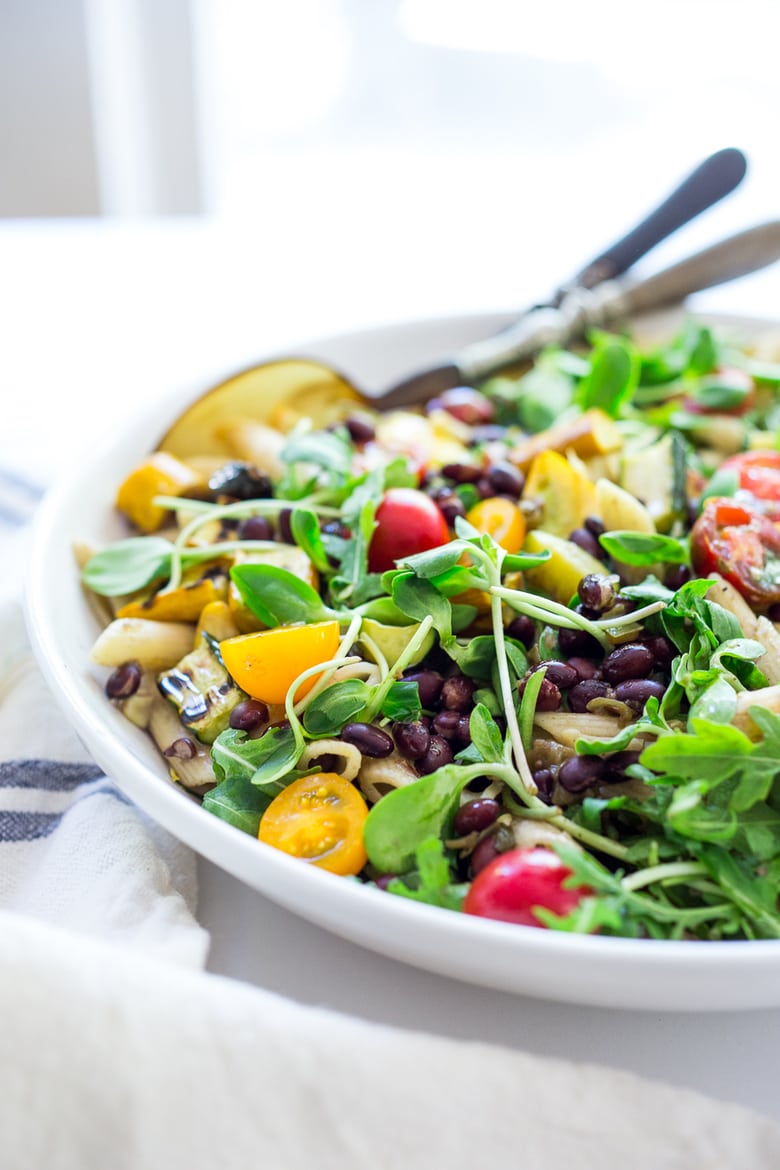 A vegan pasta recipe with zucchini, corn, black beans, and cherry tomatoes! Keep it vegan or add feta cheese. Serve this warm for dinner and save the rest for weekday lunches!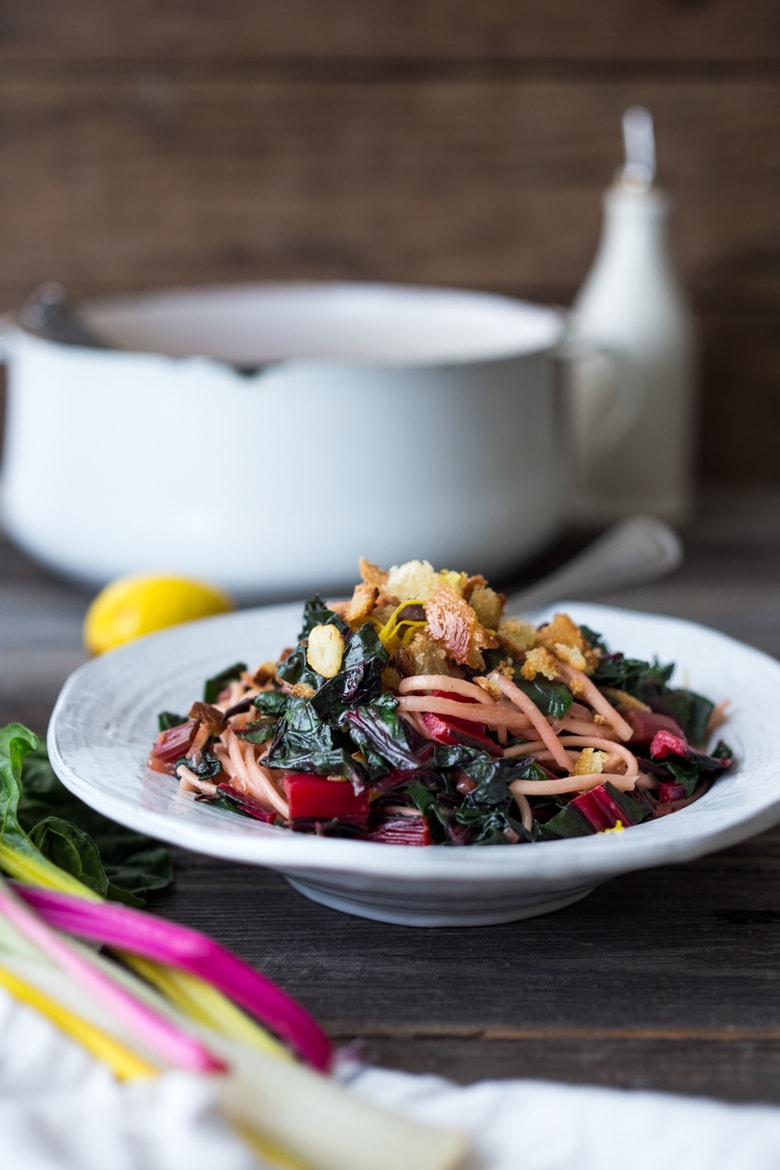 This pasta dish is loaded up with fresh chard and lots of garlic. Keep it vegan or add parmesan cheese. Lemon gives it a delicious brightness. A quick, light and healthy vegan pasta recipe that can be made in 20 minutes! We also have this Garlicy Cruciferous Pasta Recipe– different but similar!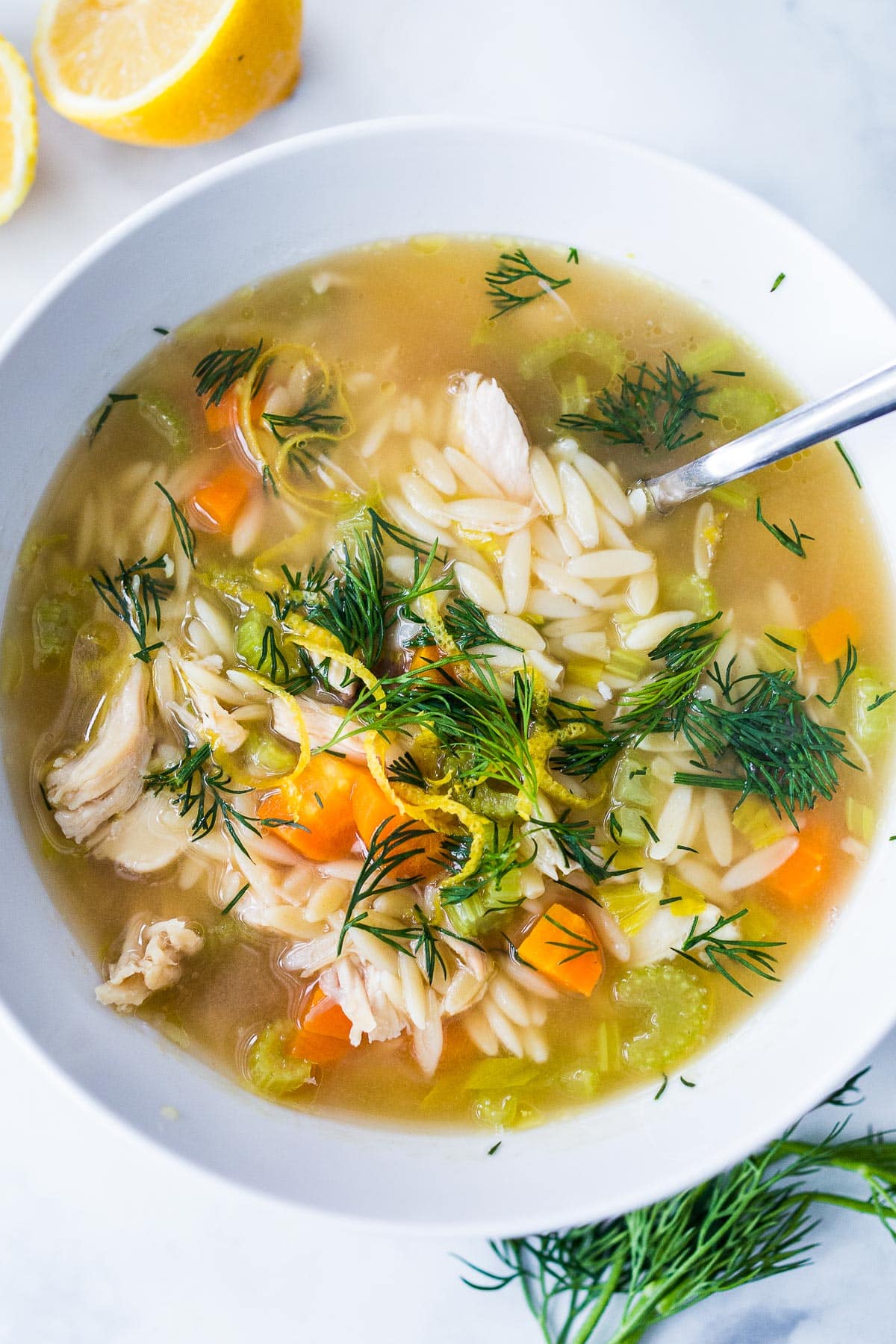 This Lemon Chicken Orzo Soup is enhanced with coriander and dill. Bright and springy, this soup is tangy, light and delicious!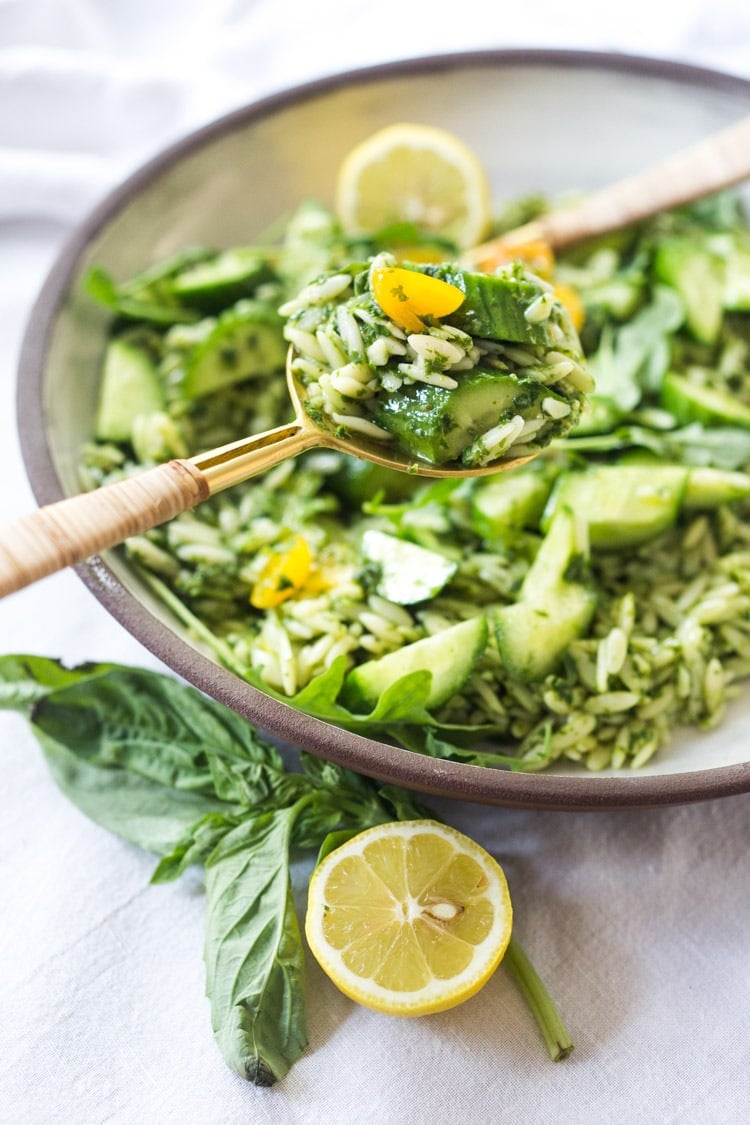 Made with orzo pasta, cucumbers, tomatoes and arugula- a healthy, vegan orzo pasta salad recipe that can be made ahead for midweek lunches or potlucks. Keep it vegan or add feta!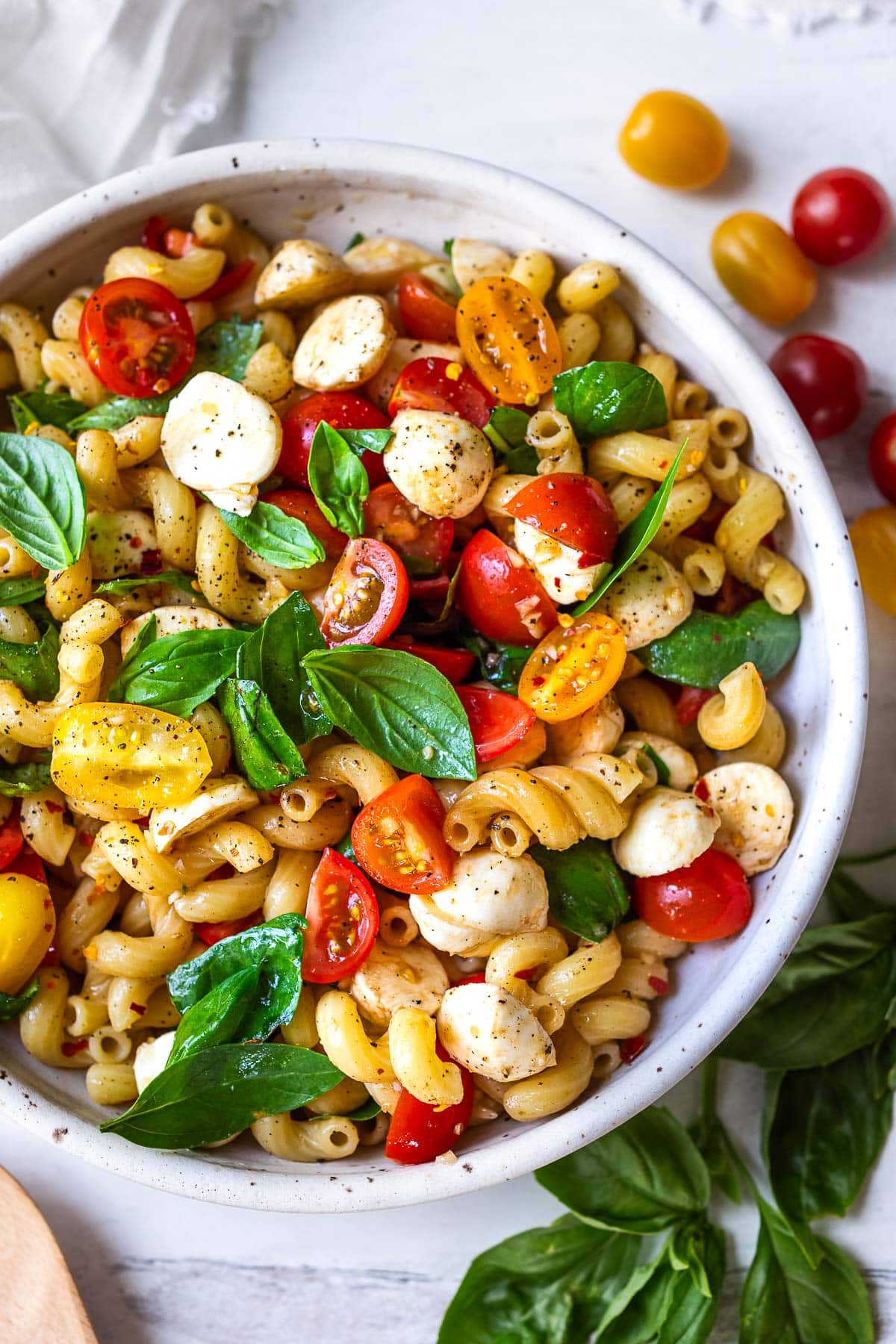 An easy-to-make summertime favorite, Caprese Pasta Salad is always a hit! Simple ingredients, quick to make, and oh-so-good!
Pasta Faqs
Q: What is the best type of pasta to use in pasta recipes?
A: The best type of pasta to use in pasta recipes depends on personal preference and the specific dish being prepared. Some popular options include spaghetti, penne, fettuccine, and rigatoni. Different shapes and sizes work better with different sauces and ingredients, so it's always a good idea to match the pasta shape to the recipe.
Q: Can I make pasta recipes healthier?
A: Yes, you can make pasta recipes healthier by using whole wheat pasta or alternative grain-based pasta (chickpea pasta, lentil pasta), incorporating plenty of vegetables, reducing or omitting high-fat ingredients like cheese or cream, and using lean sources of protein such as chicken or seafood. You can also experiment with different types of sauces, such as light tomato-based sauces or pesto made with herbs and nuts.
Q: Can I make pasta recipes vegan?
A: Absolutely! There are many ways to make pasta recipes vegan. Use nuts, or plant-based milk or cream alternatives, such as almond milk or coconut milk, in place of dairy products. Substitute cheese with nutritional yeast or vegan cheese alternatives. Replace meat with tofu, tempeh, seitan, or legumes. And don't forget to load up on plenty of colorful vegetables for added flavor and nutrients.
Q: How do I prevent pasta from sticking together?
A: To prevent pasta from sticking together, make sure you are using a large pot of well-salted boiling water. Stir the pasta immediately after adding it to the water and continue stirring occasionally during the cooking process. Cook the pasta until it is al dente, then drain it immediately and toss it with a little bit of olive oil to prevent sticking.
Q: Can I make pasta recipes ahead of time?
A: Yes, many pasta recipes can be made ahead of time. You can cook the pasta in advance and store it in the refrigerator for a day or two, then reheat it before serving. However, be aware that some sauces and ingredients may lose their texture or flavor when stored for too long. It's best to add any delicate ingredients, such as fresh herbs or cheese, just before serving to maintain their freshness.
Q: What are the most popular pasta dishes in the US? A: Spaghetti and meatballs, Macaroni and cheese, Spaghetti Bolognese, Lasagna, Ravioli, Fettuccini Alfredo, Pasta Carbonara and Pasta alla Norma.
Enjoy the pasta recipes! Save a few of your favorites to your recipe box!
xo
Print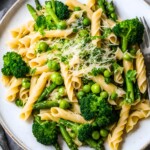 40 Best Pasta Recipes: Broccoli Pasta
Prep Time:

5

Cook Time:

20

Total Time:

25 minutes

Yield:

4

1

x

Category:

pasta, vegetarian

Method:

stovetop

Cuisine:

American

Diet:

Vegan
---
Description
40 Best Pasta Recipes that are all veggie-loaded. Easy, healthy and delicious, these pasta dishes are vegetarian, vegan or vegan-adaptable: Broccoli Pasta Recipe.
---
8

ounces

pasta: penne, spaghetti or bucatini

12

ounces

broccoli florets

1

cup

peas (optional)

1/2

–

1

teaspoon fresh ground black peppercorns, more to taste

1/2

cup

shredded pecorino romano, more for serving
Optional additions: Veggies (add to pasta water at the end and blanch for a few minutes: broccoli, asparagus, snow peas, English peas, fava beans, edamame, etc.) Or sauteed mushrooms,  or  roasted veggies (like asparagus, butternut or cauliflower)  or grilled veggies.  Or toss in spinach, arugula or kale at the end of cooking. Sometimes,  a little lemon zest is nice too. 😉
---
Instructions
Cook Pasta in 8 cups of water with 1 teaspoon of salt– according to package directions. Drain, reserving 2 cups of the hot pasta water.
Steam the broccoli until fork tender, and during the last minute add the peas. Drain and set aside.
Heat a large skillet over medium heat. Toast fresh crushed peppercorn, in the dry skillet for 1 minute, or until fragrant. Add 1/2 cup pasta water, simmer on low for 2 minutes.
Add the cooked pasta to the "pepper water" in the skillet, over medium-low heat, stirring.  Add more pasta water so it gets it a little saucy if needed. Stir in the veggies and pecorino cheese adding more hot pasta water to get a creamy consistency.
Taste for salt and pepper, adjust to taste. Add more pasta water, cheese or pepper if you like.
To serve, divide, sprinkle each portion with more pecorino, lemon zest, chili flakes, parsley and hearty drizzle of olive oil.
---
Nutrition
Serving Size:

1 cup

Calories:

395

Sugar:

4.7 g

Sodium:

2015.3 mg

Fat:

12.1 g

Saturated Fat:

3.6 g

Carbohydrates:

53.2 g

Fiber:

5.6 g

Protein:

16.1 g

Cholesterol:

14.8 mg
Keywords: broccoli pasta, pasta recipes, best pasta recipes, pasta ideas, healthy pasta ideas, vegetarian pasta recipes, vegan pasta recipes, healthy pasta recipes, best vegetarian pasta