This creamy Pea Pasta is lathered up in the most delicious, luscious sauce made with fresh (or frozen) English peas and mint without a lick of dairy! Vegan and delicious!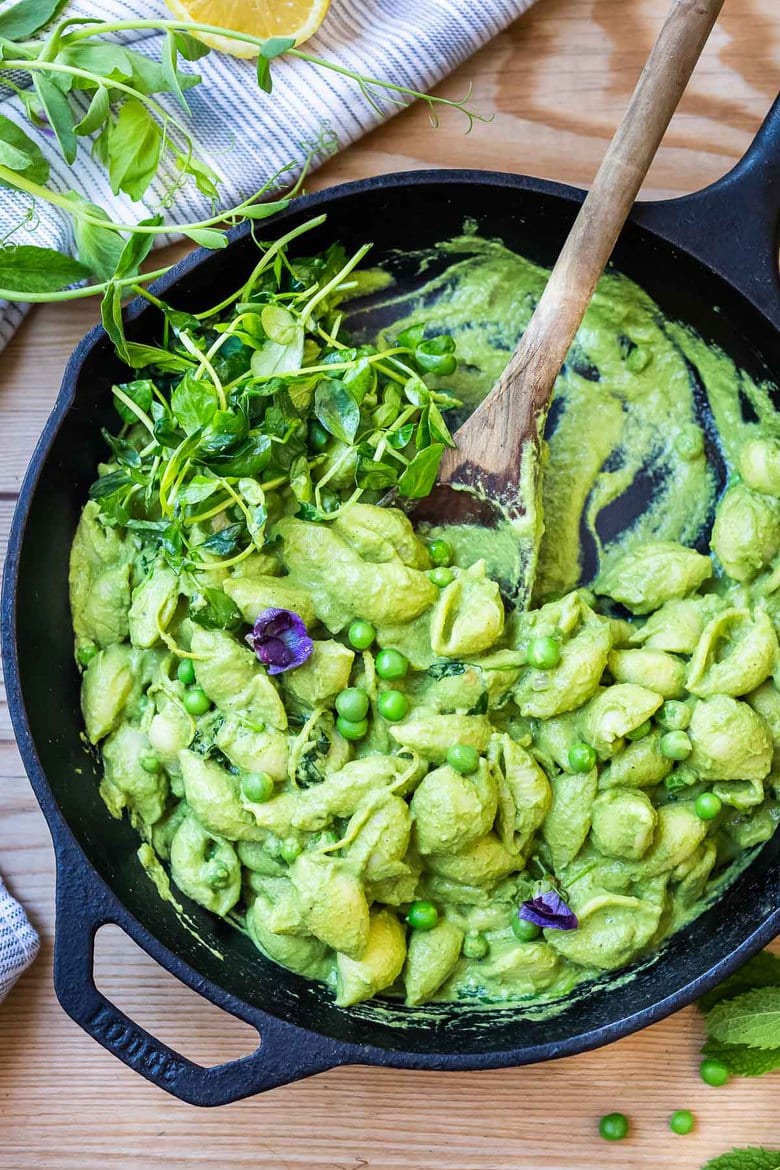 The two most important days in your life are the day you are born and the day you find out why.

Mark Twain
Hello pea pasta of my dreams! Happy little shells cradle a vibrant, creamy green sauce made up of peas and mint. Not only will this joyful little number make your tastebuds happy, but it's also vegan and packed full of nutrients! No cream, no cheese, no dairy necessary.
Many of you shop at Trader Joe's and already know they offer up fresh shucked English peas each spring, which are the perfect fit for this recipe. But know that frozen peas work great here too. Either way, you'll love this, seriously! To elevate, pick up some pea shoots at your local farmers' market and wilt them into the warm pasta right at the end for a burst of color and nutrition.
Check out 40 Fresh & Healthy Spring Recipes for more fresh inspiration!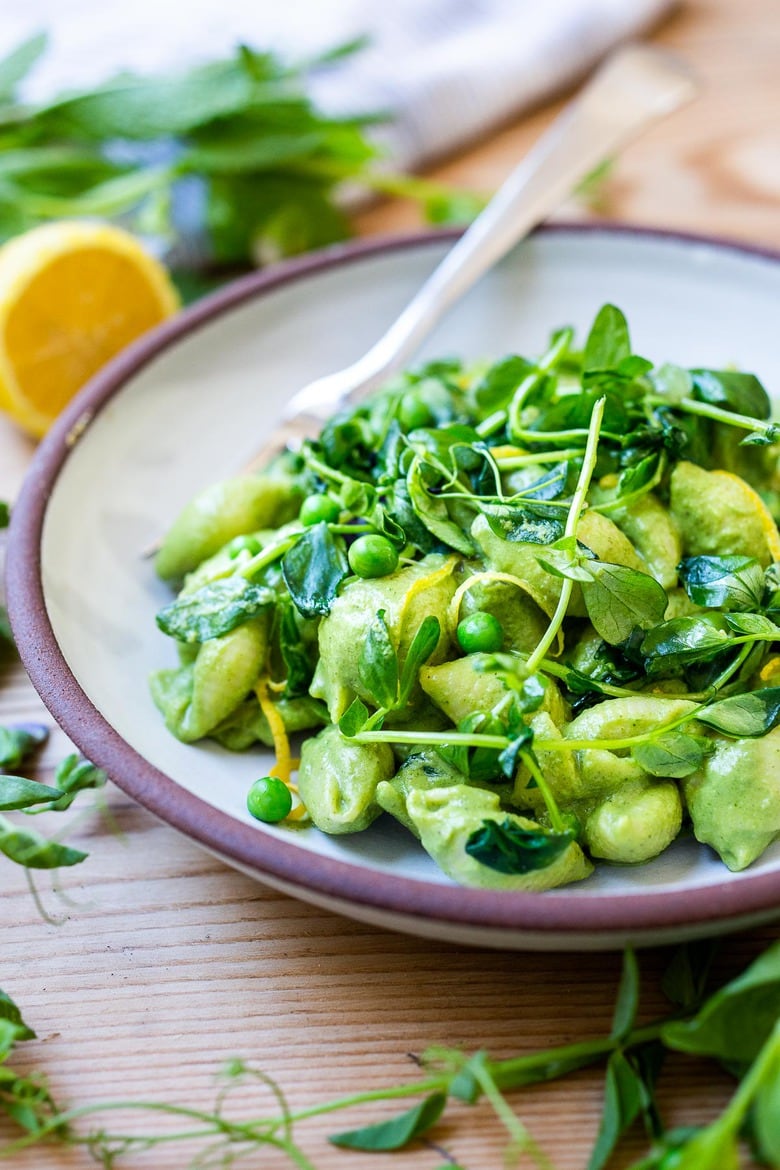 Why You Will Love Creamy Pea Pasta!
Creamy & Luscious Sauce: The pasta is coated in a vibrant, creamy green sauce made from fresh or frozen English peas and mint. It's indulgent and satisfying without the need for any dairy.
Vegan & Nutrient-Rich: This pea pasta is a great choice for vegans or those looking for plant-based meals. It is packed full of nutrients from the peas and fresh mint.
Simple & Delicious: With just a handful of ingredients, this recipe is straightforward and easy to make. The peas, shallots, and garlic infuse the pasta with a savory flavor that perfectly complements the sweetness of the peas and the freshness of the mint.
Versatile: The recipe allows for customization and substitution. You can choose different pasta shapes according to your preference, and if you're not a fan of mint, you can substitute it with Italian parsley. You can also add pea shoots for extra freshness and nutrition. This Pea Pasta recipe makes 2-3 portions and reheats well.
Ingredients For Creamy Pea Pasta
Ingredient Notes
Fresh Peas: Fresh peas are the star of this recipe, providing sweetness and vibrant color. You can find fresh peas during the spring season at grocery stores or farmer's markets. If fresh peas are not available, you can use frozen peas instead. we are using fresh shucked peas (from Trader Joes) but frozen peas will work too. You'll need two cups.
Pasta Shells: Medium-sized pasta shells work beautifully in this recipe. They have a nice shape that cradles the creamy sauce. However, feel free to use any pasta shape you prefer or have on hand and cook in salted pasta water to al dente.
Shallot and Garlic: Shallots and garlic add savory flavors to the pasta dish. They are sautéed until fragrant and golden before adding the peas.
Fresh Mint: The fresh mint adds a refreshing and herbaceous flavor to the sauce. It complements the sweetness of the peas beautifully. If you're not a fan of mint, you can substitute it with half Italian parsley.
Lemon: Lemon juice adds brightness and acidity to the sauce. It enhances the flavors of the peas and mint. You can also add some lemon zest for an extra citrusy aroma.
Hemp Seeds or Cashews: Hemp seeds provide a creamy texture to the sauce. They are a great plant-based alternative to dairy. If hemp seeds are not available, you can substitute them with soaked cashews, or tahini paste.
Miso Paste: Miso paste adds depth of flavor and a touch of umami to the sauce. It provides a savory note that complements the sweetness of the peas. We use white miso paste!
Pea Shoots (Optional): Pea shoots are delicate and tender greens that can be added to the pasta for extra freshness and nutrition. They can be wilted in the pan with the sautéed peas or used as a garnish.
How To Make Creamy Pea Pasta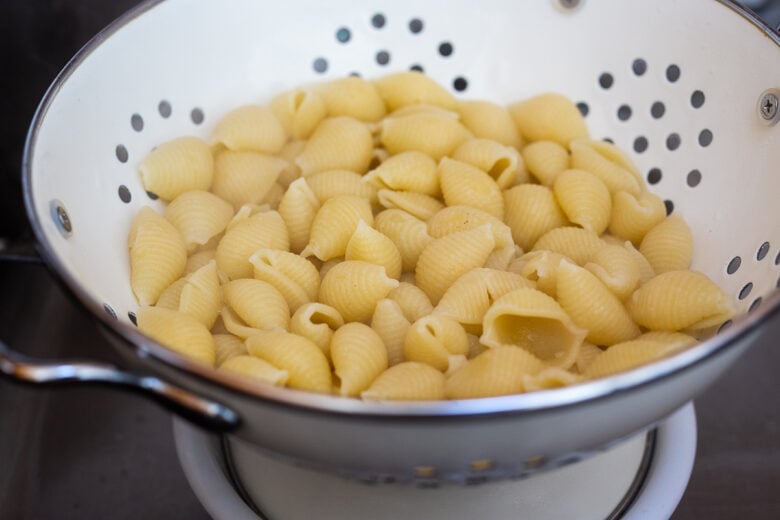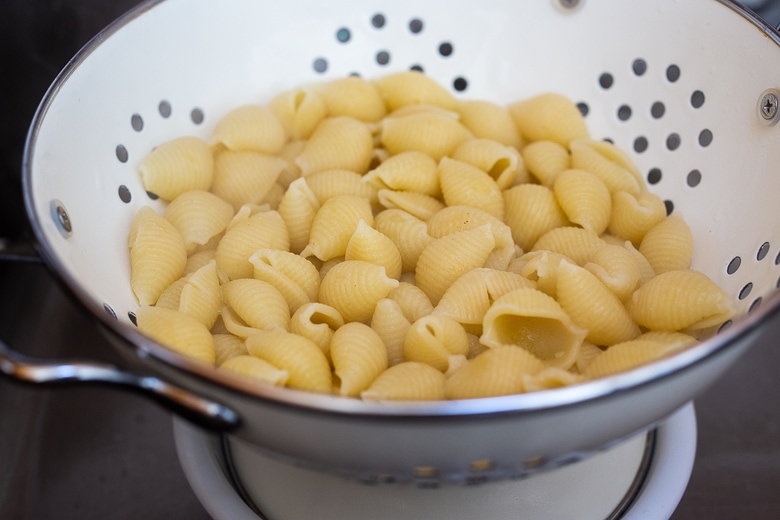 Step One– Set your pasta to cook- medium-sized shells work beautifully here, but feel free to use what you have. I really love how the shells cradle the sauce. Orecchiette would work well too.
Step Two- Saute the shallots and garlic until fragrant and golden.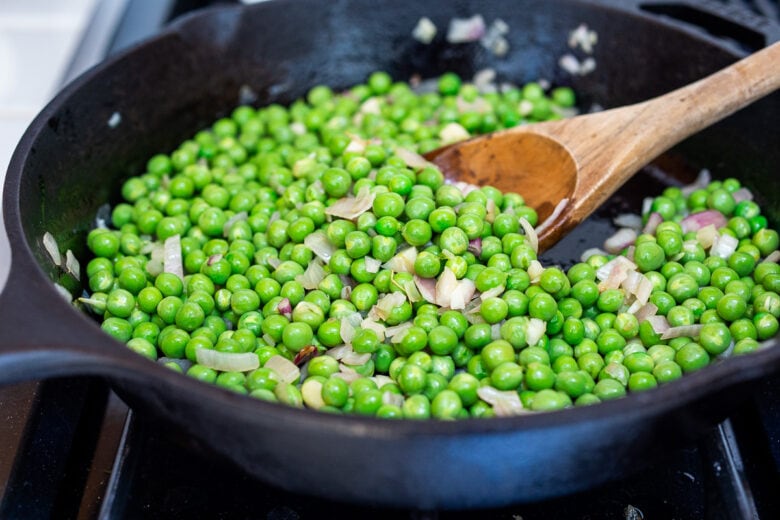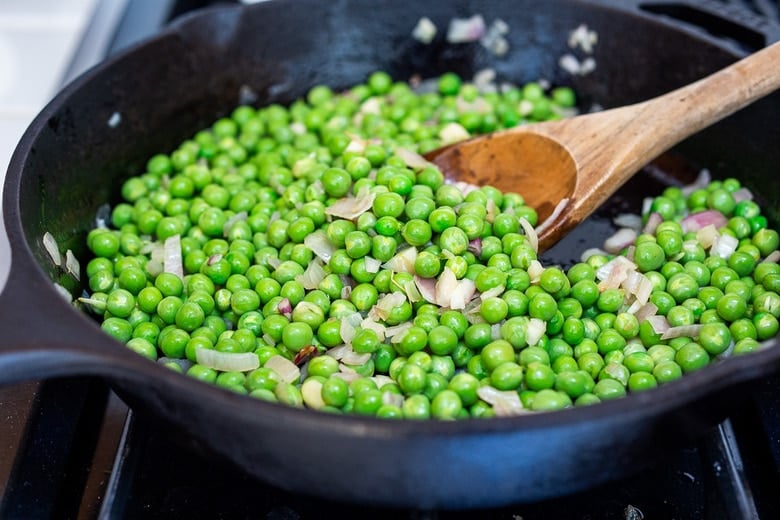 Step Three- Add your fresh peas and cover until steamed through. You want them tender but still vibrant! If using frozen peas, toss them in here and just let them warm up a bit so they are thawed. Scoop out 1 1/2 cups peas and place it in a blender to make the sauce. Reserve the rest in the pan.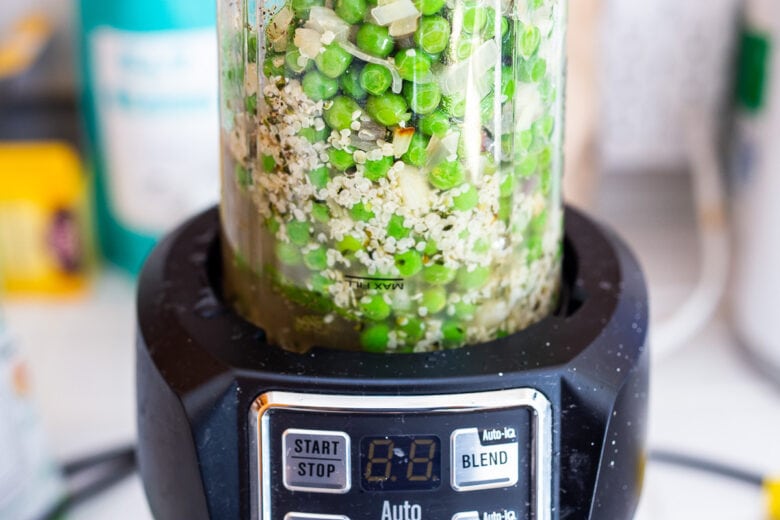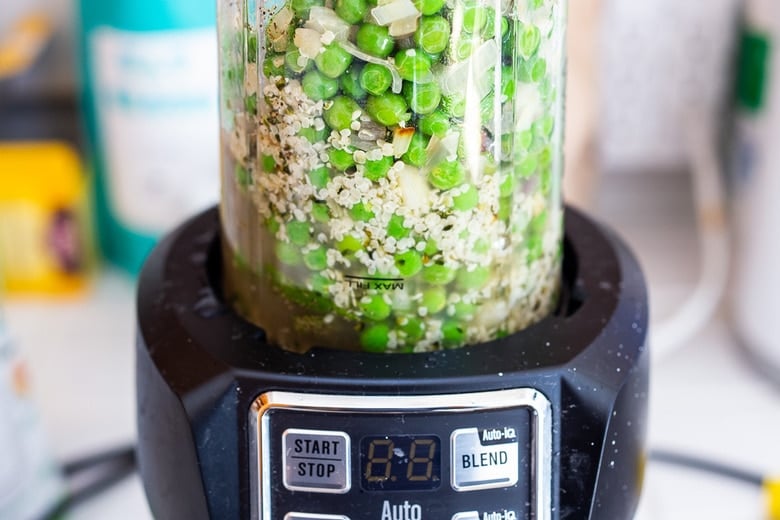 Step Four- Add water to the blender, miso paste, hemp seeds (or sub almond butter, soaked cashews or tahini paste), fresh mint (if mint is not your favorite you could use half Italian parsley- but trust me here friends, the mint truly works), lemon juice, salt and pepper. Cover the blender tightly, holding down the lid with a towel if the peas are still warm.
Blend for a full minute until it is creamy and smooth. Look at how vibrant this is!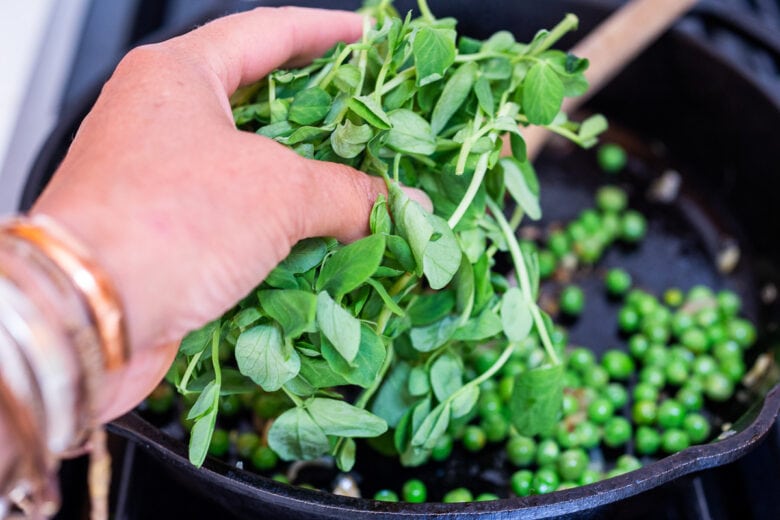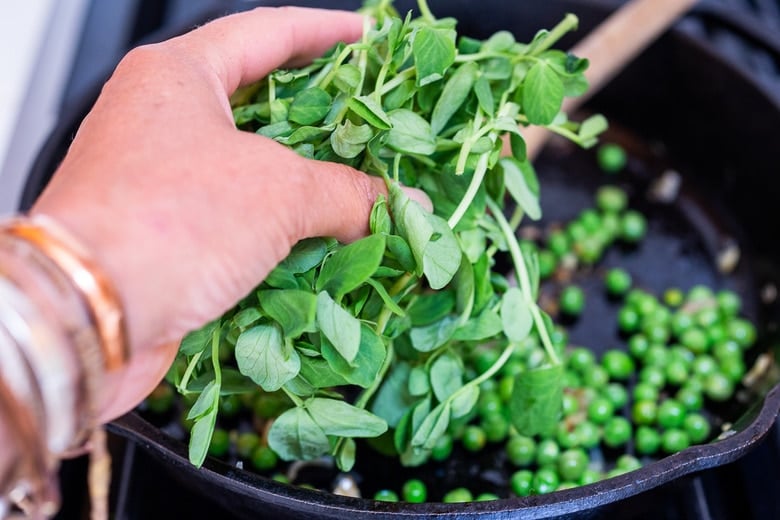 Step Five- If adding fresh pea shoots, gently wilt them in the pan with the remaining peas, just for a minute or so. You can scoop them off to a plate (to garnish the pasta with at the end) or incorporate them right into the pasta.
Step Six- Pour in the drained pasta and the sauce. Give a good stir, and gently warm until heated through. Do not simmer too long or you may lose that gorgeous color you created!
How To Serve Creamy Pea Pasta
Taste and adjust the lemon, adding lemon zest.
The pasta will soak up some of the salt, so just give it a couple of minutes. 🙂 and then or more salt and pepper to taste.
For extra "richness," add a drizzle of olive oil, stirring it in.
Truffle oil also works beautifully here with the peas and the mint. My husband likes his with truffle oil and grated pecorino or grated parmesan cheese- obviously not vegan but works for him.
And of course, you can add seeds, or microgreens or edible flowers to make this even prettier. I've been loving these scallion sprouts- so full of flavor!
What to Serve with Creamy Pea Pasta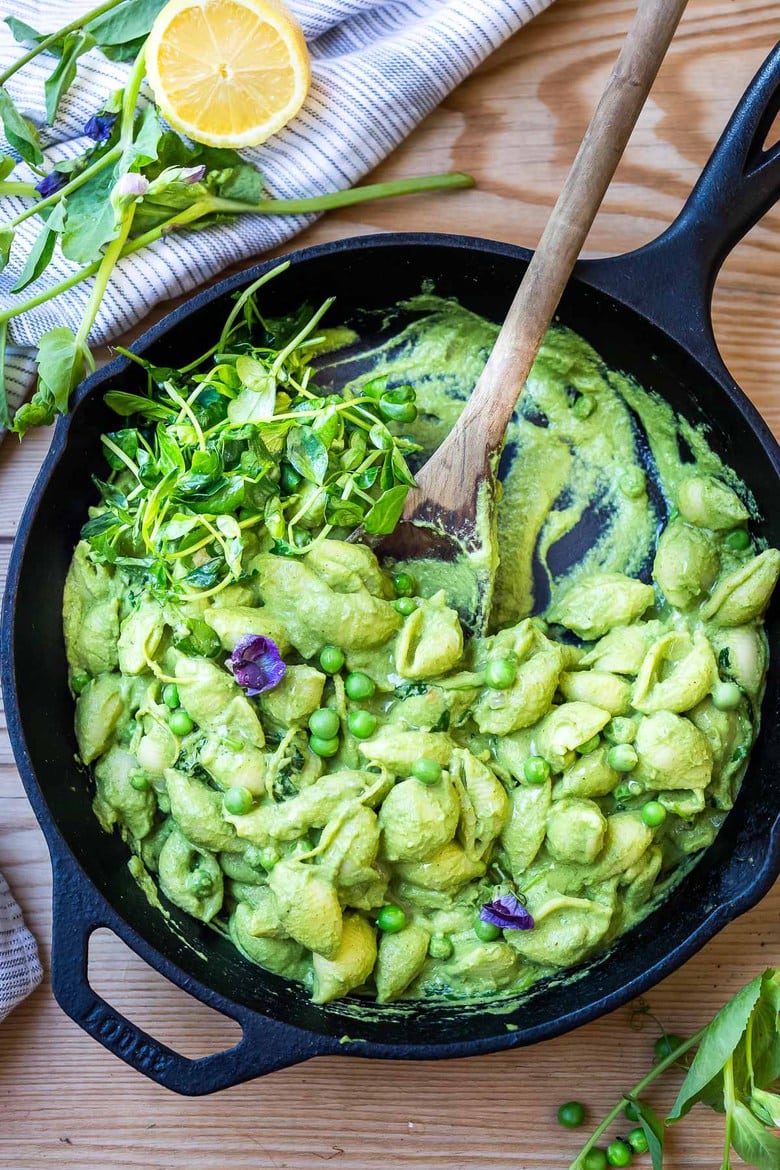 Creamy Pea Pasta FAQS
Is creamy pea pasta good for you?
High in protein, a good source of plant-based protein.
Rich in fiber, high in fiber, which can help support a healthy digestive system, regulate blood sugar levels, and promote feelings of fullness.
Nutrient-dense, green peas are packed with essential vitamins and minerals like vitamin C, vitamin A, iron, and potassium, which can contribute to overall well-being.
Can I use frozen peas instead of fresh peas?
Yes, you can absolutely use frozen peas as a substitute for fresh peas in creamy pea pasta. When using frozen peas, simply thaw them before adding them to the recipe. This will ensure that they blend smoothly and evenly into the sauce. Frozen peas are a convenient alternative when fresh peas are not in season or readily available.
How long does creamy pea pasta keep in the fridge?
Creamy pea pasta can be stored in an airtight container in the refrigerator for up to 3-4 days. When reheating, you may need to add a splash of water or plant-based milk to loosen up the sauce, as it can thicken upon refrigeration. Simply heat it gently on the stovetop or in the microwave until warmed through.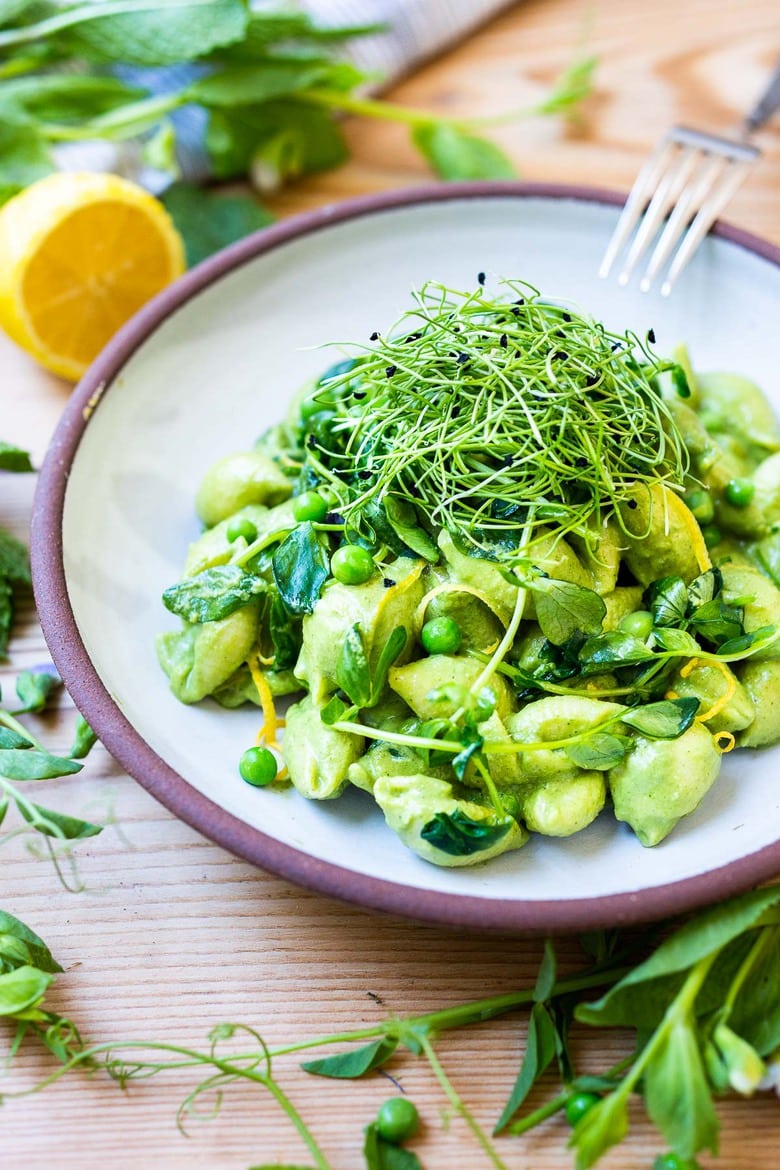 More Recipes You May Enjoy!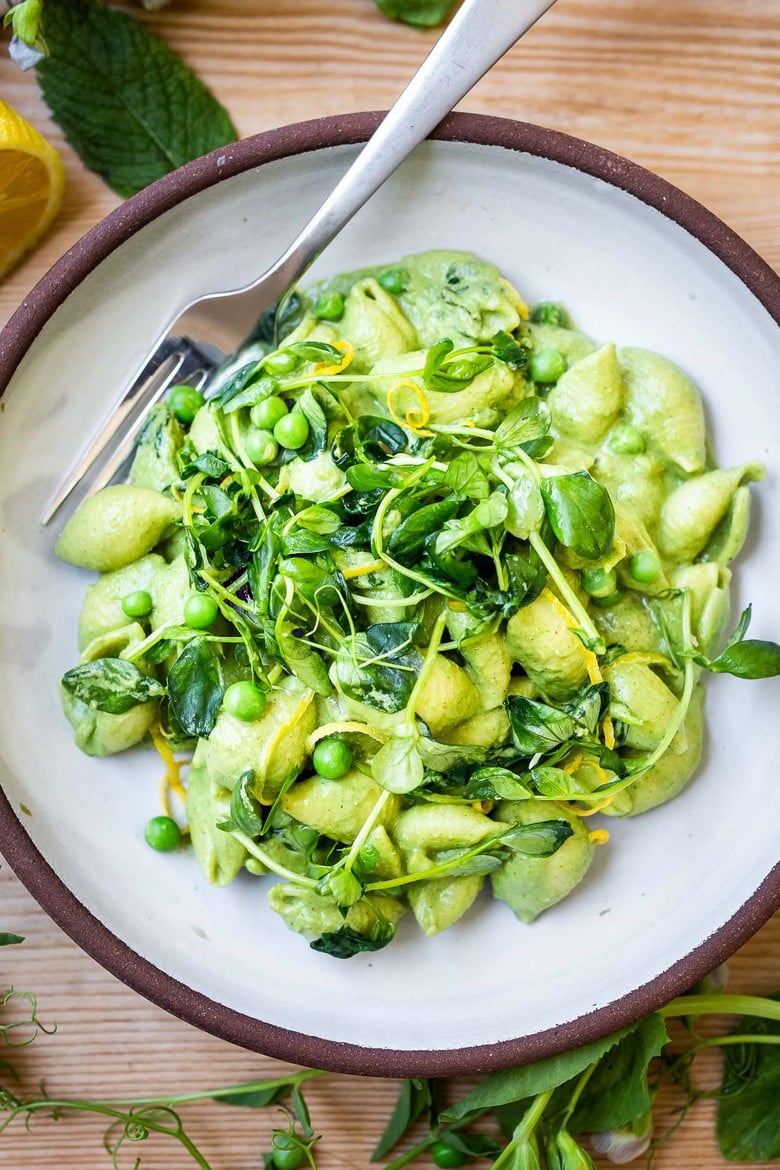 Health Benefits of Peas
High in Nutrients: Peas are rich in essential vitamins and minerals such as vitamin C, vitamin K, vitamin A, manganese, and folate.
Rich in Fiber: Peas are a good source of dietary fiber, which is important for digestive health. Fiber helps keep us regular, promotes feelings of fullness, and supports a healthy gut by feeding beneficial gut bacteria.
Promote Heart Health: Peas contain heart-healthy nutrients such as potassium and antioxidants like flavonoids. These compounds help lower blood pressure levels, reduce inflammation, and decrease the risk of heart disease.
Manages Blood Sugar: Despite being a starchy vegetable, peas have a low glycemic index, which means they have a minimal impact on blood sugar levels. The fiber and protein content in peas also aids in slowing down the digestion and absorption of carbohydrates, helping to regulate blood sugar levels.
Boost Immune Function: Peas are rich in vitamin C, which is a powerful antioxidant that supports immune function. Vitamin C helps protect cells from damage, supports the production of collagen, and enhances the body's ability to absorb iron.
Enjoy the Creamy Vegan Pea Pasta and have a happy week, friends!
xoxo
Print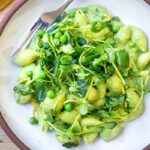 Creamy Pea Pasta Recipe (Vegan)
Prep Time:

10

Cook Time:

20

Total Time:

30 minutes

Yield:

2

-3

1

x

Category:

vegan, main, pasta

Method:

stove top

Cuisine:

American

Diet:

Vegan
---
Description
This Creamy Vegan Pea Pasta is lathered up in the most delicious, luscious sauce made with fresh (or frozen) English peas and mint without a lick of dairy! Happy little shells cradle a vibrant, creamy green sauce made up of peas and mint.
---
6 ounces medium pasta shells (or sub other short pasta such as orecchiette, elbows, farfalle, etc.)
Creamy Vegan Pea Sauce:
2

shallots, finely chopped (or

1/2 cup

onion)

4

–

6

garlic cloves, rough chopped

3 tablespoons

olive oil

2

cup

green peas (fresh or frozen)

1 1/4

cup

water, more as needed

1

lemon (lemon juice and zest for garnish)

1/3

cup

fresh mint, packed (or substitute part flat-leaf parsley, but mint is so good!)

3/4 teaspoon

salt

1/2 teaspoon

black pepper

1 teaspoon

miso paste- we use white miso for subtle flavor.

3 tablespoons

hemp hearts ( or sub-soaked, raw cashews)

1 tablespoon

lemon juice plus some zest for garnish
Optional additions: pea shoots or spinach, Vegan Cheesy Sprinkle or grated pecorino, microgreens
---
Instructions
Make Pasta: Set generously salted water to boil for pasta, and cook pasta according to the package instructions, drain and set aside.
Start sauce: At the same time, chop shallots and garlic. Heat oil in a large skillet over medium heat. Saute shallots and garlic for 4-5 minutes, stirring until golden and fragrant. Turn down to medium-low heat. Add peas and give a stir. If using fresh peas, cover with a lid so they gently steam, 3 minutes or until tender and bright. If using frozen, just saute until completely thawed and tender.
Blend Minted Pea Sauce: Measure out 1 1/2 cups of the pea-shallot mixture (leave the rest in the pan) and place in a blender along with water, 1 tablespoon lemon juice, mint leaves, salt, pepper, miso paste, and hemp seeds (or cashews). Blend for a full minute until very very creamy and smooth. If it feels lovely thick, add a little more water to loosen. Taste and adjust salt. Set aside.
Combine: To the skillet with the remaining pea-shallot mixture, add the pea shoots or spinach, and gently wilt, stirring for 30-60 seconds over low heat. (Either set these aside for garnish, or feel free to combine with pasta.) Add the drained pasta and pour in the sauce from the blender and give a good stir. Rinse out the blender with a couple of tablespoons of water, adding this to the pan, gently warming the pasta up.
Taste. If needed, season with salt, lemon zest, and more pepper if you like. If you want a "looser sauce" feel free to stir in more water. For extra richness, store in a generous drizzle of olive oil or truffle oil.
Serve immediately. Garnish with Vegan Cheesy Sprinkle or Pecorino cheese (obviously not vegan, but tasty). Top with microgreens or sprouts if you like, or seeds!
---
Notes
Leftovers keep 3-4 days in the fridge and will reheat nicely -feel free to stir in a little more water to loosen when reheating.
For added protein, feel free to top with a piece of salmon, shrimp, chicken or tofu.
Nutrition
Serving Size:

1 1/2 cup

Calories:

486

Sugar:

8.4 g

Sodium:

685.8 mg

Fat:

20.3 g

Saturated Fat:

2.7 g

Carbohydrates:

62.3 g

Fiber:

7.4 g

Protein:

16.4 g

Cholesterol:

0 mg
Keywords: pea pasta, pasta with peas, pasta with mint and peas, vegan pea pasta, spring pea pasta, pasta with pea shoots, vegan pea pasta, vegan pasta recipe