Spring Orecchiette Pasta with asparagus, mushrooms, peas and fresh herbs in a light carbonara sauce with dollops of creamy Burrata cheese.
I will bring you happy flowers from the mountains, 
bluebells, dark hazels, and rustic baskets of kisses
I want to do with you 
what spring does with the cherry trees.
Pablo Neruda
This simple vegetarian Spring Orecchiette Pasta with mushrooms, asparagus, peas and dollops of creamy Burrata cheese is surprisingly light. Fresh herbs  and lemon zest give it brightness while the "sauce", similar to carbonara, gives it richness without the addition of cream, butter or oil. It's perfect for weeknight meals, coming together in an easy 30 minutes.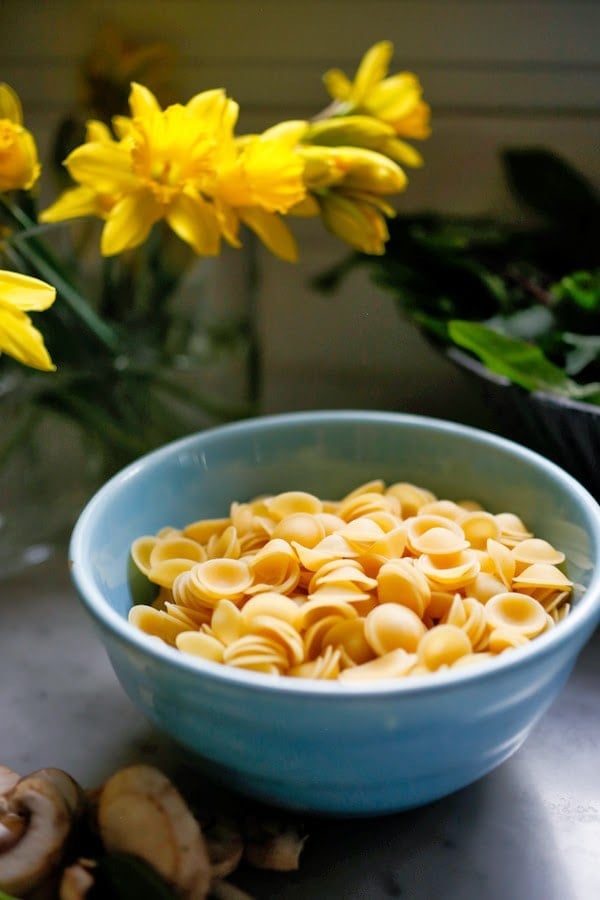 Orecchiette is named for its shape, and translates to "little ear".  Small round "ears" are perfect for cradling the sprightly green peas and delicate sauce. Burrata cheese if unfamiliar, is similar to fresh mozzarella, but with a twist. At the end of the mozzarella making process, milky curds are stuffed into the mozzarella ball, along with a little fresh cream, then the ball is twisted off with a knot. It's basically fresh mozzarella, but with an unexpected delicious creamy center. It's packaged in water similar in flavor to fresh mozzarella, mild and light.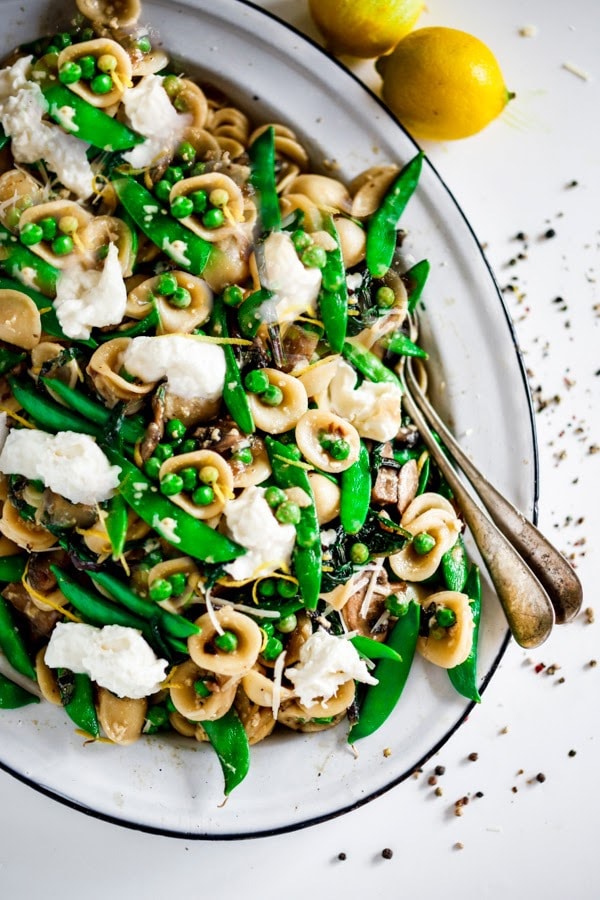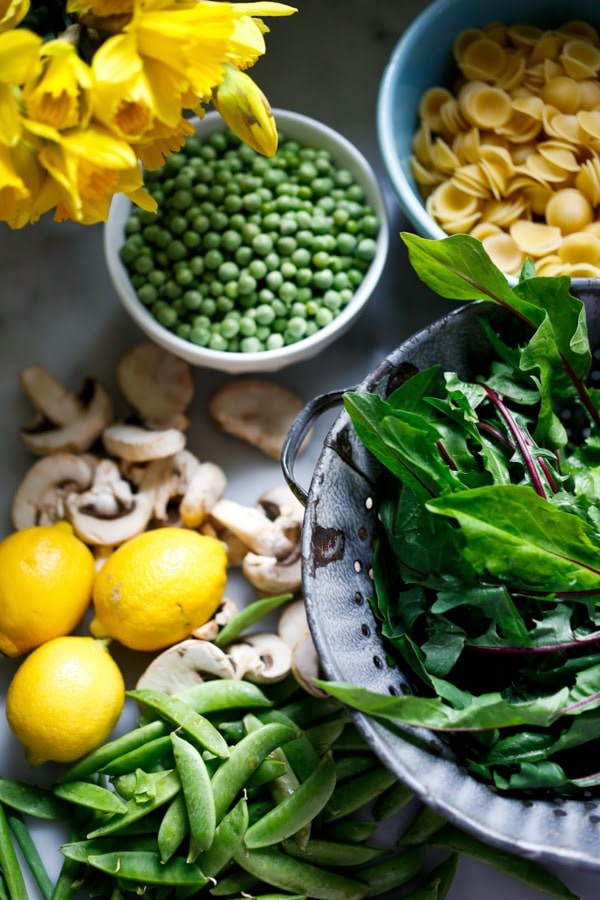 Gather an assortment of spring vegetables and greens, along with mushrooms which will add depth and flavor to the pasta. If you can get a hold of spring morels, fiddleheads or ramps, by all means, use them.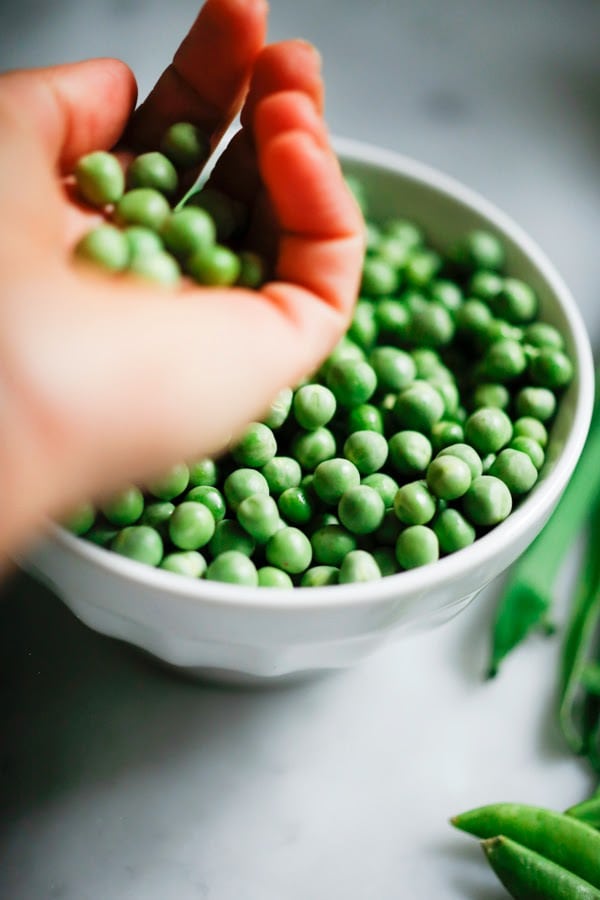 Fresh peas add a delicious snap. These can often be found at Trader Joes Market.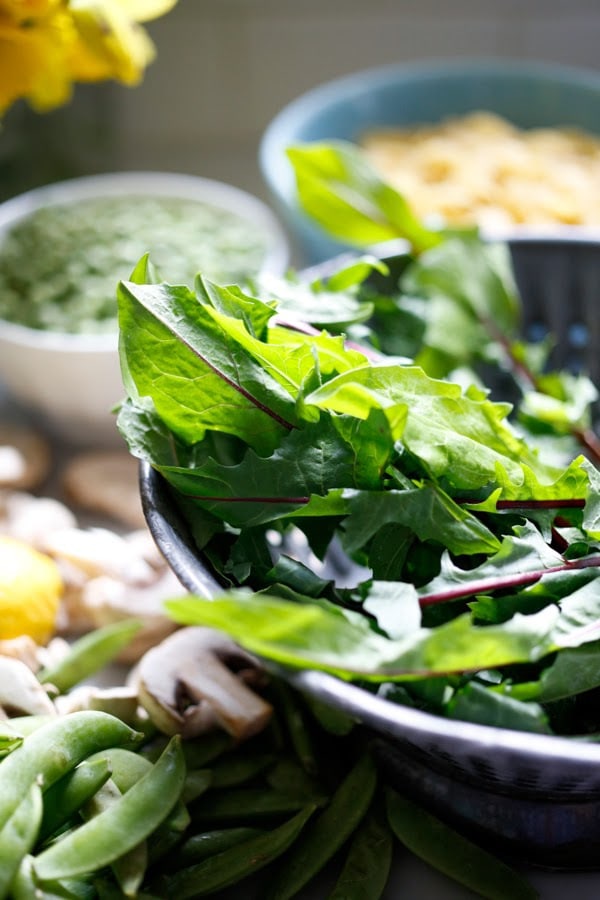 If you like bitter greens, wilted dandelions add quite a bit of bitterness which I enjoy, but be aware -dandelions are more appropriate for the grown up palate. They can be very bitter. Substitute peppery arugula, spinach or swiss chard for milder options.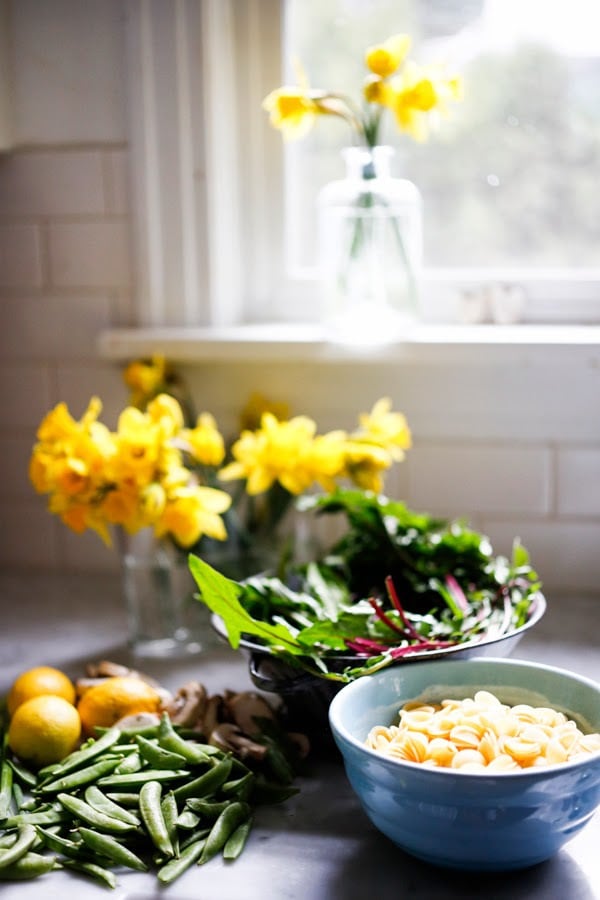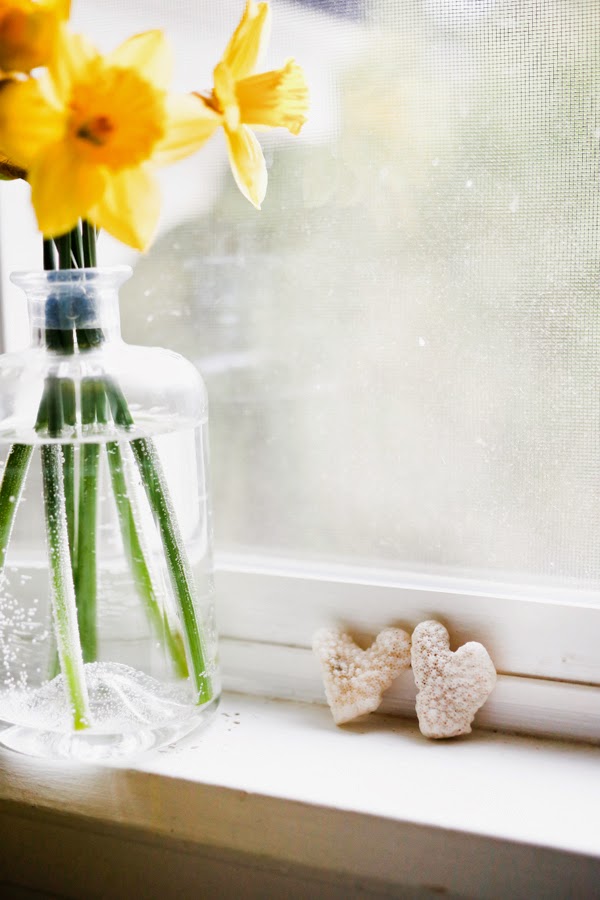 The secret to making flavorful pasta is very simple, but nearly always forgotten. You must generously salt the water. These days, I always measure the salt- to- water ratio. It ensures the dish will be flavorful.
For 16 oz of pasta–  use 4 Quarts water with 2 Tablespoons salt. Yes it seems like a lot, but remember you won't actually be consuming all of this. It just flavors the pasta.
In this recipe, once the pasta is just about done, I quickly throw in the peas and sugar peas into the pasta water, to blanch for about 1 minute. Drain.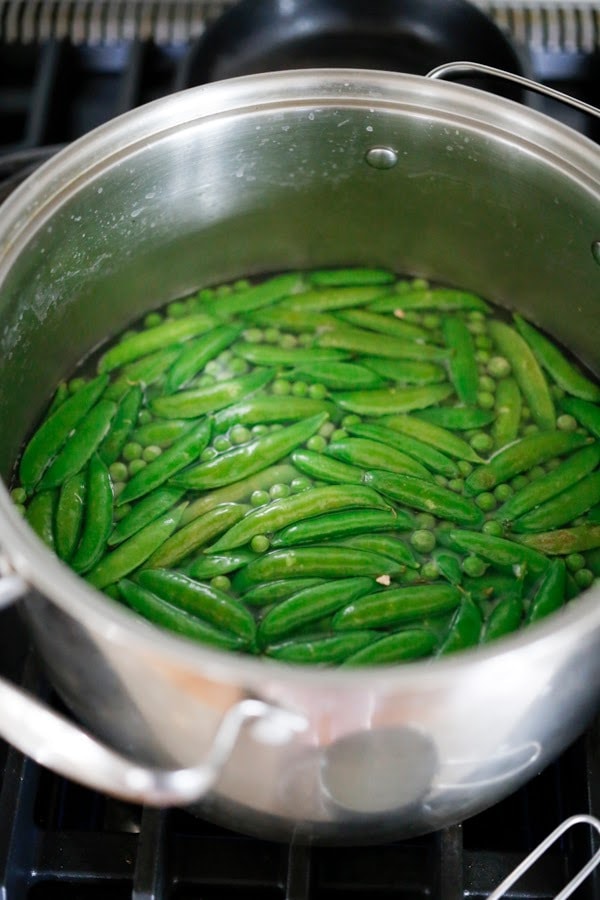 Another tip to making flavorful pasta dishes, is investing in a good quality Parmesan or pecorino cheese. Pre-grated Parmesan that are in the packages are usually lacking in flavor.
Yes the good quality cheese will cost more, but you will end up using less of it, because of its pungent concentrated flavor.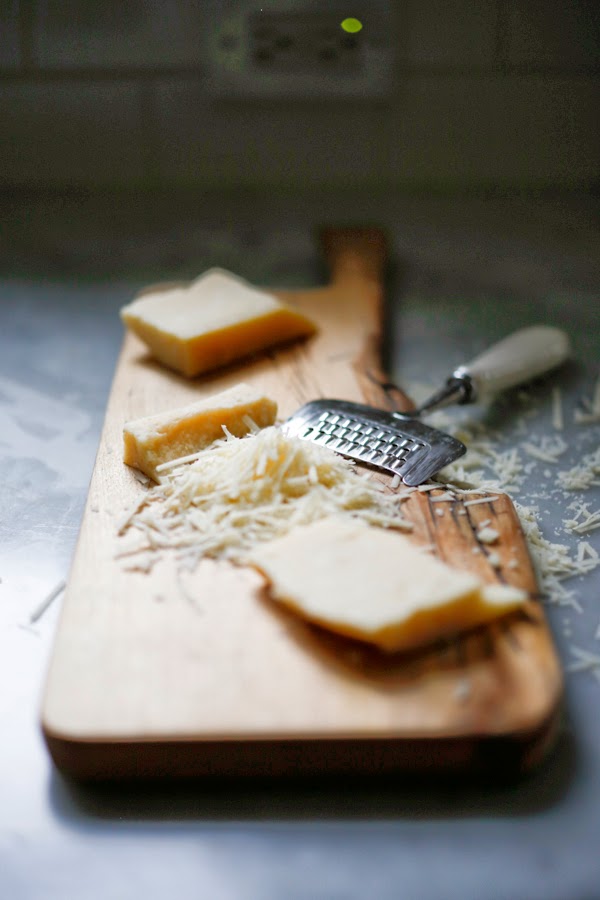 For this recipe, I used only a half a cup.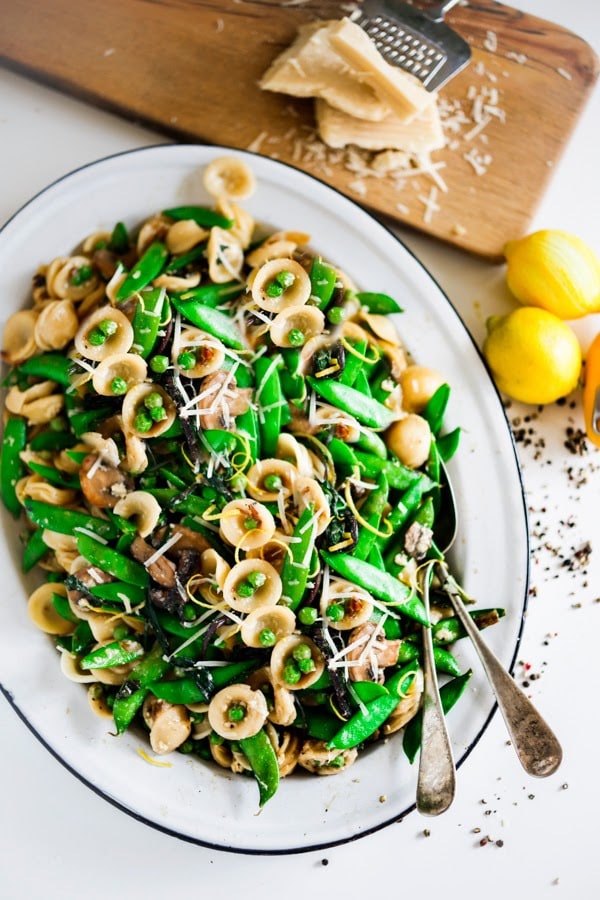 Lemon zest gives a little brightness.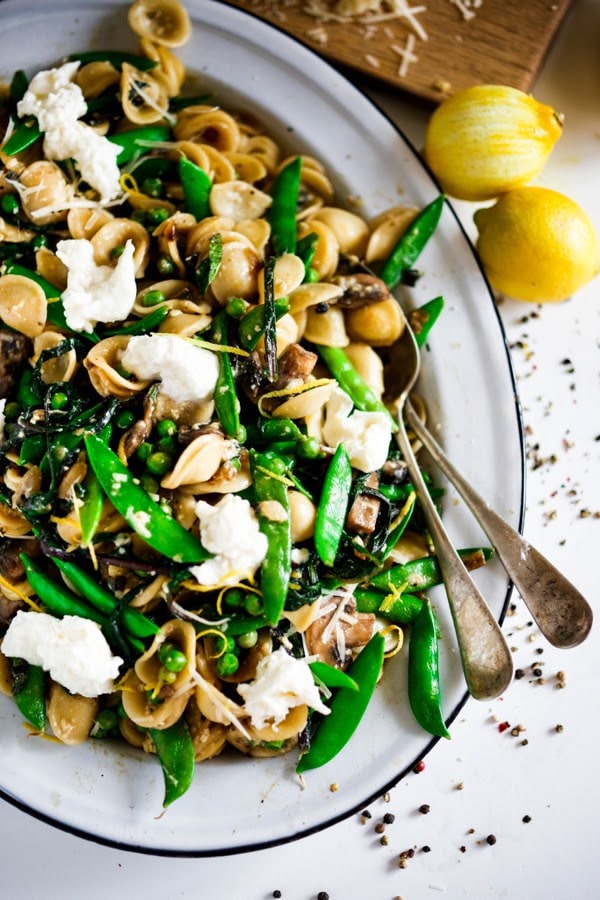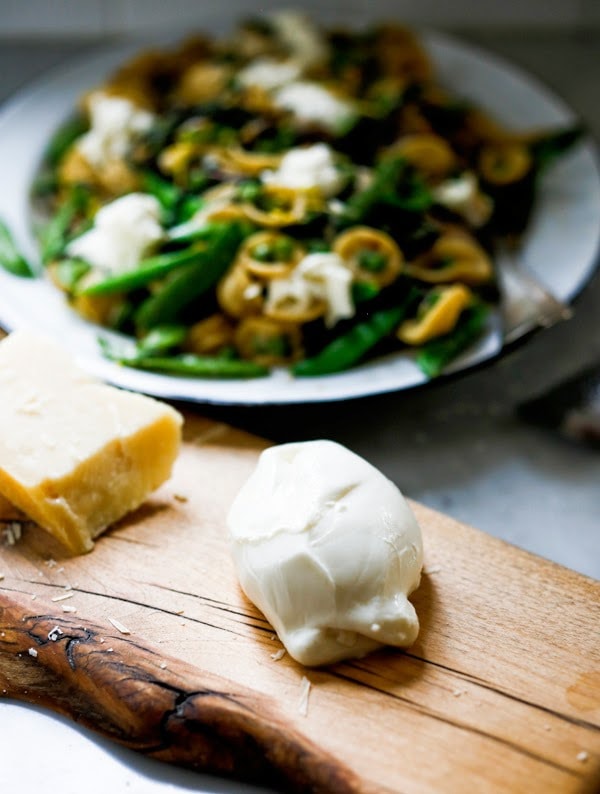 One the pasta is plattered, break up bite-sized pieces of the creamy  burrata with a fork, and scatter over top along with the fresh herbs and lemon zest.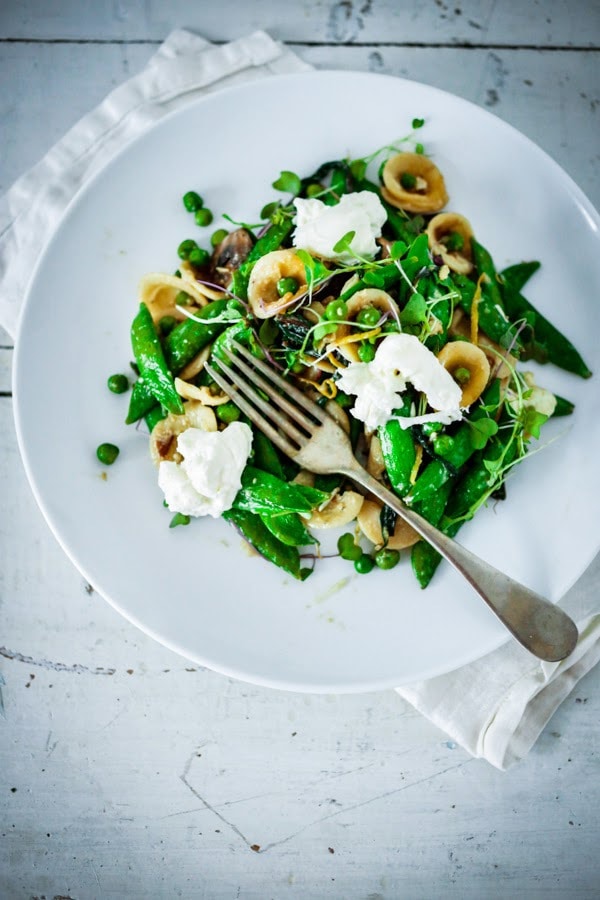 Print
Spring Orecchiette with Fresh Peas, Asparagus and Burrata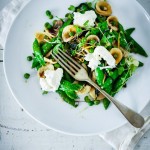 Spring Orecchiette Pasta with asparagus, fresh peas, mushrooms and herbs in a very light carbonara sauce, topped with pillowy burrata cheese.
Author: Sylvia Fountaine
Prep Time:

15

Cook Time:

20

Total Time:

35 minutes

Yield:

6

-

8

1

x
Category:

Vegetarian Main

Method:

Stove Top

Cuisine:

Italian
Scale
Ingredients
16 oz Orecchiette pasta
4 Quart
s water
2 cup
s fresh English peas ( Trader Joes of
ten
carries shucked peas)
2 cup
s snow peas or sugar peas
1 cup
asparagus tips (optional)
——-
1 tablespoon
olive oil
1
onion- diced
8 oz
mushrooms sliced or quartered -cremini, shittaki, buttons or morrels
2 cup
s wilting greens- dandilion, arugula, chard, spinach – chopped
generous pinch salt
cracked pepper
2
Eggs
½ cup
parmesan or
pecorino
1
 ball burrata cheese- optional
lemon zest from one small lemon
2
–
3
tablespoons fresh chopped herbs- mint, dill, or Italian Parsley 
Instructions
Bring a large pot of generously salted water to a boil. When water comes to a boil, add pasta and cook to al dente, about 7 minutes ( see directions on package). During the last minute of cooking the pasta, add the fresh peas, sugar peas and asparagus tips to the boiling pasta, turn the heat up to high and quickly blanch for one minute. Drain the pasta and veggies ( reserving 1 cup hot pasta water). Do not rinse. Return to the pot, turn heat off.While the water is heating, cook the mushrooms and whisk the eggs.
In a skillet, heat 1 tablespoon oil over medium heat. Sauté the onion until tender and fragrant, 3-4 minutes. Add mushrooms and saute until golden and tender. Add a pinch salt and pepper. Add greens and sauté, stirring often until just wilted. Set pan aside.
Whisk two eggs in a small bowl. Set aside.
Once the pasta is drained and back in the pot,  gradually stir in 3 tablespoons of the reserved hot pasta water, one tablespoon at a time into the eggs, to temper the eggs ( to warm them up). Stir well.
Pour egg/water mixture over the pasta and with a big wood spoon, gently stir to coat the pasta. Stir in ⅓ cup fresh grated parmesan, cracked pepper and more pasta water as need to loosen the pasta and make it "saucy". Taste and adjust salt. Place on a platter or bowl and sprinkle with fresh herbs, lemon zest and remaining parmesan. Dot with dollops of burrrata.
SaveSave
SaveSave
SaveSave
SaveSave