Learn the secret to making perfectly Seared Tuna with a Sesame Seed Crust in just 10 minutes flat. A healthy, delicious ahi tuna recipe that is full of flavor and easy to make. With a video.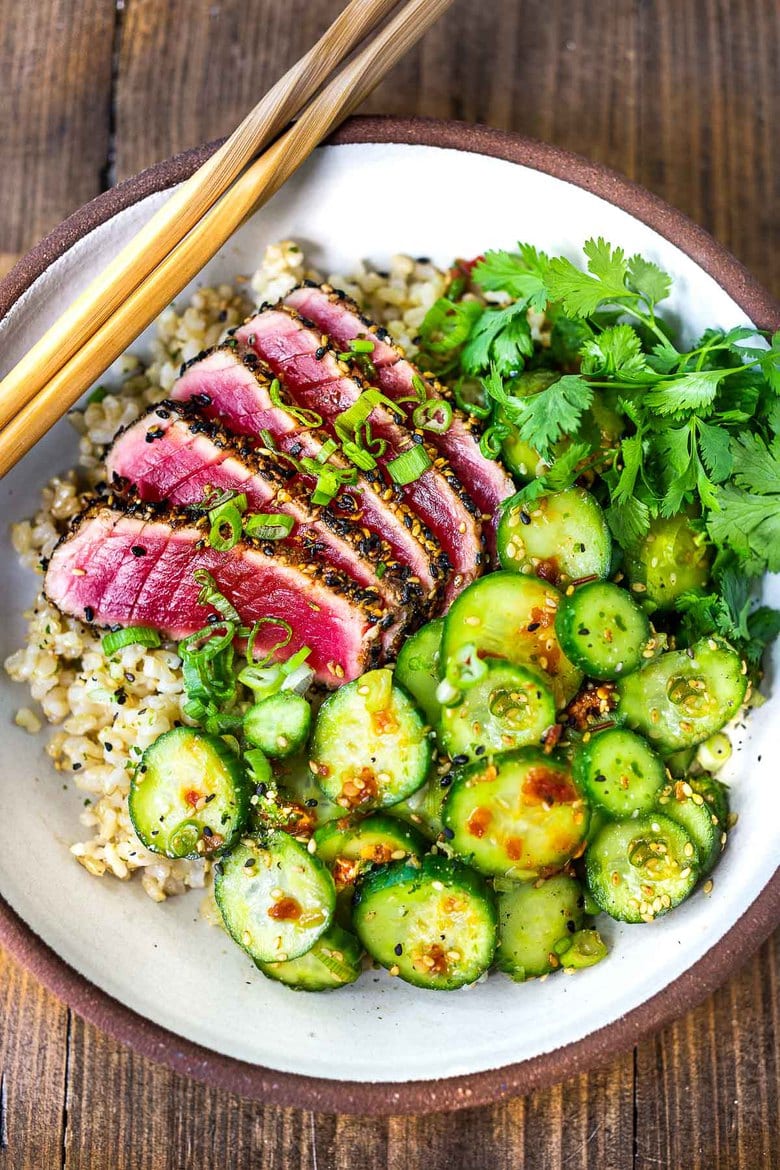 This Seared Tuna happened a lot in our catering days, so much so, I couldn't bring myself to make it again for a long long time. But a good three years have passed now, and the other day I got a hankering for it, so I thought I'd share! It's one of those recipes that may seem fancy, but honestly, it couldn't be any simpler and the best part, it is, it is ridiculously fast!
Here we are pairing it with a cool and crunchy Asian Cucumber Salad and Seasoned Japanese Rice with Furikake, a light and refreshing summer meal. If you are looking for more fish and seafood recipes to incorporate into your repertoire, make sure to take a peek at our 50+ Best Healthy Fish Recipes!
This Seared Ahi Tuna (with fennel seeds)  and Moroccan Lentils is also really good!
 Seared Tuna | 60-sec Video
Best tuna to use?
Whenever you serve Ahi Tuna rare, make sure to use "sushi-grade" tuna. My favorite? Look for Saku Tuna.
What is Saku Tuna:
Ahi tuna or yellowfin tuna, also known as saku tuna,  is commonly used to make sushi. Suku means "block" and it is typically a block of boneless, skinless, frozen, vacuum-packed yellowfin tuna.
Flash freezing the tuna kills any harmful bacteria, making it very safe to eat. Yes, of course, you can also use fresh ahi tuna, if you trust your source, or live close to where it is caught. We used Saku Tuna in our catering business and never had a problem.
Where to get Saku Tuna?
If your grocery store makes sushi in-house, then they very likely have Saku tuna- just ask if you can buy a block. Locally I purchase it at Huckleberries from the Sushi Department.
Purchase from a Sushi Restaurant. More than not they are happy to sell a block of frozen Saku Tuna.
Order online. This company offers frozen Saku Tuna Block.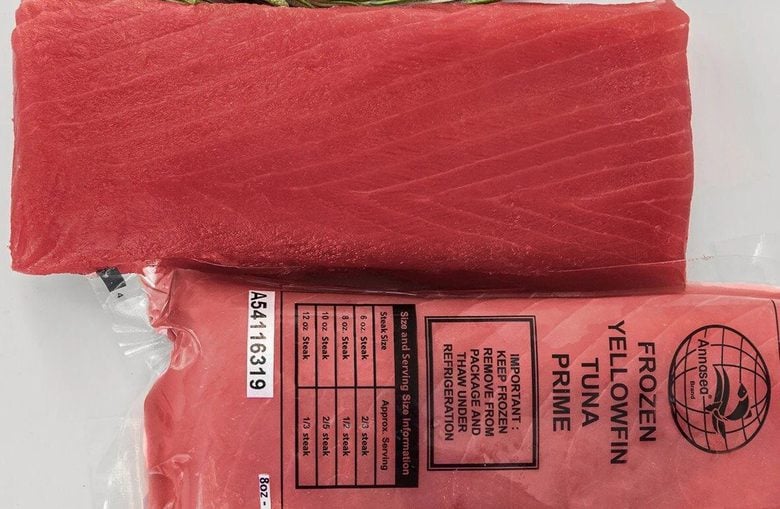 How to Sear Ahi or Yellowfin Tuna:
Step One: Thaw the tuna (either in a bowl of cold water with plastic on, or overnight in the fridge), and pat it dry. Coat in soy sauce or GF liquid aminos.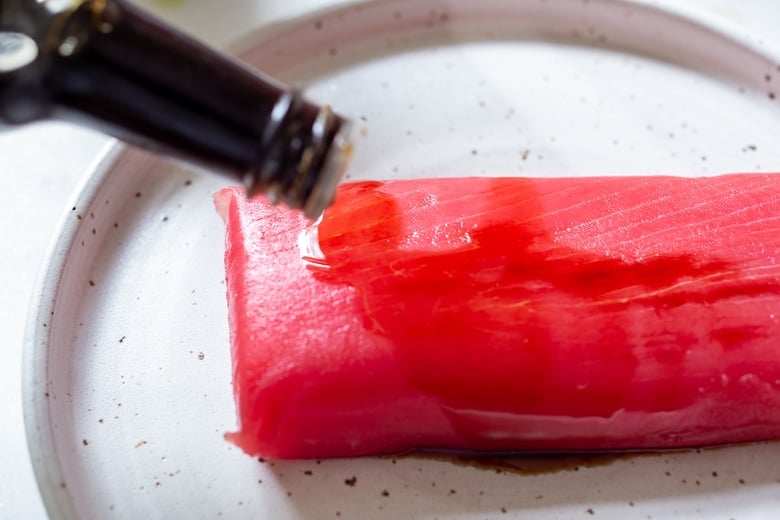 Step Two: Make the sesame spice crust.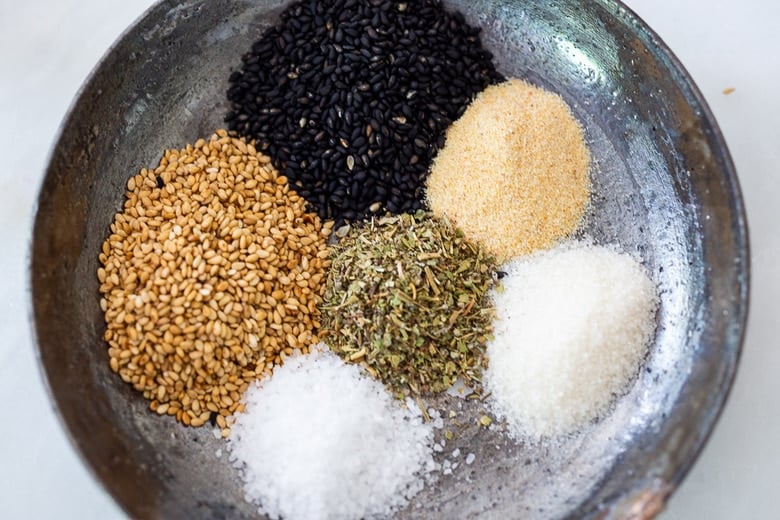 The Sesame Crust is a blend of sesame seeds, granulated garlic or onion powder, dried herbs (thyme or Italian seasoning), salt and pepper and sugar.
Sugar helps get the crust nice and golden, in a shorter amount of time which is imperative here, to prevent overcooking the fish.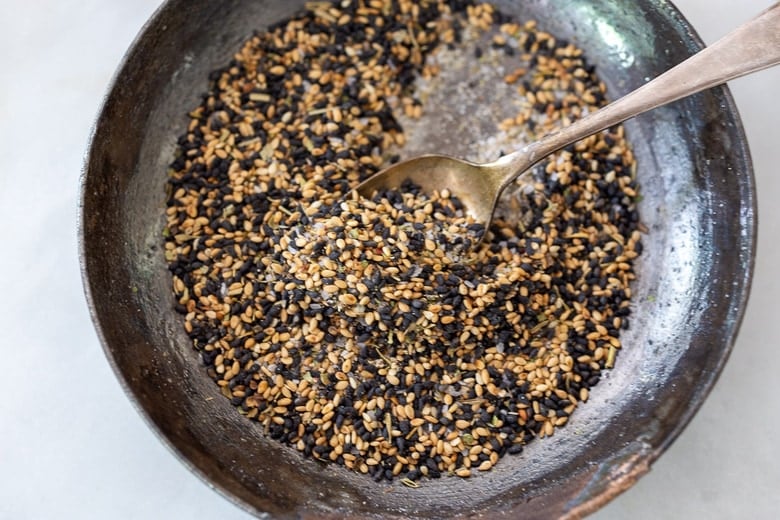 Step Three: Coat the Ahi Tuna in the sesame seed spice, pressing it into the flesh and coating all sides generously. The soy sauce helps it stick.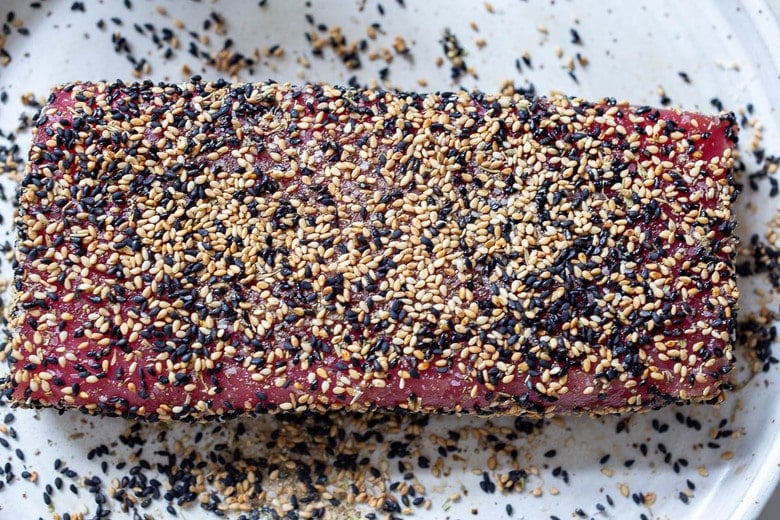 Step Four: Heat up a skillet over medium-high heat. This is KEY. You want the skillet very very HOT 🔥.  Turn your fan on, and have a spatter guard handy, or use a lid to partially cover. When the skillet is HOT, add a high heat oil-both avocado oil and peanut oil works well here. Peanut oil adds great flavor.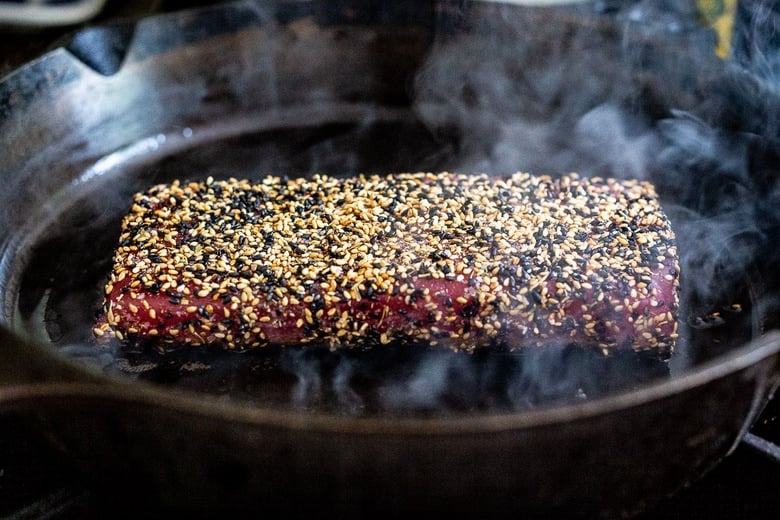 Step Five: Carefully place the ahi in the pan- don't throw it in, it will splatter, carefully lay it in the oil. Press it down into the skillet with a metal spatula and sear for about 45-60 seconds. If the seeds are popping use a splatter guard. Lift one side and check to see that the crust is golden- if not, your pan is not hot enough, so turn the heat up. 🔥
The goal here is to get a nice golden crust on all sides without cooking the ahi tuna all the way through. HOT PAN is key.
Basically, the pan needs to be hot enough to get the crust golden in 60-90 seconds, otherwise you'll likely overcook the inside of the fish. Carefully turn it over, press down, sear for 60-90 seconds.  Then sear the two long edges, using a pair of tongs to hold it up.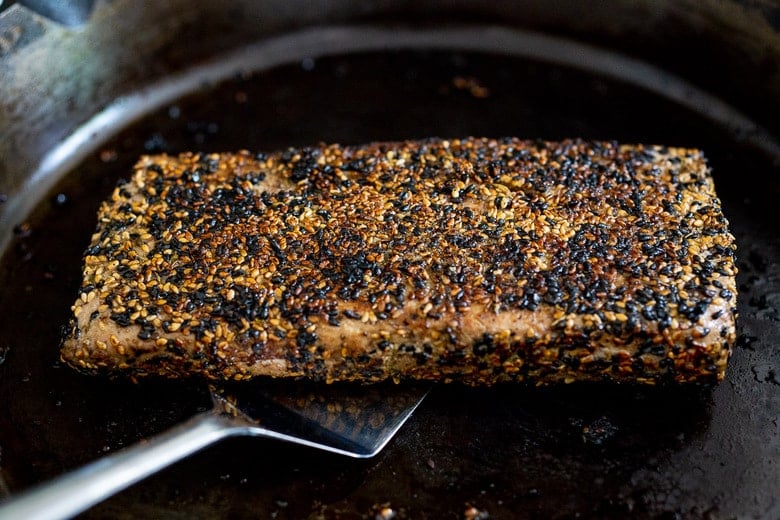 Step Six: Place the seared ahi on a cutting board, and thinly slice using a very sharp knife. The edges will be crispy and the inside, rare. At this point, you could even refrigerate the ahi block whole, and serve in slices, and serve it later cold. Seared Tuna is good hot or cold!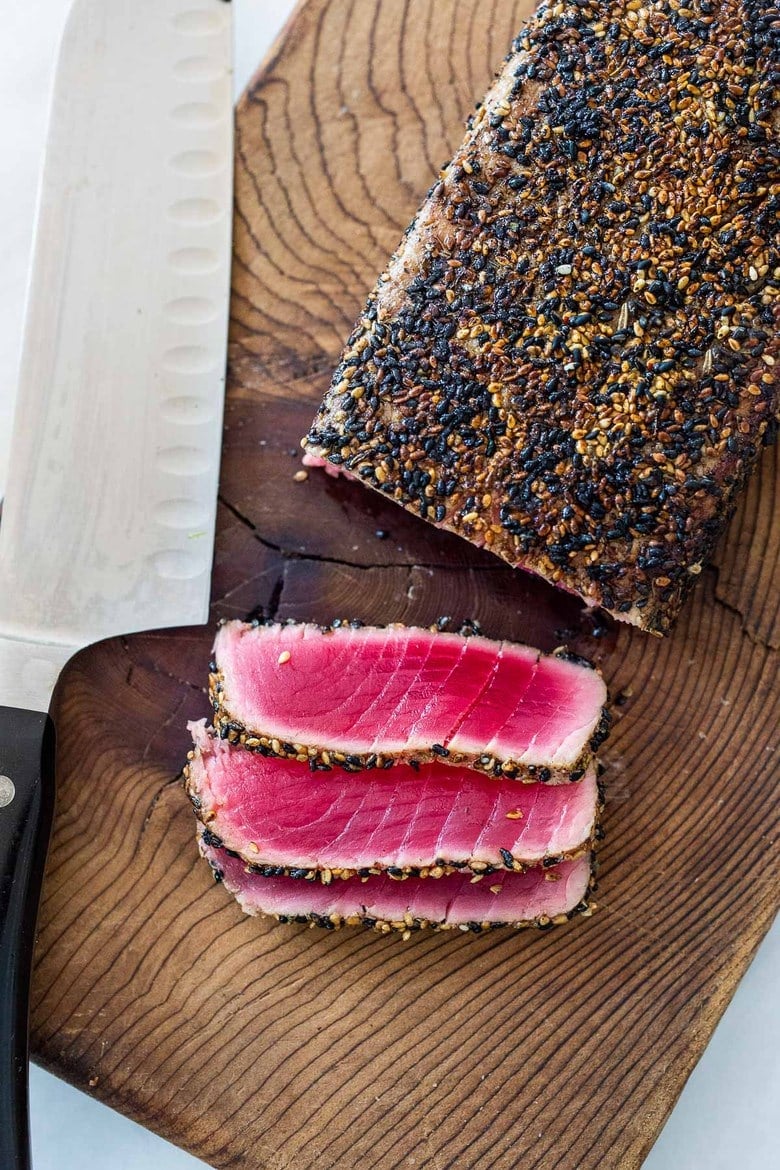 And there you have it- a fast, flavorful protein that takes about 10 minutes time.
The flavorful sesame crust gives the Seared Tuna just enough flavor, without overpowering it.
3 Expert tips for the BEST Seared Ahi Tuna:
Use sushi-grade, Saku Tuna Block for nice uniform slices.
Add a little sugar to the spice mix, which will carmelize in the pan and give a golden crust, in a shorter amount of time.
Use a cast iron skillet, and make sure it is HOT HOT HOT 🔥.
Seared Tuna FAQS
What does seared Tuna taste like?
Seared Tuna tastes mild, slightly sweet, not fishy, but with a "meaty" firm, buttery texture.
Is seared tuna still raw?
Yes, technically seared tuna is only cooked on the outside, yet rare, or somewhat raw on the inside. Think of this like sushi.
Is it safe to eat seared tuna?
Absolutely! Just make sure your ahi is "sushi grade", smells sweet and not fishy, and has been frozen. Freezing actually kills any harmful bacteria.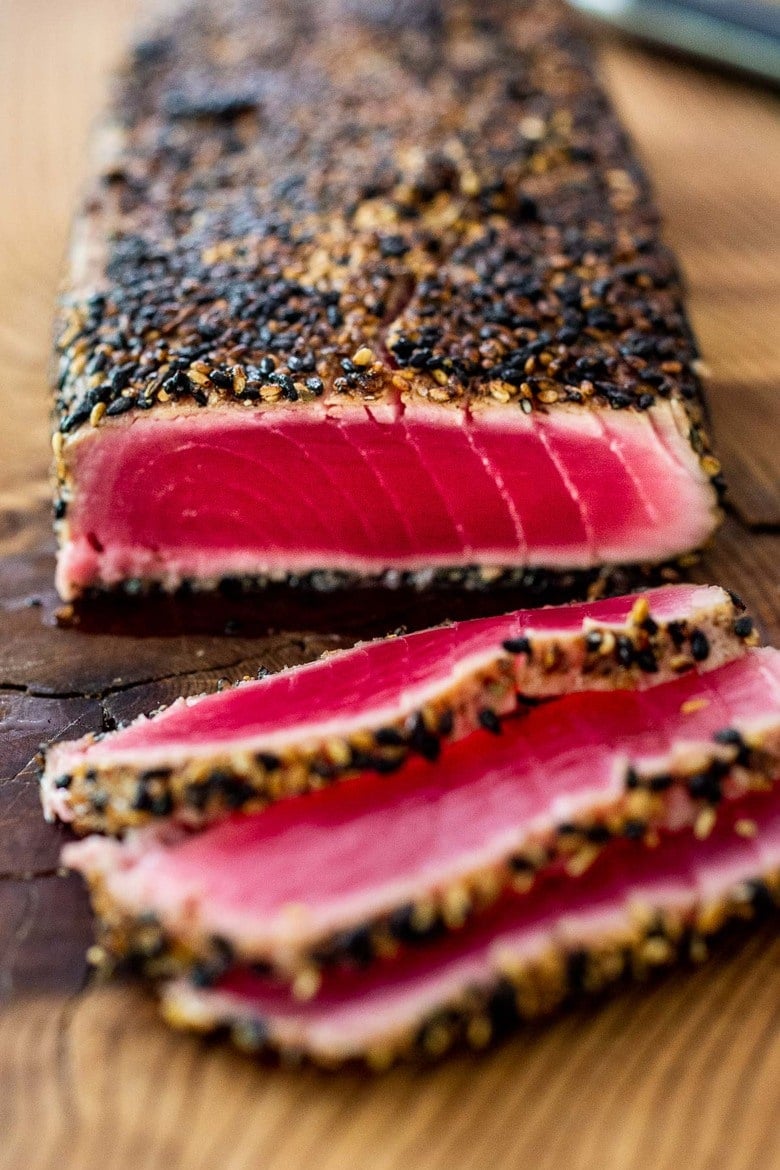 What to serve with Seared Ahi Tuna: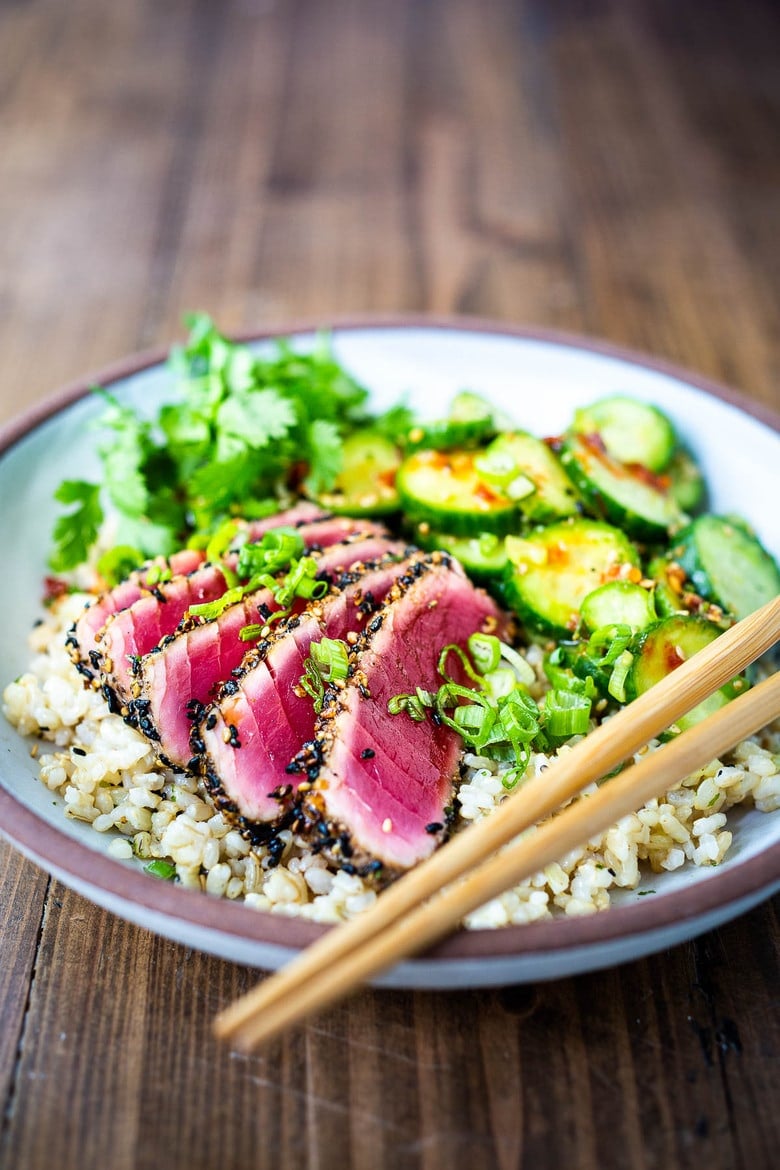 Hope you give this Seared Ahi Tuna a try- it's healthy and light and full of flavor! Happy weekend.
xoxo
Sylvia
More recipes you may enjoy:
Print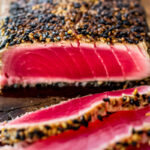 Sesame Crusted Seared Tuna
Prep Time:

5

Cook Time:

5

Total Time:

10 minutes

Yield:

2

-4

1

x

Category:

fish

Method:

seared

Cuisine:

Asian

Diet:

Low Fat
---
Description
Seared Tuna with Sesame Crust. Learn how to make the best Sesame Ahi Tuna- crispy golden on the outside and rare on the inside in just 10 minutes flat!
---
---
Instructions
Mix the Sesame Crust ingredients together in a small bowl.
Pat dry the ahi tuna with paper towels.
Place ahi tuna on a plate, coat all sides with soy sauce. This will help the sesame spice adhere to the tuna.
Generously sprinkle all sides of the ahi tuna with the sesame mix, pressing it down into the flesh. Coat the sides.

Read through the rest of the directions before starting because the next part goes very quickly.

The goal here is to get a nice golden sear on all sides without cooking the ahi tuna all the way through. HOT PAN is key.
Heat a cast-iron skillet over medium-high heat, until very very hot. Turn your hood fan on. Place tongs, metal spatula and splatter guard (or lid) near the stove.  When the pan is hot a flick of water should sizzle loudly. Once the skillet is hot, turn the fan on high. Add the oil and coat the pan and let it get hot. Carefully lay the tuna in the pan, pressing it down into the skillet with a metal spatula. Sear 45-60 seconds- checking the underneath by lifting one corner to see if it is golden. When deeply golden, carefully flip. If not golden, turn the heat up. Sear the other side, 60-90 seconds until golden. Sear the long edges using tongs to hold it upright.
Place on a cutting board, blot if you like, then using a very sharp knife, thinly slice, and serve.
At this point, you could also refrigerate up to 3 days, and serve this later, chilled. Either way is good.
---
Notes
The sesame crust is slightly on the salty side. I really like this, especially when sliced thin- but feel free to lower salt just a bit- to 3/4 teaspoon.
Make sure to "sushi-grade" ahi tuna, or if using fresh, make sure it is a trusted source. Google Saku Tuna for online resources. Read post body for where to find this locally- sushi restaurants, grocery stores with house-made Sushi will often sell frozen Saku Tuna or Saku block if you ask.
Nutrition
Serving Size:

4 ounce serving

Calories:

236

Sugar:

1.1 g

Sodium:

437.5 mg

Fat:

10.7 g

Saturated Fat:

1.8 g

Carbohydrates:

5.1 g

Fiber:

1.2 g

Protein:

29.1 g

Cholesterol:

44.2 mg
Keywords: seared tuna, seared tuna recipe, seared ahi tuna, sesame crusted seared tuna, sesame tuna, sesame ahi tuna, best tuna recipe