Here's a collection of our 50 Best Fish Recipes from around the globe! These easy, healthy  fish recipes can be made in under 30 minutes, perfect for weeknight dinners! Whether you are looking for halibut, salmon,  cod, or seafood recipes,  you'll find lots to choose from here! Healthy and fresh, you'll love the flavors!
Partial to salmon? Here are 25+ Best Salmon Recipes for all you salmon lovers out there! 
Flavorful Fish Stews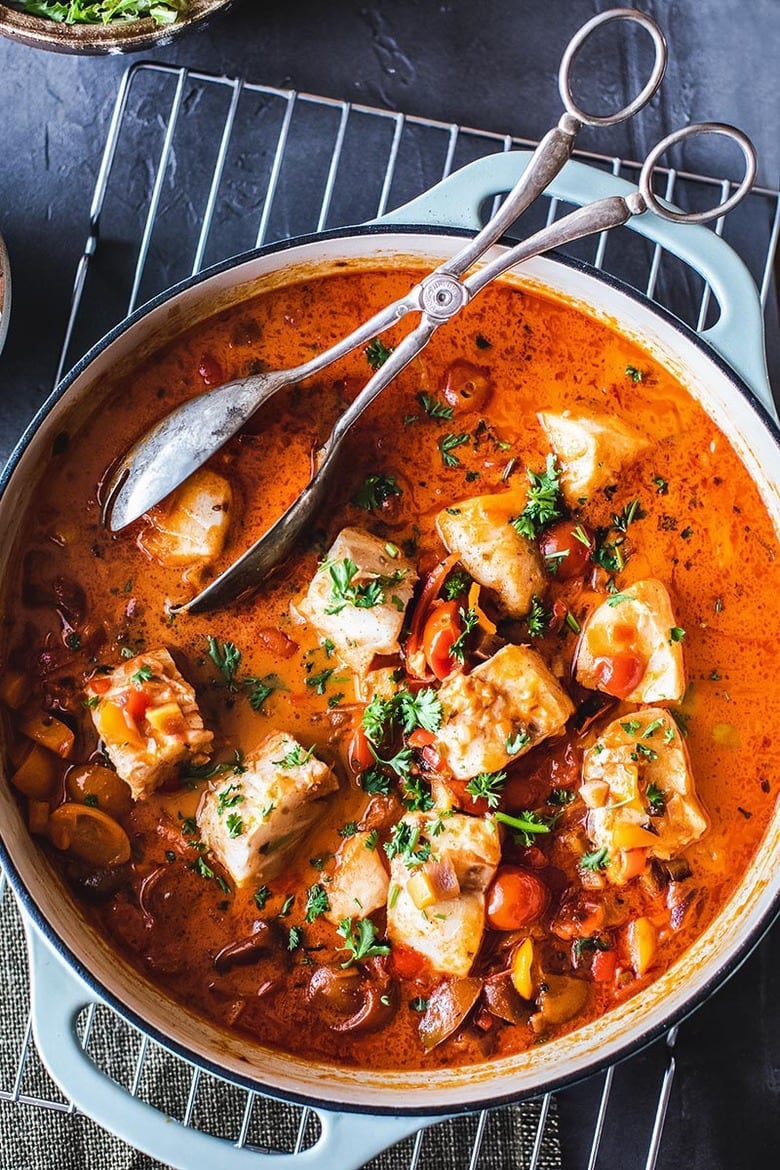 One of our most popular recipes on the blog, this simple Brazilian Fish Stew called Moqueca, can be made with your choice of fish- simmered in coconut milk with onion, tomatoes, chilies and lime. Easy, fast and full of flavor!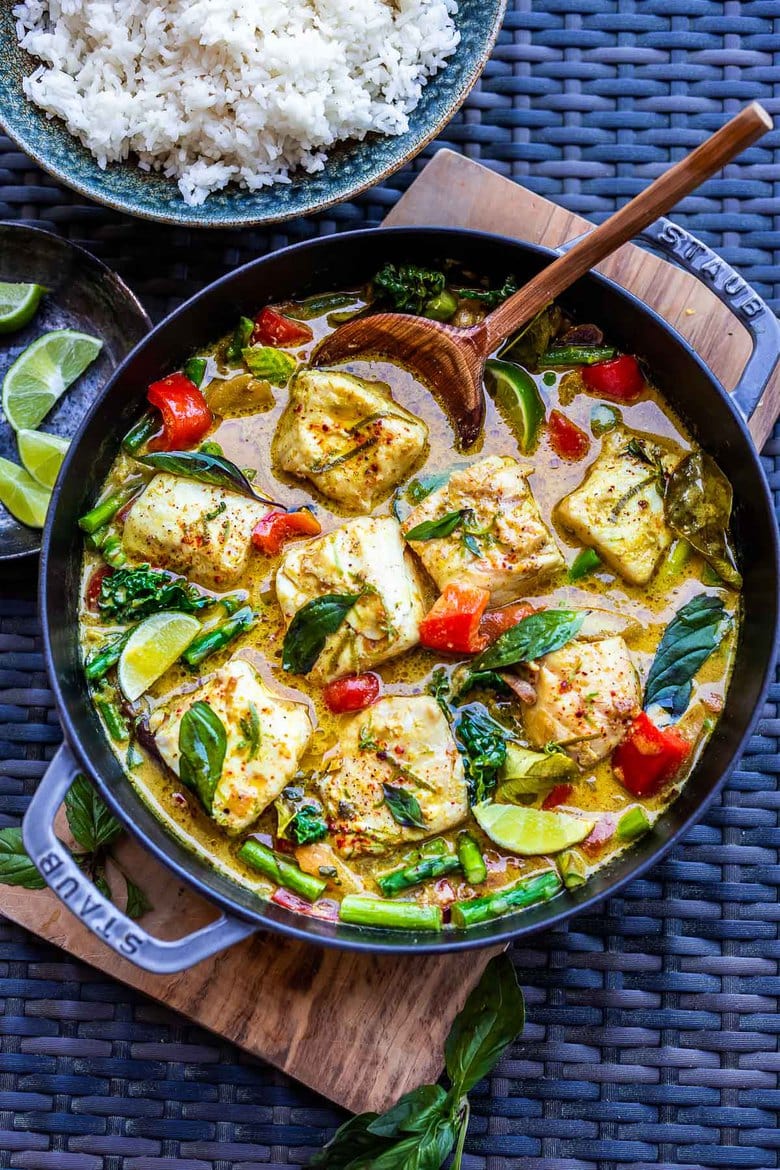 Thai Fish Curry
This recipe for Thai Fish Curry with fragrant coconut sauce is brimming with seasonal veggies and bursting with delicious Thai flavors. A quick and easy dinner, perfect for both weeknights and special occasions.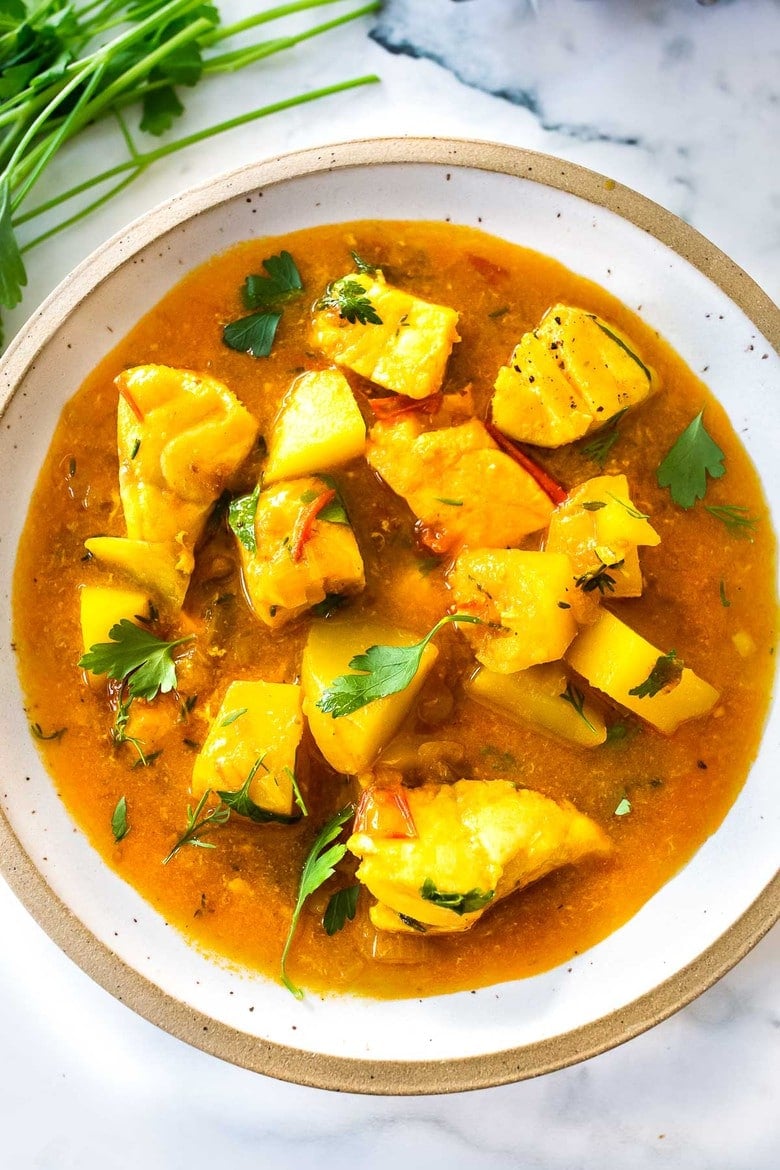 Portuguese Fish Stew (aka Caldeirada) can be made with fish or shellfish in a fragrant yet simple, saffron broth, studded with potatoes. Rustic and light, this summer stew can be made in just 30 minutes! Serve with Rice or Crusty Bread!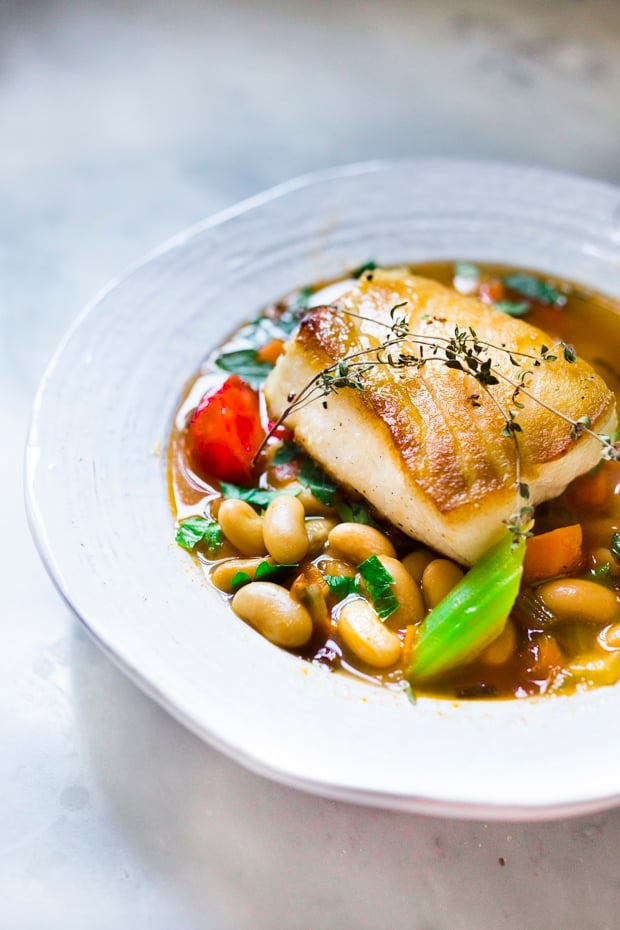 A delicious recipe for Seared Whitefish  with Cannellini Bean Stew. A fast, flavorful dinner recipe that can be made in 30 minutes!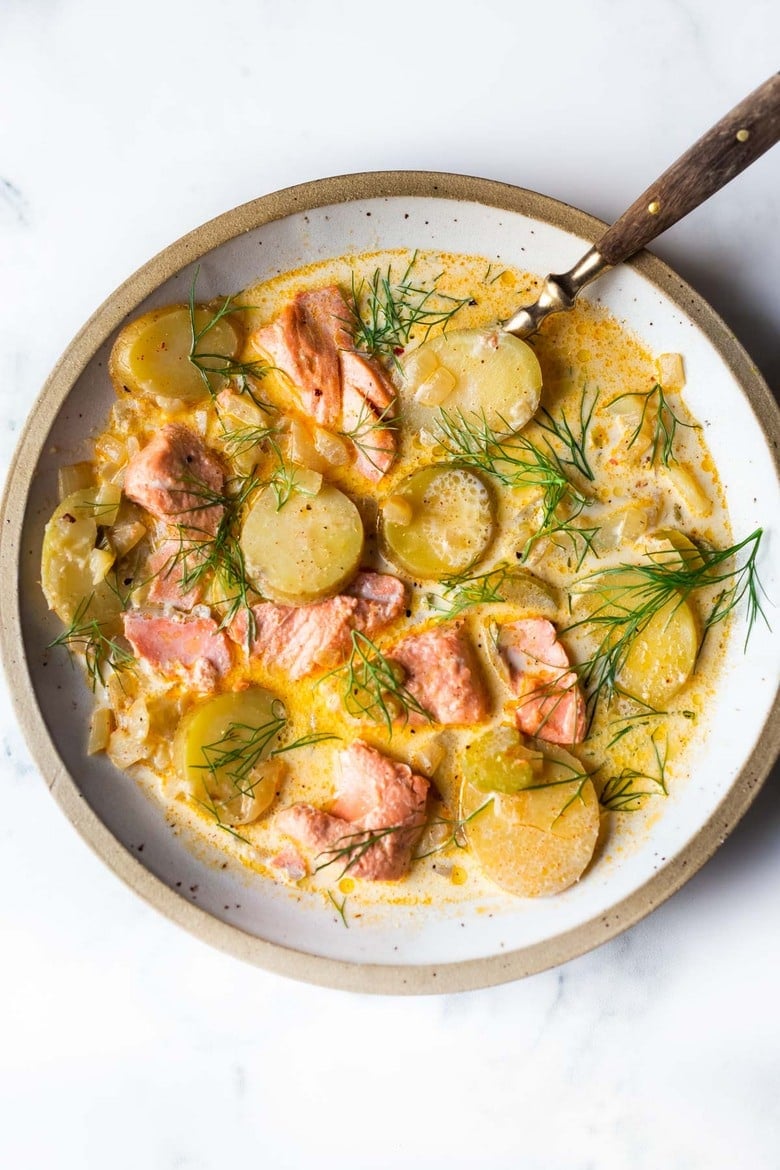 Salmon Coconut Chowder with Fennel
A Simple Salmon Chowder recipe made with fresh salmon, new potatoes and fennel bulb, that can be made in  30 minutes on the stovetop. Low carb, Keto and dairy-free adaptable!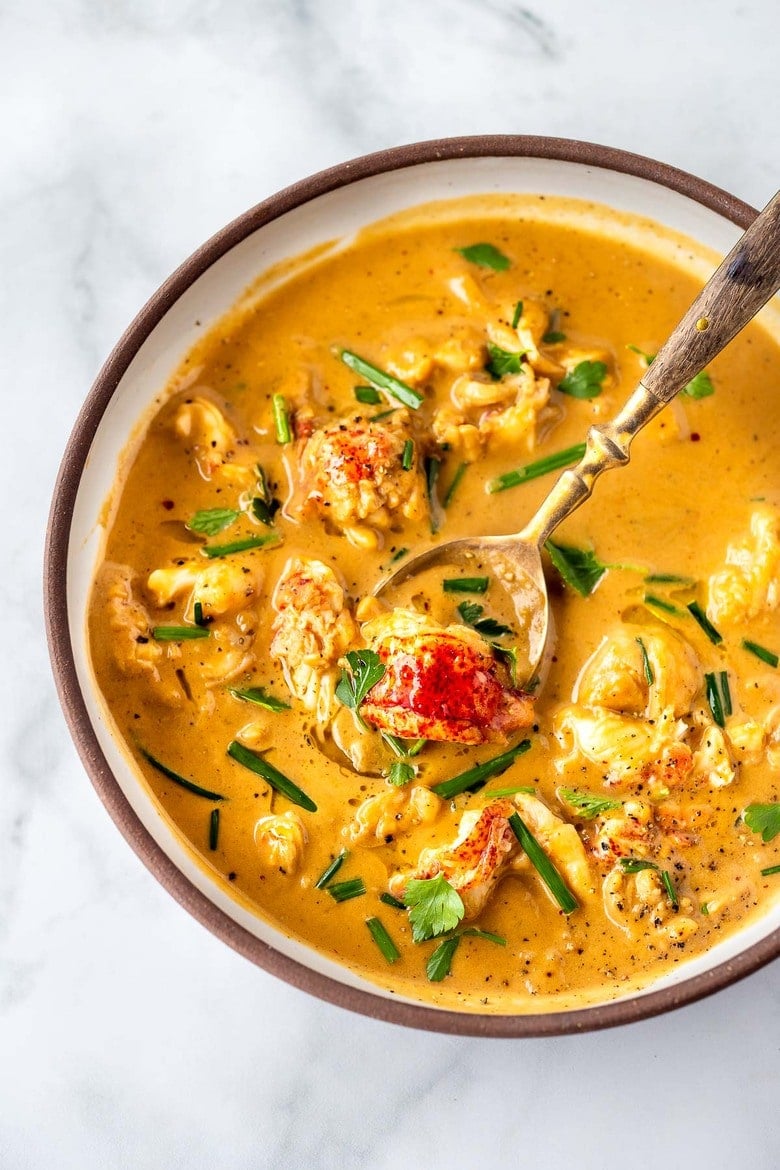 Lobster Bisque
This Lobster Bisque Recipe is kept simple and easy with quick homemade lobster stock, big bites of lobster tail, and a creamy luscious bisque thickened with sweet potatoes. For Extra decadence, the lobster is sautéed in browned butter.
Wea re smitten with this Balinese Fish Curry with potatoes, spring veggies, lime and mint in a fragrant curry sauce!  A simple, flavorful dinner that is healthy and easy!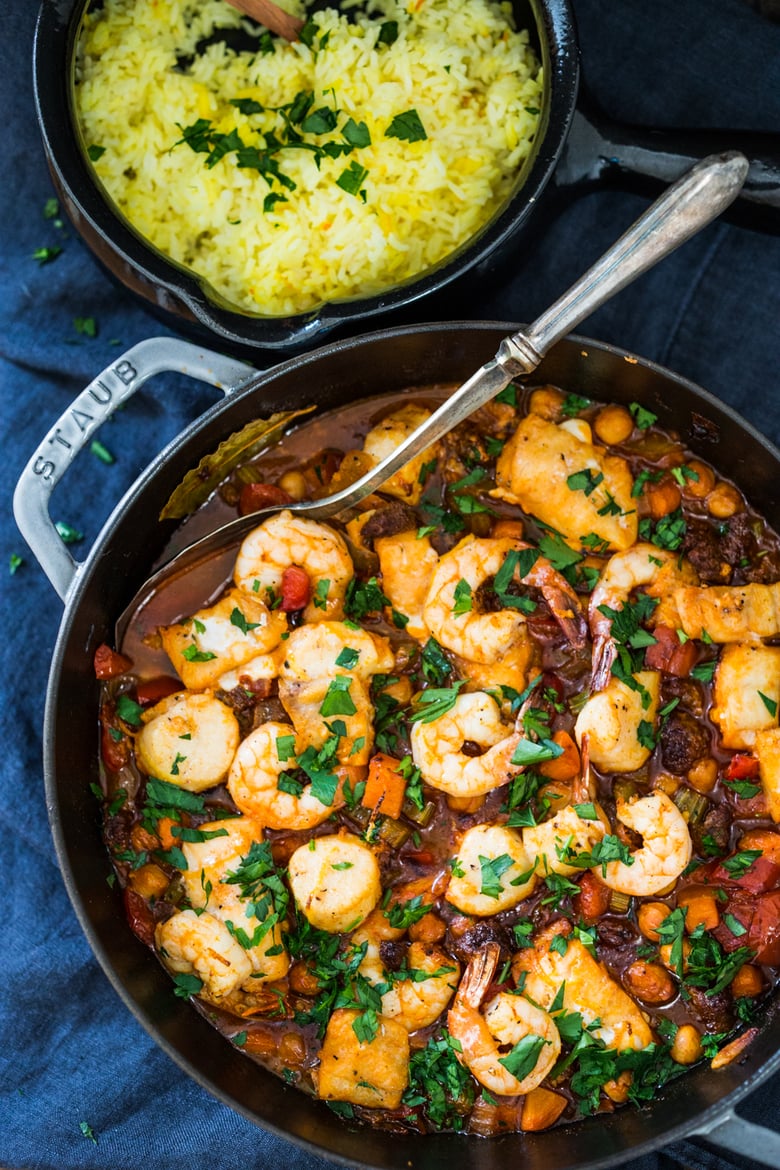 Spanish Seafood Stew with Garbanzo beans and Chorizo served over Saffron-infused rice. A simple delicious stew with smoky rich flavor.
Fish Recipes for summer!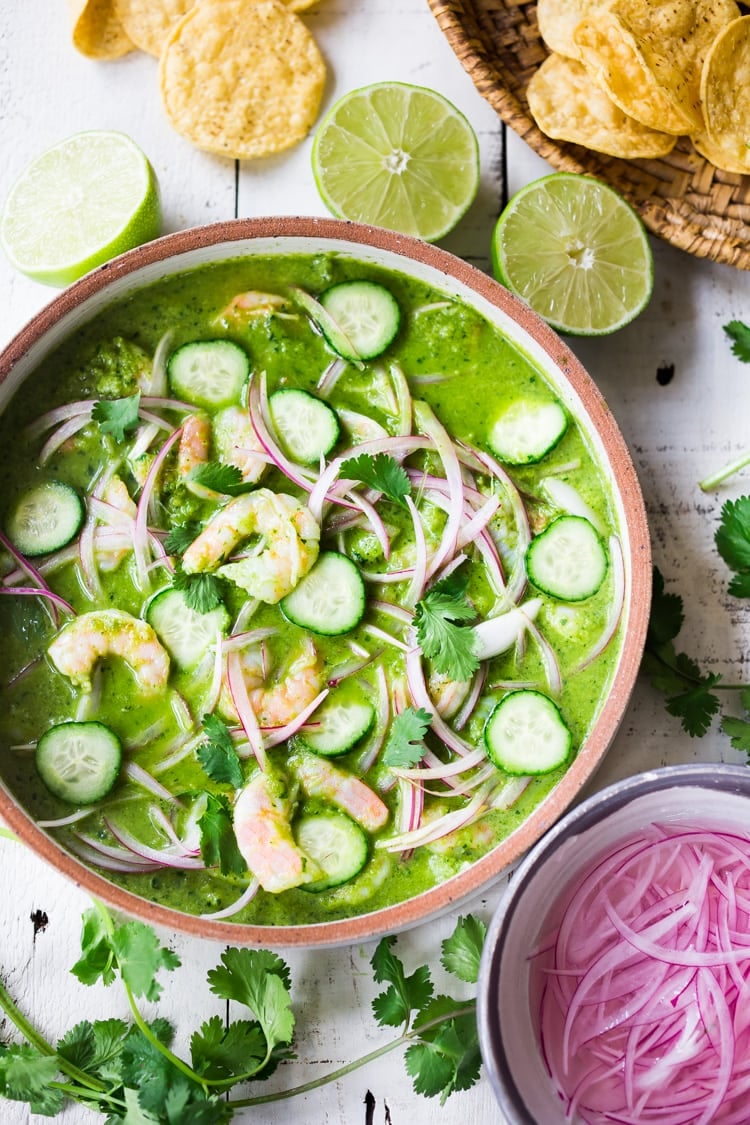 Aguachile!
How to make authentic Mexican Aguachile! Similar to ceviche, shrimp is cooked in a mixture of lime juice, chiles and cilantro. Flavorful, simple and sooooo delicious!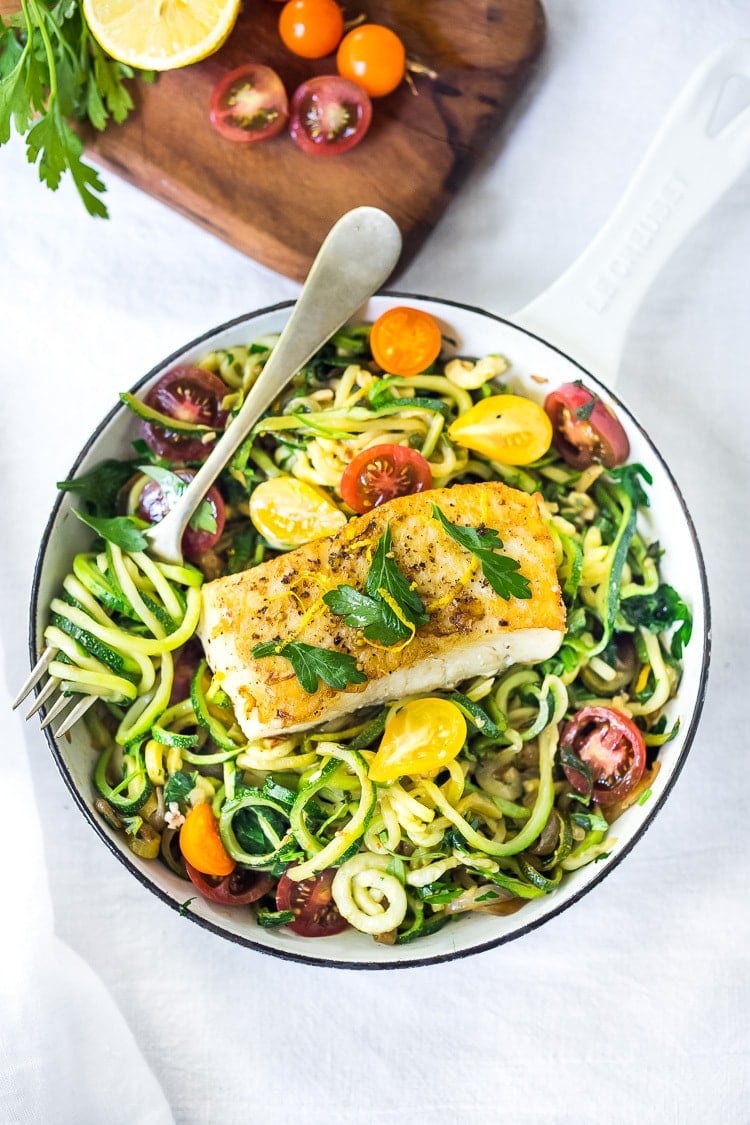 Seared Halibut
Seared Halibut over Lemony Zucchini Noodles with olive oil, garlic and parsley, topped with sweet summer tomatoes. A quick and easy low-carb meal! Wait till summer to make this when tomatoes are ripe and zucchini is aplenty.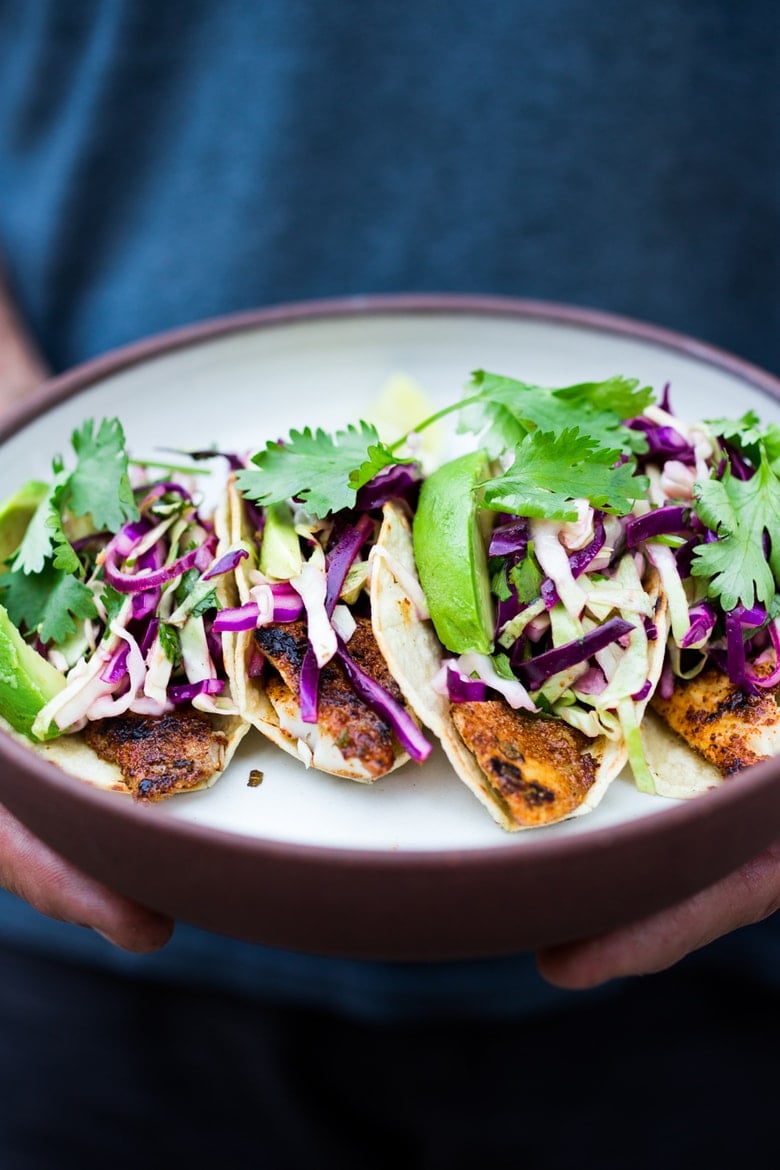 BEST EVER Fish Tacos with Cilantro Lime Cabbage Slaw – a "go-to" healthy dinner that be made in 30 minutes flat! Flavorful and healthy!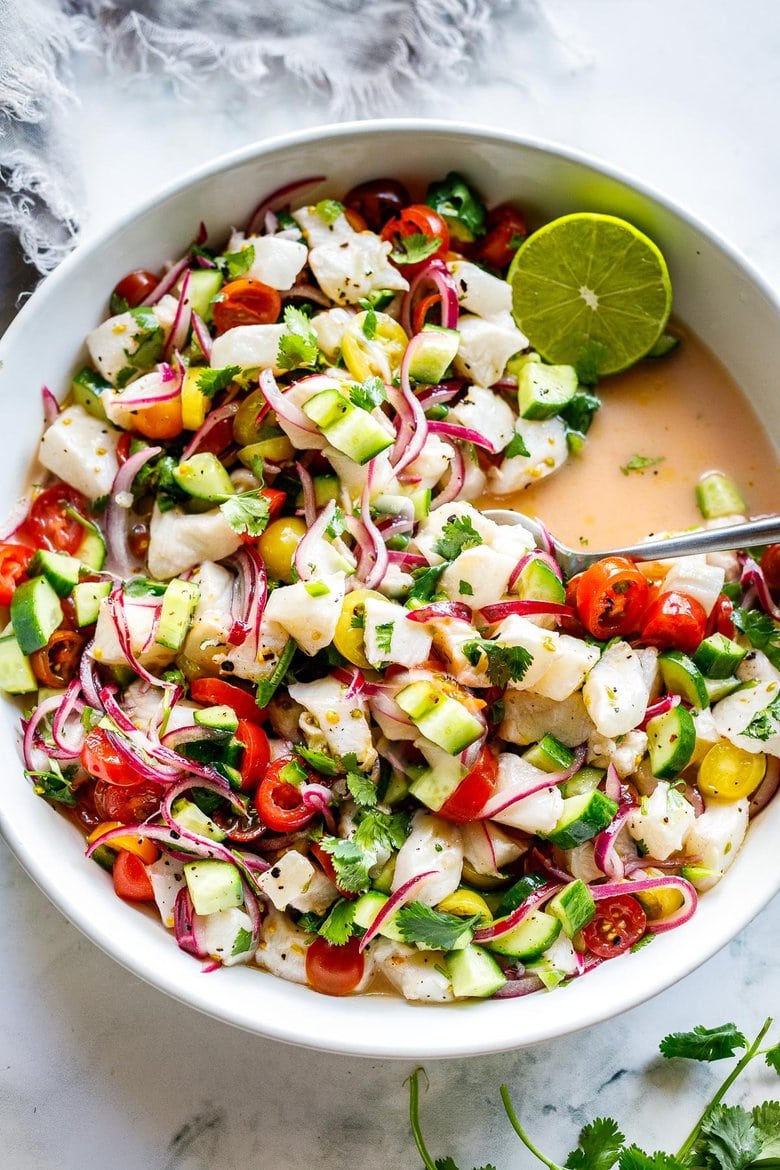 Ceviche!
Simple Ceviche Recipe!  Easy, delicious, and healthy, this ceviche recipe is one of our best fish recipes on the blog! Serve as an appetizer or main course salad.
Ahi Poke Bowls
Ahi Tuna Poke Bowl! A simple step by step recipe to making Hawaii's favorite meal! Ahi tuna is tossed in the most delcious Sesame Ponzu Sauce over rice with cucumber, avocado and edamami.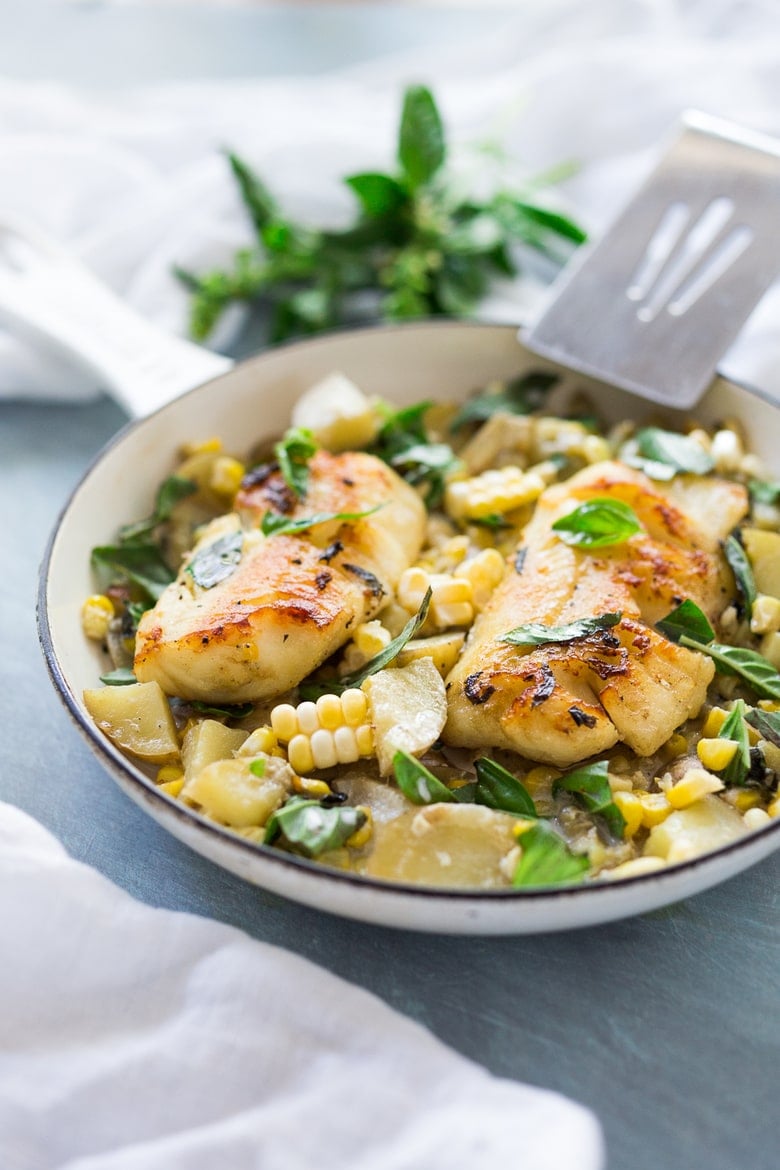 Summer Corn and Basil "Chowder" with Halibut
Wait until summer to make this Corn and Basil "Chowder" topped with Seared White Fish- a light and fresh summery dinner that can be made in under 30 minutes. Use cod, halibut, sea bass or salmon!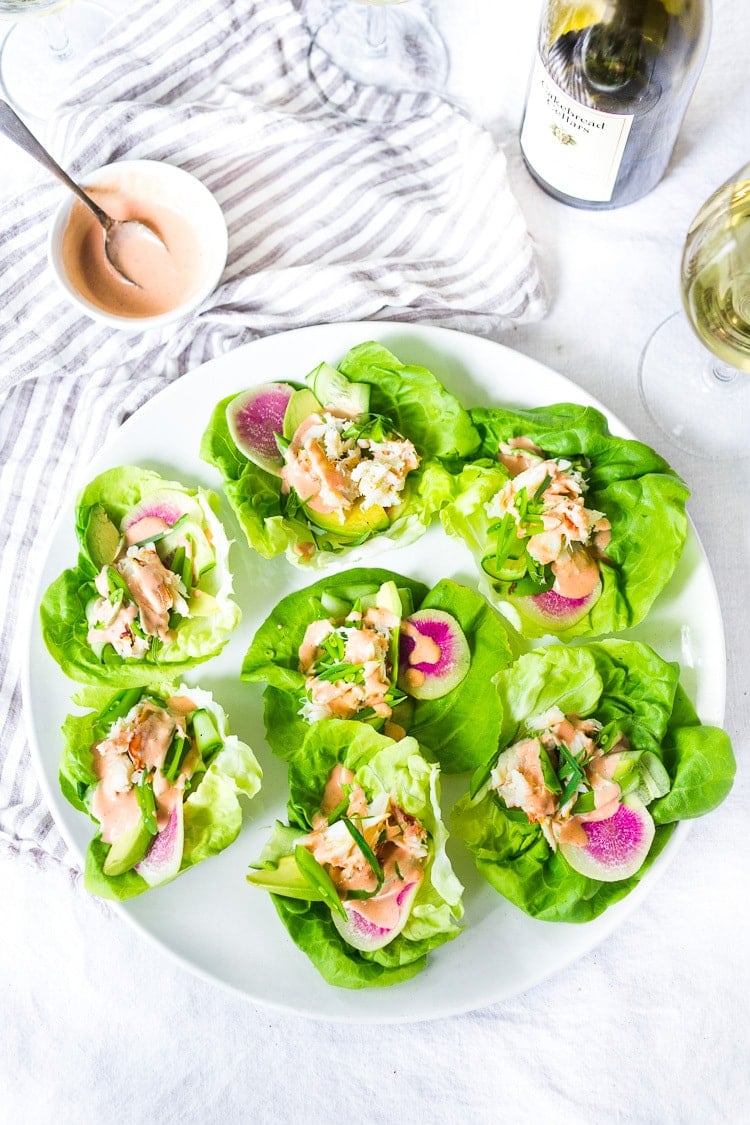 Mini Crab Louies
Spring or summer are the perfect time of year for these Mini Crab Louie Lettuce Wraps! Served in a fresh butter lettuce wrap with radish and avocado. Fresh and light, these flavorful appetizers are always the hit of the party!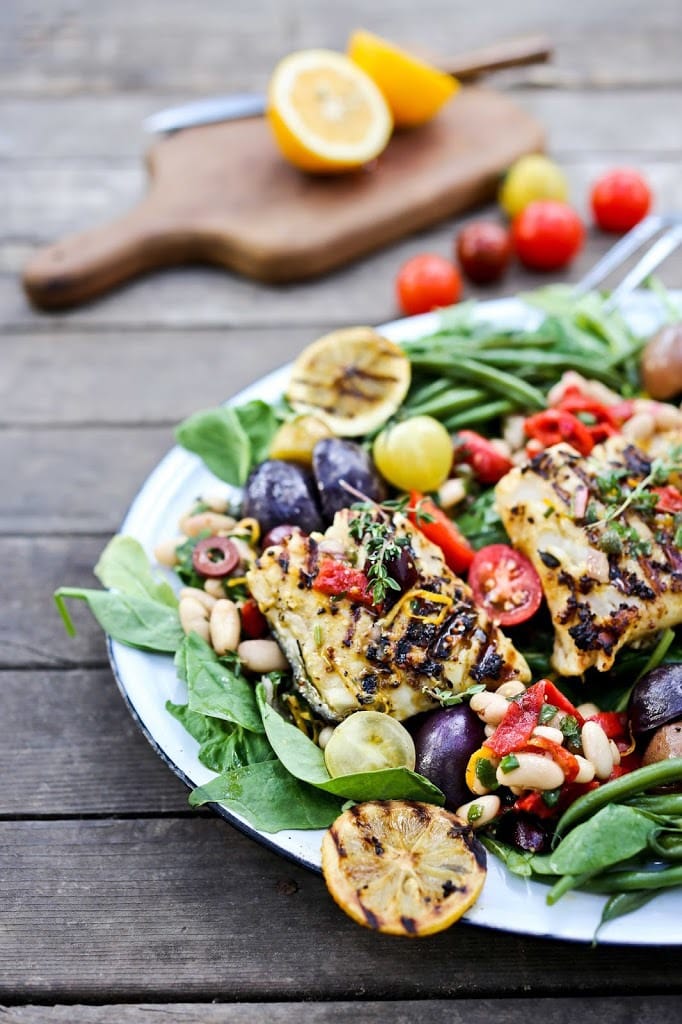 Grilled Summer Nicoise Salad
This Summer Nicoise Salad Recipe can be made with grilled salmon, tuna, halibut or other white fish with baby potatoes, olives, roasted peppers, french beans & a delicious lemony, mustard seed dressing. Gluten free, super filling and full of flavor!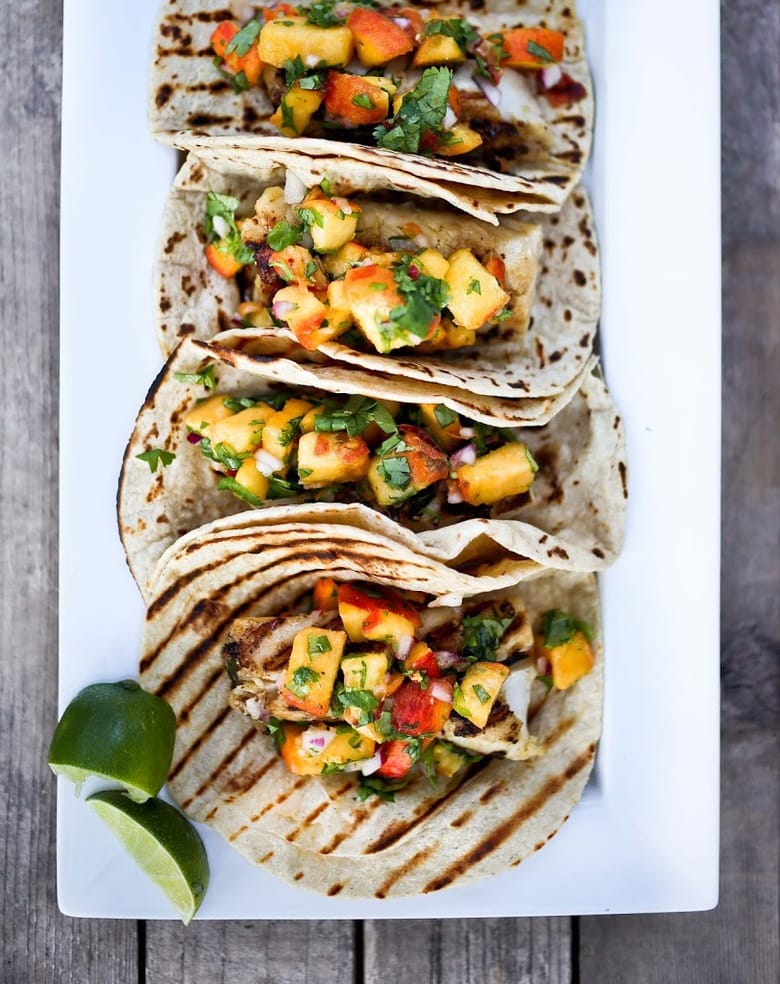 Grilled Chipotle Fish Tacos with a refreshing Peach Salsa. Summery and light with a little bit of smoky heat. The perfect combination of flavors!
Easy Baked Fish Recipes!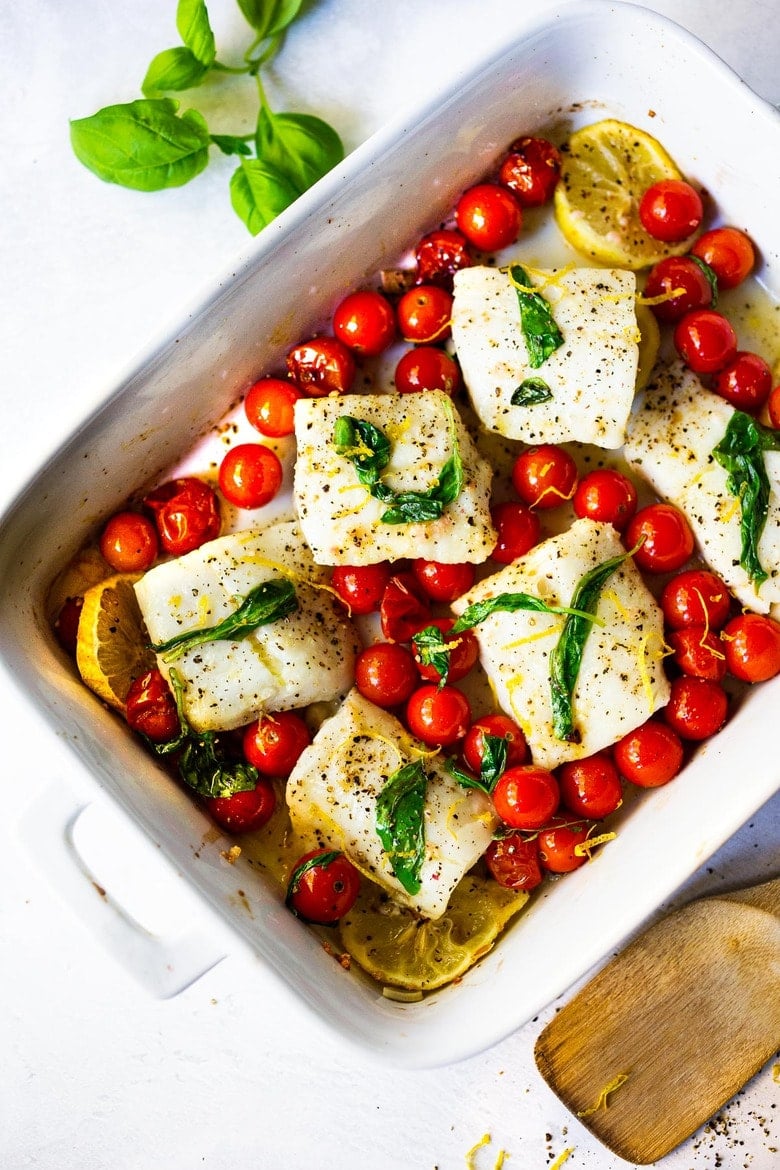 Baked Cod with Tomatoes
Simple Baked Cod with Tomatoes, Basil, Garlic & Lemon– a fast and easy weeknight dinner that is healthy and delicious!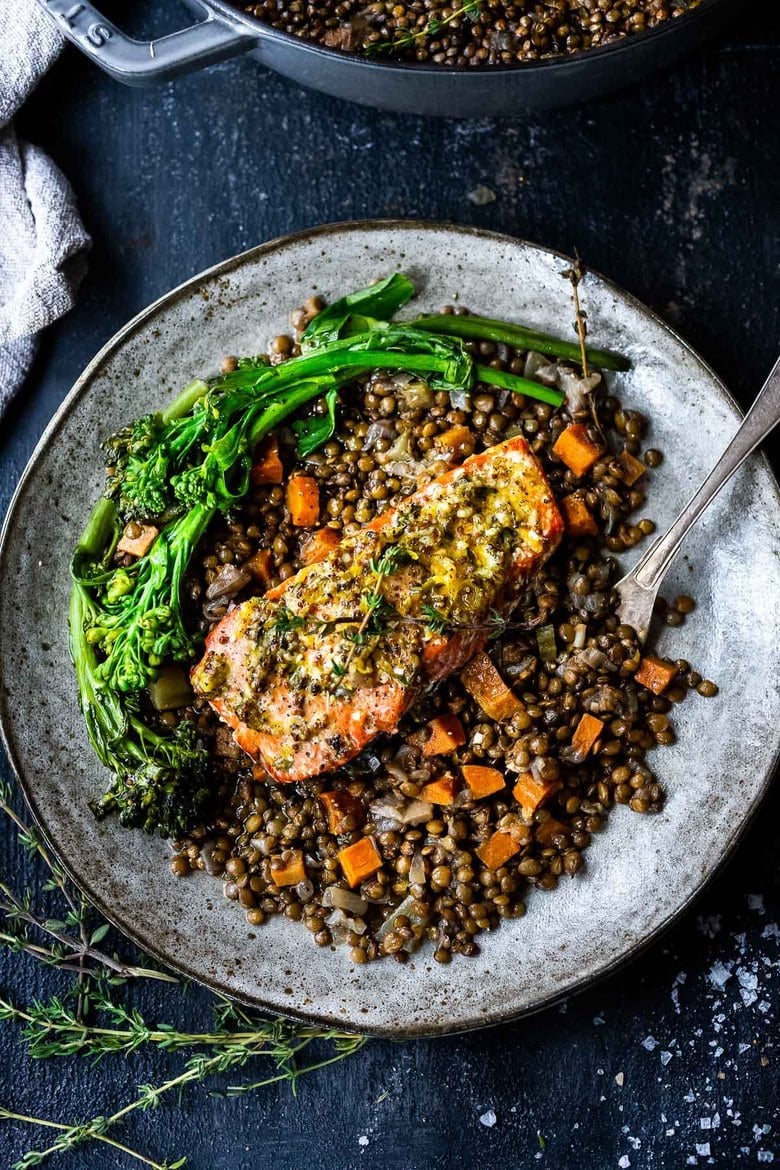 Baked Salmon with Thyme
Roasted Salmon with Lemon and Thyme served over Braised French Green Lentils– a simple healthy weeknight dinner recipe!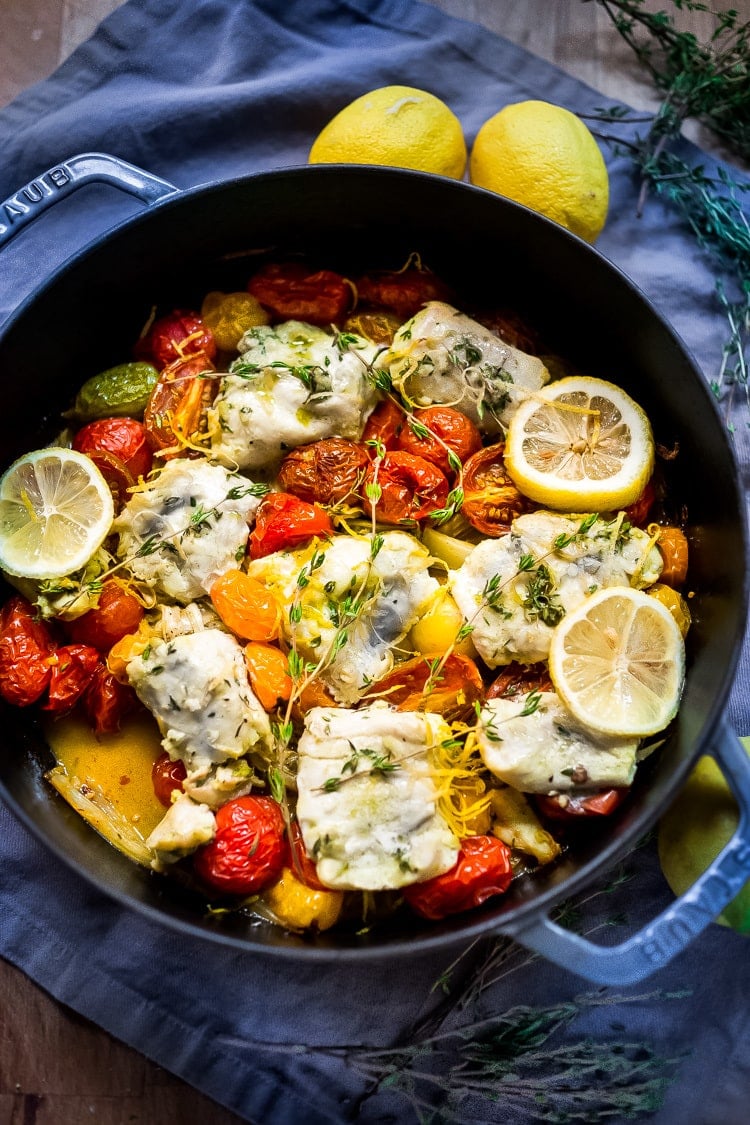 Baked Haddock with Roasted Tomatoes and Fennel
Baked Haddock with roasted tomatoes, fennel and shallots– a simple, easy, healthy one-pan meal that can be made in 35 minutes! Gluten-free, Paleo, keto.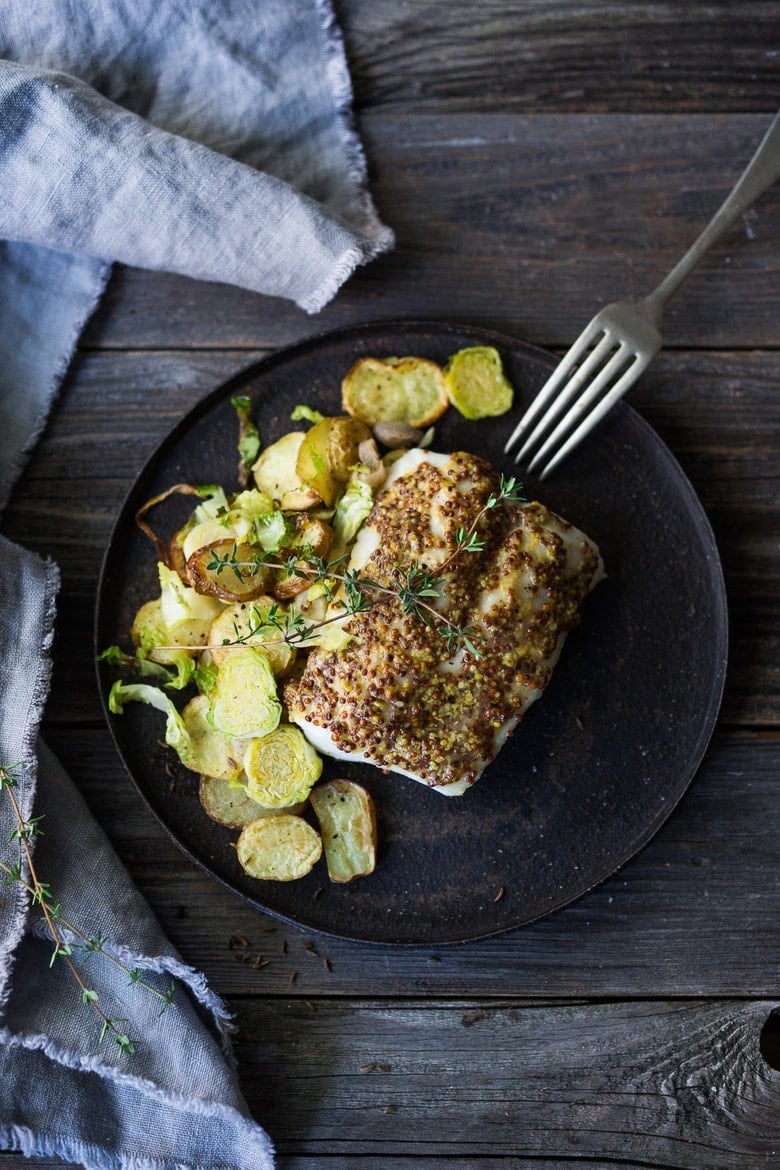 Mustard Baked Whitefish
Roasted Mustard Seed White Fish with Potato-Brussel Sprout Hash, a quick, healthy sheet-pan dinner that is full of flavor. Can be made with wild cod, black cod, haddock, halibut, salmon or sea bass.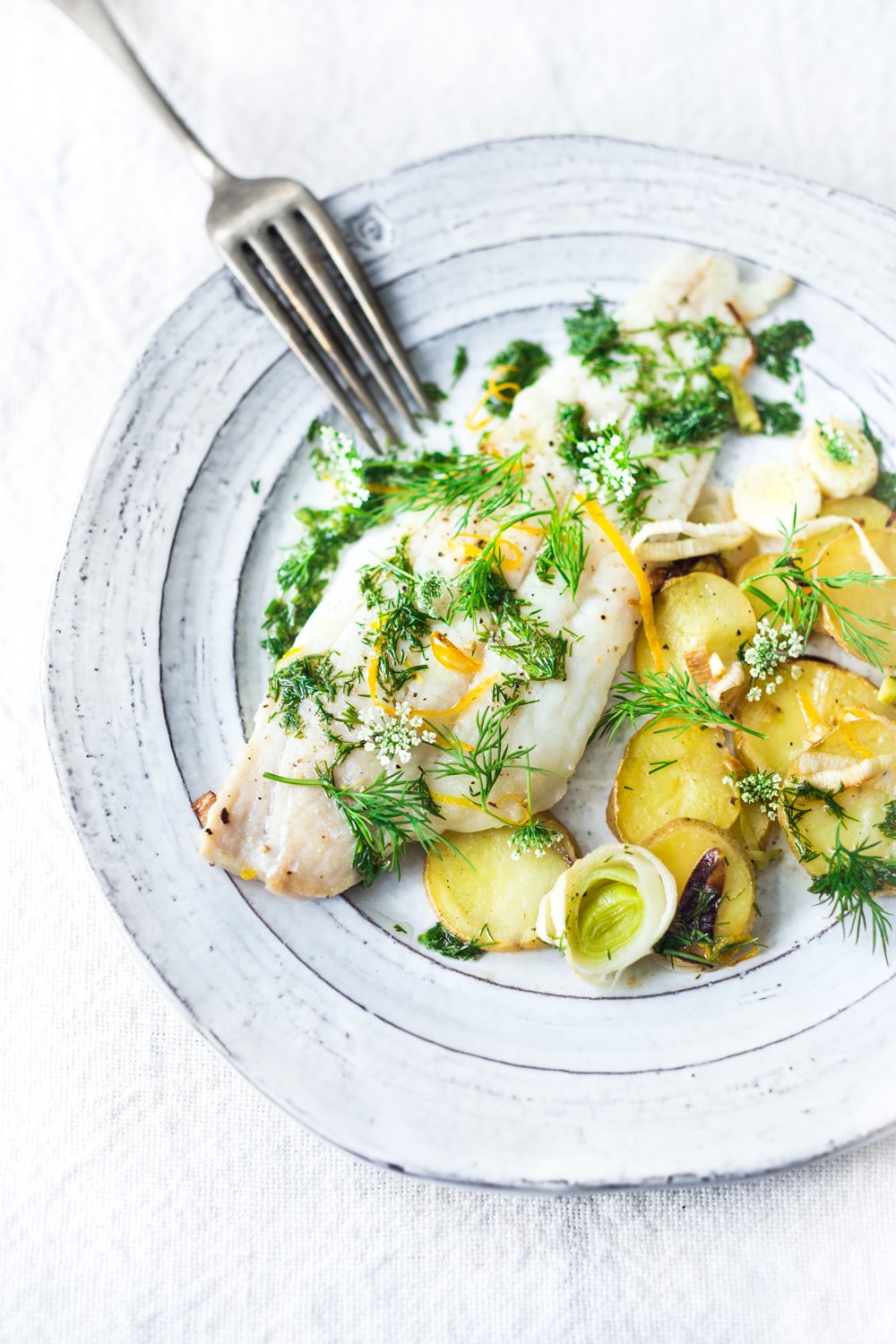 Baked Sole with Lemon Dill Sauce
Dover Sole with Leeks and Lemony Dill Sauce – a simple healthy dinner that can be made in the oven, on a sheet-pan in 25 minutes!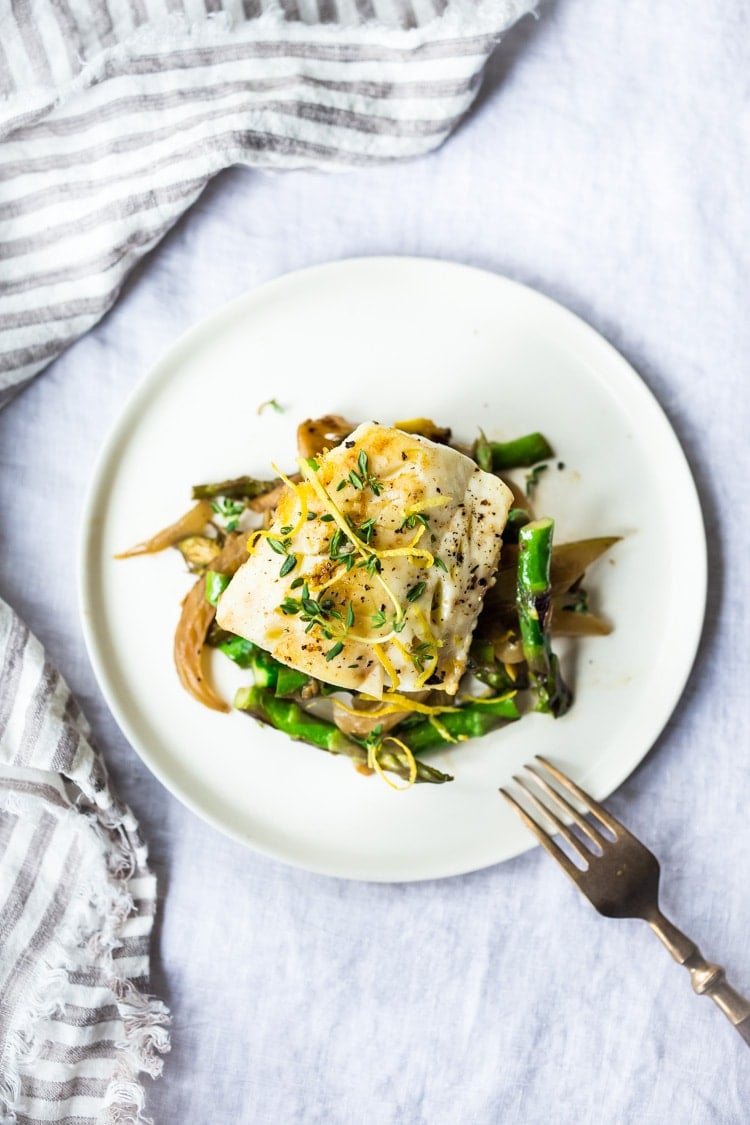 Baked Cod with Asparagus
Baked Cod with Lemon and Thyme, nestled with Asparagus, Fennel and Leeks – a simple, spring-inspired cod recipe that is low-carb and low-calories! Serve this over Everyday Quinoa or on its own for a light and healthy dinner!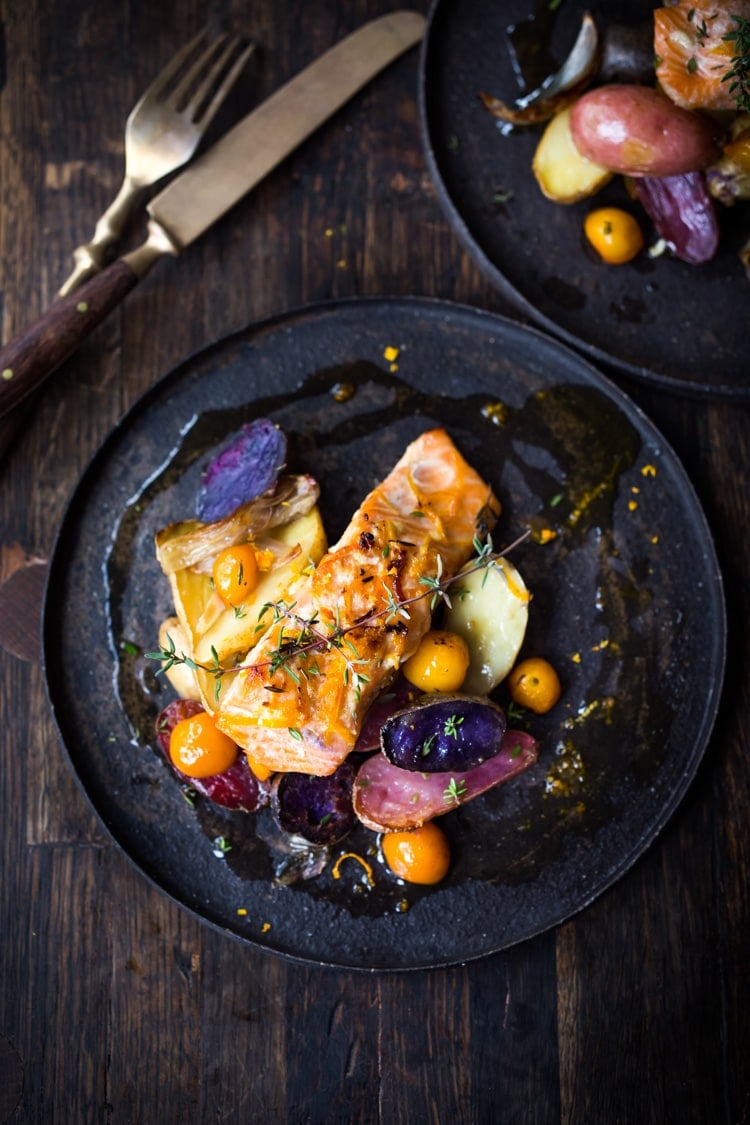 Citrus Baked Salmon
Citrus Baked Salmon with roasted fingerlings and kumquats in a flavorful citrus marinade. With only 15 minutes of hands-on time, this simple easy dinner recipe is perfect for busy weeknights!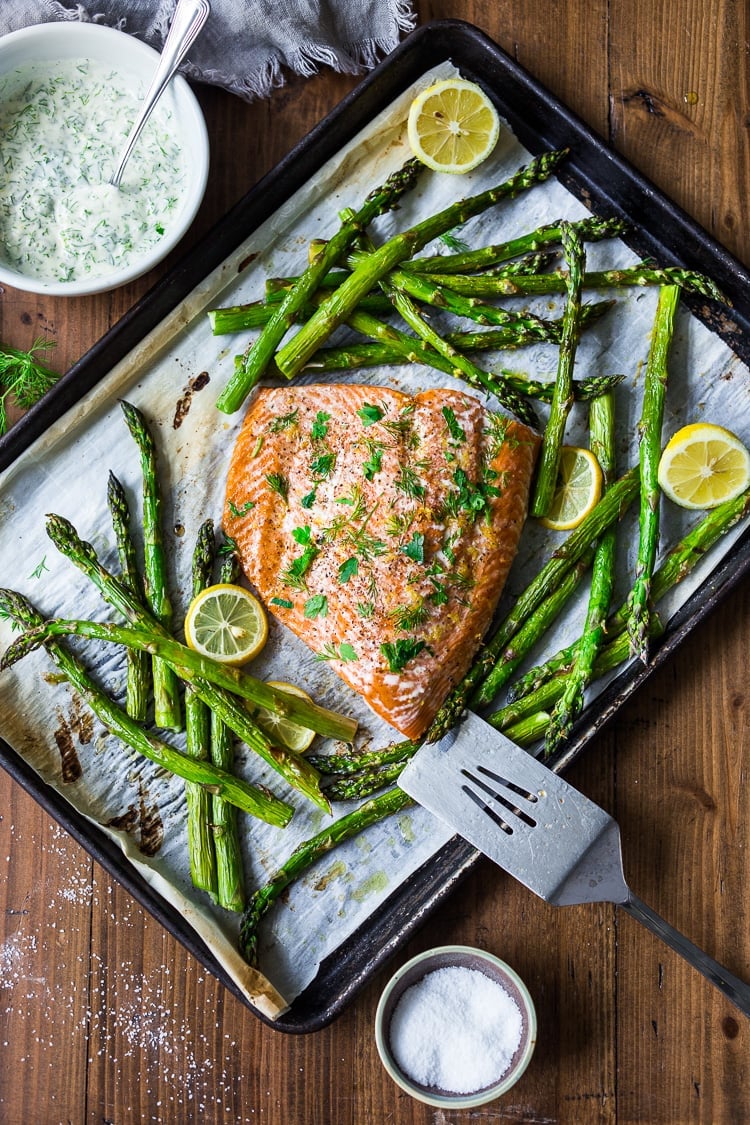 Baked Salmon with Dill Sauce
Baked Salmon with Creamy Dill Sauce -a simple easy sheet-pan dinner that comes together in 30 minutes. Healthy and Delicious!
 Fish and Rice Bowls Everyone will love!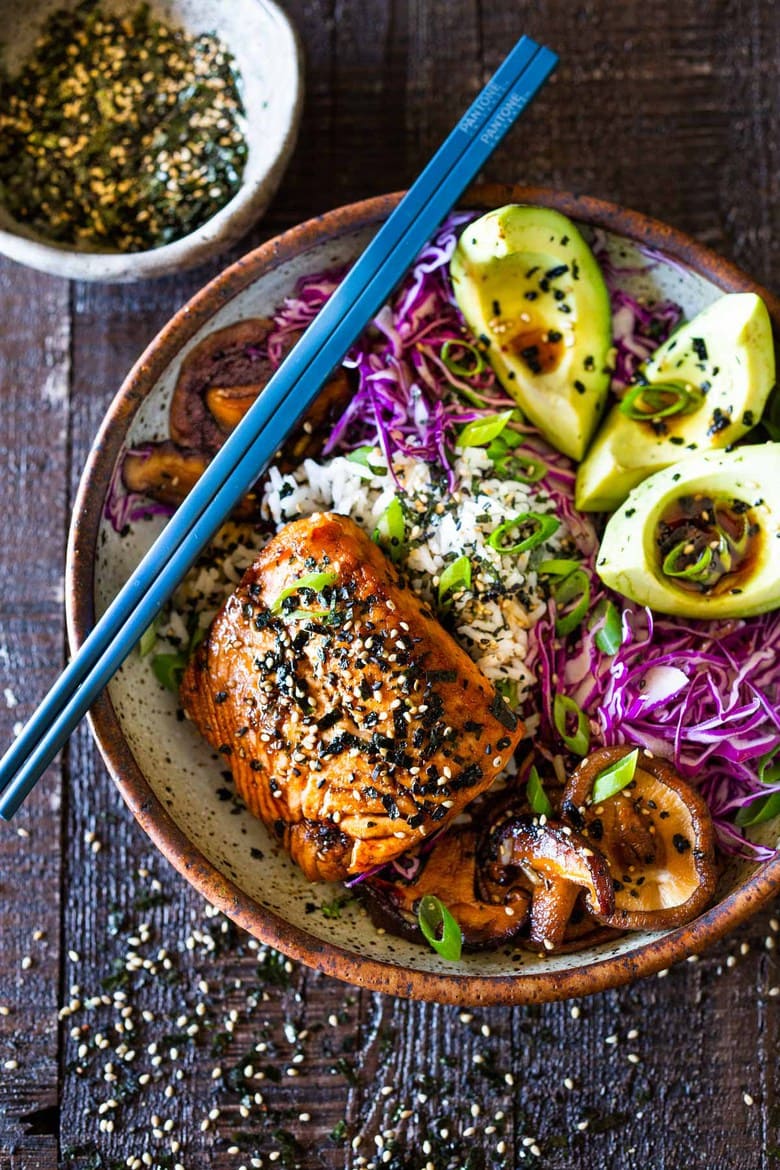 Seared Furikake Salmon seasoned with Furikake, served with Sesame Cabbage, avocado, shiitakes and  rice – a fast and easy weeknight dinner that healthy and delicious.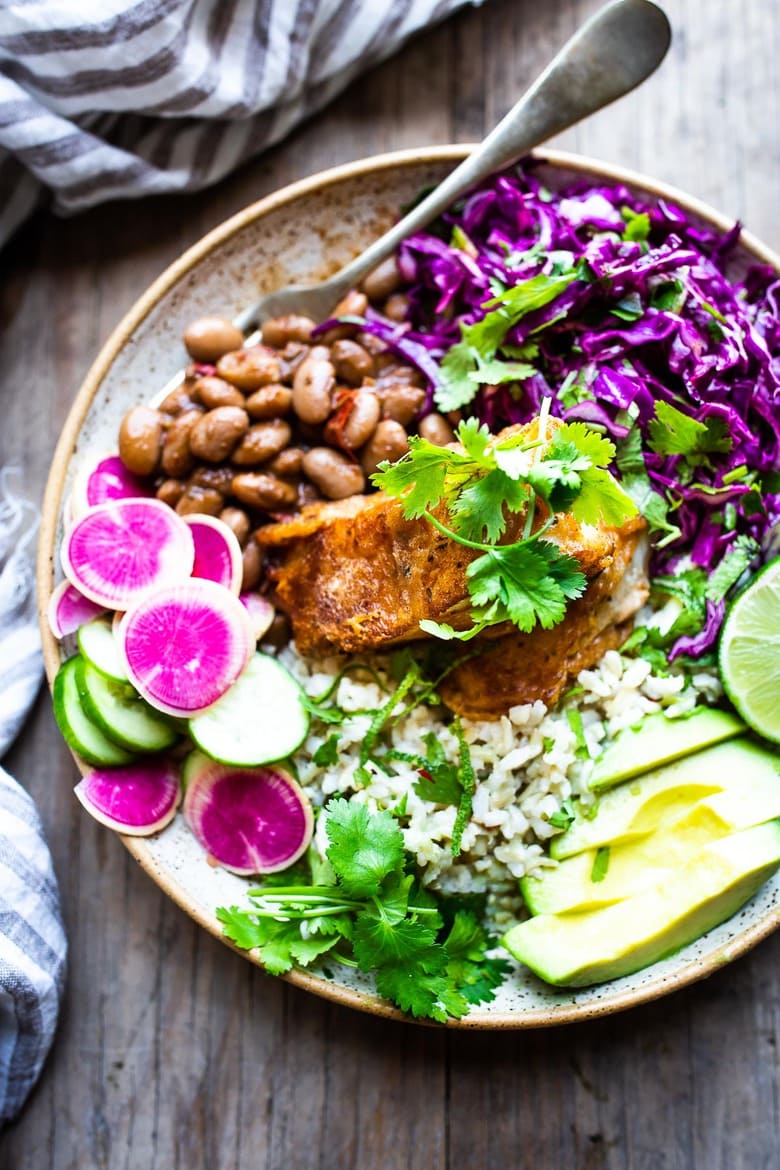 Baja Fish Bowl
Baja Fish Taco Bowls made with beer-battered, seared cod, cilantro rice, pinto beans, Mexican Slaw, avocado and Baja Sauce!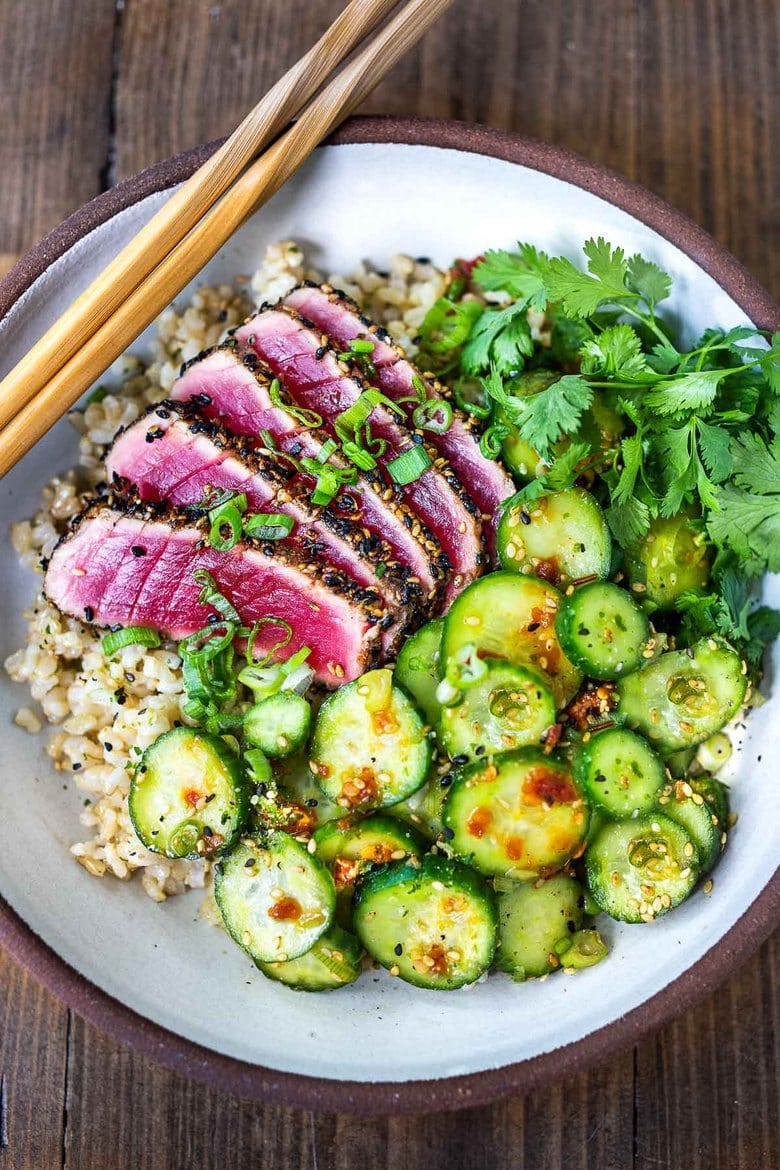 Seared Ahi Tuna Bowl
Sesame Crusted Ahi Tuna– crispy golden on the outside and rare on the inside in just 10 minutes flat! Serve with Furikake Rice and Asian cucumber Salad!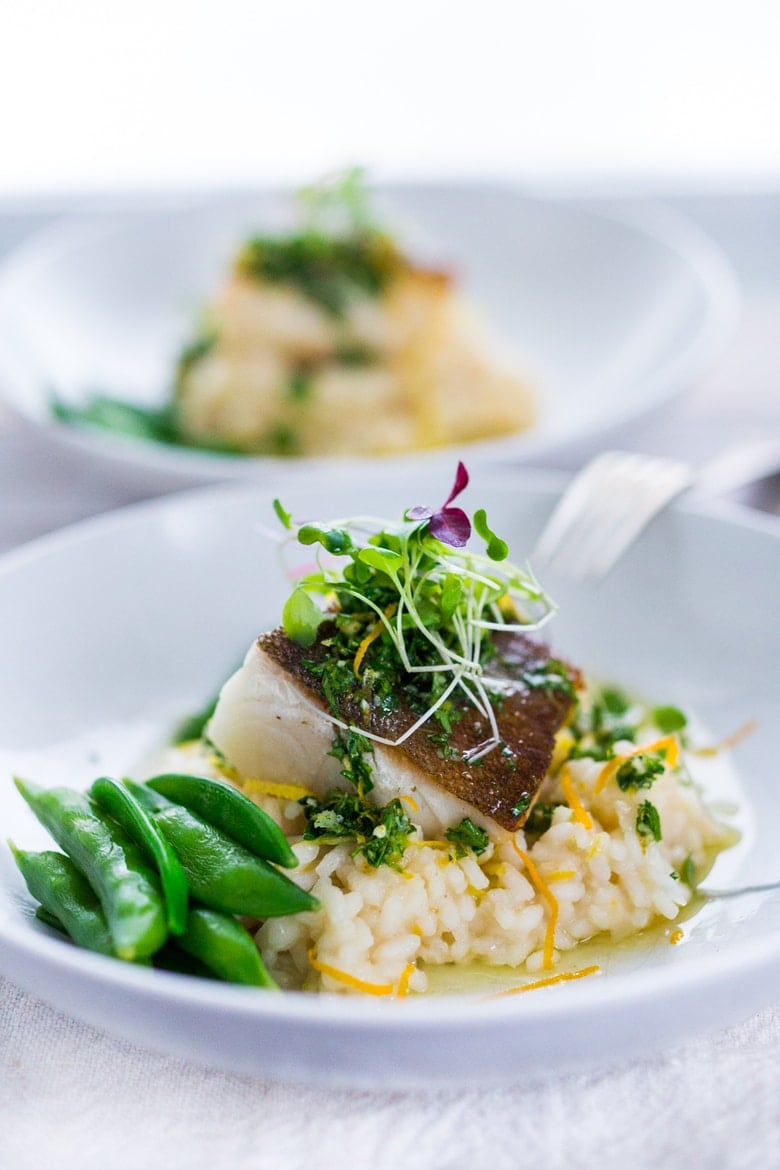 Black Cod and Risotto
Seared Black Cod with Meyer Lemon Risotto and Gremolata– a flavorful Italian herb sauce. Feel free to sub halibut or Sea bass!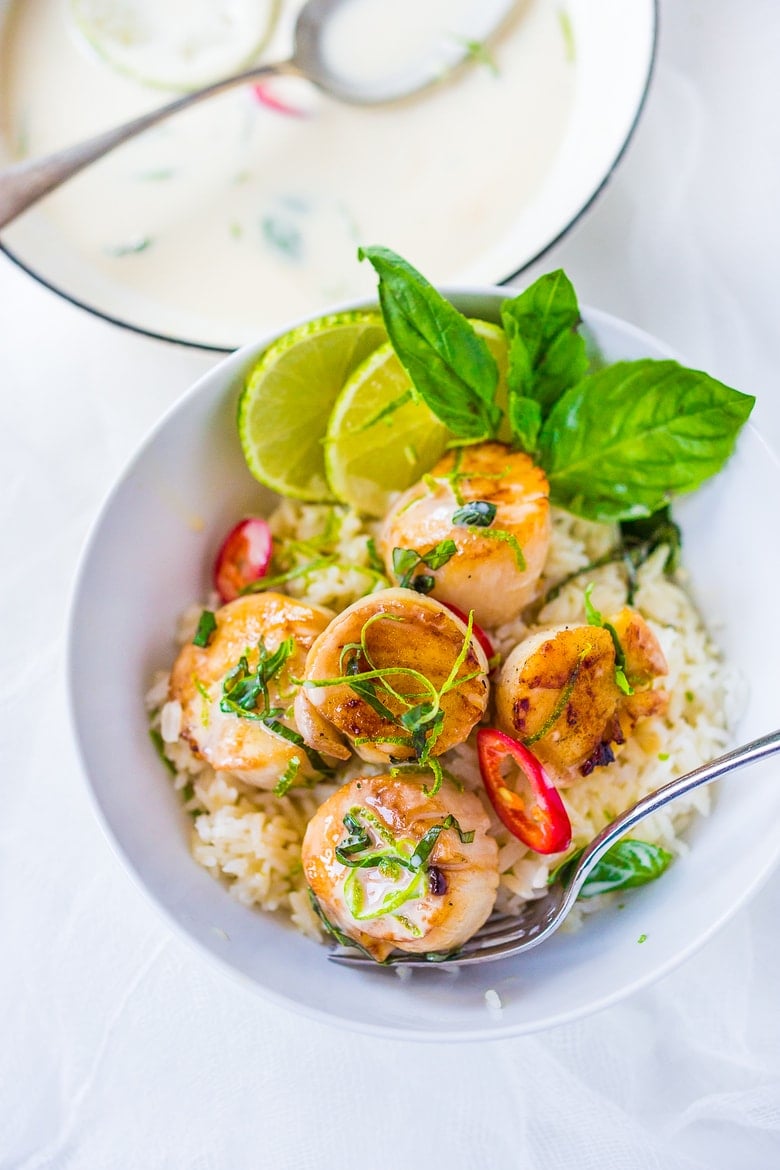 Scallops and Coconut Rice
Seared Scallops with Coconut Lemongrass Sauce, fresh basil and lime zest. Healthy and delicious, this Thai-inspired dinner is FULL of amazing flavor and easy and quick to make. Feel free to substitute halibut, black cod or shrimp for the scallops!
flavorful Fish Soups from around the globe!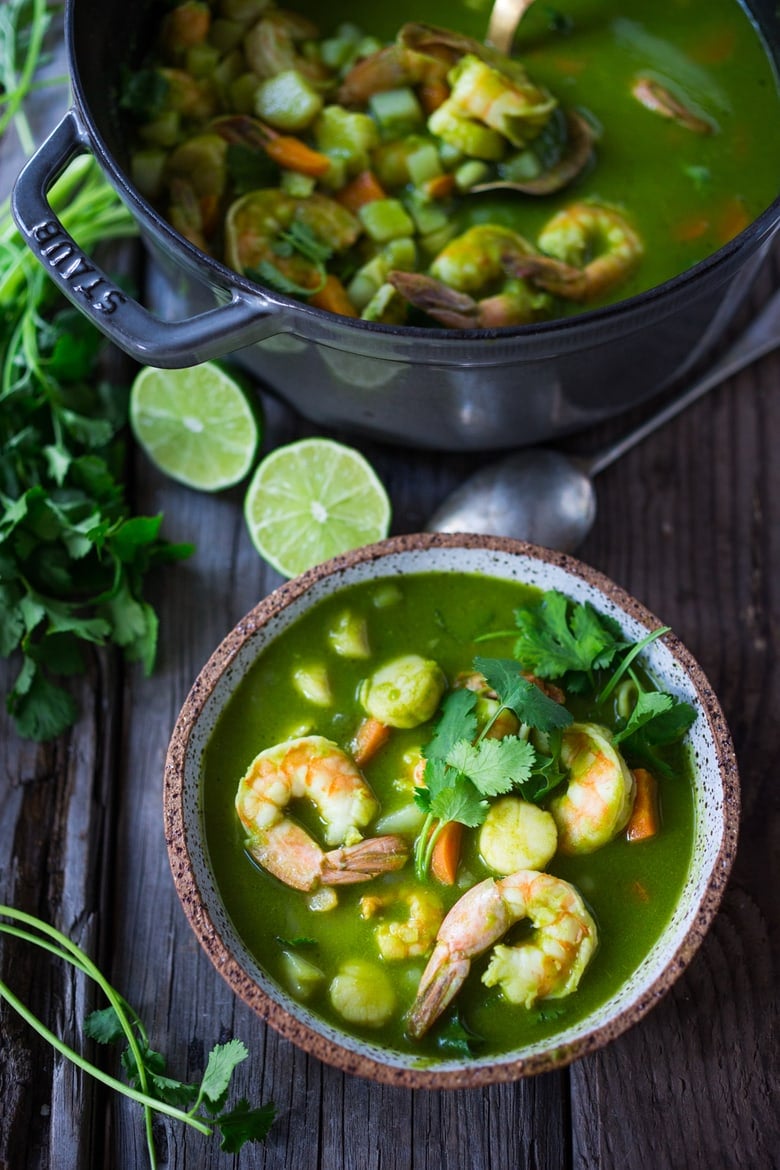 Peruvian Seafood Stew with Cilantro Broth made with fish and shellfish, potatoes, carrots, and the most flavorful, delicious broth! Healthy, Paleo, Gluten-free, Easy! Can be made in 35 minutes!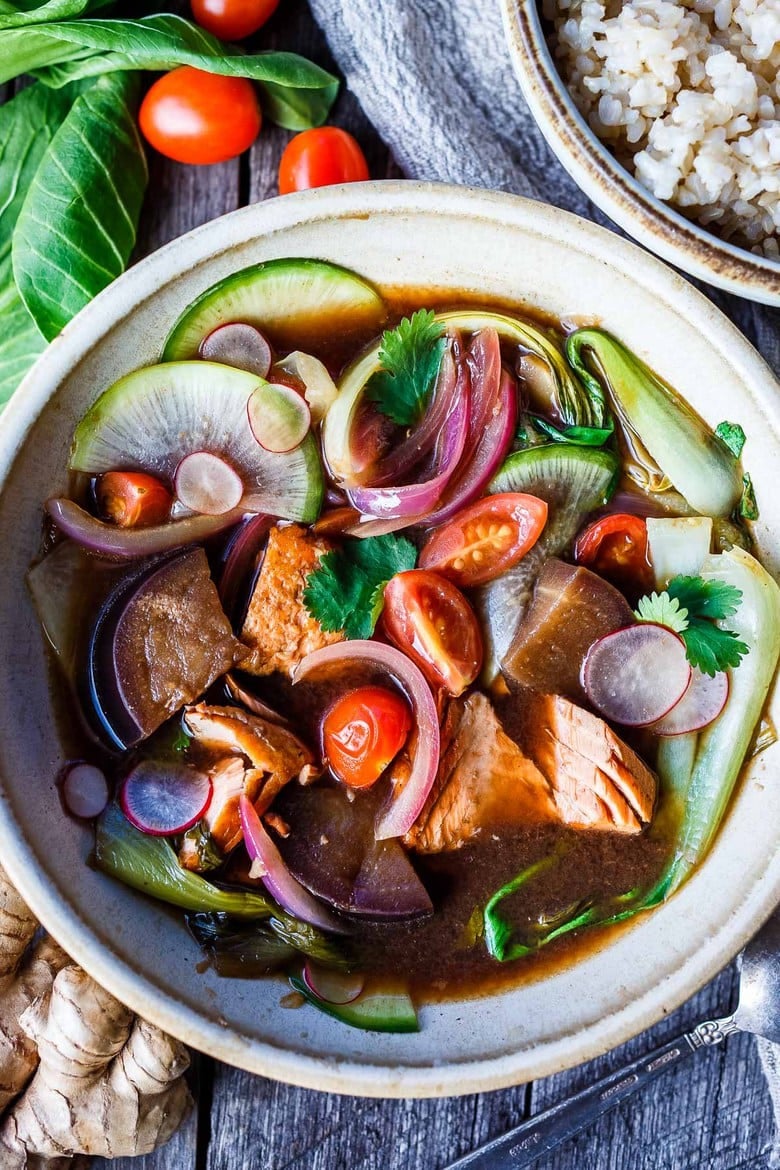 Sinigang
Sinigang! Filipino Sour Soup with Salmon is bursting with umami flavor.  Quick to throw together, loaded with veggies and completely delicious.  Serve with rice if desired.  Vegan-adaptable and gluten-free.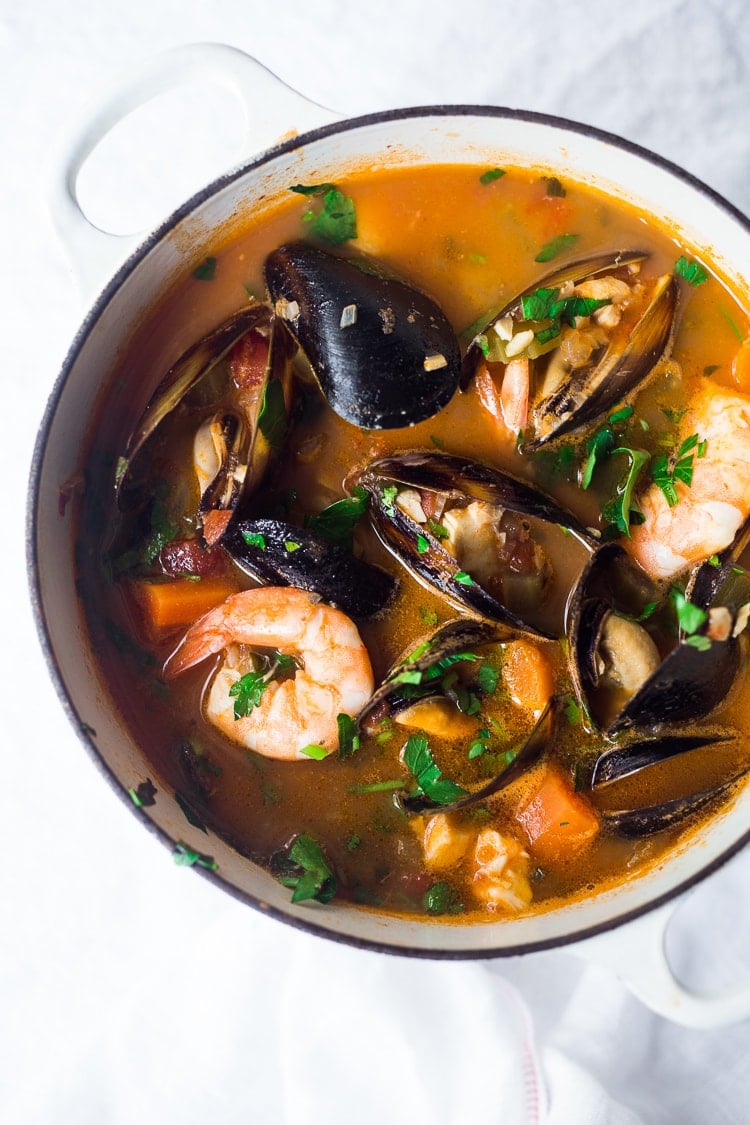 Cioppino
A simple authentic Cioppino Recipe that is easy to make and full of flavor.  Fresh fish and seafood are bathed in a light and flavorful tomato broth. Serve with crusty bread to mop up all the juices.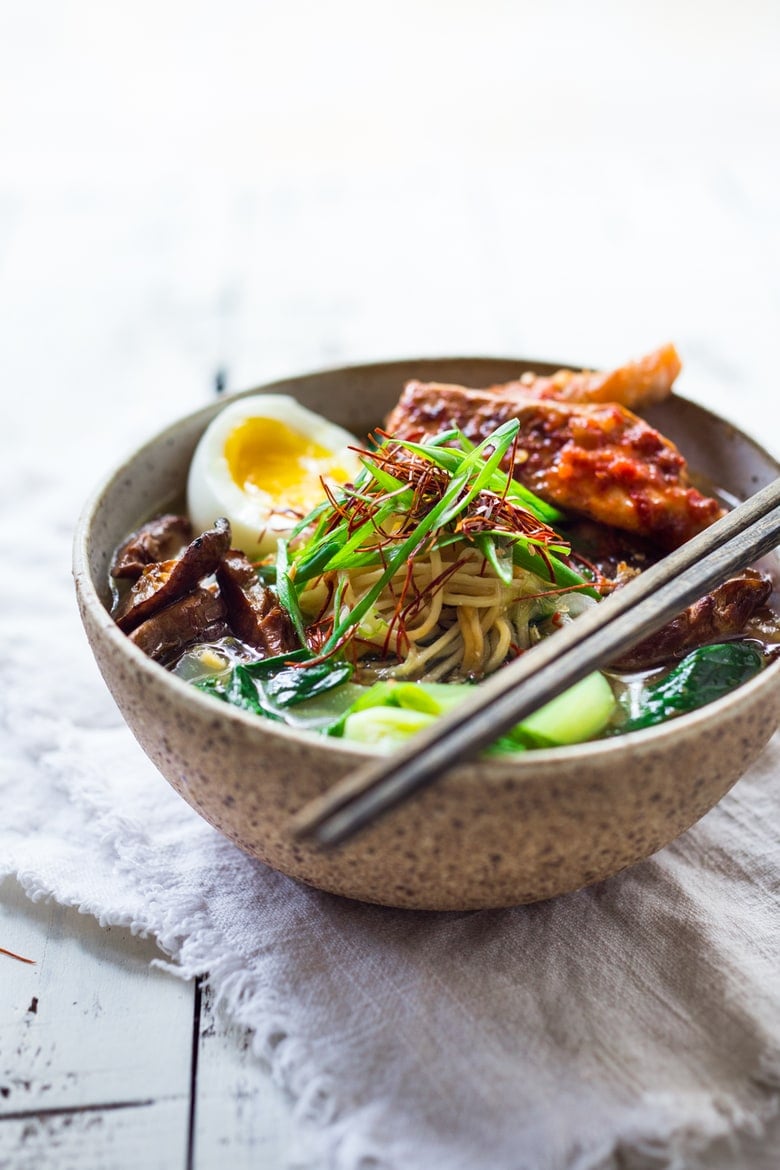 Salmon Ramen
Spicy Miso Ramen with Roasted Chili Salmon with bok choy, mushrooms and scallions. One of my favorite dishes on the blog. Vegan and Paleo adaptable! Swap out zucchini noodles or kelp noodles to keep it Keto!
 Fish Recipes with sauces for entertaining!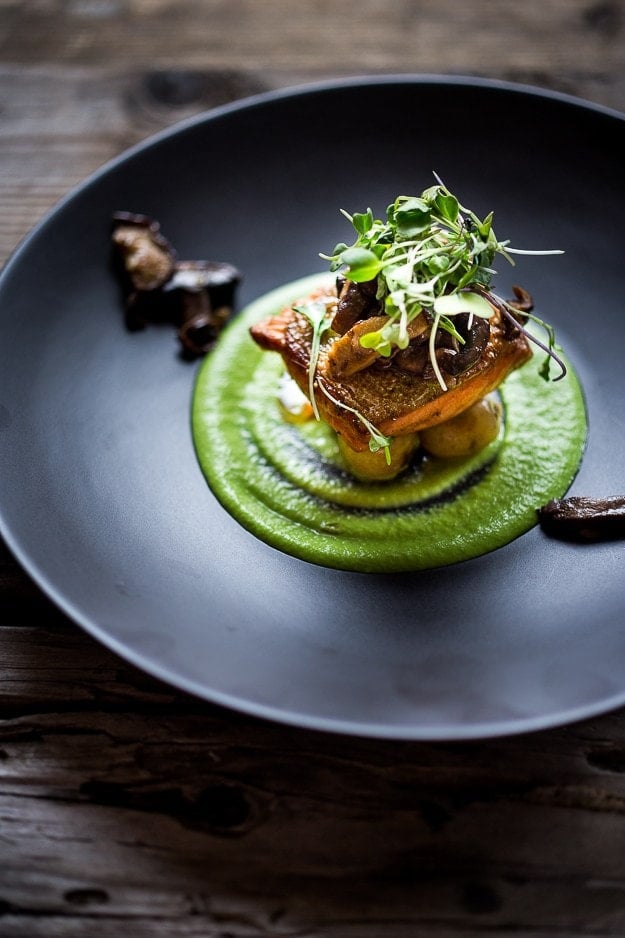 Steelhead with Truffled Pea Sauce
Pan-seared Crispy Skinned Stealhead Trout (or Salmon) over a fresh spring pea sauce with shiitakes and new potatoes. A delicious spring recipe!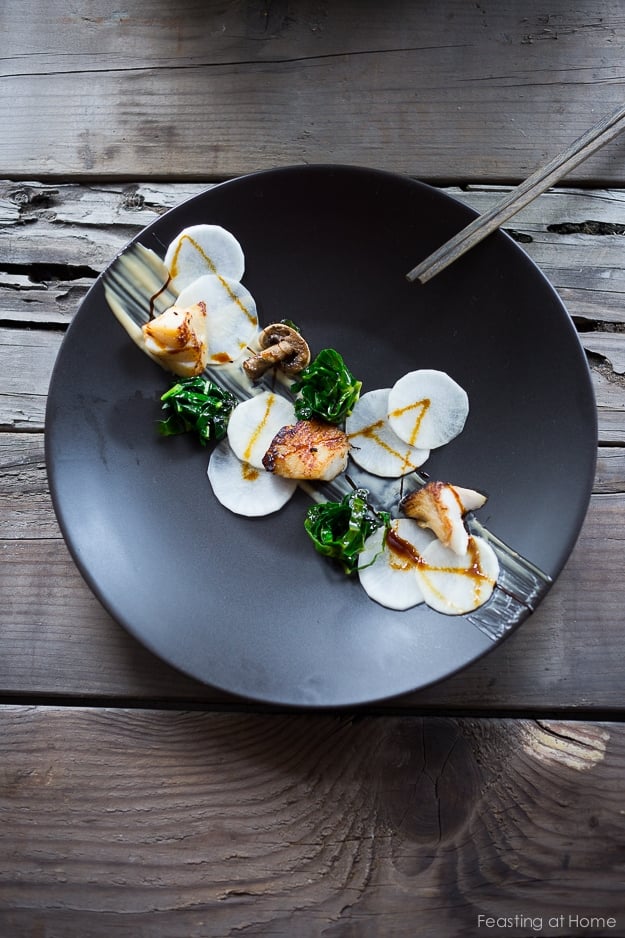 White Miso Black Cod
Melt in your mouth, White Miso Black Cod  is made with the most delicious miso marinade ever! Served up with pickled daikon, kale "nests" and miso aioli, a simple delicious recipe, perfect for entertaining!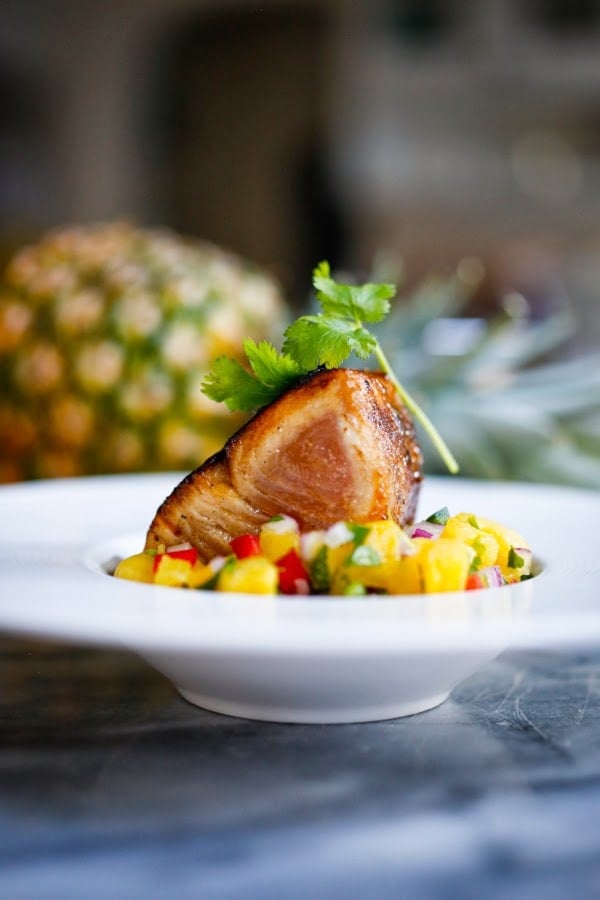 Seared Ono with Honey soy glaze
Seared Hawaiian Ono with Honey Soy Glaze and fresh Pineapple Salsa…an elegant healthy meal, perfect for a gathering or dinner party. Easy, delicious!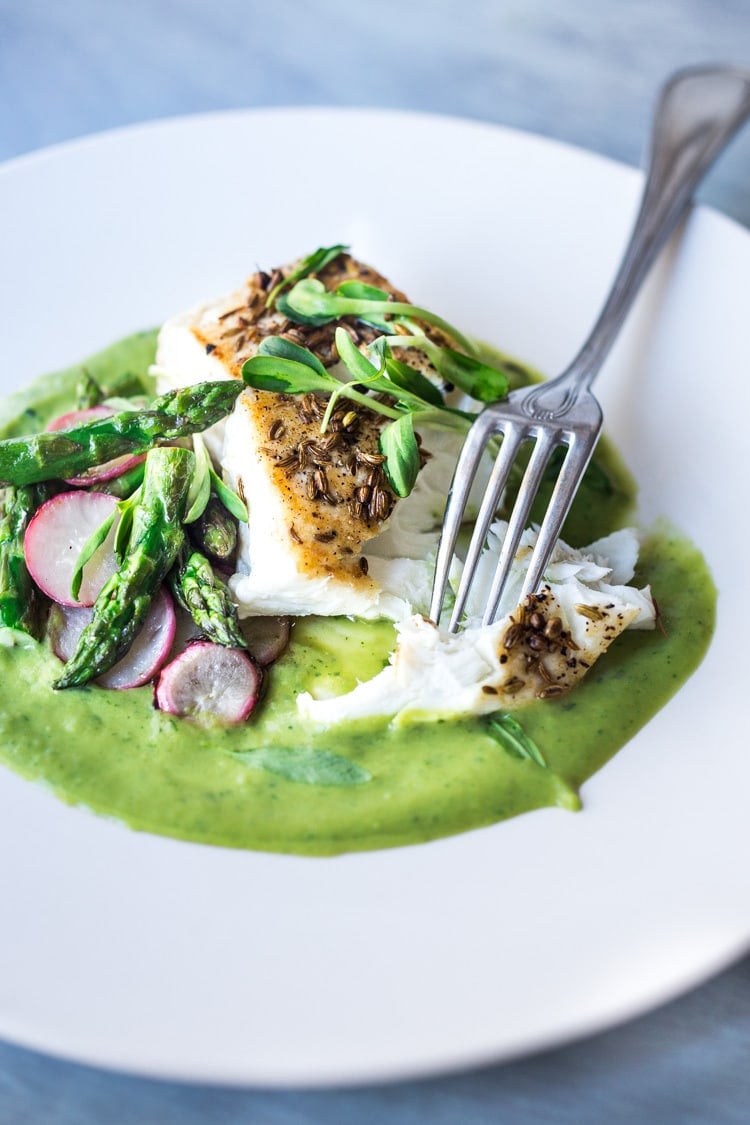 Halibut with Asparagus Sauce
Seared Fennel Crusted Halibut with Asparagus – a simple healthy dinner that can be made in 35 minutes! Wait until spring when Asparagus are in season for this one!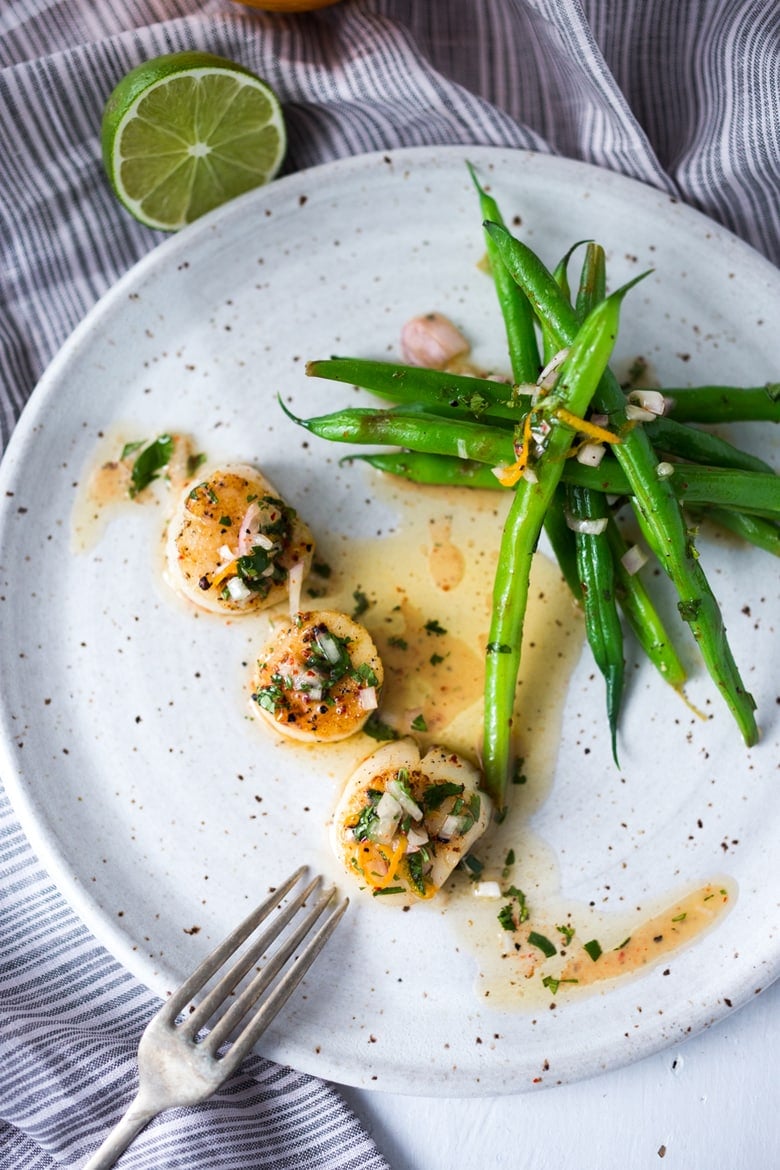 Seared Scallops with citrus sauce
Pan-Seared Scallops with Citrus Shallot Dressing served with a healthy side of veggies… a simple, healthy weeknight dinner! Keto and low-carb!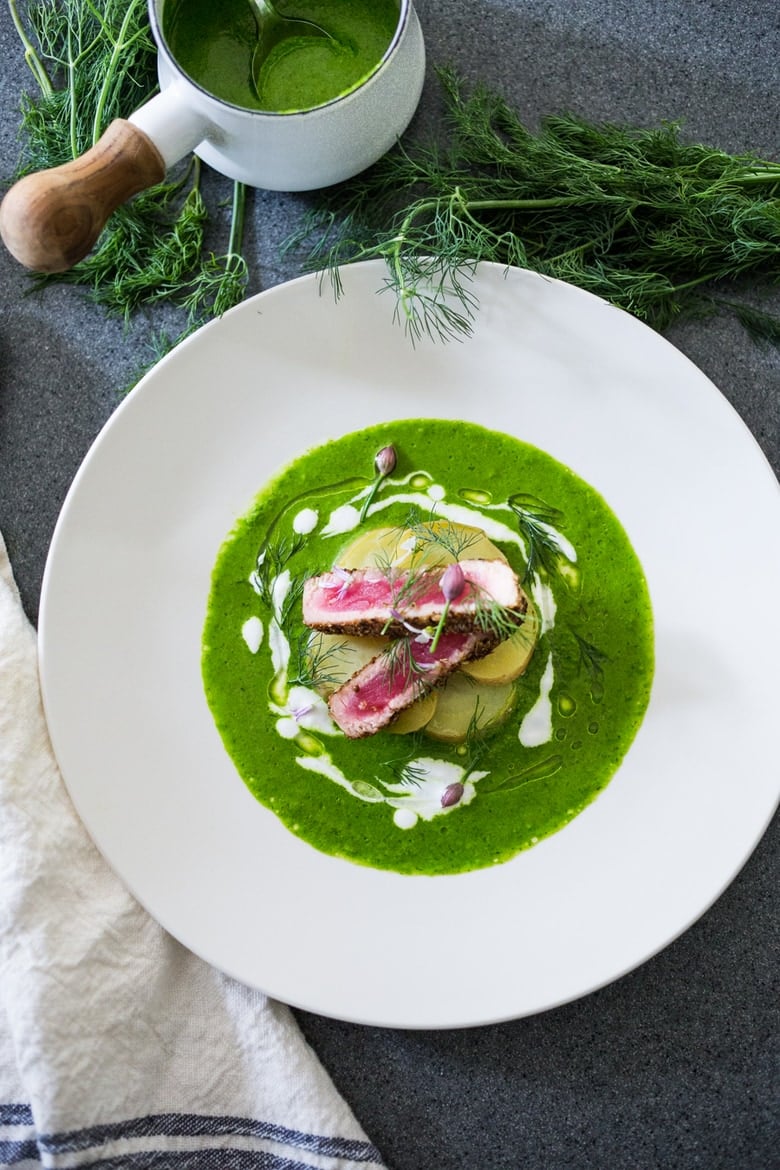 Seared Ahi with Dill Sauce
Pan Seared Ahi with Dill, Yogurt and Chive Blossoms a simple beautiful Nordic style dinner that bursts with flavors of Spring.
Seared Halibut with Corn Relish
A simple delicious recipe for Halibut with corn, leeks pancetta and sage, served over a "lightened-up" creamy polenta. And the best part is it can be made un under 30 minutes! Wait until summer when corn is juicy and sweet!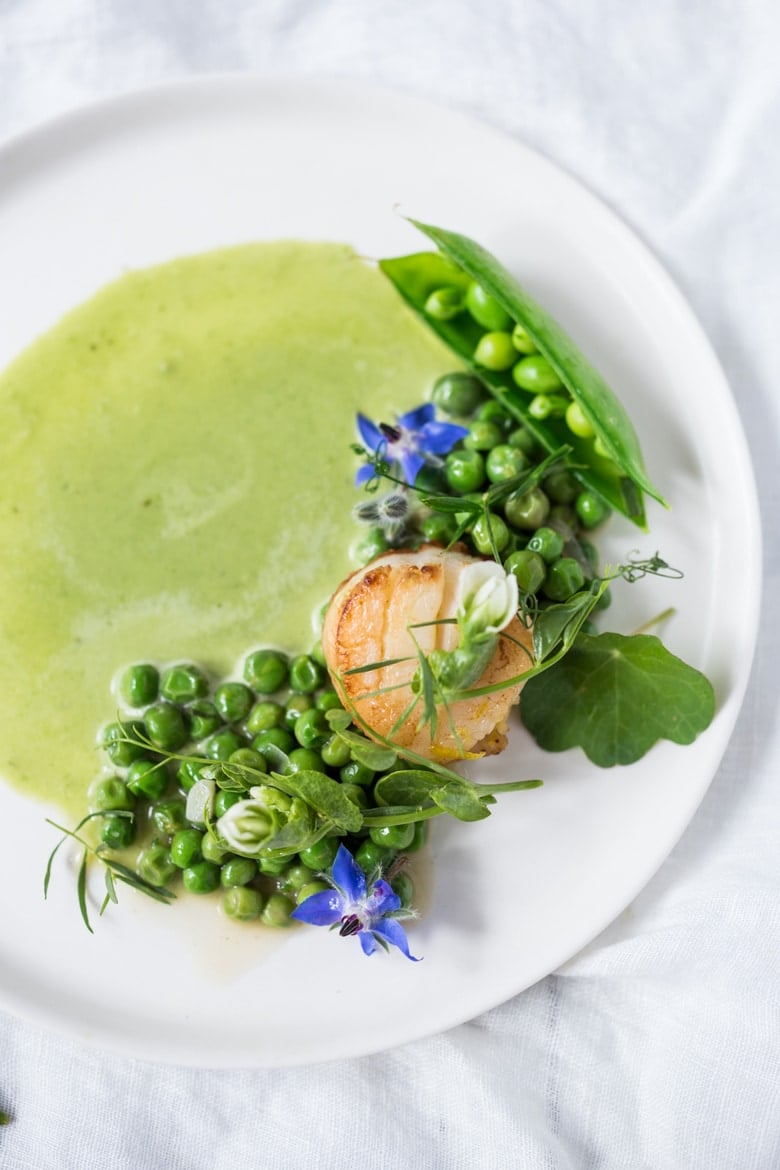 Spring Scallops with truffled Pea Sauce
Pan-seared Scallops with Spring Peas, tarragon and truffle oil– a light and elegant meal, perfect for entertaining or special occasions. Best to wait until you can get fresh peas!
Flavorful Shrimp Recipes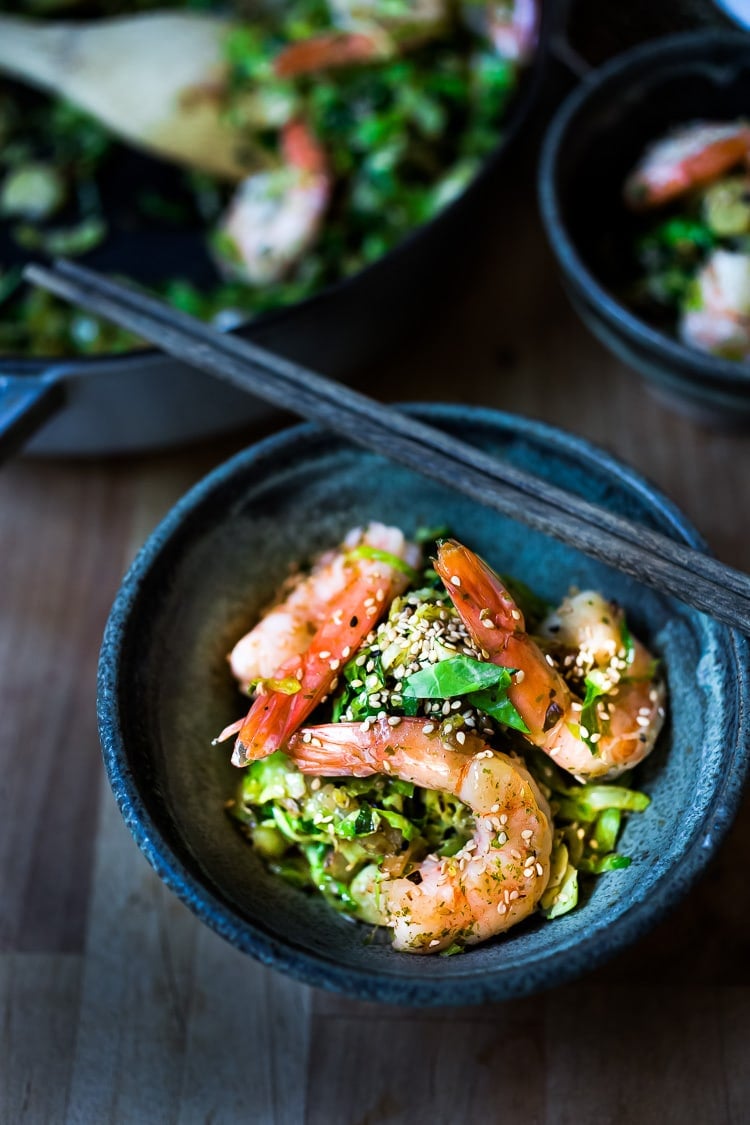 Furikake Shrimp
Furikake Brussel Sprouts and Shrimp -a quick and healthy Japanese-inspired meal that can be made in under 30 minutes, a delicious weeknight dinner!  FYI this is one of my favorite meals!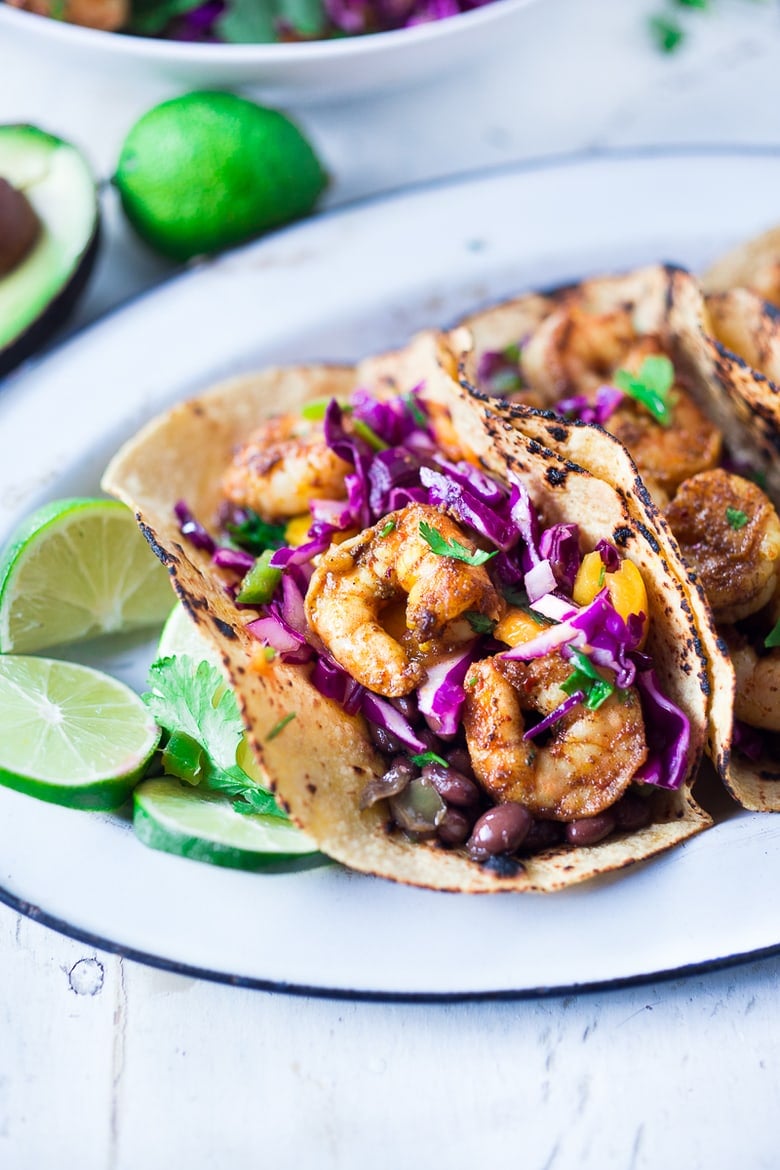 Shrimp Tacos
Caribbean Shrimp Tacos with Mango Cabbage Slaw– healthy, light and delicious- bursting with Caribbean flavors! Fast and easy- and can be made in 30 mins!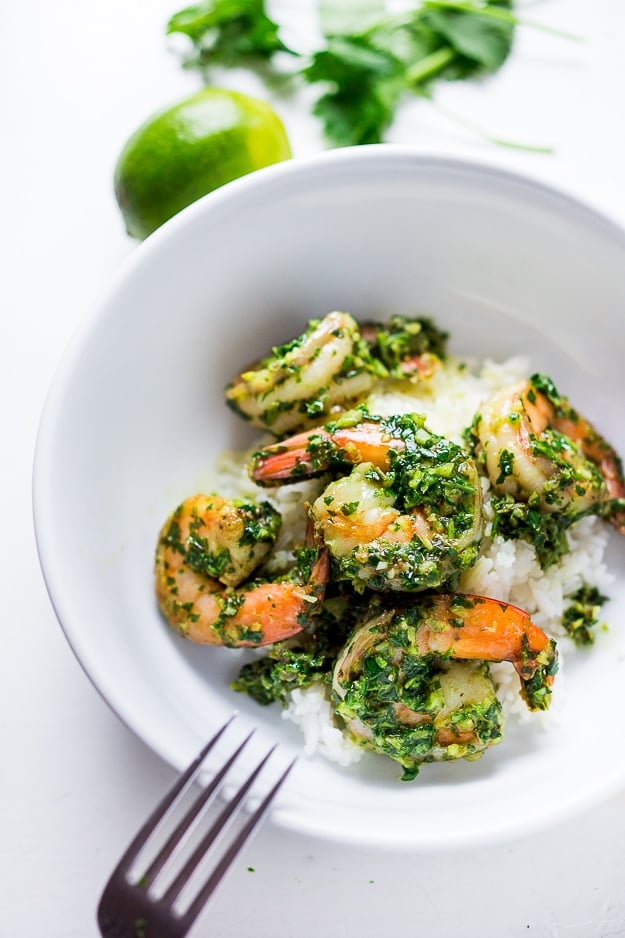 Chimichurri Shrimp
Chimichurri Shrimp! A fast and flavorful weeknight dinner that comes together in under 30 minutes!  Serve over basmati rice or cauliflower rice!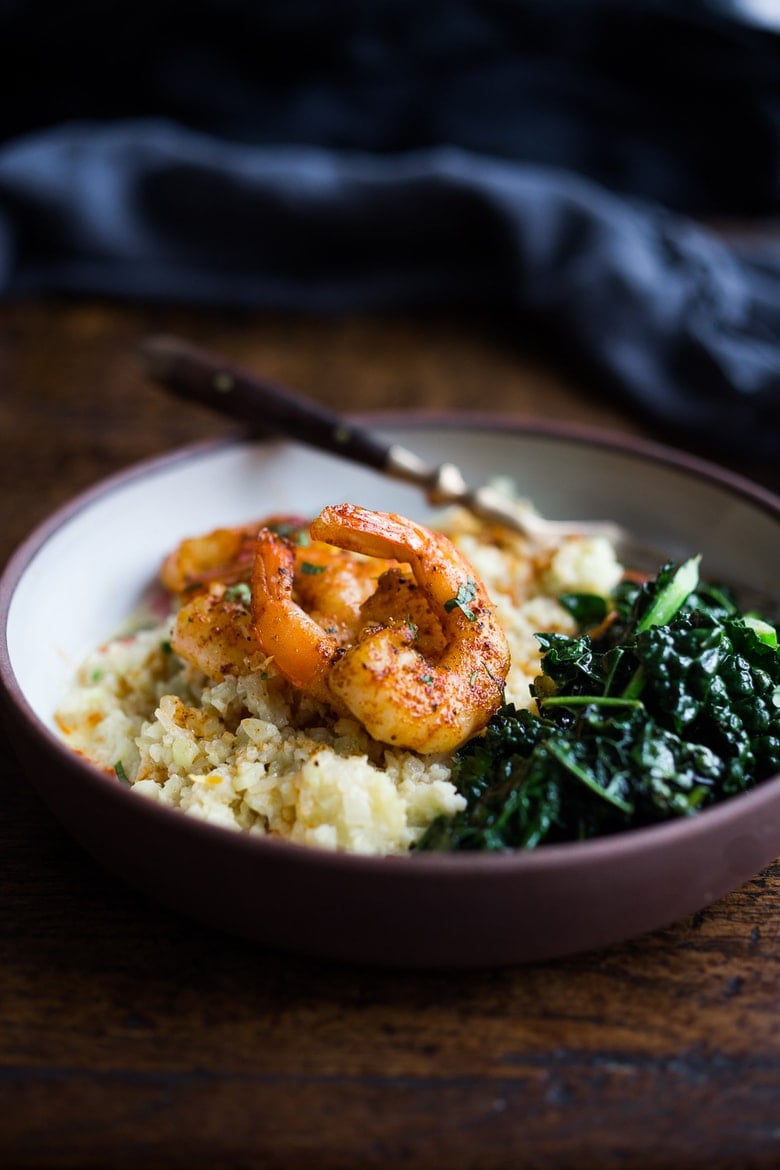 Smoky Portuguese Shrimp and Grits
Portuguese Shrimp and Cauliflower "Grits" with garlicky kale. A fast delicious dinner that is vegan-adaptable, keto and gluten-free!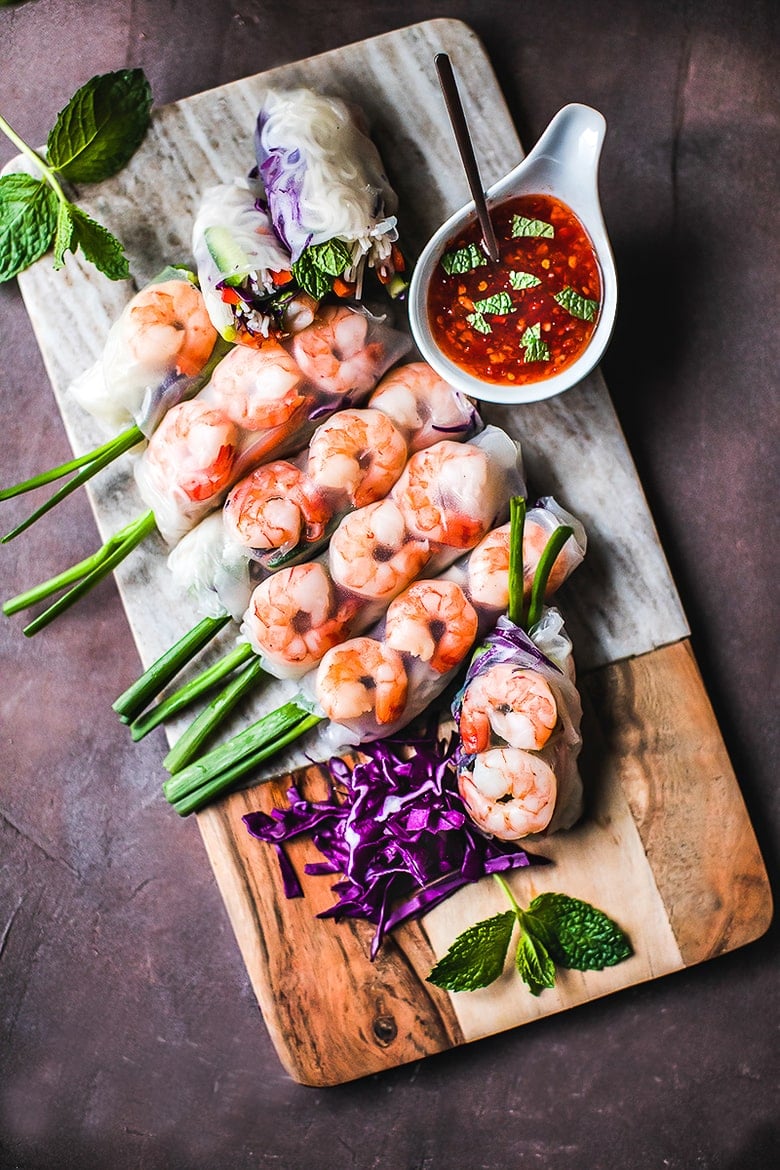 Vietnamese Spring Rolls filled with your choice of shrimp or tofu, veggies and vermicelli noodles. Light and healthy!
More Recipe Collections you may like:
Hope you like these light and healthy fish and seafood recipes!
xoxo
Print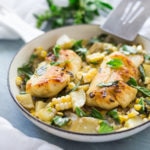 50+ Best Fish Recipes
Author:

Sylvia Fountaine

Prep Time:

10

Cook Time:

20

Total Time:

30 minutes

Yield:

2

1

x

Category:

fish recipes,

Method:

baked, pan seared

Cuisine:

American
---
Description
50 Best Fish Recipes from around the globe! Most of these easy fish recipes can be made in under 30 minutes, perfect for weeknight dinners! Whether you are looking for halibut, salmon, seabass, cod, or seafood recipes,  you'll find lots to choose from here!( Summer Corn Chowder)
---
2 tablespoons

olive oil

1/2

cup

diced white or yellow onion (or sub 1 large shallot)

8

ounces

new potatoes (new crop yellow potatoes, red, yukon, any with thin skin) – cut into small dice (no bigger than 1/2 inch thick- the smaller you cut them, the faster they will cook)

1

ear of fresh corn- kernels sliced off ( or

1 1/2 cups

frozen)

1

cup

stock ( veggie, chicken or fish) or sub water- or use corn stock (see notes)

1/2 teaspoon

kosher salt
Pepper to taste

1/8

cup

fresh basil leaves – cut into ribbons or torn
Optional

2

–

3

tablespoons half and half

8

ounces

fish- halibut, sea bass, wild Alaskan cod, haddock, salmon, black cod, shrimp, scallops
olive oil for searing
salt and pepper to taste
---
Instructions
Heat oil in a large skillet over medium heat. Add onion and sauté until fragrant about 3 minutes. Add potatoes and corn. Saute 2- 3 minutes, add water or stock, salt and pepper and bring to a simmer. Cover, turn the heat down to low and simmer 10 minutes, or until potatoes are fork-tender.
While the potatoes are simmering, sear the fish. Heat oil in another skillet. Season fish with salt and pepper and sear each side over medium-high heat. Lower heat and cook to your desired doneness. Set aside.
When the potatoes are fork-tender, uncover and cook off a little of the liquid. At this point, you could add a few tablespoons half and half or soy milk for a little extra creaminess (cook it for a minute or two to thicken) or simply leave it out.
Stir in half of the basil. Taste, adjust salt.
Right before serving, stir in the remaining basil, saving a little for the top. Dish up the sweet corn"chowder" and top with the seared fish and basil.
---
Nutrition
Serving Size:

( with the inclusion of 3 tablespoons of half and half- feel free to leave this out!)

Calories:

425

Sugar:

7.3 g

Sodium:

260.3 mg

Fat:

18.7 g

Saturated Fat:

4.1 g

Carbohydrates:

34.7 g

Fiber:

3.6 g

Protein:

27.8 g

Cholesterol:

60.2 mg
Keywords: best fish recipes, easy fish recipes, healthy seafood recipes, best fish recipes, best seafood recipes, scallop recipes, salmon recipes, halibut recipes, shrimp recipes, ahi recipes, ceviche recipes, fish stew recipes,