Here are 30 of our favorite Fresh and Healthy Summer Recipes for hot summer nights! Many are centered around the best of summer produce paired with lean proteins. Hearty summer salads, refreshing chilled soups, light and flavorful fish and seafood recipes, and a handful of our favorite grilling recipes.
At home, when the weather gets hot, we often turn to cooling meals and eat alfresco, outside on the patio. It has become a nice ritual at the end of the day and way to connect with our immediate environment and the seasons.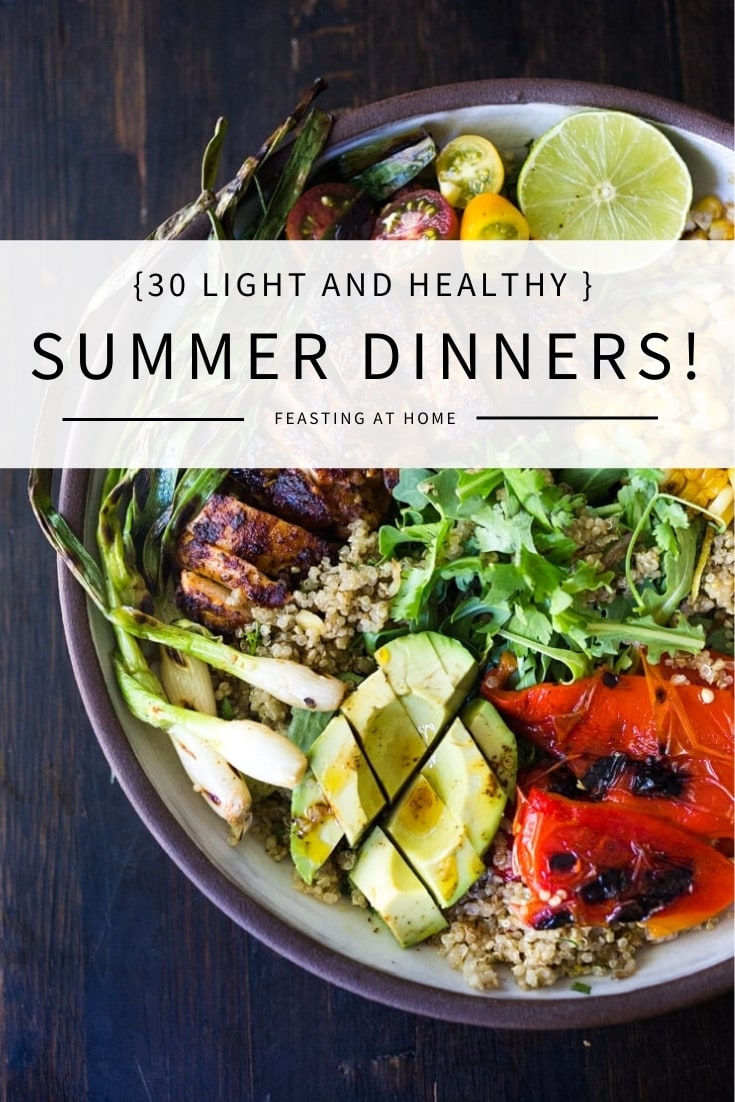 Our favorite Summer Meals:
Many of these Summer Dinner Recipes are also vegan or vegetarian adaptable. Scroll down and choose a couple to try this week and surprise your family with something new and different! All of these recipes have great flavor and are geared for hot weather. Most are focused around plants! Let us know your favorites in the comments below!
---
This hearty summer salad ticks all the boxes for me –Lemony Chicken Arugula Quinoa Salad with Avocado and Creamy Basil Dressing- an easy low-carb, high protein salad that is full of amazing flavor!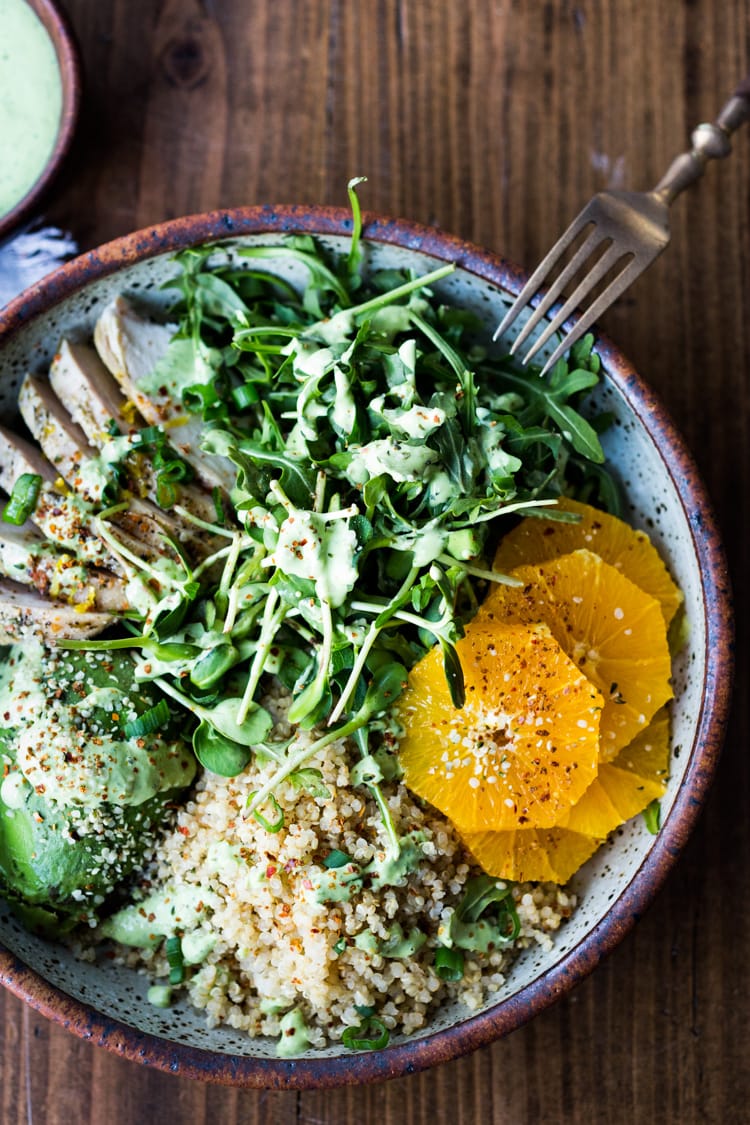 Tofu Katsu!– a Japanese style Tofu filet that is crispy and flavorful to use in sandwiches, rice bowls and salads. Recently we served it over Easy crunchy Asian Slaw– so tasty!!! Here it is served over a farmers market salad.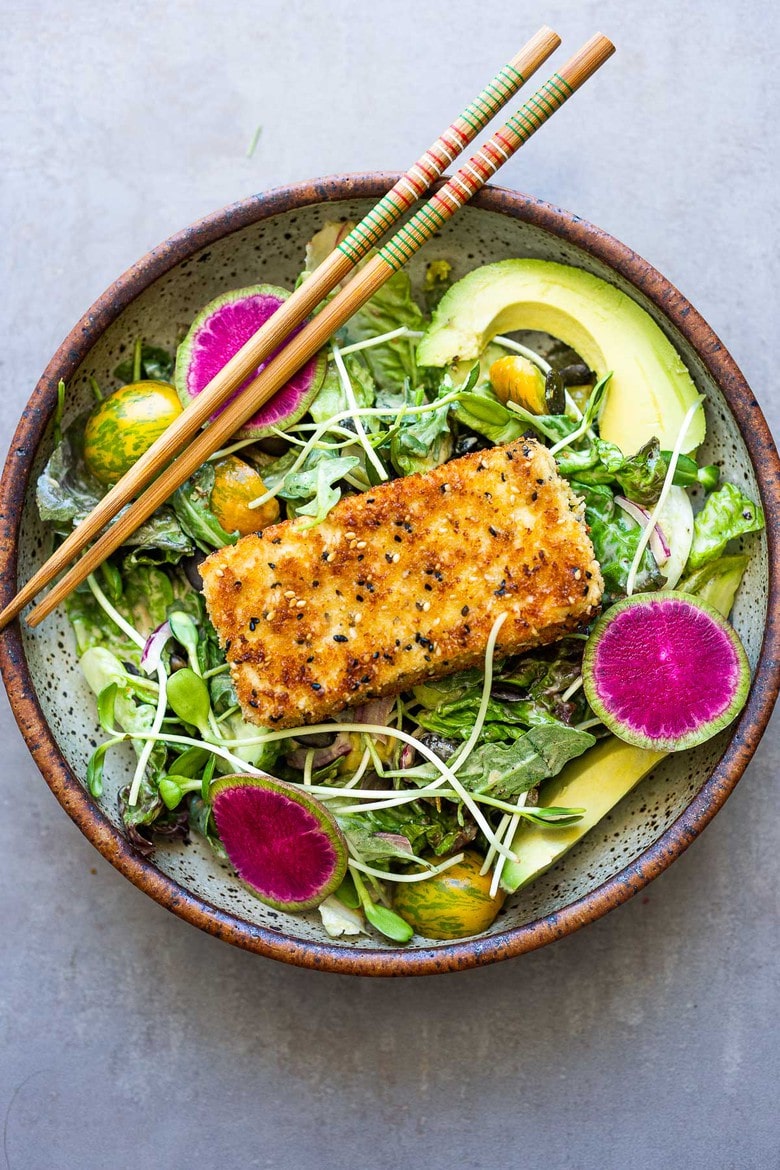 This healthy Greek Pasta Salad is the perfect make-ahead pasta salad for summertime picnics, bbqs, potlucks and easy dinners. A hearty ratio of fresh veggies combined with tender orzo pasta, chickpeas tossed in the tastiest Greek salad dressing.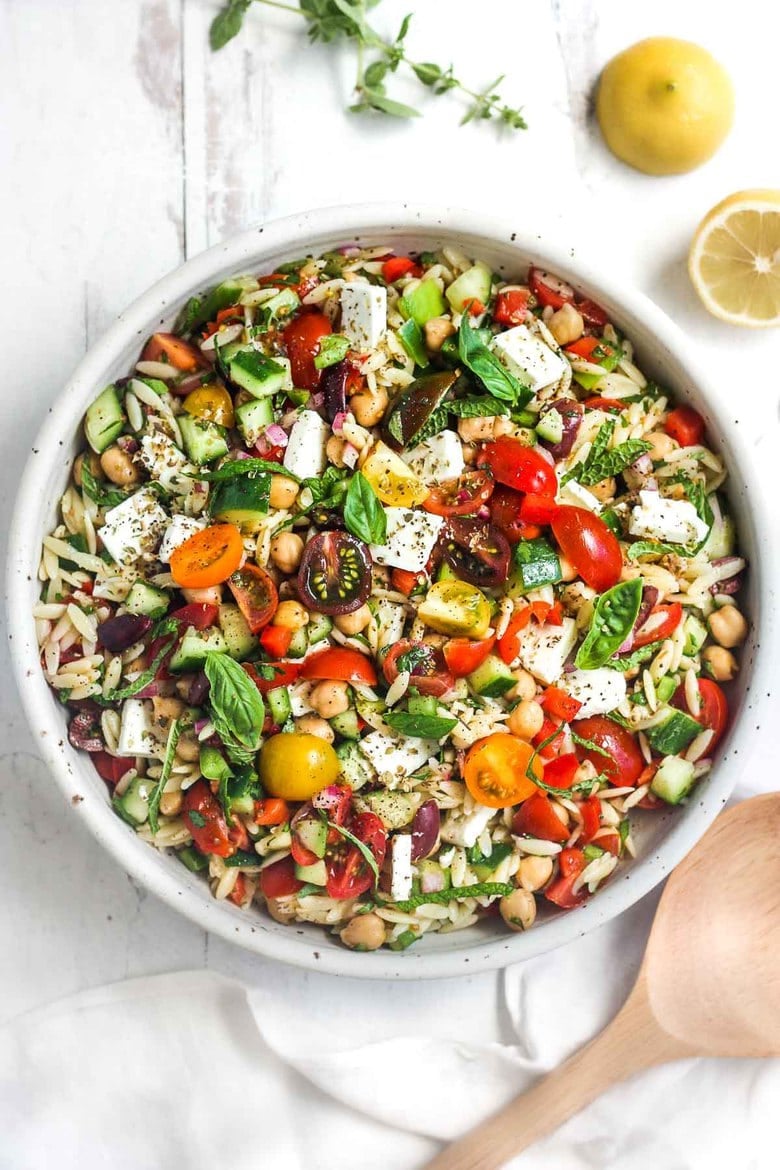 Greek Pasta Salad | 60-sec video
A simple, healthy recipe for Halibut, served over Lemony Zucchini Noodles with olive oil, garlic and parsley, topped with sweet summer tomatoes. A quick and easy low-carb meal- perfect for summer!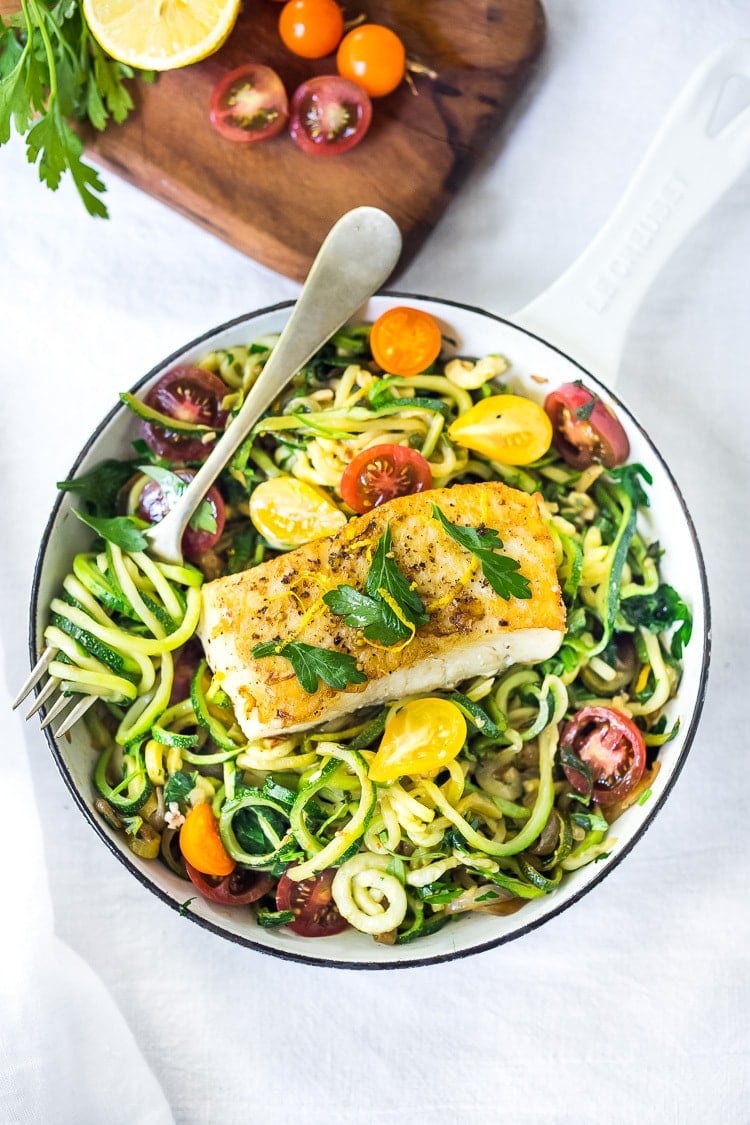 A delicious recipe for Thai Larb Salad – a spicy, full-flavored Thai salad made with your choice of ground chicken, turkey, beef, or lamb, served in lettuce cups or with rice. Low-carb, light,and refreshing- and can be served warm or chilled.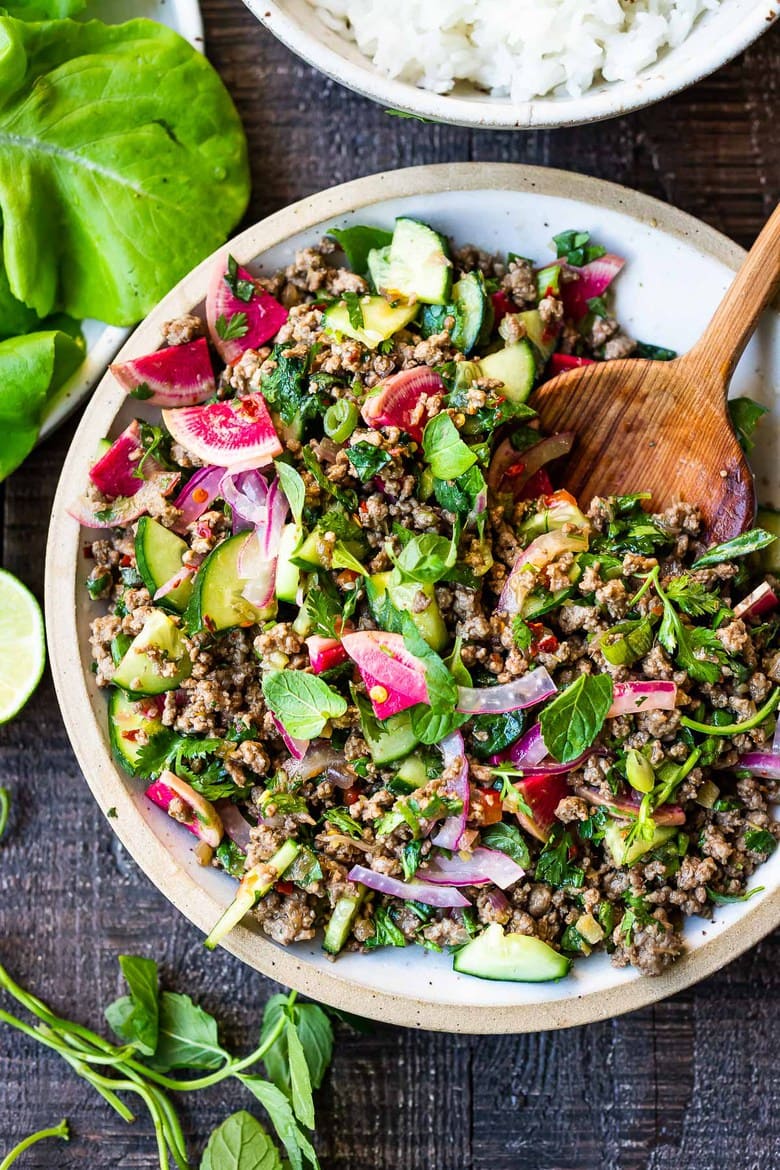 Mexican Grilled Salmon with Avocado Cucumber Salsa served over greens with creamy Cilantro Lime Dressing …can be made in 20 minutes. A delicious, healthy low-carb meal perfect for hot summer nights.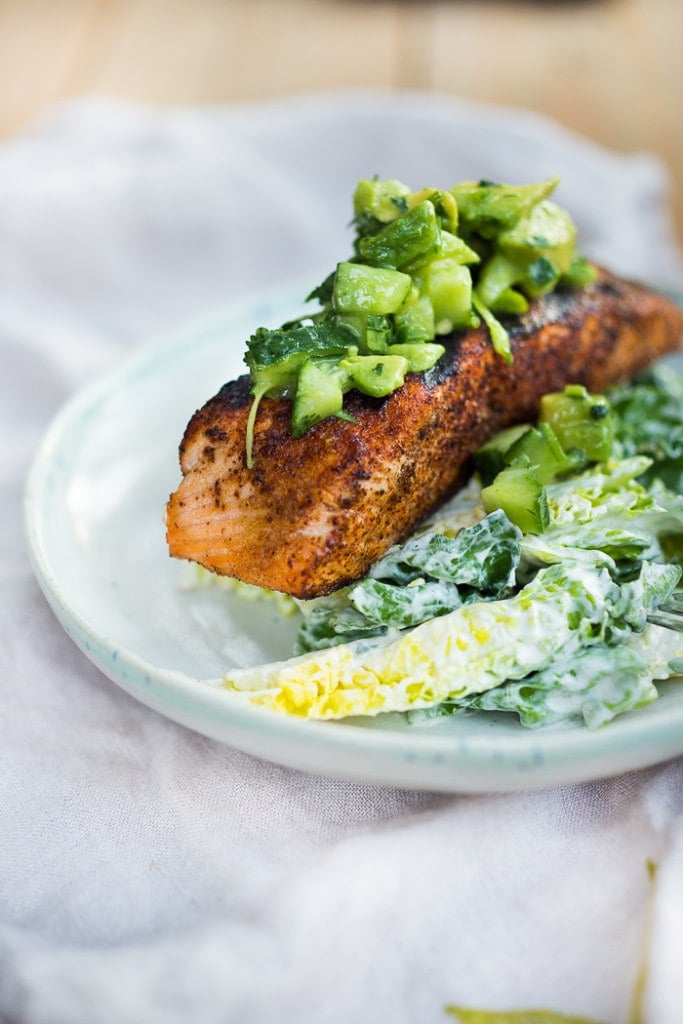 Indonesian-Inspired Grilled Sambal Chicken served over cooling Thai Crunch Salad with a Peanut Dressing –a light and healthy summer dinner meal!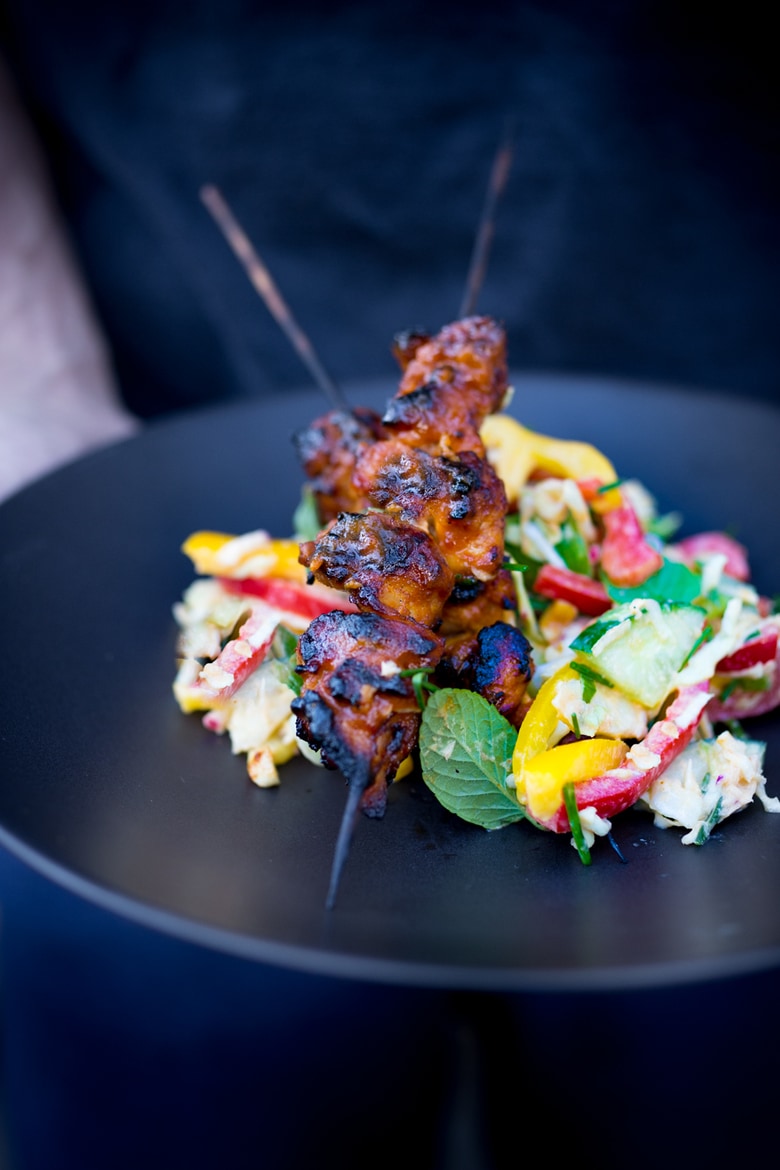 Simple Beet Gazpacho– a refreshing and flavorful chilled beet soup with cucumber, avocado, and fresh dill. A delicious summer starter that is vegan and gluten-free.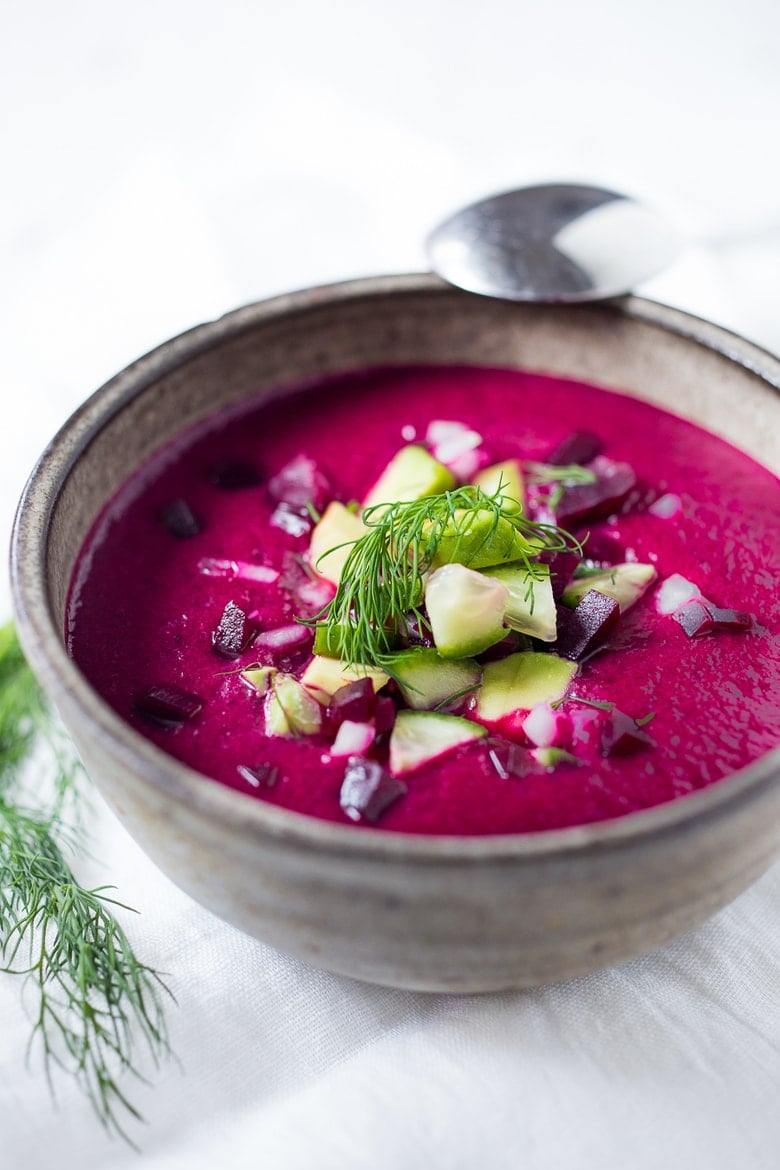 Stuffed Avocado with Shrimp and Tarragon– a light and healthy summer meal perfect for brunch, lunch or a light dinner on the patio. Low carb and Keto-friendly.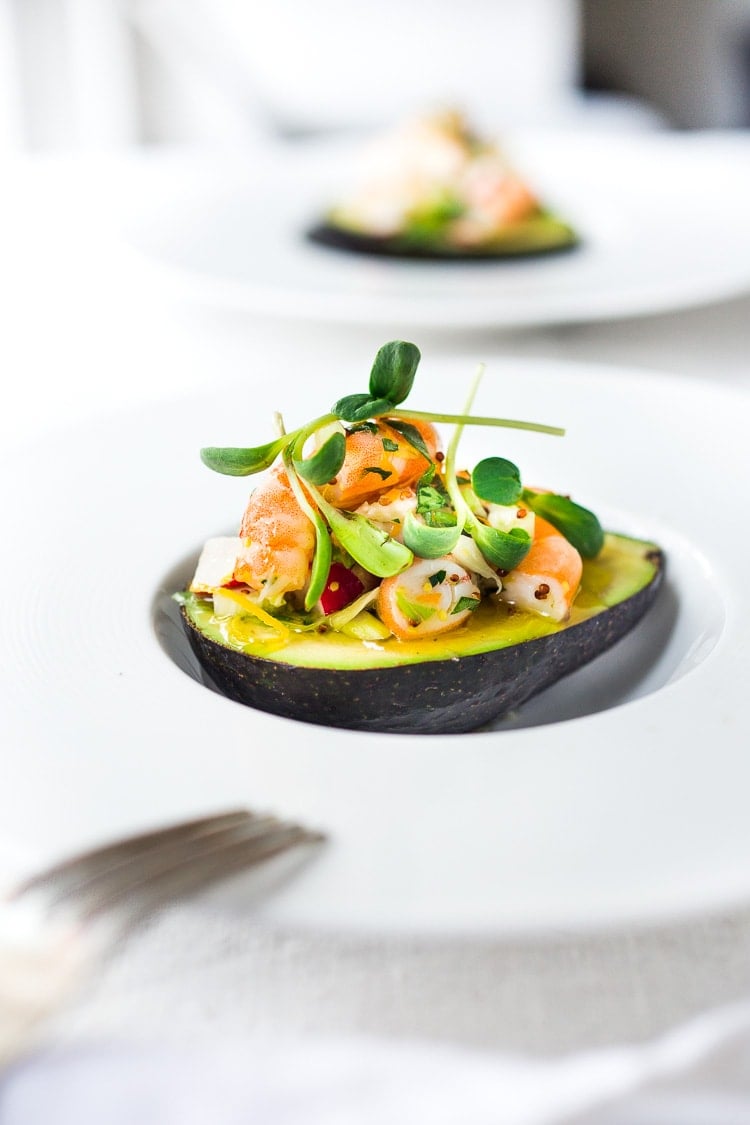 On especially hot days- I often turn to Ceviche made with fresh fish, chili, lime, cilantro, avocado, tomato and cucumber. A very simple recipe -perfect as a flavorful appetizer or a light, healthy meal.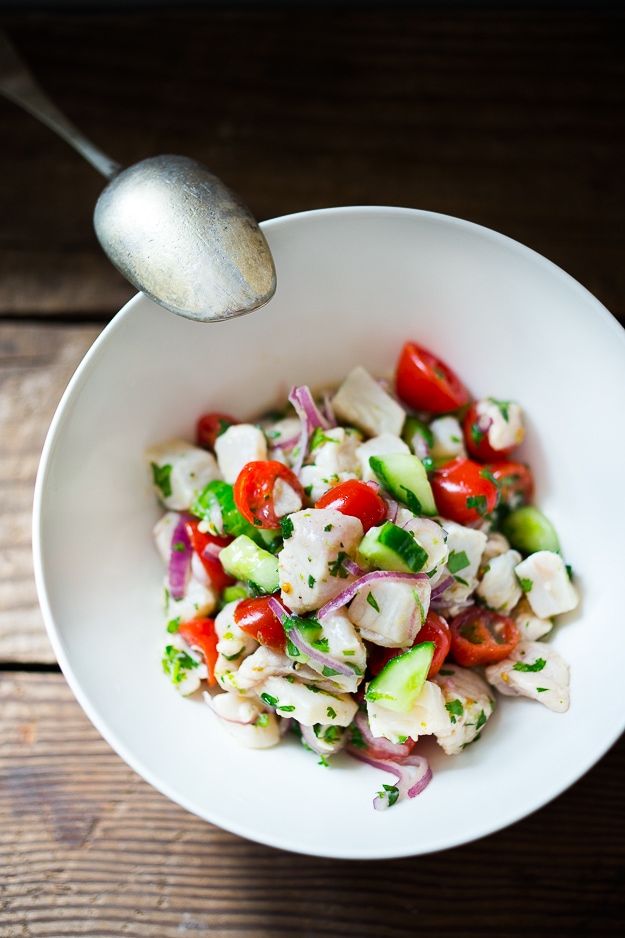 A simple recipe for Blackberry Salad with Basil and Arugula sprinkled with crumbled goat cheese, toasted almonds and a maple-balsamic dressing. A light and delicious summer salad!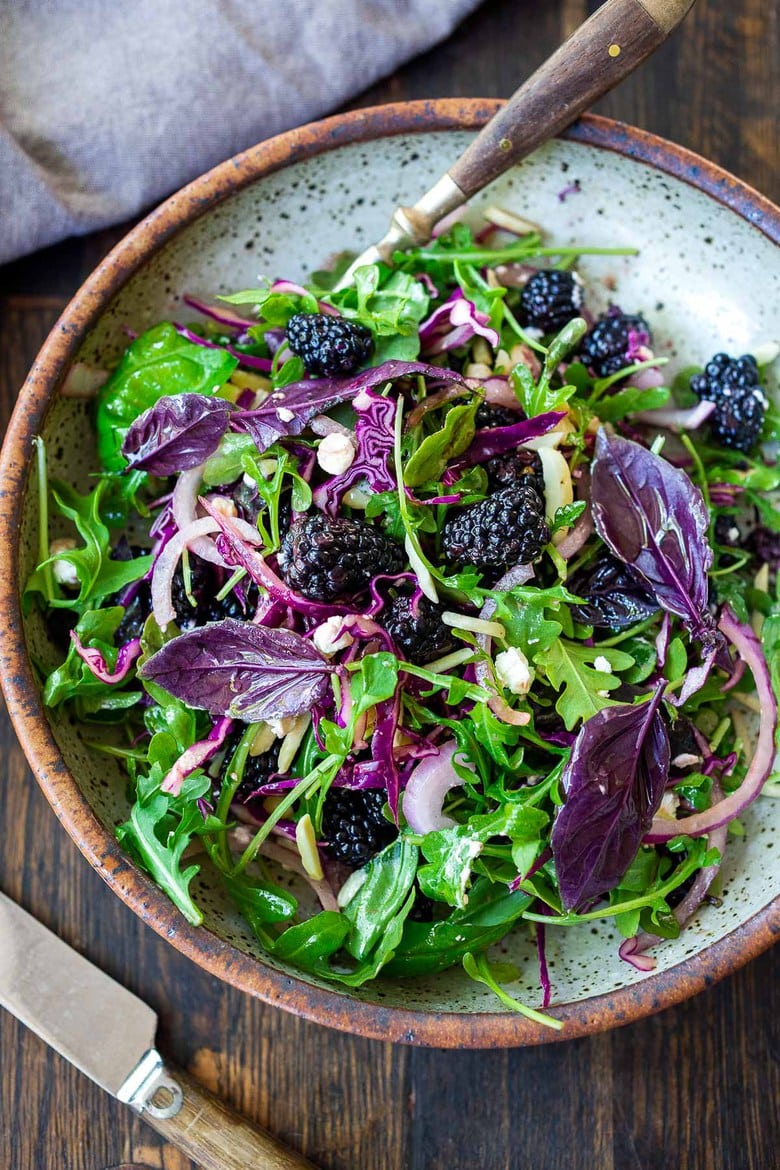 Blackened Tofu Caesar! This Vegan Ceasar Salad is topped with Blackened Cajun Tofu and dressed in a creamy caesar dressing that is dairy-free, nut-free, and low in calories! A flavorful summer salad, perfect for warm nights!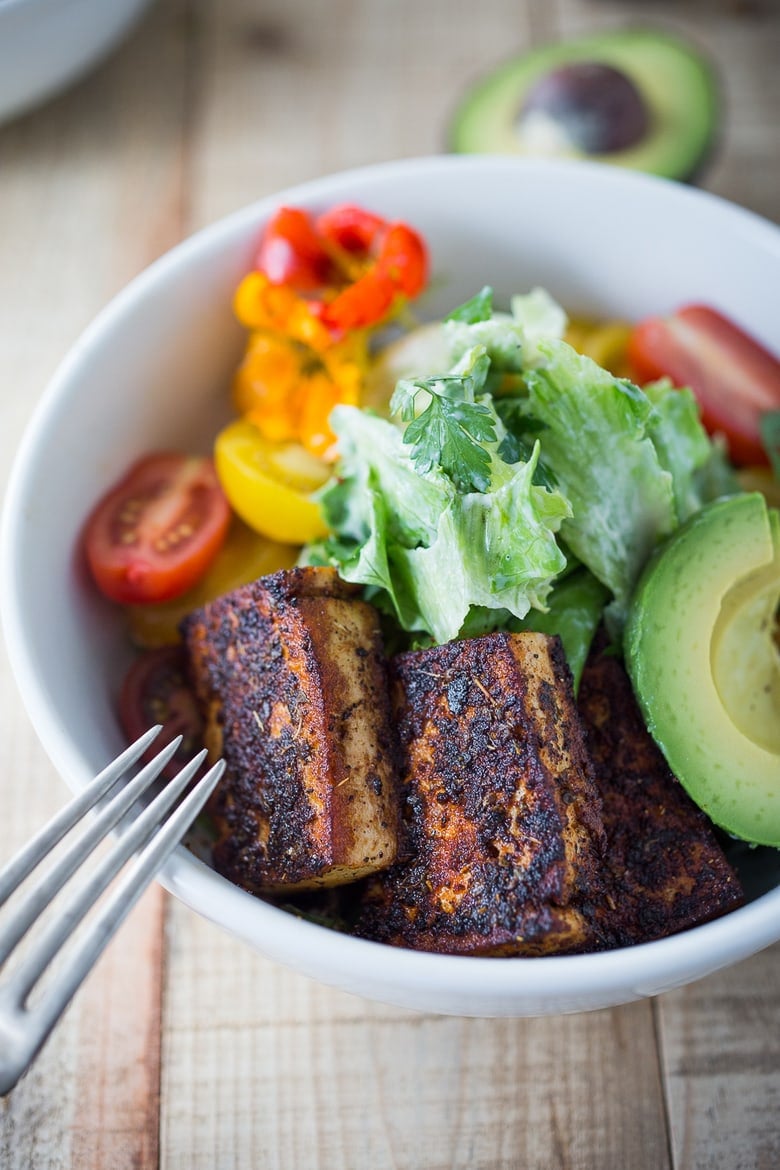 Summer Pasta Salad with Cilantro Pesto! This flavorful pasta salad is made with gluten-free rice noodles and loaded up with healthy summer veggies, then tossed in the most flavorful Cilantro Pesto…. deliciously addicting! Vegan and Gluten-free!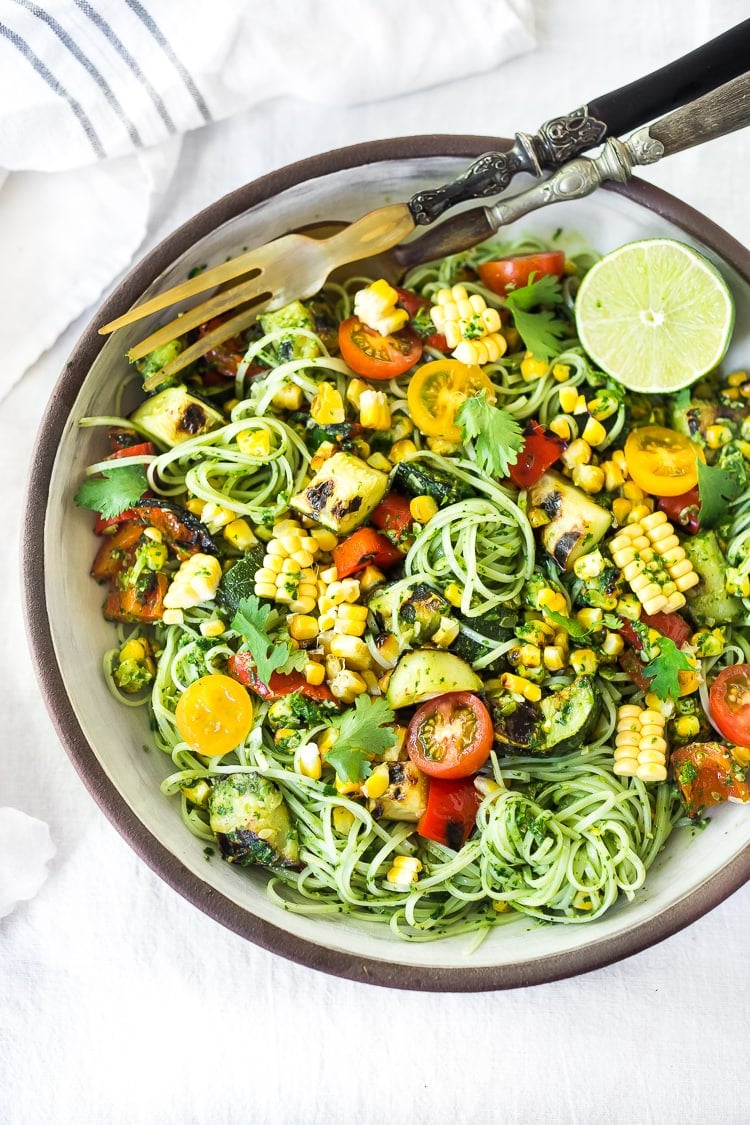 This fresh Poke Bowl ( vegan adaptable!) is perfect for hot summer evenings. Made with fresh ahi tuna (or tofu) with a flavorful Ponzu Dressing, it is loaded with fresh seasonal veggies, all over rice!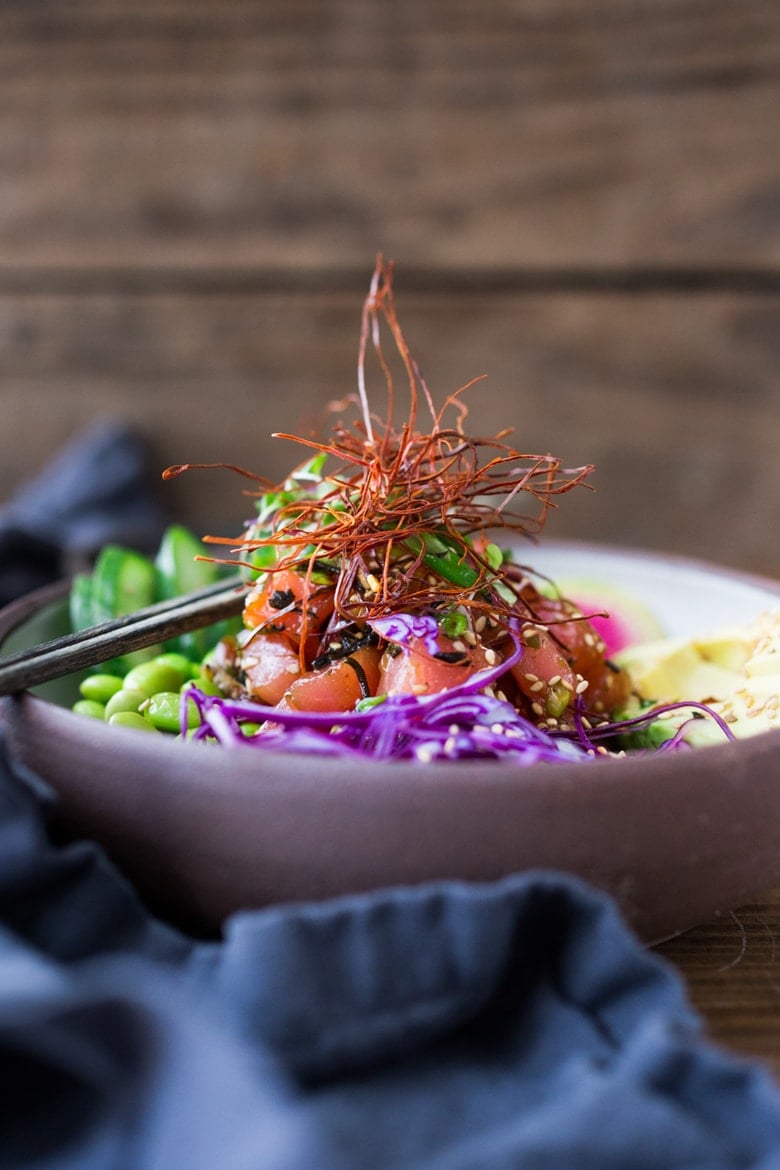 This Nectarine Salad with Cucumber, Basil, and Goat cheese would be delicious served with a piece of grilled fish or Grilled Chicken. A cooling treat on a hot summer night.
We love taking a chilled soup like this Chilled Cucumber Gazpacho with yogurt, cilantro, coriander and lime, and topping it with seafood- like shrimp, lobster or even crab! Or feel free to keep it vegetarian! So tasty.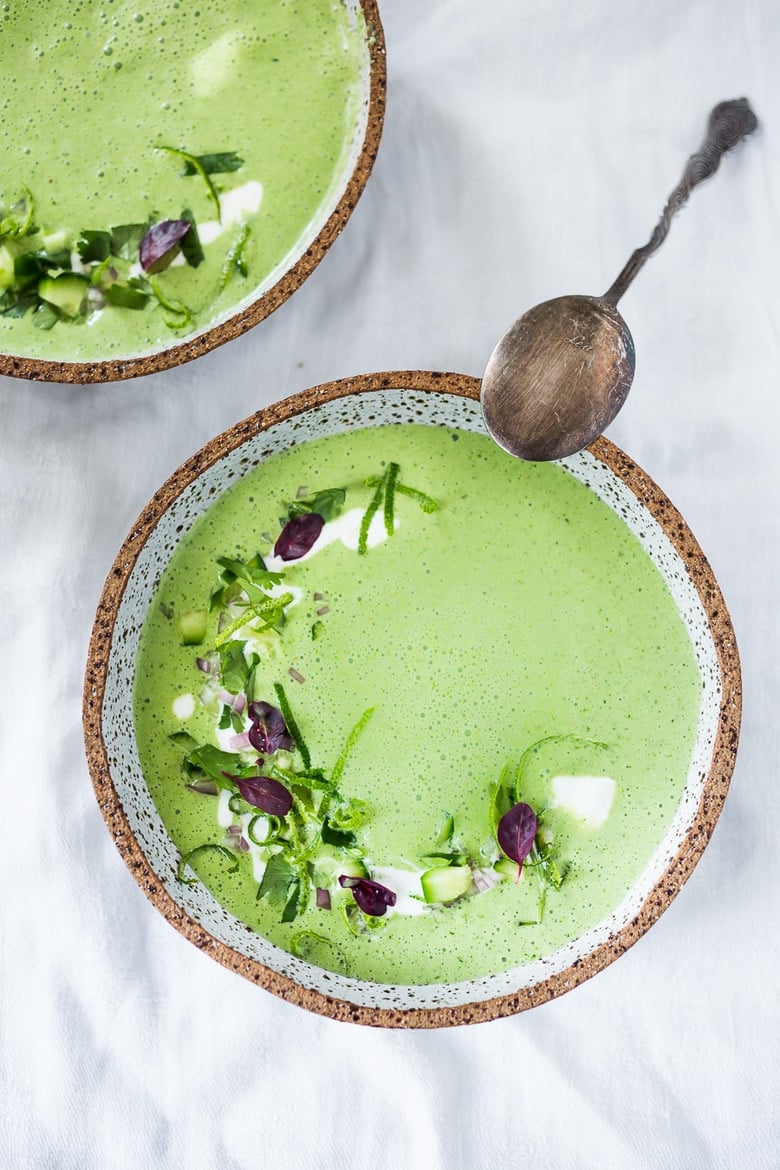 Light and refreshing Vermicelli Noodle Bowls with cool crunchy veggies, fresh herbs and grilled lemongrass chicken, tofu or shrimp. A cooling summer recipe, perfect for hot summer nights.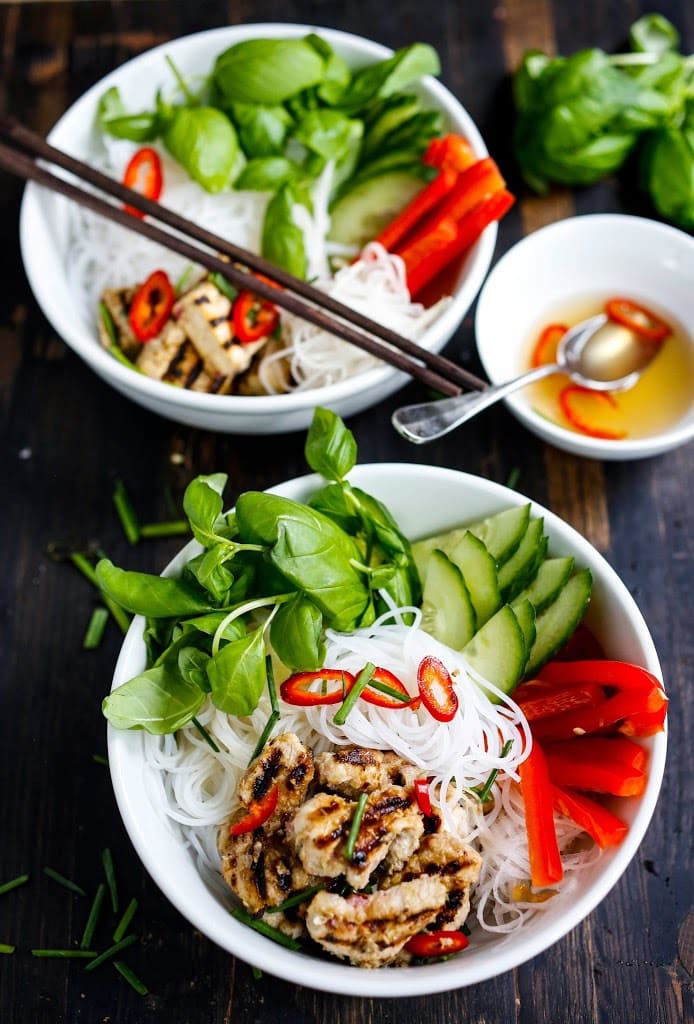 Here's one of our all-time favorite summer salads Fig and Arugula Salad with Goat Cheese, Pecans and Basil tossed in a simple Balsamic Vinaigrette.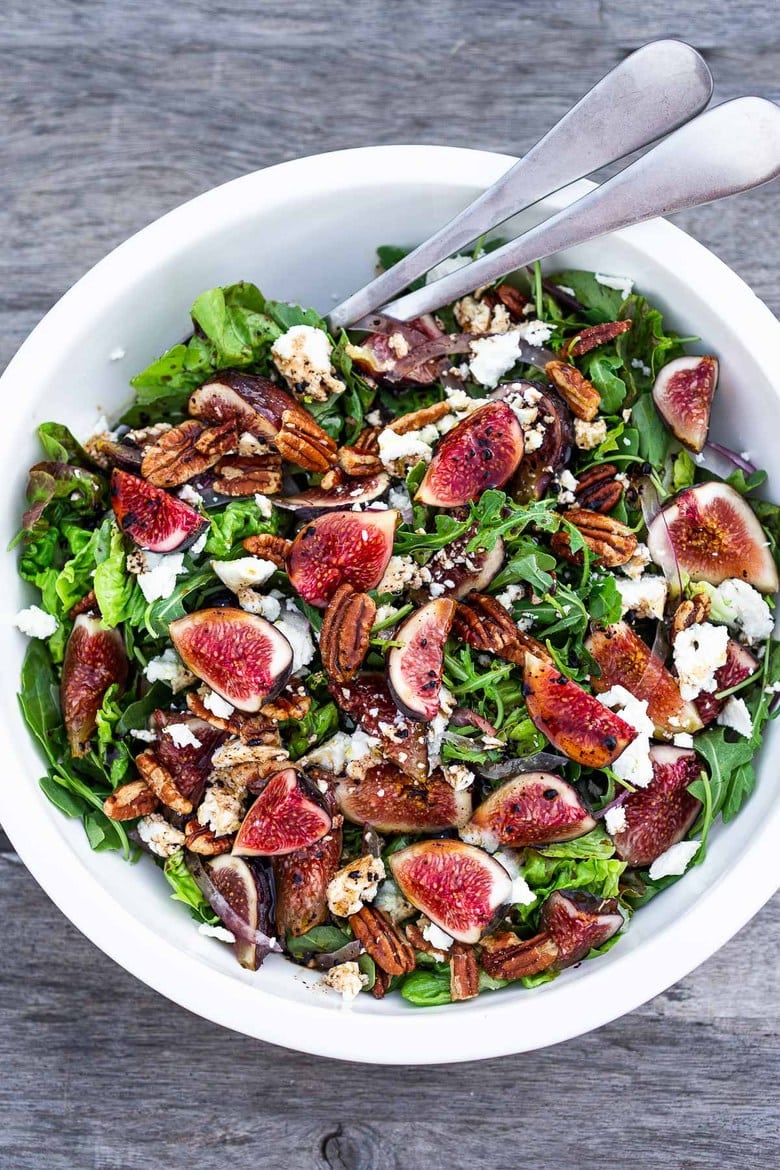 Moroccan Watermelon Salad with Cucumber, pistachios, parsley, mint, onion and crumbled feta… refreshing, simple and delicious!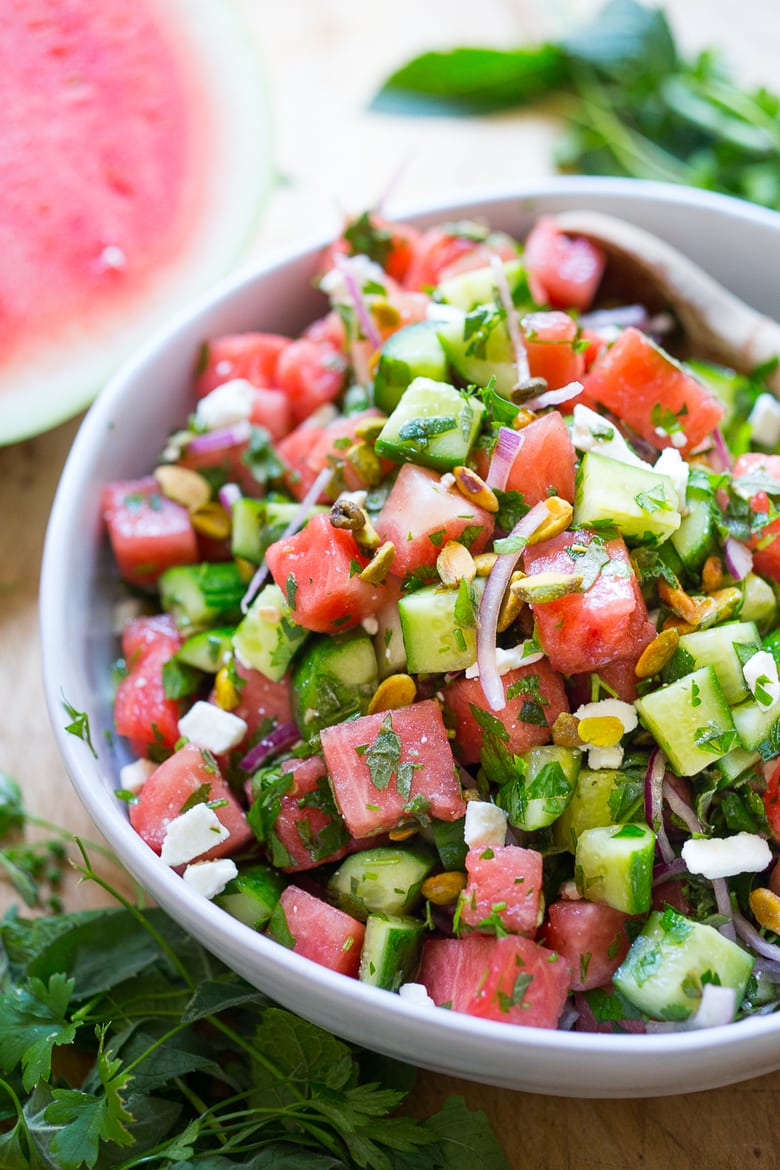 Grilled Flank Steak with Sweet Corn & Radish Salad a lightened-up way to serve steak that can be made in 30 minutes! |
This Creamy Vegan Broccoli Salad is so surprisingly good, you won't even realize it is vegan! It's filling, full of fiber and nutrients, tossed in a very addicting Herby Hemp Seed Dressing. Easy, healthy and full of flavor! Vegan and Keto!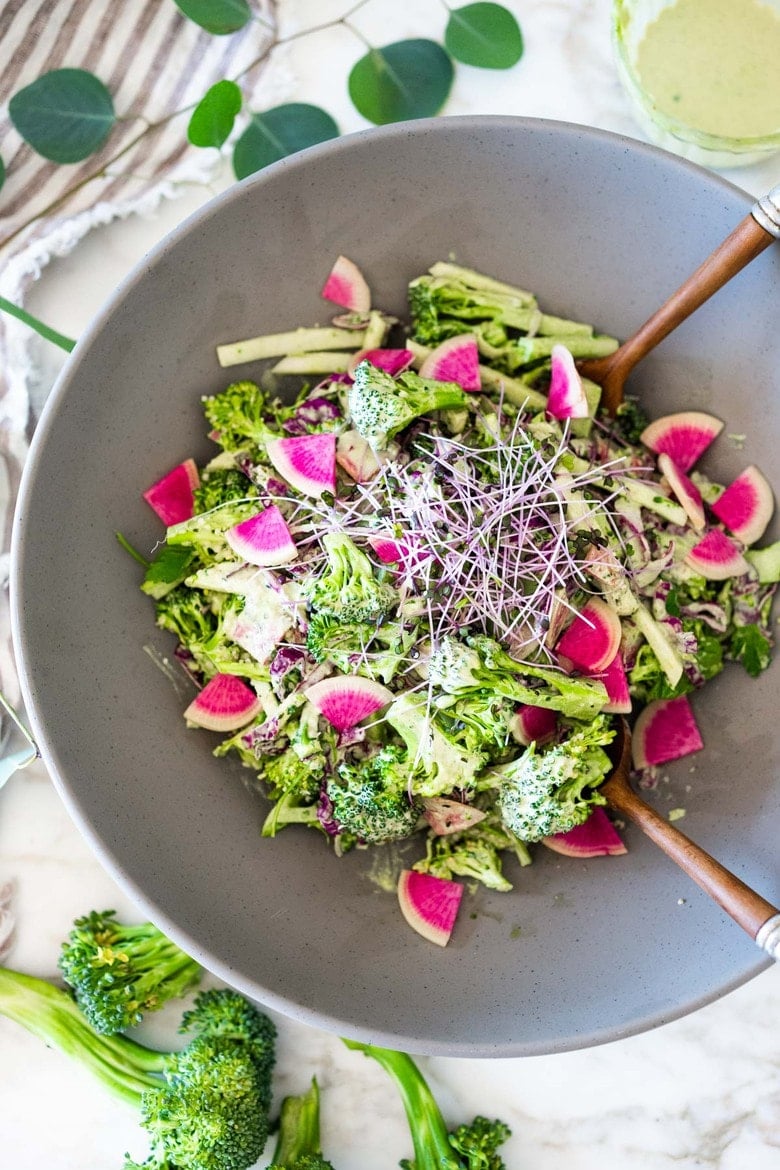 Cold Cucumber Melon Soup – an easy, healthy summer soup that can be served as an appetizer or light meal. Refreshing and delicious!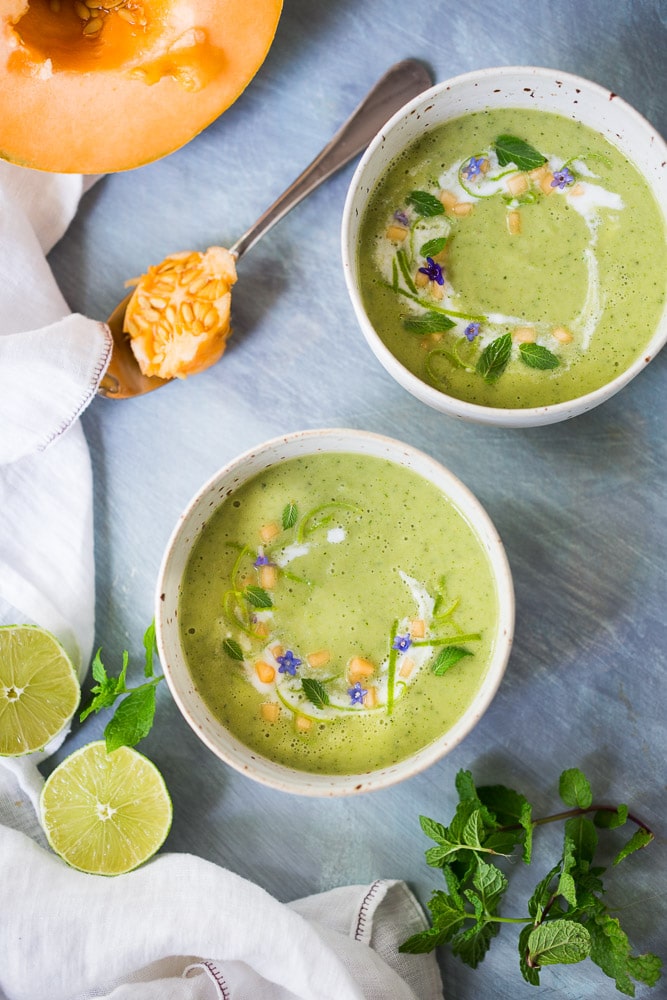 I love everything about this cool and crisp Smoked Salmon, Avocado and Fennel Salad with butter lettuce and creamy Dill Dressing. Fast and easy, this hearty summer salad is low carbs and full of flavor!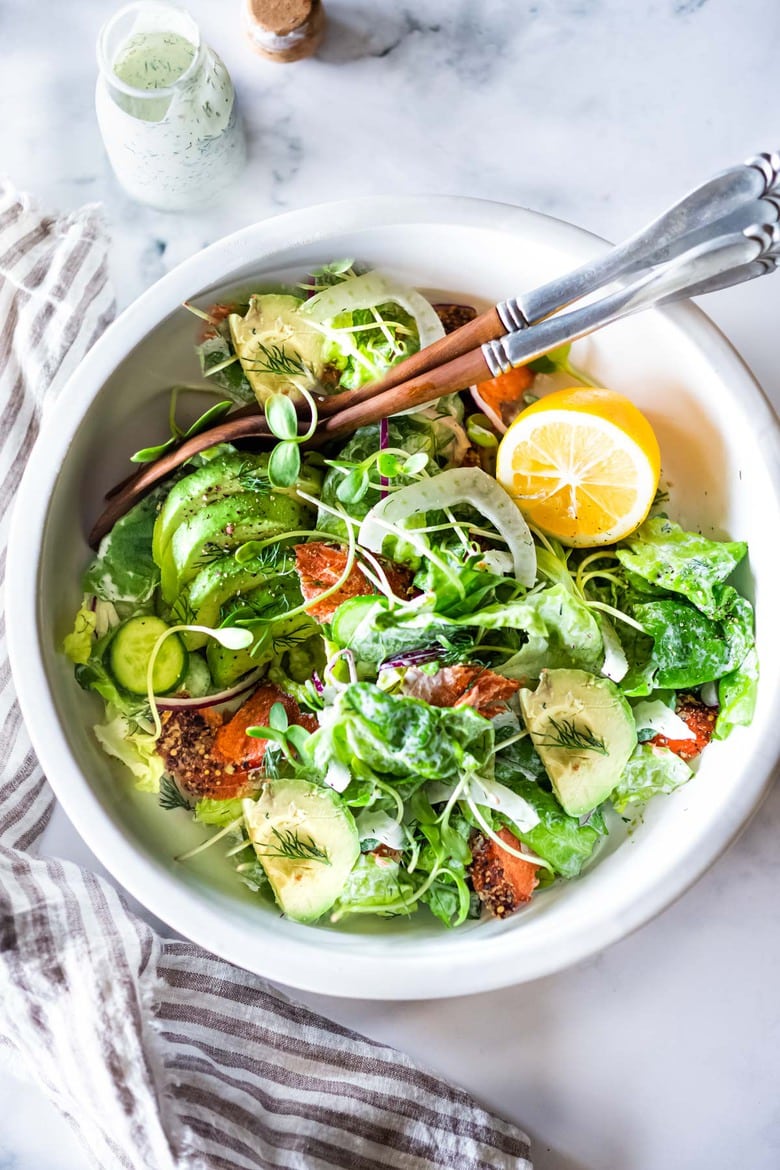 Perfect for warm evenings on the patio this Grilled Romaine Salad with Maitake Mushrooms is dressing with a Furikake Caesar Dressing -a Japanese-Inspired Caesar salad that comes together in 20 minutes! A summer recipe for the grill!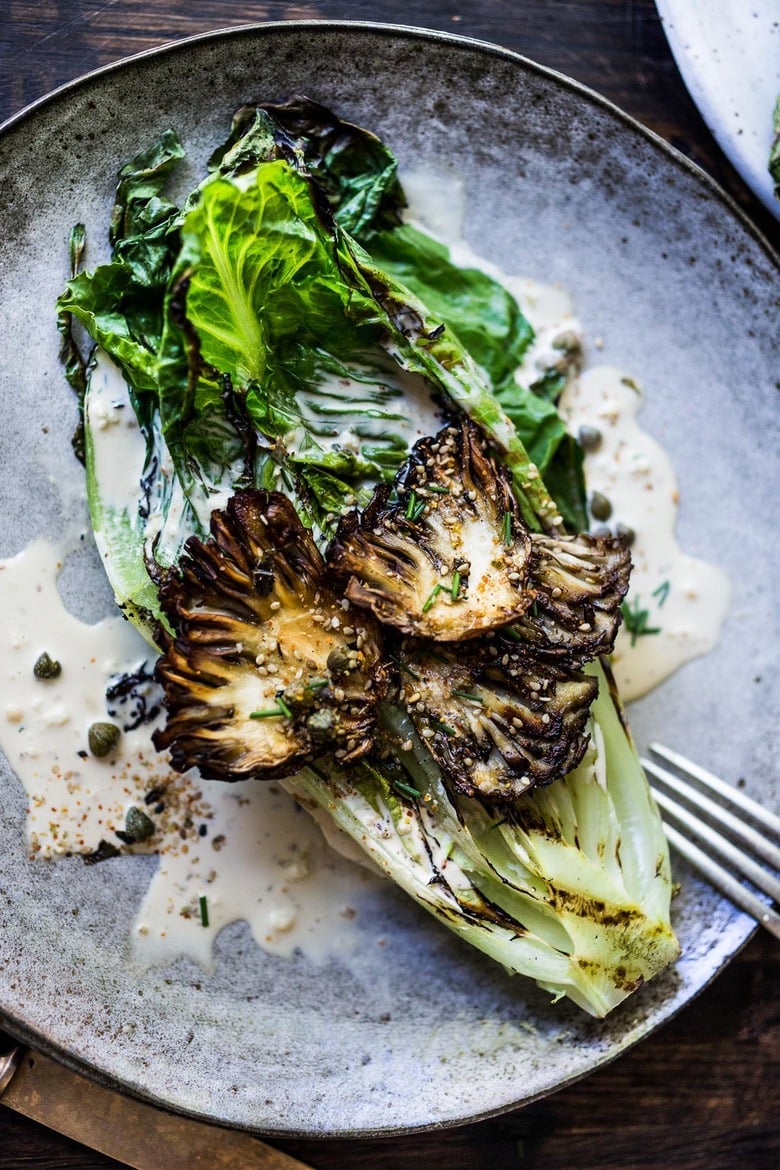 Tomato Peach Gazpacho with Basil and Burrata -a chilled summer soup that is cooling and refreshing and easy to whip up. Keep it vegan with Tofu Ricotta!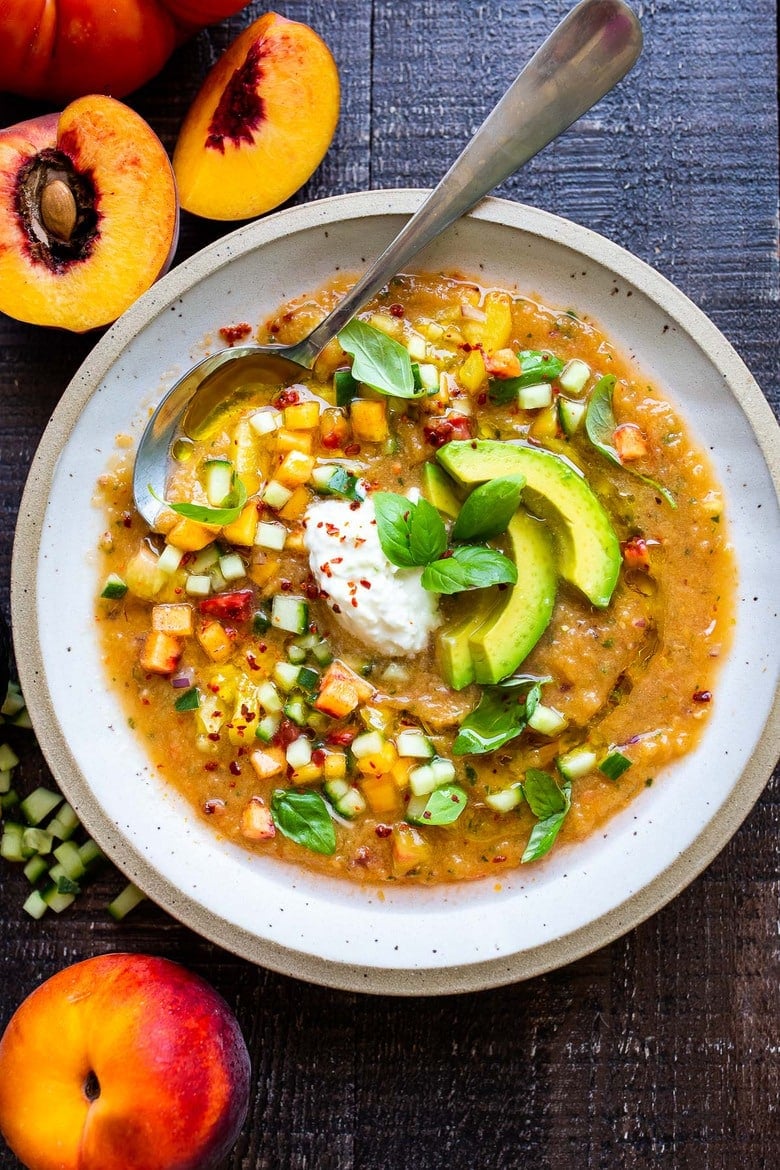 This Grilled Chicken Greek Salad is light and healthy and full of so much flavor! Make the refreshing Greek Salad and top it with with Grilled Lemon Herb Chicken. A tasty dinner, perfect for hot summer nights!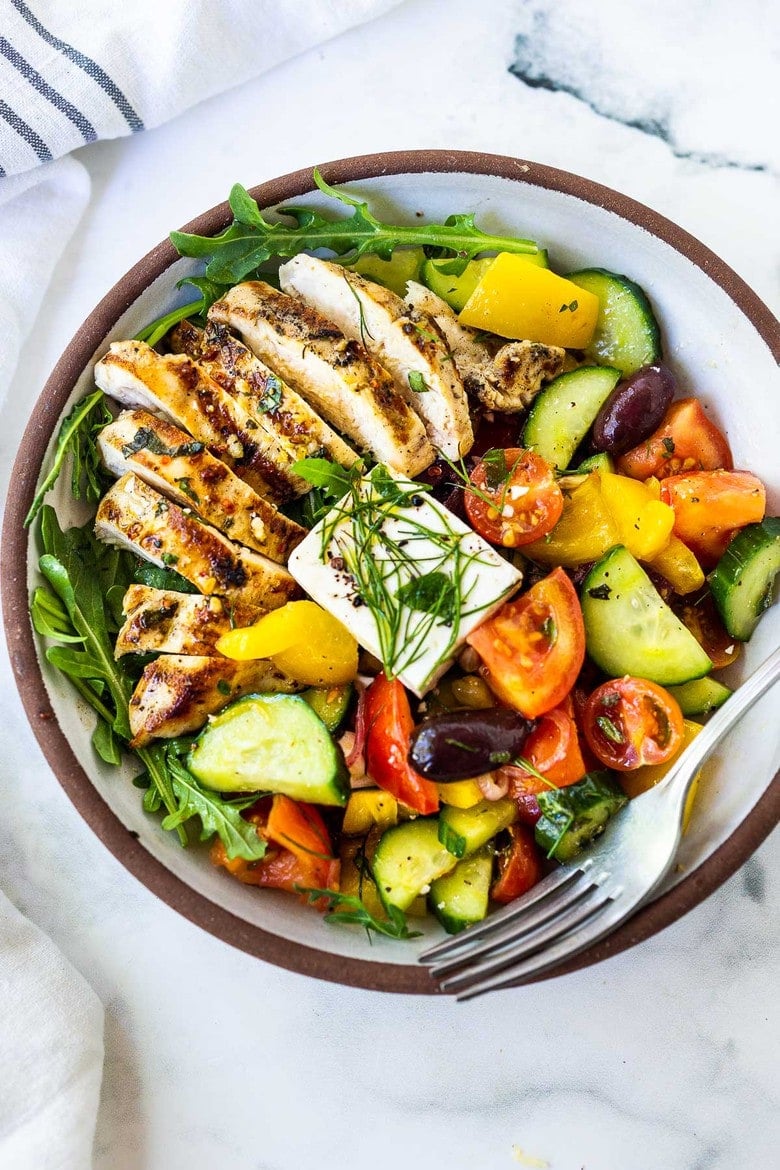 This juicy Nectarine, Tomato, Beet and Buratta salad with fresh basil, flakey salt and a White Balsamic Vinaigrette pairs nicely with grilled fish or chicken. Or sometimes we keep it light and have it on its own.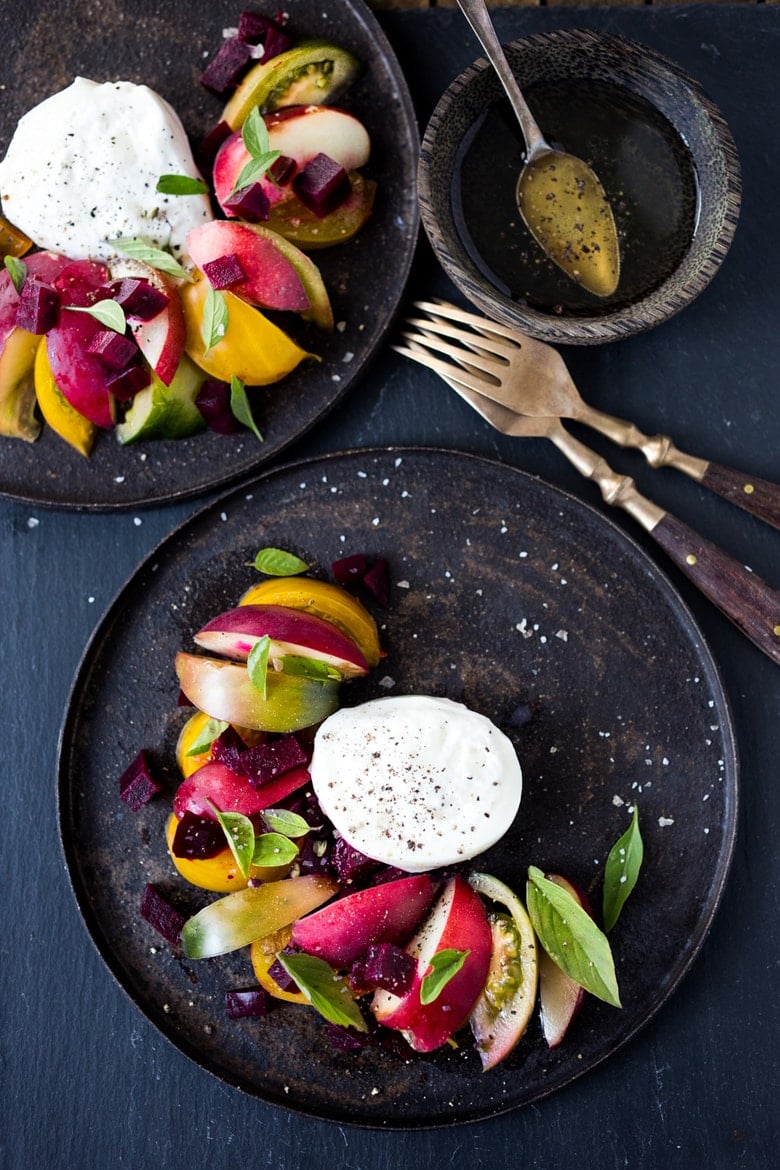 This Nutrient-rich, Spirulina Sea Salad is pure superfood for the body. It is made with greens, dulse, kelp noodles, fresh veggies and the tastiest Spirulina Dressing. Keep it vegan or add ahi or smoked Salmon!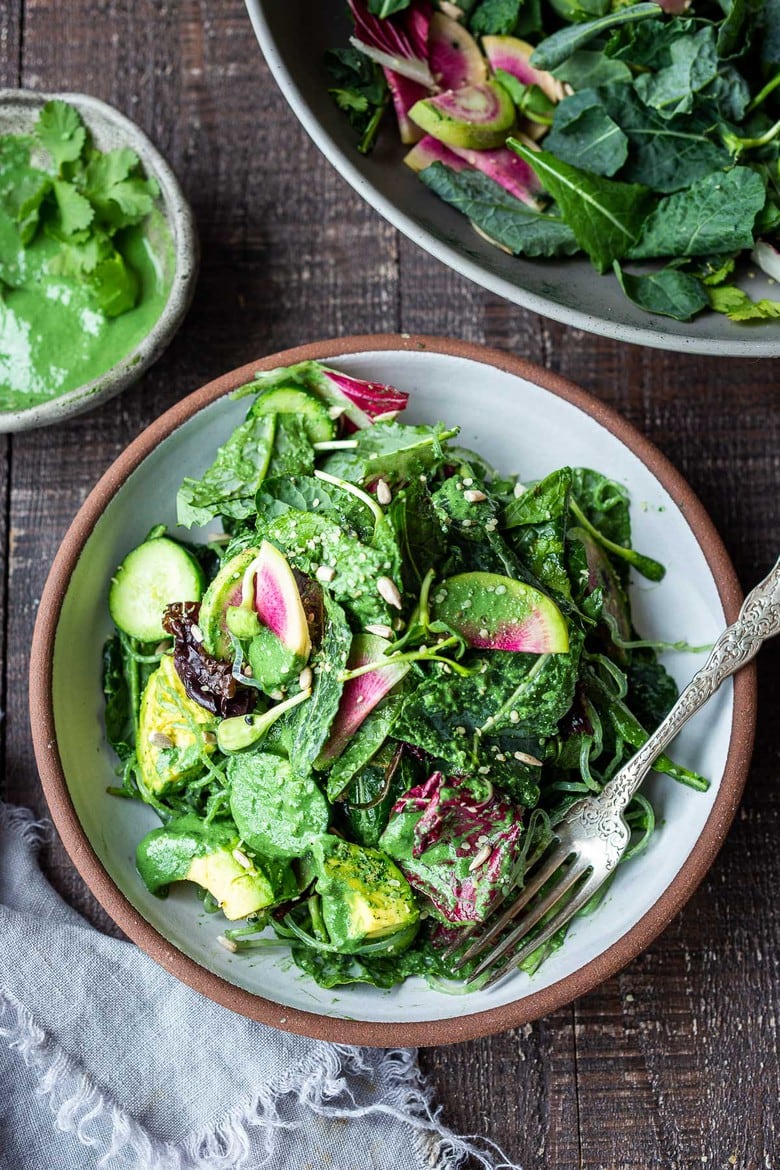 Grilled Chipotle Fish Tacos with a refreshing Peach Salsa. Summery and light with a little bit of heat! Such a delicious combo of flavors, perfect for warm evenings, the cooling peach salsa is super flavorful!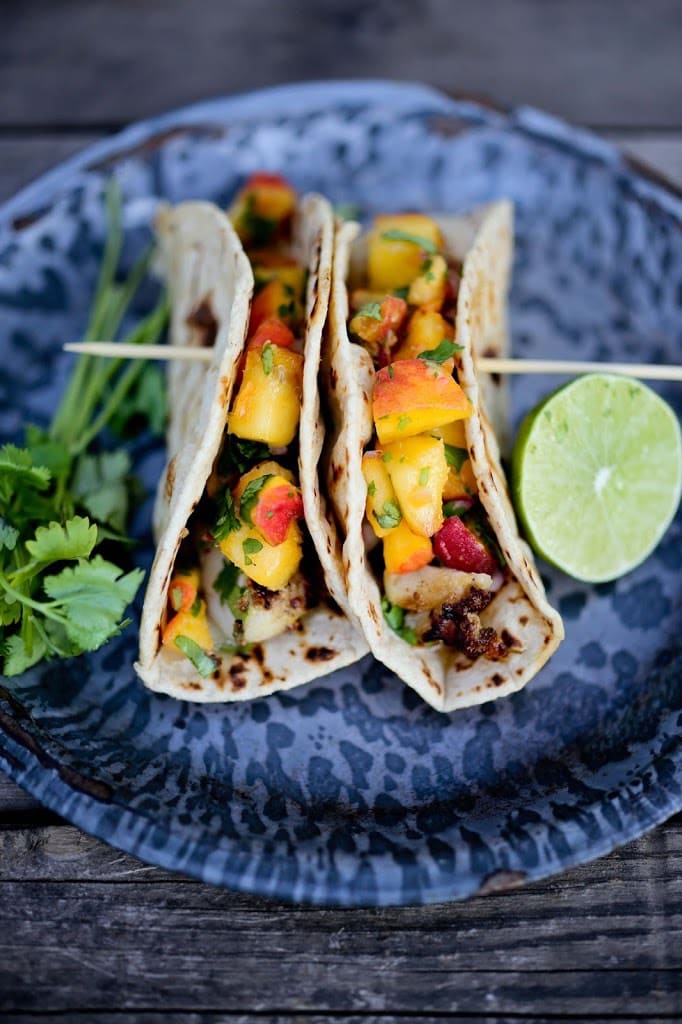 This beautiful Beet Salad with Pistachios, Feta, cilantro and orange is dressed with a simple citrus vinaigrette. Can be made ahead and keeps for 3 days in the fridge. Perfect on hot summer nights.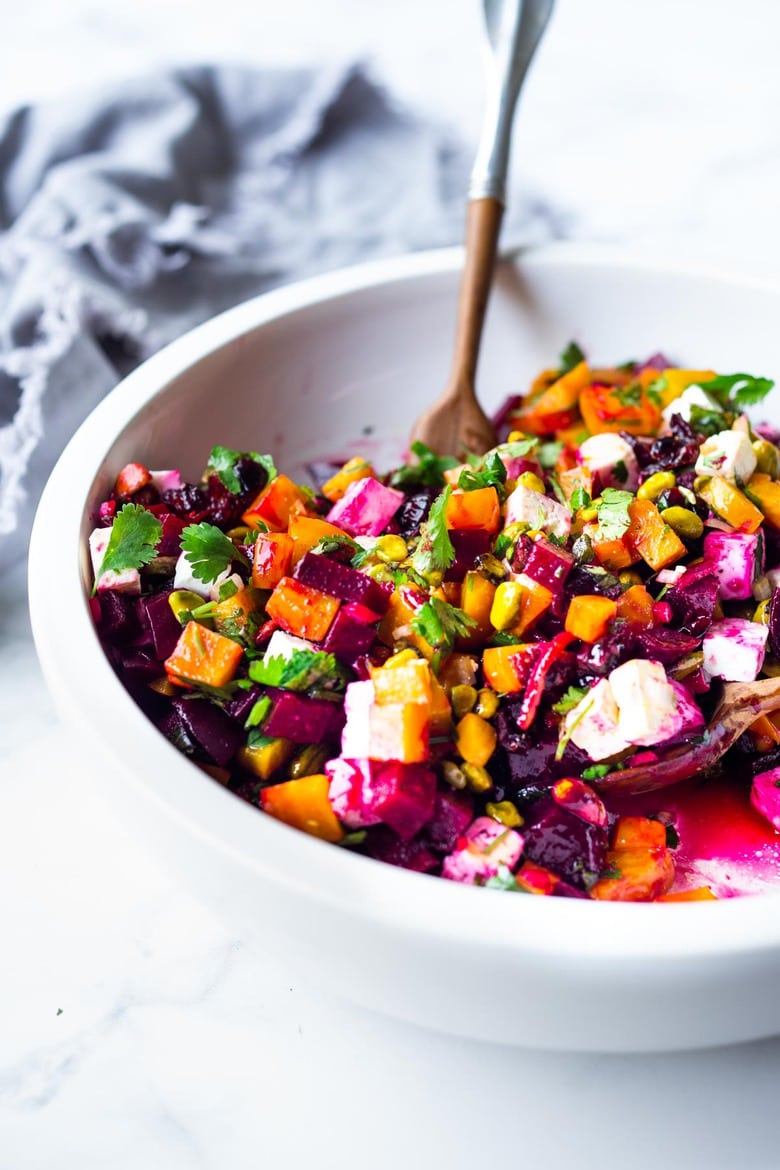 This vegan Grilled Portobello Salad with Avocado, Tomatoes, Corn is tossed in the tastiest Smoky Lime Dressing. It's vegan and low in carbs. A delicious summer salad for grilling weather!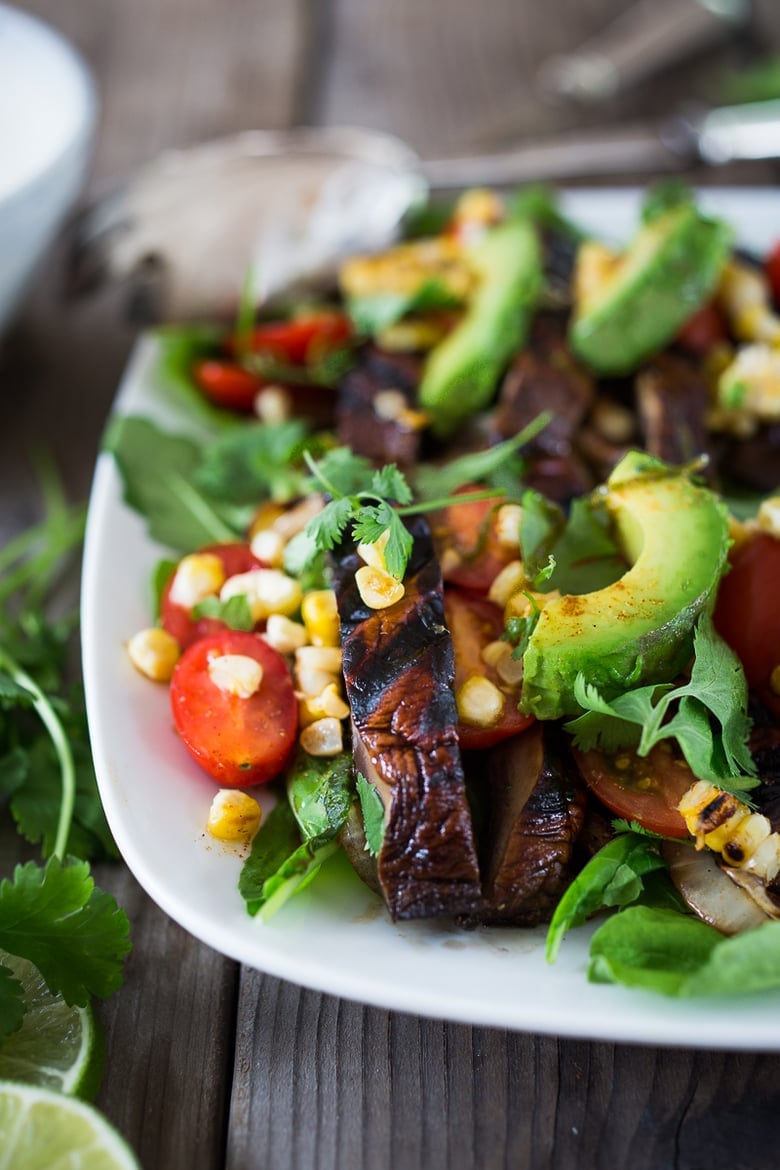 Currently my favorite summer burger on the blog-Chimichurri Turkey Burgers! Seasoned with jalapeño, cilantro, lime zest, scallions, topped with roasted poblano peppers and flavorful Chimichurri Mayo, wrapped up in lettuce. Light and ultra flavorful, these low-carb burgers are perfect for hot weather!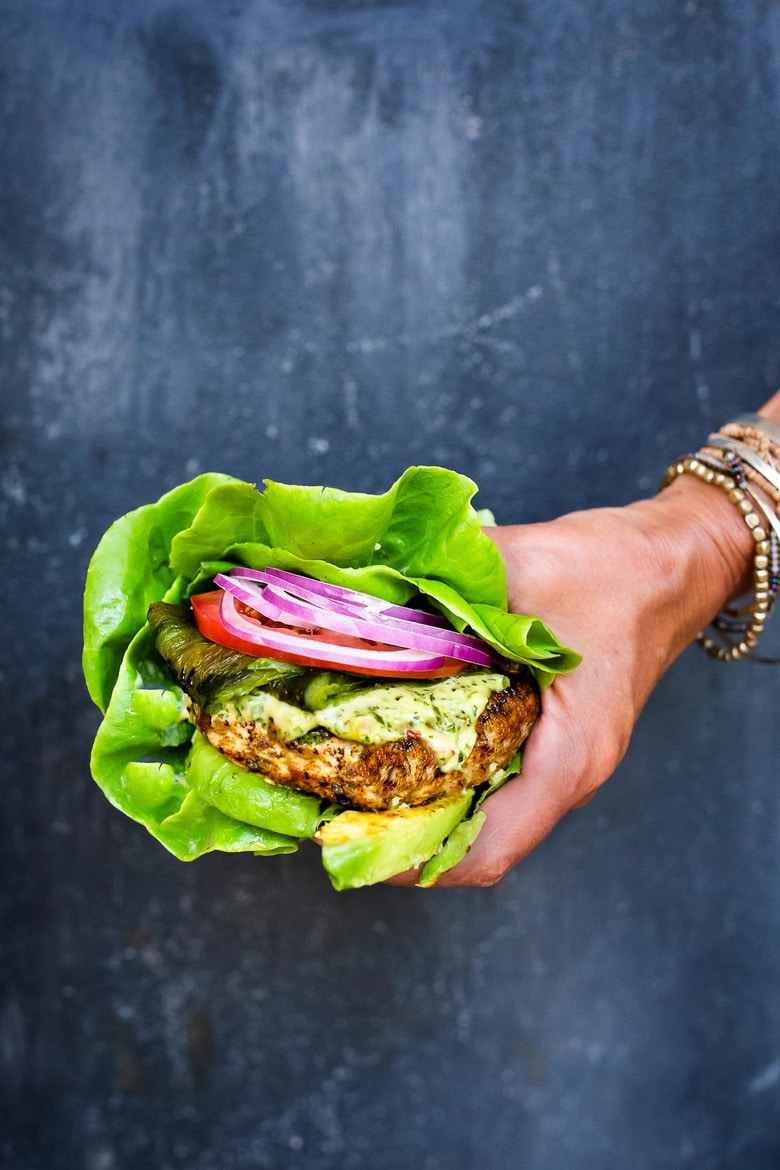 This Sesame Crusted Ahi Tuna is served over Japanese Rice with a hearty portion of Asian Cucumber Salad. Crispy golden on the outside and rare on the inside in just 10 minutes flat!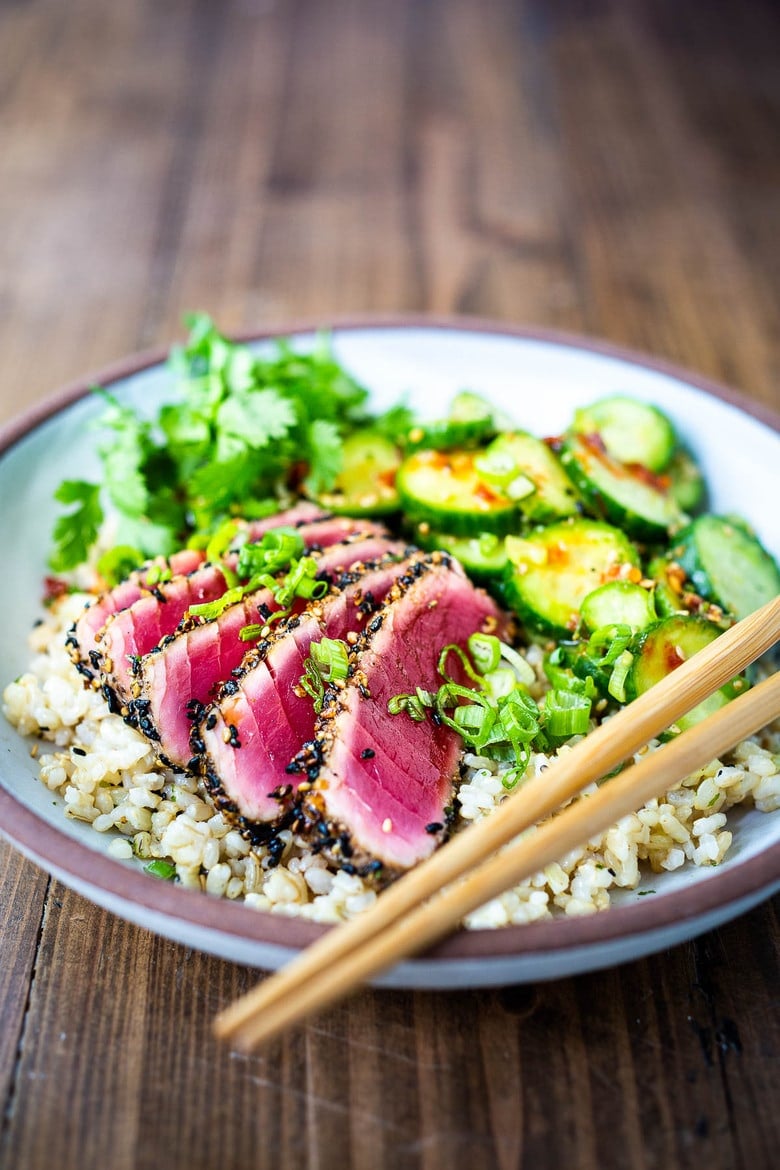 These Teryaki Mushroom Lettuce Wraps are light yet filling! Filled with flavorful shiitake mushrooms in a homemade teriyaki sauce and brown rice- a light and healthy summer meal, perfect for hot summer nights!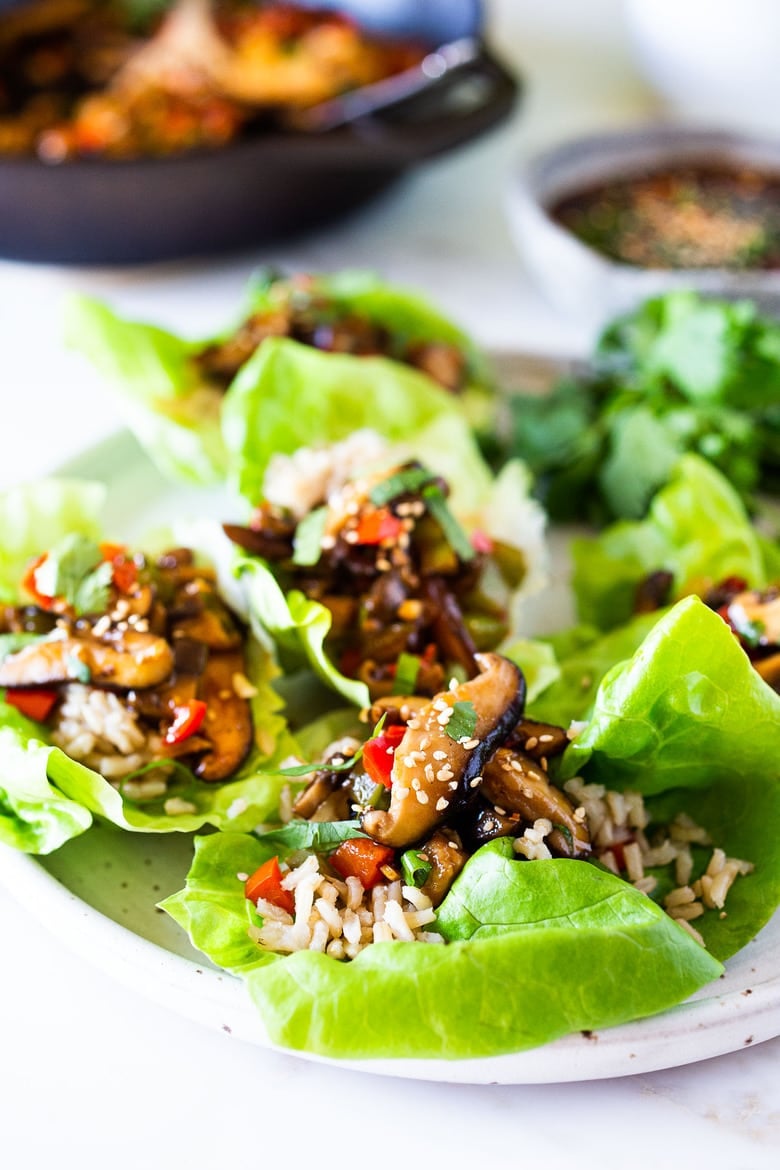 Grilled Romaine Salad with Corn, Fava Beans and Avocado – a light and refreshing summer meal. Keep it vegan or add grilled shrimp for added protein. Either way, it's sure to be your new favorite salad. Don't have access to fresh Fava beans? No worries, sub edamame!
Grilled Chipotle Chicken Salad – This flavorful entree salad is loaded up with grilled veggies- corn, peppers and scallions over a bed of arugula and quinoa with avocado and a simple Chipotle Lime Dressing. The grilled Chipotle chicken (or MEXICAN TOFU ) is placed on top, for a light but hearty Summer Dinner!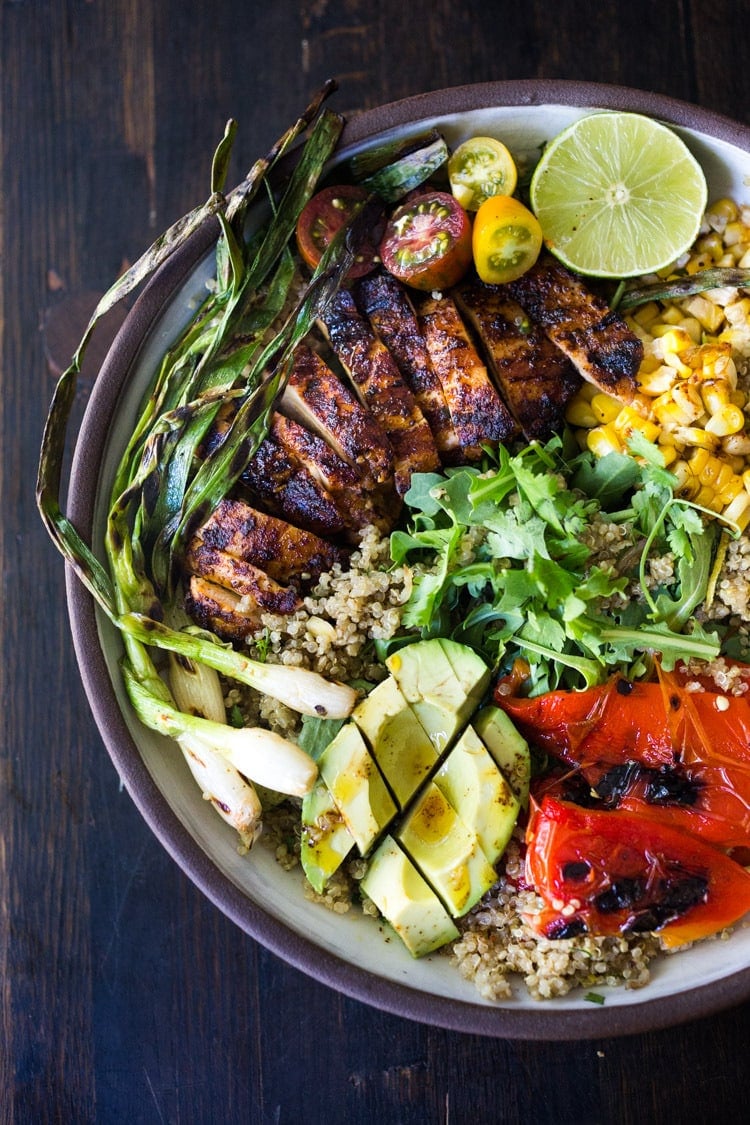 Cool and refreshing Watermelon Gazpacho with avocado, cucumber and sprouts. An easy chilled soup for summer! Top it with shrimp or crab and make it a meal!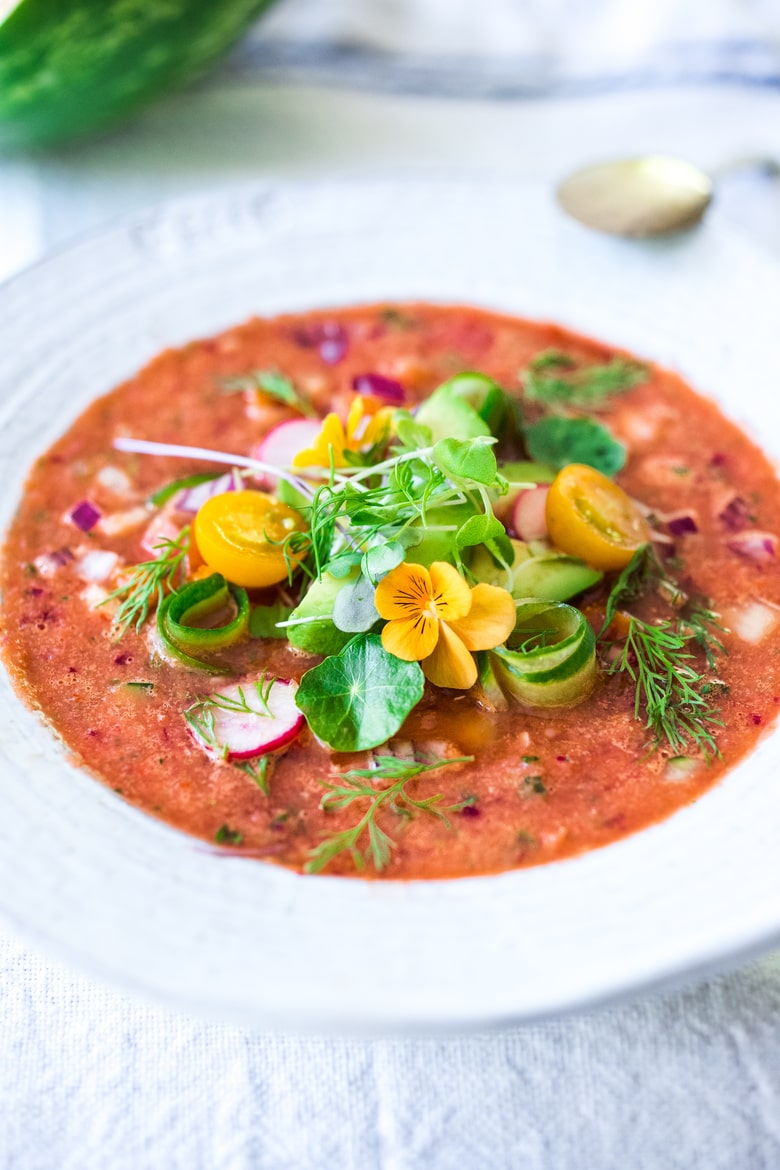 Mexican Aguachile! Similar to ceviche, shrimp is cooked in a mixture of lime juice, chiles and cilantro. Flavorful, simple and sooooo delicious!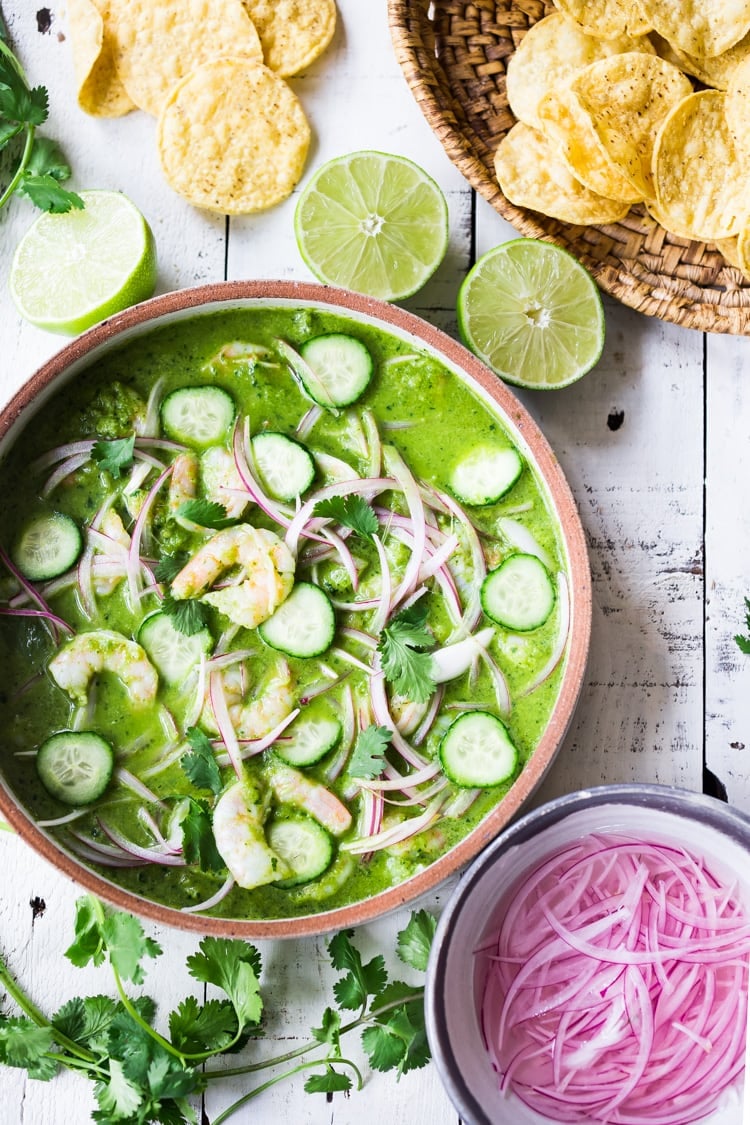 Blackened Tempeh Salad with Avocado, Kale, Radishes, Pickled Onions and a Creamy VEGAN Cajun Ranch Dressing that can be made into a hearty entree salad, grain bowl, or packable wrap.
Nordic Nicoise Salad with smoked salmon on a bed of greens with radish, cucumber baby potatoes, capers, dill, and horseradish-spiked Nicoise dressing.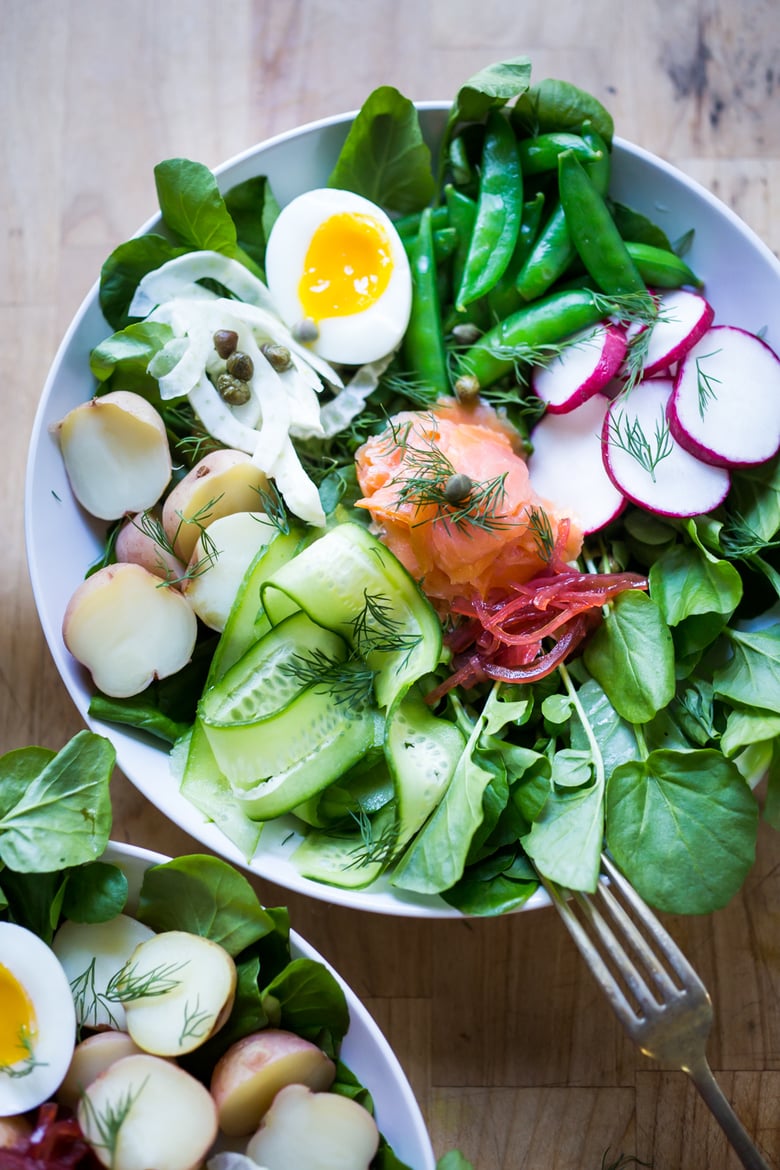 Poke Beets!– a vegan twist on Hawaiian-style poke made with steamed beets instead of fish, this delicious beet salad can be made ahead and served over rice, greens or noodles for midweek meals!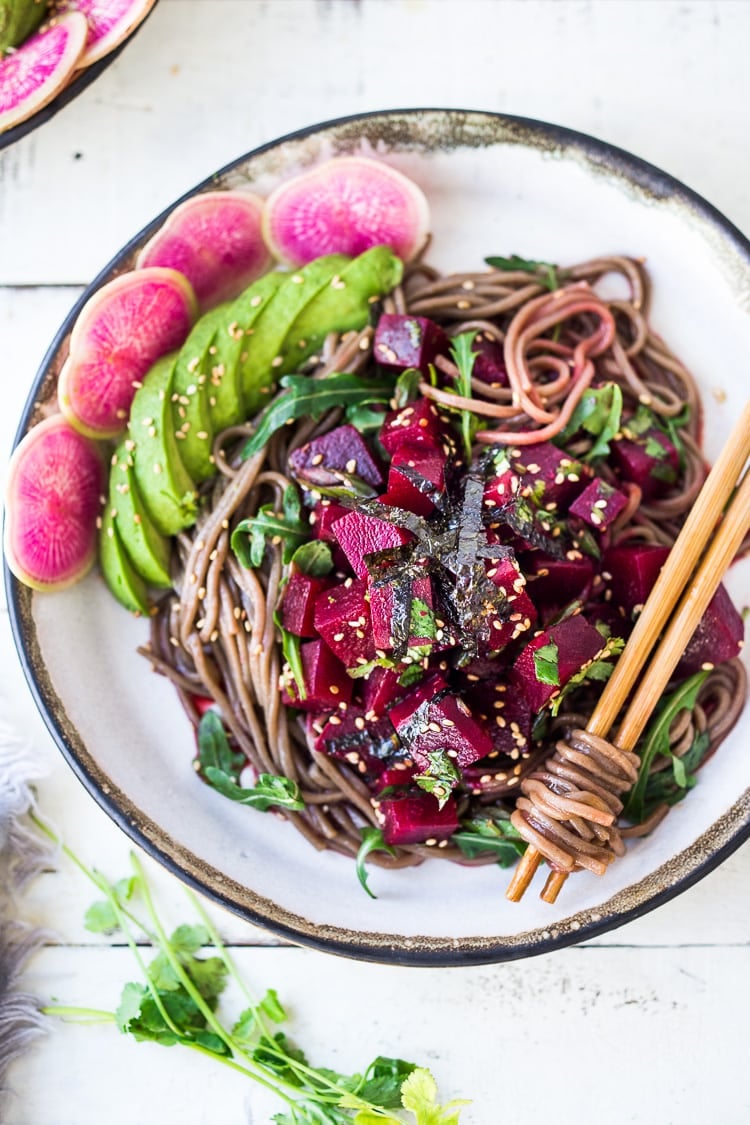 Grilled Lamb Kebabs with Herb Salad and Dilled Yogurt Sauce– a delicious, healthy, paleo-friendly recipe featuring ground lamb spiced with Middle Eastern seasonings.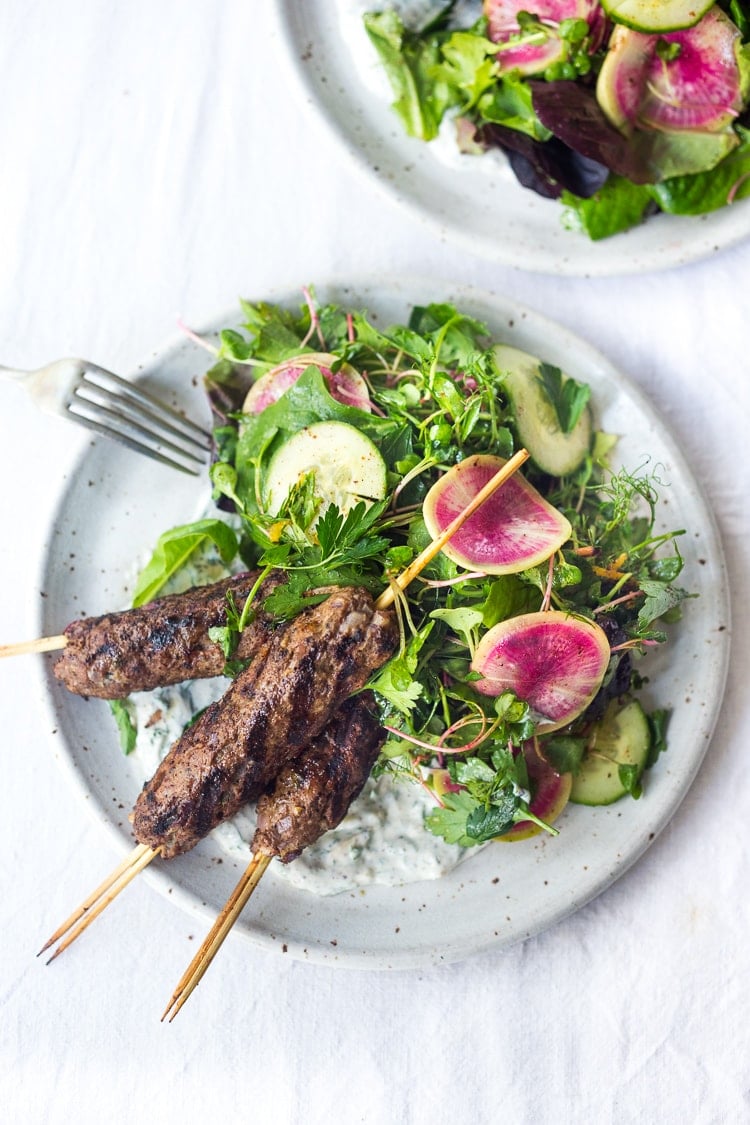 Heirloom Tomato Salad with Toasted Walnuts and Smoked Blue Cheese – a simple summer salad highlighting sweet and juicy heirloom tomatoes. Serve this with Grilled Chicken or Grilled Steak! Can be made in 15 minutes!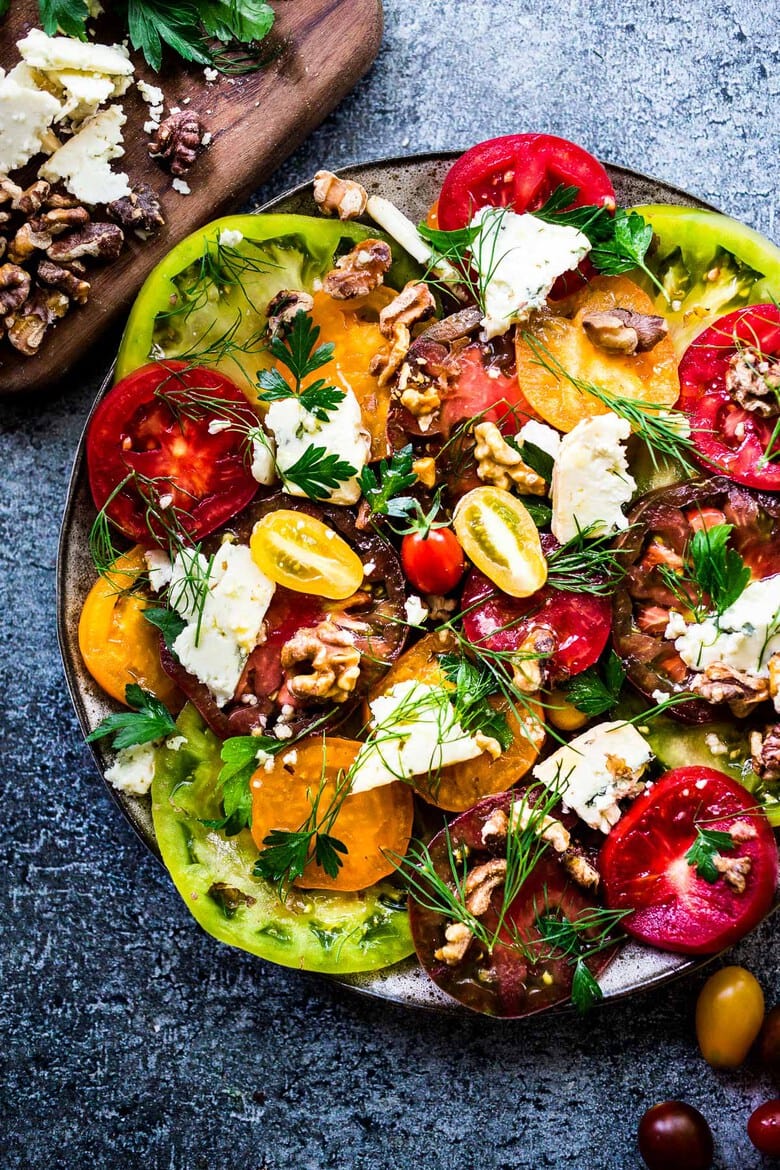 This Vietnamese Beef and Green Papaya Salad– is light and refreshing but full of so much flavor! On oldie on the blog still a reader favorite!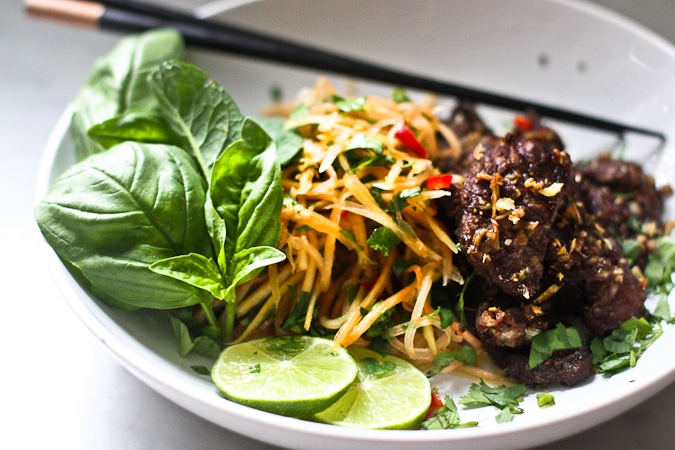 Baked Squash Blossoms with ground lamb, basmati rice and fragrant Middle Eastern spices – a simple delicious appetizer, or main course inspired by the season! Serve with Creamy Tzatziki Sauce!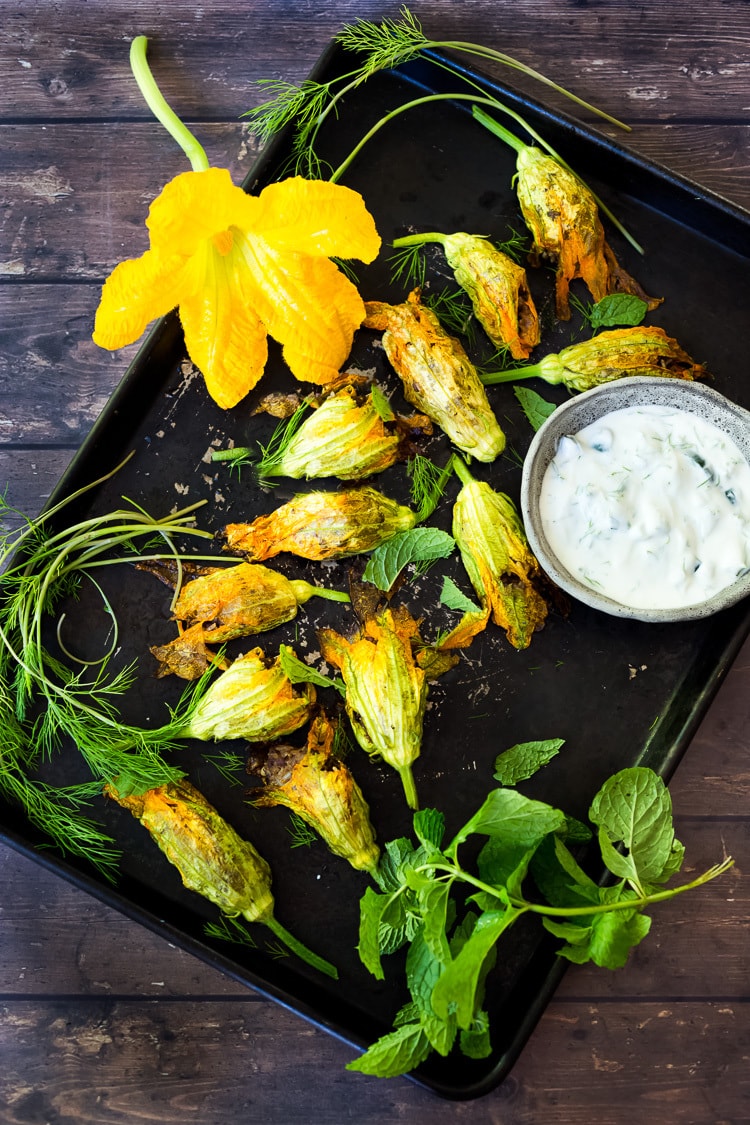 Peach & Fennel Panzanella Salad with Arugula – a simple, healthy & delicious summer salad recipe full of delicious flavor! Vegan!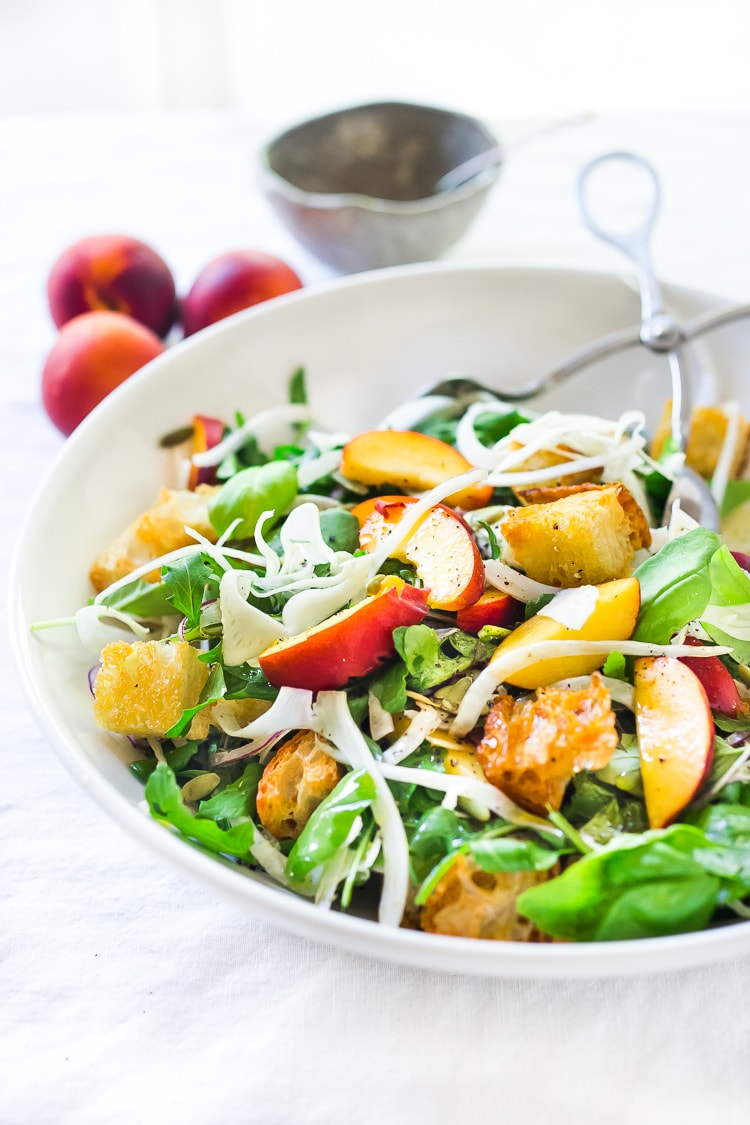 Pineapple Shrimp Skewers with the most flavorful chipotle marinade. Sweet, tangy, smoky with a little spice- a delicious combination of flavors! Served over a refreshing Jicama Mango Slaw, this is the perfect lgiht and healthy summer meal!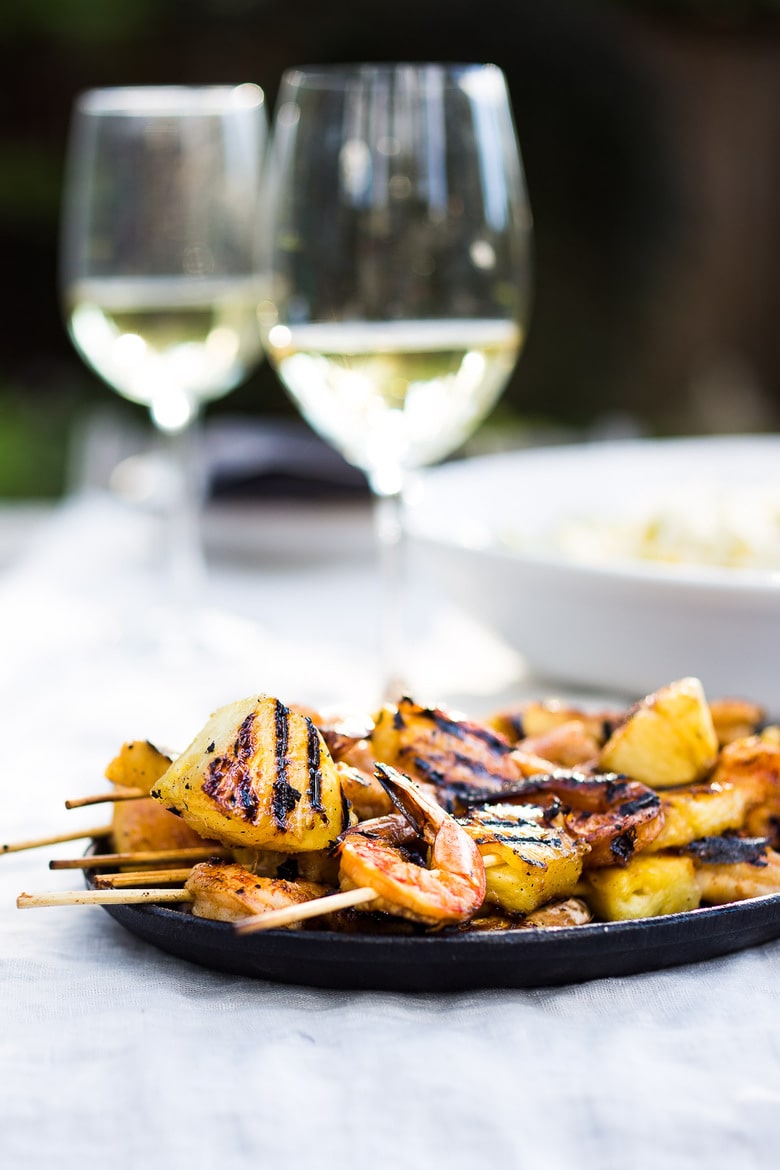 Hope you enjoy these fresh and healthy summer recipes and dinner ideas!
Stay cool.
xoxo
Print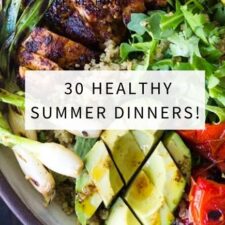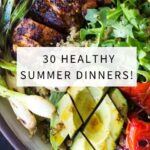 Summer Recipes for Hot Summer Days
Prep Time:

30

Cook Time:

30

Total Time:

1 hour

Yield:

4

Category:

dinner recipes, summer recipes

Method:

grilled, tossed

Cuisine:

American
---
Description
30 Light and healthy Summer Recipes, perfect for hot summer evenings. Full of healthy veggies and lean proteins, these summer dinners are full of flavor!
---
leafy green salads
chilled soups
grilled fish
grilled chicken
summer vegetables
summer fruits
fresh herbs
---
Instructions
Pick out a few recipes summer dinner recipes to try out today!
---
Keywords: summer recipes, summer recipes for the grill, fresh summer recipes, diabetic summer recipes, healthy summer recipes, best summer recipes, summer dinner recipes,
SaveSave
SaveSave