How to make the BEST Tzatziki Sauce! An Easy Authentic Greek Cucumber-Yogurt Sauce to use in mezze platters, wraps, gyros, or as a simple dip for pita bread, or as a delicious side to Mediterranean dishes. This EASY healthy authentic recipe can be made in 15 minutes!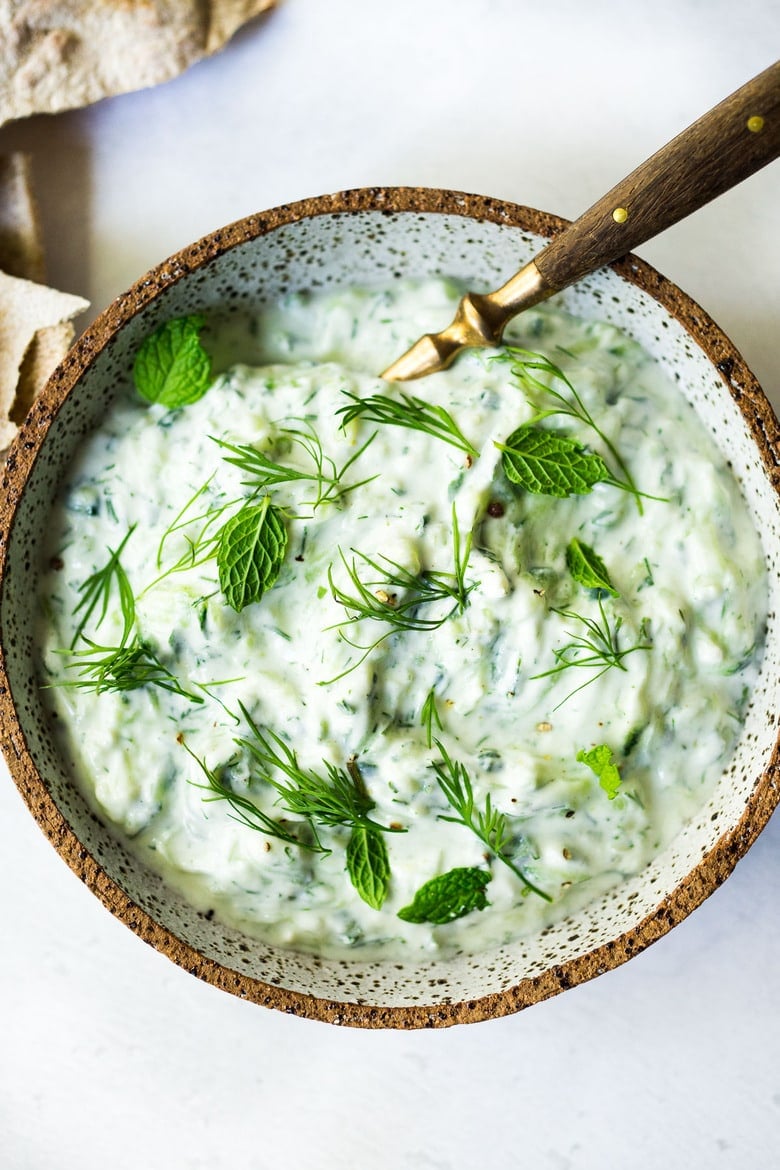 Summer has filled her veins with light and her heart is washed with noon. ~C. Day Lewis
Holy cucumbers! They are in the peak of their season right now and I couldn't be more thrilled! So cooling and refreshing, right in the middle of summer, right when we need them most. Mother nature times her gifts so perfectly, don't you think?
One of my favorite things to make in summer is Tzatziki Sauce because this is when cucumbers are aplenty. Plus, tzatziki is just so handy! And tasty!
We use it like we do hummus, or baba ganoush as a quick snack or dip, along with cherry tomatoes, olives, and homemade pita bread, or lathered into wraps. At dinner, it becomes an easy topping for grilled salmon or kabobs. I love how versatile it is! Plus it is just yummy.
Expert Tips to making the BEST Tzatziki Sauce:
Grate the cucumber.
Salt the cucumber (so it releases its water).
Some people prefer dill, some people prefer mint. I like both! Depending on your tastes, all of these options are just fine. No rules here, it is all about preference. Do what makes your taste buds happy. 😉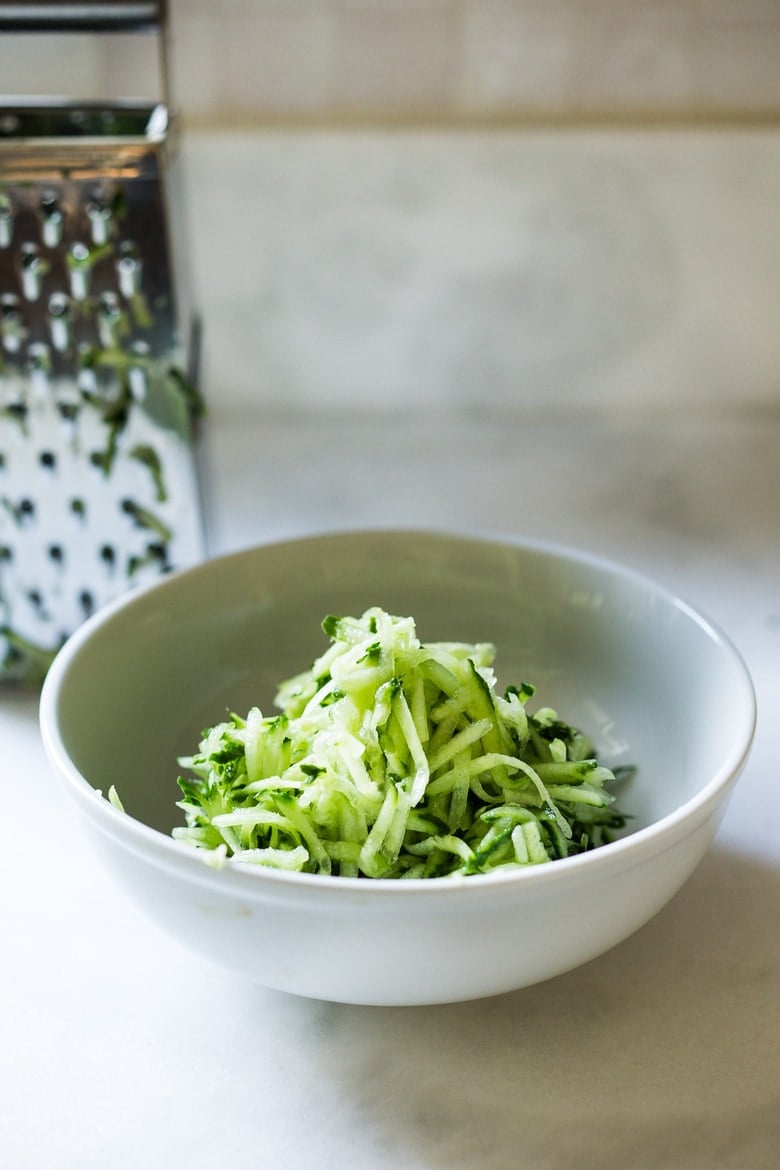 Tzatziki Ingredients:
English Cucumber (or 3-4 Turkish cucumbers)

salt

Thick Greek yogurt or strained yogurt.

1 fat

garlic clove

Fresh dill and fresh mint (a combo of both is nice). You can use dry dill in a pinch.

a squeeze of lemon to taste
So here is the basic Tzatziki recipe to use as a foundation, then, please, embellish to your heart's desire.
Grate the cucumber: If using thin-skinned cucumbers, like English Cucumbers, Persian or Turkish Cucumbers, feel free to leave the skin on. ( I find these the easiest to use). If using a waxy, thick-skinned cucumber, make sure to peel, and you may also need to seed it if it is very large.
You'll need two cups of grated cucumber which translates to about one medium English cucumber, or 3-4 Turkish cucumbers.
Grate by hand, which is really quick and easy, or use a food processor with the grater attachment, which I find is more trouble than it is worth unless you are making large quantities like we used to while catering.
Salt the cucumber to help it release its liquid.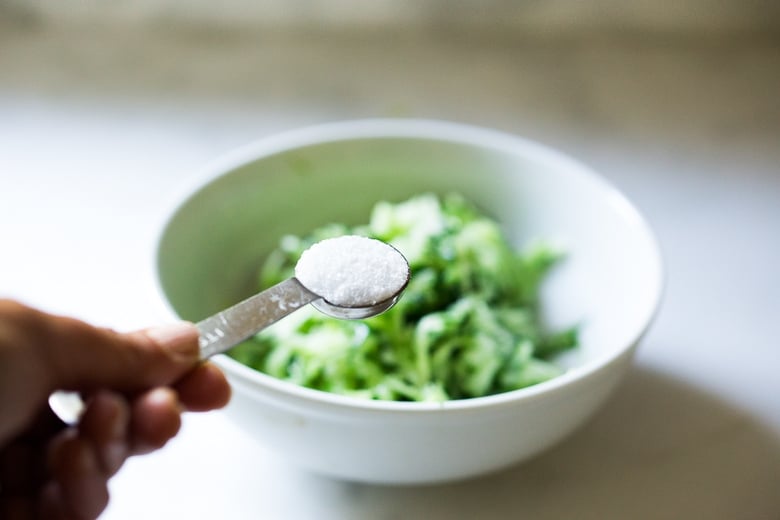 Let this stand 10 minutes, while you whip up the remaining ingredients.
In a medium bowl, add 1 cup, whole milk, thick yogurt. Here I'm using full fat, extra-thick Greek yogurt. If you don't have thick yogurt, options are to strain the yogurt through a kitchen towel to thicken or use part sour cream or creme fraiche. Or use part labneh!
I haven't tried vegan yogurt yet, but if you do please leave notes in the comments below, noting the brand.
Stir in fresh chopped dill or fresh mint, or a combination of both.
Add one fat garlic clove, that has been finely minced or grated. You can always add more to taste. I like to start with one.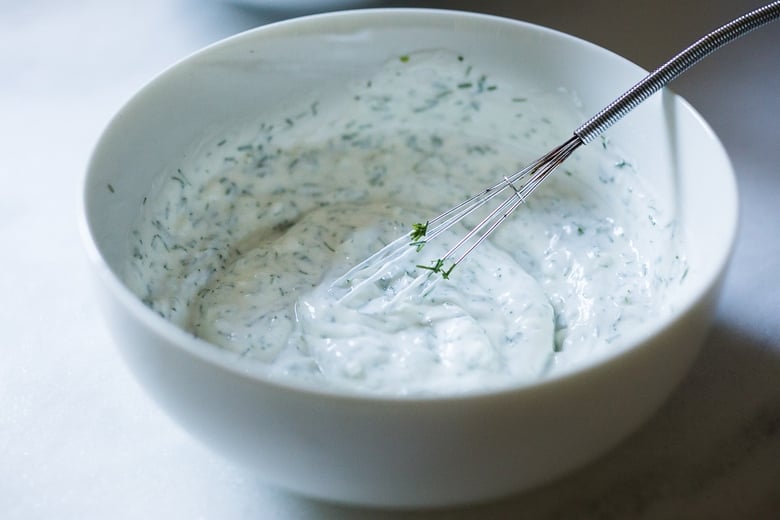 By now the cucumber will have released its beautiful liquid.
The two cups of cucumber we started off with, will now only amount to one cup!
Crazy how much water they hold!
Feel free to keep this beautiful salted cucumber water and add to dressings or fermentations! Delicious!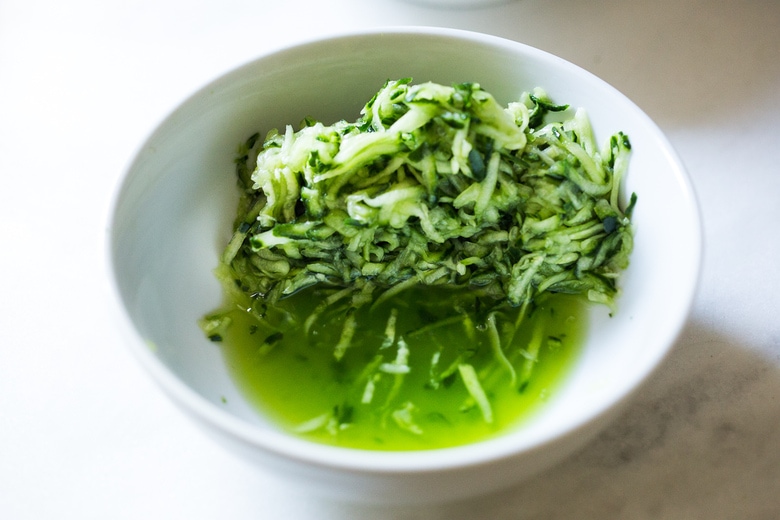 Place in a strainer and rinse out the salt.
Press the remaining liquid out with your fingers.
If you don't have a strainer you could rinse out the salt and place the grated cucumber in a clean thin linen kitchen towel and wring it out.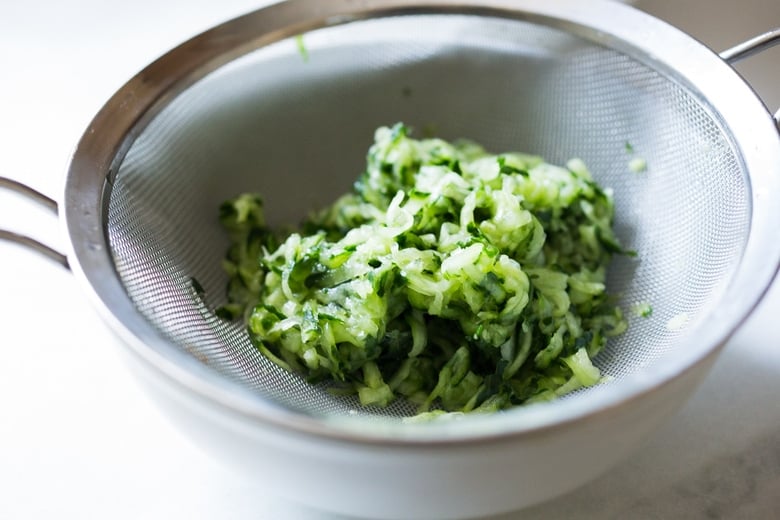 As I said, you will now have 1 cup of cucumber. Gently fold this into the yogurt mixture.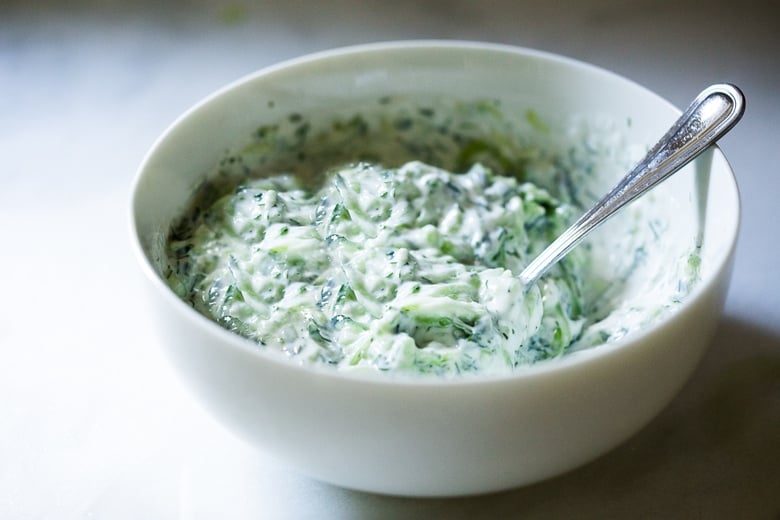 At this point taste and season with salt and pepper and lemon juice.
*Because yogurt has such varying degrees of tang and sourness, I don't like to dictate how much lemon juice to use. Sometimes I'll use just a little squeeze, like a teaspoon or two, sometimes more, sometimes none at all. So taste and determine.
Season with salt and pepper.
I find somewhere between 1/4 – 1/2 teaspoon of salt is perfect, but again, taste and adjust.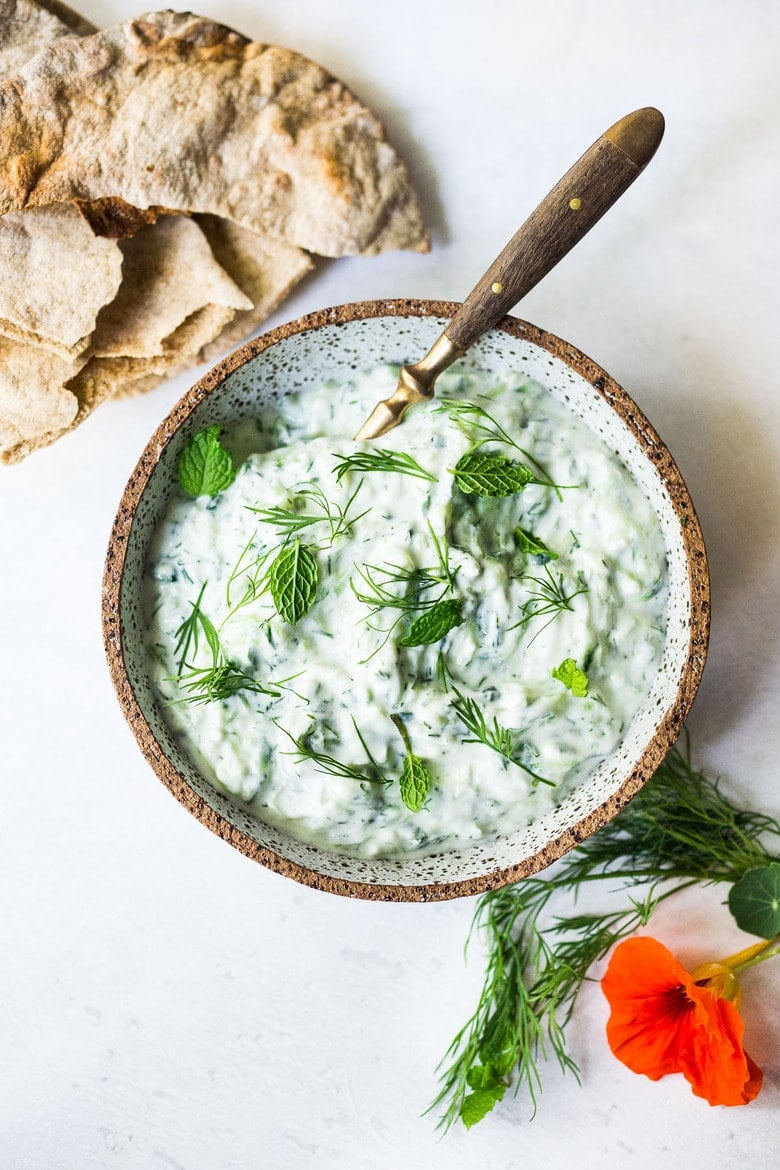 Give this delicious, cooling Tzatziki Sauce a try this week and be sure to let us know what you think! It brings me back to some of my favorite Greek restaurants in the beautiful islands of Greece.
Serve Tzatziki With:
Share any adaptions you make!
xoxo
RELATED: 35 Must-try Farmers Market Recipes, Authentic Baba Ganoush, Homemade Pita Bread!
Print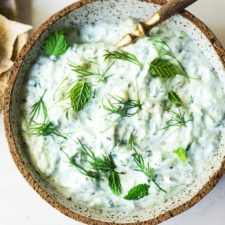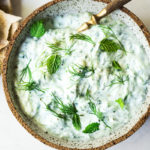 Tzatziki Sauce Recipe!
Author:

Sylvia Fountaine

Prep Time:

20

Total Time:

20

Yield:

2 cups

Category:

appetizers, sauces

Method:

Stirred

Cuisine:

Greek

Diet:

Vegetarian
---
Description
How to make the BEST Tzatziki Sauce! An easy, healthy, Greek cucumber-yogurt sauce to use in mezze platters, wraps, gyros, or as a simple dip for pita, or as a delightful side to Mediterranean dishes. This SIMPLE recipe can be made in 15 minutes!
---
1

English Cucumber ( or

3

–

4

Turkish cucumbers) grated- two cups!  ( see notes) 

1 teaspoon

salt ( this will get rinsed out) 
————

1 cup

 greek yogurt ( thick whole milk, full fat)

1

fat 

garlic clove, finely minced ( use a garlic press) 

3

tablespoons chopped fresh dill or mint (or a combo of both) 

1/4

–

1/2

teaspoon salt and pepper to taste
a squeeze of lemon to taste
---
Instructions
Grate cucumbers and place in a bowl with the salt and toss well (this will help it release moisture). Let sit 10 minutes while you prep the remaining ingredients.
In a medium bowl, whisk yogurt, garlic, fresh herbs, salt, pepper and lemon juice.
Place the salted cucumber in a strainer, rinse well under the kitchen faucet, drain well, pressing out any excess liquid through the strainer, pressing down with your fingers. You will end up with one cup of cucumber.
Fold the strained cucumber into yogurt mixture, taste and adjust salt and lemon juice to taste.
Cover and refrigerate until ready to use.
This will keep 4 days in the fridge.
Garnish with fresh dill or mint sprigs and an optional drizzle of olive oil for extra richness.
---
Notes
If using thick-skinned, waxy cucumbers, make sure to peel. Sometimes waxy cucumbers also have large seeds, feel free to remove.
If using thin skinned cucumbers like English, Persian or Turkish, feel free to leave the skin on. I like the skin for texture. You can also peel off the skin in "stripes", to only use part of the skin.
If using non-fat or low-fat yogurt stir in a couple of tablespoons of olive oil. I don't recommend non-fat yogurt here.
***I believe this would work with vegan yogurt– but haven't personally tried it. Please leave recipe notes if you do – noting the yogurt brand- thanks!
In a pinch, dry dill or dry mint will work- not quite as good, but better than nothing!
Keywords: Tzatziki, Tzatziki recipe, Best Tzatziki, Best tzatziki sauce, Easy tzatziki, Keto tzatziki, Tzatziki sauce recipe, best tzatziki recipe, authentic tzatziki, authentic tzatziki recipe