Learn the secret to making the BEST Tzatziki – a traditional Greek yogurt and cucumber sauce with fresh herbs. This easy, authentic recipe can be made in just 20 minutes! Includes a video!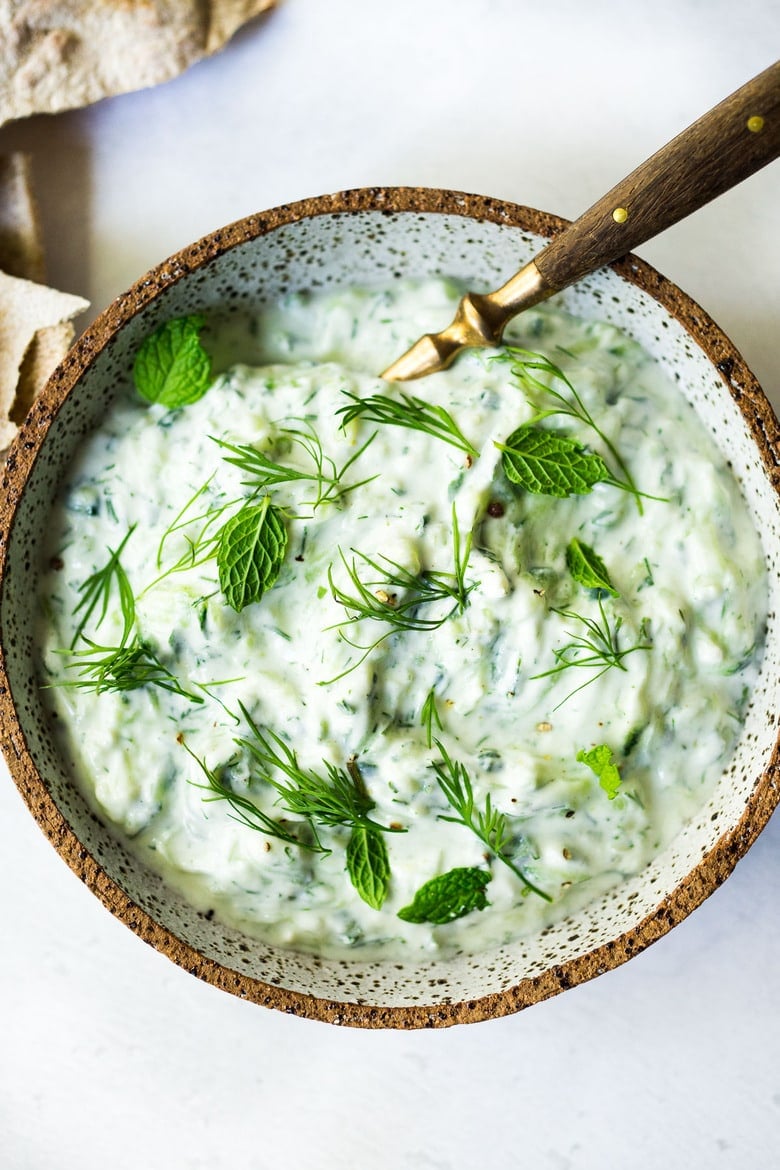 Summer has filled her veins with light and her heart is washed with noon. ~C. Day Lewis
Tzatziki is a creamy yogurt-cucumber sauce or dip that hails from Greece and is made of yogurt, shredded cucumber, olive oil, garlic, lemon, fresh herbs and salt. It's simple and easy can easily be made vegan.
During the summer months, when cucumbers are aplenty, we make the Tzatziki recipe often and serve it like we do hummus, or baba ganoush as a quick snack or dip, along with cherry tomatoes, olives, and homemade pita bread, or slathered it into wraps, or add to buddha bowls.
At dinner, Tzatziki becomes a cooling topping for grilled salmon or kabobs. I love how versatile it is! Plus it is just yummy.
Tzatziki Video
Tzatziki Ingredients:
English Cucumber (or 3-4 Turkish cucumbers)

Salt 

Thick Greek yogurt or strained yogurt ( Goat or sheep's milk yogurt is especially nice here) 

Garlic 

Fresh dill and fresh mint (a combo of both is nice). You can use dry dill in a pinch. 

a squeeze of lemon to taste
Some people prefer dill, some people prefer mint. I like both! Depending on your tastes, all of these options are just fine. No rules here, it is all about preference. Do what makes your taste buds happy. 😉
How to make Tzatziki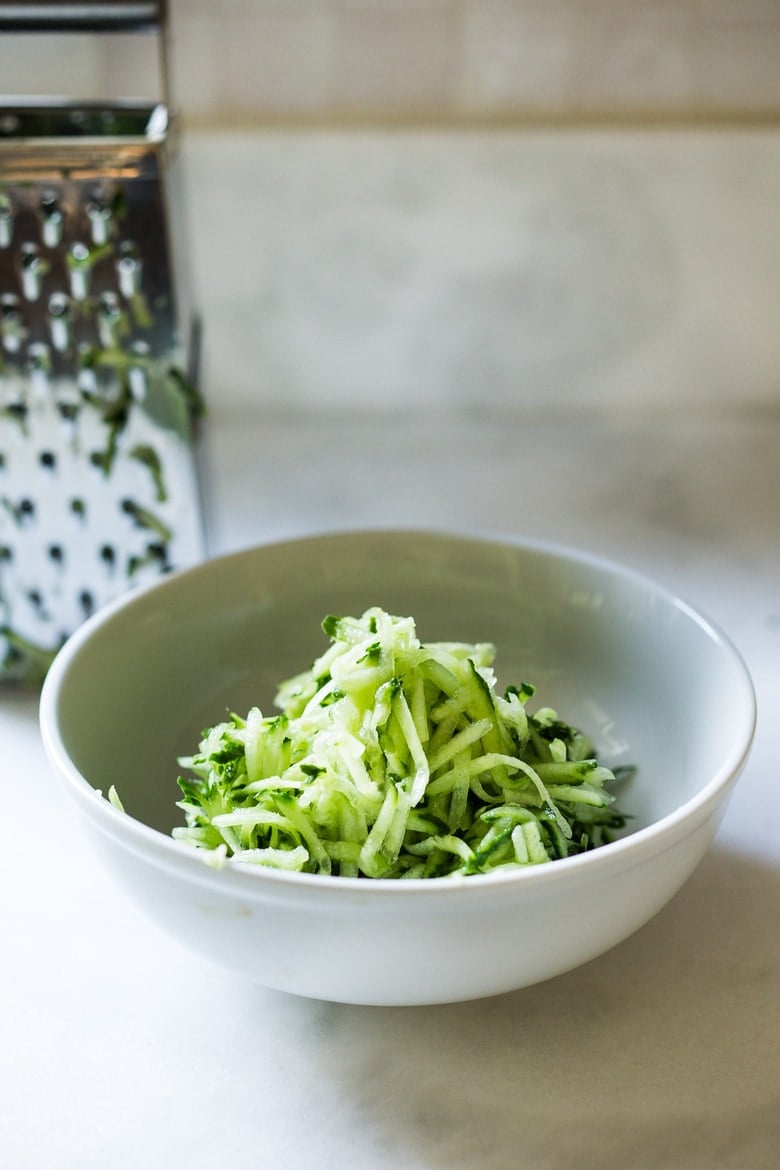 Step one: Prep the cucumber
Grate the cucumber: If using thin-skinned cucumbers, like English Cucumbers, Persian or Turkish Cucumbers, feel free to leave the skin on. ( I find these the easiest to use). If using a waxy, thick-skinned cucumber, make sure to peel, and you may also need to seed it if it is very large.
You'll need two cups of grated cucumber which translates to about one medium English cucumber, or 3-4 Turkish cucumbers.
Grate by hand, which is really quick and easy, or use a food processor with the grater attachment, which I find is more trouble than it is worth unless you are making large quantities like we used to while catering.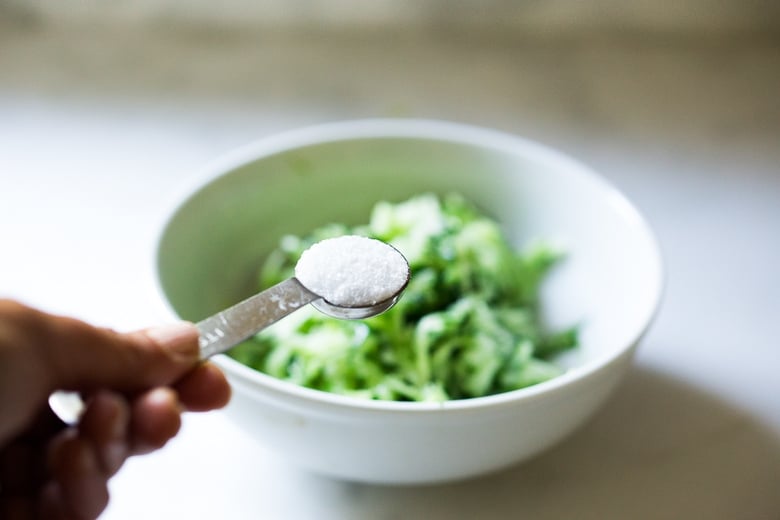 Step two: salt the cucumber
Mix the cucumber with salt to help it release its liquid, and then place it in a strainer. It will drain off its liquid.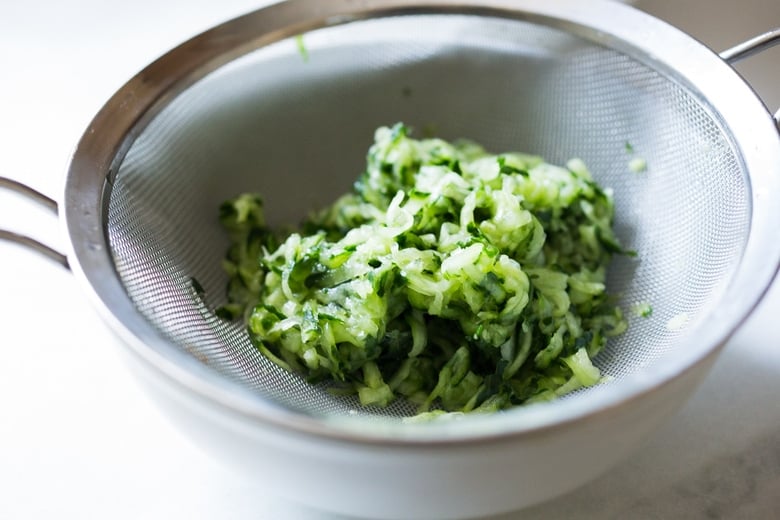 Let this stand 10-15 minutes, while you whip up the remaining ingredients.
Step three: Combine
In a medium bowl, add 1 cup thick yogurt.  Here I'm using full fat, extra-thick Greek yogurt. I really love using sheep or goat milk yogurt ( very authentic) here. If you don't have thick yogurt, options are to strain the yogurt through a thin kitchen towel to thicken, or use part labneh, sour cream or creme fraiche.
Thick vegan yogurt will work well here too.
Stir in fresh chopped dill or fresh mint, or a combination of both.
Add one fat garlic clove, that has been finely minced or grated. You can always add more to taste, but start with one.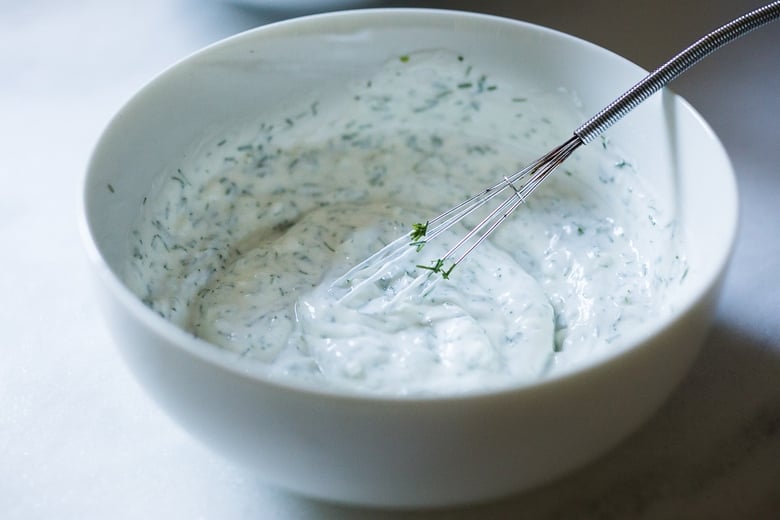 By now the grated cucumber will have released its beautiful liquid. Two cups will have reduced to one cup. Press down on the cucumber to further release its liquid through the strainer. Then add the cucumber to the bowl and give a good stir.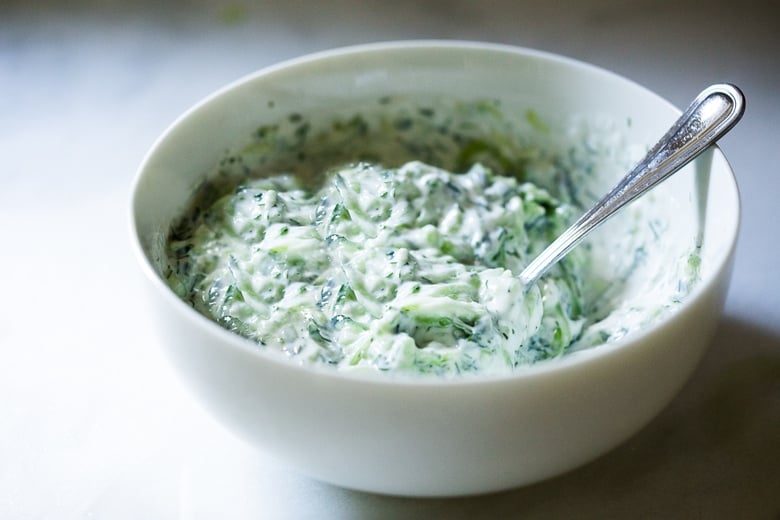 Step five:  Season
At this point taste and season with salt and pepper, olive oil and lemon juice.
*Because yogurt has such varying degrees of tang and sourness, I don't like to dictate how much lemon juice to use. Sometimes I'll use just a little squeeze, like a teaspoon or two, sometimes more, sometimes none at all. So taste and determine.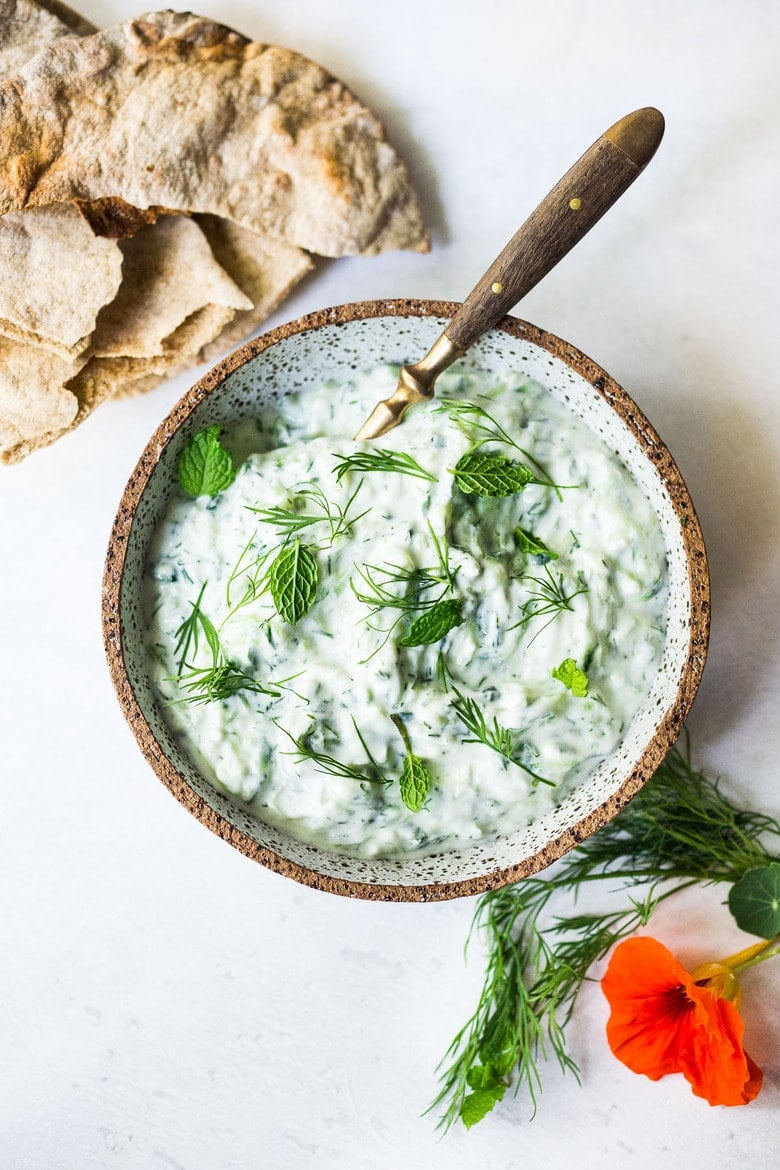 Give this delicious, cooling Tzatziki Sauce a try this week and be sure to let us know what you think! It brings me back to some of my favorite Greek restaurants in the beautiful islands of Greece.
For a colorful twist, try this Beet Tzatziki!
How to use Tzatziki:
Tzatziki pairs well with so many dishes you're already making. Serve tzatziki with:
Hope you love this Tzatziki recipe as much as we do!
xoxo
Print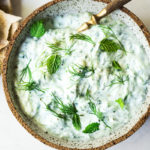 Tzatziki Sauce Recipe!
Author:

Sylvia Fountaine

Prep Time:

20

Total Time:

20

Yield:

2 cups

1

x

Category:

appetizers, sauces

Method:

Stirred

Cuisine:

Greek

Diet:

Vegetarian
---
Description
How to make the BEST Tzatziki Sauce! An easy, healthy, Greek cucumber-yogurt sauce to use in mezze platters, wraps, gyros, or as a simple dip for pita, or as a delightful side to Mediterranean dishes. This SIMPLE recipe can be made in 15 minutes!
---
1

English Cucumber ( or

3

–

4

Turkish cucumbers) grated- two cups! ( see notes)

1/2 teaspoon

salt
————

1 cup

greek yogurt ( thick whole milk, full fat)

1

fat

garlic clove, finely minced ( use a garlic press)

3

tablespoons chopped fresh dill or mint (or a combo of both)

a squeeze of lemon to taste
drizzle of olive oil
---
Instructions
Grate cucumbers and place in a bowl with the salt and toss well, place in a strainer ( over a bowl). Let sit 10-15 minutes while you prep the remaining ingredients.
In a medium bowl, whisk yogurt, garlic and  fresh herbs.
Pressing down with your fingers, remove any more liquid from the cucumber that you can. You will end up with one cup of cucumber. Fold the strained cucumber into the yogurt mixture.
Taste, adding lemon juice ( if you like) to taste. Season with pepper and more salt if needed. If you want more richness, stir in a drizzle of olive oil. You can also drizzle olive oil over the top in a circular motion.
Garnish with fresh herbs and keep refrigerated until ready to serve.
---
Notes
This will keep 4 days in the fridge.
If using thick-skinned, waxy cucumbers, make sure to peel. Sometimes waxy cucumbers also have large seeds, feel free to remove.
If using thin-skinned cucumbers like English, Persian or Turkish, feel free to leave the skin on. I like the skin for texture. You can also peel off the skin in "stripes", to only use part of the skin.
If using non-fat or low-fat yogurt stir in a couple of tablespoons of olive oil. I really don't recommend non-fat yogurt here.
***This works with vegan yogurt.
In a pinch, dry dill or dry mint will work- not quite as good, but better than nothing!
Nutrition
Serving Size:

¼ cup

Calories:

39

Sugar:

1.9 g

Sodium:

158.5 mg

Fat:

1.8 g

Saturated Fat:

0.9 g

Carbohydrates:

2.6 g

Fiber:

0.2 g

Protein:

3.4 g

Cholesterol:

4.6 mg
Keywords: Tzatziki, Tzatziki recipe, Best Tzatziki, Best tzatziki sauce, Easy tzatziki, Keto tzatziki, Tzatziki sauce recipe, best tzatziki recipe, authentic tzatziki, authentic tzatziki recipe