Baked Falafel Bowls! Meal-prep these authentic baked falafels, then freeze for the busy workweek. An easy, delicious, authentic falafel recipe that you can create healthy Falafel Bowls with!  Vegan and Gluten-free!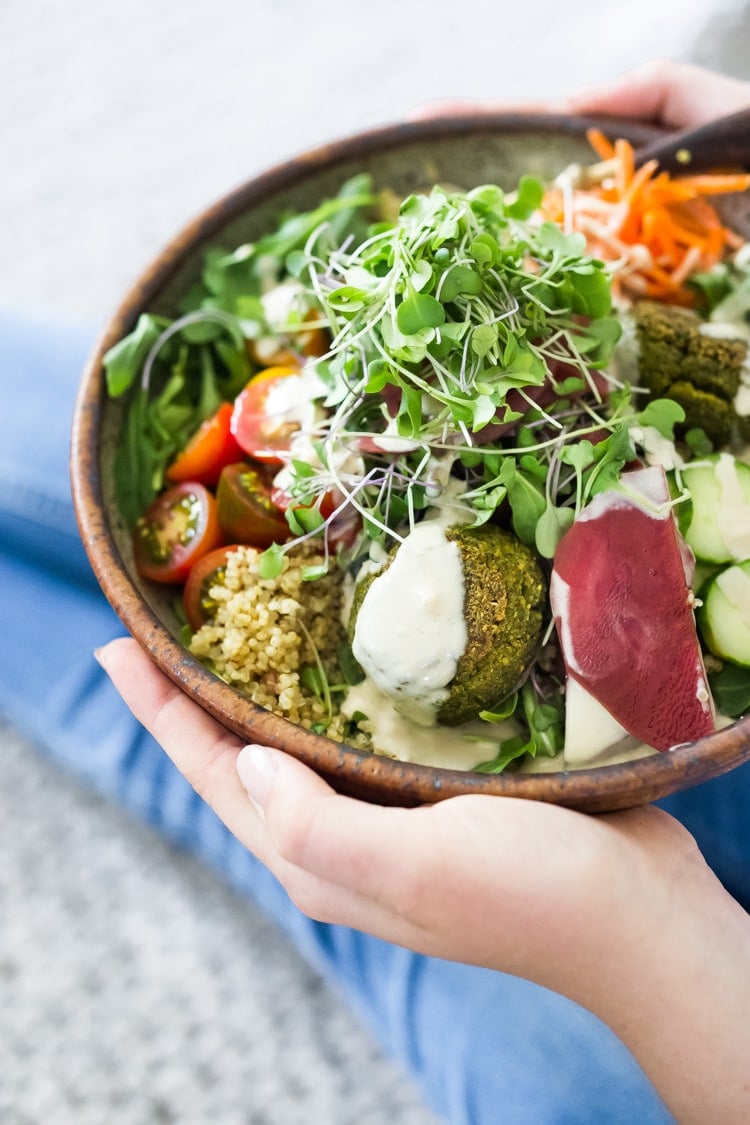 Hey friends, lately I've been "meal-prepping" these authentic Baked Falafels for weekday bowls.
The falafels themselves are made the "good" way, with soaked chickpeas, instead of canned (which gives the falafels the best texture) and baking them with very little oil and then freezing them, so they are always on hand for these healthy, vegan Falafel Bowls. High in protein, these little guys are total energy boosters and knowing I have them on hand in the freezer whenever I need a falafel fix brings me such joy. It's the little things, right? 😉
The Baked Falafel Bowls consist of  Everyday Quinoa with greens, tomatoes, microgreens, cucumber, grated carrots, Pickled Turnips and Quick Pickled Onions.
Feel free to make creamy Tzatziki Sauce if not opting for vegan!
During the colder months, I often add simple roasted veggies, when tomatoes and cucumbers are not in season.
But feel free to use what ever grains or veggies you have on hand. Embellish.
Or keep these totally grain-free!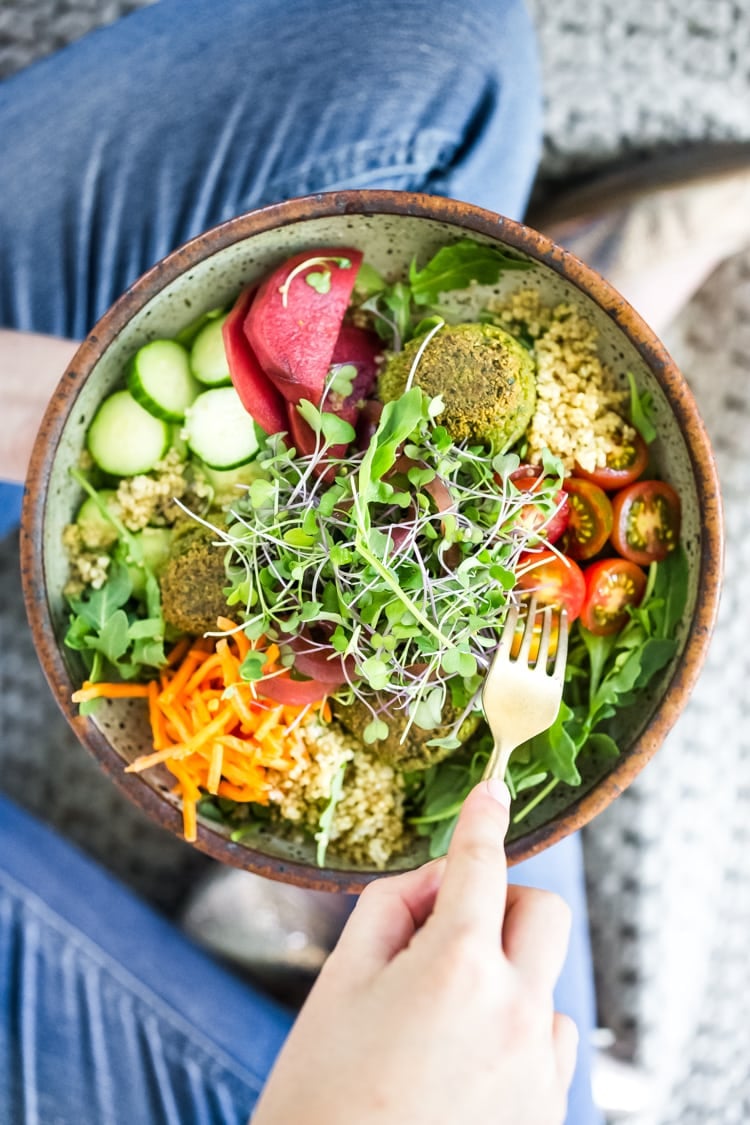 Pile the bowl up with healthy veggies. Grate carrots, beets or turnips, add greens, tomatoes, micro greens and herbs. Sliced cucumbers are nice too – so cool and crisp … and if so inclined, this  Everyday Cucumber Salad is totally delicious on these too!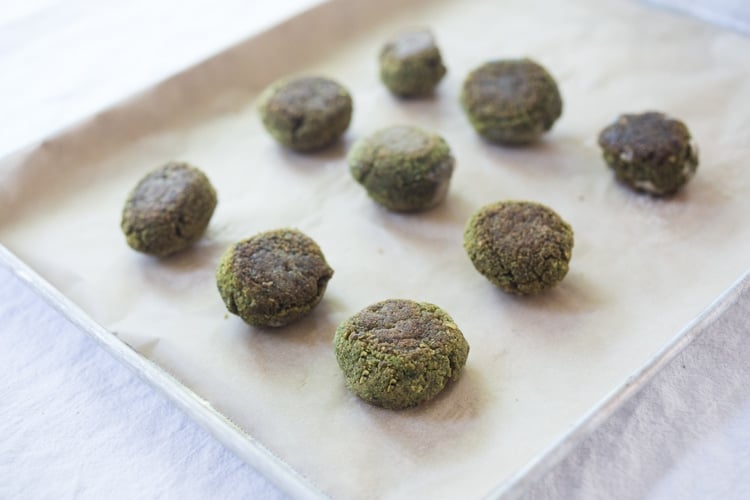 Baking falafels requires less oil than frying. I use an olive oil spray and then flip them half way through to get this nice crust. Freeze any extras,  then pull them out when you want them and reheat them. So easy!
I don't have a microwave, so I put the frozen falafels in a foil packet and heat them in our toaster oven, opening up the foil for the last five minutes, to let them crisp.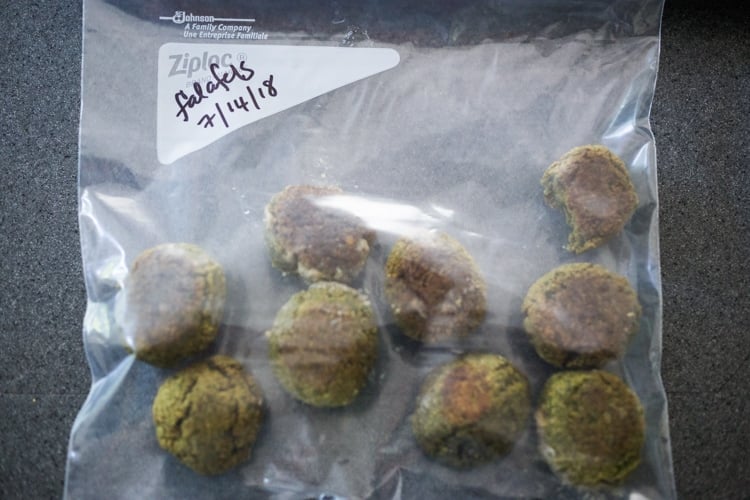 These Falafel Bowls are nice little gift for yourself during the busy workweek.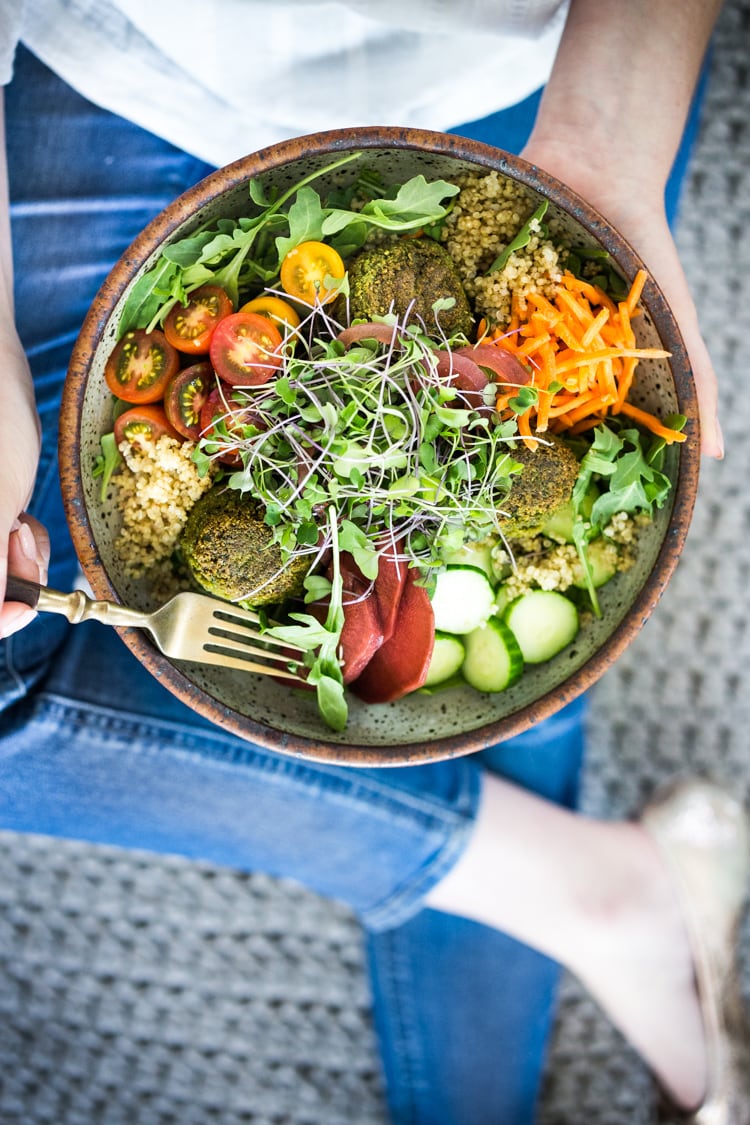 I usually make a quick batch of Everyday Tahini Sauce  and drizzled it over top, but if looking for something different, how about trying Zhoug Yogurt to bump up the flavor? Sometimes I like to use both. 😉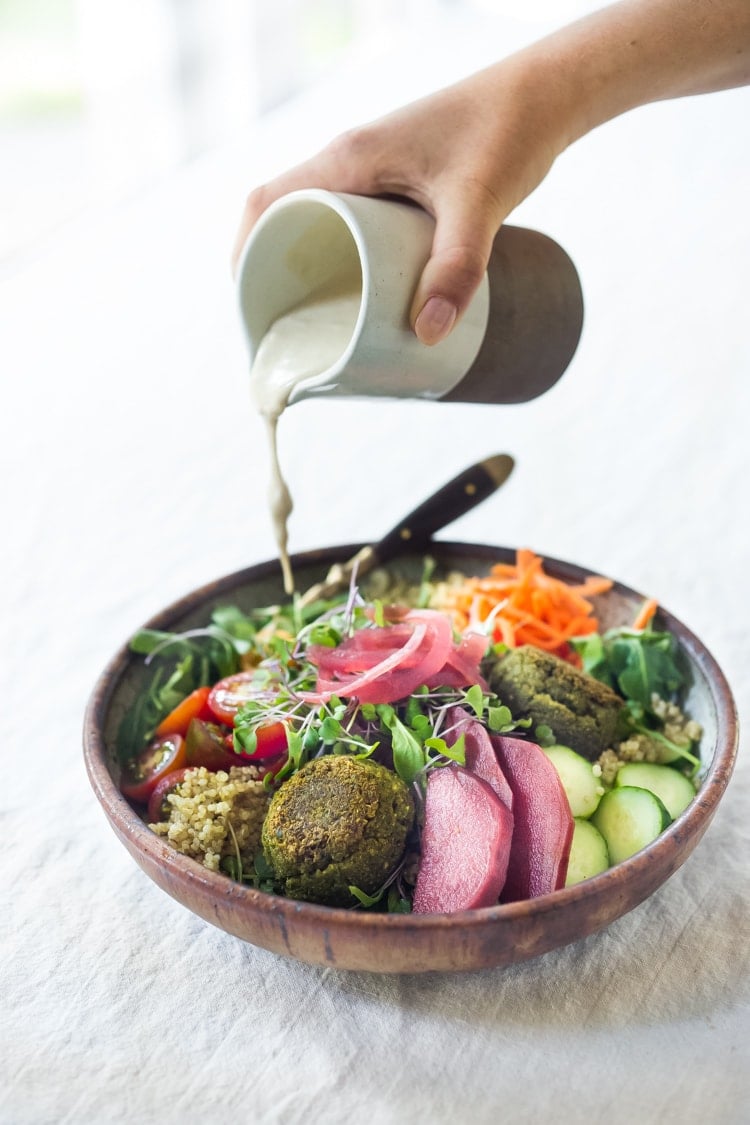 The pink looking things in front of the Falafel bowl above are pickled turnips. I add a sliver of fresh beet to the pickling liquid to give them their pretty color.  To make these, go back to my origin falafel post and scroll down to the recipe. A fun thing to do with all those salad turnips in your CSA box!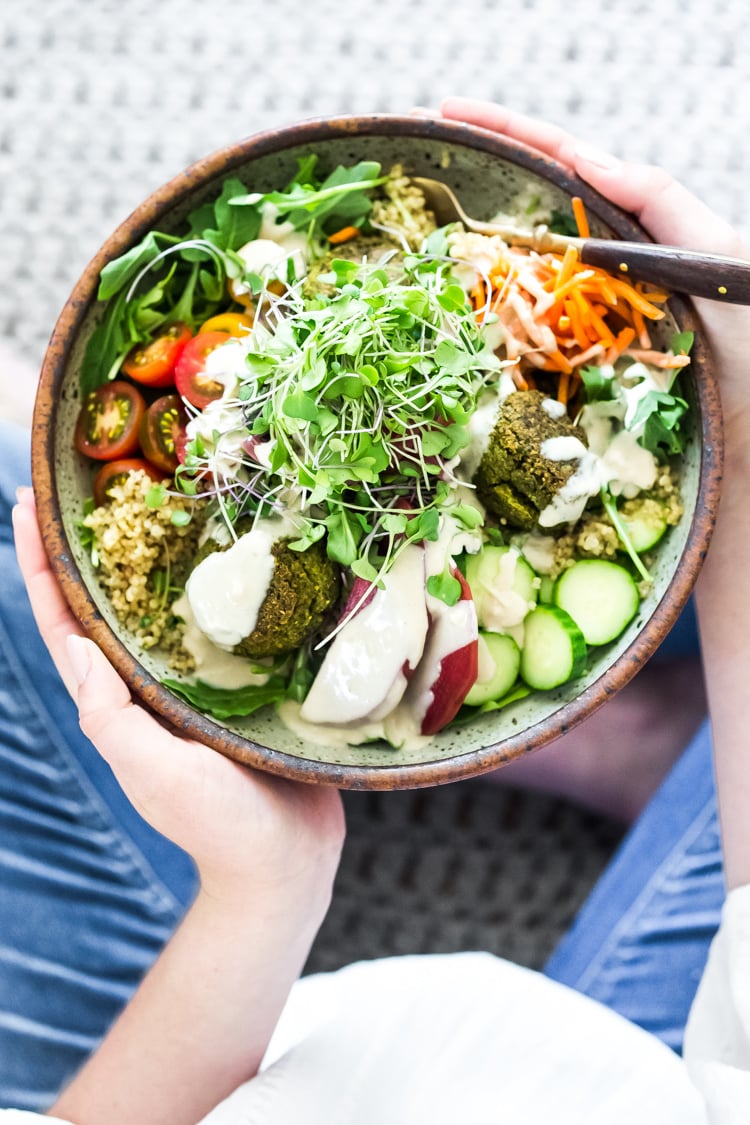 And of course the micro greens… they make every thing better, don't they? Happy happy bowls.
I could eat these everyday…
Ok just a little falafel inspiration for you…. to help get your creative juices flowing. Hope you are having a great week.
xo
Print
Baked Falafel Bowls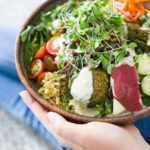 Baked Falafel Bowls! Meal-prep these authentic falafels and freeze for the busy workweek. Easy, delicious, authentic falafel recipe! Vegan and Gluten-free!
Author: Sylvia Fountaine
Prep Time:

10 hours

Cook Time:

30 mins

Total Time:

10 hours 30 minutes

Yield:

20

falafels

1

x
Category:

Vegan Main, Gluten free, Bowls

Method:

Baked

Cuisine:

Middle Eastern
Scale
Ingredients
Falafels (makes 20 falafels)
2 cup

s dry garbanzo beans (makes about

4 cup

s soaked)

1 cup

Chopped Cilantro (tender stems ok, or use a mix of parsley and cilantro)

1 cup

onion, rough chopped

4

garlic cloves

1

 large jalapeño rough chopped

2 Tablespoon

s Coriander

2 Tablespoon

s Cumin

2 tsp

baking soda

1 ¼ tsp

kosher salt
Bowl options ( Not imperative- just to give you ideas)
Instructions
Place dry chickpeas in a big bowl and cover with 4-5 inches of water and let soak on the counter 10 – 24 hours
Preheat the oven to 375F
Place chick peas in a strainer and drain them really well. Sometimes I'll even pat them dry with a paper towel.
Place the cilantro, onion, jalapeño and garlic in a food processor and pulse repeatedly until uniformly chopped, like 20 times, at least. Add 4 cups of well-drained, soaked garbanzo beans, cumin, coriander, salt and the baking soda. Blend again, until very well combined, scraping down sides if necessary. You want it to be blended well, like a course paste, but not as smooth as hummus. A little texture is good!
Grease the bottom of a parchment lined baking sheet with spray olive oil, or brush with olive oil.  Form falafels into pingpong or golfball-sized balls (a slight oval shape is nice).  If it feels sticky, use wet hands. Place on the greased parchment. Once all the balls are formed, using wet palms, flatten just a little, so they are about an 1 -1 ½ inch thick. Spray or brush the tops with olive oil. Bake 15 minutes, then carefully flip using a metal spatula. Continue baking another 12-15 minutes until golden and slightly crispy.
While they are baking, make the Everyday Quinoa and Tahini Sauce and prep any veggies you like.
Assemble the bowls. I usually start with quinoa, then build upward with greens, veggies, falafels, sauces, pickled things and micro greens and herbs on the top. If packing to take away with you, perhaps keep sauces separate.
Sometimes I'll add a lemon wedge and/or hot sauce.
Notes
Make doubly sure the soaked chick peas are drained really well before blending. If they are too wet, they may not stick together. Use only 4 cups.
To freeze falafels, carefully place cooled falafels in a ziplock bag in a single layer. (Or place on a sheet pan, freeze, then zip lock) Reheat in a microwave or toaster oven. I usually wrap in foil for the first 10-15 minutes in the oven, then open the foil to let them crisp up a bit.
Keywords: Baked falafel recipe, falafel recipe, authentic falafel recipe, falafels, baked falafels, easy falafels, vegan falafel recipe