Learn how to make a fermented hot sauce – a simple way to enhance and preserve your abundance of garden chilies to use throughout the winter.  Full of healthy probiotics, this easy recipe has many health benefits. Plus it just tastes good!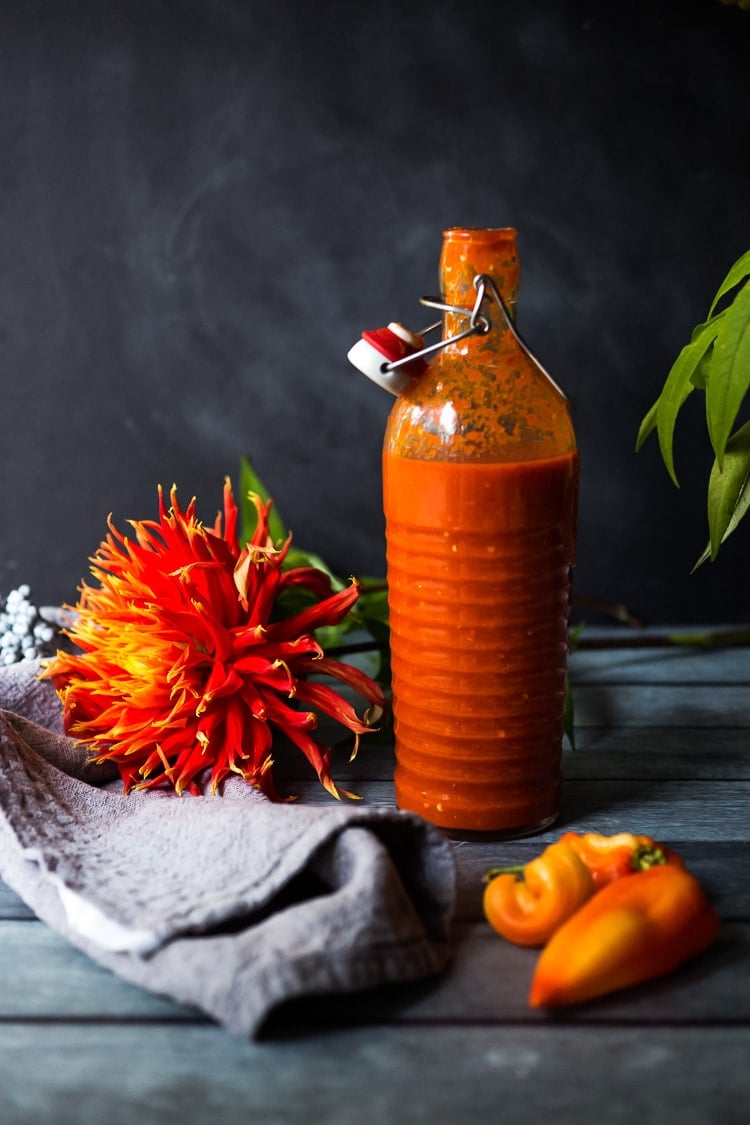 For many of you with gardens out there, this is the season of harvesting. Here's a simple way to use all those chilies you've got growing out back and turn them into something that will bring you a little kiss of sunshine during the cold months – Fermented Hot Sauce! Now before you feel intimidated – know that this only takes 20 minutes of actual hands-on time and no special equipment. It's ridiculously easy! 
watch how easy it is to make fermented hot sauce! | 30 second video
Mother nature will literally do all the work for you! And after 5-7 days you will end up with the most delicious, alive hot sauce that will get better and better with age!
I prefer this method over "canning" because canning kills all the healthy bacteria and also halts the development of flavor.
Because this is stored in the fridge ( after making)  it will remain healthy and active, continuing to ferment at a very slow rate. The flavor will also get better and better.
Our bodies love foods packed with healthy probiotics—good bacteria—another way to boost our gut health. Fermented foods are incredibly rich in probiotics. These good bacteria improve digestion, boost immunity and help us maintain a healthy weight.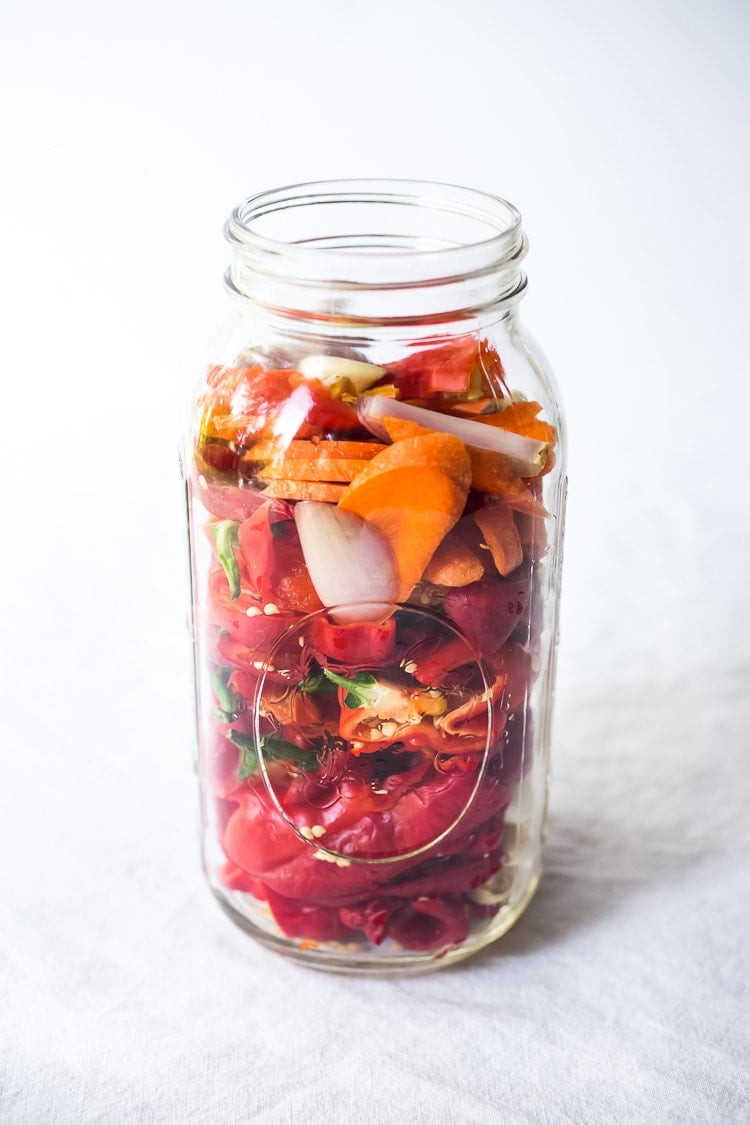 Fill a 2-quart jar with any type of hot chili, onions, garlic and sliced carrot. You can use bell peppers to temper the hot chilis if you want a milder version. Just stick with the same color palette so your fermented hot sauce stays colorful and vibrant.
In this recipe, I used Padrone Peppers, a Spanish variety that had turned red, which I found at our farmers market. But feel free to use any kind you want or a blend. You'll need about 1 pound in total. (You can easily halve this recipe)
Make a saltwater brine, using 1 1/4 teaspoons fine sea salt, per cup of warm water. 
Here I used 5 cups of water, so I added 1 1/4  teaspoon salt x 5 cups water  = roughly  6 1/4 teaspoons of fine ground sea salt.  Heating the water slightly helps the salt dissolve.
SALT RATIO: Having the right proportion of salt to water is important. Not enough salt may allow unhealthy bacteria to grow. Too much salt will kill all the bacteria and the chilies won't ferment. If you need to add more water to the jar, then add salt accordingly.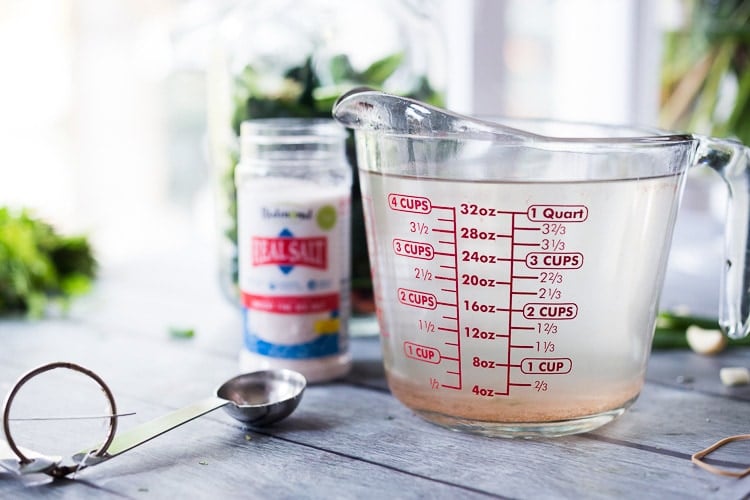 Then you pour the salt water brine over the chilies and weight them down so they are completely submerged under the brine.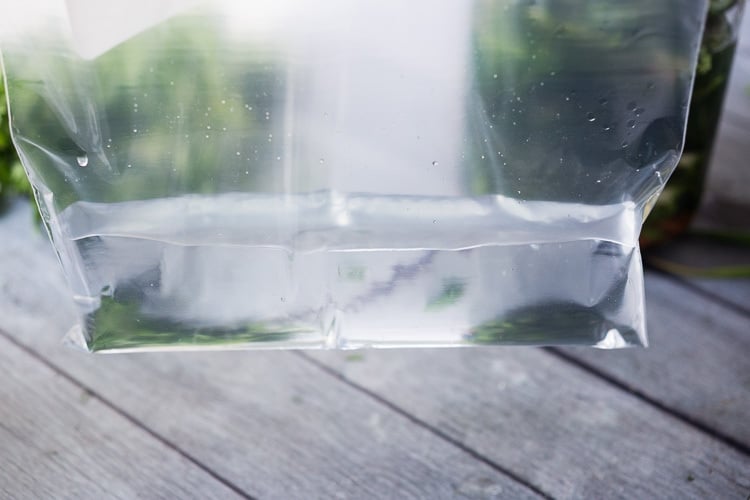 I use a ziplock bag filled with water as the "weight", but you can also use canning weights.
Here you can see I'm working on a mild green hot sauce which is in the fermenting phase still.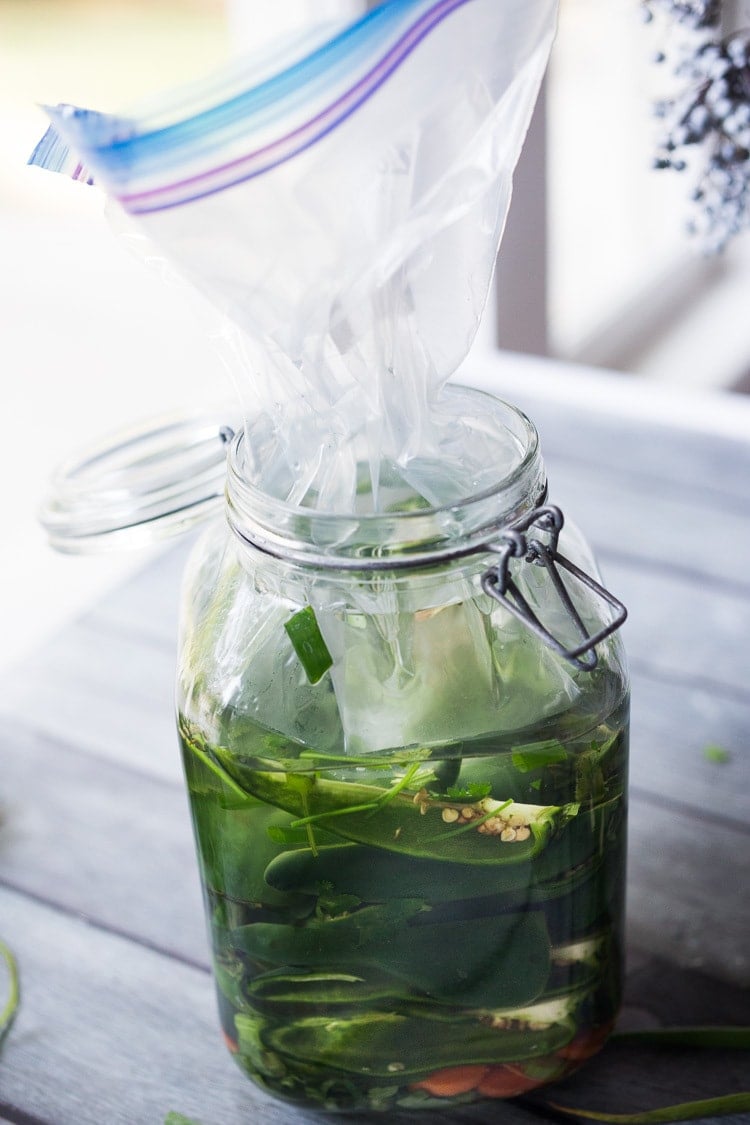 And then lightly close the lid, place the jar in a bowl or pan to catch any liquid that may spill over, and place in a cool dark place. If you don't have a dark cool place, cover with a kitchen towel and set on the counter, for 5- 7 days.
After a few days, the brine will turn cloudy, and when you tap the jar, you should see little bubbles float to the surface, signs of life!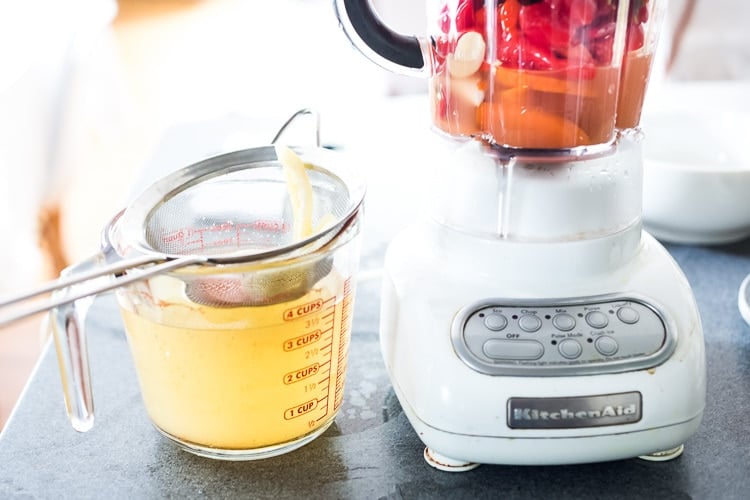 Strain the brine, saving it. Add the chilies to the blender with one cup of the brine and blend until smooth. Add a little Braggs apple cider vinegar if you like (this is optional, but also full of healthy bacteria) and more brine to desired consistency.
If you like the idea Sriracha, you could also make it sweet by adding sugar or honey, and perhaps ginger.  You could also add herbs.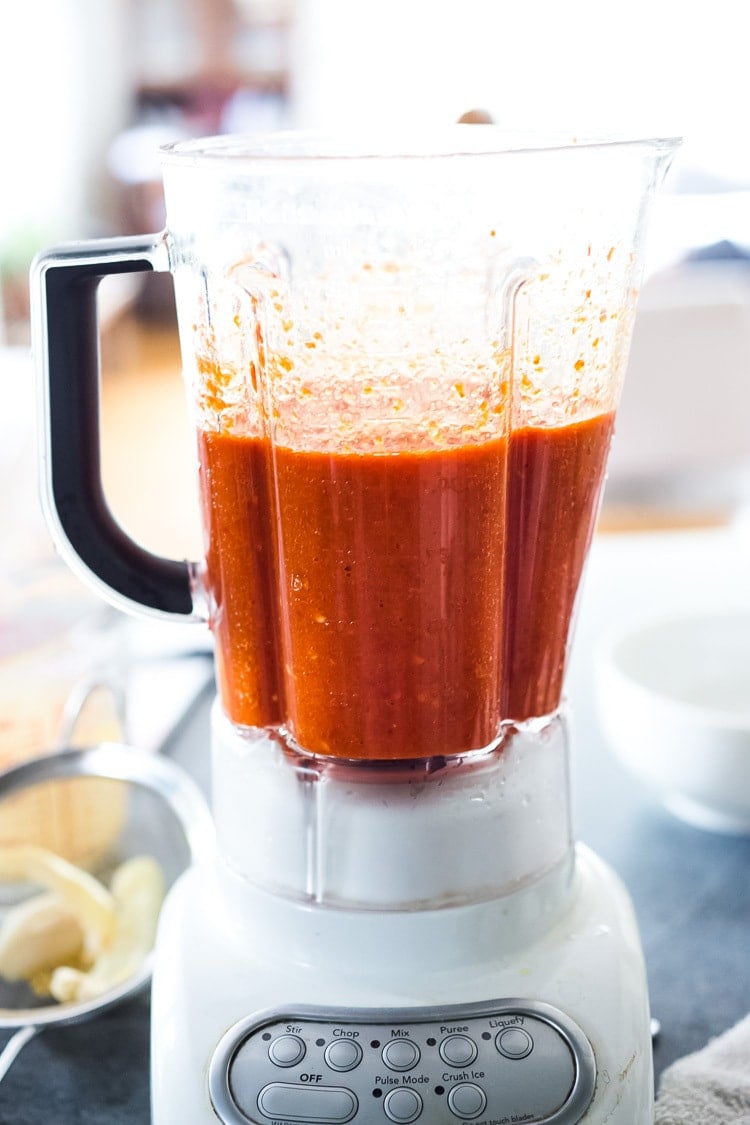 Place it in a cute bottle if you like, and refrigerate. For everyday use, it is easiest to serve it out of a squirt bottle. I really like using squeeze bottles, and leaving the tip open in the fridge.
Warning: If you place the fermented hot sauce in tightly sealed bottles, unrefrigerated, they will  EXPLODE! This is because the hot sauce is still fermenting and will continue to do so, creating bubbles. Remember it is alive and this is NOT canning.
Fermenting the hot sauce gives it another layer of flavor, adding complexity. Plus all the little wild bacteria are so good for you!
And I've found the hot sauce develops even more and more flavor in the fridge, over time. This will keep indefinitely in the fridge.
Before using, cover the tip with your finger and give it a shake.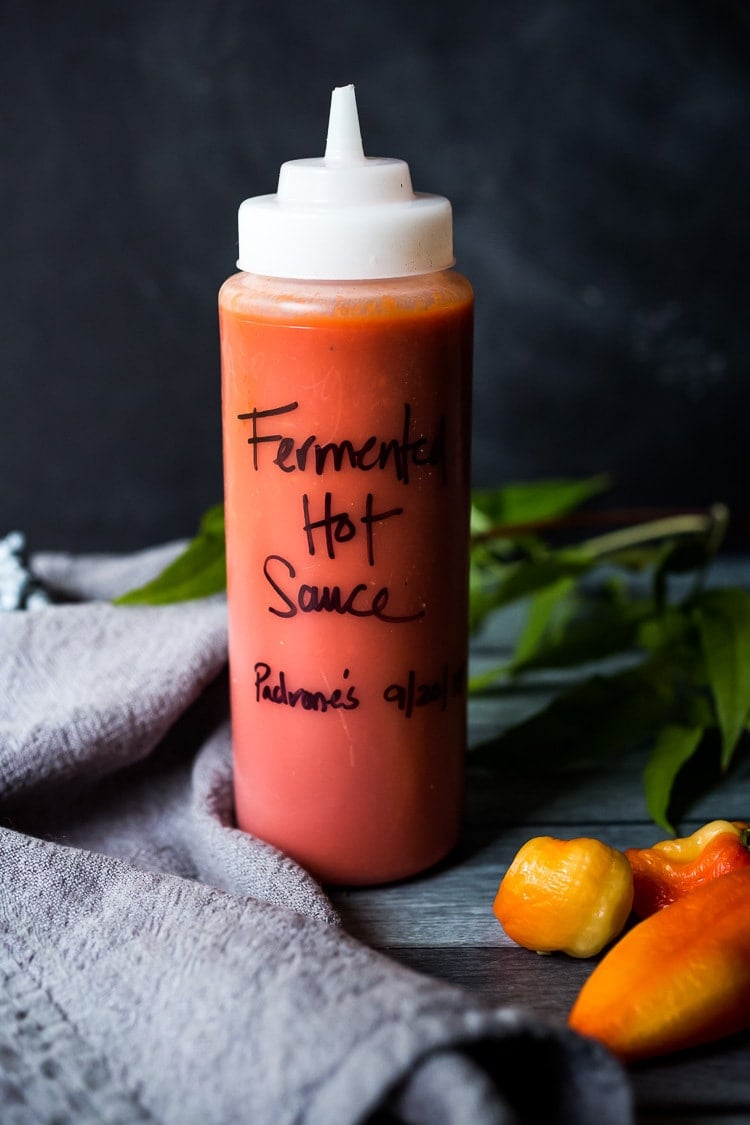 Making Fermented Hot sauce is a fun little project that only takes about 20 minutes of hands-on time. A lovely way to use up all the chilis in your garden (or a way to try out all the beautiful varieties at the farmers market) and a healthy way to bring more healthy probiotics into your life!
Print
Fermented Hot Sauce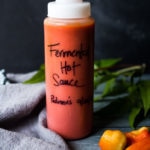 A simple delicious recipe for Fermented Hot Sauce using fresh summer chilies, with no special equipment and only 20 minutes of hands on time!
Author: Sylvia Fountaine
Prep Time:

20 minutes

Cook Time:

5 days

Total Time:

120 hours 20 minutes

Yield:

4 cups

1

x
Category:

Sauces, fermenting, preserving

Method:

fermenting

Cuisine:

American
Scale
Ingredients
Salt Water Brine:
5 cups

 filtered water, lukewarm (see notes)

6 1/4

 teaspoons finely ground sea salt (or Pink Himalayan salt) – use 1 1/4 teaspoon salt, per 1 cup of water.
Jar Fillings:
1

pound chili peppers, sliced in half ( about

6

–

7

cups) see notes ( do not use frozen)

1

carrot, very thinly sliced (do not peel)

4

–

6

garlic cloves, cut in quarters

1

–

2

shallots, sliced (or

½

an onion)
optional: herbs (oregano, cilantro, celery leaves)
After fermenting, add optional seasonings to taste. Keep in mind the "heat" will mellow with age.
1

–

3

tablespoons apple cider vinegar, (optional- for extra tang and for more healthy probiotics)
Instructions
Heat the water and stir the sea salt into the warm water until dissolved. Let cool to room temp.
Wearing gloves, slice the small hot peppers in half, and remove stems and seeds if you like (for less heat). I left the seeds in mine. If adding bell peppers to temper the heat, cut into thin strips. Thinly slice the carrot (do not peel), slice the shallots and slice the garlic.
Layer all into a 2 quart jar.  Pour the salt water brine into the jar over the chilies, pressing them down under the liquid. If you need to add more brine, remember to use the ratio of 1 teaspoon salt per 1 cup of water.
Weight the chilies down with canning weights (or use a small ziplock bag filled with water, to weigh the veggies down). You want the veggies completely submerged under the brine. Cover lightly with a lid and place the jar in a pan or bowl to collect any liquid that may spill over.
Place in a cool dark place (or cover with a kitchen towel and leave in a cool kitchen) for 5-7 days or until brine appears slightly cloudy. Tap the container and see if there is any activity, bubbles, or effervescence.
You will know it is fermenting by the cloudy water and little bubbling and activity. You can always ferment longer for even more flavor! The longer the ferment, typically the tangier this will become.
After 5-7 days, strain the brine, saving it. Place the fermented peppers, onions, garlic and carrot into a blender. Add 1 cup of the brine and blend until smooth as smooth as possible. Add the vinegar if using, (and sugar if you prefer a sweeter hot sauce like Sriracha), and more brine to desired thickness.
The heat level will mellow a bit with time, as it continues to ferment in the fridge.
Place in a squeeze bottle and store in the fridge.  Do not place in a sealed jar unrefrigerated– this will result in an explosion– and great big mess- as sauce is still fermenting! BE WARNED!
I have the best luck with using in squeeze bottles and leaving the cap off in the fridge. Cover opening with your finger and shake before using.
If transporting to a friend as a gift, it is ok to seal for short periods of time (a few hours) but make sure they "burp" it and refridgerate it pretty soon after receiving.
The flavors will continue to develop and get more complex over time, the heat mellowing.
This will keep up to 12 months in the fridge (probably even longer).
To use, store in a squeeze bottle. Leave tip open in the fridge. Cover tip with finger and give a good shake before using.
Notes
Regular tap water may containe too much chorine in it, inhibiting the fermentation process. Try to use filtered water if possible.
I use fine ground sea salt or Pink Himalayan salt . If using course ground salt you may need to add a pinch more.
Use any chili pepper you like, or a blend of different peppers (in the same color palate) . To temper the heat, feel free to add a similar colored bell pepper. Substitute sweet red, yellow or green bell pepper. Keep in mind, you will be blending the sauce, so I perfect to stick with the same color scheme to make a vibrant colored sauce. For example, I prefer not to mix red and green peppers (which equal brown) but up to you. 😉 Also, keep in mind, the fermentation will mellow the heat a little.
If you need more water to cover or fill the jar, use 1 teaspoons salt per cup of warm water.
You could easily halve this recipe or use two quart sized jars.
Keywords: fermented hot sauce, fermented hot sauce recipe, how to make hot sauce, how to ferment hot sauce, hot sauce, hot sauce recipe, best hot sauce recipe