Here's a recipe for BEST-EVER Thai Peanut Sauce! This easy vegan recipe is the perfect dipping sauce for Spring Rolls, Satay or tossed with a Thai Noodle Salad. Its secret ingredient will have you craving it and coming back for more! Simple, healthy, vegan!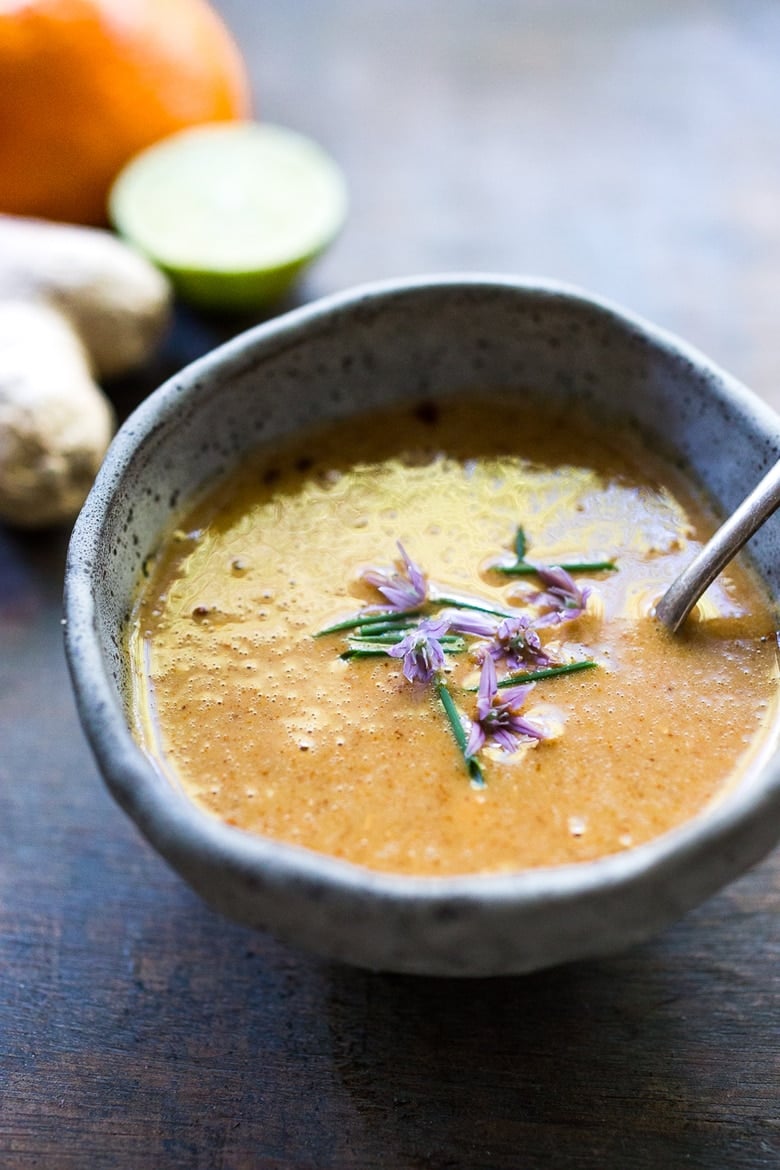 I know what you are thinking… how dare I say this is the BEST Thai Peanut Sauce eeeeeeever? Yes, pretty brazen, haha I know, but that's how solidly I feel about it and I think you will too after you try it! 😉
If you've been here a while, you're probably already familiar with this Thai Peanut Sauce from the Thai Noodle Salad Recipe. Lately, we've been dipping our Vegan Spring Rolls and Satays in it, and boy, does it satisfy!
Not cloyingly sweet with just a hint of heat, it is pleasingly balanced, hitting all the right notes on the palate.
What makes this Peanut Sauce the Best?
It's the addition of a fresh-squeezed orange juice that brings this recipe to life, the secret ingredient that elevates it and has us all craving more.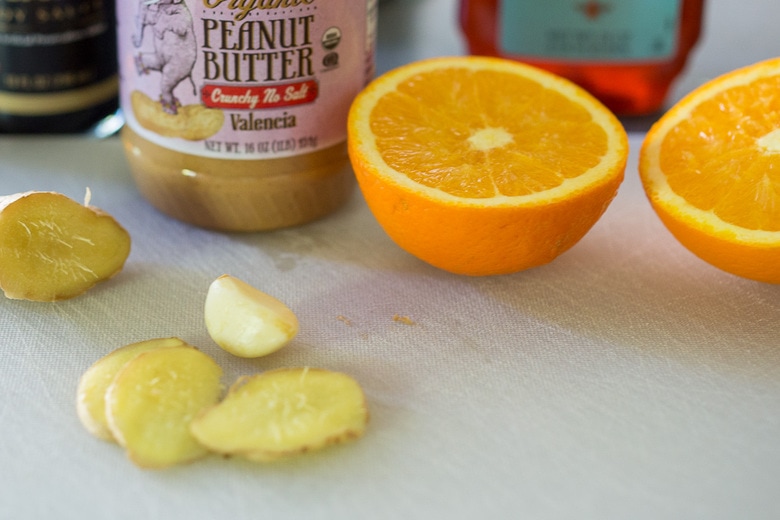 What you'll need to make the BEST Peanut Sauce:
Simple accessible ingredients make this recipe very quick and easy to make!

How to make Peanut Sauce:
Peanut Sauce is very fast and easy to make. Simply add the ingredients to the blender and blend until smooth! Adjust salt and heat levels to your liking!
How to store Peanut Sauce:
Peanut Sauce can be stored in the fridge for up to 5 days, in a sealed glass jar. It can also be frozen for up to 6 months!
How to use Peanut Sauce:
You'll find so many uses for peanut sauce once you give this a try, but here are some of my go-to recipes that are delicious with peanut sauce: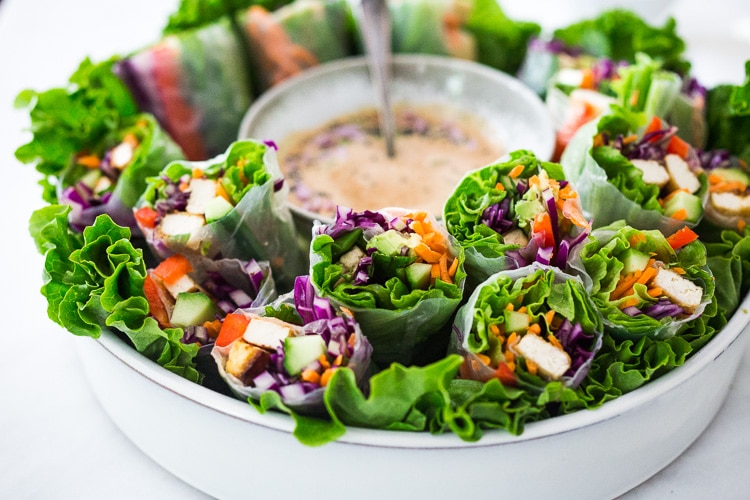 Use Peanut Sauce as a Dipping Sauce for spring rolls! Try this Healthy Vegan Spring Rolls with Peanut Sauce Recipe.
Or use it to bathe Thai noodles and healthy veggies in this Thai Noodle Salad!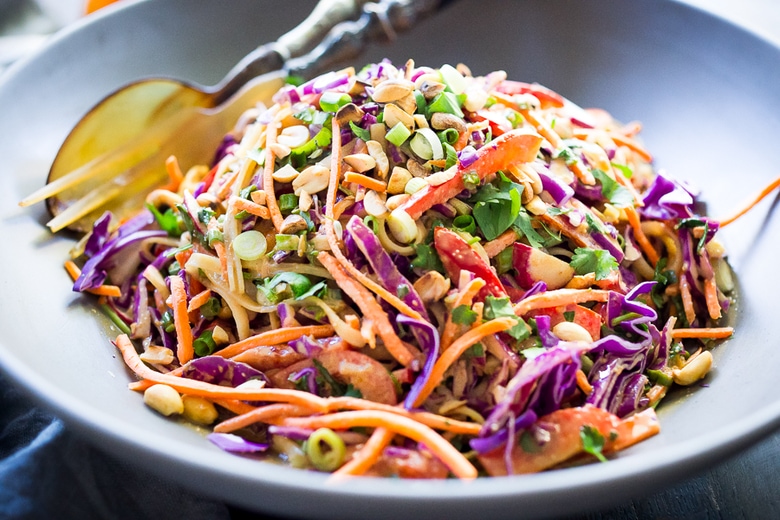 Use peanut sauce in Burritos and Tacos!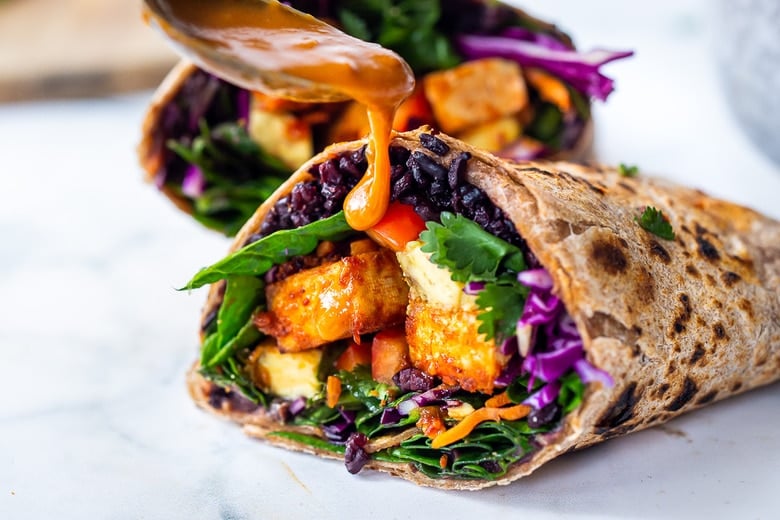 Or spoon it over Buddha Bowls!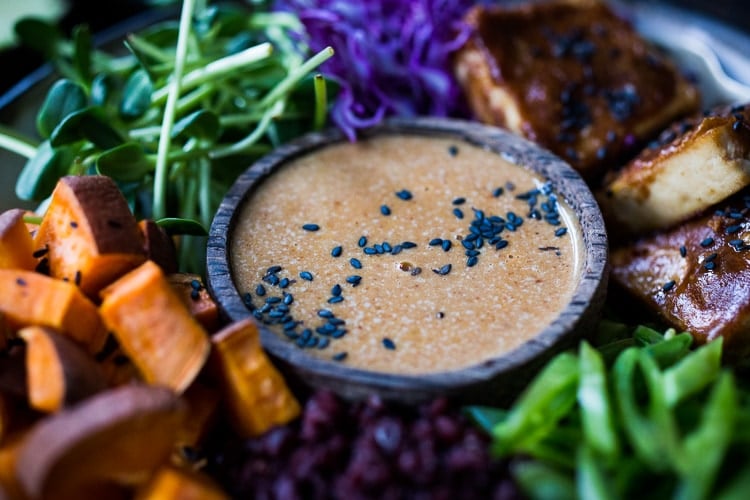 Give this Thai Peanut Sauce a try and see what you think!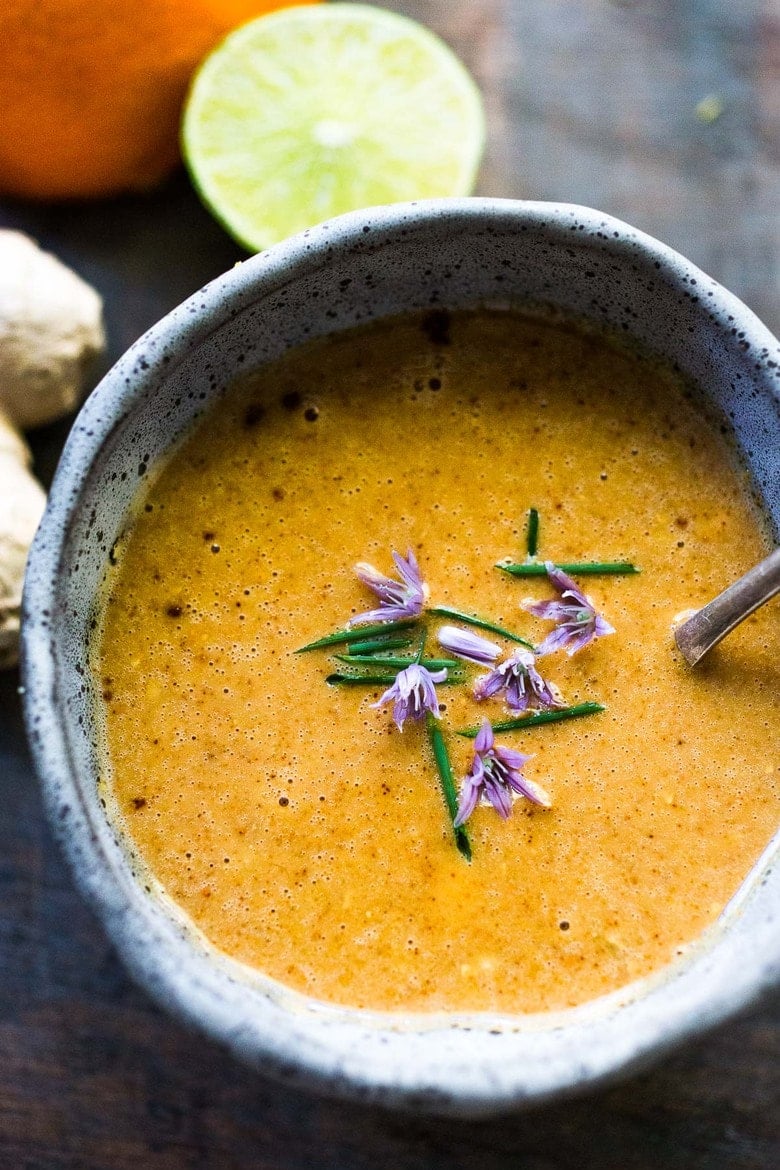 Share your feedback in the comments below and have a fabulous week.
xoxo
Print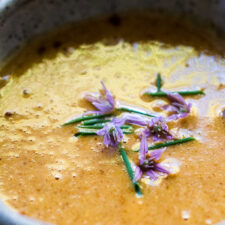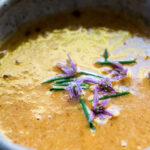 Thai Peanut Sauce
Prep Time:

10 mins

Total Time:

10 minutes

Yield:

2 cups

Category:

sauce, thai food

Method:

Blended

Cuisine:

Thai

Diet:

Vegan
---
Description
The BEST-EVER Thai Peanut Sauce! This vegan peanut sauce recipe is the perfect dipping sauce for Spring Rolls and satays. Its secret ingredient will have you coming back for more! Simple & healthy!
---
6

thin slices of ginger- cut across the grain, about the size of a quarter. (No need to peel)

2

fat cloves garlic

1/2 cup

fresh orange juice (roughly

1

large  orange)

1/3 cup

lime juice (

2

limes)

1/4 cup

soy sauce or Gluten-free Braggs Liquid Amino Acids (Note: Tamari will turn this unpleasantly dark)

1/3 cup

maple syrup, honey, palm sugar or agave, more to taste

1/3 cup

toasted sesame oil (

6 tablespoons

)

1/2 cup

unsweetened peanut butter (or sub almond butter!)

1 teaspoon

salt
optional: 1 -2 teaspoons cayenne pepper (or a squirt of sriracha sauce)
---
Instructions
Place all ingredients in a blender – ginger, garlic, orange juice, lime juice, soy sauce, maple, sesame oil, and peanut butter and salt,  and blend until smooth. Taste. Adjust sweetness, salt and cayenne to your liking.
Note: Unripe limes can make this too tart. Adjust by adding more sweetness. Find your perfect balance.
Use this on salads, or as a dipping sauce for spring rolls and satays.
---
Notes
The Orange Juice makes this… and is a MUST!
Peanut sauce will last up to 5 days in a sealed jar in the fridge.
Peanut Sauce can be frozen, just whisk well after thawing.
For added depth or "umami", feel free to add a tiny splash of fish sauce. Not necessary though!
Keywords: peanut sauce recipe, Spring Roll dipping Sauce, Thai Peanut Sauce, Best peanut sauce, vegan peanut sauce, Best ever peanut sauce, gluten free peanut Sauce,