These 25 Healthy Lentil Recipes will not only leave you feeling satisfied but will WOW your taste buds, as well! Many of you have been asking for more recipes featuring plant-based protein, and Lentils happen to be one of my personal favorites. To me, they are comfort food.
Put away any old ideas of lentils being somber and bland- they truly are how you treat them. Here are some of our most popular, highly-rated, globally-inspired Lentil Recipes to put on your meal plan this week. Most of these are meatless with along with many vegan options as well! Let me know your favorites in the comments below!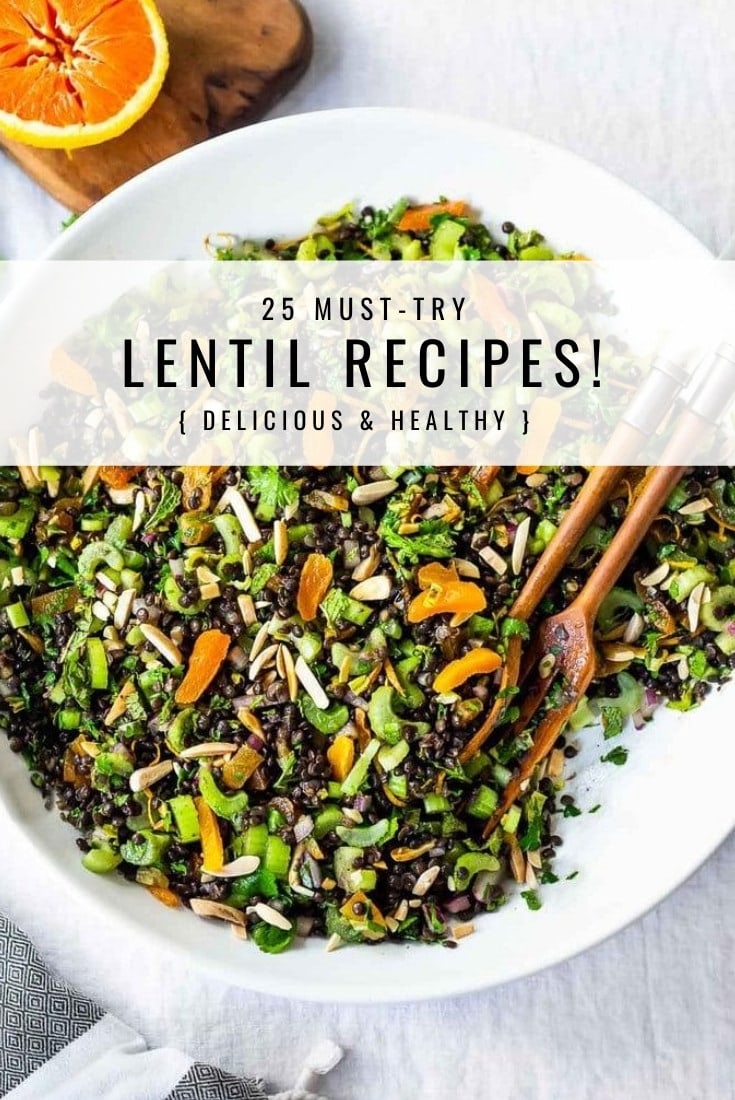 ---
INSTANT POT MULLIGATAWNY SOUP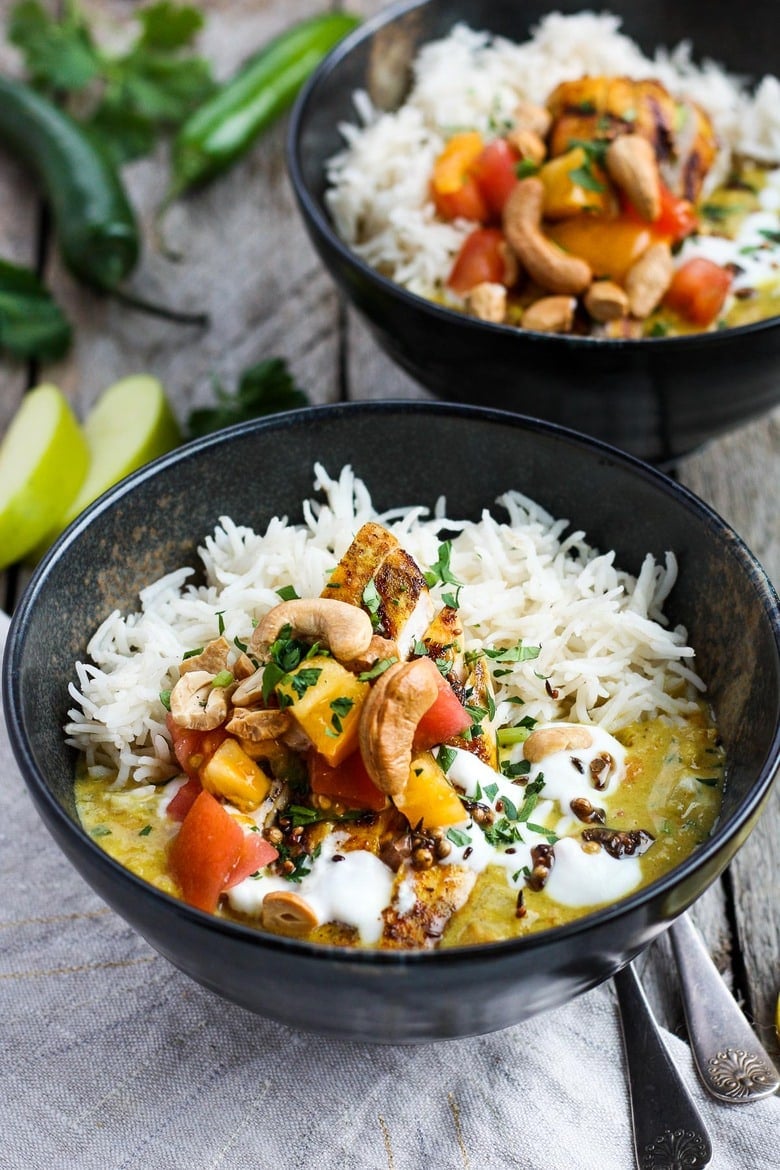 Instant Pot Mulligatawny Soup is so creamy and richly satisfying with bright and spicy flavors. This vegan adaptable version is delicious as is or can easily be built upon by adding chicken, or more veggies and basmati rice. An easy and fast weeknight meal!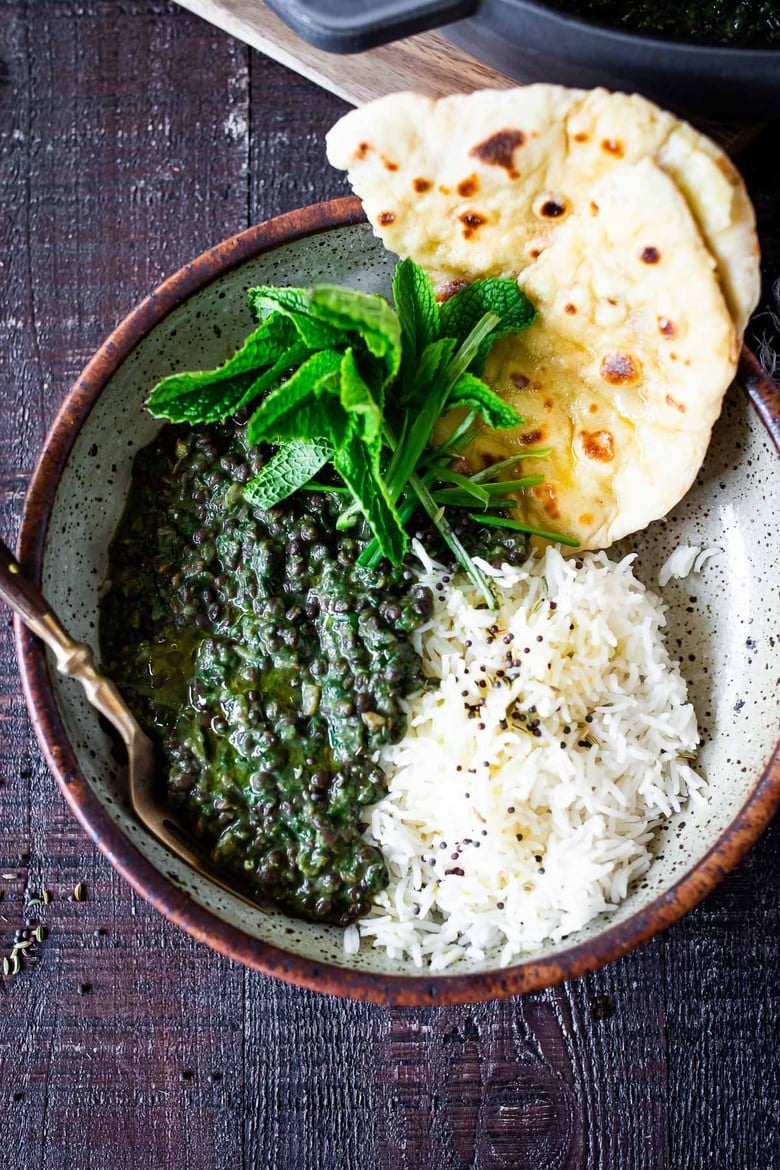 Lentil Dal is one of the most delicious, plant-based Indian meals! This version, I like to call Emerald Dal, is packed with Spinach making it especially high in nutrients and flavor! Rich, fragrant, and packed with protein, think of this Lentil Dal – like Saag Paneer, but substituting lentils instead of the Cheese! A super tasty, healthy lentil recipe that is vegan-adaptable!
---
---
CELERY LENTIL SALAD WITH DATES!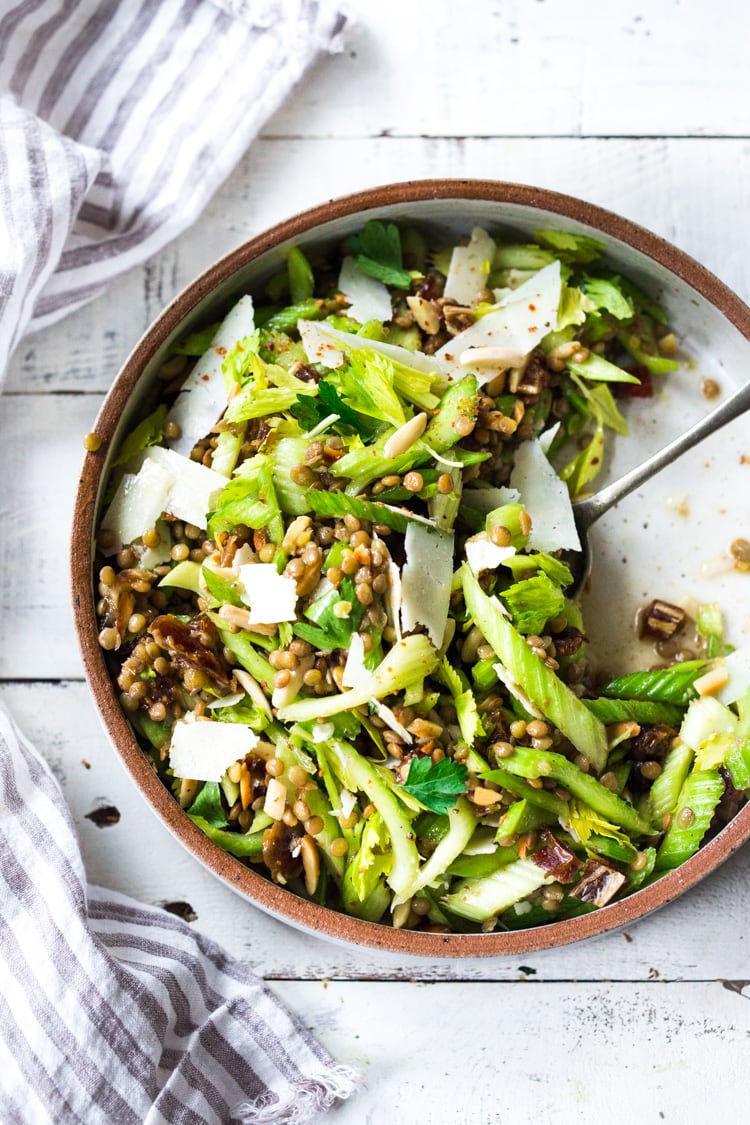 Celery Salad with lentils, dates and almonds – a delicious, make-ahead lentil salad recipe that keeps for several days in the fridge. Keep it vegan or add shaved pecorino!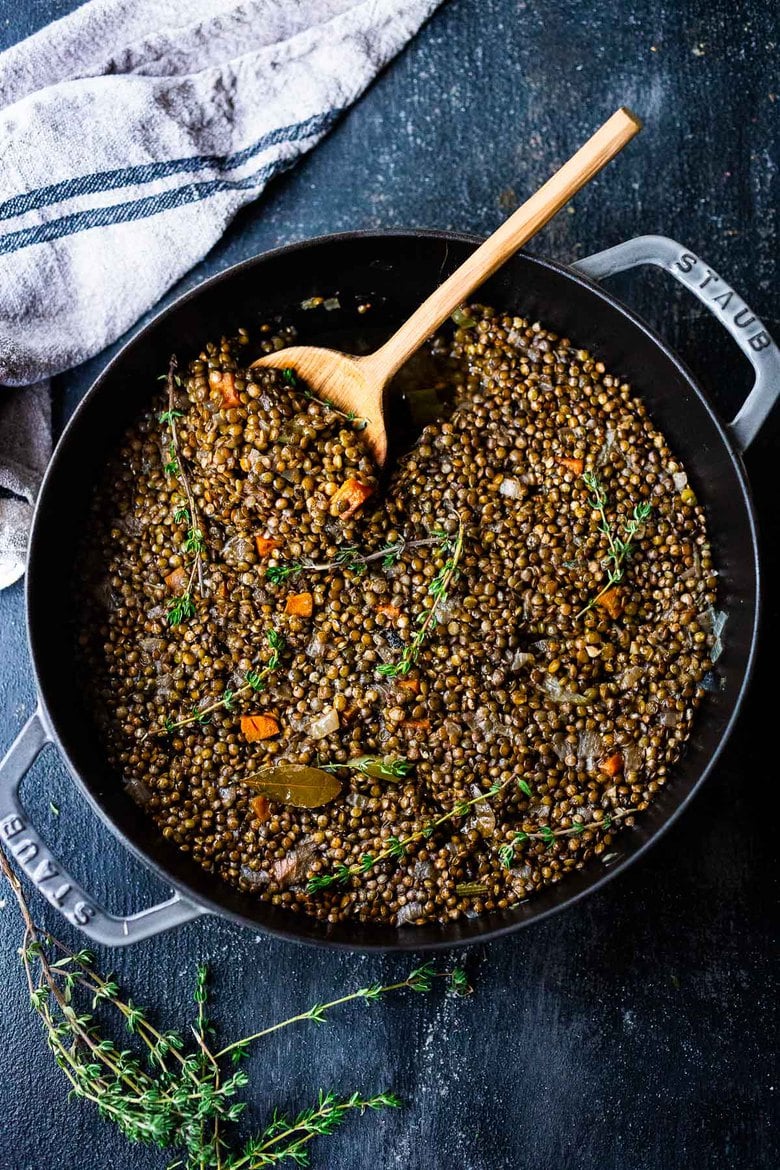 This recipe for Simple Braised French Lentils is nourishing and comforting and a delicious healthy side dish that pairs well with so many things! Leftovers can be frozen, or turned into a salad!
MOROCCAN RED LENTIL QUINOA SOUP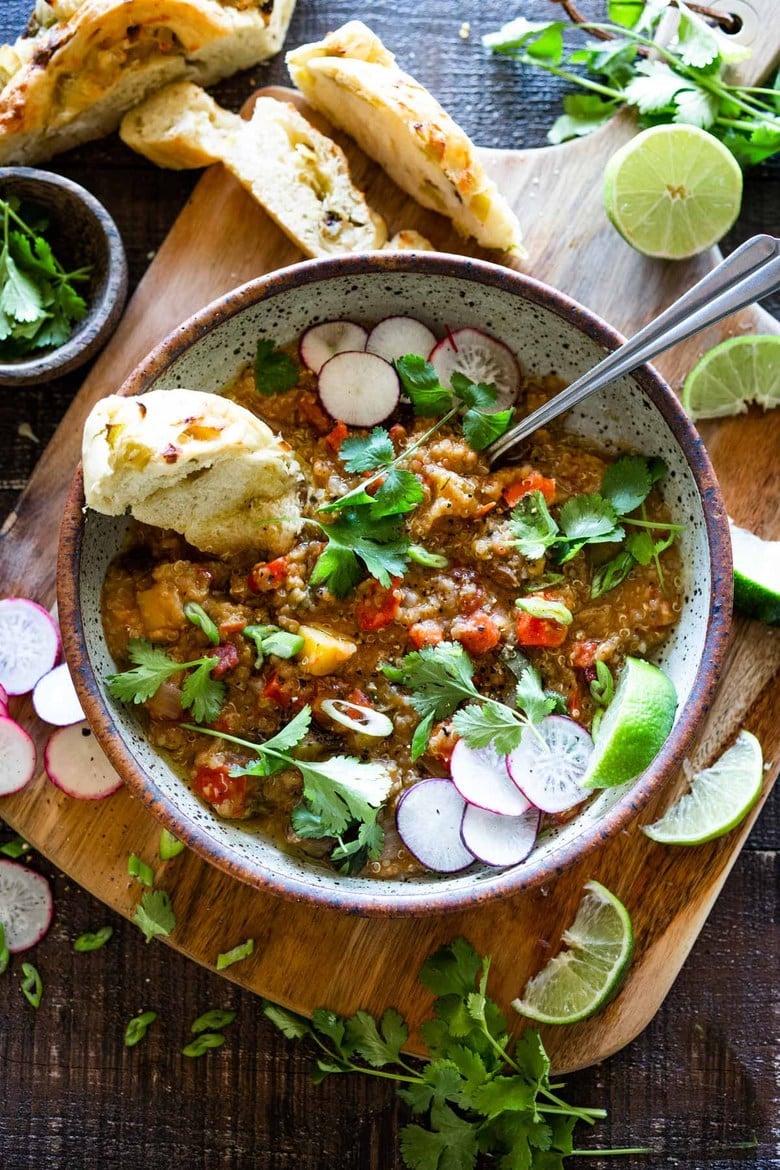 This Moroccan Red Lentil Quinoa Soup is made with simple, humble ingredients, yet is packed full of delicious flavor! Make this in an Instant Pot or stovetop.
INDIAN SHEPHERDS PIE!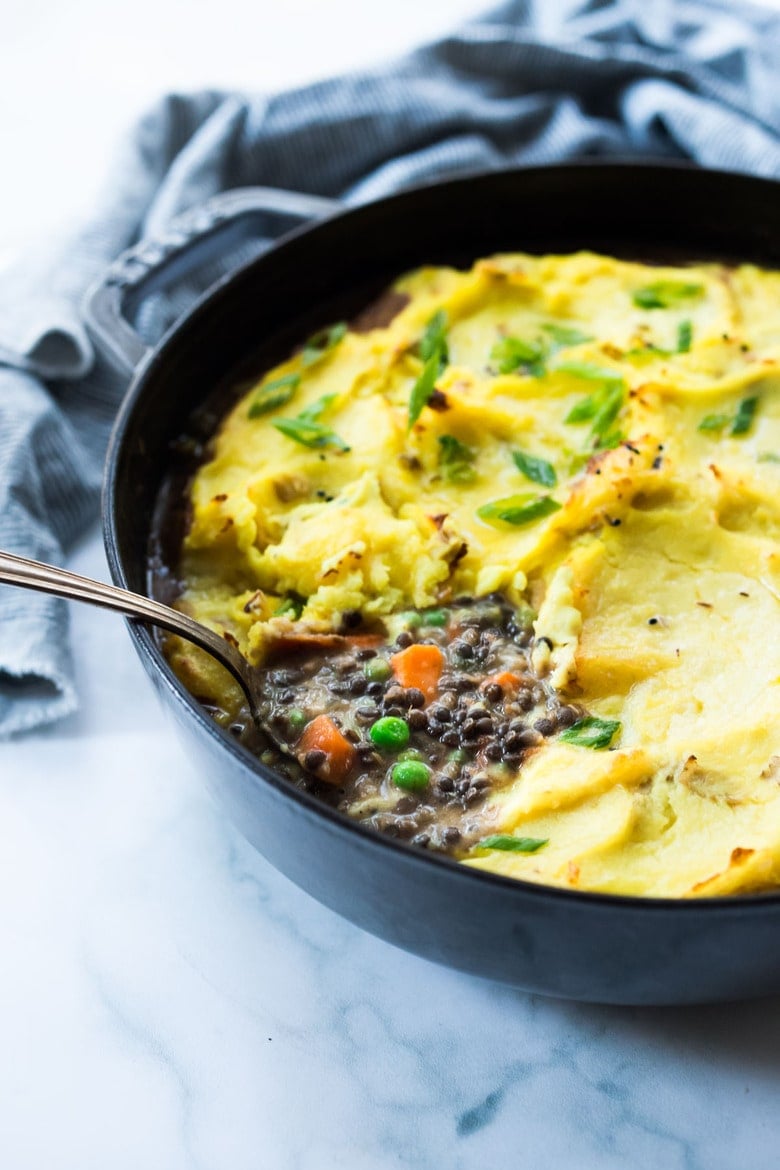 Indian-Spiced Shepherd's Pie with lentils, veggies and fragrant Garam Masala, topped with curry mashed potatoes. Truly one of the BEST lentil recipes on the blog!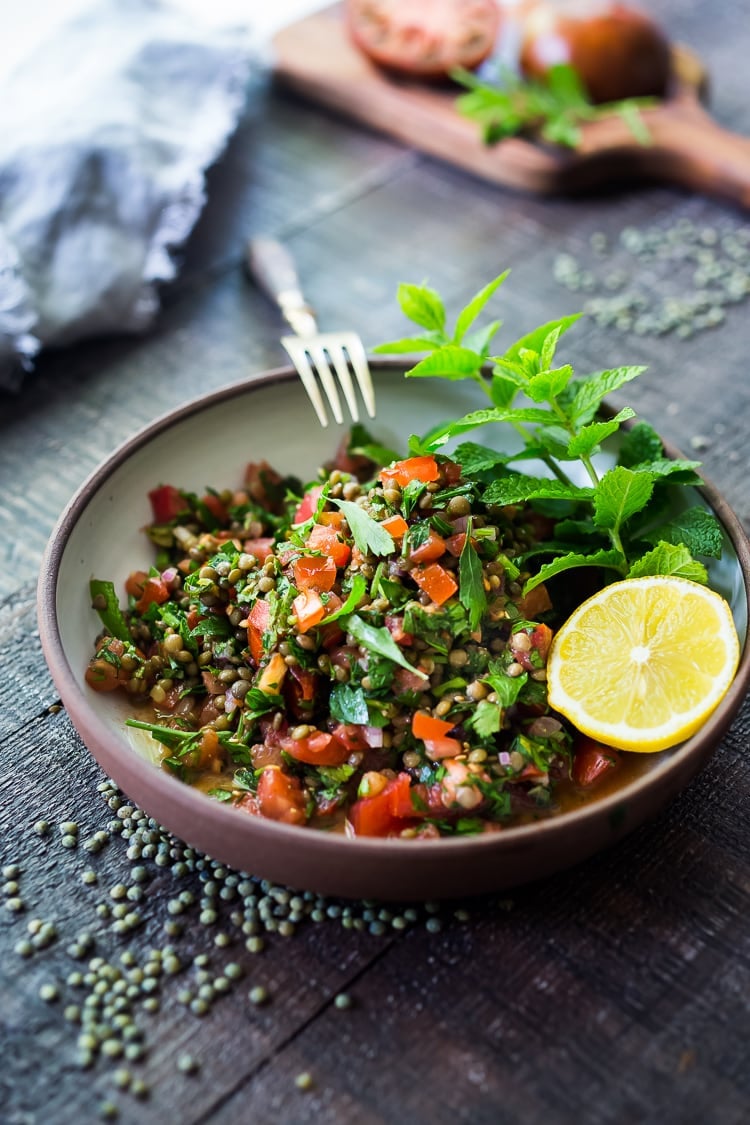 This Lentil Tabouli Salad is infused with Middle Eastern flavors and can be made ahead. Filling lentils are paired with summer tomatoes, lemon, mint and parsley and a unique combination of spices, and keeps for several days, perfect for midweek lunches or potlucks! Vegan and Gluten-Free
BERBERE CHICKEN AND ETHIOPIAN LENTILS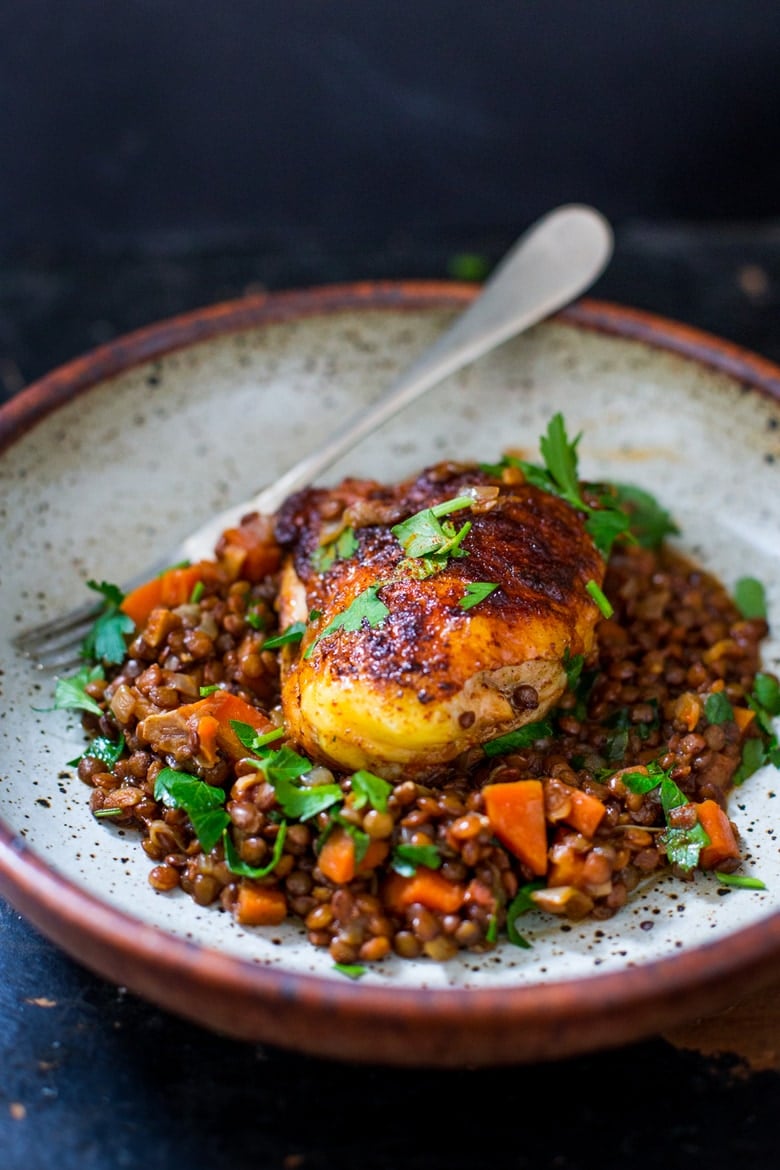 Berbere Chicken and Ethiopean Lentils – a flavorful, comforting Ethiopian meal that features Berbere Spice, this delicious lentil recipe is easily one of our favorites!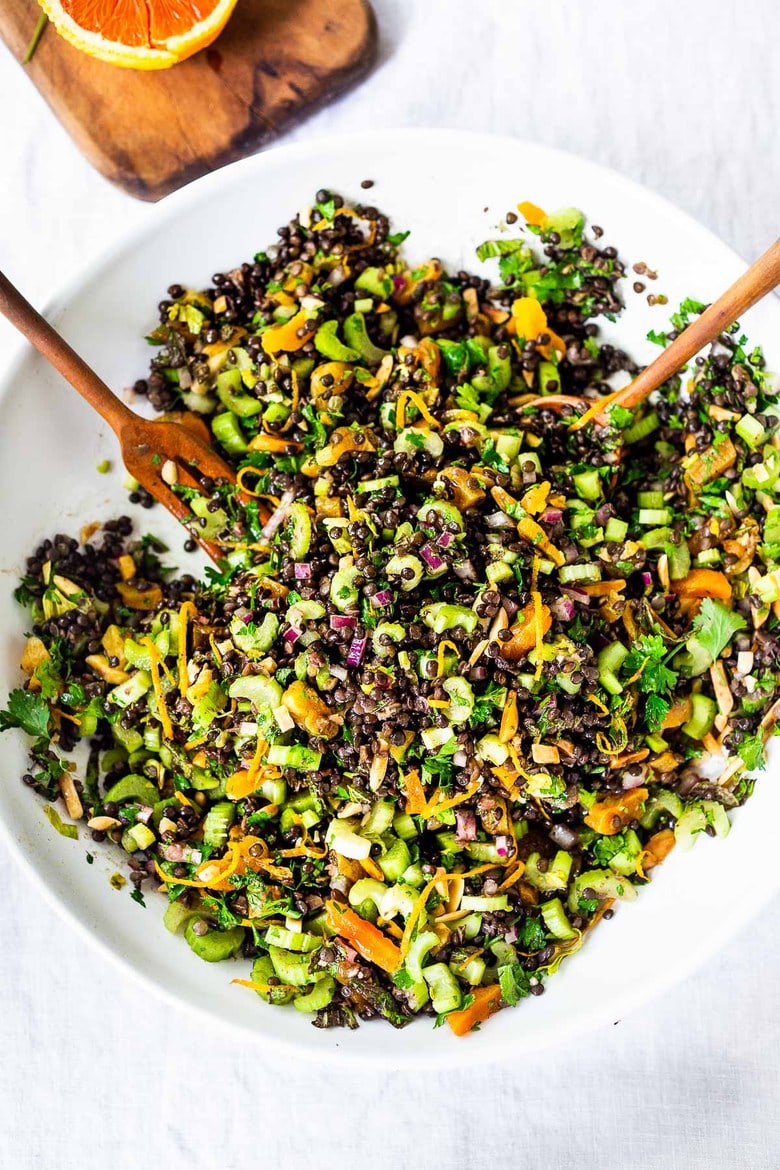 A delicious Lentil Salad infused with Moroccan Spices, this healthy vegan lentil salad can be made ahead and keeps for 4 days, perfect for healthy midweek lunches!
INDIAN LENTIL MEATBALLS (VEGAN!)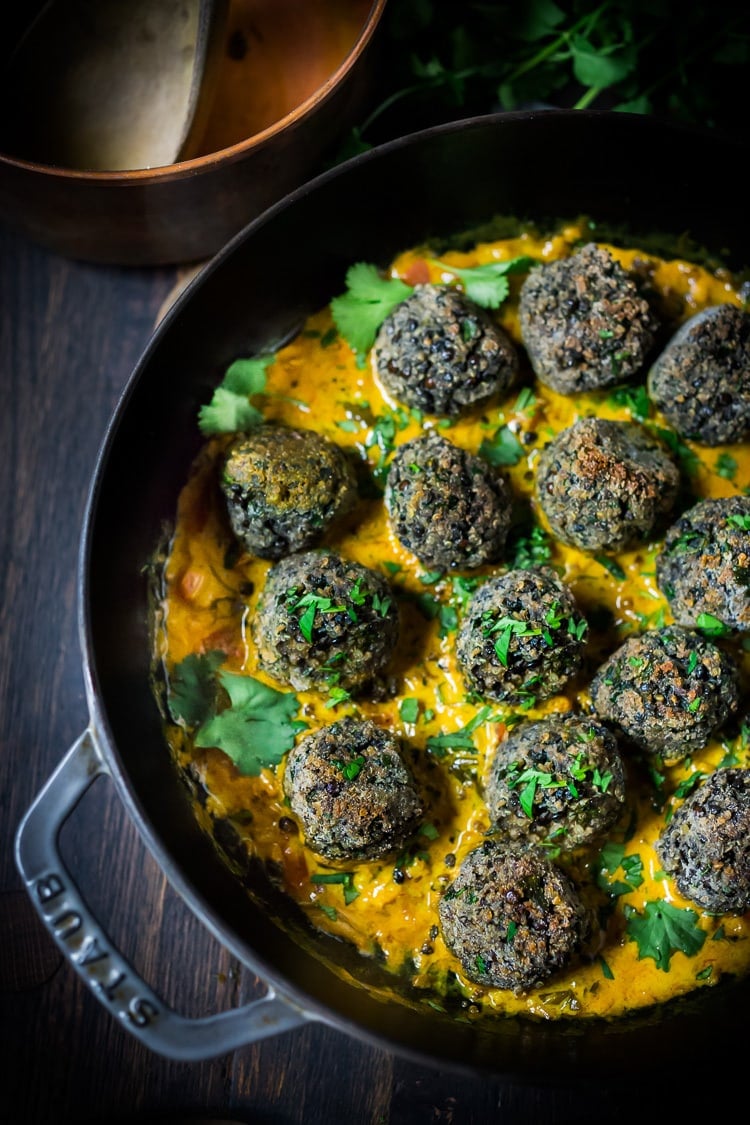 Vegan Indian Lentil Meatballs with Curry Sauce– a delicious healthy meal infused with fragrant Indian spices. Vegan and Gluten-Free!
SPRINGY LENTIL SALAD WITH MINT AND YOGURT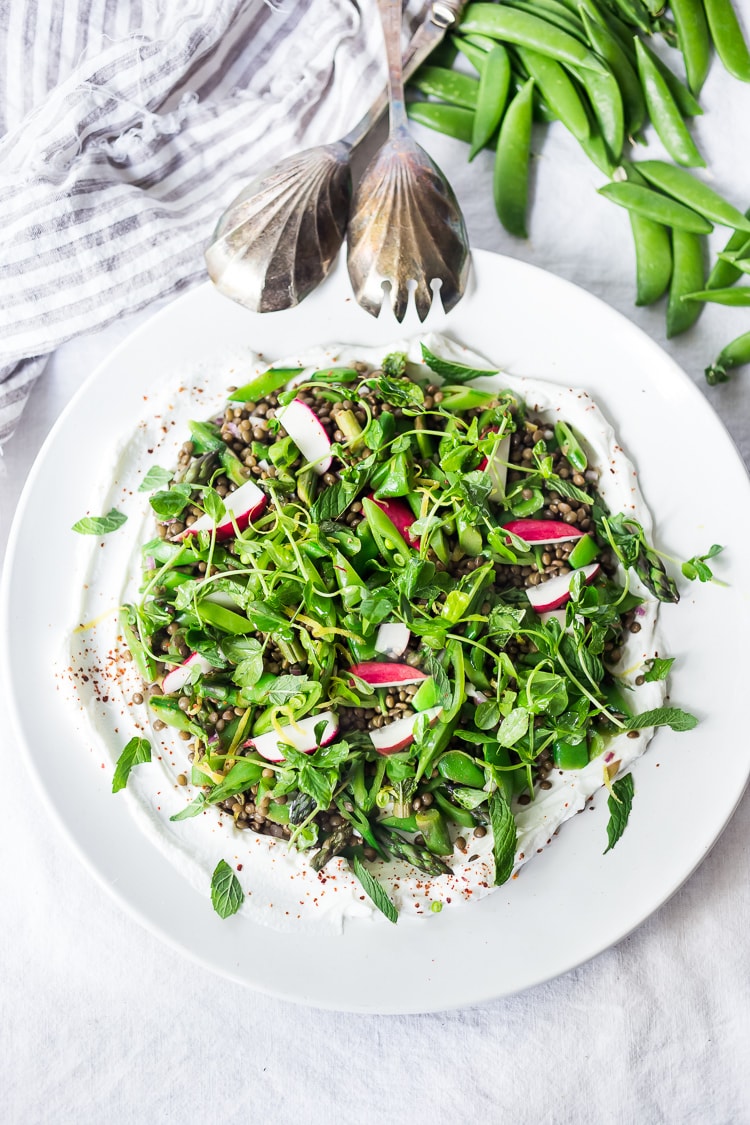 Springy Lentil Salad with Spring Veggies, Mint and Yogurt Sauce -a delicious, healthy, Greek-inspired lentil salad recipe! Vegan adaptable and Gluten-Free!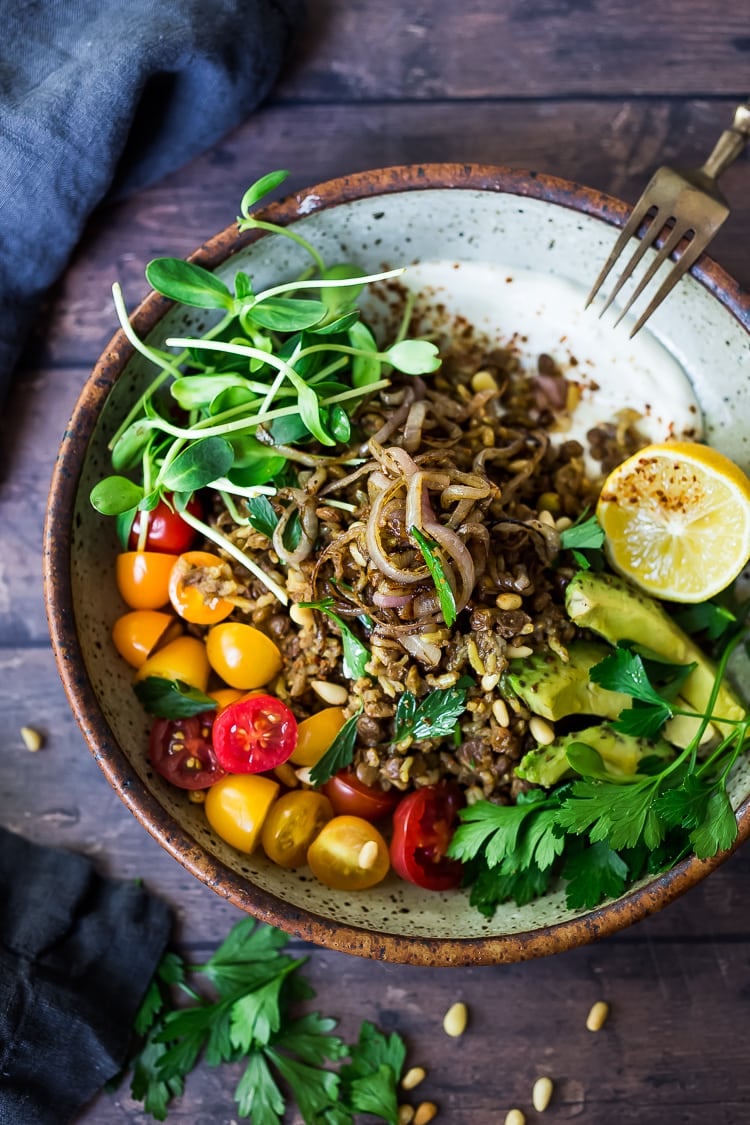 Instant Pot Mujadara – a comforting, healthy vegetarian meal of lentils and rice, with fragrant Moroccan spices, served with caramelized shallots, fresh veggies, pine nuts and optional yogurt. Gluten-free and Vegan adaptable.
LENTIL CAKES WITH ZHOUG YOGURT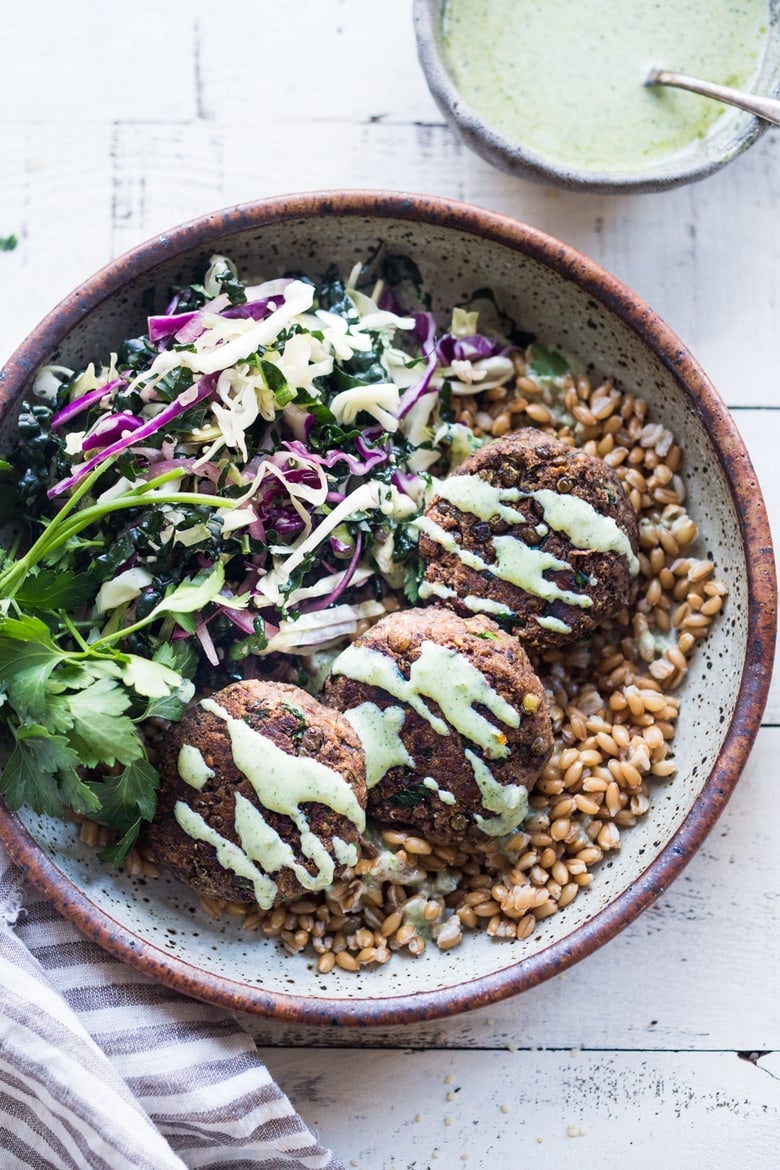 These vegan Lentil Cakes are made with walnuts and mushrooms and topped with flavorful Zhoug yogurt. Healthy and flavorful this lentil recipe is hearty and full of flavor.
LENTILS WITH BLISTERED TOMATOES & KALE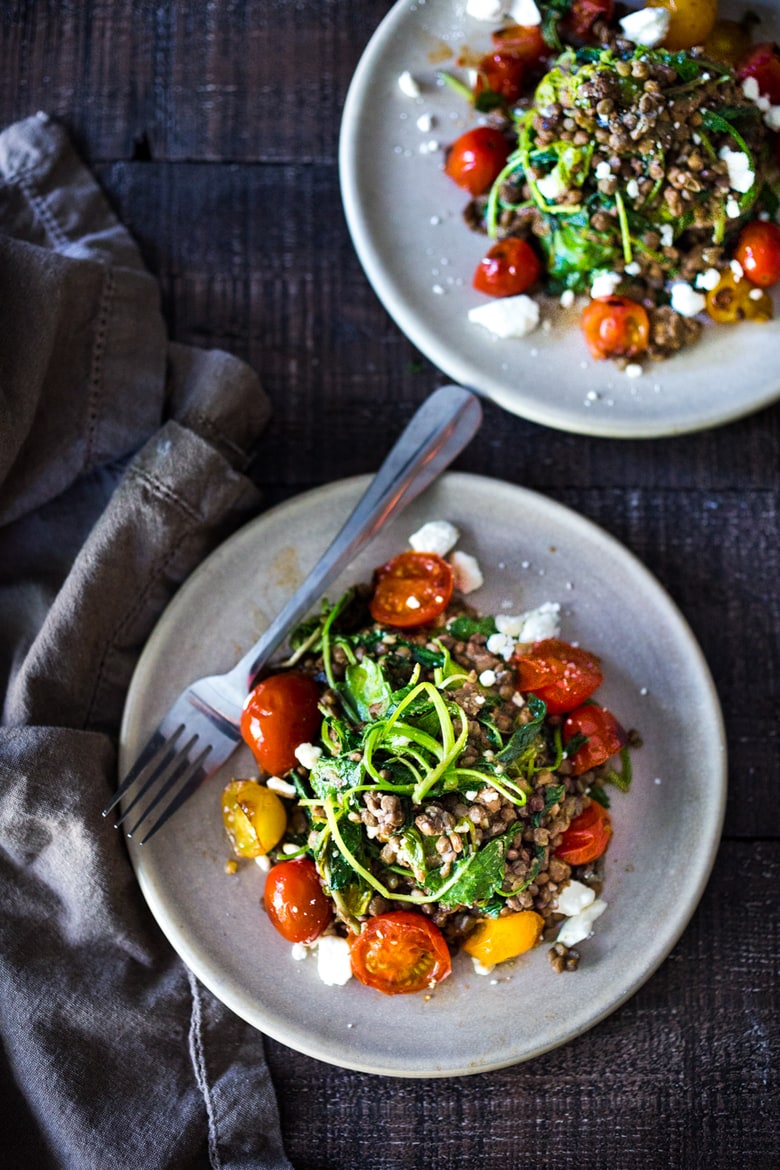 Lentils with Blistered Tomatoes and Kale– a simple vegetarian lentil recipe seasoned with Middle Eastern spices & topped with feta. Healthy, tasty!
MIDDLE EASTERN LENTIL SOUP (Instant Pot)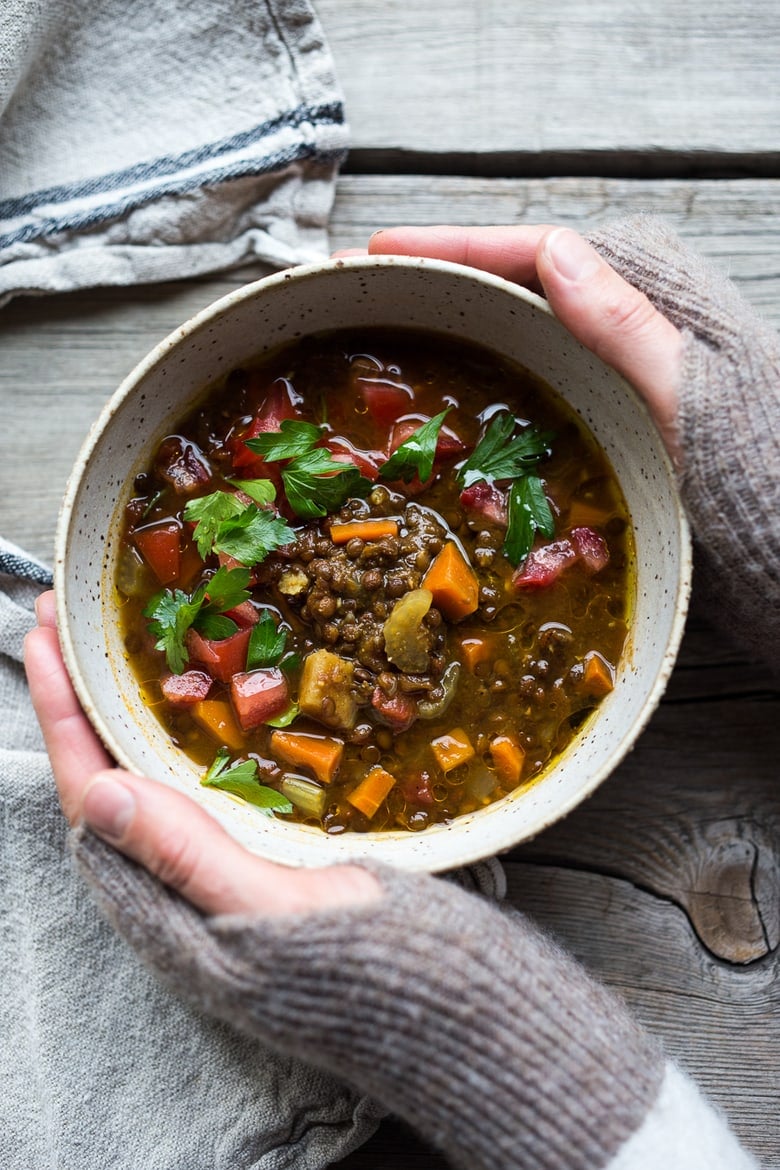 This Middle Eastern Style Lentil Soup can be made in an Instant Pot or on the stovetop. It's vegan, gluten-free and infused with Middle Eastern Spices!
VEGAN LENTIL BOWLS WITH TAHINI SAUCE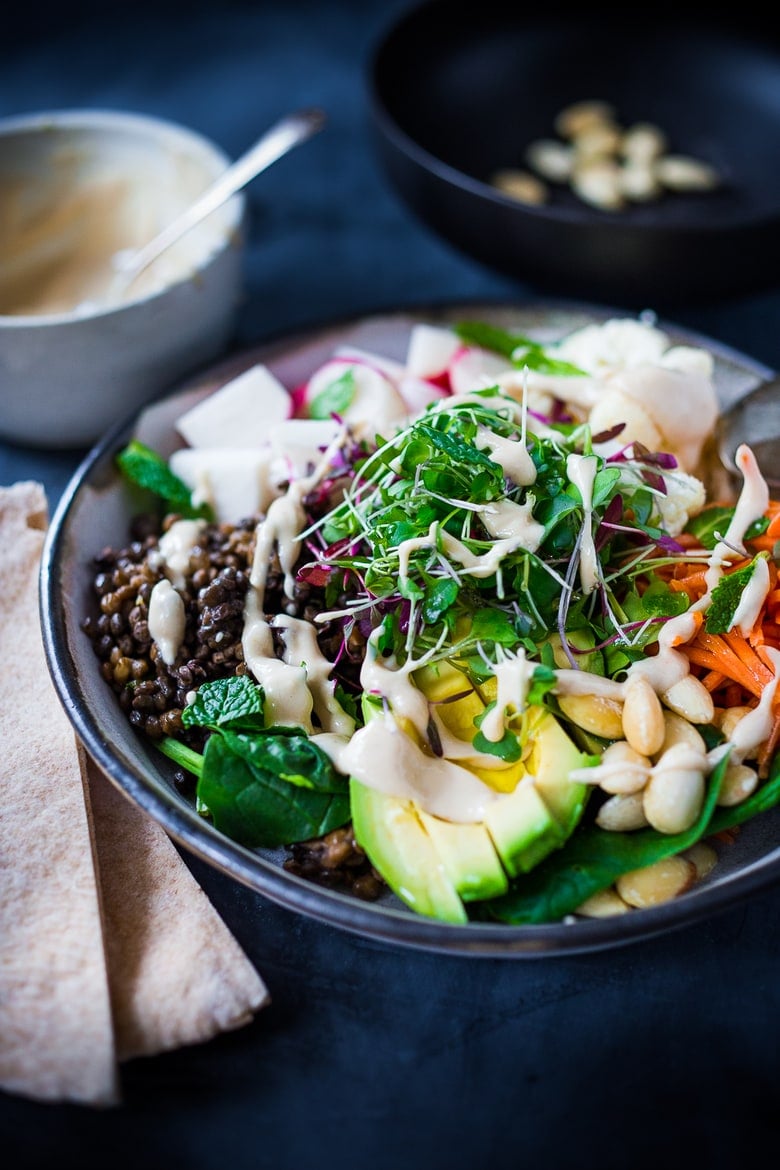 Vegan Lentil Bowls with Tahini Dressing loaded up with seasonal veggies, greens, sprouts, almonds, avocado, fresh mint, and the best tahini sauce! Vegan and GF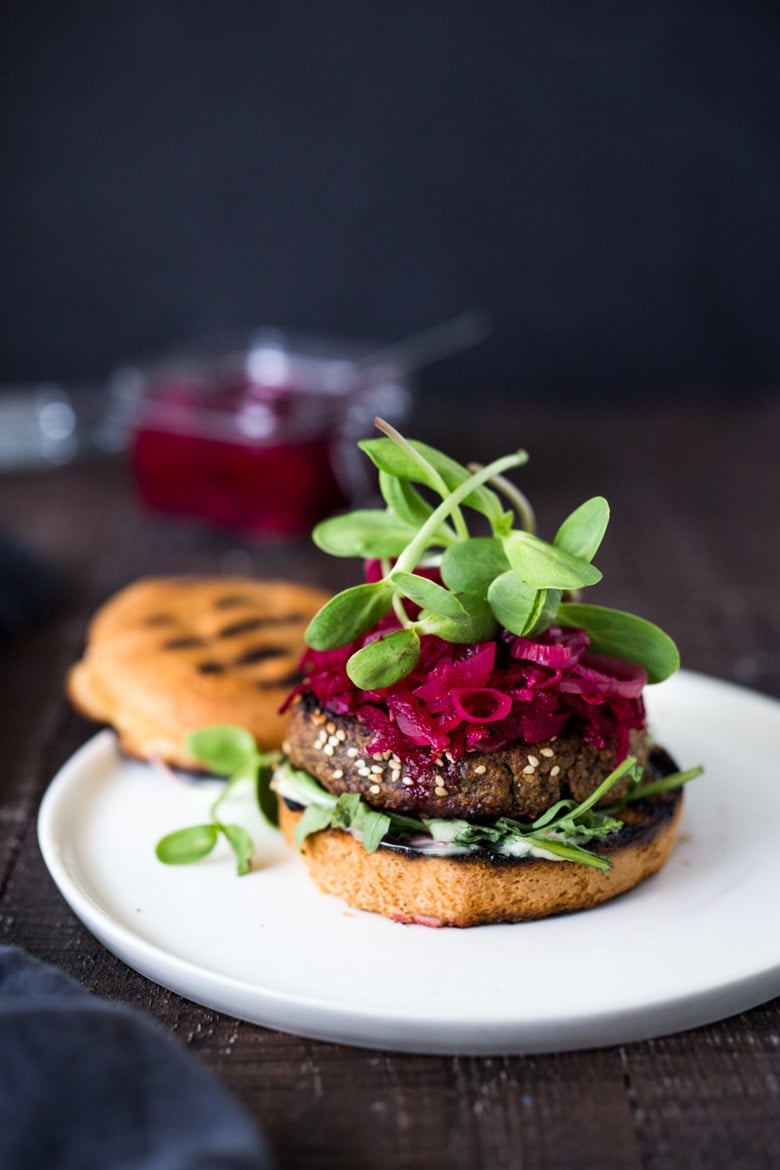 Sprouted Lentil Burgers– these healthy guys are GRILLABLE, vegan and gluten-free adaptable. Here they are topped with pickled beets. A healthy delicious recipe, great for meal prep!
LENTIL POMEGRANATE SALAD (aka Palouse Caviar)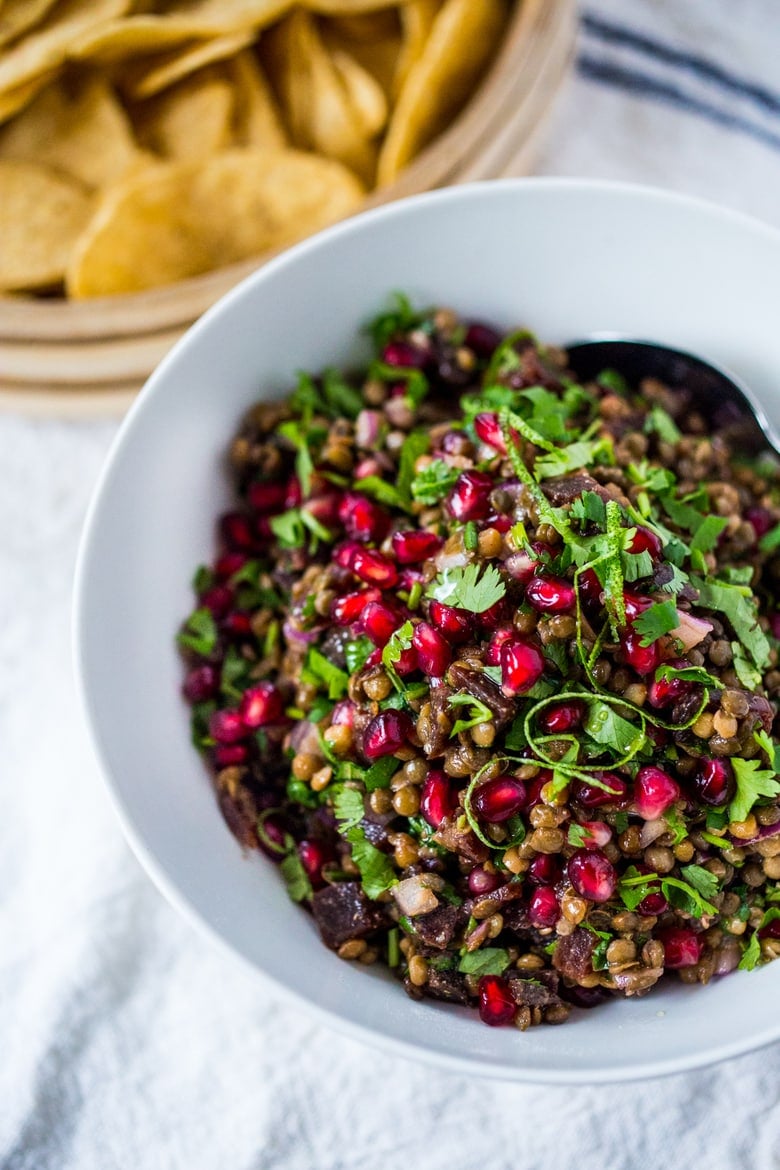 Lentil Pomegranate Salad (aka Palouse Caviar) A take on Texas Caviar, this Vegan Lentil Dip (or Salad) aka Palouse Caviar is made black caviar lentils, pomegranate, avocado, lime. Served it with corn chips for a festive healthy, vegan GF appetizer or over greens for a hearty vegan salad!
WARM LENTILS WITH BEETS AND WILTED CHARD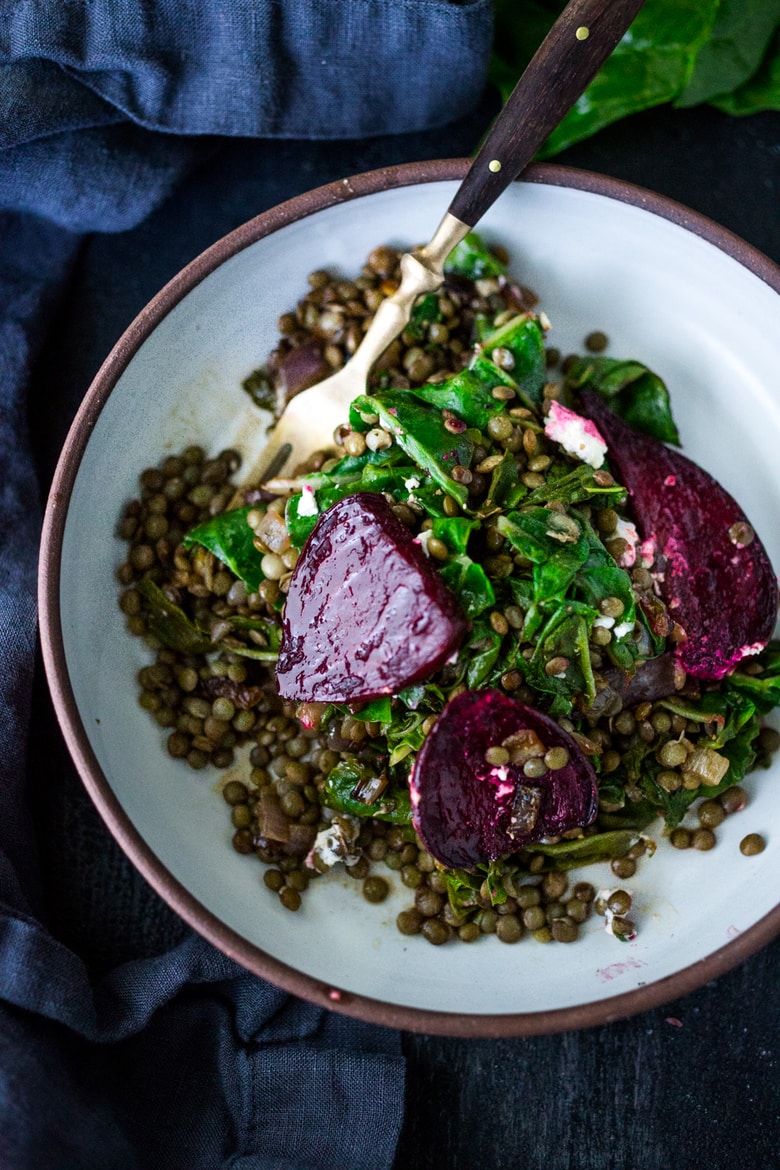 Warm Lentils with wilted chard, roasted beets, goat cheese, and spring herbs. A simple tasty vegetarian meal!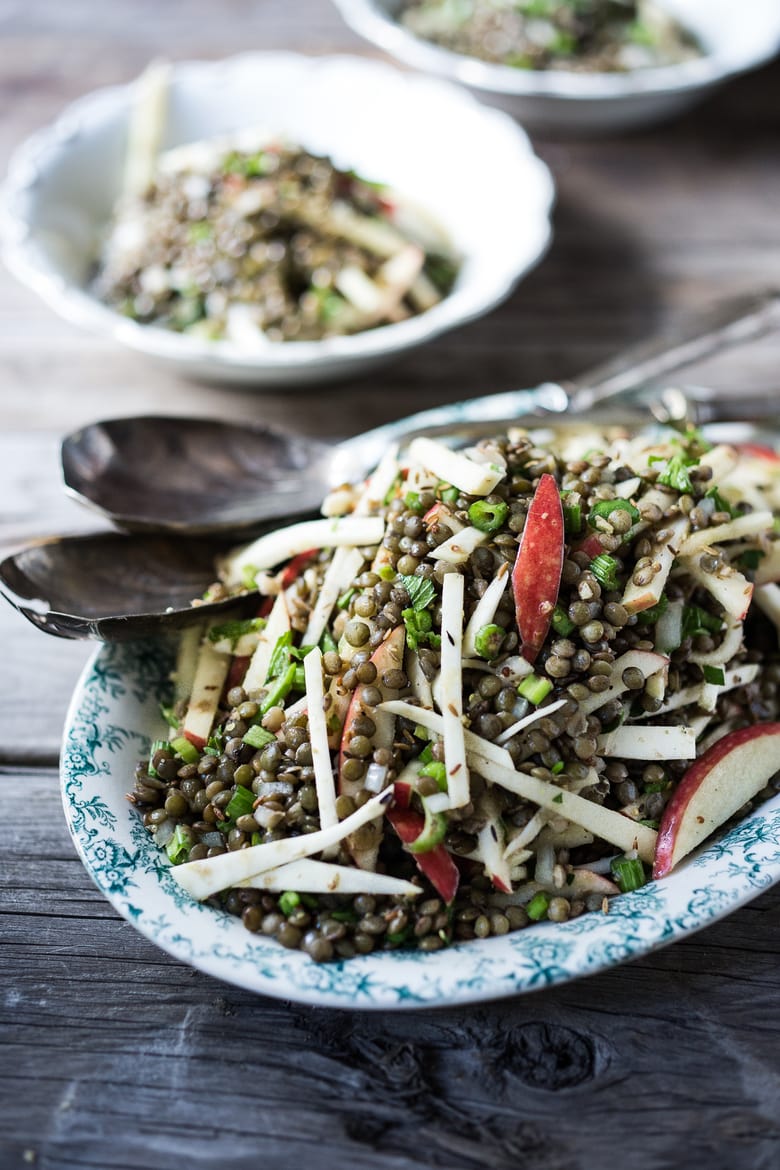 Lentil Salad with apples, walnuts, celery root and a delicious, toasted Cumin Seed Dressing. This healthy vegan salad can be made ahead for midweek lunches or potlucks and gatherings.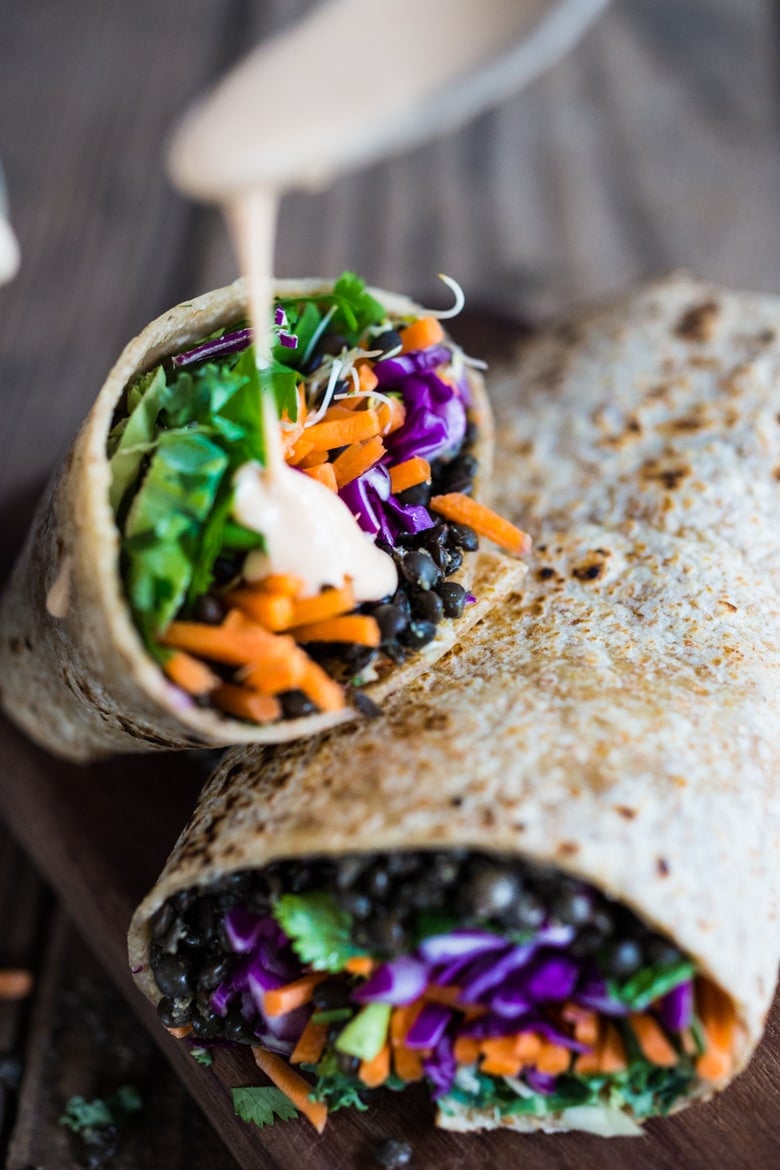 Spicy Tahini Lentil Wrap with avocado, carrots, cabbage, and the tastiest Sriracha Tahini Sauce. Vegan and Delicious!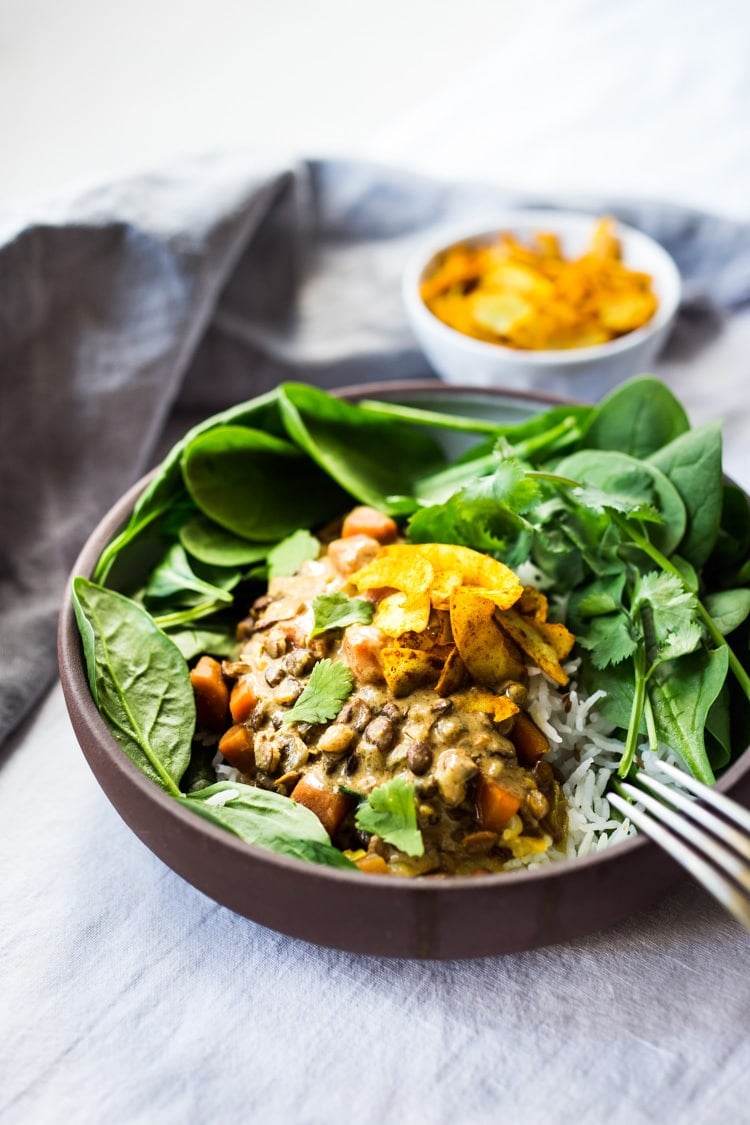 This Creamy Coconut Lentil Curry can be made in an Instant Pot or on the stovetop. Infused with fragrant Indian spices, this recipe is not only delicious, it is is vegan and gluten-free!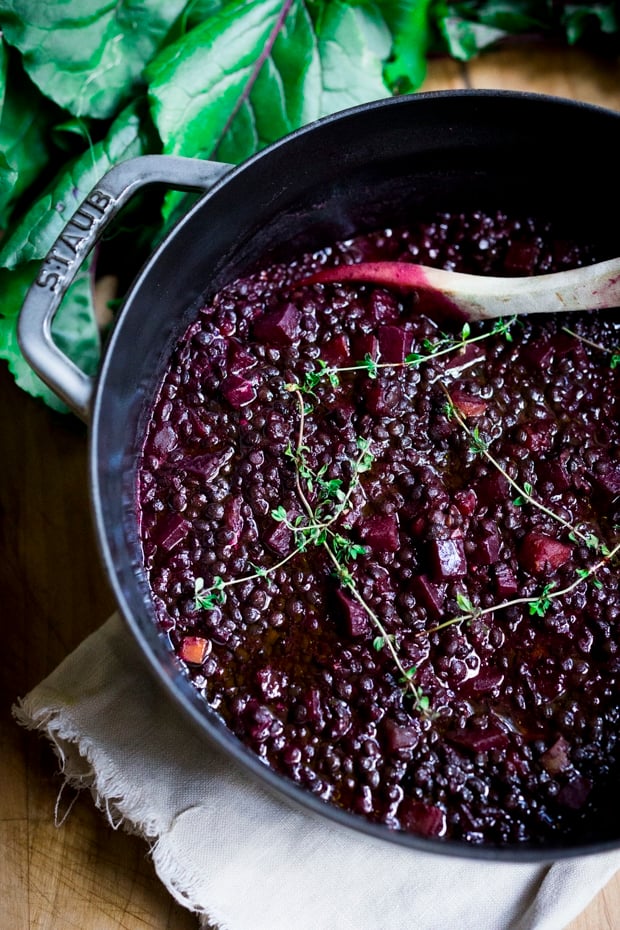 Simple delicious, Braised Lentils with Beets – a healthy vegan stew or soup, topped with optional goat cheese, that can be served on its own, or as a side dish to fish, chicken or meat. Vegan adaptable and Gluten-free!
SEARED AHI WITH MOROCCAN LENTILS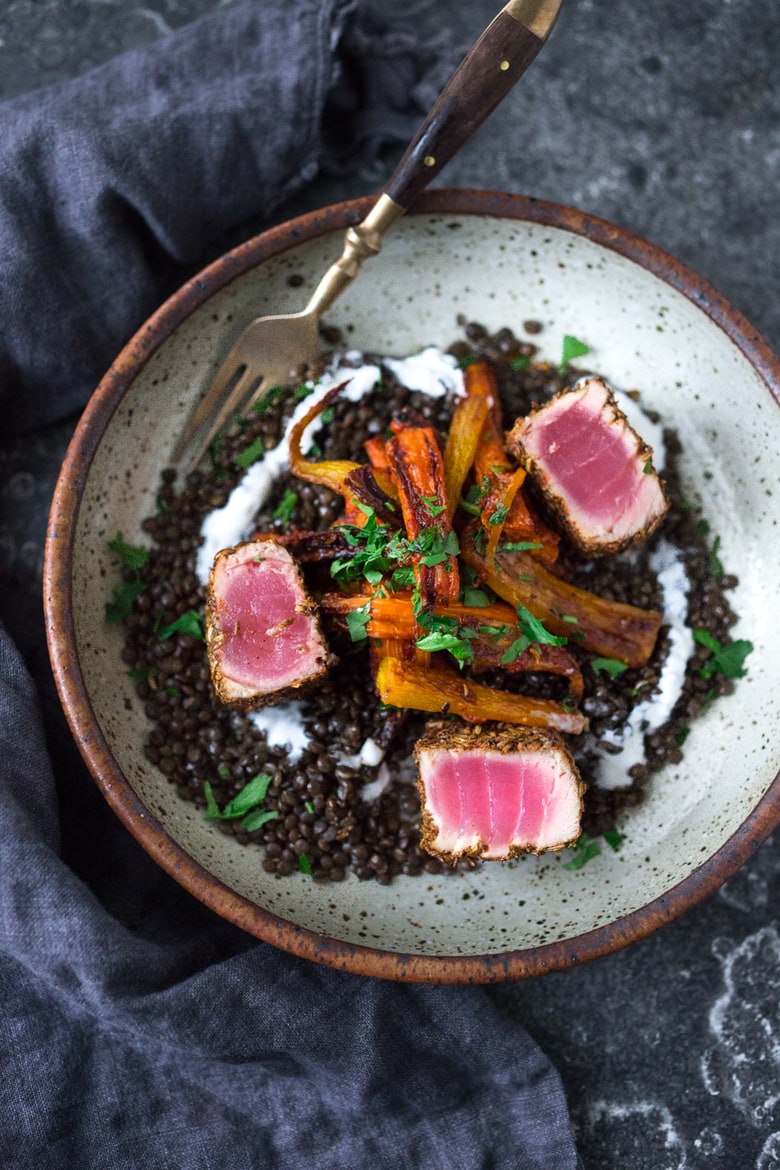 Seared Ahi with Moroccan Lentils – Cumin & Fennel crusted Ahi is served over Moroccan Lentils with roasted baby carrots, fresh herbs and yogurt drizzle. Spectacular flavors!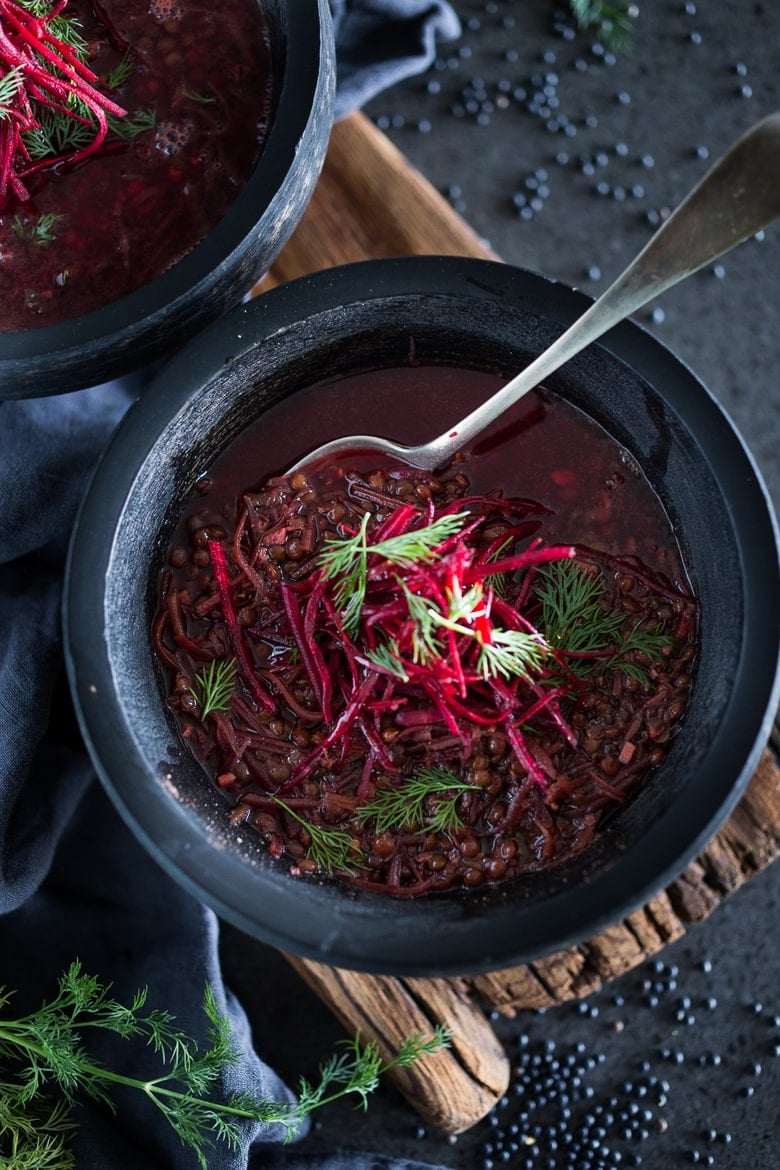 Healing Lentil Beet Soup -a simple healing vegan soup, packed full of antioxidants that aid the liver in healing our bodies. Vegan and GF.
Soulful, Comforting Red Lentil Dal with Sweet Potatoes and a flavorful "tempering oil". A quick 30-minute meal that is simple to make and full of fragrant Indian spices.
Top 10 Health Benefits of Lentils:
High in protein – 18 grams protein per cup (cooked)
High in Fiber – 16 grams fiber per cup (cooked)
High in Iron
High in Magnesium
High in Folate
Stabilizes blood sugar, helps prevent Diabetes
Energizing
Low in fat
Lowers cholesterol, heart-healthy.
Print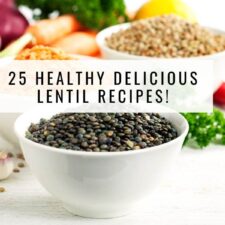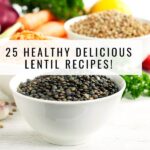 25 BEST Lentil Recipes!
Prep Time:

20

Cook Time:

30

Total Time:

50 minutes

Yield:

4-6

Category:

lentils, lentil recipes

Method:

stovetop, instant pot

Cuisine:

global
---
Description
Our 25 BEST Lentil recipes to nourish body and soul! Global flavors with many vegan and vegetarian options!
---
---
Instructions
Pick out a couple of lentil recipes to try out this week!
---
---
Nutrition
Serving Size:

1 cup lentils

Calories:

220

Fiber:

16

Protein:

18
Keywords: best lentil recipes, lentil recipes, vegan lentil recipes, vegetarian lentil recipes, best lentil recipes, healthy lentil recipes, red lentil recipes,