This simple vegetarian lentil recipe is paired with blistered cherry tomatoes and wilted kale. Seasoned with Middle Eastern spices, it's full of great flavor, while being healthy and filling!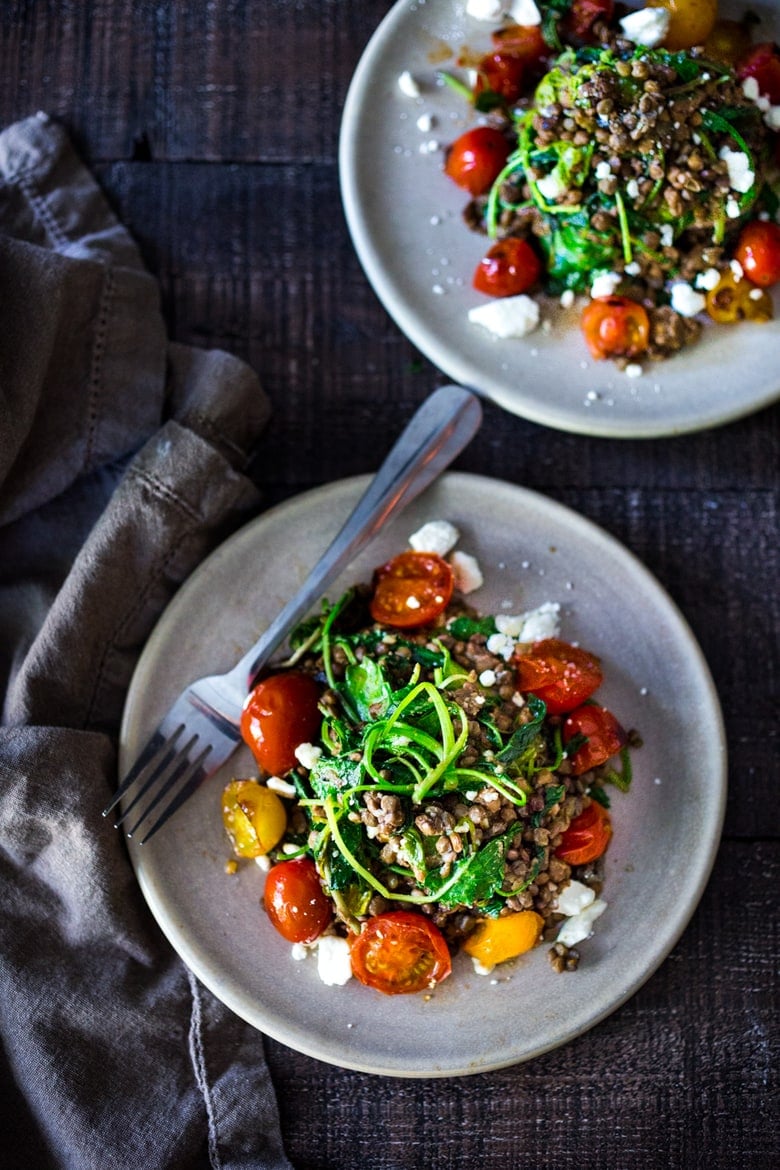 Growing up with a frugal Egyptian father, lentils were one of the mainstays of our diet. He would season them deliciously, but it seemed like we had them everyday …. and of course as a kid I grew tired of them and wanted to eat "normal" food like pizza and spaghetti like all my friends.
As you get older you begin to realize that all those things that made your family seem different or weird, are the same things that made them interesting and unique. As a grown up, I look back at those lentils with such fondness, I actually yearn for them. Somehow they bring such comfort. As a child, I never thought I would ever miss them… but life is funny that way.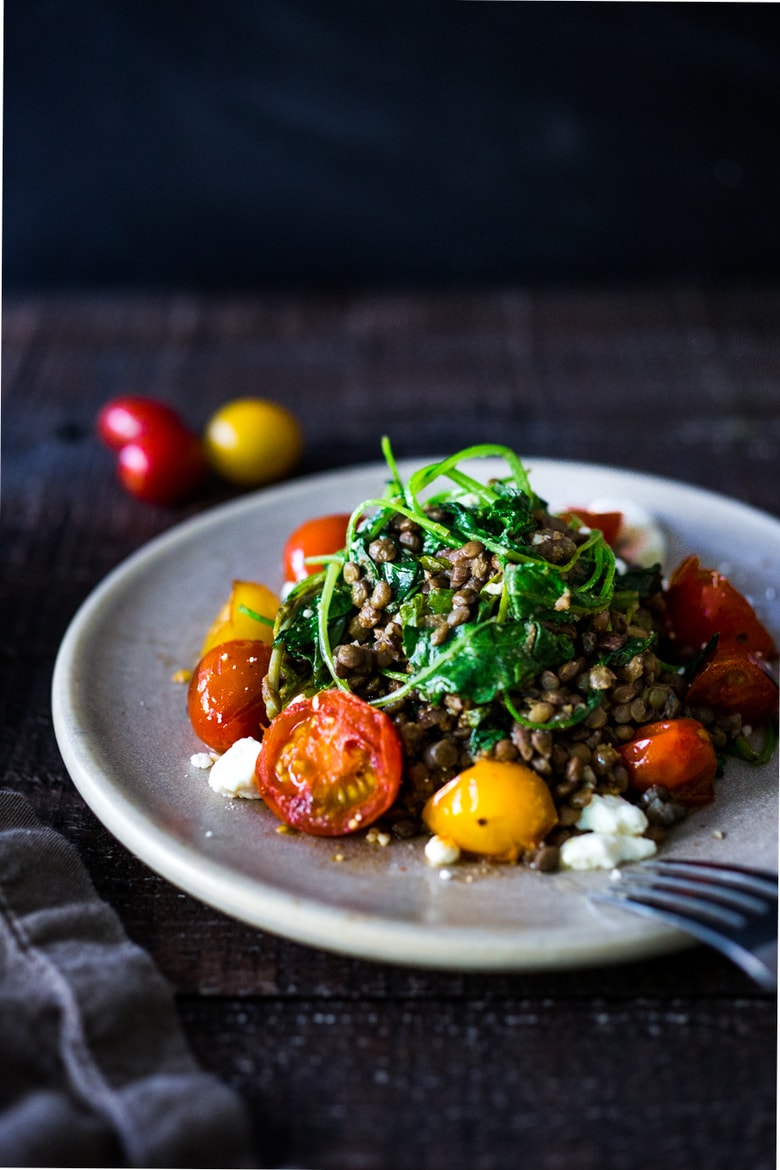 In this simple recipe for vegetarian Lentils with Blistered Tomatoes and Kale, Middle Eastern spices give the lentils a burst of delicious flavor. To make this recipe even faster, purchase pre-cooked lentils, now available at many grocery stores (like Trader Joes, Whole foods, etc), or pre-cook a big batch of lentils on Sunday for the workweek, to use in this recipe and in Buddha Bowls! You can also freeze cooked lentils in smaller portions for later.
If going vegan, skip the feta and add a drizzle of olive oil or even tahini sauce. Kale adds extra nutrients and can be substituted with spinach or any other braising green.
This month I've partnered with USA Pulses & Pulse Canada to help share how adding pulses (beans, lentils, chickpeas, split peas) to our everyday meals – just a ½ cup, three times a week- can help us on our health journey. Packed with protein, fiber and essential nutrients – pulses are hearty and filling yet low in cholesterol and help us maintain healthy weight, not to mention they're delicious and easy to cook! For more info, sign up for the Half-Cup Habit!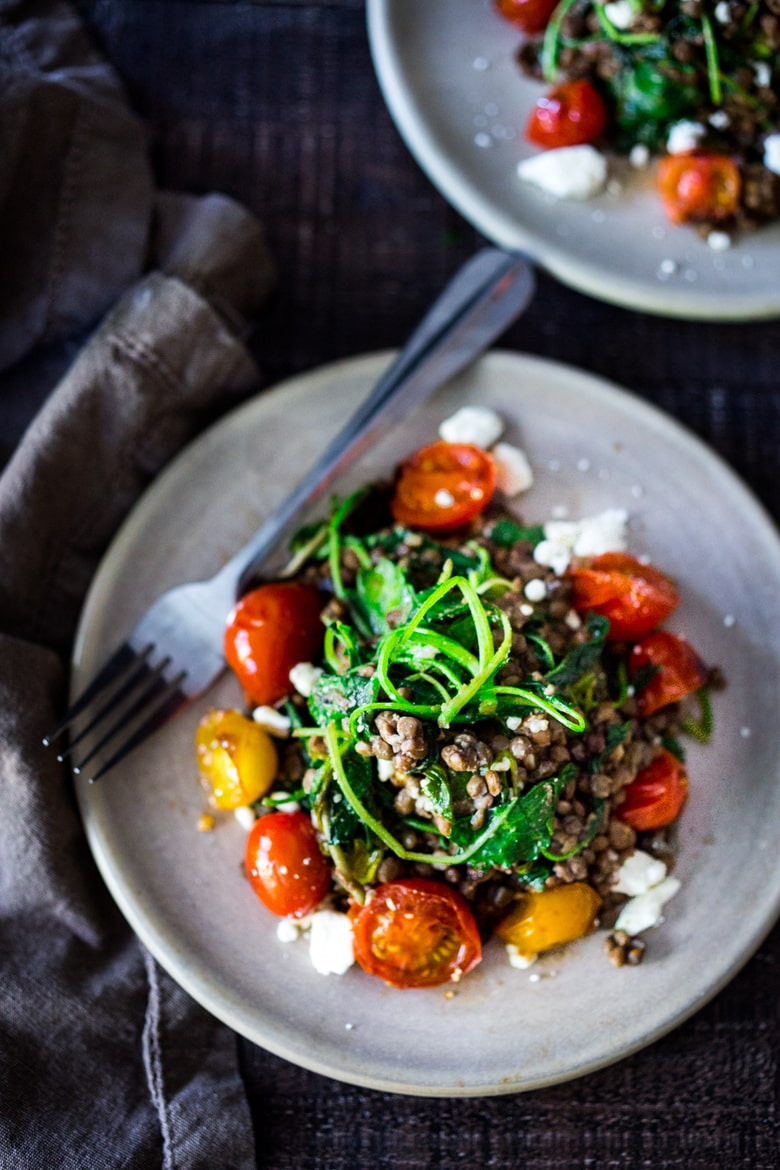 Print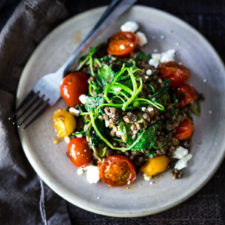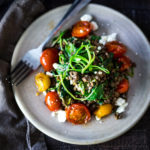 Lentils with Blistered Tomatoes and Kale
Author:

Sylvia Fountaine

Prep Time:

10

Cook Time:

15

Total Time:

25 minutes

Yield:

2

Category:

Vegan Main

Method:

Saute

Cuisine:

Middle Eastern
SaveSave
SaveSave
SaveSave
SaveSave
SaveSave
SaveSave
SaveSave
SaveSaveSaveSave