Sometimes it feels good to take a little break from heavier foods that often zap our energy. These vegan buddha bowls are all plant-based and designed to help us feel lighter, more energetic and alive! 
Load up with fresh, healthy produce, these vegan buddha bowls are all gluten-free adaptable and many are grain-free adaptable too! I will actively be updating this list, so be sure to check back from time to time.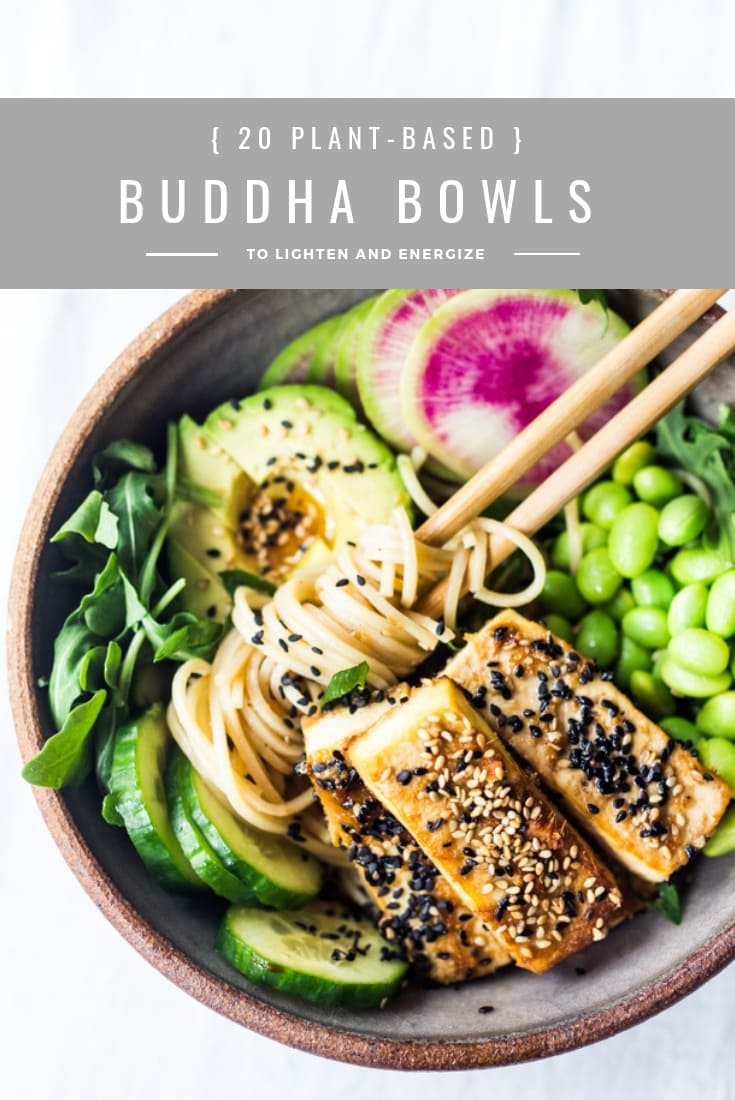 ---
The Gods created certain kinds of beings to replenish our bodies; they are the trees and the plants and the seeds. ~Plato
---
Bali Bowls with Peanut Tofu, black rice, roasted sweet potatoes, shredded cabbage, radish and snow peas. A healthy bowl reciepe the whole family will love!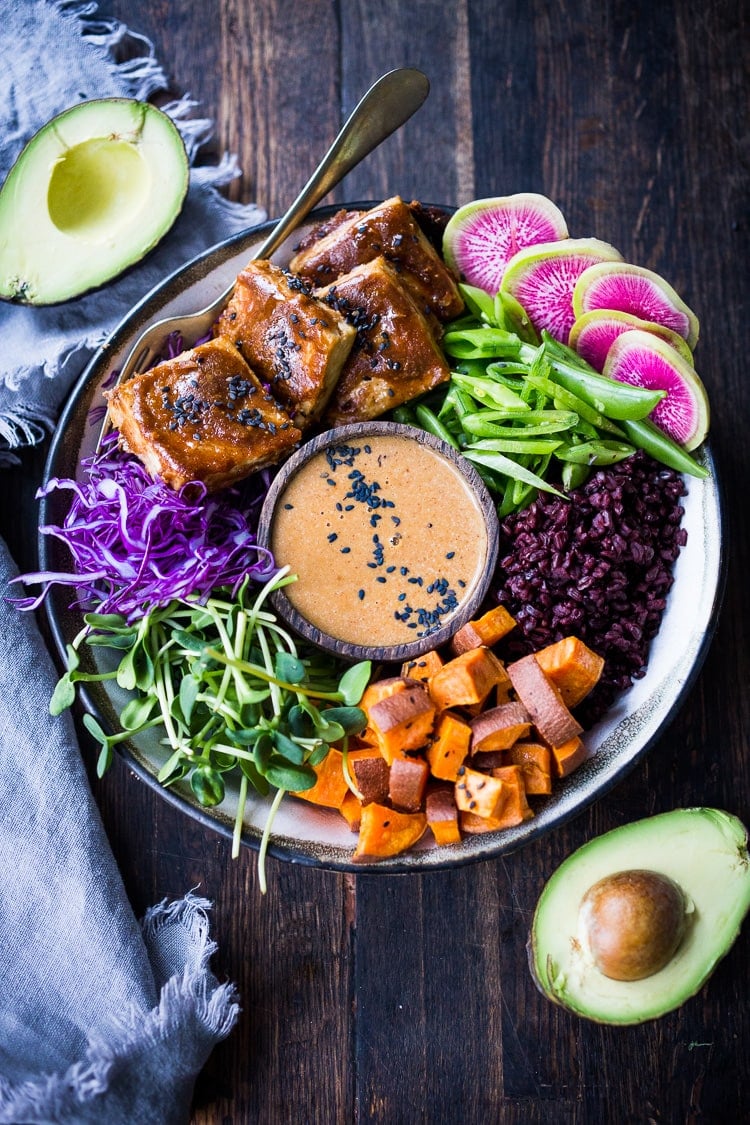 Roasted Sunchoke and Barley Bowl with mushrooms, parsnips and kale, drizzled with a  Zaatar Tahini Sauce –  a healthy vegan plant-based bowl, perfect for fall!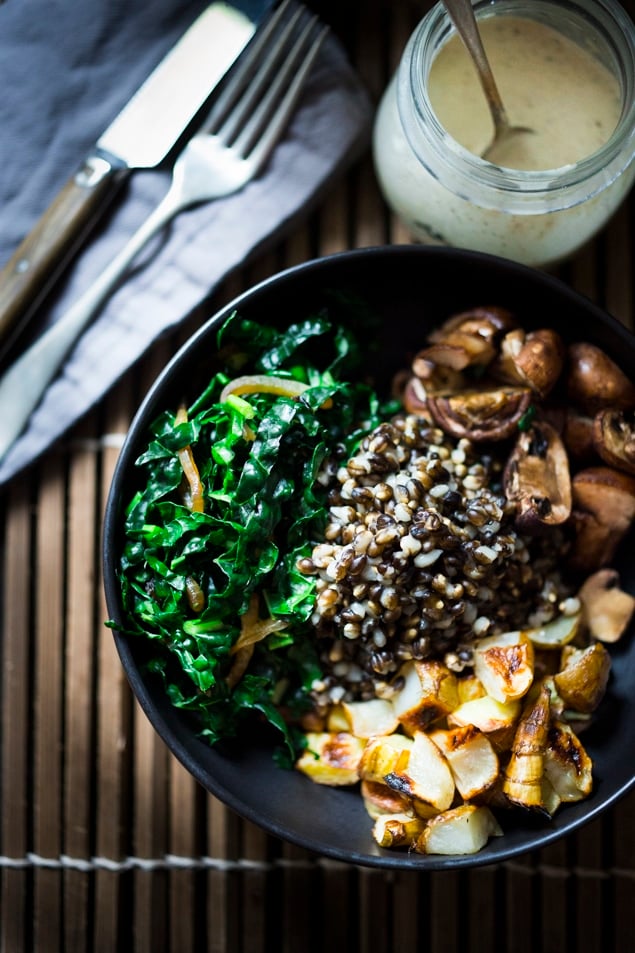 Baked Falafel Bowls!  Meal-prep these tasty falafels and freeze for the busy workweek.  Serve with seasonal veggies ( like these roasted veggies!)  greens, warm grains and a drizzle of Every Day Tahini Sauce. So yummy! Perfect in vegan buddha bowls!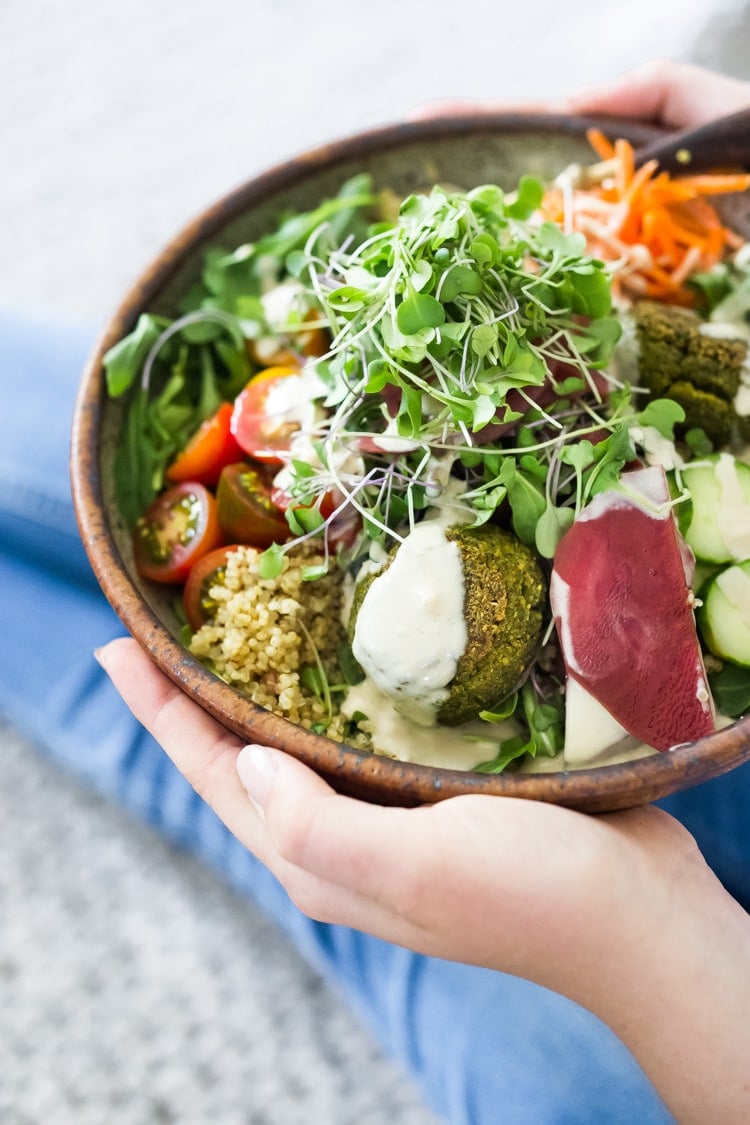 Vegan Bahn Mi Noodle Bowl with Sriracha Tofu, rice noodles, pickled carrots and radishes, crunchy cucumber and cabbage and spicy, vegan Bahn Mi dressing! This vegan buddha bowl is bursting with Vietnamese flavor! Feel free to use zucchini noodles, sweet potato noodles or kelp noodles!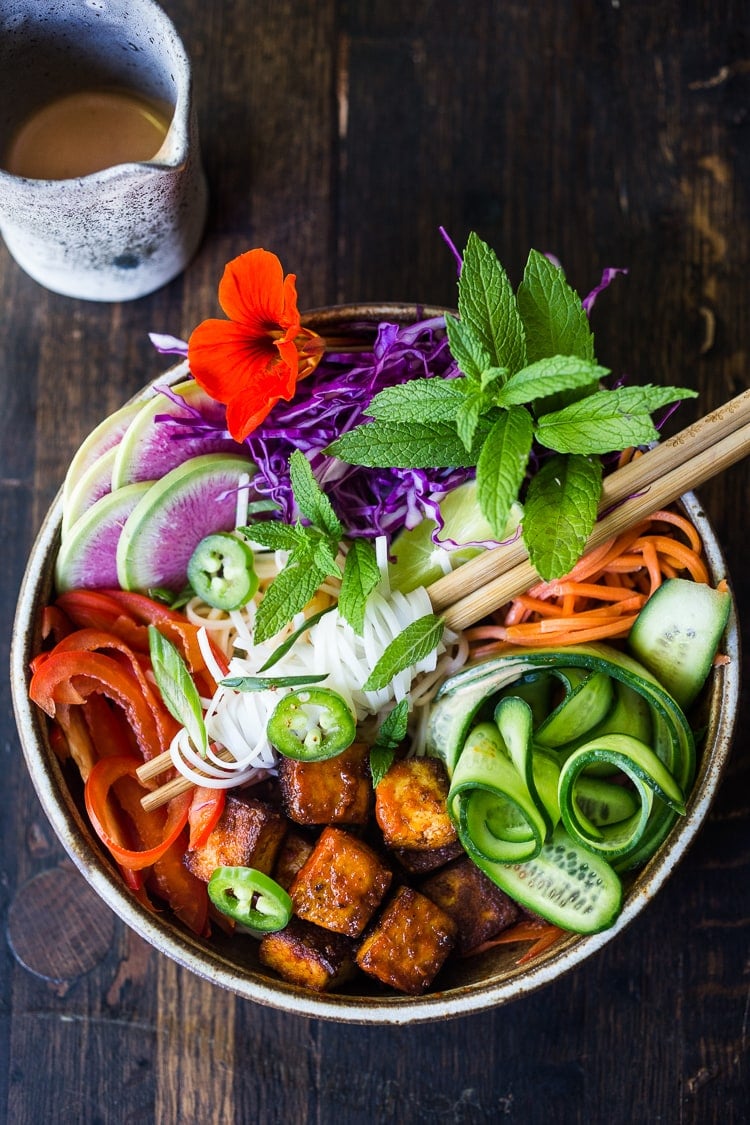 Green Goddess Bowl loaded up with steamed and fresh seasonal veggies and a vegan, low calorie Green Goddess Dressing that you will want to drink. Serve over grains or greens or both. A very clean-eating, plant-based, vegan buddha bowl.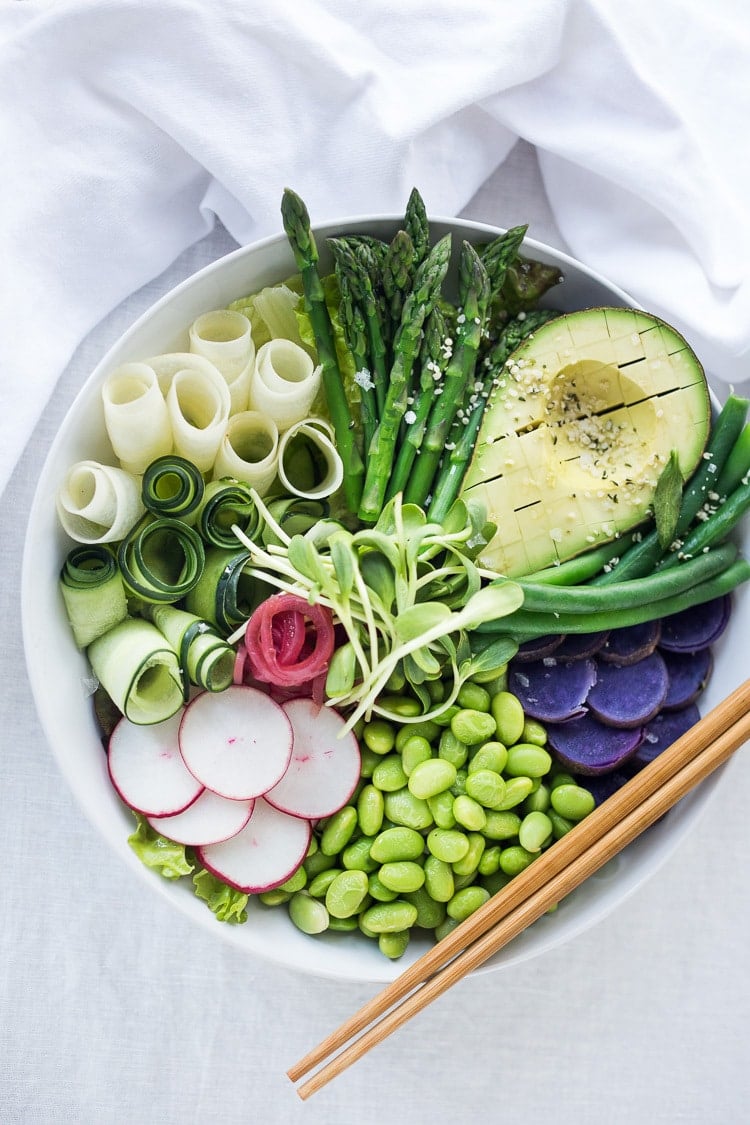 Zen Noodle Bowl–  this Japanese-inspired, vegan buddha bowl made with fresh seasonal veggies and a light, citrusy Ponzu Dressing, can be made with sesame ginger tofu (or seared ahi tuna). Vegan and Grain-free adaptable! (Try it with zucchini noodles or kelp noodles!)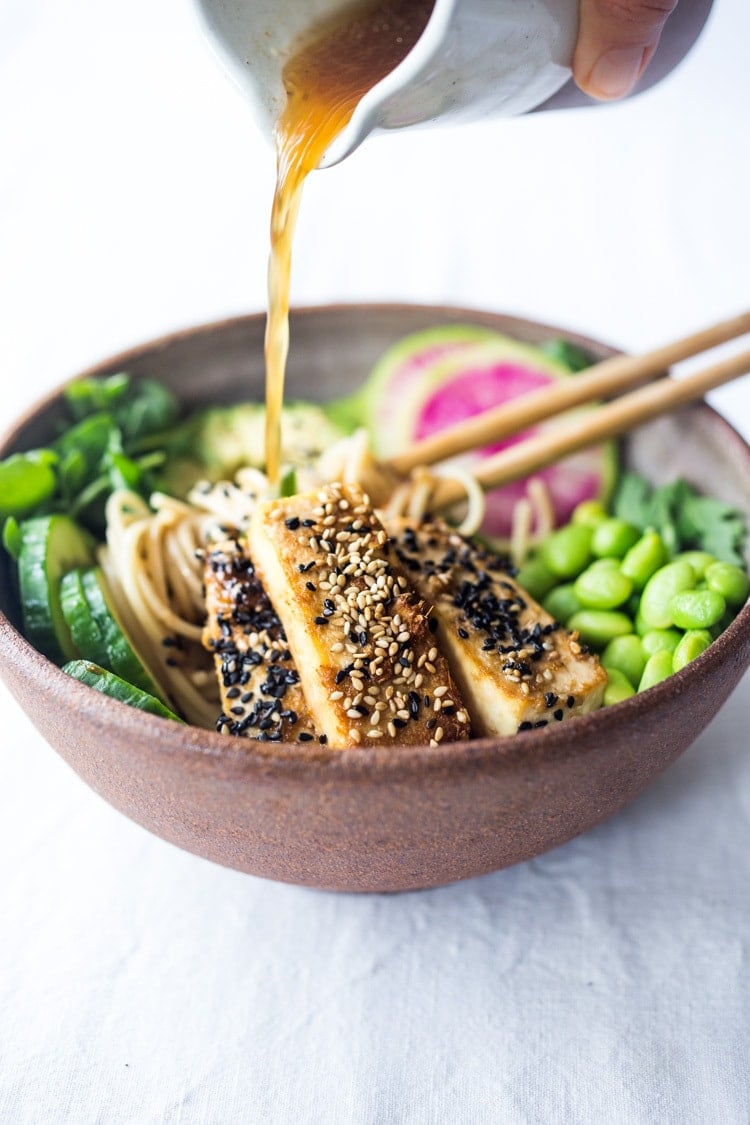 This Vegan Oaxacan Bowl is grain-free, made with roasted chipotle sweet potatoes and roasted peppers over a bed of warm seasoned black beans. It's topped with a crunchy cabbage slaw, avocado and my favorite thing ever, toasted Chipotle Maple Pecans. A healthy vegan buddha bowl you will loooooove !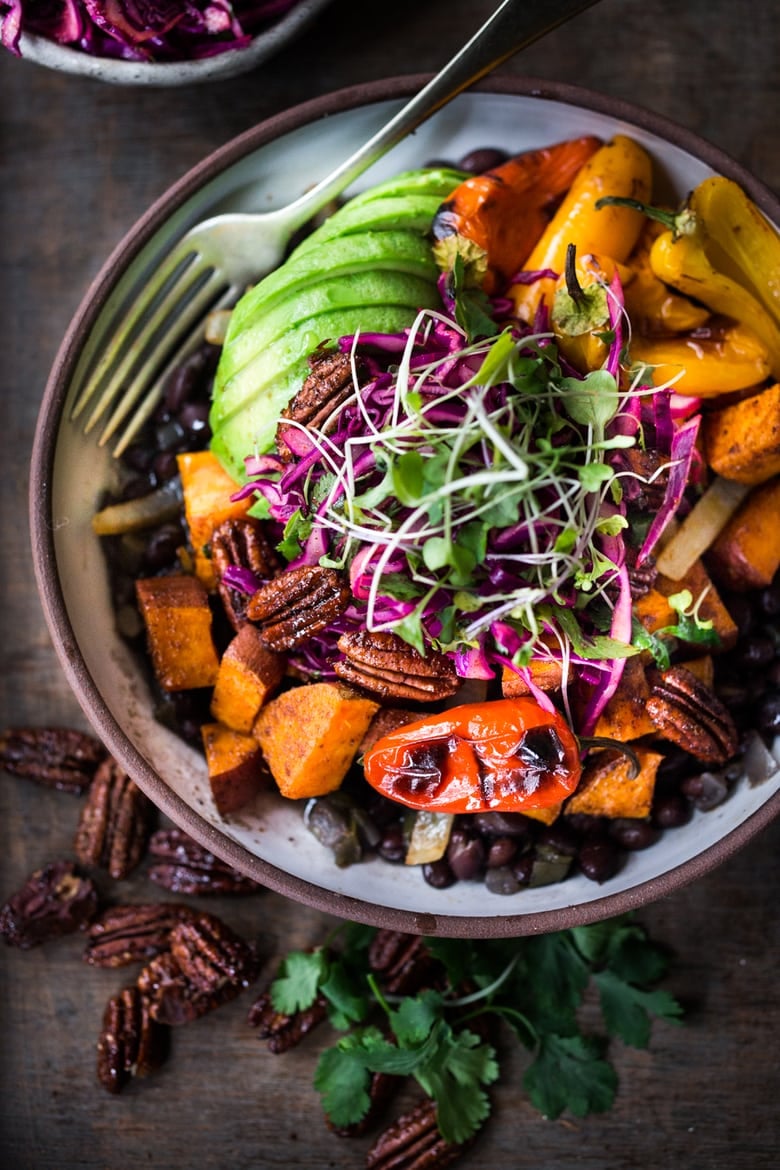 Vegan Seoul Bowl! This Korean -inspired, vegan buddha bowl is made with Gochujang baked Tempeh, steamed spinach and shiitake mushrooms, kimchi and pickled cucumbers- a tasty vegan version of Bibimbap!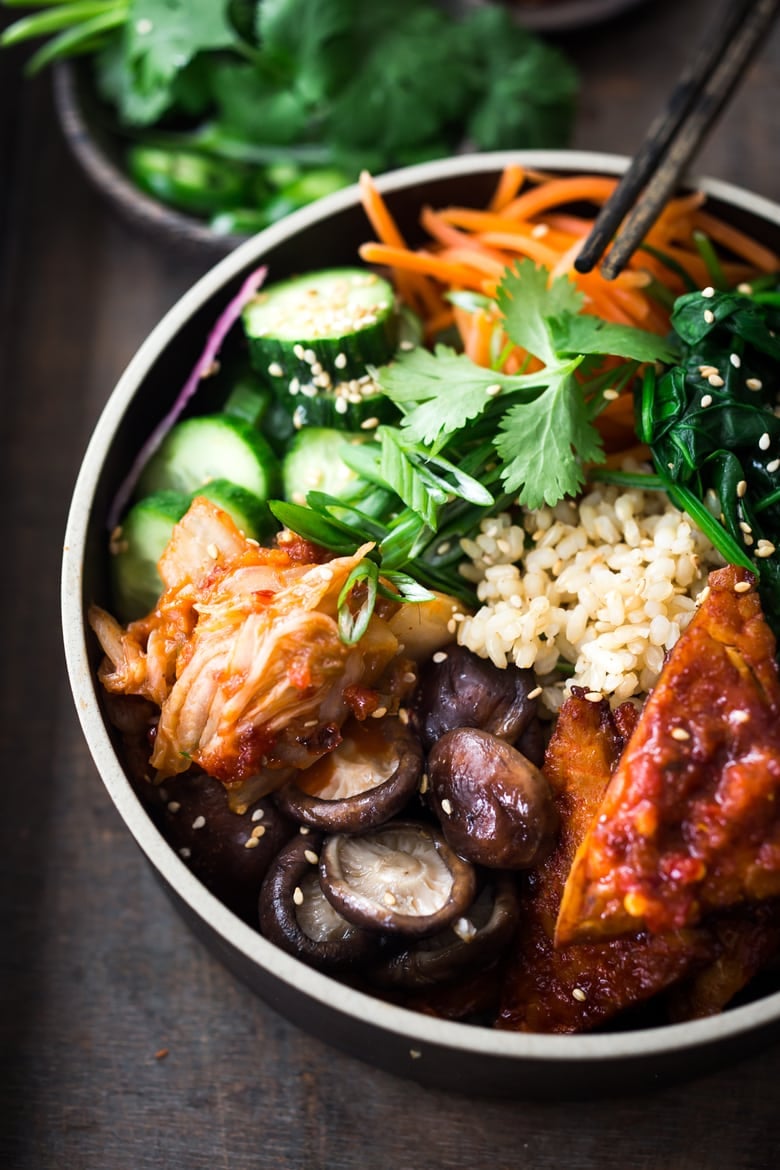 Vegan Fajita Bowls with roasted portobello mushrooms and peppers served over Cilantro Lime Cauliflower Rice– a fast and flavorful bowl that can be made on a sheet-pan –  perfect for busy weeknights! Vegan and Grain-free.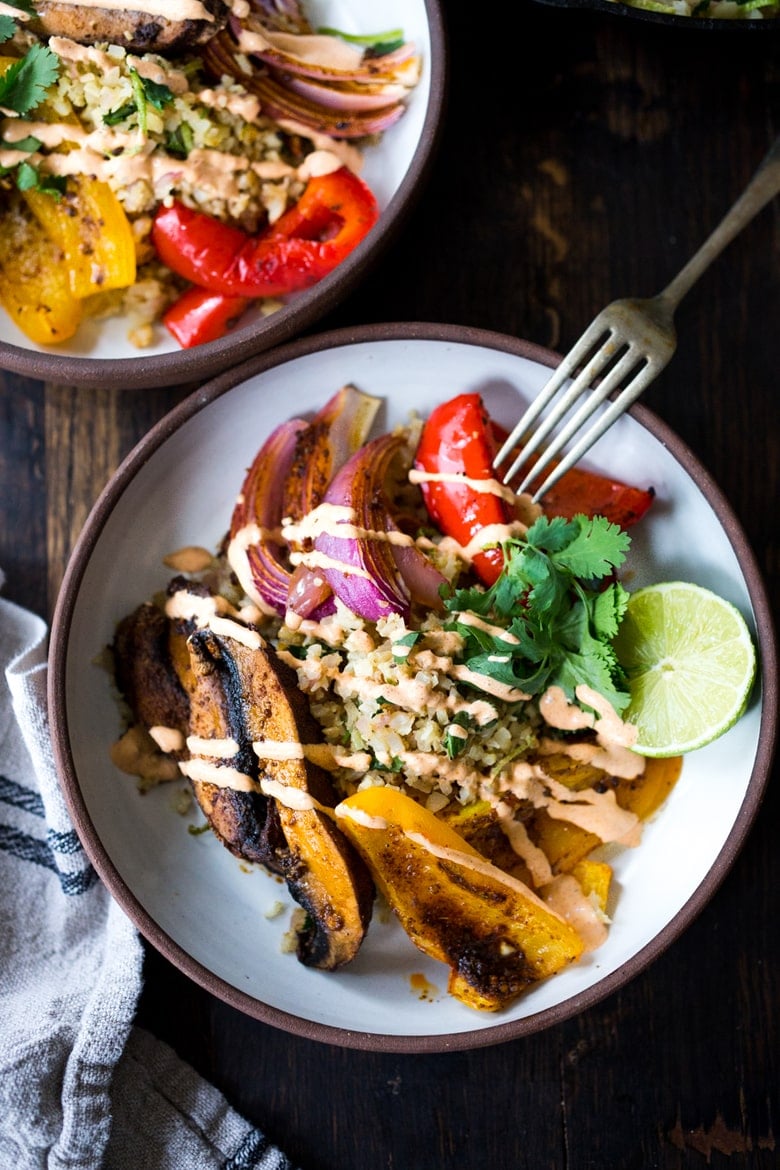 VEGAN Poke Bowls– made with seasoned tofu, served over warm brown rice, surrounded with healthy veggies and a delicious citrus ponzu sauce! A healthy delicious vegan buddha bowl!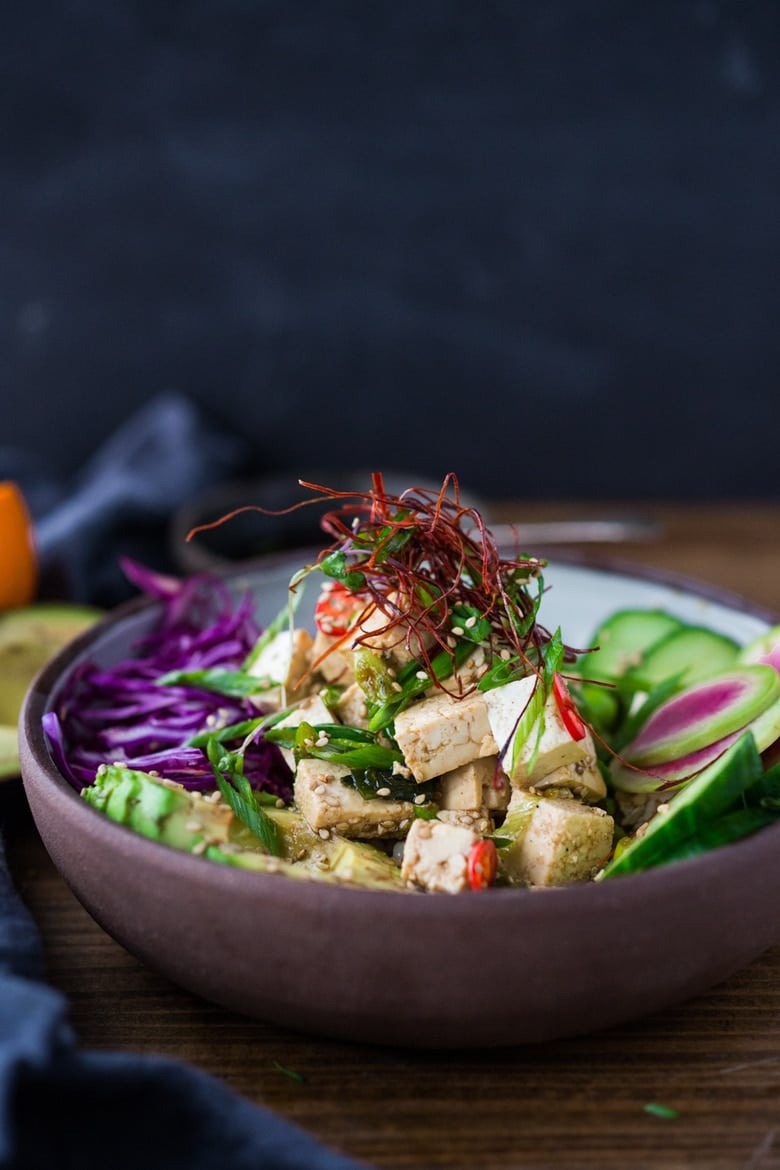 Moroccan Mujadara Bowl – a comforting, healthy vegetarian meal of lentils and rice, with fragrant Moroccan spices, served with caramelized shallots, fresh veggies, ( or roasted veggies) pine nuts and optional yogurt. Gluten-free and Vegan adaptable.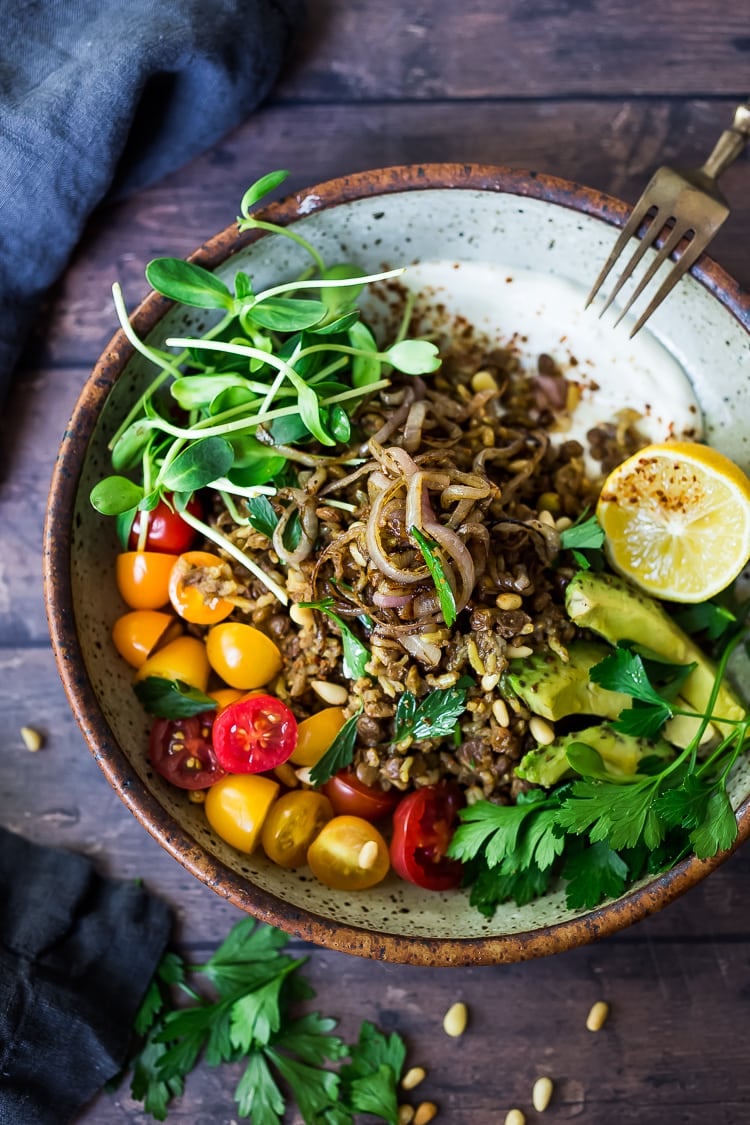 Vegan Sunshine Bowl w/ fresh crunchy raw veggies- like grated beets, carrots, kohlrabi, sunchokes, radish & jicama over nutty brown rice and a delicious, sunflower seed "tahini" sauce.  Vegan and GF!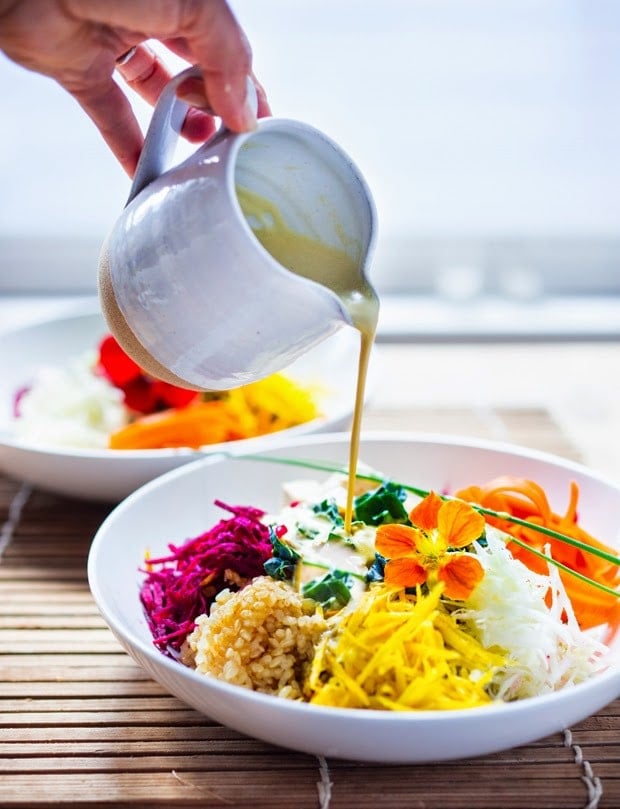 Vegan Glow Bowl– a healthy, hearty vegan buddha bowl loaded up with fruits and vegetables that make the most impact on your skin, giving you a healthy glow! Vegan and delicious! (Plus a true story about my dad who went vegan at age 65- and what it did to his skin! )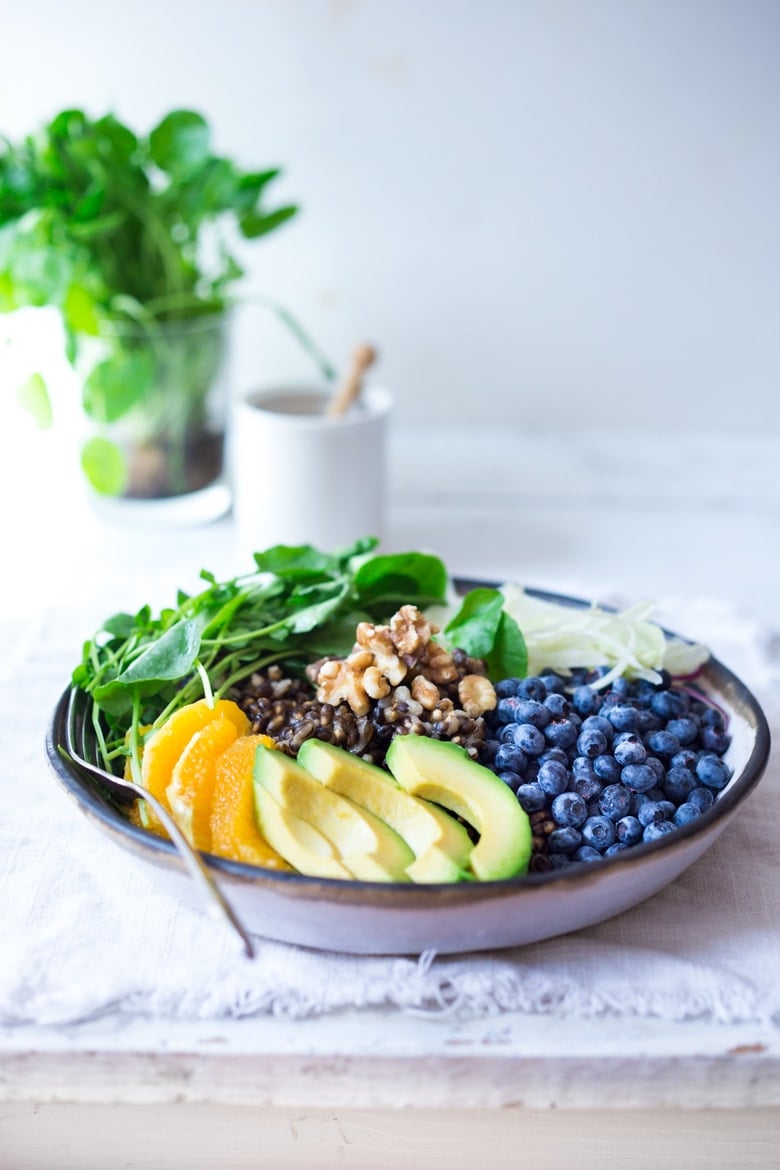 Tandoori Glory Bowl with Roasted cauliflower, chickpeas and flavorful Moroccan spices.  Cook it all on one sheet-pan in 30 mins flat!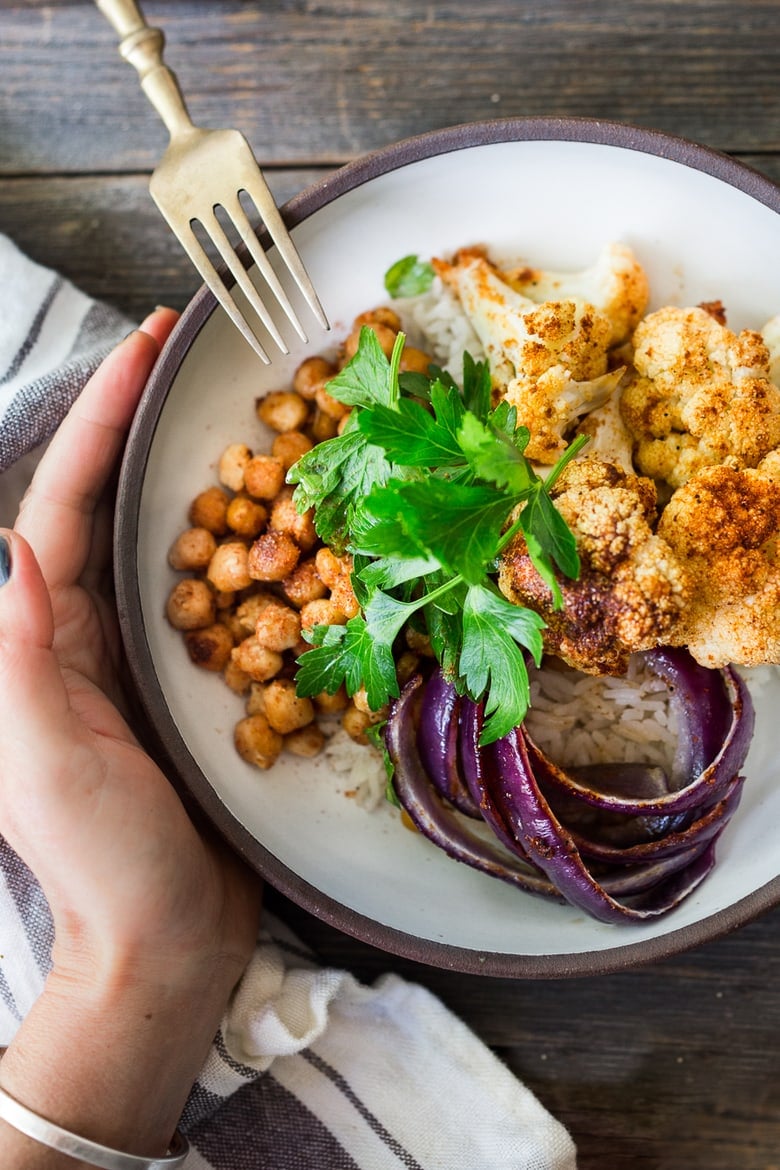 These Vegan-adaptable Morning Grain Bowls-are full of nutritious, healthy plant-based ingredients. Energizing and healthy these will keep you fueled all day long!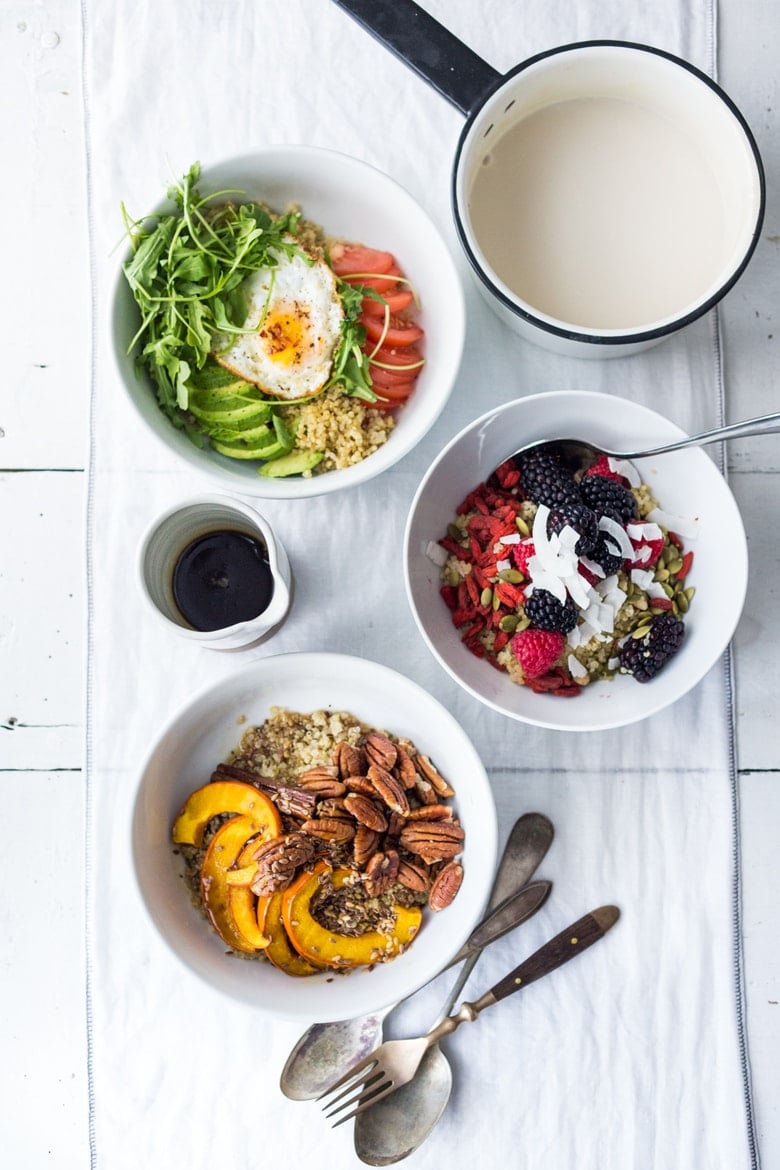 Caribbean-Style Voodoo Bowls– with roasted purple cabbage, sweet potatoes and tofu (or chicken) baked in the most flavorful Caribbean Marinade, served over a bed of seasoned black beans with fresh mango and lime! A delicious vegan bowl with bright, sunny Caribbean flavors!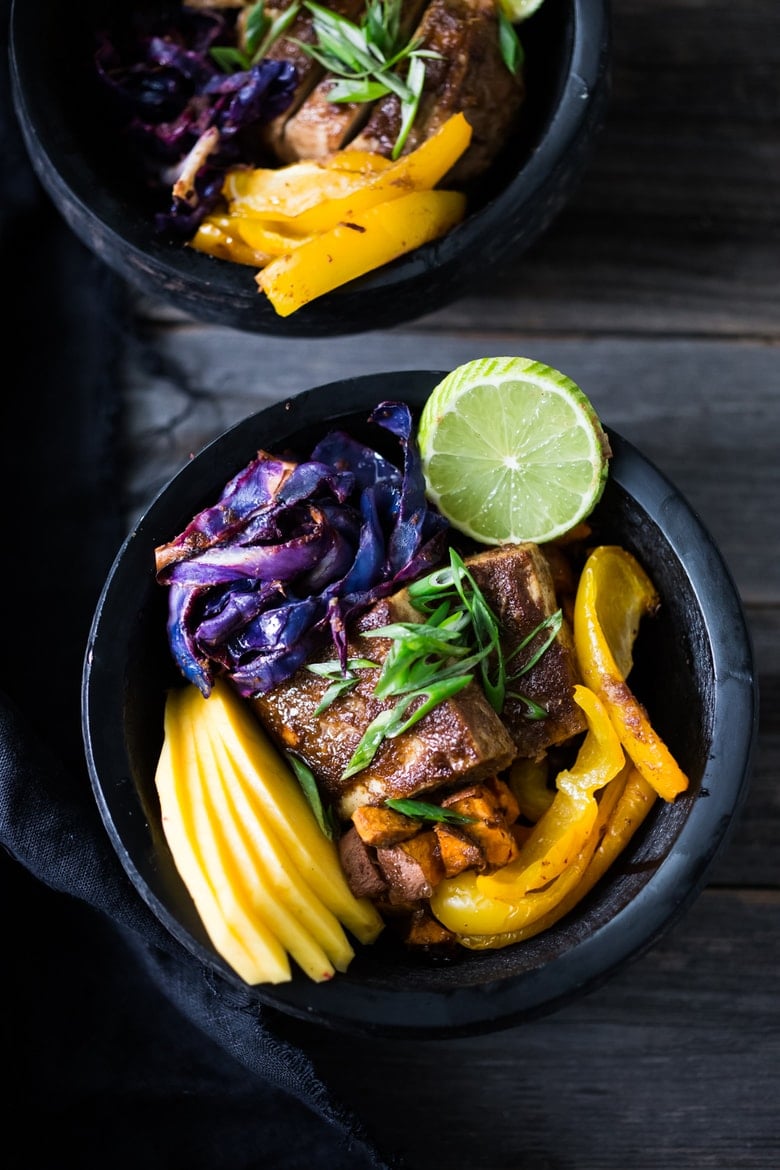 ---
Hope you enjoy these energizing, plant-based, vegan buddha bowls that are all vegan adaptable, gluten-free adaptable and easily made grain-free. I will be continually updating this list, so make sure to check back!
Happy healthy New Year!
xoxo