5  Make-Ahead, Breakfast Bowls ( Morning Bowls ) served up with your favorite grain ( quinoa, buckwheat, millet, etc.) with different toppings for busy weekday breakfasts. Healthy, gluten-free and vegan-adaptable.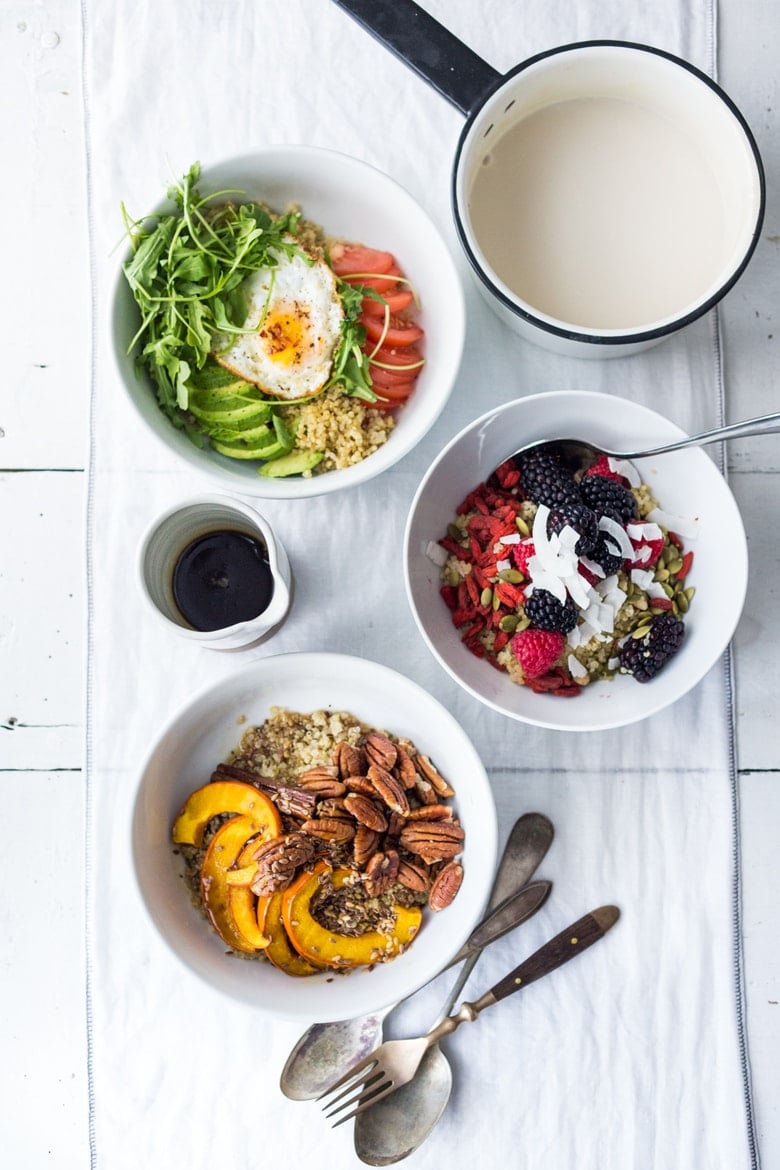 May I be the tiniest nail in the house of the universe, tiny but useful. ~Mary Oliver~
I'm up before dawn most mornings, naturally waking around 5 am, when the world is still hushed and dark. I heat the kettle on the stove and light a fire or a candle, whichever the weather calls for. With a steaming mug of coffee in hand and flickering firelight I spend the first hour visiting with old friends – Rumi, Mary Oliver, Rilke, while we watch the sun slowly rise. They remind me to feel. Everything. Deeply. These mornings seep into me, they feed and nourish me, well beyond food ever could.
But one must eat and these Breakfast Bowls are a godsend. Here is a way to prep a week's worth of breakfast bowls on Sunday, then serve it up 5 different ways during the week.
Whole Grains to use in Breakfast Bowls:
You probably have a lot of different grains in your pantry. Let's use them up here!  The breakfast bowls are prepped ahead using whole grains, 3-5 servings, then stored in the fridge to assemble and eat during the week in a variety of different ways. For example, this week, out of simplicity I picked quinoa. Last week it was buckwheat. The week before, millet. I cooked enough to make 5 breakfast bowls and then stored the cooked grains in the fridge. Each morning I pulled out a cup of grains, topped with different toppings, and poured heated almond milk over top.
quinoa
Amaranth
Teff
millet
steel-cut oats
sorghum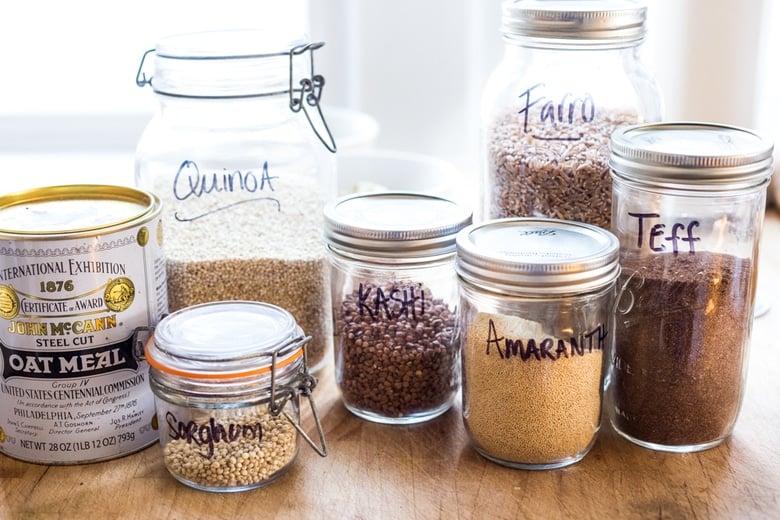 Store the cooked grains in the fridge, then pull out a portion in the morning, heat it up if you like, and top with your favorite toppings.
Breakfast Bowl Ideas!
So quick, easy, and delicious. Here are just a few ways to doctor these up – and I know you will come up with your own creative variations – please share these below in the comments for additional inspiration to all our readers.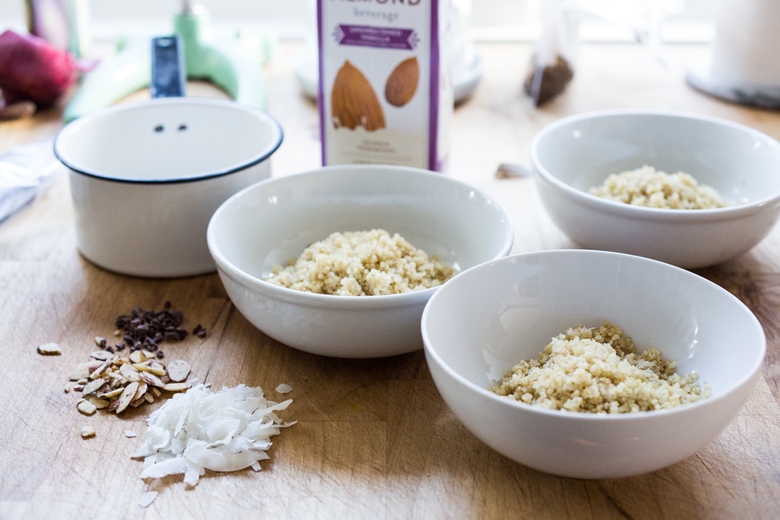 Almond Joy Breakfast Bowl
Whole grains are topped with coconut flakes, toasted almonds and cocoa nibs. Make no mistake – cacao nibs are not chocolate chips. They are chocolate in its purest form before anything else is added like sugar or fats. They have an intensely deep chocolate flavor similar to that of roasted coffee beans – slightly bitter and deliciously bold, with good texture and crunch. I love the burst of natural energy they give me on long catering days.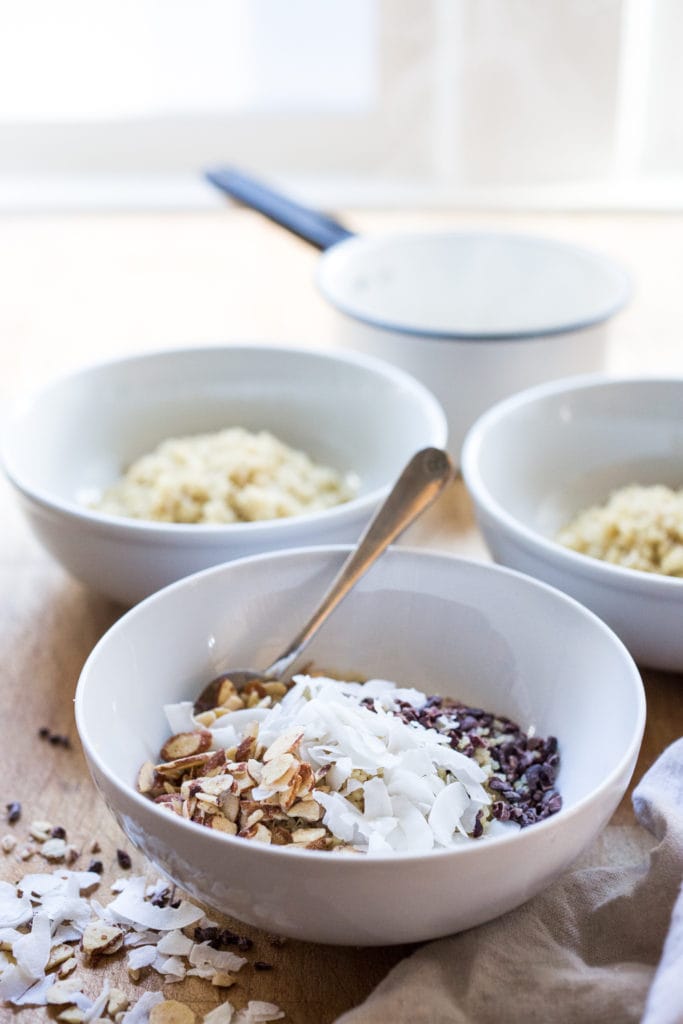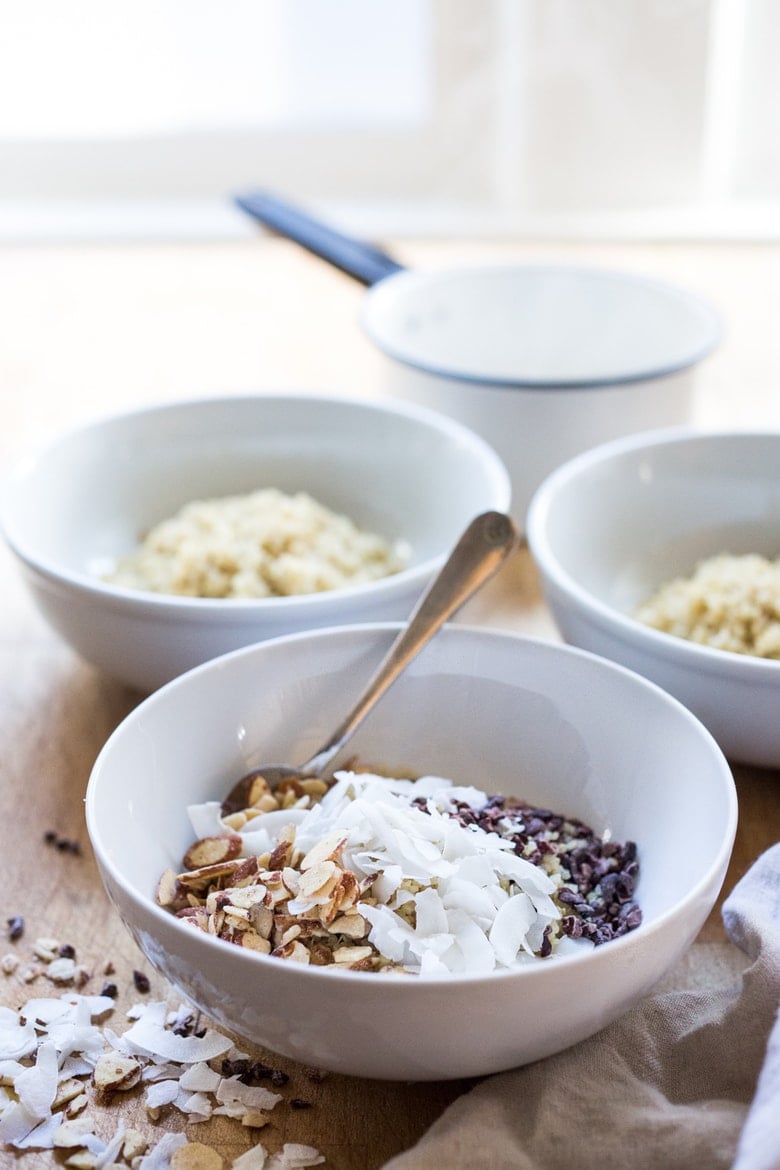 Top the ALMOND JOY BOWL with warm almond milk and a little honey – delicious and energizing.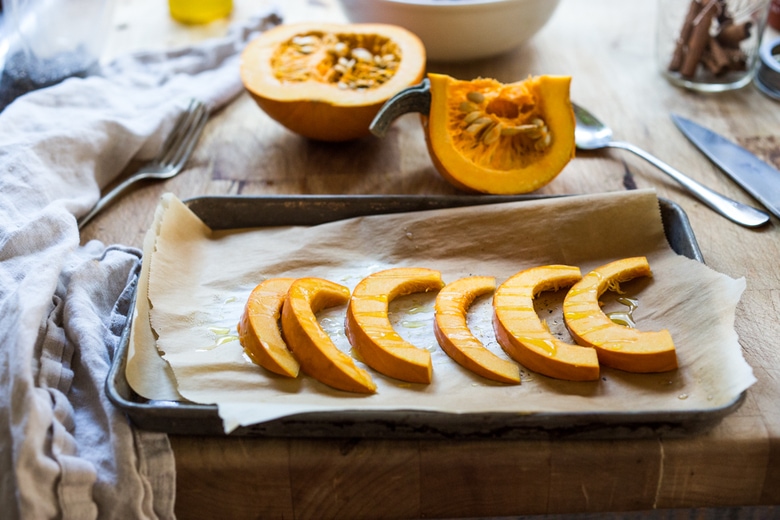 Maple Pumpkin Pecan Breakfast Bowl
Whole grains are topped with roasted pumpkin, cinnamon, flax seeds, pecans, warmed almond milk and maple syrup. Cozy and delicious.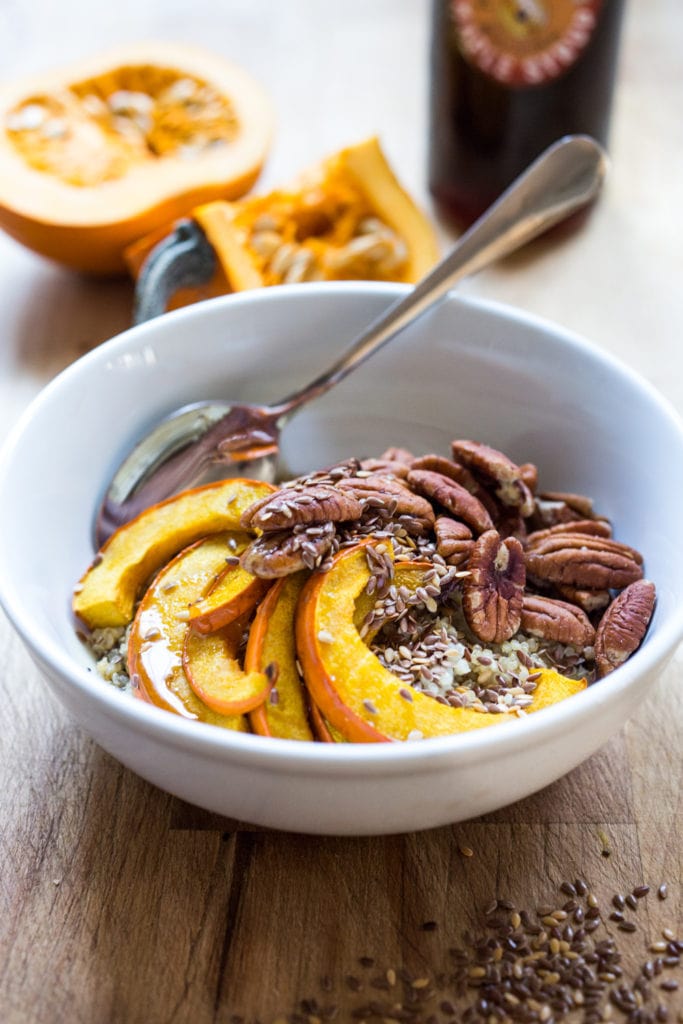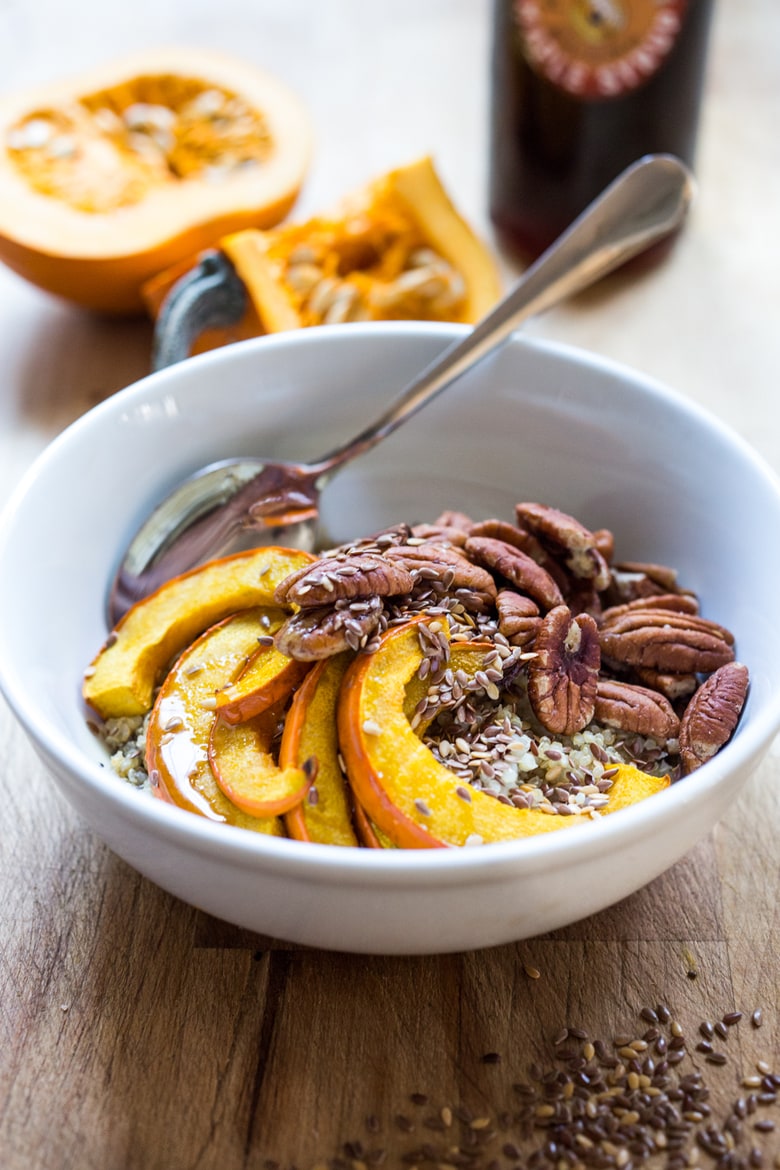 Superfood Morning Bowl
Whole grains topped with Goji Berries, fresh berries, pumpkin seeds, topped with coconut and warmed almond milk. Goji berries, if unfamiliar have been enjoyed for over 2,000 years in Traditional Chinese Medicine. They can be eaten by the handful or added to oats, cookies, trail mix and more.  They contain a wealth of antioxidants and over 20 vitamins and minerals and are surprisingly high in protein. Perfect morning energy.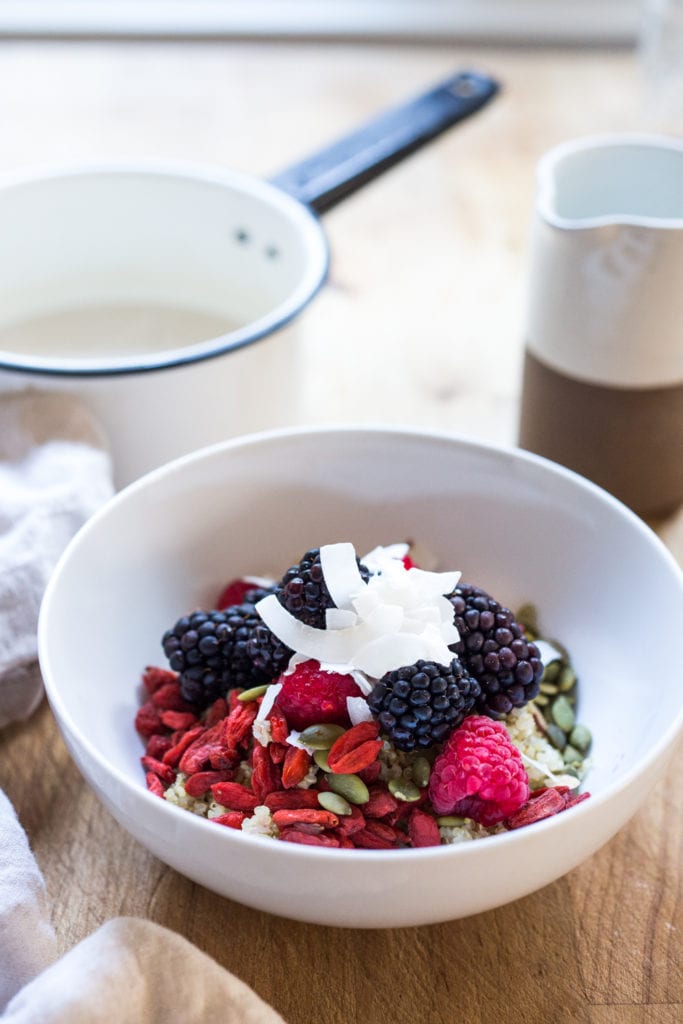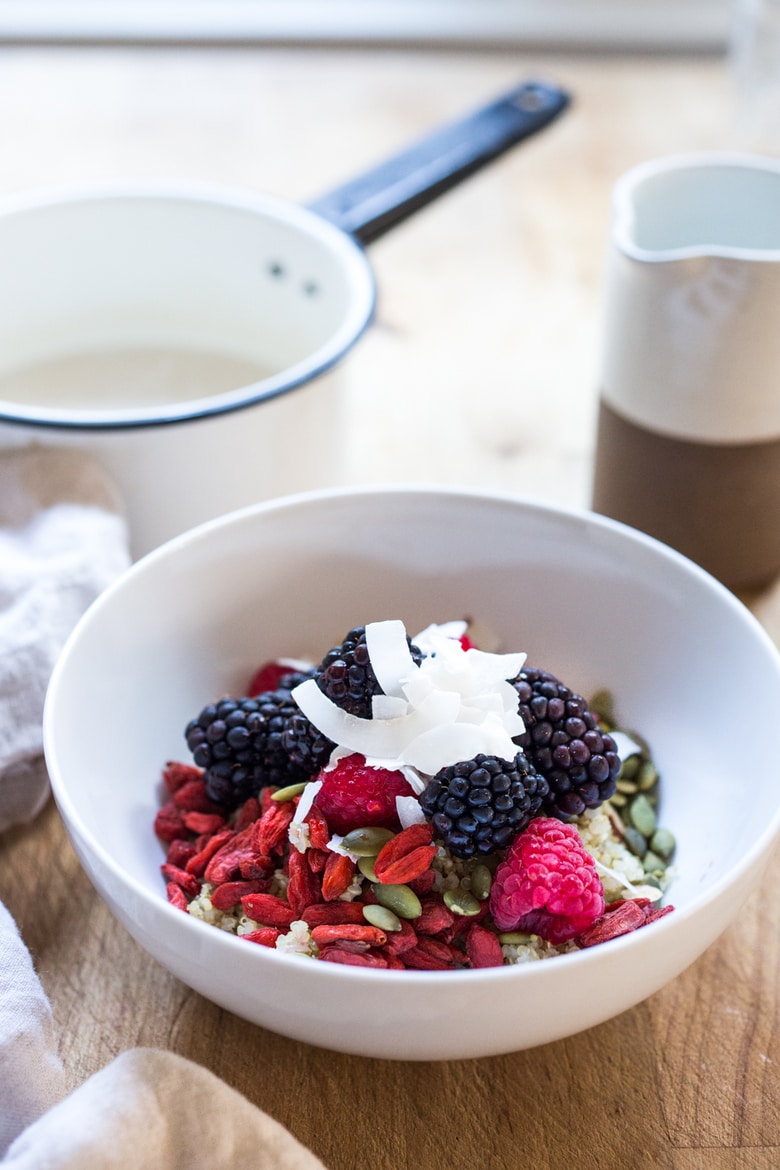 Savory Breakfast Bowl
The next one is a savory one, whole grains topped with avocado, greens and tomatoes. Add sprouts and herbs if you like.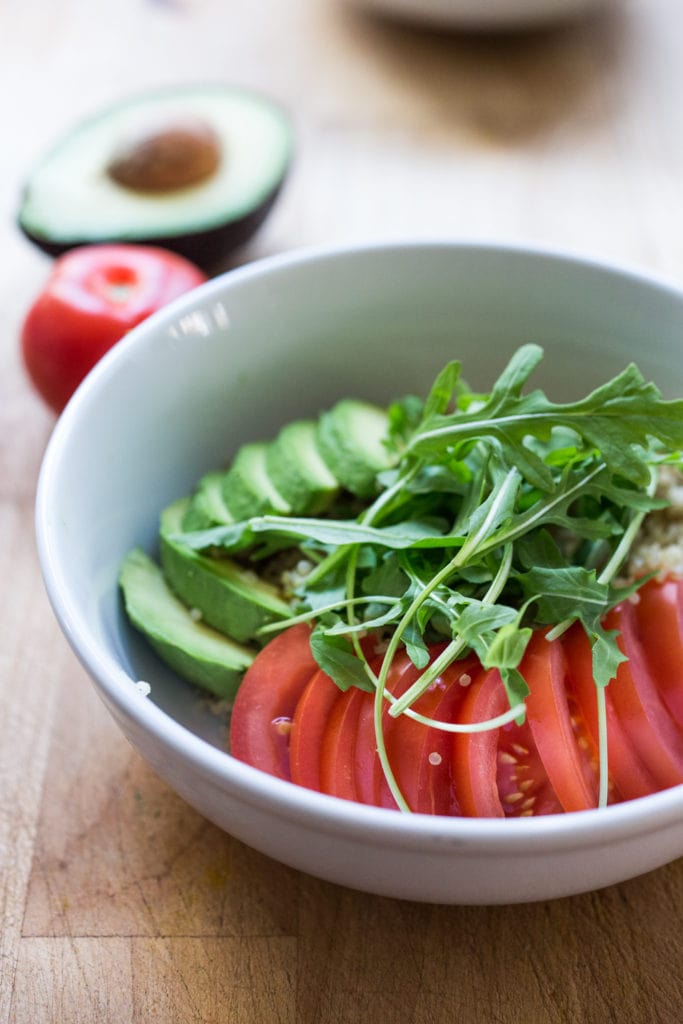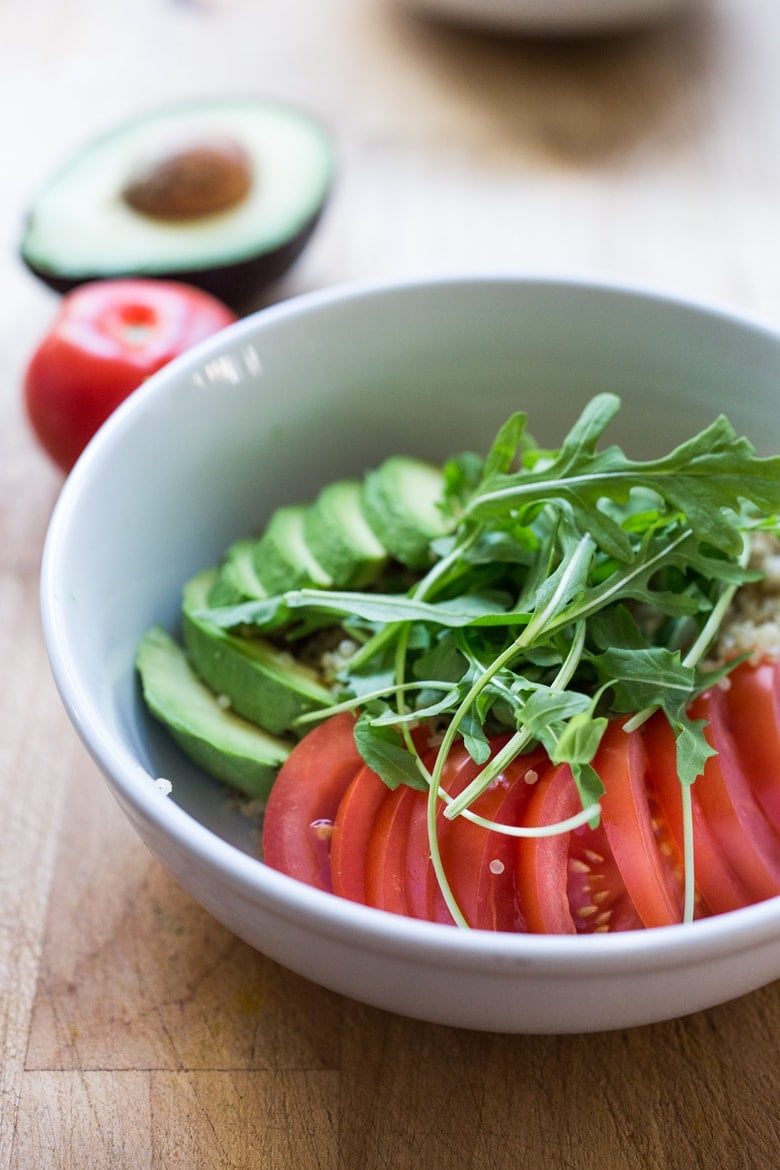 Or top with a happy egg! Add Sriracha!
If going vegan, Crispy Tofu would taste great here instead of the egg.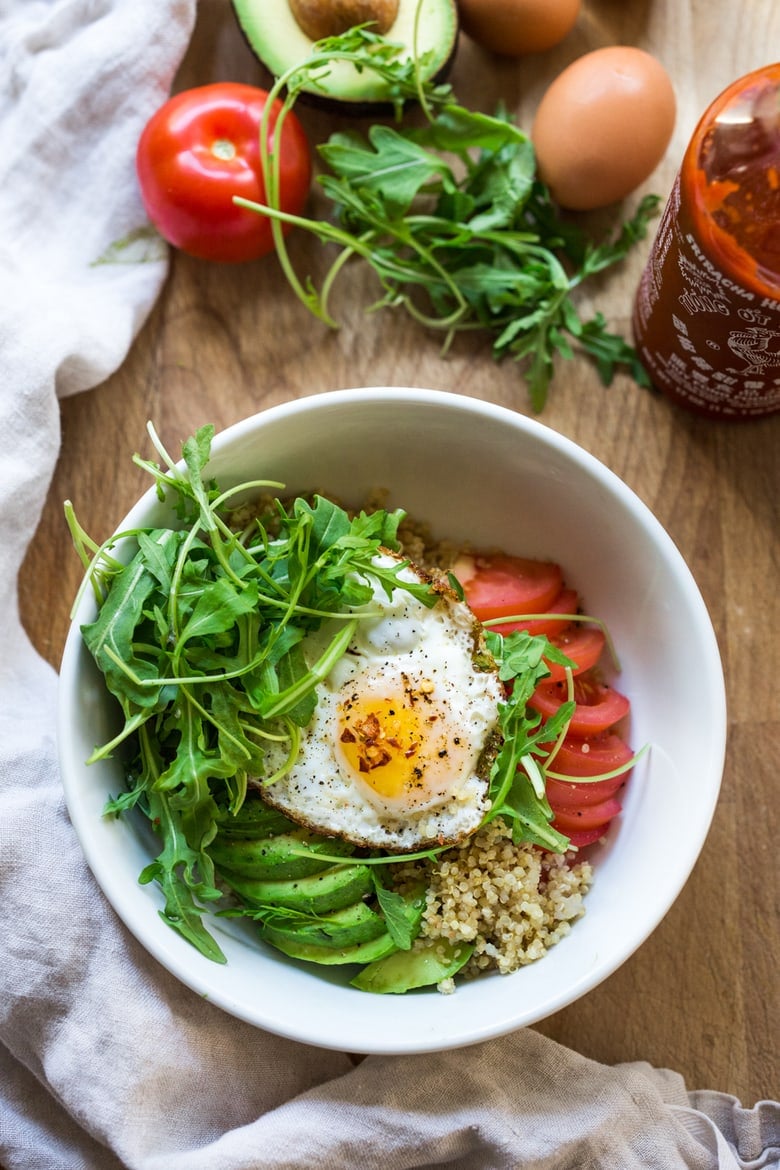 The soft warm yolk dresses the grains.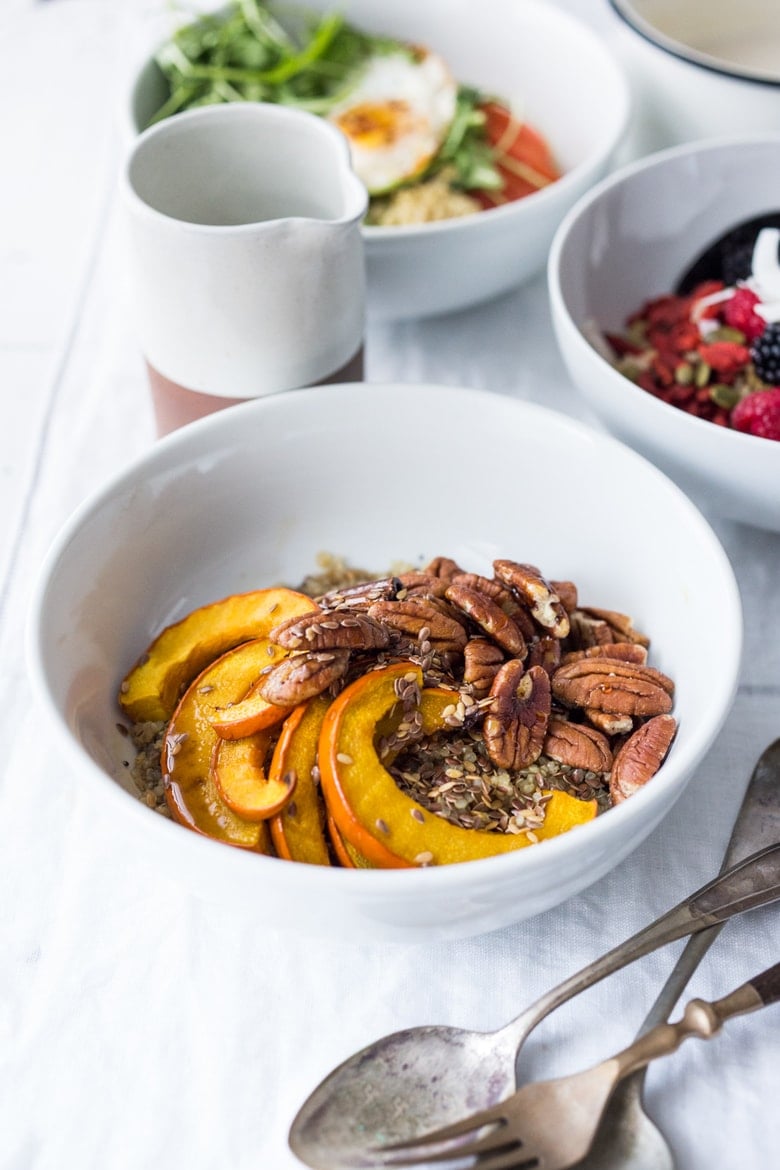 Use these as a jumping-off point for your own delicious creations.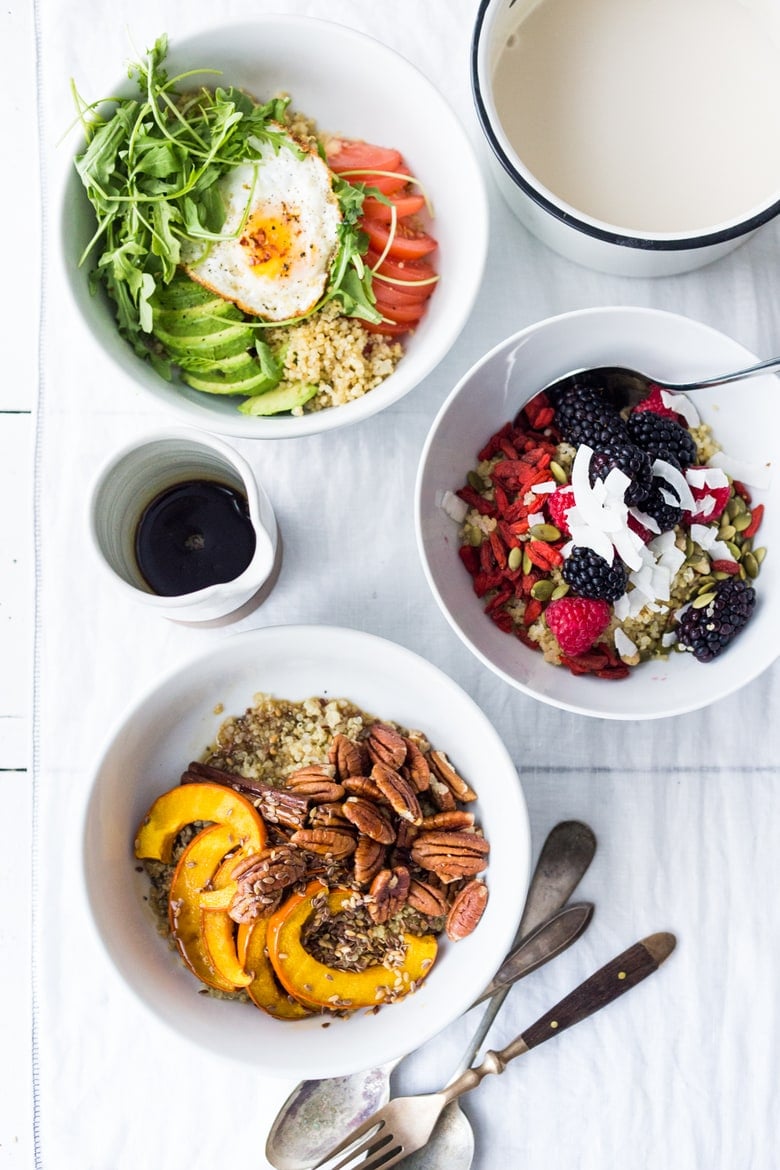 Milk Revelations
A little epiphany – in the past, I used to cringe over cold milk being poured over oats or grains. I could not stomach it. However, warmed almond milk changed everything.  I am officially a fan.
Not only are these breakfast bowls packable and easy to take on the go – they are great for a crowd.
Just have the grains ready, and let people assemble their own bowl with a good selection of ingredients. Like a Breakfast Bowl "Bar." Get it? 😉  An easy way to feed a large gathering. Once a caterer, always a caterer. 😉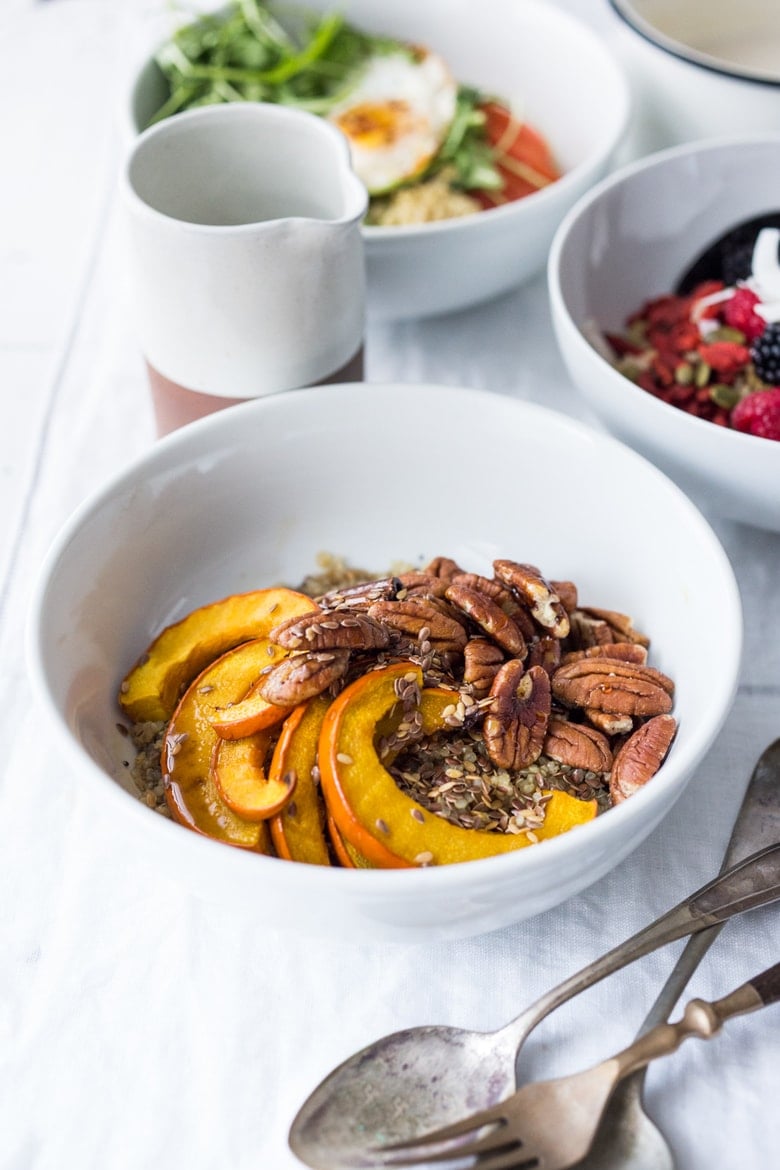 Happy delicious morning friends!
s.
You may also like:
Print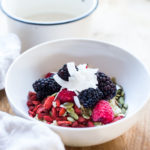 Breakfast Bowls | morning grain bowls
Prep Time:

10

Cook Time:

20

Total Time:

30 minutes

Yield:

5

morning bowls

1

x

Category:

Breakfast

Method:

stove-top

Cuisine:

Vegan adaptable and Gluten Free

Diet:

Vegan
---
Description
A foundation recipe to make 5 whole-grain Breakfast Bowls for the workweek, Gluten-free and Vegan adaptable.
---
Almond Joy Morning Bowl
Maple Pecan Pumpkin Bowl
Superfood Morning Bowl
Banana Tahini Morning Bowl
Savory Bowl:
1/2

avocado,
tomato,
arugula,

1

egg (optional) poached, over easy, sunny side up, soft boiled) sriracha.Or sub crispy tofu.
Additional options– any seed or nut. Dried fruits. Fresh fruits. Cooked fruit. Maple, honey, agave. Coconut milk, soy milk, whole milk. Vanilla, spices- nutmeg, cinnamon, ginger, cardamon. I'm sure you will think of more!
---
Instructions
Cook the grains ahead for the whole week. Refrigerate.
Each morning, heat ½ cup almond milk (if using) assemble bowls with your favorite toppings.
Pour ½ cup warm almond (or soy, coconut or regular) milk over top.
Enjoy!
These are also easily packable . . . . if possible, pack without milk. Heat milk right before serving. 🙂
---
Nutrition
Serving Size:

1 cup cooked grains plus toppings

Calories:

373

Sugar:

10.5 g

Sodium:

122 mg

Fat:

13.7 g

Saturated Fat:

3.1 g

Carbohydrates:

54.4 g

Fiber:

8.6 g

Protein:

12.6 g

Cholesterol:

0 mg
Keywords: breakfast bowls, breakfast bowl ideas, breakfast grain bowls, breakfast quinoa bowls, vegan breakfast recipes, vegan breakfast, vegan grain bowls, vegan oats, vegan breakfast bowls,