This easy healthy Homemade Granola is the BEST! It's naturally sweetened with maple syrup, full of nuts and seeds and delicious nutty clusters! Healthy, vegan, with

only

10 minutes of hands-on time before baking in the oven!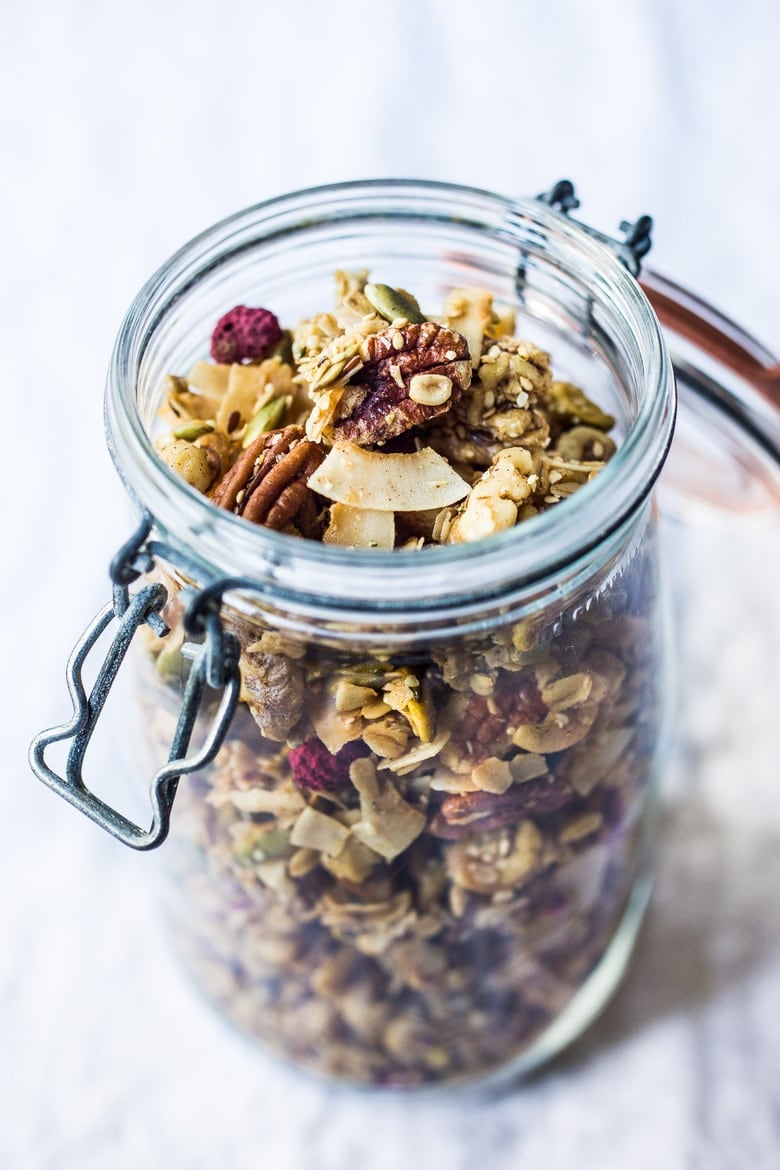 This Homemade Granola is vegan, gluten-free and sweetened with maple syrup and packed full of nuts and seeds -healthy proteins to keep you feeling fueled and energized all day long. It also works wonders for a sluggish digestive system keeping things nice and regular!
Topped with homemade yogurt and fresh berries, it's one of my favorite breakfasts. And the best part is, it only takes 10 minutes of hands-on time before baking in the oven! I often make large batches of this granola during busy times of the year to have on hand on busy mornings and to away give as gifts.
Ingredients in Vegan Granola:
For this recipe, dig through your pantry and gather all the things that need using up. If need be, visit the bulk section of your grocery store and load up on nuts, seeds, gluten-free oats and optional dried fruit.
The nice thing about this homemade granola is you can adapt it to your own needs, preferences and tastes once you have the basic recipe.
Play around and get creative with it!
I love making this at night, before bed, allowing it to completely cool down overnight on the counter, preserving its "clusters".
In the morning you'll wake up to the most glorious breakfast.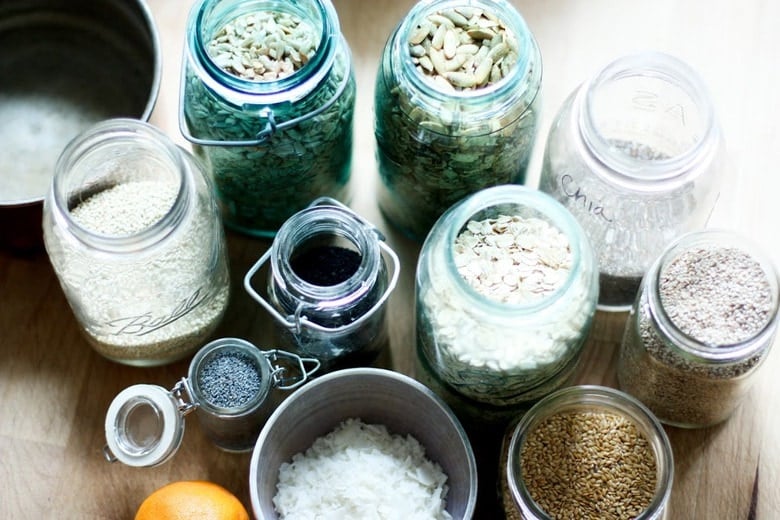 This simple homemade granola is one way to make busy mornings just a little bit easier. The recipe can easily be doubled!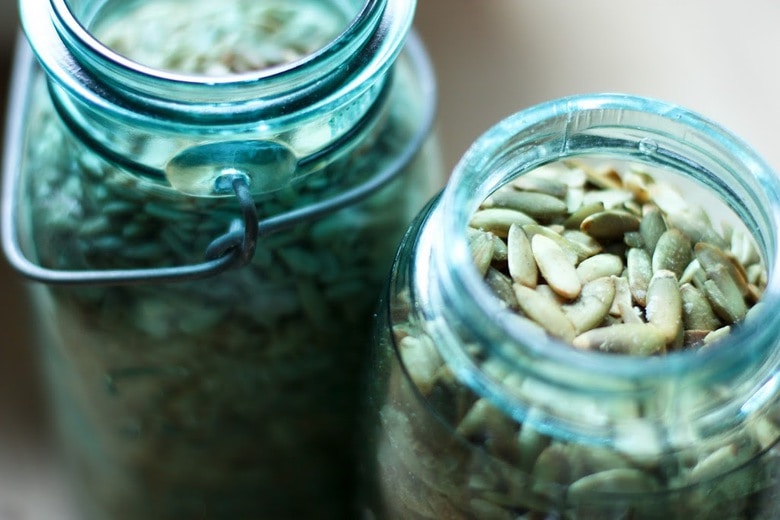 Packed full of healthy plant protein like nuts, pumpkin seeds, sunflower seeds, chia seeds, sesame seeds, poppy seeds, flax seeds, and coconut flakes- it keeps you fueled all day long.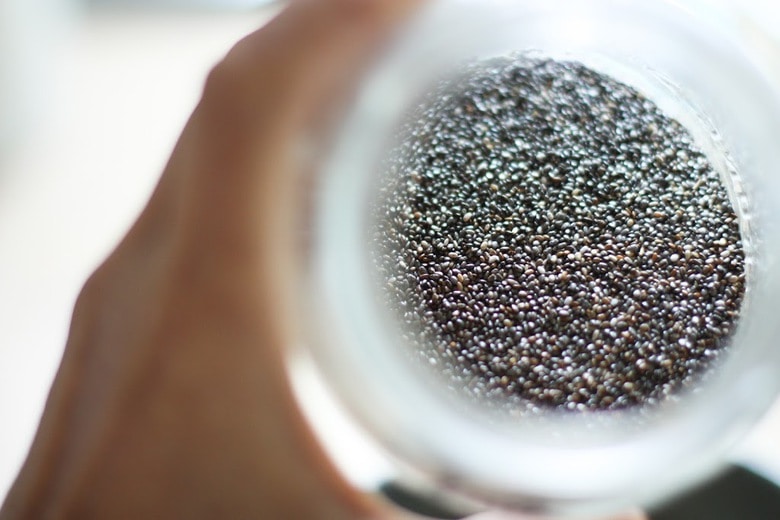 Plus all these seeds and nuts add great flavor and texture!!! And as I said before, keep things "regular".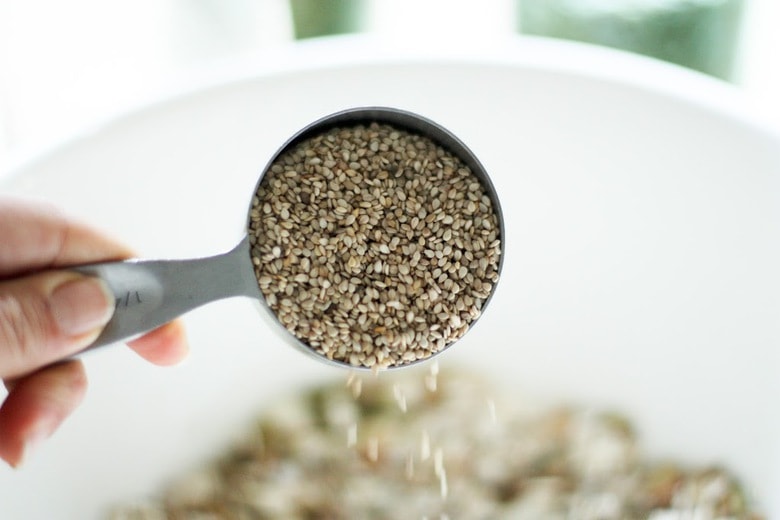 Instead of using butter, I use olive oil or coconut oil, keeping it totally vegan. Coconut oil adds a subtle sweetness and delicious flavor, but olive oil works great too!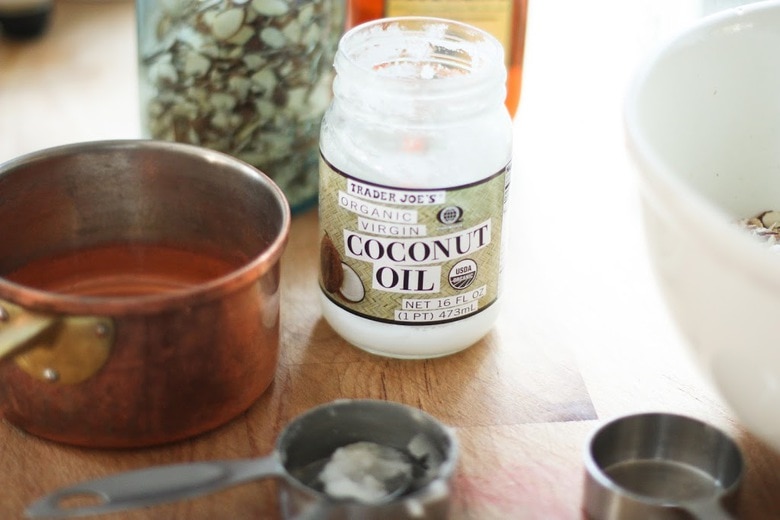 How to make Granola:
Mix the dry ingredients together in a bowl.
Pour in the wet ingredients and stir to combine.
Bake 20-25 minutes, stirring halfway through.
Let cool before storing.
Store in an airtight container or jar for up to 6 weeks.
Tasty Granola Variations:
Cranberry Pecan Coconut
Pistachio & Dried Apricot
Almond, Dried Cherry & Cocoa Nibs
Coconut Almond
Hazelnut & Dried Currant, Orange zest

Hazelnut, dried Pear or Apple

Pumpkin Seed, Sunflower seed Raisin
Macadamia Nut, dried Pineapple, Coconut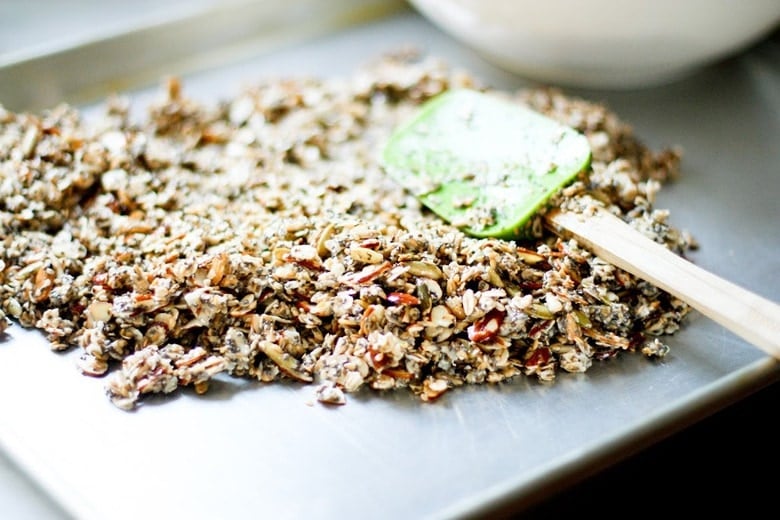 Bake the Homemade Granola at 325 F until golden and fragrant, about 20-25 minutes, stirring halfway through, and patting down, and rotating the pan. Patting the granola down, halfway through, allows it to form those glorious clusters we all dream of.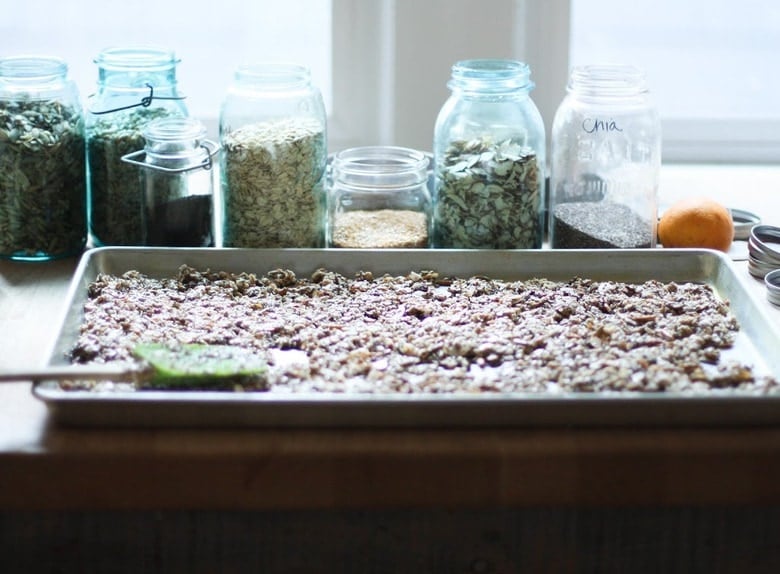 How to make granola clusters:
After the granola bakes for 10 minutes, stir, then press the granola down, compressing it on the sheet pan.
Bake until golden, another 10-12 minutes, and don't stir.
Let it cool down completely then break apart, keeping clusters intact.
Allow it to cool completely before breaking it apart. Then add the dried fruit. The granola turns out perfectly crispy with just enough sweetness.
For easy access, store in an airtight canister on your counter with a handy scoop and this will keep for a couple of months.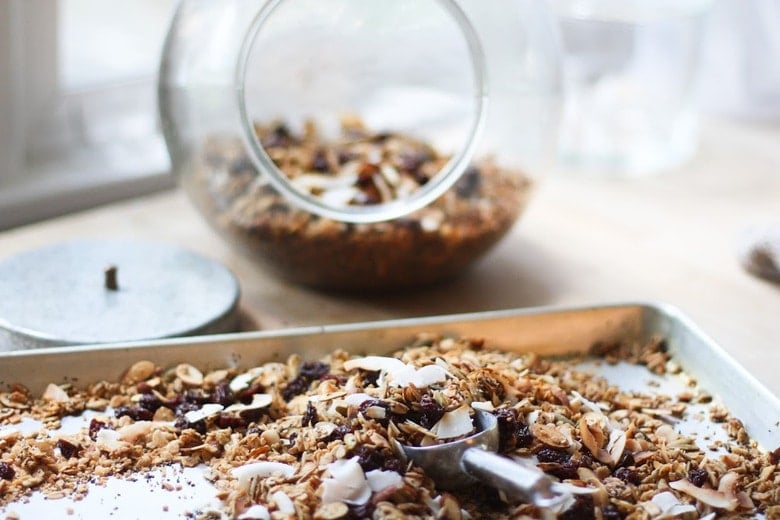 The aroma that wafts out of the oven melts away all tension.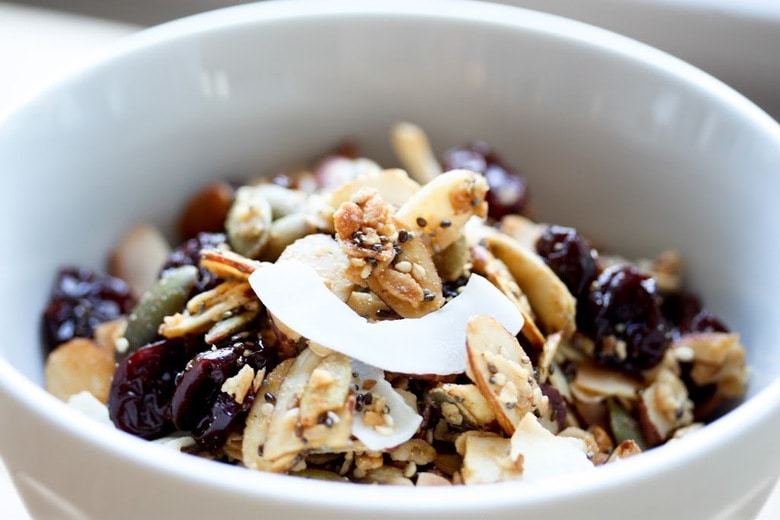 Serve it up with fresh fruit or berries and my simple recipe for
Homemade Yogurt
….so easy to make with no special equipment needed!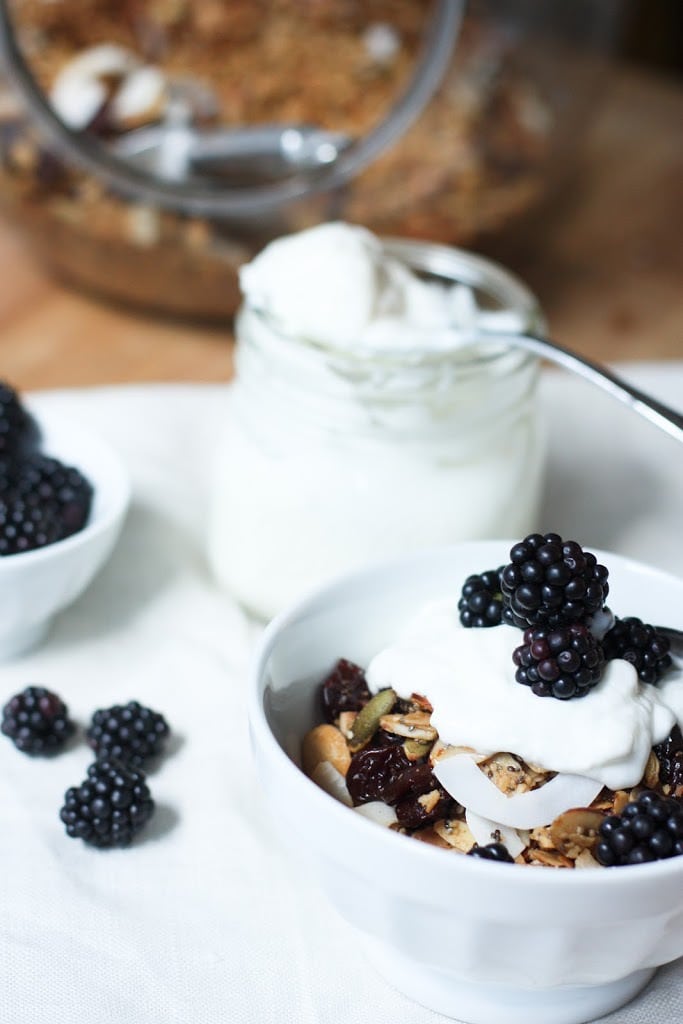 Package it up in jars for friends and family- such a sweet gift, especially to those who are short on time.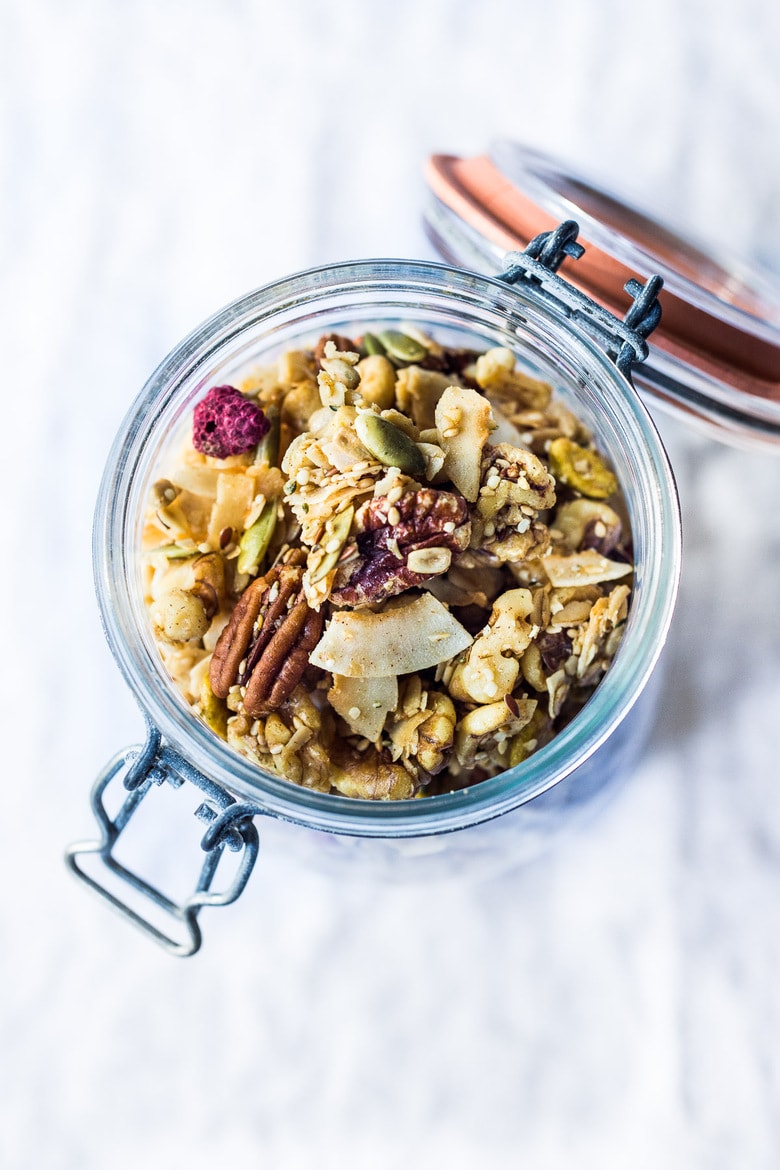 Homemade Granola… once you make it, you'll never buy it again. It's so much better fresh and personalized to your own tastes.
Plus, it just feels good making it. Seriously, try it and see… very gratifying!
More recipes you may like!
Print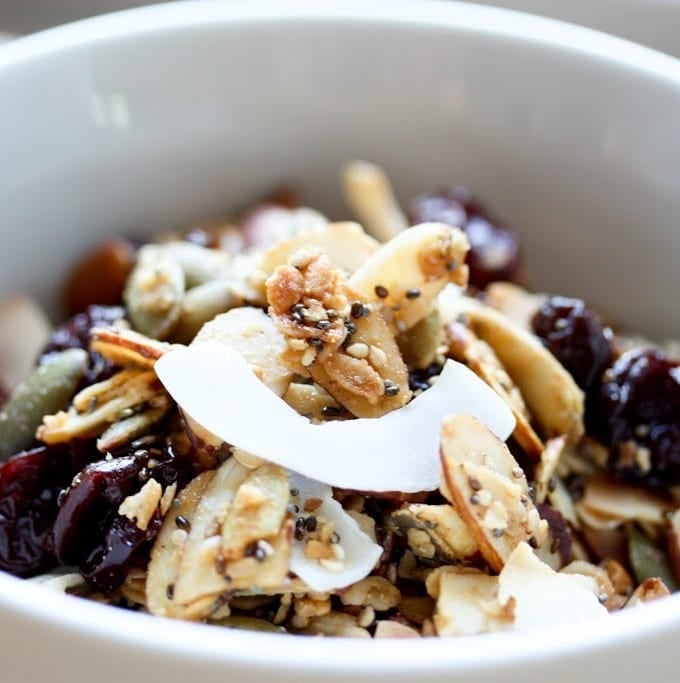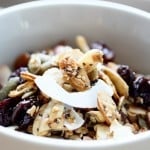 Homemade Granola Recipe ( VEGAN + Gluten-free)
Prep Time:

10 mins

Cook Time:

25 mins

Total Time:

35 minutes

Yield:

5-6 cups

Category:

Breakfast, vegan breakfast, gluten-free breakfast

Method:

Baked

Cuisine:

Northwest

Diet:

Vegan
---
Description
Homemade Granola! How to make the BEST healthy vegan granola, sweetened with maple syrup. Full of nuts, seeds and delicious clusters!
---
2 cups

organic rolled oats- quick or thick, or gluten-free

1 ½ cups

raw nuts (almonds, pecans, cashews, walnuts, hazelnuts, pistachios)

1 cup

pumpkin seeds or sunflower seeds (a combo of both is nice)

1 cup

flaked coconut (optional) -unsweetened, big flakes! not grated

1/4

–

1/2

cup mix of seeds- chia seeds, hemp seeds,  flax seeds, sesame seeds and poppy seeds (all optional)

1/2 teaspoon

cinnamon

1/2 teaspoon

 salt

⅓ cup

 coconut oil – melted or sub olive oil

⅓ cup

maple syrup

1 teaspoon

vanilla

1 tablespoon

orange zest- optional
——–

1 cup

dried fruit- (optional)  cherries, craisins, figs, chopped mango, currants, chopped apricots, or raisins
---
Instructions
Preheat oven to 325F
Combine dry ingredients in a big bowl (all except dried fruit). Pour in melted coconut oil, maple, and vanilla. Add optional orange zest.
If the mixture seems dry add just enough oil and maple ( in equal portions) to lightly coat all ingredients.
Spread out on one or two large rimmed, parchment-lined baking sheets and place in the oven and bake 10 minutes. Stir the granola, and flatten out gently with the back of a spatula, and rotate the pan. Bake 10-15 more minutes or until golden and fragrant.
Let this cool down completely on the counter before breaking it apart, to ensure good "clusters". ( I often make this at night before bed, letting it cool overnight).
After it has completely cooled break the granola apart,  add optional dried fruit.
Store in an airtight container or jar.
This granola will last a couple of months!
---
Notes
Placing this on the upper oven rack may scorch it, middle or lower rack is best. 🙂
All ovens are different. Just be sure to check it and stir after 10-12 minutes!
See the blog post for tasty variations!
Keywords: homemade granola, vegan granola, easy granola recipe, maple granola, vegan granola recipe, healthy granola recipe, homemade granola recipe, homemade granola, granola recipe healthy, granola recipe vegan, gluten free granola