These Vegan Breakfast Cookies are chockfull of flavor and sustenance.  Filled with oats, seeds, spices, tahini and dried fruit these healthy, vegan breakfast cookies are like granola, but in a cookie form.  A fast and easy recipe that can be made in under 30 minutes! Perfect for a snack or breakfast on-the-go. Gluten-free adaptable. Video!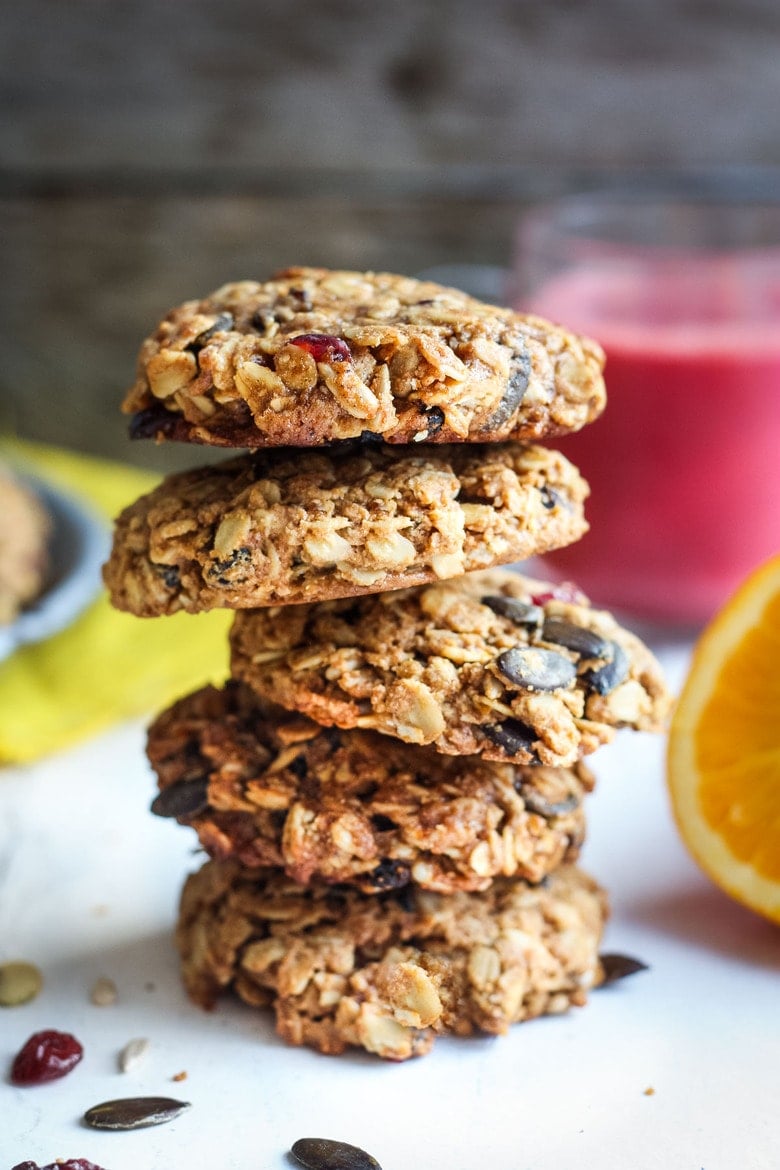 We shake with joy, we shake with grief.  What a time they have, these two housed as they are in the same body. ~ Mary Oliver
The secret is out!  First time ever released…here is our "legendary" Mizuna Breakfast Cookie recipe.  Not too sweet, chewy, and subtly spiced, with a delightful combination of flavors that keep you coming back for more.  Beware, they are a bit addicting.
Well ok, no claims for world-renowned famous, but in our corner of the world, these cookies were highly sought after.
The recipe was created shortly after we opened Mizuna Restaurant, a vegetarian eatery in the heart of a meat and potatoes town, in the mid 90's.  Ya… forever ago!  Today there are still people asking for the recipe.  We thought we'd just get the goodness out there and we are delighted to share with you today.
 Vegan Breakfast Cookies| 60-sec Video!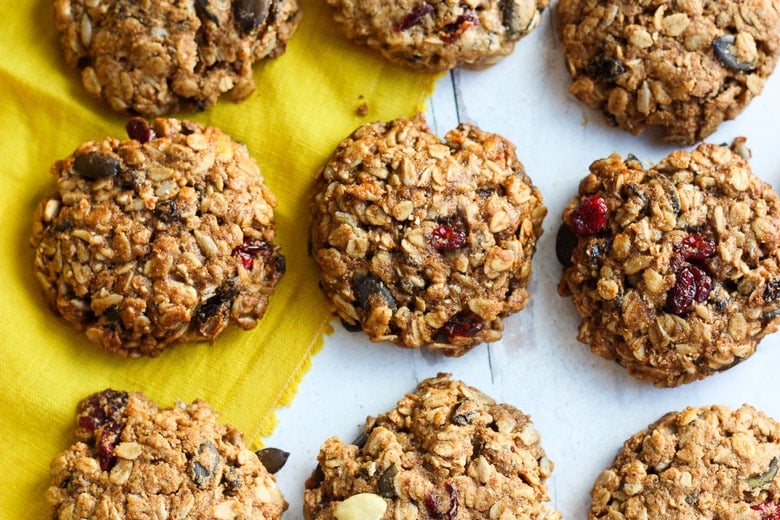 For a while, in the midst of the chaos of starting a restaurant, there was no recipe for this Breakfast Cookie, so it was just thrown together each time hoping that it was close enough.  When we started to get breakfast cookie regulars, as well as requests from a few stores and coffee shops in the area wanting to sell the cookie, it seemed a recipe might make things easier!
There was a LOT of winging it in those days, the kind of experiences that can force us to dig deep inside for what we didn't know we had. Looking back I think, "Holy crap! I did not know what I signed up for!  AND I learned that I am capable of so much more than I ever thought."
True soul-growing experiences often push us far out of our comfort zone.  But somehow we survive, and possibly even thrive.  We are stronger than we realize.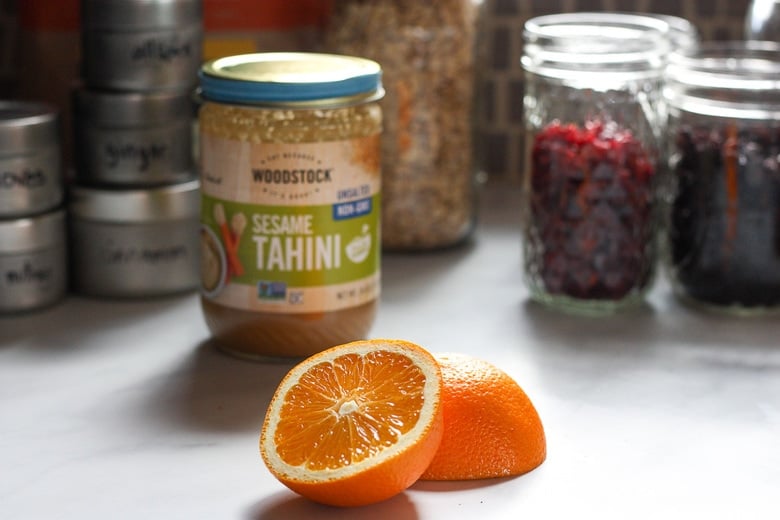 Ingredients in Vegan Breakfast Cookies:
rolled oats (regular cut)
 coconut sugar
spices
currants, dried cranberries
orange- zest and juice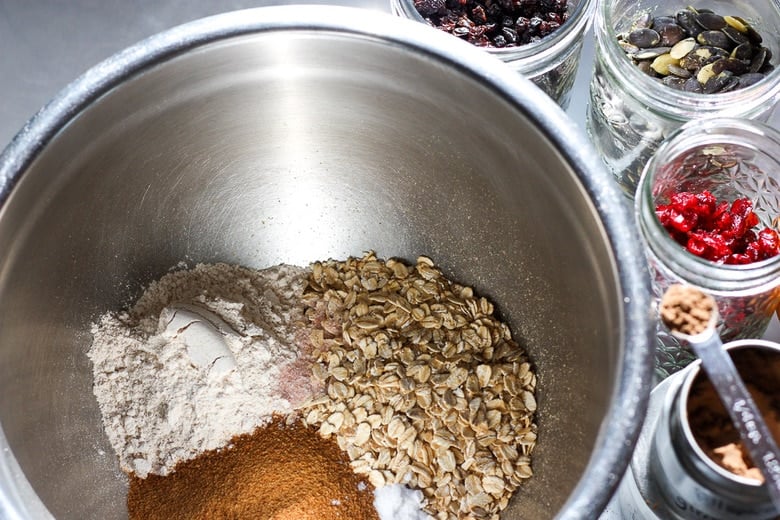 How to make vegan Breakfast Cookies (in a nutshell):
Mix dry ingredients together
Mix wet ingredients together
Combine
Scoop
Bake!
It is a simple process of combining all the dry ingredients together, including the seeds and dried fruit.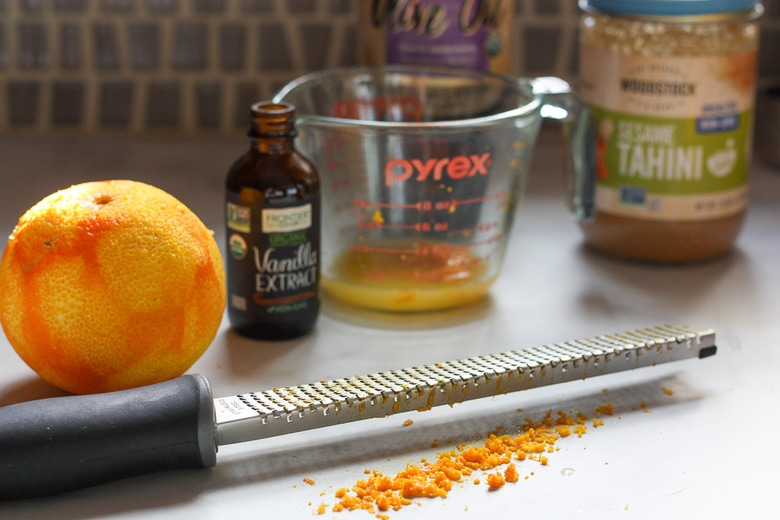 What makes this Vegan Breakfast Cookie Recipe the Best!
Orange Zest and juice of an orange.
This really gives the cookies a tangy balance.  Mix together the vanilla, tahini, orange zest, orange juice, and olive oil.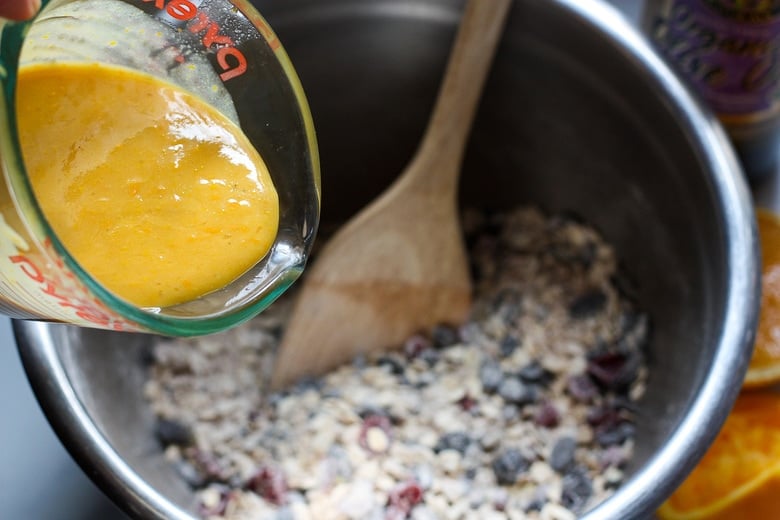 Add wet ingredients to dry ingredients and mix thoroughly.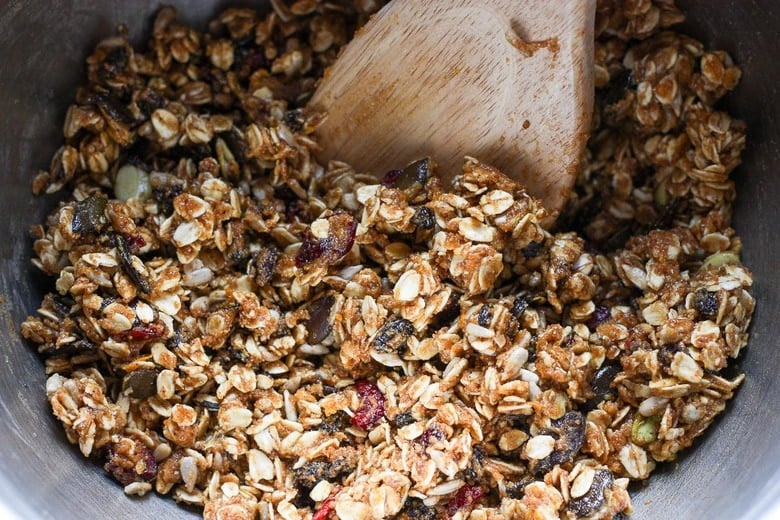 The mixture will have the consistency of granola.  You may wonder if it will indeed adhere into a cookie form.
Yes!  It will.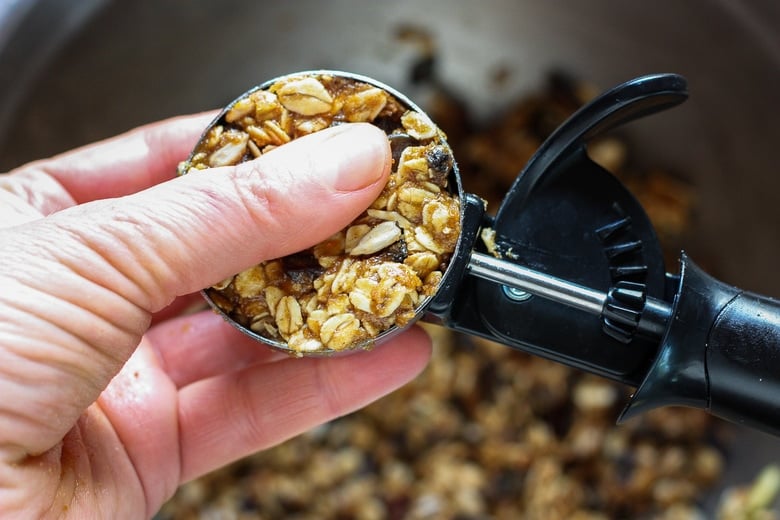 A cookie scoop works best here.  Really pack it in.
Alternatively, using lightly wet (or oiled) hands, roll into 9-10 balls, roughly the size of a golf ball.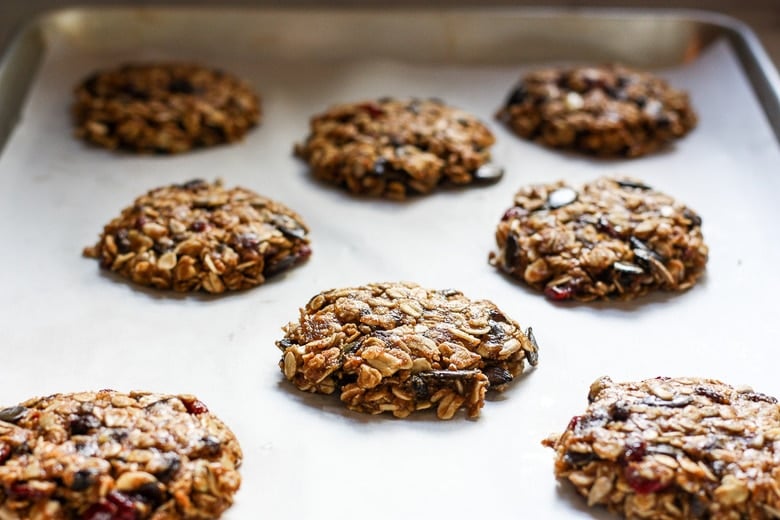 Flatten the balls with a wet hand, to 1/2 inch thick.
Bake for 13 minutes and let cool.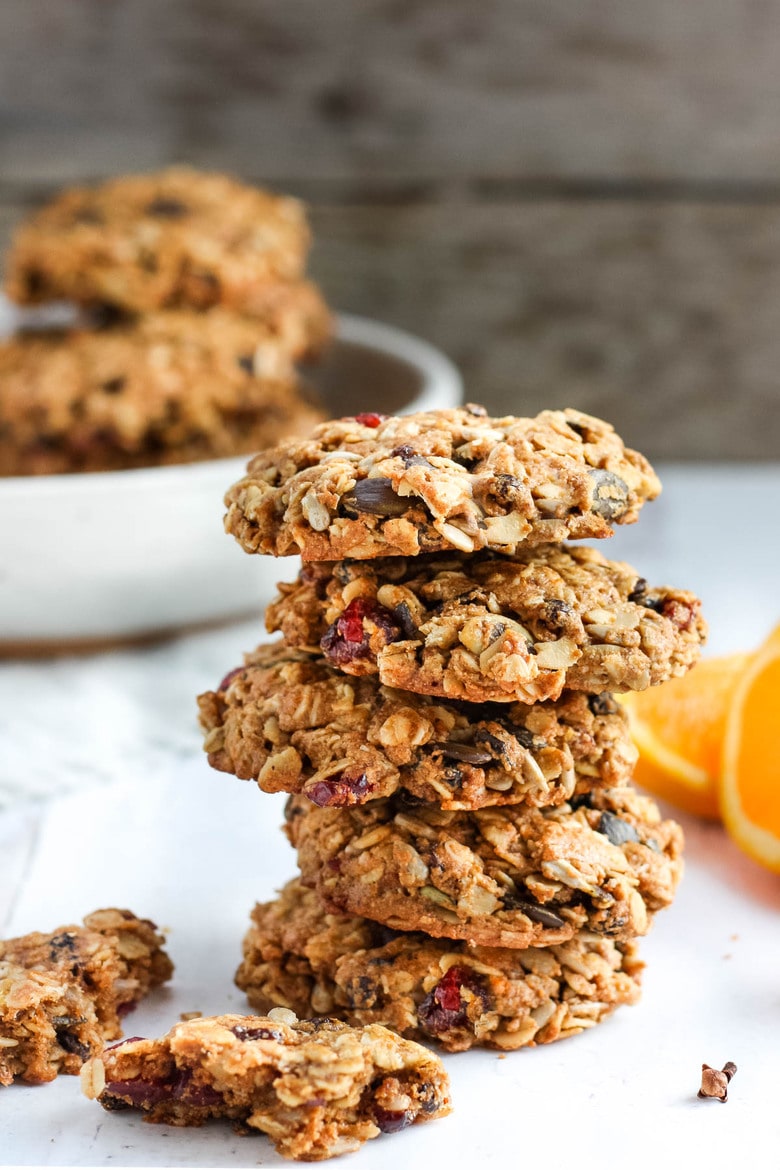 Make a double or triple batch of the breakfast cookies and freeze them.
Store cookies in an airtight container for up to 5 days, or wrap them individually and freeze.
A quick and easy snack!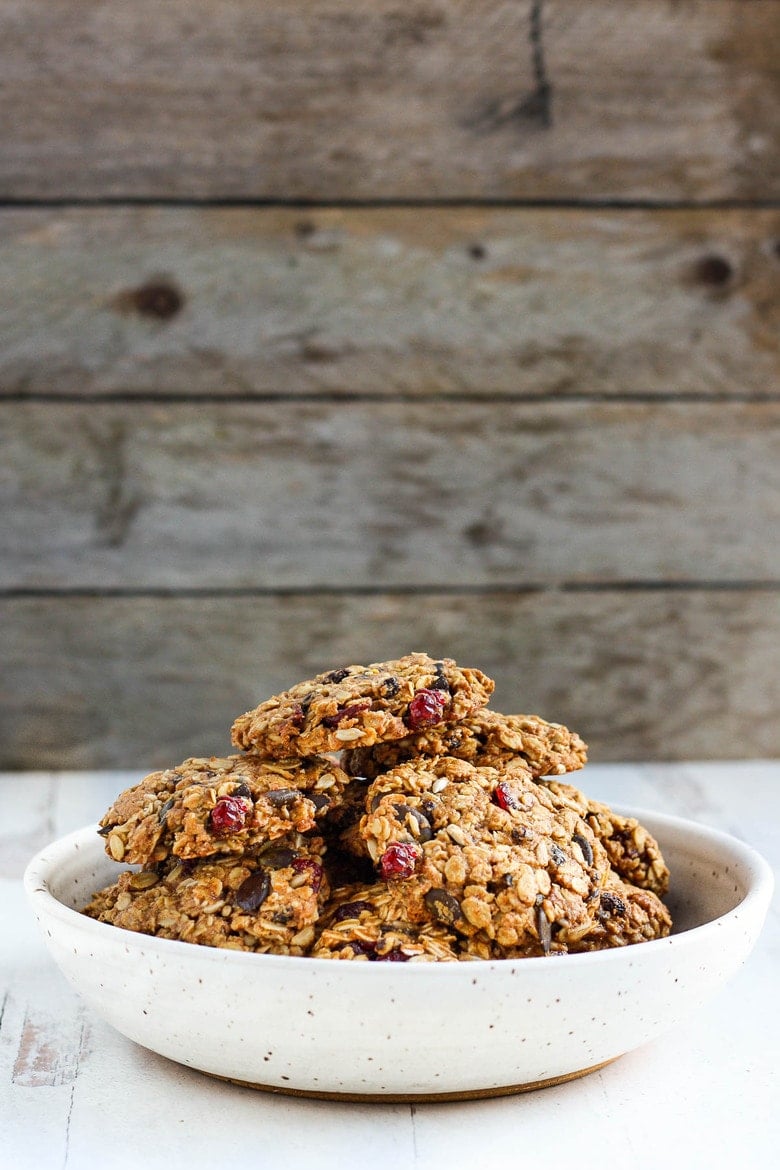 Rather than resisting all things hard or challenging these days, I try to focus more on resiliency.  One sure thing to count on is that everything will always ebb and flow.  So I practice allowing the process.  Trusting that "this too shall pass", and even welcoming in challenges, along with the fear and the pain, trying to remember to ask with curiosity, "what are you here to teach me?"  Somehow this way of being more fluid with life has brought me so much more freedom and ease in my whole being.  When the unexpected hits I seem to have more of a reserve to look at things objectively.  It is a "muscle" that I will be training for a lifetime.  Life is a journey.
Hope you enjoy these simple, easy Breakfast Cookies!  Play around and adapt them to your taste.  Add nuts, your favorite dried fruit, coconut, cocoa nibs, and chocolate chips….so many options and potential!   Let us know what you create!
More recipes you may like: 
Print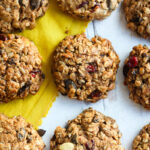 Breakfast Cookie Recipe
Prep Time:

15 minutes

Cook Time:

13 minutes

Total Time:

28 minutes

Yield:

10

large cookies

1

x

Category:

Baked Goods, Cookies, Vegan, Snacks

Method:

Baked

Cuisine:

American

Diet:

Vegan
---
Description
These healthy Breakfast Cookies can be made in under 30 minutes! They are chockfull of flavor and sustenance -filled with oats, seeds, spices and dried fruit they are vegan and deliciously addicting! Perfect for breakfast on the go.
---
---
Instructions
Heat oven to 375 F degrees.
Combine dry ingredients:  oats, flour, baking soda, salt, cinnamon, allspice, ginger, cloves, nutmeg, sunflower seeds, pumpkin seeds, currants, and cranberries in a large bowl.
Combine wet ingredients: In a separate bowl, mix together vanilla, tahini, orange zest and juice, and olive oil.  When mixed thoroughly add to dry ingredients.
Combine wet and dry ingredients.  It will be crumbly.
Form: Using a scoop or forming by hand (make sure to wet or oil your hands!) press cookie dough firmly into a scoop or firmly press together into a ball and place on a

parchment-lined

 baking sheet.  You should have 9-10 cookies. Press cookie to flatten so it is a little less than 1/2-inch thick.
Bake: 

 Turn the oven temperature down to 350F.

 Bake for 13 minutes.  Or until just starting to color.
---
Notes
Stored in an airtight container cookies will keep for 5 days and also freeze well.
Getting the cookies to stick together:
Using a cookie scoop makes a world of difference because you can really pack them in.
Make sure the oats are not thick cut.
If the flour is grainy it can effect the adhering of the dough.  Using a softer flour (not a strong whole wheat) is helpful. Fresh whole wheat pastry flour, all purpose works, as well as oat or barley flour.
Try adding a flax "egg" (1 tablespoon flax meal to 2.5 tablespoons water)
Put 1/2 of the dough into the food processor and pulse a few times.  An extra step but maybe a helpful without having to add anything in.
Nutrition
Serving Size:

1 cookie

Calories:

240

Sugar:

12.3 g

Sodium:

97.5 mg

Fat:

12.5 g

Saturated Fat:

1.9 g

Carbohydrates:

28 g

Fiber:

3.3 g

Protein:

5.1 g

Cholesterol:

0 mg
Keywords: breakfast cookie, vegan breakfast cookie, best vegan breakfast cookie, mizuna cookie, breakfast cookie recipe, breakfast cookie recipe vegan