How to make creamy Overnight Oats, an easy no-cook technique for a healthy grab-and-go breakfast or snack that is full of fiber and vegan-adaptable. Add your favorite toppings. Try our Super Food Crunch Mix (recipe included in recipe card notes). Video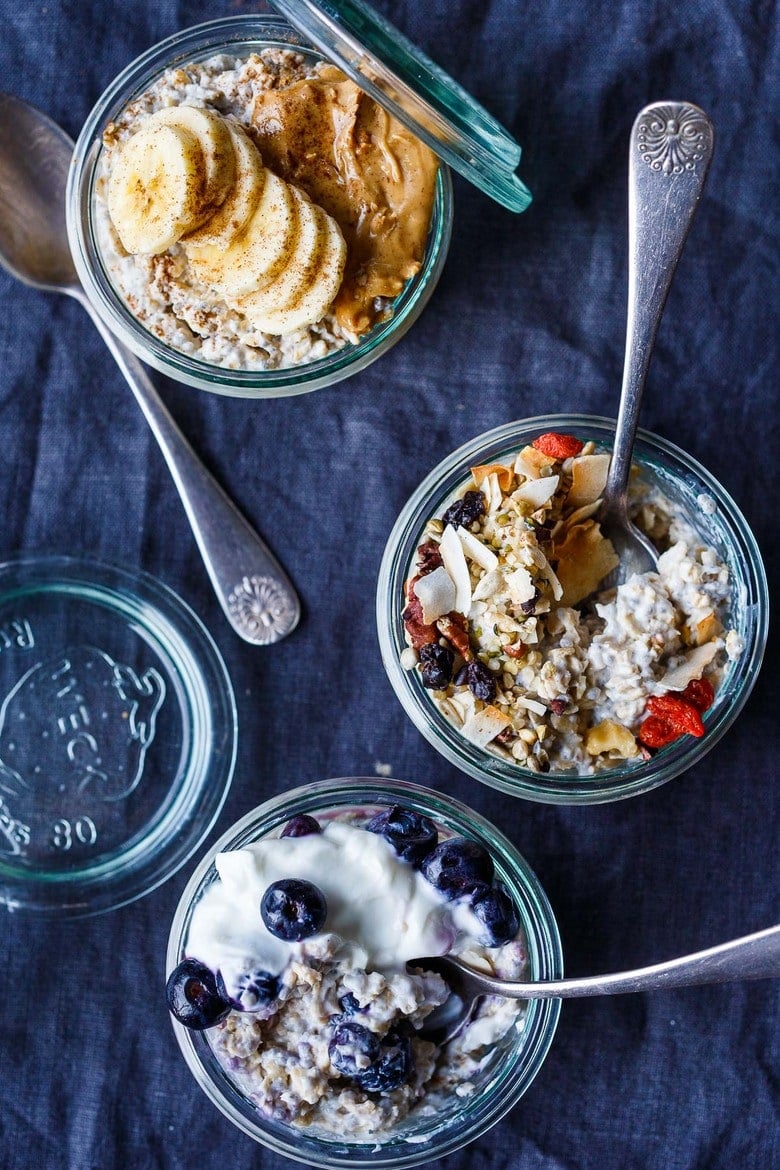 Through Love all that is bitter will be sweet, through Love all that is copper will be gold, through Love all dregs will become wine, through Love all pain will turn to medicine.

Rumi
I was not sold on Overnight Oats until I found a method and combination of ingredients that make them truly creamy, perfectly chewy, and, most importantly for me, not gloppy or goopy. After some trial and error and tweaking, I am quite happy and delighted when I open the fridge in the morning and find these lovely little jars waiting for me. It is nourishing to do these things for ourselves. Self-care is so important and every little thing counts. Starting the day with a little breakfast gift for yourself is happiness in a jar!
Overnight Oats | 60-Sec Video
Coconut milk makes these rich, naturally sweet, and ultra-creamy. You can also use yogurt, or other milk of choice such as almond milk or hemp milk if you prefer. Chia seeds really contribute to the texture, you hardly notice them, they seem to absorb some of the starchiness of the oats and give a smoother mouthfeel. Plus they are full of fiber, omega-3 and protein!
Don't add that cinnamon until the morning! It is one of the culprits in producing a gluey texture.

What is so special about overnight oats?
Oats are packed with nutrients and full of fiber, becoming more digestible when soaked overnight. The soaking increases mineral absorption and does not interfere with digestive enzymes.
Overnight Oats are a great source of resistant starch feeding the good bacteria in your gut, boosting metabolism and speeding up calorie burning!
Having breakfast waiting for you when you wake up is a beautiful form of self-care! Treat yourself, you deserve it!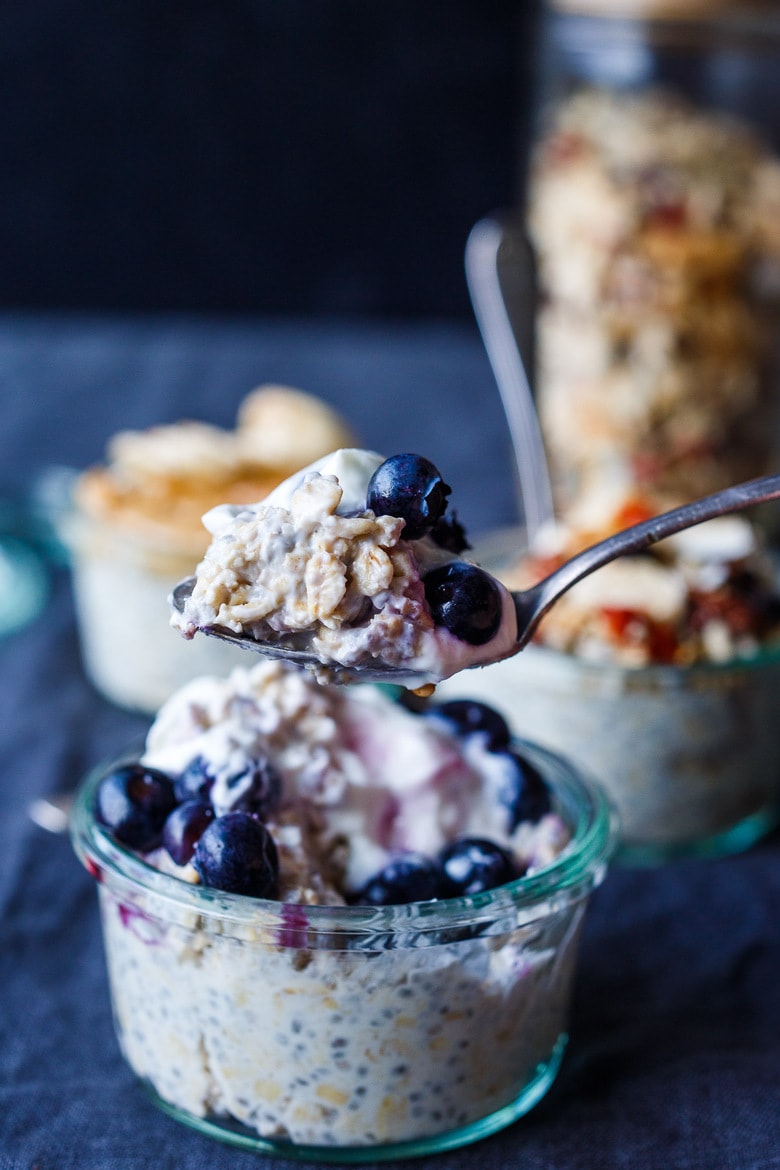 Expert Tips
Some spices, especially cinnamon, can have a mucilaginous-like quality when soaked. This greatly affects the texture of the overnight oats making the oats pasty and goopy.☹️
Add your spices just before eating, unless you don't mind this texture.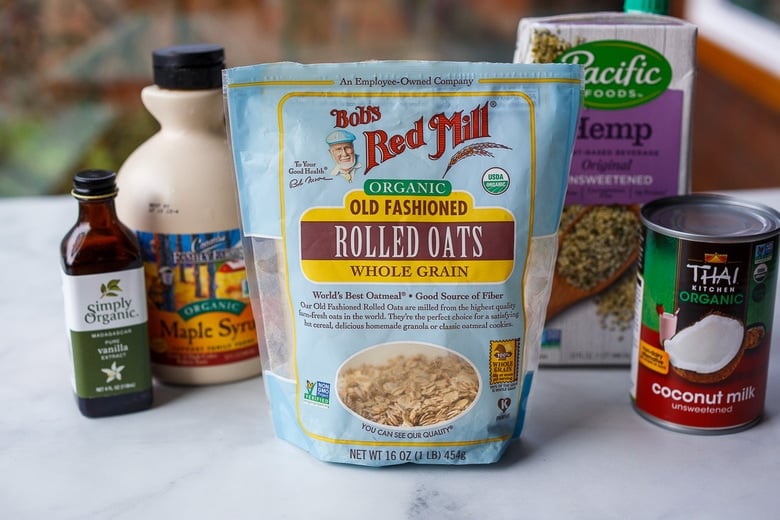 Ingredients in Overnight Oats
Regular rolled oats- this will give you a creamy yet still chewy texture.
Coconut milk or yogurt- or a mixture of both!
Water or milk- your favorite: almond milk, hemp milk, etc.
Maple syrup- honey or coconut sugar works too.
Chia seeds- adds fiber and nutrition, also makes the tex
See the recipe card below for a full list of ingredients and measurements.
What type of Oats are best to use for Overnight Oats?
Regular rolled oats give the best results. The oats still have some texture but are soft enough to chew.
Instant oats completely break down turning soft and mushy. But if you like that texture then go for it! Make it your way.
Steel Cut Oats can be used although they need more time and liquid to soften.
How to make Overnight Oats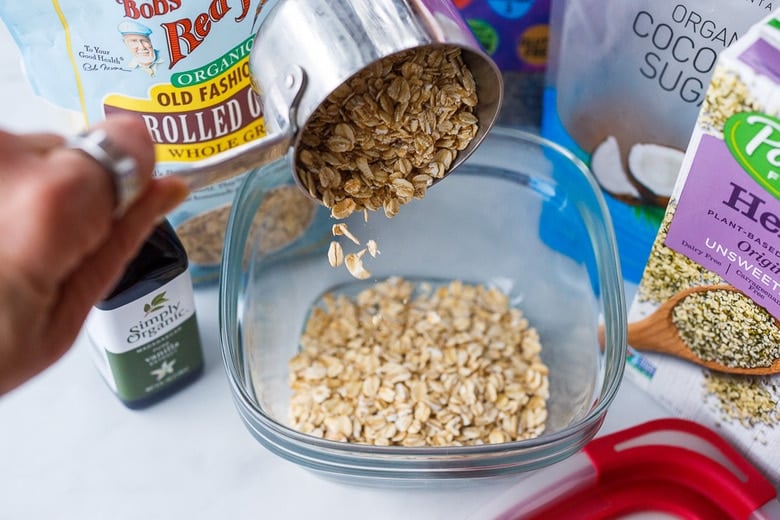 Step one– Start with rolled oats-organic, gluten-free, old-fashioned oats all work fine.
Add chia seeds and a pinch of sea salt.
You can also make this in individual containers for an individual grab-and-go breakfast. 1/2 pint mason jars are great for this!
Step two– Coconut milk makes these rich and gives a less gluey yet ultra-creamy texture and adds natural sweetness. You can also use yogurt or other milk of choice such as almond milk or hemp milk. Add maple syrup and vanilla.
Raisins, currants, dates, orange or lemon zest, chocolate chips, nut butter are all good to add in now to flavor your oats.
Mix up thoroughly.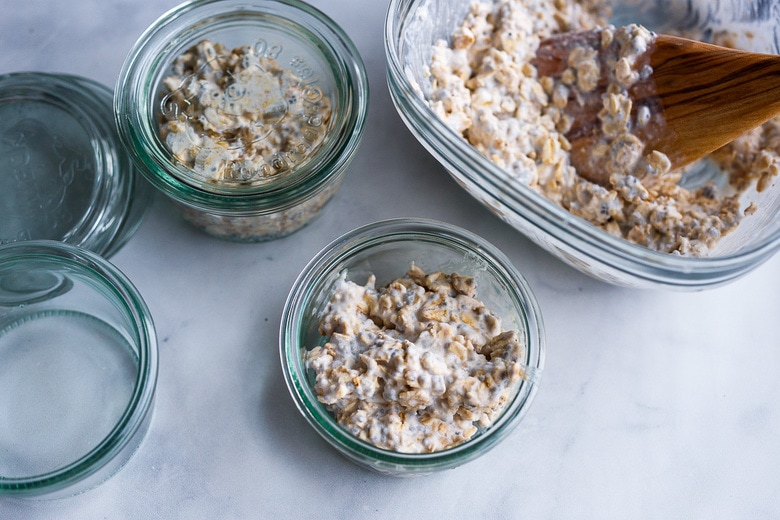 Step three– Refrigerate overnight. Serve with your favorite toppings, adding more milk or yogurt if needed.
Variations on Overnight Oats
GET CREATIVE WITH TOPPINGS!
fresh fruit: berries, bananas, pears, peaches, apples
dried fruit: raisins, dates, dried cherries, currants, goji berries
nut and seed butter: peanut butter, almond butter, tahini, pumpkin seed butter, sunflower seed butter
toasted nuts: almonds, walnuts, pecans, cashews
seeds: sunflower, pumpkin seed, sesame seeds, hemp seeds
toasted coconut flakes
chocolate: cocoa powder, chocolate chips or cocoa nibs
spices: cinnamon, nutmeg, cardamom, pumpkin pie spices, chai spice
The Topping!
This Super Food Crunch Topping (recipe in the recipe card notes) is super versatile and adaptable. It is easy to make and so convenient to sprinkle over your Creamy Overnight Oats, adding delicious texture and massive nutrients.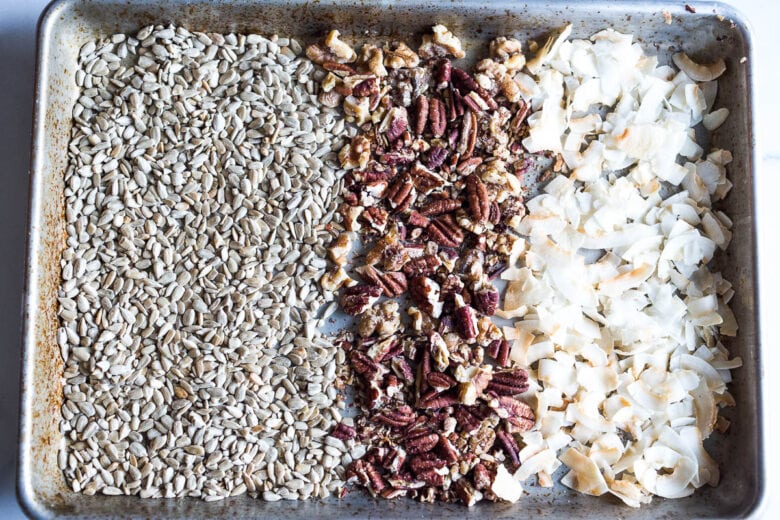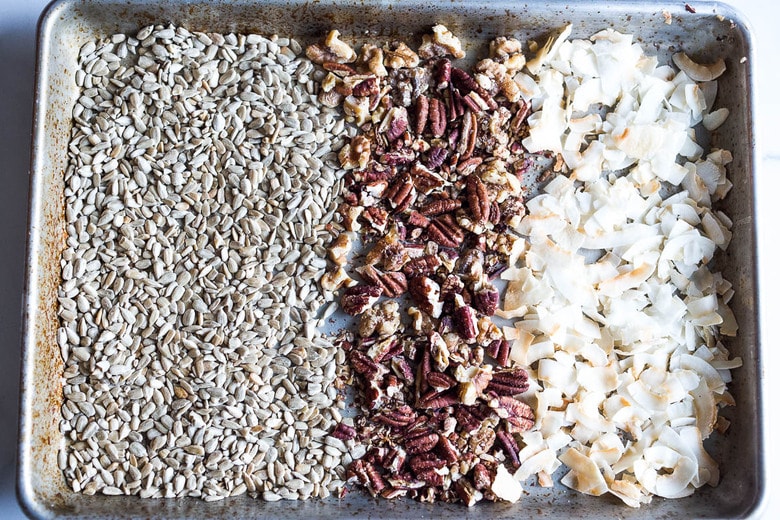 Lightly toast nuts, seeds and coconut.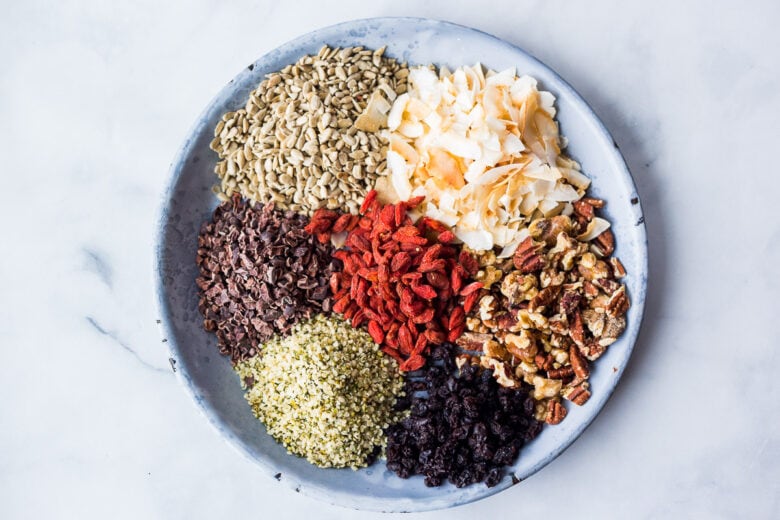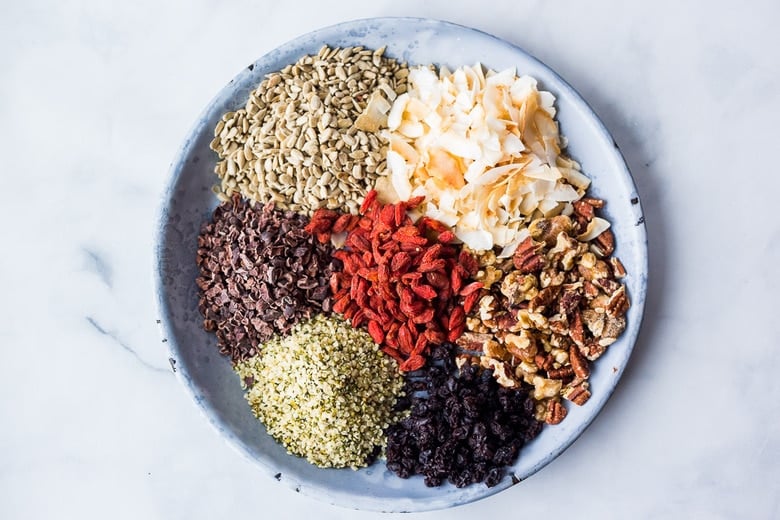 2. Feel free to adapt and create your own favorite blend adding dried fruit, cocoa nibs, etc.
3. Store in a sealed container.
OverNight Oats FAQS
How long do overnight oats last?
They remain fresh for four days, refrigerated in a sealed container.
Can you eat overnight oats hot?
Yes! Lightly heat when ready to serve.
Are oats gluten-free?
Oats are naturally gluten-free. The issue is more cross-contamination. Oats that are labeled gluten-free have been grown in fields that have not grown gluten grains and processed with gluten-free equipment, including gluten-free trucks. If you have a sensitivity, it is best to avoid bulk bins as cross-contamination is hard to avoid.
More Recipes You May Enjoy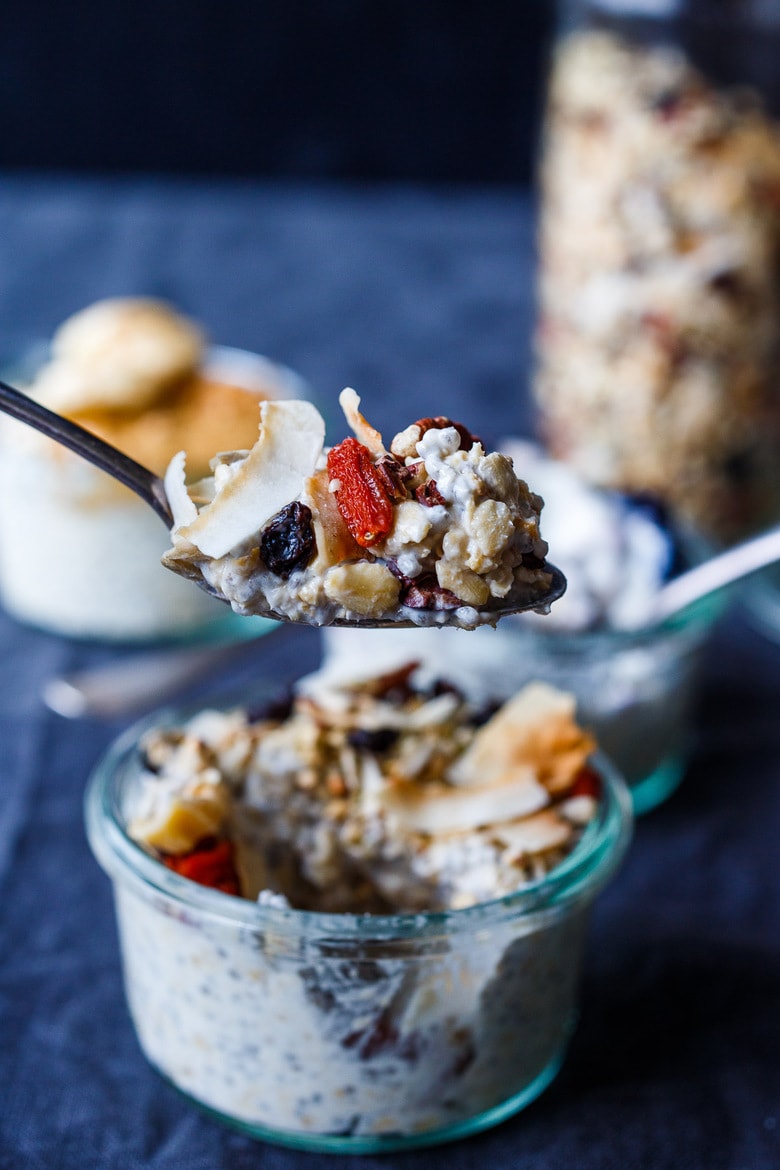 Let us know what you think!
Love this recipe? Please let us know in the comments and leave a 5-star ⭐️⭐️⭐️⭐️⭐️ rating below the recipe card.
Print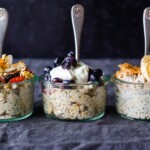 Overnight Oats Recipe
Author:

Tonia | Feasting at Home

Prep Time:

10 minutes

Total Time:

10 minutes

Yield:

1 cup

1

x

Category:

breakfast

Method:

overnight

Cuisine:

American

Diet:

Vegan
---
Description
How to make creamy Overnight Oats, an easy no-cook technique for a healthy grab-and-go breakfast that is full of fiber and vegan-adaptable. This base recipe is easy to make ahead. Top with fruit, nuts, seeds, peanut butter and yogurt. Just 10 minutes of hands-on time, before going into the fridge overnight.
---
1 serving
1/2

cup

regular rolled oats

1/3

cup

coconut milk or yogurt ( or use vegan yogurt)

1/4

cup

water or milk (your favorite: almond milk, hemp milk, etc.)

1/4 teaspoon

vanilla extract

2 teaspoons

maple syrup

pinch of sea

salt

2 teaspoons

chia seeds (optional)
4 servings
2

cups

regular rolled oats

1 1/3

cups

coconut milk or yogurt

1

cup

water or milk (your favorite: almond milk, hemp milk, etc.)

1

t vanilla extract

2

–

3

tablespoons maple syrup

1/2 teaspoon

sea salt

2 1/2 tablespoons

chia seeds
Additions:
Add overnight: raisins, currants, dates, orange or lemon zest, chocolate chips, nut butter
Add morning of: fresh fruit, spices, toasted nuts and seeds, cocoa nibs, toasted unsweetened coconut, a dollop of Greek yogurt.
Favorite combinations:
almond or peanut butter, banana, cocoa nibs, a sprinkle of cinnamon
yogurt, blueberry, lemon zest, cardamom, almond
dates and superfood crunch mix
raisins, apple, cinnamon
orange zest, peach, pecan, cinnamon
dried cherries and almond butter
tahini, cocoa powder, coconut flakes and dates
---
Instructions
Mix all ingredients together.
Place in a sealed container.
Store in the fridge overnight.
Top with desired toppings, add yogurt and more milk if needed.
---
Notes
Full-fat coconut milk will make a thicker texture. You may want to add less if using a different milk.
Super Food Crunch Mix
Nutrition
Serving Size:

1 cup

Calories:

274

Sugar:

9.5 g

Sodium:

4.1 mg

Fat:

5.3 g

Saturated Fat:

5.1 g

Carbohydrates:

42.1 g

Fiber:

4.8 g

Protein:

5.8 g

Cholesterol:

0 mg
Keywords: overnight oats, vegan overnight oats, healthy overnight oats, how to make overnight oats, creamy overnight oats