Matcha Green Tea & Pineapple Smoothie with Kale- an instant mood lifter and energizing drink full of healthy antioxidants! Vegan and Gluten-free.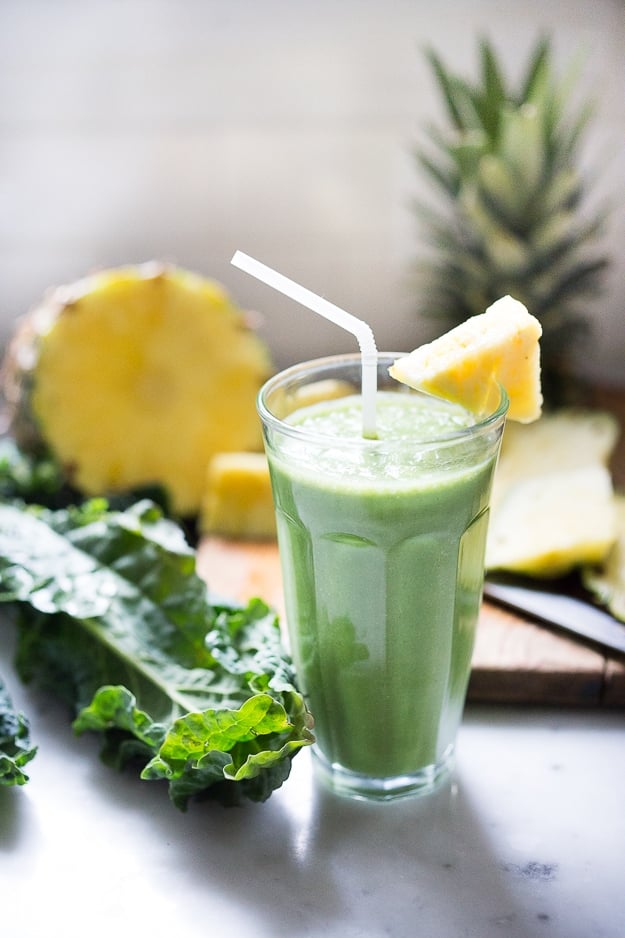 I believe in kindness. Also in mischief.
Also in singing, especially when singing is not necessarily prescribed.
Mary Oliver
The weather got to me this week. It doesn't happen very often, but day after day of dark drizzly rain, along with an embarrassing mishap while putting on my boot, throwing my back out and rendering me completely helpless for a few days – had me feeling a little blue. But then, like sunshine, Brian walked in the door with a juicy fresh pineapple, and things started looking up. It's the simple things isn't it?
This energizing smoothie is quickly becoming one of my favorites. Pineapple, I'm discovering is perfect in smoothies. Not only do they add a mouthwatering tropical sweetness, they add a pleasant acidity.
Matcha
, basically green tea that has been ground into a fine powder, is full of so many "good for you" properties and antioxidants, I won't even begin to bore you with the
list
, but it's also great if you need a mid-morning or afternoon pick me up, without leaving you feeling jittery like coffee. It clears out the cobwebs, and gives me a few more hours of focus and concentration.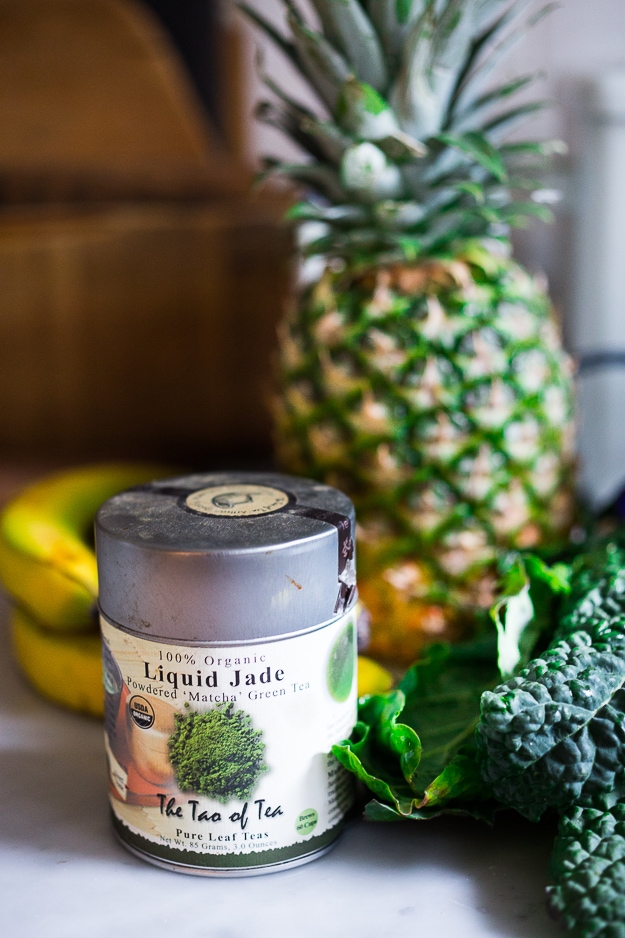 I use this brand of Matcha, I'm sure there are others too….it can be found here locally at Huckleberries.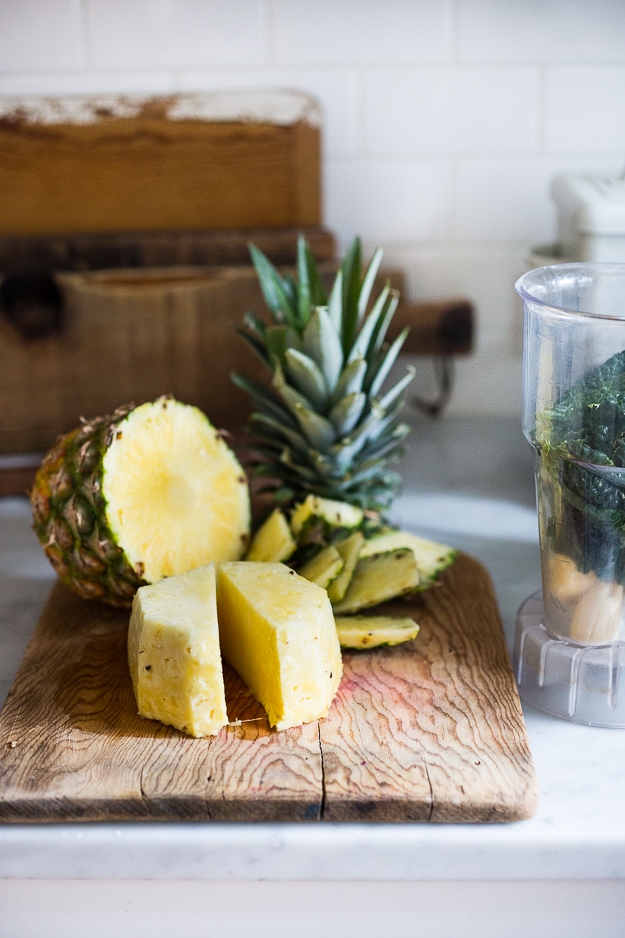 It's pretty impossible to feel blue around a pineapple. Everything about them are happy, warm and sunny. They are so fragrant. Cut one open and let their scent uplift you. Be luxurious and buy a whole one and cut the whole thing up, keeping it in the fridge, eating it throughout the coming week. You will thank yourself for the little mood booster.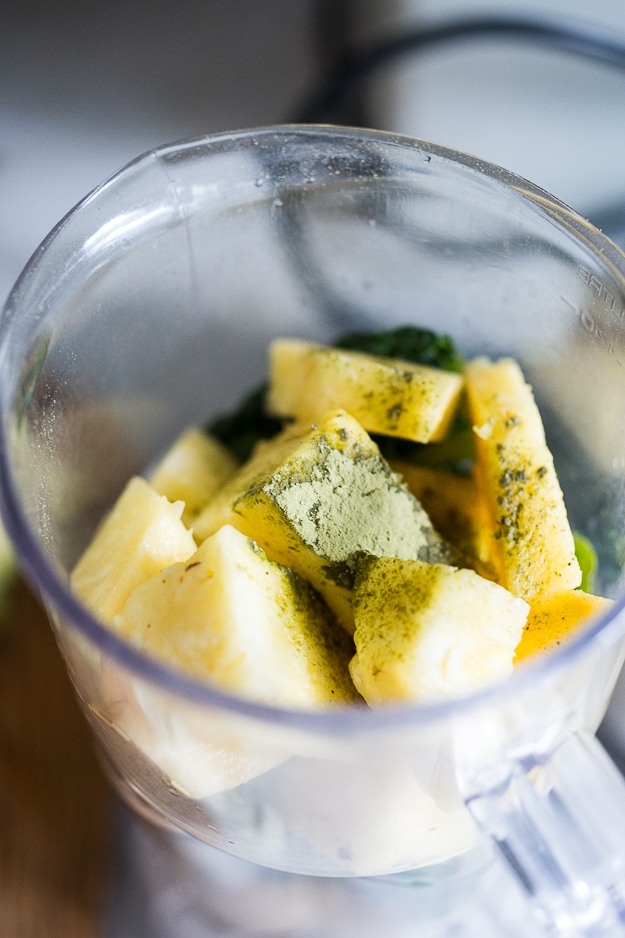 When making the smoothie, put everything in the blender and start sparingly with the
matcha
, you can always add more to taste.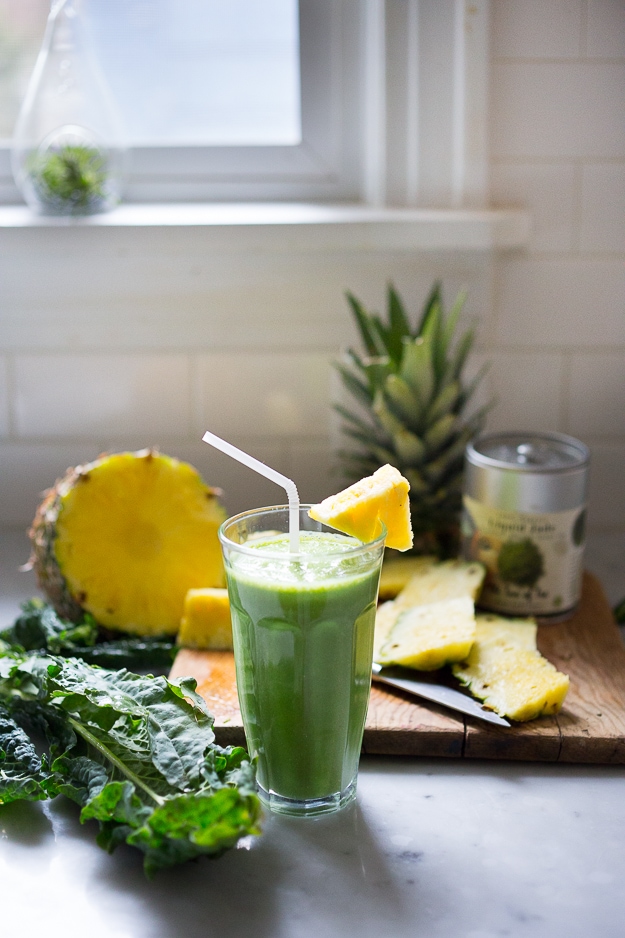 The natural sweetness of the pineapple and the banana, requires no other sweetener….and will balance out kale, spinach…..or even broccoli. So make sure to put something green and healthy in your smoothie, you won't even be able to taste it. Happy weekend!!
Hope this Matcha Green Tea and Pineapple Smoothie brings you as much joy as it has brought me this week.
Cheers friends!
Sylvia
Print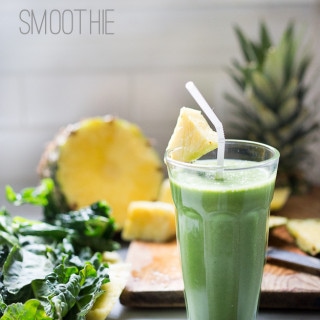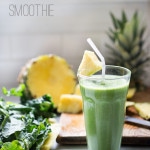 Matcha Green Tea and Pineapple Smoothie
Prep Time:

10 mins

Total Time:

10 mins

Yield:

1-2

Category:

Smoothie, Drinks

Method:

Blended

Cuisine:

Pacific Northwest
---
Description
Matcha Green Tea & Pineapple Smoothie with Kale- an instant mood lifter and energizing drink full of healthy antioxidants!
---
1

banana

1

C fresh pineapple

1

C kale or spinach

½

 teaspoon matcha powder, plus more to taste

½ cup

nut or soy milk
squeeze  of lemon
Handful of ice cubes ( or use frozen bananas)
---
Instructions
Blend all in a blender until very smooth. Enjoy!!
---
---
Keywords: pineapple smoothie, green tea smoothie, matcha smoothie, matcha recipes, green smoothie recipes, vegan smoothies, energizing smoothies, green smoothies, matcha pineapple smoothie recipe,