A simple tasty recipe for Avocado Smoothie with Kiwi and lime, sweetened with honey (or agave). Deliciously addicting and easy to make!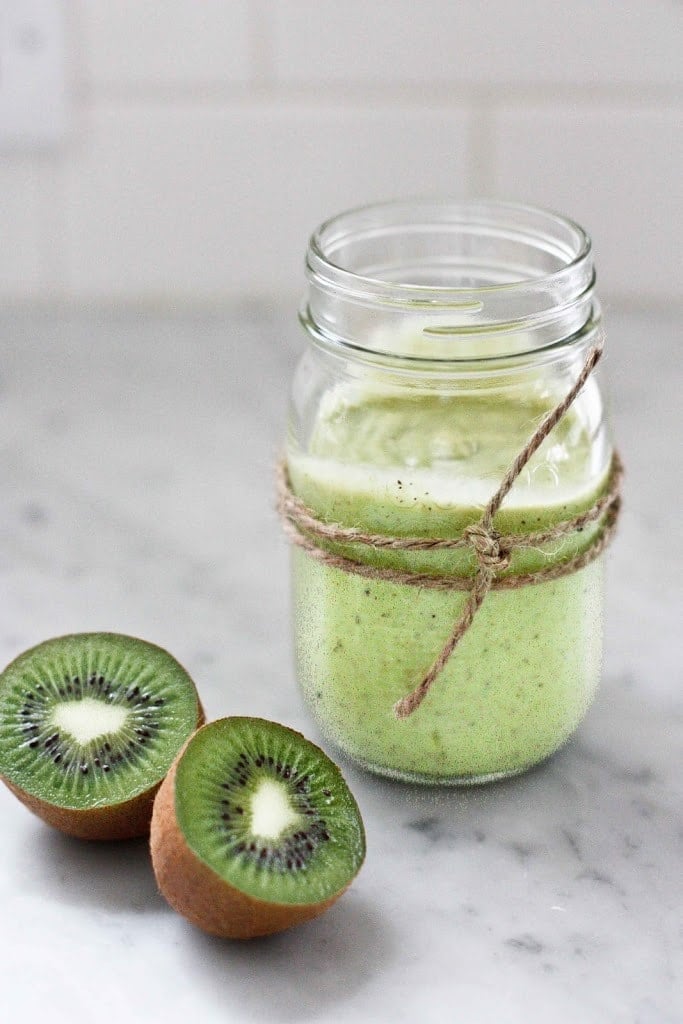 In my previous life, when my friend
Tonia
and I had just started
Mizuna Restaurant,
 we decided to put smoothies on the menu. Delicious vegan concoctions, frothy, creamy and all made to order. Inevitably, during the busy lunch rush, I would get an order for an obscene number of smoothies.
At that time, we only had one blender, and it roared and whined so loud and obnoxiously it would make me go a little berserk. There was no Vitaminx back then.
I often made the risky mistake of scraping down the sides of the blender with a spoon or spatula, while the motor was running. Needless to say, there were casualties. Explosions. Smoothie ran down my face and arms and all over the walls, with the spoon shooting up to the ceiling.
On more than one occasion, I had a meltdown and would find myself in the walk-in refrigerator (the only private place we had), cursing and crying.
Eventually, I figured out I could ask one of our employees to make them instead of me.
So Kara became our smoothie maker. And in time, Kara ended up in the walk-in refrigerator too.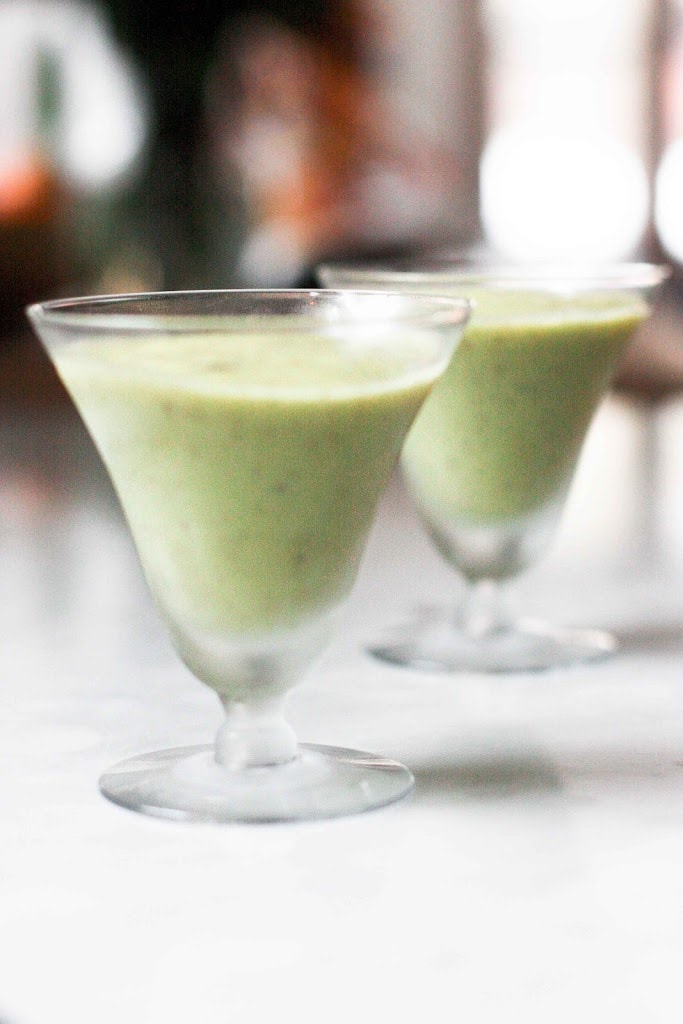 10 Tips for Better Smoothies
1. Never stick a spoon or spatula in a running blender.
2. Pour the liquid in the blender first. Then add the fruit. This will help to get things moving.  Never, no matter what, add sticky or thick things like peanut butter in the blender first.
3. Start the blender on the lowest speed and gradually increase the speed to high, and shut it down the same way, gradually slowing it down.
4. Hold the blender lid firmly on– especially when starting and stoping the blender – if you do remove the lid while it is running, gradually reduce blender speed to lowest setting before turning it complexly off.
5. If you can't eat fresh fruit fast enough, freeze it for smoothies. (Peel it, cut it into small chunks, put it in a zip lock) Anything goes grapes, apples, kiwi, bananas, berries, oranges, mangoes, anything really. Avocados can even be frozen.
6. In winter, add something hearty or rich like bananas, nut butters, tahini, oatmeal or avocado, for a little extra heartiness.
7. A smoothie is not a milkshake. Try to keep it healthy. Otherwise, just have a milkshake.  Use soy, almond, rice or coconut milk, fruit or veggie juice, aloe or just water. Use maple syrup, brown rice syrup, honey, agave, or fruit itself,  as sweetener.
8. Play around with adding fresh herbs and spices and seeds.
9. Chilly frosty smoothies are yummy. Room-temperature smoothies are not  tasty. If not using any frozen fruit, throw in a few ice cubes. It makes it so much more palatable.
10. If your smoothie is bland…try adding a little citrus juice, or zest to brighten up the flavor.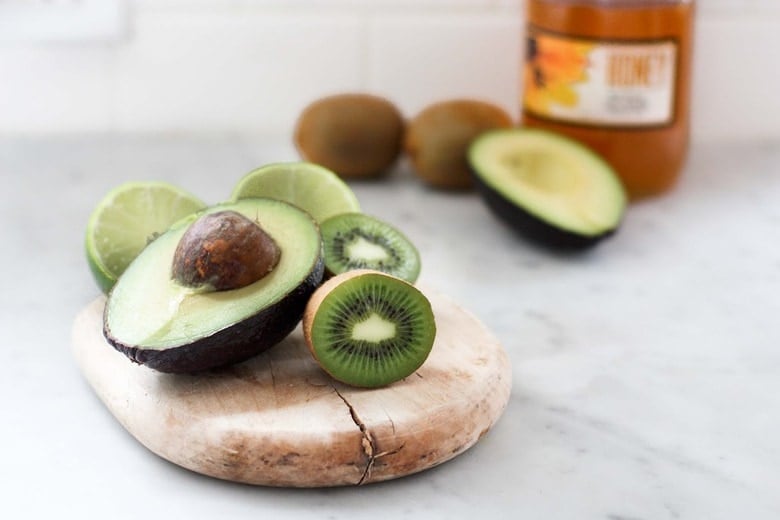 The Avocado effect on Skin
From the opening, Jo and her husband Duane were regular customers at our restaurant Mizuna.  When I first met Jo, now 15 years ago, I couldn't tell you how old she was. Honestly, I still have no idea how old she is. But, what I can say she hasn't aged a day. In fact, she looks younger.  Her hair, striking and beautiful, is pure white. But what really stands out is her skin.
She has the skin of a twenty-five-year-old. I asked her once what her secret was.
Avocados, she said,  I eat one every day. And looking at her, I am completely sold.  She is a walking avocado advertisement. Seriously, avocado people, you need her as your spokesperson. Anyways, it was Jo who got me thinking of different ways to incorporate avocados into our meals at home, in different ways.
Ingredients in Avocado Smoothie
Avocado, Kiwi, lime and a little
honey
are the main ingredients of this smoothie recipe.
It has a good balance of tart, sweet and richness. This also makes a great vegan gelato.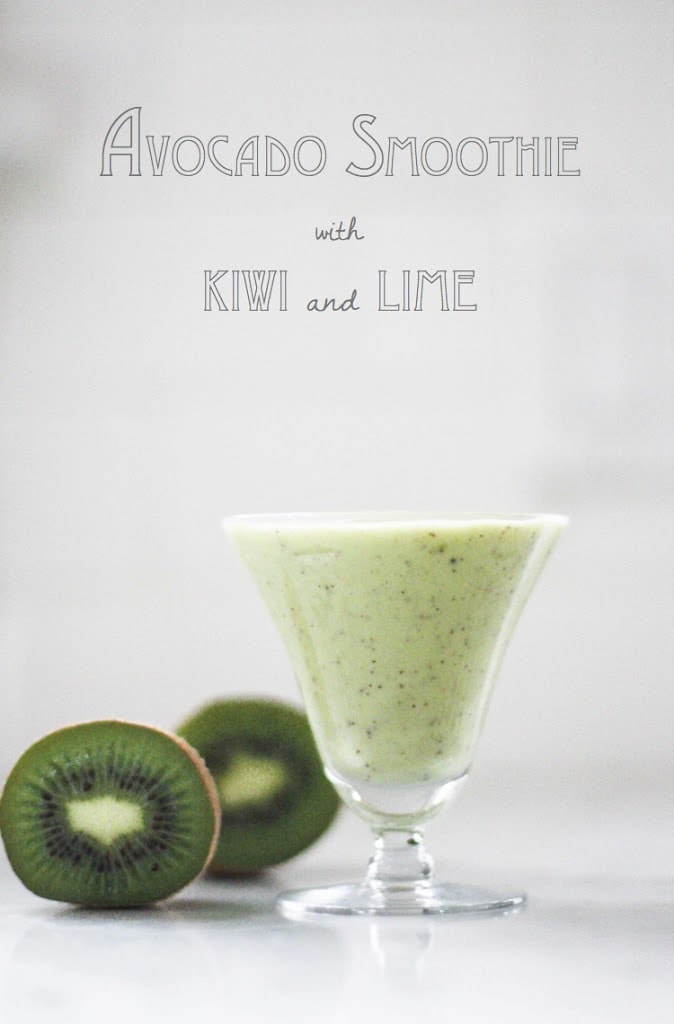 Simply Blend until smooth. Add a few ice cubes to make it nice and chilled.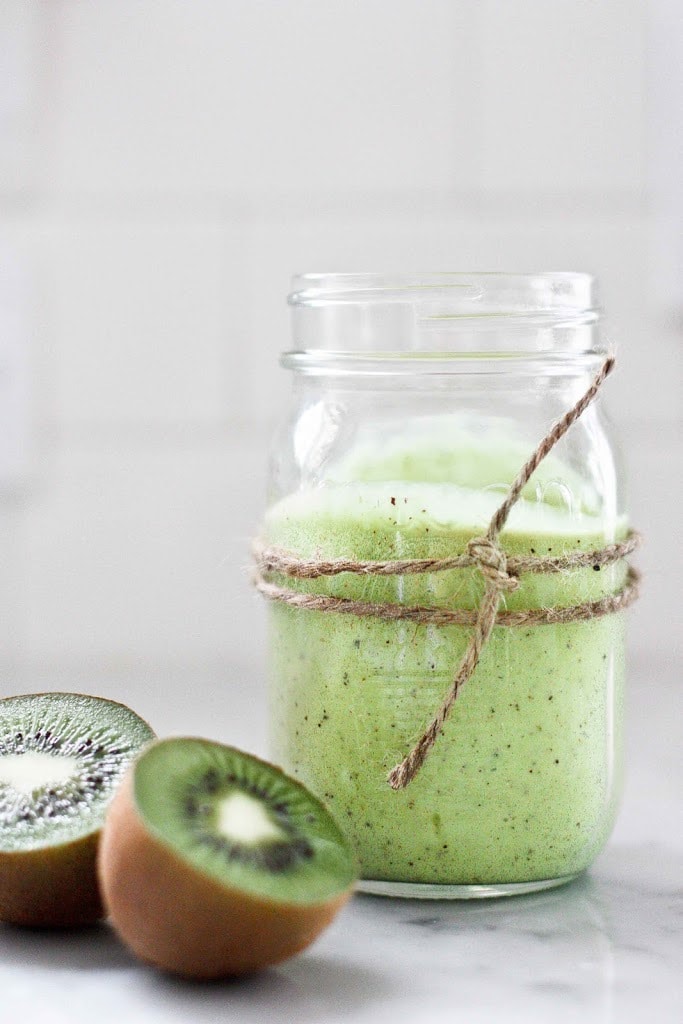 Enjoy the Avocado Smoothie!
More Smoothies to Enjoy!
Print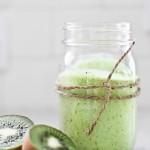 Avocado Smoothie with Kiwi and Lime
Prep Time:

5 mins

Total Time:

5 mins

Yield:

1

1

x

Category:

Smoothie

Method:

Blended

Cuisine:

Vegan
---
Description
Kiwi Avocado Smoothie with Lime and Honey Makes one 10 oz glass.
---
1/2

perfectly ripe, large avocado

2

ripe kiwis- peeled

1

table lime juice, more to taste

1/8

cup

–

1/4

cup Almond milk (or sub soy milk, coconut milk, aloe juice, fruit juice) just enough to get the blender going.

3

–

4

ice cubes
---
Instructions
Place the liquid in the blender first, then fruit and ice. Cover. Start on low speed, increasing to high speed. Blend it up until creamy and very smooth. Scrape down sides if necessary.
Taste, adjust lime juice and sweetener to taste. Kiwi's very in tartness 🙂
And remember, don't ever stick a spoon or spatula in blender while it's running. Just sayin' 😉
---
Nutrition
Serving Size:

10 ounce glass

Calories:

223

Sugar:

31.1 g

Sodium:

23 mg

Fat:

6.6 g

Saturated Fat:

0.9 g

Carbohydrates:

42.6 g

Fiber:

6.8 g

Protein:

3.4 g

Cholesterol:

0 mg
Keywords: avocado smoothie, avocado kiwi smotthie, kiwi avocado smoothie
SaveSave
SaveSave
SaveSave
SaveSave