Delicious, healthy, Coconut Almond Bars, similar to "Kind Bars"! A gluten-free, paleo, grain-free, granola bar recipe that you will fall in love with!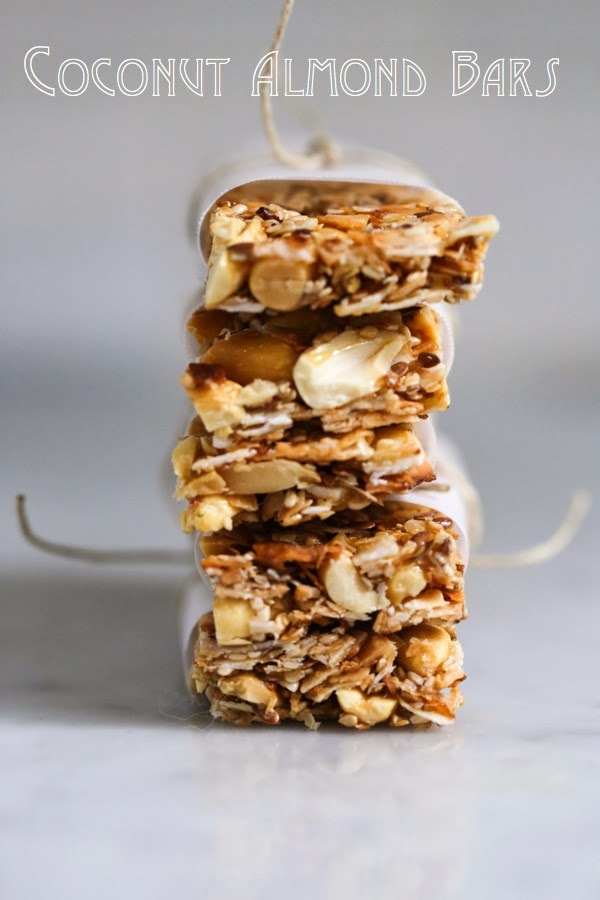 To bring happiness to others, we must be happiness. 
Thich Nhat Hanh
For the past several weeks, I have been cranking out batches and batches of these Coconut Almond Bars – I can't seem to keep them in stock. Chewy, with a nice crunchy snap, these "energy bars" are packed full of protein, are gluten free, and not too sweet. These are my take on the
Kind Bars
available at most grocery stores, and they came about one day after watching Brian eat four (!) Kind Bars in one sitting, as I mentally calculated the cost. In this house, frugality is the mother of invention. So right then and there, I decided I would start making them. This version contains no sugar or oil and is made with a few very simple ingredients – all healthy and good for you. They are easy to whip up, but do require one piece of valuable kitchen 
equipment – a candy
thermometer
– which can be found at your grocery store. This basic recipe can be used as a jumping-off point to create your own personalized version.
For a similar recipe, try these amazing
SEED BARS
 – nut free, oil free and gluten free, these are baked and with no need for a
thermometer
!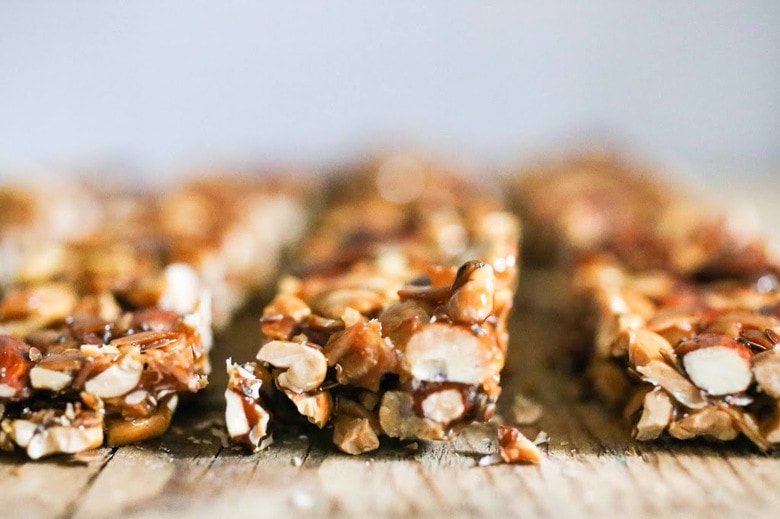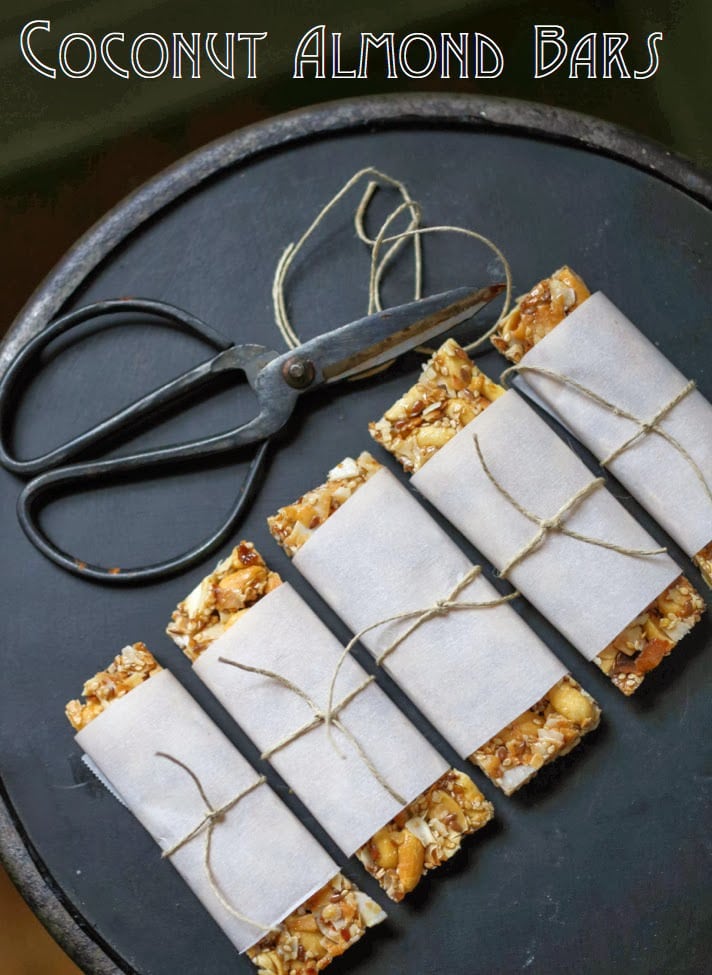 The basic recipe contains only unsweetened coconut, nuts, honey and pinch of salt. That's it.
Sometimes I'll add
chia seeds
,
sesame seeds
,  
flax seeds
or dried fruit. But most of the time I keep them fairly simple. You could also add puffed rice or millet or flavor with
vanilla
or spices.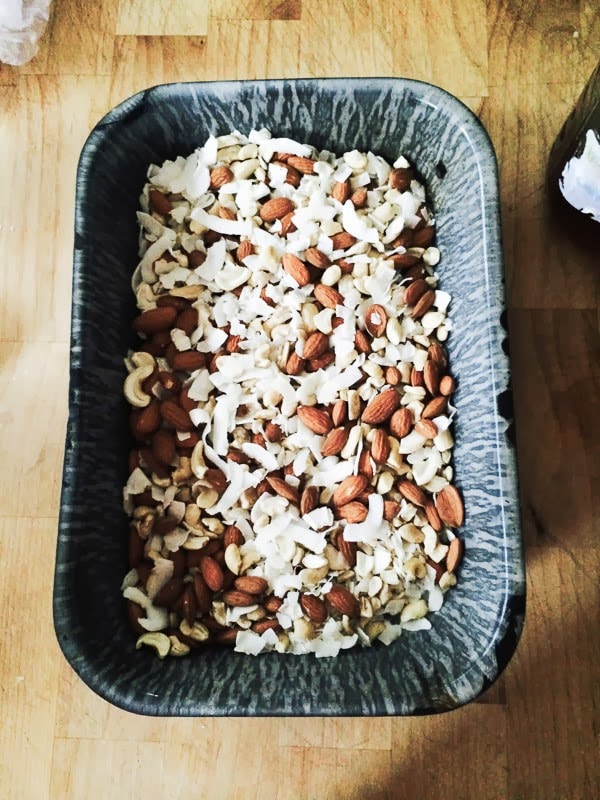 A COUPLE TIPS:
1. Lightly toast the coconut and nuts.
2. The most important thing is heating the
honey
to a very specific temperature – to 270 F.
3. Cut the bars after they cool, but before they cool completely. This prevents breaking.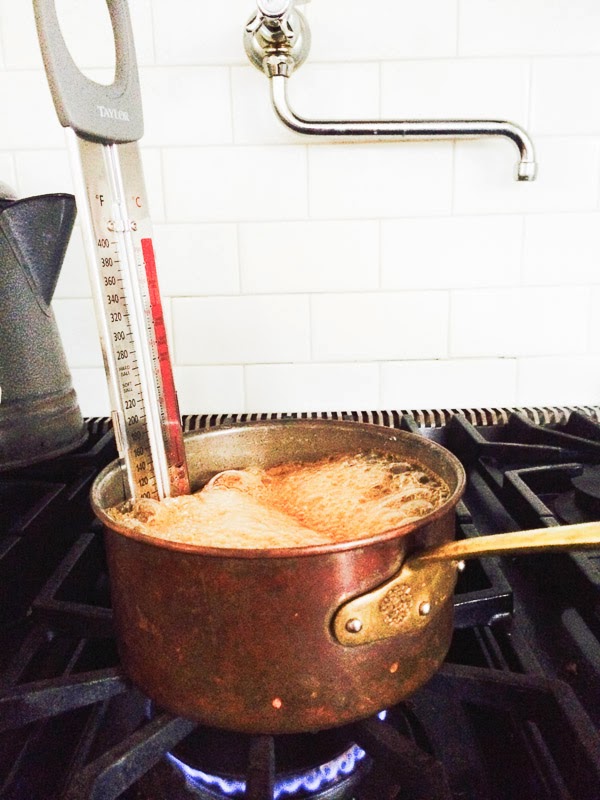 Heat the honey, water, and a pinch of salt, on med-low heat until it reaches 270F (hard ball stage) on a candy thermometer.
If you heat the honey any longer it will still taste good, but result in a very brittle bar. If you heat the honey to a lower temp, the bars will be too soft and not hold together. 
Heating the honey may take longer than you think.…about 20 minutes on med-low heat.
And I have found that once the honey reaches 250F, don't walk away. It will go quickly from there.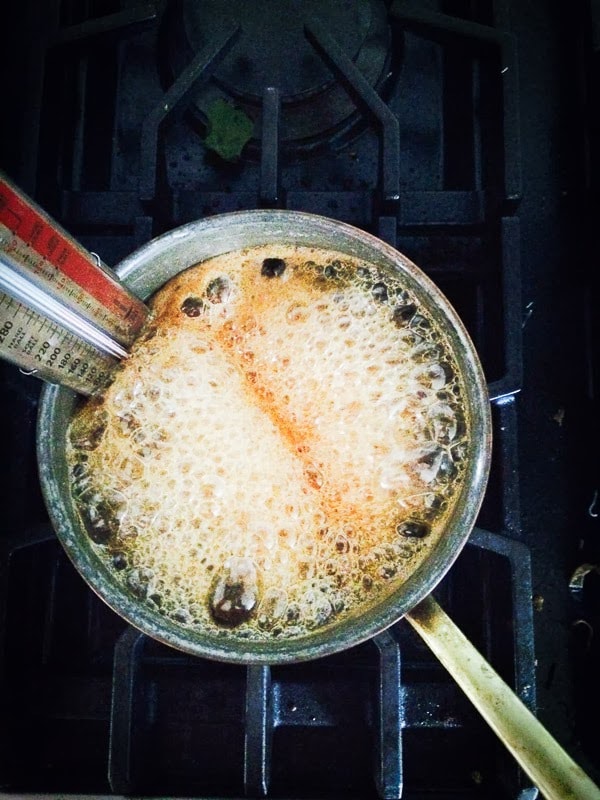 While the honey is heating, lightly toast nuts and coconut.  10 minutes @ 325F is plenty.
Once the
honey
reaches 270F, stir in the toasted nuts and coconut mixture into the same pot, coating well. It will seem like a fairly dry mixture, but just stir until everything is lightly and evenly coated.  Place on a  
parchment
lined
baking dish
, 8 by 8 inches.
Spray the top of a
spatula
, or the bottom of a glass with cooking spray and use it to press down the mixture
very firmly
so it is compressed and flattened and pressed down into all the corners.  That's it. Let it sit at room temp for 45 minutes and flip out of the pan onto a
cutting board
. Cut. You want to cut these before they completely cool. If you miss your window and allow them to completely cool, you can still cut them, but they may crumble. To prevent this, place in a warm oven for just a few minutes to soften.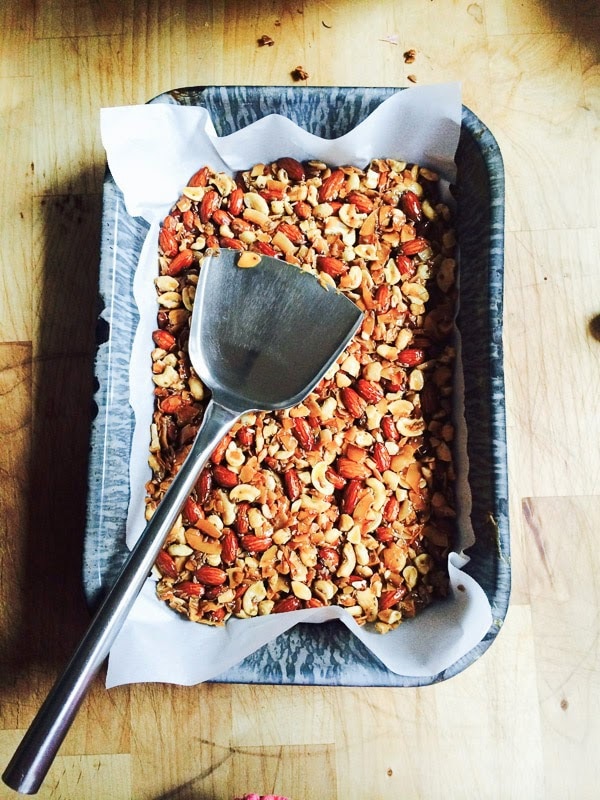 Remove it from the bake dish – it will feel solid. Flip it over, and using a
sharp knife
, cut into any size portion you like.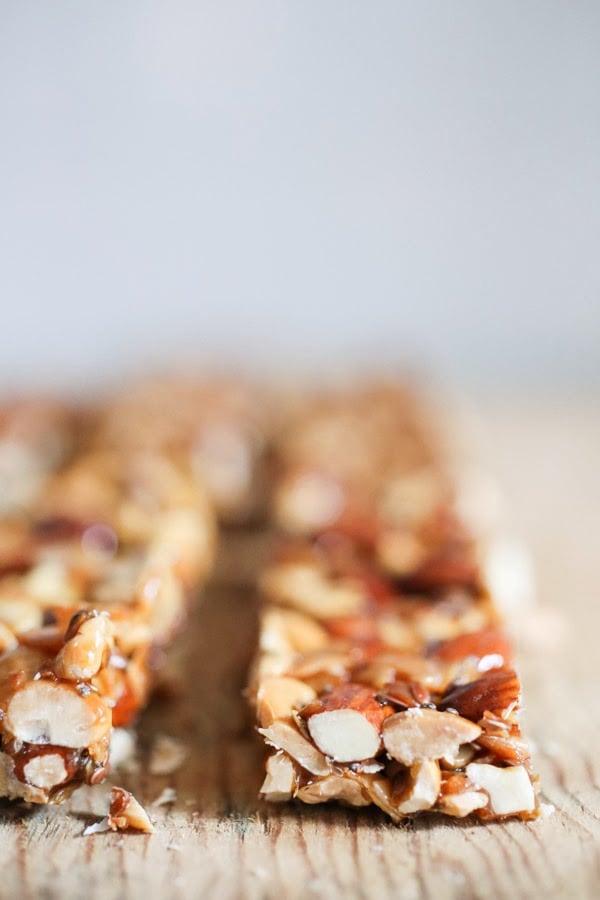 STORAGE TIP: Allow to cool completely before transferring to airtight storage container with parchment paper between layers. For take-along convenience, use parchment paper and string to wrap individual bars. Store at room temperature for up to 10 days.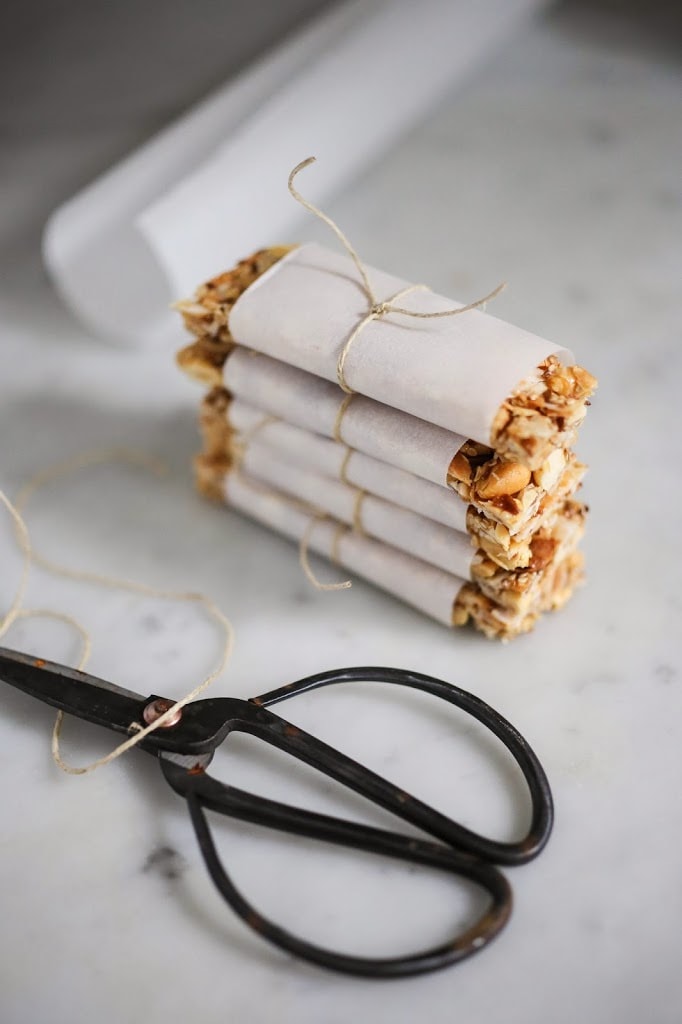 These Coconut Almond Bars would also make a really nice gift.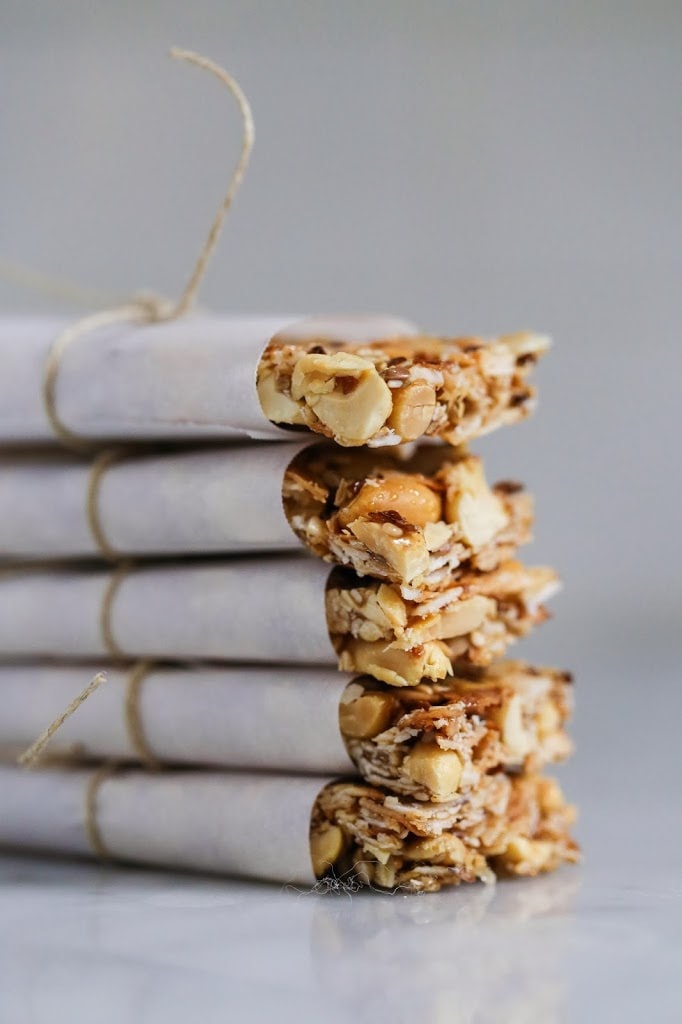 Wrap up the granola bars in
parchment
and tie with string.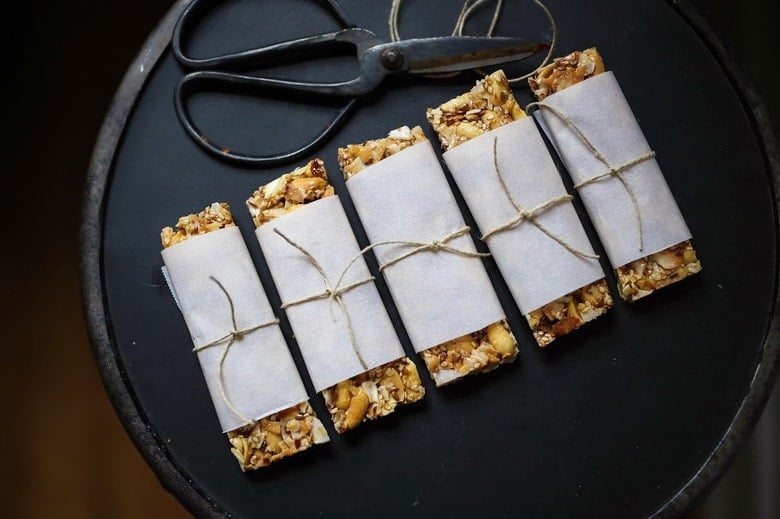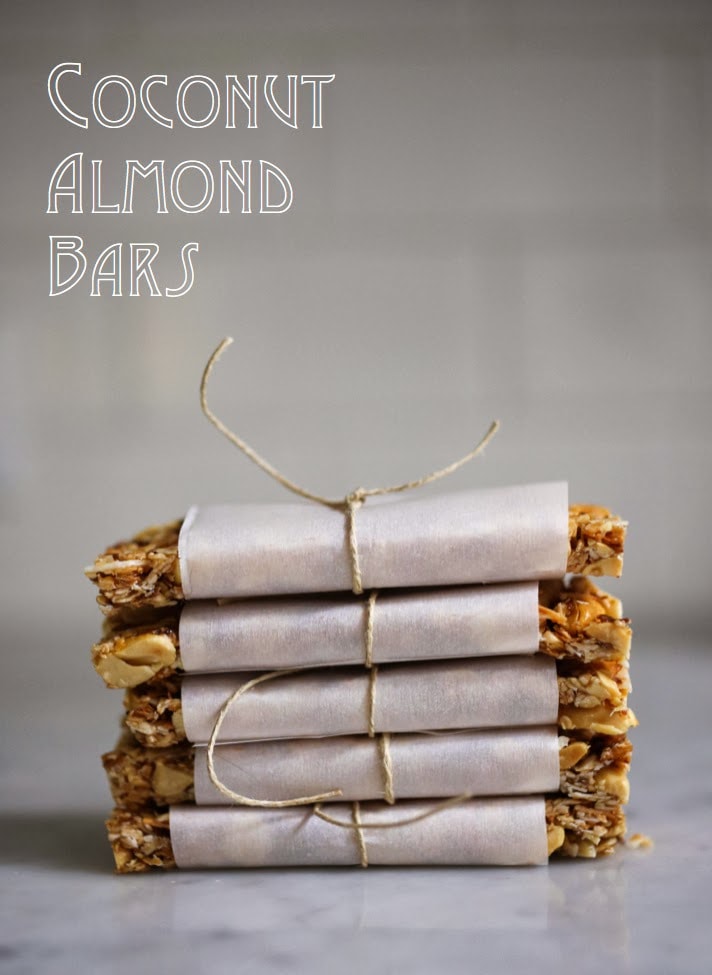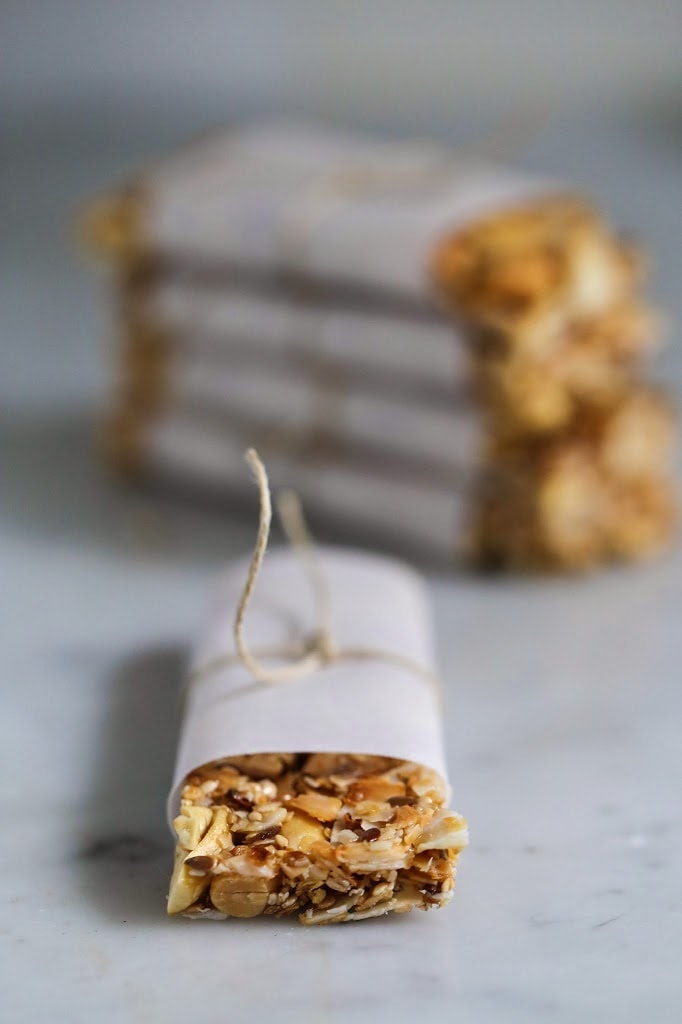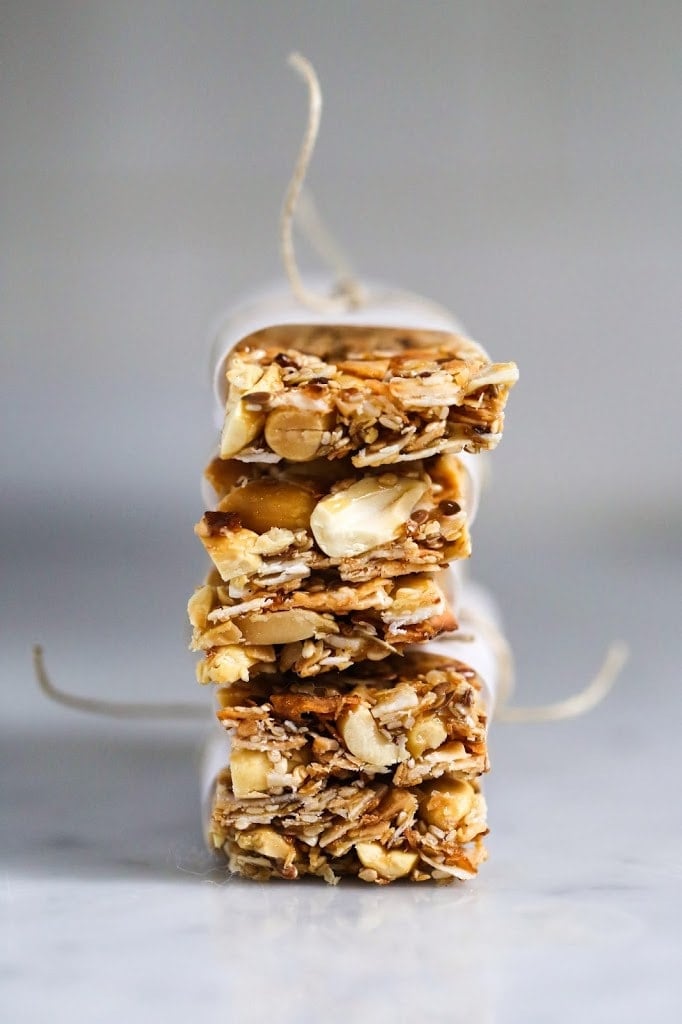 Delcious, healthy, Coconut Almond Bars, similar to "Kind Bars"! A gluten-free, paleo, grain-free, granola bar recipe that you will fall in love with!
Print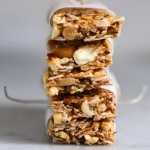 Coconut Almond Bars
Prep Time:

10 mins

Cook Time:

50 mins

Total Time:

1 hour

Yield:

12

bars

1

x

Category:

snacks, granola bars,

Method:

baked

Cuisine:

american
---
Description
Delcious, healthy, Coconut Almond Bars, similar to "Kind Bars"! A gluten-free, paleo, grain-free, granola bar recipe that you will fall in love with!
---
3/4

cup

raw almonds, lightly toasted

3/4

cup

raw cashews, lightly toasted

1 1/2

cup

unsweetened coconut FLAKES, lightly toasted

1/2

cup

honey

3 tablespoons

water
Generous pinch salt

1 teaspoon

vanilla (optional)
Other ingredients to add: dried fruit, any other nut, seeds (chia, sesame, flax, poppy), vanilla, puffed rice or millet.
---
Instructions
Preheat Oven to 325F ( to toast nuts and coconut)
Heat honey, salt, water and vanilla (optional) in a small pot over medium heat until it starts bubbling. Stir occasionally. Lower to med-low heat and continue simmering uncovered until honey reaches 270F. You need to use a candy thermometer to get this exact ( available at most grocery stores in the baking section.) This will take about 25 minutes on med-low heat, and will happen rapidly once it reaches 250F.
In the mean time, lightly toast nuts and coconut, in the oven, just until coconut is fragrant and lightly golden about 8-10 minutes.
When honey has reached 270F, turn heat off and pour the nuts and coconuts into the pot, stirring well to coat. Mixture may seem dry, but just keep mixing, until evenly coated. Spread out on a parchment lined 8×8 inch pan, or baking sheet, to about ¾ inch thick.
Using a greased spatula, spread out evenly and press down firmly, compressing it down as much as you can. Cover with parchment and use the bottom of a cup or pot or even your hands (if it's not too hot) and press down really hard, compacting it as much as possible. This will help the bars stay together when you go to cut them. Let cool uncovered on the kitchen counter for 45 minutes. ( no longer)
Once it has cooled 45 minutes, place a cutting board over the mixure and gently flip it onto the cutting board (in one piece). With a big sharp knife, cut bars before they cool down completely (otherwise they will break when you try to cut them).
---
Notes
A candy thermometer is a must here. It really is impossible to guess the temperature. If the bars are too soft, the honey is usually not heated enough. If super hard, the honey was most likely over heated.
Nutrition
Serving Size:
Calories:
Sugar:
Sodium:
Fat:
Saturated Fat:
Trans Fat:
Carbohydrates:
Fiber:
Protein:
Cholesterol:
Keywords: granola bars, nut bars, healthy nut bars, coconut almond bars, vegan granola bars, kind bars recipe, almond bars, vegan snacks, coconut almond energy bars
SaveSave
SaveSave
SaveSave