This post may contain affiliate links. For more information, please see our privacy policy.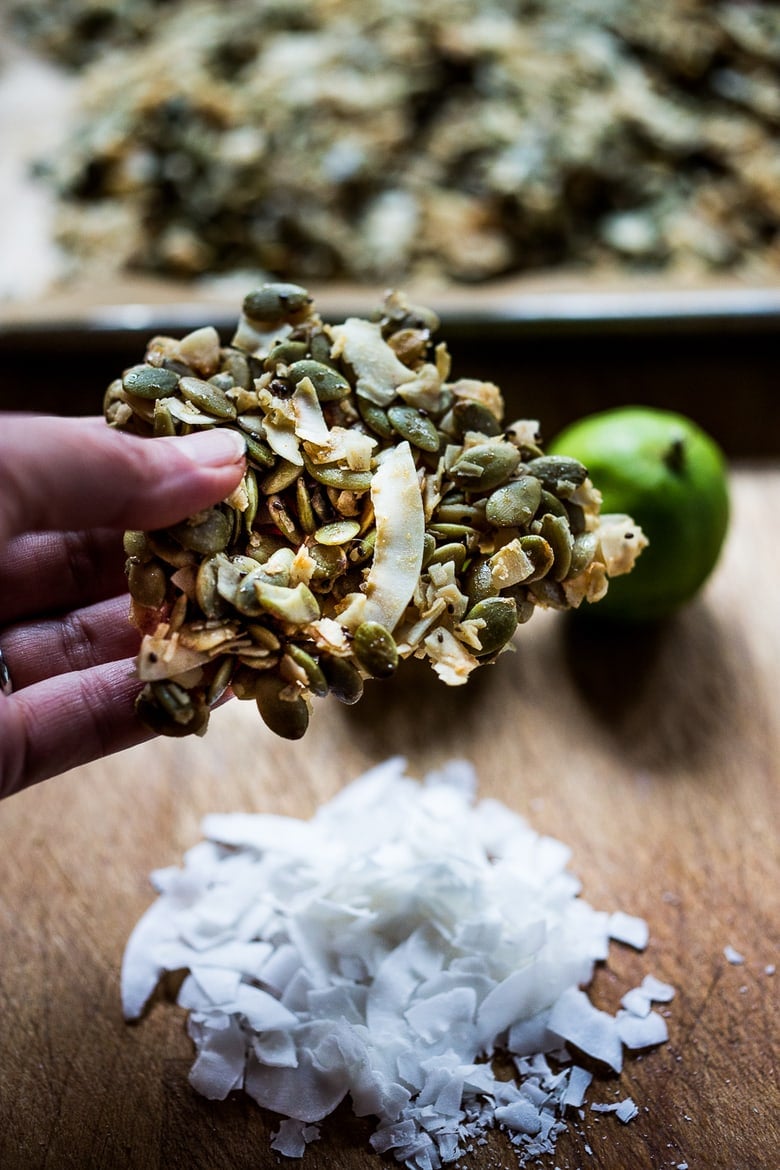 Do you ever get "hangry"? The other day I had a serious hunger melt down while shopping for dishwashers.  I almost lost it right there and then in the middle of Home Depot. My head was aching, my blood sugar plunging, too many decisions to make and my husband was driving me crazy with his clear bias against all the good looking dishwashers. He tends to vote for function over form, where I am the total opposite.  But as he patiently explained, we wouldnt be in Home Depot in the first place had we originally gone with function. Our beautiful, expensive, streamlined dishwasher- as it turns out, was a piece of crap.
This is the little tasty miracle I needed the other day. Normally I'll have some tucked away in my purse or car, for emergencies like these.
Coconut Lime Pumpkin Seed Snacks.  Gluten free & sugar free, these delicious little clusters are made with just few ingredients – pumpkin seeds, coconut flakes, lime, sea salt and honey (or use maple). Doctor them up any way you like with seeds or spices – here I've added chia seeds and turmeric -but the basic recipe is really good, just like it is. High in protein, good and crunchy, these little guys are the perfect fuel for hiking and other outdoor adventures.
"Activate" the pumpkin seeds– by soaking them overnight- they will get nice and big and plump. It really does bring them to life … and when they bake they will have a nice crisp bite to them. It does actually make a difference, but the recipe will also work without soaking, if you are feeling impatient.
Gluten free, dairy free, sugar free, these are a godsend. A little tangy, a little sweet, they cure a sweet tooth during late night netflix binging, with an extra satisfying crunch. Give them a whirl and see what you think.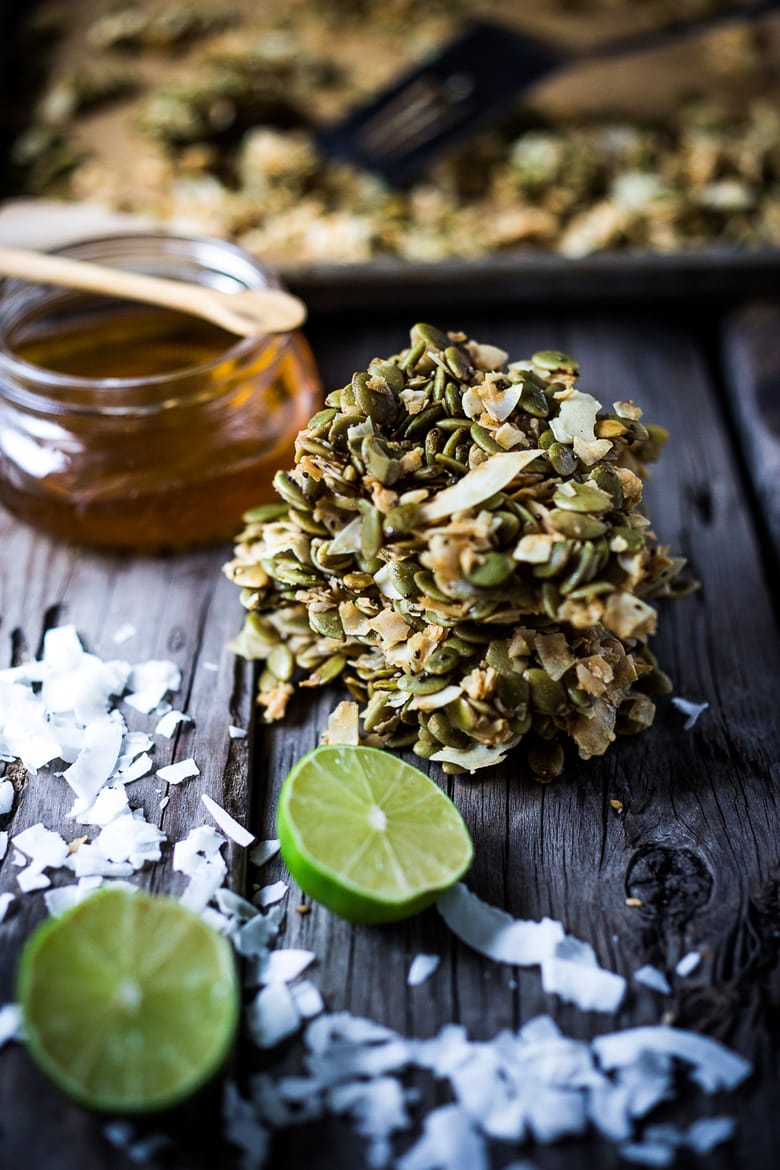 Soaking seeds and nuts "activates" them, brings them back to life and are thought to be more nutritious. There is some debate around it. Honestly, the reason I soak them is what it does for the texture.  It gives them such a snappy crisp bite that I've grown very fond of. I often do this with raw almonds before roasting with spices.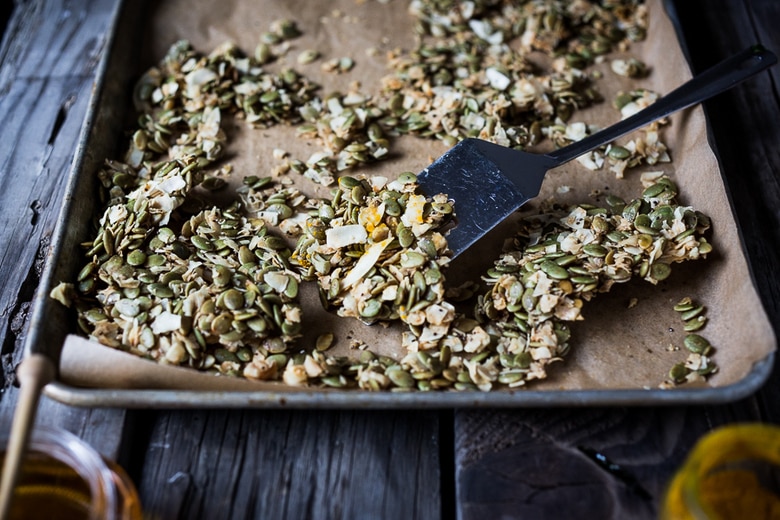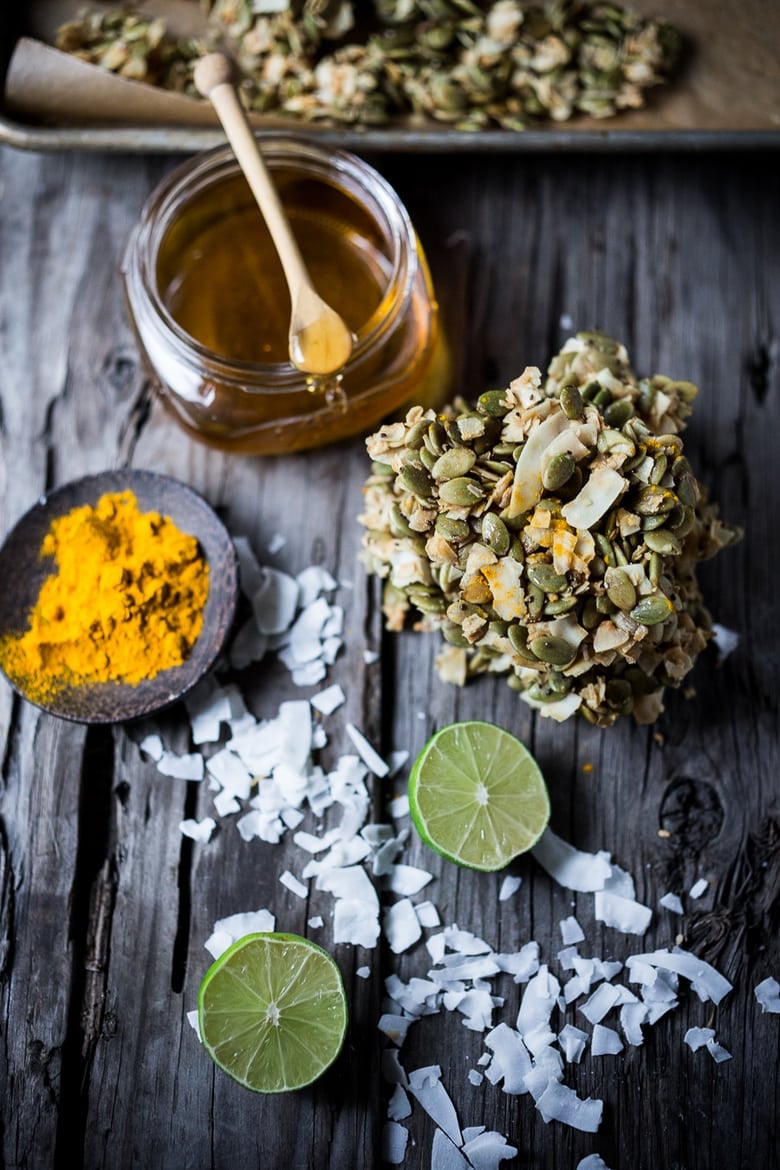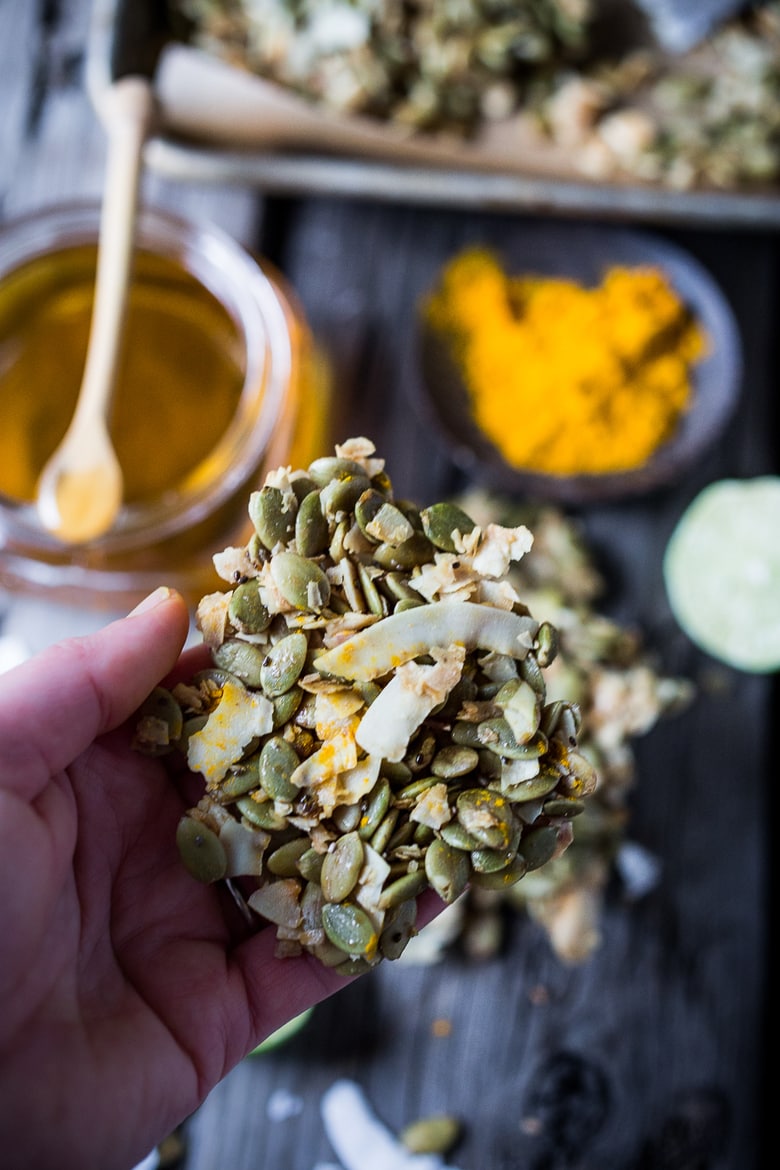 Print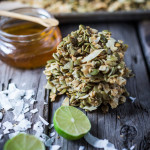 Coconut Lime Pumpkin Seed Snacks
Prep Time:

24 hours

Cook Time:

30 mins

Total Time:

24 hours 30 mins

Yield:

10

servings

1

x

Category:

Snack

Cuisine:

Gluten Free
---
---
2

cups

raw pumpkin seeds– soaked in water over night

1

cup

flaked coconut ( unsweetened)

1/4 teaspoon

salt

3 tablespoons

honey or maple

1 tablespoon

lime juice

1 tablespoon

coconut oil
Optional additions- chia seeds, spices like cayenne, chile powder, turmeric
---
Instructions
Soak pumpkin seeds in a bowl of water on the counter, overnight, or for 8 hours.
Preheat oven to 300F
Strain pumpkin seeds and lay on kitchen towel, and pat mostly dry.
Place in a bowl.
Add coconut flakes and salt. Stir.
Heat honey, lime and coconut oil in a small sauce pan, until just warm, stir to combine.
Pour over the pumpkin seed mixture and gently mixed.
Add seeds or spices to taste.
Spread out on a parchment lined sheet pan to about ½ inch thick – press down very well and neaten edges. I use the back of a metal spatula. Or use hands over another piece of parchment.
Place in the middle of the oven for 30 minutes, checking halfway through.Turn heat off.
Let this cool in the oven overnight, or until completely cool, 3-4 hours.
It will set and harden.
Break apart, store in an air tight container.
---