Wok-Seared Cashews with garlic, ginger and sesame seeds– these toasted cashews make for a quick and healthy vegan snack that is full of amazing flavor! Can be made in 20 minutes!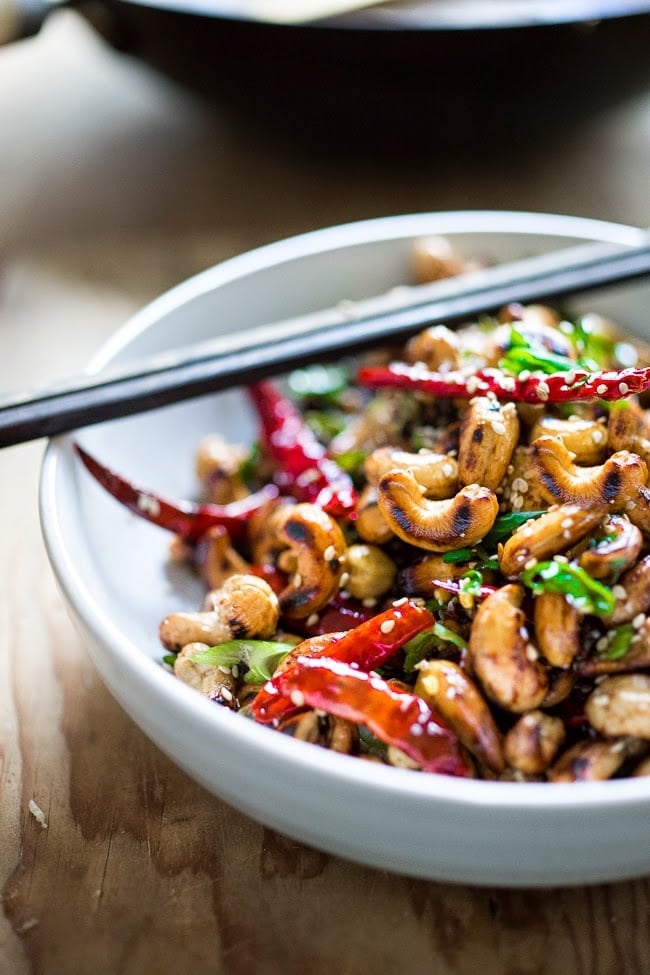 As I type, morning birds are chirping happily outside our window while Brian gazes at them through binoculars. The trees are greening in the morning sun, their branches swaying. Our dog Max, sighs contentedly by my side. In the calm quiet, I can actually hear myself. I wish I could carry this connectedness with me throughout the day, out into the world of emails and parking lots and shopping carts. For me, the challenge has always been – how to remain here, in this calm present, when my surroundings change.
There are those, who seem to be always smiling, always present, regardless of what's going on around them. Recently during a catering event, a college student from another country had volunteered to help out the host set up for the event. There was much to do, and it had to be done quickly. I couldn't help but notice, how even when things were hectic, he kept smiling. It was his natural expression, one that never left his face. It was very unusual and made me very curious and eventually, I had to ask him where he was from. Tibet.
He told me how he grew up in a family of nomadic yak farmers, going back hundreds of years. And here he was, this young man, thrown into this completely different scenario, navigating his way in this new strange world with a new language, and not only was he not rattled in the slightest, he calmed everyone down with his peaceful happy energy. It made a huge impression on me.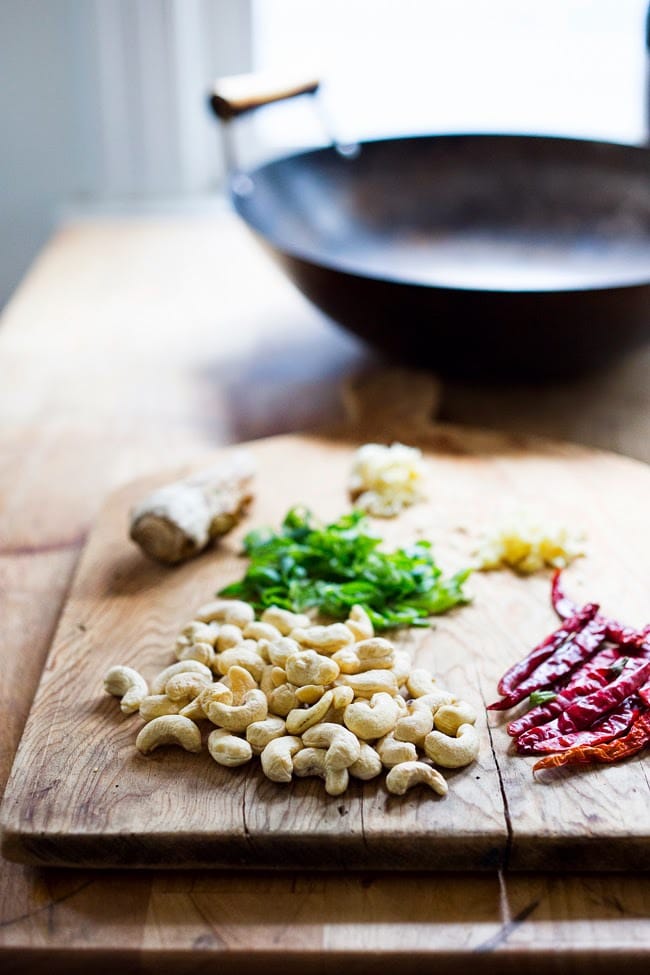 Maybe like all things, being present, just takes practice. The great thing about life is- it's always pretty good about giving us plenty of opportunities to practice….over and over.
These wok-seared cashews, coincidentally took a little practice "being present", to get them just right. It took me several trial runs, but in the end they turned out fantastic.Turn your attention elsewhere, and they will burn.
The secret is to toast them on lower heat, long enough so they get a nice toasty crunch, allowing a little char, but not burning them. Keep a hand on the stove dial, and don't walk away. Watch and be ready to turn the heat down. A practice run with a smaller amount is a good idea. Nuts are expensive!
Easy, flavorful, fast – they are great to snack on, fragrant and delicious served warm, right out of the wok. Garlic and ginger, dried hot chili peppers, scallions and sesame seeds and a little peanut oil are all you need, and most nuts, especially peanuts, really like this technique.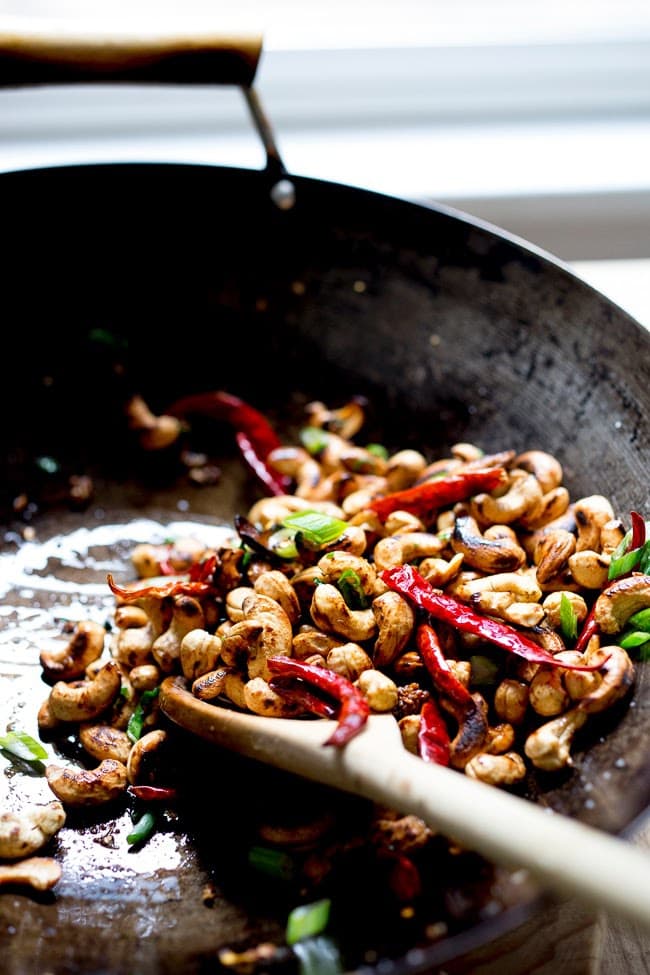 TIP: Have everything prepped and ready. You won't have time to prep as you are cooking…so do it all ahead. Mince the garlic and ginger, cut the scallions, and have the dried Thai chilies and sesame seeds on hand. Be sure to use a hot burning oil, like peanut oil, my favorite when it comes to anything out of a wok, which also adds amazing flavor and aroma.
Over medium heat, toast the cashews, stirring constantly, for at least five minutes. If you cook them too fast, they won't develop the toasty snap they need. So, be patient. A little char is good, but too much is not, so turn heat down, if they darken too quickly. Each stove is different. You want to toast the raw cashews at least 5-6 minutes, to get their texture nice and crunchy.
Once the cashews are toasty, add the peanut oil, turn the heat up a bit, add the ginger, garlic and chili peppers, and stir until garlic and ginger turn golden and fragrant. Add salt, sugar and soy. Once incorporated, turn heat off, sprinkle with scallions and sesame seeds and serve immediately.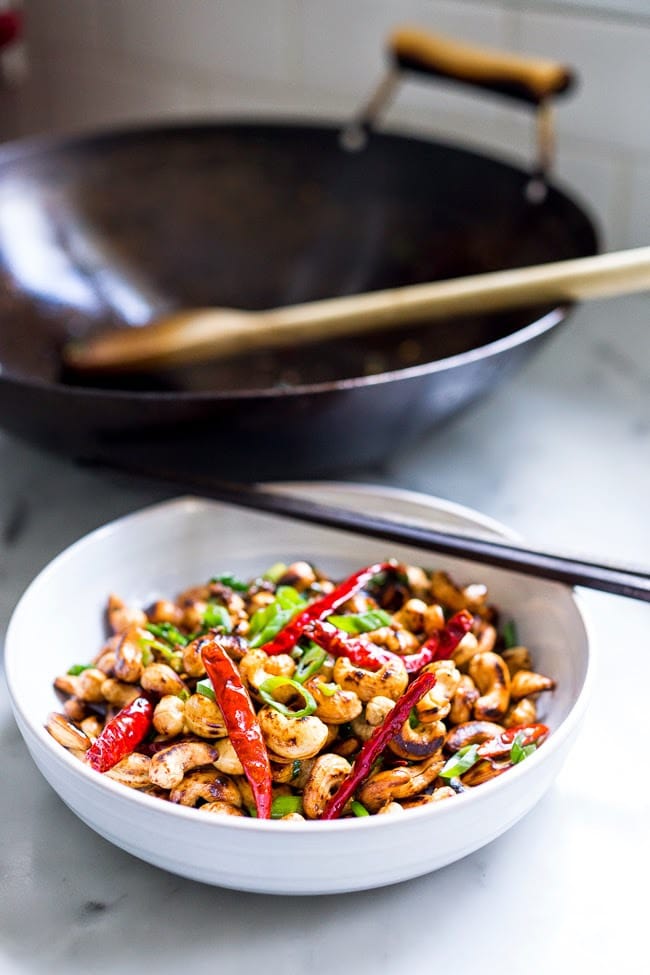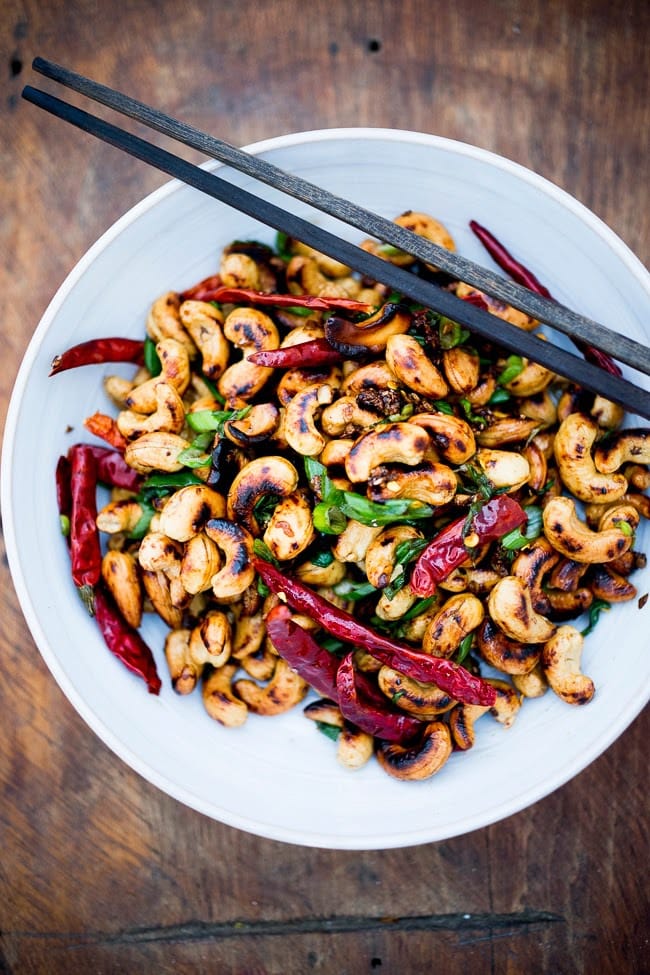 Give these Wok-Seared Cashews a try and let us know what you think in the comments below.
xoxo
Sylvia
Print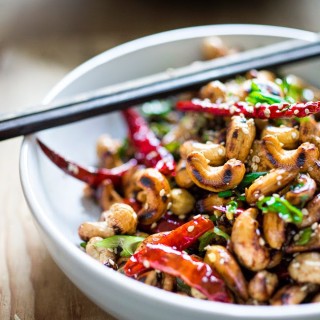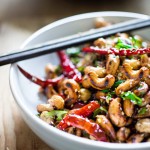 Wok-Seared Cashews with Scallions and Sesame
Author:

Sylvia Fountaine

Prep Time:

10

Cook Time:

10

Total Time:

20 minutes

Yield:

6-8

Category:

snacks, appetizers

Method:

stir fried,

Cuisine:

Chinese

Diet:

Vegan
---
Description
Wok-Seared Cashews with ginger, soy and sesame seeds– a quick and healthy vegan snack that is full of flavor and that can be made in 20 minutes!
---
Details
Prep time: 10 mins Cook time: 10 mins Total time: 20 mins Yield: serves 4-6
---
Instructions
Heat a wok or skillet over medium low heat. Add cashews in the dry wok and toast, stirring constantly for 5 minutes, turning heat down if necessary, until all sides are toasted, careful to not burn. A little char is good, but do not burn.
Add peanut oil, turn heat up a bit, add ginger and garlic  and sauté constantly 1-2 more minutes, until garlic and ginger are fragrant and just golden.
Add chilies, soy sauce and a generous three finger pinch of sugar and salt. When sugar and salt dissolve, remove from heat, toss with toasted sesame seeds and scallions, adding some more salt to taste.
Serve warm.
---
---
Keywords: Chinese cashews, stir fried cashews, toasted cashews,