This healthy vegan Glow Bowl is packed with incredible skin nutrients to help us glow from the inside out. Made with fresh berries, veggies, black barley, walnuts and a delicious citrus dressing.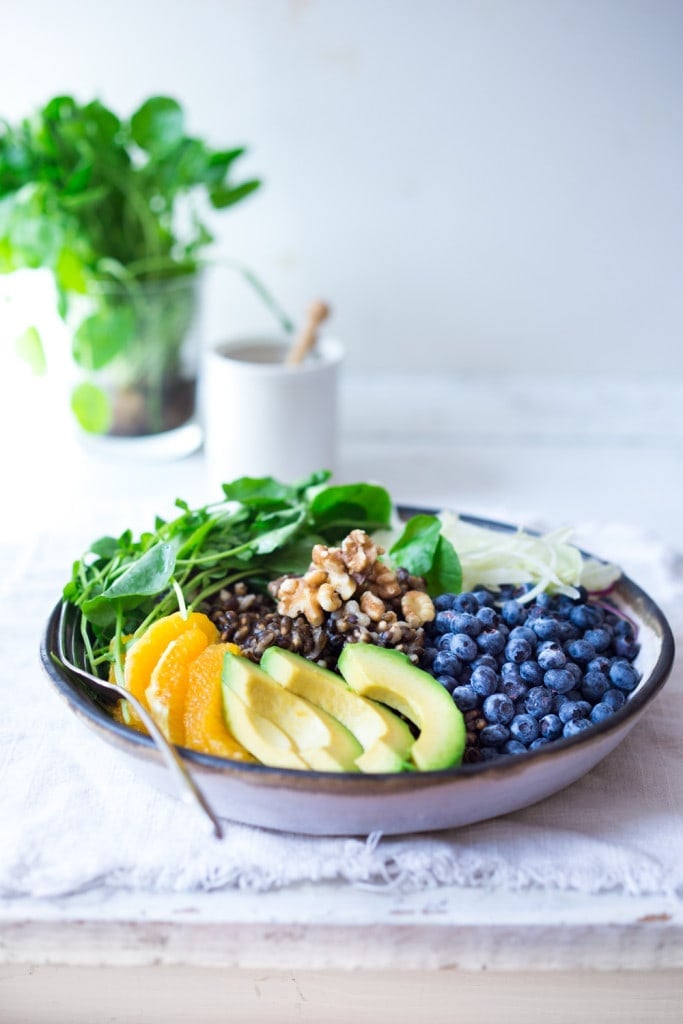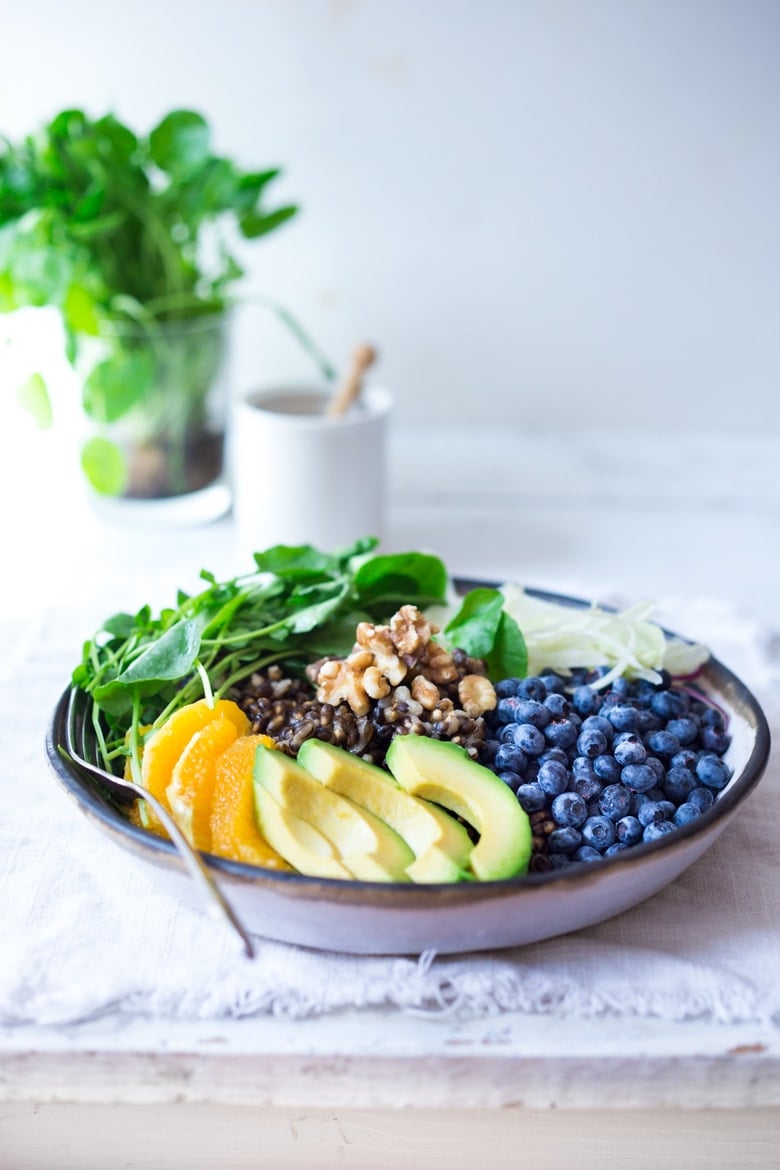 In this vegan Glow Bowl, sweet-tart blueberries (or any other seasonal berry), Black Nile barley (or another whole grain), spicy watercress, fresh fennel bulb, tangy oranges, creamy avocado and crunchy walnuts – all work together to give our skin a burst of nutrients and a youthful, healthy glow.
A compliment of flavors and textures, it's dressed with a heavenly citrus vinaigrette made with fresh orange juice and optional bee pollen (not vegan, but amazing none the less).
This vegan Glow Bowl is hearty enough for dinner, or makes an energizing lunch, leaving you feeling vibrant and full of energy. Each ingredient is especially selected for the skin, (see below) and eating this way – simple plant-based foods, over time, will naturally improve the condition of our skin giving us a youthful vibrance. Here's what sold me.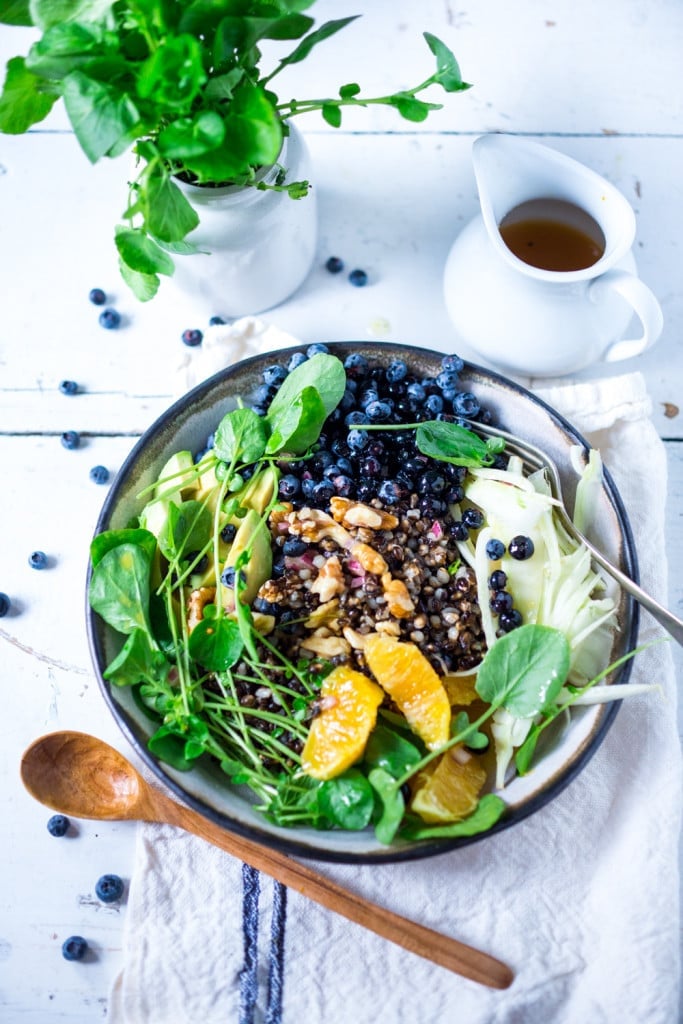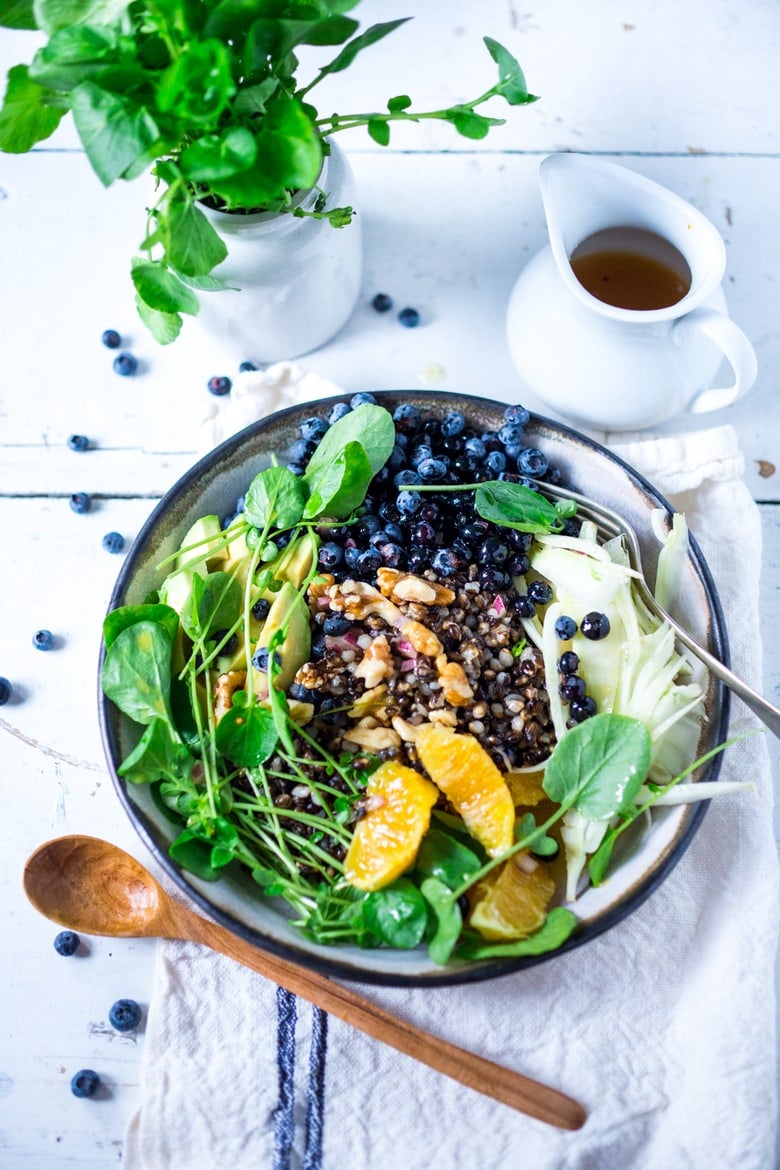 One summer , several years ago, my dad decided to go totally vegan for health reasons. My father had been diabetic for years, and he and my mom went to a week-long Diabetes Retreat where he learned that he could stabilize his diabetes by changing his diet. So, he did.  At the time, I lived here in Washington, and they still lived in Los Angeles. Over the phone they would tell me what they were eating and what it was like. About 3 months into the vegan diet I was finally able to go visit them.
I was astounded!
My father looked 15 years younger. I'm not kidding. His skin glowed, when before it seemed sallow and dull.
He had a youthfulness about him I hadn't seen since I was a kid. His eyes looked bright and clear; he looked so much healthier and seemed so much more energetic. I was honestly totally shocked even though at the time I had a vegetarian restaurant and knew "logically",  that a plant-based diet was healthy – but, somehow, to see this transformation with own eyes, with my own dad, really made an impact on me.
Now… I'm not telling you this to convince you to become vegan, because, you all know, I'm not vegan!  With our catering work, and being married to Brian, it would be pretty difficult at this point. But what is possible, is to not eat meat and dairy at every single meal, or even every day.
I simply want to inspire you to eat more plants, and to be aware of their profound impact on our bodies, inside and out, and on our psyche.
Plants are alive! When we eat them, our bodies become alive with their aliveness. Our skin glows! We can feel their beautiful energy!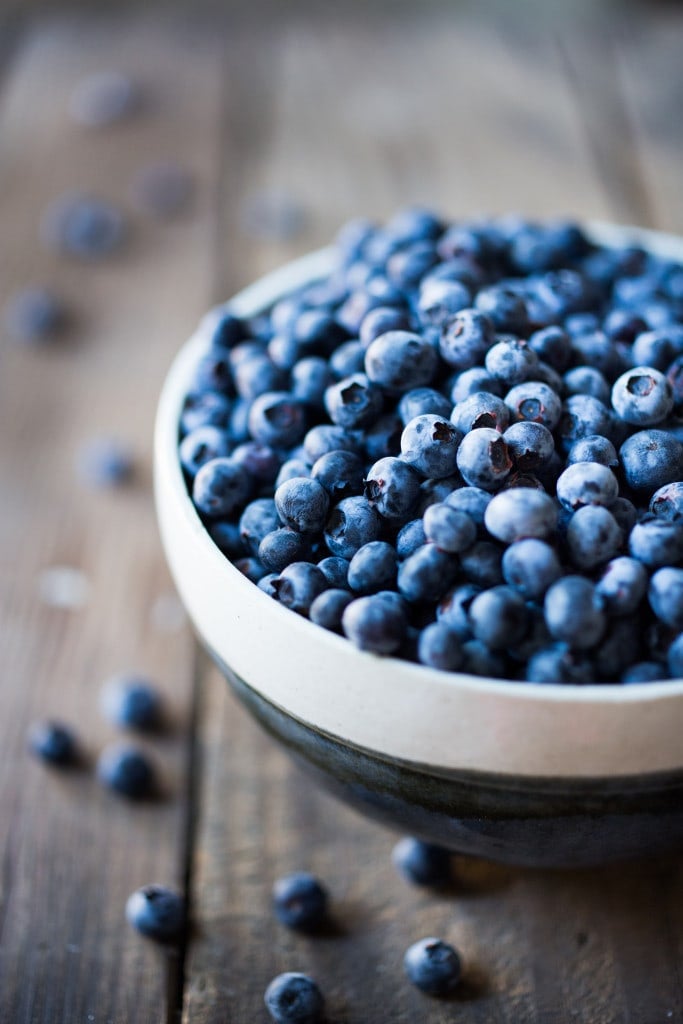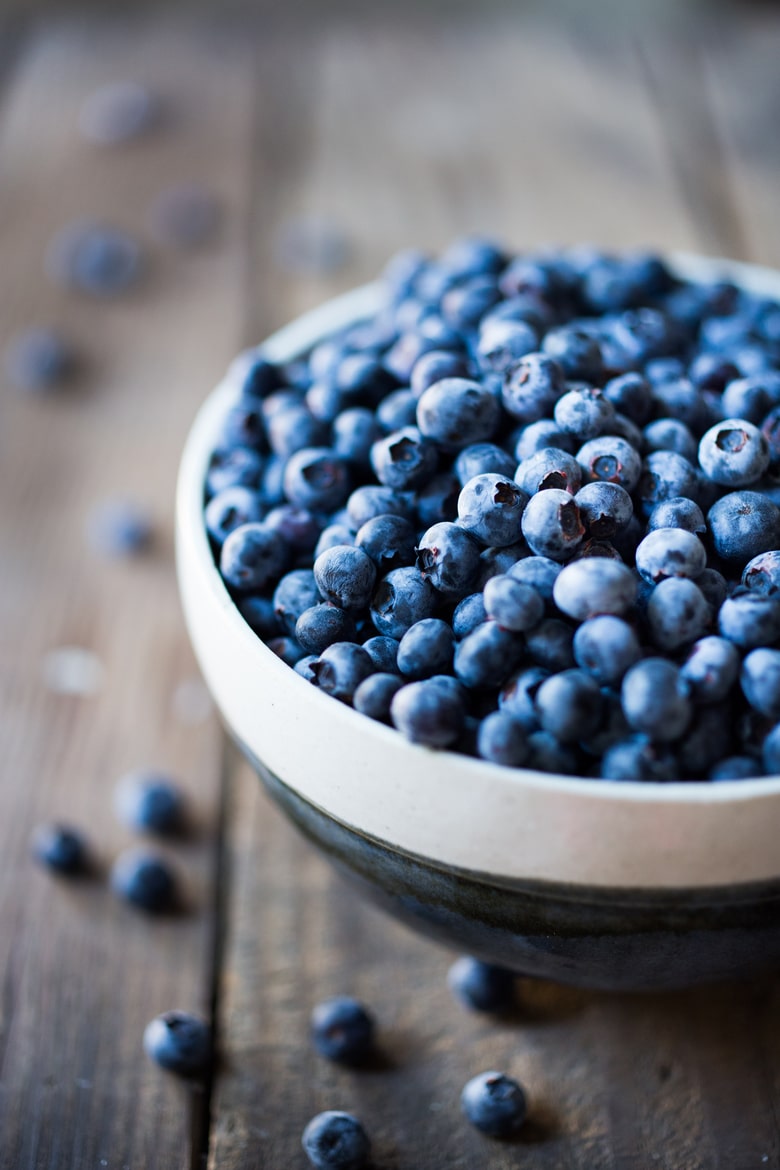 Blueberries are an easy sell. We love them, don't we! They find their way easily and generously into our breakfasts…tossed into our morning bowls of granola, pancakes, yogurt and smoothies. For a few short weeks in summer, they are grown here locally in the Northwest.
During the winter months, when blueberries are not in season, feel free to use frozen organic berries or even dehydrated berries.
Seek out the low bush varieties, available at local farmers markets. You will know them by their size. These are the smaller-sized berries –not the huge big plump ones we commonly see in most grocery stores–and these are prized for their true blueberry flavor, they most closely related to a real wild blueberry. The big blueberries you find at the grocery stores, called high bush berries, have been hybridized to be sweeter and bigger, yes still tasty,  but lacking real blueberry flavor.
Health Benefits of the Glow Bowl
Blueberries are ranked at the top of the list, packed with antioxidants that prevent premature skin aging.
Barley, especially the black variety, has properties that may make it an effective treatment for a number of skin problems. It is rich in azelaic acid, a proven anti-acne compound and tyrosine inhibitor, and might therefore provide benefits for people suffering from acne-prone skin or hyper-pigmentation and age spots. The high levels of anthocyanins found in purple or black barley may also help slow down aging of the skin and prevent wrinkles.
Fennel Bulb is an excellent source of vitamin C.  Collagen, the skin's support system relies on vitamin C as an essential nutrient that works in our bodies as an antioxidant to help prevent wrinkles and damage caused by the sun, pollution and smoke. Vitamin C also promotes collagen's ability to smooth out wrinkles and improve overall skin texture.
Avocados are a great source of antioxidant carotenoids like alpha-carotene, beta-carotene, beta-cryptoxanthin, zeaxanthin and lutein. These free radical quenching compounds protect your skin from the environmental damage that leads to fine lines, wrinkles and other visible signs of aging.
Walnuts have healthy Omega-3 fats that strengthen the membranes of your skin cells, locking in moisture and nutrients that keep it plump and glowing and keeping out toxins that can damage skin cells. These healthy fats also reduce skin inflammation.
Oranges are extremely high in antioxidants. These help brighten the skin. Their vitamin C content helps prevent skin inflammation ( breakouts). It helps improve the absorption of Vitamin E and iron in the body, and this, in turn, gives you a radiant complexion. Many skincare products have orange extract in them.
Watercress is a rich source of beta carotene and Vitamin C needed to quench free radicals, which can cause damage to skin cells. In addition, watercress contains Vitamin E.  It is this powerhouse of nutrients and the chain reaction in which they all three work together that impacts the skin and helps keep it youthful and healthy. Gram for gram, watercress contains more vitamin C than oranges, four times more beta-carotene and vitamin A than apples, tomatoes and broccoli, more vitamin E than broccoli, more calcium than whole milk and more iron than spinach.

Bee pollen is a skin soother. It is often used in topical products that aim to treat inflammatory conditions and common skin irritations like psoriasis or eczema. The amino acids, vitamins and minerals ( like copper) protect the skin and aid the regeneration of skin cells. Yes, I realize it is not vegan- but I felt it must be included as an option.
Have a healthy and delicious week… and feed your skin!
xoxo
More recipes you may enjoy!
Print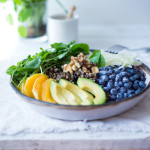 Healthy Vegan Summer Glow Bowl
Prep Time:

20 mins

Cook Time:

1 hour

Total Time:

1 hour 20 minutes

Yield:

4

1

x

Category:

Main, vegan, bowl,

Method:

Stove top

Cuisine:

Northwest
---
Description
A nutritious  and tasty Summer Glow bowl- low fat, vegan and full of healthy  anti-oxidants that will not only energize you but leave you will a glow.
---
1

cup

black barley – or grain of your choice (uncooked)

2

cups

blueberries

1

Fennel bulb, shaved thinly

1

bunch watercress

1

Orange, peeled and segmented, or sliced

1/4

Red onion, thinly sliced

1

Avocado, sliced

1/4

C walnuts
Citrus  Dressing
---
Instructions
Place black barley in a medium pot with 4 Cups water. Bring to a boil, turn heat down to low, cover and simmer one hour, until cooked al-dente. Drain and chill.
Prep all the veggies, taking care to thinly slice the fennel bulb and red onion. ( I often use a sharp vegetable peeler or mandolin.)
Divide Black Barley among 4 bowls.
Divide the rest of the ingredients- blueberries, fennel bulb, red onion, watercress, avocado, orange slices and walnuts – among the bowls.
Make the dressing -stir all the ingredients together in a small bowl.
Divide the dressing among the bowls, drizzling over all the ingredients. Enjoy!
---
Notes
The honey and bee pollen in the dressing, are not vegan- but both are optional.
If using another whole grain-cook according to package directions.
Nutrition
Serving Size:
Calories:

422

Sugar:

16.8 g

Sodium:

181.5 mg

Fat:

15.5 g

Saturated Fat:

2 g

Carbohydrates:

68.2 g

Fiber:

15.9 g

Protein:

9 g

Cholesterol:

0 mg
Keywords: vegan bowl, healthy bowls, vegan bowl recipes, vegan buddha bowls, vegan recipes, best vegan bowl recipe