Indian Cauliflower with Chickpeas and Caramelized Tofu seasoned with Madras Curry – a flavorful and delicious vegan dinner!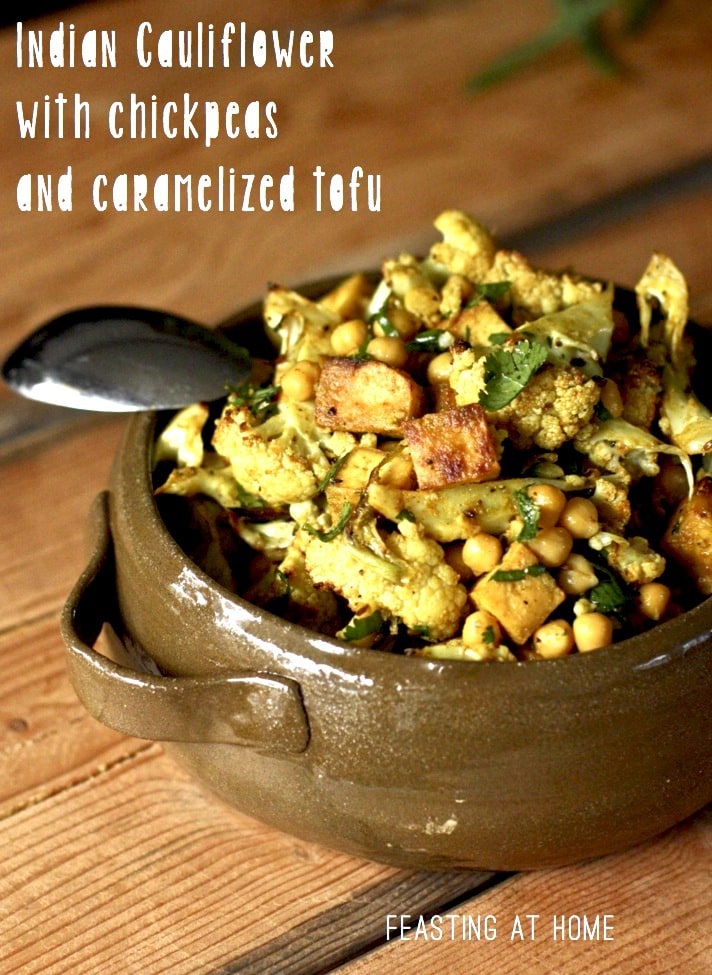 I have been dreaming of faraway lands. Sometimes it helps to pick a country and go there, only if it's just for dinner. This fragrant and warm recipe for Indian Cauliflower with Chickpeas and Caramelized Tofu is seasoned with Madras Curry, named after the old city of Madras in Southern India, now known as Chennai.
Madras Curry is a blend of spices and chilies, and like all curry, varies greatly from region to region. In this dish, the cauliflower is roasted until golden and crispy, and the chickpeas add a toothsome snap. The caramelized tofu rounds out the dish, making it a meal while giving it a lovely texture and a hint of sweetness. If you are leery about tofu, this would be a good one to try for its great texture and flavor. The aromatic earthy spices of Madras Curry take you far away.
Have this on its own for a hearty vegan main dish, or over greens for a hearty salad.
Leftovers can be refrigerated and served chilled the next day over a bed of dressed greens.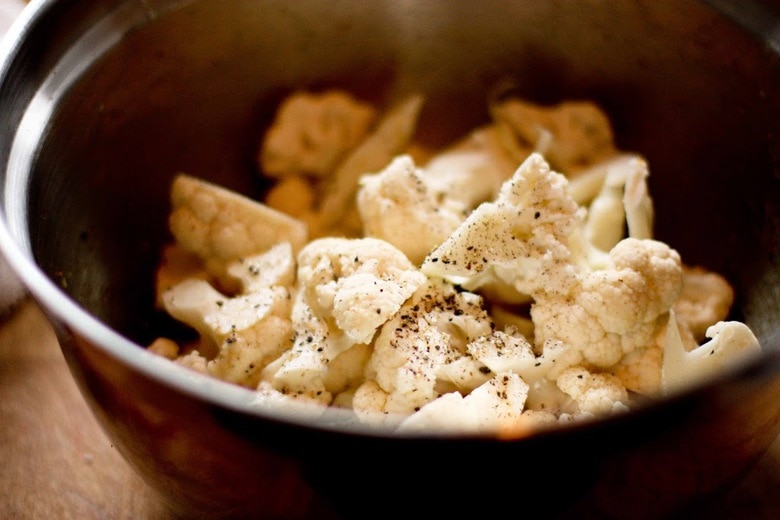 You first toss the cauliflower in spices and roast until caramelized.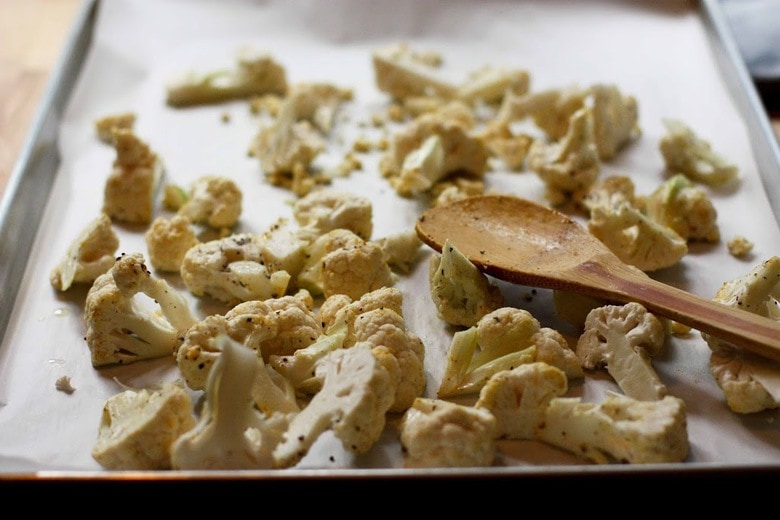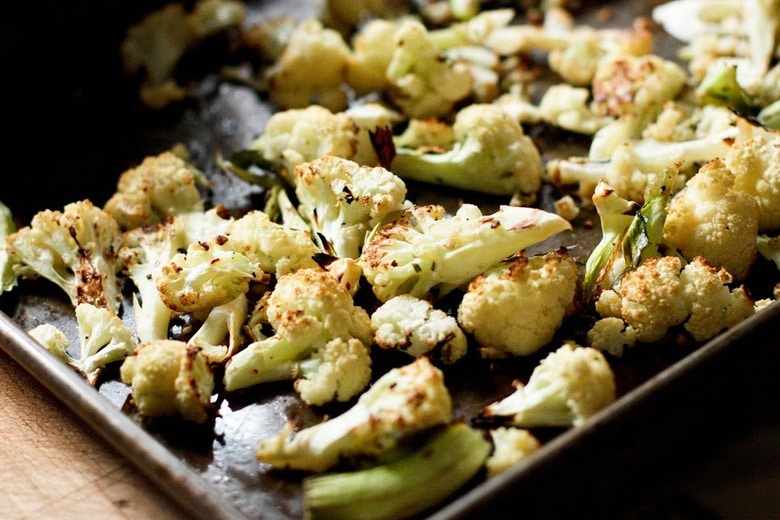 While the cauliflower roasts, pan sear the tofu to get it crispy.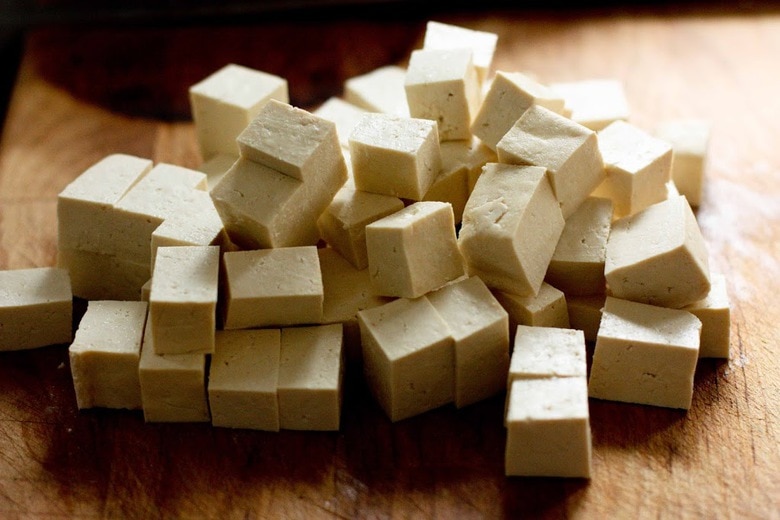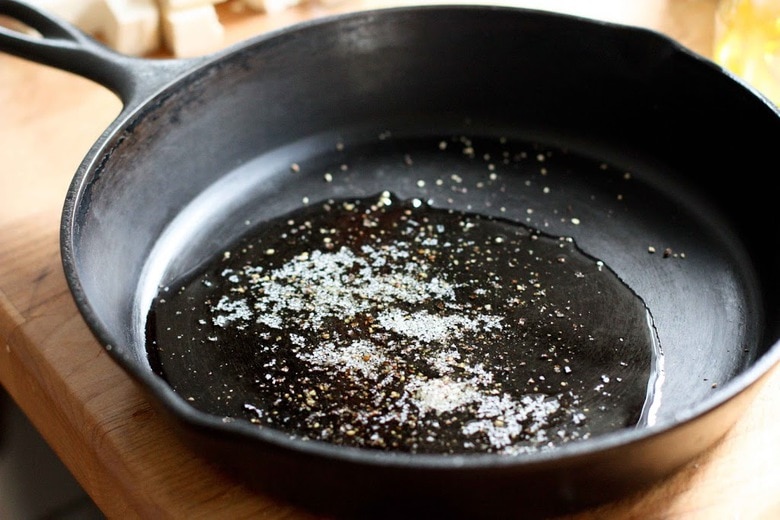 Pan sear until golden.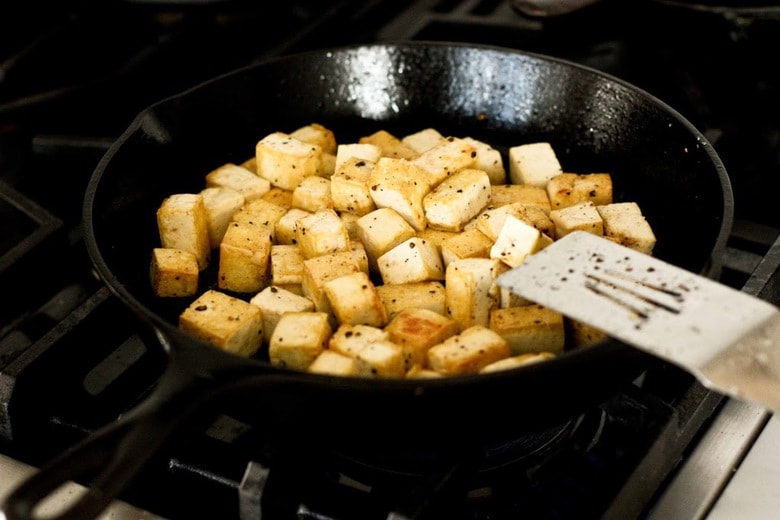 When the Cauliflower is done, heat up the rinsed chickpeas in a
small pot
, adding a little water and
salt
. Drain and place the warm chickpeas in a bowl.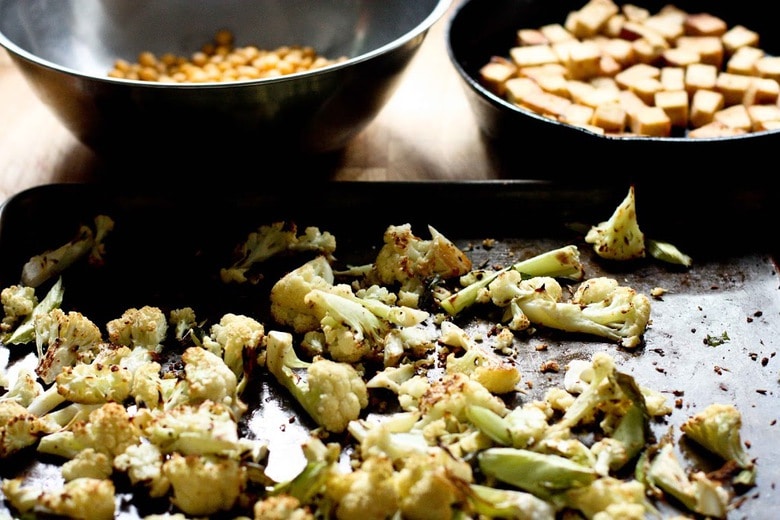 Add the cauliflower,
crispy tofu
, dressing and the fresh herbs.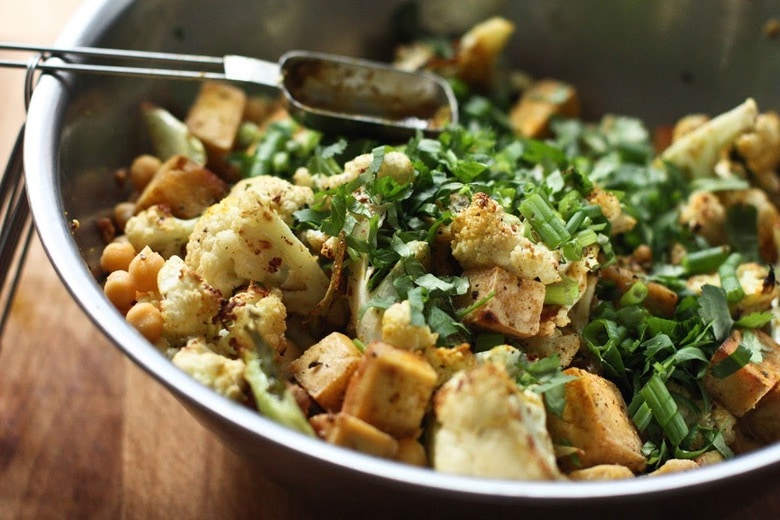 Give a toss.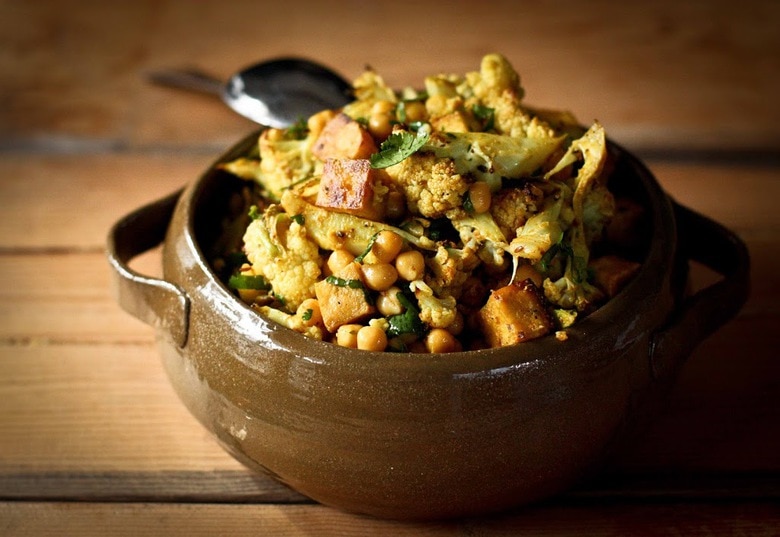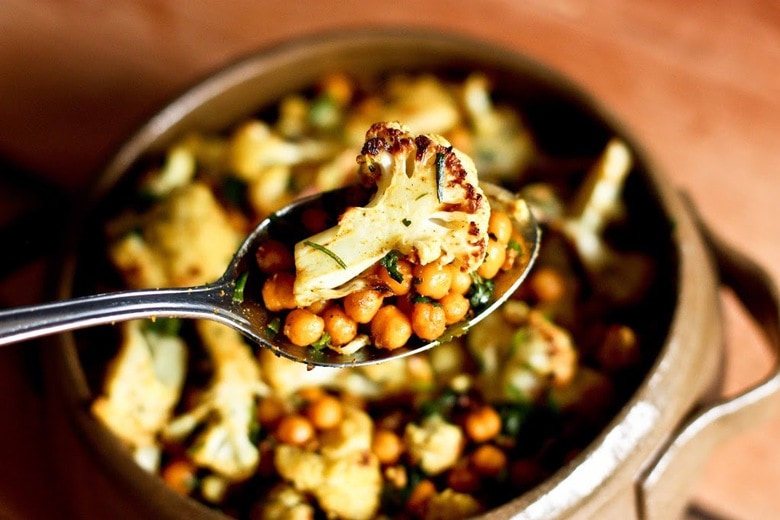 Print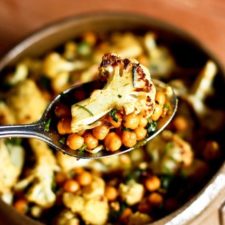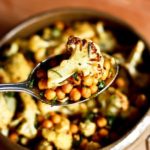 Indian Cauliflower with Chickpeas and Caramelized Tofu
Author:

Sylvia Fountaine

Prep Time:

20

Cook Time:

50

Total Time:

1 hour 10 minutes

Yield:

4

Category:

Indian, vegan

Method:

roasted

Cuisine:

Indian
---
Description
Indian Cauliflower with Chickpeas and Caramelized Tofu seasoned with Madras Curry – a flavorful and delicious vegan dinner!
---
1

head cauliflower – cut into

1

inch bite size pieces

2

cloves garlic, minced

2

T olive oil

1 tsp

kosher salt

1/2 tsp

cumin seeds

1/2 teaspoon

fennel seeds
cracked pepper
—–

1

14 ounce can chick peas -drained, rinsed and heated

1

 16 oz block tofu – cut into

3/4

inch cubes

1/2 tsp

kosher salt
cracked pepper to taste

2

–

3

 Tablespoons coconut oil
pinch brown sugar

Dressing:
2

–

3

Tablespoons madras curry spice

3

T olive oil
Garnish: 
1/4 C chopped cilantro
1/4 C chopped scallion
1/4- 1/2tsp more salt to taste
---
Instructions
425 F Oven.
Roast cauliflower: Cut cauliflower into bite-sized pieces and toss with 2 T olive oil, 2 minced garlic cloves, 1 tsp salt, cumin and fennel seeds and cracked pepper. Roast in the oven on a baking sheet for 20-30 minutes until golden, tender and edges are crispy, stirring a couple of times.
Pan Sear tofu: Blot tofu with paper towels, pressing down to release moisture. Cut into bite sized cubes. Heat 2-3 T coconut oil in a skillet along with 1/2 tsp salt and cracked pepper, also in the skillet, on medium-high heat. Give a quick stir and add tofu and let brown, turning occasionally until most sides are golden, about 8-10 minutes. Sprinkle with a generous pinch of brown sugar, and cook for one more minute. Set aside.
Mix the dressing ingredients (oil, vinegar and curry spice) together in a small bowl.
Combine: Place the heated the chickpeas in a large bowl. Add the roasted cauliflower, caramelized tofu, add the dressing and fresh herbs and toss.  Taste for salt and pepper.
Either place in a heatproof casserole dish, and place in a warm oven until ready to serve, or chill and serve over dressed greens.
---
Notes
To make Madras Curry Spice Blend:
1 1/2 tablespoons coriander seeds
1 1/2 tablespoons cumin seeds
1 tsp mustard seeds
1 tsp fennel seed
2 tsp ground cinnamon
1 1/2 tablespoons peppercorns
1 tsp ground nutmeg
1/2 tsp ground cloves
1 tsp tablespoon ground cardamom
2 tsp tablespoon turmeric
1 tsp tablespoon ground ginger
1/2 – 1tsp cayenne (depending on how spicy you like)
Directions:
In a dry skillet over very low heat, place the coriander, cumin, mustard and fennel seeds. Roast the seeds gently, shaking the pan occasionally, until they begin to pop. When about half the seeds have popped, add the cinnamon, peppercorns, nutmeg, cloves, cardamom, turmeric, ginger and cayenne.
Continue to heat and stir gently until the mixture is quite hot but not burnt. Pour into a dry blender or food processor, or use a mortar and pestle. Grind into a fine powder. Pour into a clean, dry jar, seal, and let it cool before using.
---
Keywords: Indian cauliflower, vegan indian recipes,