Vegan Sunshine Bowl w/ fresh crunchy summer veggies- grated beets, carrots, kohlrabi, sunchokes, radish & jicama with nutty brown rice and sunflower seed "tahini" sauce.
Vegan and GF!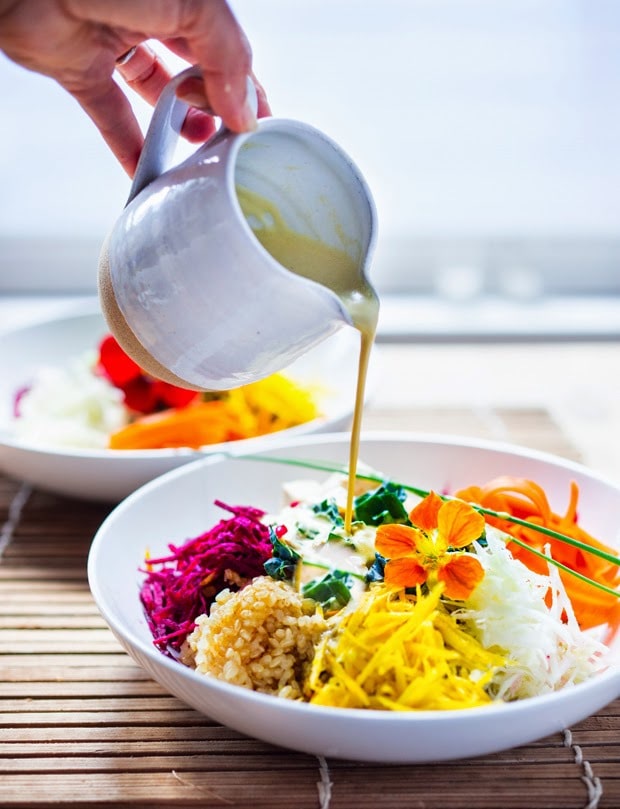 Happiness consists not of having, but of being. It is a warm glow of the heart at peace with itself.
David O. McKay
Coming home after a two week road trip, exploring Idaho's beautiful nooks and crannies -our fridge is frighteningly bare. I make a quick trip to the
farmers market
and return home, arms full of fresh produce. While at the market, I have this Sunshine Bowl in mind and make sure to pick out fresh crunchy veggies like golden beets, carrots, kohlrabi, sunchokes, radish, jicama and cucumber – all which can be grated, spiralized or thinly sliced- and taste good in their raw state.
In this recipe, all the veggies are raw, served over a bed of warm, short grain nutty brown rice (or any other whole grain) with kale.
But it's the Sunflower Seed
Tahini Sauce
that really makes all this healthiness -palatable and delicious. Earthy and flavorful, it's low in fat and oil, vegan and gluten free. Because most of the ingredients are all raw, this dish is pumped full of antioxidants, vitamins and living nutrients. I think of this as a "detox" bowl, and whenever I eat this, I feel energized and alive, and my body thanks me for it. It also passes the Brian taste test, meaning – he loves it without knowing how good it is for him. Haha!
The Sunshine Bowl makes shopping at the farmers market fun… giving a good excuse to try different, interesting veggies that you wouldn't normally pick out.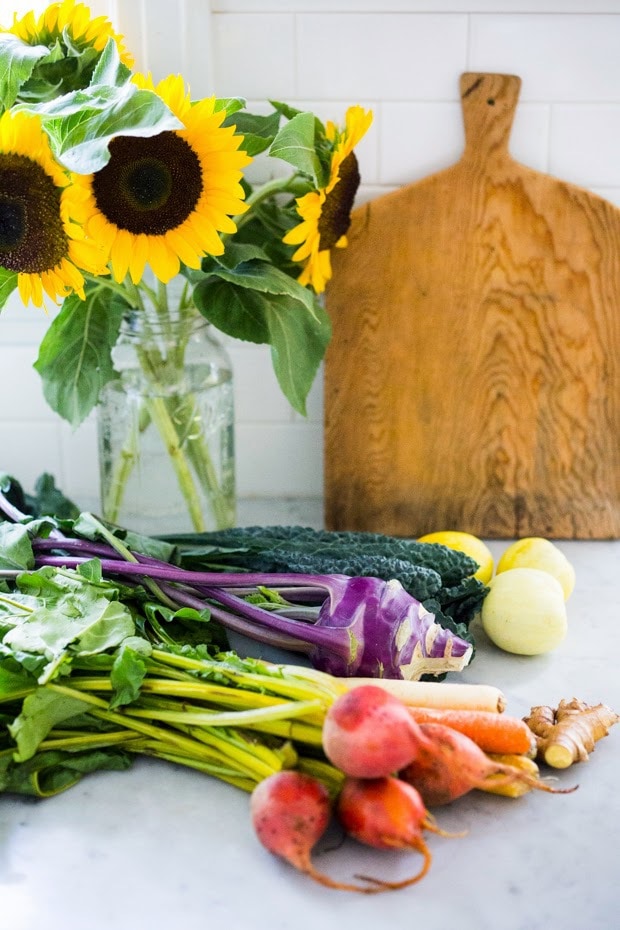 You will need a total of four cups of grated or sliced raw vegetables…so try to use four different vegetables.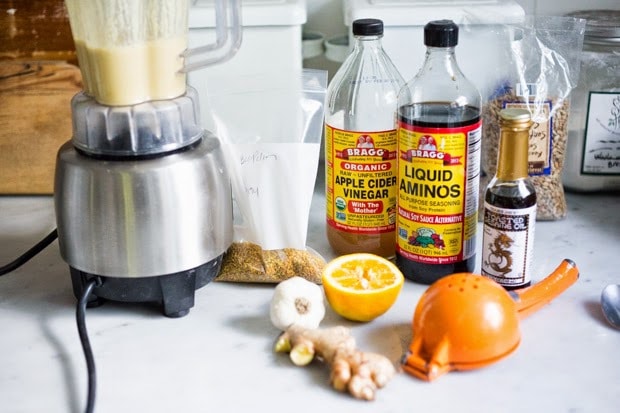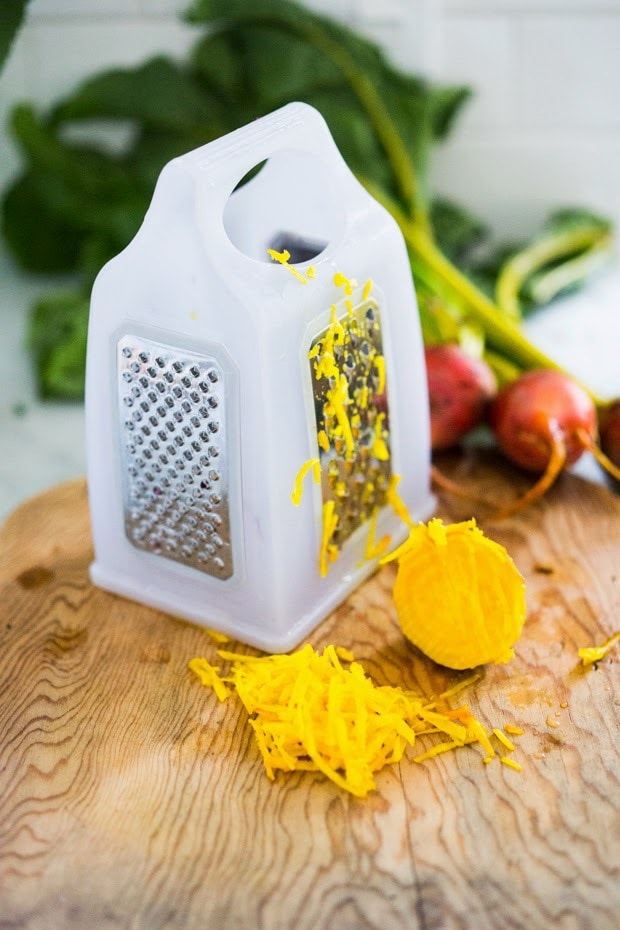 Fresh grated beets add a pleasant sweetness to the dish, and I always try to include them.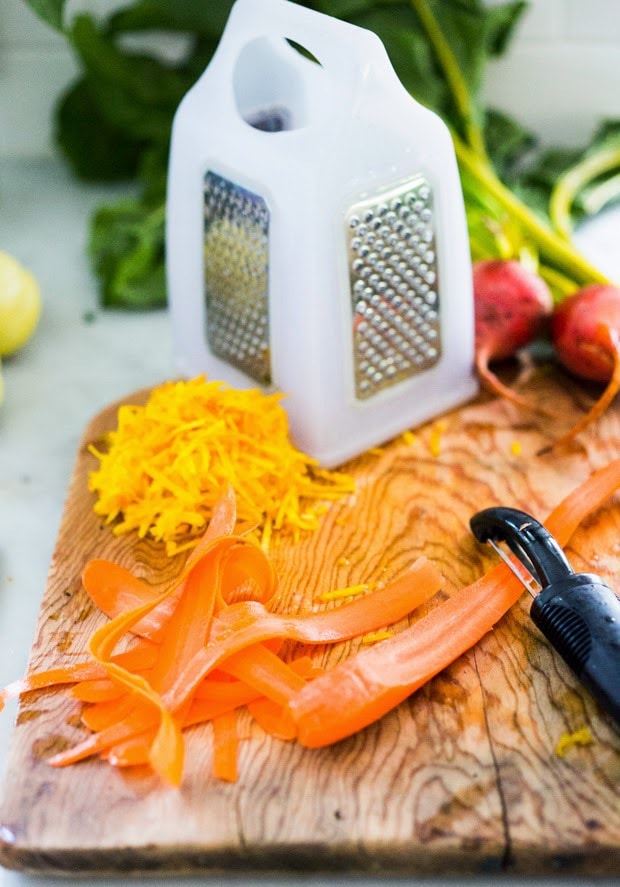 Carrots can be grated -or shaved with a vegetable peeler to add a different texture.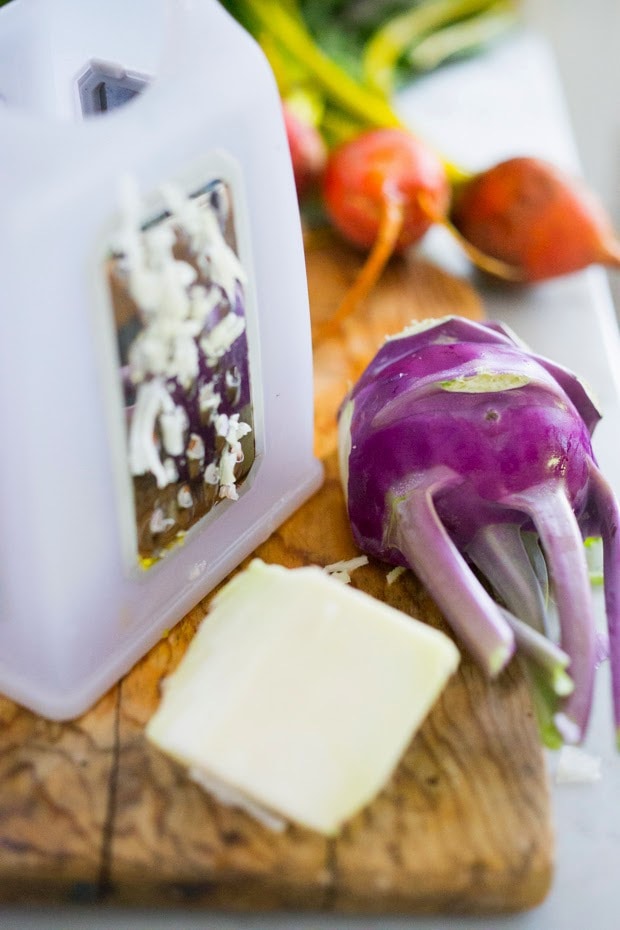 Kohlrabi has thick skin, so be sure to peel and either grate or cut into fine matchsticks. It tastes a little like a cross between turnip and radish. Substitute fresh radishes, or daikon if you can't find these.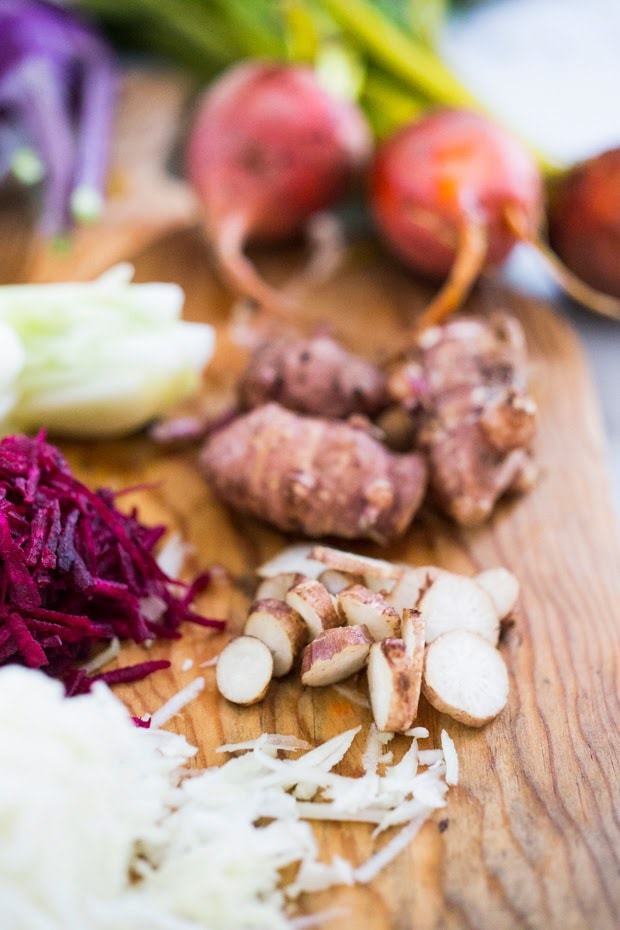 Fresh sunchokes, are the tuber of a type of perennial sunflowers. Raw they add a delicious crunch and nutty flavor. Roasted they taste similar to artichokes. For this recipe, I leave them raw, scrub them and slice them thinly, leaving the peels on.
For protein, add small cubes of raw, sprouted tofu lightly marinated in Braggs Liquid Aminos. Of course you can always crisp up or bake the tofu, or add a poached egg to the top, but for the sake of keeping this lean and raw, I used fresh uncooked tofu.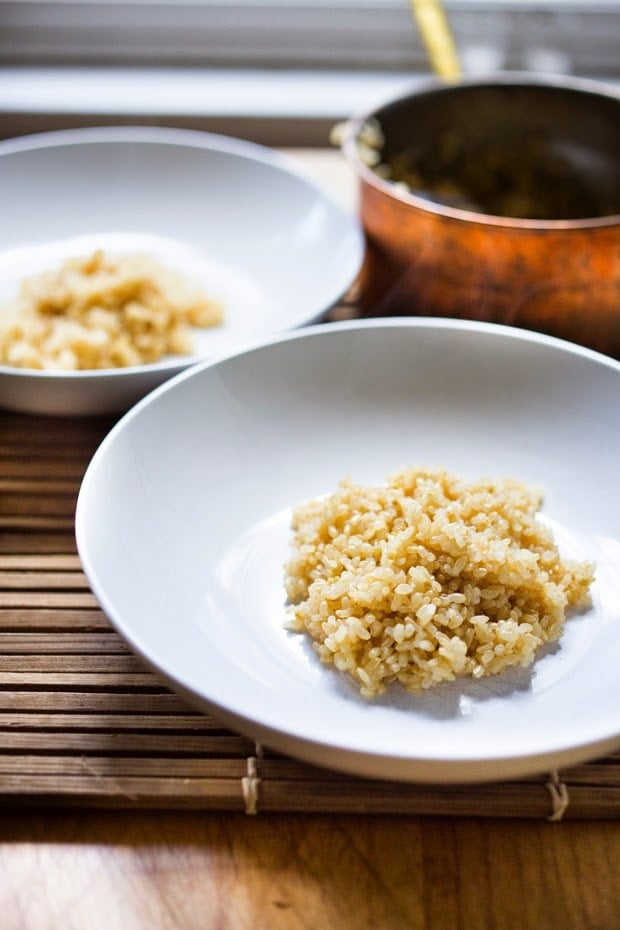 Once the rice is cooked and the veggies prepped, divide into bowls. Place a bed of warm rice or grain into the bowls and top with kale and then divide the other veggies.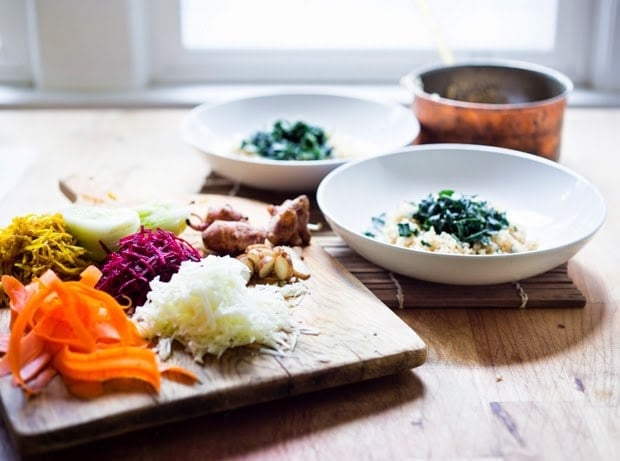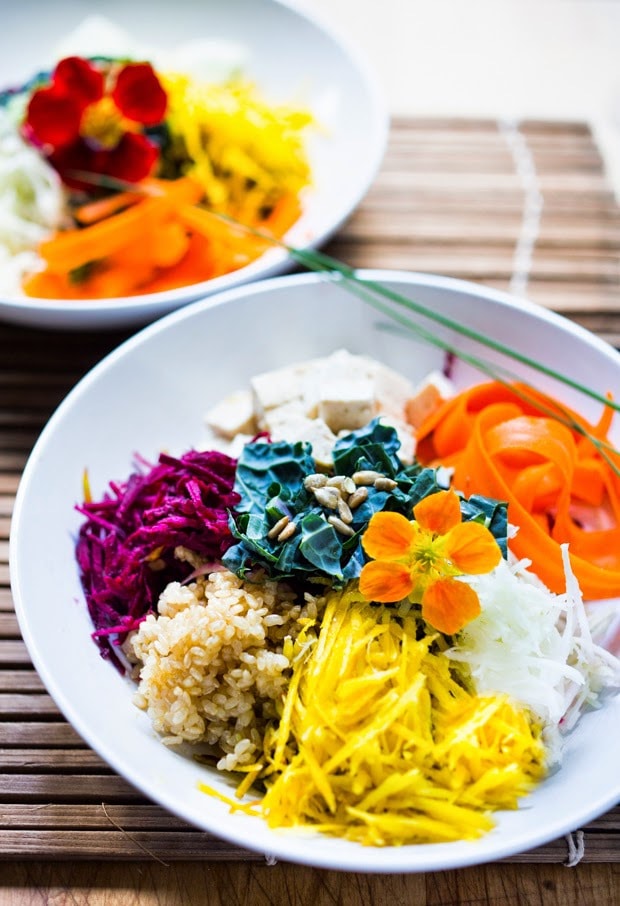 Drizzle the Sunflower Seed
Tahini Sauce
over top……. and feel your body tingle with energy.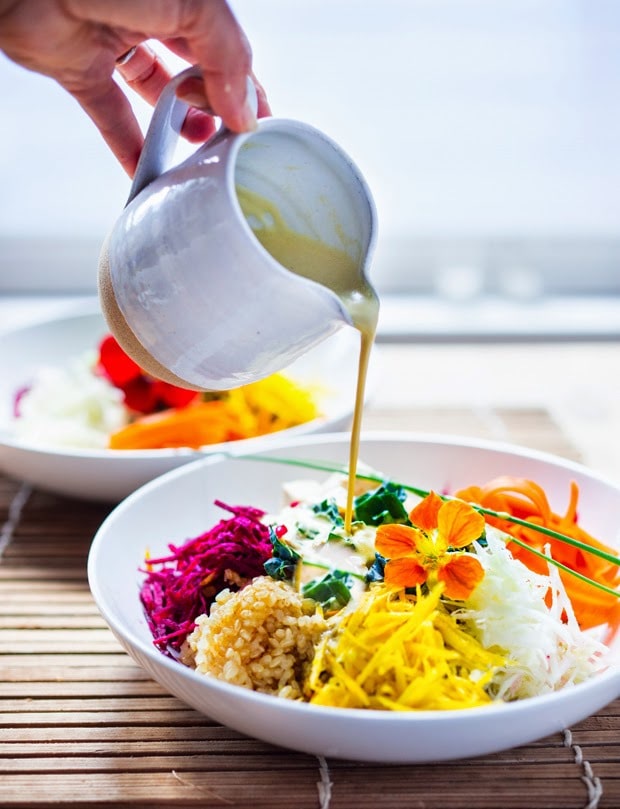 Thanks for reading! For more Feasting at Home …
and subscribe to receive new posts via email.
Print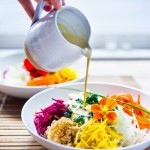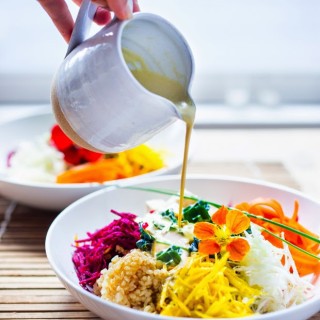 Sunshine Bowl w/ Sunflower Seed Tahini Sauce
Prep Time:

20 mins

Cook Time:

20 mins

Total Time:

40 minutes

Yield:

4

Category:

healthy veggie Bowl

Cuisine:

Vegan
---
Description
A low fat, vegan, healthy veggie and grain bowl with a flavorful sunflower seed tahini sauce.
---
4 cups

hot cooked brown rice, quinoa or other whole grain

1 cup

cubed extra-firm tofu

4 Cups

fresh raw crunchy veggies, grated and/or sliced – grated beets, grated carrots, radish, daikon, kohlrabi, cucumber, jicama, peppers, tomatoes

2 cups

packed leafy green–kale, spinach or arugula

2

T chives or scallions- chopped

2

T sunflower seeds

1 tsp

Braggs Liquid Aminos ( or tamari or soy sauce)
Sunflower Seed Tahini Sauce:
---
Instructions
Cook grain or rice according to directions. Drizzle 1 teaspoon Braggs liquid amino over cubed tofu in a bowl and set aside, letting it marinate.
Prep all veggies (peel- then grate or slice).
Make sunflower tahini dressing– place all ingredients in a blender and blend until creamy and smooth. If too thick, add a little more water as needed.
When grain is cooked, divide among 4 bowls. Top with chopped kale. Arrange veggies and tofu overtop.
Drizzle with tahini sauce. Garnish with chopped chives ( or scallions ) and sunflower seeds.
Notes: you can also pan sear tofu ( blot dry after marinating and coat in cornstarch, sear in oil until crispy)
---
SaveSave
SaveSave
SaveSave