How to make Baked Tofu – with three bold and flavorful marinades! Never have bland tofu again, with these three variations – Sesame Ginger Miso, Spicy Mexican Tofu, and BBQ Tofu. Simple, vegan and easy recipes! Great for meal prep!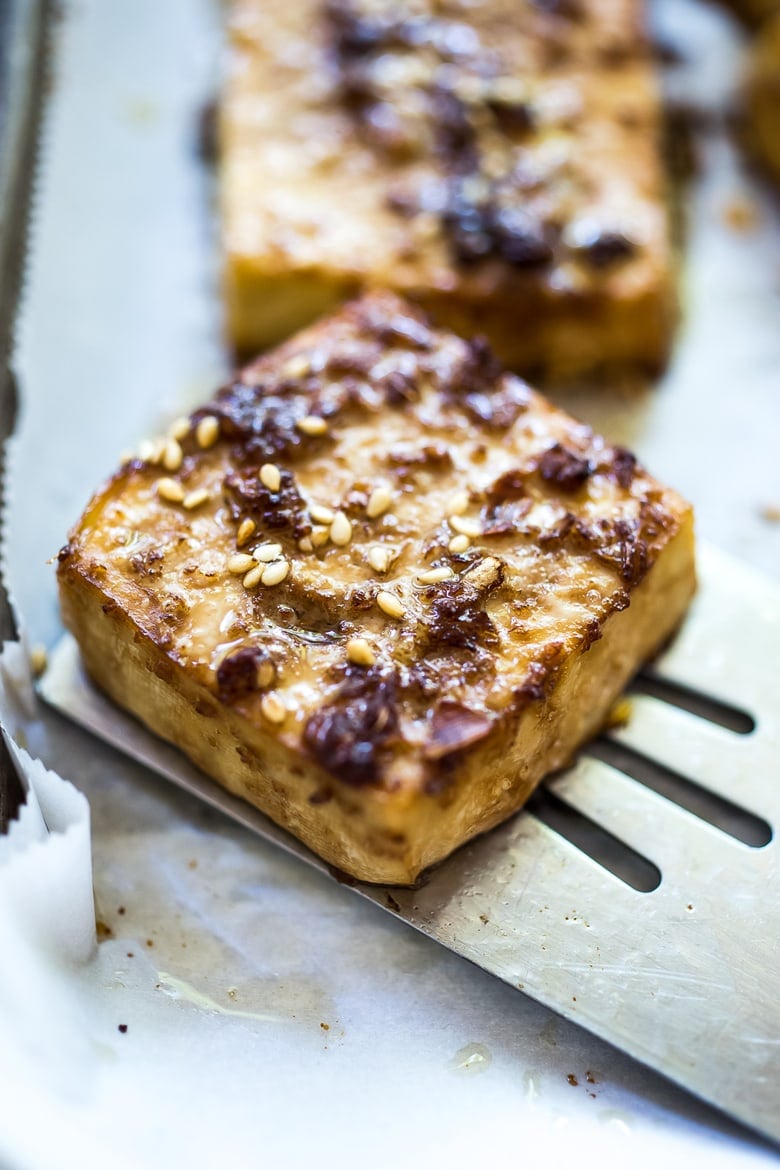 Many of you have been messaging and emailing me, asking me how to cook tofu in a way that actually tastes good.  My favorite way to cook tofu is to bake it in a flavorful marinade.
Here are three bold and flavorful marinades that will boost tofu's flavor and give it the texture you will love. Aside from pan-searing with a little olive, salt and pepper, baked tofu is really as easy as it gets.
Much like a sponge, baked tofu will soak up whatever flavor is on it so making it flavorful is dependent entirely upon you. Baking tofu seems to encourage this process even more while giving it a pleasant crispness.
Even the pickiest of eaters seem to enjoy these! Truly! And these three flavorful tofu marinades are simple enough to incorporate into your weekly meals. Pick one, then prep a batch on Sunday adding it to meals you are already making – Buddha Bowls, tacos, stir-fries, Asian noodles or simply serve with a hearty side of veggies.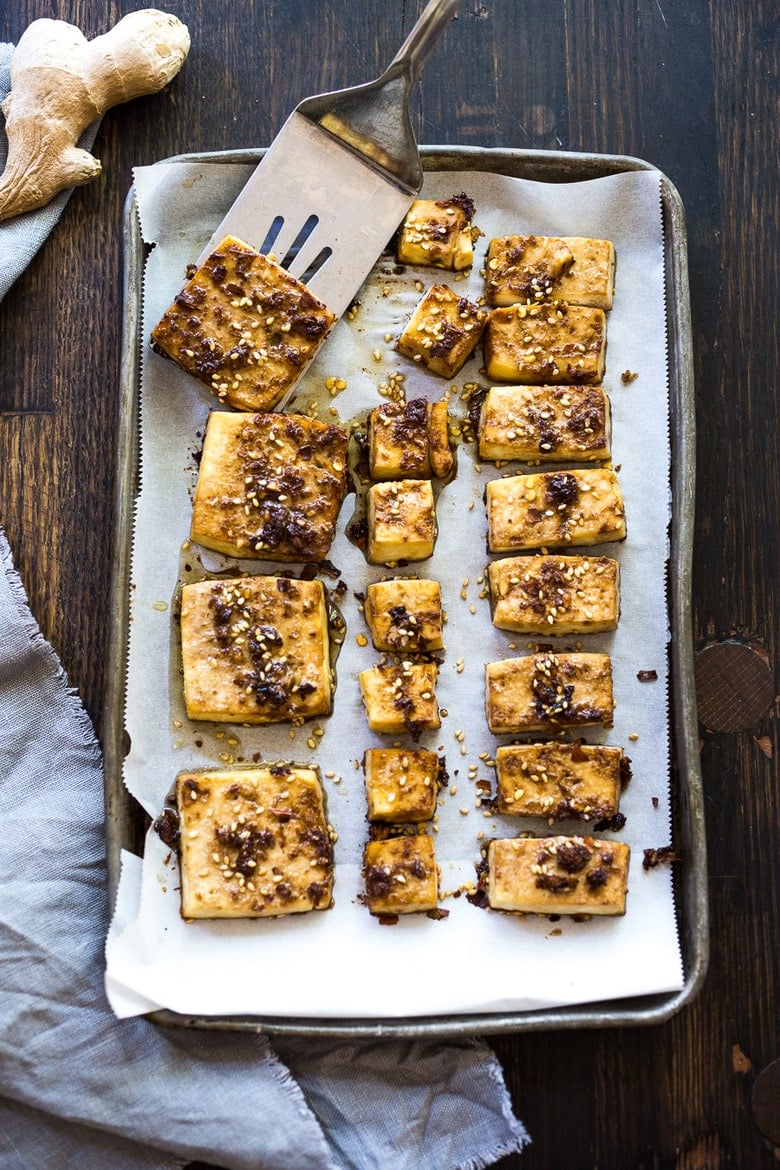 Three flavorful baked tofu marinades!
1. Baked Sesame Ginger Tofu – especially good with Asian style dishes like the Thai Noodle Salad from last week -also really tasty in spring rolls,  or Asian style buddha bowls or serve as a simple vegan main with a side of seasonal veggies.
2.  Baked Spicy BBQ Tofu–  a mix of your favorite barbecue sauce w/ a little sriracha sauce ( or chili flakes)  spooned over salted tofu before baking. Great alongside summer BBQ style meals with grilled corn, avocado and slaw, or in vegan sliders or sandwiches or over a bowlful of grilled summer veggies.
3. Smoky Spicy Mexican Style Baked Tofu – seasoned with cumin, chili powder, chipotle, this flavorful tofu is perfect in tacos, burrito bowls or in taco salads.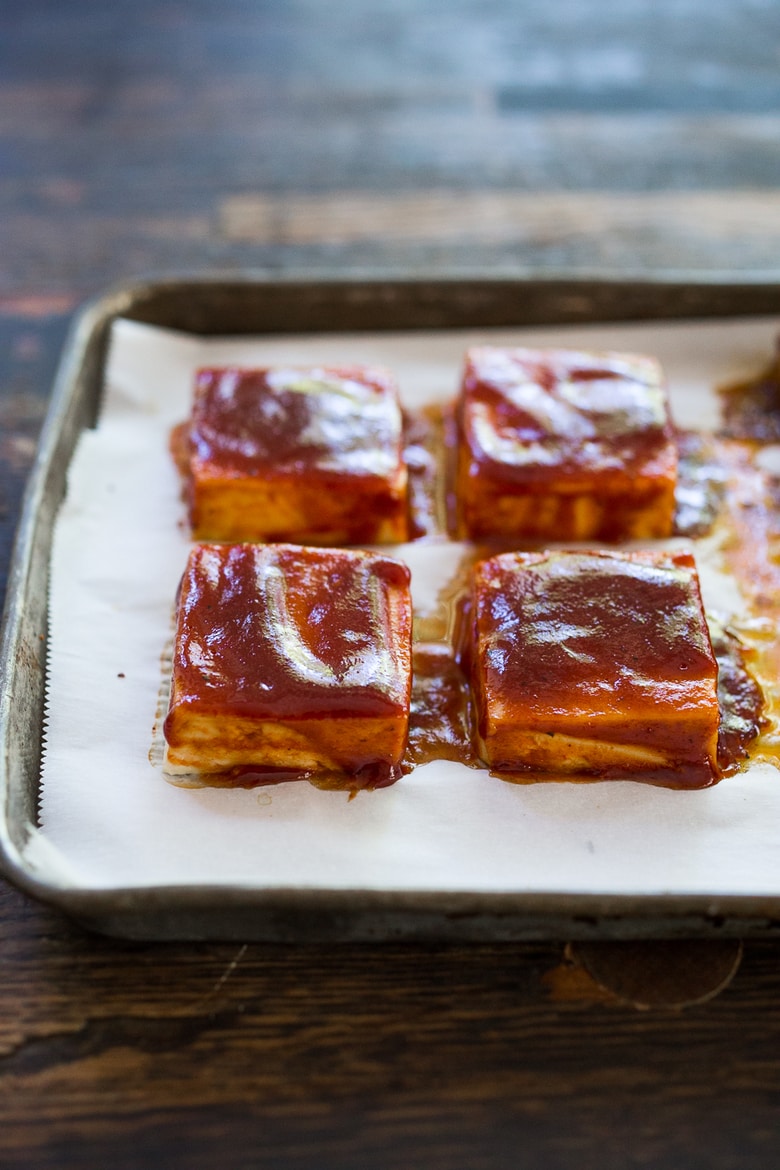 What I like about these baked tofu recipes is that you can prep and bake a batch of this ahead on Sunday, then use the baked tofu for various mid-week meals when time is short. They also come in very handy for the Energy Bowls you received when you signed up for the blog. Also note, the marinades will also work with great with chicken, shrimp or fish.
The tofu marinades take about 5 minutes of hands-on time before going into the oven to bake for 25-30 minutes.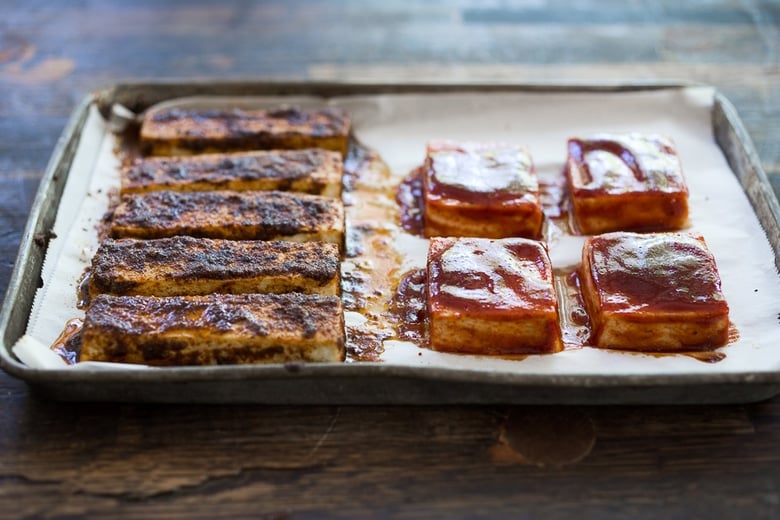 Some of you have been telling me you are "off" soy and I understand. For me personally, when purchasing tofu, I opt for organic, non-GMO firm tofu and enjoy it in moderation – once a week or so- as a good source of plant-based protein. Plus I just like really it and so does my meat-loving husband, always a bonus!  So to mix it up, it's part of our repertoire. Too much of anything is never a good idea.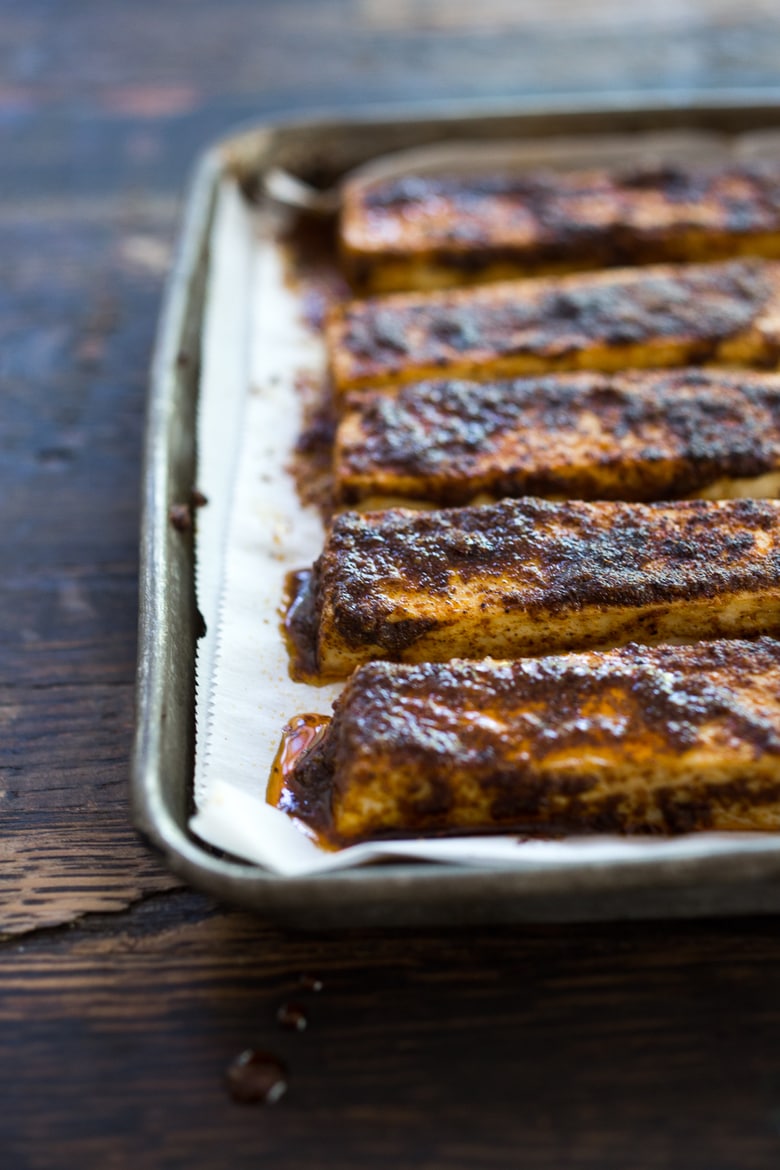 Above, the smoky spicy Mexican Baked Tofu is perfect for midweek tacos.
Below, the Sesame Ginger Baked Tofu is delicious over Thai peanut noodles.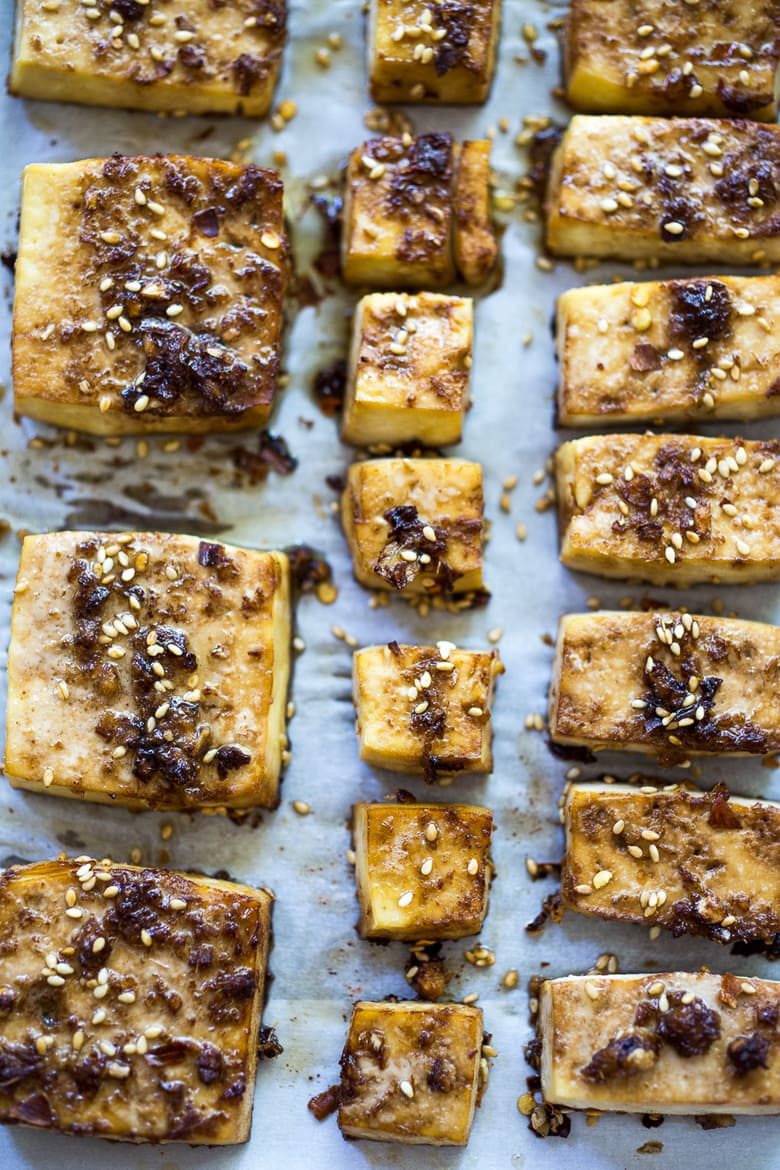 Sometimes I'll cut the tofu in different shapes and sizes for various uses. For example, I cut them into long narrow strips for spring rolls and tacos. Bigger "filets" are used as a "main" and smaller cubes are great for Buddha Bowls or tossed in salads. For baking make sure the tofu is about ¾ an inch thick.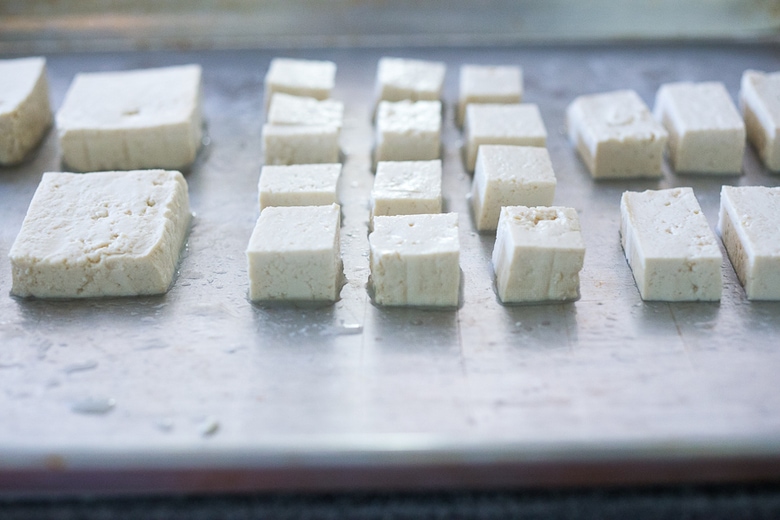 Blend or stir the marinade ingredients together and simply pour over or brush on.
Bake at 400 F for 25-30 minutes. And that is it!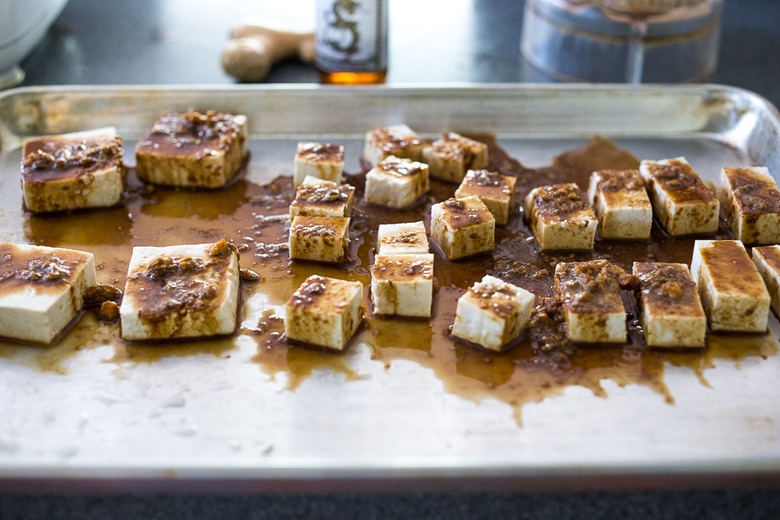 The baked tofu comes out crispy and full of flavor.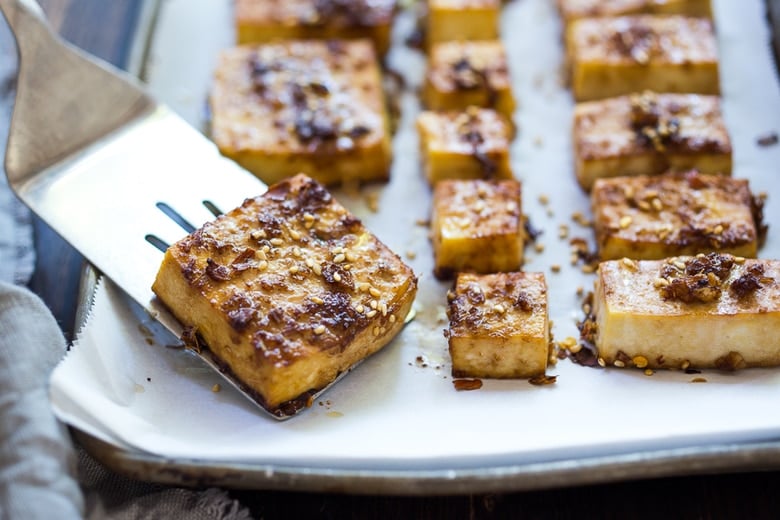 Baked tofu will keep up to 4-5 days in the fridge. It's actually quite good cold.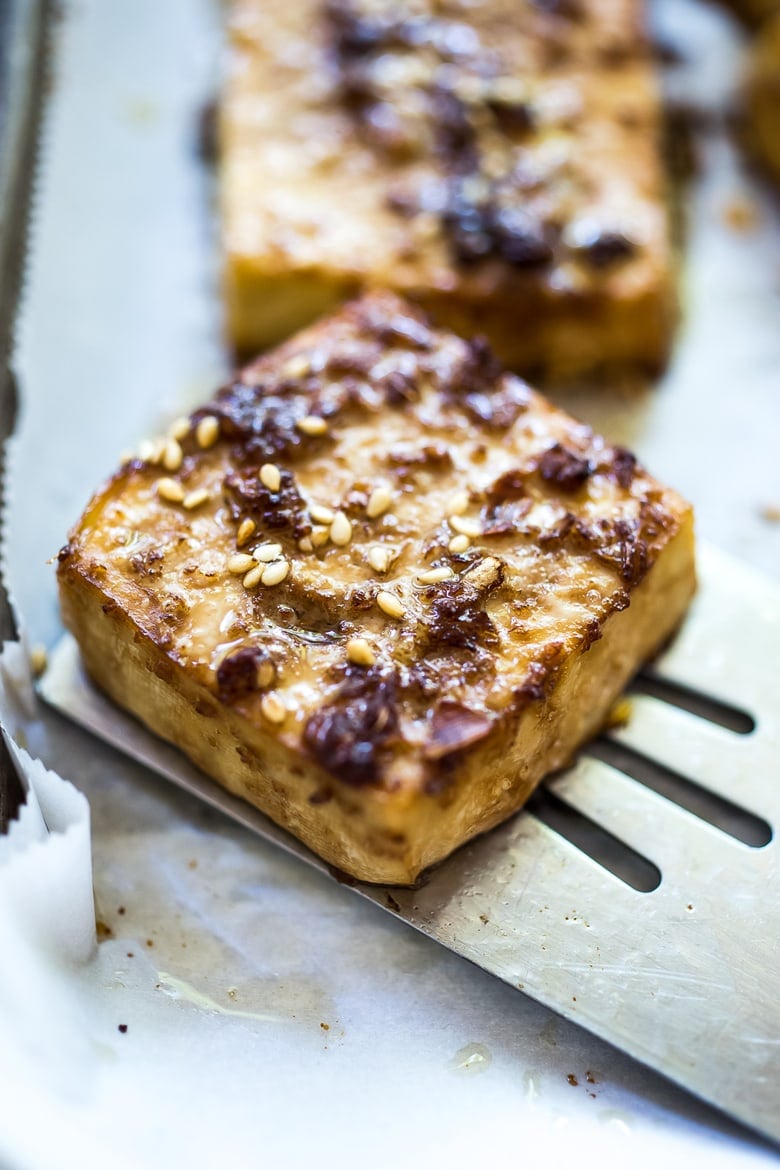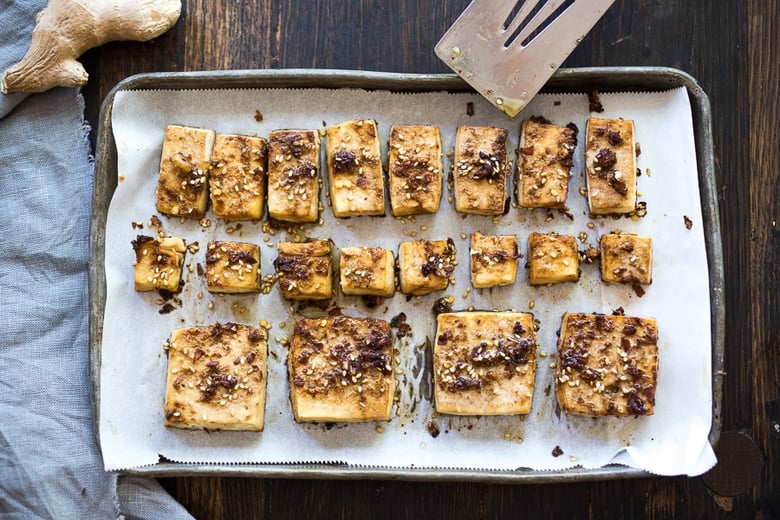 Here is the sesame ginger baked tofu, with my favorite salad…..Thai Noodle Salad!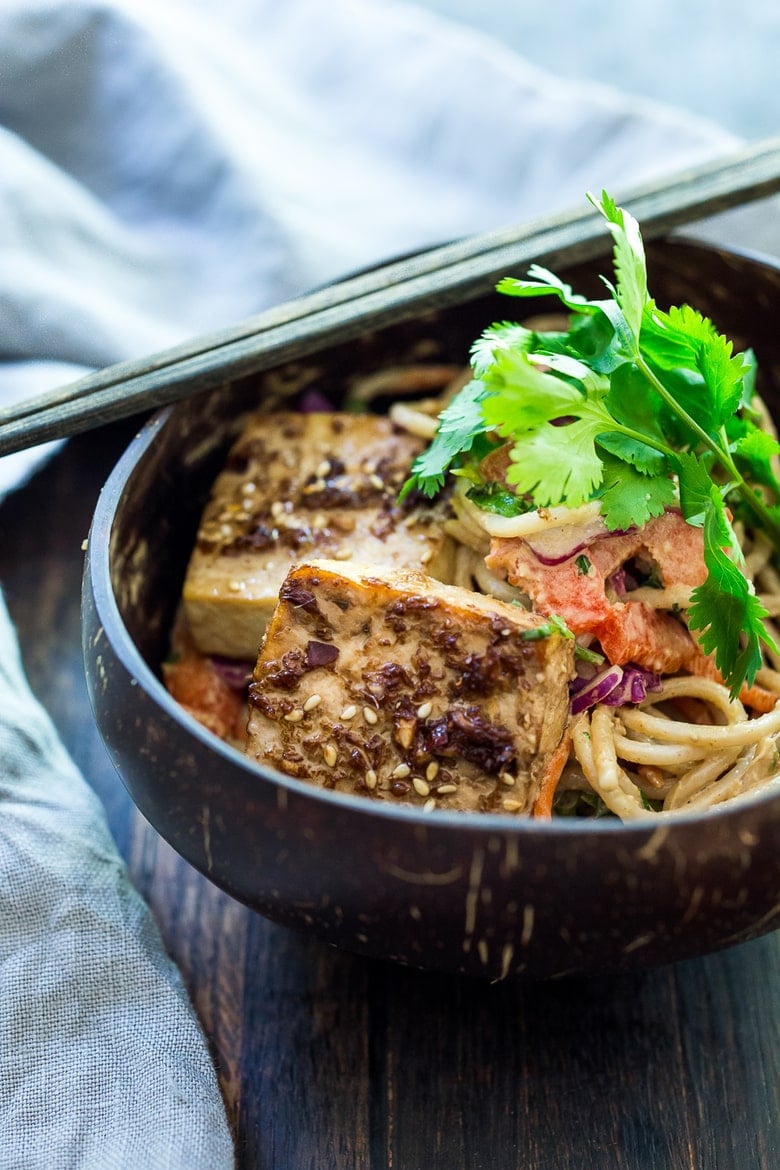 Tofu recipes need not ever be boring or bland again! Try one of these Baked Tofu recipes this week!
Print
Baked Tofu! (3 Flavorful Marinades!)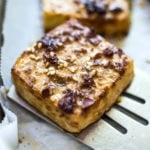 Baked Tofu! With three FLAVORFUL marinades! Never have bland tofu again, with these three variations – Sesame Ginger Miso, Spicy Mexican Tofu and BBQ Tofu. Simple, vegan and easy recipes! Great for meal prep!
Author: Sylvia Fountaine
Prep Time:

5

Cook Time:

25

Total Time:

30 minutes

Yield:

4

1

x
Category:

vegan, tofu recipe, main

Method:

baked

Cuisine:

american
Scale
Ingredients
Baked Ginger Sesame Tofu
16 ounce

s tofu- organic, firm or extra firm, non-GMO

2 tablespoon

s toasted sesame oil

3 tablespoon

s soy sauce- or gluten-free Braggs Liquid amino acids ( tamari will be too salty)

1 tablespoon

miso (or sub

1

more tablespoon soy sauce)

3

–

4

slices thin slices ginger- peels ok

2

garlic cloves

1 tablespoon

rice vinegar (optional)

1 tablespoon

sesame seeds

1

–

3

teaspoons chili paste (all optional)
Baked BBQ Tofu
16 ounce

s tofu- organic, firm or extra firm, non-GMO
generous pinch salt and pepper

½ cup

– ¾ cup bbq sauce ( add sriracha or chili flakes for a little kick)
 Smokey Spicy Mexican Style Tofu 
Instructions
Preheat oven to 400F
Blot tofu well with paper towels. Cut into desired shapes (strips, cubes, squares).
Place on a parchment lined baking sheet.
Pick a marinade.
For Ginger Sesame Marinade: blend ingredients together in a blender until smooth, pour over tofu, coating all sides well.
For BBQ tofu:  Sprinkle tofu with salt and pepper. Mix bbq sauce and 1-2 teaspoons sriacha together in a small bowl. Taste, adjust heat. If you like crispy tofu, stir in a couple teaspoons of olive oil. Liberally coat the top and sides of the tofu with the bbq sauce.
For the Mexican Tofu: Stir all ingredients together in a small bowl then brush the marinade on the tofu.
Place the coated tofu in the 400F oven and check after 25 minutes.
For extra crispy, bake an additional 5 minutes or so.
Notes
If using Coconut Amino Acid instead of Braggs or soy sauce,  add more salt to help the flavor. It's less salty that Braggs and Soy sauce.
Keywords: how to make baked tofu, how to bake tofu, baked tofu, tofu recipe, tofu recipes, baked tofu recipes, tofu marinade, how to cook tofu, how to bake tofu
SaveSave
SaveSave
SaveSave
SaveSave
SaveSave
SaveSave
SaveSave
SaveSave
SaveSave
SaveSave
SaveSave
SaveSave
SaveSave
SaveSave
SaveSave
SaveSave