How to make Fresh Spring Rolls with Peanut Sauce – a healthy vegan version with shredded veggies, mint, basil, and baked tofu. A light nutritious meal or appetizer that can be made ahead and stored!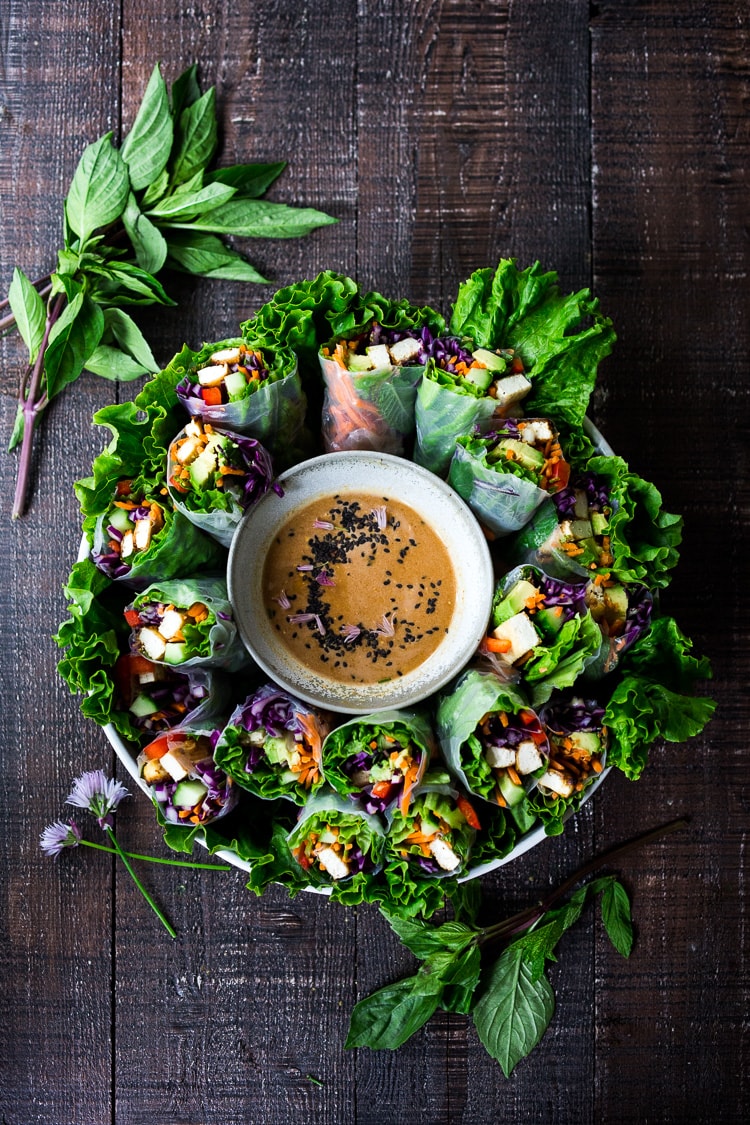 The other day I got a hankering for Fresh Spring Rolls with Peanut Sauce, the ones we had at our former restaurant, Mizuna back in the day.
By now, most of know-how to make spring rolls, so this is mainly here to inspire you to whip some up this week and to show you how to make them ahead and store them if need be.
For those of you who have never tried rolling your own spring rolls, here is a step by step "guide" on how to to do it! They are easier than you think!
How to make fresh spring rolls | 40-sec video!
The nice this is they actually can be made ahead, and keep for several days in the fridge if stored properly (scroll down for our catering secret!) – and it's so nice to have them on hand for snacking or lunching.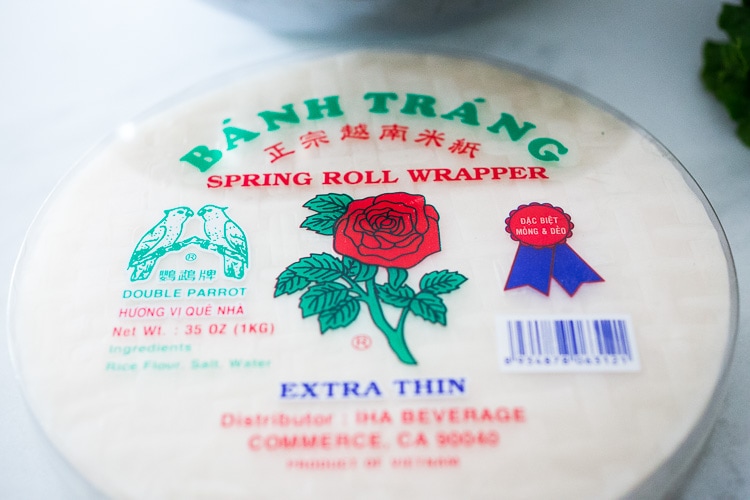 Fresh Spring Rolls start with rice paper which usually is found in the Asian aisle in most grocery stores (not refrigerated). Rice paper comes in different sizes and thicknesses.
Smaller sizes (6-8 inches) are perfect for appetizers. Larger ones like 10-12 inch diameter rice papers are perfect for entree-sized rolls. Choose packages where the rice paper is unbroken and intact. There is nothing more frustrating than working with cracked or torn rice paper!
Before you start your spring rolls, prep all your fillings.
If using tofu, try baking it in a marinade first like this Baked Tofu! You can also use store-bought baked tofu, cut into strips, or even smoked tofu- all delicious!
Feel free to substitute cooked shrimp, avocado slices or even cooked vermicelli noodles for tofu. I've even made this with sesame and soy glazed mushrooms strips.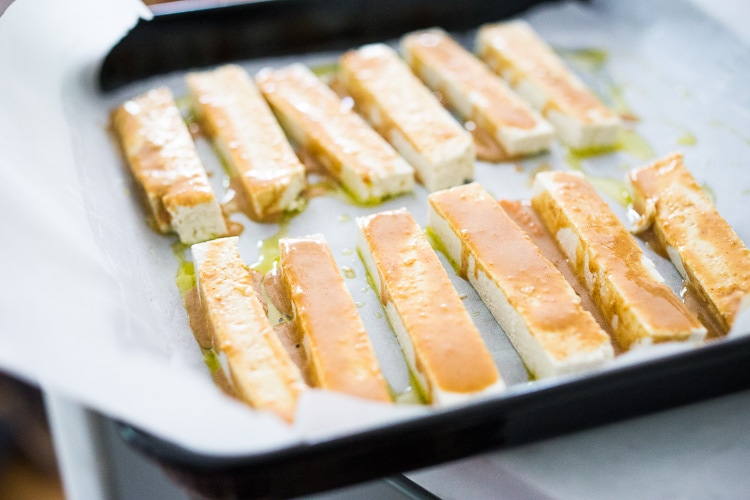 If using the sesame ginger baked tofu, it's nice to make this ahead and chill.
Prep all your veggies!
Cut thin strips of cucumber, thin strips of cabbage, carrots, bell pepper, and daikon is great too. Any crunchy veggies, cut into thin strips. Think about color, you want these vibrant! Add lettuce or greens of your choice.
I like to use a leaf of lettuce at the base of the spring rolls to help prevent the little veggies from poking out, but up to you!
Gather your herbs- mint and *Thai basil are my favorite combo. Cilantro and regular basil work too, but there is something especially refreshing about having the mint. So don't leave it out if possible!
*Thai basil is often found at the farmers market as a potted herb. I often grab a few of these at the beginning of summer and tuck them into my planters, for uses like this. You can also purchase fresh Thai Basil at many Asian Markets.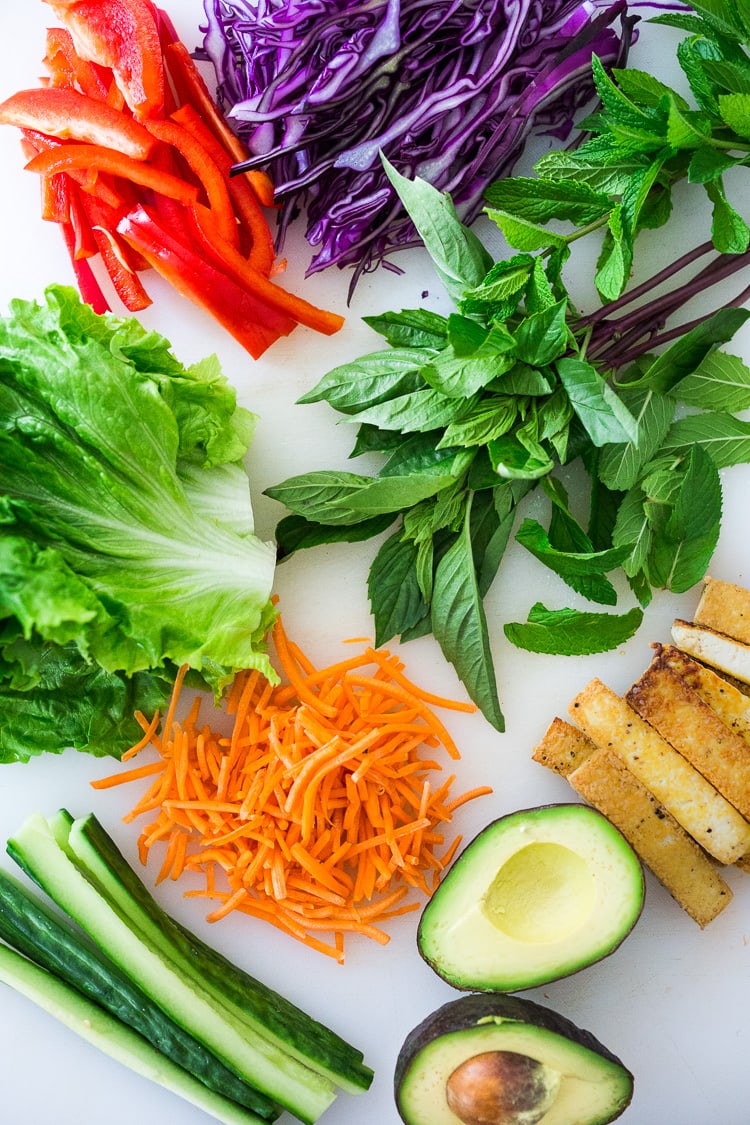 Fill a bowl with lukewarm water.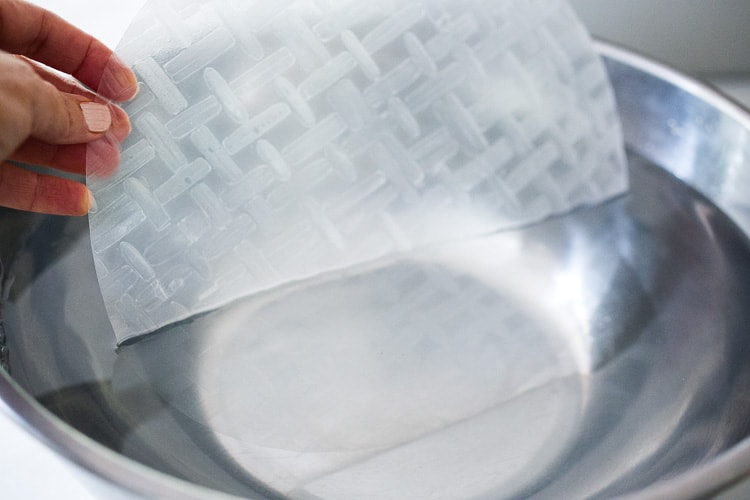 Dipping and Soaking Rice Paper:
Dip the rice paper in a large bowl of lukewarm water and submerge for just a few seconds. If using "thin" rice paper, a quick dip is long enough. If using thicker rice paper, 10-20 seconds may be required. You may need to do a "tester" first.
Wet your countertop, or work on top of a thin, soaked kitchen towel that has been rung out. If your counter is dry, rice paper will likely stick. so remember, wet surface!
Like I said, the first one is always the "tester".
The rice paper should feel slightly pliable ( not completely soft)when you pull it out of the water and place it on the wet counter. It will soften up more as it sits on the wet towel or counter as you are filling it.
If the rice paper breaks easily, it was probably soaked it too long. Just toss it and try it again, reusing the filling.
I've found that each package of rice paper is slightly different and that's why it becomes more of a "feel" thing.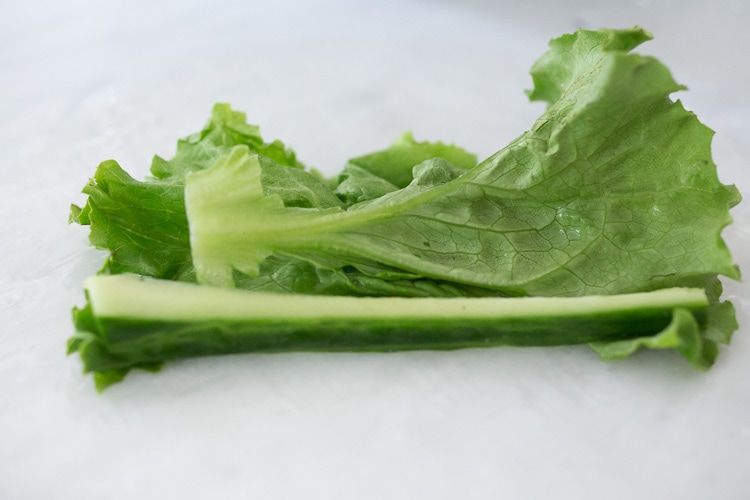 Start filling the rice paper in the center, starting with a lettuce leaf to prevent all the veggies from poking out.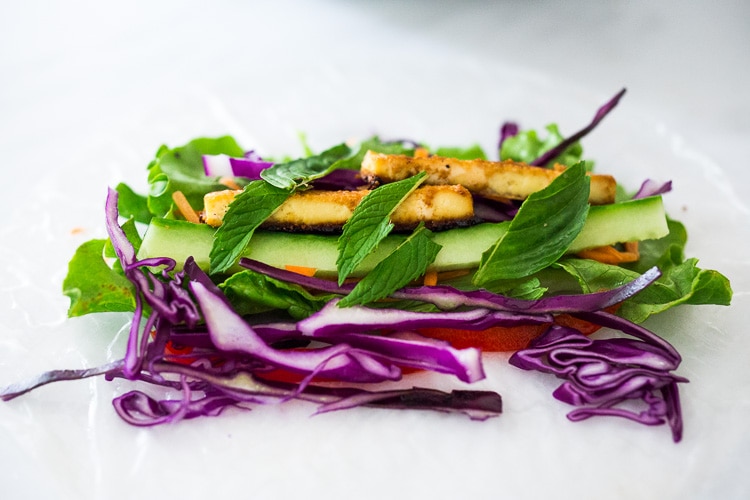 Then fill with veggies, tofu, and fresh herbs leaving 2-3 inches of space at the sides to fold sides up. Remember the herbs!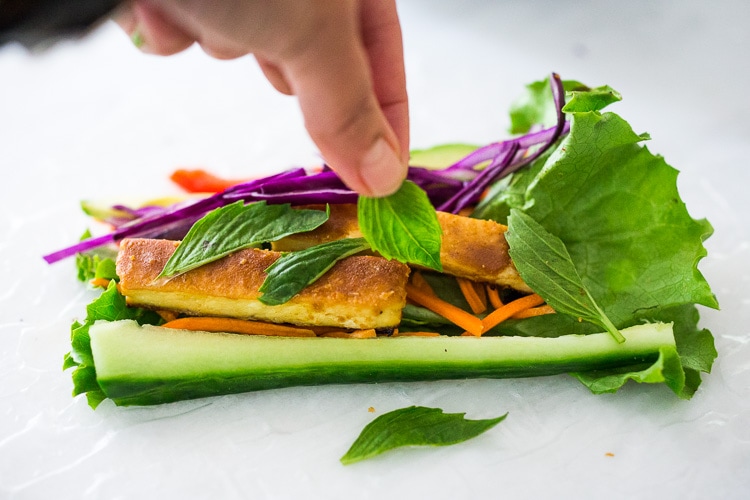 Wrap it up like you would a burrito, firmly pulling rice paper up and around, tucking in the sides as you go.
The tester will tell you if you need to fill these less or fill them more!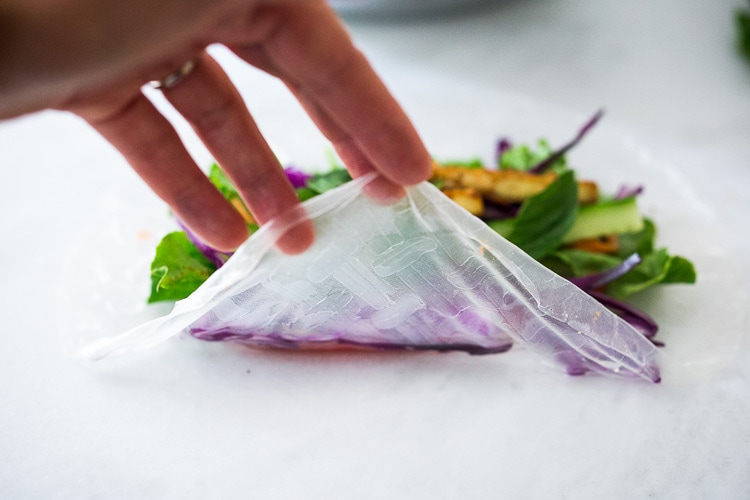 The tighter you can make the spring rolls, without breaking the paper is the secret to spring rolls that hold their shape and don't fall apart when cut in half. It just takes a little practice, like most things. 🙂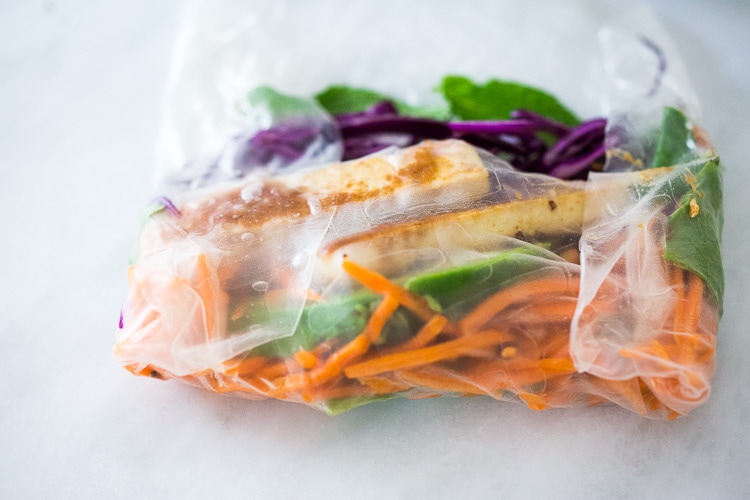 Roll them up one at a time, and set aside, seam side down on a wet cutting board.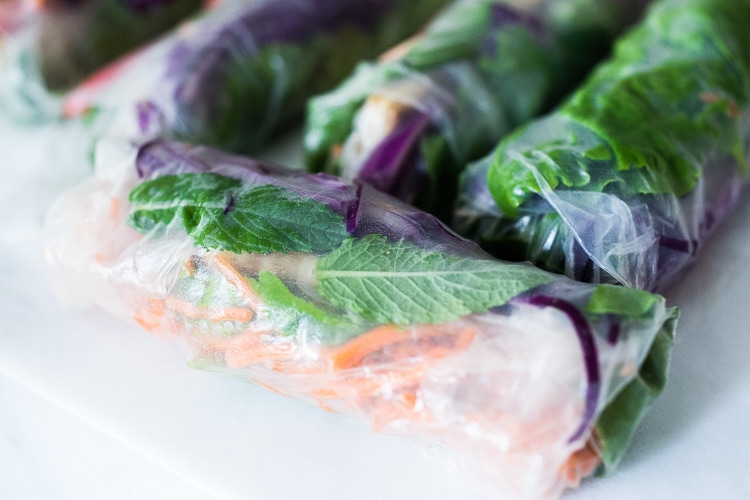 For later use, store between wet, slightly rung out paper towels, with space around so they don't touch.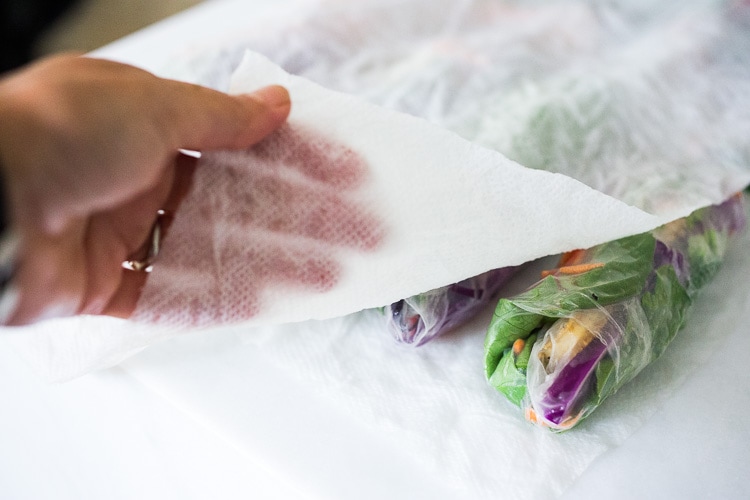 This is the little tip that we used in our catering business!
How to store Spring Rolls:
Layer the spring rolls between very damp (rung out) paper towels. You can even stack spring rolls as long as they are not touching.
For example, we would layer two-three layers of uncut spring rolls in a catering "hotel pan" (basically like a giant deep baking dish) using damp paper towels to keep each layer separate. Then cover the entire thing with damp paper towels and plastic wrap.
Store the fresh spring rolls in the refrigerator until ready to use. They are best served within 24 hours, but for home use, I often keep them on hand for snacking for up to 3-4 days, stored this way.
In our catering business, I would make them the morning of our event and they stayed perfectly fresh when served that night.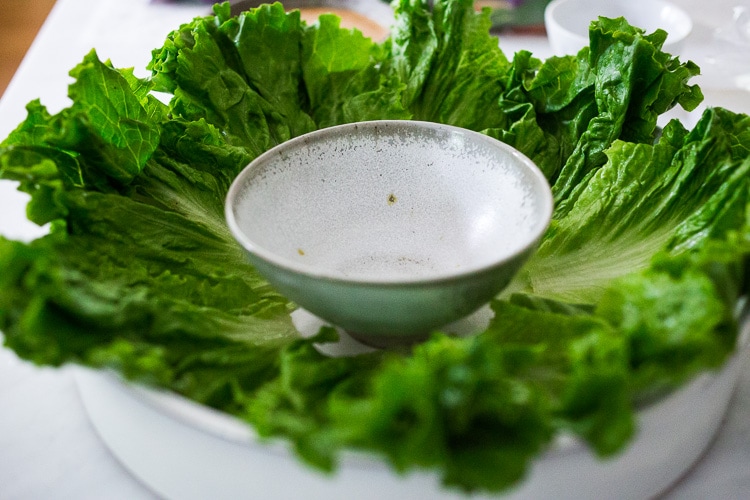 How to serve Spring Rolls:
For a pretty way to serve up your fresh spring rolls for a gathering or party, layer a platter with the remaining fresh lettuce leaves, leaving room for the Peanut Sauce Bowl. The leaves will prevent spring rolls from sticking to the platter itself!
Cut spring rolls in half (at a diagonal is nice) and with wet hands, place them over the lettuce just barely overlapping, or loosely stacked, just right before serving. They are easy to ply apart if just touching only a little.
You can also tuck lettuce between them, especially if mounding high.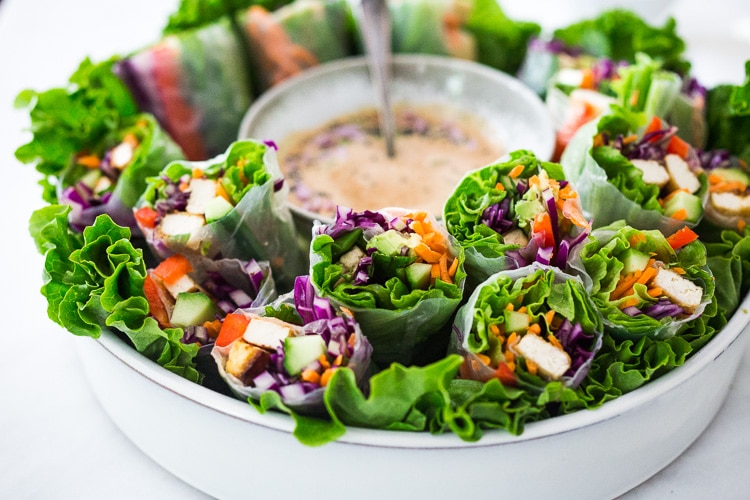 And there you go, fresh, delicious, vegan Spring Rolls that can be made ahead and stored for healthy lunches during the week, or packed up for potlucks and gatherings!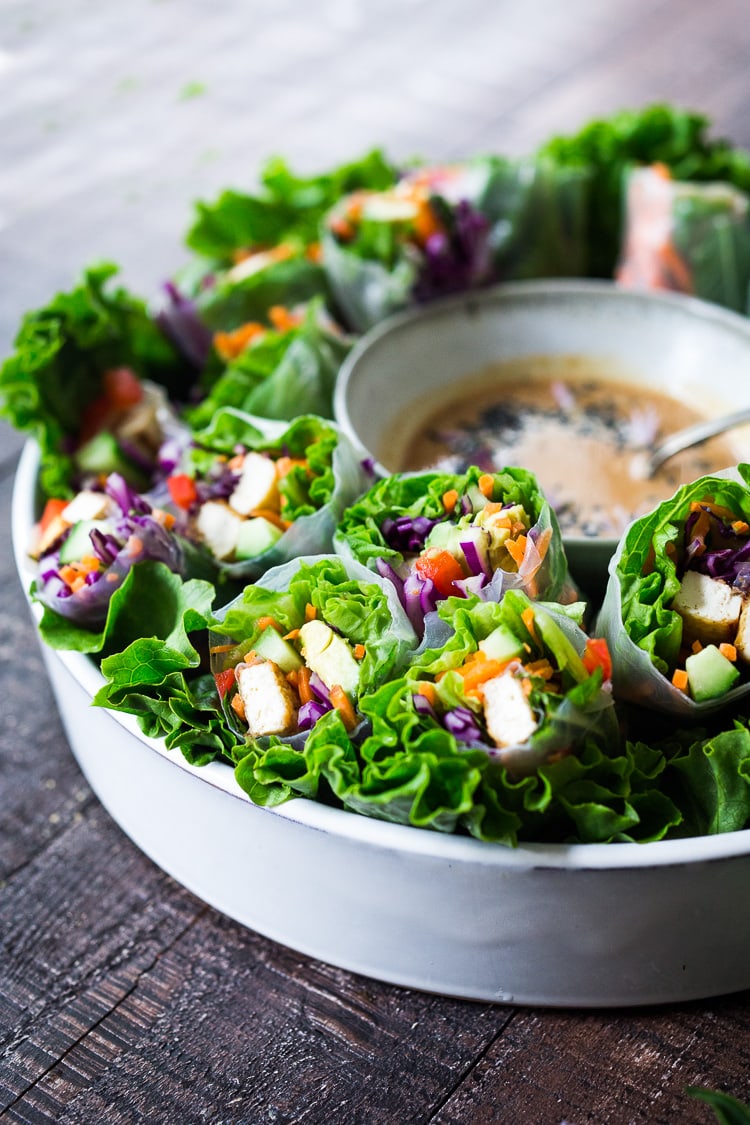 Serve with The Best Ever Peanut Sauce … the same one that is on Thai Noodle Salad.
FYI I like to serve the peanut sauce with a spoon, so guests are not tempted to dip the rolls directly into the sauce which will result in the veggies falling out into the sauce.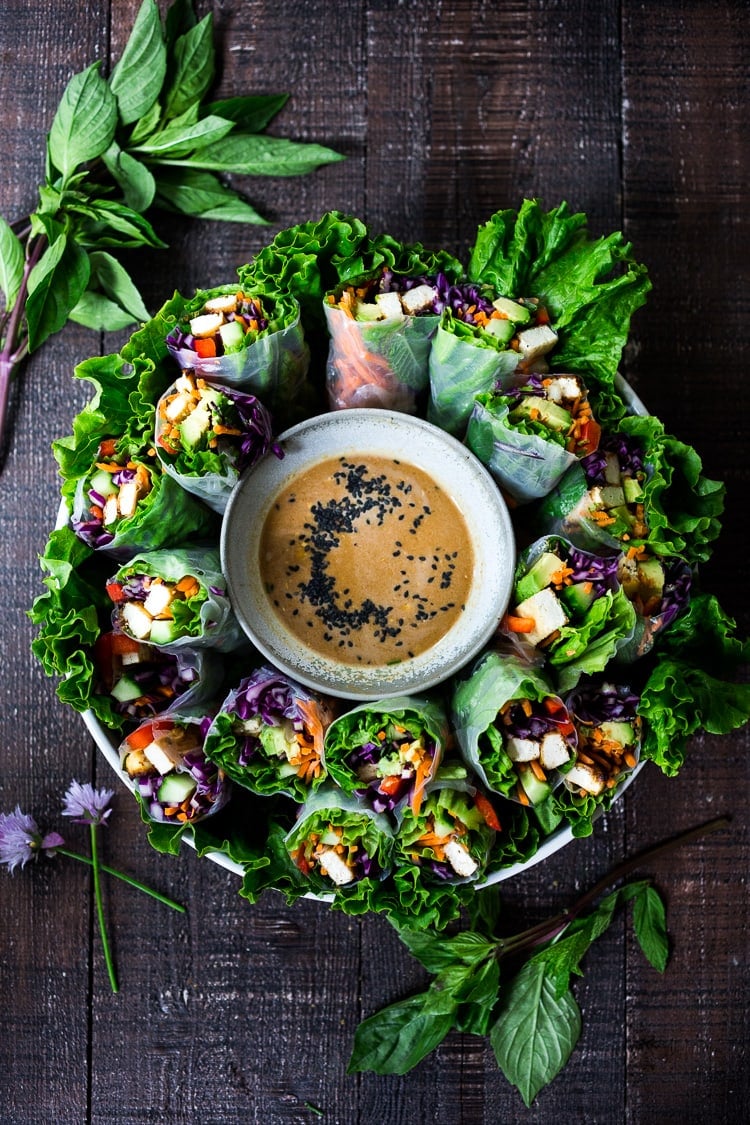 Ok friends, make these fresh spring rolls and let us know what you think. Share your adaptions below, because I know how creative you are!!!
Happy Friday,
xoxo
Print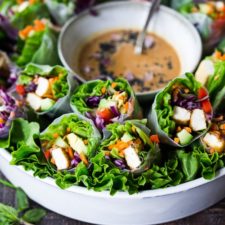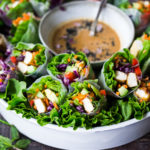 Fresh Spring Rolls with Peanut Sauce
Author:

Sylvia Fountaine

Prep Time:

60

Total Time:

60

Yield:

10

Category:

vegan, gluten free, main, appetizer

Method:

rolled

Cuisine:

Thai, Vietnamese
---
Description
How to make fresh Spring Rolls with the BEST EVER Peanut Sauce! These vegan spring rolls can be made ahead and stored for healthy lunches or potlucks and gatherings.
---
Ingredients
1

recipe for Baked Tofu (sesame ginger- see notes)

1

recipe for BEST EVER Thai Peanut Sauce

8

–

10

Rice paper wrappers (

10

inches in diameter) or see notes

1

head green leaf lettuce ( or red leaf)

1

red or yellow bell pepper, cut into thin strips (or sub grated radishes)

1 1/2 cups

finely shredded purple cabbage

1 ½ cups

shredded carrots ( or use match stick)

½

an English cucumber, cut into thin long strips – leave peels on

¼ cup

fresh Thai basil leaves, torn (or regular basil)

¼ cup

fresh mint leaves, torn (or cilantro, but mint is best!)
optional additions or substitutions: daikon radish strips, avocado, grated radishes, grated turnips, grated beets, spicy greens like watercress or arugula, sprouts (sunflower or daikon sprouts are nice).
---
Instructions
If using the Baked Tofu, make this first, see note for cutting into strips. (This can be made ahead and chilled)
Make the BEST EVER Peanut Sauce!
Prep all your filling ingredients. Cut the veggies, gather the herbs. Gather all the fillings near you. I like to place these all on a cutting board near my spring roll rolling area. Mise en place. 😉
Fill a large bowl ( large enough to dip rice paper) with lukewarm water and place it behind your rolling area.
Wet the counter in front of you. (Or drench a thin kitchen towel with water, wring it out and lay it on the counter, rolling the spring rolls on top of the towel. (This is great if making a ton of spring rolls! )
Do a "tester" roll. Dip the rice paper in the water. If using "thin" rice paper (package should say) just a quick dip is all you need. Otherwise, dip for 5-15 seconds. Pull when slightly pliable (not too soft) and place it on the wet counter or towel. If rice paper still feels overly stiff, dip your hand in the water bowl and wet the rice paper  a little, it will soften up.
Place a 1/4 leaf of lettuce down first in the front center of the rice paper (to prevent shredded veggies from poking out of rice paper) leaving 2-3 inches of space on the sides.  See the photo.
Top the leaf with shredded veggies, tofu and torn herbs. Then firmly wrap up, tucking in the sides as you go. Place seam side down on a wet cutting board, cover with a damp paper towel.
Remember, this is your tester!
Do you like the size? Fill more or less to your preference. (Smaller rolls are good for appetizers, larger for lunch.) Did your roll fall apart? If so, too long soaking time. Adjust the time. If your roll was not pliable enough to roll, then not enough soaking time. Simply adjust. Remember, each rice paper brand is slightly different and this is a "feel" thing. 🙂
Roll each spring roll one at a time. The more you do this, the easier it will get. 🙂
Serve over top a lettuce-lined platter (this will prevent them from sticking to the platter)  cut in half with room for the sauce. See photos!
To store fresh Spring Rolls for later: layer whole ( uncut) spring rolls between damp paper towels (dripping wet and then wrung out) in a large baking dish, not touching. Cover with damp paper towels and cover tightly with plastic wrap. Refrigerate.
To serve for a gathering, best served within 12- 24 hours. I'll often make these the morning of an event, store them whole, then cut and platter them right before serving them in the evening.
For home use, these will keep up to 3-4 days!
---
Notes
The finer you slice and cut cabbage, bell pepper and carrots, the easier to eat.
Feel free to leave tofu out and sub more veggies, or sub shrimp or cooked vermicelli noodles. You can also use store-bought, baked tofu, or smoked tofu!
Keywords: fresh spring rolls, how to make spring rolls, how to store spring rolls, spring rolls with peanut sauce, vietnamese spring rolls, summer rolls, rice paper rolls, thai spring rolls, how to roll spring rolls, how to make spring rolls ahead,