These punchy Thai Burritos are filled with peanut chili tofu, avocado, black rice, spicy sriracha black beans, shredded crunchy veggies and drizzled with Thai peanut sauce, wrapped up in a warm, whole wheat tortilla. Vegan! With a video.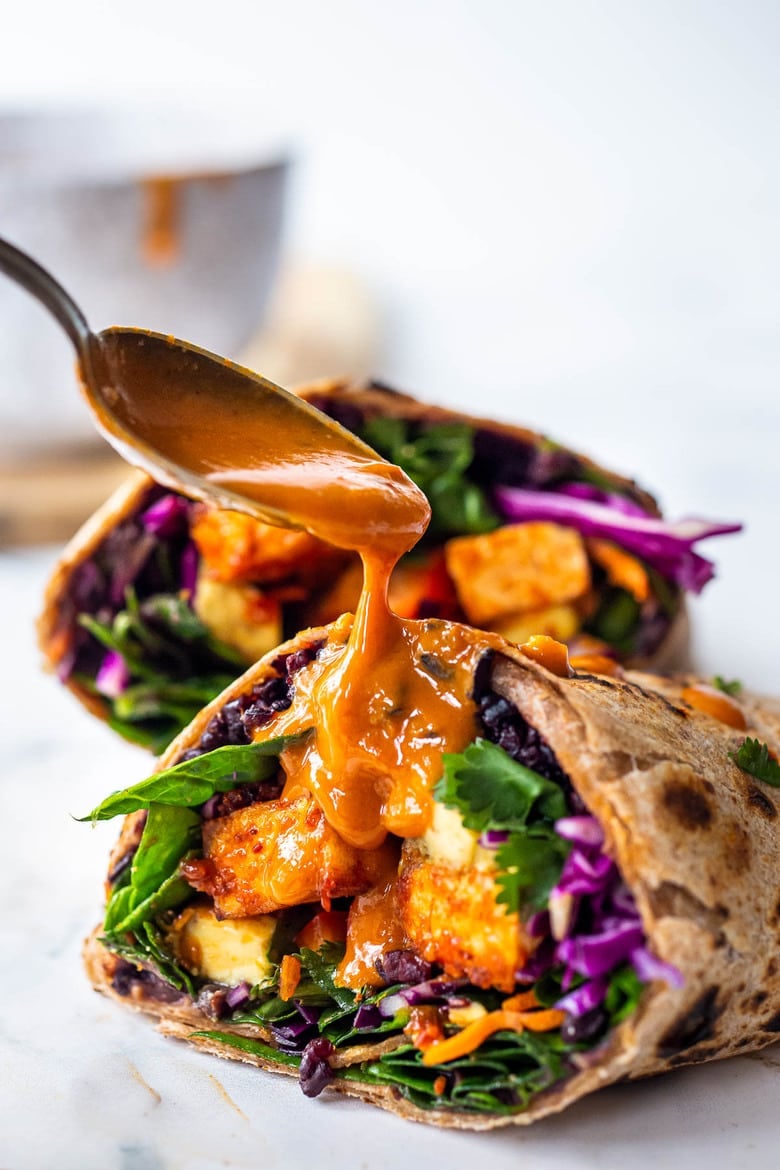 We either make ourselves miserable or we make ourselves happy. The amount of work is the same. ~Carlos Castaneda
Here is another plant-based, vegan meal I think you will enjoy – Thai Burritos! They are filled with baked peanut tofu,  avocado, refried black beans perked up with sriracha, black rice and veggies. Full of amazing flavor this vegan burrito is packed full of nutrients.
We've been practicing Plant-Based January and so far, I'm feeling pretty energized. It has become a lovely ritual to balance out all the November and December indulging. Though I'm not stopping coffee or wine, I have cut back and I think my body is appreciating it. Sleep feels deeper, and my mind feels sharper, and my sweet tooth is mellowing. If you are interested in trying this, here are some vegan recipes to get you started.
Watch how to make Thai Burritos | 60-second Video!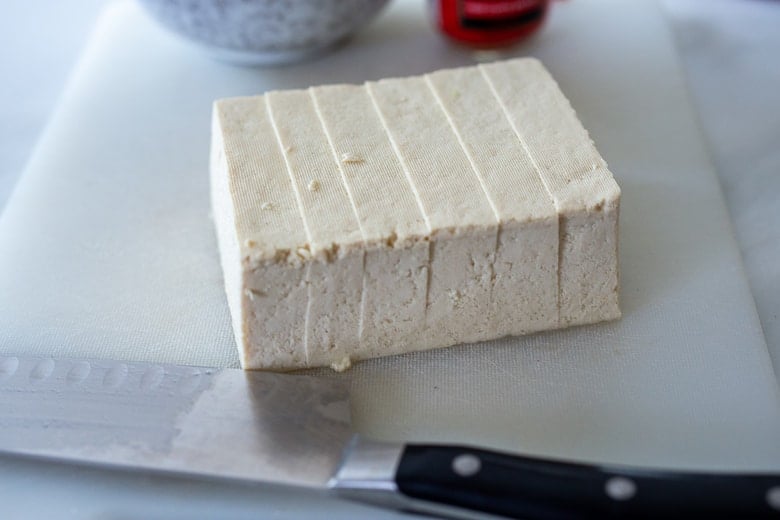 The Thai Burritos start with baking the tofu.
Slice the tofu into 12 pieces.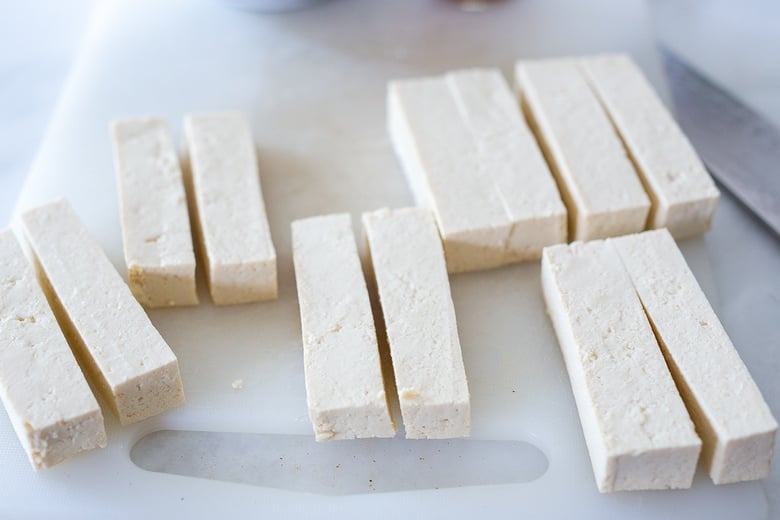 Make the tofu marinade which will also double up as the sauce.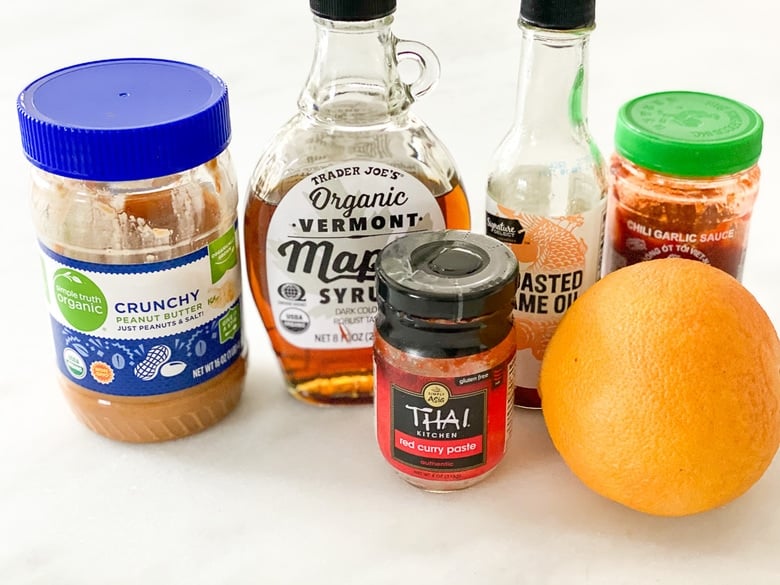 Either whisk in a bowl, or blend together in a blender.
Here we are adding some red curry paste for extra flavor.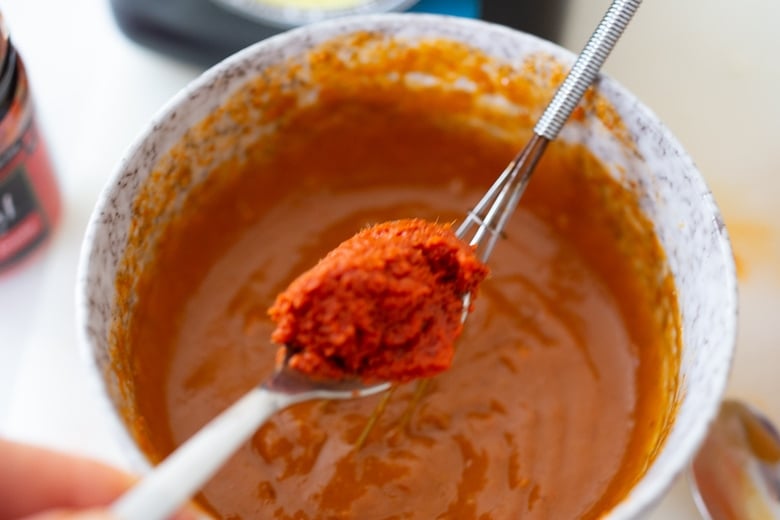 Generously coat the tofu and place in the oven to bake.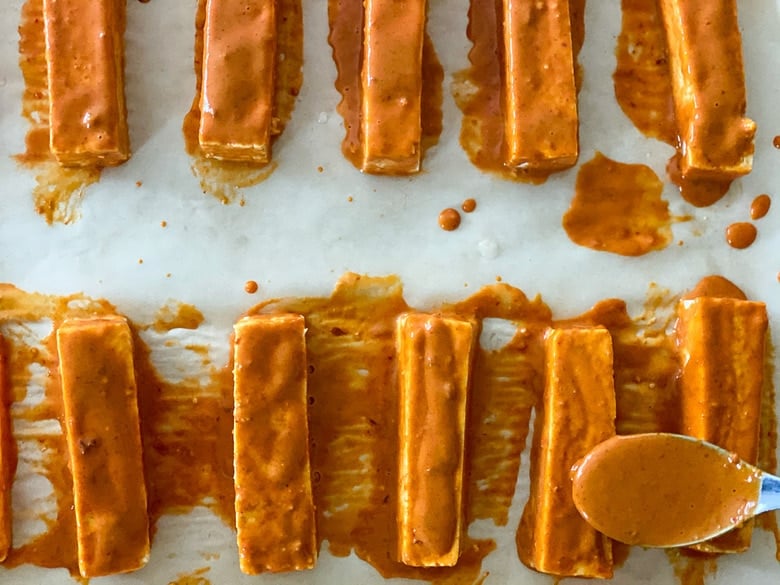 Save the remaining peanut sauce for drizzling over the burritos.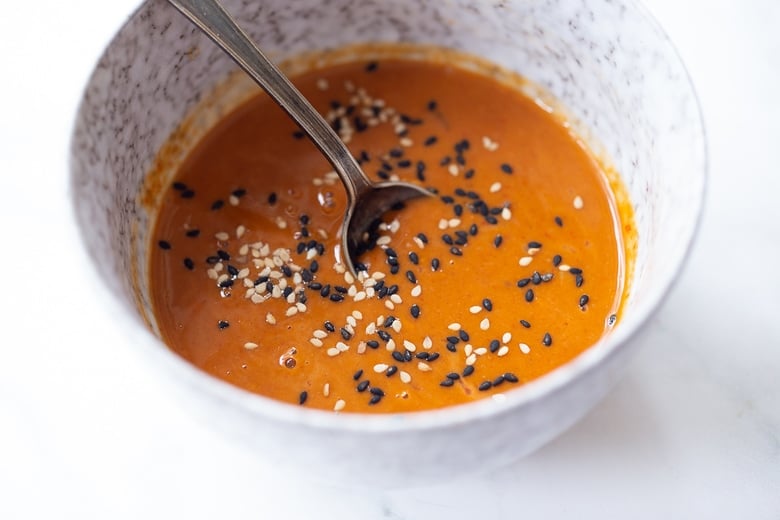 Set the rice to cook.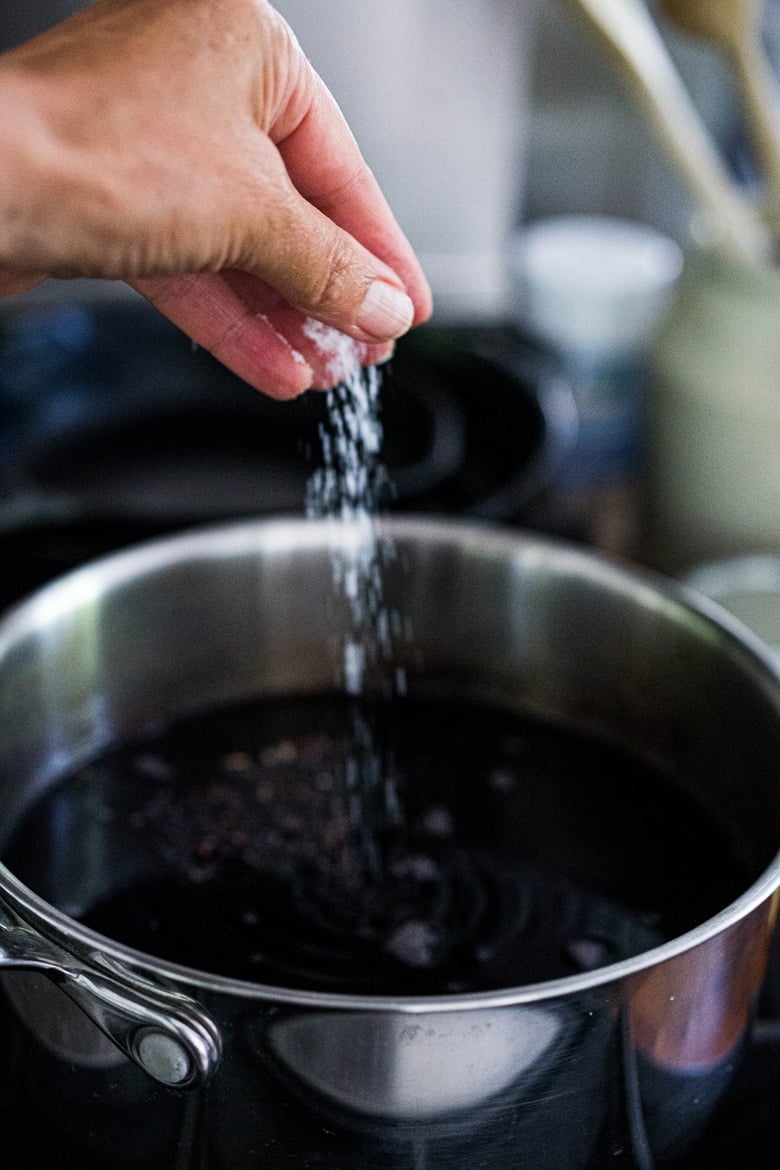 Here I'm using the "pasta method" for the fastest cooking.
Heat up the refried black beans, adding a little red chile paste or sriracha for an extra kick.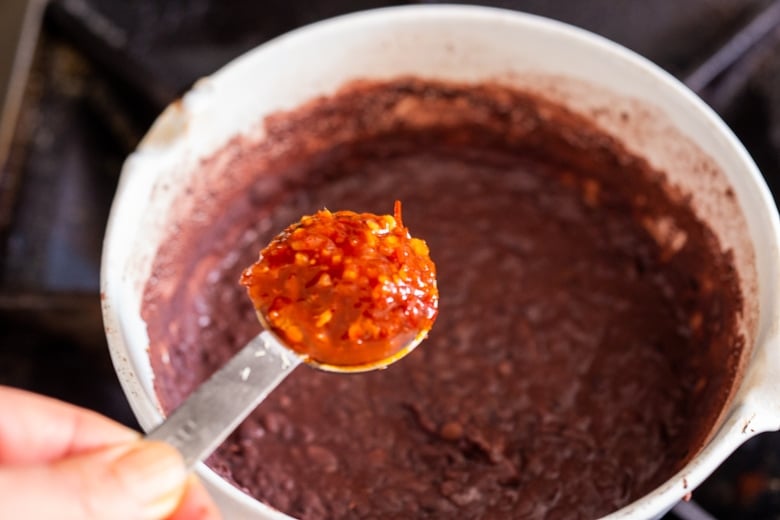 While the tofu is baking and the rice is cooking, prep the veggies.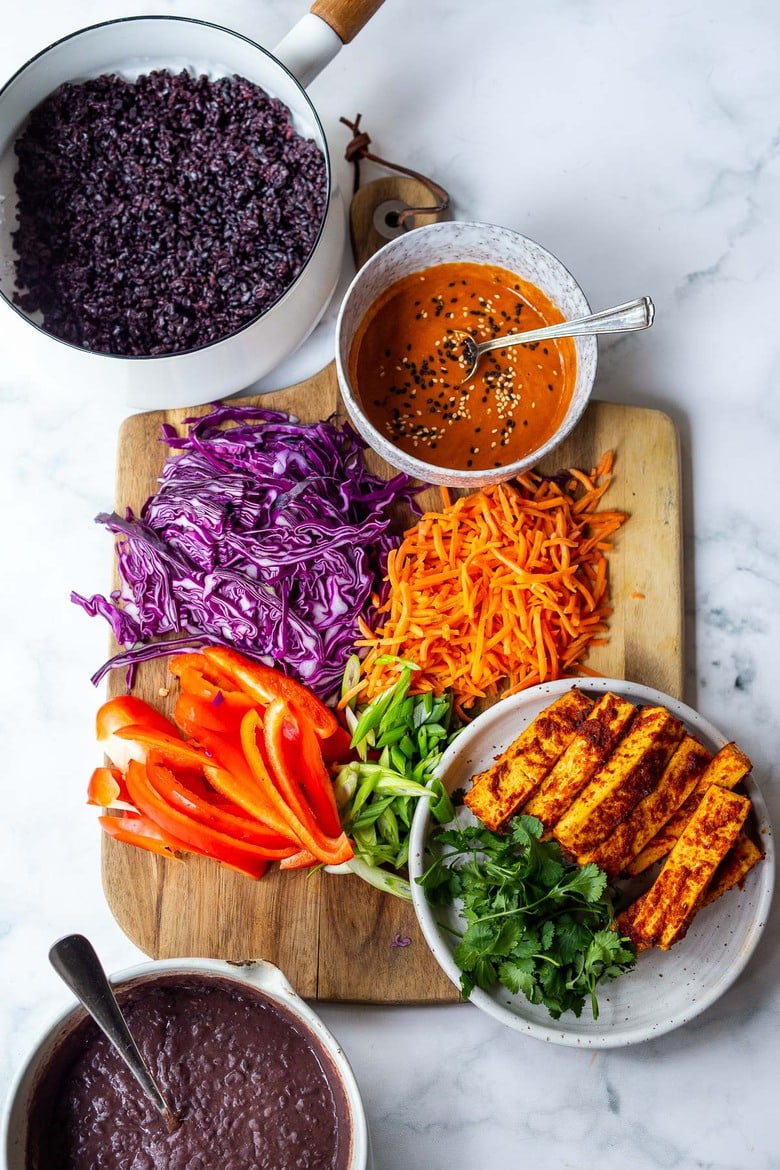 Then assemble your burritos. Remember to warm up the tortillas so they are soft and pliable.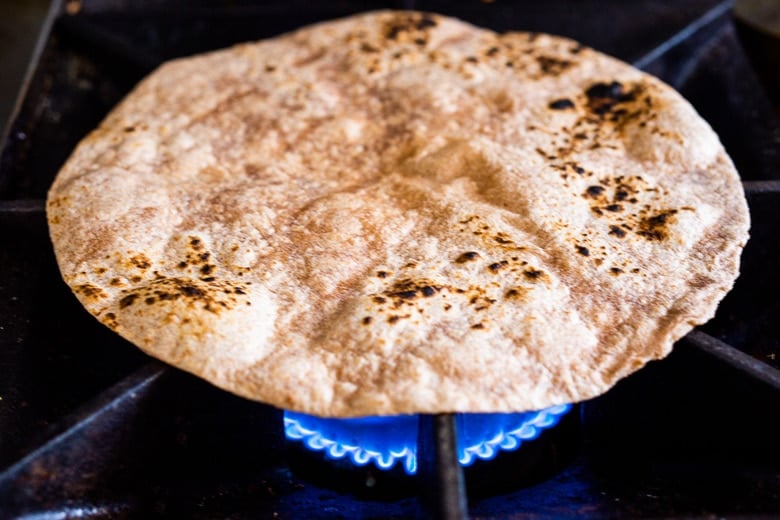 They layer them up. Add the beans first, helps hold it together.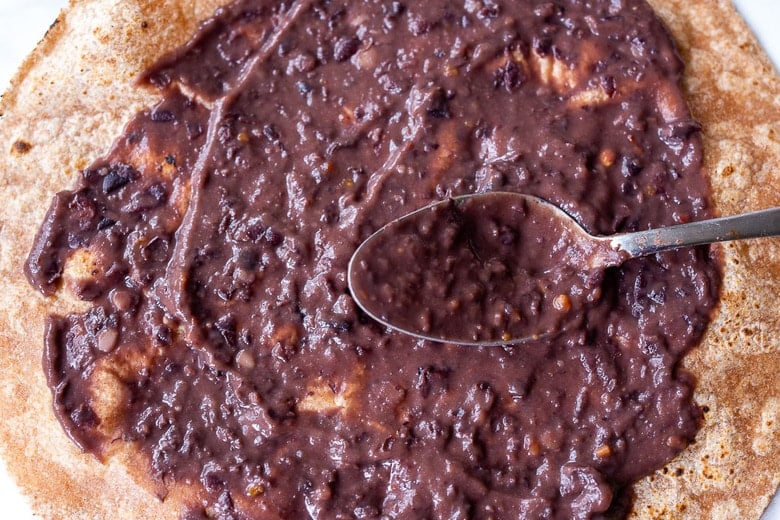 The rice sill stick nicely to the beans.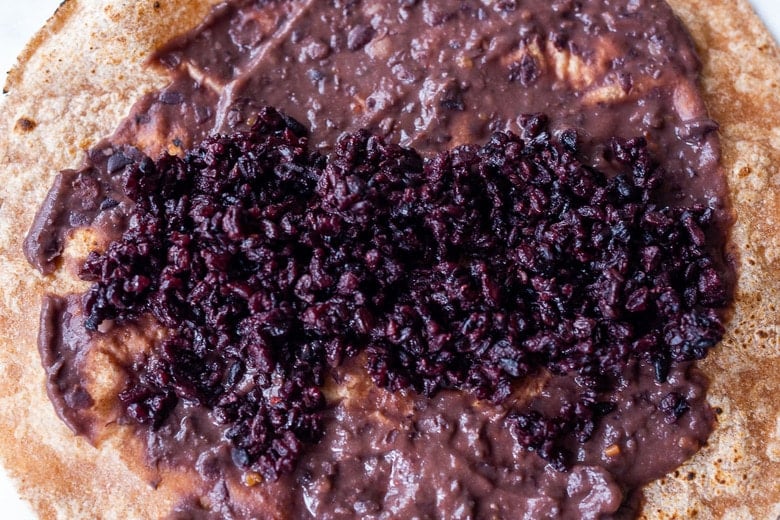 Then pile it on.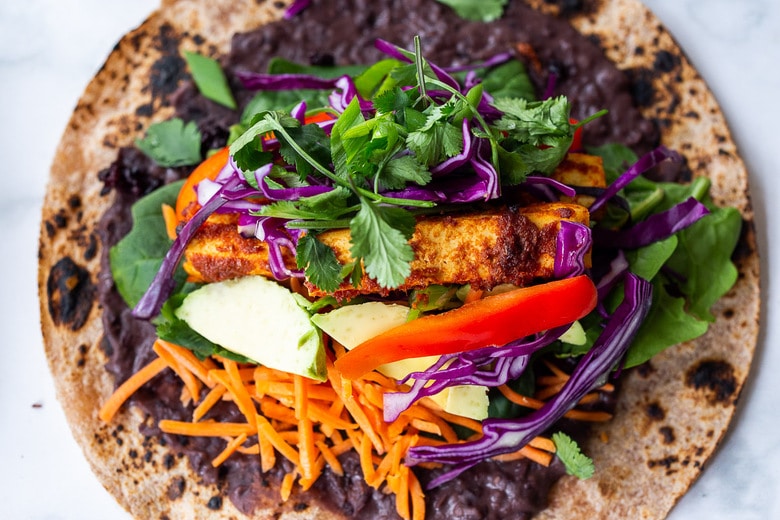 And wrap.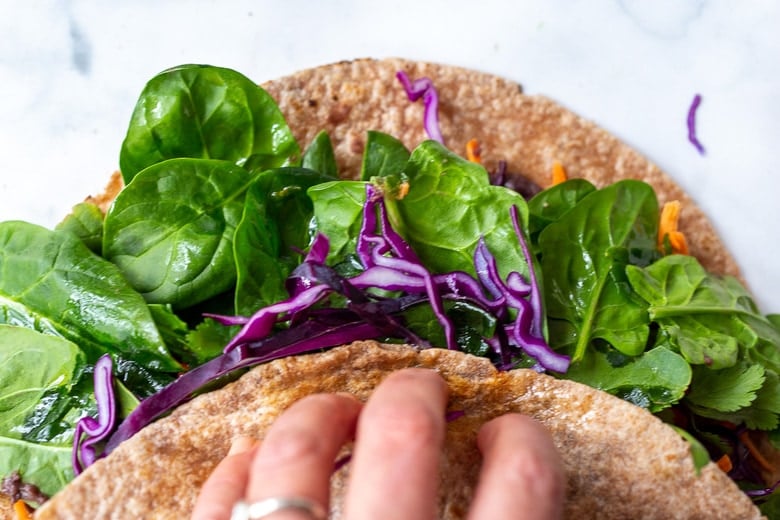 I've been wrapping the bottom half with foil to keep them all together and make them a little more manageable to eat. Up to you.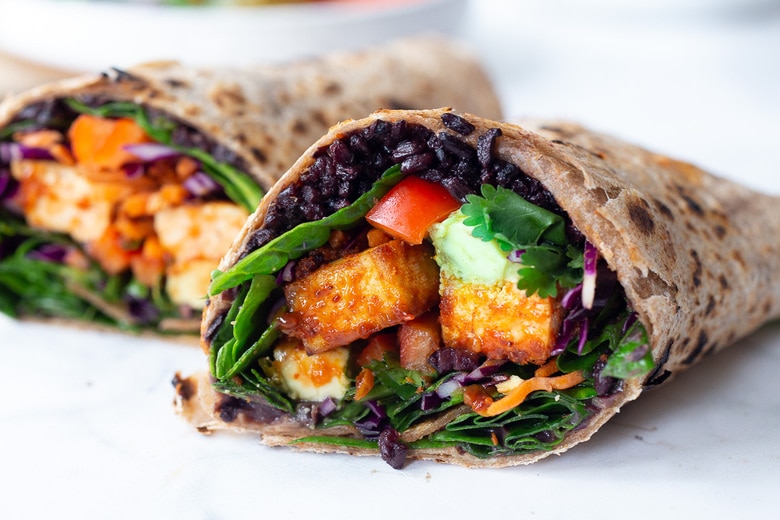 Drizzle with more peanut sauce and enjoy!
Note: If you prefer your cabbage and peppers roasted, versus raw, feel free to toss with olive oil,  salt, and pepper and roast along with the tofu until tender.  You could also add sliced onion. A nice option during the winter months.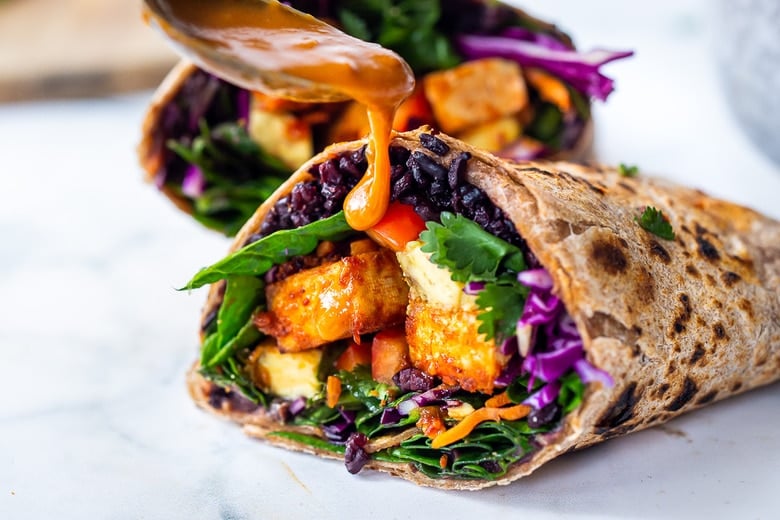 On the homefront: It is a cold dark drizzly morning. There is a bleakness to it. In a few days, we will be driving down to southern California to escape, so I'm not complaining really, just noticing the dreary feeling the morning brings. I search out our window for something, anything to spark joy, but truth be told it is hard to find. Even the trees look sad. But then I remember Cookie, my old cat, who use be my morning cuddler, and instead of feeling sad that she is gone, I feel her heart, in my heart, and I realize the light and joy I seek is not out the window or out in the world, it is right here. And it is like a small flame inside my heart, warming me up from the inside out. I envision two hands sheltering the little flame- hope it may grow and warm those I come in contact with today.
Enjoy the Thai Burritos, and let us know what you think in the comments below.
xoxo
More recipes you may enjoy: 
Print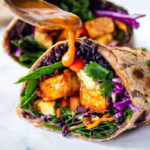 Thai Burrito Recipe
Prep Time:

25

Cook Time:

25

Total Time:

50 minutes

Yield:

4

1

x

Category:

vegan, vegan dinner,

Method:

baked

Cuisine:

Thai-inspired

Diet:

Vegan
---
Description
Delicious Thai Burritos with Peanut Sauce, baked peanut Tofu, black rice, spicy sriracha black beans and shredded crunchy veggies all wrapped up in a warm, whole wheat tortilla. Makes 4 hearty burritos
---
Marinade and Peanut Sauce:
Burrito Ingredients: (makes 4 large)
16-ounce block tofu (extra firm), cut into 12 strips, see photos.

salt

1

–

2

cups

cooked rice- brown rice, black rice, etc.

14

-ounce can refried black beans, seasoned with chile paste or sriracha.

1

cup

shredded cabbage (or finely sliced)

1

cup

shredded carrots (or match stick)

1

red bell pepper, thinly sliced

1

large avocado, sliced

1/2

cup

cilantro leaves or Thai basil

4

extra-large, whole grain tortillas, warmed until pliable.
optional: crushed roasted peanuts, or Peanut Chili Crunch
---
Instructions
Preheat oven to 425.
Make the marinade, either blending in a blender or whisking in a bowl ( if whisking, add the peanut butter last, adding a little at a time to incorporate).
TOFU PREP: Blot the tofu gently, and cut into 6 slices (see photo), then cut each slice into two, to make 12 strips. Place on a parchment-lined sheet pan. Sprinkle lightly with salt. Brush all sides liberally with the peanut sauce, spooning a little extra over the tops. Bake 25-30 minutes. Save the remaining sauce for the burritos.
COOK RICE: The fastest way to make rice is using the pasta method. Boil 1/2 cup rice in 4-5 cups salted water, uncovered, drain when tender, using a strainer, letting stand in the strainer 5 mins. Fluff.
Prep the veggies and herbs: cut and place them on a tray or plate with the peanut sauce.
Heat the refried beans, whisking in 2-4 tablespoons water with a fork to loosen them. Add a spoonful of garlic chili paste, Sambal Olek, or a squirt of sriracha to taste, to pep them up a bit. Keep them warm.
Tortillas: Right before assembling the burritos, warm the tortillas to make them soft and pliable. If you have a gas stove,  use tongs, place directly on the gas grate, over medium flame, turning often with tongs. Otherwise, place in a single layer in the oven on the rack until soft and pliable. Wrap in a kitchen towel to keep warm.
Assemble: Spoon some of the warm beans onto the tortilla creating a base, add rice, then tofu and veggies and herbs. Spoon some peanut sauce over top, and optional peanuts or peanut chili crunch, and wrap up tightly. ***I've found it easiest to eat with foil wrapped around the bottom half to keep these big boys all together. 
---
Notes
Nutrition
Serving Size:
Calories:

603

Sugar:

24.4 g

Sodium:

1685.1 mg

Fat:

31.4 g

Saturated Fat:

4.8 g

Carbohydrates:

64.9 g

Fiber:

12.8 g

Protein:

20.5 g

Cholesterol:

0 mg
Keywords: Thai Burritos, Thai Burrito, vegan burrito, vegan thai burrito, peanut tofu,