Flavorful Frankie Recipe (an Indian Burrito!) with curry mashed potatoes, chickpeas, cauliflower, spinach, pickled onions and amazing Cilantro Mint Chutney! Vegan and Gluten-free adaptable.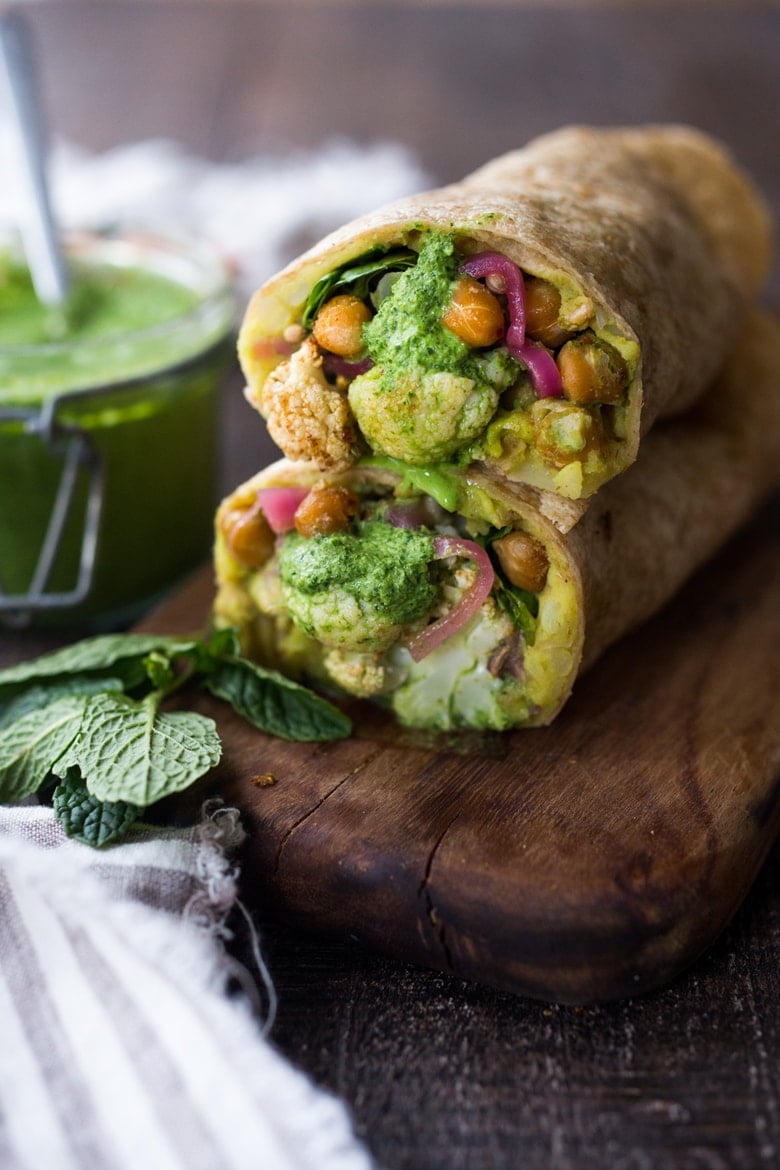 The sun shines not on us, but in us.  John Muir
Introducing Frankies! India's flavorful street food, also known as the Mumbai Burrito, Bombay Burrito,  or roti wrap – this vegan version is filled with curry mashed potatoes, roasted Indian cauliflower and chickpeas, fresh spinach, Cilantro Mint Chutney and Pickled onions, all wrapped up in a warm tortilla.
Healthy and seriously bursting with flavor! Traditionally these would be wrapped in freshly made roti with a very thin layer of egg, but we've simplified things here a bit. 😉
In our catering business, we would often serve Frankies as mini tacos. Flavorful little Indian Tacos, always a huge hit.  If going grain-free or gluten-free, you could easily turn the whole thing into a "bowl", with the curry mashed potatoes ( or basmati rice) as the flavorful base.
If you have meat-eaters in your household, feel free to add chicken, which you could roast right along side the cauliflower.
How to Make Frankies!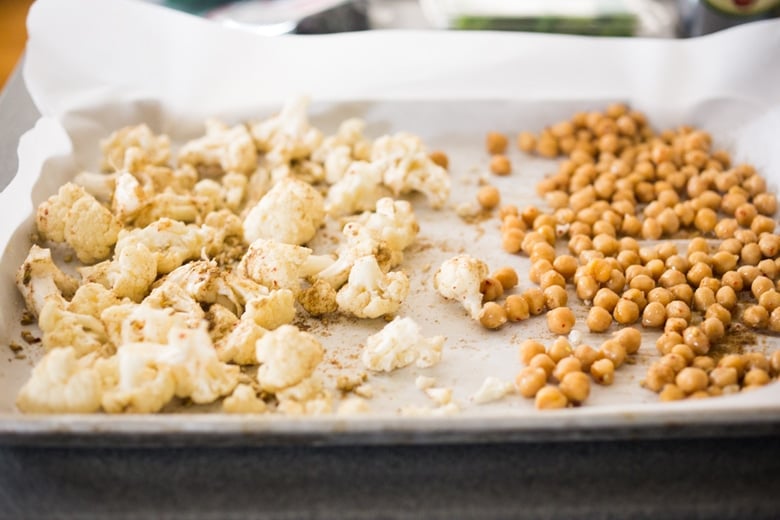 Start by simmering potatoes on the stove top. These will become the earthy, flavorful Curry Mashed Potatoes which will hold it all together.
Roast the Indian spiced cauliflower and chickpeas. (Remember, you can add chicken to the sheet pan as well).  Feel free to add onions or other vegetables.
While these are roasting the veggies,  make the flavorful Cilantro Mint Chutney. It only takes 5 minutes.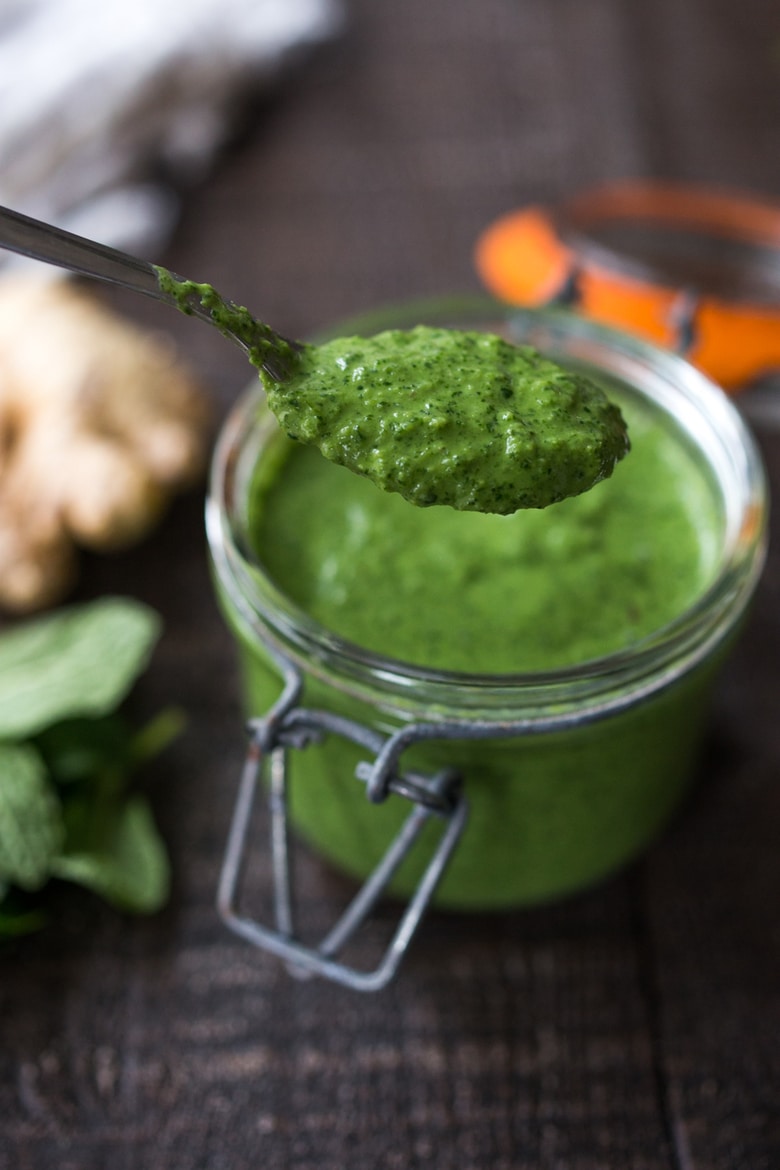 This is essential, so don't skip this step! It adds so much flavor!!!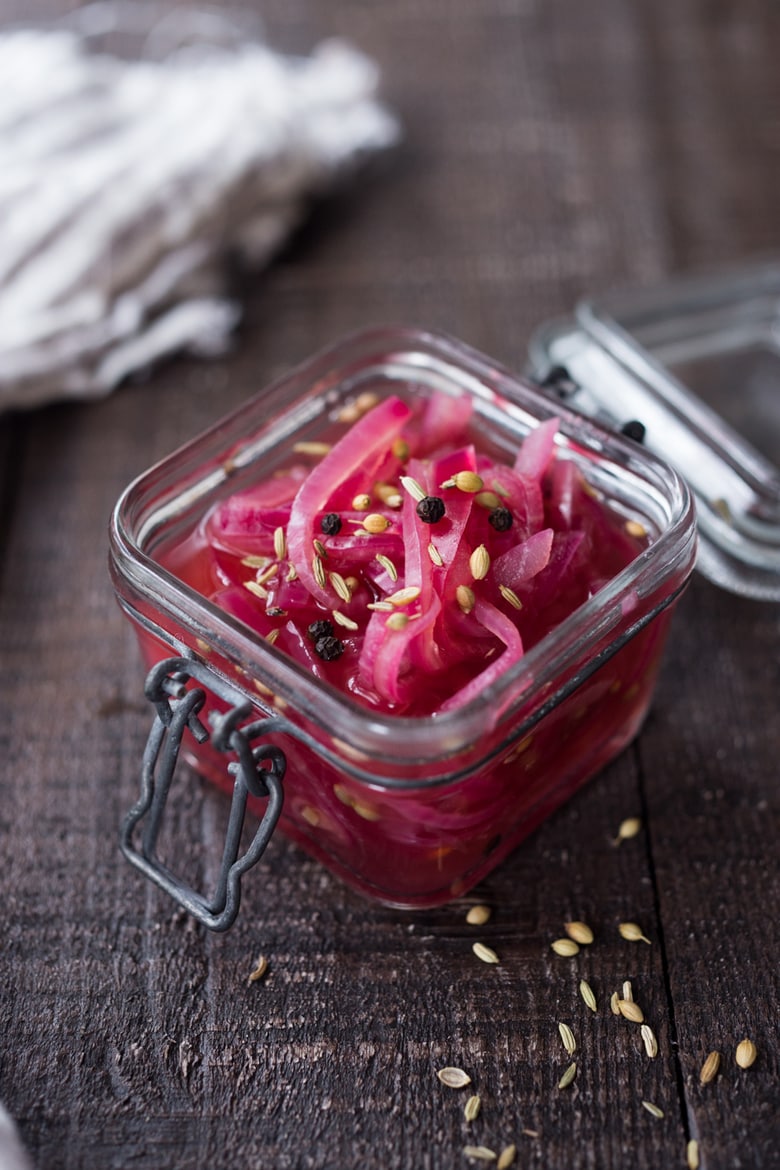 Also make the Quick Pickled Onions – another 5 minutes!   I promise you'll find a million uses for any leftovers.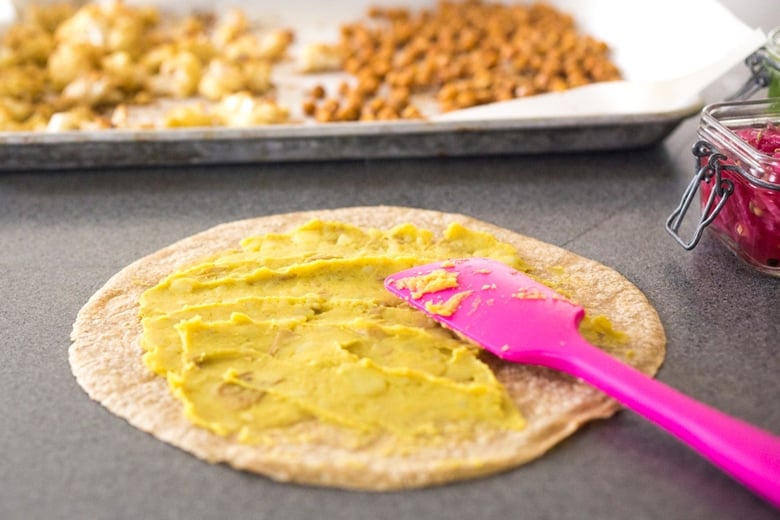 Once the potatoes and veggies are done… start layering, starting with a toasty warm tortilla. Feel free to use GF tortillas or wraps.
Generously spread the tortilla with the curry mashed potatoes.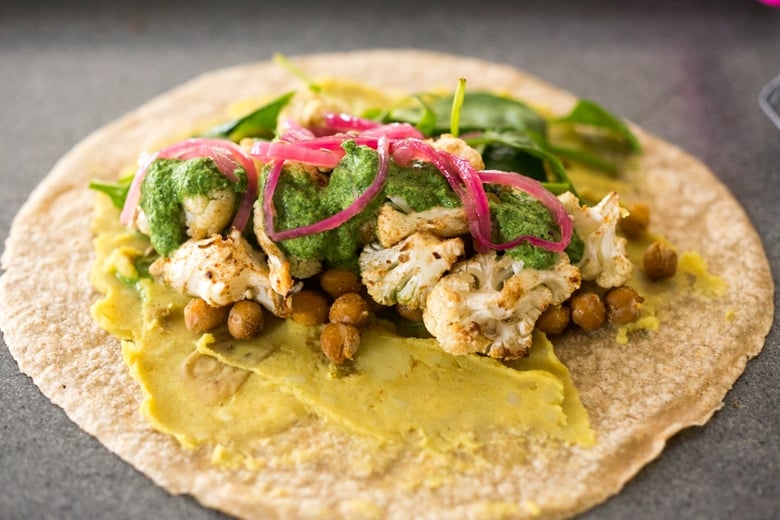 Then top the Curry Mashed Potatoes with the roasted Indian cauliflower, chickpeas, spinach, chutney and pickled onions.
Wrap it up like a burrito, and serve warm.
Prepare to be delighted.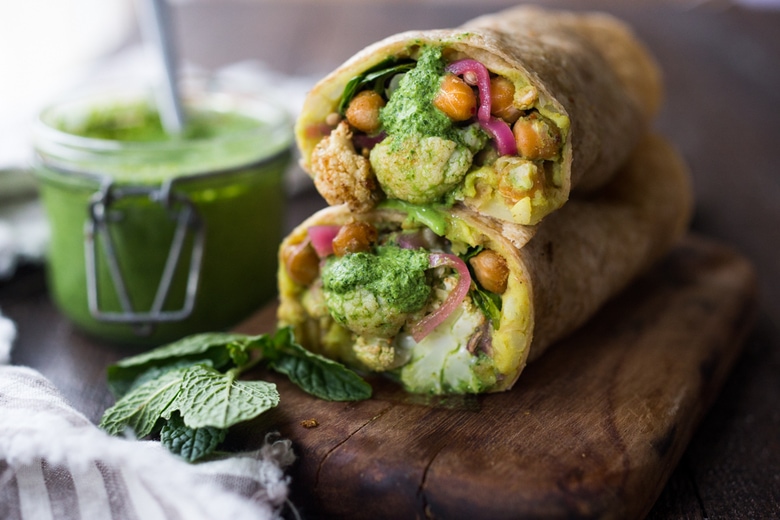 How easy is that?
Both the chutney and pickled onions can be made ahead.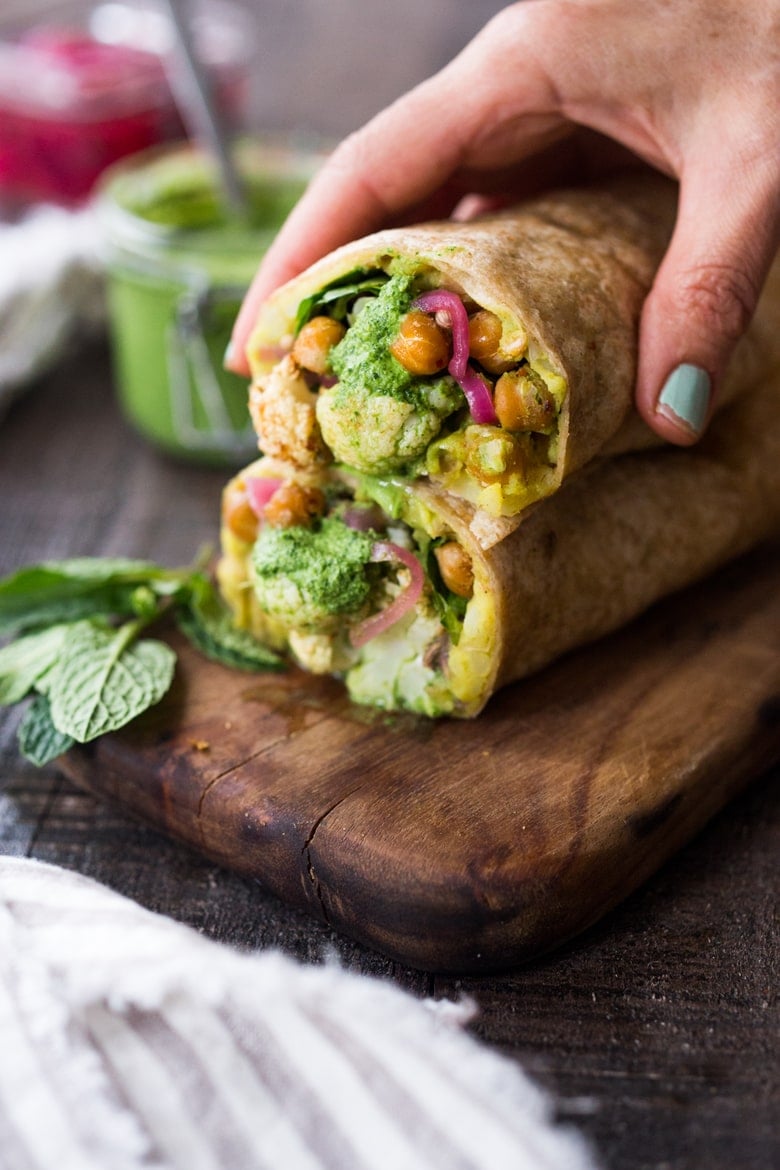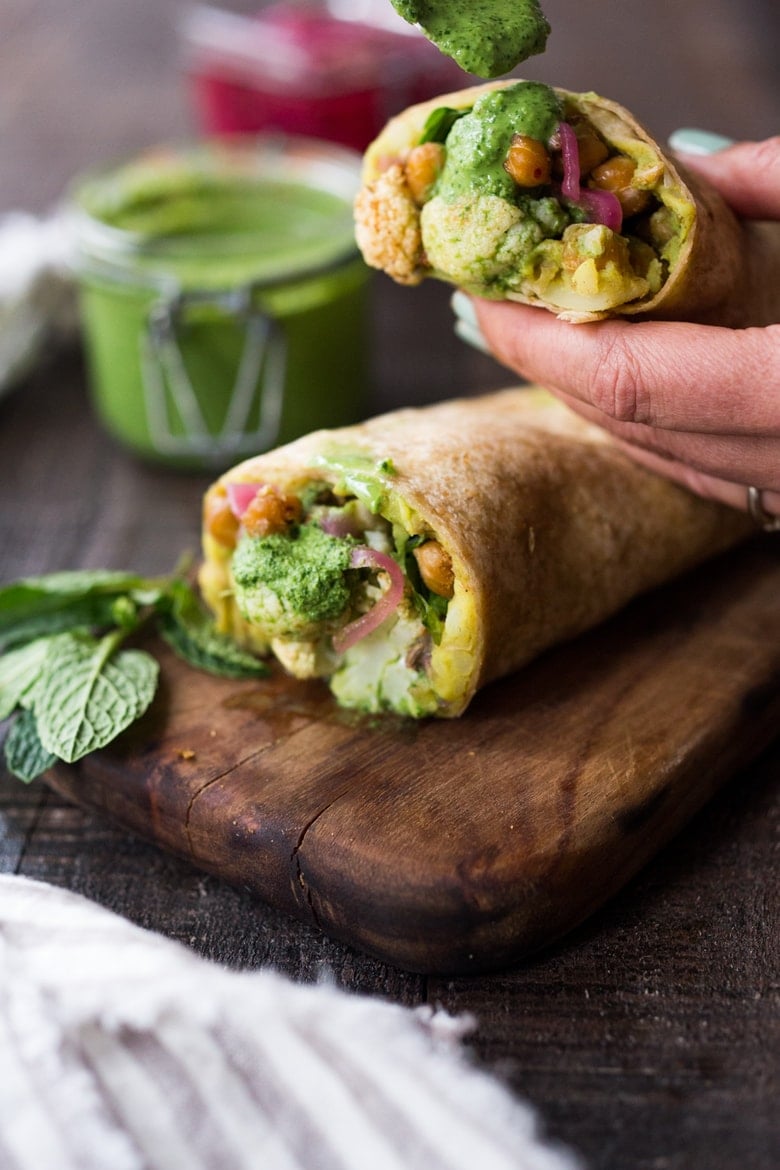 I'm so excited for you to try this delicious Frankie recipe! I know you will love it. Please rate and leave your comments/adaptions below.
Happy Week!
xoxo
Print
Frankie Recipe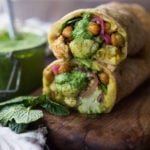 A delicious recipe for Frankies- India's street food, also called a Mumbai Burrito. Filled with curried potatoes, roasted cauliflower and chickpeas, spinach, cilantro mint chutney and pickled onions. Vegan! GF adaptable.
Author: Sylvia Fountaine
Prep Time:

30

Cook Time:

30

Total Time:

1 hour

Yield:

4

1

x
Category:

Vegan Main

Method:

Roasted

Cuisine:

Indian
Scale
Ingredients
Curry Mashed Potatoes
16 ounces

baby potatoes – quartered

1 tablespoon

ghee, olive oil or coconut oil, more to taste

¾ teaspoon

kosher salt

2

–

3

teaspoons yellow curry powder ( see notes)

1 teaspoon

granulated onion or granulated garlic powder ( you could also incorporate sautéed onion and garlic into the potatoes for more flavor)
Filling:
1

head cauliflower- cut into small florets

1

can chickpeas, rinsed and drained well

1

–

2

tablespoons olive oil

1 ½ teaspoons

kosher salt

1 tablespoon

coriander

1 tablespoon

cumin
generous pinch chili flakes

1 teaspoon

whole coriander seed  (optional)
4 x extra large, whole wheat tortillas – or feel free to use GF wraps or tortillas, or GF bowls using the mashed potatoes and extra spinach and the base.
2 handfuls baby spinach
Few tablespoons Cilantro Mint Chutney
Few tablespoons Quick Pickled Onions
Instructions
Preheat oven to 425F
Cut potatoes and place them in a medium pot, covered with water and simmer until very tender, about 15-20 minutes.  At the same time…
Cut the cauliflower into small florets and place on a parchment lined sheet pan ( to one side). Add the drained chickpeas to the other side. Drizzle both with olive oil. Sprinkle cauliflower and chickpeas with the spices and salt, tossing to coat well. Place in the oven and roast for 20-25 minutes ( tossing halfway throuth) or until cauliflower is tender.
While the veggies are roasting, make the quick pickled red onions and blend up the flavorful Cilantro Mint Chutney, and place both in jars ( Of course, you could make these ahead). They take about 5 minutes each. Please don't leave out the chutney- it's imperative!!!
Once the potatoes are very tender, drain but save about 1 cup of the hot water. Place the potatoes back in the pot and mash with some of the hot water ( start with ¼-½ cup ) salt, spices and ghee ( or oil) and mash the potatoes to combine until smooth. You want a fairly loose, spreadable mash so add more hot water if necessary. Scrape down the sides. Stir well.  Taste. You want this to taste flavorful and slightly salty as the tortilla will mute some of the flavor. Feel free to add more ghee or oil as you please for extra richness. Cover and keep warm.
When the roasted veggies are done, assemble. Warm the tortillas either in the oven, over a gas flame or over grill. Spread generously with the Potato curry, then top with chickpeas, cauliflower making sure to get some of the whole spices that will have dropped to the bottom of the pan. Add a handful of spinach leaves, a few teaspoons of cilantro mint chutney and some pickled onions and roll up like a burrito. Keep warm in the oven until ready to serve, or serve immediately! You can also refrigerate and reheat for meals on the go.
Enjoy!  Rate and Leave a comment!!
Notes
Quick yellow curry spice:
2

Tablespoons

 

ground coriander

2

Tablespoons

 

ground cumin

2

teaspoons

 

ground turmeric

2

tsp

ground ginger

1

tsp

dry mustard

1/2

tsp

ground white pepper ( or black) 

1/2

tsp

cayenne pepper 
Keywords: Indian Frankie Recipe, Frankies, how to make frankies, frankie recipe, frankie recipes, what is a frankie, indian burritos, vegan frankie, vegan frankies, indian street food recipes