We've rounded up our 50 Best Vegetarian Meals. These vegetarian recipes are our readers' favorites- all highly rated ⭐️⭐️⭐️⭐️⭐️ and reader-tested. Whether you want to eat more meatless meals or are a seasoned vegetarian you'll find great inspiration here.
---
Healthy Vegetarian Dinners
These meatless dinners are cozy, hearty and full of flavor.


Butternut Lasagna -A hearty, delicious vegetarian lasagna featuring butternut squash – perfect for the weeknights (make it ahead) and special enough for your holiday table!
Emerald Dal – is one of the most flavorful, plant-based, vegetarian meals on the blog! This version is packed full of spinach making it especially high in nutrients and flavor! Rich, fragrant, and loaded with protein, think of this Indian- inspired dinner like you would, Saag Paneer, but substituting lentils instead of the Cheese! Super tasty and healthy.
Broccoli Quinoa Cakes! These Broccoli Quinoa Cakes can be made in 30 minutes & are a delicious healthy vegetarian meal that your whole family will love!
Butternut Risotto with Leeks and Spinach made with very little fuss, in your Instant Pot or on the stovetop! Vegan-adaptable and Gluten-free.


Eggplant Lasagna -made with succulent roasted eggplant, ricotta, and no-boil noodles, topped with Arugula Pesto. A delicious, healthy vegetarian dinner recipe that is comforting and nourishing.
Roasted Chili Rellenos with Black beans – A lightened-up recipe (with the addition of black beans) and simplified by roasting (instead of frying) the peppers and the Rancheros sauce ingredients all together on one sheet-pan – saving a step! Delicious and satisfying!
Farmers Market Veggie Enchiladas Made with black beans and your choice of veggies (like red bell pepper, sweet potato zucchini or corn) and Homemade 5 Minute Enchilada Sauce! Easy, Healthy, and full of delicious Mexican Flavor! Vegan and Gluten-free adaptable!
Indian Sheperd's Pie is made with lentils, veggies, and fragrant Garam Masala, topped with curry mashed potatoes. Truly one of the most delicious vegetarian recipes on the blog!


Roasted Cauliflower Pasta is full of flavor and nutrients! Made with more cauliflower than pasta, and tossed with toasted walnuts, garlic, parsley and lemon zest – a delicious fall-inspired dinner recipe!
Oaxacan Baked Sweet Potatoes are infused with Mexican flavors, served over optional Mole Sauce. Healthy, flavorful and perfect for Sunday meal prep. Vegan-adaptable! Gluten-free.
Polenta Lasagna is hearty like lasagna, but made with polenta instead of noodles! Filled with spinach, mushrooms and ricotta and topped with Smoky Red Bell Pepper Sauce. ( Recently updated)
Tuscan bean Soup – a hearty vegetarian dinner recipe called Ribollita with cannellini beans, lacinato kale, and vegetables, served with crusty bread, drizzled with a Lemon Rosemary Garlic Oil.
Indian Fried Rice is infused with turmeric and fragrant Indian Spices, packed full of healthy veggies, and can be made in under 30 minutes. Gluten-free and Vegan adaptable, it is a fast and easy vegetarian meal- great for using up leftover rice and veggies in the fridge.
Indian Coconut Lentil Curry with Turmeric Coconut Chips – can be made in an Instant Pot or on the stovetop. Infused with fragrant Indian spices, this recipe is not only delicious, it is is vegan and gluten-free! So flavorful and comforting!
Roasted Butternut Enchiladas with Quick Mole Sauce -Topped with cilantro, avocado and toasted sesame and pumpkin seeds. A fast and delicious vegetarian dinner recipe full of amazing flavor!
Mexican Rice made with brown rice, topped with sheet-pan roasted yams, red onions, and shishito peppers. Top with pickled jalapeños and pumpkin seeds for a comforting delicious vegetarian meal.
Baked Ziti with Mushrooms & Spinach- a simple, hearty vegetarian dinner that is made in one pan, with no pre-boiling the pasta!
Creamy Polenta with Mushrooms and Sage – simple, comforting and full of good flavor- that can be made in under 30 minutes!
Quick & Easy Vegetarian Dinners
Enchilada Pie – a fast and easy vegetarian dinner made with layered tortillas, black beans, corn, peppers and enchilada sauce. Vegan adaptable!
Broccolini Mushroom Stir Fry with Tofu -a fast and easy meal that comes together in less than 20 minutes. Vegan!
Easy to Make Pad Thai– an easy, authentic recipe made with accessible ingredients that can be made vegetarian with tofu. Gluten-free, vegan-adaptable with incredible flavor.
Easy Baked Tacos- These Vegetarian tacos are fast and easy, kid-friendly and just 10 minutes of prep before going into the oven to bake.


Instant Pot Vegetarian Meals
Instant Pot Wild Rice Soup with mushrooms and spinach- a healthy vegetarian soup recipe that is filling, flavorful and vegan adaptable!
Instant Pot Mushroom Stroganoff a simple, easy vegetarian weeknight dinner that is creamy, hearty and full of delicious depth and flavor! Vegan Adaptable!
Instant Pot Pinto Bean Stew made in an Instant pot using dry pinto beans, yams, corn, and poblanos. A hearty, flavorful and vegan-adaptable weeknight dinner. (Allow 8-hours for bean soaking!)
Cuban Black Bean Soup (Instant Pot w/ Dry Beans) Here's a plant-based dinner recipe that can be made in an Instant Pot using dry beans- Cuban Blackbean Soup! It's hearty and flavorful and full of healthy veggies. Serve it on its own or ladle it over rice.
Chana Masala (Instant Pot or Stovetop) An authentic recipe for Chana Masala using dry or canned chickpeas that can be made in an Instant pot or on the stovetop. Easy and flavorful, Chana Masala is a classic Indian stew typically made with spiced chickpeas., tomatoes, onions, garlic and ginger. Serve with basmati rice or naan.


Vegetarian Breakfast Recipes
Here are a few of our favorite, healthy vegetarian breakfast recipes- great for any time of the day!


Skillet-Baked Huevos Rancheros
Baked Apple Pancake (Pannekoeken)
Vegetable Frittata Baked in the Oven
Vegetarian Lunch Recipes
Need some meatless meals for lunch? We've got you covered!


Curry Chickpea Salad Wraps with Toasted Coconut
Southwest Black Bean Quinoa Salad
Vegetarian Buddha Bowls
These vegetarian meals can be prepped ahead for the busy week and can be served any time of day!


Fresh & Delicious Banh Mi Noodle Bowl ( aka Bun Chay)
Salsa Macha Recipe (and Bowls)!
---
More Vegetarian Recipes to enjoy!
Enjoy these healthy delicious vegetarian meals and please let us know your favorites in the comments below!
Print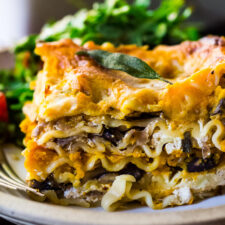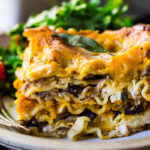 50 BEST Vegetarian Meals!
Prep Time:

20

Cook Time:

20

Total Time:

40 minutes

Yield:

4-6

Category:

vegetarian, dinner recipes

Method:

stovetop

Cuisine:

Fall recipes

Diet:

Vegetarian
---
Description
Here is our newly updated,  50 Best Vegetarian Meals!  These "tried and true" vegetarian dinners are reader favorites- all hearty, flavorful and comforting. Whether you are wanting to eat more veggies, consume a little less meat, or shift into a more whole foods plant-based lifestyle- you'll find some good inspiration here.
---
Veggies
Beans
Whole Grains
Healthy Fats
---
Instructions
Pick out a few to try this week and let us know your favorites in the comments below.
---
Keywords: vegetarian recipes, vegetarian dinners, vegetarian meals, vegetarian soups, fall dinner recipes, fall vegetarian dinner recipes, vegetarian dinners fall,