This Vegetable Stock recipe is so flavorful and nourishing!  Learn the secret to creating a vegetable broth that is nutritious, flavorful and full of depth- the best foundation for soups, sauces, risottos and more.  Includes a Video.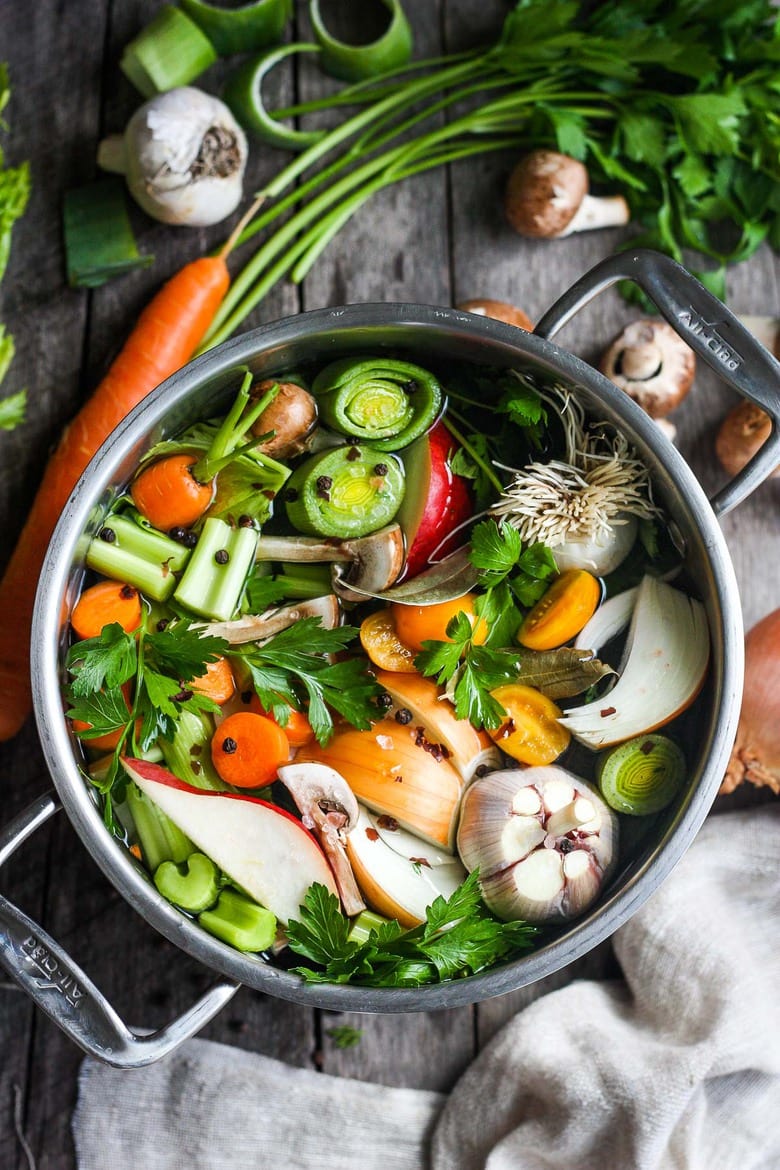 Life is simple. Everything happens for you, not to you. Everything happens at exactly the right moment, neither too soon nor too late. You don't have to like it… it's just easier if you do.  ~ Byron Katie
Making your own Vegetable Broth will uplevel your soups and other recipes exponentially!  The vegetable broth should be delicious, just as it is.  This recipe is so good-go ahead enjoy a mug by itself!
It may feel like an extra step at first, to make your own broth, but once you get the hang of it is really quite simple with very little hands-on time.   You will eventually get into the rhythm and I think you will be so happy with the boost in flavor and nutritional quality of your recipes!
How to make Vegetable STock | Video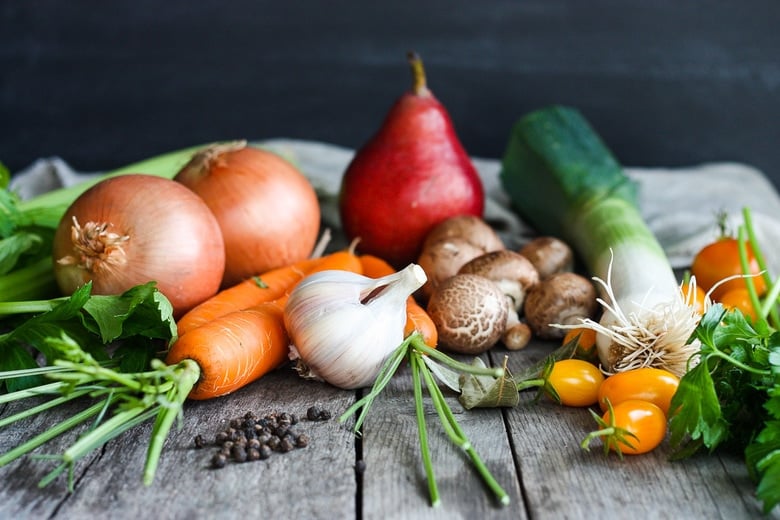 ingredients in Vegetable Stock
Optional Additions
mushrooms- give a deeper flavor
apple or pear- a slight sweet balance
tomato- just a touch of tang
Things that can make a broth bitter
brassica's (kale, brussels, cabbage, bok choy, cauliflower, broccoli, mustard greens etc.)
zucchini and green beans
outer celery leaves
too many tomato seeds
some carrot peels and tops
too many onion skins and ends
cooking too long
powdered herbs
How to make Vegetable Broth (instructions)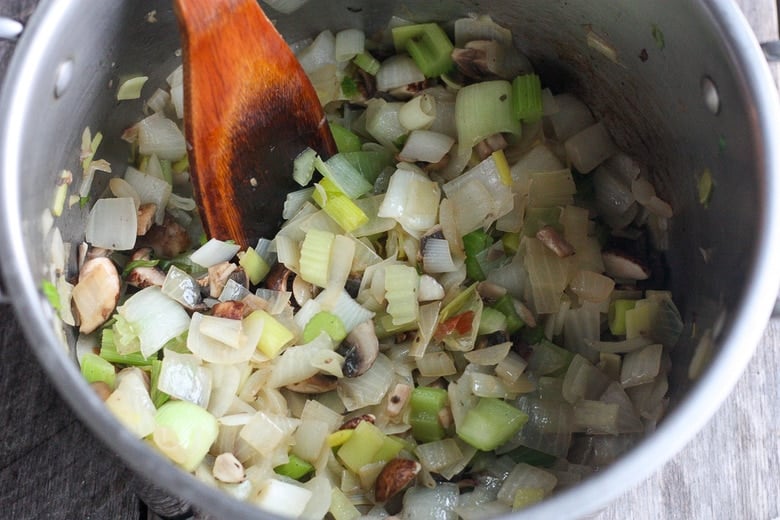 Step one
In a 6-8 quart stockpot, sauté onions, mushrooms and celery in olive oil for 15 minutes or until lightly caramelized.  This is going to add a ton of flavor to the broth.
That said sometimes, when short on time, I skip this step and just go straight to the simmering.  You'll still get good flavor, just not as rich and deep.

Step two
Add carrots, leeks, garlic, tomato, apple or pear, parsley, bay leaves, basil, peppercorns, salt, and dulse flakes.  Add cold water. Cover with a lid slightly vented.  Low simmer for one hour.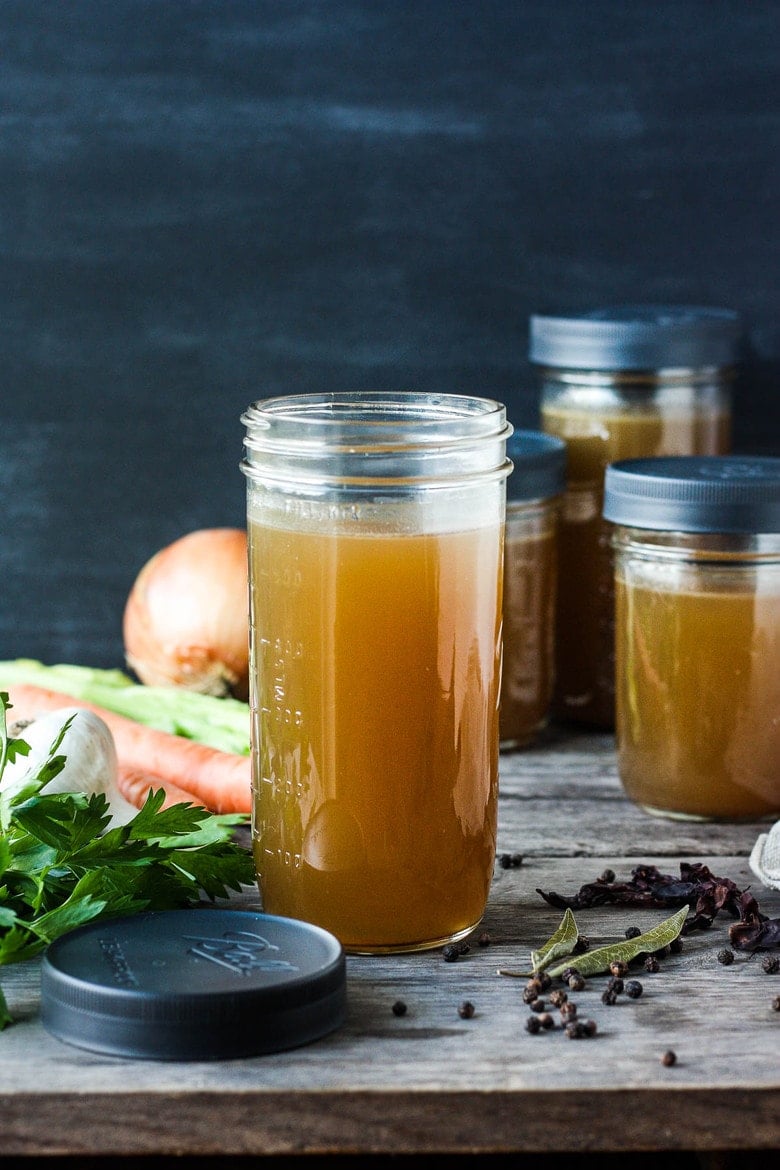 Step three
Let cool and strain.  Freeze in cup, pint and quart portions for easy prep.  You will be so happy you did!  This homemade broth is so far beyond delicious compared to what you buy in the store.
How to store Vegetable Broth
Keep sealed in the fridge for 5 days.  It also freezes beautifully.
When freezing I use ball jars with these leak-proof lids.  It is important to fill to just a couple of inches from top of the jar for room to expand as it freezes.
Expert Tips
Cut your veggies– the more surface area exposed, the more flavor will be imparted into the broth.
No need to stir– stirring can break down veggies and cloudy up the stock.
Use cold water- veggies have different cooking times and flavor solubility, cold water allows them to release flavor slowly and more fully without breaking down.
Ways to elevate
sautéing (esp. mushrooms and onions) adds depth
add a handful of soaked beans or bean water left from cooking
add a few tablespoons of walnuts or almonds
a few teaspoons tomato paste or roasted tomatoes
roast or grill the veggies beforehand
a few splashes of wine
small handful of dried mushrooms
for Italian / European recipes use rosemary, thyme, oregano and sage.
for an Asian direction add a little ginger, shiitakes and cilantro.
Nutritional Boosting Tips
Make your broth a supertonic by adding one or more of these. They do impart an herby, earthy and rooty flavor.
reishi mushrooms- deeply nourishing, adaptogenic, anti-cancer, immune modulator, anti-inflammatory
burdock root– eliminates toxins, increases circulation, blood cleanser
dandelion root– antioxidant, supports liver health, balances cholesterol,
astragalus root- an amazing adaptogen supporting physical and mental stress
kelp and dulse– fiber, tons of nutrients, minerals, antioxidants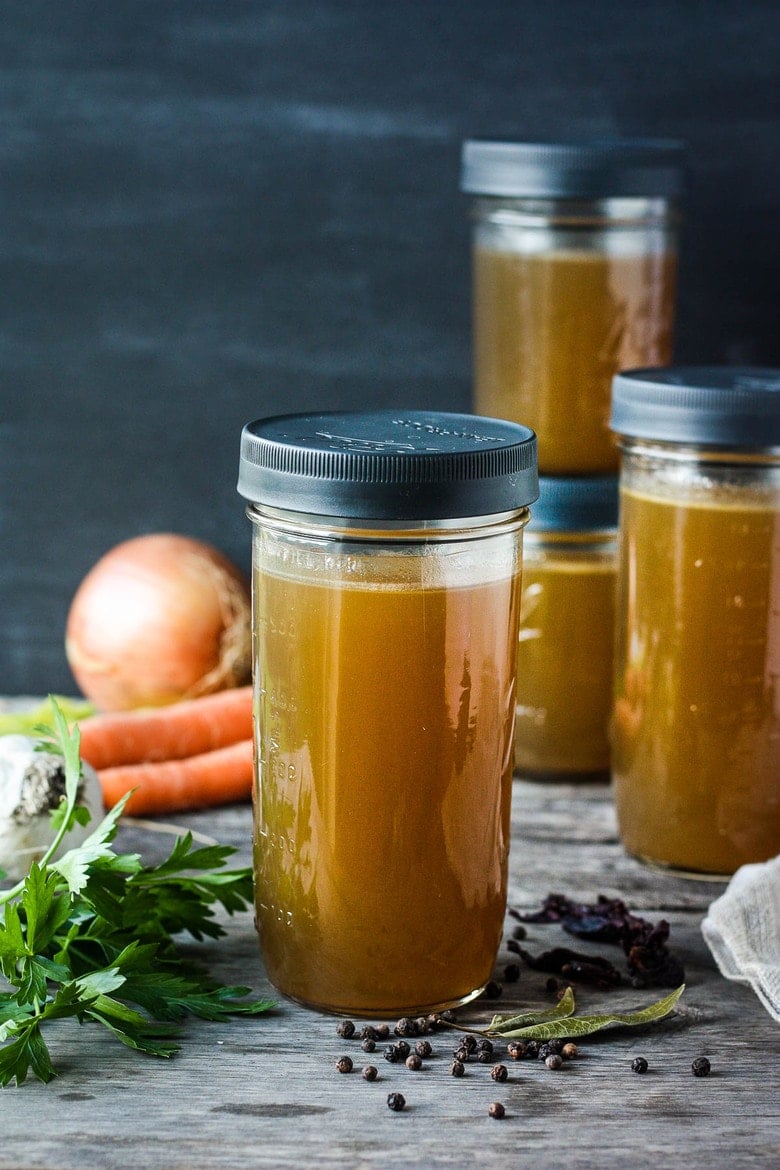 Saving Scraps for Vegetable Broth
I keep a plastic ziplock in the freezer and every time I am prepping I throw in broth-worthy scraps.   I add this to the broth when cooking, adjusting amounts depending on how much I have.
carrot ends and peels (some can be bitter!)
leek tops
onion ends and outer peels (go light on the skins and ends)
mushroom stems
parsley and cilantro stems
tomato tops and ends
peas
parsnips
shiitake stems
fennel tops
beet tops
lettuce
celeriac peels
scallions
romaine or mild lettuce leave
herb stems
Recipes to use your veggie stock in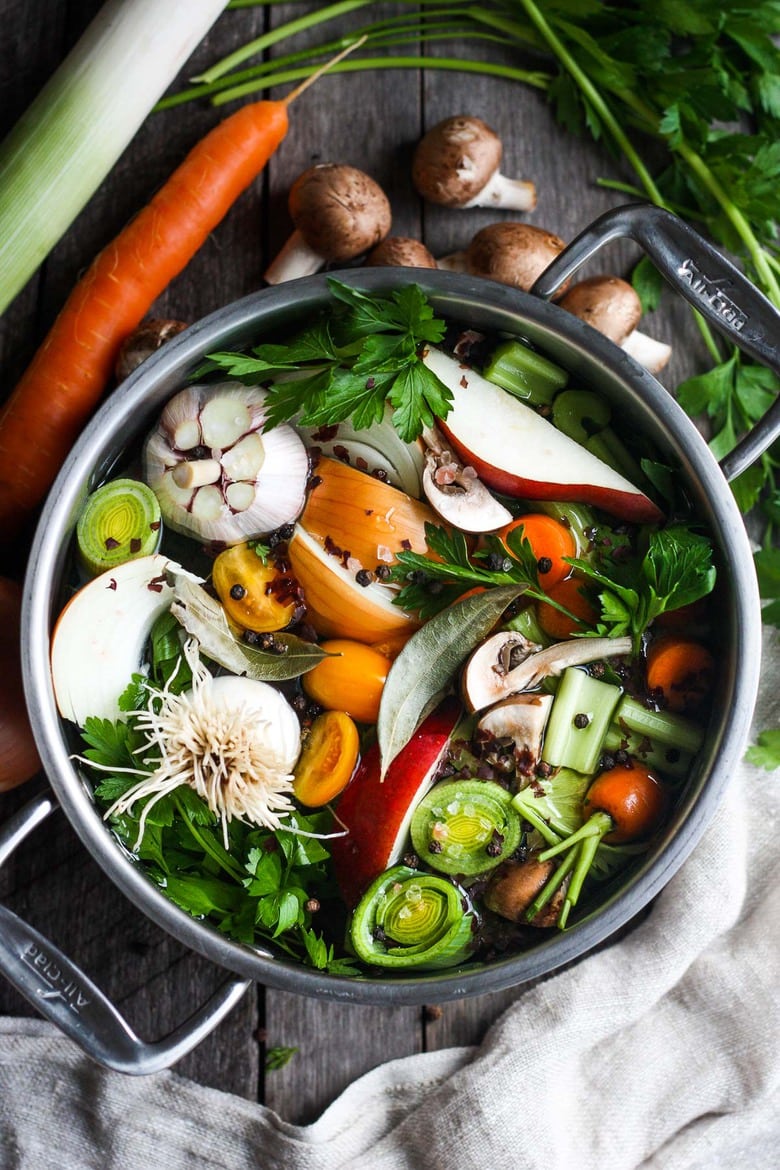 I hope you have fun playing around with this Vegetable Broth recipe!
Print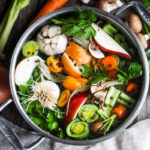 Homemade Vegetable Stock Recipe
Author:

Tonia | Feasting at Home

Prep Time:

10 minutes

Cook Time:

60 minutes

Total Time:

1 hour 10 minutes

Yield:

4 quarts

1

x

Category:

broth, soup,

Method:

stove top

Cuisine:

American

Diet:

Vegan
---
Description
How to make Vegetable Broth!  A nutritious and deeply flavorful recipe to enhance your soups, risottos, sauces, and more.
---
2

large onions, roughly chopped

1/2

lb

mushrooms

2

large carrots, cut in chunks

2

celery stems, some inner leaves are fine, chopped

1

leek or

1

bunch scallions or a handful of chives, chopped in rounds

1

head of garlic, cut tips off the head

1

tomato, quartered

1/2

apple or pear, sliced

1

hand full of parsley with stems

2

bay leaves

1 tablespoon

dried basil

1 teaspoon

peppercorns

1 tablespoon

sea salt

1 tablespoon

dulse flakes (optional)

5

quarts

of cold water
See post body for other additions to elevate this.
---
Instructions
In an 8 quart pot, sauté onions, mushrooms, and celery in a little olive oil for 15 minutes or until lightly carmelized.
Add carrots, leeks, garlic, tomato, apple, parsley, bay leaves, basil, peppercorns, salt, dulse flakes and water.
Bring to a gentle boil.  Turn down to a simmer cover with a with a lid slightly vented for an hour.
Let cool.  Strain.
---
Notes
If you prefer not to sauté, just skip that step and throw everything in the pot to simmer.
Keeps in fridge 5 days.
Freeze in pint and quart portions for easy prep. If freezing in jars, leave 1-inch headroom.
Nutrition
Serving Size:

6 oz

Calories:

24

Sugar:

1.7 g

Sodium:

279.1 mg

Fat:

0.2 g

Saturated Fat:

0 g

Carbohydrates:

5.2 g

Fiber:

1 g

Protein:

1 g

Cholesterol:

0 mg
Keywords: vegetable stock, vegetable broth, veggie broth, the best vegetable stock, how to make vegetable stock, vegetable stock recipe